November 14, 2019
ON THE RECORD. . .
"It is sad to see the level of desperation that some people are willing to go through to protect someone who has been probably the most corrupt, unethical, most unpatriotic president we've ever had." — Sen. Kamala Harris, talking about Republican lawmakers on Morning Joe.
"In three short years, President Trump has doubled the growth in the greatest economy in all of human history. And do you know what our Democratic friends have done for him? Speaker Nancy Pelosi is trying to impeach him. I don't mean any disrespect, but it must suck to be that dumb." — Sen. John Kennedy (R-LA) launching into a blistering attack against Speaker Nancy Pelosi (D-Calif.) while speaking at a Trump campaign rally in Louisiana.
"It's a worldview where you eat nothing but kale and quinoa, where those of us who cling to our Bibles and our guns and our fried foods and real America are looked down upon." — Rep. Matt Gaetz (R-FL) mocking the media in a Fox News interview as a group of "kale and quinoa" eaters who look down upon those that eat "fried foods" in "real America." He then compared journalists to "pigeons, waiting for Adam Schiff to throw them a little bit of bird food.
"I hardly knew the gentleman." — Trump distancing himself from Ambassador Gordon Sondland.
"I had had accusations similar to this being made against me as well. My entire first year of my tenure at the National Security Council was filled with hateful calls, conspiracy theories, which has started again, frankly, as it's been announced that I've been giving this deposition, accusing me of being a Soros mole in the White House, of colluding with all kinds of enemies of the president, and of various improprieties. … I received, I just have to tell you, death threats, calls at my home. My neighbors reported somebody coming and hammering on my door," Hill said, adding that she had also been targeted by obscene phone calls. "Now, I'm not easily intimidated, but that made me mad." — Fiona Hill, who was the senior director for Europe and Russia in the National Security Council (NSC).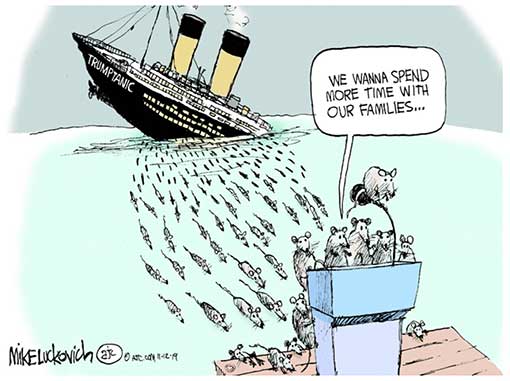 "It's like showing up at the nursing home at daybreak to find your elderly uncle running pantsless across the courtyard and cursing loudly about the cafeteria food, as worried attendants tried to catch him. You're stunned, amused, and embarrassed all at the same time. Only your uncle probably wouldn't do it every single day, his words aren't broadcast to the public, and he doesn't have to lead the US government once he puts his pants on." — The anonymous White House official
"More than any other place, the Marshall Islands is a victim of the two greatest threats facing humanity — nuclear weapons and climate change. The United States is entirely responsible for the nuclear testing there, and its emissions have contributed more to climate change than those from any other country."— Michael Gerrard, a legal scholar at Columbia University's law school.
"I'm angry and I own it. Over and over, we are told that women are not allowed to be angry. It makes us unattractive to powerful men who want us to be quiet. Well, I'm angry and I own it. I'm angry on behalf of everyone who is hurt by Trump's government, our rigged economy, and business as usual." — Sen. Elizabeth Warren and her campaign responding with careful calibration to former vice president Joe Biden, who accused her Tuesday of holding an 'angry, unyielding viewpoint.
"Trump is not a billionaire he's a fake president. He calls everything else fake because he knows he's fake…Everything that he says that are negative about other things or other people is what he is saying about himself. So he's fake. He's a loser. He is a genuine loser." —Actor Robert DeNiro
"If I could modify your question to ask if there's a legal basis to argue high crimes and misdemeanors, then the answer is yes. That's really beyond dispute ... If I were a Democrat in the House, which I am not and never will be, I would vote to impeach."— Fox News judicial analyst Andrew Napolitano asked if he would vote to impeach the president if he were a Democrat in the House.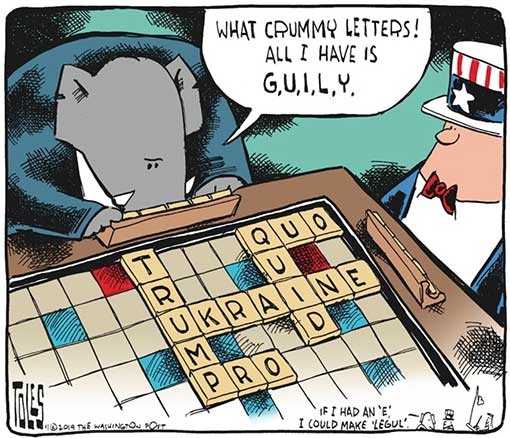 "I am going to continue hiding these books in the most obscure places I can find to keep this propaganda out of the hands of young minds. Your liberal angst gives me great pleasure." — An anonymous note in an Idaho library explaining why books that explore politics through a progressive lens, or criticize President Trump wind up misfiled in out-of-the-way corners where readers will be sure not to find them.
"They had ten years of collection and then they brought him to Moscow for what he wanted, which is Trump Tower. But from that moment on, an enormous dossier of information was collected on him and more importantly, how to exploit him and his simple exploit—as we call it in the intelligence community—and he is avaricious to a fault. He wants money, they now own him. Modern Russia, with a former KGB director as president, they know how to exploit people, they know how to manipulate people, and they know how to buy people." -- Malcolm Nance, citing reporting by The Guardian, said that there were indicators that Trump had been "under Russian intelligence surveillance for a very long time—as early as 1977."
"Trump can do away with the traditions and niceties of the office, but he can't get away from the Constitution. During Watergate, many people feared that if a president collapsed, America is broken. But the lesson of Nixon is that the Constitution is durable and the country can handle it." — Historian Douglas Brinkley:
When she started this two and half years ago her goal was 500,000 jobs. She's now created 14 million jobs…. It's a great thing. Jared's here, you'll thank Ivanka. Fourteen million and going up. — Trump claiming that the first daughter is singularly focused on job creation, that he tries to get Ivanka to "please talk about something else" but she only wants to discuss is the company executives she's met with who've allegedly pledged to hire millions of people.
"You're doing a fantastic job for the people of Turkey." — Trump, while shaking hands with Turkey President Recep Tayyip Erdogan.
"Bribery, first of all, as the founders understood bribery, it was not as we understand it in law today. It was much broader. It connoted the breach of the public trust in a way where you're offering official acts for some personal or political reason, not in the nation's interest." — House Intelligence Committee Chairman Adam Schiff who already sees several potential impeachable offenses Trump has committed, including bribery.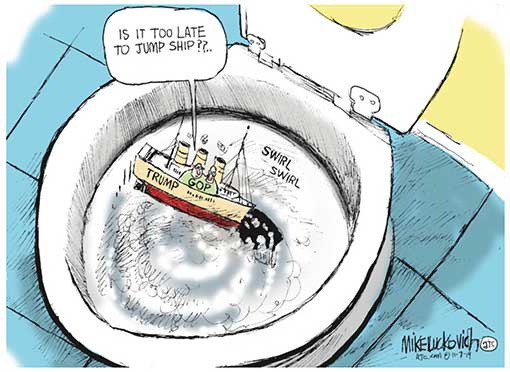 ---
IN THIS ISSUE
FYI
OPINION
1. Andy Borowitz: Republicans Demand That Everyone in Witness-Protection Program Appear on National TV
Saying that "enough is enough," congressional Republicans demanded on Monday that the thousands of people in the nation's witness-protection program be required to appear on national television.

"What kind of a country protects someone's identity just because they were instrumental in bringing a criminal to justice?" Representative Jim Jordan, of Ohio, asked. "I don't want to live in a country like that."

Representative Devin Nunes, of California, concurred. "Anonymity is all well and good, but we should be able to look at these people and know their names," he said.

At the United States Senate, Lindsey Graham told reporters that "it's time for people in the witness-protection program to put up or shut up."

"I want these people to go on TV and say what they have to say, and then I fully intend not to listen to them," the senator said. https://www.newyorker.com/humor/borowitz-report/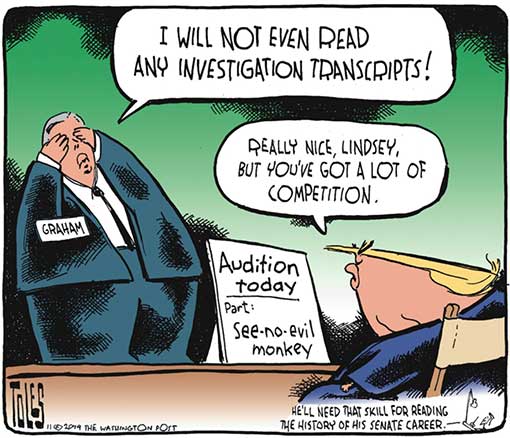 2. The first day of House impeachment hearings conclude
The White House and Republicans tried to portray the hearing as a "boring" and a "waste of time," however the news headlines are quite different:

Washington Post: New testimony ties Trump more directly to Ukraine pressure

Politico: Democrats land damning new evidence in impeachment testimony

New York Times: Impeachment Hearings Open With Revelation on Trump's Ukraine Pressure
3. Fox News Cuts to Commercial During Testimony
Fox News cut for brief commercial break as House Intelligence Chairman Adam Schiff (D-CA) began asking a question during the House impeachment hearings. https://twitter.com/lispower1/status/1194655161660129280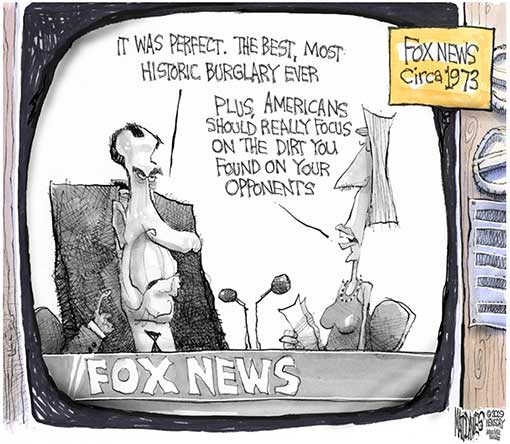 4. The GOP's ditch-Rudy strategy on impeachment
Top House Republican sources tell Axios that one impeachment survival strategy will be to try to distance President Trump from any Ukraine quid pro quo, with Rudy Giuliani potentially going under the bus.
A Republican member of one of the impeachment committees told Axios: "[T]his is not an impeachment of Rudy Giuliani, it's not an impeachment of Ambassador Sondland. It's an impeachment of the president of the United States."
So the point is as long as this is a step removed, he's in good shape. ... If it's a step removed from the president, he doesn't lose any Republicans in the House." https://www.axios.com/donald-trump-impeachment-republicans-rudy-giuliani-f192d64d-2bee-4597-8de8-3e0477b988de.html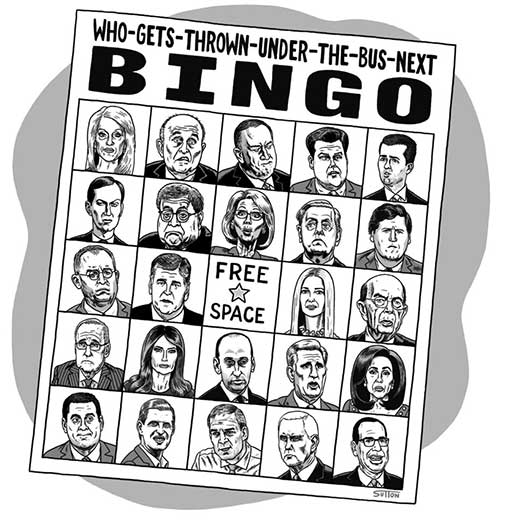 5. There's a Surprisingly Plausible Path to Removing Trump From Office
According to current Senate procedure, McConnell will still need a simple majority—51 of the 53 Senate Republicans—to support any resolution outlining rules governing the trial. That means that if only three Republican senators were to break from the caucus, they could block any rule they didn't like. (Vice President Mike Pence can't break ties in impeachment matters.) Those three senators, in turn, could demand a secret ballot and condition their approval of the rest of the rules on getting one.
A secret impeachment ballot might sound crazy, but it's actually quite possible. In fact, it would take only three senators to allow for that possibility. https://www.politico.com/magazine/story/2019/11/12/path-to-removing-donald-trump-from-office-229911
6. Leaked Emails Show Stephen Miller's Unfiltered Anti-Immigrant Views
In private emails in 2015 and 2016, President Donald Trump's immigration adviser touted a vilely racist novel that warns of a migrant invasion, promoted the ideas of white nationalist publications, and raged at retailers who stopped selling Confederate flags in the wake of the massacre of black churchgoers in Charleston, South Carolina.
In a normal administration, the views laid out in Miller's emails would be disqualifying. In a Trump administration, it makes him essential. In fact, many of the opinions he laid out in the emails have become part of the policies Miller has helped enact in the White House, from cutting refugee admissions to record lows to separating families at the border. https://www.motherjones.com/politics/2019/11/leaked-emails-show-stephen-millers-unfiltered-anti-immigrant-views/
7. Deval Patrick Tells Democrats He Will Run in 2020 Presidential Race
Former Gov. Deval Patrick of Massachusetts told senior Democrats Wednesday that he will enter the presidential race, according to two party officials, reversing his decision last year to forgo a run and adding yet more volatility to an unusually fluid Democratic primary.
Joining the campaign less than three months before the first votes are cast in Iowa, at a moment when candidates are usually dropping out and not jumping in, Mr. Patrick will face long odds. Yet his decision to run reflects the fractured nature of the Democratic race at a moment when Michael R. Bloomberg, the former mayor of New York City, has also taken steps to enter the primary. https://www.nytimes.com/2019/11/13/us/politics/deval-patrick-2020.html
8. The climate chain reaction that threatens the heart of the Pacific
SHIRETOKO PENINSULA, Japan — Lined up along the side of their boat, the fishermen hauled a huge, heavy net up from swelling waves. At first, a few small jellyfish emerged, then a piece of plastic. Then net, and more net. Finally, all the way at the bottom: a small thrashing mass of silvery salmon.
It was just after dawn at the height of the autumn fishing season, but something was wrong.
The salmon catch is collapsing off Japan's northern coast, plummeting by about 70 percent in the past 15 years. The disappearance of the fish coincides with another striking development: the loss of a unique blanket of sea ice that dips far below the Arctic to reach this shore.
 
The twin impacts — less ice, fewer salmon — are the products of rapid warming in the Sea of Okhotsk, wedged between Siberia and Japan. The area has warmed in some places by as much as 3 degrees Celsius since preindustrial times, making it one of the fastest-warming spots in the world, according to a Washington Post analysis of data from the nonprofit organization Berkeley Earth. https://www.washingtonpost.com/graphics/2019/world/climate-environment/climate-change-japan-pacific-sea-salmon-ice-loss/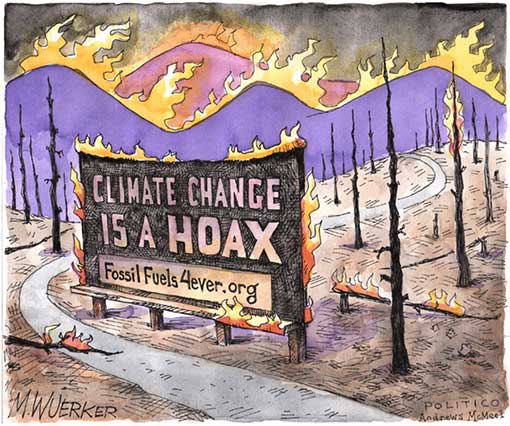 9. Trump allies received hundreds of thousands of dollars under federal health contract
At least eight former White House, presidential transition and campaign officials for President Donald Trump were hired as outside contractors to the federal health department at the cost of hundreds of thousands of dollars per year, according to documents newly obtained by POLITICO.
They were among at least 40 consultants who worked on a one-year, $2.25 million contract directed by Centers for Medicare and Medicaid Services Administrator Seema Verma. The contractors were hired to burnish Verma's personal brand and provide "strategic communications" support. They charged up to $380 per hour for work traditionally handled by dozens of career civil servants in CMS's communications department.
The arrangement allowed the Trump allies to cycle through the federal government's opaque contracting system, charging hefty fees with little public oversight or accountability. https://www.politico.com/news/2019/11/12/federal-health-funneled-dollars-trump-allies-069638
10. DACA may hinge on one justice
A somewhat reluctant Supreme Court will hear arguments Tuesday in this year's most far-reaching immigration case and decide whether President Trump was justified in seeking to revoke a popular Obama-era policy that allowed more than 700,000 immigrants brought to the country illegally as children to temporarily live and work in this country.
Given the conservative majority on the court, the so-called Dreamers' best hope for victory almost surely depends on Chief Justice John G. Roberts Jr.
Though Roberts has repeatedly ruled that the president enjoys broad powers when it comes to immigration, he is also one of the few remaining conservative justices who has shown a willingness to side with liberals on high-profile cases, including one recently in which he agreed that the Trump administration had not adequately defended its actions — the same issue in play in the Dreamers case. https://www.latimes.com/politics/story/2019-11-11/supreme-court-case-about-dreamers-may-come-down-to-chief-justice-roberts
11. Trump to Appeal Tax Ruling to Supreme Court
President Donald Trump's lawyers told a judge they'll ask the U.S. Supreme Court next week to block a subpoena from the Manhattan district attorney seeking his tax filings and other financial records.
Lawyers representing Trump and District Attorney Cyrus Vance Jr. said in a joint letter Friday that Trump will ask for high court review by Thursday and both sides will file legal arguments by Nov. 25, setting up a possibility of finding out quickly whether the Supreme Court will hear the case.
If the court declines, that could clear the way for Trump's accountants, Mazars USA LLP, to begin turning documents over to Vance's office as early as next month. https://www.bloomberg.com/news/articles/2019-11-08/trump-to-appeal-ruling-on-d-a-s-tax-subpoena-to-supreme-court
12. Visit to Arlington Cemetery reminded Donald Trump Jr. of all his family's 'sacrifices,' he writes
"I rarely get emotional, if ever," Trump Jr. wrote in his new book, "Triggered: How the Left Thrives on Hate and Wants to Silence Us." "Yet, as we drove past the rows of white grave markers, in the gravity of the moment, I had a deep sense of the importance of the presidency and a love of our country."
He also had another revelation as he watched his father standing in front of the tomb, surrounded by more than 400,000 graves, listening to the Army Band bugler playing taps: The Trump family had already suffered, he recalled thinking, and this was only the beginning.
"In that moment, I also thought of all the attacks we'd already suffered as a family, and about all the sacrifices we'd have to make to help my father succeed — voluntarily giving up a huge chunk of our business and all international deals to avoid the appearance that we were 'profiting off the office," Trump Jr. wrote. https://www.washingtonpost.com/politics/2019/11/07/visit-arlington-cemetery-reminded-donald-trump-jr-all-his-familys-sacrifices-he-writes/
13. The DAILY GRILL
10/23: GOP lawmakers temporarily *shutdown* a closed-door deposition & staged a sit-in in secure area to demand public hearings.

VERSUS

"They shouldn't be having public hearings. it's a "hoax." -- Trump 11/08

 

But Mr. Trump has not just blurred the lines between official and political business. He has turned presidential speeches into political ones, and official trips around the country into campaign opportunities, complete with taunts of his rivals, riffs about his enemies, pleas for votes and fear-mongering about what will happen if he loses. — Annie Karni and Maggie Habermanin the NY Times

VERSUS

"Taxpayers are paying a fortune for the use of Air Force One on the campaign trail by President Obama and Crooked Hillary," "A total disgrace!" -- Trump July 5, 2016.
14. From MEDIA MATTERS (They watch Fox News so you don't have to)
Fox News contributor Marc Thiessen says criticism of anti-LGBTQ positions is "anti-Catholic bigotry." Thiessen's comments perpetuate a false dichotomy that suggests that religion and LGBTQ rights are at odds. https://www.mediamatters.org/marc-thiessen/fox-news-contributor-marc-thiessen-says-criticism-anti-lgbtq-positions-anti-catholic

National Review is now seeking to advance a drastic change of strategy for Republicans in how to handle the impeachment inquiry. The conservative magazine says they should admit that Donald Trump withheld military aid to Ukraine in an effort to pressure the country to investigate Democratic presidential candidate Joe Biden — and even admit that it was wrong to do so — but claim that impeachment should still be rejected because the scheme didn't work, anyway. https://www.mediamatters.org/national-review/new-right-wing-defense-trump-too-incompetent-be-impeached

Despite what conservative media say, liberals are not trying to "cancel" Thanksgiving. https://www.mediamatters.org/fox-news/despite-what-conservative-media-says-liberals-are-not-trying-cancel-thanksgiving

Stephen Miller emails reveal white nationalist origin of Fox News talking points. https://www.mediamatters.org/white-nationalism/stephen-miller-emails-reveal-white-nationalist-origin-fox-news-talking-points

Sean Hannity instructs listeners to ignore what they hear and see at impeachment hearings because "there is nothing that the president did wrong." Hannity: "Don't worry about what you think you are hearing and watching and seeing tomorrow because there is nothing that the president did nothing wrong." https://www.mediamatters.org/sean-hannity/sean-hannity-tells-listeners-ignore-what-they-hear-and-see-hearings-because-there
15. The internet thought it found the Trump whistleblower's picture. The internet was wrong
Right-wing social media accounts have been widely sharing two photographs that they claim show the whistleblower at the center of the impeachment inquiry into President Donald Trump and prove that the whistleblower is biased against Trump and hopelessly untrustworthy.
In fact, the pictures show nothing of the sort.
But that hasn't stopped the images from being shared thousands of times and amplified virally across the conservative media ecosystem. The images' persistence on the internet highlights how digital misinformation is increasingly coming into play in the discourse surrounding the impeachment probe, and how some online platforms are struggling to contain the damage. https://www.cnn.com/2019/11/08/tech/whistleblower-photo-fake/index.html
16. Democrats in Battleground States Prefer Moderate Nominee, Poll Shows
Democrats in the country's most pivotal general election battlegrounds prefer a moderate presidential nominee who would seek common ground with Republicans rather than pursue an ambitious, progressive agenda, according to a New York Times/Siena College poll of primary voters across six states.
As the Democratic candidates intensify their argument over how best to defeat President Trump, their core voters in Michigan, Wisconsin, Pennsylvania, North Carolina, Arizona and Florida are counseling them to pursue a political middle ground.
A majority of those surveyed said they wanted a Democratic nominee who is more moderate than most Democrats, and they overwhelmingly preferred one who would bridge the partisan divide in Washington. https://www.nytimes.com/2019/11/08/us/politics/democrats-poll-moderates-battleground.html
17. Emmanuel Macron warns Europe: NATO is becoming brain-dead
EMMANUEL MACRON, the French president, has warned European countries that they can no longer rely on America to defend NATO allies. "What we are currently experiencing is the brain death of NATO," Mr Macron declares in a blunt interview with The Economist. Europe stands on "the edge of a precipice", he says, and needs to start thinking of itself strategically as a geopolitical power; otherwise we will "no longer be in control of our destiny." https://www.economist.com/europe/2019/11/07/emmanuel-macron-warns-europe-nato-is-becoming-brain-dead
18. Which US states make it hardest to vote?
While some states have enacted policies that make it easier to cast a ballot, many have gone in the opposite direction
At the root of these disparities is a systemic legacy in the US of suppressing voters of color. It has been gathering strength since a 2013 supreme court ruling weakened the Voting Rights Act of 1965, the single most powerful legislation safeguarding Americans from discriminatory voting practices.
As the Guardian's interactive map reveals, while the Pacific north-west is a great place to move for those who'd like their voting rights respected, the deep south is particularly repressive. There are also a number of unexpected outliers. https://www.theguardian.com/us-news/ng-interactive/2019/nov/07/which-us-states-hardest-vote-supression-election
19. The Life-Changing Magic of Impeaching Trump (VIDEO)
Andy Borowitz explains why Donald Trump's impeachment is a precious moment to be treasured, and reveals what secrets lurk behind closed doors at The New Yorker. https://video.newyorker.com/watch/the-new-yorker-festival-andy-borowitz-the-life-changing-magic-of-impeaching-trump/
20. Trump can't sue New York state in DC federal court to stop release of tax returns, judge says
A Trump-appointed federal judge decided Monday that President Donald Trump can't sue New York state officials in a Washington, DC, court at this time to stop the release of his tax returns to Congress.
Effectively, the ruling is a loss for Trump but a less significant one then the blows other courts have dealt him in cases involving Democrats' pursuits of his financial records. Courts have sided with the House multiple times in cases where its committees have subpoenaed Trump's financial records. Trump is still appealing those rulings, keeping the House subpoenas on hold. https://www.cnn.com/2019/11/11/politics/donald-trump-tax-returns/index.html
21. Former coal exec Don Blankenship launches third-party presidential bid
Former coal executive Don Blankenship on Monday announced he will make a 2020 White House bid as a Constitution Party candidate. 
Blankenship, who unsuccessfully ran a third-party bid for Senate in West Virginia in 2018, took aim at President Trump in his 2020 announcement, saying the president's ego prevents him from getting stuff done.
"President Trump means well, but he simply cannot get it done because he is too busy mending his self-inflicted wounds and tripping over his ego," Blankenship said in his announcement. https://thehill.com/homenews/campaign/469851-former-coal-exec-don-blankenship-launches-third-party-presidential-bid
22. Republicans used to ignore Trump's resorts. Now they're spending millions.
In total, nearly 200 campaigns and political groups — virtually all conservative — have spent more than $8 million at President Donald Trump's resorts and other businesses since his election in 2016, according to a yet-to-be-released report from the liberal-leaning consumer rights group Public Citizen obtained by POLITICO.
\
That wasn't the case before the real estate mogul and reality TV star got into politics.
Between 2012 and 2014, campaigns and political groups spent a combined $69,000 at Trump businesses, according to the report. But since June 2015, when Trump announced he was running for the White House, political spending at the president's properties has topped $19 million. Some of the initial surge was related to the Trump campaign's using a Trump company plane during the 2016 election, but much of the uptick comes from conservative candidates and groups. https://www.politico.com/news/2019/11/11/republicans-trump-resorts-spending-millions-068676
23. Ahead of public impeachment hearings, Trump tweets 82 times in one day
Trump tweeted or retweeted 82 times on Saturday while flying to and from a collegiate football game in Alabama.
Trump tweeted or retweeted "Schiff" 11 times in reference to House Intelligence Chairman Rep. Adam Schiff (D-CA). He referenced Speaker of the House Nancy Pelosi (D-Calif.) twice. He mentioned "impeachment," "impeach" or "impeachable" nine times, "Democrats" five times, and "whistleblower" 11 times. https://www.axios.com/donald-trump-twitter-tweets-impeachment-inquiry-70f705e6-17ba-4adb-9975-ff1c11ea2d5f.html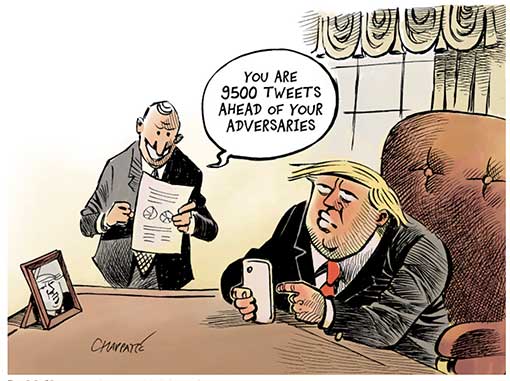 24. 'Not the economy, stupid': A majority of Americans say 2020 election will be about other issues
Near two-thirds of Americans (61%) say the 2020 election will be about issues other than the economy, according to a CNBC and Acorns Invest in You survey conducted by SurveyMonkey and released Monday.
Thirty-four percent of Americans say they will vote on the economy, and that percentage rises with political party taken into account, but not even a majority of Republicans (42%) say the economy will be the main issue in 2020. That figure drops to 27% for Democrats.
At the same time, when asked what issue "matters the most to you right now," jobs and the economy is cited by 24% of Americans, No. 1 among all responses, followed by health care (21%), immigration (15%) and the environment (13%). These are the only issues receiving double-digit percentage support.
The only age groups in which jobs and the economy was not the No. 1 issue was among the youngest Americans (24% of those age 18–24 cited the environment) and the oldest Americans (an equal 21% of Americans 65 and up cited either health care or immigration). https://www.cnbc.com/2019/11/11/not-economy-stupid-americans-to-vote-on-something-else-in-2020.html
25. Poorly educated voters hold the keys to the White House
IT WAS IN the 1970s that American politics began to polarize around voters' levels of educational attainment. The Republican Party, until then a party of tweedy north-easterners, began recruiting less-educated southern whites, alienated by the civil-rights movement. Over time, the partisan gap between college-educated voters and less-educated ones widened. In 2016 it exploded.
How far did this educational divide determine the outcome of the 2016 election? To answer this question, Michael Sances of Temple University collected data on presidential-election results and education levels in each of America's 3,000-plus counties from 1972 to 2016. Mr Sances finds that the gap in support for Democratic candidates between the highest- and the lowest-educated counties grew significantly between 2012 and 2016, from about 16 percentage points to 28 percentage points (see chart). This disparity has grown especially quickly in midwestern swing states. In Iowa, for example, Hillary Clinton won 66% of the vote in better-educated counties, up from Barack Obama's 61% share in 2012, but only 27% in less-educated ones, down from 46%. https://www.economist.com/graphic-detail/2019/11/11/poorly-educated-voters-hold-the-keys-to-the-white-house
26. Trump allies received hundreds of thousands of dollars under federal health contract
At least eight former White House, presidential transition and campaign officials for President Donald Trump were hired as outside contractors to the federal health department at the cost of hundreds of thousands of dollars per year, according to documents newly obtained by POLITICO.
They were among at least 40 consultants who worked on a one-year, $2.25 million contract directed by Centers for Medicare and Medicaid Services Administrator Seema Verma. The contractors were hired to burnish Verma's personal brand and provide "strategic communications" support. They charged up to $380 per hour for work traditionally handled by dozens of career civil servants in CMS's communications department.
The arrangement allowed the Trump allies to cycle through the federal government's opaque contracting system, charging hefty fees with little public oversight or accountability. https://www.politico.com/news/2019/11/12/federal-health-funneled-dollars-trump-allies-069638
1. Tom Nichols: Trump-Ukraine impeachment made simple: Smear Biden and you'll get your military aid
As Congress moves into the public phase of its Ukraine investigation, the scandal has become more clear rather than more complex. Every witness confirms a straightforward storyline with remarkable consistency: President Donald Trump placed America's national security at risk by abusing the power of his office for personal gain.
The good news so far for American democracy is that America's public servants are protecting the rule of law and the national interest. The bad news is that their chief opponent is the Republican Party.
It is heartening to realize that so many government officials, all sworn servants of the Constitution, raised objections to Trump's schemes. The president's sycophants, proceeding from a warped theory of executive branch omnipotence, believe that these subordinates should have saluted smartly and moved out when the commander in chief made a decision.
Instead, those officials asked whether what they were being told to do was even legal. (Deputy Secretary of Defense Laura Cooper, for example, questioned whether the Office of Management and Budget had the authority to hold up the aid.) In a system of government by the rule of law, in which government employees take an oath to defend the Constitution rather than any one political leader, this is the correct response. The question of "what the president wants" should always be subordinate to the more important question of what the law allows. https://www.usatoday.com/story/opinion/2019/11/13/trump-impeachment-trade-ukraine-military-aid-for-biden-smear-column/2575150001/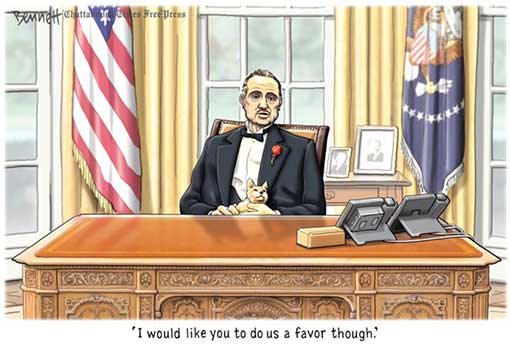 2. Anna Palmer and Jake Sherman: We know how the impeachment show ends, but we're still watching
The House's impeachment of President Trump is kind of like watching the newest season of "Jack Ryan" on Amazon Prime Video. Sure, the twists and turns are exciting. You know the dude is going to get chased, shot at or stabbed — and do it all in exotic locales. Every episode makes you sweat as Jack gets into one pickle or another. In the end, though, you also know the showrunners probably won't kill him off.
Impeachment is kind of similar. Yes, the hearings these next two weeks are momentous and historic. They will highlight just how unusual this White House is: The president's personal lawyer was running around the globe trying to get a foreign country to investigate a political rival, and the U.S. government was dangling meetings and money as enticements. We'll hear from longtime foreign servants, a military official and White House insiders, all of whom have the same view of this administration's behavior: improper, immoral and wrong-headed.
But, at the end of the day, we all have a pretty good idea how this movie is going to end: a nearly party-line vote, with most every Democrat voting to impeach the president, and nearly all Republicans voting against it. But in the middle, the next nine days — you'll get nonstop, white-knuckle action." https://www.politico.com/newsletters/playbook/2019/11/13/we-know-how-the-impeachment-show-ends-but-were-still-watching-487658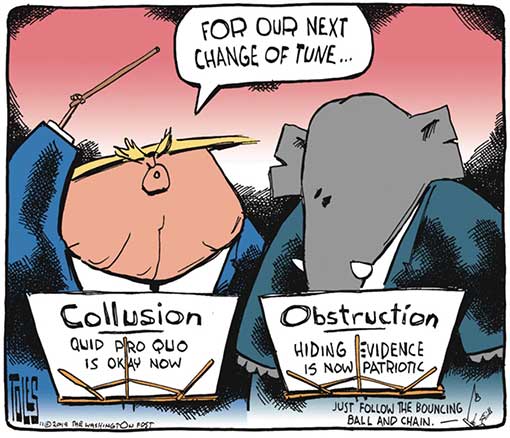 3. Eric Lutz: Devin Nunes Uses Impeachment Hearing To Spew Conspiracy Theories
Faced with damning testimony from Bill Taylor and George Kent, Republicans on Wednesday engaged in increasingly complex intellectual gymnastics in an attempt to defend Donald Trump. As Taylor and Kent, both well-respected diplomats, provided sober, detailed accounts of how the president and Rudy Giuliani pressured Ukraine to announce politically-motivated investigations into Trump's domestic foes, Devin Nunes and other Republicans on the House Intelligence Committee pushed debunked conspiracy theories, lashed out at the impeachment process, and treated the bombshell testimonies with a yawn.
Nunes was particularly incoherent in his explanation of Trump's extortion effort, suggesting as he questioned Taylor—a lifelong public servant who on numerous occasions raised concerns that a cadre of officials, at Trump's direction, were conditioning military aid on probes into Joe Biden and the 2016 election—that the president was justified in seeking the investigations because there were "numerous indications of Ukrainian interference in the 2016 election to oppose his campaign and support Hillary Clinton."
"Once you know that," Nunes said as he finished questioning Taylor, "it's easy to understand the president's desire to get to the bottom of this corruption and discover exactly what happened in the 2016 election."
Of course, the notion that Ukraine interfered in the 2016 election—not Russia, as United States intelligence concluded—is unfounded, and forms the basis for the very conspiracy theories Trump attempted to get Volodymyr Zelensky to investigate. Tom Bossert, Trump's former Director of Homeland Security, has called the crackpot narrative "completely debunked," but he and other officials had been unable to shake the president's convictions. https://www.vanityfair.com/news/2019/11/devin-nunes-uses-impeachment-hearing-to-spew-conspiracy-theories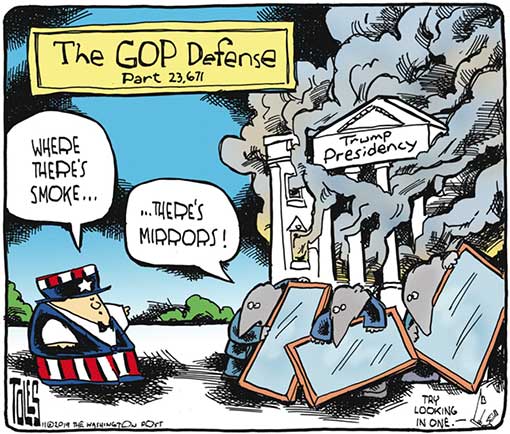 4. Eugene Robinson: Rank partisan solidarity is all Trump's defenders have left
Tribalistic party identity is basically all the president's defenders have left.
They complained that the House had not taken a formal vote to proceed with impeachment . . . but then the House held such a vote. They complained that the House impeachment investigators were taking depositions of witnesses in secret . . . but Republican committee members already had access to those hearings. They complained that transcripts of those interviews had not been released . . . but now they are being released, and one of the loudest complainers, Sen. Lindsey O. Graham (R-S.C.) says he will refuse to read them. They complained that there had been no public testimony that would allow the American people to judge for themselves . . . but a public phase of the House investigation is beginning this week, with the first witnesses scheduled to appear Wednesday.
The latest diversionary Republican complaint is that the whole process is somehow illegitimate unless the anonymous whistleblower who brought the Ukraine scandal to light is made to testify publicly.
The problem with this contention is that the whistleblower's secondhand suspicions have long since been superseded by firsthand sources and documents, including the rough transcript of the phone call between Trump and Ukrainian President Volodymyr Zelensky that was released by the White House. Republicans are basically arguing that an alleged arsonist, caught with a gas can in one hand and matches in the other, cannot be fairly tried without testimony from the passerby who saw a building on fire and called 911. https://www.washingtonpost.com/opinions/rank-partisan-solidarity-is-all-trumps-defenders-have-left/2019/11/11/be0a290c-04cb-11ea-ac12-3325d49eacaa_story.html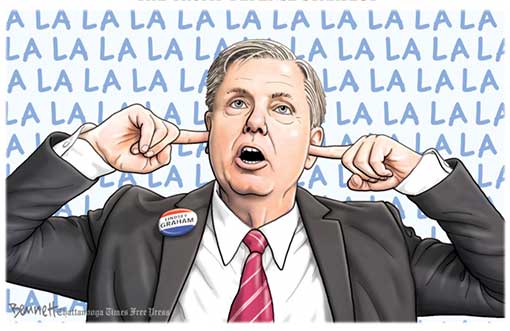 5. A Plea From 33 Writers: Words Matter. Stop Using 'Quid Pro Quo.'
NY Times: A plea from 33 writers: Please use language that will clarify the issues at hand.
Please stop using the Latin phrase "quid pro quo" regarding the impeachment inquiry. Most people don't understand what it means, and in any case it doesn't refer only to a crime. Asking for a favor is not a criminal act; we frequently demand things from foreign countries before giving them aid, like asking them to improve their human rights record.That is not a crime; the crime is President Trump's demand for something that will benefit him personally. But using this neutral phrase — which means simply "this for that" — as synonymous with criminality is confusing to the public. It makes the case more complicated, more open to question and more difficult to plead.
Please use words that refer only to criminal behavior here. Use "bribery" or "extortion" to describe Mr. Trump's demand to President Volodymyr Zelensky of Ukraine, making it very clear that this is a crime. The more we hear words that carry moral imputations, the more we understand the criminal nature of the act. https://www.nytimes.com/2019/11/08/opinion/letters/quid-pro-quo.html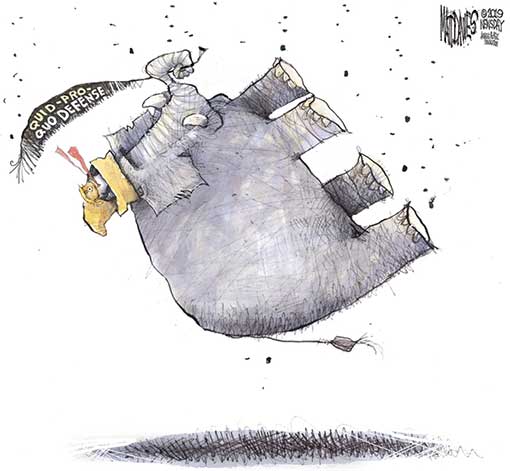 6. Dana Milbank: It's too late to save yourself now, Bill Barr
For Bill Barr, it's too little, too late.
In my news colleagues' latest scoop, The Post's Matt Zapotosky, Josh Dawsey and Carol Leonnig report that the attorney general declined to fulfill President Trump's request that he publicly exonerate Trump's "perfect" call with Ukraine's president — following several actions recently in which "the Justice Department has sought some distance from the White House."
Right. Like a barnacle seeks distance from a whale.
The distancing maneuver is plainly an attempt by those sympathetic to Barr to make him look a bit less like the president's mob lawyer — done anonymously so that Trump wouldn't rage at Barr but instead blame the "degenerate" Post, as he did Thursday. But Barr has sealed his fate. As Trump's impeachment looms, Barr has degraded the office Elliot Richardson once dignified. Barr has turned the Justice Department into a shield for presidential misconduct and a sword wielded against political opponents.
As part of the "distancing" campaign, Barr's Justice Department would have us believe the attorney general never discussed with Trump the prospective Ukraine probe into the Bidens, didn't talk to Trump lawyer Rudy Giuliani about Ukraine and didn't know anything about the White House withholding aid to Ukraine.
Why would anybody doubt the sincerity of such claims?
Maybe Barr is getting queasy, with two of Giuliani's Ukraine associates under indictment and Giuliani being turned down by four lawyers before finding representation. Maybe he's unnerved by what he's reading in the daily drop of impeachment depositions; on Thursday, another high-ranking State Department official testified about Giuliani's campaign being "full of lies." Maybe he even felt a pang of conscience.
It doesn't matter. During his confirmation hearing in January, Barr vowed to "protect the independence and the reputation of the department." Instead, he destroyed the former and squandered the latter. We may never know why he ruined his reputation to serve as Trump's mob lawyer. But it's far too late for rehabilitation. https://www.washingtonpost.com/opinions/2019/11/07/its-too-late-save-yourself-now-william-barr/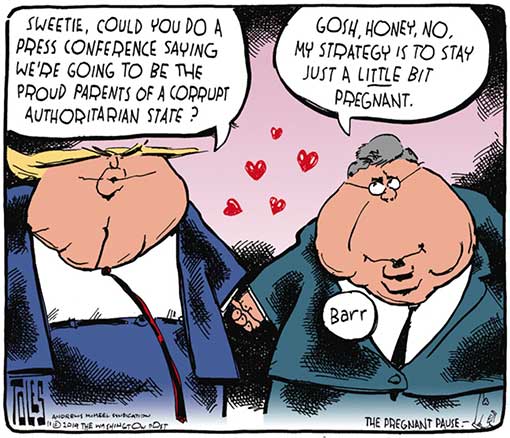 7. Eric Levitz: To many conservatives, Democrats (and/or popular democracy) are a greater threat to America than Vladimir Putin.
The victims of Trump's shadow diplomacy were not Joe and Hunter Biden, but America's security, democracy, and constitutional order: By withholding aid without fiscal justification, the administration unlawfully defied the will of Congress.
By unlawfully denying military assistance to a NATO-aligned ally under attack, Trump jeopardized America's national security. And by using his official powers to generate legal and political problems for his domestic opposition, the president violated a norm that is essential to the preservation of free and fair elections in the United States.
In public, Republicans will declare these assertions untrue. But from the perspective of their party's core activists and donors, they may be simply irrelevant. At a Trump rally in Ohio last July, two of the president's supporters wore T-shirts that read, "I'd rather be a Russian than a Democrat." The implication of this sentiment — that conservatives should have more contempt for the GOP's domestic adversaries than for America's geopolitical ones — was hard to miss. It was also rather easy to understand. Two decades after the Cold War's end, in a moment of peak partisan polarization, why should an ideologically committed conservative fear Russia's occupation of Ukraine more than a Democrat's occupation of the Oval Office? Put differently, why should a person who believes abortion is genocide care more about constraining Putin's influence over eastern Europe than the pro-choice movement's influence over the judiciary? America is simply too secure on the world stage — and divided on the domestic one — for appeals to national solidarity in the face of a foreign menace to pack much punch. http://nymag.com/intelligencer/2019/11/the-gops-case-against-impeachment-is-scarily-principled.html
8. Andrew Sullivan: This Is No Ordinary Impeachment
This is not just an impeachment. It's the endgame for Trump's relentless assault on the institutions, norms, and practices of America's liberal democracy for the past three years. It's also a deeper reckoning. It's about whether the legitimacy of our entire system can last much longer without this man being removed from office.
We have become so used to these attacks on our constitutional order that we fail to be shocked by Trump's insistence that a constitutional impeachment inquiry is a "coup." By any measure, this is an extraordinary statement, and itself an impeachable offense as a form of "contempt for Congress." We barely blink anymore when a president refuses to cooperate in any way, demands his underlings refuse to testify and break the law by flouting subpoenas, threatens to out the first whistle-blower's identity (in violation of the law), or assaults and tries to intimidate witnesses, like Colonel Alexander Vindman. http://nymag.com/intelligencer/2019/11/andrew-sullivan-this-is-no-ordinary-impeachment.html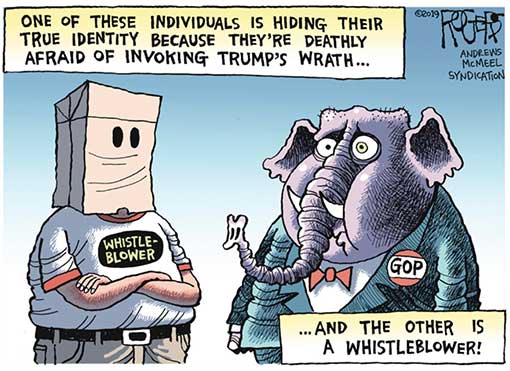 9. Michael Gerson: Trump's Ukraine defense: Blah, blah, blah
Sometimes a phrase can summarize an era. "We shall overcome." "If it feels good, do it." "It's morning again in America."
My candidate for the age of Trump was coined by White House counselor Kellyanne Conway. Asked about findings by the special counsel that she had violated the Hatch Act (which forbids government employees from campaigning in their official capacity), Conway answered, "Blah, blah, blah."
This somehow captures the way that President Trump and his administration casually bat away the serious demands of law and conscience. Ethics compliance? Financial transparency? The emoluments clause? Prohibitions against obstructing justice? Election security? Whistleblower protections? Blah, blah, blah.
Press freedom? Racial reconciliation? The protection of minority religions? The humane treatment of refugees and migrant families? Blah.
Norms of basic honesty? Expectations of presidential character and dignity? The civilized rejection of verbal violence and dehumanization? The ancient proscription — found, I seem to remember, in Blackstone's "Commentaries" — against having your sleazy political fixer pay hush money to a porn star? Blah, blah, blah, blah, blah. https://www.washingtonpost.com/opinions/trumps-ethical-anarchy-makes-us-forget-what-honor-looks-like/2019/11/07/3db2fbd8-0199-11ea-8bab-0fc209e065a8_story.html
10. Dana Milbank: The United States is being run by a toddler
Most Americans don't care what Lutsenko said to Giuliani about Yovanovitch. And we rarely take interest in Kiev if it isn't preceded by "chicken."
But if you take away the names and the Ukraine intrigue, what you're left with from the thousands of pages of deposition transcripts released this week by impeachment investigators is a striking consensus — among Trump administration officials, Democrats and even, to some extent, Republicans — that the United States is currently being run by a toddler.
He has tantrums. He rips up paper. He disregards facts. He believes crazy conspiracies. He's erratic and ill-informed. Those around him walk on eggshells, trying to prevent him from doing the geopolitical equivalent of sticking his finger in an electrical socket.
An anonymous administration official writes in a new book that Trump is "like a twelve-year-old in an air traffic control tower, pushing the buttons of government indiscriminately, indifferent to the planes skidding across the runway and the flights frantically diverting away from the airport." Even loyalist Sen. Lindsey (R-S.C.) posits a dubious new defense of Trump's Ukraine actions: "It was incoherent …They seem to be incapable of forming a quid pro quo."
The depositions make clear Trump appointees and civil servants feel similarly. They describe "great confusion," a "lack of clarity," "the absence of "any coherent explanation" and a "vacuum." The acting chief of staff, Mick Mulvaney, "rarely responded to emails and almost never returned phone calls." https://www.washingtonpost.com/opinions/2019/11/08/united-states-is-being-run-by-toddler/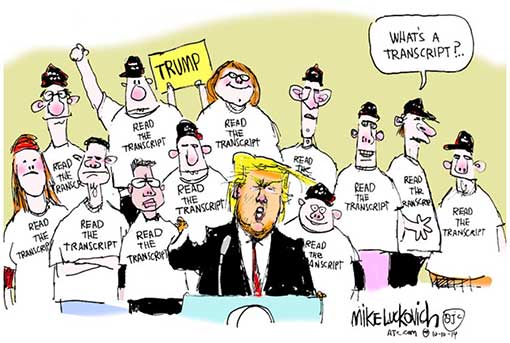 11. Kathleen Parker: Trump learns that fake charities are tons of fun until you get caught
Imagine President Trump's surprise upon realizing that a charity bearing his name did not mean the money belonged to him.
So it has come to pass with a New York judge's ruling Thursday that the president had misused money given to the Donald J. Trump Foundation and, as part of a settlement, will have to pay $2 million in damages. Not only did he use the money for himself, including the purchase of a 6-foot-tall portrait of None Other, but he also filled the board of directors with family members (the usual suspects: Ivanka, Donald Jr. and Eric) and at least one officer, Trump Organization CFO Allen Weisselberg, who didn't know he was even on the board, according to court documents.
The man who popularized "fake news" apparently also invented a fake charity. They're tons of fun until you get caught. But there was nothing fake about the money Trump spent that was intended for others. https://www.washingtonpost.com/opinions/trump-learns-that-fake-charities-are-tons-of-fun-until-you-get-caught/2019/11/08/667b89a6-0273-11ea-9518-1e76abc088b6_story.html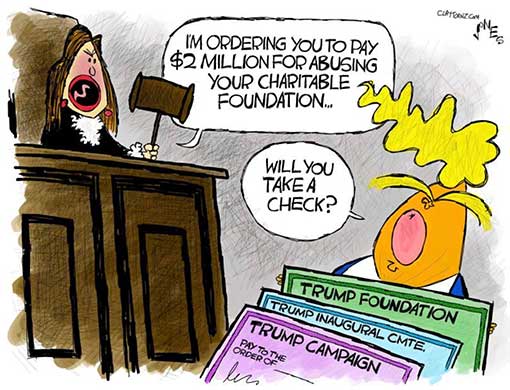 12. Abigail Tracy: "The Truth Looked Bad For Donald Trump": The Roger Stone Trial Is Delivering Much Of What Mueller Didn't
It was the Roger Stone trial, so the circus was definitely in town—journalists, Trump supporters, cranks, and conspiracy theorists of every flavor—but this circus had an incongruously somber air. Stone arrived Friday morning at the E. Barrett Prettyman Courthouse in Washington, D.C., dressed in a tailored gray suit and a blue-and-white-striped button-down, facing charges of lying to Congress, obstructing justice, and witness tampering.
The appearance of Steve Bannon in the 2 p.m. hour on Friday made it feel like the courtroom had beamed back to 2016. Between mentions of the infamous Access Hollywood tape, polls, and the odds in Clinton's, Bannon testified that Stone was viewed by himself and others on the campaign as the conduit to WikiLeaks. "The campaign had no official access to WikiLeaks or to Julian Assange. But Roger would be considered if we needed an access point—an access point because he had implied or told me that he had a relationship with WikiLeaks and Julian Assange," Bannon, who served as the CEO of the Trump campaign in the twilight of the presidential election and went on to work in the White House, said.
The thinking inside the campaign, Bannon explained, was that any emails that were damaging to Clinton were a boon to Trump—and that, underwater in the polls and in the aftermath of the tape's release, the Trump campaign needed all the help it could get. "I do know how to win this but it ain't pretty," Stone wrote Bannon in one email. And in a stunning admission, Bannon said he believed he heard Stone was somehow "involved" in the release of the stolen emails.
Bannon was on the stand for roughly a half hour, but arguably, his testimony tied the Trump campaign to the release of the stolen emails in a way far more salient than the Mueller report or the special prosecutor ever could. Believing it had a back channel to WikiLeaks and Assange, the Trump campaign welcomed any dirty tricks Stone had up his sleeve. https://www.vanityfair.com/news/2019/11/donald-trump-and-the-roger-stone-trial
13. Washington Post Editorial: Congress, stop ducking. Free the 'dreamers.'
IN THE expansive realm of congressional dysfunction, there are few recent examples that surpass the failure to shield from deportation hundreds of thousands of unauthorized migrants, now in their 20s and 30s, who have grown up, studied and entered the job force after being brought to the United States as children. Here is a youthful cohort of more than 700,000 — as ambitious and promising as their native-born neighbors, classmates, co-workers and friends — whom large majorities of Americans want to protect. And still their fate remains hostage to Capitol Hill's habitual gridlock.
As the Supreme Court hears legal arguments Tuesday on the Obama-era policy that provided a reprieve from removal and gave job permits to hundreds of thousands of young unauthorized immigrants, and on the Trump administration's 2017 attempt to rescind that policy, it's worth remembering some history. Specifically, that members of Congress of both parties have been trying, and failing, to codify those very protections for so-called dreamers since nearly the turn of the century.
Perversely, it is imaginable that Congress, and perhaps even Mr. Trump, could be jarred into acting on the dreamers' behalf by a Supreme Court ruling that removed their protections and job security. Mass layoffs and waves of deportations, along with the financial distress those would trigger, could create the sort of crisis that focuses minds in Washington when all else fails. And the fiscal and economic impact of layoffs affecting hundreds of thousands of employees, and others still in college, would be consequential. A 2017 CATO Institute study found that deporting 750,000 young people protected by the Deferred Action for Childhood Arrivals program would sap the U.S. economy by $280 billion over a decade, and the federal tax coffers by an additional $60 billion.
But Congress could regain some respect by doing the right, the obviously right, thing before the court rules. https://www.washingtonpost.com/opinions/congress-stop-ducking-free-the-dreamers/2019/11/11/9908e854-04cc-11ea-8292-c46ee8cb3dce_story.html