January 24, 2019
ON THE RECORD. . .
"If you're a one-term Congress member, so what? You can make 10 years worth of change in one term if you're not afraid." — Rep. Alexandria Ocasio-Cortez (D-NY), in a  video urging activists to run for office.
"Maybe he thinks it's OK not to pay people who work. … I don't. And my caucus doesn't either." — Speaker Nancy Pelosi, explaining her rationale for seeking to reschedule the State of the Union address.
"Justice is not a concept we read about in a book. Justice is about the water we drink. Justice is about the air we breathe. Justice is about how easy it is to vote. Justice is about how much ladies get paid. Justice is about making sure that being polite is not the same thing as being quiet. In fact, oftentimes the most righteous thing you can do is shake the table." —  Alexandria Ocasio-Cortez at the Women's Unity Rally.
"Trump proposes amnesty. We voted for Trump and got Jeb!" — Ann Coulter (@AnnCoulter)
"This is the worst fucking job I've ever had. People apparently think that I care when they write that I might be fired. If that ever happened, it would be the best day I've had since I walked into this place." — Former White House chief of staff John Kelly, quoted in  "Team of Vipers" by former West Wing communications aide Cliff Sims.
"The reason Sarah Sanders does not go to the 'podium' much anymore is that the press covers her so rudely & inaccurately, in particular certain members of the press. I told her not to bother, the word gets out anyway! Most will never cover us fairly & hence, the term, Fake News!" — DonaldTrump
"Kamala Harris' rivals could soon see the mix of cold calculation, relentless fundraising and force of personality that drove Harris' quick rise, starting with the overthrow of her old boss in the prosecutor's office." — Michael Finnegan in the LA Times.
"My recent statements about discussions during the 2016 campaign between Michael Cohen and then-candidate Donald Trump about a potential Trump Moscow 'project' were hypothetical and not based on conversations with the President. My comments did not represent the actual timing or circumstances of any such discussions. The point is that the proposal was in the earliest stage and did not advance beyond a free non-binding letter of intent." — Rudy Giuliani walking back his statement suggesting President Trump continued discussions on a Trump Tower Moscow deal through the 2016 presidential election.
"We have come a long way on that arc since the Reconstruction, since whites and blacks alike were in nearly equal numbers lynched for the crime of being Republican." — Colorado state Rep. Lori Saine (R) chastising the main sponsors of a resolution honoring Martin Luther King Jr. Day.
"I am afraid it will be on my gravestone. 'Rudy Giuliani: He lied for Trump.' Somehow, I don't think that will be it. But, if it is, so what do I care? I'll be dead." — Rudy Giuliani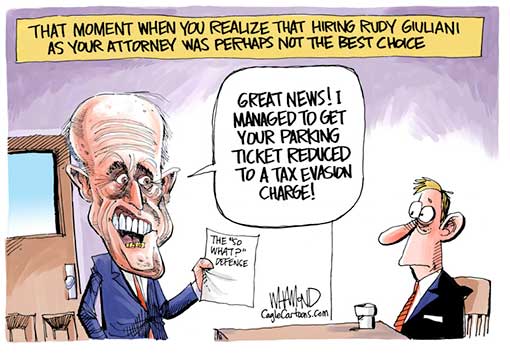 "BUILD A WALL & CRIME WILL FALL! This is the new theme, for two years until the Wall is finished (under construction now), of the Republican Party. Use it and pray!" — Trump's new rallying cry 
"We get that this is unfair to you, but this is so much bigger than any one person. It is a little bit of pain, but it's going to be for the future of our country and their children and their grandchildren and generations after that will thank them for their sacrifice right now. … "I would just tell them, please stay strong, we appreciate everything that you're sacrificing, we're behind you and we are going to do everything that we can, I know the president is doing everything he can to resolve this quickly."— Lara Trump, on the furloughed federal employees.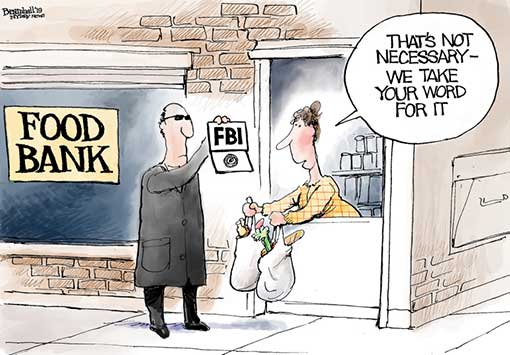 ---
IN THIS ISSUE
FYI
OPINION
1. Andy Borowitz: Pelosi Says She Will Skip Trump and Negotiate Directly with Putin
In a bold gambit to end the government shutdown, the House Speaker, Nancy Pelosi, said on Saturday that she would bypass Donald J. Trump and negotiate directly with the Russian President, Vladimir Putin.

"I owe it to the American people to bring this shutdown to the swiftest possible conclusion, and so I'm avoiding the middleman," she said.

Pelosi, who is scheduled to board a plane to Moscow Saturday night, said that she had not informed Trump of her plans to deal directly with Putin. "Whatever," she said.

In an official statement, Putin said that he welcomed Pelosi's overture and shared her desire to end the shutdown. "At some point, I'd like to visit Yellowstone," he said.. https://www.newyorker.com/humor/borowitz-report/
2. Trump's Approval Plummets During Shutdown
A new AP/NORC poll finds just 34% of Americans approve of President Trump's job performance.
That's down from 42% a month earlier and nears the lowest mark of his two-year presidency. The president's approval among Republicans remains close to 80%, but his standing with independents is among its lowest points of his time in office. https://apnews.com/dad8086738a64b4ba78c0404d5d04e79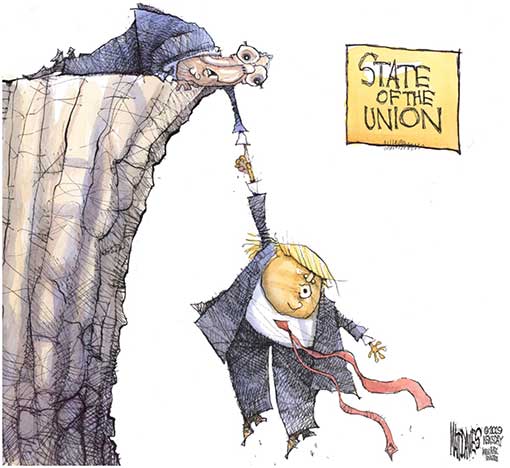 3. Trump Polling At Only 41-42% Against Possible Democratic Foes
PPP's newest national poll finds that at the midway point of Donald Trump's term as President, he's a clear underdog for reelection.
• Biden 53%, Trump 41%

• Sanders 51%, Trump 41%

• Harris 48%, Trump 41%

• O'Rourke 47%, Trump 41%

• Warren 48%, Trump 42%

• Booker 47%, Trump 42%

• Gillibrand 47%, Trump 42%
https://www.publicpolicypolling.com/wp-content/uploads/2019/01/PPP_Release_National_12219.pdf
4. Trump's Lawyer Said There Were "No Plans" For Trump Tower Moscow. Here They Are
The president and his representatives have dismissed the project as little more than a notion — a rough plan led by Trump's then-lawyer, Michael Cohen, and his associate Felix Sater, of which Trump and his family said they were only loosely aware as the election campaign gathered pace.
On Monday, his lawyer, Rudy Giuliani, said "the proposal was in the earliest stage," and he went on to tell the New Yorker that "no plans were ever made. There were no drafts. Nothing in the file."
However, hundreds of pages of business documents, emails, text messages, and architectural plans, obtained by BuzzFeed News over a year of reporting, tell a very different story. Trump Tower Moscow was a richly imagined vision of upscale splendor on the banks of the Moscow River. https://www.buzzfeednews.com/article/azeenghorayshi/here-are-the-trump-moscow-plans
5. The GOP is in a very familiar shutdown position: Losing it badly
History is not a good predictor of President Trump. He defies convention in nearly every way. He has flouted most political norms and lived to tell the tale. To apply the lessons of the past to the politics of today is largely a fool's errand.
That said, there might be something to learn from the government shutdowns of 1995-96 and 2013.
Republicans are in almost the same position that forced them to cave those two times (if not worse). That doesn't mean they will give in again, but it does suggest that a dire set of circumstances has forced their hand before. To the extent they stick it out, it will be because of one thing: Trump's stubbornness. And it risks coming at the type of political cost they very clearly feared in the past. https://www.washingtonpost.com/politics/2019/01/23/gop-is-very-familiar-shutdown-position-losing-it-badly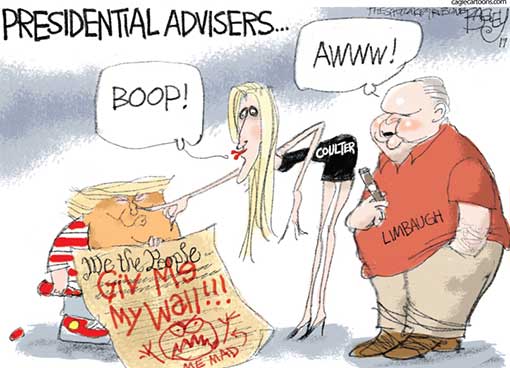 6. AZ Lawmaker wants to tax porn users to help fund the border wall
A GOP lawmaker has a novel idea for how a border wall with Mexico should be funded. Arizona Republican Rep. Gail Griffin (R), has introduced House Bill 2444, which would make "distributors" of devices that allow access to the internet install software to make the pornographic material not viewable. To remove the blocking software, a person would have to pay the state $20.
At the top of the list of 10 things the money can be used for is "build a border wall between Mexico and this state or fund border security." https://www.azmirror.com/2019/01/18/lawmaker-wants-to-tax-porn-users-to-help-fund-the-border-wall/
7. Trump economic adviser says zero percent growth possible due to shutdown
One of Donald Trump's top advisers said on Wednesday that the partial government shutdown could suffocate the economy this quarter if it persists, leading to zero percent growth. https://www.politico.com/story/2019/01/23/kevin-hassett-shutdown-economy-1120921
8. Trump's Proposal to End Shutdown Includes 'Poison Pills'
"The opportunity to end all this is staring us right in the face," Senator Mitch McConnell said Tuesday, calling the president's proposal "a comprehensive and bipartisan offer."
But the measure also included several changes to asylum law, long advocated by Stephen Miller, Mr. Trump's senior adviser and an architect of his immigration agenda, that would make it more difficult for people to seek refuge in the United States from persecution and violence at home. Among them were provisions to bar Central American children from claiming asylum inside the United States, requiring them instead to do so in their own countries, and allow any of them to be quickly sent back to their own countries.
Another revision would create a host of new grounds for deeming an asylum claim "frivolous," including if the migrant seeking protection was also trying to obtain work authorization, had used a fraudulent document — knowingly or unknowingly — or did not file in a timely way. https://www.nytimes.com/2019/01/22/us/politics/government-shutdown-senate.html
9. Trump said he beat ISIS. Instead, he's giving it new life.
Brett McGurk, who recently resigned as special envoy to the Global Coalition to Counter ISIS, writes in the Washington Post that President Trump's decision to pull troops from Syria "was made without deliberation, consultation with allies or Congress, assessment of risk, or appreciation of facts.
The irony is that defeating the Islamic State is what the president said from the beginning was his goal. In 2016, he vowed to 'knock the hell out of ISIS.' His recent choices, unfortunately, are already giving the Islamic State — and other American adversaries — new life. https://www.washingtonpost.com/outlook/trump-said-hed-stay-in-syria-to-beat-isis-instead-hes-giving-it-new-life/2019/01/17/a25a00cc-19cd-11e9-8813-cb9dec761e73_story.html
10. The DAILY GRILL
Border rancher: "We've found prayer rugs out here. It's unreal." Washington Examiner People coming across the Southern Border from many countries, some of which would be a big surprise. — Donald J. Trump@realDonaldTrump

VERSUS

The idea of prayer rugs popping up on the border dates back to at least 2005, when congressional Republicans pushed the rugs as proof that terrorists were attempting to infiltrate the U.S. from Mexico. -- The story's author, Examiner reporter is the former press secretary for the Federation for American Immigration Reform, which is classified as a hate group by the Southern Poverty Law Center for its leaders' "ties to white supremacist groups" and "many racist statements.

 

"Everybody knows that walls work. You look at different places, they put up a wall, no problem. You look at San Antonio, you look at so many different places, they go from one of the most unsafe cities in the country to one of the safest cities, immediately, immediately." — Trump boasting to reporters about how well San Antonio's border wall is working

VERSUS

A quick search (consisting of looking out the window and then checking Texas Department of Transportation traffic cameras) found no walls barring anyone from San Antonio. In fact, the city is often known as one of the most welcoming and friendly cities in Texas. -- mySA

 

"I mean I have nothing to do with Russia. I don't have any jobs in Russia. I'm all over the world but we're not involved in Russia." — Trump, throughout the campaign, denying that he had any business relationships in Russia

VERSUS

The Trump Tower Moscow discussions were "going on from the day I announced to the day I won" — Mr. Giuliani quoted Mr. Trump as saying during an interview with The New York Times.

 

"Trump's former lawyer Michael Cohen said that he will postpone his scheduled Feb. 7 testimony before the House Oversight Committee due to "threats against his family from President Trump and Mr. Giuliani."—  Axios

VERSUS

"Are you fucking serious, Mikey?! What about my family? You gave zero shits about my baby. In all serious though, this is why you shouldn't back down! This is your chance to be a hero! I'll loan you some of my balls, hold your hand, or whatever else you need to do the right thing." — Stormy Daniels excoriating Michael Cohen on Twitter.
11. From MEDIA MATTERS (They watch Fox News so you don't have to)
Tucker Carlson portrays white people as the real victims of racism. https://www.mediamatters.org/video/2019/01/16/tucker-carlson-portrays-white-people-real-victims-racism/222553

Right-wing media attack Rep. Ilhan Omar for something she never said. Omar criticized Sen. Lindsey Graham, and right-wing media accused her of homophobia. https://www.mediamatters.org/blog/2019/01/17/right-wing-media-attack-rep-ilhan-omar-something-she-never-said/222564

Fox News contributor: Proposed Green New Deal is "enslavement, economic enslavement." https://www.mediamatters.org/video/2019/01/17/fox-news-contributor-proposed-green-new-deal-enslavement-economic-enslavement/222556

Fox & Friends ignored Rudy Giuliani's collusion bombshell. Fox & Friends First read one headline on Giuliani's appearance, saying he was "firing back at CNN." https://www.mediamatters.org/blog/2019/01/17/fox-friends-ignored-rudy-giulianis-collusion-bombshell/222560

Sean Hannity: Even if Trump did order Cohen to lie to Congress, it doesn't matter because Democrats are hypocrites. Hannity: Even "if you assume for the moment that even BuzzFeed nailed this story down ... since when [have] Democrats started caring about obstruction." https://www.mediamatters.org/video/2019/01/18/sean-hannity-even-if-trump-did-order-cohen-lie-congress-it-doesnt-matter-because-democrats-are/22257

Laura Ingraham says that Alexandria Ocasio-Cortez used "minority privilege" to criticize Fox News hosts. Ingraham: "How about the privilege of being a protected member of a class that you can never criticize, lest you be called racist?" https://www.mediamatters.org/video/2019/01/17/laura-ingraham-says-alexandria-ocasio-cortez-used-minority-privilege-criticize-fox-news-hosts/222567

NRATV's Grant Stinchfield: Colin Kaepernick "hates everything good about America" just like Satan. Stinchfield: "Satan is an arrogant SOB. So is Kaepernick." https://www.mediamatters.org/video/2019/01/18/nratv-s-grant-stinchfield-colin-kaepernick-hates-everything-good-about-america-just-satan/222570
12. From the Late Shows
Deal or No Deal Cold Open - SNL: https://youtu.be/0D-PRJuUDoc

The Late Show with Stephen Colbert: Rep. Ocasio-Cortez Debunks Myths About A 70% Marginal Tax: https://youtu.be/H8ZeWDEBzoc

The Late Show with Stephen Colbert: We've Come A Long Way From 'No Collusion': https://youtu.be/V_uNDgPZYGs

The U.S. & The U.K.: Allies in Chaos | The Daily Show: https://youtu.be/CgQdsoQ2oQY

Stephen Colbert: The State Of The Union Is... Cancelled?: https://youtu.be/-XOajUXEf9A
13. DOJ hiring attorneys to handle property seizures for border wall
The Justice Department placed an online job posting for a pair of attorneys to tackle border wall litigation in South Texas — a sign of coming property seizures and other legal controversies that President Trump anticipates if he plows ahead with his signature project. https://www.politico.com/story/2019/01/17/doj-property-seizures-border-wall-1093736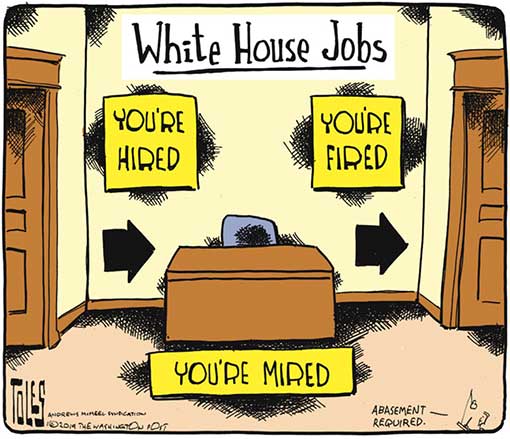 14. Arizona: Four women convicted after leaving food and water in desert for migrants
A federal judge has found four women guilty of entering a national wildlife refuge without a permit as they sought to place food and water in the Arizona desert for migrants.
US magistrate Judge Bernardo Velasco's ruling on Friday marked the first conviction against humanitarian aid volunteers in a decade.
The four found guilty of misdemeanors in the recent case were volunteers for No More Deaths, which said in a statement the group had been providing life-saving aid to migrants. https://www.theguardian.com/us-news/2019/jan/19/arizona-four-women-convicted-after-leaving-food-and-water-in-desert-for-migrants
15. The circular firing squad: Mueller targets turn on each other
Rudy Giuliani sent an unmistakable message Wednesday night: It's everyone for themselves.
During a CNN interview, Donald Trump's personal lawyer blurted out that the only person he knows about who didn't collude with Russia was Trump himself. Although Giuliani tried to walk back his comments on Thursday, the remarks put the sprawling web of people caught up in special counsel Robert Mueller's probe on notice: No one is coming to save you.
"Ya think!!!" one former Trump campaign official wrote to POLITICO when asked whether Giuliani was trying to protect the president at the expense of everyone who worked for him. https://www.politico.com/story/2019/01/17/giuliani-mueller-collusion-investigation-1110671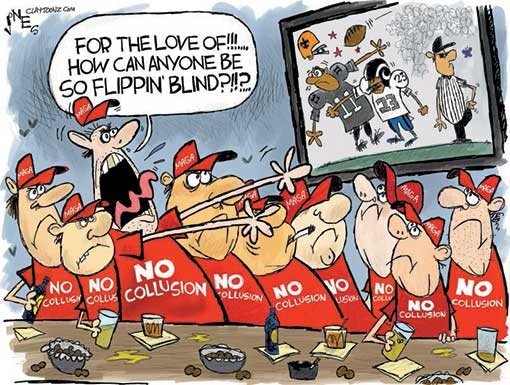 16. Democratic group to launch ads targeting six GOP senators over shutdown
A Democratic group plans to launch a television advertising campaign criticizing six Republican senators for the partial government shutdown, escalating the political battle as the standoff reached its 27th day.
The ads target Sens. Martha McSally (Ariz.), Cory Gardner (Colo.), David Perdue (Ga.), Joni Ernst (Iowa), Susan Collins (Maine) and Thom Tillis (N.C.), the organization told The Washington Post.
"Across Iowa, countless farmers cut off from the vital programs they rely on," the narrator says in the commercial targeting Ernst  . . . . "Instead of being independent, she sides with her party leaders, who refuse to even allow a vote to reopen the government." https://www.washingtonpost.com/powerpost/democratic-group-to-launch-ads-targeting-six-gop-senators-over-shutdown/2019/01/17/64d2bb2e-1a84-11e9-9ebf-c5fed1b7a081_story.html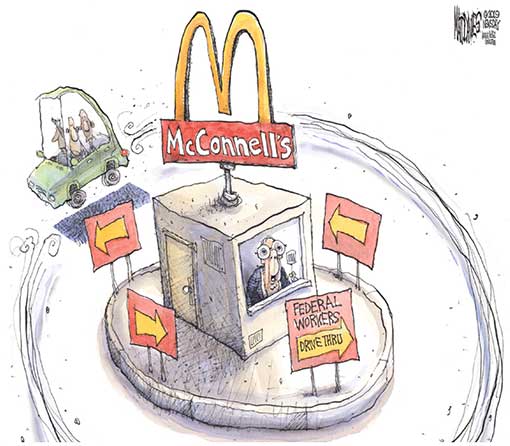 17. Trump Is Unifying Democrats Instead of Consolidating His Base
Trump's decision to center the debate solely on the construction of a wall (or fence or barrier or steel slats), has also has helped to consolidate Democrats. By now, Republicans had warned us in numerous ads over the 2018 campaign, Democrats would be hosting anti-ICE protests and defending sanctuary cities. The 'open borders' liberals would be forcing suburban, swing seat members to choose between their moderate constituents and their liberal allies in Congress. But, what's keeping the Democratic caucus from splitting in two (or three, or four) is that debate isn't about immigration anymore. It's about a wall. And, even his own base isn't convinced that a wall is worth it. https://www.cookpolitical.com/analysis/national/national-politics/trump-unifying-democrats-instead-consolidating-his-base
18. Federal Courts, Running Out of Money, Brace for Shutdown's Pain
The federal courts are running out of money as the partial government shutdown continues with no end in sight, raising concerns that the legal system will be significantly hobbled if the standoff is not resolved soon.
Judges and court officials around the country are bracing for the likelihood that the federal judiciary will be unable to maintain its current operations within the next two weeks, once it exhausts the money it has been relying on since the shutdown began last month.
Already, courts have been cutting down on expenses like travel and new hiring. Court-appointed private lawyers who represent indigent defendants have been working without pay since late December, according to the Administrative Office of the United States Courts, which provides support for the court system.
There have been other disruptions. The Justice Department is among the executive branch agencies whose funding has lapsed, and at the department's request, some federal courts have issued orders postponing civil cases in which the Justice Department is a party while the shutdown continues, according to the administrative office. https://www.nytimes.com/2019/01/18/us/politics/courts-money-government-shutdown.html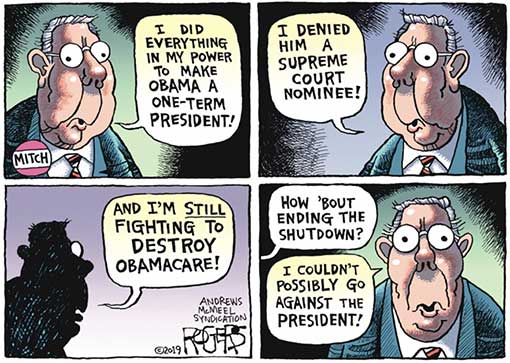 19. Trump used to brag about the click-in online polls his former fixer tried to rig
A new report this morning makes one thing abundantly clear about Donald Trump's 2016 presidential campaign: Trump was right that many things were "rigged" . . . in ways that benefited him or his associates. And in some cases, Trump's campaign was the one doing the rigging.
The Wall Street Journal reports:
In January 2014, Mr. Cohen asked Mr. Gauger to help Mr. Trump score well in a CNBC online poll to identify the country's top business leaders by writing a computer script to repeatedly vote for him. Mr. Gauger was unable to get Mr. Trump into the top 100 candidates. In February 2015, as Mr. Trump prepared to enter the presidential race, Mr. Cohen asked him to do the same for a Drudge Report poll of potential Republican candidates, Mr. Gauger said. Mr. Trump ranked fifth, with about 24,000 votes, or 5% of the total.
During the 2016 campaign, Trump regularly touted polls that showed him leading while dismissing polling that showed him trailing. Part of this strategy relied on pointing to unscientific online click-in polls, the sort that his then-personal attorney Michael Cohen tried to rig in at least two instances. (Cohen later tweeted he attempted to rig these surveys at the direction of Trump.)
"Drudge does a big poll, hundreds of thousands of people vote after the debates," Trump said in November 2015. "It's an online poll, which I think are actually better in many respects than when they interview 300 people and they say, 'You're winning.' I don't understand 300 people." https://www.washingtonpost.com/politics/2019/01/17/trump-used-brag-about-online-polls-his-former-fixer-tried-rig/
20. What court filings tell us about BuzzFeed's Trump-Cohen allegations
Although the cable news network has not corroborated the bombshell report that President Trump instructed Michael Cohen to lie to Congress, CNN reports there are a handful of distinct areas where reporting from BuzzFeed News lines up perfectly with court records, including the charging documents against Michael Cohen, sentencing memos and hearings. https://www.cnn.com/2019/01/18/politics/cohen-trump-buzzfeed-court-filings/index.html
21. Republican Congressman: Trump's Border Crisis Is a 'Myth

'

Rep. Will Hurd (R-TX), whose district includes 820 miles on the U.S.-Mexico border, told Rolling Stone that President Trump's claim of a border crisis is a "myth," and that a border wall is the "most expensive and least effective way to do border security" and is a "third-century solution to a 21st-century problem."

He added that using eminent domain to take land for the border wall would impact more than 1,000 Texas property owners. https://www.rollingstone.com/politics/politics-features/will-hurd-border-wall-myth-781204/
22. Many Voters Think Trump's a Self-Made Man. What Happens When You Tell Them Otherwise?
Across three surveys of eligible voters from 2016 to 2018, we found that as many as half of all Americans do not know that he was born into a very wealthy family. And while Americans are divided along party lines in their assessment of Trump's performance as president, misperceptions regarding his financial background are found among Democrats and Republicans."
The narrative of Trump as self-made is simply false. Throughout his life, the president has downplayed the role his father, real estate developer Fred Trump, played in his success, claiming it was 'limited to a small loan of $1 million.' That isn't true, of course. https://www.politico.com/magazine/story/2019/01/17/many-voters-think-trumps-a-self-made-man-what-happens-when-you-tell-them-otherwise-224019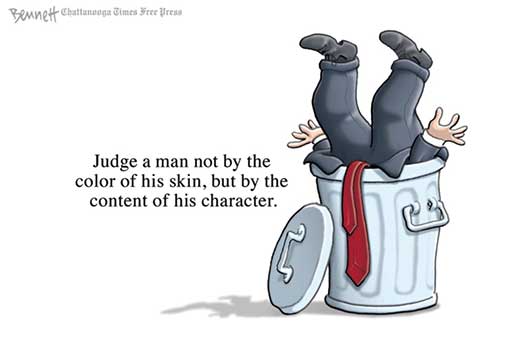 23. Trump made 8,158 false or misleading claims in his first two years
Two years after taking the oath of office, President Trump has made 8,158 false or misleading claims, according to The Fact Checker's database that analyzes, categorizes and tracks every suspect statement uttered by the president.
That includes an astonishing 6,000-plus such claims in the president's second year.
Put another way: The president averaged nearly 5.9 false or misleading claims a day in his first year in office. But he hit nearly 16.5 a day in his second year, almost triple the pace. https://www.washingtonpost.com/politics/2019/01/21/president-trump-made-false-or-misleading-claims-his-first-two-years/
24. Kamala Harris raises $1.5 million in first 24 hours
Kamala Harris' presidential campaign raised $1.5 million in its first 24 hours, her campaign aides told POLITICO, a massive haul for the first-term senator from California that tied Bernie Sanders' one-day total from his 2016 presidential campaign. https://www.politico.com/story/2019/01/22/kamala-harris-15-million-first-day-1119125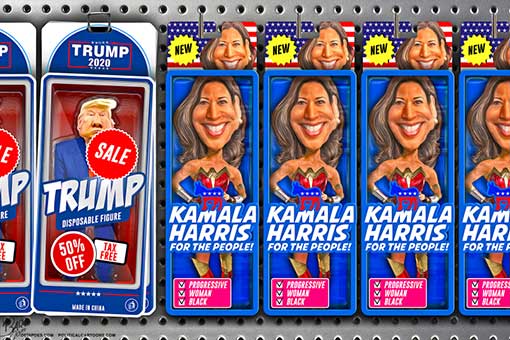 1. Noah Bierman: Why can't Trump make deals? No one trusts him anymore
As Trump reached the halfway mark of his term on Sunday, he has left a trail of negotiating partners from both chambers of Congress, both political parties and countries around the world feeling double-crossed and even lied to.
The result is that the president who campaigned as the world's best deal-maker, vowing that he alone could fix Washington's dysfunction, has been stymied as he looks for achievements before facing the voters again. Two years in, the man who built a political reputation as a guy who tells it like it is has lost the essential ingredients to closing deals: credibility and trust.
"He just undermined the trust and confidence that some Republican members did want to have in him," said Carlos Curbelo, a Florida Republican who lost his House seat in November, in part because of Trump's unpopularity. https://www.latimes.com/politics/la-na-pol-trump-credibility-20190118-story.html
2.
Ocasio-Cortez On Millennials: 'We're Like The World Is Going To End In 12 Years If We Don't Address Climate Change'
Here's an excerpt from her interview with Ta-Nehisi Coates at a Martin Luther King forum in New York City. 
And I think the part of it that is generational is that millennials and people, in Gen Z, and all these folks that come after us are looking up and we're like, the world is gonna end in 12 years if we don't address climate change. You're biggest issue, your biggest issue is how are going to pay for it? — and like this is the war, this is our World War II. And I think for younger people looking at this are more like, how are we saying let's take it easy when 3,000 Americans died last year, how are we saying let's take it easy when the end person died from our cruel and unjust criminal justice system?

How are we saying take it easy, the America that we're living in today is dystopian with people sleeping in their cars so they can work a second job without healthcare and we're told to settle down. It's a fundamental separation between that fierce urgency of now, the why we can't wait that King spoke of. That at some point this chronic reality do reach a breaking point and I think for our generation it reached that, I wished I didn't have to be doing every post, but sometimes I just feel like people aren't being held accountable. Until, we start pitching in and holding people accountable, I'm just gonna let them have it."
https://news.grabien.com/story-ocasio-cortez-millennials-were-world-going-end-12-years-if-w
3. Catherine Rampell: The GOP has become the Soviet party
Once upon a time, Ayn Rand-reading, red-baiting Republicans denounced Soviet Russia as an evil superpower intent on destroying the American way of life.
My, how things have changed.
The Grand Old Party has quietly become the pro-Russia party — and not only because the party's standard-bearer seems peculiarly enamored of Russian President Vladimir Putin. Under Republican leadership, the United States is starting to look an awful lot like the failed Soviet system the party once stood unified against.
Supposedly middle-class workers — people who have government jobs that are supposed to be stable and secure — are waiting in bread lines. Thanks to government dysfunction and mismanagement, those employed in the private sector may also be going hungry, since 2,500 vendors nationwide are unable to participate in the food stamp program while the government is shuttered and unable to renew licenses for the Electronic Benefit Transfer debit card program.
Why? Because of the whims of a would-be autocrat who cares more about erecting an expensive monument to his own campaign rhetoric than about the pain and suffering of the little people he claims to champion. https://www.washingtonpost.com/opinions/the-gop-has-become-the-pro-russia-party/2019/01/21/9960f0d4-1dbf-11e9-8e21-59a09ff1e2a1_story.html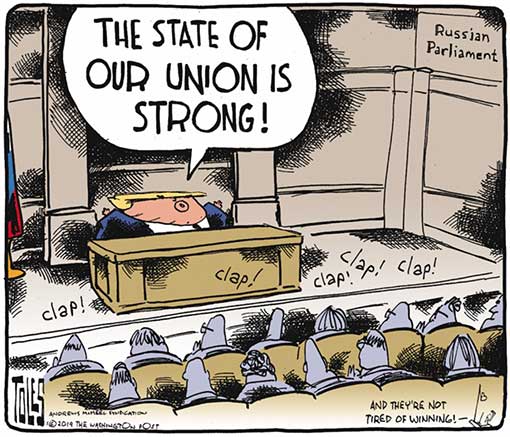 4. Jonathan Chait: Rudy Giuliani Is Possibly a Legal Genius, But Probably Just an Idiot
The case for why Giuliani is simply an idiot is fairly self-evident. (It's worth adding that, as former prosecutor Renato Mariotti points out, by describing a conversation with Trump to the Times, Rudy gave up his ability to shield it behind attorney-client privilege.)
And yet the counterintuitive case for why this baffling sequence of interviews indicates a hidden brilliance is also strangely plausible. "It appears the Giuliani strategy includes, little by little, confirming troubling facts so that they won't seem as jarring when revealed in full by Mueller or others," writes Jim VandeHei of Axios, "This allows Trump and others to say: 'This isn't new.' Or: 'Trump disclosed this earlier.'"
It is certainly true, as a public relations strategy, that there is some gain in manipulating the media's perception of what counts as "news." Scandals that get broken by news outlets tend to attract far more attention than revelations offered up for attorneys for the president. Giuliani floated a highly incriminating admission, but before the media could absorb and amplify it, quickly led reporters into a surreal netherworld. Trump's involvement in the Moscow project during the campaign is both a disclosed fact (old news!) and a charge Trump's supporters can deny. And by the time reporters sort through the confusion and nail Giuliani down to one position, he'll have dazzled everybody with a new confession.
Of course, he's probably just an idiot. On the other hand, with a client facing as many points of legal vulnerability as Trump, is there really a better strategy? http://nymag.com/intelligencer/2019/01/rudy-giuliani-genius-or-idiot.html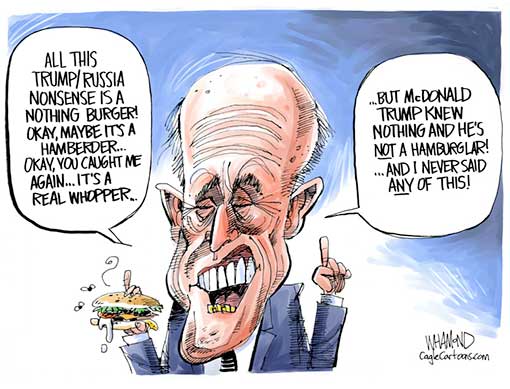 5. Jonathan Chait: Trump's One Legislative 'Win' Is Actually a Failure
The Tax Cuts and Jobs Act is the crown jewel of the Trump presidency, the singular legislative achievement that even Trump-skeptical Republicans can point to as the payoff (worth it or otherwise) for the embarrassment of having to endure Trump's clown show.
And yet it has not sunk in how completely this project is failing. Remember that at the time of the tax-cut debate, the Joint Committee on Taxation, Congress's official revenue forecaster, projected that the law would reduce tax receipts by $1.5 trillion over the next decade. Republicans insisted that this projection reflected "static analysis," which failed to account for all the extra growth that would be stimulated by lower tax rates. They have spent years browbeating the committee to adopt their pet ideological assumptions, and in response to the pressure, it dutifully produced a complementary "dynamic" analysis that predicted, with the additional growth, the tax cuts would lose just $1 trillion dollars.
Not only was the Republican assumption that zero revenue would be lost too optimistic, and not only was the more modest "dynamic" model that presumed just a trillion-dollar revenue loss too optimistic, but the "static" revenue model was also too optimistic. The tax cuts are losing more than forecasters predicted even when they assumed it would do nothing to encourage growth.
Obviously the Trump tax cuts have had an effect. They have bequeathed a gigantic windfall benefit to business owners (as well as the heirs to large fortunes, who will have to pay even lower taxes on the largest inheritances). The Trump tax cuts are of a piece with the endemic corruption that has tied the party's political class to its buffoonish president. He has made his partners richer, at least temporarily. But by the public-facing standards set out for it, as opposed to the private venal reasons, the Trump tax cuts have failed as miserably as everything else. http://nymag.com/intelligencer/2019/01/trumps-one-legislative-win-is-actually-a-failure.html
6. David Faris: Trump and the obliteration of America
Today marks the two year anniversary of President Trump's ignominious reign over the United States. We are now at the midpoint of Trump's first, perhaps only, term as president of the United States, what we can now understand as our collective Trumpening.
It is natural to ask about the consequences of handing the office of the presidency to a friendless, joyless, violence-worshipping narcissist. Unfortunately, what we know about the repercussions of this period is vastly outstripped by the disasters to come. For all the many ignominious assaults that the country has endured over the past two years, we have not yet experienced even a fifth of the calamities this man and his misrule will ultimately inflict upon us.
But we know a few things.
We know that President Trump has, perhaps permanently, transformed the presidency with his malevolence, ineptitude, and divisiveness. Donald Trump is by far the laziest and least informed person ever to inhabit the White House. In two years, he has defined deviance so far down that he may have forever altered the expectations of the office of the presidency itself. As we have learned from a thousand anonymously sourced news analyses, the president's time is largely unstructured, filled mostly with blocks of compulsive Fox News watching, an activity that he telegraphs to the public by live tweeting it. America's voters are constantly being told, by the president of the United States, to watch particular Fox programs and to applaud quotes by right-wing gadflies uttered without any serious pushback from other guests on what is now effectively Republican state television. https://theweek.com/articles/818550/trump-obliteration-america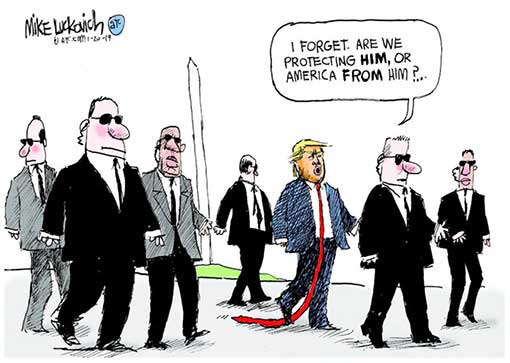 7. Jennifer Rubin: Here's an alternative to Trump's extortion
President Trump has been taking hostages for two years. He ordered an end to dreamers' protection under the Deferred Action for Childhood Arrivals program, ordered an end to the temporary protected status for hundreds of thousands of people, and then forced a shutdown of the government, leaving 800,000 without a paycheck and inflicting financial and emotional pain on them, their families and (often small) businesses. And then he came up with a deal — such a deal! He would give partial relief to the dreamers and TPS people and get $5.7 billion for a wall; then he'd open the government.
Wait, you say. Wasn't he the one who put DACA and TPS folks at risk, and haven't the federal courts already given DACA beneficiaries a likely one-year reprieve? Well, yes. A burglar has broken into your home, has taken the silver and is now offering to lease it back to you for three years only — but first, give him a $5.7 billion edifice.
If anyone still had doubts, Trump is the worst negotiator to occupy the Oval Office, in large part because he is utterly untrustworthy. We are in this predicament because Trump has repeated reneged on a deal (most recently a clean continuing resolution). Because he is entirely incapable of behaving honorably, Congress must act independently. McConnell should now be prodded to emerge from behind Trump's skirts and negotiate in good faith as half of an equal branch of government. That might actually generate a reasonable compromise. https://www.washingtonpost.com/opinions/2019/01/20/heres-an-alternative-trumps-extortion/
8. Russ Buettner and Maggie Haberman: In Business and Governing, Trump Seeks Victory in Chaos
Three decades ago, Donald J. Trump waged a public battle with the talk show host Merv Griffin to take control of what would become Mr. Trump's third Atlantic City casino. Executives at Mr. Trump's company warned that the casino would siphon revenue from the others. Analysts predicted the associated debt would crush him.
The naysayers would be proved right, but throughout the turmoil Mr. Trump fixated on just one outcome: declaring himself a winner and Mr. Griffin a loser.
As president, Mr. Trump has displayed a similar fixation in his standoff with Congress over leveraging a government shutdown to gain funding for a wall on the Mexican border. As he did during decades in business, Mr. Trump has insulted adversaries, undermined his aides, repeatedly changed course, extolled his primacy as a negotiator and induced chaos.
His lack of public empathy for unpaid federal workers echoes his treatment of some construction workers, contractors and lawyers whom he refused to pay for their work on his real estate projects. The plight of the farmers and small-business owners wilting without the financial support pledged by his administration harks back to the multiple lenders and investors who financed Mr. Trump's business ventures only to come up shortchanged.
And his ever-changing positions (I'll own the shutdown; you own the shutdown; the wall could be steel; it must be concrete; then again, it could be steel) have left heads in both parties spinning. Even after his televised proposal on Saturday to break the deadlock, Mr. Trump has no progress to show. https://www.nytimes.com/2019/01/20/us/donald-trump-leadership-style.html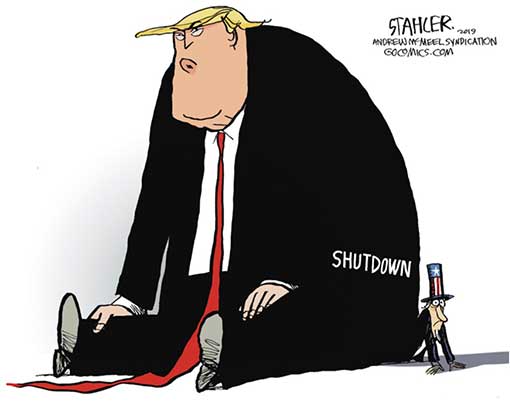 9. Jonathan Chait: Trump Didn't Have Secret Contact With Russia — It Was Done in Plain Sight
In the middle of January, the Russia investigation as we understand it ceased to be merely an inquiry into "collusion." It was revealed as something far more portentous: an inquiry into whether President Trump, as the New York Times put it in one of the more breathtaking clauses it has ever published, "had been working on behalf of Russia against American interests."
The discovery that the Federal Bureau of Investigation had opened a counterintelligence investigation into the president of the United States did contain a caveat: "No evidence has emerged publicly that Mr. Trump was secretly in contact with or took direction from Russian government officials." Yet, the very next day, the Washington Post reported that Trump had gone to extraordinary lengths to keep his discussions with Vladimir Putin secret. Trump may not have been "secretly in contact" with the Russian leader — the whole world knew they were meeting — but nobody outside the Russian government and Trump himself knows what they discussed. Trump's efforts to conceal discussions with the Russian president went to almost comically suspicious lengths. He excluded any foreign-policy advisers, failed to debrief anybody in the U.S. government, and even confiscated his translator's notes. American intelligence and foreign-policy officials — who, in theory, are supposed to implement the president's agenda — have been reduced to spying on Russian communications about the meetings to attempt to suss out what their own president said.
Trump's private meetings with Putin are an apt metaphor for the entire bizarre relationship. The secret contacts are lying around in plain sight.
As for whether Trump "took direction from Russian government officials," we don't know what directions, if any, Putin might be giving Trump in their secret meetings. But here, too, the indirect evidence is sitting right before us: Trump has said he takes Putin at his word that, contrary to the findings of U.S. intelligence, Russia did not hack Democratic emails. He has repeatedly asked his advisers about pulling out of NATO, questioned whether he would defend a NATO ally that faced an attack, and picked fights with leaders of Canada, Britain, France, and Germany. The splitting of the Western alliance would fulfill a strategic goal generations of Russians could only dream of. http://nymag.com/intelligencer/2019/01/trumps-contact-with-russia-was-done-in-plain-sight.html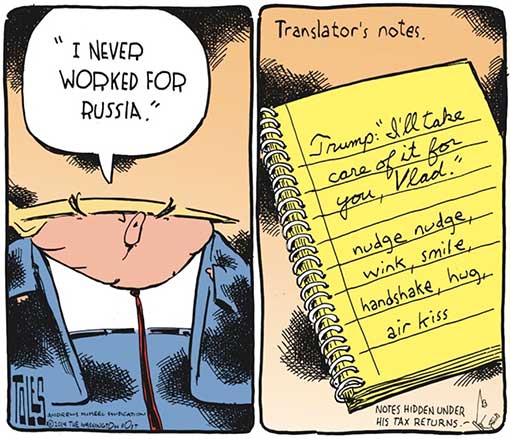 10. Ron Brownstein: Trump Isn't Even Trying to Convince Voters on the Shutdown
Attracting and sustaining majority support has traditionally represented a North Star for American presidents. The showdown over the shutdown, perhaps more than any earlier decision, makes clear that Trump is setting his course by a very different compass. Trump has abandoned any pretense of seeking to represent majority opinion and is defining himself almost entirely as the leader of a minority faction.
That carries big long-term risks for the GOP, as the Democratic gains in the House last November demonstrated. But because the structure of the Senate and the Electoral College disproportionately favors the older, non-college-educated, evangelical, and rural white voters who comprise his faction, Trump's approach could sustain itself for years. And that promises a steady escalation in political conflict and polarization as Republicans tilt their strategy toward the demands of an ardent minority—and lose the moderating influence of attempts to hold support from a majority of Americans. https://www.theatlantic.com/politics/archive/2019/01/trump-ignoring-voter-opinion-his-shutdown-fight/580687/
11. Yoni Appelbaum: Impeach Donald Trump
Trump has demanded that public officials put their loyalty to him ahead of their duty to the public. On his first full day in office, he ordered his press secretary to lie about the size of his inaugural crowd. He never forgave his first attorney general for failing to shut down investigations into possible collusion between the Trump campaign and Russia, and ultimately forced his resignation. "I need loyalty. I expect loyalty," Trump told his first FBI director, and then fired him when he refused to pledge it.
Trump has evinced little respect for the rule of law, attempting to have the Department of Justice launch criminal probes into his critics and political adversaries. He has repeatedly attacked both Deputy Attorney General Rod Rosenstein and Special Counsel Robert Mueller. His efforts to mislead, impede, and shut down Mueller's investigation have now led the special counsel to consider whether the president obstructed justice.
As for the liberties guaranteed by the Constitution, Trump has repeatedly trampled upon them. He pledged to ban entry to the United States on the basis of religion, and did his best to follow through. He has attacked the press as the "enemy of the people" and barred critical outlets and reporters from attending his events. He has assailed black protesters. He has called for his critics in private industry to be fired from their jobs. He has falsely alleged that America's electoral system is subject to massive fraud, impugning election results with which he disagrees as irredeemably tainted. Elected officials of both parties have repeatedly condemned such statements, which has only spurred the president to repeat them.
These actions are, in sum, an attack on the very foundations of America's constitutional democracy. https://www.theatlantic.com/amp/article/580468/
12. Tom Nichols: All signs point the same way: Vladimir Putin has compromising information on Donald Trump
This is not normal, in any way. As things stand, more people in the Kremlin than in Washington know what Trump said to Putin. It is almost certain that there are readouts and analyses of Trump's discussions with Putin — but that for now, they are in Russian.
It is exhausting but nonetheless necessary to point out again the titanic hypocrisy of the Republican Party and of Trump's apologists in the conservative media. If President Barack Obama had shredded his notes of a meeting with the Iranian president, or if Hillary Clinton's campaign manager were sitting in jail for lying about meeting a Chinese business associate — and alleged intelligence officer — to share polling data, that alone would have been enough for the GOP to impeach everyone from the president to the White House chef.
Special counsel Robert Mueller's investigation into Trump team ties to Russia might be coming to an end, if his willingness to let former Trump lawyer Michael Cohen speak to Congress next month is any indication. Mueller's report could make these recent revelations seem like the sound of distant fires compared with the bombshells about to explode. But even had Mueller never been appointed, we are already in the midst of the most astonishing scandal in American history. https://www.usatoday.com/story/opinion/2019/01/13/mounting-evidence-trump-fears-putin-compromising-information-column/2564892002/
13. Tina Nguyen: Trump Doesn't Understand Why He's Losing The Shutdown
With each passing day, it seems less likely that Donald Trump will negotiate a speedy resolution to the ongoing government shutdown. Ordinarily, in the case of a political standoff, one side will concede after the consequences exceed their pain threshold, or once both sides grow tired of posturing and agree to compromise. Trump, however, appears to be lacking in any of the traits that might bring him to the negotiating table. He is, for one, largely apathetic to the 800,000 or so federal workers who are not getting paychecks ("most of the people not getting paid are Democrats," he has said). He is arrogant enough to believe that the American people largely back his position, despite polling showing the exact opposite (58 percent of Americans told the Pew Foundation that they oppose the wall, and would also oppose a deal that included wall funding). And he lacks the political sophistication to understand what is motivating Democrats in Congress to hold firm.
The latest evidence comes via The New York Times's Maggie Haberman and Annie Karni, whose sources inside the White House portray the president as a man without any sort of plan for ending the shutdown, now in its 27th day. "We are getting crushed!" Trump recently told acting chief of staff Mick Mulvaney, according to the Times. "Why can't we get a deal?" https://www.vanityfair.com/news/2019/01/trump-doesnt-understand-why-he-is-losing-government-shutdown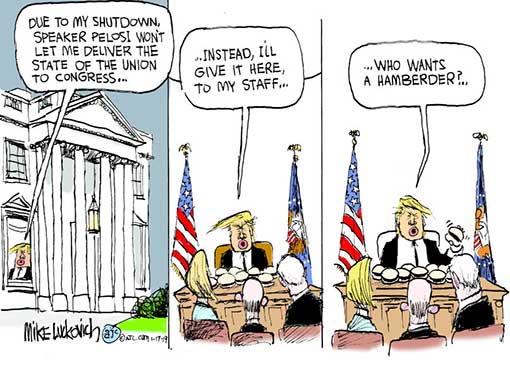 14. George Will: The shabbiest U.S. president ever is an inexpressibly sad specimen
"Dislike of him should be tempered by this consideration: He is an almost inexpressibly sad specimen. It must be misery to awaken to another day of being Donald Trump. He seems to have as many friends as his pluperfect self-centeredness allows, and as he has earned in an entirely transactional life. His historical ignorance deprives him of the satisfaction of working in a house where much magnificent history has been made. His childlike ignorance — preserved by a lifetime of single-minded self-promotion — concerning governance and economics guarantees that whenever he must interact with experienced and accomplished people, he is as bewildered as a kindergartener at a seminar on string theory."
Which is why this fountain of self-refuting boasts ('I have a very good brain') lies so much. He does so less to deceive anyone than to reassure himself. And as balm for his base, which remains oblivious to his likely contempt for them as sheep who can be effortlessly gulled by preposterous fictions. The tungsten strength of his supporters' loyalty is as impressive as his indifference to expanding their numbers.
Either the electorate, bored with a menu of faintly variant servings of boorishness, or the 22nd Amendment will end this, our shabbiest but not our first shabby presidency. https://www.washingtonpost.com/opinions/what-a-misery-it-must-be-to-be-donald-trump/2019/01/18/d0e05eea-1a82-11e9-8813-cb9dec761e73_story.html
15. John Cassidy: Halfway Through the Trump Presidency, the Resistance Is Winning
The attitude of L'état, c'est moi, which Trump inherited from France's Louis XIV, along with a passion for ostentatious gold furnishings, is one of the many assaults on democratic norms that we have grown accustomed to during the past twenty-four months. Trump has "called for the persecution of his political enemies and the protection of his allies," David Leonhardt, of the Times, wrote in a recent piece calling for Trump's impeachment. "He has attempted to obstruct justice. He has tried to shake the public's confidence in one democratic institution after another, including the press, federal law enforcement and the federal judiciary." Yoni Appelbaum, of The Atlantic, filled out the rap sheet: "He has failed to disclose or divest himself from his extensive financial interests, instead using the platform of the presidency to promote them. . . . He pledged to ban entry into the United States on the basis of religion, and did his best to follow through. . . . He has assailed black protestors. . . . He has falsely alleged that America's electoral system is subject to massive fraud, impugning election results with which he disagrees as irredeemably tainted. . . . These actions are, in sum, an attack on the very foundations of America's constitutional democracy."
From the beginning, it was clear that Trump's narcissism, amorality, disregard for the truth, and authoritarian tendencies presented a grave threat. The question was how much he would be reined in by the fabled checks and balances that the Founders erected to prevent the emergence of an overweening Presidency—the split between the –executive and the legislature, the independent judiciary, the free press, regular elections to elicit the will of the people. To express it another way, the question was: Who was the more powerful, Donald Trump or Thomas Jefferson? So far, Jefferson is winning on points. For the most part, the institutions of American democracy have withstood the assaults they have been subjected to, frustrating and infuriating Trump in equal measure. https://www.newyorker.com/news/our-columnists/at-halftime-of-the-trump-presidency-the-resistance-is-winning
16. Tony Schwartz: I wrote The Art of the Deal with Trump. He's still a scared child
There are two Trumps. The one he presents to the world is all bluster, bullying and certainty. The other, which I have long felt haunts his inner world, is the frightened child of a relentlessly critical and bullying father and a distant and disengaged mother who couldn't or wouldn't protect him.
"That's why I'm so screwed up, because I had a father who pushed me so hard," Trump acknowledged in 2007, in a brief and rare moment of self-awareness.
Trump's temperament and his habits have hardened with age. He was always cartoonish, but compared with the man for whom I wrote The Art of the Deal 30 years ago, he is significantly angrier today: more reactive, deceitful, distracted, vindictive, impulsive and, above all, self-absorbed – assuming the last is possible.
The Trumpian worldview is narrow, dark and deficit-driven. Each of us shares some of those instincts: the fear of inadequacy is uniquely and universally human. But we are also capable of so much more. My hope and belief is that Trump will no longer be president by this year's end. My personal commitment is to pay much less attention to him, and more to making a difference to others affected by his policies. Whatever happens, may the worst of Trump inspire the best in us.
We, together, can do it. https://www.theguardian.com/global/commentisfree/2018/jan/18/fear-donald-trump-us-president-art-of-the-dealI wrote The Art of the Deal with Trump. He's still a scared child