November 17, 2022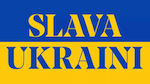 A friend, family member, or neighbor who would like to subscribe to this FREE weekly newsletter should simply email jellison@san.rr.com with "subscribe" as the subject.
THE WEEK'S BEST QUOTES. . .
"For Republicans, it should be clearer than ever that they have trouble reaching potentially winnable swing voters because of the unhinged appearance and revolting character of the party's Trump-era incarnation." — National Review https://www.nationalreview.com/corner/the-message-of-the-midterms/
It's Mitch McConnell's fault. Spending money to defeat great Republican candidates instead of backing Blake Masters and others was a big mistake. Giving 4 Trillion Dollars to the Radical Left for the Green New Deal, not Infrastructure, was an even bigger mistake. He blew the Midterms, and everyone despises him and his otherwise lovely wife, Coco Chow! — Donald Trump. https://truthsocial.com/@realDonaldTrump/posts/109337173935798278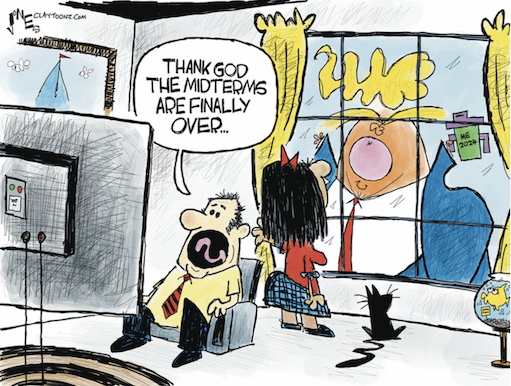 "Ironic isn't it? Mitch McConnell stealing a Supreme Court seat cost him his last chance at being Leader McConnell." — Former Sen. Claire McCaskill (D-Mo)
https://mobile.twitter.com/clairecmc/status/1591628143559077889
We lost in '18. We lost in '20. We lost in '21 in Georgia. And now in '22 we're going to net-lose governorships, we're not going to pick up the number of seats in the House that we thought and we may not win the Senate despite a president who has a 40% job approval. There's only one person to blame for that, and that's Donald Trump.— Former Gov. Chris Christie (R-NJ).
https://www.pbs.org/newshour/politics/after-disappointing-gop-results-trump-urged-to-delay-2024-presidential-launch
Young Kin (now that's an interesting take. Sounds Chinese, doesn't it?) in Virginia couldn't have won without me. I Endorsed him, did a very big Trump Rally for him telephonically, got MAGA to Vote for him - or he couldn't have come close to winning. But he knows that, and admits it. Besides, having a hard time with the Dems in Virginia - But he'll get it done! . — Donald Trump lashing out against Virginia Gov. Glenn Youngkin.
https://truthsocial.com/@realDonaldTrump/posts/109325150085362681
Well, I think that it was a clear victory for team normal. We believe in standing up for the Constitution, and for the Republic and a real rejection of the toxicity, and the hate, and vitriol, and of Donald Trump. — Rep. Liz Cheney (R-WY).
https://www.businessinsider.com/liz-cheney-says-midterms-victory-for-team-normal-over-trump-2022-11
Surprising no one, Donald Trump posted on Truth Social that he believes the Arizona and Nevada elections were rigged.
https://truthsocial.com/@realDonaldTrump/posts/109322741903684486
Ron came to me in desperate shape in 2017—he was politically dead, losing in a landslide to a very good Agriculture Commissioner, Adam Putnam ... Ron had low approval, bad polls, and no money, but he said that if I would Endorse him, he could win. ...And now, Ron DeSanctimonious is playing games! The Fake News asks him if he's going to run if President Trump runs, and he says, I'm only focused on the Governor's race, I'm not looking into the future. Well, in terms of loyalty and class, that's really not the right answer. --Trump.
https://truthsocial.com/@realDonaldTrump/posts/109322017568994719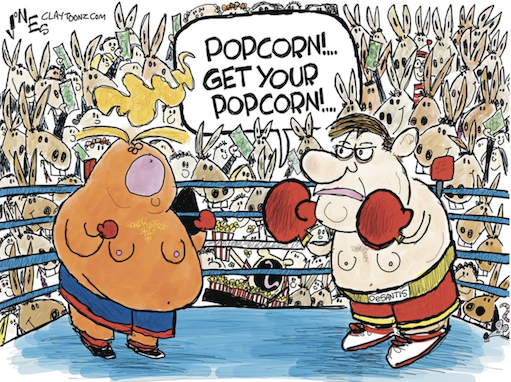 A true leader understands when they have become a liability. A true leader understands that it's time to step off the stage. ... A house divided against itself cannot stand. And indeed, that is where we are today. — Virginia Lt. Gov. Winsome Sears, national chair of the Black Americans to Re-Elect the President PAC in 2020.
https://www.axios.com/newsletters/axios-sneak-peek-bea463d7-949a-4190-8f8b-3f0416eef8ea.html
It would be entirely outside of the rule of law to not indict him. — Former prosecutor Andrew Weissmann.
https://www.nbcnews.com/politics/justice-department/trump-mar-a-lago-documents-possible-charge-justice-department-rcna56485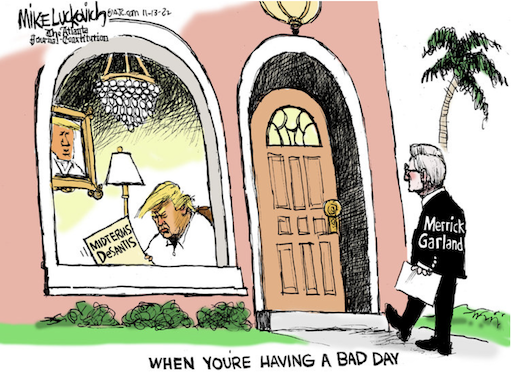 "Donald Trump has proven himself to be dishonest, disloyal, incompetent, crude and a lot of other things that alienate so many independents and Republicans. Even a candidate who campaigns from his basement can beat him."  — Rep. Mo Brooks (R-Huntsville).
https://www.al.com/news/2022/11/mo-brooks-says-trump-dishonest-disloyal-incompetent-crude.html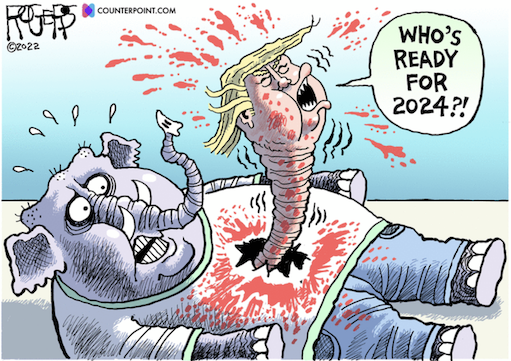 "I started to feel, even in 2019, that it was possible that I may not see the end of the year." — Rep. Alexandria Ocasio-Cortez (D-NY) saying she has feared for her life since becoming an elected official.
https://www.cnn.com/videos/politics/2022/11/10/alexandria-ocasio-cortez-danger-threats-wtcw-vpx.cnn
"We need to build more gallows … such a deadly fate would "make an example of these traitors who've betrayed our country." — Midway through a white nationalist's conference in Orlando last month, Arizona state Sen. Wendy Rogers (R) drew applause calling for gruesome violence against "traitors" after excoriating critics of the "honorable" Confederate Gen. Robert E. Lee and proponents of the "bioweapon" coronavirus vaccine.
https://www.washingtonpost.com/investigations/2022/03/08/wendy-rogers-arizona-nick-fuentes-censure/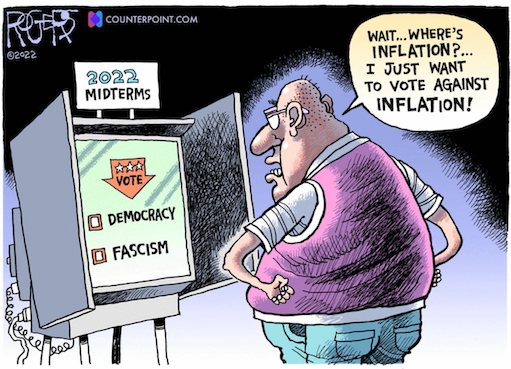 "We have been clear with Donald. There have been conversations between them during which Rupert made it clear to Donald that we cannot back another run for the White House." — A senior News Corp. source.
https://www.theguardian.com/us-news/2022/nov/15/murdoch-press-turns-on-donald-trump-in-favour-of-defuture-ron-desantis
"It turns out that trying to overturn an election is not wildly popular with the American people." — GOP pollster Whit Ayres.
https://spectrumlocalnews.com/nys/hudson-valley/ap-online/2022/11/09/candidates-who-backed-overturning-trump-loss-are-rebuffed0
.
Ben Shapiro
: You're about to see a red wave.
Ted Cruz
: Red tsunami.
Tudor Dixon
: Big red wave in Michigan.
Lauren Boebert
: Big red wave.
Laura Ingraham
: Red wave rising.
https://www.thebulwark.com/from-red-wave-to-red-trickle/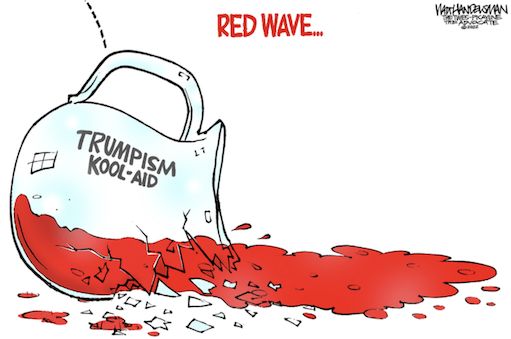 I assume everyone is watching Arizona as the great Kari Lake's easy election win is slowly, yet systematically, being drained away from her, and from the American people. This is a very sad thing to watch. Mail in Ballots, long election counts, many day elections, machines that very few people understand, massive counting centers, and more, are an American disaster. Our elections have become an unreliable joke, and the whole world is watching! — Donald Trump.
https://twitter.com/NicoleSGrigg/status/1592188300500299776/photo/1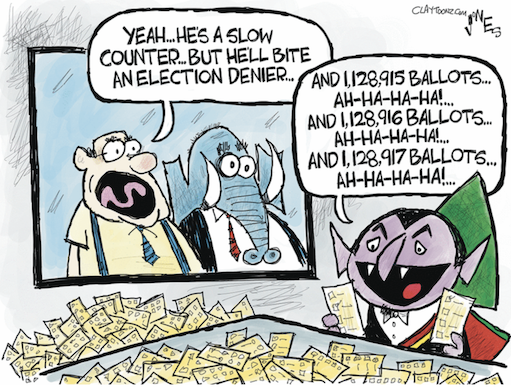 So he says he's running. The hats'll have to say MAGAGA — make America great and glorious again. If it makes you gag, get used to it. — Laurence Tribe.
https://twitter.com/tribelaw/status/1592705603239292929?
@tribelaw
VIDEOS
Donald Trump failed America. — Joe Biden @JoeBiden
https://twitter.com/joebiden/status/1592704151384985602
"The president's words were reckless…they endangered me and my family and everyone at the Capitol building." — Mike Pence about the Jan. 6th insurrection. https://twitter.com/abcworldnews/status/1591929600124207104

"At the first opportunity, he will zap her faster than you can say Jewish space laser." — Rep. Matt Gaetz (R-FL), commenting on Rep. Marjorie Taylor Greene's (R-GA) support of Kevin McCarthy for Speaker. https://twitter.com/patriottakes/status/1592310214329765890
LITIGATION TRACKER
Pending Criminal and Civil Cases Against Donald Trump
. 
https://www.justsecurity.org/75032/litigation-tracker-pending-criminal-and-civil-cases-against-donald-trump/
---
IN THIS ISSUE
IN THE NEWS
OPINION
Andy Borowitz: Republicans Blindsided That People Who Vote Believe in Democracy
As they conduct a postmortem on the midterm elections, top Republicans have disclosed that they were "totally blindsided" that people who vote tend to believe in democracy.
According to Party officials, Republican strategists have been flabbergasted by exit polls indicating that voters who had just cast their ballots wanted those votes to be counted.
"In the run-up to Election Day, we believed that our message about ignoring the will of the people would strongly appeal to people," Harland Dorrinson, a prominent G.O.P. strategist, said. "What we found instead was that people who participated in democracy were inclined to favor democracy. It's a humbling reminder of just how unpredictable politics can be."
Fearing that voters' preference for voting could be more than a passing fad, Republicans have already started rethinking their 2024 strategy, Dorrinson said.
"We're going to have to make it clear that we Republicans believe in elections, whether we do or not," he said. https://www.newyorker.com/humor/borowitz-report/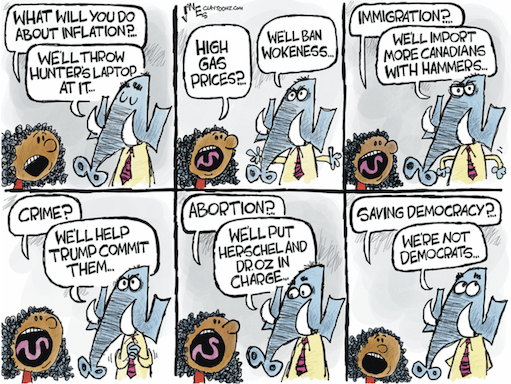 Kevin McCarthy's Bid for Speaker Just Got Complicated
Republicans' weaker-than-expected performance in the midterms has complicated House Minority Leader Kevin McCarthy's path to becoming the next speaker of the House and created potential headaches if he does get the top job…

The GOP's showing—after Republican officials and some forecasters had predicted a 'red wave'—has fueled grumblings from colleagues about whether he is the right person to lead them, according to interviews with several lawmakers and GOP aides. https://www.wsj.com/articles/kevin-mccarthys-bid-for-speaker-complicated-by-gops-2022-midterm-results-11668123509
It's still Trump's party and he'll run if he wants to ... run if he wants to, run if he wants to
As Trump prepares to plunge into another bid for the presidency, he starts as the GOP's favorite.

A new POLITICO/Morning Consult poll shows that 47 percent of Republicans and Republican-leaning independents say they would back Trump if the Republican presidential primary were held today. By comparison, 33 percent said they would back Florida Gov. Ron DeSantis. No other prospective candidate received above 5 percent in the poll, save former Vice President Mike Pence, who stood exactly at that figure.

But if the poll shows the clear path forward for Trump as he readies his third White House run since 2016, it also exhibits the peril ahead. Among all voters surveyed, 65 percent said Trump should probably or definitely not run again (with 53 percent in the definite camp). And while Trump's standing has not dropped significantly since pre-election (he stood at 48 percent in the most recent Morning Consult poll), DeSantis' star has risen. The Florida governor was at 26 percent in that last poll. https://www.politico.com/news/2022/11/15/donald-trump-president-campaign-00066886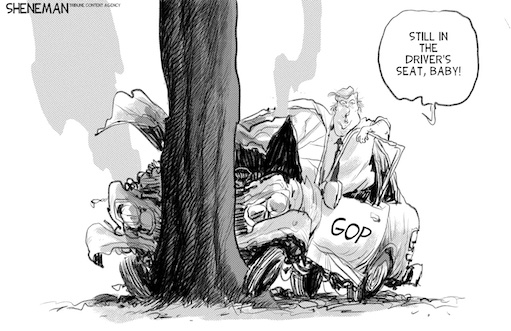 Trump Attacks U.S. Jews for Supporting Democrats
Said Trump: "You do have people in this country that happen to be Jewish that are not doing the right thing for Israel – too many. The Democrats get 75 percent of the Jewish vote, which is hard to believe. We can't let that continue."
Trump noted "all of the horrible things that have taken place with Biden and Barack Hussein Obama… and then it's 75 percent of the vote.
https://www.haaretz.com/us-news/2022-11-14/ty-article/.premium/at-zoa-event-trump-again-attacks-u-s-jews-for-supporting-democrats/00000184-7579-db34-a3f5-fffb94f60000
We can now quantify Trump's sabotage of the GOP's House dreams
If we look at all 401 contests in which a single Democrat faced a single Republican, there is not much difference. Relative to baseline expectations derived from their districts' recent voting patterns (as calculated by the Cook Partisan Voting Index), 144 Trump-endorsed candidates exceeded their baselines by an average of 1.52 points. In 257 races where Trump did not endorse a general-election candidate, Republicans exceeded their baseline by 1.46 points.
But that similarity is driven mainly by Trump's endorsements of many Republicans cruising to easy reelection in uncompetitive districts. If we focus exclusively on districts where the margin of victory was less than 15 points, such that the seat was conceivably in the balance, the picture that emerges is quite different.
In these 114 districts, candidates bearing Trump endorsements underperformed their baseline by a whopping five points, while Republicans who were without Trump's blessing overperformed their baseline by 2.2 points — a remarkable difference of more than seven points.
https://www.washingtonpost.com/opinions/2022/11/15/data-trump-weighed-down-republican-candidates/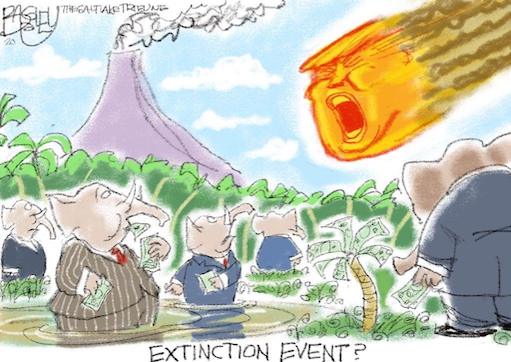 Trump Sat On $94 Million As His Chosen Candidates Lost The Senate For Republicans
Donald Trump hoarded $94 million this election in his various political committees as his anointed candidates lost the Senate for Republicans in tight races where that money might have made the difference between winning and losing.
Said one Trump adviser: "We didn't lose because of Trump's rhetoric. We lost because Trump is cheap. He left them all hanging dry…. It gave a free shot for all the right-wing pundits to turn on him."
https://www.huffpost.com/entry/trump-hoarded-94-million-2022-elections-republican-candidates_n_6372c91ce4b0d82d23aa8fe3
Clarence Thomas Again Moves To Block Jan. 6 Inquiry That Could Implicate His Wife
In a dissent on Monday, Supreme Court Justice Clarence Thomas showed that he would have blocked enforcement of a subpoena issued by the House Jan. 6 Committee for the phone and text records of Arizona Republican Party Chair Kelli Ward.
The committee is seeking Ward's records related to her role in former President Donald Trump's effort to steal the 2020 election as a fake elector casting ballots in the Electoral College for Trump.
This is the second time Thomas has indicated that he would intervene to hamper the committee's efforts to investigate the plot to overturn the 2020 election in which his wife, Ginni Thomas, played a role.
https://news.yahoo.com/clarence-thomas-again-moves-block-191711144.html
House Freedom Caucus ties itself in knots over challenging McCarthy
Kevin McCarthy's fractious crew of pro-Trump conservatives is openly debating whether to back his speakership dreams as it pushes for major House rules changes.
How real of a rebellion the Freedom Caucus can muster when it has no alternative candidate yet, however, is another question entirely.
https://www.politico.com/news/2022/11/10/mccarthy-freedom-caucus-midterms-00066149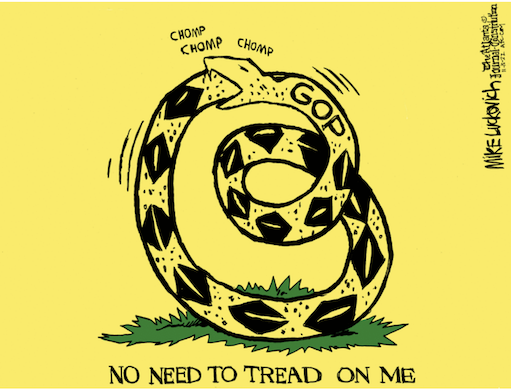 Keep an Eye on Elise Stefanik
Elise Stefanik, the New York Republican, became the first member of GOP leadership to formally endorse Trump's 2024 campaign — even though it hasn't yet been announced. The move, which came in the form of a fawning
statement in Breitbart
, caught some Republicans off guard — especially those who'd prefer that Trump just fade away into the background.
Stefanik, the congressional darling of MAGA World, is currently running for the No. 4 House leadership post. But many believe her ambitions go well beyond that. With McCarthy staring down a possibly difficult path to the speakership, some Hill GOP sources wonder if she's eyeing the gavel — though others say that's unlikely given that the job looks like it will be as thankless as it is grueling, given the slim margin of the expected House majority.
https://www.politico.com/newsletters/playbook/2022/11/11/the-incredible-shrinking-gop-majority-00066455
'They completely f--ked up': How the GOP lost its grip on the Senate majority
Interviews with more than 20 strategists and senators from both parties highlight the reasons for Republicans' stumbles this year: former President Donald Trump played kingmaker, and the party reasoned it could do little about it besides trying to ride historical tailwinds.
Senate Republicans' disinterest in further damaging their fractious relationship with the former president saddled them with losing candidates in Pennsylvania, Arizona and New Hampshire as popular governors took a pass on running. And the chip still on Scott's shoulder from his own 2010 gubernatorial primary — where he toppled an establishment favorite — shaped the NRSC's approach this cycle, for better or worse.
Nonetheless, many Republicans spent the week feeling caught in a replay of 2012 and 2010, when poor GOP nominees squandered winnable races and cost them shots at the Senate.
https://www.politico.com/news/2022/11/11/republicans-senate-majority-00066009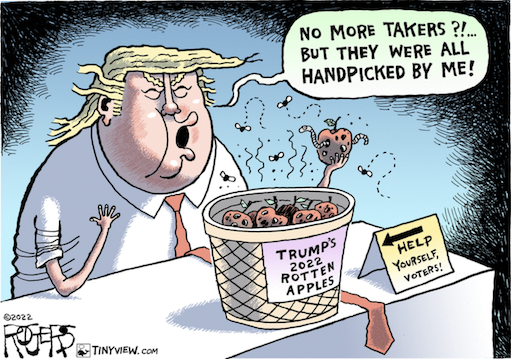 Ohio man shot and killed his neighbor because he thought he was a Democrat
A 43-year-old father was fatally shot over his perceived political affiliation, his Ohio family said. The man's 26-year-old neighbor is now facing a charge of murder, court documents show.
Anthony Lee King's the  the victim's wife said "He's come over like four times confronting my husband because he thought he was a Democrat."
https://www.kentucky.com/news/nation-world/national/article268513477.html
With New Ruling, Sandy Hook Families Win Over $1.4 Billion From Alex Jones
The Infowars conspiracy broadcaster Alex Jones must pay the families of eight Sandy Hook shooting victims an additional $473 million in punitive damages for defaming them, a judge in Connecticut ruled on Thursday, bringing the total damages to nearly $1.5 billion.
https://www.nytimes.com/2022/11/10/us/politics/alex-jones-sandy-hook-damages.html
Judge slaps sanctions on Trump lawyers for 'frivolous' Clinton lawsuit
A federal judge on Thursday excoriated and sanctioned several members of Donald Trump's legal team, saying the former president's massive lawsuit against his former rival, Hillary Clinton, and dozens of other adversaries amounted to an intentional abuse of the legal system.
"These were political grievances masquerading as legal claims," said U.S. District Court Judge Donald Middlebrooks, a Florida-based jurist who dismissed Trump's lawsuit in September. "This cannot be attributed to incompetent lawyering. It was a deliberate use of the judicial system to pursue a political agenda."
https://www.politico.com/news/2022/11/10/trump-lawyers-clinton-lawsuit-00066381
THE DAILY GRILL
Kari Lake (R) tweeted an open letter sarcastically thanking Rep. Liz Cheney (R-WY) for running a political ad against her, lauding the "Cheney anti-endorsement" as "the gift that keeps on giving."

VERSUS

You're welcome Kari Lake. —Liz Cheney. https://twitter.com/Liz_Cheney/status/1592340964982808576
A Washington Post reporter was able to create a verified account impersonating me—I'm asking for answers from Elon Musk who is putting profits over people and his debt over stopping disinformation. Twitter must explain how this happened and how to prevent it from happening again. — Senator Ed \Markey https://twitter.com/SenMarkey/status/1591164312168824832

VERSUS

"Perhaps it is because your real account sounds like a parody?" — Elon Musk https://twitter.com/elonmusk/status/1591813228119855104…
"And why does your [profile picture] have a mask!?" — Elon Musk https://twitter.com/elonmusk/status/1591817319143313408

VERSUS

Your strategy of mocking Democratic senator over sincere question regarding security Twitter after you fired everyone who does security, and continue to act erratically, will certainty quell political concerns you're catering to MAGA extremists & susceptible for foreign influence. — David Rothschild https://twitter.com/DavMicRot/status/1591819062182830080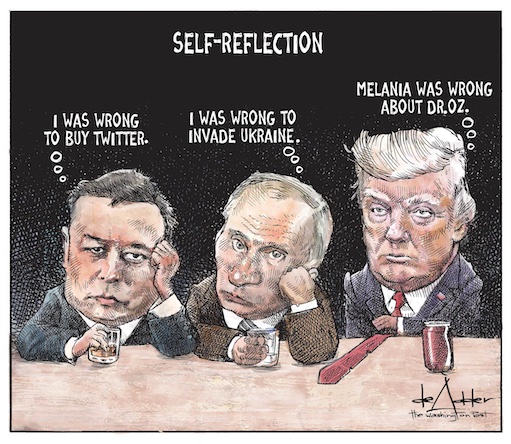 NY Times Editorial Board: America Deserves Better Than Donald Trump
Mr. Trump is unfit for public office. As president, he showed himself to be incompetent and self-dealing. He should have been convicted by the Senate in 2019 for abusing his power and in 2021 for inciting an insurrection. Voters repudiated him at the ballot box after his second campaign, but he has the legal right to try again, so Americans must weather the trial of a third candidacy. If he is still in the race when the first votes are cast in 2024, the election will once again be a referendum on American democracy, because if our system of government is to survive, voters must choose leaders who accept and submit to the rule of law.

The case against Mr. Trump is straightforward. He uses demagogy to stoke racism. He lies about matters great and small. As president, he frequently placed his personal interests above the national interest. He promised to lift up ordinary Americans and instead delivered tax cuts for the wealthy that significantly increased the federal debt. He was a friend to dictators and an inconstant ally to liberal democracies. He made the country's military position in the world demonstrably weaker by foolishly withdrawing from the Iran nuclear deal, which even a senior Israeli official now concedes was a serious self-inflicted wound. And in perhaps his greatest test as president, he treated the Covid-19 pandemic as a public relations problem, downplaying the danger and resisting basic safety measures that would have saved lives. https://www.nytimes.com/2022/11/15/opinion/trump-2024-announcement.html
George T. Conway III: Trump is out for vengeance — and to protect himself from prosecution
Donald Trump was always going to run. Absent incarceration or interment, and perhaps only the latter, he inevitably would seek the presidency again. His narcissism, his megalomania, his delicate yet illimitable ego, would have it no other way.

Donald Trump craves the power. Even more, he craves the attention. And more than ever — after an unprecedented two impeachments, a humiliating reelection defeat that he can't even admit, and amid multiple criminal investigations and civil suits — he seeks vengeance. The l'état c'est moi president who apparently tried to sic the IRS on his enemies (and perhaps succeeded), and who tried to extort Ukraine into smearing Joe Biden, can't wait to get back on the job.

Trump won't succeed, as his successive losses of the House, Senate, presidency and last week's midterm results show. Too many Americans would crawl on broken glass to vote against him, no matter who his general election opponent may be. They have seen enough. https://www.washingtonpost.com/opinions/2022/11/15/george-conway-trump-2024-prosecution/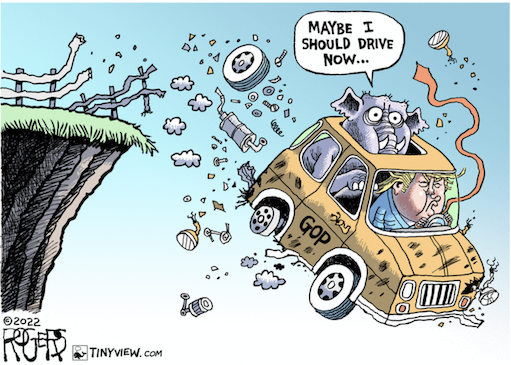 Ron Brownstein: While Democrats may have bucked the national trend, Republicans still hold a large sway in GOP-led states
In Democratic-leaning and swing states, voters last week delivered an unmistakable cry of resistance to the restrictive Republican social agenda symbolized by the drive to ban abortion.

But in red states where Republicans have actually imposed that agenda over the past two years, GOP governors cruised to reelection without any discernible backlash.

That sharp contrast underscored the depth of the divide between red and blue America and points toward the further partitioning of the nation into divergent, and increasingly hostile, blocs living under fundamentally different rules for civil rights and liberties. Last week's results could simultaneously embolden red state Republicans to continue advancing the militantly conservative social agenda they have pursued since 2021 on abortion and other issues like voting and book bans – while also making clear that such an agenda is electorally untenable outside of those core GOP states. https://www.cnn.com/2022/11/14/politics/abortion-midterm-voters-politics-democrats-republicans-fault-lines/
Tom Scocca: Don't Be Fooled, Trump's Hold on the G.O.P. Is Stronger Than Ever
Spiritually and practically, Trumpism was everywhere this election season, and it shows no signs of retreating before the next one. If Mr. Trump's most shameless supporters faltered at the polls in November, the Republicans who stood up to him were purged from the party long before then. The combination of resentment, rule-bending, and shamelessness that gave rise to Mr. Trump's presidency is still the reigning attitude of the party — a necessary attitude, for a minority party bent on dominating the majority, rather than forming a majority of its own.

Distrust of and disdain for democratic outcomes shape the party's agenda, both internally and externally. Before Nevada's Senate race was called, Senator Lindsey Graham, the eager bellwether of Mr. Trump's flock, was already telling his Republican colleagues that there was "no mathematical way Laxalt loses." If he did, Mr. Graham said, it would be a "lie."

Some Republicans may imagine the 2022 results as a way to rid themselves of Mr. Trump's particular scandals and his celebrity personality cult. Giving up on his philosophy of impunity, though, is a different thing. They may feel brave enough to call him a loser, but none of them have shown the courage to find another, less Trumpy, way to win. https://www.nytimes.com/2022/11/14/opinion/trump-republican-gop-midterms.html
Jonathan Last: Democracy was on the ballot. And attempts to end it were met with universal scorn.
There were seven Republican gubernatorial candidates who would not commit to certify Biden's 2020 win. They went 0-7 in the midterm. (Or 0-8 if you toss in David Perdue's pathetic primary performance against Brian Kemp).  Eight blue or purple state GOP Secretary of State candidates would not commit to certifying the election if the Democrat won. They went 0-8 last Tuesday. (Or 0-10 if you count the Tina Peters faceplant in the Colorado GOP primary, and Saint Brad Raffensperger crushing all comers). Two swing district election deniers successfully primaried Republicans who voted to impeach Trump, Joe Kent and John Gibbs. Both got schlonged.

And for good measure, 'My Kevin' McCarthy is poised to either (1) suffer the most embarrassing defeat in the history of the House of Representatives, or (2) be saddled with the narrowest House majority in decades and be forced to grovel in front of Marjorie Taylor Greene and Matt Gaetz if he wants to finally grab the gavel he sacrificed his dignity for.

There was indeed a bloodbath in 2022—just as Don Jr. predicted. But the bathers imbrued in crimson were his fellow coup conspirators. The taste of their defeat is making me feel downright vampiric, so I wanted us to take a moment to inject ourselves with the platelets of democratic victory, together. https://thetriad.thebulwark.com/p/democracy-was-on-the-ballot-and-attempts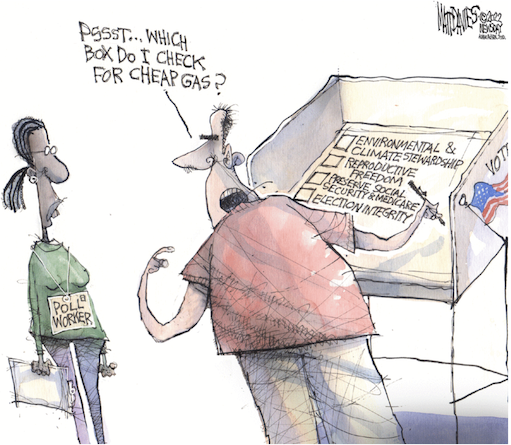 Ron Brownstein: How Democrats Avoided a Red Wave
Republicans did not win those economically pessimistic voters by quite as big a margin as midterm precedents had suggested. Usually, the party out of power has dominated voters with those views: Democrats, for instance, in 2018 won about 85 percent of those who described the economy as either not so good or poor.

This year, Republicans slightly exceeded that result among those who called the economy 'poor,' the most negative designation. But among those who gave the equivocal verdict of 'not so good,' Republicans won only 62 percent, way down from the Democrats' total four years ago. https://www.theatlantic.com/politics/archive/2022/11/midterm-election-results-democrats-avoid-red-wave/672050/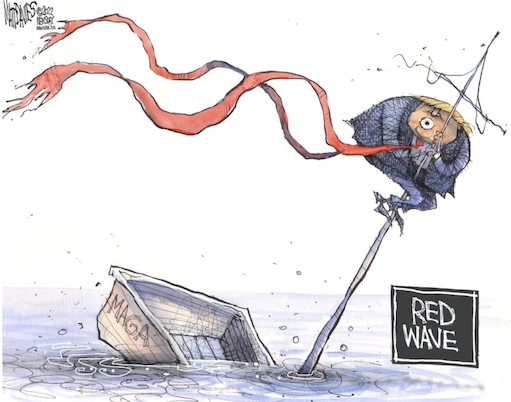 Eric Lutz: Republicans Might Be Swinging At Trump — But They're Still Striking Out
If the GOP wants to break up with Trump, they should should stop talking about it and actually do it. The party has squandered six years' worth of opportunities to ditch Donald Trump — including two impeachments and an insurrection — because they were too afraid of him and his base to take a firm stand. And now, as the former president prepares to launch a third bid for the White House, the Republican Party seems destined to repeat the same mistake.

While the GOP is expected to gain back the House, the party's underwhelming midterm performance has forced members fringe and establishment to take stock of their allegiance to Trump, whose deep unpopularity has weighed them down in three straight elections now. Such soul-searching has brought about some unusually frank rhetoric about the former president: "He's been on the mound and lost three straight games," Utah Senator Mitt Romney told the Associated Press. "If we want to start winning, we need someone else on the mound." Some have already turned their gaze toward potential 2024 successors: "Let me tell you something," Republican Representative Maria Elvira Salazar told reporters. "I do know the next Republican presidential contender is coming from Florida" — a reference, it seemed, not to the man in the gilded golf club in Palm Beach, but to the guy in the governor's mansion in Tallahassee: Ron DeSantis.

Still, all this talk of moving past Trump feels notably passive. Former Vice President Mike Pence, who has been teasing a run of his own, finally found the courage to admit that he was "angered" when Trump sicced an armed mob on him on January 6. But in that same primetime interview with ABC News' David Muir, Pence still couldn't bring himself to say that Trump shouldn't be president again.

"Given all you witnessed in the Capitol that day, this is a pretty straightforward question, a yes or a no — do you believe that Donald Trump should ever be president again?" Muir asked.

"David, I think that's up to the American people," Pence replied, not giving a yes or a no, but assuring him that voters may have "better choices in the future." https://www.vanityfair.com/news/2022/11/republicans-criticize-trump-ahead-of-expected-2024-announcement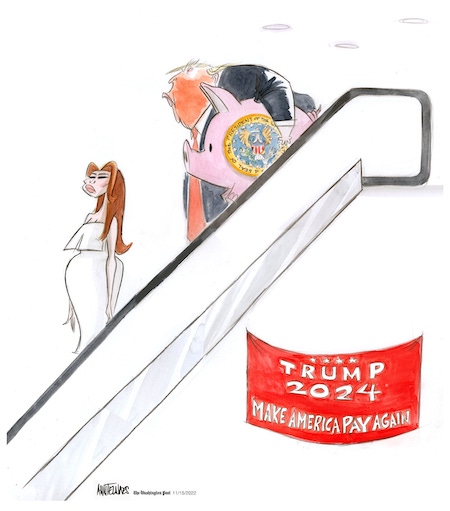 Tim Alberta: Trumpism Is Toxic
According to exit polls, 20 percent of voters said inflation has caused their families 'severe hardship' over the past year. Among those respondents, 71 percent supported Republicans, and 28 percent supported Democrats. This is broadly consistent with other findings in the exit polling, as well as public-opinion research we saw throughout the summer and fall, showing disapproval of Biden and his stewardship of the economy. This would seem damning for Democrats—that is, until you consider the numbers in reverse and ask the obvious question: Why did three in 10 people who said they've experienced 'severe hardship' decide to vote for the party that controls Congress and the White House?

The simplest explanation is that although many of these voters think Democrats are out of touch, they also think Republicans are out of their minds. And it seems they prefer the former to the latter. https://www.theatlantic.com/politics/archive/2022/11/republican-midterm-election-performance-2024-trump/672070/
Bess Levin: Rupert Murdoch Knees Trump In The Balls While He's Doubled Over Coughing Up Blood
The last thirty-six hours have not gone great for Donald Trump and despite being famously detached from reality, he seems to know it, if reports of him lashing out and blaming everyone around him for the midterm results are anything to go by. Yet while a sad Trump could once turn to the warm embrace of Rupert Murdoch's media empire to make him feel better about himself, that metaphorical bosom—or, more accurately, team of professional fluffers—is no longer. In fact, it appears that an unofficial memo has gone out to Murdoch-owned properties that the ex-president is only to be referred to as a has-been loser who, at this point, couldn't win an election for deputy director of the Mar-a-Lago Parks and Recreation Department.

Take The Wall Street Journal. On Wednesday, there were no fewer than six anti-Trump op-eds, with one of them literally headlined Trump Is the Republican Party's Biggest Loser. That piece, written by the Journal's notoriously conservative editorial board, noted that Trump has now flopped in 2018, 2020, 2021 and 2022, and has led Republicans into one political fiasco after another. It suggests this week's shellacking should be a wake-up call to the GOP before 2024 (i.e., the party should oppose his much-teased third run for office).

Then there's the New York Post. On Wednesday, Trump's hometown tabloid ran a cover declaring his current archnemesis, Ron DeSantis, the future of the Republican Party. Apparently, though, that was just a warm-up for what they had in store today, which was a cover depicting Trump as the anthropomorphic egg Humpty Dumpty, naturally headlined Trumpty Dumpty.

The accompanying story referred to the 45th president as Toxic Trump, dubbed him perhaps the most profound vote repellent in modern American history, and told him to scram. Another piece, written by his one-time pal Piers Morgan, noted:

There's no getting away from the cold, hard political reality that it was a surprisingly better night for the Democrats and President Biden than anyone, including them, expected. And the reason for this had little to do with anything they did, other than correctly bet that the issue of abortion rights would be a vote-energizer for them—and everything to do with Trump's toxic stranglehold on the GOP.

It remains to be seen just how long the Murdoch empire's new anti-Trump stance lasts. While the Journal, the Post, and Fox News all seem to have gotten behind DeSantis as the new de facto leader of the Republican Party, it's all but certain that they'll line up to support Trump should he win the 2024 GOP nomination, at which point they'll probably have a case of convenient amnesia about declaring him a radioactive loser. Opinion Trump won't fade away. The GOP will have to get rid of him. https://www.vanityfair.com/news/2022/11/donald-trump-midterms-fox-news-rupert-nyp-wsj-rupert-murdoch
Eugene Robinson: Trump won't fade away. The GOP will have to get rid of him
Republicans who say the Donald Trump era is over and the Ron DeSantis era has begun are guilty of magical thinking. Trump is never, ever going to voluntarily release his grip on your party. Nor will his followers simply extricate themselves from a movement that's more cult than political party. If you want the GOP back, you're going to have to take it from Trump and accept that it's going to be ugly.

Rupert Murdoch's media empire can't do the job for you, hard as it might try. The change in tone since Tuesday's elections is striking. Fox News analysts have presented the results as disastrous for the GOP. Thursday's Wall Street Journal ran one editorial blaming Trump for making the party nominate unelectable candidates, another headlined Trump Is the Republican Party's Biggest Loser, and a column by GOP eminence grise Karl Rove titled, With No Red Wave, Trump Is Out at Sea. https://www.washingtonpost.com/opinions/2022/11/10/trump-gop-take-itself-back/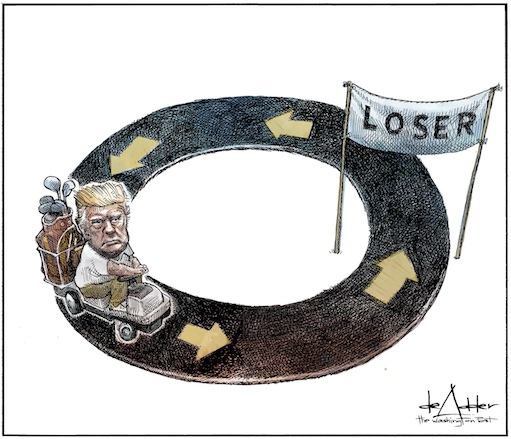 Karen Attiah: White Southern women are holding us back
The question a lot of non-Texans are asking is: "Why?" Why would the state reelect the same leadership after our deadly power-grid failure, after the Uvalde school shooting, after the criminalization of reproductive rights?

I don't have all the answers. Voter suppression is a factor, and there's the sheer size of the Republicans' war chest. Voter polarization is a powerful force. It's tough to overcome all of that.

White men vote Republican; we all know that. But there is another group that consistently supports the GOP's anti-woman, do-nothing-about-dead-kids stance, and that is White women. Seriously, what gives?

White women (64 percent) voted for Abbott in about the same numbers that White men did (69 percent).

Black women, on the other hand, went 90 percent for O'Rourke. We held it down. As usual.

A similar story played out in Georgia's gubernatorial race, in which White women overwhelmingly voted for Republican incumbent Brian Kemp and Black women voted for his challenger, Democrat Stacey Abrams:

And, of course, we all remember that a majority of White women voted for President Donald Trump in 2020.

There is a lot of focus in media circles on how Latinos will vote. There has long been an assumption that an increase in the number of non-White voters could dislodge the GOP's stranglehold on my home state. But the reality is, Southern White women are the lady foot soldiers of the GOP's agenda. We will not get free until that changes. https://www.washingtonpost.com/opinions/2022/11/11/white-southern-women-voters-texas-georgia/
NY Times Editorial Board: America Can Have Democracy or Political Violence. Not Both.
Over the past five years, incidents of political violence in the United States by right-wing extremists have soared. Few experts who track this type of violence believe things will get better anytime soon without concerted action. Domestic extremism is actually likely to worsen. The attack on Paul Pelosi, the husband of the speaker of the House of Representatives, was only the latest episode, and federal officials warn that the threat of violence could continue to escalate after the midterm elections.
The embrace of conspiratorial and violent ideology and rhetoric by many Republican politicians during and after the Trump presidency, anti-government anger related to the pandemic, disinformation, cultural polarization, the ubiquity of guns and radicalized internet culture have all led to the current moment, and none of those trends are in retreat. Donald Trump was the first American president to rouse an armed mob that stormed the Capitol and threatened lawmakers. Taken together, these factors form a social scaffolding that allows for the kind of endemic political violence that can undo a democracy. Ours would not be the first. https://www.nytimes.com/2022/11/03/opinion/political-violence-extremism.html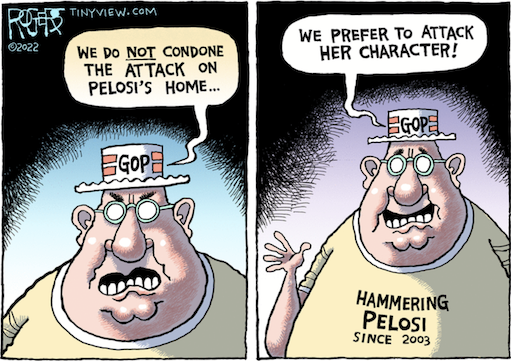 David Frum: The Midterms Message for Republicans
For the party of the president to do well in a midterm election is very rare: 2002, 1998, 1962, and 1934 are the exceptions over the past century or so. In all four of those exceptional years, the president's party was buoyed by some affirmative factor: a rally around the flag after 9/11, the economic boom of the late 1990s, relief after the Cuban missile crisis, the beginnings of recovery from the Great Depression.

This year was one in which all the indicators seemed negative for the party of the president: right-track/wrong-track numbers, presidential approval ratings, and optimism about the future. Yet Biden's party won and won and won again despite the negative indicators. Yes, for sure there were affirmative reasons to vote Democratic in 2022, but it's hard to miss the strong smell here of a thorough repudiation, up and down the ballot, of the post-Trump Republican Party, of the January 6 insurrectionists, and of a cultural agenda that seems to many Americans regressive and repressive. https://www.theatlantic.com/ideas/archive/2022/11/lesson-republicans-their-midterms-maga-debacle/672108/