January 30, 2020
ON THE RECORD. . .
"The Constitution is not a suicide pact. It does not leave us stuck with presidents who abuse their power in unforeseen ways that threaten our security and democracy." — House manager Jerry Nadler, arguing it's impossible to limit impeachment to acts that already written into law.

"Get rid of her! Get her out tomorrow. I don't care. Get her out tomorrow. Take her out. OK? Do it." — A voice that appears to be Trump's, demanding the removal of US Ambassador to Ukraine Marie Yovanovitch, on a recording made during an intimate April 30, 2018, dinner at the Trump International Hotel.

Hillary Clinton is going to destroy your Social Security and Medicare. ... I am going to protect and save your Social Security and your Medicare. — Donald Trump in 2016. For the truth, see Opinion #9 and opinion #10

"It's a complete show on the part of the Democrats, and they should be sued for conspiracy to defraud the United States, and they should pay for that hearing.I'm going to present over the next two to three weeks shocking crimes at the highest levels of both governments while the Senate is listening to a totally phony group of stories about non-impeachable offenses." — Rudy Giuliani on Fox & Friends, attacking the House impeachment managers.

"You can't trust this president to do what's right for this country. This is why, if you find him guilty, you must find that he should be removed. Because right matters. And truth matters. Otherwise we are lost." -- Rep. Adam Schiff, after pointing out the threat Trump poses ended with this.

"Trump himself claims that Bolton is lying. Well, there's a tried-and-true way to find out if he is or is not. Mr. Bolton, please raise your right hand." — George T. Conway, who suggests that Bolton's testimony would be so devastating that not even Republicans could look away.

After 2 weeks, it's clear that Democrats have no case for impeachment. Sadly, my colleague @SenatorRomney wants to appease the left by calling witnesses who will slander the @realDonaldTrump during their 15 minutes of fame. The circus is over. It's time to move on! #gapol — Kelly Loeffler, the newly appointed senator from Georgia went after Mitt Romney, whom she once described as a friend after submitting major donations to both of his presidential campaigns.

"If you're not happy where you're at, come on down. If you're not truly happy where you are we stand with open arms to take you from Virginia or anywhere you may be. We stand strongly behind the Second Amendment, and we stand strongly for the unborn." — West Virginia Gov. Jim Justice (R) encouraging Virginia counties unhappy with the Democratic-controlled government in Richmond to secede from the state and join his. https://thehill.com/homenews/state-watch/480381-west-virginia-governor-urges-unhappy-virginia-counties-to-secede-join
---
IN THIS ISSUE
FYI
OPINION
1. Andy Borowitz: Trump Defense Team Scrambling To Find Example Of Law Trump Did Not Break
Desperately trying to change the narrative after a week of damaging presentations, Donald J. Trump's defense team is scrambling to find an example of one law that Trump did not break, sources confirmed on Friday.

In concert with two of Jeffrey Epstein's most prominent defenders, Alan Dershowitz and Kenneth Starr, Trump's personal attorney Jay Sekulow has been scouring federal, state, and municipal law books in the hopes of finding one statute that Trump, for whatever reason, did not violate.

"So far, no luck," a source close to the defense team said.

If the attorneys do manage to find a law that Trump did not break, that information will be "locked down" in a secure server to which Trump himself will not have access.

"They're trying to prevent the worst-case scenario, where Trump discovers there's a law he hasn't broken yet and immediately goes and breaks it," the source said.

As the pressure on the defense team mounts, Dershowitz has privately expressed regret that he got involved with Trump's case.

"O.J. was easier than this," he was overheard muttering. https://www.newyorker.com/humor/borowitz-report/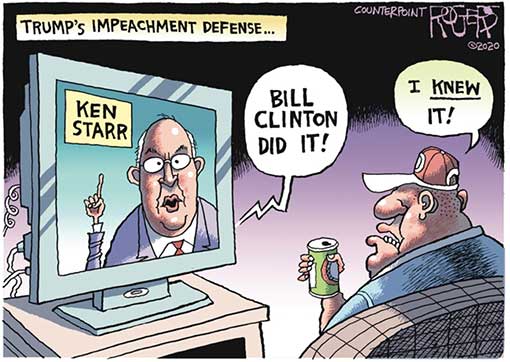 2. 'The Truth Matters! Schiff's Emotional Appeal to Senate (VIDEO)
https://www.nytimes.com/video/us/100000006940070/schiff-impeachment-truth.html
3. Trump's Doral Resort Spikes Its Room Rates Ahead Of His RNC Visit
The president's Miami golf resort that puts money into his pocket more than doubled its room rates just before the White House announced his Thursday visit ― possibly increasing taxpayer costs for staff who must travel there in advance.
Donald Trump's plan to address the Republican National Committee's winter meeting at Trump National Doral next to the Miami airport has been in the works since mid-January, about the same time that the resort raised the nightly rate for its least expensive rooms from $254 to $539.
The White House would not reveal how much Trump's Secret Service agents or other members of his "advance" team are paying for the days prior to his visit. Trump is only scheduled to be at the property for a few hours, but at least two dozen staff typically need to get there a few days ahead of time to prepare for his arrival.
Doral officials refused to discuss how much they are charging for U.S. government employees staying there for Trump's visit. The Trump Organization, the president's family business that owns and operates the resort, also did not respond to queries from HuffPost. https://www.huffpost.com/entry/trump-doral-room-rates_n_5e285b24c5b6779e9c2b6521
4. California will be hit hard as Trump administration weakens clean water protections
Under the new rule, the Clean Water Act's protections would no longer apply to most small streams and wetlands, including those that are considered vital parts of drinking-water systems and fisheries.
Defying environmentalists and public health advocates, the Trump administration on Thursday announced the replacement of Obama-era water protections with a significantly weaker set of regulations that lifts limits on how much pollution can be dumped into small streams and wetlands.
The changes to the Clean Water Act's protections are expected to hit California and other Western states especially hard.
Federal data suggest 81% of streams in the Southwest would lose long-held protections, including tributaries to major waterways that millions of people rely on for drinking water.
"This rule is the culmination of an insider campaign to gut bipartisan protections that have safeguarded the nation's water for decades, and will endanger the health and environment of families and communities across the entire country," said Blan Holman, a lawyer for the Southern Environmental Law Center, a nonprofit public interest law firm based in Charlottesville, Va. https://www.latimes.com/politics/story/2020-01-23/california-will-be-hit-hard-as-trump-administration-weakens-clean-water-protections
5. Trump campaign runs hundreds of misleading Facebook ads warning of Super Bowl censorship
Trump's reelection campaign has run more than 200 misleading political advertisements on Facebook in the past day claiming the "Fake News media" will attempt to block the campaign's upcoming Super Bowl ad — despite federal regulations that require the TV spot be aired. https://www.cnn.com/2020/01/24/media/trump-super-bowl-facebook-ad/index.html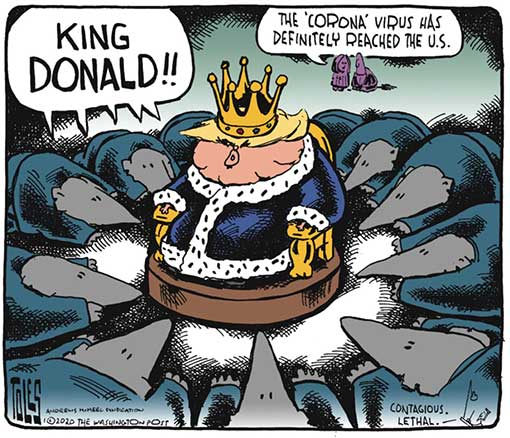 6. Fox News devised a way to cover the impeachment trial without covering it at all
As the impeachment trial got underway in the Senate on Wednesday, Fox News covered it in a way that gave the appearance of journalism but was actually propaganda.
In fairness, the network did cover the entirety of Rep. Adam Schiff's two-hour opening statement. But after that, while CNN and MSNBC continued to broadcast the trial, Fox News turned to spin.
Back in November, Fox News spun the House impeachment hearings by featuring short, out-of-context clips of Republicans defending President Trump that portrayed things in the best possible light for them. But that option wasn't available on Wednesday, as the entirety of the day was allotted to Democratic impeachment managers.
Starting with The Five, the network's early evening roundtable commentary show, and continuing throughout the evening, Fox News broadcast portions of screen-in-screen video of the trial. But instead of playing the audio, network hosts provided the normal Trumpian spin. So while someone who just looked at the screen may have concluded Fox News was covering the trial, in fact it wasn't covering it at all. https://www.vox.com/2020/1/23/21078346/fox-news-trump-impeachment-trial-coverage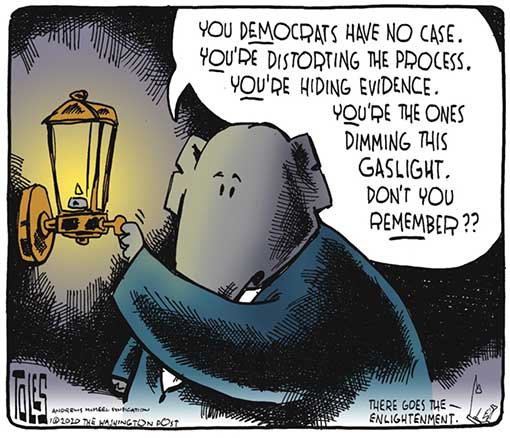 7. Reagan's Solicitor General: 'All Honorable People' Have Left Trump's Cabinet: 'He Is Capable Of Doing Serious Damage'
Former Reagan solicitor general Charles Fried tells Newsweek that President Trump is "perhaps the most dishonest person to sit in the Oval Office" and is "capable of doing serious damage."
But he saves his harshest criticism for Attorney General William Barr:
Barr knows all of this. And he's supposed to be a very moral man, and so on and so forth. But to be the apologist for perhaps the most dishonest person to ever sit in the White House? I mean, dishonest in the sense that he lies the way other people breathe. You would think that the project of protecting presidential powers would provide a worthier subject than that, particularly for a supposedly honorable man. But the fact is, all the honorable people in the Cabinet have left. And what you have left is people who are willing to say anything, as Barr is. And you saw the way he treated the Mueller Report, which he misrepresented, because that is what his boss would have wanted.
You lie down with dogs, you get up with fleas. His reputation is gone. https://www.newsweek.com/reagans-solicitor-general-says-all-honorable-people-have-left-trumps-cabinet-he-capable-1483292
8. Trump says 'with me, there's no lying' -- and makes 14 false claims about impeachment and Ukraine
President Donald Trump said at a press conference in Davos, Switzerland, on Wednesday that he opposed the impeachment of President Bill Clinton even though Clinton was doing bad things, like lying.
Trump added: "Now, with me, there's no lying."
That is itself not true.
Trump has been serially dishonest about impeachment and about Ukraine. Case in point -- he made at least 14 false claims related to these subjects at the Davos press conference and in interviews that aired Wednesday on CNBC and Fox Business -- plus a bunch of false claims on unrelated subjects. Details at
https://www.cnn.com/2020/01/23/politics/fact-check-trump-false-impeachment-wednesday/index.html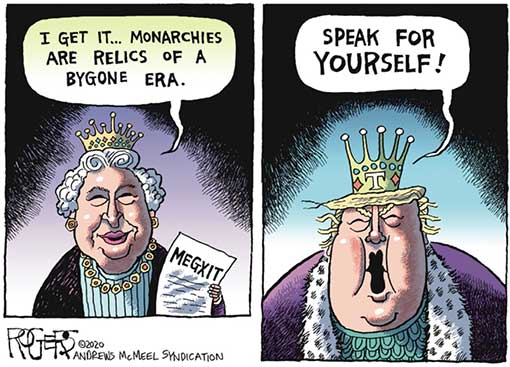 9. The DAILY GRILL
"Is she the chief economist or who is she? I'm confused. That was funny. After she goes and studies economics in college she can come back and explain that to us," — Steve Mnuchin about Greta Thunberg who, alongside 20 other young climate activists, had called on the world's decision-makers and business leaders to stop all investments in fossil fuel exploration and extraction..

VERSUS

My gap year ends in August, but it doesn't take a college degree in economics to realise that our remaining 1,5° carbon budget and ongoing fossil fuel subsidies and investments don't add up. ,,, So either you tell us how to achieve this mitigation or explain to future generations and those already affected by the climate emergency why we should abandon our climate commitments. — Greta Thunberg responding to Mnuchin's comments.

"Adam Schiff is hailing Alexander Vindman as an American patriot. How patriotic is it to badmouth and ridicule our great nation in front of Russia, America's greatest enemy?"'— Sen. Marsha Blackburn @MarshaBlackburn propagating an unsubstantiated conspiracy theory from the fever swamps of the dark corners of the pro-Trump fringe Internet.

VERSUS

"That a member of the Senate — at a moment when the Senate is undertaking its most solemn responsibility — would choose to take to Twitter to spread slander about a member of the military is a testament to cowardice. While Senator Blackburn fires off defamatory tweets, Lieutenant Colonel Vindman will continue to do what he has always done: serve our country dutifully and with honor." — LtCol Vindman's lawyer, former ambassador David Pressman, on Sen. Blackburn's defamatory allegations."

 

Shifty Adam Schiff is a CORRUPT POLITICIAN, and probably a very sick man. He has not paid the price, yet, for what he has done to our Country! — Donald J. Trump @realDonaldTrump

VERSUS

"This is a wrathful and vindictive president; I don't think there's any doubt about it. And if you think there is, look at the president's tweets about me today, saying that I should 'pay a price.' " — Rep. Adam Schiff in an interview on "Meet the Press," saying he believes Trump's remarks were intended as a threat.

 

"It is shameful that this reporter chose to violate the basic rules of journalism and decency. This is another example of how unhinged the media has become in its quest to hurt President Trump and this administration." —  Secretary of State Mike Pompeo's statement, released on Saturday morning by the State Department.

VERSUS

He was not happy to have been questioned about Ukraine. He asked, 'Do you think Americans care about Ukraine?' He used the F-word in that sentence and many others." — NPR reporter Mary Louise Kelly comments following an interview with Sec. of State, Mike Pompeo.

 

"The Democrat controlled House never even asked John Bolton to testify. It is up to them, not up to the Senate!" — Trump Tweet.

VERSUS

That's false in its entirety. House Democrats did ask Bolton to testify, and he declined. He did not show up for his deposition. Trump is also incorrect in suggesting impeachment witnesses are the sole province of the House. — AP fact check

 

"Asking a foreign leader to get to the bottom of issues of corruption is not a violation of an oath." — Trump Lawyer Jay Sekulow referring to Trump's July 25 phone call with Ukraine's leader:

VERSUS

Trump made no such request in the phone call. And beyond the phone call, there's scant if any evidence that Trump cared about Ukraine's history of systemic corruption unless it might involve Hunter Biden, son of Joe Biden. Hunter Biden was on the board of a Ukrainian energy company when his father was vice president. — AP fact check
10. From MEDIA MATTERS (They watch Fox News so you don't have to)
As the Senate continues impeachment proceedings for President Donald Trump, he became the first president to speak in person at the anti-abortion March for Life rally. While in previous years, Trump had delivered remarks via satellite or video recording during the rally, his in-person appearance was the latest opportunity for the president and his administration to repeat anti-abortion lies created and amplified by right-wing media to generate outrage before the 2020 election. https://www.mediamatters.org/donald-trump/march-life-trump-parroted-right-wing-media-lies-about-abortion-rile-his-base

Liz Wheeler, the anchor of an OANN prime-time show, attributed the New York Times reporting to "biased liberal mainstream media reporters who hate Trump," calling the Times report a "dirty bomb," claiming that Democrats want to impeach Trump over a "thought crime" because of what he reportedly said to , and claiming, "Everything we know about this New York Times piece and the John Bolton book right now smells of swamp stink and collusion between the mainstream media and the Democrats and a bitter terminated Trump official, all colluding to try to take Trump down." Toward the conclusion of her segment, Wheeler addressed senators directly, telling them to acquit Trump. https://www.mediamatters.org/trump-impeachment-inquiry/watch-how-trump-propaganda-network-oann-desperately-spun-john-bolton-news 
11. 'Read the transcript': How Republican Fox News fans view the impeachment inquiry 
VIDEO: https://wapo.st/2QdnBiD
12. 5-4 Supreme Court allows rule to take effect that could reshape legal immigration
The Supreme Court in a 5-4 vote Monday cleared the way for the Trump administration to make it more difficult for low-income immigrants seeking to come to or trying to remain legally in the United States.
The so-called public charge rule, unveiled in August, impacts people who rely on public assistance, including most forms of Medicaid, food stamps and housing vouchers.The rule will affect people who are trying to obtain lawful permanent status, otherwise known as a green card. To that end, the rule has the potential to reshape legal immigration by limiting access to green cards for lower-income immigrants. https://www.cnn.com/2020/01/27/politics/supreme-court-immigration-public-charge/
13. Jeff Stein: U.S. deficit to eclipse $1 trillion in 2020, CBO says, as fiscal imbalance continues to widen
 The U.S. government's budget deficit is projected to reach $1.02 trillion in 2020, according to a report released Tuesday by the nonpartisan Congressional Budget Office, as the federal government continues to spend much more than it collects in tax revenue.
A combination of the 2017 tax cuts and a surge in new spending has pushed the deficit wider. This year would mark the first time since 2012 that the deficit breached $1 trillion, a threshold that has alarmed some budget experts because deficits typically contract — not expand
This year's deficit would be an increase from 2019, when the government deficit grew to $984 billion. The deficit in 2016, President Barack Obama's last full year in office, was $585 billion. CBO now projects that the deficit will be at least $1 trillion each year in perpetuity unless policymakers make changes. https://www.washingtonpost.com/business/2020/01/28/us-deficit-eclipse-1-trillion-2020-cbo-says-fiscal-imbalance-continues-widen/
14. Bloomberg gets under Trump's skin as he ramps up spending on 2020 ads
Mike Bloomberg is lagging behind his Democratic competitors in the polls, and he will not appear on the next presidential debate stage or on the ballot in Iowa, New Hampshire or South Carolina.
But the former New York mayor has attracted the obsessive attention of President Trump, who is annoyed by Bloomberg's constant ads targeting him, concerned about the billionaire's outsize spending, focused on his growing numbers in the polls and seemingly fixated on his TV appearances.
The president has repeatedly attacked Bloomberg on Twitter, calling him "Mini Mike" to insult his small stature, and has frequently focused on him in conversations with campaign advisers and White House officials.
"It's very clear that the ads we are running have gotten under his skin because they are effective," said Howard Wolfson, a senior Bloomberg aide. "Mike's poll numbers are improving, the president is screaming. Mike is a data-driven guy. When he sees data is working, he doubles down." https://www.washingtonpost.com/politics/bloomberg-gets-under-trumps-skin-as-he-ramps-up-spending-on-2020-ads/2020/01/23/f56f400a-3e17-11ea-8872-5df698785a4e_story.html
15. Bloomberg ad: "Trump Disrespects Our Troops."
16. From the Late Shows
Alan Dershowitz Argues for Trump Cold Open - SNL: https://youtu.be/3c5neBXQwf8

Weekend Update: Impeachment Trial Begins - SNL: https://youtu.be/YSC_OOgbxYQ

John Bolton and Lev Parnas Throw a Wrench in Trump's Defense | The Daily Show: https://youtu.be/bBYBI2awKbE

Trump Issues Threats Amid Bolton Impeachment Bombshell: A Closer Look: https://youtu.be/mRjfvJWtc_4
1. Michael Gerson: Trump has finally met his match
A number of people whom the president has employed, defamed and then fired have slunk back to their master's hand like beaten dogs. In John Bolton, President Trump has finally met his counterpunching match. Even as Trump's defenders in the Senate trial were denying the factual basis for impeachment, leaks from the former national security adviser's book have confirmed it. Senate Republicans can no longer deny Trump's quid pro quo of military aid in exchange for slander without being deceptive or delusional.
Bolton's bombshell comes on top of a comprehensive, well-argued case for conviction by House impeachment managers. Their presentation of the evidence, their version of constitutional interpretation and their appeal to senatorial self-respect were all compelling. The response of Republicans — putting fingers in their ears and loudly humming "Battle Hymn of the Republic" — has been less impressive.
If Republican senators refuse to call new witnesses (including Bolton) under these circumstances, there would be only one plausible explanation: They fear Trump's retribution. Such fear, of course, is justified. In this case, going off the reservation is to enter a minefield. The first few GOP defectors on the issue of witnesses would come under enormous pressure. The first few GOP senators who support conviction would face a torrent of abuse from an unstable, thuggish narcissist, and from people convinced that disloyalty to Trump is treason or blasphemy. https://www.washingtonpost.com/opinions/trump-has-finally-met-his-match/2020/01/27/366776dc-413c-11ea-b5fc-eefa848cde99_story.html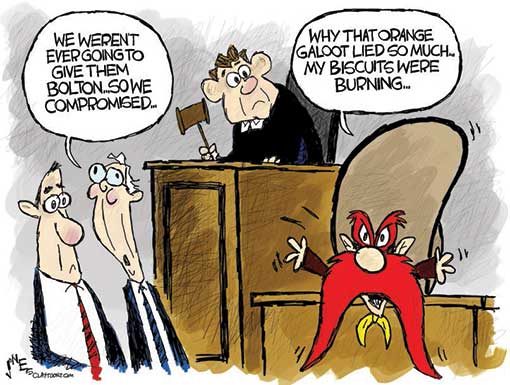 2. Frank Bruni: John Bolton Gets the Last Laugh
President Trump's reaction to the leak of incriminating details in John Bolton's forthcoming book shocked me. Not the part where the president said that Bolton was making up a Ukraine quid pro quo in the service of the best-seller list — that he was lying for lucre. Trump sees that transaction everywhere he looks, because he sees it first and foremost in the mirror.
No, I was surprised that the president didn't dispute knowing Bolton, or at least didn't say that he was so slightly acquainted with his own former national security adviser that he couldn't pick him — chinchilla-bushy mustache and all — out of a lineup. That's Trump's favorite ploy. Ask Michael Cohen, Anthony Scaramucci, Prince Andrew, Stormy Daniels, Gordon Sondland, Lev Parnas. Fall into disrepute, cross Trump or claim to have the goods on him and you're wiped clean from his memory, no matter the existence of contradictory forensics. Ivanka, beware. You're one bad manicure away from paternal amnesia.
Bolton is the impeachment star of the week, whether he winds up testifying or not, and I can't shake the feeling that he plotted all of this out: keeping his head down during the hearings in the House; letting it be known only afterward that he'd be willing to testify in the Senate; the revelation this week — simultaneous with assertions by Trump's defense team that there were no firsthand witnesses to the president's wrongdoing — that his book indeed addresses Ukraine and fully backs up the charges in the articles of impeachment.
Bolton has always been vain, brilliant and ruthless, and this is the timeline that a vain, brilliant and ruthless operator would cinch. I'm not personally acquainted with the sound of his laughter, but I'm certain I hear it. https://www.nytimes.com/2020/01/28/opinion/john-bolton-book.html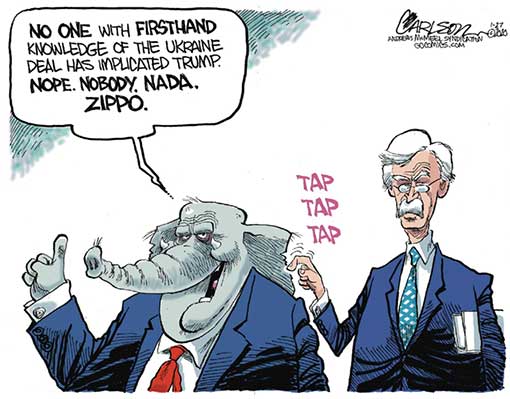 3. Eli Merritt: Hamilton would have led the charge to oust President Trump
It's not surprising that Rep. Adam B. Schiff's opening statement in President Trump's Senate impeachment trial began with an impassioned warning by Alexander Hamilton about the danger of demagogues subverting the Constitution and pursuing personal gain.
"When a man unprincipled in private life, desperate in his fortune, bold in his temper, possessed of considerable talents," Schiff quoted Hamilton, "having the advantage of military habits — despotic in his ordinary demeanor — known to have scoffed in private at the principles of liberty — when such a man is seen to mount the hobbyhorse of popularity — to join in the cry of danger to liberty — to take every opportunity of embarrassing the General Government and bringing it under suspicion — to flatter and fall in with all the nonsense of the zealots of the day — it may justly be suspected that his object is to throw things into confusion that he may 'ride the storm and direct the whirlwind.' "
Schiff went on to say that Trump "has acted precisely as Hamilton and his contemporaries had feared" — and that impeachment is one of the core constitutional mechanisms the founders devised to protect our free system of government from such harm.
Now as the Senate sits in judgment of Trump, the members of that body must weigh the prospect of removing him from office — in the face of mounting evidence and testimony — against their own policy preferences.
In this respect, there's a parallel to Hamilton and the Federalists who were tested by the irregular outcome of the presidential election of 1800. In a critical vote in a single chamber of the Congress, they, too, had to choose between preserving the United States' constitutional government and supporting a man who might deliver policies they liked better. https://www.latimes.com/opinion/story/2020-01-25/alexander-hamilton-donald-trump-impeachment-senate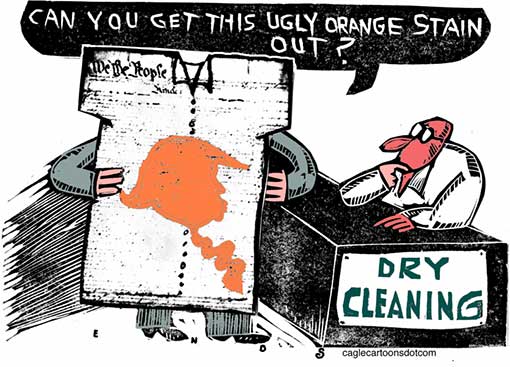 4. Dana Milbank:Trump's lawyers are absolutely entitled to their own facts
For three days, impeachment managers presented the facts to the Senate. On Saturday, the president's lawyers presented the alternative facts.
There was familiar invective from Trump's lawyers ("fake," "blind drive to impeach," "staged public hearings," "secret hearings in the basement bunker," "shell game," "they are here to perpetrate the most massive interference in an election in American history"). But their arguments were surprisingly lawyerly, and they at least attempted to mount a serious defense of the president — a feat that filled White House Counsel Pat Cipollone with pride as he completed the second of Trump's allotted 24 hours of defense. "You've heard you're not going to hear facts from the president's lawyers," he said. "That's all we've done."
This was true — if you subscribe to Kellyanne Conway's "alternative facts" theory of epistemology.
Alternative Fact: "President [Volodymyr] Zelensky and high-ranking Ukrainian officials did not even know — did not even know — the security assistance was paused until the end of August, over a month after the July 25 call."
Actual Fact: Deputy Assistant Defense Secretary Laura Cooper testified that the Ukrainians were inquiring about the status of the security assistance on July 25.

Alternative Fact: "They kept telling you it was Russia alone that interfered in the 2016 election, but there is evidence that Ukraine also interfered."
Actual Fact: "We have no information that indicates that Ukraine interfered," said Trump's FBI director, Christopher Wray.

Alternative Fact: The administration fought subpoenas because "the subpoenas were not authorized because there were no votes" to start an impeachment inquiry.
Actual Fact: The administration fought the subpoenas even after the formal vote to open the impeachment inquiry.

Alternative Fact: "The transcript shows that the president did not condition either security assistance or a meeting on anything."
Actual Fact: The "transcript" is not an actual transcript but a partial reconstruction of the call by the White House. It includes the Trump phrase "do us a favor though" immediately following the Ukrainian president's mention of military help and immediately before Trump's request for investigations.

Alternative Fact: "They design[ed] a mechanism here where the president was locked out and denied the ability to cross-examine witnesses" in the House impeachment.
Actual Fact: Cipollone declined an invitation to participate in the House impeachment hearings before the Judiciary Committee.

Alternative Fact: "The Democrats' allegation that the president engaged in a quid pro quo is unfounded."
Actual Fact: Told that what he was describing was a quid pro quo, acting White House chief of staff Mick Mulvaney said at a news conference: "We do that all the time."

Alternative Fact: "The Mueller Report … after $32 million and roughly 500 search warrants, determined that there was no collusion."
Actual Fact: "We did not address 'collusion,' which is not a legal term," Mueller testified.
Other, innuendo-based arguments Saturday that will likely reappear in Trump's lawyers' arguments over the next two days: Trump had good reason not to trust the intelligence community, Ukraine is a mess, Adam Schiff is an incorrigible liar, and the whistleblower is in cahoots with Joe Biden. But Saturday was the factual portion — or what passes for it. https://www.washingtonpost.com/opinions/2020/01/25/trumps-lawyers-are-absolutely-entitled-their-own-facts/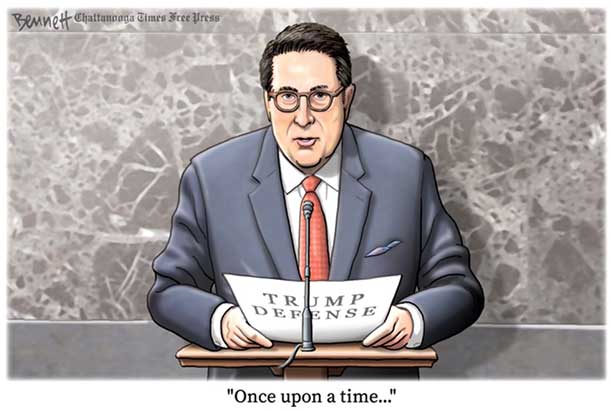 5. A partisan Supreme Court ruling on the ACA just gave President Trump a boost
The Supreme Court gave the Trump administration a gift Tuesday — one that could greatly help the president in the 2020 election. In an order that received less attention than it deserved, the court declined to speed up its consideration of a challenge to the Affordable Care Act.
In that case, Texas v. United States, the Trump administration has argued that the court should invalidate all of the ACA, including its legal protections for people with preexisting conditions. The administration is pursuing this course even though President Trump has made bizarre assertions that imply quite a different stance.
"I was the person who saved Pre-Existing Conditions in your Healthcare," he tweeted, falsely, on Jan. 13. By putting off a decision in the case until after the election, the court avoided making the administration's deeply unpopular campaign to demolish the ACA a centerpiece of the presidential race. Given that the court has frequently expedited or taken other extraordinary steps in cases of similar import, its refusal to do so in this instance looks an awful lot like an effort to help the Republican Party.
Indeed, delaying a decision is significantly more helpful to the president than an expedited ruling in his favor would be; a decision endorsing the administration's arguments, and invalidating the ACA, would expose the president's false statements about health care and his own lack of a health-care plan. https://www.washingtonpost.com/outlook/2020/01/23/partisan-supreme-court-ruling-aca-just-gave-president-trump-boost/
6. Michael Gerson: Republicans aren't serving the country, or even the president. Just themselves.
It is another of President Trump's dubious achievements to turn the ultimate constitutional check on presidential abuses of power into an utter farce. Watching Republican senators complain that there is "nothing new" in the case made by House impeachment managers, while they are actively opposing the introduction of new evidence and new testimony, is confirmation of barefaced bad faith. In this matter, elected Republicans are mainly serving, not the president, and certainly not the republic, but themselves. Having decided that no amount of evidence would be sufficient for conviction, they realize that the presentation of a full and compelling case would convict them of servility and institutional surrender. So a quick and dirty Senate trial is the best way to limit the exposure of their malpractice.
This crime against democracy is compounded by the eagerness of Republicans to use impeachment as a fundraising opportunity and method to energize base voters. The theory seems to be: If you are going to betray the constitutional order, you might as well profit from it.
In the impeachment trial, all the dismal signs point to acquittal at any cost. And it is not the first time the president has skated. Despite compelling evidence of wrongdoing and obstruction of justice in the Mueller report, Trump largely escaped accountability (even as many of his smarmy advisers did not escape jail). The appearance of vindication in this case immediately preceded the president's decision to squeeze an embattled foreign power for his political benefit. Give Trump an inch and he'll take Ukraine. https://www.washingtonpost.com/opinions/republicans-arent-serving-the-country-or-even-the-president-just-themselves/2020/01/23/6d820a78-3e0e-11ea-baca-eb7ace0a3455_story.html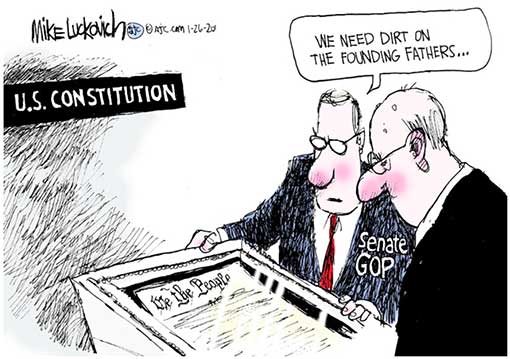 7. Max Boot: Trump wants you to think 'everyone does it.' No, they don't.
Strip away the name-calling, lies, procedural complaints and conspiracy theories, and you are left with the core of President Trump's impeachment defense: Everyone does it.
As acting White House chief of staff Mick Mulvaney said on Oct. 17: "I have news for everybody: Get over it. There is going to be political influence in foreign policy." That argument is now echoed by Trump's lawyers, who write in their trial memorandum: "In a representative democracy … elected officials almost always consider the effect that their conduct might have on the next election. And there is nothing wrong with that." It is further amplified in a letter signed by 21 of 26 Republican state attorneys general that was shared on Twitter by Trump: "It cannot be a legitimate basis to impeach a President for acting in a legal manner that may also be politically advantageous. Such a standard would be cause for the impeachment of virtually every President, past, present, and future."
This premise may be alluring to cynical Trump supporters who are convinced that all politicians are crooks. But it's simply false. There is no evidence that any president in U.S. history has done what Trump is accused of doing.
Trump defenders may eventually be proved correct: While his behavior is outrageously abnormal today, in a few decades' time it may come to be seen as the norm. And then, to quote Rep. Adam B. Schiff (D-Calif), "we are lost." https://www.washingtonpost.com/opinions/2020/01/24/trump-wants-you-think-everyone-does-it-no-they-dont/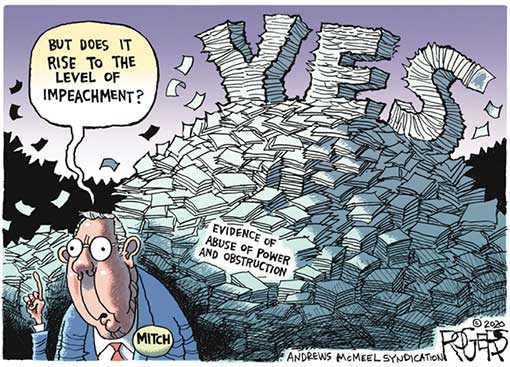 8. Colbert I. King: Vandalizing America has been a group act starring Trump and Republicans
President Trump's impeachment trial underscores the overriding importance of maintaining the Democratic majority in the House of Representatives and changing the Senate from red to blue on Election Day 2020. Today, Trump is poised to get away with betraying his oath of office and raining havoc on government policies because House and Senate Republicans have chosen to go along and look the other way. For the sake of the nation, they, like Trump, need to be replaced.
And it was Trump who has:
● caused children to be separated from their families and placed in inhumane conditions;

● cozied up to right-wing cutthroats who, through their words and deeds, damn democracy;

● thumbed his nose at climate change and assaulted school lunch programs;

● reveled in the use of foul language;

● taken delight in disparaging brown- and black-skinned immigrants and the places they come from ("shithole countries");

● shown preference for those sharing his racial heritage (look at his administration, his playgrounds and his playmates);

● paid lip service to unity while promoting division.
Trump has single-handedly demeaned his office.
That said, vandalizing America has been a GOP group act. Both Trump and Republicans must be pulled offstage.
The transformation of the federal judiciary, with extremely conservative ideologues holding life-term appointments, could not have happened without a Trump-McConnell alliance.
A solid stone wall of Republicans has converted the Senate into a legislative graveyard for bills passed by the House but opposed by Trump. https://www.washingtonpost.com/opinions/impeachment-results-from-republican-failures-we-can-remedy-that-in-november/2020/01/24/7abb7c34-3e12-11ea-8872-5df698785a4e_story.html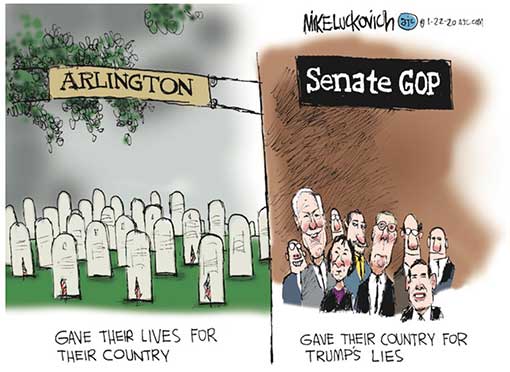 9. Michael Hiltzik: Trump opens door to Social Security cuts
With his penchant for saying the quiet parts out loud and assuming no one is paying attention, President Trump on Wednesday opened the door to cutting Social Security and Medicare later this year.
The word came at the very end of an interview conducted by Joe Kernen of CNBC, in connection with Trump's appearance at the World Economic Forum in Davos, Switzerland. Here's how it unfolded, according to the tape and transcript from CNBC:
"JOE KERNEN: Entitlements ever be on your plate?

"PRESIDENT TRUMP: At some point they will be. We have tremendous growth. We're going to have tremendous growth. This next year I — it'll be toward the end of the year. The growth is going to be incredible. And at the right time, we will take a look at that. You know, that's actually the easiest of all things, if you look, cause it's such a—"
Trump then wandered off into a string of false and incoherent claims about the economy. "We've never had growth like this," he said, even though economic growth during Trump's term is nowhere near a record pace.
What's important is that Trump appears to be falling into lockstep with the more general Republican position that closing the federal deficit requires cutting back on Social Security, Medicare and other social safety net programs. Never mind that the deficit was opened into a gaping maw by the tax cut Trump signed in December 2017, which went mostly to corporations and the wealthy, the effect of which goosed economic growth for a short period but has faded. https://www.latimes.com/business/story/2020-01-23/trump-social-security
10. Eric Levitz: Donald Trump Is Already Trying to Cut Medicaid
Just this week, while Breitbart was scolding the corporate media for absurdly suggesting that Trump is trying to cut entitlements, the Trump administration was finalizing a plan to cut entitlement spending in red states without congressional authorization. As Politico reports:
The Trump administration is finalizing a plan to let states convert a chunk of Medicaid funding to block grants, even as officials remain divided over how to sell the controversial change to the safety net health program.

At present, federal spending on Medicaid rises in tandem with need for the program: All Americans who fall below a certain income or asset level are entitled to Medicaid's services, even if this means that overall Medicaid spending comes in higher than Congress expected. This is what makes Medicaid an entitlement program. Thus, the Trump administration is trying to help Republican-controlled states cut entitlements in the most literal sense: It is encouraging them to end their residents' entitlement to the benefits of the Medicaid expansion.
This point isn't a technical one. When the president and his congressional allies pushed a similar block-granting scheme in 2017, the Congressional Budget Office found the Republican proposal would constitute a "35 percent reduction" in Medicaid spending by 2036. The reason for this was simple: Medicaid's per-beneficiary spending is rising at a faster rate than consumer price inflation, and the GOP's proposal would eventually tie growth in overall Medicaid spending to the latter. The administration's current initiative aims to advance the same type of covert benefit cut at a smaller scale.
Trump's support for entitlement cuts is a matter of fact, not "perception." To the extent that the "corporate media" failed to accurately convey Trump's position on entitlements this week, it did not do so by unfairly interpreting his remarks on the subject, but by obscuring his administration's past and present actions on the issue. http://nymag.com/intelligencer/2020/01/donald-trump-social-security-cuts-medicaid-entitlements-davos-cnbc.html
11. Susan B. Glasser: The Closing Of The Senatorial Mind
If the goal of the House managers was to sway any votes, then it is hard not to see their presentation of the case as a failure. On Thursday night, the Republican Rob Portman, of Ohio, spoke to CNN's Manu Raju outside the chamber and made what counts these days as a concession of sorts to the Democrats. Portman acknowledged that Trump's withholding of millions in military aid and a White House meeting from Ukraine, as he sought politically motivated investigations, was problematic behavior. "Some of the things that were done were not appropriate," Portman said. "I've used the word 'wrong' and 'inappropriate.' That's a very different question than removing someone from office who was duly elected, in the middle of a Presidential election."
On Friday afternoon, Judy Woodruff, of PBS, asked Portman's colleague Deb Fischer, of Nebraska, whether she at least accepted "their premise" that Trump had asked Ukraine to investigate his 2020 political rival, former Vice-President Joe Biden. "I don't," Fischer said. This is remarkable stuff. What must the Senate chaplain make of such willful defiance of the facts? The demand from Trump to investigate Biden—by name, no less!—is right in the summary of his July 25th call with the Ukrainian President—the "perfect" phone call, as Trump calls it. The President has tweeted dozens of times since September urging Americans to "READ THE TRANSCRIPT!" How is it possible that one of the hundred senators is so disdainful of her duty that she has not bothered to do so or, if she has, is so willing to ignore what it so plainly says?
This is not a serious defense of Trump, of course, but it is amazingly revealing. The Senate trial of twenty-one years ago was for the Rob Portmans; the Senate trial of today is for the Deb Fischers. There is no audience for Adam Schiff, or if there is it has shrunk to a small handful of Republicans who may or may not vote next week to keep the trial going with witnesses and further evidence. For the rest of the Republicans and the forty per cent or so of America that has unflinchingly supported Trump through his Presidency, there will be another show, produced personally by the showman-in-chief. https://www.newyorker.com/news/letter-from-trumps-washington/the-closing-of-the-senatorial-mind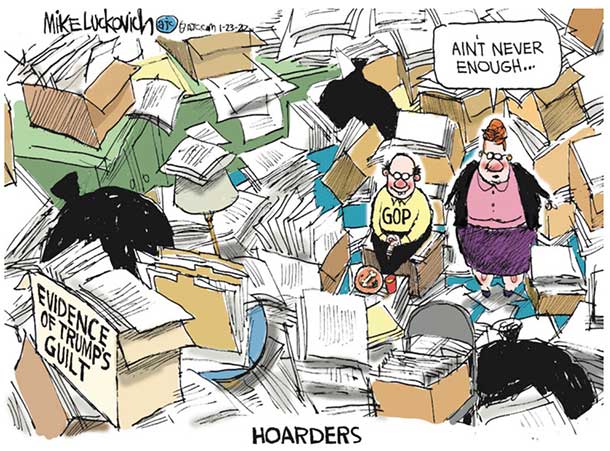 12.
 Ezra Klein: Why Democrats Still Have to Appeal to the Center, but Republicans Don't
American politics has been dominated by the Democratic and Republican Parties since the Civil War. That gives us the illusion of stability — that today's political divisions cut roughly the same lines as yesteryear.
But in recent decades, the two parties have been changing, and fast. Those changes are ideological — the Democratic Party has moved left, and the Republican Party has moved right. But more fundamentally, those changes are compositional: Democrats have become more diverse, urban, young and secular, and the Republican Party has turned itself into a vehicle for whiter, older, more Christian and more rural voters.
This is the root cause of intensifying polarization: Our differences, both ideological and demographic, map onto our party divisions today in ways they didn't in the past. But the changes have not affected the parties symmetrically.
Put simply, Democrats can't win running the kinds of campaigns and deploying the kinds of tactics that succeed for Republicans. They can move to the left — and they are — but they can't abandon the center or, given the geography of American politics, the center-right, and still hold power. Democrats are modestly, but importantly, restrained by diversity and democracy. Republicans are not. https://www.nytimes.com/2020/01/24/opinion/sunday/democrats-republicans-polarization.html
13. First Read: For the GOP on impeachment, it's Trump's way or the highway
President Trump's lawyers on Monday were throwing so much spaghetti against the wall — to see what would stick — the Senate chamber might have been the kitchen in an Olive Garden. You had:
Ken Starr — yes, that Ken Starr — criticizing the use of impeachment as a tool: "Like war, impeachment is hell."
Jay Sekulow maintaining that no witness has testified that Trump himself said there was any connection between Ukraine's security assistance and an investigation into the Bidens (even though John is now claiming the president told him this).
Alan Dershowitz saying that, even if Bolton's claims are true, they're not an impeachable offense: "Let me repeat: nothing in the Bolton revelations, even if true, would rise to the level of an abuse of power or an impeachable offense."
Jane Raskin contending that Rudy Giuliani's activities with Ukraine had nothing to do with 2020 politics.
And Pam Bondi and Eric Herschmann arguing that the Bidens needed to be investigated.
Got all of that?
If you're a regular watcher of Sean Hannity, it might have made sense. But if not, it was all over the place. https://www.nbcnews.com/politics/meet-the-press/gop-impeachment-it-s-trump-s-way-or-highway-n1124516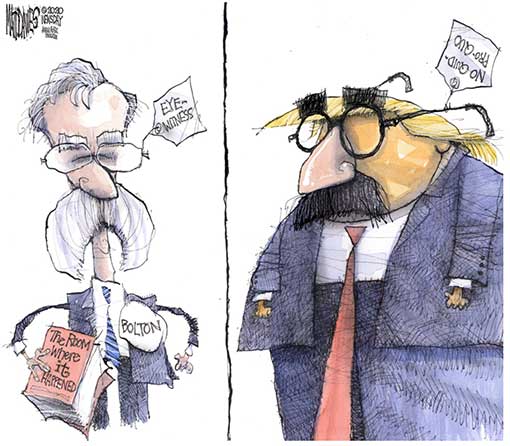 14. Susan B. Glasser: The Bolton Bombshell And The Unwaveringly Pro-Trump G.O.P.
At any other moment in Washington in my lifetime, I would have predicted with absolute confidence that the Bolton revelation would force Republican senators to switch their position and support witnesses. And not just a few, but almost all of them. But this is now, and the unthinkable and inconceivable have become increasingly routine. Here it was, the proverbial smoking gun, right in the middle of the trial, crucial evidence that Trump, his advisers, his lawyers, and his enablers on Capitol Hill knew about and were trying to suppress. Just last week, Trump's legal team told senators that "not a single witness with actual knowledge ever testified that the President suggested any connection between announcing investigations and security assistance."
In fact, the President and his aides knew that Bolton had done more than suggest it. He had put it in writing, sent his account to the White House on December 30th, and was prepared to raise his right hand and swear to it under oath. But we have had so many smoking-gun moments in the last few years. This is the post–"Access Hollywood" tape G.O.P., which elected as President of the United States a man who bragged of grabbing women by their genitals on tape, just a few weeks after the recording came to light. In the Ukraine scandal, we have seen this process repeat itself. Facts emerge that show the President's actions to be inappropriate, outrageous, and clearly, straightforwardly wrong. At first, even Republicans on the Hill seem to waver. But again and again and again they find a way to accommodate themselves to the unpleasant new information, to rationalize and to justify.
On Monday, after watching all this play out, Amy Klobuchar, the Minnesota Democrat who has been forced to forego Presidential campaigning in Iowa in order to attend the Senate trial, said that listening to the Trump defense was like a visit to an "alternative universe." But Monday proved once again that this alternative universe has become the new normal in Trump's G.O.P. It is not the exception but the rule. The post-Bolton-bombshell Republican Party will be largely the same as the pre-Bolton-bombshell Republican Party. https://www.newyorker.com/news/letter-from-trumps-washington/the-bolton-bombshell-and-the-unwaveringly-pro-trump-gop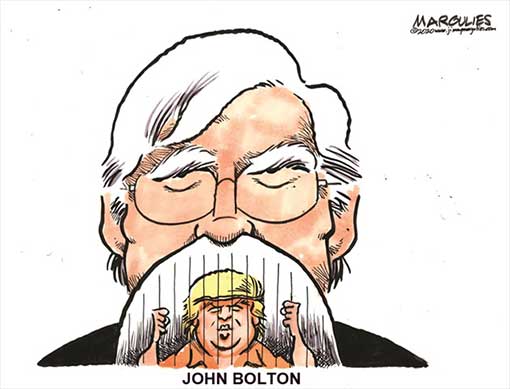 15. Michael Bloomberg: A new future for Puerto Rico includes making it our 51st state
The citizens of Puerto Rico deserve to have their voices heard — not only in the presidential primary election, but in the general election, too. They deserve real representation in Washington that reflects their interests. And they deserve the same federal funding for disaster relief and reconstruction that all other Americans would expect.
The best way to make that happen is through statehood. And it's the only way for Washington to stop ignoring the island and applying Band-Aids — and start forming a true partnership with elected leaders there who are on the same footing as other representatives around the country.
The time has come to sew Puerto Rico's star into our national flag. As president, when voters there are ready to begin the stitching, I'll bring Congress and the whole country together to get it done. https://www.orlandosentinel.com/opinion/guest-commentary/os-op-michael-bloomberg-grant-puerto-rico-statehood-20200127-hxzgiutzincopdzqidkovxok7q-story.html
16. Heather Hurlburt: Trump's Middle East Plan Is About Exerting Power, Not Achieving Peace
"They can come up with things normal humans don't think about."
That's how Israeli prime minister Benjamin Netanyahu praised the "real-estate people," as he characterized President Trump and his family/advisers, for coming up with a new proposal to solve the Israeli-Palestinian conflict. It's a description that even many analysts who panned Trump's peace plan would agree with.
The proposals Trump unveiled alongside Netanyahu at the White House on Tuesday are an important attempt to shift the parameters of politics in Israel, the Arab world, and here in the U.S. Despite the way they're being advertised, none of them have anything to do with achieving peace between Israelis and Palestinians; in fact, they are more mortal blows to the fading prospects of a two-state solution to the conflict. http://nymag.com/intelligencer/2020/01/trumps-mideast-plan-is-about-power-not-achieving-peace.html
17. Steve Benen: Reversing course, many in GOP say Trump's guilt is now irrelevant
Several prominent Republicans seemed to collectively breathe a sigh of relief yesterday. After spending months kicking around a series of talking points intended to defend Donald Trump in his Ukraine scandal – some of which were contradictory, some of which were laughable, each of which was woeful – many in the party finally started to settle on the one assertion that can't be discredited or debunked:
Republicans no longer think it matters whether the president is guilty.
For months, the president's GOP allies fought a losing battle, challenging the available facts, insisting Trump did not do what the evidence said he did. But on Monday night, during the impeachment trial, Alan Dershowitz stood on the Senate floor and argued, in reference to the reported revelations from John Bolton's book, "[N]othing in the Bolton revelations, even if true, would rise to the level of an abuse of power or an impeachable offense."
Even if every allegation is true, even if the president did exactly what he's accused of doing, even if he abused the powers of his office in the precise way Democrats claim, much of the Republican Party has convinced itself, quite suddenly, that the presidential misdeeds simply don't meet the arbitrary threshold for importance.
And if the allegations are no longer relevant, then the trial is no longer relevant, and the need for witness testimony is no longer relevant. Dershowitz effectively handed the GOP a key to get his client out of this mess, and several Senate Republicans rushed to use it.
As a substantive matter, the party's new posture is indefensible. Trump's abuse of power was staggering on a historic scale and, according to Congress' independent watchdog, blatantly illegal. For lawmakers to say it's perfectly permissible for a president to ignore the law, withhold congressionally approved aid to a vulnerable ally, as part of an extortion scheme the president hoped to use to cheat in an election, is madness.
But as of this morning, much of the Senate Republican conference has decided the smart move is to simply not care. The more Democrats point to evidence of Trump's misconduct, the more GOP senators will reply, "So what?" http://www.msnbc.com/rachel-maddow-show/reversing-course-many-gop-say-trumps-guilt-now-irrelevant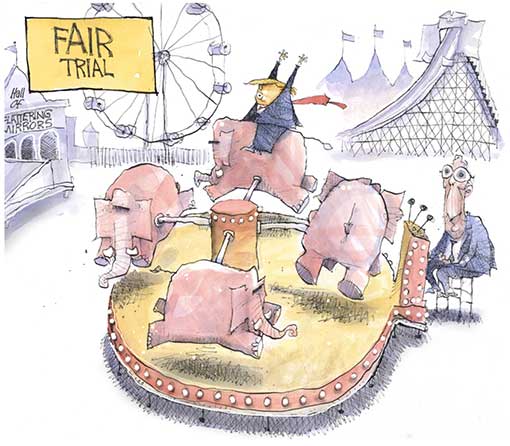 18. Stephanie Mencimer: Evangelicals Love Donald Trump for Many Reasons, But One of Them Is Especially Terrifying
On many levels, President Donald Trump's self-created crisis in Iran seems to have no relationship to any sort of coherent foreign policy or geopolitical plan for the future. The assassination has yielded few if any tangible rewards for the US. But there is an eager constituency for Trump's improvised policy toward the Middle East and Iran in particular: the evangelical Christians who see it as a means of ushering in the return of Christ. Lured by the promise of conservative Supreme Court justices, anti-abortion measures, and a commitment to Christian supremacy under the guise of religious freedom, white evangelicals voted for Trump in higher numbers than any other group—more than 80 percent.
He desperately needs them if he's going to be reelected. And while some have expressed concern about the administration's inching toward war with Iran, many of those with what were once fringe beliefs have cheered the killing of Soleimani. "Iran has this big part to play in biblical history," says religious historian Diana Butler Bass, who grew up in the evangelical church, attended an evangelical college and seminary, and wrote her Ph.D. thesis at Duke University on American fundamentalism. "There are these particular prophecies from Ezekiel, where there is talk of a war that will happen at a very important moment in Israel's history. And that war is going to kick off the End Times. People in this prophetic community believe Iran is going to be one of these aggressors." 
On many levels, President Donald Trump's self-created crisis in Iran seems to have no relationship to any sort of coherent foreign policy or geopolitical plan for the future. The assassination of Maj. Gen. Qasem Soleimani, the commander of Iran's elite Quds Force, has yielded few if any tangible rewards for the US. But there is an eager constituency for Trump's improvised policy toward the Middle East and Iran in particular: the evangelical Christians who see it as a means of ushering in the return of Christ. Lured by the promise of conservative Supreme Court justices, anti-abortion measures, and a commitment to Christian supremacy under the guise of religious freedom, white evangelicals voted for Trump in higher numbers than any other group—more than 80 percent. https://www.motherjones.com/politics/2020/01/evangelicals-are-anticipating-the-end-of-the-world-and-trump-is-listening/