December 17, 2020
ON THE RECORD. . .
"Those who are pushing to make Donald Trump president for a second term, no matter the outcome of the election, are engaged in a treachery against their nation. You cannot at the same time love America and hate democracy, but as we speak, a whole lot of flag-waving Republicans are nakedly trying to invalidate millions of legal votes because that is the only way that they can make Donald Trump president again." — Sen. Chris Murphy (D-Conn.) calling the GOP effort "the most serious attempt to overthrow our democracy in the history of this country."

"The Supreme Court, in tossing the Texas lawsuit that was joined by seventeen states and 106 US congressman, has decreed that a state can take unconstitutional actions and violate its own election law. Perhaps law-abiding states should bond together and form a Union of states that will abide by the Constitution. — Texas Republican Party Chairman Allen West 

"I don't want to talk about that." — Trump on whether he would attend the Biden inauguration.

"Elections have to be fair in this country and the world, otherwise we're living in the end times, which we are probably in anyway, but that's a good thing. Jesus loves you all." — MyPillow guy, Mike Lindell at the DC rally for Trump.

"President Trump has been betrayed at every step of the way ... he needs to invoke the Insurrection Act and suppress this insurrection. …"You can be called up as the militia to support & defend the Constitution... if he does not do it now while he's commander in chief, we're gonna have to do it ourselves later in a much more desperate, much more bloody war. Let's get it on now while he's still commander in chief" — Speaker at the "Jericho March" Rally

"We apologize to our readers for endorsing Michael Waltz in the 2020 general election for Congress. We had no idea, had no way of knowing at the time, that Waltz was not committed to democracy. During our endorsement interview with the incumbent congressman, we didn't think to ask, 'Would you support an effort to throw out the votes of tens of millions of Americans in four states in order to overturn a presidential election and hand it to the person who lost, Donald Trump?'" "Our bad." -- Orlando Sentinel editorial

"We are now at the stage when a critical mass of the Republican party has adopted Trump's disordered personality for its own. The Republican party is, in this iteration, a danger to American democracy." — Mona Charen, Policy Editor of The Bulwark

Yeah there's no way to say it other than they dodged. They dodged. They hid behind procedure and they refused to use their authority to enforce the constitution. — Kayleigh McEnany on the Supreme Court rejecting the Texas lawsuit.

"Destroy the GOP!" - Chanted by Trump supporters, venting their anger at Republican party officials who refused to take part in Trump's bid to subvert the election at a rally in Washington DC. — VIDEO

Kelly Loeffler just posed for a photo with Chester Doles, a former KKK leader who runs the white supremacist American Patriots USA.
In 1993, Doles nearly beat a Black man to death.
In 2017, he marched in Charlottesville.
This is who Kelly Loeffler is proudly appealing to. — Bend the Arc: Jewish Action

"It's a position so extreme, we've never seen it before — a position that refused to respect the will of the people, refused to respect the rule of law and refused to honor our Constitution." — President-elect Joe Biden about  the efforts by Trump and his supporters to overturn the election.

"I can't fathom risking our norms, traditions and institutions to pass a resolution retroactively changing the electors for Trump, simply because some think there may have been enough widespread fraud to give him the win… I fear we'd lose our country forever." — Michigan House Speaker Lee Chatfield (R).

"Fair elections we can accept but cheating to win; never. It's not over yet. So thankful President Trump has a backbone and refuses to concede. President Trump should declare martial law as recommended by General Flynn." — Virginia governor candidate, Sen. Amanda Chase (R).

VIDEOS

#TheyKnew who Trump Really Was All Along. Conservatives in their own words. https://youtu.be/P43wDpKQxaM

Dr. Fauci & Dr. Birx Cold Open - SNL: https://youtu.be/IqgyBN0OIns

Weekend Update: Supreme Court Dismisses Election Fraud Cases - SNL: https://youtu.be/Pimf5fPVxy0
---
IN THIS ISSUE
FYI
OPINION
1.  Andy Borowitz: White House Offers Curbside Pickup of Pardons
The White House made the decision to offer the contactless pardon-pickup option to accommodate the surging number of stooges and lackeys who have been shopping for pardons this holiday season.

Republicans looking to pick up their pardons may do so at a drive-through window outside the Oval Office from eight in the morning until nine at night, the White House announced.

Donald J. Trump or Mike Pence will personally dispense the pardons through the window, enabling pardon-seekers to remain safely in their cars.

The White House press secretary, Kayleigh McEnany, urged Trump's toadying enablers to pick up their pardons as early as possible. "Get your pardon first thing in the morning, and you'll still have plenty of time to get to the Supreme Court to try to throw out the election," she said. https://www.newyorker.com/humor/borowitz-report/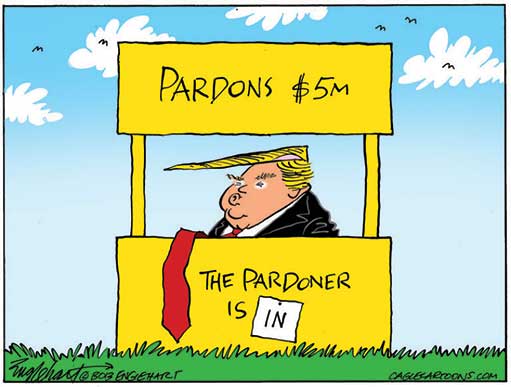 2. In challenging election defeat, Trump cements his control over the Republican Party
Trump's push to overturn his election loss has been repeatedly defeated and rebuffed by the courts, culminating in a terse dismissal late Friday by the Supreme Court.
But the campaign has also served another purpose — rallying Republicans across the country to back Trump's assault on democratic principles and further cementing his control over the party even as he prepares to leave the White House.
For the past six weeks, Trump has staged the ultimate loyalty test for the party faithful as he forced Republican officials to opt between siding with him and the nation's democratic process. Through public displays of support and lengthy silences, the vast majority of elected Republicans chose to back Trump.
Nearly two-thirds of House Republicans and 18 state attorneys general signed their names to the failed Supreme Court lawsuit seeking to have justices overturn the will of voters in multiple states. Others have gone on television to parrot the president's baseless conspiracy theories about vote-rigging. Some are using rhetoric reminiscent of the Civil War to express their fealty to the president's cause. https://www.washingtonpost.com/politics/trump-republicans-election/2020/12/12/9665976e-3bcb-11eb-9276-ae0ca72729be_story.html
3. Wisconsin Supreme Court Was One Vote Away From Flipping the State to Trump
It didn't get much attention because it happened the very day the Electoral College formally awarded Joe Biden the presidency, but the Wisconsin Supreme Court only narrowly rejected a bid by the Trump campaign to throw out over 200,000 absentee ballots in the state's two most Democratic counties. The 4-3 decision by what is generally considered the most polarized and politically driven high court in the country involved one conservative justice (Brian Hagedorn) joining three liberal colleagues in rejecting the Trump petition, mostly because it addressed alleged improper local election practices that were apparent long before balloting occurred. The legal doctrine of "laches" (undue delay in asserting a legal right or privilege) was emphasized in the majority opinion. https://nymag.com/intelligencer/article/wisconsin-supreme-court-close-flipping-state-trump.html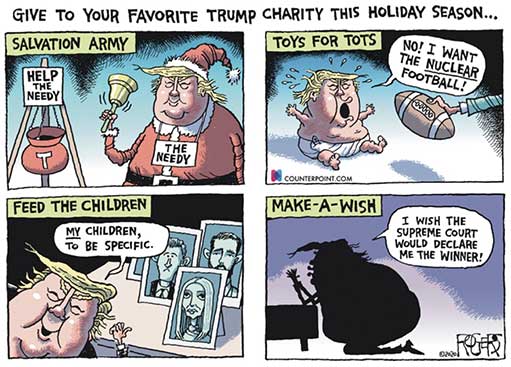 4. What's Next for Trump Voters Who Believe the Election Was Stolen?
One thing has remained the same: the view, among Mr. Trump's most faithful followers, that he is the rightful winner of the election.
Polls have presented a stark picture of alternate realities. A Fox News poll released on Friday found that 77 percent of those who cast ballots for Mr. Trump said they thought the election had been stolen from him. Just 10 percent of Democrats agreed. Another survey, conducted by Bright Line Watch in late November, found that among those who said they approved of Mr. Trump's performance in office, about half believed that he — not Joseph R. Biden Jr. — would be inaugurated in January.
But interviews with dozens of people who voted for Mr. Trump reveal a more fluid picture. Some were die-hard supporters who were hungry for any information to support Mr. Trump's claims — against all evidence — that he won the election. For these voters, no data could convince them otherwise.
https://www.nytimes.com/2020/12/14/us/trump-voters-stolen-election.html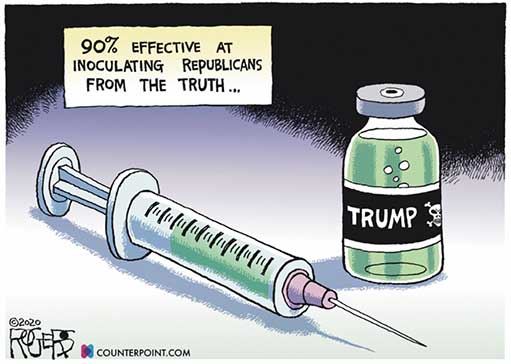 5. Election Trust Tracker: A Majority of Republicans Blame Trump's Court Losses on Political Bias and a Growing Share Say He Should Never Concede
Overall trust in elections has plummeted among Republicans: Prior to the election, 66 percent of GOP voters said they had at least some trust in the U.S. election system. In the latest poll, that dropped to 33 percent. Democratic trust, meanwhile, jumped from 63 percent to 83 percent.
Republicans dig in on belief the election was not free and fair: Despite no evidence of widespread fraud emerging, just 27 percent of Republican voters say the election was free and fair, a figure that has remained mostly static since the initial results were announced. Fifty-seven percent of independents and 94 percent of Democrats say the election was free and fair. https://morningconsult.com/form/tracking-voter-trust-in-elections/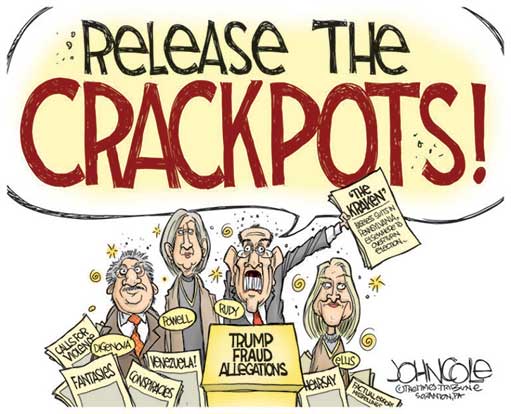 6. Fake electors try to deliver Arizona's 11 votes for Trump
In another sign of the lingering unrest over President Donald Trump's election loss, an Arizona group sent the National Archives in Washington, D.C., notarized documents last week intended to deliver, wrongly, the state's 11 electoral votes for him.
Copies of the documents obtained by The Arizona Republic show a group that claimed to represent the "sovereign citizens of the Great State of Arizona" submitted signed papers casting votes for what they want: a second term for Trump and Vice President Mike Pence. https://www.azcentral.com/story/news/politics/elections/2020/12/14/arizona-groups-fake-electors-try-cast-11-electoral-votes-trump/6536056002/
7. Newly Released Letter Details The Criminal Referral On Donald Trump Over His Ukraine Phone Call
"Nearly one year after the House of Representatives impeached President Donald Trump, the federal government has released the criminal referral alleging Trump committed crimes related to his phone call with Ukraine's President Volodymyr Zelensky, a conversation that sparked the historic proceedings," BuzzFeed News reports.
Nearly one year after the House of Representatives impeached President Donald Trump, the federal government has released the criminal referral alleging Trump committed crimes related to his phone call with Ukraine's President Volodymyr Zelensky, a conversation that sparked the historic proceedings.
The document, obtained by BuzzFeed News from the Office of the Director of National Intelligence in response to a Freedom of Information Act lawsuit, is a letter dated September 4, 2019, and signed by Michael Atkinson, inspector general for the intelligence community. It was sent to Stacey Moy, the deputy assistant director of the FBI's counterintelligence division. Moy's involvement in the Ukraine matter has not been previously disclosed.
The inspector general "is formally referring allegations received from an individual regarding, among other things, alleged violations of law related to a telephone call on July 25, 2019, between President Donald J. Trump and Ukrainian President Volodymyr Zelensky," Atkinson wrote. https://www.buzzfeednews.com/article/jasonleopold/criminal-referral-on-trump-ukraine
8. Inside the Right-Wing Media Bubble, Where the Myth of a Trump Win Lives On
President Trump's media criticism is usually binary — there are "good stories," favorable to him, and then the other category.
Most news coverage on Monday fell into that other category. One by one, presidential electors in all 50 states and the District of Columbia formally recognized Joseph R. Biden Jr. as the president-elect, the latest and most significant rejection so far of Mr. Trump's desperate attempts to undo the will of the voters.
But inside the sprawling and self-reinforcing network of websites, podcasts and video news that has fed some of the most reckless and unrealistic claims about the election, the myth of Mr. Trump's political survival endures. https://www.nytimes.com/2020/12/15/us/politics/trump-media.html
9. The Trump administration rejected the opportunity to secure a bigger vaccine stockpile
U.S. officials had the opportunity to secure enough doses of Pfizer's coronavirus vaccine to inoculate most of the country — at no upfront cost to the government. Instead, they turned down the offer.
With a smaller-than-expected order from the United States, Pfizer turned to fulfilling orders from other countries, like Britain, which began vaccinating people this week. https://www.nytimes.com/2020/12/10/podcasts/the-daily/pfizer-vaccine-us.html
10. Trump will leave office with a historically bad economic record
Many Americans believe the economic fable that Trump has repeated relentlessly throughout his term. But placing his bottom-line results alongside those of his predecessors paints a deeply unflattering portrait.
Alone among the 13 presidents since World War Two, Trump will exit the White House with fewer Americans employed than when he started. He will have overseen punier growth in economic output than any of the previous 12 presidents. https://www.cnn.com/2020/12/13/politics/trump-economy-record/index.html
11. U.S. border officials expelled dozens of migrant children in violation of court order
U.S. border officials have expelled at least 66 unaccompanied migrant children without a court hearing or asylum interview since a federal judge ordered them to stop the practice, the Trump administration conceded on Saturday.
In a filing in federal court in Washington, Justice Department lawyers acknowledged the expulsions represented a "contravention" of a ruling issued by U.S. District Court Judge Emmet Sullivan in November that prohibits the Trump administration from using a pandemic-era emergency border policy to expel minors who are apprehended without their parents or legal guardians. https://www.cbsnews.com/news/us-border-officials-expelled-dozens-migrant-children-violation-court-order/
12. U.S. Poised for Wave of Evictions in January as Federal Ban Expires
Millions of U.S. renters face the prospect of eviction in January unless federal officials extend protections put in place during the Covid-19 pandemic.
That month is when the Centers for Disease Control and Prevention's ban on evictions is set to expire. The moratorium protects tenants who have missed monthly rent payments from being thrown out of their homes if they declare financial hardship. The CDC ordered the halt on evictions under the Public Health Service Act, which allows the federal government to enact regulations that help stop the spread of infectious diseases.
Between 2.4 million and 5 million American households are at risk of eviction in January alone, and millions more will be vulnerable in the months after, according to estimates from the investment bank and financial-advisory firm Stout Risius Ross. https://www.wsj.com/articles/u-s-poised-for-wave-of-evictions-in-january-as-federal-ban-expires-11607855401
13. Russian government spies are behind a broad hacking campaign that has breached U.S. agencies and a top cyber firm
Russian government hackers who breached a top cybersecurity firm are behind a global espionage campaign that also compromised the Treasury and Commerce departments and other U.S. government agencies, according to people familiar with the matter.
The FBI is investigating the campaign by a hacking group working for the Russian foreign intelligence service, SVR. The breaches have been taking place for months and may amount to an operation as long-running and significant as one that occurred in 2014-2015. https://www.washingtonpost.com/national-security/russian-government-spies-are-behind-a-broad-hacking-campaign-that-has-breached-us-agencies-and-a-top-cyber-firm/2020/12/13/d5a53b88-3d7d-11eb-9453-fc36ba051781_story.html
14. CBS News poll: Most feel election is "settled" but Trump voters disagree
With the Electoral College poised to elect Joe Biden on Monday, a sizable 62% majority of the nation's voters feel the election is "over and settled" and it's "time to move on." Large majorities feel their own votes were counted correctly, and a majority acknowledge Mr. Biden as the "legitimate winner."
But the president's backers feel very differently: 82% of Trump voters say they do not consider Mr. Biden legitimate and — perhaps most notably for the coming transition month — almost half of President Trump's voters say Mr. Trump should refuse to concede after that Electoral College vote happens, and instead do all he can to stay in power. https://www.cbsnews.com/news/cbs-news-poll-most-feel-election-is-settled-but-trump-voters-disagree/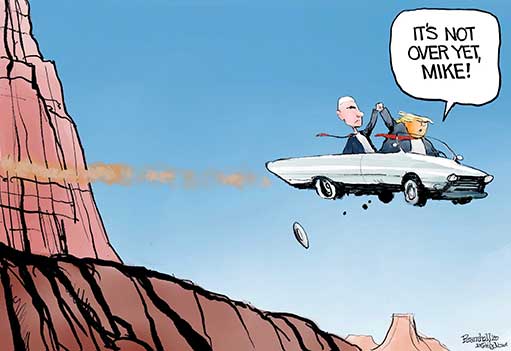 15. Just 60% Believe Biden's Win Is Legitimate
A December 10th Quinnipiac poll finds 60% of voters say they think President-elect Joe Biden's victory in the 2020 presidential election is legitimate and 34% think his win is not.
There are large partisan gaps. Democrats say 98% to 2% they think Biden's election victory is legitimate and independents say 62% to 30% his victory is legitimate. Republicans, however, say 70% to 23% that they think Biden's victory is not legitimate. https://poll.qu.edu/national/release-detail
16. MyPillow Guy Accuses Fox News of Rigging Election Against Trump
CEO of MyPillow Mike Lindell spoke to the crowd at a pro-Trump march in D.C. on Saturday, and singled out Fox News Channel as being "in on" a major conspiracy to overthrow the Donald Trump because of their having called Arizona for Joe Biden.
"They were going for everything. They were going to take everything we had," he said. "Why do you think Fox declared Arizona with only 14% of the vote in? They already knew what they did! They were in on it!" https://www.mediaite.com/politics/they-were-in-on-it-mypillow-guy-accuses-fox-news-of-rigging-election-against-trump-in-bonkers-rally-speech/
17. Trump and Friends Got Coronavirus Care Many Others Couldn't
Ben Carson, Chris Christie and Donald J. Trump are not the sturdiest candidates to conquer the coronavirus: older, in some cases overweight, male and not particularly fit. Yet all seem to have gotten through -19, and all have gotten an antibody treatment in such short supply that some hospitals and states are doling it out by lottery.
Now Rudy Giuliani, the latest member of President Trump's inner circle to contract Covid-19, has acknowledged that he received at least two of the same drugs the president received. He even conceded that his "celebrity" status had given him access to care that others did not have.
Mr. Giuliani's candid admission once again exposes that Covid-19 has become a disease of the haves and the have-nots. The treatment given to Mr. Trump's allies is raising alarms among medical ethicists as state officials and health system administrators grapple with gut-wrenching decisions about which patients get antibodies in a system that can only be described as rationing. https://www.nytimes.com/2020/12/09/us/politics/trump-coronavirus-treatments.html?referringSource=articleShare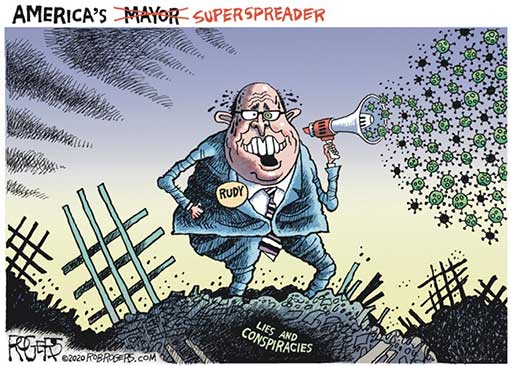 18. California expands smartphone COVID-19 alert tool statewide
California rolled out a voluntary smartphone tool to alert people if they spent time near someone who tests positive for the coronavirus as cases and hospitalizations soar throughout the state.
The tool doesn't track people's identities or locations but uses Bluetooth wireless signals to detect when two phones are within 6 feet of each other for at least 15 minutes.
"The process is private, anonymous and secure, and is one of the many tools in the state's data-driven approach to help reduce the spread.
For how to download California's smartphone COVID-19 alert tool go to https://abc30.com/california-smartphone-covid-tracker-coronavirus-ca-notify-iphone-alert/8667174/
19. Lindsey Graham Says Stacey Abrams Tricked Republicans Into Helping Biden Win
Sen. Lindsey Graham (R-S.C.) said Wednesday that President-elect Joe Biden won the state of Georgia because, somehow, Democrat Stacey Abrams tricked Republicans into abetting voter fraud by helping more people legally vote.
Abrams "conned the Republican leadership in Georgia" into it, Graham said Wednesday on the conservative radio show "The Mike Gallagher Show."
GOP leaders in the state must now change their laws to "stop Stacey Abrams from stealing the Senate race," he continued, referring to the two Georgia Senate runoff elections in January, which will decide which party controls the U.S. Senate. Republican Sens. David Perdue and Kelly Loeffler are both running to hold on to their seats.
Graham doubtless knows what he's saying is nonsense. He knows it's fueling distrust in democracy. He's knows Georgia officials are not going to change state laws in the coming days. He knows that Biden won Georgia because he got more votes. He knows that state officials counted and certified all of the legally cast votes ― three times, in fact. He knows there is no evidence of widespread fraud in any state in the presidential election. https://m.huffpost.com/us/entry/us_5fd10278c5b68256b111bb87/amp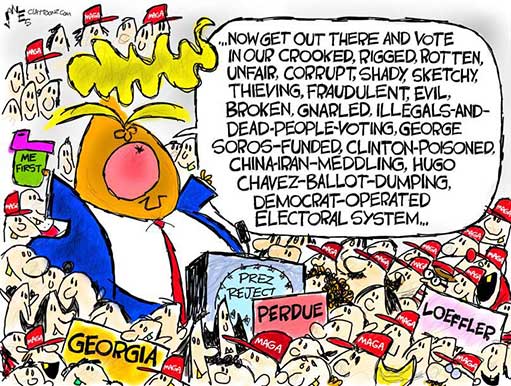 20. Trump Pursues Appointing Special Counsel to Probe Election, Hunter Biden
Trump has expressed interest in pursuing the appointment of a special counsel to investigate allegations of fraud in the November elections and issues related to Hunter Biden, according to people familiar with the matter.
In recent days, the president has directed advisers to look for people who could serve in such a position, one of the people said, as lawsuits and other efforts by Mr. Trump and his campaign to reverse the election results flounder. White House officials and allies of the president on Capitol Hill and elsewhere have also pushed for the appointment of a special counsel, another person familiar with the discussions said.
White House chief of staff Mark Meadows has told people that the president is interested in pursuing a special counsel to investigate election fraud and wants to act quickly, one of the people said. https://www.wsj.com/articles/trump-pursues-appointing-special-counsel-to-probe-election-hunter-biden-11607744814
21. McConnell is Getting Away with Murder
Mitch McConnell would rather save big corporations money than save American lives and jobs.
Seem like a harsh thing to say? Perhaps, but it's 100 percent true.
McConnell — as he is wont to do — is blocking the proposal because he wants to include a provision that protects corporations from being sued if their workers die or get sick from COVID.
Killing Americans to help corporations is — on its face — such a politically (not to mention morally) atrocious position that anyone who adopts it should be run out of politics within hours. Yet, this is the position of the most important and influential Republican not named Trump. McConnell holding the relief bill hostage presents an opportunity and an imperative for Democrats. https://messagebox.substack.com/p/mcconnell-is-getting-away-with-murder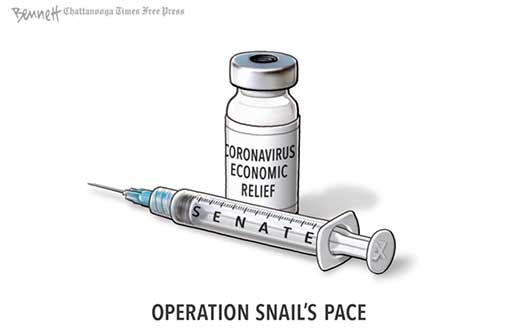 22. Trump Administration Executes Brandon Bernard After Jurors Plead For His Life
Bernard was an accomplice to a crime at age 18. He is the ninth person to be executed as part of the Trump administration's end-of-office killing spree.
"He has been through, I think, so much suffering and remorse for what he did," said anti-death penalty activist Sister Helen Prejean of Brandon Bernard, 40.
 
The Trump administration executed 40-year-old Brandon Bernard on Thursday, his punishment for acting as an accomplice to a crime when he was 18 years old.
The government went through with the killing despite high-profile opposition from 5 of 9 surviving jurors who sentenced Bernard to death, the prosecutor who defended his death sentence on appeal, several members of Congress, 23 current and former prosecutors, reality television star and criminal justice reform advocate Kim Kardashian West, and The Washington Post's editorial board. Hours before the execution, controversial lawyers Alan Dershowitz and Ken Starr — who worked on President Donald Trump's legal team during his impeachment — joined Bernard's defense team. 
Bernard was killed by lethal injection at 9:27 p.m. The Supreme Court denied a last-minute stay of execution for Bernard, with Justices Stephen Breyer, Elena Kagan, and Sonia Sotomayor dissenting.  Sotomayor wrote in her dissent. "Bernard has never had the opportunity to test the merits of those claims in court. Now he never will." https://www.huffpost.com/entry/trump-administration-execute-brandon-bernard_n_5fd2a861c5b68256b113afb8
23. Manhattan D.A. Intensifies Investigation of Trump
State prosecutors in Manhattan have interviewed several employees of President Trump's bank and insurance broker in recent weeks, according to people with knowledge of the matter, significantly escalating an investigation into the president that he is powerless to stop.
The interviews with people who work for the lender, Deutsche Bank, and the insurance brokerage, Aon, are the latest indication that once Mr. Trump leaves office, he still faces the potential threat of criminal charges that would be beyond the reach of federal pardons.
It remains unclear whether the office of the Manhattan district attorney, Cyrus R. Vance Jr., will ultimately bring charges. The prosecutors have been fighting in court for more than a year to obtain Mr. Trump's personal and corporate tax returns, which they have called central to their investigation. The issue now rests with the Supreme Court.
But lately, Mr. Vance's office has stepped up its efforts, issuing new subpoenas and questioning witnesses, including some before a grand jury, according to the people with knowledge of the matter, who requested anonymity because of the sensitive nature of the investigation. https://www.nytimes.com/2020/12/11/nyregion/trump-taxes-cy-vance.html
24. Alleged crusade to stop voter fraud lands former HPD captain in handcuffs
A former Houston Police Department Captain was arrested and charged for running a man off the road and pointing a gun at his head in an attempt to prove claims of a massive voter fraud scheme.
According to court documents, Aguirre told police that he was part of a group of private citizens called the "Liberty Center," who were conducting a civilian investigation into the alleged ballot scheme.
According to Aguirre, he had been conducting surveillance for four days on a man who was allegedly the mastermind of a giant voter fraud scheme. Aguirre told authorities the man was hiding 750,000 fraudulent ballots in a truck he was driving.
Instead, the victim turned out to be an innocent air conditioner repairman, court documents said. https://abc13.com/mark-anthony-aguirre-former-houston-police-department-captain-arrested-aggravated-assault-liberty-center/8802235/
25. Dodge City Mayor resigned because of threats over mask mandate
Mayor Joyce Warshaw's heavy decision was made with concerns for her safety after being met with aggression, including threats via phone and email from Dodge City citizens, following extreme backlash due to an article by USA Today published on Dec. 11, regarding her vote in favor of a mask mandate. https://www.dodgeglobe.com/story/news/local/2020/12/15/dodge-city-mayor-joyce-warshaw-resigns-effective-immediately/3913222001/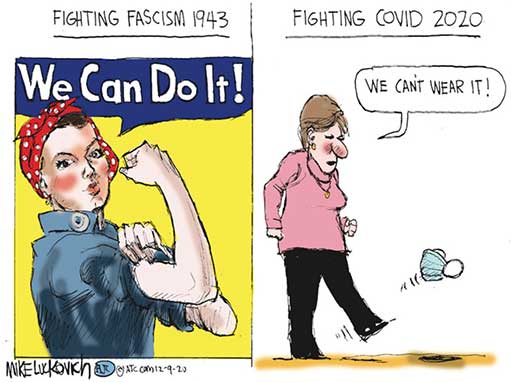 26. A majority (59%) of all executions this year were conducted by the federal government
In less than six months the federal government carried out more federal civilian executions than any prior president in the 20th or 21st centuries, Republican or Democratic, had authorized in any prior calendar year. The Trump administration performed the first lame-duck federal execution in more than a century, while scheduling more transition-period executions than in any prior presidential transition in the history of the United States. https://deathpenaltyinfo.org/facts-and-research/dpic-reports/dpic-year-end-reports/the-death-penalty-in-2020-year-end-report
27. Trump Organization must turn over documents to NY attorney general
A state judge ruled Tuesday that the Trump Organization must turn over documents related to a property whose tax abatements were being investigated by NY Attorney General Letitia James' office.
The Trump Organization previously claimed the documents were protected by attorney-client privilege. https://www.cnn.com/2020/12/15/politics/trump-organization-documents-ny-attorney-general/index.html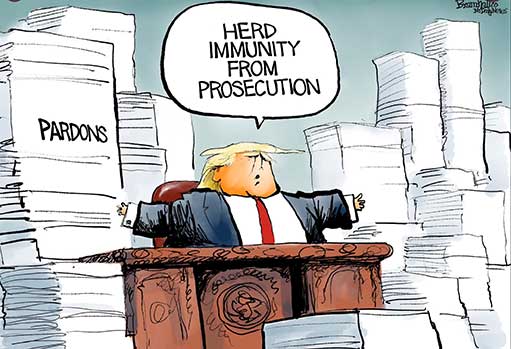 28. The DAILY GRILL
Defunding the police has serious consequences. Crime is up. And America's cities are less safe. — GOP House Judiciary

VERSUS

You know what defunds the police? NOT passing the Heroes Act. Who do you think is laid off when states and cities face mounting #COVID19 debt? -- Rep. Eric Swalwell @RepSwalwell
 

 

HUGE NEWS: Thanks to the public-private partnership forged by President @realDonaldTrump @pfizer announced its Coronavirus Vaccine trial is EFFECTIVE, preventing infection in 90% of its volunteers. — Mike Pence @Mike_Pence

VERSUS

The truth is that Pfizer didn't receive any funding from Operation Warp Speed for the development, clinical trial and manufacturing of the vaccine. Rather, its partner, BioNTech SE, has received money -- from the German government. -- Bloomberg News
29. From MEDIA MATTERS
Newsmax host: "Joe Biden is not the president-elect."
Greg Kelly: "Joe Biden is pretending that he is the president-elect." https://www.mediamatters.org/newsmax/newsmax-host-joe-biden-not-president-elect

Sinclair report on Georgia Senate runoffs fails to cover GOP candidates' scandals.
Sinclair's Scott Thuman instead pushed Republicans' claims that their Democratic opponents are "radicals." https://www.mediamatters.org/sinclair-broadcast-group/sinclair-report-georgia-senate-runoffs-fails-cover-gop-candidates-scandals

Newsmax hosts embrace conspiracy theory claiming Trump can still win since Kamala Harris hasn't resigned her Senate seat.
On December 15, Newsmax host Grant Stinchfield claimed that Vice President-elect Sen. Kamala Harris (D-CA) believes President Donald Trump could still win the presidential election given that Harris has not yet resigned her current seat in the United States Senate. https://www.mediamatters.org/newsmax/newsmax-hosts-embrace-conspiracy-theory-claiming-trump-can-still-win-kamala-harris-hasnt

Newsmax host: "I do believe that there is a significant chance that Donald Trump could be inaugurated."
Greg Kelly: "I'm concerned because the way it's looking for Joe, his health, I don't think he's gonna make it for Donald Trump's second inauguration." https://www.mediamatters.org/newsmax/newsmax-host-i-do-believe-there-significant-chance-donald-trump-could-be-inaugurated

Newsmax host declares election "is not over" despite electoral college certification.
Greg Kelly: "You can look it up in the Constitution. See what happens folks." https://www.mediamatters.org/newsmax/newsmax-host-declares-election-not-over-despite-electoral-college-certification

Tucker Carlson calls Dr. Jill Biden "borderline illiterate."
Carlson: Dr. Biden's dissertation is "pure nonsense, like pig Latin or dogs barking." https://www.mediamatters.org/tucker-carlson/tucker-carlson-calls-dr-jill-biden-borderline-illiterate
1. Jonathan Last: The Republican Party as Totalitarian State.
The Republican party is, as of this moment, an autocracy.
Consider: Why has the GOP gone crazy and insisted that the election was "stolen"?
The answer—the only answer—is: Because Donald Trump said so.
What if Trump emerged after the election and said, "Tough loss. Joe Biden put up a good fight. I'll be back in 2024 to beat him like a drum." Well, in that situation, there would be no move to overturn the election and no one in the precincts of Conservatism Inc. would be arguing that, ackshually, Donald Trump won by a landslide.
They would not be arguing that because there is no evidence for this argument. None. Absent a command from Trump, no outside observer would have come to this verdict on their own.
But present a command from Trump, this position became mandatory.
This is the definition of autocracy. And once you understand that the GOP itself has become an autocracy, it becomes easy to understand a lot of what's going on. https://thetriad.thebulwark.com/p/the-republican-party-as-totalitarian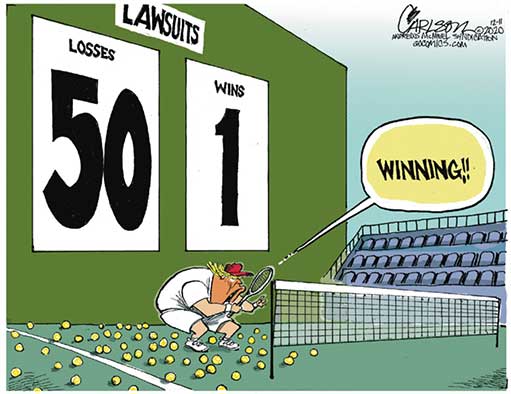 2. Jim Rutenberg and Nick Corasaniti: 'An Indelible Stain': How the G.O.P. Tried to Topple a Pillar of Democracy
The Supreme Court repudiation of President Trump's desperate bid for a second term not only shredded his effort to overturn the will of voters: It also was a blunt rebuke to Republican leaders in Congress and the states who were willing to damage American democracy by embracing a partisan power grab over a free and fair election.
The court's decision on Friday night, an inflection point after weeks of legal flailing by Mr. Trump and ahead of the Electoral College vote for President-elect Joseph R. Biden Jr. on Monday, leaves the president's party in an extraordinary position. Through their explicit endorsements or complicity of silence, much of the G.O.P. leadership now shares responsibility for the quixotic attempt to ignore the nation's founding principles and engineer a different verdict from the one voters cast in November.
Many regular Republicans supported this effort, too — a sign that Mr. Trump has not just bent the party to his will, but pressed a mainstay of American politics for nearly two centuries into the service of overturning an election outcome and assaulting public faith in the electoral system. The G.O.P. sought to undo the vote by such spurious means that the Supreme Court quickly rejected the argument. https://www.nytimes.com/2020/12/12/us/politics/trump-lawsuits-electoral-college.html
3. Doyle McManus: Trump has changed tactics in his election fight. His new approach is more dangerous
Instead of receding into retirement like most former presidents, Trump now has a crusade around which he can continue to raise money and ensure that the party remains in his control.
He can wage a shadow presidency from Mar-a-Lago, dispensing support to Republicans he likes and sponsoring primary challenges against those he doesn't.
That's bad news for Republican moderates and other dissidents who hoped to steer their party away from Trump's quasi-autocratic populism.
It's also bad news for Biden, who hoped to govern partly by forging bipartisan compromises in Congress.
Instead, the new president will face an angry opposition party whose animating principle is that he stole the election from its rightful winner. A Quinnipiac poll this month found that 70% of GOP voters believe Biden's presidency will be illegitimate.
Already, Republican state officials who helped certify Biden's victories in Georgia and other states have fielded death threats from Trump's most zealous supporters. The Republican leader of Pennsylvania's state Senate told the New York Times that if she broke with the president, "I'd get my house bombed tonight."
"The Republican Party may not realize it, but it has become an antidemocratic force," Geoffrey Kabaservice, a GOP historian, told me. "Many conservatives believe that they can't win elections anymore because Democrats always corrupt the process, and that can justify antidemocratic means…. Trump has legitimized a strain of conservatism that had been repressed before, but now it's in control."
It will be all too easy, come Inauguration Day, to dismiss Trump's challenge to the election as a quixotic effort that failed. But just as attempted theft is a serious crime, a failed attempt to subvert the Constitution is a form of crime as well.
The biggest danger of Trump's effort is that he has convinced so many Republicans that the election was rigged, establishing a precedent for future candidates to refuse to accept the outcome of a democratic vote.
For the moment, we appear to be escaping a full-scale constitutional crisis thanks to Biden's healthy vote margin, the weakness of Trump's case and the incompetence of his legal team. We may not be so lucky next time. https://www.latimes.com/politics/story/2020-12-13/trump-has-changed-tactics-in-his-election-fight-his-new-approach-is-more-dangerous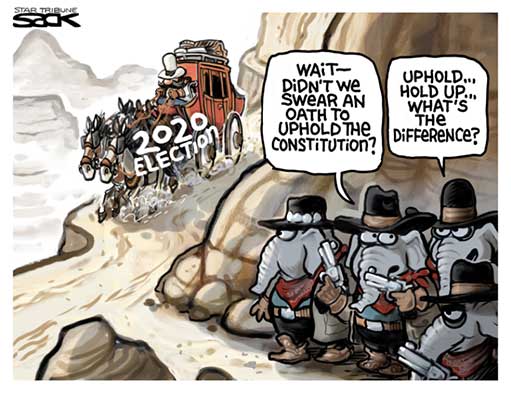 4. Jonathan Last: Everyone Trump Touches Dies: The List
Bill Barr? He gone.
Barr began the Year of Our Lord 2016 as a well respected member of the conservative legal establishment. He concludes 2020 with his reputation destroyed, destined to be remembered as the most dishonorable attorney general in a century. The fact that he tried to salvage his legacy in the closing weeks of his tenure looks less like a man standing up and more like Meat Loaf.
He would do anything for Trump. But he won't do . . . that.
A wise man once prophesied that everything Trump touches dies. And while this turns out not to be as reliable as a law of thermodynamics, it works just fine as a general rule of thumb.
Every presidential administration chews up and spits out one or two people. There are always guys who enter an administration looking like normal, upstanding citizens and exit having been revealed as hucksters, frauds, or criminals. G. Gordon Liddy. Pat Buchanan. Cap Weinberger. John Poindexter. Sometimes the people who get rendered by a president are good guys who catch a bad break, like Mike Espy.
But the sheer number of people who had their lives and/or careers destroyed over four years of swimming in Donald Trump's slipstream is kind of staggering.
To take a walking tour through the human wreckage of the Trump years go to https://thetriad.thebulwark.com/p/everyone-trump-touches-dies-the-list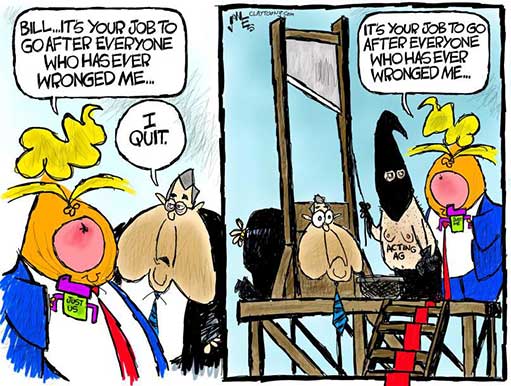 5. Jeremy W. Peters: Inside the Right-Wing Media Bubble, Where the Myth of a Trump Win Lives On
President Trump's media criticism is usually binary — there are "good stories," favorable to him, and then the other category.
Most news coverage on Monday fell into that other category. One by one, presidential electors in all 50 states and the District of Columbia formally recognized Joseph R. Biden Jr. as the president-elect, the latest and most significant rejection so far of Mr. Trump's desperate attempts to undo the will of the voters.
But inside the sprawling and self-reinforcing network of websites, podcasts and video news that has fed some of the most reckless and unrealistic claims about the election, the myth of Mr. Trump's political survival endures.
Inside this bubble, the president's allies present virtually impossible outcomes as completely plausible. They raise expectations of victory in unwinnable lawsuits and battles over electors that state legislators are unwilling to have. They bolster the credibility of questionable witnesses and advocates whose most important qualification is an unequivocal conviction that Mr. Trump won in November, despite all available evidence.
And then when they don't meet the bar they set, they move it. https://www.nytimes.com/2020/12/15/us/politics/trump-media.html