September 9, 2021
ON THE RECORD. . .
"I think after what happened post-2020 election, I think the president's behavior was completely unacceptable, so I don't think he should be the nominee to lead the party in 2024." — Sen. Pat Toomey (R-PA), who is retiring next year, urging his party not to nominate Donald Trump.

"I think if we're going to be in charge and pushing conspiracy and pushing division and pushing lies, then the Republican Party should not have the majority."— Rep. Adam Kinzinger (R-IL)

"Governor Abbott has failed us. A republican state legislature has failed us. They can justify taking actions that are killing their fellow Texans." — Dr. David Portugal, a cardiologist in Sugarland, Texas.

"We are moving full steam ahead." — Sen. Chuck Schumer (D-NY), effectively rejecting Manchin's (D-WV) call for a "strategic pause" on the $3.5 trillion budget reconciliation package.

The best path forward that will bring the most amount of happiness and health is if vaccinated adults stop overestimating their Covid risk and unvaccinated adults stop underestimating theirs. Seems quite simple in theory. — Nicole Saphier, MD

"Covid may be the medical cause of their death, but what they were killed by was misinformation... the malice and the immorality of political leaders who would risk their lives in a big con for the purpose of appeasing a base" -- Steve Schmidt

VIDEOS

"I know you've never faced those choices, nor have you ever been pregnant, but for women out there who have faced those choices, this is an incredibly difficult thing." — White House press secretary Jen Psaki, shutting down a male reporter who asked why President Biden supports abortion against his Catholic faith. https://twitter.com/therecount/status/1433501239602466821

Now that Justice Brett Kavanaugh voted to virtually end Roe v. Wade in Texas, here's a video compilation of all the times that Sen. Susan Collins (R-ME) said Kavanaugh won't overturn Roe v. Wade. https://twitter.com/therecount/status/1433501239602466821

Meidas Touch: Better With Biden: https://youtu.be/lPVMCZWENPs

Not My Party Ep 305: Tim Miller on The Big Anti Vax Con: https://youtu.be/O1DyB2eahAs

Texas Republicans have set up a website to stalk and report women, their families and the doctors who help them. They are waging a war against women. #TexasWarOnWomen — Don Winslow Films: https://youtu.be/U34tIlYyXiI

We are headed back into darkness again as a country because of lies, misinformation and gutter politics. — Don Winslow Films: https://youtu.be/BeLJO6tKRqk

"Over on Fox, human manure-spreader Tucker Carlson has floated yet another race-baiting conspiracy theory that tens of thousands of Afghan refugees are being welcomed into this country to change the outcome of future elections." — CNN anchor Jim Acosta. https://twitter.com/Acyn/status/1434265257535442952

The Big Lie begins: Donald Trump attempts to claim election victory as several states still count ballots: https://youtu.be/W9d6j2uO6MI
Litigation Tracker: Pending Criminal and Civil Cases Against Donald Trump
---
IN THIS ISSUE
IN THE NEWS
OPINION
Andy Borowitz: Texas Republicans Back Statewide Dress Code for Women
A new bill moving swiftly through the Republican-controlled Texas legislature would institute a strict statewide dress code for women.

Governor Greg Abbott, a vehement supporter of the bill, said that the dress code would benefit women because "it will give them one less thing to think about when they get up in the morning."

"I believe in the sanctity of human life, and the best way to protect that life, in the case of a woman, is to free her from the stress of having to choose what to wear," Abbott said.

Abbott summarized the new dress code, which bars women from wearing skirts above the knee, sleeveless blouses, and most varieties of pants.

"Slacks are fine as long as they have cuffs," he said. "However, if a woman is caught wearing jeans or dungarees, she will be sent home."

Abbott dismissed comparisons between the state's proposed dress code and that imposed by the Taliban, which has required women to wear burqas. "We are strongly opposed to masks of any kind," he said. https://www.newyorker.com/humor/borowitz-report/
'Religious' exemptions add legal thorns to looming vaccination mandates
In Northern California, the pastor of a megachurch hands out "religious exemption" forms to the faithful. A New Mexico state senator will "help you articulate a religious exemption" by pointing to misinformation about aborted fetal cells in vaccines. And a Texas-based evangelist offers exemption letters to anyone — for a suggested "donation" starting at $25.
With workplace vaccination mandates in the offing, opponents are turning to a tried-and-true recourse for avoiding a COVID-19 shot: the claim that vaccination interferes with religious beliefs. https://www.latimes.com/california/story/2021-09-03/religious-exemptions-add-legal-thorns-to-looming-vaccine-mandates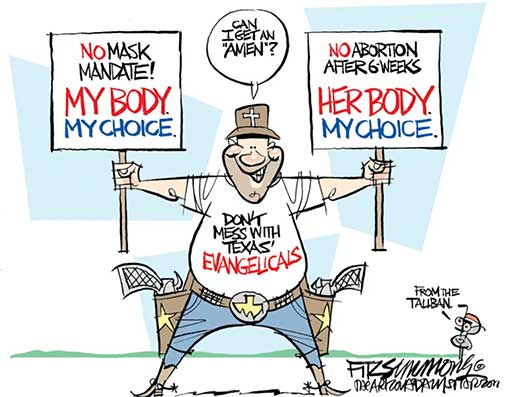 Fox Hosts Claim the 'Only Thing' That Will Save Newsom Is 'Voter Fraud'
Fox Nation host Tomi Lahren pushed forth a growing Fox News narrative on Tuesday that California Gov. Gavin Newsom will only survive the California recall by rigging the election, outright claiming that the "only thing" that will save him is "voter fraud."
Months after former President Donald Trump's "Big Lie" that the 2020 presidential election was "stolen" from him culminated in the deadly Jan. 6 Capitol insurrection, Republicans and right-wing media have continued to latch onto baseless election conspiracies to not only justify Trump's loss but now to preemptively explain away future GOP losses.
Fox News star Tucker Carlson has been warning his viewers for weeks that the election could be fraudulent, suggesting the state will allow non-citizens to vote via mail-in ballots while calling on "outside observers" to verify that Democrats do not steal the election. "That's not the big lie. That's the big reality," Carlson said last month. https://www.thedailybeast.com/fox-host-tomi-lahren-claims-only-thing-that-will-save-gavin-newsom-is-voter-fraud
Muslim youth in America: A generation shadowed by the aftermath of 9/11
Young Muslims were "right in the crosshairs" after 9/11, said Sabrina Alimahomed, associate professor of sociology at Cal State Long Beach, whose research focuses on the impact the war on terrorism had on U.S. Muslims. "Islamophobia was present and predates 9/11, but it became so much more substantial in terms of the way it became rooted in our structures and our culture."
In 2001, the year of the attacks, nearly 500 anti-Muslim incidents of hate crime were documented in the U.S. — up from 28 the year before. The number has never returned to the pre-9/11 levels. https://www.latimes.com/california/story/2021-09-03/muslim-youth-in-america-a-generation-shadowed-by-the-aftermath-of-9-11
Child Covid-19 Cases Rise in States Where Schools Opened Earliest
The recent spread of the highly contagious Delta variant has thrown back-to-school plans into disarray, temporarily driving tens of thousands of students back to virtual learning or pausing instruction altogether.
Average daily new cases among school-age children grew at faster rates last month in all 20 states where schools opened in late July and early August, as compared with the states where schools opened later. Half of those states, which include Georgia, Indiana, South Carolina and Louisiana, have seen record rates of new daily infections among children and teens since school started, according to data from the COVKID Project, a program of the Women's Institute for Independent Social Enquiry that has been tracking and compiling U.S. Covid-19 infection data in children and teens from state public health departments.
A study released by the CDC last week illustrates how easily the Delta variant can rip through a school when safety protocols like masking aren't followed: At a California elementary school, an unvaccinated, unmasked and infected teacher spread the virus to more than half of the students in the teacher's immediate classroom in late May. The teacher also infected six students in a separate grade, and another four parents and four siblings of students. In all, contact with one infected teacher led to 26 more cases in the school community. https://www.wsj.com/articles/child-covid-19-cases-rise-in-states-where-schools-opened-earliest-11630834201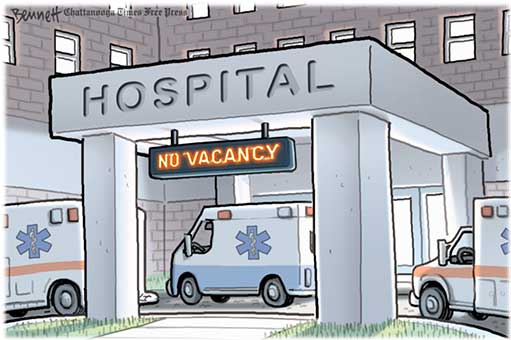 Did Texas just reset the 2022 campaign?
Suddenly, stories that weren't great political terrain for Biden and Democrats — the fallout from the Afghanistan pullout, the new Delta surge, humdrum new employment numbers, etc. — were replaced by the Texas news, then the Supreme Court non-ruling — a storyline that Democrats know will motivate their liberal base and potentially drive moderate women to the polls.
And that's giving Democrats big hopes both in upcoming elections and for 2022. They can use what's happening in other states — and the judiciary's non-intervention — to nationalize their campaigns. All of these changes may end up provoking a backlash that motivates turnout for Dems in the midterms." https://www.politico.com/newsletters/playbook/2021/09/05/did-texas-just-reset-the-2022-campaign-494208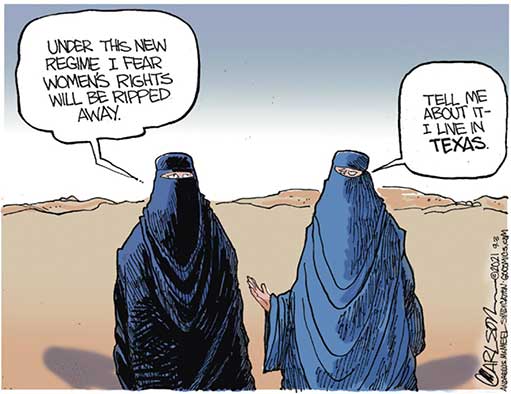 In red California, Trump's lies about a rigged election echo among recall supporters
In many ways, this recall election is still about a man named Donald J. Trump.
Conservatives talk about the recall effort through the lens of Trump's lies that he won the 2020 election. By and large, they refuse to cast their ballots by mail, believing his false claims that mail-in voting leads to rampant voter fraud. If Newsom prevails, many won't trust the results — just as they didn't after Trump lost.
In Newsom, they have found an avatar for the Democratic Party and everything they hate about it — a political entity in opposition to many of the things they hold dear, including (and sometimes especially) Trump.
"In many ways, the recall was never really about Gavin Newsom in particular," said Kim Nalder, a political science professor at Cal State Sacramento.
Rather, she said, recall supporters are fueled by a "laundry list of complaints that Republicans had about liberals."
Despite the angry fervor of recall supporters — which has led Newsom's allies to openly worry that an enthusiasm gap would spell his political demise — the effort's chances don't look as good as they once did. Recent polling shows that 58% of likely voters oppose the recall, compared with 39% who support it. https://www.latimes.com/california/story/2021-09-06/california-recall-newsom-rural-republicans-trump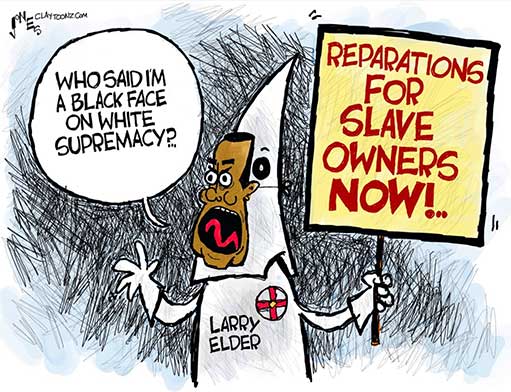 Republican wins on abortion, voting and guns cap their banner 2021, with Democratic goals in 'dire' danger despite Washington power
Democrats may control the elected levers of power in Washington — after a remarkable three-year run in which they took back the House, reclaimed the Senate and evicted Donald Trump from the White House — but the battle over the future direction of the country remains wide open. By focusing on state and judicial power, Republicans are enjoying something of a provincial policy renaissance. Democrats, meantime, face new pressures to wield their power more aggressively by breaking long-standing precedent.
"We are really on this precipice, this knife's edge, and each party goes, 'If I just push a little bit harder I can control politics for the next 20 years,' " said conservative activist Grover Norquist, the president of Americans for Tax Reform. "And it's true."
The success has rewarded a long-running Republican strategy of looking beyond the top-line national ballot trend to focus on state and local elections and judicial appointments. The decision of a new conservative majority on the Supreme Court to allow the Texas abortion law to take effect is one of the biggest events in conservative jurisprudence since the 1973 Roe v. Wade decision, which enshrined a women's right to have an abortion. https://www.washingtonpost.com/politics/abortion-republican-victories/2021/09/04/c7a0b8da-0c23-11ec-a6dd-296ba7fb2dce_story.html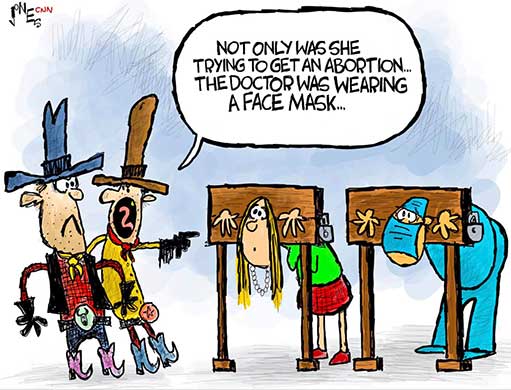 The top 1 percent are evading $163 billion a year in taxes, the Treasury finds
The wealthiest 1 percent of Americans are the nation's most egregious tax evaders, failing to pay as much as $163 billion in owed taxes per year, according to a Treasury Department report released on Wednesday.
The analysis comes as the Biden administration pushes lawmakers to embrace its ambitious proposal to beef up the Internal Revenue Service to narrow the "tax gap," which it estimates amounts to $7 trillion in unpaid taxes over a decade. The White House has proposed investing $80 billion in the agency over the next 10 years to hire more enforcement staff, overhaul its technology and usher in new information-reporting requirements that would give the government greater insight into tax evasion schemes.
The proposals have been met with deep skepticism from Republicans and business lobbyists who argue that the I.R.S. cannot be trusted with more power and that the proposals are an invasion of privacy. https://www.nytimes.com/2021/09/08/business/irs-tax-avoidance.html
Everyone is doubling down on everything 
Right now, it feels like Capitol Hill and the White House are in the midst of a giant game of Texas Hold 'Em. All the key players -- President Joe Biden, Speaker Nancy Pelosi, Senate Majority Leader Chuck Schumer, Senate Minority Leader Mitch McConnell and House Minority Leader Kevin McCarthy -- just keep pushing more chips into the middle of the table. When challenged, they raise. No one is backing off an inch, at least not publicly. How this all ends up is hard to predict right now, but it's fascinating -- and a little scary -- to watch these senior party leaders play out their hands. https://email.punchbowl.news/t/ViewEmail/t/04D0A1D945FA24
792540EF23F30FEDED/F0FBF4A26141BC72E89F0E32AAFB68BF
Anti-Vax Radio Hosts Keep Dying From COVID
Conservative radio hosts all across America are losing their lives for the cause. In the past month alone, five talk radio personalities who were vocal COVID-19-deniers, anti-vaxxers, or anti-maskers have all died after contracting the virus. Most recently was WNDB's Marc Bernier, a late Daytona, Florida, talk radio host who dubbed himself "Mr. Anti-Vax" in December while assuring his listeners "I'm not taking it." True to his word, Bernier contracted COVID-19 roughly three weeks ago and his death was announced over the weekend by his radio station––which had awkwardly acknowledged his on-air "anti-vaccine" commentary just before his passing. https://www.vanityfair.com/news/2021/09/anti-vax-radio-hosts-dying-covid
Texas abortion law becomes a GOP '24 litmus test
Just days after Texas' unprecedented, restrictive anti-abortion law took effect, Republicans around the country are looking to import it. "GOP officials in at least seven states, including Arkansas, Florida, South Carolina and South Dakota, have suggested they may review or amend their states' laws to mirror Texas's," write WaPo's Meryl Kornfield, Caroline Anders and Audra Heinrichs.
We can't help but notice that many of those states have something in common: Republican governors with 2024 ambitions.
It sets up a competitive dynamic where each would-be GOP nominee embraces a Texas-like law in order to avoid being outflanked by a potential rival. But in doing that, they effectively put the issue front and center — politically dicey for the general election — and ensure that all Republican candidates will be asked about it. https://www.politico.com/newsletters/playbook/2021/09/04/texas-abortion-law-becomes-a-gop-24-litmus-test-494207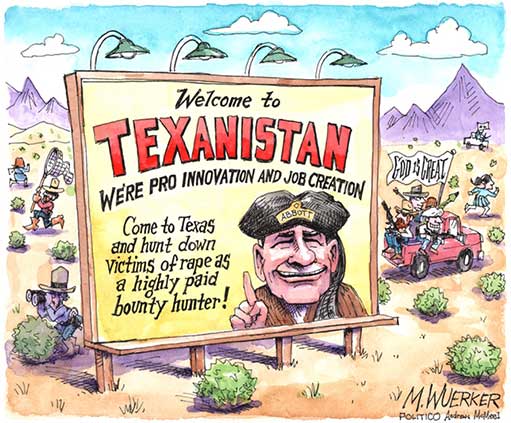 Emails Show Just How Crazy the Georgia Recount Got
Back in January 2021, as then-President Donald Trump was calling on Georgia election officials to 'find 11,780 votes,' new documents show that the secretary of state's office in Georgia was in full crisis mode," the Daily Beast reports.
There were death threats promising to 'make the Boston bombings look like child's play.' Impassioned pleas for Georgia's top elections official to stand firm in the face of pressure from Trump to break the law. And an alarmed state official demanding an immediate investigation into Donald Trump's 'solicitation to commit election fraud.' https://www.thedailybeast.com/new-documents-show-internal-discord-during-georgia-recount-fiasco
Minnesota State Patrol destroyed texts, e-mails after riot response
Minnesota State Patrol officers conducted a mass purge of e-mails and text messages immediately after their response to riots last summer, leaving holes in their paper trail as the courts and other investigators attempt to reconstruct whether law enforcement used improper force in the chaos following George Floyd's murder.
In a recent court hearing in a lawsuit alleging the State Patrol targeted journalists during the unrest, State Patrol Maj. Joseph Dwyer said he and a "vast majority of the agency" deleted the communiqués after the riots, according to a transcript published to the federal court docket Friday night.
This file destruction "makes it nearly impossible to track the State Patrol's behavior, apparently by design," said attorneys for Minnesota's chapter of the American Civil Liberties Union, which is suing the State Patrol and Minneapolis police on behalf of journalists who say they were assaulted by law enforcement while covering the protests and riots.
"The purge was neither accidental, automated, nor routine," said ACLU attorneys, in a court motion that asks a judge to order the State Patrol to cease attacks on journalists who are covering protests. "The purge did not happen because of a file destruction or retention policy. No one reviewed the purged communications before they were deleted to determine whether the materials were relevant to this litigation." https://www.startribune.com/minnesota-state-patrol-destroyed-texts-e-mails-after-riot-response/600094298/
Over 230 medical journals: Climate crisis is the "greatest" health threat
Global warming is affecting people's health — and world leaders need to address the climate crisis now as it can't wait until the COVID-19 pandemic is over, editors of over 230 medical journals warned Sunday evening.
This is the first time so many publications have come together to issue such a joint statement to world leaders, underscoring the severity of the situation — with the Journal of the American Medical Association, the Lancet and the British Medical Journal among those issuing the warning. https://www.axios.com/over-200-medical-journals-climate-change-action-health-928f6695-d47c-4bad-a058-6b2f1c2247ab.html
Trump Tower's key tenants have fallen behind on rent and moved out. But Trump has one reliable customer: His own PAC.
Trump Tower has dealt with imploding tenants, political backlash and a broader, pandemic-related slump in Manhattan office leasing since last year — it has been able to count on one reliable, high-paying tenant: former president Donald Trump's own political operation.
Starting in March, one of his committees, Make America Great Again PAC, paid $37,542 per month to rent office space on the 15th floor of Trump Tower — a space previously rented by his campaign — according to campaign-finance filings and a person familiar with the political action committee.
Campaign-finance experts said Trump is continuing a practice that was a hallmark of his presidency by exploiting loose regulations — and his own supporters' trust — to convert political donations into private revenue for himself.
"He's running a con," said Paul S. Ryan, a campaign-finance expert at the watchdog group Common Cause. "Talking about political expenses — but, in reality, raising money for self-enrichment." https://www.washingtonpost.com/politics/trump-tower-pac-rent-campaign-finance/2021/09/02/dfeae19e-0b2f-11ec-9781-07796ffb56fe_story.html
Misinformation on Facebook got six times more clicks than factual news during the 2020 election, study says
The forthcoming peer-reviewed study by researchers at New York University and the Université Grenoble Alpes in France has found that from August 2020 to January 2021, news publishers known for putting out misinformation got six times the amount of likes, shares, and interactions on the platform as did trustworthy news sources, such as CNN or the World Health Organization.
Ever since "fake news" on Facebook became a public concern following the 2016 presidential election, publishers who traffic in misinformation have been repeatedly shown to be able to gain major audiences on the platform. But the NYU study is one of the few comprehensive attempts to measure and isolate the misinformation effect across a wide group of publishers on Facebook, experts said, and its conclusions support the criticism that Facebook's platform rewards publishers that put out misleading accounts. https://www.washingtonpost.com/technology/2021/09/03/facebook-misinformation-nyu-study/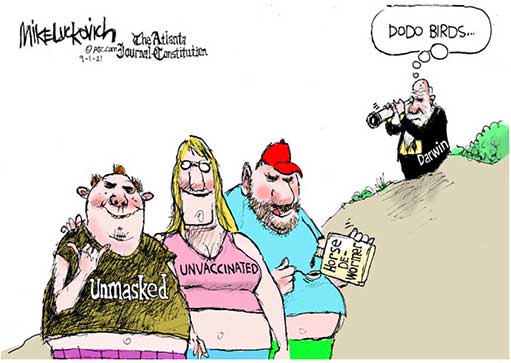 Texas created a blueprint for abortion restrictions. Republican-controlled states may follow suit.
GOP officials in at least seven states, including Arkansas, Florida, South Carolina and South Dakota, have suggested they may review or amend their states' laws to mirror Texas's legislation, which effectively bans abortions after six weeks. Kentucky, Louisiana, Oklahoma, Ohio and more are expected to follow, after a year abortion activists have deemed "the worst legislative year ever for U.S. abortion rights."
"It's something we're already working on," Florida Senate President Wilton Simpson told local news station WFLA-TV when asked about copying the Texas law, which empowers private citizens to report and sue providers who offer the procedure after six weeks.
Announcing he planned to introduce a copycat bill, Arkansas state Sen. Jason Rapert (R), the founder and president of the National Association of Christian Lawmakers, shared a template of legislation lawmakers in other states could fill in the blanks on and reproduce.
In South Dakota, where just two facilities in the state provide abortions, Gov. Kristi L. Noem (R) said Thursday she's directing lawyers in her office to review Texas's latest abortion law and the state's current laws "to make sure we have the strongest pro life laws on the books."
A quarter of states are likely to introduce legislation that mirrors Texas's ban, according to the Guttmacher Institute, a research organization that supports access to reproductive health. More abortion restrictions, an estimated 97, have been enacted in 2021 than any year since Roe v. Wade was decided in 1973. Elizabeth Nash, a state policy analyst for the group, expects the number to break 100 in the days after the ban became law in Texas. https://www.washingtonpost.com/nation/2021/09/03/texas-abortion-ban-states/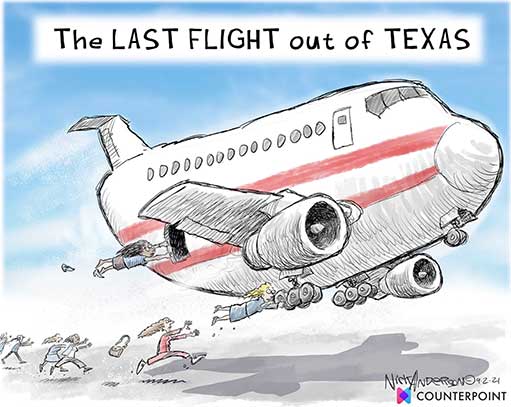 The DAILY GRILL
DeSantis said in a news conference Friday that vaccines help people to avoid severe illness from COVID-19. But instead of saying everyone who's eligible should be vaccinated, the governor added a caveat. "At the end of the day though, it's about your health and whether you want that protection or not," DeSantis said. "It really doesn't impact me or anyone else." https://www.facebook.com/watch/live/?v=636308821106697&ref=watch_permalink

VERSUS

In response to DeSantis' comments, Fauci said on Tuesday: "Yeah, that's not true at all." Aside from the personal benefit of being protected against the coronavirus, Fauci said, "When you have a virus that's circulating in the community and you are not vaccinated, you are part of the problem. Because you're allowing yourself to be a vehicle for the virus to be spreading to someone else." https://www.kpbs.org/news/2021/sep/07/fauci-says-desantis-is-completely-incorrect-to/
 Dana Milbank: Kevin McCarthy is the O.J. Simpson of Jan. 6
"I will pursue as my primary goal in life the killer or killers who slaughtered Nicole and Mr. Goldman." — O.J. Simpson, vowing to find the real killers
"We will run our own investigation."— Kevin McCarthy, vowing to find the real insurrectionists
Last Thursday was another key day in House Republican leader Kevin McCarthy's pitched battle against reality — and the English language.
On abortion: "We've watched babies survive at 13 weeks and others, that be as small as an M&M wrapper and be able to have life," he told California's KGET-TV.
An M&M wrapper? An Eminem rapper?
On Afghanistan: "We've watched the biggest military failure that we have watched in my history of my life."
Vietnam must not be in his history of his life.
And then, the coup de grace. How deeply, an interviewer asked, was President Donald Trump involved in the events of Jan. 6?
"The FBI has investigated this," McCarthy replied. "The Senate had bipartisan committees that come back. And you know what they have found? That there is no involvement."
No involvement! No collusion! It was a perfect call.
To the extent that McCarthy has control over what comes out of his mouth, what he voiced was a lie. The Senate probe avoided the question of Trump's role, and the FBI has reached no such conclusion. (McCarthy was apparently referring to a Reuters report citing anonymous sources on whether Jan. 6 was the result of a centrally controlled conspiracy.)
McCarthy embodies the corruption of truth that has consumed the GOP. He led the effort to kill an independent, bipartisan Jan. 6 commission negotiated by his own point man. He then marshaled Republican votes against the bill creating the House select committee to scrutinize the attack. Next, he appointed two saboteurs to the committee (one with an obvious conflict), and when Speaker Nancy Pelosi objected, he called a Republican boycott of the panel.
Now he's threatening telecom companies that cooperate with the committee's request to preserve phone and social media records of people (including lawmakers) who may have been involved in the insurrection. A future "Republican majority will not forget," he threatened, and would hold cooperating companies "fully accountable."
But, rest assured: He's still seeking the real culprits — just like O.J. https://www.washingtonpost.com/opinions/2021/09/07/kevin-mccarthy-jan-6-investigation-culprits-interview/
Reid J. Epstein and Catie Edmondson: On Afghanistan, G.O.P. Assails the Pullout It Had Supported Under Trump
Early last year, Representative Kevin McCarthy of California, the House minority leader, praised former President Donald J. Trump's deal to pull American troops out of Afghanistan as "a positive step." As secretary of state, Mike Pompeo helped negotiate that agreement with the Taliban. Senator Josh Hawley of Missouri pressed last November for a withdrawal as soon as possible.
Now, the three are among dozens of prominent Republicans who, with President Biden seeing the pullout through, have sharply reversed themselves — assailing Mr. Biden even as he keeps a promise that Mr. Trump had made, and carries out a policy to which they had given their full-throated support.
The collective U-turn reflects Republicans' eagerness to attack Mr. Biden and ensure that he pays a political price for the way he ended the war. With Mr. Trump reversing himself as the withdrawal grew chaotic and, in its endgame, deadly, it also offers new evidence of how allegiance to the former president has come to override compunctions about policy flip-flops or political hypocrisy.
"You can't be going out there and saying, 'This war was worthless and we need to bring the troops home' in May, and now hitting Biden for doing just that," said Representative Adam Kinzinger of Illinois, a Republican who broke with Mr. Trump after the Jan. 6 Capitol riot and has long favored maintaining a military presence in Afghanistan. "There's no shame anymore." https://www.nytimes.com/2021/09/01/us/politics/republicans-afghanistan-withdrawal-support.html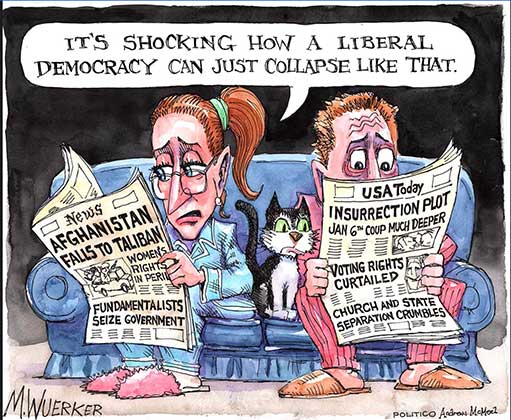 Adam Serwer: Five Justices Did This Because They Could
Under Trump, the justices allowed policies such as the administration's travel ban targeted at mostly Muslim nations, its prohibition against trans people serving in the military, and its restrictions on asylum to go into effect. Under Biden, they have barred the administration's attempt to prevent evictions because of the coronavirus pandemic and accepted a lower-court ruling demanding that the White House reimpose the controversial Trump-era "Remain in Mexico" policy, which forced migrants into "precarious conditions in dangerous Mexican border cities where thousands became victims of kidnappings, rapes and extortion," according to The Washington Post. The decision compels the Biden administration to renegotiate an agreement with a foreign country reached during a prior administration; deference to the president's constitutional authority to set foreign policy, which the justices had memorably cited in Trump-era cases, was suddenly absent.
"What is so troubling about this trend is its continuing acceleration, not in volume, but in quality," Vladeck said. "The Court seems increasingly untroubled by deciding big questions that affect lots of people this way." Having a conservative-dominated tribunal determine such questions, however, is an ideal arrangement for a party that has not won a majority of the votes in a presidential election since Tobey Maguire was Spider-Man, and that sees the popular majorities that vote against it as composed of illegitimate semi-citizens who have no right to govern. https://www.theatlantic.com/ideas/archive/2021/09/supreme-court-guts-roe-shadow-docket/619957/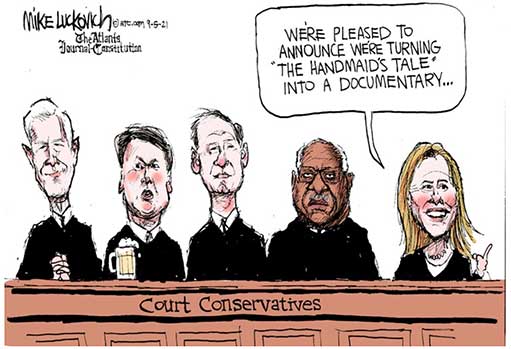 Jackie Calmes: With Texas abortion law, a far-fetched dystopia has come to pass
In its term starting next month, the Supreme Court will consider a Mississippi law banning abortion after 15 weeks' gestation. That the court even agreed in May to take the case showed the impact of the Trump justices. It's safe to say no prior configuration of the court would have done so. Roe established a constitutional right to abortion until a fetus becomes viable, generally considered at about the 24th week of pregnancy, far beyond the cutoff dates in the Mississippi or Texas laws. As recently as 2016, the court struck down a less restrictive Texas law.

The current stampede started in 2019, just after the Senate confirmed Justice Brett Kavanaugh, the second of Trump's nominees and the one who solidified an antiabortion majority on the high court. Red states rushed to enact clearly unconstitutional laws, to force the issue. "What I'm trying to do here is get this case in front of the Supreme Court so Roe v. Wade can be overturned," boasted the sponsor of an Alabama law to criminalize abortion.
For decades, the antiabortion cause has spurred conservatives to political activism, in turn prompting Republican officeholders to work harder than Democrats (and play dirtier) in legislative and judicial battles. Geoff Garin, a longtime Democratic pollster, said the latest developments "will raise the stakes" in next year's elections "and drive up Democratic turnout."
For abortion rights, it's most likely too late.
Three years ago this month, at Kavanaugh's confirmation hearing, I thought the red-robed protesters evoking "The Handmaid's Tale" were a bit over the top. I was wrong. They warned us. https://www.latimes.com/opinion/story/2021-09-02/with-texas-abortion-law-a-far-fetched-dystopia-has-come-to-pass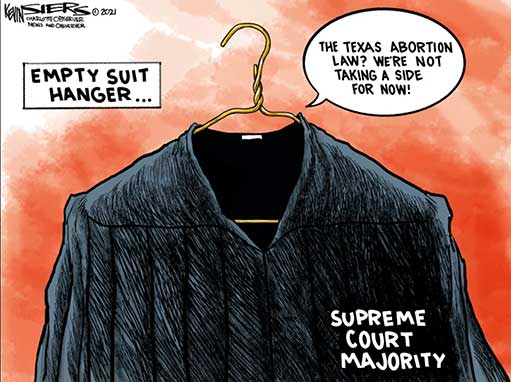 Dana Milbank: Texas shows us what post-democracy America would look like
Texas this week showed us what a post-democracy America would look like.
Thanks to a series of actions by the Texas legislature and governor, we now see exactly what the Trumpified Republican Party wants: to take us to an America where women cannot get abortions, even in cases of rape and incest; an America where almost everybody can openly carry a gun in public, without license, without permit, without safety training and without fingerprinting; and an America where law-abiding Black and Latino citizens are disproportionately denied the right to vote.
This is where Texas and other red states are going, or have already gone. It is where the rest of America will go, unless those targeted by these new laws — women, people of color and all small "d" democrats — rise up.
On Wednesday, a Texas law that bans abortions later than six weeks went into effect, after the Supreme Court let a deadline pass that would have blocked the statute. Because 85 to 90 percent of women get abortions after six weeks, it amounts to a near-total ban. Already on the books in Texas is a "trigger" law that automatically bans all abortions, even in cases of rape and incest, if the Supreme Court overturns Roe v. Wade. At least 10 other states have done likewise.
Also Wednesday, a new law went into effect in Texas, over the objections of law enforcement, allowing all Texans otherwise allowed to own guns to carry them in public, without a license and without training. Now, 20 states have blessed such "permitless carry."
And on Tuesday, the Texas legislature passed the final version of the Republican voting bill that bans drive-through and 24-hour voting, both used disproportionately by voters of color; imposes new limits on voting by mail, blocks election officials from distributing mail-ballot applications unless specifically requested; gives partisan poll watchers more leeway to influence vote counting; and places new rules and paperwork requirements that deter people from helping others to vote or to register. At least 17 states have adopted similar restrictions.
In Texas, the legislature this term also banned the fictional menace of "critical race theory," put in new restrictions on demonstrations and banned homeless encampments. Gov. Greg Abbott (R) also banned mask and vaccine mandates while the pandemic rages. Meanwhile the legislature failed to expand Medicaid eligibility to low-wage workers, refusing billions of federal health-care dollars for the state with the most uninsured residents in the nation. Instead, Texas cleared the way for people to buy beer and wine before noon on Sundays.
Less voting and less health care, but more guns and more booze: This is the present in Texas, and the future for all of us — unless we mobilize to arrest the Republicans' destruction of democracy. https://www.washingtonpost.com/opinions/2021/09/01/texas-shows-us-what-post-democracy-america-would-look-like/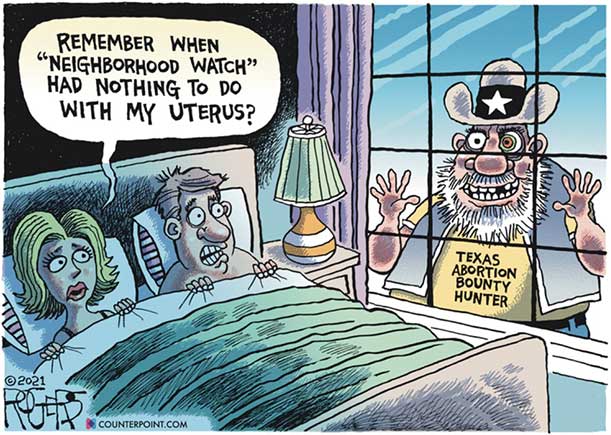 David Frum: Texas Republicans Got What They Wanted. They Might Regret It.
Today, accountability has suddenly arrived. Texas Republicans have just elevated abortion rights to perhaps the state's supreme ballot issue in 2022. Perhaps they have calculated correctly. Perhaps a Texas voting majority really wants to see the reproductive lives of Texas women restrained by random passersby. If that's the case, that's an important political fact, and one that will reshape the politics of the country in 2024.
But it's also possible that Texas Republicans have miscalculated. Instead of narrowly failing again and again, feeding the rage of their supporters against shadowy and far-away cultural enemies, abortion restricters have finally, actually, and radically got their way. They have all but outlawed abortion in the nation's second-largest state, and voted to subject women to an intrusive and intimate regime of supervision and control not imposed on men. At last, a Republican legislative majority has enacted its declared beliefs in almost their fullest form—and won permission from the courts to impose its will on the women of its state.
This is a new reality, and one that opens a way for the prolonged U.S. abortion-rights debate to be resolved. If the Texas Republicans prosper politically, then abortion-rights advocates must accept that the country truly is much more conservative on abortion than they appreciated and adjust their goals accordingly. But if not, and I'm guessing that the answer is not, anti-abortion-rights politicians are about to feel the shock of their political lives. For the first time since the 1970s, they will have to reckon with mobilized opposition that also regards abortion as issue No. 1 in state and local politics. https://www.theatlantic.com/ideas/archive/2021/09/texas-republicans-abortion-ban-backfire/619956/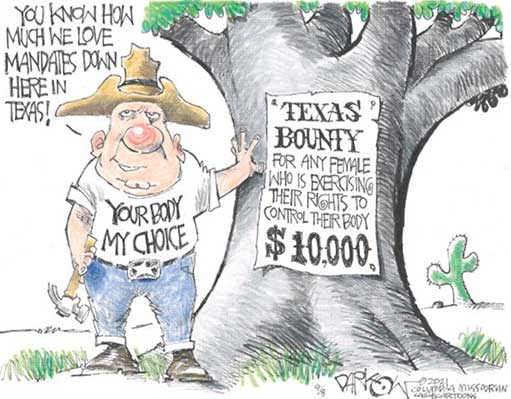 Maureen Dowd: Drowning Our Future in the Past
It isn't a pretty picture.
One coast is burning. The other is under water. In between, anti-abortion vigilantes may soon rampage across gunslinging territory.
What has happened to this country?
America is reeling backward, strangled by the past, nasty and uncaring, with everyone at one another's throats.
With its new abortion law, sending women back to the back alley and encouraging Stasi-like participation from the citizenry, Texas now becomes the capital of American unreason. The law "essentially delegated enforcement of that prohibition to the populace at large," wrote Chief Justice John Roberts.
There were medieval fiefs more enlightened than the Lone Star G.O.P.
Between putting women in danger by pushing that law and putting children in danger by imposing his anti-mask mania on school districts that want to mask up, Gov. Greg Abbott of Texas has become a scourge of the first rank.
A cynical slice of the Republican Party — and this includes Trump — privately denigrates anti-abortion activists as wackos, but publicly moves in lock-step with them in order to cling to that base and keep power.
But the anti-abortion forces were somehow clever enough to hijack the Supreme Court and Republicans will have to contend with the backlash when the court tosses Roe v. Wade aside.
With a memory like a goldfish, America circles its bowl, returning to where we have been, unable to move forward, condemned to repeat a past we should escape. https://www.nytimes.com/2021/09/04/opinion/drowning-our-future-in-the-past.html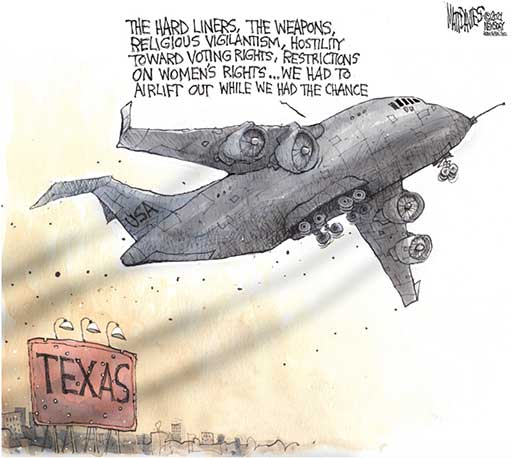 Perry Bacon Jr: The Texas abortion decision shows why the Democrats must push to add four justices to the court
Adding justices to the Supreme Court is a terrible solution to the problem of a majority that is so radicalized it assented to Texas's scheme to basically outlaw abortion in the state. It is also the only actual solution.
It's a terrible idea for obvious reasons. We don't want the judiciary to become a third branch of government dominated by partisanship. We don't want justices deciding cases based on the party they align with. We don't want to set off a tit-for-tat whereby Democrats add judges to create a Democratic majority when they are in power, and Republicans in turn add judges to create a GOP majority once they regain control — with ominous implications for rule of law. Would mayors, governors and even presidents from the party that doesn't "control" the Supreme Court start ignoring rulings from a majority formed with newly appointed justices of the opposite party?
But many of the worst outcomes from a partisanized Supreme Court are already occurring. Major decisions break along party lines. The current 6-3 conservative majority essentially acts as an arm of the Republican Party, frequently overturning laws and policies adopted by blue states and Democratic presidents, defending those adopted by GOP presidents and red states, and issuing rulings on voting rights and gerrymandering that clearly benefit the GOP. And one party has already fiddled with that supposedly sacrosanct number nine: The Republicans used their control of the Senate to temporarily turn the court into an eight-member body after Justice Antonin Scalia died in 2016, but rushed to make sure it remained at nine in 2020, when Ruth Bader Ginsburg passed away. The majority may not always side with the Republicans (it upheld Obamacare and rejected the Trump election lawsuits), but it's clearly on Team Red. https://www.washingtonpost.com/opinions/2021/09/03/texas-abortion-decision-shows-why-democrats-must-push-add-four-justices-court/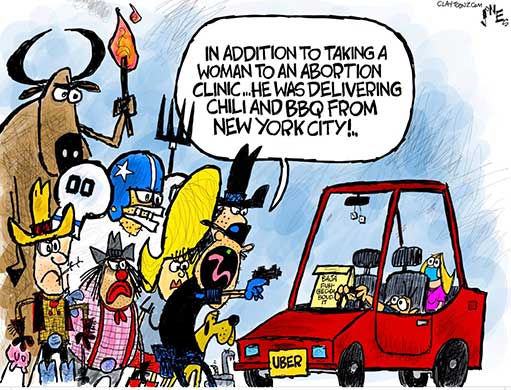 Robert Reich: Trump's coup attempt has not stopped – and Democrats must wake up
The former president's attempted coup is not stopping. He still refuses to concede and continues to rile up supporters with his bogus claim that the 2020 election was stolen. Tens of millions of Americans believe him.
Last Sunday, at a Republican event in Franklin, North Carolina, Congressman Madison Cawthorn, repeating Trump's big lie, called the rioters who stormed the Capitol on 6 January "political hostages".
Cawthorn also advised the crowd to begin stockpiling ammunition for what he said was likely to be American-versus-American "bloodshed" over unfavorable election results.
"Much as I am willing to defend our liberty at all costs," he said, "there's nothing I would dread doing more than having to pick up arms against a fellow American."
Yet even as Trump's attempted coup gains traction, most of the rest of America continues to sleep. We've become so outrage-fatigued by his antics, and so preoccupied with the more immediate threats of the Delta variant and climate-fueled wildfires and hurricanes, that we prefer not to know.
A month ago it was reported that during his last weeks in office Trump tried to strong-arm the justice department to falsely declare the 2020 presidential election fraudulent, even threatening to fire the acting attorney general if he didn't: "Just say that the election was corrupt and leave the rest to me and the [Republican] congressmen."
The news barely registered on America's collective mind. The Olympics and negotiations over the infrastructure bill got more coverage.
It is imperative that America wake up. https://www.theguardian.com/commentisfree/2021/sep/05/donald-trump-coup-attempts-election-2020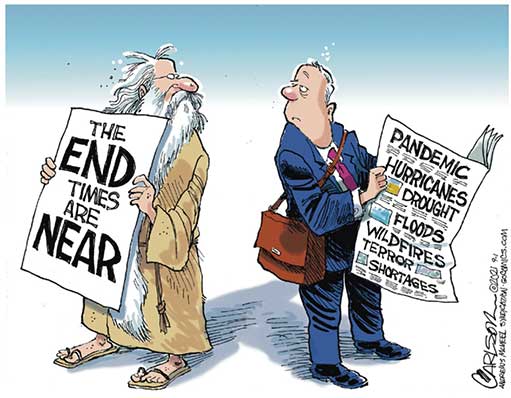 Omer Aziz: Bin Laden Won
The Western intellectuals who wrote book after book about the threat from Islam were working within a ripe tradition. Ten years before 9/11, the Princeton historian Bernard Lewis had coined an important phrase in The Atlantic to describe the coming conflict. "This is no less than a clash of civilizations," Lewis wrote, "the perhaps irrational but surely historic reaction of an ancient rival against our Judeo-Christian heritage, our secular present, and the worldwide expansion of both." By defining the battle in such grandiose terms, we accepted the same narrative as the jihadis — that this was a war over civilization, for the very soul of humanity. The war on terror, we were told, wasn't a counterterrorism operation or a law-enforcement matter, but a battle of good versus evil.
Twenty years later, it feels like evil won. Osama bin Laden had laid a trap, even if that wasn't his original intention. Only by getting the West drawn into endless wars abroad, and into plots against enemies at home, could he bankrupt the American behemoth. In the decade since his death, the results have been plain to see: conflict and instability across the greater Middle East; more refugee flows into the West, combined with anti-immigrant violence in response; the rise in America of terrorist attacks carried out by white extremists, goaded on by an authoritarian leader who made a name for himself demonizing Muslims. The surveillance state now has extensive access to every facet of our lives. Trust in political institutions is decaying. Democracy itself is in peril.
In many ways, Donald Trump was the singular creature of the forever wars, elevated to national office in a country that had become exhausted and angry at outsiders. All of Trump's signature policies — from banning Muslims to building the Wall — found a receptive audience in an America that saw its way of life threatened by foreign enemies. It was only a matter of time before contempt for the Other turned inward.
Here lay the great tragedy of the 9/11 era: that something much worse than terror wounded our society over the last two decades. An essential faith in the future was lost. Perhaps this is true for the end of all empires, and despair always precedes the fall. But if younger generations are to emerge from the darkness of the 9/11 era — and it remains my naïve hope that they will — we must first acknowledge the damage we wrought on ourselves. That was the deepest cut of all. https://nymag.com/intelligencer/2021/09/bin-laden-won-the-war-on-terror.html