November 5, 2020
ON THE RECORD. . .
"The political polling profession is done. It is devastating for my industry." — GOP pollster Frank Luntz after serious polling misses in the 2020 election.

More Testing equals more Cases. We have best testing. Deaths WAY DOWN. Hospitals have great additional capacity! Doing much better than Europe. Therapeutics working! — Donald J. Trump

"We are up BIG, but they are trying to STEAL the Election. We will never let them do it. Votes cannot be cast after the Polls are closed!" — Trump tweet

"This isn't law, this isn't politics, this is theater. And let's be blunt: it's the theater of authoritarianism." — ABC News correspondent Terry Moran on Trump's false claim of victory in the election.

"They are finding Biden votes all over the place — in Pennsylvania, Wisconsin, and Michigan. So bad for our Country!" -- Trump

"There will be no heating in the winter, no air conditioning in the summer, and no electricity." — Trump, at a Wisconsin rally, on what will happen if Joe Biden wins the election.

Donald Trump suggested to a Florida crowd he may fire Dr. Anthony Fauci after the election, escalating his feud with the nation's leading expert on infectious diseases.

A neighbor reports that AG William Barr's house in McLean is being picketed by Trump supporters who believe he's not doing enough to lock up Joe Biden. — Glenn Kessler

"Brace yourself for 78 days of drama and turmoil from Nov. 4 through the inauguration. No one working for Trump or Joe Biden thinks the post-election period will be remotely normal. Even if you get the result you want, anticipate months of wild maneuvering and protests." — Jim VandeHei

"You know what I like about Judge Barrett? She's got everything. She's just not wicked smart, she's incredibly good. She embraces her faith. I want every young woman to know that that there's a place for you in America if you're pro-life, if you embrace your religion and you follow traditional family structure you can go anywhere, young lady." — Lindsey Graham to supporters

"I don't think it's fair that we have to wait for a long period of time after the election...We're going in the night of — as soon as the election is over — we're going in with our lawyers." — Trump, after denying he'll declare victory early.

"Of all the people in the world I could fight that's probably the one I'd like to most fight. Those legs have gotten very thin" -- Trump, mocking Biden's appearance and fantasizes about fighting him. Trump's musings were met with a chant from his supporters: "Kick his ass!"

We are entering the most concerning and most deadly phase of this pandemic … leading to increasing mortality. This is not about lockdowns — It hasn't been about lockdowns since March or April. It's about an aggressive balanced approach that is not being implemented." — Nov. 2 report from Deborah Birx, coordinator of the White House coronavirus task force.
---
IN THIS ISSUE
FYI
OPINION
1. Andy Borowitz: Trump Says He Will Sue Everyone in Wisconsin
In a sharply worded post-election threat on Tuesday night, the Republican Presidential candidate Donald J. Trump said that he intended to sue the entire population of Wisconsin "for everything it's worth."

In his terse remarks, Trump departed from the customs of political concession speeches by failing to congratulate the evening's winner or thank his supporters, instead sternly warning the people of Wisconsin to "lawyer up."

"By the time my attorneys are through with you, I'm going to own your entire state, lock, stock, and barrel," he said. "Not that I want to own it. Wisconsin is a freaking dump."

In announcing the lawsuit, which he said he would make the state of Wisconsin pay for, Trump denied that he was being a poor loser. "I am a fabulous loser," he said. "I am the biggest loser in this country https://www.newyorker.com/humor/borowitz-report/
2. Joe Biden Is on Track to Win the Electoral College
Joe Biden has taken the lead in the Electoral College and is on track to win the 2020 election. President Trump no longer has any incentive to stop counting the votes, because Biden is currently ahead in enough states to make him president. https://nymag.com/intelligencer/2020/11/joe-biden-is-on-track-to-win-the-electoral-college.html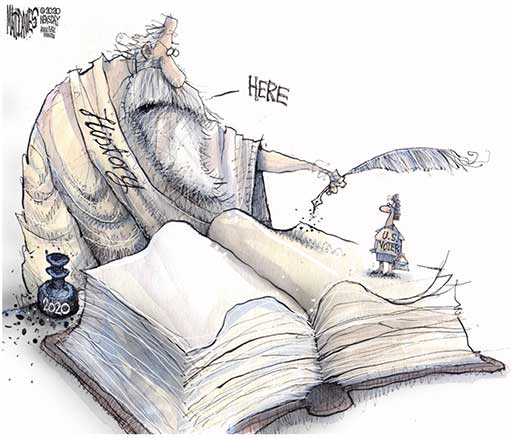 3. USPS data shows thousands of mailed ballots missed Election Day deadlines
Nearly 7 percent of ballots in U.S. Postal Service sorting facilities on Tuesday were not processed on time for submission to election officials, according to data the agency filed Wednesday in federal court, potentially leaving tens of thousands of ballots caught in the mail system during an especially tight presidential race. https://www.washingtonpost.com/business/2020/11/03/election-ballot-delays-usps/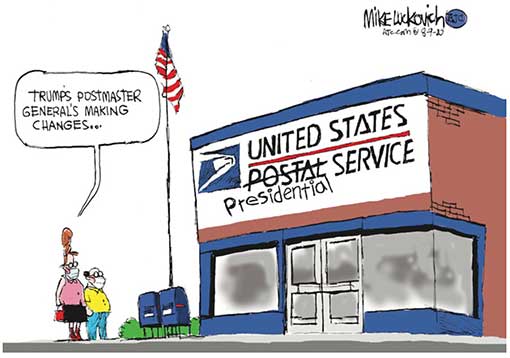 4. Researchers Estimate Trump Rallies Led To 30,000 Coronavirus Cases And 700 Deaths
A series of rallies held by President Donald Trump over three months this summer functioned as COVID-19 superspreader events, leading to thousands more cases and hundreds more deaths than otherwise would have occurred, Stanford University researchers concluded.
Academics from the Stanford Institute for Economic Policy Research focused on 18 events between June 20 and Sept. 22 and tracked community spread of the coronavirus up to 10 weeks after the rallies, reasoning that "the effects of a superspreader event may snowball over time."
The rallies resulted in more than 30,000 new confirmed coronavirus cases and more than 700 deaths, though not necessarily among attendees, the researchers' working paper published Friday concluded. https://www.huffpost.com/entry/trump-rallies-coronavirus-cases-deaths-study_n_5f9d85f9c5b60eefc8532067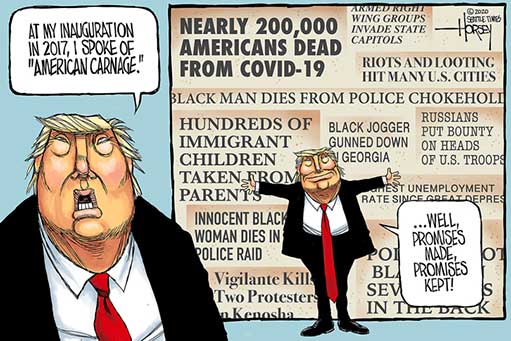 5. U.S. Billionaires Got $1 Trillion Richer During Trump's Term
Four years ago, America elected its first billionaire president. Since then, the nation's 200-or-so wealthiest people -- a cohort representing 0.00006% of the population -- have increased their combined wealth by a staggering $1 trillion. https://www.bloomberg.com/amp/news/articles/2020-10-30/u-s-billionaires-got-1-trillion-richer-in-trump-s-first-term
6. Biden's Justice dilemma: Unwinding the lock-em-up presidency
Joe Biden and his choice for attorney general will quickly face thorny questions about how they plan to address alleged wrongdoing by President Donald Trump and other members of his administration.
But the more immediate and urgent question facing newly appointed Justice Department officials will be what to do with a slew of prosecutions and lawsuits already underway that many current and former DOJ officials regard as ill-advised or unfair.
For starters, there are nearly 300 federal criminal cases stemming from the "law and order" policy Trump and Attorney General William Barr extolled to quell rioting and looting that emerged from some of the widespread protests over the killing of George Floyd in an encounter with Minneapolis police in May.
Lawyers and appointees of various political leanings seem likely to back some of the prosecutions — those aimed at the most egregious acts of violence. But others — like federal felony charges for throwing a police helmet at an officer, for breaking the window of an unoccupied city police car and for kicking at a courthouse window — veer into territory not usually mined by federal prosecutors. And many of the cases raise questions about the role of the federal government in policing street violence usually left to local authorities. https://www.politico.com/news/2020/10/31/bidens-justice-dilemma-unwinding-lock-em-up-presidency-433740
7. U.S. Expels Migrant Children From Other Countries to Mexico
U.S. border authorities have been expelling migrant children from other countries into Mexico, violating a diplomatic agreement with Mexico and testing the limits of immigration and child welfare laws.
The expulsions, laid out in a sharply critical internal email from a senior Border Patrol official, have taken place under an aggressive border closure policy the Trump administration has said is necessary to prevent the coronavirus from spreading into the United States. But they conflict with the terms upon which the Mexican government agreed to help implement the order, which were that only Mexican children and others who had adult supervision could be pushed back into Mexico after attempting to cross the border.
The expulsions put children from countries such as Guatemala, Honduras and El Salvador at risk by sending them with no accompanying adult into a country where they have no family connections. Most appear to have been put, at least at first, into the care of Mexican child welfare authorities, who oversee shelters operated by religious organizations and other private groups.
The expulsions, which appear to number more than 200 over the past eight months, reflect the haphazard nature with which many of the administration's most aggressive immigration policies have been introduced. In many cases, they have led to the shuffling of young children between U.S. government agencies — and now between the governments of countries that are not their own. For years, the Trump administration's handling of migrant children has left members of families separated for months on end and unable to reach one another. https://www.nytimes.com/2020/10/30/us/migrant-children-expulsions-mexico.html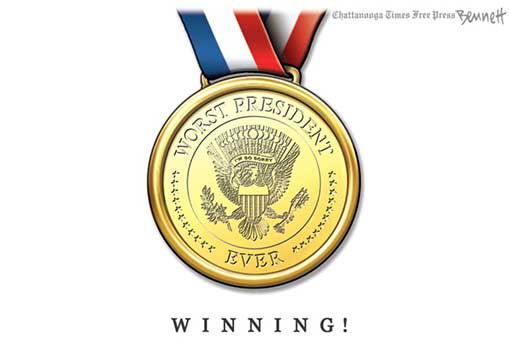 8. How a fake persona laid the groundwork for a Hunter Biden conspiracy deluge
A 64-page document that was later disseminated by close associates of President Donald Trump appears to be the work of a fake "intelligence firm."
One month before a purported leak of files from Hunter Biden's laptop, a fake "intelligence" document about him went viral on the right-wing internet, asserting an elaborate conspiracy theory involving former Vice President Joe Biden's son and business in China.
The document, a 64-page composition that was later disseminated by close associates of President Donald Trump, appears to be the work of a fake "intelligence firm" called Typhoon Investigations, according to researchers and public documents.
Despite the document's questionable authorship and anonymous sourcing, its claims that Hunter Biden has a problematic connection to the Communist Party of China have been used by people who oppose the Chinese government, as well as by far-right influencers, to baselessly accuse candidate Joe Biden of being beholden to the Chinese government. https://www.nbcnews.com/news/amp/ncna1245387
9. Trump Supporters Spend Weekend Clogging America's Highways
In a show of support of questionable political value, pro-Trump demonstrators clogged freeways Sunday across the country, from blue states like New Jersey, New York, and Washington state, to red-leaning Texas and purple Arizona.
'WHOOO! We shut it down baby! We shut it down!' says one pro-Trump videographer as he pans the camera nearly 360 degrees, showing viewers the group of cars that had brought traffic to a complete standstill along the northbound Garden State Parkway in New Jersey. https://www.thedailybeast.com/trump-supporters-spend-weekend-clogging-blue-state-highways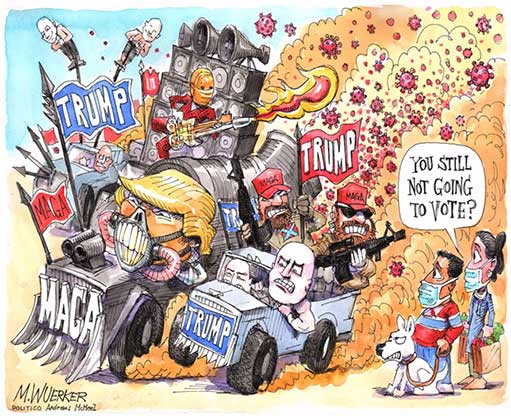 10. Bogus 'vote fraud' claims proliferate on social media
"Joe Biden Said On Video That Democrats Built the Biggest 'Voter Fraud' Operation in History. We're seeing it on full display right now!" — Rep.-elect Majorie Taylor Green (R-Ga.)

"They are finding Biden votes all over the place — in Pennsylvania, Wisconsin, and Michigan. So bad for our Country!" — Trump tweet

"They are working hard to make up 500,000 vote advantage in Pennsylvania disappear — ASAP. Likewise, Michigan and others!" — Trump tweet

"Last night I was leading, often solidly, in many key States, in almost all instances Democrat run & controlled. Then, one by one, they started to magically disappear as surprise ballot dumps were counted. VERY STRANGE, and the 'pollsters' got it completely & historically wrong!" — Trump tweet

"BREAKING: Wisconsin has more votes than people who are registered to vote. Total number of registered voters: 3,129,000. Total number of votes cast: 3,239,920. This is direct evidence of fraud." — Michael Coudrey, a GOP-leaning activist
https://www.washingtonpost.com/politics/2020/11/04/bogus-vote-fraud-claims-proliferate-social-media/
11. Biden has now received more votes for president than any other candidate in U.S. history
Former Vice President Joe Biden has now received more votes for president than any other candidate in U.S. election history, officially surpassing former President Barack Obama's 2008 popular vote numbers on Wednesday afternoon. Biden had 69,949,918 votes as of 2:30 p.m. ET with several states still tallying results, while Obama notched 69,498,516 total. https://news.yahoo.com/biden-now-received-more-votes-141826831.html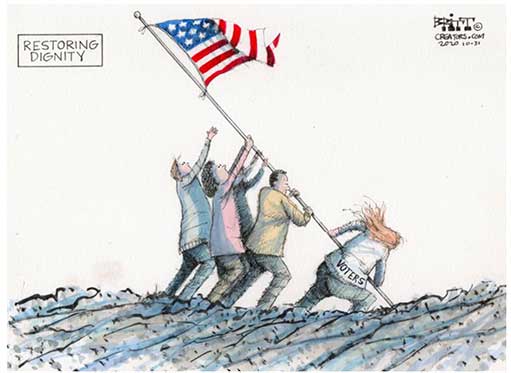 12. White supremacists pose as Antifa online, call for violence
A Twitter account that tweeted a call to violence and claimed to be representing the position of "Antifa" was in fact created by a known white supremacist group, Twitter said Monday. The company removed the account.
Before it emerged the account was run by white supremacists, Donald Trump Jr., President Donald Trump's son, pointed his 2.8 million Instagram followers to the account as an example how dangerous Antifa is.
Although the account only had a few hundred followers, it is an example of white supremacists seeking to inflame tensions in the United States by posing as left-wing activists online. https://amp.cnn.com/cnn/2020/06/02/tech/antifa-fake-twitter-account/index.html
13. 'I Am On Your Side': How the Police Gave Armed Groups a Pass in 2020
Armed groups showed up to scores of racial justice protests since May. This NY Times video shows how police officers at times let them operate freely. https://www.nytimes.com/video/us/100000007424380/police-black-lives-matter-protests.html
14. The DAILY GRILL
How come every time they count Mail-In ballot dumps they are so devastating in their percentage and power of destruction? — Trump tweet

VERSUS

um.... because the early mail-in voting heavily favored Biden, because you told your gullible knuckleheads not to do mail-in balloting and so they didn't. you're so bad at this. -- Jeff Tiedrich tweet replying to @realDonaldTrump

 

Donald Trump Jr. claimed on Thursday that the number of Americans dying from the coronavirus amounts to "almost nothing."

VERSUS

Roughly 1,000 Americans died from the disease on Thursday, as Trump Jr. appeared on Fox News host Laura Ingraham's show to downplay the U.S. death toll. And among those who survive the coronavirus, many have long-term damage to vital organs and lingering chronic symptoms. -- POLITICO

 

Marine One landed on the White House lawn just before dusk. As its rotors came to a halt, the helicopter's door swung open and out stepped Donald Trump. The president had just spent three days in Walter Reed National Military Medical Center recovering from covid-19, the disease caused by the novel coronavirus. And in a scene that would be set to dramatic music and tweeted to his 87 million followers, Trump climbed the steps to a White House balcony, took off his face mask and recorded a video urging the country not to fear the deadly disease. "Don't let it dominate you," he said into a camera on the evening of Oct. 5. ". . . We have the best medical equipment. We have the best medicines. All developed recently. And you're going to beat it.

VERSUS

Thirty miles away, Carlton Coates Jr. sat in an Annapolis funeral home, staring at the casket that contained the body of his older sister. Carol Coates had battled covid-19 at the same time as the president. But instead of a suite at Walter Reed, the 46-year-old Black teacher self-isolated in the basement of her family's home. And instead of the experimental cocktail of antibodies that Trump was given, she received get-well cards from her fifth-grade students. Carol had taught nine miles from the White House. But her illness unfolded in what seemed like a different universe than the one the president described.
15. From MEDIA MATTERS (They watch Fox News so you don't have to)
On the Bubba The Love Sponge Show, Roger Stone claimed without evidence that Democrats are going to steal the election and then use "armed hooligans" to "burn and loot and rape and destroy until they get their way." In a video posted on November 2 to Bubba The Love Sponge's YouTube channel, Stone said that the legal system is broken "and if the president is not reelected, the system will never be fixed." He went on to list several former government officials who, if Trump wins, "must be tried and convicted of treason" and then "they must be hung by the neck until dead" because of their supposed participation in a "coup" attempt. The former officials Stone wants to see executed are: Former CIA Director John Brennan, Former FBI Director James Comey, Former Director of National Intelligence James Clapper, Former FBI Deputy Director Andrew McCabe and Former Deputy Attorney General Rod Rosenstein https://www.mediamatters.org/roger-stone/roger-stone-if-trump-wins-rod-rosenstein-and-other-coup-plotters-must-be-hung-neck

With the possibility that the vote count might take more time than usual to determine a winner, thanks to the coronavirus pandemic and increased interest in mail-in voting — right-wing media are spinning another conspiracy theory about Pennsylvania's attorney general rigging the election. The reason: because he tweeted in support of counting all legally cast votes. The Trump campaign is currently setting up a scenario in which President Donald Trump might have an apparent lead in votes on election night, and then for him to prematurely declare victory and delegitimize any further counting of mail-in ballots. https://www.mediamatters.org/voter-fraud-and-suppression/right-wing-media-accuse-pennsylvanias-attorney-general-rigging-election

Donald Trump's Election Day began the only way it could, with the president calling in to his buffoonish muses at Fox & Friends, the inane Fox News morning show that launched his political career and provides his daily news intake. Following an extensive, unexplained, and hilarious delay, Steve Doocy, Ainsley Earhart, and Brian Kilmeade served up ridiculous softball questions  to the president and ignored his numerous falsehoods. Trump praised the program and highlighted his relationship with its hosts. https://www.mediamatters.org/fox-friends/trump-begins-election-day-his-loyal-sycophants-fox-friends

MARIA BARTIROMO (FOX BUSINESS ANCHOR): There's a lot of conversation about fraud, Stuart. I mean, you know, I just saw a Newsweek story that there were tons of ballots found under a rock in Arizona. [Actually, 18 ballots were found and promptly hand delivered to the registered voters.]   https://www.mediamatters.org/maria-bartiromo/fox-anchor-hypes-tons-ballots-found-under-rock-arizona-there-were-only-18-ballots

BRET BAIER (CO-HOST): We have already hearing that from the former Vice President tonight, "count every vote," and it sounds like a good thing to say. Sure, count every vote, but Republicans in some cases are going to be saying, "No, stop the vote."
.JONATHAN TURLEY: When people say count every ballot in a situation like this it could prove utter madness. We're talking about millions of ballots that have come into these polling centers in a fairly novel and new way. It's not that mail-in voting is new, it's just that mail-in voting to this degree is new in places like Nevada and other states. https://www.mediamatters.org/bret-baier/fox-news-discussion-counting-all-votes-not-good-it-sounds
1. Jonathan Chait: Trump Says Vote-Counting Should Only Continue in States Where He's Behind
Trump's argument is simple and farcical. In states where Trump trails, like Arizona, he urges that more votes should be counted and that he will probably win. In states where Trump leads, no more votes should be counted. Trump on Georgia, where his opponent is slightly favored to pull ahead by projections: "They're never gonna catch us, they can't catch us." There is no principle here more sophisticated than "Heads I win, tails you lose."
"We were getting ready for a big celebration … all of a sudden it was just called off," the president complained, when "a very sad group of people is trying to disenfranchise that group of people [who supported him]. We won't stand for it … We were winning everything and all of a sudden it was just called off." This is a completely fantastical description bearing no relation to what happened. As analysts have predicted for weeks, late-arriving ballots favored Joe Biden and have eaten into Trump's early lead. https://nymag.com/intelligencer/2020/11/trump-steal-election-sue-vote-counting-states-losing.html
2. Dan Balz: Trump has attacked democracy's institutions, but never so blatantly as he did overnight
For four years, President Trump has sought to undermine the institutions of a democratic society, but never so blatantly as in the early morning hours of Wednesday. His attempt to falsely claim victory and to subvert the election itself by calling for a halt to vote-counting represents the gravest of threats to the stability of the country.
A president who respected the Constitution would let things play out. But Trump has shown once again he cares not about the Constitution or the stability and well-being of the country or anything like that. He cares only about himself and retaining the powers he now holds. And so he cries "fraud" when there is no evidence whatsoever of any such thing. https://www.washingtonpost.com/politics/trump-has-attacked-democracys-institutions-but-never-so-blatantly-as-he-did-overnight/2020/11/04/ba0acc3a-1e7e-11eb-ba21-f2f001f0554b_story.html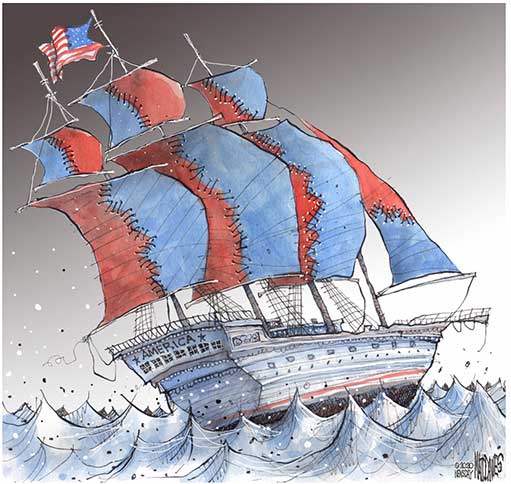 3. Susan B. Glasser: Biden Wins, But Trump Remains the President of Red America
Trump spent the run-up to Election Day preëmptively undermining the results. He declared the contest both the most important in American history and the most crooked—unless he won outright. Before any votes were counted, he called it a "Rigged Election!" He has repeated this outrageous claim nearly two hundred times since August, according to Factba.se, which tracks all of Trump's public statements. The closer we got to the election, the more he said it. But the night is now over, and Trump has not been declared the winner. Will he bring on the whirlwind that he had promised? It only took a few hours to find out the answer: the President's dangerous rhetoric was, in fact, a self-fulfilling prophecy. Before 1 a.m., with an apparent break toward Biden in Arizona, and with the former Vice-President telling car-honking supporters at a drive-in rally in Delaware that "we're on track to win this election," Trump attacked the results even before they were formalized. "They are trying to STEAL the Election," he tweeted. "We will never let them do it. Votes cannot be cast after the Poles are closed!" Soon after 2:20 a.m., Trump spoke to supporters in the White House, where he was even more explicit that he will follow through on his threats. He declared that he won, and said that he will go to the Supreme Court to stop the millions of votes that are still being counted. "This is a fraud on the American public," Trump claimed, with no evidence at all to back it up. The worst-case scenarios, tragically, seem to be coming true. https://www.newyorker.com/news/letter-from-trumps-washington/the-worst-case-election-scenario-is-happening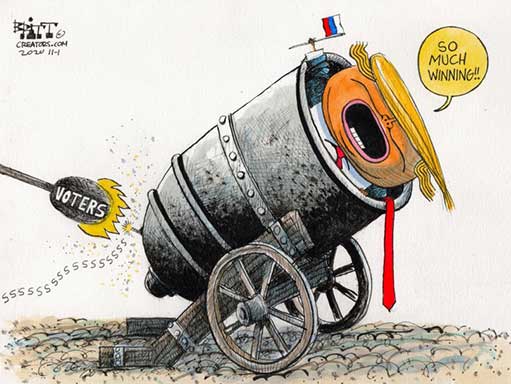 4. Thor Halvorssen and Garry Kasparov: The Breathtaking Hypocrisy of Rudy Giuliani
Over the last two weeks, president Trump's personal lawyer, former prosecutor and New York Mayor Rudy Giuliani, has retailed a sensational story about a crooked foreign oligarch involved in the energy business seeking to intervene in a potential prosecution of his activities by a democratic government. The Ukrainian oligarch in question reportedly grew rich as a result of his unsavory ties to a ruthless dictator and to the Ukrainian government's oil and gas sector. Giuliani claims that the oligarch's energy company engaged in an influence-peddling operation by providing monthly retainers to several individuals, including Hunter Biden, to run interference with "the big guy" and stymie any potential prosecution. The unnamed "big guy," the scandalmongers imply, is former Vice President Joe Biden.
Ironically, since 2019, Rudy Giuliani has himself reportedly engaged in a far-reaching influence-peddling operation to prevent a crooked foreign oligarch involved in the energy business from being prosecuted by the government of the United States. The foreign oligarch, Alejandro Betancourt-López, grew rich as a result of his unsavory ties to Venezuela's Hugo Chávez and Nicolás Maduro. Mr. Giuliani's lobbying efforts involve multiple U.S. law enforcement agencies, including the U.S. Department of Justice, the Southern District of New York, the Department of Homeland Security, and the U.S. Treasury.
Rudy Giuliani, self-declared enemy of corruption in Ukraine—meet Rudy Giuliani, monthly-retainer-seeking friend of corrupt Venezuelan oligarchs! https://thebulwark.com/the-breathtaking-hypocrisy-of-rudy-giuliani/
5. Jane Mayer: Why Trump Couldn't Afford to Lose
It has become clear that the Manhattan D.A.'s investigation involves more than the Stormy Daniels case.
Secrecy surrounds Vance's grand-jury probe, but a well-informed source told me that it now includes a hard-hitting exploration of potentially illegal self-dealing in Trump's financial practices. In an August court filing, the D.A.'s office argued that it should be allowed to subpoena Trump's personal and corporate tax records, explaining that it is now investigating "possibly extensive and protracted criminal conduct at the Trump Organization."
The prosecutors didn't specify what the grand jury was looking into, but they cited news stories detailing possible tax fraud, insurance fraud, and "schemes to defraud," which is how New York penal law addresses bank fraud. As the Times' recent reports on Trump's tax records show, he has long made aggressive, and potentially fraudulent, use of accounting gimmicks to all but eliminate his income-tax burden. One minor but revealing detail is that he deducted seventy thousand dollars for hair styling, which ordinarily is a personal expense.
At the same time, according to congressional testimony that Cohen gave last year, Trump has provided insurance companies with inflated income statements, in effect keeping two sets of books: one stating losses, for the purpose of taxes, the other exaggerating profits, for business purposes. Trump's lawyers have consistently refused to disclose his tax records, fighting subpoenas in both the circuit courts and the Supreme Court.
Norman Ornstein, a political scientist at the American Enterprise Institute, in Washington, D.C., and an outspoken Trump critic, said, "The odds are 99.9999 per cent that New York State authorities have him on all kinds of tax fraud. We know these aren't crimes that end up just with fines." Martin Flaherty, a founding director of the Leitner Center for International Law and Justice, at Fordham University, and an expert in transitional justice, agreed: "I have to believe Trump has committed enough ordinary crimes that you could get him."
The question of what would constitute appropriate accountability for Trump—and serve to discourage other politicians from engaging in similar, or worse, transgressions—has already sparked debate. Flaherty, an authority on other countries' struggles with state crimes, believes that in America it would have "a salutary effect to have a completely corrupt guy getting thrown in jail." He acknowledged that Trump "might get pardoned," but said, "A big problem since Watergate is that élites don't face accountability. It creates a culture of impunity that encourages the shamelessness of someone like Trump." https://www.newyorker.com/magazine/2020/11/09/why-trump-cant-afford-to-lose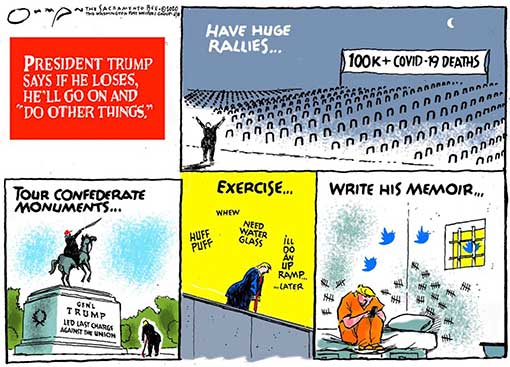 6. Michelle Goldberg: Four Wasted Years Thinking About Donald Trump
It's very hard to catalog all the things we've lost under the presidency of Donald Trump.
As I write this, over 225,000 Americans have lost their lives to Covid-19. Many of our children have lost months of school. Soon, a huge part of the country will lose Thanksgiving.
Because of the Trump administration's barbaric family separation policy, 545 children may be lost to their parents forever. America has lost its status as a leading democracy. We lost Ruth Bader Ginsburg, so we're probably going to lose Roe v. Wade. More people have lost their jobs under Trump than under any president since at least World War II.
Compared with all this, mourning the cultural casualties of the Trump years might be frivolous.
But when I think back, from my obviously privileged position, on the texture of daily life during the past four years, all the attention sucked up by this black hole of a president has been its own sort of loss. Every moment spent thinking about Trump is a moment that could have been spent contemplating, creating or appreciating something else. Trump is a narcissistic philistine, and he bent American culture toward him. https://www.nytimes.com/2020/10/29/opinion/trump-arts-culture.html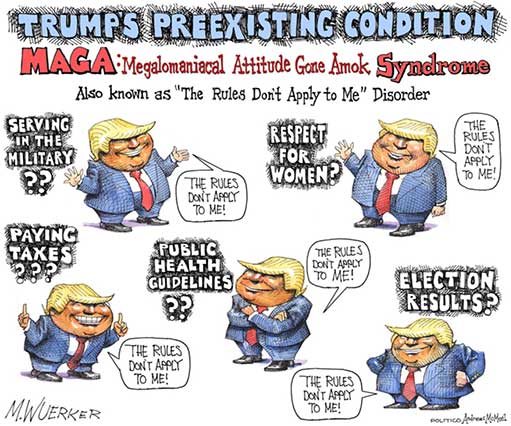 7. Roger Cohen: How Trump Lowered America's Standing in the World
Tuesday's election will be seen globally as a referendum on the durability of democracy. If American democracy, long a beacon, cannot self-correct, then all democracies are at risk. European nations have watched with alarm as President Trump has set about undermining American democracy while attacking the very foundations — the European Union and NATO — that allowed war-torn Europe to become whole, democratic and free.
The Oval Office was once the focal point of the respect the United States commanded around the world; no longer. It has become impossible for democracies today to believe it is in their national interest to take Trump's America seriously. With this president, there are simply too many petulant reversals of course. The presidency and dishonesty have become synonymous. Alliances are founded on trust. When that goes, they begin to dissolve.
The Trump administration has unrelentingly undermined proven international relationships. America-first nationalism (even on vaccine development) has replaced the stabilizing commitment of the United States to multilateral institutions, a rules-based order and painstakingly negotiated international accords, like the Paris Agreement on climate change and the Iran nuclear deal. https://www.nytimes.com/2020/10/29/opinion/trump-foreign-policy-us-allies.html
8. Farhad Manjoo: The Fury Against Trump Has Begun a Great Democratic Awakening
Trump got us to recognize a truth long ignored in American politics: that a competent government is important. American greatness and American goodness can never again be taken for granted. His inept reign has proved that the country cannot run on autopilot, and there is no longer any basis for the lazy idea that America will always, in some automatic and reflexive way, "work things out."
Trump's gutting of federal agencies, from the Environmental Protection Agency to the State Department to the Centers for Disease Control and Prevention, proved, through their resulting failures and missteps, the importance of governmental capacity and competence. It is now tragically clear what happens if the federal government is left to wither, if expertise and experience is undermined and overruled, and if honesty, decency, integrity and fairness are abandoned by public officials: People die, people lose their jobs, hate and mistrust fester, long-term problems become sudden emergencies, and the country steadily loses unity and moral standing. https://www.nytimes.com/2020/10/30/opinion/trump-democracy-apathy.html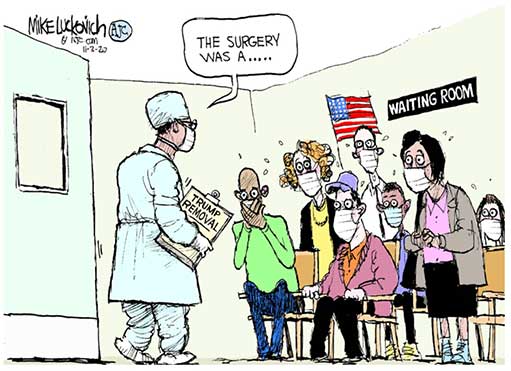 9. Catherine Rampell: The Paper Wall
The president — the son and grandson of immigrants — says he has no problem with people who come to America "the right way" and "obey the laws." "I want people to come in," Trump said during the 2016 campaign. "I want tremendous numbers of people to come in, and we are going to have that big, beautiful door in the wall."
This turned out to be a big, beautiful lie. Under the leadership of Stephen Miller, Trump's chief adviser on immigration matters, administration officials have been ordered to "close every opening, shut every door, close every loophole and then some," according to a senior Department of Homeland Security official quoted in Jean Guerrero's chilling new biography of Miller, "Hatemonger: Stephen Miller, Donald Trump, and the White Nationalist Agenda." Every immigrant possible — whether here lawfully or not, professional-class or blue-collar, entrepreneur or scientist, adult or toddler — would be rejected, deported or repelled.
To the extent that Americans are aware of such policy changes, they're probably only familiar with the more gothic, telegenic horrors — particularly those visited upon unauthorized immigrants.
That is: the nursing babies separated from their mothers when they crossed the border, amid the Trump administration's "zero tolerance" family-separations policy for asylum-seekers; the abrupt deportations of undocumented immigrants who were otherwise law-abiding pillars of their communities, some of whose U.S.-citizen spouses even voted for Trump; or the initial, chaotic implementation of the Muslim ban (later rebranded a nondenominational "travel ban").
In Trump's most distorted visions, such policies would be reinforced by an electrified border wall surrounded by a moat filled with alligators. These conditions were designed, by the admission of administration officials themselves, to be vividly, infamously cruel, so they might better deter would-be immigrants. https://www.washingtonpost.com/opinions/2020/10/29/trump-immigration-daca-family-separation/
10. Jay Kiedrowski: Trump Republicans: a throwback to the Know-Nothing Party of the 1850s
In the presidential election of 1856, Millard Fillmore ran as the Know-Nothing candidate. He won 23 percent of the vote and carried one state, Maryland, with eight electoral votes. Abraham Lincoln expressed his own disgust with the Know-Nothing Party. By the 1860 election, the Know-Nothing Party was no longer a viable political movement, in part because of the conflict over slavery within the party.
Fast forward to 2016: Donald Trump is running on an anti-immigrant, anti-elite, and anti-expert platform. He expresses disdain for the media, suggests that the voting process is rigged, and incites violence. He wants to "Make America Great Again." Many conservatives are supporting him.
Today, when there is significant dislocation from immigration, aggressive foreign competition, and the transition to the information age, people are asking to go back to a former perceived better era. Politicians like Donald Trump seize on these feelings and claim changes to the system will make everything like they were. But how do you roll back progress? https://www.minnpost.com/community-voices/2016/09/trump-throwback-know-nothing-party-1850s/
11.  Peter Baker: Dishonesty Has Defined the Trump Presidency
Born amid made-up crowd size claims and "alternative facts," the Trump presidency has been a factory of falsehood from the start, churning out distortions, conspiracy theories and brazen lies at an assembly-line pace that has challenged fact-checkers and defied historical analogy.
During his final weekend of campaign rallies, Mr. Trump continued to sow doubt about the validity of the election, making clear that he would deem any outcome other than victory for him to be corrupt. At a rally in Philadelphia, which has a sizable Black population, he asserted that the city would falsify the results. "Are they going to mysteriously find more ballots" after polls close, he asked. "Strange things have been known to happen, especially in Philadelphia."
The nightmarish scenario of widespread doubt and denial of the legitimacy of the election would cap a period in American history when truth itself has seemed at stake under a president who has strayed so far from the normal bounds that he creates what allies call his own reality. Even if the election ends with a clear victory or defeat for Mr. Trump, scholars and players alike say the very concept of public trust in an established set of facts necessary for the operation of a democratic society has eroded during his tenure with potentially long-term ramifications. https://www.nytimes.com/2020/11/01/us/politics/trump-presidency-dishonesty.html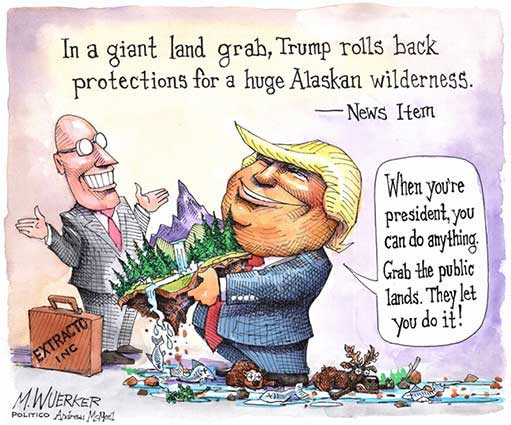 12. Brian Karem: Trump Co-Opts Mexican Holiday with Proclamation Demonizing Illegal Immigrants
Thirty-five minutes before midnight on Friday, Donald Trump dumped a Halloween surprise on the country. It was so stunningly tone-deaf, many initially thought it was parody. It wasn't.
The president introduced a proclamation, headlined "National Day of Remembrance for Americans Killed by Illegal Aliens, 2020," sets aside November 1 for this occasion—or Día de Muertos, the Day of the Dead. The move has been decried as insensitive by many in the Hispanic community on social media.
"I call upon the people of the United States to observe this day with appropriate ceremonies and activities," Trump, or more likely Stephen Miller, wrote.
This latest proclamation has led many to question the administration's priorities. George Conway tweeted out, "When's the National Day of Remembrance for Americans Killed by the Trump Administration's Failed Pandemic Response?"
Actor Jon Cryer noted that "immigrants both documented and undocumented commit crime at a LOWER rate than citizens. Are we gonna have a national day of remembrance for the vastly larger group of Americans killed by Americans?"
Others wondered if we would have a national day of remembrance for those killed by police, white supremacists, and other assorted mayhem. https://thebulwark.com/trump-co-opts-mexican-holiday-with-proclamation-demonizing-illegal-immigrants/
13. Bess Levin: Donald Trump, Colossal Asshole, Says Doctors Get Extra Cash If People Die of COVID-19
Trump to a crowd in Waterford Township, Michigan, "if you have a bad heart and you're ready to die or if you have cancer and you're going to be dying soon, and you catch COVID, that happens we mark it down to COVID. You know our doctors get more money if somebody dies from COVID, you know that, right. I mean our doctors are very smart people. So what they do is they say is, I'm but you know sorry everybody dies of COVID. But in Germany and other places, if you have a heart attack or you have cancer, you're terminally ill, you catch COVID, they say you died of cancer, you died of a heart attack. With us, when in doubt, choose COVID. It's true, no it's true. No, they'll say, Oh it's terrible what he said, but it's true. It's like $2,000 more. So you get more money. This could only happen to us." https://www.vanityfair.com/news/2020/10/donald-trump-doctors-covid-19-cash
14. Linda Chavez: Cleaning Up Trump's Immigration Mess
The Trump administration is directly responsible for orphaning 545 children. The children were among the 5,512 the Trump administration separated from their parents at the border from July 2017 to December 2019, sometimes ripping babies from their mothers' arms. The intent was to terrorize families seeking refuge in the United States to stop them from coming.
"We need to take away the children," then-Attorney General Jeff Sessions told a group of prosecutors who balked at enforcing the president's "zero tolerance" order, which forced criminal (as opposed to civil) prosecution of unauthorized immigrants, including parents with children in tow. Lest anyone think the administration would make exceptions for separating parents from very young children or babies, then-Deputy Attorney General Rod Rosenstein told federal prosecutors from Texas in a follow-up call that it didn't matter how young they were, which is how 594 children under 10 years old ended up in the government's "care."
Faced with court orders demanding a halt, Trump signed an executive order modifying the policy in June 2018, which still subjects adults to criminal prosecution but detains families together "where appropriate and consistent with law and available resources." Most of the children separated from their parents were reunited with parents or other family, but the sheer number of those who were essentially lost in the system is a staggering rebuke to the callousness of this administration's immigration policies. https://thebulwark.com/cleaning-up-trumps-immigration-mess/