March 2, 2023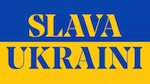 THE WEEK'S BEST QUOTES. . .
"There's been a lot of bad faith attacks on Secretary Buttigieg. If you remember Elaine Chao. She was the head of the Department of Transportation and when there were these types of chemical spills, nobody was calling for her to be fired." — WH Press Secretary Jean-Pierre.
https://twitter.com/greg_price11/status/1628834367484067840
"This Georgia case is ridiculous, a strictly political continuation of the greatest Witch Hunt of all time. Now you have an extremely energetic young woman, the (get this!) 'foreperson' of the Racist D.A.'s Special Grand Jury, going around and doing a Media Tour revealing, incredibly, the Grand Jury's inner workings & thoughts. This is not JUSTICE, this is an illegal Kangaroo Court. Atlanta is leading the Nation in Murder and other Violent Crimes. All I did is make TWO PERFECT PHONE CALLS!!!" — Donald Trump seizing on the potential violations of grand jury secrecy in Georgia after the forewoman gave a series of media interviews.
https://truthsocial.com/@realDonaldTrump/posts/109909310069862367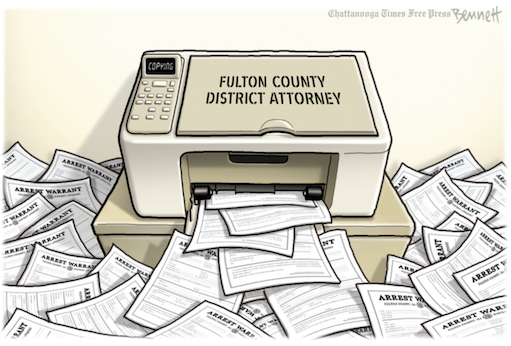 "I've made commitments and I've run on fiscal responsibility. I didn't fold the last time under Trump and I don't expect to fold under Biden." — Rep. Tim Burchett (R-TN) that he doesn't see a circumstance in which he casts a vote to lift the U.S. debt limit in order to reauthorize the federal government's ability to pay its bills. He's opposed raising it since first elected to the House in 2018.
https://www.semafor.com/article/02/23/2023/congressman-tim-burchett-says-he-wont-lift-the-debt-ceiling-period
"He's a proven loser. I think his unelectability is his Achilles' heel, and that in and of itself is going to be a unifying argument to move on from Trump." — Former Speaker Paul Ryan (R-WI)
https://www.washingtonpost.com/politics/2023/02/22/paul-ryan-trump-medicare-social-security-biden/
"We can expect the federal courts to make short shrift of this 'Hail Mary' claim and Mr. Pence doesn't have a chance in the world of winning his case in any federal court and avoiding testifying before the grand jury. "— Former conservative Judge J. Michael Luttig warning of both the legal and political consequences of Pence's plan to fight the grand jury subpoena by special counsel Jack Smith. 
https://www.cnn.com/2023/02/24/politics/mike-pence-j-michael-luttig/index.html
"This is a gun manufactured in the United States, creates jobs in the United States, it's a made-in-America gun. We have national everything, why not have a national gun? It saves lives on a daily basis, and it's not reported. And I think it's good to have that contrast."  — George Santos gives bizarre defense for GOP plan to make the AR-15 the 'National Gun of America.
https://www.independent.co.uk/news/world/americas/us-politics/george-santos-ar-15-national-gun-america-b2289201.html
"Why is Rupert Murdoch throwing his anchors under the table, which also happens to be killing his case and infuriating his viewers, who will again be leaving in droves—they already are." — Donald Trump is furious with his former ally Rupert Murdoch after the media mogul made admissions that some of his Fox News hosts "endorsed" lies that the 2020 election had been "stolen." 
https://www.thedailybeast.com/trump-loses-it-over-rupert-murdoch-admission-about-fox-hosts-and-big-lie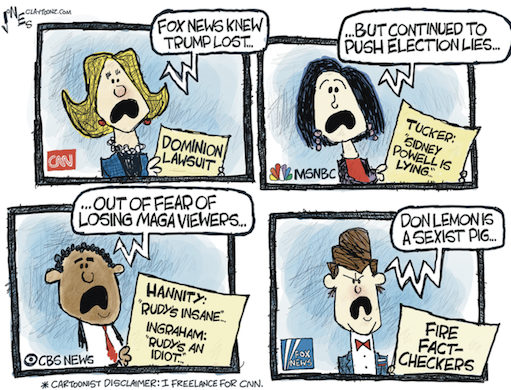 VIDEOS ...
BARTIROMO: Do you still identify as a Democrat?
MANCHIN: I will be involved in any way I can to help.
BARTIROMO: Do you still identify as a Democrat?
MANCHIN: I identify as an American. I'm an Amerucan through and through. — Sen. Joe Manchin (D-WV) appearing with Maria Bartiromo.
https://twitter.com/atrupar/status/1629867200474390528
LITIGATION TRACKER
Pending Criminal and Civil Cases Against Donald Trump

. https://www.justsecurity.org/75032/litigation-tracker-pending-criminal-and-civil-cases-against-donald-trump/
---
IN THIS ISSUE
IN THE NEWS
OPINION
Andy Borowitz: Rupert Murdoch Calls Telling Truth Under Oath Worst Experience of His Life
Rupert Murdoch said that telling the truth under oath while being deposed for a lawsuit against Fox News was "by far the worst experience of my life."

The media mogul disclosed that, when he was asked to raise his right hand and tell the truth, the whole truth, and nothing but the truth, "I thought I was going to be sick."

"Sean Hannity and Tucker Carlson had warned me that telling the truth would be bad," he said. "But I was unprepared for how harrowing it turned out to be."

"The way it works is, people ask you questions, and you have to tell them what actually happened and not something you made up," he explained. "It was beyond beastly."

Reflecting on the traumatic experience, Murdoch said, "I know there are some people who tell the truth day in and day out, and I don't know how they manage it. I've told the truth once, and I don't intend to do it again." https://www.newyorker.com/humor/borowitz-report/
GOP group of 16 complicates McCarthy's debt ceiling leverage
16 House Republicans have never voted to raise the debt ceiling — even under former President Trump — complicating Speaker Kevin McCarthy's (R-Calif.) hand as he seeks to browbeat the Biden administration into spending cuts.
https://www.axios.com/2023/02/23/republican-no-votes-raise-debt-ceiling-suspension
DeSantis wants to roll back press freedoms — with an eye toward overturning Supreme Court ruling
Florida Gov. Ron DeSantis' broken relationship with the mainstream media could get even worse, Politico reports.
At the governor's urging, Florida's Republican-dominated Legislature is pushing to weaken state laws that have long protected journalists against defamation suits and frivolous lawsuits.
https://www.politico.com/news/2023/02/23/florida-gop-desantis-proposal-sue-media-00084023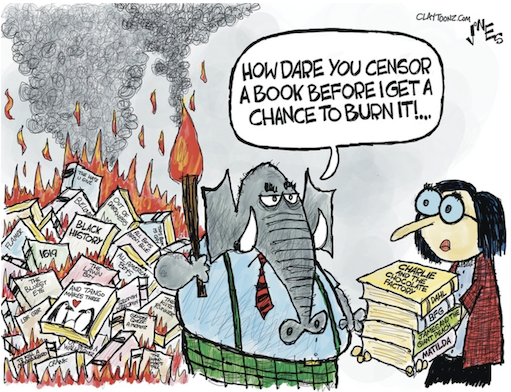 How a box with classified documents ended up in Trump's office months after FBI searched Mar-a-Lago
The Justice Department wants to know how a box containing a handful of classified records scattered among copies of presidential schedules turned up at Mar-a-Lago late last year, well after several rounds of searches of the property by federal agents and aides to former President Donald Trump, CNN reports.
Investigators working for special counsel Jack Smith in recent weeks have interviewed a Trump aide who copied classified materials found in the box using her phone to put them onto a laptop. After a voluntary interview with the aide, prosecutors subpoenaed the password to the laptop, which she provided.
People familiar with the Trump legal team's efforts to locate documents describe a confusing chain of events that delayed discovery of the box, including having its contents uploaded to the cloud, emailed to a Trump employee, and moved to an offsite location before finally ending up back at a Mar-a-Lago bridal suite that is now Trump's office – the very place that the FBI had searched just weeks earlier.
https://www.cnn.com/2023/02/24/politics/trump-classified-documents-maralago-eluded-fbi/index.html
Michigan Is 'Ground Zero for the Globalist Takeover'
Three days after delegates elected her to lead the Michigan Republican Party, Kristina Karamo reaffirmed her belief in a conspiracy theory, claiming shadowy forces are working to achieve global domination right here in Michigan.
"What prompted me to run for chair of the Michigan Republican Party is the fact that Michigan has become ground zero for the globalist takeover of the United States of America," she said in the interview on Steve Bannon's War Room podcast.
President Joe Biden, Karamo said on the show, is a "known traitor" and "illegitimate president" who "needs to be impeached."
"This is not me being emotional and dramatic and trying to just rally the troops — these are facts," Karamo said. "These are facts that these people's actions are consistent with people who have one agenda, and that is to intentionally implode the United States of America."
https://www.mlive.com/politics/2023/02/michigan-gop-leader-state-is-ground-zero-for-the-globalist-takeover.html
Trump-Allied Group Wants January 6 Staffers Blacklisted
A conservative non-profit group allied with former President Donald Trump urged Hill staffers and their colleagues to cut off meetings with any former Jan. 6 committee staffers who have since joined firms that lobby, Politico reports.
https://www.politico.com/news/2023/02/23/trump-allied-group-jan-6-committee-staffers-00084259
George Santos lied to a judge in 2017 bid to help a 'family friend' charged with fraud
Rep. George Santos (R-NY) lied to a Seattle judge about working for Goldman Sachs while speaking at a 2017 bail hearing for a family friend who later pleaded guilty to fraud in an ATM skimming scheme.
https://www.politico.com/news/2023/02/24/george-santos-lied-to-a-judge-in-2017-bid-to-help-a-family-friend-charged-with-fraud-00084341
In Sharing Video With Fox Host, McCarthy Hits Rewind on Jan. 6
Speaker Kevin McCarthy's decision to grant the Fox News host Tucker Carlson exclusive access to thousands of hours of security footage from inside the Capitol during the Jan. 6, 2021, attack was his latest move to appease the right wing of his party, this time by effectively outsourcing a bid to reinvestigate the riot to its favorite cable news commentator, who has circulated conspiracy theories about the assault.
The most conservative Republican members of Congress — many of whom have worked to downplay or deny the reality of the Jan. 6 attack — have been pushing Mr. McCarthy for weeks to release the video after he promised to do so during his campaign for speaker.
Mr. McCarthy has shown little appetite for the kind of aggressive public re-litigation of what happened that day that some of his colleagues have called for, but he is sensitive to the dangers of angering his hard-core base by seeming to drop or disregard the matter.
https://www.nytimes.com/2023/02/22/us/politics/tucker-carlson-jan-6-mccarthy.html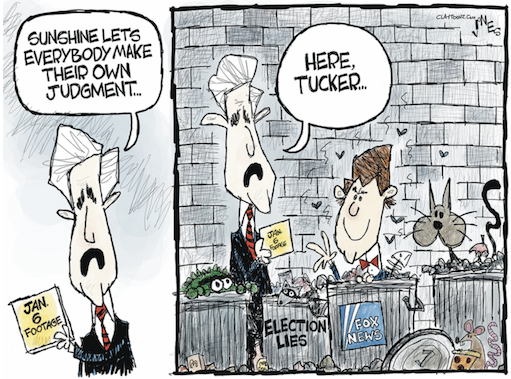 White House blames Trump administration and Republicans over East Palestine, Ohio spill
The White House is firing back at Republicans following the toxic East Palestine, Ohio train derailment, blaming the Trump administration and Republicans in Congress for undoing Obama-era rail safety measures designed to avert such disasters, USA Today reports.
The aggressive rebuttal came as former President Donald Trump visited East Palestine on Wednesday and Republicans increasingly attack the Biden administration, especially Transportation Secretary Pete Buttigieg, for its response to the Feb. 3 Norfolk Southern freight train derailment that unleased toxic chemicals.
https://www.usatoday.com/story/news/politics/2023/02/22/white-house-blame-trump-gop-east-palestine-spill/11322623002/
House GOP looks for plan B after struggling to pass border security bill
House Republicans had hoped to pass a narrow border security bill within the first two weeks of their new majority, notching an easy win and delivering on a key campaign promise in the process.
But a three-page bill from conservative Texas Rep. Chip Roy has run into fierce opposition from moderates, forcing GOP leaders back to the drawing board and exposing deep divisions in the party along the way.
https://www.cnn.com/2023/02/23/politics/house-republicans-border-security/index.html
'Incredibly damning:' Fox News documents stun some legal experts
The disclosure of emails and texts in which Fox News executives and personalities disparaged the same election conspiracies being floated on their shows has greatly increased the chances that a defamation case against the network will succeed, the Washington Post reports.
Dominion Voting Systems included dozens of messages sent internally by Fox co-founder Rupert Murdoch and on-air stars such as Tucker Carlson in a brief made public last week in support of the voting technology company's $1.6 billion lawsuit against the network. Dominion claims it was damaged in the months after the 2020 election after Fox repeatedly aired false statements that it was part of a conspiracy to fraudulently elect Joe Biden.
Dominion said the emails and texts show that Fox's hosts and executives knew the claims being peddled by then-president Donald Trump's lawyers Rudy Giuliani and Sydney Powell weren't true — some employees privately described them as 'ludicrous' and 'mind blowingly nuts'— but Fox kept airing them to keep its audience from changing channels.
https://www.washingtonpost.com/media/2023/02/23/fox-news-dominion-lawsuit-legal-analysis/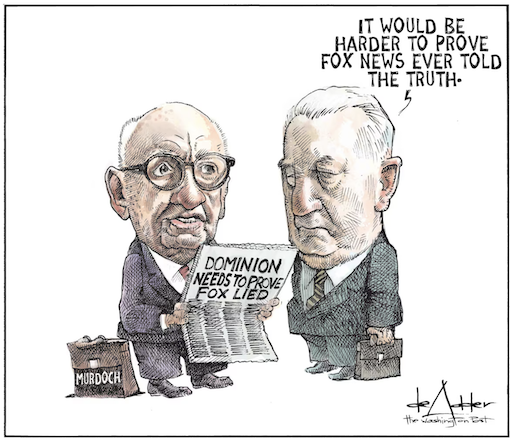 Fox News's 'silent ban' on Donald Trump
It's by now well-established that Fox News, the American media behemoth, is no longer on the Trump Train. Trumpworld's union with Foxworld was never altogether easy and, ever since that fateful election in November 2020, it has fallen apart. Trumpists despise Fox for, as many see it, helping Joe Biden steal the election. And the top brass at Fox News have sought to distance themselves from the Trump movement and what they regard as its increasingly toxic politics. Rupert Murdoch has had enough of the Orange One, by all accounts.
What hasn't been made entirely clear is the extent of the break-up. One senior Fox figure has let slip, however, that Donald Trump is effectively 'banned' from appearing on Fox News at present.
He hasn't been seen on the main channel since he declared his candidacy for the 2024 presidential in November and other Fox sources have confirmed that there's a reason Donald is not appearing on their network.
https://www.spectator.co.uk/article/fox-newss-silent-ban-on-donald-trump/
Internal chaos plagues Bannon-fronted $FJB cryptocurrency
Within weeks, the currency's value soared. Bannon and Epshteyn, two original architects of Donald Trump's political operation, promoted it relentlessly on social media and on Bannon's hit podcast, positioning it as a rejection of President Joe Biden and an alternative currency for conservatives that would support job creation and regularly donate to charities.
The name of the coin itself sought to capitalize on political divisions; dubbed $FJB, the currency takes its name from the shorthand version of the vulgar MAGA expression 'Fuck Joe Biden.'
But now, thirteen months on, the cryptocurrency has fallen on hard times. $FJB, now officially said to stand for Freedom Jobs Business, has lost 95% of its value.
When the footage was released, it appeared to be a deliberately symbolic move to show that he felt safe enough to be that close to the representative of such an important friend.
https://abcnews.go.com/US/internal-chaos-plagues-bannon-fronted-fjb-cryptocurrency-critics/story
Big Majority Favors Legal Abortion
A new PRRI national poll finds 64% of Americans say that abortion should be legal in most or all cases, while 34% say it should be illegal in most or all cases. More granularly, 30% say abortion should be legal in all cases, 34% say it should be legal in most cases, 25% say it should be illegal in most cases, and just 9% say it should be illegal in all cases.
Just under four in ten Republicans say that abortion should be legal in most or all cases (36% across 2022), while 63% say it should be illegal in most or all cases. Support for legal abortion among Republicans has mostly wavered between 30% and 40% since 2010, while support for abortion being illegal has mostly wavered between 60% and 70% since 2010.
Nearly nine in ten Democrats want abortion to be legal in most or all cases (86% across 2022), including nearly half of Democrats (48%) who say abortion should be legal in all cases. Notably, however, support for abortion's legality in most or all cases has gone up among Democrats, from 71% in 2010.
https://www.prri.org/research/abortion-attitudes-in-a-post-roe-world-findings-from-the-50-state-2022-american-values-atlas/
Trump's grip on the Republican base is slipping — even among his fans
The MAGA vs. RINO dichotomy that defined the GOP for much of the last eight years is increasingly obsolete. In its place, a new dynamic emerged from interviews with more than 150 Trump supporters across five pivotal electoral states. In between Republicans who remain firmly committed or opposed to the former president, there's now a broad range of Trump supporters who, however much they still like him, aren't sure they want him as the party's next nominee.
The foremost reason is electability. Even Republicans who said they still supported Trump and believed his false claims that the 2020 election was stolen acknowledged doubts on whether he could defeat President Biden or another Democrat in 2024.
It's not the first time that Trump supporters have admitted their misgivings. But during his presidency, the only choices were to be with him or against him, so they stuck with him.
Now there is a new option — a way to still support Trump as the 45th president without being sold on him as the party's best shot at becoming the 47th. Not anti-Trump, or even non-Trump — just post-Trump.
https://www.washingtonpost.com/politics/2023/02/23/trump-support-declining-2024-election/
Florida Senator proposes bill to 'cancel' Democratic Party in state
Florida Sen. Blaise Ingoglia is backing a new bill in Florida that he calls the "Ultimate Cancel Act," aimed to ban any political party that once included slavery in their platforms from running in the state, including the Florida Democratic Party.
According to Ingoglia's bill (SB 1248), the would decertify any political party that has "previously advocated for, or been in support of, slavery or involuntary servitude."
Registered voters of that party would receive notices from the state that their party has been "canceled" and that they're now no-party voters.
As for the canceled Democratic Party, members could re-register with the state so long as the name is "substantially different from the name of any other party previously registered."
If passed, the law would take effect on July 1.
https://news.yahoo.com/florida-senator-proposes-bill-cancel-224019613.html
Trump's polling strength causes heartburn for Senate GOP
A Fox News survey showing former President Trump leading Florida Gov. Ron DeSantis by 15 points among Republican presidential primary voters is the latest cause for heartburn among Senate Republicans who don't think Trump can win a general election match-up against President Biden.
https://thehill.com/homenews/senate/3876382-trumps-polling-strength-causes-heartburn-for-senate-gop/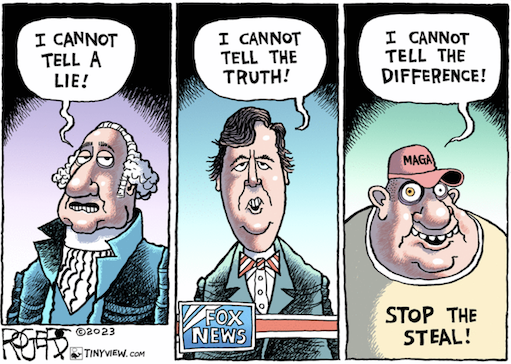 Putin Casts War as Battle for Russia's Survival
President Vladimir Putin cast the confrontation with the West over the Ukraine war as an existential battle for the survival of Russia and the Russian people – and said he was forced to take into account NATO's nuclear capabilities.
A year since ordering the invasion of Ukraine, Putin is increasingly presenting the war as a make-or-break moment in Russian history – and saying that he believes the very future of Russia and its people is in peril.
https://www.reuters.com/world/europe/putin-russia-must-take-into-account-nato-nuclear-capability-state-tv-2023-02-26/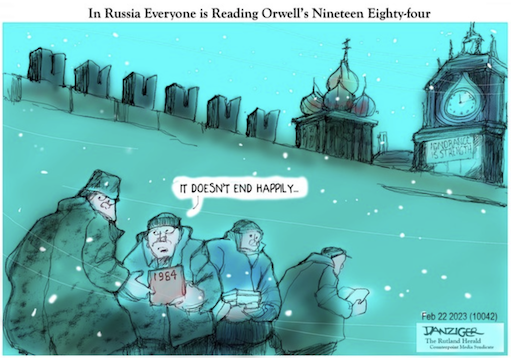 GOP leaders, stung by losses, plan to wade into Senate races
Republican Senate primaries in several pivotal states last year exuded a carnival-like aura, dominated by far-right candidates whose ill-advised remarks and damaging personal baggage ultimately cost the party its chance of retaking a majority. But even as alarms sounded over a growing crisis of electability, party leaders mostly stood by, including Florida Sen. Rick Scott, the Senate GOP's campaign chief, who insisted on remaining neutral in the nominating contests.
Now, at the dawn of the 2024 campaign season, Republicans say they are taking steps to avoid a repeat. The National Republican Senatorial Committee, which Scott formerly led, intends to wade into party primaries in key states, providing resources to its preferred candidates in a bid to produce nominees who are more palatable to general election voters.
It may be easier said than done. Similar efforts have backfired in recent years, with the party's restive base rejecting the attempts. The new push will test anew whether the GOP establishment can steer a party reshaped by Donald Trump's insurgent presidency back to mainstream appeal.
https://apnews.com/article/politics-florida-state-government-pennsylvania-indiana-db829dcce00e577f23cc2235b7f013b1
Democrats launch new campaign to tie vulnerable New York Republicans to George Santos
The House Democrats' campaign arm is launching a new effort to link vulnerable New York Republicans to Rep. George Santos, with Democrats betting that the freshman congressman will be a major liability for the GOP in key swing districts next year.
https://www.cnn.com/2023/02/27/politics/democrats-new-york-2024-santos/index.html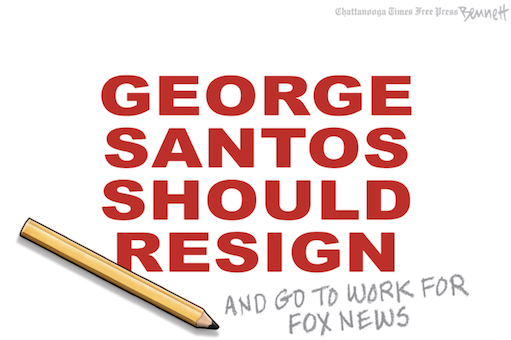 THE DAILY GRILL
Newspapers across the United States have pulled Scott Adams's long-running "Dilbert" comic strip after the cartoonist called Black Americans a "hate group" and said White people should "get the hell away from" them.
https://www.washingtonpost.com/media/2023/02/25/scott-adams-dilbert-canceled/
VERSUS
The media is racist.
For a *very* long time, US media was racist against non-white people, now they're racist against whites & Asians.
Same thing happened with elite colleges & high schools in America.
Maybe they can try not being racist. — Elon Musk, appearing to defend Scott Adams, seemingly concerned more about the "free speech" of those who make racist or antisemitic comments than about the comments themselves.
https://twitter.com/elonmusk/status/1629751544127037440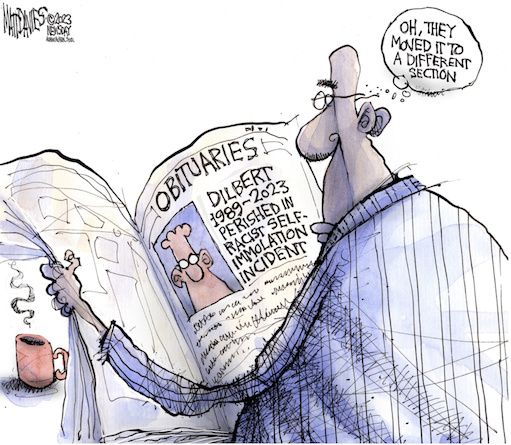 "The reason I don't think he'll be our nominee is because we now we're going to lose with him. He cost us the House in '18, he lost the White House in '20, he cost us the Senate in '20, he cost us the Senate again in 2022, and he cost us probably a good dozen House seats in 2022. This is a lesson we don't need to repeat again." — Paul Ryan who says he won't attend the RNC if Trump is the 2024 nominee. https://hillreporter.com/trump-hits-the-roof-after-paul-ryan-points-out-his-losing-record

VERSUS

"Paul Ryan is a loser, Mitt Romney could have won without him. I won twice, did much better the second time, and was 233 Wins out of 253 Races in the Midterms. Paul Ryan is destroying Fox, and couldn't get elected dogcatcher in the Republican Party!" — Trump's angry response on Truth Social. https://hillreporter.com/trump-hits-the-roof-after-paul-ryan-points-out-his-losing-record
Paul Krugman: Putin and the Right's Tough-Guy Problem
Putin is very much is the subject of a personality cult not just in Russia but also on the American right and has been for years. And it's a fairly creepy cult at that. For example, back in 2014 a National Review columnist contrasted Putin's bare-chested horseback riding with President Barack Obama's "metrosexual golf get-ups."
Until the invasion of Ukraine, Putinphilia also went hand in hand with extravagant praise for Russia's supposed military effectiveness. Most famously, in 2021 Ted Cruz circulated a video contrasting a Russian military recruitment ad featuring a muscular man doing manly stuff with a U.S. ad highlighting the diversity of Army recruits. "Perhaps a woke, emasculated military isn't the best idea," Cruz declared.
What was the basis for this worship of Putinism? I'd argue that many people on the right equate being powerful with being a swaggering tough guy and sneer at anything — like intellectual openness and respect for diversity — that might interfere with the swagger. Putin was their idea of what a powerful man should look like, and Russia, with its muscleman military vision, their idea of a powerful country.    
It should have been obvious from the beginning that this worldview was all wrong. National power in the modern world rests mainly on economic strength and technological capacity, not military prowess.
But then came the invasion, and it turned out that Putin's not-woke, unemasculated Russia isn't even very good at waging war.
https://www.nytimes.com/2023/02/23/opinion/putin-ukraine-toughness.html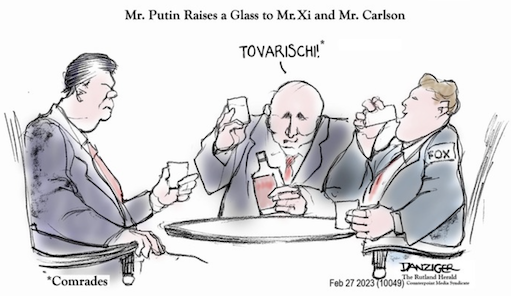 Janine DiGiovanni: Vladimir Putin's Inhumane Blueprint to Terrorize Civilians
Vladimir Putin became the prime minister of Russia in August 1999, then president in March 2000. And in the 24 years since, the list of wars conducted on his watch amounts to a catalog of human misery. They stretch from the Second Chechen War to a military incursion into Georgia, from the annexation of Crimea to Russia's lockstep allegiance with Syrian president Bashar al-Assad to destroy that country's opposition forces. That roster of calamity has culminated, of course, in the war that has mobilized Europe against Putin's war machine—the devastating invasion of Ukraine, which commenced a year ago this week.

To comprehend Putin's seeming thirst for territory and his ability to tolerate death and destruction, you have to understand his underlying motives. And from my reporting on military campaigns and the local populations in these three locales, I have come to an unsettling conclusion.

I believe Vladimir Putin is motivated by a desire to retain power, privilege, and leverage at all costs. A former spymaster trained in the Soviet surveillance state, he employs methods for remaining Russia's supreme leader that are rooted in his background as an intelligence agent. He perceives those around him warily; his paranoia is the handmaiden of his success. He uses fear, brute force, secrecy, intimidation, and complete control to vanquish enemies. Unsettled by the 1991 collapse of the Soviet Union (which he has called a genuine tragedy…. the greatest geopolitical catastrophe of the century, he has apparently come to see some of his neighboring nations as would-be adversaries and, therefore, potentially ripe for the taking.

Because he believes in brute force—and considers fear to be a force multiplier—he attempts to use brute force to instill raw fear in those who are most easily frightened: unarmed innocents. And as a result, he appears to be driven to attack civilians with indiscriminate bombardments, hoping to destroy the essential infrastructures of towns and cities—hospitals, schools, electrical grids, and water supplies—to weaken morale and crush the will of the population. https://www.vanityfair.com/news/2023/02/vladimir-putin-chechnya-syria-ukraine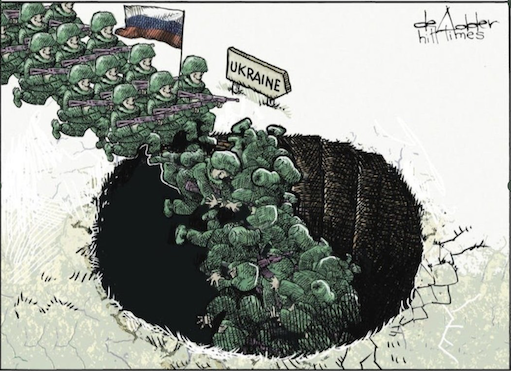 Tom Nichols: The War in Ukraine Is the End of a World
Today I Grieve
The idea that anyone in Moscow would be stupid or deranged enough to want to reassemble the Soviet Union seemed to me a laughable fantasy. Even Putin himself—at least in public—often dismissed the idea.
I was wrong. I underestimated the power of Soviet imperial nostalgia. And so today, I grieve.
I grieve for the innocent people of Ukraine, for the dead and for the survivors, for the mutilated men and women, for the orphans and the kidnapped children. I grieve for the elderly who have had to live through the brutality of the Nazis and the Soviets and, now, the Russians. I grieve for a nation whose history will be forever changed by Putin's crimes against humanity.
And yes, I grieve, too, for the Russians. I care not one bit for Putin or his criminal accomplices, who might never face justice in this world but who I am certain will one day stand before an inescapable and far more terrifying seat of judgment. But I grieve for the young men who have been used as cannon meat, for children whose fathers have been dragooned into the service of a dictator, for the people who once again are afraid to speak and who once again are being incarcerated as political prisoners.
Finally, I grieve for the end of a world I knew for most of my adult life. I have lived through two eras, one an age of undeclared war between two ideological foes that threatened instant destruction, the next a time of increasing freedom and global integration. This second world was full of chaos, but it was also grounded in hope. The Soviet collapse did not mean the end of war or of dictatorships, but after 1991, time seemed to be on the side of peace and democracy, if only we could summon the will and find the leadership to build on our heroic triumphs over Nazism and Communism.
Now I live in a new era, one in which the world order created in 1945 is collapsing. The United Nations, as I once wrote, is a squalid and dysfunctional organization, but it is still one of the greatest achievements of humanity. It was never designed, however, to function with one of its permanent members running amok as a nuclear-armed rogue state, and so today the front line of freedom is in Ukraine. But democracy is under attack everywhere, including here in the United States, and while I celebrate the courage of Ukraine, the wisdom of NATO, and the steadfastness of the world's democracies, I also hear the quiet rustling of a shroud that is settling over the dreams—and perhaps, illusions—of a better world that for a moment seemed only inches from our grasp.
I do not know how this third era of my life will end, or if I will be alive to see it end. All I know is that I feel now as I did that night in Red Square, when I knew that democracy was in the fight of its life, that we might be facing a catastrophe, and that we must never waver.
https://www.theatlantic.com/newsletters/archive/2023/02/war-ukraine-soviet-collapse/673197/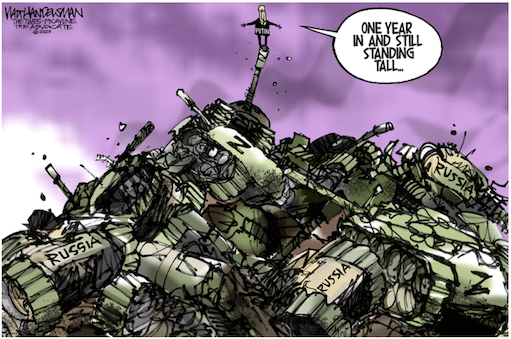 David Brooks: Let's All Do the DeSantis Shimmy!
I suppose all contemporary young politicians dream of meeting their moment. At the enthusiastic dawn of their politico careers, they entertain a fantasy that some day, as a great historical challenge looms into view, their future selves will rise to the occasion — and masterfully dodge it!

They envision themselves bobbing and weaving, triangulating and feinting — filling the air with  meaningless clichés so that no one knows where they stand and no one can hold them accountable. Their political career sails on, soaring upward, their electoral viability unbruised and glorious!

Ron DeSantis is now trying to live out that dream.

He is like that Richard Gere character in the musical Chicago — giving them the old razzle-dazzle, even if his dance steps are more plodding. It's not clear if DeSantis is for more Ukraine aid or not. No one can quite pin him down. Tippity tap. Tappity tip.

The problem with running a campaign in which you are trying to be Trumpy-but-not-Trump is that you're never your own man. You have to compete with the king without crossing him. You're always trying to find that magic sweet spot between just-MAGA and plain-crazy. https://www.nytimes.com/2023/02/23/opinion/desantis-ukraine-shimmy.html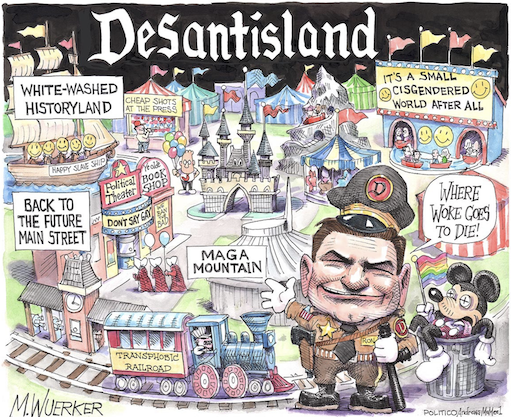 Molly Jong-Fast: The Fever Of Trumpism Shows No Sign Of Breaking In 2024
Trumpism isn't just a series of slogans; it's also a bit of a fever dream. Since 2015, Never Trump Republicans and more mainstream pundits have predicted it would break. But so far, despite candidates like Kari Lake, Dr. Mehmet Oz, Herschel Walker, and Don Bolduc getting shellacked in the midterms, there's still a fantasy that somehow Trumpism is a scalable phenomenon. If we've learned anything since 2015, it's that Trumpism generally only works for Trump. I could see, theoretically, Donald Trump Jr. being able to pick up the Trump mantle, but the idea that some unrelated party would be able to take over seems less likely.
As for the non-Trump lane of this GOP primary, I just don't understand how these more normal candidates break the fever that is Trumpism.
https://www.vanityfair.com/news/2023/02/donald-trump-trumpism-ron-desantis-2024-election
Paul Waldman: Republican elites fear the monster they created
On screen, Fox News personalities paint a world of clear heroes and villains, where conservatives are always strong and right and liberals are weak and wrong. But the extraordinary private communications revealed in the $1.6 billion defamation lawsuit filed by Dominion Voting Systems against Fox show who they really are. Panicked over Donald Trump's loss in the 2020 election, those same hosts, and the executives who run the network, cowered in abject terror.
They feared the same monster that keeps House Speaker Kevin McCarthy (R-Calif.) up at night, the monster that conservative media and Republican politicians created: base voters who are deluded, angry and vengeful.
McCarthy has sought to appease the beast by granting exclusive access to 44,000 hours of surveillance footage from the Jan. 6, 2021, insurrection to Fox News host Tucker Carlson. But with each capitulation, McCarthy and Fox News only make the monster stronger.
To see how, begin with the Dominion lawsuit. The company, which makes election software and voting machines, alleges that Fox defamed its business by repeatedly claiming that its systems were used to steal the 2020 presidential election. To win this kind of case against a news organization, a plaintiff must show that the organization acted with actual malice — that it said things it knew were false or acted with reckless disregard for the truth. Mistakes alone are not enough.
Emails and texts sent in the days after the election appear to show exactly that. On air, Fox was spreading lies about supposed election fraud and bringing on guests without concern for their credibility, including Rudy Giuliani and GOP lawyer Sidney Powell. Meanwhile, Fox's stars and executives privately belittled those same people and the claims they were making.
Sidney Powell is lying, Carlson wrote in one email. Giuliani was acting like an insane person, host Sean Hannity declared.
At the same time, Fox News tried to suppress the truth. Reporters for the organization who corrected false claims were reprimanded and threatened. One reporter who fact-checked Powell and Giuliani was told by her boss that executives were not happy about it and that she should do a better job of respecting our audience. When Fox truthfully reported Joe Biden's victory, Carlson texted his producer: Do the executives understand how much credibility and trust we've lost with our audience? We're playing with fire, for real. When another reporter fact-checked a Trump tweet spreading lies about stolen votes, Carlson demanded that the reporter be fired.
These documents make clear not only that Fox News stars and executives think their audience is a bunch of half-wits but also that they live in fear that the audience will turn on them unless they tell viewers exactly what they want to hear regardless of the facts.
Who taught that audience to believe conspiracy theories and to assume that any unwelcome information must be a sinister lie? Fox News, of course.
https://www.washingtonpost.com/opinions/2023/02/24/republicans-fox-dominion-carlson/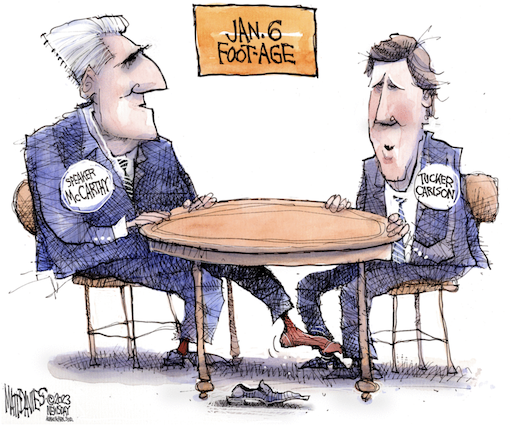 Erik Wemple: Fox News is worse than you thought
Now consider Jan. 6. McCarthy knows the facts. The Capitol insurrection wasn't a false-flag operation by antifa or the FBI. Indeed, McCarthy initially blasted Trump for his role in stirring the rioters and dismissed conspiracy theories. So why has he given exclusive access to surveillance footage to Carlson, the constant purveyor of conspiracy theories?
There's no mystery. Carlson's producers will comb through endless pixels to find images with which to mislead viewers: to convince them that the riot wasn't so bad or that Trump's supporters weren't to blame or that the whole thing was a setup.
That will only further convince Carlson's audience to deny the truth about Jan. 6, and punish any Republican officeholder who disagrees. As for McCarthy, will this exercise help him by making it more likely that Republicans will reinforce his thin House majority in the next election — or take the Senate or the White House? Quite the opposite. It only makes it more likely that voters will view his party as extremists and loons who are far more interested in the obsessions of a spectacularly unpopular ex-president than in the genuine problems the country faces.
Like the trembling dissemblers of Fox News, McCarthy must feel that he has no choice: Feed the beast or be eaten by it. Winning the future is an idea they cannot latch on to because they are so frantic to survive one more day.
Republican elites are not powerless. They helped make this mess and could nudge their base back toward reality if they chose. But they're too afraid to try.
https://www.washingtonpost.com/opinions/2023/02/24/republicans-fox-dominion-carlson/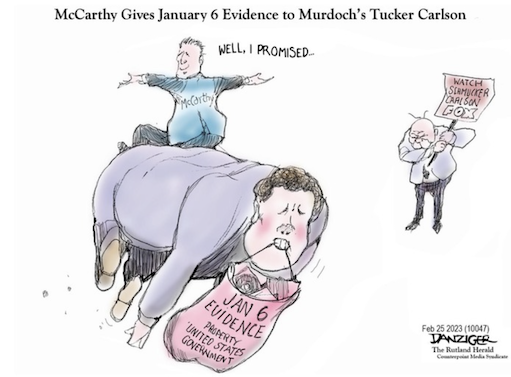 Bess Levin: Donald Trump, Whose Brain Is Held Together By Thumbtacks And Silly Putty, Demands Mental Competency Test For Presidential Candidates
The guy who believes exercise causes premature death also thinks candidates must prove they are physically up to the job.
Many things come to mind when one has the misfortune to think of Donald Trump. Bigot. Creep. Guy who used a speech at the Boy Scouts of America's quadrennial Jamboree to brag about all the fabulous parties he went to in the '80s. One thing we can say with full confidence that has never once been thought of is mentally sound. And yet, the ex-president apparently believes that what will set him apart from other 2024 candidates is his brain—and the level at which it functions. Oh, and his body too!

On Tuesday, the former guy took to Truth Social to declare: ANYBODY running for the Office of President of the United States should agree to take a full & complete Mental Competency Test simultaneously (or before!) with the announcement that he or she is running, & likewise, but to a somewhat lesser extent, agree to a test which would prove that you are physically capable of doing the job. Being an outstanding President requires great mental acuity & physical stamina. If you don't have these qualities or traits, it is likely you won't succeed. MAGA!

There are not enough hours in the day to list the many examples of Trump not having it all together up top, but we'll just note that he recently mistook a photo of his rape accuser for second ex-wife; famously claimed the sound from windmills causes cancer; and weirdly insisted, on multiple occasions, that his New York–born father was born in Germany. (Do we even need to mention that he suggested people inject bleach into their veins?) He also boasted, in 2020, that it was a major feat to have been able to recite five words in the correct order:

Republican presidential candidate Nikki Haley, when asked how Donald Trump would do on her proposed mental competency test for politicians over the age of 75:

I think he did great the last time he did it. I have no reason to think he wouldn't do well this time.

Person. Woman. Man. Camera. TV.

Trump obviously thinks this test will fell his would-be general election opponent Joe Biden, and we know this because he has been insisting since the last election that Biden is slow, and, more recently, that the current president has dementia.

Meanwhile, Nikki Haley, Trump's only GOP primary opponent so far, has also called compulsory competency tests for any elected officials over the age of 75, saying last week: In the America I see, the permanent politician will finally retire. We'll have term limits for Congress. And mandatory mental competency tests for politicians over 75 years old.

As for Trump's call for a test which would prove that you are physically capable of doing the job, that's a drum he started beating last month when he claimed that winning a golf tournament—that he appears to have cheated in—proved he was fit to be president again. The reason that I announce [supposedly having won the tournament] on fabulous TRUTH is that, in a very real way, it serves as a physical exam, only MUCH tougher, he told his Truth Social followers. You need strength and stamina to WIN, & I have strength & stamina - most others don't. You also need strength & stamina to GOVERN!

As a reminder, for the majority of his life, Trump has had diet that could give cardiologists recurring nightmares, with a soft spot for Big Macs, meat loaf, and KFC. (Former White House doctor Ronny Jackson once said White House staff had to sneak vegetables into his food.) Trump has also claimed that the human body has a finite amount of energy, which physical exertion can only deplete, which is why exercise is apparently bad. (You are going to die young because of this, he reportedly once told an employee training for an Ironman race.) https://www.vanityfair.com/news/2023/02/donald-trump-mental-competency-test
Maureen Dowd: From Carter to M.T.G.: What a Peach State Plummet
When Carter became governor in 1971, many hoped we had begun to move past the kind of hatred and racial struggles that defined the South in the 1950s and '60s. . He placed Martin Luther King Jr.'s portrait in the State Capitol and said in his inaugural speech: "I say to you quite frankly that the time for racial discrimination is over."
Time magazine hailed the New South on its cover, saying Carter had triumphed over the South's "demagogic past" and Confederate ghosts. Now, thanks to the likes of Trump and Greene, we're back in the toxic soup.
"Marjorie Taylor Greene is following in the footsteps of racist old bigots like Lester Maddox and George Wallace," Rafshoon said.
Greene is the apotheosis of those who love hating so much, they no longer have any interest in collaborating for the good of the country and the world. Carter is the apotheosis of the mantra "We're better than this."
"Jimmy Carter represents all that is good and decent in public life," said Jonathan Alter, the author of "His Very Best: Jimmy Carter, a Life." "And Marjorie Taylor Greene represents all that is sinister and despicable in public life."
Alter has been fielding calls from around the world from people writing stories about Carter since the 98-year-old started hospice a week ago. (Those who know Carter joke that he's so competitive, he has no doubt asked his doctor the record for hospice care, so he can break it and add to his list of accomplishments.) He wanted to be at home with his wife of 76 years, Rosie, as he calls her. The two were introduced when Carter was a toddler by his mother, Miss Lillian, a nurse, a couple of days after she delivered Rosalynn, which sort of makes them sweethearts for 95 years.
"He's en route to becoming an American Gandhi," Alter said. "He went from obscurity and zero percent in the polls to lead an epic American life by offering a positive, inspirational message." A message that is a rebuke, Alter said, "to what is twisted and wrong about MAGA America."
So who do we want to be? Marjorie Taylor Greene or Jimmy Carter? Destroyers or builders?
https://www.nytimes.com/2023/02/25/opinion/from-carter-to-mtg-what-a-peach-state-plummet.html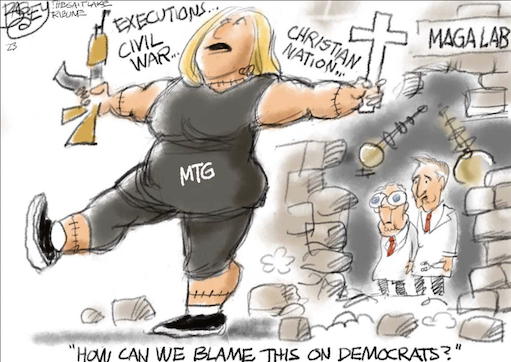 Robyn Dixon and  Catherine Belton: Putin, czar with no empire, needs military victory for his own survival
President Vladimir Putin likes to portray himself as a new czar like Peter the Great or Ivan III, the 15th-century grand prince known as the "gatherer of the Russian lands." But Putin's year-long war in Ukraine has failed so far to secure the lands he aims to seize, and in Russia, there is fear that he is leading his nation into a dark period of strife and stagnation — or worse.
Putin's full-scale invasion of Ukraine began with hubris and a zeal to reshape the world order. But even as he suffered repeated military defeats — diminishing his stature globally and staining him with allegations of atrocities being committed by his troops — Putin has tightened his authoritarian grip at home, using the war to destroy any opposition and to engineer a closed, paranoid society hostile to liberals, hipsters, LGBTQ people, and, especially, Western-style freedom and democracy.The Russian president's squadrons of cheerleaders swear he "simply cannot lose" in Ukraine, thanks to Russia's vast energy wealth, nuclear weapons and sheer number of soldiers it can throw onto the battlefield. These supporters see Putin rising supreme from Ukraine's ashes to lead a swaggering nation defined by its repudiation of the West — a bigger, more powerful version of Iran.
But business executives and state officials say Putin's own position at the top could prove precarious as doubts over his tactics grow among the elite. For many of them, Putin's gambit has unwound 30 years of progress made since the collapse of the Soviet Union. Putin's vision of Russia horrifies many oligarchs and state officials, who confide that the war has been a catastrophic error that has failed in every goal. But they remain paralyzed, fearful and publicly silent.

Some are sure that Putin can maintain his hold on power without a victory, as long as he keeps the war going and wears down Western resolve and weapons supplies. For anyone in the elite to act, Bondarev said, "there needs to be an understanding that Putin is leading the country to total collapse. While Putin is still bombing and attacking, people think the situation is not so bad. There needs to be a full military loss, and only then will people understand they need to do something."

What all camps seem to agree on is that Putin shows no willingness to give up. As Russia's battlefield position deteriorated in recent months, he escalated repeatedly, shuffling his commanders, unleashing brutal airstrikes on civilian infrastructure and threatening to use nuclear weapons.

Now, with his troops reinforced by conscripts and convicts and poised to launch new offensives, the 70-year-old Russian leader needs a win to maintain his own credibility. "Putin needs some success to demonstrate to society that he is still very successful," a senior Ukrainian security official said, speaking on the condition of anonymity to discuss politically sensitive issues. https://www.washingtonpost.com/world/2023/02/20/putin-czar-with-no-empire-needs-military-victory-his-own-survival/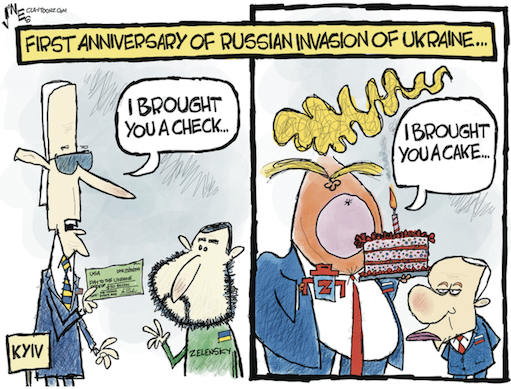 David French: Why Fox News Lied to the Viewers It 'Respects'
There are some stories that are important enough to pause the news cycle and linger on them, to explore not just what happened, but why. And so it is with Fox News's role in the events leading up to Jan. 6, 2021. Thanks to a recent filing by Dominion Voting Systems in its defamation lawsuit against Fox, there is now compelling evidence that America's most-watched cable news network presented information it knew to be false as part of an effort to placate an angry audience. It knowingly sacrificed its integrity to maintain its market share.
Why? There are the obvious reasons: Money. Power. Fame. These are universal human temptations. But the answer goes deeper. Fox News became a juggernaut not simply by being "Republican," or "conservative," but by offering its audience something it craved even more deeply: representation. And journalism centered on representation ultimately isn't journalism at all.

To understand the Fox News phenomenon, one has to understand the place it occupies in Red America. It's no mere source of news. It's the place where Red America goes to feel seen and heard. If there's an important good news story in Red America, the first call is to Fox. If conservative Christians face a threat to their civil liberties, the first call is to Fox. If you're a conservative celebrity and you need to sell a book, the first call is to Fox. https://www.nytimes.com/2023/02/26/opinion/fox-news-lies-dominion.html
Michelle Goldberg: DeSantis's 'Apocalyptic' Attack on Higher Education
Under Florida House Bill 999, general education core courses couldn't present a view of American history "contrary to the creation of a new nation based on universal principles stated in the Declaration of Independence," creating obvious limits on the teaching of subjects like slavery and the Native American genocide. The bill also says that general education courses shouldn't be based on "unproven, theoretical or exploratory content," without defining what that means. "State officials would have unfettered discretion to determine which views are 'theoretical' and banned from general education courses," says a statement by the libertarian-leaning Foundation for Individual Rights and Expression.

Finally, the bill centralizes political control over hiring by allowing faculty to be cut out of the process. Right now, some boards of trustees have the power to veto hiring recommendations made by faculty and administrators, though Young says they rarely use it. Under House Bill 999, rather than an up-or-down vote on candidates vetted by university bodies, trustees could just hire whomever they want. "They don't even have to hire someone who applied through the regular process," said Young. "They can just say, 'Here's my friend Joe, he's going to be the new history professor.'"

This would give DeSantis's cronies enormous power over who can teach in Florida's colleges and universities. Last month, I wrote about the governor's campaign to transform the New College of Florida, a progressive public institution, into a bastion of conservatism. At the time, some faculty members suspected that DeSantis's new trustees might find their grandiose plans stymied by bureaucratic obstacles. Young believes that House Bill 999 would sweep many of those obstacles away.

The bill, of course, is only one part of DeSantis's culture war. His administration has already limited what can be taught to K-12 students about race, sex and gender. (Some teachers removed all books from their classroom shelves while they waited for them to be reviewed for forbidden content.) When Disney spoke out against one of DeSantis's education measures, the governor punished the corporation. And he is pushing legislation taking aim at the news media by making it easier for people — especially those accused of racial or gender discrimination — to sue for defamation. https://www.nytimes.com/2023/02/27/opinion/desantis-higher-education-bill.html