March 17, 2022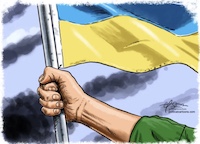 THE WEEK'S BEST QUOTES. . .
"He's not my idea of a president, and I felt he was going to lose the election because he was not controlling himself. He was allowing this pettiness to come through, and I feel it's one of his great failings." —
Former Attorney General William Barr
on Donald Trump.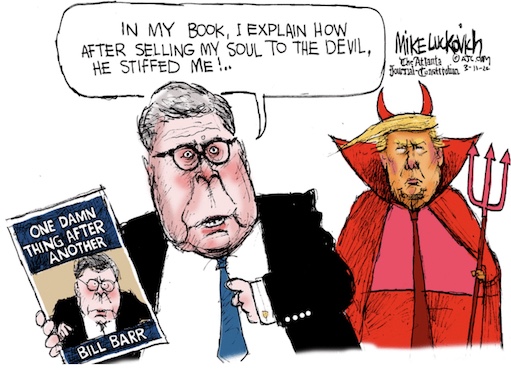 "He knew exactly how to play these guys, and he played them like a fiddle!" —
Trump Jr.
claims that daddy only praised Putin and Kim because he was using psychological warfare on them.
"You say, what's the purpose of this? They had a country. You could see it was a country where there was a lot of love and we're doing it because, you know, somebody wants to make his country larger or he wants to put it back the way it was when actually it didn't work very well." — 
Donald Trump
told Jeanine Pirro there is "a lot of love" behind Russian President Vladimir Putin's efforts to "make his country larger."
"Rules for thee but not for me I guess is Nancy Pelosi's, that's Nancy Pelosi's campaign slogan. I'll tell you I have to work with her every single day so please do pray for me. The theories of alcoholism are very true and it's very sad." —
Rep. Madison Cawthorn (R-NC)
claimed that Speaker Nancy Pelosi (D-CA) — who doesn't drink — has a drinking problem.
"Tulsi Gabbard is parroting false Russian propaganda. Her treasonous lies may well cost lives." —
Sen. Mitt Romney (R-UT)
denouncing former Rep. Tulsi Gabbard for helping Russia by spreading conspiracy theories about U.S.-funded bio labs in Ukraine. 
"Students are being force-fed an unhealthy dose of progressive fundamentalism that runs counter to the principles of America's founding. Children are dragged to the front of the classroom and are coerced to declare themselves as oppressors, that that they should feel guilty because of the color of their skin, or that they are inherently a victim because of their race." — Mississippi Gov. Tate Reeves (R) signing a bill that would ban the teaching of 'critical race theory' in the state's public schools and community colleges. He did not point to any real-life examples of the scenario he described happening anywhere.

"Never rule anything out. But my hope would be to be able to find the salvation of the GOP." --
Rep. Adam Kinzinger (R-Ill.) floating the idea of an independent run for president with the aim of siphoning votes from former President Trump.
VIDEOS
Trump calls on his supporters to "lay down their very lives" in the fight against critical race theory. "If we allow the Marxists, and communists, and socialists to hate America, there will be no one left to defend our flag or to protect our great country or its freedom." 
https://twitter.com/atrupar/status/1502811357535776772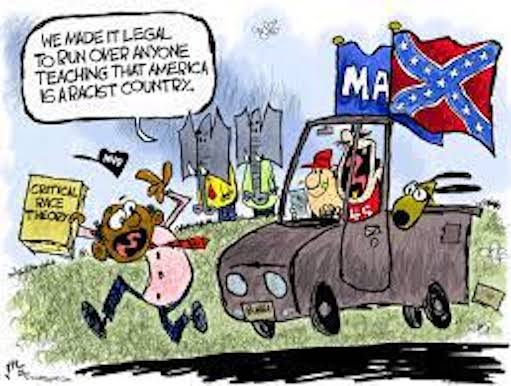 LITIGATION TRACKER
Pending Criminal and Civil Cases Against Donald Trump. 
https://www.justsecurity.org/75032/litigation-tracker-pending-criminal-and-civil-cases-against-donald-trump/
---
IN THIS ISSUE
IN THE NEWS
OPINION
Andy Borowitz: Trump Offers to Help Russia File for Bankruptcy
Donald J. Trump has reached out to Vladimir Putin to help Russia file for bankruptcy, the former U.S. President has confirmed.
Calling the Russian economy "in very, very bad, terrible shape" as a result of Western sanctions, Trump said that bankruptcy was "quite frankly" Putin's only option.
"Bankruptcy is scary the first time you do it," Trump said. "But once you've done it five or six times it's the easiest and most beautiful thing in the world."
Trump said that "the first thing Putin should do is stop paying his bills, and that's something I can show him how to do."
The former President also offered to send his son-in-law, Jared Kushner, to Moscow to advise the Russian Federation on bankruptcy.
"No one can get you into bankruptcy faster than Jared," Trump boasted. Vladimir Putin is "very upset" that the Ukrainian people are far less obedient than Donald J. Trump, Kremlin sources have confirmed.  https://www.newyorker.com/humor/borowitz-report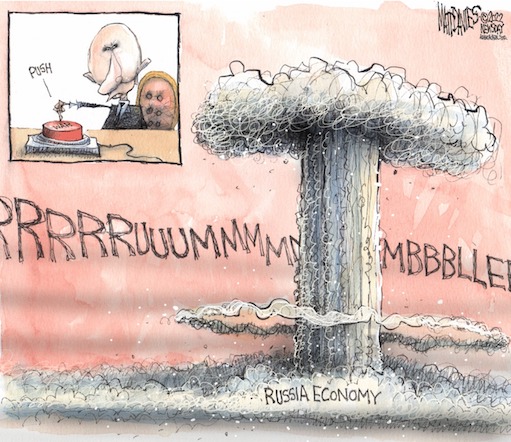 Leaked Kremlin Memo to Russian Media: It Is "Essential" to Feature Tucker Carlson
According to talking points sent to Russian media, the Kremlin wanted viewers to hear as much from Fox News' Tucker Carlson because he "sharply criticizes the actions of the United States and NATO, their negative role in unleashing the conflict in Ukraine, and the defiantly provocative behavior from the leadership of the Western countries and NATO towards the Russian Federation and towards President Putin, personally. https://www.motherjones.com/politics/2022/03/exclusive-kremlin-putin-russia-ukraine-war-memo-tucker-carlson-fox/
The NYT has launched a new, dedicated channel on Telegram to provide war updates
To make their journalism more accessible to readers around the world, The New York Times has launched a new, dedicated channel on Telegram, a messaging platform with more than half a billion active users.

This Telegram channel delivers reporting on the war from their continuous live blog, where Times journalists are providing witness accounts, interviews and breaking news from the conflict. The same information is also posted at https://www.nytimes.com/ukraine
False Claims of U.S. Biowarfare Labs in Ukraine Grip QAnon
Pro-Russian channels and QAnon conspiracy theorists think Moscow is launching airstrikes on Ukraine to destroy bioweapon-manufacturing labs in order to prevent the American infectious disease expert Anthony Fauci from creating a sequel to the COVID-19 virus.
This theory hangs on the entirely discredited idea that the coronavirus was designed as a bioweapon, perhaps by the U.S. government itself. And yet, the theory is being shared thousands of times, faster than regulated social media networks can yank the conspiracy theory down. On unregulated platforms, such as Telegram and 8chan, the conspiracy theory has become incredibly popular, racking up hundreds of thousands of hits each day.
https://foreignpolicy.com/2022/03/02/ukraine-biolabs-conspiracy-theory-qanon/
The evidence in the Jan. 6 investigations is overwhelming — literally
The amount of evidence collected as part of the investigation into the Jan. 6, 2021, insurrection rivals what the Hubble telescope has amassed in its three-decade orbit. And sorting through it all has ground many of its criminal cases to a halt.
To speed things along, U.S. attorneys and public defenders have teamed up to create a massive, searchable database to comb through the thousands of social media messages, videos and other evidence produced when the assault on the Capitol was broadcast to the world by journalists, bystanders and the rioters themselves.
https://www.latimes.com/politics/story/2022-03-11/hundreds-of-jan-6-defendants-wait-day-in-court-as-justice-department-processes-mountain-of-information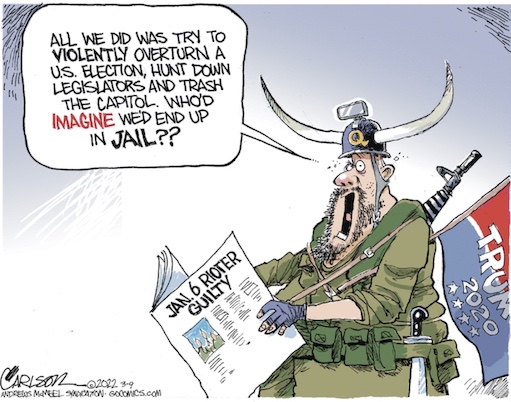 Businesses Assail Texas Move to Classify Care for Trans Teens as 'Child Abuse'
More than 60 major businesses, including household names in technology and retail, have signed onto a new advertising campaign in Texas protesting a move by the state's governor to label as "child abuse" medical treatments that are widely considered to be the standard of care for transgender teenagers.
https://www.nytimes.com/2022/03/10/us/politics/businesses-texas-trans-teens-child-abuse.html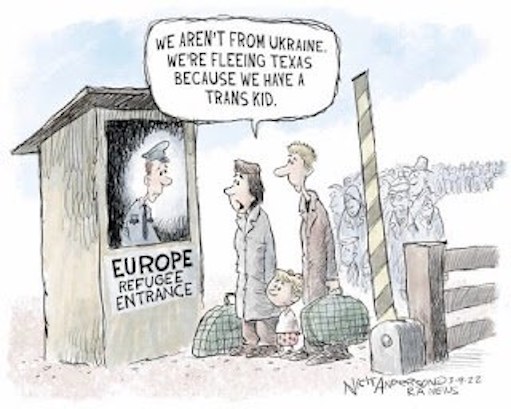 Scoop: RNC sues Salesforce to block Jan. 6 committee data dump
The Republican National Committee is suing its own email vendor, Salesforce, in a last-ditch effort to stop it from turning over extensive internal data to the Jan. 6 select committee.
Absent an injunction, the committee would gain access to extensive data on RNC and Trump campaign fundraising practices.
https://www.axios.com/rnc-sues-salesforce-to-block-jan-6-committee-data-dump-383859ea-b24a-403f-88ad-f204cbac169c.html
Trump loses bid to countersue rape accuser E. Jean Carroll, judge rules in scathing decision
Donald Trump on Friday lost his effort to be allowed to countersue and seek financial damages from the writer E. Jean Carroll, who accuses him of raping her years ago in a New York City department store.
In his scathing decision rejecting Trump's effort, Manhattan federal court Judge Lewis Kaplan said there is good reason to believe that the request is a delaying tactic by the former president to further stall Carroll's defamation lawsuit against him.
Kaplan wrote that the request smacks of "bad faith" by Trump, who waited 14 months to seek permission to answer Carroll's claims with a countersuit alleging harassment and arguing that she is making "baseless" accusations.
The judge said that delaying the case further would prejudice Carroll's right to have her claims tried in court.
https://www.cnbc.com/2022/03/11/trump-loses-bid-to-countersue-rape-accuser-e-jean-carroll.html
Grifter touted a contest for small-dollar donors to dine with him in New Orleans. But no winner met him.
Donald Trump's political group sent at least 15 emails in recent weeks offering small-dollar donors the chance to win a coveted prize if they gave money: dinner with Trump in New Orleans last Saturday.
But no such winner was flown to New Orleans last weekend, according to four people familiar with the matter. No flight or "very nice" hotel was booked. Trump had no individual meeting with a small-dollar donor, instead only privately greeting a handful of Republican Party donors who gave large checks, taking pictures with some of the party's most well-heeled members and speaking to a larger group of donors who each gave tens of thousands of dollars.
https://www.washingtonpost.com/nation/2022/03/11/trump-pac-new-orleans-contest-winner
Ukraine War Becomes Cudgel in GOP's Internal Conflict
The war in Ukraine has opened a new front in the U.S. Republican Party's civil war, with party primary candidates vying to run in the November midterm elections attacking each other for past comments praising Russian President Vladimir Putin.
In Senate and House of Representatives races in at least three states, Republican candidates have been put on the defensive over comments describing Putin as intelligent, Ukrainian President Volodymyr Zelenskiy as a "thug" and Ukraine as not worth defending. They now face criticism at a time when U.S. public opinion strongly supports Ukraine and its president.
https://www.reuters.com/world/us/ukraine-war-becomes-cudgel-republican-partys-internal-conflict-2022-03-13/
More Trump voters express an unfavorable opinion of Biden than of Putin
In a striking sign of how deep partisanship continues to run in the U.S., just 3 percent of 2020 Donald Trump voters are willing to say President Biden is "doing a better job leading his country" than Putin. Nearly half (47 percent) of Trump voters say Putin is doing a better job than Biden, even as Russia's economy threatens to collapse under the weight of crippling global sanctions. A slightly smaller share of Trump voters (45 percent) say "neither" man is doing a better job than the other.
More Trump voters also express an unfavorable opinion of Biden (95 percent) than of Putin (78 percent) — with a full 87 percent saying they have a "very" unfavorable opinion of the U.S. president versus just 60 percent who say the same about his Russian counterpart.
https://news.yahoo.com/poll-74-percent-of-americans-call-russias-ukraine-invasion-unjustified-142128676.html
The DAILY GRILL
"Under oath in an open committee hearing, Toria Nuland just confirmed that the Russian disinformation they've been telling us for days is a lie and a conspiracy theory and crazy and immoral to believe is, in fact, totally and completely true." —
Tucker Carlson
, agreeing with Russian Foreign Ministry spokeswoman Maria Zakharova  that "Bioweapon labs in Ukraine prove US criminal activity."
VERSUS
Under Putin, Russia has a biological weapons program, one that it has clearly used to target its opponents. Yet it tried to provide cover for its activities by repeatedly charging that the United States, through facilities it has funded in countries like Ukraine, has its own bioweapons program. As we said, it's straight out of the old Soviet playbook. But that doesn't mean prominent commentators like  Carlson should be so quick to fall for it. --
Washington Post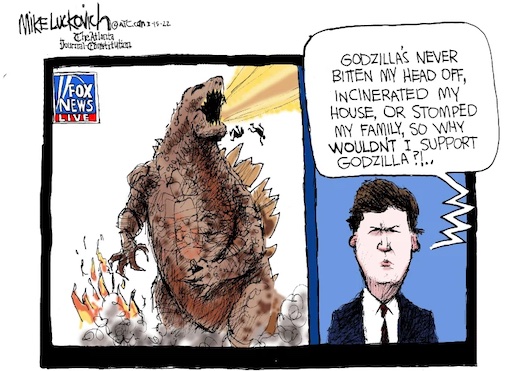 "Putin knows it's costly, and he knows he can't do it. This is him leveraging to see what he can get. He doesn't want to expand… I don't think Russia wants to go to war." — Nikki Haley, in an interview with Brian Kilmeade on January 26, 2022.

VERSUS

"When an evil dictator thug says they're going to do something, we need to believe them. Putin said he was going to take Ukraine, and he is." — Haley, in an interview with Dave Rubin on March 7, 2022.
"What do you see happening next, then? Cause it seems like the tensions are high. How does this all end? Is this going to be a long-term thing? How do you see it unfolding?" — Nelk Boys founder Kyle Forgeard asked Donald Trump during a sit-down discussion about Russia's invasion of Ukraine.

VERSUS

"Well, and I said this a long time ago, if this happens, we are playing right into their hands. Green energy. The windmills don't work. They're too expensive. They kill all the birds. They ruin your landscapes. And yet the environmentalists love the windmills. And I've been preaching this for years. The windmills ― and I had them way down ― but the windmills are the most expensive energy you can have. And they don't work." — Trump answering a question about the Ukraine crisis.
"Democrats want to blame surging prices on Russia. But the truth is, their out-of-touch policies are why we are here in the first place. Remember what happened on Day 1 with one-party rule? The president canceled the Keystone pipeline, and then he stopped new oil and gas leases on federal lands and waters." — Minority Leader Kevin McCarthy (R-CA) in a speech on Tuesday.
VERSUS
The primary reason for rising gas prices over the past year is the coronavirus pandemic and its disruptions to global supply and demand. "Covid changed the game, not President Biden," said Patrick De Haan, the head of petroleum analysis for GasBuddy, which tracks gasoline prices. "U.S. oil production fell in the last eight months of President Trump's tenure. Is that his fault? No." "The pandemic brought us to our knees," Mr. De Haan added. In the early months of 2020, when the virus took hold, demand for oil dried up and prices plummeted, with the benchmark price for crude oil in the United States falling to negative $37.63 that April. In response, producers in the United States and around the world began decreasing output. — NY Times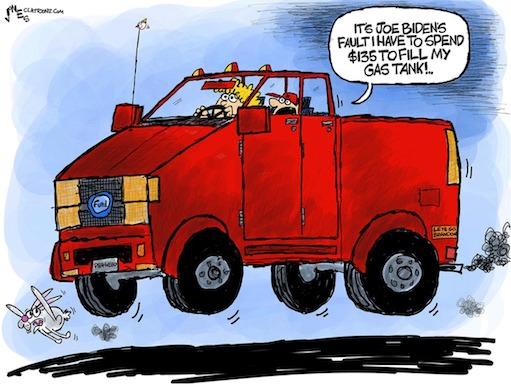 Robin Sears: Putin's Invasion of Ukraine: No Deal with the Devil
Many of the world's foreign affairs pundit class – and some in the Canadian contingent – seem trapped in a time warp. Before Vladimir Putin's invasion of Ukraine, they tut-tutted about how the West and NATO should not have provoked Putin into threatening his invasion, by welcoming new members 25 years ago. Within days of the first attacks, they were already mumbling about the need to provide Putin with an "exit strategy", and the importance of not "provoking" Putin further.
As the body count mounted, they began to speculate about when the Russian oligarchs might push back on Putin. What nonsense. The only pushback he fears is from the siloviki, the security establishment. They may yet decide he is a liability to their control of the kleptocracy they govern.
This is not 1989. This is not the era when Helmut Kohl, George H.W. Bush, Brian Mulroney and many other world leaders were able to gently nudge the Russians away from confrontation. Putin is not Gorbachev. We are at the end of the quiet decades of Russian integration into the global community, with occasional wrist slaps for Putin's earlier, smaller aggressions against neighbors.
This is 1939, when a crazed autocrat drove his hundreds of tanks across the Polish border, only a few hundred kilometers east of where Putin invaded across the same vast, rolling plains, ideal for tank warfare. Then as now, the invader downplayed his strategic ambitions, attempting to soothe the world into not reacting. Both dictators got it badly wrong. Putin has made it clear he not only wants to annex Ukraine, but also to remove NATO forces from his borders, by force if required, even threatening to use tactical nuclear weapons if needed. Our Putin sympathizers might ask themselves the question, "How would Poland or Ukraine feel about not having a security perimeter against Russian incursions?" https://www.policymagazine.ca/putins-invasion-of-ukraine-no-deal-with-the-devil/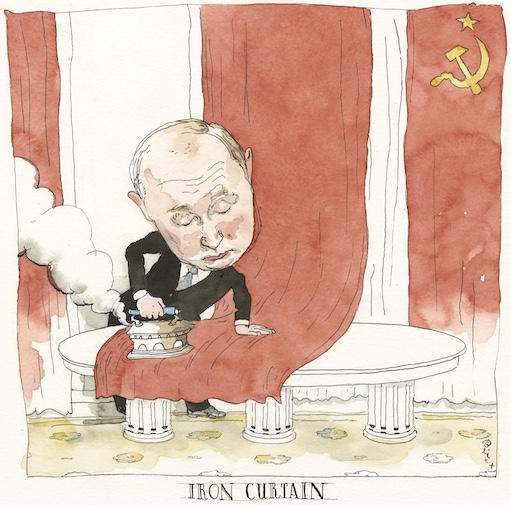 Max Boot: Will Trump's love affair with Putin finally be the breaking point for Republicans? I doubt it.
For years, I've been hoping that some outrage would finally turn the Republican Party against Donald Trump, and for years, I've been bitterly disappointed. Trump survived describing Mexican immigrants as "criminals, drug dealers, rapists" … insulting John McCain for being a POW … mocking a disabled reporter … bragging about grabbing women by their private parts … calling neo-Nazis "very fine people" … arguably obstructing justice to block a probe of his campaign dealings with Russia … fawning over vicious dictators … lying nonstop … engaging in personal vituperation … calling the media "the enemy of the people" … separating immigrant children from their parents … mismanaging the covid-19 pandemic … trying to extort Ukraine into helping him politically … refusing to accept his election defeat … inciting a mob attack on the U.S. Capitol … and too many other scandals to list.
Will the Republican Party finally come to its senses now that one of Trump's favorite dictators is waging a cruel war of aggression against Ukraine? Hope springs eternal. The Republican Accountability Project — a Never Trump conservative group — has been airing a hard-hitting commercial on Fox "News" Channel that juxtaposes Trump's sickening praise for Vladimir Putin's dismemberment of Ukraine ("genius," "smart," "savvy") with heartbreaking pictures of the suffering being inflicted by the Russian military. Trump backtracked a bit last week; he called the invasion a "holocaust" but still would not denounce his pal Putin.
Even Trump's vice president, Mike Pence, took a veiled swipe at Trump, saying, "There is no room in this party for apologists for Putin," and former national security adviser John Bolton said Trump would have pulled out of NATO in a second term. Republican leaders are now in a competition to see who can sound tougher on Russia.
Republicans should be turning against Putin's No. 1 American apologist, right? They should, but they likely won't.
A  News poll provides disturbing evidence of the toxic impact of partisanship on Republican views. Only 3 percent of those who voted for Trump in 2020 say President Biden is "doing a better job leading his country" than Putin is. Nearly half of Trump voters — 47 percent — say Putin is doing a better job than Biden even while the Russian economy is collapsing. In the same survey, 82 percent of Republicans expressed a favorable view of Trump. A CBS News poll last month found that 69 percent of Republicans want Trump to run again, and I doubt those numbers will change much a month from now.
In short, for most Republicans, partisanship trumps — pardon the word — any principle, even devotion to our democracy. Because most Republicans hate Democrats more than they hate Russia, Trump likely doesn't have to worry that his Putinphilia will cost him a significant amount of support with his base no matter how many civilians Putin slaughters. https://www.washingtonpost.com/opinions/2022/03/08/will-trump-praise-for-putin-cost-him-republican-support/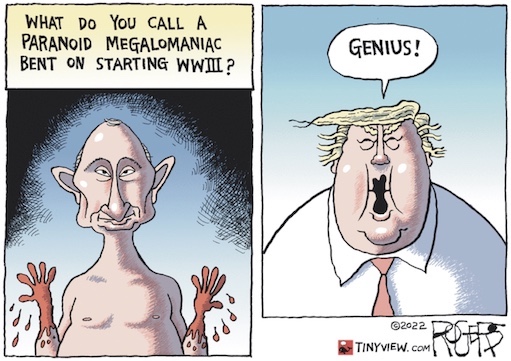 Jackie Calms: Russia's crackdown on liberty sounds all too familiar to Americans
The news makes for a sickening split screen.
We see the ravages of Russia's war on Ukraine, where it's as if the black-and-white scenes of carnage and fleeing refugees in World War II Europe — scenes consigned to history books, we thought — have been updated in horrific, real-time color. Vladimir Putin's heinous war has united the Ukrainian people.
Then there's the coverage of the figurative war here in America, a culture war waged by Republicans against women, minority groups, LGBTQ people, educators, public health officials and just about anyone not of a right-wing mindset. This needless conflict divides us, for Republicans' political gain.
The juxtaposition with the real war in Ukraine isn't all that's maddening about the political wars of choice in state capitals.
It's also that the culture warriors claim to be fighting for freedom. Yet "freedom" to these mostly white, male conservatives often comes at the expense of others who don't look or think like them.
Even as Ukrainians suffer bombings of hospitals, a maternity center, apartments and schools, our bloodless war proceeds on its several fronts: Against women's constitutional right to abortion before a fetus' viability. Against teachers' rights to speak freely about race and gender. Against transgender youth and their parents. Against public health officials dealing with a once-a-century pandemic that's killed nearly a million Americans.
On abortion rights, Republican-led states aren't even waiting for the conservative U.S. Supreme Court to turn back the clock a half-century. They're rushing either to ban abortions at 15 weeks' gestation, significantly before a fetus is viable (the latest bill just went to Florida Gov. Ron DeSantis to sign), or to go further and copy Texas' plainly unconstitutional law that ended nearly all abortions in that state, home to 7 million women of reproductive age.
In Russia, Putin is cracking down further on speech too, just as he has moved against gay rights and abortion. If Republicans in this country truly stood for freedom, their domestic agenda wouldn't have so much in common with his. https://www.washingtonpost.com/opinions/2022/03/08/will-trump-praise-for-putin-cost-him-republican-support/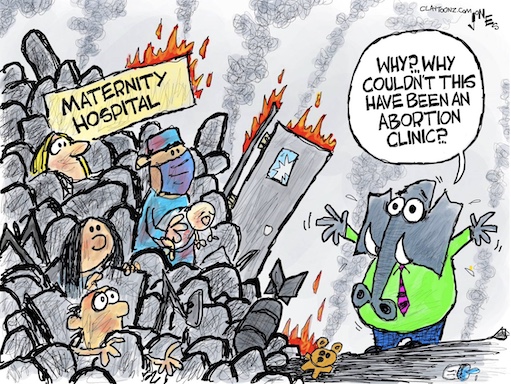 Bill Eddy: Malignant Narcissism
What kind of personality would promote such heartless, destructive action against Ukrainians, a people who have done him no harm? There is a special kind of personality that this suggests, which is the most dangerous and untreatable condition, according to the highly regarded Otto Kernberg, a psychoanalyst who studied this condition for most of his life and helped define it: malignant narcissism.
This personality may look unhinged at times, but someone with this personality grows more and more dangerous with time and must be understood in order to stop him. While I should not diagnose someone I have never met, I feel that we must now operate on the likelihood that Putin has this personality and is revealing who he always was and who he is becoming. If he has this disorder, he is entirely predictable. Put simply, he cannot stop himself from this malignancy. It grows like a cancer.
Erich Fromm may have been the first to write about this as a psychologist in his 1960s book The Heart of Man: It's Genius for Good and Evil as applying to the Egyptian Pharaohs, the Roman Caesars, Hitler, Stalin, and others. Unlike most personalities, which stay stable over a lifetime (including most personality disorders), he said malignant narcissism grows over the years. He becomes more isolated and considers everyone a danger, so he takes more and more extreme action to increase his power and ruthlessness and narcissism. https://www.highconflictinstitute.com/hci-articles/putin-attacking-ukraine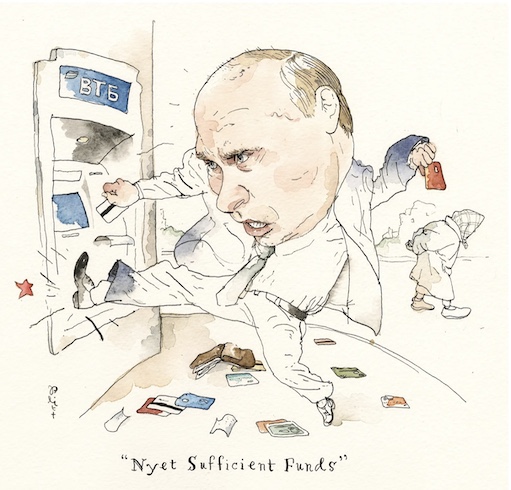 David Brooks: This Is Why Putin Can't Back Down
The end of the Soviet Union could have been seen as a liberation, a chance to build a new and greater Russia. But Putin chose to see it as a catastrophic loss, one creating a feeling of helplessness and a shattered identity. Who are we now? Do we matter anymore?
Like identity politicians everywhere, Putin turned this identity crisis into a humiliation story. He covered over any incipient feelings of shame and inferiority by declaring: We are the innocent victims. They — America, the Westerners, the cool kids at Davos — did this to us. Like other identity politicians around the world, he promoted status resentment to soothe the wounds of trauma, the fears of inferiority.
In the first years of his reign, he rebuilt the Russian identity. He reclaimed parts of the Soviet legacy as something to be proud of. Mostly, his vision of Russian identity revolved around himself. By parading as a powerful figure on the world stage, Putin could make Russians feel proud and part of something big. Vyacheslav Volodin, then the Kremlin's deputy chief of staff, captured the regime's mentality in 2014: "There is no Russia today if there is no Putin."
This grand strategy seemed to be fully vindicated that year with the successful invasion of Crimea. Having reclaimed this land, Russia could strut like a great power once again. More and more, Putin portrayed himself as not just a national leader but a civilizational leader, leading the forces of traditional morality against the moral depravity of the West.
But now it's all spun out of control. Putin's identity politics are so virulent because they are so narcissistic. Just as individual narcissists appear to be inflated egotists but are really insecure souls trying to cover their fragility, narcissistic nations and groups that parade their power are often actually haunted by fear of their own weakness. Narcissists crave recognition, but they can never get enough. Narcissists crave psychic security but act in self-destructive ways that ensure they are often under assault.
The Putin identity and Russian identity are currently inseparable. The billion ruble question is: How does a guy who has spent his life battling against feelings of shame and humiliation react as large parts of the world rightly shame and humiliate him? How does a guy who has spent his life trying to appear powerful and farseeing react as he increasingly appears weak and shortsighted?
My fear is that Putin knows only one way to deal with humiliation, which is by blaming others and lashing out. A couple of years ago my colleague Thomas L. Friedman wrote a prescient column about the politics of humiliation in which he quoted Nelson Mandela: "There is nobody more dangerous than one who has been humiliated."
Putin brought this humiliation on himself and on his country. Speaking as one who deeply admires so much in Russian culture, I think it is a great crime that a nation with so many paths to dignity and greatness chose the path that leads so viciously to degradation. https://www.nytimes.com/2022/03/10/opinion/putin-ukraine-russia-identity.html
Paul Krugman: America's Right Has a Putin Problem
Just a few weeks ago many influential figures on the U.S. right loved, just loved Vladimir Putin. In fact, some of them still can't quit him. For example, Tucker Carlson, while he has grudgingly backed off from full-on Putin support, is still blaming America for the war and promoting Russian disinformation about U.S.-funded bioweapons labs.
For the most part, however, America's Putin lovers are having a moment of truth. It's not so much that Putin stands revealed as a tyrant willing to kill large numbers of innocent people — they knew or should have known that already. The problem is that the strongman they admired — whom Donald Trump praised as "savvy" and a "genius" just before he invaded Ukraine — is turning out to be remarkably weak. And that's not an accident. Russia is facing disaster precisely because it is ruled by a man who accepts no criticism and brooks no dissent.
Russia is facing disaster precisely because it is ruled by a man who accepts no criticism and brooks no dissent.
...
The point is that the case for an open society — a society that allows dissent and criticism — goes beyond truth and morality. Open societies are also, by and large, more effective than closed-off autocracies. That is, while you might imagine that there are big advantages to rule by a strongman who can simply tell people what to do, these advantages are more than offset by the absence of free discussion and independent thought. Nobody can tell the strongman that he's wrong or urge him to think twice before making a disastrous decision.
Which brings me back to America's erstwhile Putin admirers. I'd like to think that they'll take Russia's Ukraine debacle as an object lesson and rethink their own hostility to democracy. OK, I don't really expect that to happen. But we can always hope. https://www.nytimes.com/2022/03/10/opinion/putin-ukraine-russia-usa.html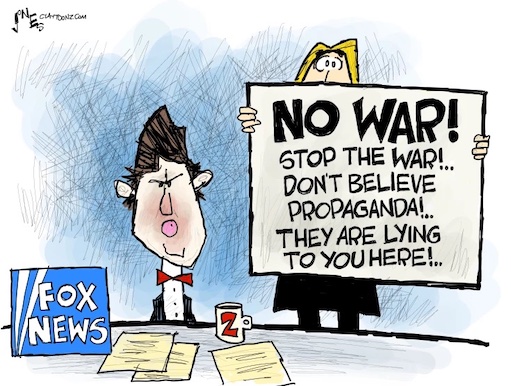 Andrew Sullivan: Putin's Challenge To The American Right
It would perhaps be too glorious an irony if it were Vladimir Putin who finally buzz-killed the American and European right's infatuation with post-liberalism. But, as Russia's invasion of Ukraine staggers shambolically and criminally forward, it's no longer unthinkable. The icon of the West's new right is in serious trouble now — and it might tarnish all of those who only yesterday were idolizing his reactionary zeal.
It's not so much Putin's trashing of international law, his unhinged rehashing of post-Soviet grievances, his next-level Covid paranoia, the foul murders of his opponents, or his brazen embrace of shelling hospitals that has so deepened the damage to the Putin brand among the West's new Russophiles. These atrocities and madnesses they have long found ways to live with.
No, it's Putin's failure — thus far — to actually win the war he started that's so damning. It's one thing for a dictator to be deemed cruel; and quite another — and far more dangerous — thing for him to be seen as incompetent.
And it's happened so fast. The love letters had been flowing for years now before this unfortunate interruption. "Russia is like, I mean they're really hot stuff," Donald Trump chortled in April 2014, adding that "now you have people in the Ukraine — who knows, set up or not — but it can't all be set up, I mean they're marching in favor of joining Russia." Two weeks ago, in the face of Putin's pre-invasion posturing over the Donbas region, Trump marveled:
How smart is that? I went in yesterday and there was a television screen, and I said, 'This is genius.' Putin declares a big portion of the Ukraine, of Ukraine, Putin declares it as independent. Oh, that's wonderful … And he's going to go in and be a peacekeeper. … There were more army tanks than I've ever seen. They're gonna keep peace all right. … Here's a guy who's very savvy… I know him very well. Very, very well.
"They're gonna keep peace all right." Think of the depth of the cynical callousness that has to lie behind such a smirk. Notice that for Trump, Putin is not just a thug but a smart one, and the possibility of his brutal incursion into a sovereign neighbor state was, in Trump's mind, "wonderful." And cheap: "He's taking over a country for $2 worth of sanctions. I'd say that's pretty smart." With Trump, evil is always better when it's also a bargain. https://www.cnn.com/2022/03/11/europe/leaving-russia-analysis-robertson-intl-cmd/index.html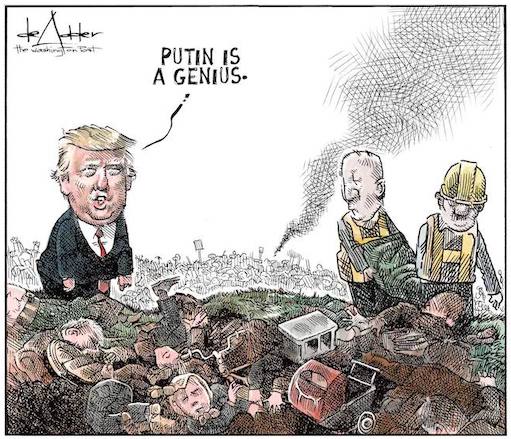 Seth Abramson: The Ten Hardest Truths About the War in Europe
Academics can debate whether our current period is in the umbra of the same Cold War that dominated the last century, or a new one; whether we're on the doorstep of World War III, or are already in it; whether the conditions on the ground in Europe today are most reflective of the eve of World War I or World War II; but what no one can deny is that what is happening in Ukraine is not merely a "news story" or even a spate of well-televised war crimes but a fundamental shifting of our age toward chaos.
There is no need to rehash the core facts beyond this brief summary: Putin is a former KGB agent and current murderous autocrat who is almost certain to be a dictator over Russia until his death; he has repeatedly said that the greatest geopolitical tragedy of the twentieth century was the 1991 fall of the Communist Soviet Union; he seeks to reconstitute the land area of the Soviet Union by whatever means necessary and over however long a period of time is required, though he understands that this cannot be accomplished without the dissolution or destruction of the North Atlantic Treaty Organization defensive alliance (NATO) and possibly both the European Union and the United States; the post-Soviet government in Russia, including (indeed perhaps especially) Putin's KGB, began searching for ways to collapse American democracy through asymmetrical warfare from the moment the Soviet Union passed into history; and some significant portion of the current domestic political strife in the United States has been deliberately provoked by the Kremlin and its agents through acts of subterfuge, espionage, propaganda, and hacking that properly answer to the name war.
Yesterday, a former high-ranking official in the Donald Trump administration, Miles Taylor, said that the current Trumpist-Putinist Republican Party is far and away the greatest national security threat America has faced in his lifetime. That he is correct is confirmed not just by the January 6, 2021 attack on the U.S. Capitol by Trumpist irregulars or the fact that former president Trump—to please Putin and ensure his own future business opportunities in Russia—put every U.S. alliance and interest lying beyond our shores at risk, but the fact that America is now in a global conflict (call it the Cold War, World War III, or Second Cold War, as you like) at a time when Trump and Trumpism have deliberately put our body politic at a point of permanent fracture. That most Americans still do not understand what Putin is trying to do and the cost that will be exacted upon the United States as he seeks to do it means that the coming months and perhaps years will be the darkest and most fraught in a century. https://sethabramson.substack.com/p/the-ten-hardest-truths-about-the?s=r]
G. Cristina Mora and Julie A. Dowling: The Latino undercount is a grim Trump victory
On Thursday, the U.S. Census Bureau released a long-awaited report estimating the 2020 census undercount. Given the challenges of conducting a census in a pandemic, undercounts had been expected by many experts and the report bore them out: The overall total population was deemed accurate, but white people and Asian Americans were overcounted, and other groups were undercounted, especially Latinos. In fact, the undercount rate of Latinos — at 5% — is more than triple the rate of the 2010 census.
This is not a new problem. Latinos have been a "hard to count" population for decades. Analysts at the Census Bureau know their counts may miss those who have lower incomes, experience housing instability, speak languages other than English and distrust or fear the government — all qualities present in Latino communities, which include high percentages of immigrants and whose members face discrimination that can lead to economic disadvantage.
But while an undercount may have been expected, more than tripling is not business as usual. Rather, it is an injustice and the culmination of a calculated attack on the census during Donald Trump's presidency.
In 2018, Trump and his secretary of Commerce, Wilbur Ross, halted the revision and demanded their own change in the 2020 census forms — a question to determine the citizenship of respondents. A lengthy legal battle ensued, ending in a 2019 ruling siding with Latino advocacy groups who had shown that a citizenship question would disparately affect Latino communities, dramatically depressing their participation and undermining the Constitution's mandate to count "the whole number of persons in each state."
The damage was done however. During 2019-2020, we conducted interviews with Latinos in two major metropolitan areas and found widespread distrust of the Trump administration that often led our interviewees to fear completing and submitting their census forms.
In the end, the Trump administration got what it wanted. It undermined a burgeoning minority in the United States, falsifying the size and scale of the population and literally discounting them. https://www.latimes.com/opinion/story/2022-03-11/census-undercount-latinos-race-ethnicity-donald-trump
Francis Fukuyama: Preparing for Defeat
Prognostication: Russia is heading for an outright defeat in Ukraine.

Russia is heading for an outright defeat in Ukraine. Russian planning was incompetent, based on a flawed assumption that Ukrainians were favorable to Russia and that their military would collapse immediately following an invasion. Russian soldiers were evidently carrying dress uniforms for their victory parade in Kyiv rather than extra ammo and rations. Putin at this point has committed the bulk of his entire military to this operation—there are no vast reserves of forces he can call up to add to the battle. Russian troops are stuck outside various Ukrainian cities where they face huge supply problems and constant Ukrainian attacks.
The collapse of their position could be sudden and catastrophic, rather than happening slowly through a war of attrition. The army in the field will reach a point where it can neither be supplied nor withdrawn, and morale will vaporize. This is at least true in the north; the Russians are doing better in the south, but those positions would be hard to maintain if the north collapses.
There is no diplomatic solution to the war possible prior to this happening. There is no conceivable compromise that would be acceptable to both Russia and Ukraine given the losses they have taken at this point. https://www.americanpurpose.com/articles/preparing-for-defeat/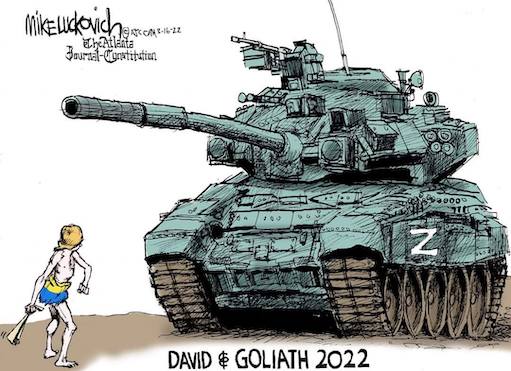 Jane Mayer: Is Ginni Thomas a Threat to the Supreme Court?
The claim that the Justices' opinions are politically neutral is becoming increasingly hard to accept, especially from Thomas, whose wife, Virginia (Ginni) Thomas, is a vocal right-wing activist. She has declared that America is in existential danger because of the "deep state" and the "fascist left," which includes "transsexual fascists." Thomas, a lawyer who runs a small political-lobbying firm, Liberty Consulting, has become a prominent member of various hard-line groups. Her political activism has caused controversy for years. For the most part, it has been dismissed as the harmless action of an independent spouse. But now the Court appears likely to secure victories for her allies in a number of highly polarizing cases—on abortion, affirmative action, and gun rights.
Many Americans first became aware of Ginni Thomas's activism on January 6, 2021. That morning, before the Stop the Steal rally in Washington, D.C., turned into an assault on the Capitol resulting in the deaths of at least five people, she cheered on the supporters of President Donald Trump who had gathered to overturn Biden's election. In a Facebook post that went viral, she linked to a news item about the protest, writing, "love maga people!!!!" Shortly afterward, she posted about Ronald Reagan's famous "A Time for Choosing" speech. Her next status update said, "god bless each of you standing up or praying." Two days after the insurrection, she added a disclaimer to her feed, noting that she'd written the posts "before violence in US Capitol." (The posts are no longer public.) https://www.newyorker.com/magazine/2022/01/31/is-ginni-thomas-a-threat-to-the-supreme-court