June 1, 2017
ON THE RECORD. . .
"Of course not. It's not appropriate behavior. Unless the reporter deserved it." — Rep. Duncan Hunter (R-CA) when asked if assaulting a reporter is appropriate behavior.
"In the eyes of God, a child on the other side of the border is no less worthy of love and compassion than my own child. We can't distinguish between them in terms of their worth and their inherent dignity and that they're deserving of shelter and love and education and opportunity." -- Barack Obama during a debate in Berlin with German Chancellor Angela Merkel 5/24/17
The day after the FBI and CIA held an emergency meeting with Donald Trump's adult sons over a possible foreign intrusion into Trump Organization servers, Trump fired FBI Director James Comey. -- #coincidence?
"Mr. Trump's determination to forge an anti-Iran alliance with the Sunni Arab states and isolate Iran could drift into military confrontation. The nuclear agreement negotiated between Iran and the United States could unravel, causing a split with America's European allies. These are consequences that Mr. Trump, in his enthusiasm for Saudi Arabia, seems to have thought little about." -- NY Times Editorial
"A hot theory is that Trump can't clean house because those inside know too much to be let go, and outsiders \can't be trusted with what they'd learn." -- Mike Allen in Axios
"Mr. Trump's determination to forge an anti-Iran alliance with the Sunni Arab states and isolate Iran could drift into military confrontation. The nuclear agreement negotiated between Iran and the United States could unravel, causing a split with America's European allies. These are consequences that Mr. Trump, in his enthusiasm for Saudi Arabia, seems to have thought little about." -- NY Times Editorial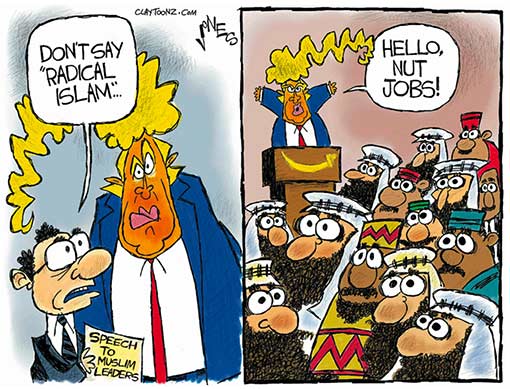 "When it comes to diplomacy, President Trump is a drunk tourist, loud and tacky, shoving his way around the dance floor. He steps on others without realizing it. It's ineffectual." -- State Department official to the Daily Beast
"The Germans are bad, very bad. Look at the millions of cars that they sell in the U.S. Terrible. We're going to stop that." -- Trump to EU officials in a closed-door meeting "
"Anyone who accelerates climate change by weakening environmental protection, who sells more weapons in conflict zones and who does not want to politically resolve religious conflicts is putting peace in Europe at risk. The short-sighted policies of the American government stand against the interests of the European Union." -- Sigmar Gabriel, Germany's top diplomat. 5/29/16
Trump was "the destroyer of all Western values. The U.S. president was undermining the peaceful cooperation of nations based on mutual respect and tolerance. One must stand in the way of such a man with his ideology of rearmament. -- Martin Schulz, a former president of the European Parliament and head of the center-left Social Democrats. 5/30/17
"Donald Trump has transformed the United States into a laughing-stock and he is a danger to the world. He must be removed from the White House before things get even worse." -- Der Spiegel, Germany's largest-circulation news magazine. 5/30/17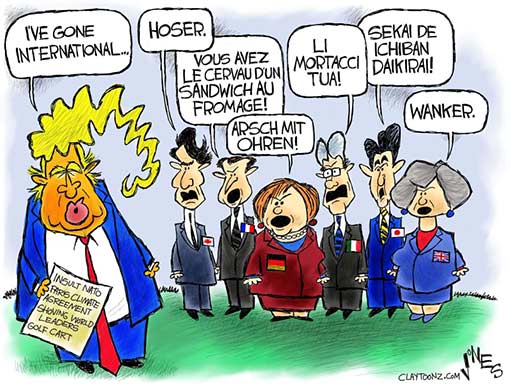 "If President Trump was hoping his foreign trip would shift the conversation away from scandals, he may be out of luck. Over the last week, support for beginning impeachment proceedings among voters rose from 38 percent to 43 percent." -- Morning Consult Co-Founder and Chief Research Officer Kyle Dropp. 5/31/17
---
IN THIS ISSUE
FYI
OPINION
1. Andy Borowitz: Trump Says He Does Not Know Jared Kushner Very Well
Donald J. Trump on Saturday accused the media of exaggerating his relationship with Jared Kushner, asserting that "I don't know him very well."

"He's someone I would see around the office and who, I guess, was working for me," Trump told reporters on the last leg of his foreign trip. "Beyond that, I couldn't tell you much about him."

Trump acknowledged that he had spoken to Kushner at times during the 2016 campaign. "I'd pass him in the hall and say hello," he said. "He seemed like an O.K. person. I never got much of a sense of the guy."

When asked whether Kushner might have had improper contact with Russian spies during the transition, Trump said, "I couldn't tell you if that's the kind of thing he'd do. You really should ask someone who knows him."

Trump refused to answer further questions about Kushner's possible legal difficulties, saying only, "I wish Garrett well." Read more at http://www.newyorker.com/humor/borowitz-report/
2. Important points from the CBO report on Obamacare repeal
Here are some key facts and figures from the new CBO report on the American Health Care Act, the House-passed bill to repeal and replace Obamacare:
14 million fewer people will be insured one year after passage.
23 million fewer will be insured in 10 years.
Older Americans face much higher premiums
Repeals $664 billion worth of taxes and fees
Premiums will go up in 2018 and 2019
$834 billion in Medicaid cuts
5/24/17 Read more at https://www.cbo.gov/system/files/115th-congress-2017-2018/costestimate/hr1628aspassed.pdf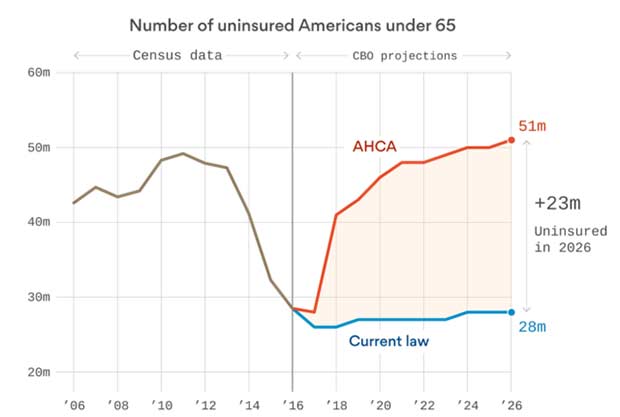 https://www.cbo.gov/publication/52752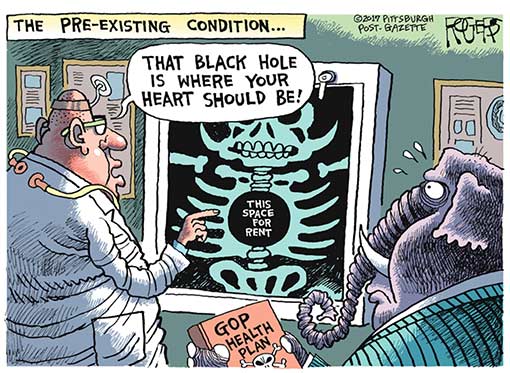 3. Trump Turns First Foreign Trip Into a Disaster
President Trump "punctured any illusions that he was on a fence-mending tour of Europe, declining to explicitly endorse NATO's mutual defense pledge and lashing out at fellow members for what he called their 'chronic underpayments' to the alliance
On a tense day when Mr. Trump brought the "America first" themes of his presidential campaign to the very heart of Europe, he left European leaders visibly unsettled, with some openly lamenting divisions with the United States on trade, climate and the best way to confront Russia.
The discord was palpable even in body language. When Mr. Trump greeted Emmanuel Macron, France's new president, they grabbed each other's hands, jaws clenched, in an extended grip that turned Mr. Trump's knuckles white. When the leaders lined up to pose for the traditional photograph at NATO headquarters, Mr. Trump appeared to push aside the Montenegrin prime minister, Dusko Markovic, to get to his assigned place in the front. " -- New York Times https://www.nytimes.com/2017/05/25/world/europe/donald-trump-eu-nato.html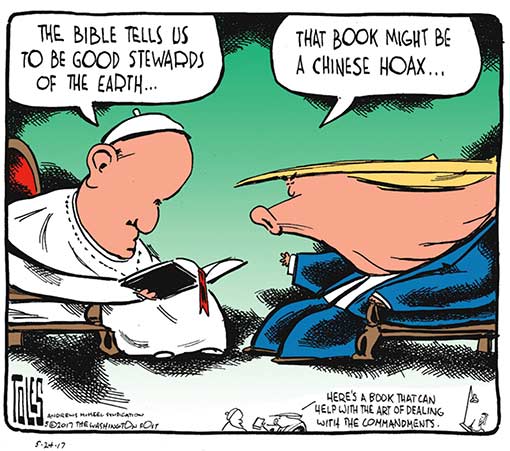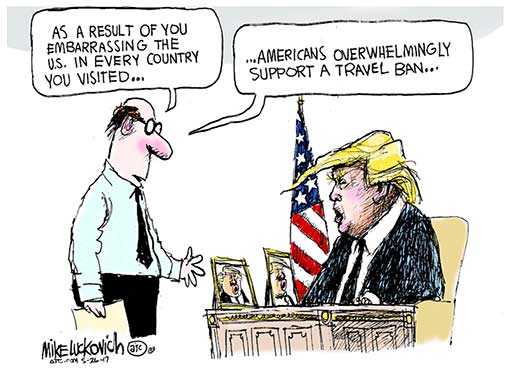 4. Most GOP Voters Think Millions Voted Illegally
A new YouGov poll finds that 52% of Republicans "definitely" or "probably" think that millions of illegal votes were cast in the 2016 presidential election. 5/26/17 Read more at http://d25d2506sfb94s.cloudfront.net/cumulus_uploads/document/nkn28k0m0p/econTabReport.pdf
5. GOP Senators Urge Trump to Exit Paris Climate Deal
"A group of 22 heavyweight Republican senators, including Majority Leader Mitch McConnell, are sending a letter to President Trump today urging him to make a clean exit from the Paris Agreement to combat climate change," Axios reports.
"The letter applauds Trump for beginning the process of unwinding Obama's Clean Power Plan regulations, but says that goal is imperiled if he decides to remain in the Paris climate change deal." 5/25/17 Read more at https://www.axios.com/scoop-top-republican-senators-urge-trump-to-exit-paris-climate-deal-2421530161.html
6. GOP Turns Gloomy Over Obamacare Repeal
A feeling of pessimism settled over Senate Republicans as they headed into a week-long Memorial Day recess with deeply uncertain prospects for their push to repeal Obamacare. Senators reported that they've made little progress on the party's most intractable problems this week, such as how to scale back Obamacare's Medicaid expansion and overall Medicaid spending."
"Republicans have started writing the very basics of their repeal legislation, even though they've made few decisions about what it will say. Staffers will work on the bill over the break to try to increase the pace of negotiations, as well as haggle with the Senate parliamentarian over whether the chamber can even consider the bill because of procedural reasons. But in the meantime, frustrations are rising and confidence is diminishing. 5/26/17 Read more at http://www.politico.com/story/2017/05/25/gop-obamacare-repeal-senate-recess-gloom-238839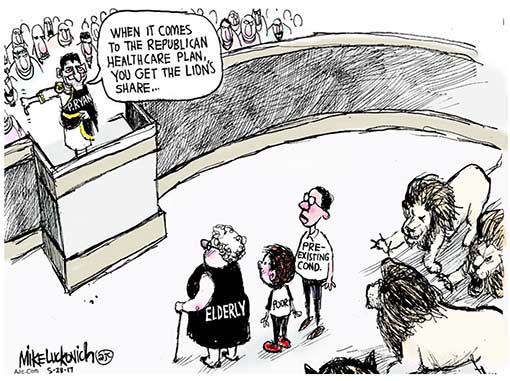 7. American Voters Think Trump Is Abusing His Office
A new Quinnipiac poll finds American voters believe that President Trump is abusing the powers of his office by a 54% to 43% margin.
Voter opinions of most of Trump's personal qualities also remain negative:
59% say he is not honest;
57% say he does not have good leadership skills;
56% say he does not care about average Americans;
65% say that he is not level-headed;
62% say that he does not share their values.
5/24/17 Read more at https://poll.qu.edu/national/release-detail?ReleaseID=2460
8. GOP Health Plan Backers Could Feel Pain At The Polls
Only 20 percent of American voters say they are more likely to vote for a Senator or member of Congress who supports the revised Republican health care plan, while 44 percent say they are less likely and 31 percent say this issue won't affect their vote, according to a Quinnipiac University national poll released today.
American voters disapprove of the new health proposal 57 - 20 percent, compared to a 56 - 21 percent disapproval in a May 11 survey. […]
Among independent voters, a key bloc, only 17 percent are more likely to support an elected official who backs the health care plan, while 41 percent are less likely. Republicans are the only listed party, gender, education, age or racial group to support the health care plan, by a lackluster 42 - 24 percent, and the only group where more voters say they would support a candidate for reelection who backs the latest health care plan.
"Advisory to Republicans who support the replacement for Obamacare: Backing this bill could be very hazardous to your political health," said Tim Malloy, assistant director of the Quinnipiac University Poll.
"What was heralded as a cure for a failing plan could have toxic side effects." https://poll.qu.edu/national/release-detail?ReleaseID=2461
9. The DAILY GRILL
"Just so you understand, I never mentioned the word or the name 'Israel,' never mentioned it in that conversation. And they're all saying I did. So you have another story wrong." — Trump's remarks at a meeting with Israeli Prime Minister Benjamin Netanyahu.


VERSUS

Trump is denying saying something that he wasn't alleged to have said in the first place. His comment steers around the issue that emanated from that meeting — that he divulged classified information about an Islamic State threat in his conversation with the Russians. -- AP Fact Check

 

"I don't know who the people are that would put us into a NAFTA, which was so one-sided. Both from the Canada standpoint and from the Mexico standpoint. So one-sided. Wilbur (U.S. Commerce Secretary Wilbur Ross) will tell you that, you know, like, at the court in Canada, we always lose. Well, the judges are three Canadians and two Americans. We always lose." — Trump's interview with the Economist.

VERSUS

Trump mischaracterizes the system for resolving trade disputes under the North American Free Trade Agreement. When the U.S. and Canada are at odds over trade, NAFTA calls for five-person panel to weigh in. Each country picks two panelists, drawn from a list that consists largely of trade lawyers, economists and retired judges. The fifth comes from one of the two countries and usually alternates between them. -- AP Fact Check

 

"I'm proud to say that under my administration, as you just heard, we will be building the first new heavy icebreakers the United States has seen in over 40 years." — Trump's speech to Coast Guard Academy. 

VERSUS

The icebreaker project he boasts about started under the Obama administration and Trump's budget would advance it only incrementally, spending $19 million to continue efforts "toward awarding a contract" for design and construction in 2019. "We all know that doesn't get us an icebreaker," Republican Sen. Lisa Murkowski of Alaska told a budget hearing, "but it gets us started." -- AP Fact Check

 

"I will tell you, a big difference over the last year, money is actually starting to pour into NATO from countries that would not have been doing what they're doing now had I not been elected, I can tell you that. Money is starting to pour in." — Trump in a speech to U.S. troops in Sicily

VERSUS

No money is pouring in and countries do not pay the U.S. Nor do they pay NATO directly, apart from administrative expenses, which are not the issue. -- AP Fact Check
10. From MEDIA MATTERS (They watch Fox News so you don't have to)
Everyone but Fox & Friends reported that the FBI is looking at Jared Kushner in the Russia probe. Fox's alternate reality on the Trump/Russia investigation continues https://www.mediamatters.org/blog/2017/05/26/everyone-fox-friends-reported-fbi-looking-jared-kushner-russia-probe/216683

Another low for Roger Stone: Seth Rich's "parents should be charged with obstruction" https://www.mediamatters.org/blog/2017/05/26/another-low-roger-stone-seth-rich-s-parents-should-be-charged-obstruction/216690
11. From the Late Shows
Late Night with Seth Meyers: Trump's Cruel Budget Breaks His Campaign Promises: A Closer Look: https://youtu.be/-dC2HvHhW5g

The Late Show with Stephen Colbert: Reince Priebus Has Comey Memo-Phobia: https://youtu.be/rcuaXu1oAx8
12. Late Night Jokes for Dems
Government officials confirmed this afternoon that a person of interest in the FBI's Russia investigation is Trump's son-in-law, Jared Kushner. This comes at a bad time, because the Trump administration has just released its budget. Now they must be like, "Oh, we forgot to set aside bail money." -- James Corden

Meanwhile, Trump continues his trip in Europe. While visiting NATO headquarters today in Brussels, he was caught on camera rudely shoving another world leader out of the way. I mean, is he a president or a bridesmaid positioning to catch the bouquet. -- James Corden

Trump tossed that guy aside like one of his ex-wives. -- James Corden

Last night, a Republican congressional candidate named Greg Gianforte apparently body-slammed a reporter. Some Republicans are defending him, saying the body slam wasn't a big deal — which they might regret in three years when The Rock runs for president. -- JimmyFallon

The Republican congressional candidate for a special election in Montana yesterday reportedly body-slammed a journalist after he asked a question about the Republican healthcare plan. Now, to be fair, that basically is the Republican healthcare plan. -- Seth Meyers

During a NATO meeting today, President Trump was seen pushing aside the prime minister of Montenegro so he could move to the front of the group. You're a world leader, a world leader at a meeting of dignitaries and you act like they just called your number at KFC. -- Seth Meyers

Former President Obama reportedly received a rock star welcome at an event in Germany today, and President Trump was given a subway mariachi band welcome. -- Seth Meyers

This NATO summit was a chance for Trump to hobnob with a number of world leaders and flex his diplomatic muscles — sometimes literally. He kind of pushes his way past the prime minister of Montenegro, like a kid cutting the line for the ice cream truck. -- Jimmy Kimmel

President Trump addressed his fellow leaders today, he scolded them for not paying their fair share to support NATO and had one particularly harsh word for those who commit acts of terrorism. "All people who cherish life must unite in finding, exposing, and removing these killers and extremists. And yes, losers. They are losers." That'll learn 'em. He's fighting terrorists the same way he fought Rosie O'Donnell. It doesn't work. -- Jimmy Kimmel
13. Top Russians Discussed How to Influence Trump Aides
American spies collected information last summer revealing that senior Russian intelligence and political officials were discussing how to exert influence over Donald Trump through his advisers.
The conversations focused on Paul Manafort, the Trump campaign chairman at the time, and Michael Flynn, a retired general who was advising Mr. Trump.
Details of the conversations, some of which have not been previously reported, add to an increasing understanding of the alarm inside the American government last year about the Russian disruption campaign. 5/24/17 Read more at https://www.nytimes.com/2017/05/24/us/politics/russia-trump-manafort-flynn.html
14. Trump's Base Is Shrinking
There's been a considerable decline in the number of Americans who strongly approve of Trump, from a peak of around 30 percent in February to just 21 or 22 percent of the electorate now. (The decline in Trump's strong approval ratings is larger than the overall decline in his approval ratings, in fact.) Far from having unconditional love from his base, Trump has already lost almost a third of his strong support."
"And voters who strongly disapprove of Trump outnumber those who strongly approve of him by about a 2-to-1 ratio, which could presage an 'enthusiasm gap' that works against Trump at the midterms. The data suggests, in particular, that the GOP's initial attempt (and failure) in March to pass its unpopular health care bill may have cost Trump with his core supporters. Nate Silver: " 5/24/17 Read more at https://fivethirtyeight.com/features/donald-trumps-base-is-shrinking/
15. Florida GOPer Helped Russian Hacker Disseminate Dems' Voter Turnout Data
A Republican political operative in Florida asked the alleged Russian hacker who broke into Democratic Party organizations' servers at the height of the 2016 campaign to pass him stolen documents, according to a report Thursday by the Wall Street Journal.
In return, that operative received valuable Democratic voter-turnout analyses, which the newspaper found at least one GOP campaign consultant took advantage of the information. The hacker went on to flag that same data to Roger Stone, a longtime confidant of Donald Trump's who briefly advised his presidential campaign, and who is currently under federal investigation for potential collusion with Russia.
The Wall Street Journal's report presents the clearest allegations to date of collusion between people connected to Donald Trump's campaign and Russia. http://talkingpointsmemo.com/dc/anthony-nevins-roger-stone-stolen-democratic-voter-analyses
16. The Coat of Arms Said 'Integrity.' Now It Says 'Trump.'
At the Trump National Golf Club outside Washington the president's coat of arms is everywhere — the sign out front, the pro shop, even the exercise room.
Mr. Trump's coat of arms belongs to Joseph Edward Davies, the third husband of Marjorie Merriweather Post.
The Trump Organization took Mr. Davies's coat of arms for its own, making one small adjustment — they replaced the word "Integritas," Latin for integrity, with "Trump." https://www.nytimes.com/2017/05/28/business/trump-coat-of-arms.html?_r=0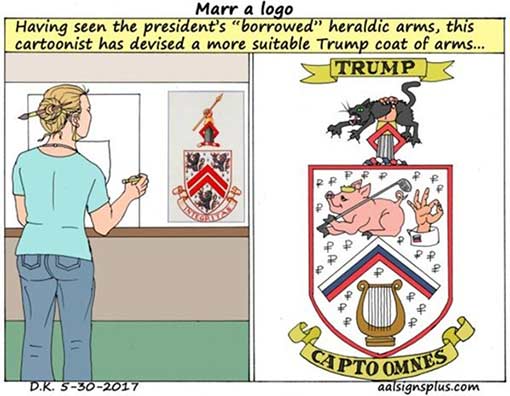 17. Trump the Outsider
Trump's image as an outsider continued in Italy at the G-7 meeting in Taormina, Italy, where the distance between Trump and the others was as much physical as political. The presidents, chancellor and prime ministers of France, Germany, Italy, Japan, Canada and the United Kingdom walked the streets of Taormina.
Trump followed in a golf cart. 5/27/17 Read more at http://www.latimes.com/world/europe/la-fg-trump-europe-impressions-20170526-story.htm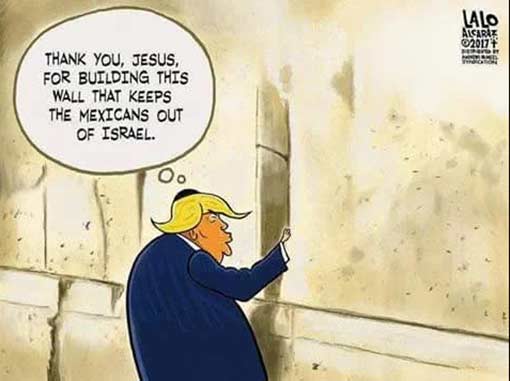 18. Investigation Turns to Kushner's Motives in Meeting With a Putin Ally
Jared Kushner "was looking for a direct line to President Vladimir Putin of Russia — a search that in mid-December found him in a room with a Russian banker whose financial institution was deeply intertwined with Russian intelligence, and remains under sanction by the United States.
Federal and congressional investigators are now examining what exactly Mr. Kushner and the Russian banker, Sergey N. Gorkov, wanted from each other. The banker is a close associate of Mr. Putin, but he has not been known to play a diplomatic role for the Russian leader. That has raised questions about why he was meeting with Mr. Kushner at a crucial moment in the presidential transition."
Sergey N. Gorkov's bank is controlled by members of Mr. Putin's government, including Prime Minister Dmitri A. Medvedev. It also has long been intertwined with Mr. Putin's inner circle: It has been used by the Russian government to bail out oligarchs close to Mr. Putin, and has helped fund the Russian president's pet projects, such as the Winter Olympics in Sochi in 2014. May 29, 2017 https://www.nytimes.com/2017/05/29/us/politics/jared-kushner-russia-investigation.html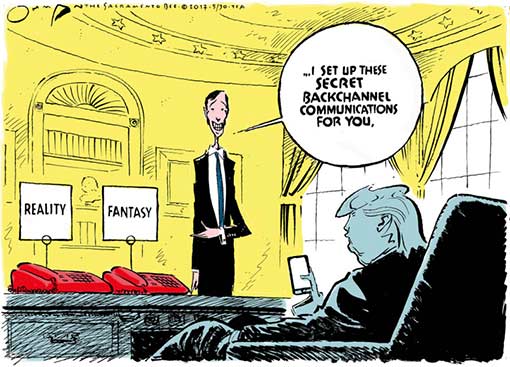 1. Ezra Klein: Trump promised to protect the sick and the poor. He lied.
Make no mistake: Trump lied in public about the most consequential policy decisions he is now making as president. He lied on the trail, and he is lying again now from the Oval Office. His budget, released on Tuesday, is an assault on the poor and the vulnerable, and a repudiation of the economic populism that sent him to the White House. The CBO analysis of the Republican health care bill — which Trump has fought to pass, and promised to sign — reveals the proposal would cost 23 million people their health insurance and force millions more onto the stingy, high-deductible insurance plans Trump promised to free them from.
None of this is interpretation or inference — these are the facts of the budget he put his name on and the health care bill he begged Congress to pass. We are not waiting for any whistleblowers to reveal their secrets or investigators to issue their subpoenas. We have the evidence right in front of us.
He lied. And yes, I use that word advisedly. While calling Trump a liar occasionally gives some in the media vapors, there's no other word that fits. Trump is president now. His budget is a vetted document constructed by people appointed by Trump. The American Health Care Act and its likely effects have been exhaustively covered in the press. If at this point Trump doesn't know that he's breaking his promises, then it's because he doesn't want to know. If at this point Trump hasn't bothered to discover he is betraying his supporters, and the people his policies will hurt, then that is the most damning fact of all.
Either way, this is a political scandal of massive proportions. Trump ran promising to protect the sick and the poor, and he is governing in ways that will grievously harm them. We should be outraged. https://www.vox.com/policy-and-politics/2017/5/24/15685786/trump-promised-protect-sick-poor-he-lied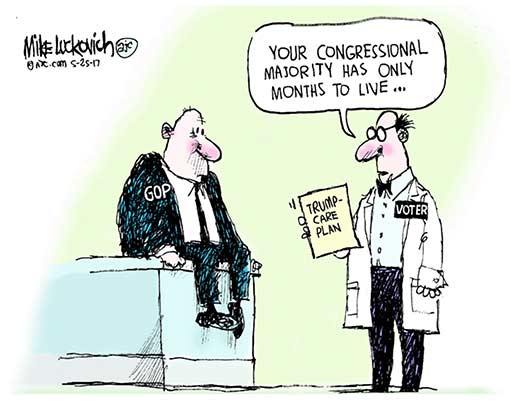 2. Gail Collins: Trump Can't Add Things Up
We're now getting a feel for what it was like to work in a business run by Donald Trump.
His budget is out, and it predicts we will have super-duper, excellent, great — no, huge — economic growth based on monster tax cuts for the rich and cuts in spending that will leave the poor with no money to buy anything.
It was produced in concert with that great health care bill, which the Congressional Budget Office now estimates would cost 23 million Americans their insurance coverage over the next 10 years.
On the plus side, in 10 years Trump will definitely not be president. Unless there's a coup.
We're being run like a bad Atlantic City casino. It's only a matter of time before the government will be trying to make ends meet by selling its name to golf course developers and marketing USA Steaks. 5/25/17 Read more at https://www.nytimes.com/2017/05/25/opinion/donald-trump-budget.html
3. Joy-Ann Reid: Soak The Poor
Mulvaney and Ryan are proud architects of the deeply cruel, almost cartoonishly villainous Trump budget, unveiled this week amidst the ongoing swirl of Russiagate and Donald Trump's variously weird and awkward travels abroad.
But while many are attempting to label the budget a betrayal of the ideas Trump ran on, even a cursory inspection of his life proves that he does indeed buy into the Ryan-Mulvaney reverse Robin Hood fairy tale. And by the way, so do his voters, who almost to a person believe not only that the rich deserve more but that even the most draconian budget cuts will restore fairness to the system by cutting the undeserving—read "lazy minorities" and "illegals"—out of it.
These beliefs aren't new. They've been nurtured among generations of young Republicans who devoured Ayn Rand novels in high school and who revere Ronald Reagan—not just the Reagan of the 1980s, but the one who in 1965 declared Medicare to be the first horseman of the socialist Apocalypse. They're reinforced every Sunday by a conservative Protestant church that teaches that riches are a tangible sign of God's grace, and that prosperity, not charity, is what the believer should aspire to. They're backstopped by friends and neighbors and plumbers and store clerks who view wealth as a sign of intelligence, even when the tortured syntax of a rich man they revere renders that notion laughable. And they are redoubled by an American culture that almost since its founding has mistaken material success for achievement, and plunder for pluck. 5/26/17 http://www.thedailybeast.com/articles/2017/05/26/trump-ryan-mulvaney-all-of-them-partners-in-plutocracy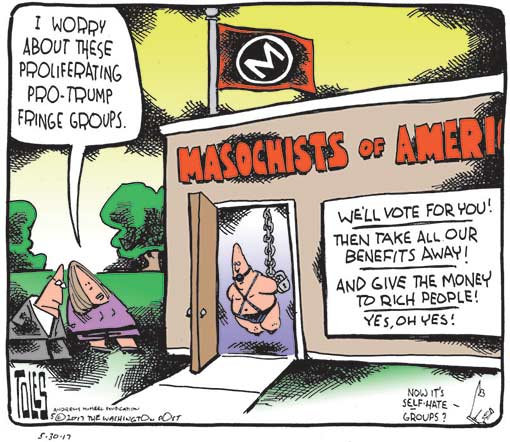 4. Matthew Yglesias: Why Republicans can't fix health insurance
Health care is complicated, but the source of the big government price advantage is not. When the government acts as a giant health care buyer, it either formally through regulation or informally through purchasing power imposes price controls on the sellers of health care services.
The ordinary push and pull of consumer action in a marketplace isn't able to do nearly as well because patients neither can nor want to approach health decisions like ordinary commercial transactions. It's true that a free market approach works well enough for purely discretionary health services like Lasik or breast enhancement surgery, but these are exceptions that prove the rule — medical procedures that don't address core health needs function fine as consumer commodities. Essential health care doesn't.
There is a fundamental three-way tradeoff here between the amount of money that you spend, the number of people that you cover, and the extent to which you rely on market mechanisms. What conservative ideologues want to do is choose minimal government spending and maximum reliance on free markets, letting coverage wither in the wind. That's why Michael Cannon of the libertarian Cato Institute launched his "Anti-Universal Coverage Club" 10 years ago to try to rally the faithful behind the cause of letting tens of millions of Americans go uninsured.
Practical Republican politicians don't want to go there, however, because it's morally hideous. Nobody who has to face the voters wants to own up to favoring a free market system in which huge swathes of the population can't get care when they are sick. On the contrary, when GOP politicians need to make the case against Obamacare, what they normally do is complain that premiums are too high and coverage isn't generous enough. But there are only two ways to address those issues: lean less on government solutions, or spend more money backed up by higher taxes.
Neither option is acceptable to Republicans, so they're left with the AHCA solution — massive rollbacks in coverage that they try to paper over with a lot of handwaving. https://www.vox.com/health-care/2017/5/25/15688408/government-insurance-is-cheaper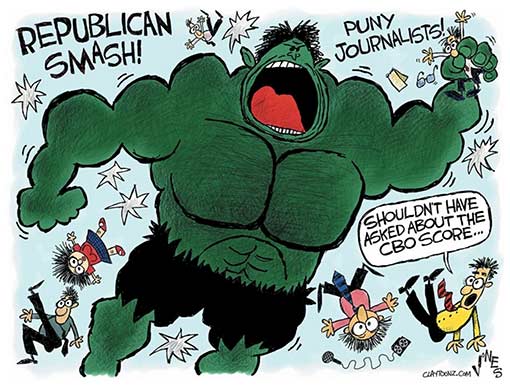 5. NY Magazine Editorial: Exposing the Obvious About the GOP Health-Care Bill
Providing health insurance to more people, then, requires more money. A lot more. The Affordable Care Act imposed a range of taxes, including a special Medicare surcharge on high earners, to pay for these costs.
The Republican plan, the American Health Care Act, repeals those and other taxes, totaling some $662 billion over 10 years. It also cuts Medicaid funding by $834 billion over a decade.
The bill would provide some funding for tax credits and high-risk pools. But mostly it transfers money currently used to pay for care for the sick and poor to the nation's wealthiest taxpayers. (According to one estimate, the bottom 80 percent of income earners would see little or no benefit from the plan's tax cuts.)
Because that upward redistribution of money is politically unpopular, and literally deadly, House Republicans sought to camouflage the basic trade in which they are engaged -- reducing access to health care in exchange for tax cuts for the wealthy. The CBO report merely exposed what was obvious all along. https://www.bloomberg.com/view/articles/2017-05-25/exposing-the-obvious-about-the-gop-health-care-bill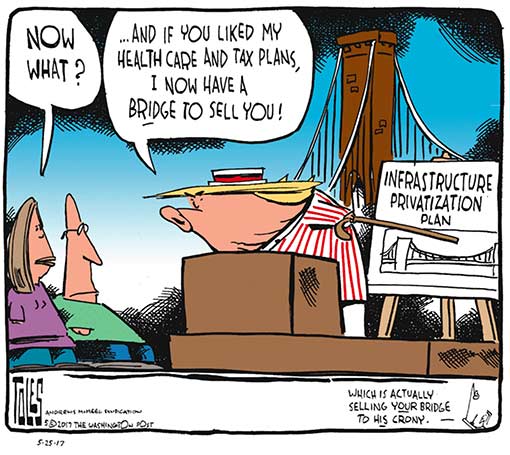 6. Andrew Sullivan: The Pope and the Pagan
The contrast between a grim-faced pope and the grinning president at the Vatican this past week was not lost on the press or late-night TV. But they missed the mark, it seems to me. They noted merely that the two leaders profoundly disagree on, say, the dignity of immigrants, the sanctity of heterosexual marriage, or the urgency of tackling climate change. While these disagreements exist, they are, it seems to me, merely symptoms of a deeper chasm — the vast, empty, and dark space that lies between Donald Trump and anything resembling Christianity.
I don't believe that there is a Christian politics as such — there is plenty of scope for disagreement about how to translate a Christian worldview into secular politics, or whether to translate it at all. But I do believe there is a Christian set of core human virtues and values, rooted in what we Catholics still think of as the truth, and that those virtues are rooted in the Gospels. We all fail the virtue test, of course, including yours truly, perhaps more than most. But Trump is a special case — because when you think about those virtues, it is very hard to see Donald Trump as anything but a living, breathing, shameless refutation of every single one. 5/26/17 Read more at http://nymag.com/daily/intelligencer/2017/05/andrew-sullivan-the-pope-and-the-pagan.html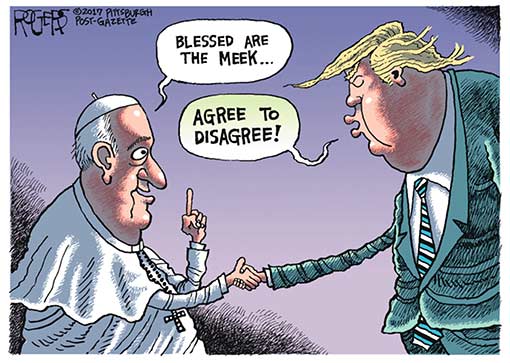 7. Graydon Carter: Trump's Constitutional Crisis, Ruskiegate, And The Worst First 100 Days In Presidential History
As an executive, Trump is a shambles. Can you imagine a company in America that would hire Trump as its C.E.O.? (Enron doesn't count: it's no longer in business.) He's not a true leader in any proper sense of the word; he's a ringmaster of a heaving, leaking White House that is much closer to the Circus Maximus or a traveling carny show than any traditional government operation. When he told NBC News that Comey was "a showboat" and "a grandstander," what he really meant was that there was room for only one of those in this town. The Republican rank and file, or at least the more aware ones—that's excluding quislings like Senate majority leader Mitch McConnell and Speaker of the House Paul Ryan—are already eyeing the exits. A West Wing housecleaning may only make things worse for the top man. Releasing the likes of his chief strategist into the wild is a particularly dangerous move. When it comes to Visigoths like Steve Bannon, it's best to keep them inside the fortress peeing on the underlings, rather than outside with their torches and battering rams.
What the Kardashians are to authentic glamour the Trumps are to authentic executive acumen. To paraphrase Fran Lebowitz, Trump is an unsuccessful person's idea of a successful person. His son-in-law, the all-purpose Secretary of Everything, Jared Kushner, is cut from similar cloth. An heir to a sizable New Jersey real-estate concern, he has two signature business initiatives under his belt. In one case, he burdened his family with staggering debt by paying a record price for a badly located office tower at 666 Fifth Avenue. And he bought The New York Observer (a paper I ran at one point), and through boneheaded firing and hiring, and routine mismanagement, he ran this religiously read weekly right into the ditch.
From all outward appearances, Trump is not a well man, physically or mentally. He has the limited vocabulary and shockingly nonlinear sentence structure of an immigrant new to English. You can only imagine what mornings are like up there in the White House private quarters: the sleeping garments, the personal-grooming routine, the bronzer, the spray volumizer, and the careful hair placement, interspersed with continual tantrums over what the morning television shows are saying about him. Actually, put all those thoughts out of your mind. I'm sorry I even brought them up. http://www.vanityfair.com/news/2017/05/graydon-carter-donald-trump-first-100-days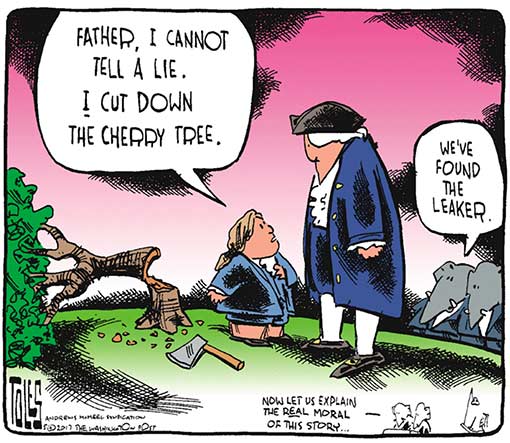 8. Todd Stern: Leaving the Paris Agreement Would Be Indefensible
The Paris Agreement is ambitious, universal transparent, and balanced. It brings China, India, and other developing countries fully into the regime. It combines strong, aggregate goals with a "bottom-up" structure in which countries decide their emissions targets for themselves and then continually update those targets on five-year cycles. Yet Paris boxes no one in; all are urged to aim high, but targets are not legally binding. It succeeded with strong U.S. leadership every step of the way. The entire world has signed on, save only Syria and Nicaragua. It appears that the president now means to expand that group of two to include the United States of America.
Pulling out of Paris would cause serious diplomatic damage. The countries of the world care about climate change. They see it as a profound threat. They recognize there is no way to meet that global threat without an effective global regime. And they understand that the Paris regime cannot work in the long run if the world's indispensable power has left the table. The president's exit from Paris would be read as a kind of "drop dead" to the rest of the world. Bitterness, anger, and disgust would be the wages of this careless act. As Ronald Reagan's secretary of state, George Shultz, said recently about Paris, "[g]lobal statecraft relies on trust, reputation and credibility, which can be all too easily squandered. …[I]f America fails to honor a global agreement that it helped forge, the repercussions will undercut our diplomatic priorities across the globe." https://www.theatlantic.com/international/archive/2017/05/paris-agreement-trump/528621/
9. Eric Levitz: Trump Says His Trip to Europe Has Already Saved 'Millions of Jobs'
On his first foreign trip as president, Donald Trump touched a glowing orb with the leader of an Islamist autocracy that he'd accused of orchestrating 9/11; suggested Israel is not a part of the Middle East; signed a Holocaust Museum's "Book of Remembrance" as though it were a middle-school yearbook; accidentally admitted that he had leaked highly classified Israeli intelligence to an ally of Iran; shoved the prime minister of Montenegro; said that Germany is "very evil"; turned a handshake with the French president into a naked struggle for dominance; and, somehow saved "millions of jobs" in the process.
It's hard to blame Trump supporters for disbelieving reality-based media, given that the alternative would require acknowledging, on a near daily basis, that their hero is a con man. 5/26/17 Read more at http://nymag.com/daily/intelligencer/2017/05/trump-says-his-trip-to-europe-has-saved-millions-of-jobs.html
10. Maureen Dowd: Trump's Hand-to-Hand Combat
Trump thinks the way to represent America is with a caricature of strength, without understanding it comes across as weakness and boorishness. Even with the weightiest job in the world, he can't seem to mature beyond the schoolyard bully. Where are you, Melania, anti-bullying spokeswoman and Donald-hand-slapper?
Summits are always elaborately choreographed, but never before have allies had pre-emptive plans on how to counteract an American president's handshake. Trump's are more like dominance tests than greetings. First Justin Trudeau in Washington and then Emmanuel Macron in Brussels prepared to out-grip him on his patented "I'll-rip-your-shoulder-out-and-show-you-who's-boss" handshake.
When Trump pushed aside Dusko Markovic, the prime minister of Montenegro, to get in front of the NATO pack in Brussels and then straightened his jacket with primate panache, J. K. Rowling tweeted: "You tiny, tiny, tiny little man."
Donald Trump is not a tough guy. He's a faux tough guy. That is not even in the American tradition. All of our famously tough icons, on screen and in life, were able to exude strength without using brute force. And they did it while standing up for people, not smacking them down. 5/27/17 Read more at https://www.nytimes.com/2017/05/27/opinion/sunday/trumps-hand-to-hand-combat.html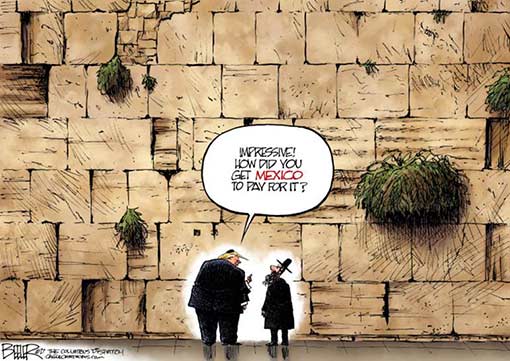 11. NY Times Editorial: Trumpcare's Cruelty, Reaffirmed
Any doubts about the senseless cruelty underlying the health care agenda put forward by President Trump and Congress were put to rest last week by two government documents. The fantasy that Mr. Trump intends to fight for the health of long-suffering working people should be similarly interred.
One document was the administration's budget. The other was the Congressional Budget Office's detailed analysis of the Trumpcare bill passed by the House earlier this month. The budget proposes billions of dollars in cuts to programs that fund research into new cures, protect the country from infectious diseases and provide care to the poor, the elderly and people with disabilities. The analysis said that Trumpcare — formally the American Health Care Act — would rob 23 million people of health insurance while leaving millions of others with policies that offer little protection from major medical conditions. All of this would be done in service of huge tax cuts for the richest Americans.
Consider the fate of Medicaid, a program that provides health insurance to more than 74 million people, among them 60 percent of nursing home residents and millions of people with disabilities. Trumpcare would slash Medicaid spending by $834 billion over 10 years, according to the C.B.O. The president's budget would take a further $610 billion from the program under the pretext of reforming it. Taken together, this amounts to an estimated 45 percent reduction by 2026 compared with current law, the Center on Budget and Policy Priorities says.
Trumpcare, the C.B.O. says, would make it impossible for millions of people with pre-existing conditions like heart disease or diabetes to buy health insurance. That's because the law would let states waive many of the requirements in the Affordable Care Act, the 2010 law known as Obamacare. It would also greatly increase the cost of insurance policies for older and poorer people, no matter where they live. By way of illustration, a 64-year-old earning $26,500 a year and living in a state not seeking waivers would have to pay $16,100 a year for coverage, nearly 10 times as much as she would under Obamacare.
Apart from inflicting hardship, what would Trumpcare and the president's budget achieve? Mainly a windfall for wealthy families. The administration has not provided enough information to make good estimates, so it's hard to say how much the rich would gain from the budget, although it would be a lot. We know more about Trumpcare. The Tax Policy Center estimates that almost all of the tax cuts in that legislation would flow to the rich: The top 1 percent would take home an average of $37,200 a year, while people with middle-class incomes would get a measly $300. 5/27/17 Read more at https://www.nytimes.com/2017/05/27/opinion/sunday/trumpcares-cruelty-reaffirmed.html?ref=todayspaper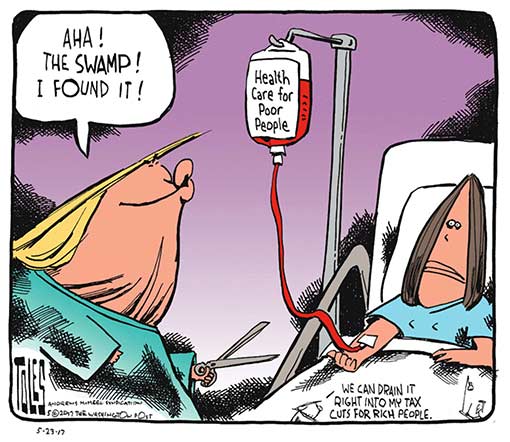 12. Charles M. Blow: Donald Trump: The Gateway Degenerate
When Republicans allowed themselves to vote for a man who insulted Mexicans and Muslims, who mocked a disabled reporter, who called for executing the Central Park Five and who had "a long history of racial bias at his family's properties, in New York and beyond," according to an extensive report by The Times, Republicans surrendered the mantle of morality.
Republicans sold their souls to this devil and now are forced to defend as right what they know full well is wrong. They must defend his incessant lying, clear incompetence and dubious dealings. What was once sacrilege among Republicans is now sacrosanct.
It is in that context that Gianforte could be charged with assault and Republicans would pat him on the back instead of rapping him on the knuckles.
Republicans, blinded by fear and rage, thirsty for power, desperate for a reclamation and reassertion of racial power, have cast their lot with the great deceiver and all their previous deal-breakers are now negotiable. 5/29/17 Read more at https://www.nytimes.com/2017/05/29/opinion/donald-trump-greg-gianforte.html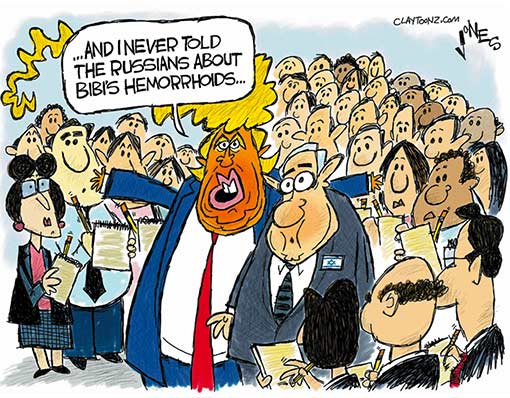 13. Molly Ball: Is This as Good as It Gets for Republicans?
Trump's troubles have cast a long shadow over the 291 members of his party in the House and Senate, who see their agenda going up in smoke in what is generally a presidential party's most productive year."
A flawed, unpopular health-care bill is stalled in the Senate, the president's budget proposal has been dismissed out of hand, and hope is fading for other priorities such as tax reform and infrastructure. 'How do you pack all that in?' Senator John McCain asked last week, adding, 'So far, I've seen no strategy for doing so. I'm seeing no plan for doing so.' One Republican congressman suggested that what was needed was for the president to throw 'a temper tantrum' to get lawmakers to act—this congressman happened to be named Brat."
Meanwhile Democrats sit back and watch it burn, with no small amount of schadenfreude, and the Republicans who never liked Trump see their worst predictions fulfilled. May 29, 2017 https://www.theatlantic.com/politics/archive/2017/05/trumps-washington-congress/528426/
14. Paul Waldman: How's that swamp draining going?
A Monmouth University poll released last week had some dispiriting news for President Trump: Only 24 percent of Americans said he had made progress "draining the swamp," as he promised so many times on the campaign trail.
How could such a thing be? Don't people understand that our nation's capital is now bathed in the cleansing light of Trump's integrity, renewed for a generation by the upstanding example of the president, his family, and his advisers? No?
It's curious, but we may be able to solve the mystery. Maybe it's the fact that Trump continues to refuse to release his tax returns. Or maybe it's the story about the family of Jared Kushner — who, among other things, is a cruel slumlord — seeking Chinese investors for their real estate projects by dangling promises of "investor visas" to those who pony up. Or maybe it's just the fact that Trump has stocked his administration with family members, business cronies, and Wall Street plutocrats. May 30, 2017 http://theweek.com/articles/701386/hows-that-swamp-draining-going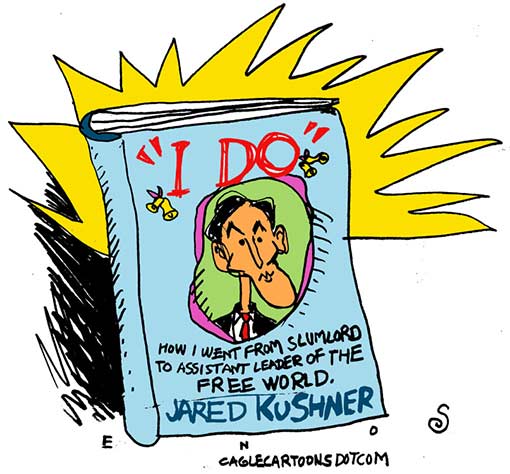 15. Jonathan Chait: Russians Think Trump Might Be a Russian Asset, and They Might Be Right
Over the last several days, the Russia scandal has taken a darker turn. Friday night, the Washington Post reported that Kushner tried during the presidential transition period to set up a secret communications channel with Moscow. Tuesday morning, CNN reported that, during the 2016 campaign, Russian officials discussed having leverage of a financial nature over Trump, which could be used to manipulate the Republican nominee. The exact nature of this relationship remains as yet unknown, but its parameters have shifted. The most innocent explanations of Donald Trump's shadowy relationship with Russia have grown increasingly fanciful, while the most paranoid interpretations have grown increasingly more plausible.
Indeed, in another one of dramatic juxtapositions that would have seemed ham-handed in a spy thriller, the latest scandalous revelations came out just as Trump could be seen carrying out what looks for all the world like his end of a pact with Moscow. If the president did have an objective on his trip to Europe — a premise that, it goes without saying, cannot be assumed — it was to crack up the American alliance with Western Europe. That happens to have been Russia's primary diplomatic objective since the end of World War II. In Brussels, Trump refused to publicly affirm the Article 5 guarantee of the NATO charter — the foundation of the anti-Russian alliance, and the basis for Europe's defense against Russian aggression. He directed his trademark wild diatribes against Germany, accusing it repeatedly of abusive trade relations, despite the fact that the United States does not have bilateral trade relations with that country. Amazingly, he kept up the abuse on Twitter after returning Stateside, while simultaneously defending Russia over its intervention in the American election. 5/30/17 Read more at http://nymag.com/daily/intelligencer/2017/05/russians-think-trump-might-be-a-russian-asset.html