September 12, 2019
ON THE RECORD. . .
"I would rather be dead in a ditch." — British Prime Minister Boris Johnson, quoted by The Guardian, when asked if he would ask the European Union for an extension on Brexit.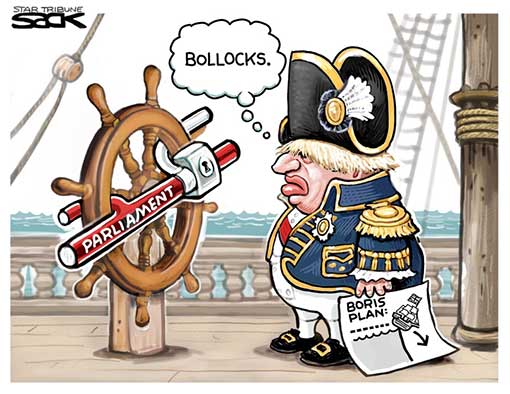 "Vice President Pence promised that their Administration would defend the Constitution and stand by a 'strict constructionist' interpretation of the Constitution. Instead the Trump-Pence Administration is ignoring the text itself and selling out the Constitution to line Trump's pockets." — Speaker Nancy Pelosi (D-CA) following the vice president's stay at one of Trump's properties in Ireland.
"I need killers, I want somebody to fight. Chris Christie calls me nonstop about this job. He calls me every ten seconds; he'd do anything for this job. He is dying to be vice president. And you, it's like you don't care. I need killers! Do you want this thing or not?' — Donald Trump, quoted in Piety & Power, offering Mike Pence the chance to be his running mate in 2016.
"He's totally unrealistic. He's saying if you don't do what I say, I'll commit suicide. There are no negotiations with this government." — Dutch lawmaker Anne Mulder, on British Prime Minister Boris Johnson's approach to Brexit.
"I probably shouldn't say this, but I won it by 43 points. That's a lot. Probably helped you getting this award today, that you come from West Virginia." — Trump, In awarding the nation's highest civilian honor to the basketball legend Jerry West, suggesting the award was in part because Jerry West hailed from a state Trump won by 43 points.
"The Economy is great. The only thing adding to 'uncertainty' is the Fake News!" — Donald J. Trump @realDonaldTrump after the release of an underwhelming August jobs report.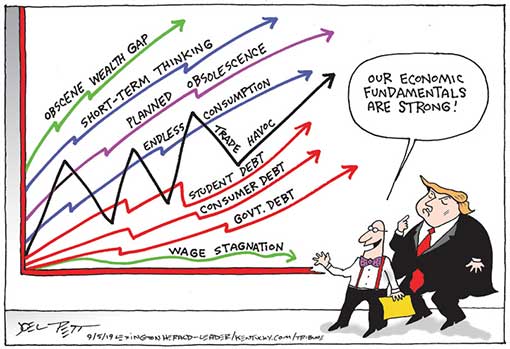 "Coal's not back. Nobody saved the coal industry. Coal-fired plants are closing all over the country. It's a "harsh reality."" — Miners union president Cecil Roberts' message to Trump and others running for president in 2020.
How did Trump plan to bring the Taliban to the US on the week of 9/11? What airline? Hm? Was he so eager to announce a (fake) peace deal on the anniversary of 9/11 that he forgot to negotiate a cease fire? What on Earth was the actual plan here?? — Amanda Carpenter @amandacarpenter on Trump's plan — now aborted — to invite Taliban leaders to Camp David.
"The most powerful man in the world is an 'orange fat blob' with the 'self-esteem of a pigeon.'"  — Anthony Scaramucci, about his former boss.
"The three people are a total joke. They're a joke. They're a laughingstock. I guess it's a publicity stunt. To be honest, I'm not looking to give them any credibility. They have no credibility." — Trump dismissing his three challengers for the Republican presidential nomination and defending the decision by GOP leaders in a handful of states to scrap their 2020 primaries and caucuses.
"One of the greatest and most powerful weapons used by the Fake and Corrupt News Media is the phony Polling Information they put out. Many of these polls are fixed, or worked in such a way that a certain candidate will look good or bad. Internal polling looks great, the best ever!" — Trump on Twitter, without sharing any details.
"F*ckin piece of sh*t be glad you even get to stay in my country. Can't wait to deport some of your family members. MAGA. Deport all invaders and deport anyone who is anti-deportation or pro-amnesty along with them… You are trash just like the invaders. Move to Mexico." — Republican U.S. Senate candidate Craig Brittain accusing Andrew Chavez, the owner of Petition Partners, of refusing to work for his campaign "because you are just like all the other lazy invaders on welfare coming across the border."
"The Trump administration's plan to seize privately held land—at whatever cost and by whatever means necessary—for the president's expensive, ineffective border wall is yet another outrageous power grab by an administration constantly challenging any limits on its authority. Make no mistake: this administration is trying to take away Americans' private property without an ounce of oversight and has repeatedly failed to provide basic, critical information, including how many citizens will have their land seized. I am glad the U.S. Government Accountability Office will investigate the administration's disturbing efforts." — Sen. Chuck Schumer (D-NY) https://www.politicususa.com/2019/09/11/senate-democrats-trump-land-grab.html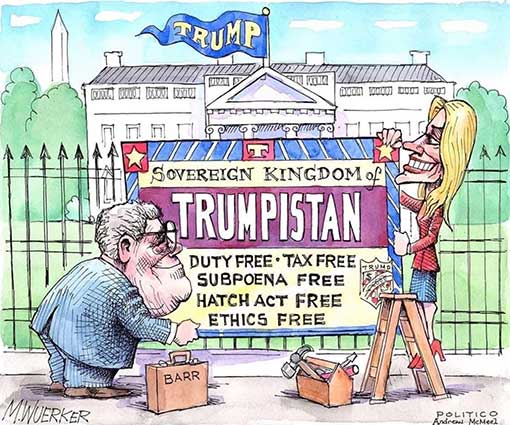 ---
IN THIS ISSUE
FYI
OPINION
1. Tennessee lawmaker calls for removal of higher education
 A Republican Tennessee lawmaker Sen. Kerry Roberts of Springfield Tennessee says he supports getting rid of higher education because he argues it would cut off the "liberal breeding ground."
Roberts specifically called out one activist who testified in favor of protecting abortion rights. He asserted without evidence that the woman's beliefs were a "product of higher education" and claimed that getting rid of higher education would "save America." https://apnews.com/ba22eace0ec2414794c6722c5bfb5baf
2. Six in 10 Americans expect a recession and higher prices as Trump's approval rating slips, Washington Post-ABC News poll finds
Trump is ending a tumultuous summer with his approval rating slipping back from a July high as Americans express widespread concern about the trade war with China and a majority of voters now expect a recession within the next year, according to a new Washington Post-ABC News poll.
The survey highlights how one of Trump's central arguments for reelection — the strong U.S. economy — is beginning to show signs of potential turmoil as voters express fears that the escalating trade dispute with China will end up raising the price of goods for U.S. consumers.
Trump's approval rating among voting-age Americans stands at 38 percent, down from 44 percent in June but similar to 39 percent in April, with 56 percent now saying they disapprove of his performance in office. Among registered voters, 40 percent say they approve of Trump, while 55 percent disapprove.
https://beta.washingtonpost.com/politics/six-in-10-americans-expect-a-recession-and-higher-prices-as-trumps-approval-rating-slips-washington-post-abc-news-poll-finds/2019/09/10/d99f3408-d2d7-11e9-ab26-e6dbebac45d3_story.html
3. Fact check: Trump makes at least 22 false claims at North Carolina rally
Donald Trump held a campaign rally on Monday in a North Carolina congressional district that is having a special election on Tuesday because of credible allegations of Republican election fraud.
Trump did not mention those allegations. Instead, he repeated his baseless allegation of voter fraud in Democratic-dominated California.
"A lot of illegal voting going on out there, by the way, a lot of illegal voting," Trump said during his 85-minute speech in Fayetteville. As we've pointed out before, there is zero evidence for this claim.
Trump made at least 21 other false claims at the rally, most of them statements that have been debunked on multiple previous occasions. The list of false claims is at https://www.cnn.com/2019/09/10/politics/fact-check-trump-north-carolina-rally-22-false-claims/index.html
4. Trump Cuts "Muscle" from European Defense to Fund Border Wall
Trump has been eyeing the defense budget to find the money for his wall ever since it became clear that he wouldn't be able to convince Congress, even under Republican leadership, to go along with funding it. 
On March 24, 2018, he tweeted that the "Military is again rich," and that because border is security is part of national defense, it was time to "Build WALL through M!," and he didn't mean Mexico, but the military. 
Over a year later, he finally seems to be getting what he wants, with Defense Secretary Mark Esper agreeing to cancel the $3.6 billion in military construction projects, including the ones in Europe. 
"It's foolish to shortchange our deterrence posture against Russia to fund a border wall that will do little, if anything, to stem illegal immigration since much of it comes through existing ports of entry anyhow," said Michael Carpenter, who previously served in the Pentagon as deputy assistant secretary of defense with responsibility for Russia and Ukraine. "Trump lied about getting Mexico to fund the wall, and now he's pressing this pet project at the expense of facilities needed to maintain an effective deterrent against Russian aggression in eastern Europe." https://www.justsecurity.org/66084/trump-cuts-muscle-from-european-defense-to-fund-border-wall/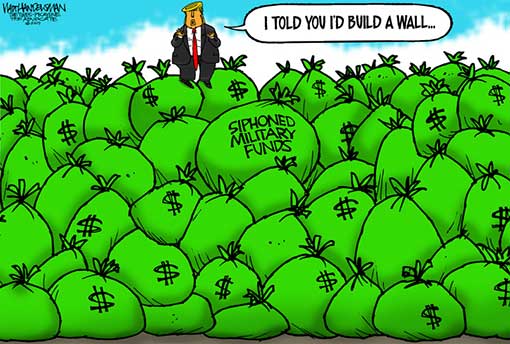 5. Trump Administration Considers a Drastic Cut in Refugees Allowed to Enter U.S.
The White House is considering a plan that would effectively bar refugees from most parts of the world from resettling in the United States by cutting back the decades-old program that admits tens of thousands of people each year who are fleeing war, persecution and famine, according to current and former administration officials. https://www.nytimes.com/2019/09/06/us/politics/trump-refugees-united-states.html
6. Trade uncertainty will trim $850 billion global output
Trade policy uncertainty driven by the Trump administration's escalating dispute with China means hundreds of billions of dollars in lost U.S. output and as much as $850 billion lost globally through early next year, research published this week by the Federal Reserve suggests. https://www.reuters.com/article/us-usa-fed-trade-idUSKCN1VQ2KH
7. Still on: Iowa, New Hampshire won't nix 2020 GOP contests
Republicans in Iowa and New Hampshire are vowing to hold a caucus and primary next year, even as party leaders in a handful of other states have canceled their contests to help smooth President Donald Trump's path to reelection. https://apnews.com/3cf0a814468b4aa9bc1679aae61fe1ae
8. Trump's Approval Now Below 40%
Three new national polls all have Trump's job rating below 40 percent.
Gallup: 39 percent

Washington Post/ABC: 38 percent

CNN: 39 percent
So, nearly a year after the midterms, the president's approval rating is still stuck in pretty much the same place; Democrats are making more and more races competitive but the bottom still hasn't fallen out for the GOP; and — in districts with just enough Trump supporters — the president can still show up for a rally and make the difference. https://www.nbcnews.com/politics/meet-the-press/there-s-good-news-bad-news-gop-after-narrow-north-n1052326
9. Poll: Warren on the rise among Democratic voters
A new NPR/PBS/Marist poll 75% of Democratic voters now say they have a favorable impression of Elizabeth Warren — that's up from 53% in January, the last time the poll asked the favorability of candidates or potential candidates. That's a whopping 22-point jump.
Said pollster Lee Miringoff: "Warren seems to be on the verge of starting to make significant and serious inroads into this contest." https://www.npr.org/2019/09/11/759574033/poll-democrats-most-like-warren-but-voters-overall-are-lukewarm-on-democrats-tru
10. White House Pressed Agency to Repudiate Weather Forecasters Who Contradicted Trump
 The White House was directly involved in pressing a federal scientific agency to repudiate the weather forecasters who contradicted President Trump's claim that Hurricane Dorian would probably strike Alabama, according to several people familiar with the events.
Mick Mulvaney, the acting White House chief of staff, told Wilbur Ross, the commerce secretary, to have the National Oceanic and Atmospheric Administration publicly disavow the forecasters' position that Alabama was not at risk. NOAA, which is part of the Commerce Department, issued an unsigned statement last Friday in response, saying that the Birmingham, Ala., office was wrong to dispute the president's warning. https://www.nytimes.com/2019/09/11/us/politics/trump-alabama-noaa.html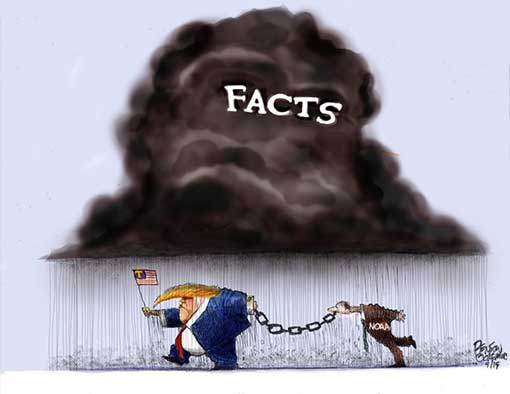 11. Democrats widen impeachment probe as they confront roadblocks
With Congress reconvening after its summer recess, the committee is expanding its focus beyond Mueller's findings that Trump may have obstructed justice by seeking to undercut the investigation into his campaign and actions as President, an area that has dominated the panel's focus up until now.
As they head into a critical fall session, Democrats say they will also focus heavily on questions over whether the President is enriching himself while violating the emoluments clause in the Constitution, reports Trump dangled pardons to officials who were at risk of breaking immigration laws and his involvement in hush-money payments to over his alleged extramarital affairs -- all of which could form articles of impeachment against the President, according to lawmakers and aides involved in the effort.
But Democrats privately acknowledge that there are ample hurdles -- the lengthy court battles that are eating into the congressional calendar, uncertainty over whether any new developments could shift public opinion toward impeachment and Speaker Nancy Pelosi's continued skepticism. Yet Democrats hope that the committee shining a spotlight on more of the President's alleged crimes could shift the House's calculus. https://www.cnn.com/2019/09/06/politics/democrats-impeachment-roadblocks-strategy/index.html
12. Donald Trump Has Never Explained a Mysterious $50 Million Loan. Is It Evidence of Tax Fraud?
Donald Trump's massive debts—he owes hundreds of millions of dollars—are the subject of continuous congressional and journalistic scrutiny. But for years, one Trump loan has been particularly mystifying: a debt of more than $50 million that Trump claims he owes to one of his own companies. According to tax and financial experts, the loan, which Trump has never fully explained, might be part of a controversial tax avoidance scheme known as debt parking. Yet a Mother Jones investigation has uncovered information that raises questions about the very existence of this loan, presenting the possibility that this debt was concocted as a ploy to evade income taxes—a move that could constitute tax fraud. https://www.motherjones.com/politics/2019/09/donald-trump-has-never-explained-a-mysterious-50-million-chicago-unit-acquisition-loan-is-it-evidence-of-tax-fraud/
13. The DAILY GRILL
I agree with @jimcramer, the Fed should lower rates. They were WAY too early to raise, and Way too late to cut - and big dose quantitative tightening didn't exactly help either. Where did I find this guy Jerome? Oh well, you can't win them all! — Donald J. Trump @realDonaldTrump Sep 6, 2019

VERSUS

The Economy is great. The only thing adding to "uncertainty" is the Fake News! — Donald J. Trump @realDonaldTrump Sep 6, 2019 .... "China is eating the Tariffs." Billions pouring into USA. Targeted Patriot Farmers getting massive Dollars from the incoming Tariffs! Good Jobs Numbers, No Inflation(Fed). China having worst year in decades. Talks happening, good for all! — Donald J. Trump @realDonaldTrump Sep 6, 2019

 

94% Approval Rating in the Republican Party, a record. Thank you!" — Donald J. Trump @realDonaldTrump

VERSUS

For months, Trump had been touting a 93 percent approval rating from Republicans. The first iteration of that figure that we found came from a straw poll conducted at the Conservative Political Action Conference, which is a bit like foxes claiming to be overwhelmingly popular after surveying people at a furry convention. It's like asking about support for the Second Amendment at a gun show. — Philip Bump 
 

 

"His campaign manager is a felon. His deputy campaign manager is a felon. His personal lawyer is a felon. His foreign policy advisor is a felon. His national security advisor is a felon. The Trump campaign was run by criminals." — GOP strategist Stuart Stevens, on Twitter.

VERSUS

Trump urged caution in admitting people into the U.S. from the Bahamas, claiming ― with no apparent basis in fact ― that "very bad people" could be hidden among the hordes of Hurricane Dorian survivors attempting to flee the devastated archipelago. -- Amy Russo in the Huff Post.
14. From MEDIA MATTERS (They watch Fox News so you don't have to)
As Hurricane Dorian wreaks havoc, Fox casts doubt on climate change science. Fox & Friends hosted well-documented climate change denier Marc Morano, who argued that "there is no evidence that Hurricane Dorian is unprecedented in any way." He insisted that Democratic proposals to combat climate change are simply a "massive redistribution scheme" under the "guise of this climate emergency." https://www.mediamatters.org/fox-news/hurricane-dorian-wreaks-havoc-fox-casts-doubt-climate-change-science

Fox's Tyrus on possible gun laws: "I don't want to be the Venezuela situation. Where I can't -- arm a militia to protect myself." https://www.mediamatters.org/outnumbered/foxs-tyrus-possible-gun-laws-i-dont-want-be-venezuela-situation-where-i-cant-arm

Fox's Geraldo Rivera: Trump is being "unfairly mugged by the media" for repeatedly lying about Alabama and Hurricane Dorian. https://www.mediamatters.org/geraldo-rivera/foxs-geraldo-rivera-trump-being-unfairly-mugged-media-repeatedly-lying-about-alabama

Defending Trump's lie about Alabama and Dorian is peak Sean Hannity. Proof that Hannity will defend literally anything Trump does. https://www.mediamatters.org/sean-hannity/defending-trumps-lie-about-alabama-and-dorian-peak-sean-hannity

Sunday shows mostly ignore Trump's Turnberry corruption. As the House opens an investigation into military spending at a struggling Trump resort, only CBS' Face the Nation mentioned the scandal. https://www.mediamatters.org/donald-trump/sunday-shows-mostly-ignore-trumps-turnberry-corruption

Fox & Friends suggests American troops keep a permanent presence in Afghanistan. Brian Kilmeade: "We still have troops in Korea and we still have an opportunity to keep peace in there by our presence. The same thing with Afghanistan." https://www.mediamatters.org/fox-friends/fox-friends-suggests-american-troops-keep-permanent-presence-afghanistan

Fox News has basically ignored stories related to Trump's corruption. Both the "news" and opinion sides at Fox downplay or ignore stories about Wilbur Ross, the NOAA, and government officials staying at Trump properties. https://www.mediamatters.org/fox-news/how-fox-news-ignores-stories-related-trumps-corruption

Fox suspended Pirro over her anti-Muslim bigotry against Rep. Ilhan Omar. The problem goes deeper than that. Anti-Muslim bigotry on Fox News is no accident -- it's policy. https://www.mediamatters.org/jeanine-pirro/fox-suspended-pirro-over-her-anti-muslim-bigotry-against-rep-ilhan-omar-problem-goes
15. Why The Amazon Fires Are Surging (Video)
Wildfires have long occurred in the Amazon rain forest, but never on this scale. For an explantation of how they began, and what will happen if the planet's great green lung continues to burn go to: https://video.newyorker.com/watch/the-amazon-forest-fires-are-stronger-than-ever-here-s-why/
16. Former Spy Valerie Plame Cuts an Action-Flick Campaign Ad
"Undercover" — Valerie Plame for Congress https://youtu.be/ICW-dGD1M18
17. The Air Force Paid Nearly Twice As Much As Average Hotel Rate To Stay At Trump's Club
Trump claims that he gave the Air Force a discounted rate to stay at his failing golf club in Scotland, but data shows that the rate was nearly twice as much as the average hotel room cost.
The Trump "discounted rate" scam might sound familiar because it is why Ivanka Trump is under investigation for potential violations of tax law. During the Trump inauguration, Ivanka Trump offered "discounted rates" that were substantially higher than the average event space rates in the city.
There is clearly a directive within the executive branch that government agencies, officials, and even the military must stay at Trump-owned properties. Trump is engaging the type of corruption that is not normally seen in democracies. Mike Pence's stay at Trump's Failing club in Ireland was the tip of the iceberg, and if Congress and journalists keep digging, it is a safe bet that they will find a breathtaking level of criminal misuse of taxpayer funds and corruption. https://www.politicususa.com/2019/09/08/air-force-trump-scotland.html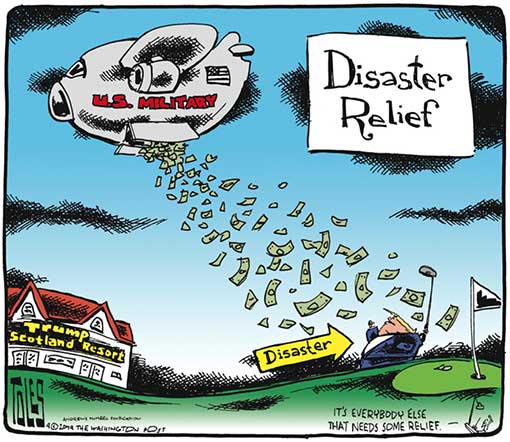 18. Trump hopes his made-up approval rating will scare potential primary challengers
For months, Trump had been touting a 93% approval rating from Republicans. The first iteration of that figure that we found came from a straw poll conducted at the Conservative Political Action Conference, which is a bit like foxes claiming to be overwhelmingly popular after surveying people at a furry convention. It's like asking about support for the Second Amendment at a gun show."
In June, though, Trump tacked on a percentage point. He first claimed to have 94% support from Republicans during a news conference with then-British Prime Minister Theresa May. Our fact-checkers looked into it, determining that there was no public poll showing anything of the sort. If it was an internal campaign poll, it hasn't been made public (our fact-checkers asked). Since then, though, 94% has supplanted 93% in Trump's rhetoric, with his touting this purported number over and over and over again."
Trump appears to simply be making the figure up. Perhaps there is internal polling showing Trump with substantially higher approval than public polls, a function of who they're asking and how they're asking it. But Trump doesn't even say that; he just throws out this number as though it's real. https://beta.washingtonpost.com/politics/2019/09/09/trump-hopes-his-made-up-approval-rating-will-scare-potential-primary-challengers/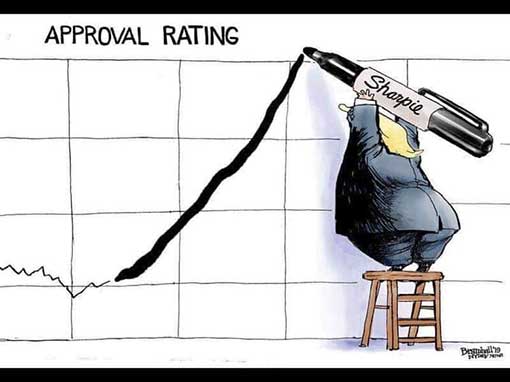 19. Former FEMA Official Accused of Taking Bribes in Hurricane Maria Recovery
A former top administrator of FEMA was arrested on Tuesday in a major federal corruption investigation that found that the official took bribes from the president of a company that secured $1.8 billion in federal contracts to repair Puerto Rico's shredded electrical grid after Hurricane Maria.
Trump has repeatedly cast Puerto Rico's leaders as incompetent and corrupt. Tuesday's arrests, however, did not involve any Puerto Ricans, but rather a longtime federal employee working on the island under the Trump administration. https://www.nytimes.com/2019/09/10/us/puerto-rico-fema-arrests-corruption.html
1. James Poniewozik: The Real Donald Trump Is a Character on TV
To try to understand Donald Trump as a person with psychology and strategy and motivation and you will inevitably spiral into confusion and covfefe. The key is to remember that Donald Trump is not a person. He's a TV character.
I mean, O.K., there is an actual person named Donald John Trump, with a human body and a childhood and formative experiences that theoretically a biographer or therapist might usefully delve into someday. (We can only speculate about the latter; Mr. Trump has boasted on Twitter of never having seen a psychiatrist, preferring the therapeutic effects of "hit[ting] 'sleazebags' back.")
But that Donald Trump is of limited significance to America and the world. The "Donald Trump" who got elected president, who has strutted and fretted across the small screen since the 1980s, is a decades-long media performance. To understand him, you need to approach him less like a psychologist and more like a TV critic.
And to ask who the "real" Donald Trump is, is to ignore the obvious. You already know who Donald Trump is. All the evidence you need is right there on your screen. He's half-man, half-TV, with a camera for an eye that is constantly focused on itself. The red light is pulsing, 24/7, and it does not appear to have an off switch.
https://www.nytimes.com/2019/09/06/opinion/sunday/trump-reality-tv.html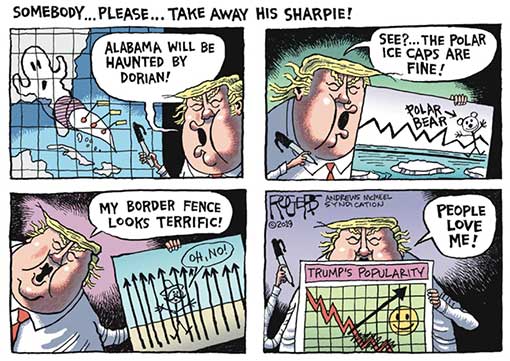 2. Peter Hamby: Revenge Of The Never Trumpers: How A "Kamikaze" Primary Could Pierce The Fox News Bubble, Put New Hampshire In Play, And Hit Trump Where It Hurts
The cabal of semi-professional Never Trump Republicans who still inhabit parts of Washington is so eager for Trump to face a primary challenge. Even if it's only a brush fire, a primary might be their only chance to pry open space between Trump and the Republicans who are looking for permission to vote against him next year, either for the Democrat or a third-party alternative. "When Trump was elected we didn't know what his presidency would look like," said Bill Kristol, the conservative writer and de facto face of the Never Trump wing of the party. "But now we know. He has not improved from 2016. He has not suppressed his nativist and his demagogic tendencies. He seems more erratic. He seems to be getting worse. Having these Republicans out there might make people think about what another four years of Donald Trump looks like. It might make them think, Are you okay with that?" https://www.vanityfair.com/news/2019/09/never-trumpers-republican-primary-trump
3. Dan Balz: Boris Johnson takes a wrecking ball to government and gets hit himself
British Prime Minister Boris Johnson has eclipsed President Trump as the chaos-maker-in-chief. Just weeks into his tenure at 10 Downing Street, the new leader tried to take a wrecking ball to the political system and ended up hitting himself as well.
This is all in the latest chapter of the long-running drama known as Brexit. In the summer of 2016, British voters narrowly voted to leave the European Union. Nothing has been the same since. Government has been paralyzed, and the public's dissatisfaction has grown steadily. Two prime ministers were taken down by the turmoil unleashed by that vote. Johnson could be the third. Or could he?
Like Trump, Johnson is much bluff and bluster — in look and action. At the dispatch box in the House of Commons, he looks slightly out of place, his hair permanently mussed and askew, his head cocked to one side or the other. But if he looks as if he doesn't quite belong, he also seems to relish the political combat with Labour Party leader Jeremy Corbyn and others in the opposition. It hasn't gone well. https://beta.washingtonpost.com/politics/boris-johnson-takes-a-wrecking-ball-to-government-and-gets-hit-himself/2019/09/05/0dad7ad2-d005-11e9-8c1c-7c8ee785b855_story.html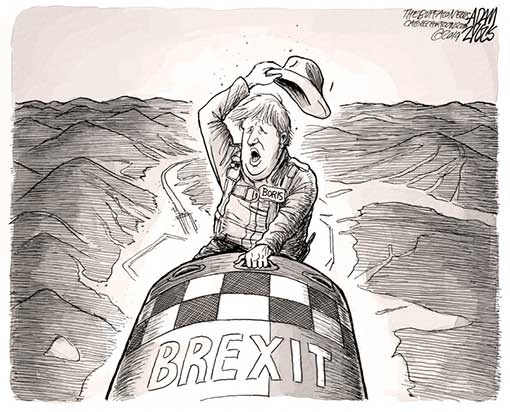 4. Tina Nguyen: GOP Strategists Fear Trump's "Pocahontas" Thing Isn't Working
It's been 131 days since Donald Trump bragged that he killed Elizabeth Warren's presidential campaign by mocking her claim to Cherokee ancestry, but her candidacy is more alive than ever. The Democratic senator tripled her fundraising haul last quarter, is commanding massive crowds, crushing the debates, and has settled into a comfortable third place in primary state polling, putting pressure on Bernie Sanders. The "Pocahontas" slur, Republican insiders fear, isn't cutting it.
Several strategists tell the Daily Beast that Trump was caught off guard by the resonance of Warren's populist rhetoric—a skill set that in some ways mirrors his own, minus the mental effluvia and human rights violations—and said she might be "tougher" to compete against than he realized, repeatedly asking advisers whether they consider Warren to be a "fighter." Others confessed that, despite their best efforts to comb her record for dirt and to workshop attacks, the GOP oppo machine has been struggling to land any blows. Sure, some of Warren's proposals are pie-in-the-sky, and maybe the math is hazy, but have you listened to Donald Trump? One strategist suggested that conservative think tanks have been struggling to keep up with the sheer volume of white papers Warren has been generating. https://www.vanityfair.com/news/2019/09/gop-strategists-fear-elizabeth-warren
5. Zak Cheney-Rice: A Non-Racist Conservative Movement Would Kill the Republican Party
It's been apparent since the Nixon administration that the Republican Party would collapse without support from racists. Perhaps such a demise is Douthat and Carney's unstated goal. In any case, the GOP hasn't been able to convince most voters that corporate welfare, reduced protections for marginalized people, and diminished health-care options for all but the most financially secure are good things on their own terms, without using racism to sweeten the deal. This wouldn't matter if conservatism was a fringe ideology. But the writers' portrayal of their movement as one victimized by unfair smears and mischaracterization belies its status as the most powerful political movement in America today, and that conservatives control most of the country's most powerful political institutions.
As a result, the implementation of conservative policies means that migrant children are dying in cages, black voters are being purged from voter rolls by the thousands, Native lands are being plundered for oil infrastructure, and black mothers are losing their lives and babies because adequate health care is out of reach. It's unlikely that many of them are moved by the gradual awakening of some conservatives to what they've known all along, or by Douthat and Carney's insistence that a more benign conservatism, of which they've personally seen no evidence, exists. The mid-century black exodus from the GOP was no fluke or paranoid manifestation. It was a response to sustained antagonism toward their rights by Republicans. Rectifying this history will be a long and arduous task, as Carney acknowledges. But it starts with convincing everyday conservatives that it's a worthwhile pursuit. It will mean convincing majorities of Republican-leaning voters — most of whom currently deny racism's role in shaping society outright — that focusing on bigotry and its eradication is now a productive use of their time. But perhaps most important, it means reckoning with the fact that the movement's racism problem is not the result of a hijacking or a coup, but of popular will. There are no innocents among today's Republicans. There's only the ugliness they've unleashed, and whether they've the courage to risk political ruin in order to eradicate it. http://nymag.com/intelligencer/2019/09/conservative-non-racism-is-it-viable.html
6. Catherine Rampell: We're in the midst of Trump's War on Children
You've heard of the Wars on Drugs, Terror, Poverty, even Women. Well, welcome to the War on Children.
It's being waged by the Trump administration and other right-wing public officials, regardless of any claimed "family values."
For evidence, look no further than the report released Wednesday by the Department of Health and Human Services' own inspector general. It details the trauma suffered by immigrant children separated from their parents under the Trump administration's evil "zero tolerance" policy.
Thousands of children were placed in overcrowded centers ill-equipped to provide care for them physically or psychologically. Visits to 45 centers around the country resulted in accounts of children who cried inconsolably; who were drugged; who were promised family reunifications that never came; whose severe emotional distress manifested in phantom chest pains, with complaints that "every heartbeat hurts"; who thought their parents had abandoned them or had been murdered.
Such state-sanctioned child abuse was designed to serve as a "deterrent" for asylum-seeking families, as then-Chief of Staff John F. Kelly and other administration officials made clear.
But hey, Trump believes these kiddos must be punished further for the crime of seeking refuge — a.k.a., the "invasion" of America. https://beta.washingtonpost.com/opinions/were-in-the-midst-of-trumps-war-on-children/2019/09/05/03637e30-d016-11e9-b29b-a528dc82154a_story.html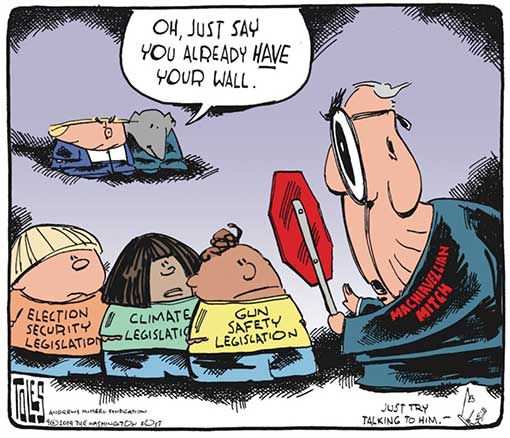 7. Andrew Egger: Sharpie-gate Proves We Are Living in a Real-Life 'Onion' Article
The Trump presidency has presented a broad array of unique challenges but it's arguable that the fine art of comedy has been hardest hit (at least, after the farmers). Most political comedy is parody, which is rooted in exaggeration. What on earth can The Daily Show or Saturday Night Live dream up that's more ridiculous or more outrageous than the real thing?
Never has this been more viscerally true than with President Trump's one-man war against Hurricane Dorian this week—or rather, against Hurricane Dorian's flight path, which he erroneously stated would devastate Alabama in a Sunday tweet, prompting a hurried "don't panic" rebuttal from the National Weather Service in Birmingham and a round of online mockery. Never one to suffer a dunking lightly, Trump has spent the rest of his week rooting around for weather maps that appear to prove him right and the LYING FAKE NEWS wrong, culminating in an Oval Office appearance Wednesday at which he displayed an official forecast chart on which—we are not joking—someone had edited Alabama into the blast zone with a Sharpie marker.
None of us can improve upon this magical moment; it is holy high art. Politicos like to sound off solemnly about how this or that momentary spat will be judged by history. Ordinarily this is pure bloviation—history will forget practically all our squabbles—but any writeup of the early 21st century that fails to mention Sharpiegate won't be worth the paper it's printed on. As Trump moments go, this is practically a Wonder of the World. https://thebulwark.com/sharpie-gate-proves-we-are-living-in-a-real-life-onion-article/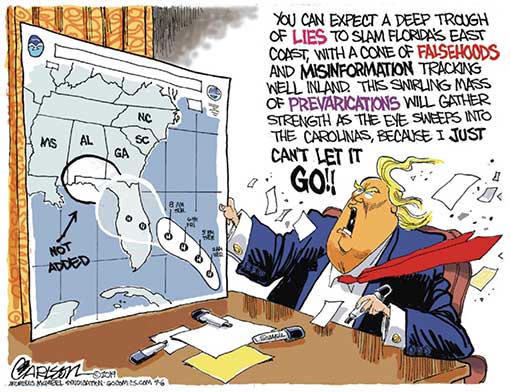 8. Frank Rich: Sharpiegate and Trump's Escalating War on Reality
America's First Baby is certainly acting like someone put him in the corner. To call Trump erratic right now is a compliment. He makes Roseanne Barr look like Theresa May. Just when you think he is going to let go of Sharpiegate after five days and concede that there was never (as he said) a "95 percent chance probability" that Hurricane Dorian would hit Alabama "very hard," he's at it again, summoning a Fox News reporter to the Oval Office to try to enforce his fantastical meteorology. His tweet storm is threatening to outlast the actual storm. What's next? Will he send Al Roker to Guantanamo? Will he lavish emergency aid on Alabama, perhaps to bolster the campaign of whichever Republican is anointed to take down Democratic Senator Doug Jones in 2020? Or — to repurpose a Jonah storyline from Veep — will he show up an hour late for a public event and insist that everyone else has it wrong because daylight saving time has already ended? Trump could become the first president ever to be publicly corrected by both the National Weather Service and the timekeepers at the U.S. Naval Observatory.
Whether this latest uptick in lunacy is attributable to psychological, medical, or political factors — or some combination of the three — is unknown. But whatever is going on, it's clear that it reached a new plateau a few weeks ago when the word "recession" crept onto his addled radar screen and he realized that blaming his own Fed chairman, Fake News, or Obama would not let him off the hook if a slowdown becomes reality next year. Given that this international anxiety will remain unresolved until Election Day no matter how much he reworks economic charts with his Sharpie, Trump may just be getting started. http://nymag.com/intelligencer/2019/09/frank-riche-sharpiegate-trump-war-on-reality.html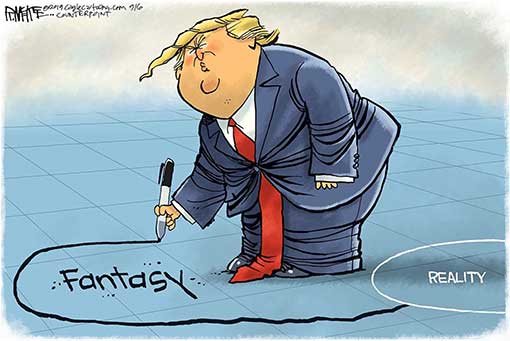 9. Sonam Sheth: 'He's losing his s---': Trump's advisers are increasingly worried about his mental state following days of erratic behavior
President Donald Trump's aides and confidants are growing more and more worried about his mental state after days of erratic behavior, wild outbursts, and bizarre fixations.
"No one knows what to expect from him anymore," one former White House official, who spoke on the condition of anonymity to discuss internal conversations about the president, told Insider.
They added: "His mood changes from one minute to the next based on some headline or tweet, and the next thing you know his entire schedule gets tossed out the window because he's losing his s—."
Sources told Insider the president's advisers are particularly worried about his stubborn refusal to acknowledge that a tweet he sent over the weekend claiming that Alabama was going to be hit by Hurricane Dorian was false. They believe that his frustration is compounded by stress about the 2020 election and the economy's recent downturn.
Trump's first tweet about Alabama being in Hurricane Dorian's path came on Saturday, by which time weather forecasters had determined that it was not going to be hit.
As of Friday evening, Trump had posted 15 tweets and five maps about Alabama and the storm to try to prove his original tweet was correct, despite the fact that he'd been publicly rebuked by the National Weather Service. He also showed reporters an altered map of the storm's path on Wednesday to defend his claims, a move that may be illegal, according to federal law.
"He's deteriorating in plain sight," one Republican strategist who's in frequent contact with the White House told Insider on Friday.
Asked why the president was obsessed with Alabama instead of the states that would actually be affected by the storm, the strategist said, "you should ask a psychiatrist about that; I'm not sure I'm qualified to comment."
https://www.businessinsider.com/trump-aides-worried-about-mental-state-alabama-hurricane-dorian-2019-9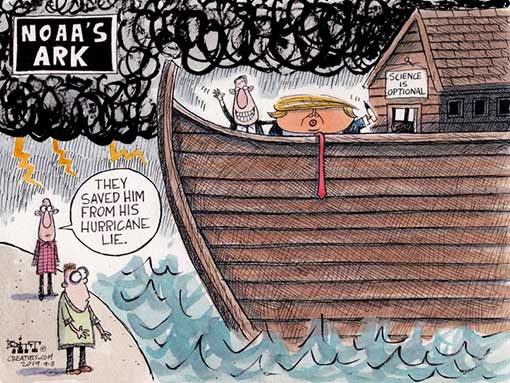 10. McKay Coppins: The Heir
For a nation founded in revolt against monarchy, the United States excels at preserving its own royalty. Once a name and fortune are made, the machinery of American power churns into gear. Wealth is passed down through trusts. Important jobs flow to unaccomplished heirs. Famous families get mythologized in the media, celebrated in the culture. The result is a ruling class dominated by dynasties—from the Rockefellers to the Roosevelts, the Mellons to the Murdochs.
But if Camelot was always a romantic facade, the Trumps have dropped the ennobling pretense. Like a fun-house-mirror version of the Kennedys, they reel across the national stage swapping the language of duty and sacrifice for that of grievance and quid pro quo. Ask not what your country can do for you, they seem to say; ask what your country can do for the Trumps.
There was little question what the future of the Trump family would look like. After a century and a half of striving, they had money, and fame, and unparalleled power. But respectability would remain as distant a mirage as it was when Friedrich was chasing it across the Yukon. While no one knew when Donald Trump would exit the White House, it was clear what he would leave behind when he did: an angry, paranoid scrap of the country eager to buy what he was hawking—and an heir who knew how to keep the con alive. https://www.theatlantic.com/magazine/archive/2019/10/trump-dynasty/596674/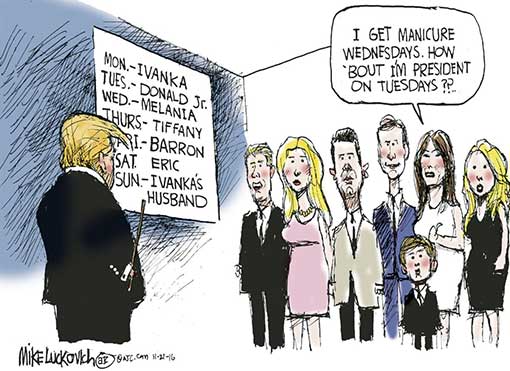 11. Max Boot: Trump proves he's a better dealbreaker than dealmaker — this time, with the Taliban
"Deals are my art form," President Trump proclaimed in his ghostwritten book, "The Art of the Deal." "Other people paint beautifully on canvas or write wonderful poetry. I like making deals, preferably big deals." It's true that Trump likes making deals. He's just not very good at it. In fact, he may be the worst dealmaker ever to occupy the Oval Office. The abrupt disintegration of his accord with the Taliban provides the latest evidence that he's too impetuous and ignorant to be a successful negotiator.
Instead of producing a deal with China, he has sparked an endless trade war. Instead of denuclearizing North Korea, he has allowed Pyongyang to test ballistic missiles and expand its nuclear arsenal while refusing to send envoys to negotiate. Instead of stopping Iran's nuclear program, he has actually accelerated it. Instead of reaching the "deal of the century" between Palestinians and Israelis, his peace plan has still failed to materialize. Now Trump's special envoy for Middle East peace has resigned, to be replaced by Jared Kushner's 30-year-old gofer. And negotiations to get Mexico to pay for the border wall? Fuhgetaboutit. That's being funded by the Pentagon, which is diverting funds needed to pay for child care for military families and to rehabilitate "high risk" facilities that pose a threat to workers.
The Afghanistan mess confirms what has been obvious from the start: As the New Yorker's Susan B. Glasser and others have noted, Trump is a better dealbreaker than dealmaker. https://beta.washingtonpost.com/opinions/2019/09/08/trump-proves-hes-better-dealbreaker-than-dealmaker-this-time-with-taliban/
12. Senator Sheldon Whitehouse: The Supreme Court has become just another arm of the GOP
Politics is a team sport. We battle, and our courts are supposed to referee our disputes.
But what if one team spent years and millions of dollars to capture the referees, so the refs could declare that team the winner whenever they fell short on the field? If you were on the other team, you'd cry foul. You'd ask: "Hey, when did the law become a team sport, too?''
Republicans and their big donors now see the court as part of their team. They can achieve political gains there that they cannot win in Congress. The supposedly apolitical nature of the court partly protects these political gains from critique. And after 73 partisan victories, they've had a hell of a run. That explains why our brief provoked such an outcry from their side.
The right-wing offered no defense of why a multimillion-dollar secret influence apparatus should be involved in selecting justices and campaigning for their confirmation and filing anonymous amicus briefs. There was no defense of the court systematically overturning precedents or inviting challenges to well-established doctrines or finding specious facts or discarding appellate norms; and there was no defense of the run of 73 partisan decisions.
Instead, we saw precisely the howl of coordinated, multiple-mouthpiece misdirection you would expect to hear from big donors whose scheme to capture the Supreme Court for one team was suddenly exposed and is now at risk. https://beta.washingtonpost.com/opinions/the-supreme-court-has-become-just-another-arm-of-the-gop/2019/09/06/8ad36642-d0e2-11e9-87fa-8501a456c003_story.html
13. Jonathan Chait: Trump Has Figured Out How to Corrupt the Entire Government
The New York Times supplied details on the ongoing scandal of Trump profiting from his office. During the presidential campaign, Trump waved away concerns about the unprecedented conflicts of interest that would arise from him running a business at the same time he wields enormous power. Republicans in Congress have evinced no concern whatsoever about Trump's corruption, refusing to take even modest steps like compelling the release of his tax returns.
The mere fact that there is so much corruption prevents any single episode from capturing the imagination of the media and the public. But it is the totality of dynamic that matters. A corrupt miasma has slowly enveloped Washington. For generations, both parties generally upheld an assumption that the government would abide rules and norms dividing its proper functioning from the president's personal and political interests.
The norm of bureaucratic professionalism and fairness is a pillar of the political legitimacy and economic strength of the American system, the thing that separates countries like the U.S. from countries like Russia. The decay of that culture is difficult to quantify, but the signs are everywhere. Trump's stench is slowly seeping into every corner of government. http://nymag.com/intelligencer/2019/09/trump-corruption-sharpiegate-hotel-biden.html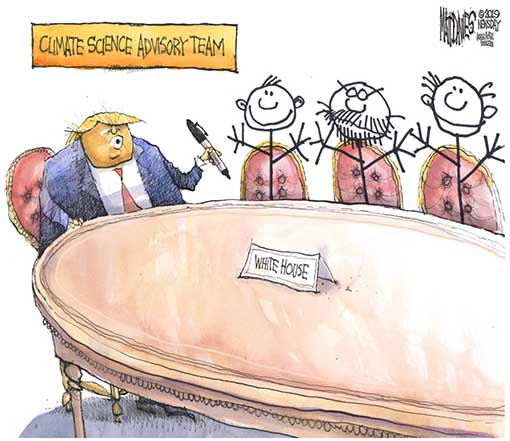 14. Peter Wehner: Trump Is Not Well
Donald Trump's disordered personality—his unhealthy patterns of thinking, functioning, and behaving—has become the defining characteristic of his presidency. It manifests itself in multiple ways: his extreme narcissism; his addiction to lying about things large and small, including his finances and bullying and silencing those who could expose them; his detachment from reality, including denying things he said even when there is video evidence to the contrary; his affinity for conspiracy theories; his demand for total loyalty from others while showing none to others; and his self-aggrandizement and petty cheating.
Accepting the truth about Trump's mental state will cause us to take more seriously than we have our democratic duty, which is to prevent a psychologically and morally unfit person from being president.
The office is too powerful, and the consequences are too dangerous, to allow a person to be president who views morality only through the prism of whether an action advances his own narrow interests, his own distorted desires, his own twisted impulses. When an individual comes to believe his interests and those of the nation he leads are one and the same, it opens the door to all sorts of moral and constitutional devilry.
Whether or not his disorders are diagnosable, the president's psychological flaws are all too apparent. They were alarming when he took the oath of office; they are worse now. Every day Donald Trump is president is a day of disgrace. And a day of danger. https://www.theatlantic.com/ideas/archive/2019/09/donald-trump-not-well/597640/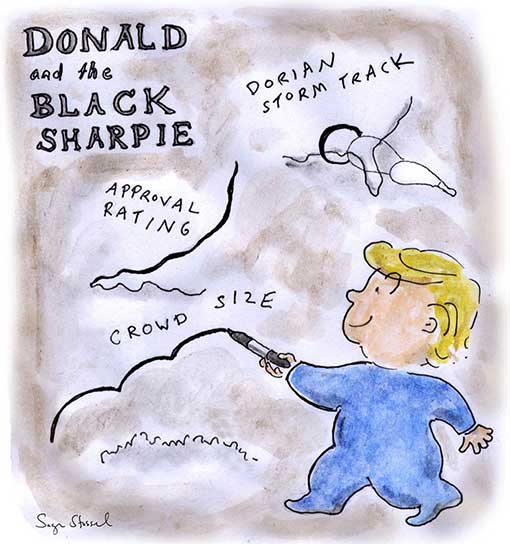 15. Jennifer Rubin: Bolton is out, proving blind loyalty to a narcissist never works 
John Bolton should never have joined an administration in which the president was overtly corrupt, sympathetic to dictators, weirdly beholden to Russian President Vladimir Putin and a pathological liar. Like so many others, Bolton will go down as someone driven by unquenchable thirst for relevance and power with the hubris to think he could bend President Trump to his will. Instead, Bolton became an enabler for a president who allowed himself to be snowed by North Korea's Kim Jong Un and revealed he never had a game plan for Iran (and would not use force or the credible threat of force).
Rather than quit on principle at dozens of junctures, Bolton clung to his job, only to be rudely fired. The Post reports:
Bolton, to put it mildly, never played well with others and therefore was uniquely unqualified for the job of national security adviser, who is supposed to be the honest broker in government. It would be an understatement to say both anti-Trump conservatives and Democrats are positively giddy seeing the blusterous, aggressive adviser end his career in semi-disgrace. Quite apart from the double scoop of schadenfreude, many in the foreign policy community are genuinely relieved. "I'm just thankful we got through Bolton's tenure without him starting a war," said Max Bergmann of the Center for American Progress and a former State Department official. "He no doubt tried, but was boxed in by the administration's own incompetence and his inability to convince others to go along." https://beta.washingtonpost.com/opinions/2019/09/10/bolton-is-out-blind-loyalty-narcissist-never-works/
16. Erin Banco: Moscow Mitch Says No to Money for Miners, Yes to Russian-Backed Plant
Senate Majority Leader Mitch McConnell last month blocked a measure that would have used Treasury Department funds marked for Appalachian development to help pay for coal miners' health care and pensions in his home state of Kentucky. 
But just a few months earlier, McConnell successfully steered near-identical Treasury funds for Appalachia to bankroll a Kentucky aluminum plant connected to an ally of Russian President Vladimir Putin. 
McConnell's connection to the Rusal-Braidy aluminum plant is deeper than previously understood. At the same time Rusal was lobbying the Trump administration to get off the U.S. sanctions list, McConnell was advocating for federal funds to be diverted to help with construction of the Braidy plant in Kentucky. https://www.thedailybeast.com/mitch-mcconnell-blocked-millions-for-coal-miners-steered-funds-to-russian-backed-plant
17. John Gans: How John Bolton Broke the National Security Council
The irony of John Bolton's tenure as national security adviser, which ended Monday night and was confirmed by presidential tweet on Tuesday morning, is that upon the news of his initial appointment, most foreign-policy experts in Washington worried about the damage Mr. Bolton could do abroad. He was known for his hard-line views on North Korea, Iran and other issues, and several fretted about the wars this irascible firebrand might persuade an inexperienced president to start.
Yet Mr. Bolton's legacy is not of destruction overseas, but dysfunction in Washington. To pursue his own policy agenda and serve an erratic president, in just 17 months Mr. Bolton effectively destroyed the National Security Council system, the intricate structure that governed American foreign policy since the end of World War II. Mr. Bolton's most lasting legacy will be dismantling the structure that has kept American foreign policy from collapsing into chaos, and finally unshackling an irregular commander-in-chief. https://www.nytimes.com/2019/09/10/opinion/john-bolton-trump.html