November 24, 2022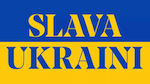 A friend, family member, or neighbor who would like to subscribe to this FREE weekly newsletter should simply email jellison@san.rr.com with "subscribe" as the subject.
THE WEEK'S BEST QUOTES. . .
I know that politics is ugly. People play all kinds of games, unfortunately. But Herschel Walker and his allies have crossed a line where my family is concerned.I want to set the record straight: My children live with me. I am present with my children in every way that a father should be, from breakfast in the morning to bedtime prayers at night. I can't continue to let him lie about our family.  — Sen. Raphael Warnock (D-GA) on Republican Herschel Walker accusing the Democrat of being a negligent father to his two young children.
https://www.ajc.com/politics/warnock-says-walker-crossed-a-line-with-attacks-on-his-family/GHRM5QOZAZAEPN4KZRVQIN6B2Q/
The House Republican Conference will have the barest majority, rendered ungovernable by the lunatic likes of Matt Gaetz and Majorie Taylor Green. The self-sabotage of an ungovernable Republican majority will all but guarantee that Democrats take back the House in 2024. — Rep. Ritchie Torres (D-NY).
https://www.vanityfair.com/news/2022/11/gop-house-majority-kevin-mccarthy-marjorie-taylor-greene
If Mr. Trump can't stop his little petty issues, how does he expect people to stop major issues? — James Robison a televangelist who served as a spiritual adviser to Donald Trump said the former president has the tendency to act 'like a little elementary schoolchild' and suggests that Trump's focus on minor spats was preventing progress on larger goals.
https://www.washingtonpost.com/politics/2022/11/17/trump-spiritual-adviser-criticism-child/
]It is time to stop whispering. It is time to stop being afraid of any one person. It is time to stand up for the principles and the beliefs that we have founded this party on and this country on. We keep losing and losing and losing. And the fact of the matter is the reason we're losing is because Donald Trump has put himself before everyone else. — Former New Jersey Gov. Chris Christie ®.
https://thehill.com/homenews/3743291-christie-rebukes-trump-it-is-time-to-stop-whispering-it-is-time-to-stop-being-afraid-of-any-one-person/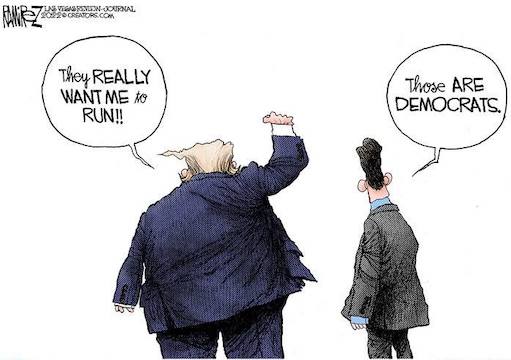 Candidate quality matters. Holy cow, have we learned that one the tough way  I got a great policy for the Republican Party. Let's stop supporting crazy, unelectable candidates in our primaries and start getting behind winners that can close the deal in November. — New Hampshire Gov. Chris Sununu (R).
https://thehill.com/homenews/campaign/3743167-sununu-says-gop-should-stop-supporting-crazy-unelectable-candidates-in-our-primaries/.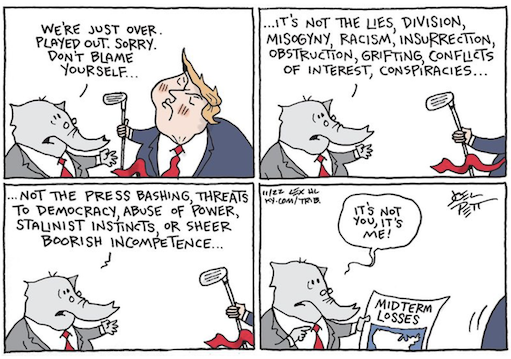 I was described by Steve Bannon (and, sigh, many others) as a pit bull. Jack Smith makes me look like a golden retriever puppy. So tenacious and fearless. And apolitical and ethical. — Andrew Weissmann, former lead prosecutor on the Mueller probe.
https://twitter.com/aweissmann_/status/1593783449952944128
"I think he has cut so many deals with bad people to get to this position that I think he's not going to be a leader at all." — Rep. Adam Kinzinger (R-IL) predicted House Minority Leader Kevin McCarthy (R-CA) won't "last very long" if he becomes Speaker when Republicans take control of the lower chamber in January. https://thehill.com/homenews/house/3743830-kinzinger-mccarthy-wont-last-very-long-if-elected-speaker/
"Why? Because I want to win, and we lose with Trump. It was really clear to us in '18, in '20 and now in 2022." — Former Speaker Paul Ryan saying that he's a "Never-Again-Trumper."
https://abcnews.go.com/Politics/speaker-paul-ryan-calls-trumper/story?id=93616478
"We have at least 30% of the Republican primary electorate that will do anything to support the president. And the value of their votes becomes proportionately higher if a bunch of others pile in the race and dilute the not-Trump vote and divide it up between them." — A campaign strategist for Donald Trump.
https://www.nbcnews.com/politics/2024-election/2024-gop-presidential-hopefuls-no-rush-jump-trump-rcna57785
"The right-wing hates women. They especially hate strong women, and I think that's what you're seeing. The fact that a spouse of a senator-elect has been attacked nonstop for the past 24 hours and everyone's okay with it and everyone thinks it's normal … it's not normal. My inbox has been completely filled with threats and horrible things. And that's because I've been a non-stop loop on Fox News. Hopefully it's not like this forever and hopefully it's not like this for the next young Latina or person of color or spouse who enters this space." — Giselle Fetterman the wife of Pennsylvania Senator-elect John Fetterman.
https://newrepublic.com/article/169034/gisele-fetterman-interview-washington-senate
"He was not my first or second choice for president, but I am a convert. I never thought I would say this, but I believe he should run for another term and finish this agenda we laid out." — Rep. Pramila Jayapal (D-WA), who heads the Congressional Progressive Caucus.
https://www.politico.com/news/2022/11/21/ron-klain-white-house-west-wing-00069645
'His words were reckless… he decided to be part of the problem': — Mike Pence on Trump for 'endangering him, his family and everyone there' by tweeting as supporters ransacked the Capitol on January 6.
https://www.dailymail.co.uk/news/article-11424705/The-presidents-words-reckless-decided-problem-Pence-tears-Trump.html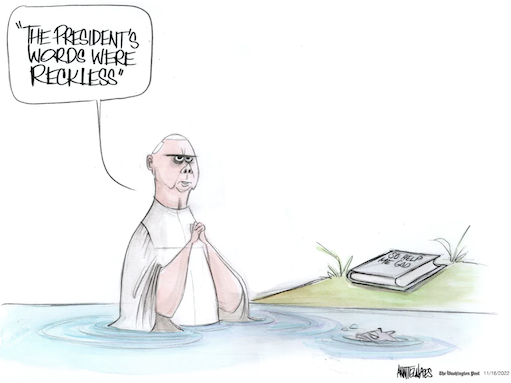 VIDEOS
"I personally think that they probably have the basis for legitimately indicting him." — Former Attorney General Bill Barr, on PBS, about Donald Trump's legal issues.
https://twitter.com/atrupar/status/1593777405960900609
"I don't know if you know, vampires are cool people, are they not?" -- Herschel Walker's speeches are somehow even less coherent than his TV appearances. Like, what it this.
https://twitter.com/atrupar/status/1592954140887773184
"We got people in Washington that have gotten too weak. All they want to do is let people ride their bike. That's what Sen. Warnock is doing. Let Joe Biden ride his bike." — A snippet from a Herschel Walker stump speech.
https://twitter.com/atrupar/status/1592950306757038083
LITIGATION TRACKER
Pending Criminal and Civil Cases Against Donald Trump
. 
https://www.justsecurity.org/75032/litigation-tracker-pending-criminal-and-civil-cases-against-donald-trump/
---
IN THIS ISSUE
IN THE NEWS
OPINION
Andy Borowitz: Elon Musk Praised by Americans Thirsting for Content from Marjorie Taylor Greene
In what is being widely hailed as a business masterstroke, Elon Musk is receiving thunderous acclaim from Americans starving for content from Marjorie Taylor Greene.
The Georgia congresswoman's reinstatement on Twitter ended a ten-month ban during which, in the view of millions from coast to coast, her silence has been intolerable.
"Anyone who's been betting against Elon Musk better think again," Harland Dorrinson, who lives in Milwaukee, said. "Within weeks of taking over Twitter, he figured out what was wrong with it: no Marjorie Taylor Greene."
"Now that Marjorie Taylor Greene is back on Twitter, Elon's going to be laughing all the way to the bank," Carol Foyler, a resident of Phoenix, said. "This might be an even shrewder move than that eight-dollar-blue-check thing."
Tracy Klugian, who lives in Akron, called the restoration of Greene's Twitter account "yet another sign that Elon Musk is at the top of his game."
"There was a Marjorie Taylor Greene-size hole on the Internet, and Elon Musk has filled it," Klugian said.
https://www.newyorker.com/humor/borowitz-report/
Trump's Legal Problems All Converged Into One Day of Spectacular Failures
In a matter of hours Tuesday, former President Donald Trump suffered humiliating defeats in courtrooms across the country that put him on track to have his personal taxes exposed, see his company dismantled, face a trial for an alleged rape, and confront the unencumbered power of the Department of Justice.
It was setback after setback for the former president, who would have struggled to keep up with all the bad news hour by hour—just as journalists struggled to keep track of all the updates and court appearances on Tuesday. https://www.thedailybeast.com/donald-trumps-legal-problems-all-converged-into-one-day-of-spectacular-failures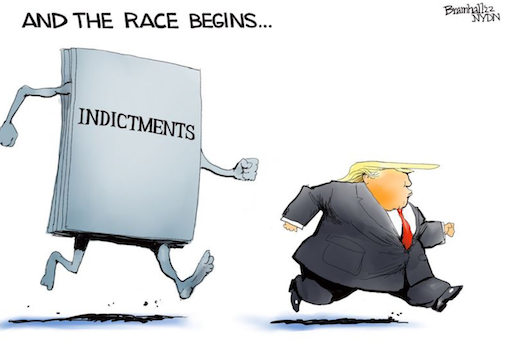 For experts, the evidence in two probes compels charging Trump
Veteran prosecutors and top legal minds this week banded together to offer an assessment of two ongoing probes — one in Georgia examining Trump's actions in the state leading up to Jan. 6, 2021, the other led by the Justice Department as it explores the mishandling of sensitive government documents at Mar-a-Lago.
In each, the attorneys found robust cases and significant legal risk for Trump, who is facing mounting trouble as he launches an early bid in the 2024 presidential race.
"Donald Trump is facing many more legal problems than just these two probes. But the Georgia investigation of whether his election denial slipped into criminality after the 2020 election and the federal investigation [into] whether his retention, classified, and other documents at Mar-a-Lago also crossed the criminal red line are the most threatening legal peril that he faces," Norm Eisen, counsel for Democrats in Trump's first impeachment and an author on both reports, said that "They represent a one-two punch that has the potential to finally achieve the accountability that he has so often evaded in the past … I think that run is about to end, and these are the two cases that are most likely to do it." https://thehill.com/regulation/national-security/3742386-for-experts-the-evidence-in-two-probes-compels-charging-trump/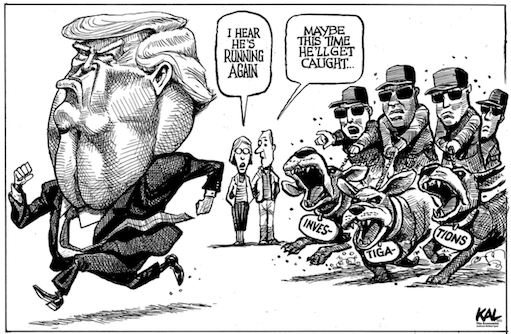 Donald Trump's third party threat looms over 2024
Republicans who have spent the last two years wondering what happens if Donald Trump wins the 2024 nomination suddenly have another question on their mind as he begins to look more vulnerable: What happens if he loses?
Trump's loose attachments to the Republican Party are already raising speculation about a potential third party move, or other steps to undermine the eventual nominee, that could be devastating to a GOP ticket.
"The threat is simple: Unless the rest of the party goes along with him, he will burn the whole house down by leading 'his people' out of the GOP," Trump's former Attorney General William Barr warned. https://www.semafor.com/article/11/21/2022/donald-trumps-third-party-threat-looms-over-2024
Despite dangerous pregnancy complications, abortions denied
A growing number of physicians and families tell similar stories as a post-Roe fear comes to pass: Pregnant women with dangerous medical conditions are showing up in hospitals and doctors' offices only to be denied the abortions that could help treat them.
Some doctors in states with restrictive abortion laws say they've referred or suggested more patients go elsewhere than ever. Some women are facing harmful, potentially deadly delays. https://apnews.com/article/abortion-science-health-business890e813d855b57cf8e92ff799580e7e8
Maricopa County Chairman moved to 'undisclosed location' for safety after midterm elections
Maricopa County Supervisor Bill Gates has confirmed that he moved to an undisclosed location for his safety after security concerns connected to the 2022 midterm elections.
Gates, a Republican and one of the leaders of the Maricopa County Elections Department, has been a fierce defender of the county's election system and an outspoken critic of false claims that the 2020 election was stolen and has continued to defend the county against continued claims of fraud during the midterms. https://www.fox10phoenix.com/news/maricopa-county-chairman-moved-to-undisclosed-location-for-safety-after-midterm-elections
The educational divide between voters is growing
In the 2018 midterms, 56 percent of voters with college degrees and 51 percent of voters without them voted for Democrats, according to the Associated Press's VoteCast survey — a gap of five percentage points.
This year, the gap widened to 10 points: 52 percent of voters with college degrees supported Democrats while 42 percent of voters without degrees did so. The split echoed the gap between college-educated and non-college-educated voters' support for Biden in 2020.
Voters with and without college degrees were more likely to support Republicans this year than in 2018 — a stronger year for Democrats. But voters without college degrees shifted more sharply toward the GOP than college-educated ones across racial and gender line. https://www.washingtonpost.com/politics/2022/11/23/educational-divide-between-voters-is-growing/
In a Republican House, investigations and fiscal clashes loom
Some of the consequences will be more performative than substantive. The finances of Hunter Biden, Mr Biden's troubled son, are likely to be one target; America's botched withdrawal from Afghanistan and the origins of covid-19 are also possibilities. The Trumpiest fringe of the House Republicans may push for the president's impeachment. None of this is likely to amount to much of anything, since the Democrat-controlled Senate will, as a matter of course, reject it all. Still, the theatrics of divided government will have important repercussions, especially for the economy.
The biggest concern is that Republicans will provoke a crisis by refusing to increase America's debt ceiling.
https://www.economist.com/united-states/2022/11/17/in-a-republican-house-investigations-and-fiscal-clashes-loom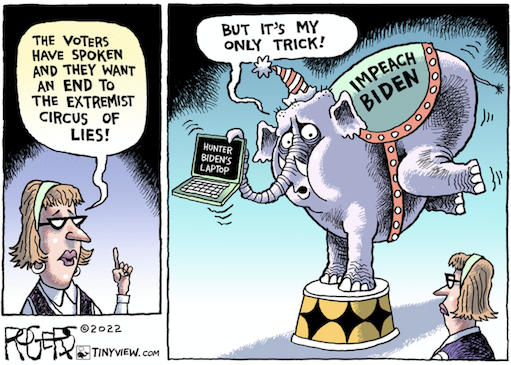 GOP plans to punish 'woke' Wall Street
Republican lawmakers, who will be in the House majority come January, are pressing party leaders to send a message to big financial firms: Stop appeasing the left with 'woke' business practices, keep financing fossil fuels and cut ties with China. Republicans will have committee gavels and subpoena powers to back that up.
GOP lawmakers are singling out major asset managers and their Washington trade groups as targets because of climate investing practices they see as hostile to oil, gas and coal. Some Republicans want to continue hauling in big bank CEOs to publicly testify — a tradition established by liberal Democrats. GOP senators are already demanding that law firms preserve documents related to how they advise clients on environmental and social initiatives, signaling a potential investigation. Wall Street firms and Washington lobbyists are preparing for subpoenas.
https://www.politico.com/news/2022/11/17/republicans-congress-wall-street-00065688
Trump sets off GOP identity crisis heading into 2024
Leadership fights in both chambers of Congress are exposing deep disunity about how to win back independent and swing voters who have often been scared away by Trump's extremism. Many lawmakers blame Trump for his fixation on the 2020 election and his lies that he was cheated out of power for their failure to win back the Senate.
But some maintain that the party isn't Trumpy enough. The ex-president's allies, for instance, failed in an attempt to oust veteran Senate GOP leader Mitch McConnell – a longtime Trump antagonist – on Wednesday. But if House Minority Leader Kevin McCarthy wants to be the next speaker, he cannot afford to alienate Trump's acolytes who will wield huge power in the new House, meaning that one half of Capitol Hill at least will dance to the ex-president's tune.
https://www.cnn.com/2022/11/17/politics/republican-party-2024-identity-crisis-analysis/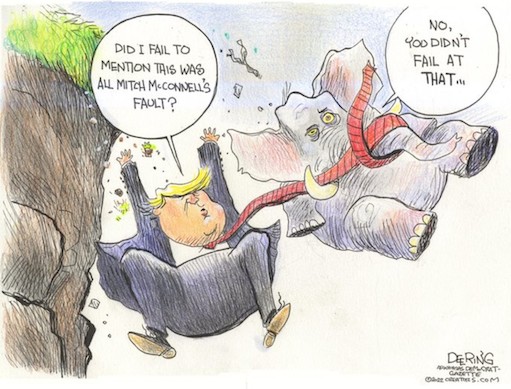 White House is preparing for a GOP investigative onslaught
While President Joe Biden and Democrats campaigned to preserve their congressional majorities, a small team of attorneys, communications strategists and legislative specialists have spent the past few months holed up in Washington preparing for the alternative.
The preparations, largely run out of the Eisenhower Executive Office Building near the White House, are among the earliest and most comprehensive by any administration ahead of a midterm election and highlight how far-reaching and aggressive Republican investigations are expected to be.
https://www.cnn.com/2022/11/17/politics/biden-white-house-preparations-republican-investigations/index.html
GOP operative found guilty of funneling Russian money to Donald Trump
A Republican political strategist was convicted of illegally helping a Russian businessman contribute to Donald Trump's campaign in 2016,
Jesse Benton, 44, was pardoned by Trump in 2020 for a different campaign finance crime, months before he was indicted again on six counts related to facilitating an illegal foreign campaign donation. He was found guilty Thursday on all six counts.
https://www.washingtonpost.com/dc-md-va/2022/11/17/benton-trump-russian-vasilenko-guilty/
Republicans Barely Won the House. Now Can They Run It?
Republicans managed to make their victory in the House seem like a loss by underperforming so badly. But while they did not win control by anywhere near the margin that they anticipated, they did win. And in the House, even the barest majority can work its will if it can hold together to produce 218 votes.
The main question going forward is whether Representative Kevin McCarthy of California, who was nominated on Tuesday to lead the new Republican majority, can achieve the unity necessary to perform fundamental tasks such as funding the government, or whether unyielding far-right members will make the new speaker's life miserable and the House an unmanageable mess.
Despite their underwhelming showing, Republicans are unlikely to be chastened into cooperating with Mr. Biden and no doubt will plunge ahead aggressively once they get their hands on the gavels. For many, that was the point of the election. Their agenda is investigative, not legislative.
https://www.nytimes.com/2022/11/16/us/politics/republicans-house-majority-mccarthy.html
What Divided Government Means for Washington
Republicans' narrow control of the House of Representatives will usher in a return to divided government in Washington next year, likely shattering the chances of any major legislation, stoking divisions within the GOP and putting President Biden on defense as the new Congress investigates his administration.
Mr. Biden, who downsized his agenda to get bills through a Congress narrowly controlled by Democrats, will now have to contend with House Republicans who have said they plan to pressure him to cut government spending and make other policy changes by threatening to withhold votes to keep the government open or to ensure that the U.S. meets its debt obligations.
Legislating will likely grind to a near halt, including some bills that once saw bipartisan support but have recently drawn skepticism from Republicans, such as assistance for Ukraine in defending itself against Russia. Republicans will get to push a competing agenda if they can hold their caucus together on key priorities — a daunting task with such a small majority.
https://www.wsj.com/articles/what-divided-government-means-for-washington-11668642809
Key Allies Are Inching Away From Trump
Three billionaire donors have moved on and others are actively weighing their options. A number of former allies are staying on the sidelines. A long list of potential rivals — from popular governors to members of Congress — are seriously assessing their chances for 2024. Even his own daughter has declined to get involved.
Within hours of Donald J. Trump announcing his third presidential bid on Tuesday, some of his former aides, donors and staunchest allies are shunning his attempt to recapture the White House, an early sign that he may face difficulty winning the support of a Republican Party still reeling from unexpected midterm losses.
While Mr. Trump has long faced opposition from the establishment and elite quarters of his party, this round of criticism was new in its raw bluntness, plainly out in the open by Wednesday and focused on reminding voters that the Trump era in Republican politics has led to the opposite of the endless winning Mr. Trump once promised.
https://www.nytimes.com/2022/11/16/us/politics/trump-republicans-alternatives.html
Marjorie Taylor Greene Seeks to 'Defund' Special Counsel
Rep. Marjorie Taylor Greene (R-GA) argues that Republicans should impeach Attorney General Merrick Garland and insisted that her party refuse to appropriate any funding to Merrick Garland's Special Counsel and defund any part of the DOJ acting on behalf of the Democrat party as a taxpayer funded campaign arm for the Democrat's 2024 presidential nominee.
It sets up a new and explosive spending clash that could easily prompt a government shutdown in the next Congress. Why? MTG and like-minded Trump loyalists will press Kevin McCarthy (or whoever else manages to become speaker) to toe a hard line while Democrats will absolutely refuse to defund the investigations.
https://www.politico.com/newsletters/playbook/2022/11/19/a-new-special-counsel-sets-d-c-ablaze-00069587
Murkowski pulls ahead of Tshibaka in latest ballot count
Sen. Lisa Murkowski, a moderate Republican who was censured by the Alaska Republican Party, pulled ahead of her right-wing opponent Kelly Tshibaka in the number of first-choice votes, with late-counted absentee and early votes breaking in her favor.The incumbent is on track to win reelection when ranked choice votes are tabulated by the Division of Election on Nov. 23.
https://www.adn.com/politics/2022/11/18/friday-ballot-tally-strengthens-incumbent-positions-in-alaskas-statewide-races/
Capitol rioter who said he wanted Trump's 'approval' gets three years in Jan. 6 case
A Donald Trump fan who was convicted on all counts after telling jurors that he thought he was 'following presidential orders' when he stole a liquor bottle and a coat rack from the U.S. Capitol on Jan. 6 was sentenced to three years in federal prison on Friday.
Dustin Thompson, a college-educated Ohio man who testified that he believed Trump's lies about the 2020 election, was convicted on six charges in April after he told jurors he was seeking Trump's 'respect' and 'approval' on Jan. 6.
https://www.nbcnews.com/politics/justice-department/capitol-rioter-said-wanted-trumps-approval-gets-three-years-jan-6-case-rcna57882
THE DAILY GRILL
House Minority Leader Kevin McCarthy (R-CA) vowed during an appearance on Fox News said that if he becomes speaker of the House. that Rep. Ilhan Omar (D-MN) wouldn't be allowed to serve on the House Foreign Affairs Committee, citing her "antisemitic comments."
https://www.axios.com/2022/11/20/kevin-mccarthy-ilhan-omar-foreign-affairs-israel
VERSUS
Rep. Ilhan Omar (D-MN): "From the moment I was elected, the Republican Party has made it their mission to use fear, xenophobia, Islamophobia and racism to target me on the House Floor and through millions of dollars of campaign ads. Whether it is Marjorie Taylor Greene holding a gun next to my head in campaign ads or Donald Trump threatening to 'send me back' to my country (despite the fact that I have been a proud citizen of the United States for more than 20 years), this constant stream of hate has led to hundreds of death threats and credible plots against me and my family."
https://thehill.com/homenews/house/3744719-omar-fires-back-after-mccarthy-vows-to-remove-her-from-committees/
Two top House Republicans — Rep. James Comer and Rep. Jim Jordan — who are expected to chair the House Oversight and Judiciary committees next year are planning to lay out the evidence they say they have gathered from whistleblowers that show President Biden's son, Hunter, engaged in influence peddling and his father, potentially while serving as vice president, may have benefited financially.
https://www.npr.org/2022/11/17/1137197668/republicans-have-won-the-house-now-theyre-promising-to-investigate-the-bidens
VERSUS
"Instead of working with President Biden to address issues important to the American people, like lower costs, congressional Republicans' top priority is to go after President Biden with politically-motivated attacks chock full of long-debunked conspiracy theories. President Biden is not going to let these political attacks distract him from focusing on Americans' priorities, and we hope congressional Republicans will join us in tackling them instead of wasting time and resources on political revenge." — White House spokesperson Ian Sams.
https://www.npr.org/2022/11/17/1137197668/republicans-have-won-the-house-now-theyre-promising-to-investigate-the-bidens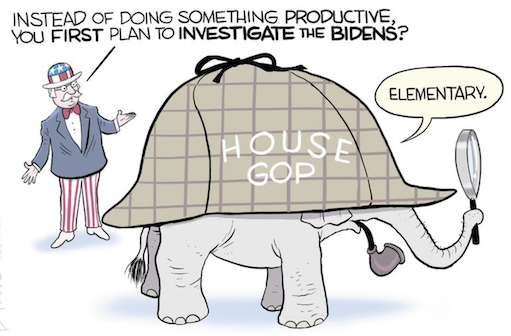 Sidney Blumenthal: Trump is now effectively in control of the US House of Representatives
Donald Trump's ragtag minions of horned madmen and militias could not seize the Capitol on January 6. But when the 118th Congress is sworn in on 3 January, Trump's coup will have broken through more than a police barrier to enter a new phase. That's because Trump will, for all intents and purposes, become the de facto speaker of the House. If and when Nancy Pelosi ever so gently passes the gavel to Kevin McCarthy, it would be hard not to hit her with it, McCarthy said to the raucous laughter of a Republican crowd in 2021. The ultimate power will be held in the hands of Trump. From his gilded tropical palace, he will phone dictates to Jim Jordan and other acolytes who will transform the House of Representatives into his 2024 presidential campaign committee, virtual law firm and bludgeon for revenge. The House will be his hammer.

In the 117th Congress, 147 Republicans out of 213 refused to certify the results of the electoral college. The margin of the slim new Republican majority will uniformly be election deniers, who will pad the Freedom Caucus before which McCarthy cowers. When the red wave was revealed to be a mirage, while the votes were still being tallied and the House Republican majority still uncertain, representative Matt Gaetz of Florida labeled McCarthy McFailure, pledged his eternal fealty to Trump and called for a challenge to McCarthy as speaker. https://www.theguardian.com/commentisfree/2022/nov/17/donald-trump-kevin-mccarthy-republicans-house-of-representatives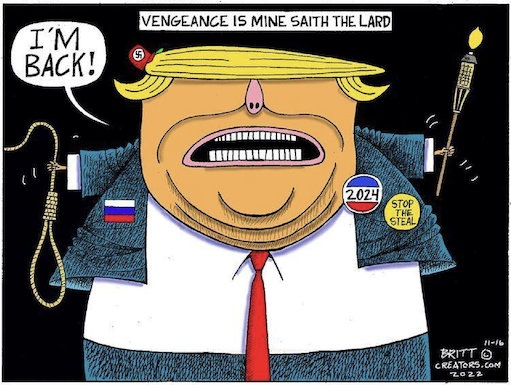 Michelle Goldberg: Don't Buy Into the Trump-DeSantis Smack-Down
Donald Trump is a petulant narcissist, so his feuds with Govs. Ron DeSantis and Glenn Youngkin are surely sincere, but they also show that Trump hasn't lost his feral instinct for media attention. In recent months, the former president has become increasingly boring, and after sabotaging Republican hopes for a red wave, his power is at a low ebb. By stoking a Republican Party civil war and announcing his run for president, he can perhaps rekindle interest in a new season of the Trump show.

On Tuesday, Trump gave an extraordinarily tedious and droning address announcing his new presidential campaign.

Still, as I listened to Trump speak about cesspools of blood and sadistic knife-wielding gangsters, it was hard not to feel a sickening sense of déjà vu. Somehow, seven long years after he descended his golden escalator, we're back to a place where most conservative elites are again united against him, waiting for a Florida Republican to take him out, even as his fanatical base remains committed. Once again, we've seen Trump bestowing insulting nicknames on his presumptive Republican competitors. He's clearly lost a step — Ron DeSanctimonious is a lot less catchy than Lyin' Ted — but no one should assume he's finished. https://www.nytimes.com/2022/11/15/opinion/donald-trump-announcement-2024.html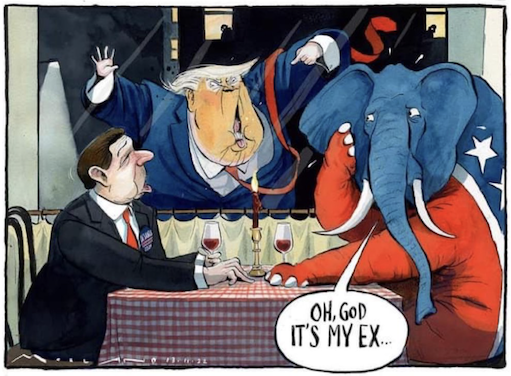 Jessica Levinson: How the Supreme Court helped Republicans take the House
Millions of Americans cast their votes in the midterm elections, but the Supreme Court may have been the one to actually determine control of the House of Representatives, which Republicans will now control by a narrow margin. It's important to understand how we got here. Specifically, the fact that one major Supreme Court case and two shadow docket orders almost certainly allowed the Republican Party to gerrymander its way into this victory.

Over the past year, federal judges in three different states have found that congressional district maps likely violate the Voting Rights Act. These maps amounted to illegal racial gerrymanders which diluted the voting rights of minority voters. The solution for this problem is to replace the illegal legislative district lines with new lines, and in each case to draw an additional majority-minority district. This would have created three additional congressional districts, which happen to heavily favor Democrats. But the conservative Supreme Court stepped in to prevent this remedy. https://www.msnbc.com/opinion/msnbc-opinion/republicans-take-house-yes-thanks-trumps-scotus-rcna57362
Michael A. Cohen: DeSantis won, but DeSantis-ism lost
We fight the woke in the legislature. We fight the woke in the schools. We fight the woke in the corporations. We will never, ever surrender to the woke mob. Florida is where woke goes to die.

With these fighting words, Florida Gov. Ron DeSantis hailed his sweeping re-election victory last week. DeSantis trounced his opponent, Democrat Charlie Crist, by 1.5 million votes. The blatant gerrymander he masterminded helped Republicans flip four House seats in the state. The results leave little doubt that Florida is now firmly a red state and that he is the non-Trump front-runner for the 2024 presidential nomination.

But while Tuesday was a big win for DeSantis, it was a loser for DeSantis-ism. His war on wokeness, attacks on liberals, and divisive culture war politics played well in Florida, but elsewhere it landed with a resounding thud. https://www.msnbc.com/opinion/msnbc-opinion/desantis-won-desantis-ism-lost-rcna57084
Jonathan Last: She Was Worth the Trouble
One of the many remarkable things about Nancy Pelosi is that she was the first woman to become speaker of the House and yet this historic accomplishment isn't anywhere near the top of her resumé. She wasn't a token or a barrier breaker. She was an uncommonly effective speaker.

She practiced good politics. The Democrats had a long, successful run under her leadership. She kept her caucus mostly in the center of where the Democratic party was. None of that is really up for debate. It's the shared opinion of basically everyone who pays attention to this stuff seriously, on both sides of the aisle.

Democrats and Republicans differ in their value judgments about the merits of the policies Pelosi helped enact. But if the question is: Was Nancy Pelosi an effective leader and do you wish your party had someone like her? Well, there's no difference of opinion on that.

And besides all that, Pelosi might be the single most self-aware politician of her era. In 2017, when some Democrats tried to unseat her, she explained, 'I'm worth the trouble.' https://thetriad.thebulwark.com/p/she-was-worth-the-trouble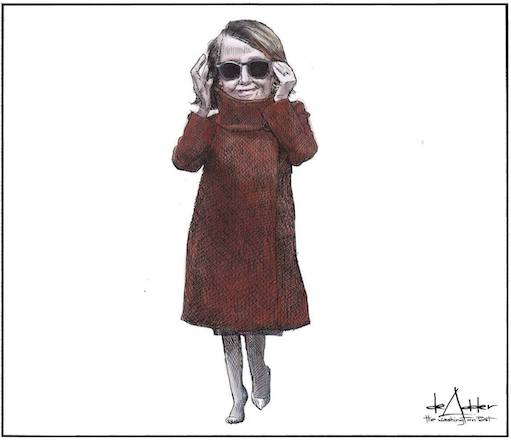 Jelani Cobb The Enduring Power of Trumpism
In the seven years since Trump took his ride down the gold-colored escalator in Trump Tower to declare his candidacy for President of the United States, the movement that coalesced around him has died a thousand deaths, only to climb out of its shallow grave before the first trowel of dirt hit the casket. The political landscape in front of Trump is different and far more formidable than it was even in 2016, when he was a political novice. Notable Presidents—Ulysses S. Grant and Eisenhower among them—had been elected without much political experience. But, in 2024, a prospective Trump would be attempting reelection after having lost a Presidential election, a feat that only the Democrat Grover Cleveland achieved, in 1892, by defeating Benjamin Harrison, who was himself hobbled by divisions among Republicans. Moreover, in 2016, Trump sliced through a fairly unimpressive field of G.O.P. competitors in the primaries. This time, though, he could face a significant primary challenger, in the form of Florida's governor, Ron DeSantis. All this seemingly points to the diminished viability of one of the most disruptive political movements we've seen in modern American history. Yet it's worth thinking about what exactly Trumpism is and how it came to be before penning another potentially premature eulogy on its behalf.

For critical observers, it has always been apparent that everything Trump offered the public came slathered in snake oil. That is either a statement about the willful blindness of the American public or a barometer of how many Americans view those dangerous liabilities as assets. In either case, the McCarthy example provides at least one other insight: fixating on the salesman misses the point. The problem is, and always has been, the size of the audience rushing to buy what he's been selling.  https://www.newyorker.com/news/daily-comment/the-enduring-power-of-trumpism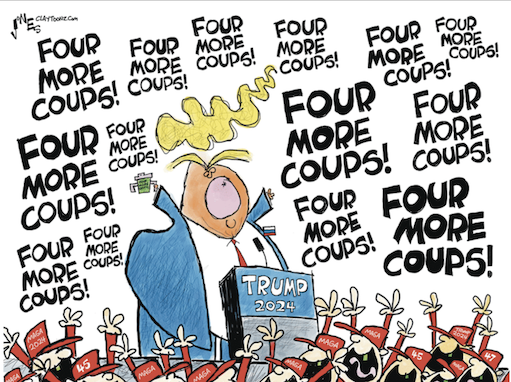 Maureen Dowd: Trump, Macho Macho Victim
Among many remarkable moments in the past few days, this was my favorite: Donald Trump finally acknowledged that Joe Biden is the president.

Our most notorious election denier revealed that he doesn't really believe the election was stolen from him. Because if he were the Sitting President, as his QAnon followers like to call him, he wouldn't need to run for president.

In a Maryland suburb I covered long ago, a fire chief and his deputy were accused of arson. Firefighter arson is actually a term, with its own Wikipedia entry, because it happens more often than you might think.

That's what Trump sounded like, in his announcement speech, when he said he would bring back honesty, confidence, and trust in our elections. The arsonist seeking a job as a firefighter. He is the liar and con man who undermined confidence in our elections. All that baloney about rigged voting has only hurt Republican participation and swung independents and even some Republicans who were sick of Trump to Democrats. But he doesn't care, so long as he can deflect the blame for his loss.

As I have said before, the gravest threats to our civilization are not from abroad, but from within, Trump said at his flaccid, whiny announcement Tuesday night at Mar-a-Lago.

That is actually true, but only because Trump exploited every dark division and base impulse he could find. He would rather blow up our democracy than admit he's a loser, and that makes him a traitor. https://www.nytimes.com/2022/11/19/opinion/trump-special-counsel.html
Jonathan Chait: Trump Says He's 'Not Going to Partake' in Being Charged by Special Counsel
If it were possible for a criminal suspect to simply decline to participate in the process — like an extracurricular activity you simply quit — then this would also open up a gigantic loophole in the legal system. In fact, the Justice Department does not give criminal suspects an option of whether or not to partake in being charged with a crime.

Trump's instinctive response that he 'won't partake' in charges reveals so much about his view of the legal system. He believes the law is optional, and that people like him don't need to participate in it. It is why he committed the crime in the first place. https://nymag.com/intelligencer/2022/11/trump-special-counsel-jack-smith-not-going-to-partake-double-jeopardy.html
Bess Levin: Federal Judge Tells Ron Desantis To Sit Down And STFU

.
Republicans talk a big game about free speech and the First Amendment. But when it comes down to it, they actually believe people should only be "free" to discuss topics they've approved. No elected official better epitomizes this hypocrisy than Florida governor Ron DeSantis who, in the last year alone, has signed a law effectively banning teachers from saying the word "gay" in grades K–3; punished one of the largest employers in the state for having the temerity to criticize the "Don't Say Gay" law; and signed into law a bill—eye-rollingly named "Stop WOKE Act"—that restricts conversations about race in schools and businesses, in a patently obvious attempt to prevent real discussions about the role white people have played in the long history of systemic racism in America. And on Thursday, a federal judge called him on his bullshit.

In a 138-page order, chief US district judge Mark Walker blocked state officials from enforcing a central piece of the Stop WOKE Act, which he dubbed "positively dystopian" and says violates the First Amendment. Citing George Orwell's 1984, Walker wrote that DeSantis and company seem to believe that "the State has unfettered authority to muzzle its professors in the name of 'freedom,'" which is quite obviously not freedom at all. Zeroing in on the fact that the law targets freedom of expression that DeSantis and his fellow Republicans don't like, Walker wrote: "The law officially bans professors from expressing disfavored viewpoints in university classrooms while permitting unfettered expression of the opposite viewpoints. Defendants argue that, under this Act, professors enjoy 'academic freedom' so long as they express only those viewpoints of which the State approves." https://www.vanityfair.com/news/2022/11/ron-desantis-woke-act-blocked
Bill Barr: Trump Will Burn Down the GOP. Time for New Leadership
Trump's extraordinarily divisive actions since losing in 2020 are not those of someone capable of leading a party, much less a country. Right after his defeat, he treacherously sabotaged GOP efforts to hold the Georgia Senate seats. The GOP's poor performance in the recent midterms was due largely to Trump's mischief. He fueled internal fights within state parties. He attacked popular Republican governors in Maryland, New Hampshire, and Arizona to dissuade them from running for Senate seats they could have won. He supported weak candidates for key Senate and House seats based solely on their agreeing with his "stolen election" claims. And after foisting these candidates on the GOP, he failed to provide them adequate financial support, largely sitting on a massive war-chest of cash raised from small dollar donors. 

It seems to me that Trump isn't really interested in broadening his appeal. Instead he is content to focus on intensifying his personal hold over a faction within the party—a group that is probably no larger than a quarter of the GOP, but which allows Trump to use it as leverage to extort and bully the rest of the party into submission. The threat is simple: unless the rest of the party goes along with him, he will burn the whole house down by leading "his people" out of the GOP. Trump's willingness to destroy the party if he does not get his way is not based on principle, but on his own supreme narcissism. His egoism makes him unable to think of a political party as anything but an extension of himself—a cult of personality. https://www.commonsense.news/p/bill-barr-trump-will-burn-down-the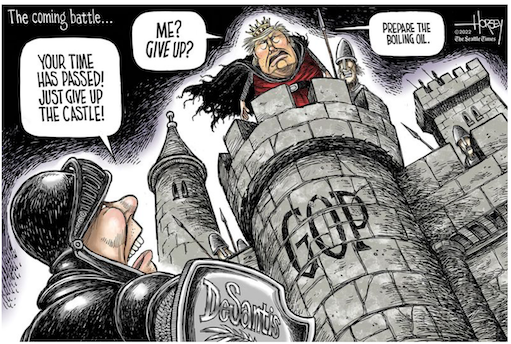 Michael Tomasky: The Vindication of Joe Biden
It was all teed up to be an unmitigated disaster. The coming red wave in the 2022 midterms was going to bring 30, 40, maybe even 50 new Republicans to the House of Representatives—and an extra two or three seats for the party in the Senate. A sizable chunk of the new GOP class was poised to be raging MAGA-heads and Marjorie Taylor Greene wannabes. Joe Biden's presidency was going to be effectively over.
The right would have had a field day, casting Biden as a senile old fool and failed president. The centrist pundits and Blue Dog Democrats would have wagged their collective finger at Biden for having gone 'too far left' on economics and brayed that wokery had consumed the Democratic Party. The left would have been on the defensive, trying to prove to anyone who'd listen—which, in Washington, wouldn't have been many people—that they weren't the ones who cost their party the election.
None of it happened. https://newrepublic.com/article/168948/vindication-joe-biden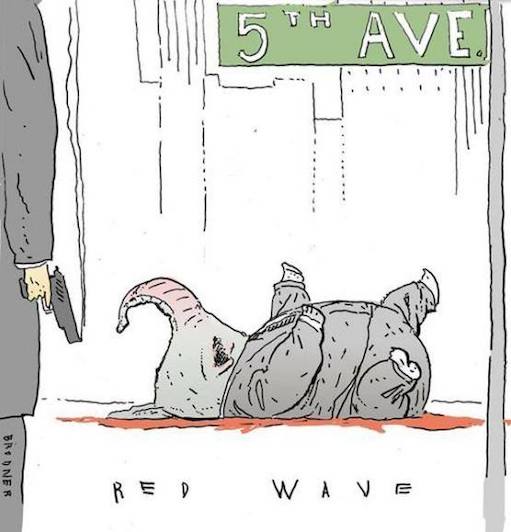 Arkady Ostrovsky: Russia risks becoming ungovernable and descending into chaos
When Russia's president, Vladimir Putin, invaded Ukraine on February 24th 2022, he set out to grab territory, deprive it of sovereignty, wipe out the very idea of its national identity and turn what remained of it into a failed state. After months of Ukraine's fierce resistance, its statehood and its identity are stronger than ever, and all the things that Mr Putin had intended to inflict on Ukraine are afflicting his own country.
Mr Putin's war is turning Russia into a failed state, with uncontrolled borders, private military formations, a fleeing population, moral decay and the possibility of civil conflict. And though confidence among Western leaders in Ukraine's ability to withstand Mr Putin's terror has gone up, there is growing concern about Russia's own ability to survive the war. It could become ungovernable and descend into chaos. https://www.economist.com/the-world-ahead/2022/11/18/russia-risks-becoming-ungovernable-and-descending-into-chaos