February 11, 2016
ON THE RECORD ....
"Now, to be fair, Donald Trump does have kind of a point—Ted Cruz did cheat "He put out a press release and had his precinct captains call all over saying Ben Carson, the other evangelical in the race, was dropping out to trick his voters—as Jesus would do. And it worked! Because sixty-four percent of Republican voters in Iowa are born again, and a hundred percent are born yesterday." -- Bill Maher

The whole issue of Clinton's likeability ... rests on a long established, sexist double standard that many sociologists and business-school professors have studied: power and likeability have a negative corollary with powerful women. With men, that is not the case. If Clinton is judged too powerful and aggressive, she's dinged for being unlikeable. If she's too soft, she's dismissed. Women, unlike men, are rarely perceived as warm and competent. This locks them in a classic double-bind. " -- Jill Abramson 2/06/16

"She's getting it from the right, she's getting it from the left. If she were really so weak on Wall Street, would there really be two hedge fund managers setting up two super PACs and spending millions of dollars to attack her? No, they'd be attacking her opponent. -- Bill Clinton 2/08/16

"Mexican people, we are not going to pay any single cent for such a stupid wall! And it's going to be completely useless. ... It is incredible that a quite admirable society like the American society could produce such kind of candidates. I cannot understand that. No offense, no offense to America. So Donald Trump … is ambitious but not exactly very well-informed man, I don't want to say ignorant, but he is not very well informed." -- Former President of Mexico, Felipe Calderon

"You see these terrorists that are flying planes into buildings, right? You see our cities getting shot up in California. You see Paris getting shot up. And then somebody complains when a terrorist gets waterboarded, which quite frankly is no different than what happens on college campuses and frat houses every day. --Donald Trump's son, Eric Trump. 2/08/16

"You tell them, 'You're going to pay for it,'" --Trump responding to MSNBC's Tamron Hall's question, "How do you get Mexico to pay for it (the wall)?" 2/09/16

My prediction for Bernie: populist hero forever but hard to imagine him still being there at the convention." --Rachael Maddow 2/04/16

"Hillary's a progressive in the way she views the issues every day. Bernie's a Democrat some days. And that's a fact with evidence." -- Sen. Barbara Boxer (D-CA) 2/04/16
---
IN THIS ISSUE
1. Jimmy Fallon: Donald Trump: "First Is the Worst, Second Is the Best"
2. All the terrible things Hillary Clinton has done — in one big list
3. Super PAC spending for and against Hillary Clinton and Bernie Sanders.
4. The DAILY GRILL
5. From MEDIA MATTERS (They watch Fox News so you don't have to)
6. Late Night Jokes for Dems
7. The Borowitz Report: Sanders Admits Receiving Free Checking from Big Banks
8. Watchdog: Colin Powell And Condi Rice Had Classified Info On Personal Emails, Too
9. Mark Fiore animation: Corn Candidates
10. Republican Refuse to Aid Flint 
12. SNL cold open: Ted Cruz's secrets to success.
13. SNL: Bern your enthusiasm
14. Rubio repeats himself - repeating a conspiracy about Obama promoted by Glenn Beck
15. Republican debate reality check 
16. Cruz blocks nominees to the State Department for a third time 
17. Samantha Bee's Opening On Republicans: 'All You Can Eat Crazy' 
18. Donald Trump's The Art Of The Deal: The Movie Trailer with Johnny Depp
1. Paul Starr: Bernie Sanders's Problem With Democrats 
2. Juan Williams: Innuendo fuels Clinton email saga 
3. Paul Krugman: The Time-Loop Party
4. Nicholas Kristof: 2 Questions for Bernie Sanders
5. Paul Krugman: Who Hates Obamacare?
6. Megan McArdle: Sanders and Clinton Get Substantive. That's Where They Go Wrong
7. Nicholas Kristof: America Is Flint
8. John Avalon: Team Crazy Wins the Sane State in November
9. Frida Ghitis: The 'shrill' smear against Hillary Clinton
10. Ezra Klein: The rise of Donald Trump is a terrifying moment in American politics
11. Lesleyann Coker: I'm Not Ashamed to Like Hillary 
1. Jimmy Fallon: Donald Trump: "First Is the Worst, Second Is the Best"
2. All the terrible things Hillary Clinton has done — in one big list
Brett Arends re-read all the criticisms and attacks and best-selling "exposes" leveled at Hillary Rodham Clinton over the past quarter century. For a list of her High Crimes and Misdemeanors go to: http://www.marketwatch.com/story/all-the-terrible-things-hillary-clinton-has-done-in-one-big-list-2016-02-04
3. Super PAC spending for and against Hillary Clinton and Bernie Sanders.
According to Slate, as of Jan 30th, super PACs have spent 794,000 in support of Hillary Clinton and 3,559,000 against her while 1,085,000 has been spent in support of Bernie Sanders, and 10,000 against him.
The Stop Hillary PAC, which has spent over a millon dollars against Hillary during the 2016 election cycle, was created for one reason only --" to save America from the destructive far-left, liberal cancer created by Bill and Hillary Clinton that's trying to corrupt America."
More at: http://www.slate.com/articles/news_and_politics/politics/2015/11
/super_pac_money_how_political_groups_are_spending_to_influence_the_2016.html
4. The DAILY GRILL
"We have to reject a politics that seeks to manipulate prejudice or bias, and targets people because of religion," --President Obama, praising American Muslims and their role in U.S. history. 2/03/16

VERSUS

"I'm tired of being divided against each other for political reasons like this president's done. Always pitting people against each other. Always! Look at today: He gave a speech at a mosque. Oh, you know, basically implying that America is discriminating against Muslims. ... But again, it's this constant pitting people against each other that — I can't stand that. It's hurting our country badly." -- Sen. Marco Rubio (R-FL) on Wednesday criticized President Obama's speech at a mosque 2/04/16

 

"Almost all of the polls that -- and polls are polls, they go up, they go down -- but almost all of the polls that have come out suggest that I am a much stronger candidate against the Republicans than is Hillary Clinton," -- Bernie Sanders during a town hall meeting in Underwood, Iowa. 1/26/16

VERSUS

Beating Clinton in only two of eight hypothetical matchups is far from "almost all." The statement is not accurate, so we rate it False. -- Politifact 1/26/16

 

"It's (Bridgegate) been investigated by three different agencies, two of them led by Democrats, they all concluded the same thing: that I had nothing to do with it," -- Chris Christie to an audience in Iowa.

VERSUS

For the record, Christie has been cleared by one investigation only: His own. That's the one that has cost New Jersey taxpayers $8 million so far. The other two investigations did not clear Christie. And there is no wiggle room on that point. One is being conducted by U.S. Attorney Paul Fishman, and the other by an investigative committee in the state Legislature. Both Fishman and the co-chairs of that committee have stated unequivocally that they have not cleared Christie of wrongdoing. -- NJ.com

 

"I Stand Here Tonight, Breathing A Big Sigh Of Relief: Thank You, Iowa." -- Hillary Clinton  

VERSUS

Bob Woodward: Clinton should "lower the temperature" and "get off this screaming stuff." 2/03/2016

CNBC's Larry Kudlow: I was watching Hillary shriek -- did you watch her election night shrieking? ... She just went on and on and on. It was like something out of Lenin or Trotsky. I don't know what it was.

Sean Hannity:  Clinton's Iowa Victory Speech As "Angry, Bitter Screaming."

Geraldo Rivera: "I'm Serious About This, She May Be Hard Of Hearing."

Sean Hannity: Hillary Clinton Is An "Aging, Out Of Ideas, Often Shrill" Grandmother.

Joe Scarborough: To Rachel Maddow: "[Y]ou've Got The Clinton Cackle Down, Rachel."

Fox & Friends: Claims Clinton Faked Southern Accent For Campaign Event. 

Maureen Dowd: Clinton Laughs To "Soften Her Image." 

Fox News' "Body Language Expert": Accused Clinton Of Exhibiting "Evil Laughter."|

Glenn Beck: "Hillary Clinton Cannot Be Elected President Because ... There's Something About Her Vocal Range."

Rush Limbaugh: Hillary Clinton Is "A Screeching Bore"

 

"Experts say Mrs. Clinton needs to justify accepting speaking fees as high as $225. And quickly." --Alan Rappeportin the New York Times 2/04/16

VERSUS

"Former Secretary of State Condoleezza Rice, former vice presidential candidate Sarah Palin, former Treasury Secretary Tim Geithner, former chairman of the Federal Reserve' Ben Bernanke, former president George W. Bush, among others, have all received large, six-figure speaking fees." -- ABC News 7/14/14

 

"I'd bring back a hell of a lot worse than waterboarding" if elected President. --Trump enthusiastically voicing support for torturing terrorist suspects, saying waterboarding works "in terms of information and other things."2/08/16

VERSUS

"Do we want a President who will violate the law? .They got a whole lot of information that was totally false. Do we want to resort to doing things that our enemies do? Do we want to be on the same plane as those people chopping off heads?" -- Sen. John McCain (R-AZ) denouncing Republican presidential candidate Donald Trump's support for waterboarding.

 
5. From MEDIA MATTERS (They watch Fox News so you don't have to)
Fox Business Pushes Discredited Claim That Clinton Emails Include The "Names Of Our Intelligence People On The Ground" http://mediamatters.org/blog/2016/02/04/fox-business-pushes-discredited-claim-that-clin/208382

Manufacturing Employment Hits 7-Year High, Fox Complains About Lack Of Manufacturing Jobshttp://mediamatters.org/blog/2016/02/05/manufacturing-employment-hits-7-year-high-fox-c/208410

Megyn Kelly Pushes False Claim That Clinton Emails Revealed Names Of Undercover Operativeshttp://mediamatters.org/video/2016/02/05/megyn-kelly-pushes-false-claim-that-clinton-ema/208416

Fox News host Bill O'Reilly allowed  GOP presidential candidate Donald Trump to push a phony conspiracy theory that unemployment rate is really 25 percent. http://mediamatters.org/video/2016/02/05/bill-oreilly-lets-donald-trump-push-conspiracy/208412

Bernie Sanders' Wind Energy Plan Falsely Attacked By Big Oil Ally, With Help From The Wall Street Journalhttp://mediamatters.org/blog/2016/02/08/bernie-sanders-wind-energy-plan-falsely-attacke/208440

Fox's Varney Fumes Over The Daily Show's Response To His Beyonce Criticism
Stuart Varney: "When Jon Stewart Did That Show, He Was Funny" But Now It's "Gone Down The Tubes"http://mediamatters.org/video/2016/02/09/foxs-varney-fumes-over-the-daily-shows-response/208471

Rush Limbaugh: Ted Cruz "Is The Closest In Our Lifetime We Have Ever Been To Ronald Reagan" "If Conservatism Is The Dominating Factor In How You Vote, There Is No Other Choice For You In This Campaign Than Ted Cruz"http://mediamatters.org/video/2016/02/10/rush-limbaugh-ted-cruz-is-the-closest-in-our-li/208509

Fox Host Falsely Claims The FBI "Confirmed" It Is Investigating Hillary Clintonhttp://mediamatters.org/video/2016/02/10/fox-host-falsely-claims-the-fbi-confirmed-it-is/208501

Media Call Trump's NH Victory A "Grievous Confirmation" That He Best Represents Republican Partyhttp://mediamatters.org/research/2016/02/10/media-call-trumps-nh-victory-a-grievous-confirm/208502
6. Late Night Jokes for Dems
"Ted Cruz has been joined on the campaign trail by former candidate Gov. Rick Perry. So in other words, Ted Cruz is the No. 1 choice of the guy who was nobody's choice." –Conan O'Brien

"We give so much attention to who Iowa picks. Since 1980 the Iowa Caucus has predicted the Republican nominee incorrectly four times. They only got it right twice. You get better odds when you have a zoo animal predict the winner of the Super Bowl than these Iowa caucuses." –Jimmy Kimmel

"On CNN last night they had what they call a town hall meeting where the Democratic candidates try to woo the Iowa voters. The only clear winner of this debate-slash-meeting was the farmer who got $30,000 to let CNN park the satellite trucks in his corn field." –Jimmy Kimmel

"Someone asked Hillary who her favorite president was, and she said — with apologies to President Obama — 'My husband, Bill. My favorite is Abraham Lincoln.' And then Bernie Sanders said, 'Senator, I knew Abraham Lincoln. Abraham Lincoln was a friend of mine. And you, ma'am, are no Abraham Lincoln!'" –Jimmy Kimmel

"Donald Trump said that Ted Cruz is a liar who looks like a jerk. Not to be confused with Trump, who is a jerk who looks like a liar." –Seth Meyers

"Now in fairness he was just talking about the loyalty of his supporters — though it doesn't sound like he was complimenting the loyalty of his supporters." –Seth Meyers

"A researcher found lyrics to a song that Woody Guthrie wrote over 50 years ago about Donald Trump's father, Fred Trump. I believe it was called, this land is my land and this land is my land, and this land is also my land." –Jimmy Fallon

"On Monday, Hillary Clinton narrowly won in Iowa, with the final results showing that she beat Bernie Sanders by less than 1 percent. And you thought Bernie was mad at the 1 percent BEFORE." –Jimmy Fallon
7. The Borowitz Report: Sanders Admits Receiving Free Checking from Big Banks
Scandal rocked Bernie Sanders's Presidential campaign on Friday as the candidate was forced to admit that he received free checking from several big banks.

In a press conference in Manchester, New Hampshire, a chastened Sanders acknowledged that, over the past two decades, he received free checking from Bank of America, Citibank, and JPMorgan Chase in exchange for maintaining a five-hundred-dollar minimum balance.

"I should have acknowledged my relationship with these banks earlier," a subdued Sanders told reporters. "For that, I am sorry."

The Clinton campaign immediately seized on the revelation, with one senior Clinton aide alleging that Sanders's cozy relationship with the banks "effectively strips him of the label 'progressive.' "

"Quite frankly, I don't know of too many progressives who make five-hundred-dollar payoffs to the big banks," the aide said. "This doesn't pass the smell test."

Elsewhere, former Florida Governor Jeb Bush, who is hoping to jump-start his lagging Presidential campaign with a new television ad featuring the worst President in U.S. history is hoping that the commercial, persuasive as it is, is not too little, too late. "We're kicking ourselves that we didn't air this sooner," one Bush aide said. "An endorsement from [the person who presided over the worst economic disaster since the Great Depression] confers instant credibility."

More recently, in a stunning announcement on the eve of the New Hampshire primary, New Jersey Governor Chris Christie said that he was dropping out of the Presidential race to focus his energies on tormenting Florida Senator Marco Rubio full-time. "At the end of the day, running for President was interfering with what I really love, which is making Marco Rubio's life a living hell," he said. "Now I can get up every morning and spend all day just doing that."

And, even more recently, after suffering a poor showing in the New Hampshire primary on Tuesday night, the former Hewlett-Packard C.E.O. Carly Fiorina cheered herself up by firing her entire campaign staff. Read more athttp://www.newyorker.com/humor/borowitz-report/
8. Watchdog: Colin Powell And Condi Rice Had Classified Info On Personal Emails, Too
The State Department inspector general review of the records preservation practices of five former secretaries of state and their immediate staffs says 12 emails being reviewed contained classified national security information — two to Powell and 10 to Rice's immediate staff.
Colin Powell, who served as secretary from 2001 to 2005, said he used a personal email account because State's email system was slow and cumbersome. 2/04/16 Read more at http://www.nbcnews.com/news/us-news/rice-aides-powell-also-got-classified-info-personal-emails-n511181
9. Mark Fiore animation: Corn Candidates
10. Republicans Refuse to Aid Flint
The water crisis in Flint, Mich., has elicited a lot more hand-wringing and apologies than concrete actions to provide for the needs of children and adults whose health may be damaged by water from pipes that are leaching lead into taps all over the city. ...Congress, under the control of Republicans, is finding excuses not to rescue this poverty-stricken, majority-black city of nearly 100,000 people.-- NY Times Editorial http://www.nytimes.com/2016/02/06/opinion/the-republican-refusal-to-aid-flint.html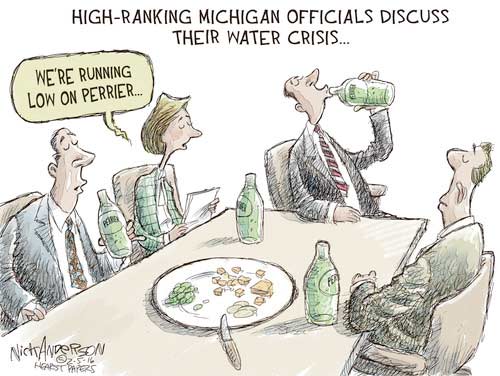 11. Republican Operatives Try to Help Bernie Sanders
Republican operatives are having a strange crush on Bernie Sanders.
During the first Democratic debate, the Republican National Committee made the unusual move of sending no fewer than four real-time e-mails to reporters defending the self-described democratic socialist from attacks by Hillary Clinton or echoing his message against her. Based on their content, one could be forgiven for thinking the RNC communiques came from the Sanders campaign.
Sean Spicer, the chief strategist and spokesman for the RNC, spent much of the evening tweeting Sanders-friendly commentary on the debate, often with the pro-Sanders hashtag #FeelTheBern. At one point, Spicer gently chided Sanders for what he deemed a poor response to a question and added, "come on we are trying to help u." -- Sahil Kapur 1/18/16 Read more athttp://www.bloomberg.com/politics/articles/2016-01-19/republican-operatives-are-trying-to-help-bernie-sanders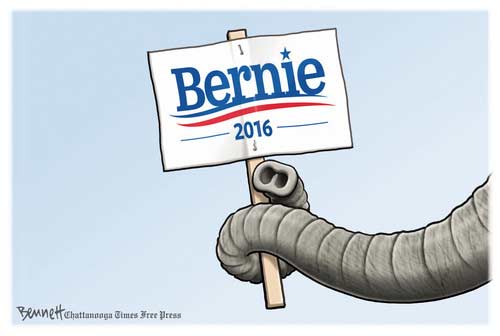 12. SNL cold open: Ted Cruz's secrets to success.
http://www.nbc.com/saturday-night-live/video/message-from-ted-cruz-cold-open/2981465
13. SNL: Bern your enthusiasm
http://www.nbc.com/saturday-night-live/video/bern-your-enthusiasm/2981468
14. Rubio repeats himself - repeating a conspiracy about Obama promoted by Glenn Beck
15. Republican debate reality check
Cruz claims CNN reported Carson was 'suspending campaigning.' Verdict: False.

Cruz claims billions of dollars flowed into North Korea in exchange for promises not to build nuclear weapons. They took those billions and built nuclear weapons. Verdict: False.

Christie claims that Obama and Kerry support paying ransom for detained Americans. Verdict: False.

Christie claims Ebola nurse Hickox was showing symptoms of the Ebola virus. Verdict: False.

Trump claims insurance companies are getting rich on Obamacare. Verdict: False.

Trump claims the United States is the "highest taxed country in the world." Verdict: False.

Trump claims "We have all donors in the audience." Verdict: False: The RNC says donors made up less than 10% of the audience.

Bush implied that the number of civilian personnel in the Department of Defense outnumbered the number of military men and women in uniform. Verdict: False.

Rubio claims that the media hasn't asked about Clinton's abortion stand. Verdict: Falsehttp://www.cnn.com/2016/02/06/politics/republican-debate-fact-check/

16. Cruz blocks nominees to the State Department for a third time

Sen. Ted Cruz blocked the Senate from confirming State Department nominees for the third time in the past week, even though the Texas Republican is campaigning in New Hampshire.  

Sen. Amy Klobuchar (D-Minn.) tried on Monday evening to get unanimous consent to confirm Samuel Heins to be ambassador to Norway and Azita Raji to be ambassador to Sweden.
 
Senate Majority Leader Mitch McConnell (R-Ky.), however, objected, and said he was doing so on behalf of Cruz, who has spent much of the last week campaigning in New Hampshire. 2/08/16 Read more athttp://thehill.com/blogs/floor-action/senate/268694-cruz-blocks-state-department-nominees-again

17. Samantha Bee's Opening On Republicans: 'All You Can Eat Crazy'

http://crooksandliars.com/cltv/2016/02/samantha-bees-opening-republicans-all

18. Donald Trump's The Art Of The Deal: The Movie Trailer with Johnny Depp

http://www.funnyordie.com/videos/ae2c8db71f/art-of-the-deal-movie-trailer
1. Paul Starr: Bernie Sanders's Problem With Democrats
When a party chooses its presidential candidate, it also chooses its party leader in the election. This year the Democrats face an unusual situation. Bernie Sanders isn't just an outsider to the party establishment; he's not even been a member of the party, and has long excoriated it in unsparing language. Although the media haven't much focused on this history, the early signs suggest it could become a problem for Sanders in getting the nomination—and a problem for the party if he does get it.
The taxes for Sanders's health plan, combined with other tax increases on wages he's proposed, would raise the top marginal federal rate to 77 percent, as Dylan Matthews shows at Vox. In addition to those taxes on earnings, Sanders is calling for an increase in the capital-gains tax, a new financial-transaction tax, and a new carbon tax.
This is a fantasy-come-true for Republicans. For decades, they've been falsely accusing Democrats of favoring huge tax increases. In this case, it would be the truth.
So far, many Democrats have hardly registered the full significance of what Sanders's candidacy would mean for their party. But I don't think Republican strategists have missed the possibilities. A Sanders nomination would be their opportunity to capture decisive control of all branches of the federal government from a divided and weakened Democratic Party. Among other things, Republicans would be able to consolidate a Supreme Court majority for a long time to come. As those who supported Ralph Nader in 2000 should recognize now, the costs of purity can be heavy indeed. 2/08/16 Read more athttp://www.theatlantic.com/politics/archive/2016/02/sanderss-party-problem/460293/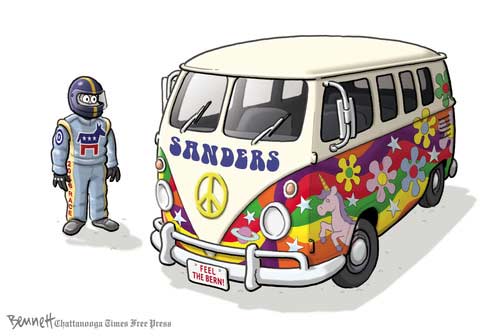 2. Juan Williams: Innuendo fuels Clinton email saga
Legal analyst Dan Abrams recently reviewed the allegations and wrote on the LawNewz.com website that while Clinton was "foolish" to use a private server, "it is also indisputable that it was neither a crime nor even a violation of State Department procedure for Clinton to have used personal email for government business at that time."
But nonpartisan assessments of the case have not stopped the drumbeat at every GOP primary event. A willingness to join in assumptions of Clinton's guilt is a litmus test for anyone entering the conservative echo chamber on talk radio and the internet.
"I have friends that are in the FBI and they tell me they're ready to indict," former House Majority Leader Tom DeLay (R-Texas) recently told NewsmaxTV. DeLay added that if the FBI and Attorney General Loretta Lynch do not indict Clinton, there are FBI agents who plan on "going public…Either she's going to be indicted and that process begins or we try her in the public eye with her campaign."
That kind of innuendo-laden conjecture is widespread among Republicans and in some cases extends to suggestions of criminality by the White House. 
"I think the FBI director would like to indict both Huma [Abedin, a top Clinton aide] and Hillary as we speak," Rep. Darrell Issa, (R-Calif.) told the Washington Examiner last week. He explained that the FBI director, James Comey, is being forced by the Obama Administration to "triple time make a case of what would otherwise be…a slam dunk."
The use of rumors to weaken a political candidate has a long history. In 1999, GOP presidential candidate Pat Buchanan won repeated applause at rallies nationwide when he promised that his first act as president would be to turn to his predecessor, Bill Clinton, and say: "Sir, you have the right to remain silent."
Base political attacks have been with us since the Founding Fathers. But in the era of social media and niche conservative outlets, the body politic seems to be entering a new era in which the tail wags the dog. The biggest newspapers and networks say they are just reporting the news while spreading baseless venom. 2/08/16 Read more at http://thehill.com/opinion/juan-williams/268514-juan-williams-innuendo-fuels-clinton-email-saga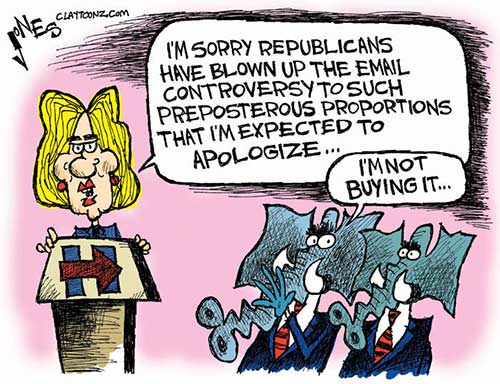 3. Paul Krugman: The Time-Loop Party
By now everyone who follows politics knows about Marco Rubio's software-glitch performance in Saturday's Republican debate. (I'd say broken-record performance, but that would be showing my age.) Not only did he respond to a challenge from Chris Christie about his lack of achievements by repeating, verbatim, the same line from his stump speech he had used a moment earlier; when Mr. Christie mocked his canned delivery, he repeated the same line yet again.
In other news, last week — on Groundhog Day, to be precise — Republicans in the House of Representatives cast what everyone knew was a purely symbolic, substance-free vote to repeal Obamacare. It was the 63rd time they've done so.
These are related stories.
Mr. Rubio's inability to do anything besides repeat canned talking points was startling. Worse, it was funny, which means that it has gone viral. And it reinforced the narrative that he is nothing but an empty suit. But really, isn't everyone in his party doing pretty much the same thing, if not so conspicuously? 2/08/16 Read more at http://www.nytimes.com/2016/02/08/opinion/the-time-loop-party.html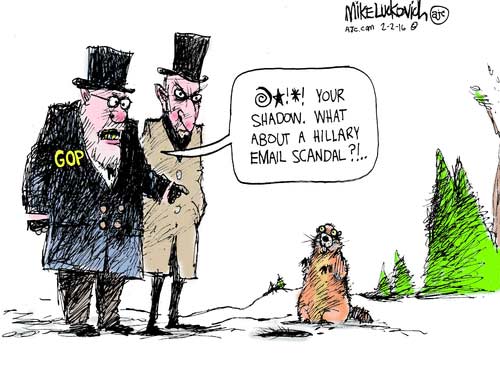 4. Nicholas Kristof: 2 Questions for Bernie Sanders
I admire Sanders's passion, his relentless focus on inequality and his consistency. When he was sworn in as mayor of Burlington, he declared: "The rich are getting richer, the poor are getting poorer and the millions of families in the middle are gradually sliding out of the middle class and into poverty." That has remained his mantra across 35 years. And yet, I still have two fundamental questions for Sanders:
Can you translate your bold vision into reality?
On that, frankly, I'm skeptical. I'm for Medicare for All, but it won't happen. And if it did, the Committee for a Responsible Federal Budget, a bipartisan group, found that Sanders's sums come up short by $3 trillion over a decade.
Can you get elected? Or would your nomination make a President Cruz more
When voters are polled today about how they would vote in a general election, Sanders does pretty well. For example, he beats Ted Cruz in theRealClearPolitics average, while Clinton loses to Cruz. But at this stage that's almost meaningless: Republicans are blasting Clinton while ignoring Sanders. If he were the nominee, he would be savaged.
Fifty percent of Americans said they would be unwilling to consider voting for a socialist.
Maybe Sanders could convince them that a "democratic socialist" isn't exactly a socialist, or maybe he could charm some voters into rethinking their beliefs. He has done just that very successfully in Vermont, a state where he now wins elections by overwhelming margins, and skeptics have been underestimating him for 35 years. But if a Democratic nominee starts off with half the voters unwilling to consider someone like him, that's a huge advantage for the Republican nominee.
So can he accomplish his goals, and is he electable? Lots of us admire Sanders and we would like reassurance. 2/04/16 Read more at http://www.nytimes.com/2016/02/04/opinion/2-questions-for-bernie-sanders.html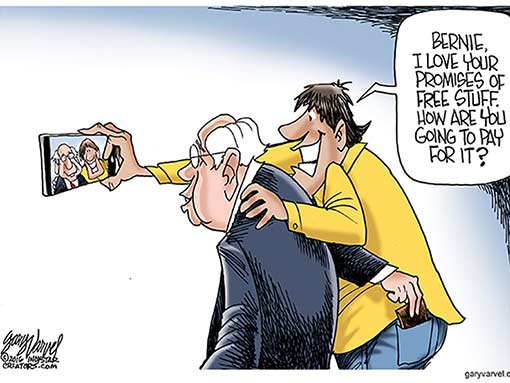 5. Paul Krugman: Who Hates Obamacare?
But a lot of what I hear from the left is not so much a complaint about how the reform falls short as outrage that private insurers get to play any role. The idea seems to be that any role for the profit motive taints the whole effort.
That is, however, a really bad critique. Yes, Obamacare did preserve private insurance — mainly to avoid big, politically risky changes for Americans who already had good insurance, but also to buy support or at least quiescence from the insurance industry. But the fact that some insurers are making money from reform (and their profits are not, by the way, all that large) isn't a reason to oppose that reform. The point is to help the uninsured, not to punish or demonize insurance companies.
And speaking of demonization: One unpleasant, ugly side of this debate has been the tendency of some Sanders supporters, and sometimes the campaign itself, to suggest that anyone raising questions about the senator's proposals must be a corrupt tool of vested interests.
Recently Kenneth Thorpe, a respected health policy expert and a longtime supporter of reform, tried to put numbers on the Sanders plan, and concluded that it would cost substantially more than the campaign says. He may or may not be right, although most of the health wonks I know have reached similar conclusions.
But the campaign's policy director immediately attacked Mr. Thorpe's integrity: "It's coming from a gentleman that worked for Blue Cross Blue Shield. It's exactly what you would expect somebody who worked for B.C.B.S. to come up with." Oh, boy.
And let's be clear: This kind of thing can do real harm. The truth is that whomever the Democrats nominate, the general election is mainly going to be a referendum on whether we preserve the real if incomplete progress we've made on health, financial reform and the environment. The last thing progressives should be doing is trash-talking that progress and impugning the motives of people who are fundamentally on their side. 2/05/16 Read more at http://www.nytimes.com/2016/02/05/opinion/who-hates-obamacare.html
6. Megan McArdle: Sanders and Clinton Get Substantive. That's Where They Go Wrong
Passing even this monstrous compromise (Obamacare) was an absolutely brutal political battle that cost a lot of Democrats their seats and delivered control of the House to the Republican Party. That fight -- over a program that took coverage away from only a small minority of Americans who were already buying insurance in the individual market -- would be nothing compared to trying to pass Sanderscare. We're talking about a plan that puts the nation's health insurers out of business, strips tens of millions of Americans of employer insurance they're basically pretty happy with in order to put them into a government plan, and levies massive new tax hikes to pay for it all.
There is simply no path to getting Sanderscare passed. Zero. None. The best Sanders could expect would be a mildly embarrassing retreat as everyone gracefully agreed to let the thing die in committee. The worst involves veto-proof Republican majorities repealing much of Obamacare.
By contrast, it's possible to see real goals that Clinton's incrementalism could achieve. Not easily -- that Republican House looks like it's here to stay until at least 2020. But one can name some combination of events by which she could get a little coverage expansion through, higher subsidies, more guaranteed benefits. Democrats could come back again, later, and expand coverage and benefits further, maybe put in some cost controls. It would not be easy. But it could be done.
Clinton is, in other words, entirely right: Building a whole new health-care architecture from scratch, no matter how desirable, is completely infeasible and could backfire, threatening the gains Democrats have already made. 2/05/16 Read more athttp://www.bloombergview.com/articles/2016-02-05/sanders-and-clinton-get-substantive-that-s-where-they-go-wrong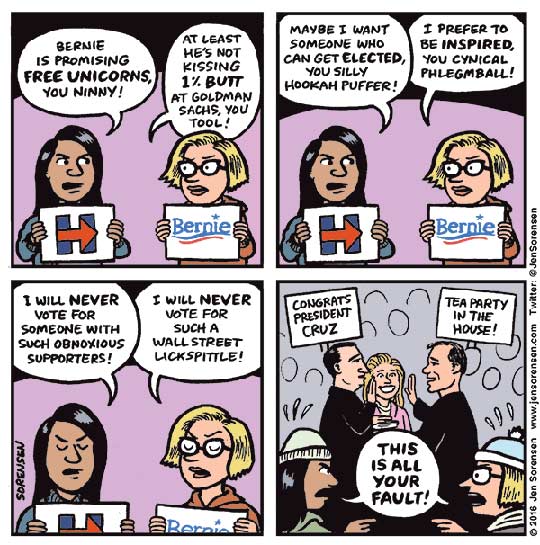 7. Nicholas Kristof: America Is Flint
WE have been rightfully outraged by the lead poisoning of children in Flint, Mich. — an outrage that one health expert called "state-sponsored child abuse."
But lead poisoning goes far beyond Flint, and in many parts of America seems to be even worse.
"Lead in Flint is the tip of the iceberg," notes Dr. Richard J. Jackson, former director of the National Center for Environmental Health at the Centers for Disease Control and Prevention. "Flint is a teachable moment for America."
In Flint, 4.9 percent of children tested for lead turned out to have elevated levels. That's inexcusable. But in 2014 in New York State outside of New York City, the figure was 6.7 percent. In Pennsylvania, 8.5 percent. On the west side of Detroit, one-fifth of the children tested in 2014 had lead poisoning. In Iowa for 2012, the most recent year available, an astonishing 32 percent of children tested had elevated lead levels. (I calculated most of these numbers from C.D.C. data.)
Across America, 535,000 children ages 1 through 5 suffer lead poisoning, by C.D.C. estimates.
"We are indeed all Flint," says Dr. Philip Landrigan, a professor of preventive medicine at the Icahn School of Medicine at Mount Sinai. "Lead poisoning continues to be a silent epidemic in the United States." Read more athttp://www.nytimes.com/2016/02/07/opinion/sunday/america-is-flint.html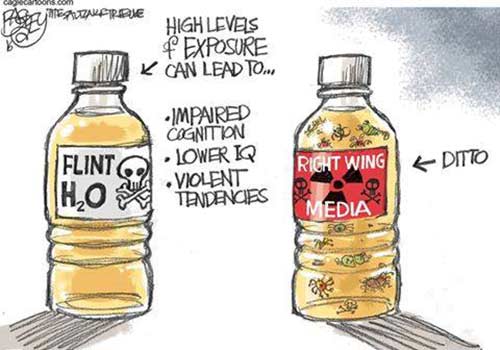 8. John Avalon: Team Crazy Wins the Sane State
Celebrity demagogue Donald Trump and democratic socialist Bernie Sanders won massive victories Tuesday, sweeping virtually every voter group in the Granite State. It was a night for pitchfork populism, with the politics of cultural and economic resentment hitting overdrive.
The frustration that many folks feel with Washington stems from its current division and dysfunction, the sense that special interests are ignoring the national interest. They're right. But the populist protest candidacies of Trump and Sanders will only deepen Washington's division and dysfunction because they don't offer any practical bipartisan solutions as a matter of pride. Banning Muslim immigration or single-payer health care may have their constituencies but they aren't going to pass Congress. Insults and ideological purity are only a recipe for further polarization, creating a feedback loop of frustration and alienation. Their prescriptions double-down on the disease.
Some hard-core partisan supporters no doubt love the idea of a Trump-Sanders general election, effectively forcing America to choose between two extreme visions. But despite their current popularity with the partisan base, neither man represents the vast majority of Americans. And here's a proof-point to keep the moderate majority from fearing the future: Less than 0.3 percent of Americans have voted so far in the 2016 primaries. We've still got some time for sanity to catch up with all the crazy talk. 02.09.16 Read more at http://www.thedailybeast.com/articles/2016/02/10/team-crazy-wins-the-sane-state.html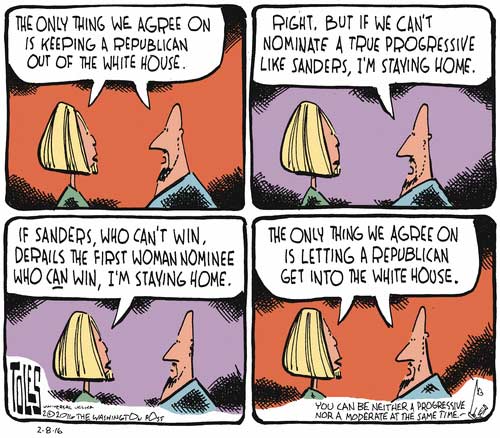 9. Frida Ghitis: The 'shrill' smear against Hillary Clinton
During Thursday's debate, The Washington Post's Chris Cillizza called her "Hyper aggressive." Another debate review, in The New York Times, contrasted her and her opponent, saying Bernie Sanders "kept his cool in the debate," while Clinton appeared "tense and even angry at times." The truth is they were both heated and intense, which was fitting. The Times' comparison was absurd.
Men may not recognize the problem. Women surely do. A survey of women professionals in the San Francisco area found 84% had been told they were too aggressive, and 53% had been told they were "too quiet." Many women had been accused of both.
The same arguments used to criticize Clinton (and millions of women who are trying to advance) are seen as attributes for men. When Sanders shouts, it is because he is angry at the injustice in America, because he cares so much. In her case, it is a character flaw.
Women face maddening competing expectations. They must be empathetic, nurturing, "likable." But if they are, they risk being accused of lacking leadership qualities and strength. If they're strong, they are accused of being cold and calculating. Imagine under these circumstances a woman trying to become president without calculating.
A couple of months ago, an intelligent, modern European woman told me she didn't like Clinton because she is "too ambitious." She thought becoming secretary of state enough of an accomplishment. Wanting more was unseemly.
When Sanders appears somewhat disheveled, his hair flying out of place, it is a sign of his authenticity. If a woman looked less than perfectly groomed, she would be laughed off the campaign trail. 2/08/16 Read more athttp://www.cnn.com/2016/02/08/opinions/hillary-clinton-sexism-ghitis/index.html
10. Ezra Klein: The rise of Donald Trump is a terrifying moment in American politics
It is undeniably enjoyable to watch Trump. He's red-faced, discursive, funny, angry, strange, unpredictable, and real. He speaks without filter and tweets with reckless abandon. The Donald Trump phenomenon is a riotous union of candidate ego and voter id. America's most skilled political entertainer is putting on the greatest show we've ever seen.
It's so fun to watch that it's easy to lose sight of how terrifying it really is.
Trump is the most dangerous major candidate for president in memory. He pairs terrible ideas with an alarming temperament; he's a racist, a sexist, and a demagogue, but he's also a narcissist, a bully, and a dilettante. He lies so constantly and so fluently that it's hard to know if he even realizes he's lying. He delights in schoolyard taunts and luxuriates in backlash. 2/10/16 Read more at http://www.vox.com/2016/2/10/10956978/donald-trump-terrifying
11. Lesleyann Coker: I'm Not Ashamed to Like Hillary
I like Hillary.
There, I said it.
I'm tired of feeling like a pariah. Liking Bernie Sanders is cool. Liking Hillary Clinton is not.
Whenever I tell people I like Hillary, I'm met with incredulous stares and voices dripping with disgust. "Really?" they ask. "Why? How can you like her?" You'd think I confessed to killing puppies the way they carry on.
I'm then met with a litany of common refrains. "She lies. You can't trust her. Remember Benghazi?" Or my personal favorite, "She's a Clinton. She thinks she's entitled."
And those are just my Democrat friends! My Republican friends are even more unrelenting in their irrational disdain for this woman.
Yet when I ask them to explain, they can't delve deeper than the platitudes.
When President Obama famously said to Hillary in a debate before the New Hampshire primary in 2008, "You're likable enough," he was tapping into a deep vein of unlikability that surrounds her like a cone of shame.
I can't think of another national figure, politician or celebrity who has been as scrutinized and savaged for over two decades the way Hillary has.
In addition to the run of the mill haters, she has to contend with more stereotypes and overt sexism than anyone else in modern politics.
When Bernie raises his voice, it's cute and humorous. He's the beloved cranky grandpa. Memes are created. When Hillary raises her voice, she's a shrill, angry woman, and the hate ensues. Yet if she's soft spoken, compassionate or shows too much emotion, she's criticized as weak. She's damned if she does, damned if she doesn't.
Any other public servant would have left politics for a career where character assassination isn't standard practice.
The media bears much responsibility for the defamation and demonization of Hillary. By giving self-serving zealots air time for the sake of ratings and blood sport, Americans are left misinformed.
It's one thing to disagree with Hillary over honest differences in policy. It's quite another thing to dislike her based on fear mongering, allegations and innuendo. 02/09/2016 Read more at http://www.huffingtonpost.com/lesleyann-coker/i-like-hillary_b_9191222.html