December 15, 2016
ON THE RECORD. . .
Just tried watching Saturday Night Live - unwatchable! Totally biased, not funny and the Baldwin impersonation just can't get any worse. Sad. -- Donald Trump tweeting about a comedy skit based on him tweeting. Sad!
"I don't think the Democratic Party is in that big of trouble. I mean, if Comey kept his mouth shut, we would have picked up a couple more Senate seats and we probably would have elected Hillary." —Sen. Harry Reid (D-NV)
"The intel on this wasn't 100 percent" -- North Carolina man jailed for allegedly firing a gun inside a Washington, D.C. pizza restaurant he believed was at the heart of a Hillary Clinton child sex trafficking ring. 12/8/16
"Andrew Puzder presided over a fast-food chain that repeatedly stole workers' hard-earned wages. The fact that Mr Puzder has now reportedly been selected to lead the same agency that uncovered wage theft at his restaurants is a cruel and baffling decision by President-elect Trump." -- New York attorney general Eric Schneiderman
"I know from my friends in the Border Patrol in CBP that there are countries -- radical Islamist countries, state-sponsored -- that are cutting deals with Mexican drug cartels for some of what they call the 'lanes of entry' into our country. And I have personally seen the photos of the signage along those paths that are in Arabic. They're like way points along that path as you come in. Primarily, in this case the one that I saw was in Texas and it's literally, it's like signs, that say, in Arabic, 'this way, move to this point.' It's unbelievable." -- Fake news fromRetired Lt. Gen. Michael Flynn, Donald Trump's pick to be his national security adviser.
"That plays great before the election — now we don't care, right?" -- Donald Trump saying he doesn't care about prosecuting Hillary Clinton, after attendees at his rally chanted "lock her up,"
President Trump is not an aberration. A tyrant is a feature of democracy, not its opposite. He won as a tyrant, he will rule as a tyrant. Hold onto your hats." -- William Duggan in The Daily Beast 12/09/16
"It defies logic," -- Gen. Michael V. Hayden, former director of the CIA and the National Security Agency, on Donald Trump's repeated refusal to accept the judgment of intelligence professionals that Russia stole files from the Democratic National Committee computers in an effort to influence the U.S. election.
"He said she was unqualified because she gave a speech to Goldman Sachs. His Secretary of the Treasury is somebody from Goldman Sachs." -- Jon Stewart 12/01/16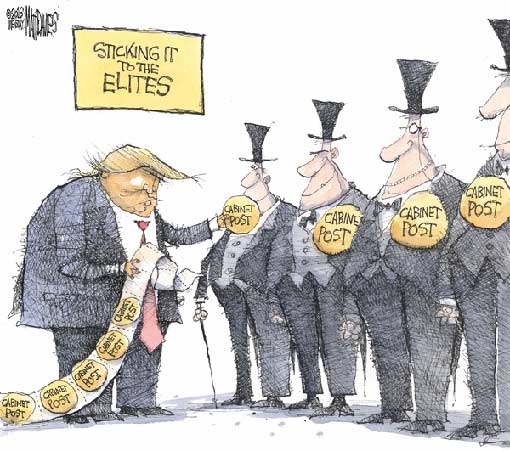 "Trump lives and thrives in a fact-free environment. No president, including Richard Nixon, has been so ignorant of fact and disdains fact in the way this president-elect does. Richard Nixon was nothing, in terms of lying, compared to what we have seen from Donald Trump," --Carl Bernstein, the journalist who broke open the Watergate scandal. 12/11/16
"In the 1962 political thriller "The Manchurian Candidate," a hostile government uses covert measures and secret agents in an elaborate plot to get its favored candidate elected president of the United States. The scenario seemed fanciful even at the height of the Cold War. Today, the idea seems strangely topical." -- Daniel Treisman
"I am turning down billions of dollars of deals. I will tell you, running for president — the money I spent is peanuts compared to the money I won't make, and that's okay, because this is so important. What I'm doing is so important. This is a calling… I'm not going to be doing deals at all. Now that would be — I don't even know if that's a conflict. I mean, I have the right to do it. You know, under the law, I have the right to do it. I just don't want to do it. I don't want to do deals, because I want to focus on this. But, by my not doing deals — I turned down seven deals with one big player, great player, last week, because I thought it could be perceived as a conflict of interest." — Donald Trump, in an interview with Fox News.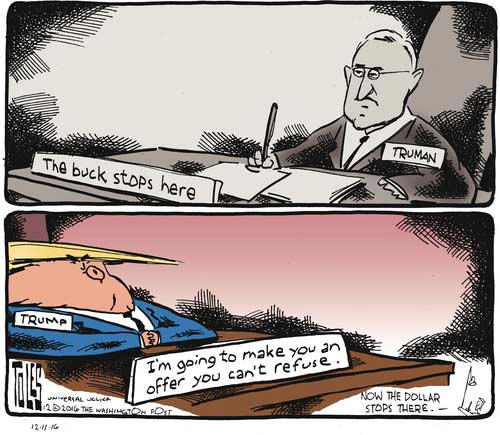 "It's pretty soul crushing to have that come out now and confirm that they were, in fact, trying to help Donald Trump. And just as an American in the year 2016, 30 years after the Cold War, not something I ever imagined we'd have to worry about." — Clinton aide Jennifer Palmieri on the CIA's conclusion that Russia was trying to sway the presidential election. 12/13/16
"Someone in the Trump campaign organization was in on the deal. I have no doubt. Now, whether they told [Trump] or not, I don't know. I assume they did. But there is no question about that. So there is collusion there, clearly." -- Sen. Harry Reid (D-NV) saying that the Trump campaign knew about Russian attempts to sway the election.
"Are you truly incapable of shame? Is there literally nothing that can shame you? Is there no act of barbarism against civilians, no execution of a child that gets under your skin, that just creeps you out a little bit? Is there nothing you will not lie about or justify?" — U.N. Ambassador Samantha Power pointing out that Syria, Russian and Iran are responsible for the atrocities in Aleppo.
"the NRCC's use of documents stolen by the Russians plays right into the hands of one of the United States' most dangerous adversaries," and if the National Republican Campaign Committee continued using the materials, the GOP "will be complicit in aiding the Russian government in its effort to influence American elections." -- Rep. Ray Lujan (D-NM), Chairman of the DCCC, in a letter to the RNCC on Aug. 29th. The Republicans did not answer Rep. Lujan's letter, and of course they continued to use the hacked materials. 12/14/16
---
IN THIS ISSUE
1. Rapid Arctic ice melt sets the stage for economic disaster under Trump
2. Scott Pruitt, Trump's Climate-Denying EPA Pick, Is Worse Than You Think
3. Trump's national security adviser unable to separate fact from fiction
4. The Borowitz Report: Trump To Split Time Between Trump Tower And Kremlin
5. The DAILY GRILL
6. From MEDIA MATTERS (They watch Fox News so you don't have to)
7. From the Late Shows
8. Lawsuit Alleges Trump Stole $6 Million from Golf Club Members
9. Trump's Inaugural Committee succeeds in barring Women's March from Lincoln Memorial
10. Trump's pick for Interior Secretary wants to sell off public lands
11. Third of Republicans Think Trump Won Popular Vote
12. Obamacare Repeal Includes A Stealth Tax Cut For Top Earners 
13. Secret CIA assessment says Russia was trying to help Trump win White House 
14. Report: Russian Hackers Had RNC Data But Didn't Release It
15. Late Nite Jokes 
16. Fake News: How a Partying Macedonian Teen Earns Thousands Publishing Lies 
17. The Perfect Weapon: How Russian Cyberpower Invaded the U.S. 
1. Joy-Ann Reid: Hey, White Working Class, Donald Trump Is Already Screwing You Over
2. Paul Waldman: Donald Trump's mobster mentality
3 . Molly Ball: President Trump's Perpetual Campaign
4. Michael Tomasky: World War III: Democrats and America vs. Trump and Russia
5. Ed Kilgore: Why Harry Reid Is Right That Democrats Shouldn't Panic
6. Clint Watts and Andrew Weisburd: How Russia Wins an Election
7. NY Times' Editorial: Truth and Lies in the Age of Trump
8. David Greenberg: Why the Democrats don't need an overhaul 
9. Paul Krugman: The Tainted Election
10. E.J. Dionne Jr.: Why a Trump presidency inspires fear
11. Jennifer Rubin: Trump revels in fake news and phony claims
13. Clint Watts and Andrew Weisburd: How Russia Wins an Election 
1. Rapid Arctic ice melt sets the stage for economic disaster under Trump
The anti-climate policies embraced by President-elect Donald Trump— coupled with the ever-more stunning news and analyses that keep coming about the polar regions — means trillion-dollar economic impacts from climate change are closer at hand than people realize. Here's why.
But not only did Trump campaign on killing national and global climate action, he is filling his White House and cabinet agencies with a den of climate science deniers.
News from the Arctic and Antarctic is alarming. What's about to happen in Washington, D.C. with the Trump presidency is even more alarming, all but guaranteeing the worst-case scenarios will play out. https://thinkprogress.org/rapid-arctic-ice-melt-economic-trump-98e0e01e23e#.whqak7zc9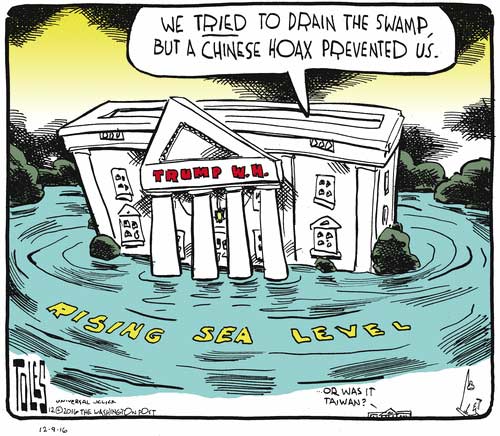 2. Scott Pruitt, Trump's Climate-Denying EPA Pick, Is Worse Than You Think
The more you know about environmental law, the more you know that the Oklahoma attorney general and his minions could be way, way, way worse at the than pundits and scientists have said. Yes, he's a climate denier. Yes, he's sued the EPA five times to prevent regulations (and lost every time). And yes, he has openly defied court orders on same-sex marriage and abortion, investigated the Humane Society for daring to back an animal welfare law, and opined that public schools should distribute religious materials to children. But he's about to enjoy free rein to gut environmental regulations, without Congress or the courts to stop him. http://www.thedailybeast.com/articles/2016/12/08/scott-pruitt-trump-s-climate-denying-epa-pick-is-worse-than-you-think.html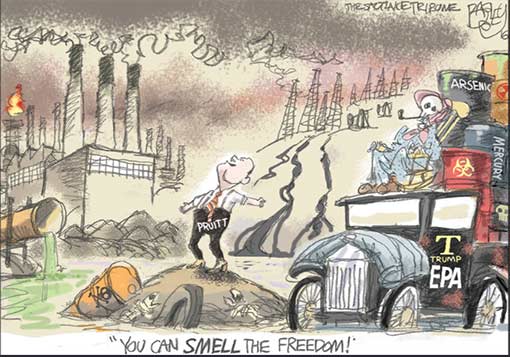 3. Trump's national security adviser unable to separate fact from fiction
Ret. Gen. Michael Flynn spread false stories and re-tweeted anti-Semitic threats. He's been criticized for dabbling in conspiracy theories and Islamophobia, for his questionable ties to foreign governments and for mishandling classified information while at the DIA, a post he was pushed out of.
On Monday, 53 non-profit groups appealed to Trump to reconsider the appointment, as lawmakers publicly questioned Flynn's judgment and demanded that he disavow fabricated conspiracy theories such as the "Pizzagate" story -- which his son Michael Flynn Jr. promoted -- alleging that Democrats ran a child sex ring out of a Washington pizza restaurant.
"It is incumbent on Trump, his nominee for National Security Advisor, General Flynn, and his entire team to disavow these falsehoods and conspiracy theories," the top Democrat on the House Permanent Select Committee on Intelligence, Adam Schiff, said in a statement. "They will soon have a country to run, and God help us if they conduct the nation's affairs like their transition -- without the willingness or ability to separate fact from fiction." http://www.cnn.com/2016/12/07/politics/michael-flynn-national-security-adviser-trump-criticism/
4. The Borowitz Report: Trump To Split Time Between Trump Tower And Kremlin
Donald Trump stirred controversy on Monday by revealing that he intends to spend only half his time as President at the Kremlin—and the remainder at Trump Tower in Manhattan.

His decision to limit his time at the Kremlin reportedly stemmed from his wife Melania's desire not to uproot the Trump family by relocating full-time to Moscow.

"It was part of the deal when he ran for President that he would go to the Kremlin and she would stay behind in New York," a source close to the Trumps said.

Appearing on Russian television, Trump surrogate Kellyanne Conway said that Trump's decision to split his time between Moscow and New York would have "no impact whatsoever" on his ability to function as an integral part of the Kremlin team.

"Mr. Trump doesn't need to be physically down the hall from President Putin," she said. "When he's at Trump Tower, they're on the phone with each other all day. It's all good."

In a televised interview later in the day, however, the Russian President expressed displeasure at the amount of time that Trump plans to be away from the Kremlin. "This is not what Russian taxpayers paid for," he said.

ELSEWHERE: Putin Agrees To Receive Intelligence Briefings In Trump's Place: In what Donald Trump's transition-team members are calling a further example of international coöperation, Russian President Vladimir Putin has agreed to receive daily U.S. intelligence briefings in the place of the President-elect.

Trump, who had earlier decided that he did not need the briefings and had assigned Vice-President-elect Mike Pence to receive them, said on Tuesday that Putin was a "much better choice." Read more at http://www.newyorker.com/humor/borowitz-report/
5. The DAILY GRILL
Unless you catch "hackers" in the act, it is very hard to determine who was doing the hacking. Why wasn't this brought up before election? -- Donald J. Trump ✔@realDonaldTrump12/12/16

VERSUS

The U.S. intelligence community issued a statement in early October reporting that the Russian government was behind Democrats' leaked emails on WikiLeaks.

 

"Boeing is building a brand new 747 Air Force One for future presidents, but costs are out of control, more than $4 billion. Cancel order!" --Trump Tweet

VERSUS

Boeing is not actually building the jet; it has a $170 million contract to design a replacement. And at minimum, there would be two Air Force Ones. A $4 billion estimate is not completely out of line for the design, testing and manufacture of at least two jets, but costs have not been set yet; the actual cost of the plane will depend on the equipment that goes into it. And Congress obviously would have a say in the final price tag.  And nothing has been ordered yet." -- Washington Post

Chuck Jones, who is President of United Steelworkers 1999, has done a terrible job representing workers. No wonder companies flee country! -- Donald J. Trump ✔@realDonaldTrump

VERSUS

"If you have this kind of thin-skinned vindictiveness attitude toward anybody who criticizes you, we are in very deep trouble, and, sir, so are you." -- Robert Reich

 

"Nobody really knows. Look, I'm somebody that gets it, and nobody really knows. It's not something that's so hard and fast." -- Trump questioning whether climate change is real 12/11/16

VERSUS

"Warming of the climate system is unequivocal, and since the 1950s, many of the observed changes are unprecedented over decades to millennia. The atmosphere and ocean have warmed, the amounts of snow and ice have diminished, sea level has risen, and the concentrations of greenhouse gases have increased." -- Intergovernmental Panel on Climate Change. 

 

"It is the assessment of the intelligence community that Russia's goal here was to favor one candidate over the other, to help Trump get elected. That's the consensus view." -- Senior U.S. official briefed on an intelligence presentation made to U.S. senators.

VERSUS

"Every week it's another excuse. We had a massive landslide victory, as you know, in the Electoral College. They have no idea if it's Russia or China or somebody. It could be somebody sitting in a bed someplace." -- Trump on "Fox News Sunday." dismissing the prospect of Russian interference in the U.S. election.
6. From MEDIA MATTERS (They watch Fox News so you don't have to)
News Outlet Owned By Trump Son In-Law Posts Op-Ed Calling For FBI Investigation Of Anti-Trump Protests http://mediamatters.org/blog/2016/12/07/news-outlet-owned-trump-son-law-posts-op-ed-calling-fbi-investigation-anti-trump-protests/214747

Right-Wing Media Are Using The Term "Fake News" To Attack Credible News Sources. By redefining fake news in their own terms and claiming that reporting by outlets such as The New York Times and CNN constitute fake news, right-wing media figures are bolstering President-elect Donald Trump's continued efforts to delegitimize mainstream news sources and their reporting, and muddling real concerns about fake news used as a weapon of active disinformation. http://mediamatters.org/blog/2016/12/09/right-wing-media-using-term-fake-news-attack-credible-news-sources/214778
7. From the Late Shows
SNL: Classroom Cold Open

Late Night with Seth Meyers: Hey! A Message to Media Normalizing the Alt-Right

Full Frontal with Samantha Bee: The Big Lie

SNL Cold Open: The Lead with Jake Tapper

SNL Weekend Update: Angela Merkel on Donald Trump

Trevor Noah: Interviews President Obama

http://www.cc.com/video-clips/zwlq5r/the-daily-show-with-trevor-noah-exclusive---barack-obama-full-interview
8. Lawsuit Alleges Trump Stole $6 Million from Golf Club Members
A federal judge "refused yet another request" by Donald Trump to toss a 2013 lawsuit filed against his Trump National Golf Club in Jupiter, Florida, the Palm Beach Post reports.
"Club members say Trump hasn't returned an estimated $6 million to members of his country club… Trump bought the club from the Ritz-Carlton Golf Club & Spa for $5 million in 2012. When the Ritz owned it, deposits ranging from $35,000 to $210,000 were refundable. But once Trump bought the club, some club members say Trump changed the rules and refused to return their deposits." 12/8/16 http://realtime.blog.palmbeachpost.com/2016/12/07/judge-to-trump-no-getting-out-of-jupiter-golf-lawsuit/?ecmp=pbp_social_twitter_2015_sfp
9. Trump's Inaugural Committee succeeds in barring Women's March from Lincoln Memorial
137,000 are going. 227,000 are interested. And more than a half a million more have shared the Women's March on Washington event page on Facebook. But now, in an "extremely unique" move, the National Park Service, on behalf of the Presidential Inauguration Committee, has filed documents barring protesters from the Lincoln Memorial on January 21 — the very location and day of the Women's March on Washington. http://shareblue.com/trumps-inaugural-committee-succeeds-in-barring-womens-march-from-lincoln-memorial/
10. Trump's pick for Interior Secretary wants to sell off public lands
Rep. McMorris Rodgers' nomination is more bad news in an administration that will be terrible on climate.
Another climate-denying nominee will be named Friday for a key environmental position in the Trump administration, multiple sources are reporting.
Rep. Cathy McMorris Rodgers (R-WA) will likely be tapped to lead the Department of the Interior, which oversees all of the U.S. public lands, including forest management, the Parks Service, and fossil fuel extraction.
McMorris Rodgers is strongly in favor of developing the United States' fossil fuel resources. She has also opposed federal ownership of public lands and voted to make it more difficult for the president to create national monuments. McMorris Rodgers is the author of a bill that would have directed the Department of the Interior to sell off federal lands in Arizona, Colorado, Idaho, Montana, Nebraska, Nevada, New Mexico, Oregon, Utah, and Wyoming. https://thinkprogress.org/cathy-mcmorris-interior-111c30319780#.8ekdlt6q5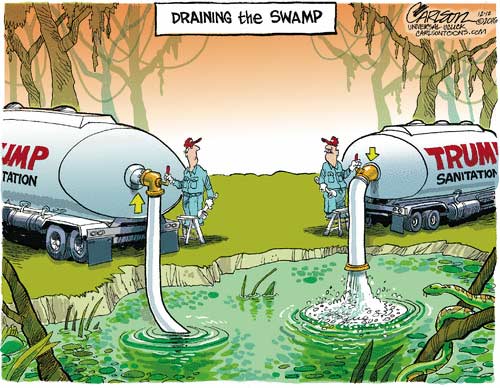 11. Third of Republicans Think Trump Won Popular Vote
81% of Democrats and Democratic leaners say correctly that Clinton won the national popular vote, compared with a smaller majority (68%) of Republicans and Republican leaners. http://www.people-press.org/2016/12/08/low-approval-of-trumps-transition-but-outlook-for-his-presidency-improves/
The Cook Political Report tracker now shows Clinton ahead by 2.8 million votes or 2% https://docs.google.com/spreadsheets/d/133Eb4qQmOxNvtesw2hdVns073R68EZx4SfCnP4IGQf8/html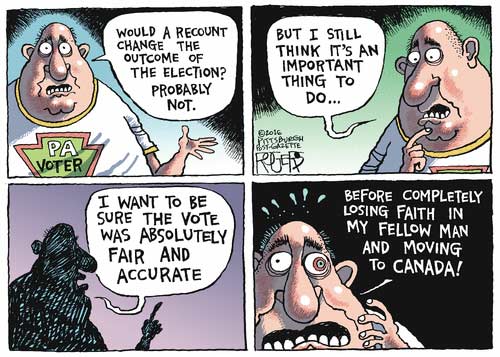 12. Obamacare Repeal Includes A Stealth Tax Cut For Top Earners
sRepublican plans to repeal the Affordable Care Act without a replacement — which health care policy experts predict could cost 30 million people their health insurance — will also bring a major tax break for high-income Americans.
Two taxes that will be presumably axed with the law affect only those making $200,000 or more. The break the ACA repeal will bring to those taxpayers will amount to a $346 billion tax cut in total over 10 years, according to the CBO report on the 2015 repeal legislation GOP lawmakers say they'll be using as their model next year.
As University of Michigan law professor Nicholas Bagley pointed out on the Incidental Economist blog, this comes as Trump and his surrogates promised that any major tax cut for the rich will be offset by closing their deductions, which would not be the case with the cuts in the ACA repeal.
"That $346 billion represents about $1,000 for every man, woman, and child in the United States. Every cent will go into the pockets of people making more than $200,000 per year," Bagley wrote. http://talkingpointsmemo.com/dc/surprise-repealing-obamacare-includes-a-big-tax-cut-for-the-rich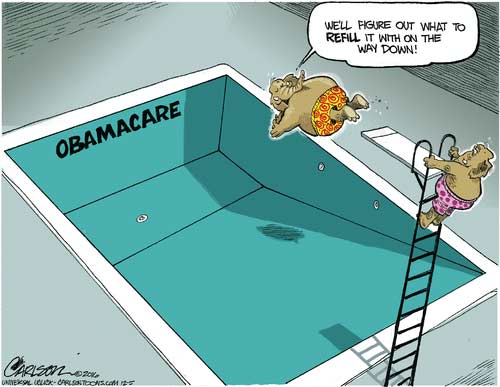 13. Secret CIA assessment says Russia was trying to help Trump win White House
The CIA has concluded in a secret assessment that Russia intervened in the 2016 election to help Donald Trump win the presidency, rather than just to undermine confidence in the U.S. electoral system," the Washington Post reports. 12/09/16 https://www.washingtonpost.com/world/national-security/obama-orders-review-of-russian-hacking-during-presidential-campaign/2016/12/09/31d6b300-be2a-11e6-94ac-3d324840106c_story.html?utm_term=.0c0a44cfcfd8
The report highlights and exacerbates the increasingly fraught situation in which congressional Republicans find themselves with regard to Russia and Trump. By acknowledging and digging into the increasing evidence that Russia helped — or at least attempted to help — tip the scales in Trump's favor, they risk raising questions about whether Trump would have won without Russian intervention.-- Aaron Blake 12/09/16 https://www.washingtonpost.com/news/the-fix/wp/2016/12/09/the-cia-concluded-russia-worked-to-elect-trump-republicans-now-face-an-impossible-choice/?utm_term=.c2a078581119
14. Report: Russian Hackers Had RNC Data But Didn't Release It
As the CIA concludes that Russia tried to help Donald Trump win the presidential election, intelligence officials have released one more intriguing detail: Russian hackers had dirt on the Republican National Committee but never released it, according to a new report. A senior administration official said, "We now have high confidence that they hacked the D.N.C. and the R.N.C., and conspicuously released no documents" from the Republicans, according to the New York Times. Officials said the hacks into the Republican committee took place in the spring, at the same time emails from the Democratic National Committee were stolen by hackers thought to be connected to Russian intelligence. It's unclear what kind of information was stolen from the RNC, and how much of it, just as the motive is unknown. 12/10/16 http://www.thedailybeast.com/cheats/2016/12/10/report-russian-hackers-had-rnc-data-but-didn-t-release-it.html?via=desktop&source=copyurl
15. Late Nite Jokes
"Donald Trump said he has asked President Obama to help recommend some of his appointments. Obama said fine, and recommended Hillary Clinton for president." –Conan O'Brien

"Pope Francis has warned the media to stop spreading false information. Or as the media reported it, 'World's Top Rabbi Says 'Keep Up the Good Work!'" –Conan O'Brien

"Donald Trump is reportedly considering arriving at his inauguration by helicopter, and so is Chris Christie. 'Take me with you! I can't go back to New Jersey!'" –Seth Meyers

"Former Trump campaign manager Corey Lewandowski said today that Donald Trump's presidency will make it OK for people to say 'Merry Christmas' again. Corey, we've always been allowed to say 'Merry Christmas,' it's just no one says it to you." –Seth Meyers

"Donald Trump said today that he doesn't believe that Russia interfered with his election in any way. Well, technically all he said was, 'Nyet.'" –Seth Meyers

"Facebook has filed a patent on a system to automatically identify and remove posts containing fake news, and just after the nick of time." –Seth Meyers

"There are reports that Trump will be getting a Goldendoodle puppy when he takes office. To teach it how to beg and roll over, they actually brought in Mitt Romney." –Jimmy Fallon

"Ladies and gentlemen, he did it. He won again. Donald Trump has just been named Time magazine's Person of the Year for 2016. The shocking thing about this is that Time magazine thinks Trump is a person." –James Corden

"The editors of Time magazine voted to make Donald Trump Person of the Year, although to be fair, 2.7 million more editors voted for Hillary Clinton, but the editors from Florida get more votes than editors from Rhode Island. It's complicated." –James Corden

"Time's Person of the Year is quite an honor, unless you are named in the year when Zika broke out; the Earth was the hottest it has ever been; Muhammad Ali, Prince, and David Bowie died; Syria exploded; Brexit happened; and oh, Donald Trump was elected president. Congratulations! You are the face of the worst year ever." –James Corden

"Time magazine has named their Person of the Year. It's none other than President-elect Donald Trump. He is the Person of the Year. Which is a big deal because this might be one of our last years." –Jimmy Kimmel

"Trump won in spite of losing in Time's online poll to Hillary Clinton. Can she win anything? Really, Hillary's now just hoping to win a mug that says 'World's Best Grandma.'" –Jimmy Kimmel

"I do want to distinguish, it doesn't necessarily mean BEST Person of the Year, it's just Person of the Year, although don't tell Donald Trump that." –Jimmy Kimmel

"Some of the people of the year include Gandhi, Stalin, Churchill, Nixon, Putin, Obama, and Hitler. So Trump is definitely fitting in there — you decide where he fits in for yourself." –Jimmy Kimmel

"So anyway, congratulations to Donald Trump, and to the photographer who got him to sit still and not tweet for 30 seconds. That's the guy who should be Person of the Year this year." –Jimmy Kimmel
16. Fake News: How a Partying Macedonian Teen Earns Thousands Publishing Lies
Dimitri, a teenager in the Macedonian town of Veles, says he's earned at least $60,000 in the past six months — far outstripping his parents' income and transforming his prospects in a town where the average annual wage is $4,800. He is one of the more successful fake news pushers in the area.
His main source of cash? Supporters of America's president-elect.
"Nothing can beat Trump's supporters when it comes to social media engagement," he says. "So that's why we stick with Trump." http://www.nbcnews.com/news/world/fake-news-how-partying-macedonian-teen-earns-thousands-publishing-lies-n692451
17. The Perfect Weapon: How Russian Cyberpower Invaded the U.S.
"There shouldn't be any doubt in anybody's mind," Adm. Michael S. Rogers, the director of the National Security Agency and commander of United States Cyber Command, said at a post-election conference. "This was not something that was done casually, this was not something that was done by chance, this was not a target that was selected purely arbitrarily," he said. "This was a conscious effort by a nation-state to attempt to achieve a specific effect." -- ERIC LIPTON, DAVID E. SANGER and SCOTT SHANED 12/13/16 http://www.nytimes.com/2016/12/13/us/politics/russia-hack-election-dnc.html
1. Joy-Ann Reid: Hey, White Working Class, Donald Trump Is Already Screwing You Over
Dear Working-Class White Trump Voter,

You've turned your country over the top tenth of 1 percent. Talk about "establishment." Their interest is not in helping you. It's in further enriching themselves, by privatizing every public program—Social Security can't be far behind—dropping the corporate and top income tax brackets as close to zero as possible, and making you pay, for everything from privatized roads owned by multinational corporations to elementary school. They're into taking land, including our public lands and parks, or using another Trump favorite—public domain—to drill and frack, endangering your water just as surely as they poisoned Flint's. And when they can't steal any more from the Native Americans—who have shown they still have some fight left—they'll come for your farms.

In Michigan, Republicans have already gotten started. They voted to further gut unions' ability to bargain for decent health care and retirement through the use of strikes, and congressional Republicans have already voted to strip the "buy American" clause out of a bill to repair the nation's water infrastructure.

As for black Trump supporters, don't be fooled. Remember when Trump said he didn't want black people counting his money, only Jewish people? Well look at his appointments. He didn't even respect neurosurgeon Dr. Ben Carson enough to insist that he take over Health and Human Services. Instead, he's tossing the black guy in the "urban" chair.

So good luck, Trump voters. I hope at some point you realize what's happening and fight back. Your choices, unfortunately, do affect us all, and they will until we wake up and junk the Electoral College, which puts rural states' zeal for Christian rule ahead of blue states' desire for good government.

You voted for Donald Trump, thinking that he was on your side; that he will save your jobs and your way of life, whatever you imagine that is. Well, you got played.. 12.08.16 http://www.thedailybeast.com/articles/2016/12/09/hey-white-working-class-donald-trump-is-already-screwing-you-over.html
2. Paul Waldman: Donald Trump's mobster mentality
Before running for president, Donald Trump was what we might consider a mid-to-high-level grifter. Despite his bogus claims about being the largest developer in New York, his media profile was much larger than his actual influence in the real estate world. As such, he was always looking for ways to scoop up extra cash and avoid liabilities in whatever quantities available — bilk struggling people out of $10,000 here and $20,000 there with phony real estate seminars, sell some steaks at Sharper Image, stiff the contractors who did work for him, get his "foundation" to pay off lawsuits against him, and so on. "My whole life I've been greedy, greedy, greedy," he said. "I've grabbed all the money I could get. I'm so greedy."
But now there's no longer any need for small-time cons. Trump is truly the boss, and just like it is with the mob, everybody has to pay the boss.
While he has said that on Dec. 15 he'll announce exactly how he's going to separate himself from his businesses, details are leaking out. "President-elect Donald J. Trump is considering formally turning over the operational responsibility for his real estate company to his two adult sons," The New York Times reports, "but he intends to keep a stake in the business and resist calls to divest, according to several people briefed on the discussions." One surprise is that Ivanka will be moving to D.C. to do something or other with the government, in ways that I'm sure will never, ever intersect with her family's business interests. But generally speaking, Trump will do exactly what most people assumed he would: Allow Donny Jr. and Eric to run the day-to-day stuff, while remaining the guy who cashes the checks.
And that's the most important fact to understand about why it's so meaningless that his kids will be running his business, and why his opportunities for enrichment will be so vast. Even if you believe him that he won't even talk about the Trump Organization with his kids (and I can't imagine anyone actually believes that), he'll still be the one making the money. When the kids go to a country overseas and arrange a deal to slap the Trump name on a hotel for millions of dollars in licensing fees, it's Donald Trump who'll be getting paid. Rest assured, foreign governments and businesses understand that very well.
And Trump needn't worry that Congress is going to be breathing down his neck. "This is not what I'm concerned about in Congress," said Speaker of the House and straight-arrow ethics advocate Paul Ryan when asked about Trump's conflicts of interest. "I have every bit of confidence he's going to get himself right with moving from being the business guy that he is to the president he's going to become." Other Republicans have a similar faith in Trump's unimpeachable probity. "The American people knowingly voted for a businessman whose name is inextricably tied to his fortune," said Newt Gingrich. "I'd say to the left wing, get over it."
So around the world, people and governments are getting the message: Paying off Trump isn't just possible, it's downright expected. There's no better way to win his attention or his good will then by sending some business his way. Whether you seek his favor or merely want to avoid his wrath, you'd better pay the boss. http://theweek.com/articles/666154/donald-trumps-mobster-mentality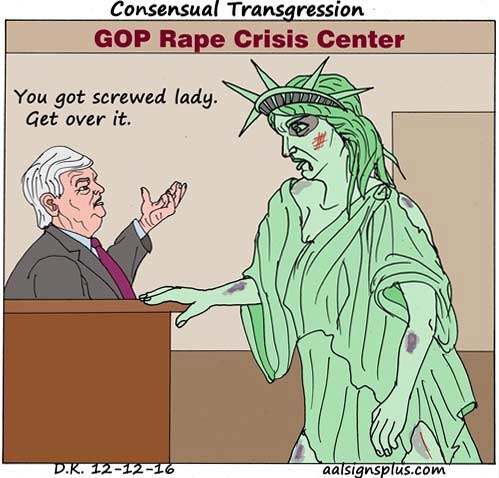 3. Molly Ball: President Trump's Perpetual Campaign
The campaign never ended, and maybe it never will.
So there was Donald Trump a few days ago, doing what he had always done—the thing he knew how to do—the thing that got him here and made him president-elect: standing on a stage, surrounded by the people who couldn't get enough of him, letting them have what they wanted.
Trump is a salesman, and what he saw from the beginning was that politics was a sales game, just like business, where his name was worth as much or more than anything he built. He learned early on in the Republican primary that he could rile up voters and turn them on his rivals, and the other politicians would have to kneel before him or become irrelevant. As he assembles his administration, the same patterns are on display: feuding underlings, supplicants publicly vying for his favor, a divided country trying to figure out what he'll do next. But the answer may be right in front of our noses: He is going to keep doing exactly what he's always done.
In Washington, where Trump's victory caught both parties flat-footed, uncertainty prevails about the road ahead. Republicans hope for an opportunity to undo the Obama years and execute their long-stalled agenda, including the fiscal plans of House Speaker Paul Ryan and regulatory changes sought by the business community. But Trump's alpha-dog campaign was at odds with Ryan and the Republican establishment to the end; when they criticized him, as when Ryan stopped campaigning for Trump in October, he simply blasted them at his rallies, and his supporters sided with Trump against the elites. He did not campaign on their agenda, and he does not like to feel that anyone else is in charge.
All Trump has to do is never stop campaigning. He has his people, and he can turn them against whoever he pleases, and the politicians will have to do what he wants.
Outside the arena, a couple of dozen protestors held up their sad little signs. "No Human Being Is Illegal," one read. "Be a Better President Than You Have Been a Human Being," one pleaded. "We Will Resist." A middle-aged white woman sang "We Shall Overcome" into a bullhorn. The surrounding night sky was lit by the towers of downtown skyscrapers. Walking past the protestors into the arena, a young man in a hoodie muttered to his companion, "He is too your president! Jesus Christ, that pisses me off!"
Inside, as the people waited for Trump, speaker after speaker reminded them of their glorious vindication, the people's definitive refutation of everyone who'd said it couldn't be done. "He did it, and we have you to thank!" exulted Mike Pence, the vice president-elect. And then the music boomed and the spotlights raked the crowd, and Trump strode out from the wings.
The campaign never ended, and maybe it never will. https://www.theatlantic.com/politics/archive/2016/12/the-power-of-president-trump/509684/?utm_source=nl-atlantic-daily-120716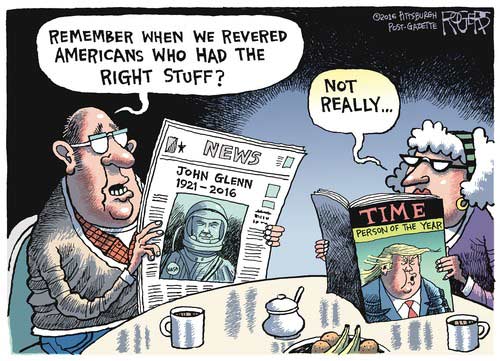 4. Michael Tomasky: World War III: Democrats and America vs. Trump and Russia
Make no mistake, yesterday's Washington Post revelation that the CIA has concluded that Russia was actively trying to elect Donald Trump as opposed to just "meddling with" the election, is a nuclear bombshell. And if the Post piece is Hiroshima, then today's New York Times story, which adds the detail that Russian actors also hacked email accounts at the Republican National Committee but did not release those publicly as they did Democratic National Committee and Clinton campaign emails, is Nagasaki.  
Hyperbole? Think again. A foreign government may have determined the outcome of a presidential election. And not Canada or Costa Rica, but Russia: the United States' chief historic adversary and an oligarchy ruled by a tyrant who has systematically taken away rights. Bombshells don't come much bigger. 
Oh, wait; yes they do. On top of all the above, leaders of one of our two political parties—I'll let you hazard a guess as to which one—argued against letting the American public know about all this before the election, reportedly saying it would be too partisan. That's not hardball politics. That's a hair's breath away from treason. 
Liberals often accuse Democrats of bringing a knife to a gun fight. For this one, it's time to haul out the bazooka.  http://www.thedailybeast.com/articles/2016/12/10/world-war-iii-democrats-and-america-vs-trump-and-russia.html
5. Ed Kilgore: Why Harry Reid Is Right That Democrats Shouldn't Panic
As I have been arguing ever since Election Day, however, there is very likely no immediate path to Democrats controlling a majority of the states any time soon, because there are basically 30 red states to 20 blue states. It would take a very different distribution of votes, or an unimaginable national landslide, to give Democrats majority control of state governments now, considering the steady recent decline of ticket-splitting. Those 30 red states give Republicans a huge built-in advantage in the Senate, and also contribute heavily (via state power over congressional redistricting) to GOP control of the House. The power of small states are also what made it possible for Republicans to lose the presidential popular vote decisively and still win the Electoral College. If you are going to blame anyone for this situation, it should probably be the Founders, who did not design a democracy.
Changing this landscape will take time, skill, and luck for Democrats. At the moment, the smartest thing for them to do is not to move to the left or to the right — to become "populists" or "centrists" — but instead to figure out how to become the most effective opposition party possible in Donald Trump's Washington. The odds are very high that the GOP will either split or overreach in the very near future. For the first time since 2006 Democrats will be in a position to exploit Republican incumbency in the midterms in 2018. And there is no particular reason to assume Democrats will be in a worse position to win the presidential contest than they were this year, when they won by one measurement and lost by an eyelash in the other.
So maybe Harry Reid is right: Democrats should stay calm and avoid blowing themselves up. They are in no position to run the country right now. That has its advantages. 12/10/16 http://nymag.com/daily/intelligencer/2016/12/reid-is-right-democrats-should-avoid-over-reacting-to-2016.html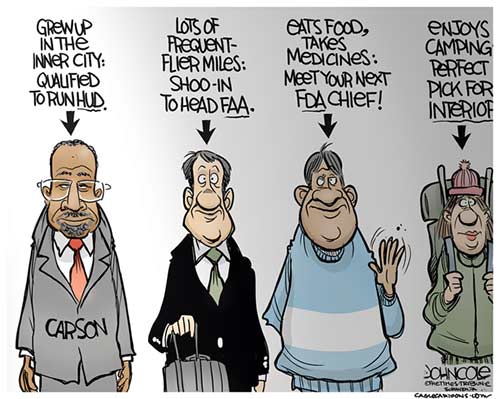 6. Clint Watts and Andrew Weisburd: How Russia Wins an Election
As analysts who have spent years studying Russia's influence campaigns, we're confident the spooks have it mostly right: The Kremlin ran a sophisticated, multilayered operation that aimed to sow chaos in the U.S. political system, if not to elect Trump outright. But you don't need a security clearance or a background in spycraft to come to that conclusion. All you need to do is open your eyes.
It wasn't by hacking election machines or manipulating the results, as some have suggested. That would be too crude. The Kremlin's canny operatives didn't change votes; they won them, influencing voters to choose Russia's preferred outcome by pushing stolen information at just the right time—through slanted, or outright false stories on social media. As we detail in our recent report, based on 30 months of closely watching Russia's online influence operations and monitoring some 7,000 accounts, the Kremlin's troll army swarmed the web to spread disinformation and undermine trust in the electoral system.
And America was just the latest target. These 'active measures' are techniques Moscow has honed for decades, continually adapting its formula to changing technology and new circumstances. All of it is in service of Putin's grand strategy of breaking up the European Union and NATO from the inside out—without even firing a shot. 12/13/16 http://www.politico.com/magazine/story/2016/12/how-russia-wins-an-election-214524
7. NY Times' Editorial: Truth and Lies in the Age of Trump
The rise of social media has been great in many ways. In a media environment with endless inputs and outlets, citizens can inform and entertain one another, organize more easily and hold their leaders accountable. But it also turns out that when everyone can customize his or her own information bubble, it's easier for demagogues to deploy made-up facts to suit the story they want to tell.
That's what Mr. Trump has done. For him, facts aren't the point; trust is. Like any autocrat, he wins his followers' trust — let's call it a blind trust — by lying so often and so brazenly that millions of people give up on trying to distinguish truth from falsehood. Whether the lie is about millions of noncitizens voting illegally, or the crime rate, or President Obama's citizenship, it doesn't matter: In a confusing world of competing, shouted "truths," the simplest solution is to trust in your leader. As Mr. Trump is fond of saying, "I alone can fix it."
Right now, Mr. Trump has his story, and he's sticking to it — and he's increasingly carrying the Republican party along with him. It's bad enough when a truth-defying president-elect uses his megaphone to shout the lie that millions of illegal votes were responsible for Mrs. Clinton's large popular-vote win. It's even more ominous when the vice president-elect, the speaker of the House and the chairman of the Republican National Committee — all people who should know better — repeat that fiction, or refuse to disavow it.
Without a Walter Cronkite to guide them, how can Americans find the path back to a culture of commonly accepted facts, the building blocks of democracy? A president and other politicians who care about the truth could certainly help them along. In the absence of leaders like that, media organizations that report fact without regard for partisanship, and citizens who think for themselves, will need to light the way. 12/10/16 http://www.nytimes.com/2016/12/10/opinion/truth-and-lies-in-the-age-of-trump.html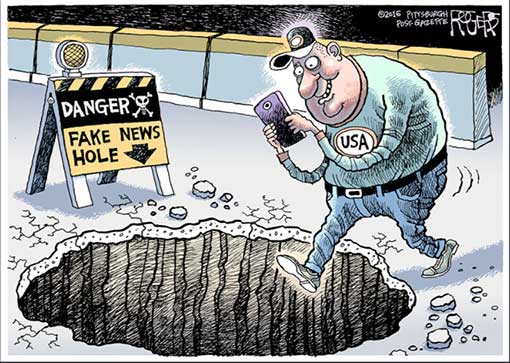 8. David Greenberg: Why the Democrats don't need an overhaul
Until Nov. 8, everyone talked as if the presidential electionwould hinge on smallest incident: a killer ad, a fatal gaffe, an October surprise. But now, in the emerging conventional wisdom, tactics are suddenly deemed unimportant, as we rush to propound big theories about What It All Means. We now hear that Donald Trump's victory — which he is calling, preposterously, a landslide — was the result of the grand tide of history, a thundering declaration of Vox Populi: Identity politics is dead. Populism is ascendant. #WhiteWorkersMatter. The people want change.
The Democratic Party, without question, has lessons to learn and adjustments to make to win next time. But to interpret Hillary Clinton's loss as a wipe-out by an inexorable tide instead of what it actually was — a contingent loss that could easily have gone the other way — risks prescribing a cure for the party that would be worse than the disease.
The calls for Democrats to become more "populist" seem to amount to a matter of tone — marshaling an emotionally satisfying us-against-them rhetoric that blasts banks, big business and the 1%. Democrats shouldn't be shy about injecting their message with righteous indignation, but they shouldn't ignorantly imply the whole system is rotten. Theirs is the reality-based party — respecting  expert knowledge, balancing growth and social needs  and  putting practicality over purity. 
Democrats possess one important advantage in our partisan, 50/50 nation: As the Republican Party has hurtled farther rightward the Democrats' leftward drift has been more restrained. They must not now mimic the GOP and turn into a party of ideological purists, abandoning the political center and with it their best hope of becoming again a catholic, tolerant, pragmatic party that can win and govern. 12/11/16 http://www.latimes.com/opinion/op-ed/la-oe-greenberg-democrats-do-not-need-a-big-overhaul-20161211-story.html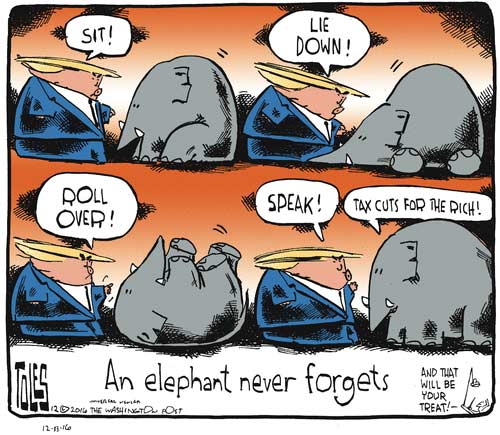 9. Paul Krugman: The Tainted Election
The C.I.A., according to The Washington Post, has now determined that hackers working for the Russian government worked to tilt the 2016 election to Donald Trump. This has actually been obvious for months, but the agency was reluctant to state that conclusion before the election out of fear that it would be seen as taking a political role.
Now, outrage over the tainted election past can't be the whole of opposition politics. It will also be crucial to maintain the heat over actual policies. Everything we've seen so far says that Mr. Trump is going to utterly betray the interests of the white working-class voters who were his most enthusiastic supporters, stripping them of health care and retirement security, and this betrayal should be highlighted.
But we ought to be able to look both forward and back, to criticize both the way Mr. Trump gained power and the way he uses it. Personally, I'm still figuring out how to keep my anger simmering — letting it boil over won't do any good, but it shouldn't be allowed to cool. This election was an outrage, and we should never forget it. http://www.nytimes.com/2016/12/12/opinion/the-tainted-election.html
10. E.J. Dionne Jr.: Why a Trump presidency inspires fear
The CIA's finding that Vladimir Putin's Russia actively intervened in our election to help Donald Trump explains why many of us are not simply disappointed or unhappy that Trump won. We are genuinely alarmed. And Trump's cavalier response to these fears only deepens them.
When The Post revealed the CIA's conclusions about Russia, Trump's response was to insult the CIA, tell a lie about the size of his victory and act as if an election still very fresh in our minds were some sort of historical event dating back to the Pilgrims.
The statement put out by Trump's transition team, so obtuse and so arrogant, needs to be cited in full: "These are the same people that said Saddam Hussein had weapons of mass destruction. The election ended a long time ago in one of the biggest Electoral College victories in history. It's time to move on and 'Make America Great Again.'"
That Trump would happily trash our own CIA to get Putin off the hook is disturbing enough — and, by the way, there were dissenters in the CIA on Iraq. That he would ignore the risks our intelligence agents take on so many fronts to protect us is outrageous. https://www.washingtonpost.com/opinions/why-a-trump-presidency-inspires-fear/2016/12/11/3b2259f8-bfda-11e6-897f-918837dae0ae_story.html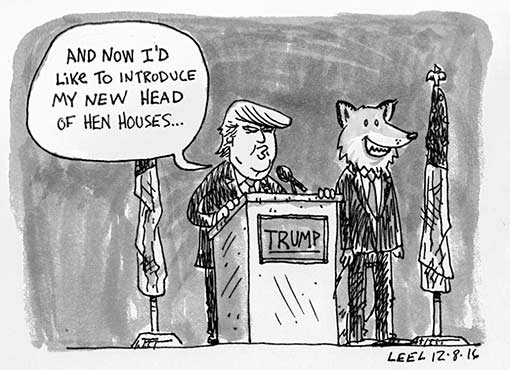 11. Jennifer Rubin: Trump revels in fake news and phony claims
It would be hard to find a politician who didn't lie, but presidents, governors and members of Congress generally try to stay in the ballpark of the truth. They will parse and distract, but they feel queasy about a direct lie. Sometimes they engage in wishful thinking or false choices. But here is what is different about Trump: He doesn't try to get it right. He doesn't assume that people care about the truth or that the truth is important. He will repeat blatant untruths (e.g. Arab Americans celebrated after 9/11, President Obama wasn't born in the United States, he won by a landslide, we don't know whether Russia hacked us), and then try to bully those who dispute him. Rather than engage on the facts, Trump insults, demeans and bullies the messenger. Critical voices — even "Saturday Night Live" — are, in his view, "losing" business (even when they are not), because for Trump, financial success makes one good and truthful while financial distress means one is bad and a liar.
We are not merely talking about the obvious lies — Sen. Ted Cruz's father was involved in the JFK conspiracy — but entire issues that are based on fundamental untruths. "No one knows whether climate change is happening." No, we do. "Immigrants are stealing our jobs." No, they aren't. (For the umpteenth time, a report — this one from the St. Louis Federal Reserve — provides factual confirmation that the correlation between unemployment and percentage of foreign-born workers "is weak to nonexistent. For instance, many states experienced declines in their rates of unemployment of nearly 4 percentage points during this period. This coincided with a reduction in the proportion of foreign-born individuals for some states. For others, this coincided with an increase in the proportion of foreign born.")
A good deal of the right-wing media and virtually all of the Fox Non-News and right-wing talk radio hosts specialize in such phony positions and make-believe concerns, to the point where even "informed" conservatives think trade costs us millions of jobs, climate change is a hoax and immigration is bad for the economy. Trump has now taken the made-up issues, the fake facts and the grand conspiracies all the way to the White House. No president has ever come close to doing this. 12/12/16 https://www.washingtonpost.com/blogs/right-turn/wp/2016/12/12/trump-revels-in-fake-news-and-phony-claims/