March 16, 2017
ON THE RECORD. . .
Dear Ben Carson, please baby, repeat after me: Slaves are not "involuntary immigrants". Pyramids are not involuntary grain silos. Got it? --Ana Navarro @ananavarro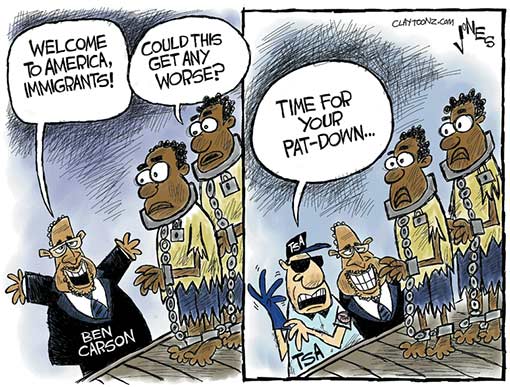 "Uh, no." — Mitch McConnell (R-KY), when asked if Mexico was going to pay for Trump's wall.
"Taxpayers are footing the bill to the tune of an estimated $30 million for Melania Trump to live in New York City, while the President's federal hiring freeze is causing the military to close down child care programs."-- Jason Easley in Politics USA
"A typical Trump supporter doesn't think it's Trump's bill. This is the House Republicans' bill, it's Ryan's bill. It's not hard to see Trump saying, 'Well, it's too bad they failed. They just couldn't get it passed.'" -- Charlie Cook
"Washington is not a Deep State; the problem is a shallow man—an untruthful, vain, vindictive, alarmingly erratic President. In order to pass fair and proper judgment, the public deserves a full airing of everything from Trump's tax returns and business entanglements to an accounting of whether he has been, in some way, compromised. Journalists can, and will, do a lot. But the courts, law enforcement, and Congress—without fear or favor—are responsible for such an investigation. Only if government officials take to heart their designation as "public servants" will justice prevail." -- David Remnick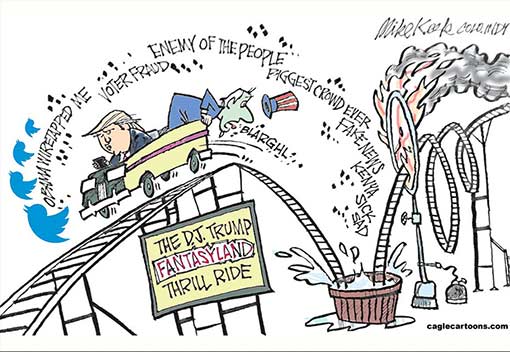 "I firmly believe that nobody will be worse off financially in the process that we're going through." — Health and Human Services Secretary Tom Price 3/12/17
"The CBO's estimate makes clear that TrumpCare will cause serious harm to millions of American families. Tens of millions will lose their coverage, and millions more, particularly seniors, will have to pay more for health care. The CBO score shows just how empty the president's promises, that everyone will be covered and costs will go down, have been. This should be a looming stop sign for the Republicans repeal effort." -- Senate Minority Leader Chuck Schumer (D-NY) 3/13/17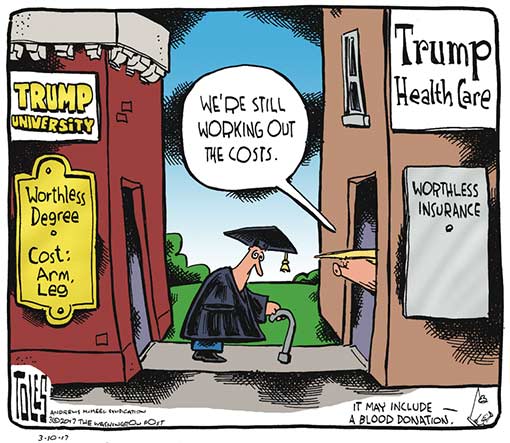 "Donald Trump, my name is Bana Alabed, and I am 7-years-old from Aleppo, Syria. We are the children of Syria. We are not terrorists. We are like your children. Please help us to stop the war. The children deserve life." -- Bana Alabed, a 7-year-old Syrian girl whose Twitter account became famous for documenting the atrocities in her native Aleppo, is seen staring into the camera. 3/13/17
"I'm not Inspector Gadget." - Senior counselor to President Kellyanne Conway, when Asked by CNN whether she could provide evidence of such surveillance. 3/13/16
"If Republicans insist on inserting poison pill riders such as defunding Planned Parenthood, building a border wall, or starting a deportation force, they will be shutting down the government and delivering a severe blow to our economy," -- Chuck Schumer settomg up a climactic first showdown with the president. 3/13/17
"There are no free market insurance systems on earth that work. There is not a single one. Nor in any adjoining planets, it doesn't work because it is something we consider a market failure. Insurance companies will not willingly insure people sick people, end of story. They operate for a profit and sick people are about the worst thing you can have on an insurance policy." --Ali Velshi
Really important: Under Obamacare, 64-yo making $26,500 would pay $1,700 in 2026. Under GOP plan, same person would pay $14,600 -- CNN national political reporter MJ Lee ✔@mj_lee
---
IN THIS ISSUE
1. Andy Borowitz: Middle-Schooler Who Wrote G.O.P. Healthcare Bill Claims He Has Not Been Paid
2. The DAILY GRILL
3. From MEDIA MATTERS (They watch Fox News so you don't have to)
4. From the Late Shows
5. Late Nite Jokes
6. The Congressional Budget Office Cost Estimate for the American Health Care Act
7. Trump Voters Stand to Lose Big Under Trumpcare
8. Misleading claims from Paul Ryan's Obamacare lecture
9. Trump's breathtaking hypocrisy on the debt limit
10. Why Did A Russian Pay So Much For Trump Mansion?
11. Wealthy Would Get Billions in Tax Cuts Under Obamacare Repeal Plan
12. Health care tracking polls
13. Trump Seeks Huge Cuts at United Nations 
14. Paranoia Consumes the White House 
 
1. Paul Krugman: A Bill So Bad It's Awesome
2. Matt Taibbi::Why the Russia Story Is a Minefield for Democrats and the Media
3. William Finnegan: President Trump's Guantánamo Delusion
4. David Brooks: The Republican Health Care Crackup 
5. Amy Davidson: Scott Pruitt Rejects Climate-change Reality 
6. E.J. Dionne: Trump's Health Care and Obama Fantasylands
7. Charles M. Blow: A Ticket to Hell 
8. Michael Hiltzik: Seven new ways the GOP's Obamacare repeal bill would wreck your healthcare 
1. Andy Borowitz: Middle-Schooler Who Wrote G.O.P. Healthcare Bill Claims He Has Not Been Paid
The middle-school student who wrote the Republican health-care bill that was unveiled earlier in the week complained on Friday that he still has not been paid for his work.

Kevin Tenco, a seventh grader from House Speaker Paul Ryan's congressional district, in Wisconsin, said that Ryan hired him two weeks ago to write the American Health Care Act with the promise that it "wouldn't be too much work" and that he would be paid handsomely for his effort.

Taking Ryan at his word, the thirteen-year-old, from Twin Lakes, Wisconsin, "pulled several all-nighters" to complete the health-care bill in time for its Monday unveiling.

"I basically went to the Wikipedia page for Obamacare, cut and pasted a bunch of stuff and then threw in some tax cuts and whatnot," he said. "It doesn't sound like a lot of work, but I was super tired by the end of it."

According to Tenco, Ryan's failure to pay him in a timely fashion for writing the American Health Care Act has left him "feeling really bad about our government."

"I was all set to write an immigration reform bill for Congressman Ryan, but now there's no way," he said. http://www.newyorker.com/humor/borowitz-report/
2. The DAILY GRILL
The Trump camp released one positive tax return to distract from Russia hearings and the Trumpcare meltdown. That's painfully obvious. -- Joe Scarborough ✔@JoeNBC  

VERSUS

.@JoeNBC As #potus @realDonaldTrump personal attorney, I know who has his taxes. You better have proof to back up your claim and big mouth! -- Michael Cohen ✔@MichaelCohen212

VERSUS

And by the way "attorney":
1. Read the First Amendment
2. Save your dumb thug routine for someone who gives a damn. -- Joe Scarborough ✔@JoeNBC

 

Does anybody really believe that a reporter, who nobody ever heard of, "went to his mailbox" and found my tax returns? @NBCNews FAKE NEWS! -- Donald J. Trump ✔@realDonaldTrump

VERSUS

Gee, Donald, your White House confirmed my story. POTUS fake Tweet. Sad!. -- David Cay Johnston @DavidCayJ

 

"Nobody will be worse off financially" under GOP plan --HHS Sec Tom Price 3/12/17

VERSUS

A 64-year-old who earns $26,500 would have her premium increase $12,900 under AHCA. -- Sarah Kliff @sarahkliff

 

The official unemployment rate published by the Labor Department "such a phony number," "one of the biggest hoaxes in American modern politics," and "the biggest joke there is." -- Donald Trump during the campaign.

VERSUS

"I talked to the President prior to this and he said to quote him very clearly: 'They may have been phony in the past, but it's very real now,' -- Sean Spicer hours after the government announced 235,000 new jobs in February and a dip in the unemployment rate to 4.7% from 4.8%.
3. From MEDIA MATTERS (They watch Fox News so you don't have to)
Appearing On Russian State Television, Longtime Trump Adviser Roger Stone Pushes Trump's Wiretap Lie https://mediamatters.org/blog/2017/03/09/appearing-russian-state-television-longtime-trump-adviser-roger-stone-pushes-trumps-wiretap-lie/215612

Fox News hasn't mentioned the mysterious visit to the Ecuadorian embassy, home of WikiLeaks founder Julian Assange, by Donald Trump-ally and Fox contributor Nigel Farage. Farage has refused to explain why he visited the embassy and whether he spoke to Assange during the visit. https://mediamatters.org/blog/2017/03/09/fox-news-ignores-contributor-nigel-farage-s-mysterious-trip-ecuadorian-embassy/215620

Fox Host Presses GOP Congressman On His Characterization Of GOP Health Care Bill As "A Stinking Pile Of Garbage" - Rep. Thomas Massie (R-KY) Highlights Republican Party Civil War Over Health Care https://mediamatters.org/blog/2017/03/09/fox-host-presses-gop-congressman-his-characterization-gop-health-care-bill-stinking-pile-garbage/215616

Al Roker Debunks EPA Head Scott Pruitt's Stunning Denial On Human-Caused Climate Change - Roker: "No Credible Science Or Scientist" Would Support Pruitt's Assertion CO2 Is Not A Primary Contributor To Global Warming https://mediamatters.org/blog/2017/03/10/al-roker-debunks-epa-head-scott-pruitt-s-stunning-denial-human-caused-climate-change/215635

How Trump's White House Is Delegitimizing Anything That Could Get In The Way Of Its Propaganda. https://www.mediamatters.org/blog/2017/03/09/how-trumps-white-house-delegitimizing-anything-could-get-way-its-propaganda/215613 Related video: The White House Is Gaslighting The Media (And the Entire Country) https://youtu.be/IcJt-JF1BLQ

Alex Jones Challenges Alec Baldwin To "Bare Knuckle" Fight For Charity So He Can "Break" His Neck https://mediamatters.org/video/2017/03/13/alex-jones-challenges-alec-baldwin-bare-knuckle-fight-charity-so-he-can-break-his-neck/215662

CNN Panel: Trump And The GOP's Efforts To Delegitimize The CBO Ahead Of ACA Repeal Are Unprecedented https://mediamatters.org/video/2017/03/13/cnn-panel-trump-and-gops-efforts-delegitimize-cbo-ahead-aca-repeal-are-unprecedented/215659
4. From the Late Shows
SNL: Ivanka Trump's Very Own "Complicit" Fragrance: https://youtu.be/F7o4oMKbStE

SNL Cold Open: Complicit: Alien Attack Cold Open: https://youtu.be/MrkJM4JUB28

SNL Weekend Update on Trumpcare: https://youtu.be/gGtOWYAjZWY

SNL Weekend Update: Al Franken and Jeff Sessions: https://youtu.be/wBDhU8oF4fo

Full Frontal with Samantha Bee: That Was the Week that WTF: https://youtu.be/zpFB2q_3pJo

The Late Show with Stephen Colbert: Stephen Reaches Out To President Obama Via Microwave: https://youtu.be/94dBs0qUiqU

Late Night with Seth Meyers: Steve King: Couple Things: https://youtu.be/7b11PaFxqC8
5. Late Nite Jokes
President Trump says he's planning to travel less to other countries than previous presidents. The idea was first suggested to him by other countries. -- Conan O'Brien

This week, President Trump will meet with a Saudi prince. The man born into immense wealth with multiple wives and an exotic head covering says he can't wait to meet the Saudi prince. -- Conan O'Brien

White House Adviser Kellyanne Conway suggested that President Obama could have spied on Donald Trump through a microwave oven. Which is why today the Trump administration brought in six Hot Pockets for questioning. -- Conan O'Brien

Disney has announced that its upcoming live-action "Aladdin" movie is going to feature Middle Eastern actors. Filming will begin in May, or whenever the actors are no longer detained at the airport. -- Conan O'Brien

Hawaii is suing President Trump over his latest travel ban. In response, President Trump is suing Hawaii for "being hard to spell." -- Conan O'Brien

The GOP's healthcare plan came out last week and, so far, it's popular with everyone . . . except doctors, hospitals, the insurance industry, patients, the elderly, Democrats, Republicans, and — what's the word? — mortals. Yeah. These mortals, they need so much care. -- Stephen Colbert

This afternoon, the Congressional Budget Office released its official analysis of the GOP's healthcare bill and found 24 million Americans will lose coverage under the plan. But keep in mind, that's 24 million people by 2026. And without health insurance, a lot of those people won't live that long anyway. -- Stephen Colbert

Yesterday, Speaker of the House Paul Ryan went on "Face the Dickerson" to get ahead of the CBO report: "The one thing I am certain will happen is CBO will say, 'Well, gosh, not as many people will get coverage.'" Well, gosh, not as many people will get coverage, and gee willikers, I need chemo, and cheese and crackers, I can't afford to go to the doctor, and holy Toledo, I should've identified my next of kin, because fiddlesticks, I'm dead!" Doesn't sound so bad when it's folksy. Gosh. Golly! -- Stephen Colbert

Today, Scott Pruitt, the new head of the Environmental Protection Agency, went against the entire scientific community by saying that carbon dioxide is not a primary contributor to global warning. I will go out on a limb here and say that this guy may not be the best choice to head up the EPA. Because not only can he not see the forest through the trees, he wants to cut down all the trees and build a Cinnabon. -- James Cordon
6. The Congressional Budget Office Cost Estimate for the American Health Care Act
14 million lose insurance by 2018

21 million lose insurance by 2020

24 million lose insurance by 2026

52 million total uninsured by 2026 (there were 46 million uninsured before Obamacare became law)
$880 billion cut from Medicaid by 2026

15 percent of Planned Parenthood patients would lose access to care

64-year-old making $26,500 would pay $14,600 for insurance in 2026 ($1,700 under Obamacare)

Read the entire CBO report at https://drive.google.com/file/d/0B4rblq-fxqLaT0VjNGR2bVpFQ3M/view
7. Trump Voters Stand to Lose Big Under Trumpcare
Exit polls showed that just 10 percent of Trump's votes came from Americans earning $200,000 or more. Yet those voters would derive all benefits from the repeal of the two individual tax hikes targeting them: a 0.9 percent tax on their earnings, and a 3.8 percent tax on their investment income.
An even smaller group, the top 1 percent of earners, would receive an average tax cut of $33,000, according to the Tax Policy Center. The top 0.1 percent of earners would receive an average tax cut of $197,000.
But half of Trump's votes came from white voters without college degrees. And those less-affluent voters stand to lose in multiple ways if Congress rolls back Obamacare in favor of the House GOP plan. 3/9/17 http://www.cnbc.com/2017/03/09/the-republican-health-care-bill-threatens-trumps-voters.html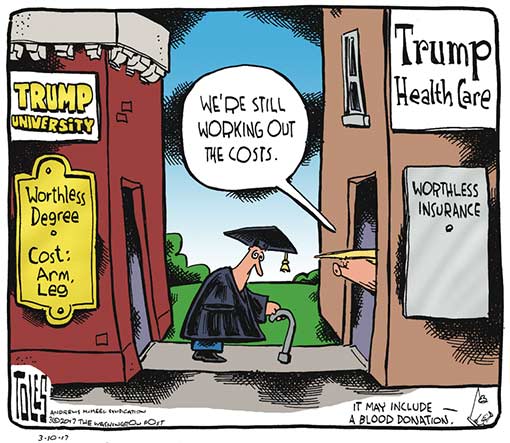 8. Misleading claims from Paul Ryan's Obamacare lecture
In making his case, Ryan made a series of misleading statements, both about the current state of Obamacare and the details of the replacement bill. Three stand out:
1. Cherry-picking premium costs. Ryan is cherry-picked the states with the highest premium increases. He doesn't mention that premiums rose just 2 percent in New Hampshire, 5 percent in New Jersey, 2 percent in Ohio or 2 percent in Arkansas. In Indiana and Massachusetts, premiums actually fell. He also doesn't mention that Americans are often protected from those rising premium increases by their subsidies, which increase as premiums rise. That's not free—the extra cost is borne by taxpayers—but it draws an inaccurate picture of how premium hikes are actually hitting enrollees nationwide.

2. Obamacare in a death spiral? Is that happening with Obamacare? Not exactly. As I wrote when Ryan used this claim in January, enrollment in Obamacare insurance markets isn't rising, as Democrats hoped, but it's not collapsing either. We don't have full data on sign-ups for 2017 Obamacare plans. But HHS has said that 9.2 million Americans signed up for insurance on the federal exchange, down from 9.4 million last year. That slight drop isn't a good sign for Obamacare supporters, who blame the decline on the Trump administration's decision to scale back advertising for the law. But it isn't a giant slide, either. We'll know more once final figures for the state exchanges come in.

3. Obamacare causes "job lock?"? Ryan also claimed Thursday that "Obamacare produces job lock," pointing to a 2014 Congressional Budget Office report as evidence. Ryan gets this exactly wrong. Job lock is an economic term for when a person cannot leave a job for fear of losing health insurance. A 59-year-old with a pre-existing condition who wants to retire may keep working to afford insurance, or a 30-year-old would-be entrepreneur may forgo starting his own business because of insurance costs. This was a problem with the health insurance system before Obamacare, which the current law went a long way toward solving. Ryan has this backward when he says Obamacare produces job lock. 3/09/17 http://www.politico.com/agenda/story/2017/03/three-misleading-claims-in-paul-ryans-obamacare-lecture-000349
9. Trump's breathtaking hypocrisy on the debt limit
Obama's call to increase the debt limit without draconian cuts to spending was "destroying our country," Trump said.
During the 2016 campaign, Trump hewed to this view, saying that the debt limit must be used as a weapon to force spending cuts. Trump said he would be "very very strong on the debt limit" and insist on "a very big pound of flesh" before agreeing to any increase.
Now that Trump is president, his approach is the complete opposite. Via Secretary Mnuchin, Trump is asking Congress to raise the debt limit without demanding any spending cuts in return.
Instead he is seeking to enact a new health care plan (with no funding mechanism), a massive military spending increase and, in the near future, a massive tax cut for corporations and the wealthy.
Asked about the request to raise the debt ceiling on Thursday, White House Press Secretary Sean Spicer said the issue was "beyond our control." https://thinkprogress.org/one-letter-exposes-trumps-breathtaking-hypocrisy-on-the-debt-limit-dc9d07d813d9#.24ua598ra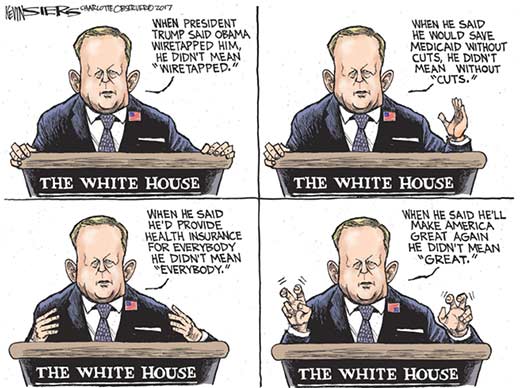 10. Why Did A Russian Pay So Much For Trump Mansion?
Palm Beach Post: "Almost a decade later, the answer is less clear than it was at the time of the sale, the largest price paid for a Palm Beach home."
At the time of the purchase, Dmitry Rybolovlev said that "he didn't plan to live in the United States…. Nonetheless, he went ahead and paid an exceptionally high, $50 million premium to Trump, then a real estate tycoon and reality TV host, for a property he never sought to live in, not even on a part-time basis."
In 2008, Dmitry Rybolovlev bought the Palm Beach mansion owned by Trump for $13 million more than the most expensive Palm Beach mansion sale up to that moment. It's been almost a decade since the sale, but the transaction is newsworthy again as new questions surround contacts between members of Trump's administration and Russian government officials.
Trump made a hefty profit profit on the flip: He had scooped up the estate for $41.35 million in 2004 out of health care magnate Abe Gosman's bankruptcy filing. In essence, Trump sold for more than double what he had paid four years before.
Prior to the Trump sale, which at the time was the highest price paid for any single-family home in the country, the most expensive home sold on Palm Beach had been an estate at 1236 S. Ocean Blvd. That property traded hands for $81.5 million earlier in 2008. http://www.mypalmbeachpost.com/business/trump-palm-beach-why-did-russian-pay-much-for-his-mansion/IjTzoMcu12Tp9H02L6RimO/
11. Wealthy Would Get Billions in Tax Cuts Under Obamacare Repeal Plan
Two of the biggest tax cuts in Republican proposals to repeal the Affordable Care Act would deliver roughly $157 billion over the coming decade to those with incomes of $1 million or more, according to a congressional analysis.
The provisions would repeal two tax increases on high earners enacted in 2010 to help pay for the Affordable Care Act: an increase in capital gains taxes and other investment-related income, and a surcharge on Medicare taxes.
People making $200,000 to $999,999 a year would also get sizable tax cuts. In total, the two provisions would cut taxes by about $274 billion during the coming decade, virtually all of it for people making at least $200,000, according to a separate assessment by the committee. 3/10/17 https://www.nytimes.com/2017/03/10/business/tax-cuts-affordable-care-act-repeal.html
12. Health care tracking polls
A new Kaiser Health Tracking Poll shows 49% of Americans have a positive view of the current Affordable Care Act as compared to 44% who have a negative view. A slight majority of respondents — 51% — are opposed to repealing the law. 3/15/17 http://kff.org/health-reform/poll-finding/kaiser-health-tracking-poll-aca-replacement-plans-womens-health/
A new Public Policy Polling survey finds just 24% of voters support the GOP health care bill as compared to 49% who are opposed. Even among Republican voters only 37% are in favor of the proposal to 22% who are against it, and 41% who aren't sure one way or another.3/15/17 http://www.publicpolicypolling.com/main/2017/03/only-24-of-voters-support-gop-health-care-plan.html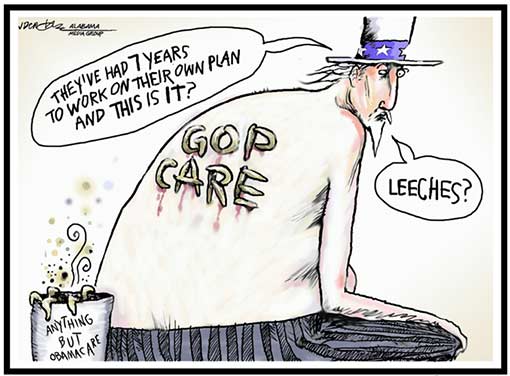 13. Trump Seeks Huge Cuts at United Nations
State Department staffers have been instructed to seek cuts in excess of 50% in U.S. funding for U.N. programs, signaling an unprecedented retreat by President Trump's administration from international operations that keep the peace, provide vaccines for children, monitor rogue nuclear weapons programs, and promote peace talks from Syria to Yemen, according to three sources.
It remains unclear whether the full extent of the steeper U.N. cuts will be reflected in the 2018 budget. 3/14/17 http://foreignpolicy.com/2017/03/13/white-house-seeks-to-cut-billions-in-funding-for-united-nations/
14. Paranoia Consumes the White House
A culture of paranoia is consuming the Trump administration, with staffers increasingly preoccupied with perceived enemies—inside their own government.
In interviews, nearly a dozen White House aides and federal agency staffers described a litany of suspicions: that rival factions in the administration are trying to embarrass them, that civil servants opposed to President Trump are trying to undermine him, and even that a 'deep state' of career military and intelligence officials is out to destroy them. 3/15/17 http://www.politico.com/story/2017/03/trump-white-house-paranoia-236069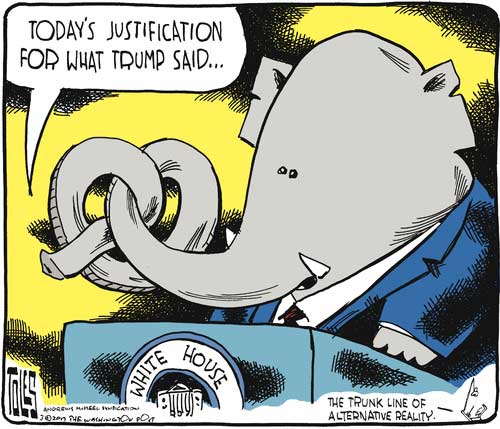 1. Paul Krugman: A Bill So Bad It's Awesome
It has long been obvious to anyone following health policy that Republicans would never devise a workable replacement for Obamacare. But the bill unveiled this week is worse than even the cynics expected; its awfulness is almost surreal. And the process by which it came to be tells you a lot about the state of the G.O.P.
Given the rhetoric Republicans have used over the past seven years to attack health reform, you might have expected them to do away with the whole structure of the Affordable Care Act — deregulate, de-subsidize and let the magic of the free market do its thing. This would have been devastating for the 20 million Americans who gained coverage thanks to the act, but at least it would have been ideologically consistent.
But Republican leaders weren't willing to bite that bullet. What they came up with instead was a dog's breakfast that conservatives are, with some justice, calling Obamacare 2.0. But a better designation would be Obamacare 0.5, because it's a half-baked plan that accepts the logic and broad outline of the Affordable Care Act while catastrophically weakening key provisions. If enacted, the bill would almost surely lead to a death spiral of soaring premiums and collapsing coverage. Which makes you wonder, what's the point? 3/10/17 https://www.nytimes.com/2017/03/10/opinion/a-bill-so-bad-its-awesome.html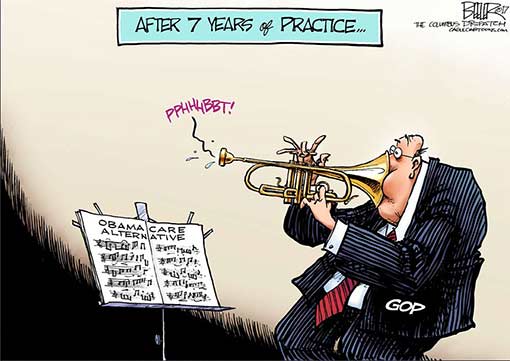 2. Matt Taibbi: Why the Russia Story Is a Minefield for Democrats and the Media
If there's any truth to the notion that the Trump campaign colluded with the Russian state to disrupt the electoral process, then yes, what we're seeing now are the early outlines of a Watergate-style scandal that could topple a presidency.
But it could also be true that both the Democratic Party and many leading media outlets are making a dangerous gamble, betting their professional and political capital on the promise of future disclosures that may not come.
We have to remember that the unpopularity of the press was a key to Trump's election. Journalists helped solve the billionaire's accessibility problem by being a more hated group than the arrogant rich. Trump has people believing he shares a common enemy with them: the news media. When we do badly, he does well.
Trump calls us "enemies of the people" who purvey "fake news." Together with what vile ex-CNN turncoat Lou Dobbs calls the "global corporatists" who own the major media companies, we are said to comprise the "opposition party."
We can't afford to bolster these accusations of establishment bias and overreach by using the techniques of conspiracy theorists to push this Russia story. Unfortunately, that is happening.
The press has to cover this subject. But it can't do it with glibness and excitement, laughing along to SNL routines, before it knows for sure what it's dealing with. Reporters should be scared to their marrow by this story. This is a high-wire act and it is a very long way down. We might want to leave the jokes and the nicknames be, until we get to the other side – wherever that is.  http://www.rollingstone.com/politics/taibbi-russia-story-is-a-minefield-for-democrats-and-the-media-w471074
3. William Finnegan: President Trump's Guantánamo Delusion
President Trump woke up on Tuesday and tweeted, "122 vicious prisoners, released by the Obama Administration from Gitmo, have returned to the battlefield. Just another terrible decision!" This was early, 7:04 a.m., and he was apparently just repeating something he had half-seen, and not understood, on "Fox and Friends." According to the director of national intelligence, who is required to track former detainees, of the hundred and twenty-two ex-prisoners confirmed as having "reengaged," a hundred and thirteen were released by the Bush Administration. Only nine people released by Obama have reëngaged, with another eleven suspected of doing so. This mistake was widely reported, and acknowledged by the White House press secretary, Sean Spicer, in response to reporters' questions. Weirdly, however, it remains on both the President's personal Twitter feed and his official one, linked to the White House Web site. Have the people around the President decided that, even in the most visible settings—on his official social-media account, for Christ's sake—it's simply not worth bothering Trump with the facts? If he prefers his own misreading of a Fox News infographic to information actually gathered by American intelligence agencies, that's O.K.?
Other White House officials are also butchering the numbers when it comes to the existential threat, as they see it, of Islamist terrorism. Sebastian Gorka, a deputy assistant to the President, and one of several aides who came over from Breitbart News, appeared on "Fox and Friends" (where else?) recently, and argued for the expansion of the prison at Guantánamo. Gorka, too, exaggerated the recidivism rate among ex-detainees, saying, "President Obama released lots and lots of people that were there for very good reason, and what happened? Almost half the time they returned to the battlefield." Again, the rate of reëngagement for prisoners released by Obama is just over five per cent. Not fifty. Gorka doesn't have the excuse of simply knowing nothing about the topic. His most recent book is "Defeating Jihad: The Winnable War," and he seems to spend most of his waking hours on TV raising the alarm about the Sharia menace. Stephen Miller, a senior White House policy adviser, previously known mostly for leading chants of "Lock her up!" at Trump campaign rallies, went on the Sunday talk shows last month to defend the President's Muslim travel ban. Miller claimed that seventy-two people from the seven countries covered by the first version of the ban "have been implicated in terroristic activity in the United States" since the September 11th attacks. FactCheck.org reviewed Miller's cited source and found that, of the seventy-two cases, only three people were convicted of terrorist plots on U.S. soil, and two of those were sting operations. 3/9/17 http://www.newyorker.com/news/daily-comment/president-trumps-guantanamo-delusion
4. David Brooks: The Republican Health Care Crackup
We have a group of Freedom Caucus Republicans who still think the major problems in the country today can be cured with tax and spending cuts. We have a Trump administration that has populist impulses but no actual populist safety net policies. And we've got a Republican leadership in Congress mired in Reagan-era thinking and trying to pay lip service to every obsolete prejudice in the various wings of the party.
You end up with this hodgepodge legislation that pleases nobody and takes the big crises afflicting our country and makes them all worse.
The Republican health plan would make America's economic chasm worse. It would cut health subsidies that go to the poor while eliminating the net investment income tax, which benefits only the top 1 percent.
The Republican plan would further destabilize the social fabric for those at the bottom. Throwing perhaps 10 million people off the insurance rolls will increase fear, isolation, social tension, chronic illness, suicide and bankruptcy.
The Republican plan will fuel cynicism. It's being pushed through in an elitist, anti-democratic, middle of the night rush. It seems purposely designed to fail. The penalties for those who don't purchase insurance are so low they seem sure to guarantee Republican-caused death spirals in the weaker markets. https://www.nytimes.com/2017/03/10/opinion/the-republican-health-care-crackup.html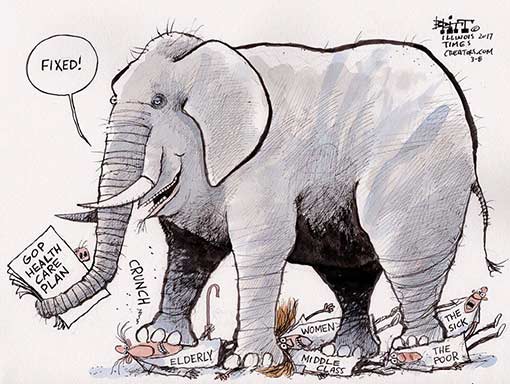 5. Amy Davidson: Scott Pruitt Rejects Climate-change Reality
Scott Pruitt, President Donald Trump's choice to run the Environmental Protection Agency, was explaining to CNBC's Joe Kernen that the Paris climate accord was "a bad deal," with provisions that were "not an America First type of approach," when Kernen asked him if they could cut to the "nitty-gritty." Did Pruitt believe that "it's been proven that CO2 is the primary control knob for climate?"
"No," Pruitt replied. "No, I think that measuring with precision human activity on the climate is something very challenging to do, and there's tremendous disagreement about the degree of impact." And then, lest anyone think that he was merely rejecting Kernen's Spaceship Earth image of a planetary control board with big knobs on it—rather than the observation, validated by decades of data, of the profound effect of the accumulation of carbon dioxide and other greenhouse gases in the atmosphere—Pruitt added, "So, no, I would not agree that it's a primary contributor to the global warming that we see."
As Pruitt went on about the need to "continue the debate," Kernen could hardly contain his delight. "I agree!" he said. "When I hear 'the science is settled,' it's like, I never heard that science actually got to a point where it was—that's the whole point of science, is that you keep asking questions." (In an interview with the Times after the election, Trump placed Kernen alongside the "smart people" who had different views on climate change from those of the likes of Tom Friedman.) Then, having established that it's anti-scientific to believe that scientists could come up with an idea that is any sort of a basis for action—a position that raises doubts about decisions to send humans to the moon or to tell them to stop smoking—Kernen moved on to another point where the rejection of the science of climate change meets a dozen other threads of Trumpism: the cultivation of resentment. "I don't want to be called a denier," Kernen said. "So, you know, it scares me. It's a terrible thing to be called, and anyway, Administrator Pruitt, I know you don't want to be called it either." 3/10/17 http://www.newyorker.com/news/amy-davidson/scott-pruitt-rejects-climate-change-reality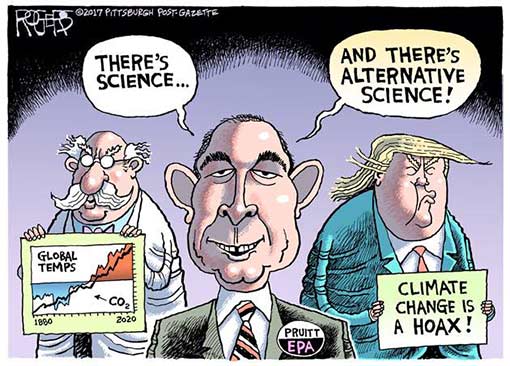 6. E.J. Dionne: Trump's Health Care and Obama Fantasylands
The current president of the United States has accused former president Barack Obama of committing a felony by having him wiretapped. But Trump refuses to offer a shred of evidence for perhaps the most incendiary charge one president has ever leveled against another. Trump recklessly set off a mighty explosion and his spokespeople duck and dodge, hoping we'll pretend nothing happened.
If our republic had a responsible Congress, its leaders would accept their duty to demand that a president who shakes his country and the world with such an outlandish allegation either put up proof or apologize.
Unfortunately, we have no such Congress.
It is sad, to paraphrase the Tweeter in Chief himself, that Washington is now a city of avoidance, denial and deception. Whether he's talking about policy or his political adversaries, Trump is simply not believable. And his friends in Congress are proving themselves no more trustworthy. Welcome to Fantasyland. 3/9/17 http://www.realclearpolitics.com/articles/2017/03/09/trumps_health_care_and_obama_fantasylands_133295.html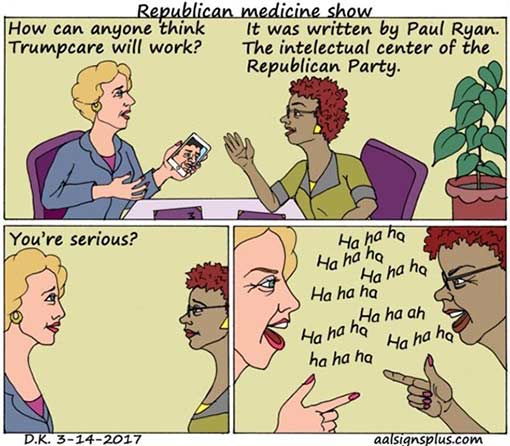 7. Charles M. Blow: A Ticket to Hell
As is Trump's wont and calling card, he oversold his voters a bill of goods that he would never be able to deliver. The Pied Piper of pipe dreams did in politics what he had done in business: He got people to buy into a success mythology in which he was a wizard. In this mythology, ethics, honor and truth are casualties.
Everything is going to be the greatest and the best and the most successful simply because he deems it so.
But now, the legend of Trump, the one most rigid in his own mind, is rubbing up against the harsh reality of presidential politics, where cooperation is needed and accountability is demanded. In this new world,
Trumpism appears brittle, hollow and impotent.
No matter your politics, Trump's first weeks in office have been a disaster, as his rush to action, lack of focus and absence of acuity have led him to calamitous missteps and conspiratorial misstatements.
And now his oversold promises are being exposed for the lies they were — draining the swamp in Washington, forcing Mexico to pay for his ridiculous southern border wall, the incredibly defective Obamacare repeal and replacement proposal.
As he has done his whole life, Trump has sold those who follow him as some sort of money-drenched messiah a bill of goods, but this time the lie is likely to manifest in loss of life, as sick people lose coverage.
Donald Trump has sold his supporters — and by extension, this country — a ticket to hell. 3/9/17 https://www.nytimes.com/2017/03/09/opinion/a-ticket-to-hell.html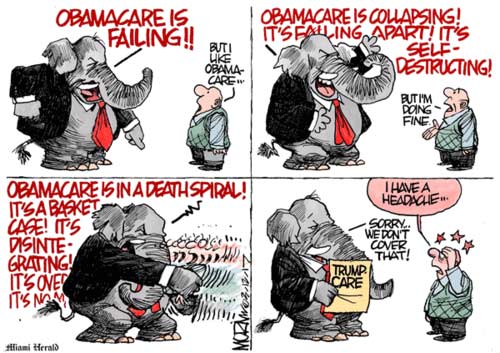 8. Michael Hiltzik: Seven new ways the GOP's Obamacare repeal bill would wreck your healthcare
The headline findings in the Congressional Budget Office's analysis of the Obamacare repeal bill produced by House Republicans are brutal enough: 24 million Americans losing their health coverage, healthcare costs soaring for many millions more, and the evisceration of Medicaid, all while handing the richest Americans a handsome tax cut.
But in its fine print, the CBO report identified at least seven other ways the GOP proposal would damage the U.S. healthcare system. Some would have effects reaching far beyond the middle- and low-income buyers of insurance on the individual market who are the Affordable Care Act's chief beneficiaries.
1. Shopping for health insurance will become tremendously more complicated. 
2. Individual insurance plans will tend to offer skimpier benefits.
3. Out-of-pocket costs will be much higher. 
4. Employer-sponsored insurance might start to disappear. 
5. A key program promoting public health ( the Prevention and Public Health Fund) will be axed.
6. Patients of Planned Parenthood clinics would be cast adrift.
7. The continuous coverage rule would drive 2 million people out of the market and make the overall insurance pool sicker.
In sum, then, the GOP's American Health Care Act would not only roll back all the gains in insurance coverage notched by the ACA over the last four years, but would make millions of Americans poorer and sicker. It's not a return to the health insurance landscape that existed before the ACA's enactment in 2010, but a voyage into an immeasurably more dismal, and unhealthier, world. 3/15/17 Read more at http://www.latimes.com/business/hiltzik/la-fi-hiltzik-gop-healthcare-20170314-story.html