June 11, 2020
ON THE RECORD. . .
No longer can some wait on the sidelines, hoping for incremental change. In times like this, silence is complicity." — Sen. Kamala Harris (D-CA), writing in Cosmopolitan.

"Donald Trump is the first president in my lifetime who does not try to unite the American people — does not even pretend to try. Instead, he tries to divide us." — Retired Marine Corps general James Mattis in The Atlantic magazine.

He's quite a man, Jim Mattis, and for him to do that tells you where he is relative to the concern he has for our country." — Former White House chief of staff John Kelly.

"Get any candidate ready, good or bad, I don't care, I'm endorsing. If you have a pulse, I'm with you!" — Trump saying he would actively campaign against Sen. Lisa Murkowski (R-AK) when she is up for re-election in two years because she said she was "struggling" with whether to vote for his re-election.

"It's bullshit the way people grandstand for cameras in here… The Senate doesn't work… 90% of our committees are about people trolling for soundbites." — Sen. Ben Sasse (R-NE) at a Senate Judiciary Committee hearing.

"Hopefully George is looking down right now and saying this a great thing that's happening for our country. There's a great day for him. It's a great day for everybody. It's a great day for everybody. There's a great, great day in terms of equality." — Trump saying his plan to address racism is a strong economy when asked whether he has a plan to end systemic racism in the country,

"When the students poured into Tiananmen Square, the Chinese government almost blew it. Then they were vicious, they were horrible, but they put it down with strength. That shows you the power of strength." — Donald Trump, in a 1990 Playboy interview.

This is propaganda: The White House video of Trump's visit to St. John's Episcopal Church in D.C. erases the violent attack on protesters by authorities that preceded it. — Washington Post Video

"General Mattis's comments yesterday, I felt like perhaps we're getting to the point where we can be more honest with the concerns that we might hold internally and have the courage of our own convictions to speak up." — Sen. Lisa Murkowski (R-AK)

We must stop talking about the flag and shift our attention to the real issues of systemic racial injustice, economic oppression, police brutality, and judicial & prison reform. …We as a white community need to listen and learn from the pain and suffering of our black communities. We must acknowledge the problems, identify the solutions, and then put this into action. The black community cannot do it alone. This will require all of us. — Drew Brees on Instagram

"Donald Trump has turned this country into a battlefield riven by old resentments and fresh fears. Is this who we are? Is this who we want to be? Is this what we want to pass on to our children and our grandchildren? Fear, anger, finger pointing, rather than the pursuit of happiness? Incompetence and anxiety, self-absorption, selfishness?" — Joe Biden, pledging to address economic inequality and racial injustice but also urging the nation to come together at a moment of deep civil unrest.

"No, I don't support defunding the police. I support conditioning federal aid to police based on whether or not they meet certain basic standards of decency and honorableness." — Joe Biden, responding to CBS host Norah O'Donnell.

"In a period of four months, it has devastated the whole world. And it isn't over yet. Oh my goodness. Where is it going to end? We're still at the beginning of it." — Dr. Anthony Fauci delivered a grim assessment of the devastation wrought around the world by the virus, describing Covid-19 as his "worst nightmare."

"This powerful, good nation is in trouble. The root cause is division and anger purposely created by Trump. The next President will need four years of national reconciliation. We need to restore American values. We need to address racial injustice." — Retired Gen. Barry McCaffrey

"As his criminal justice proposal made clear months ago, Vice President Biden does not believe that police should be defunded. He hears and shares the deep grief and frustration of those calling out for change, and is driven to ensure that justice is done and that we put a stop to this terrible pain." — Biden campaign statement

"A president who takes no responsibility for costing millions and millions of Americans their jobs deserves no credit when a fraction of them return. — Joe Biden, adding that President Trump should "step out of his own bunker."

"That's how the country should be run but don't fuck with me, all right? Republicans have run the country right "to kick the asses of people like you." — Jerry Jones, owner of the Dallas Cowboys, was asked by the Palm Beach Post why he's donated millions of dollars to Republicans.

"President Trump is the only thing standing between America and socialism." — Texas Land Commissioner George P. Bush, reaffirming the support he gave to the billionaire in the 2016 election.

"Things were so bad that the Secret Service recommended that the President go down to the bunker. We can't have that in our country." — AG William Barr contradicting Trump's preferred narrative of the events, in which he wasn't a scared president hiding out from his constituents—but instead just so happened to decide that this was a convenient time to give the bunker a routine inspection.
POLITICAL ADS

#AmericaOrTrump | The Lincoln Project: https://twitter.com/i/status/1268303956117241856

'This Is the Story of a Coward' | The Lincoln Project: https://twitter.com/ProjectLincoln/status/1269013225804357634

it's time to start packing your bags | The Lincoln Project:  https://twitter.com/i/status/1270316532053278720

Wisconsinite and Vietnam War veteran explains why he won't repeat his 2016 vote for Trump in November | America Bridge PAC: https://wapo.st/2XGJ9Yc
---
IN THIS ISSUE
FYI
OPINION
1. Andy Borowitz: Trump Puts Nation on Alert for Terrorists Posing as Peaceful Seventy-Five-Year-Olds
Announcing that he was putting the nation on a "double-red threat level," Donald J. Trump warned the American people on Tuesday to be on the lookout for terrorists posing as peaceful seventy-five-year-olds.

"One of these terrorists was already identified by the police in Buffalo," Trump said. "They may be coming to your town next."

Trump listed some "telltale signs of Antifa," in order to help Americans identify septuagenarian terrorists in their midst.

"If the person appears to be seventy-five or older, with white hair and a peaceful demeanor, call the authorities immediately," Trump said.

He warned that Antifa terrorists are infiltrating American society "everywhere," even on Zoom.

"If you are on Zoom with your family and an elderly person suddenly appears with a friendly smile, a string of pearls, and the nickname 'Grandma,' you have been attacked by Antifa," he said. https://www.newyorker.com/humor/borowitz-report/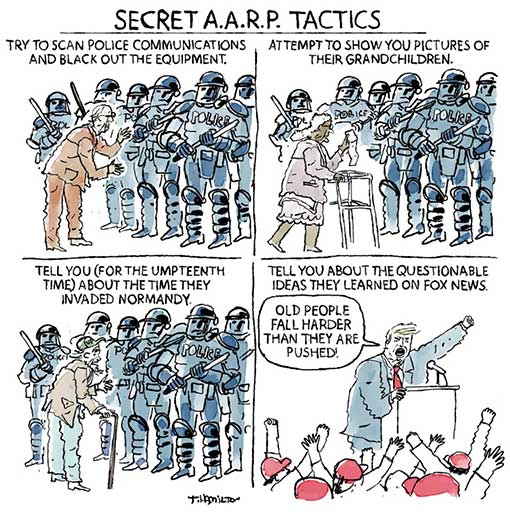 2. Trump Approval Slides to 39%
A new Gallup poll finds President Trump's approval rate dropping from 49% to 39% in just a month. https://news.gallup.com/poll/312572/trump-job-approval-slides.aspx

A new Politico/Morning Consult poll also shows Trump's approval at 39%. https://assets.morningconsult.com/wp-uploads/2020/06/09212854/200630_crosstabs_POLITICO_RVs_v1_AUTO.pdf
3. Delusional President Demands CNN Retract Poll Showing Biden Leading
Donald Trump's campaign is demanding CNN retract and apologize for a recent poll that showed him well behind presumptive Democratic presidential nominee Joe Biden.
The demand, coming in the form of a cease and desist letter to CNN President Jeff Zucker, was immediately rejected by the network. https://www.cnn.com/2020/06/10/politics/trump-campaign-cnn-poll/index.html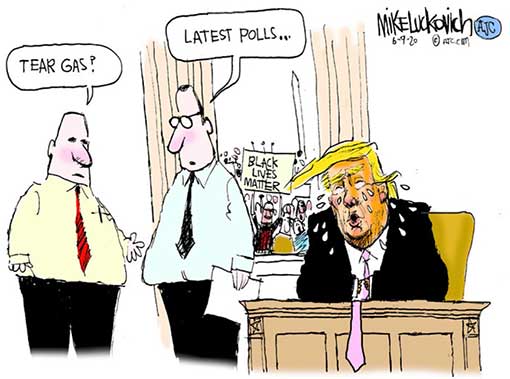 4. Georgia's election descends into chaos
Georgia's primary quickly turned into an ordeal for voters who waited for hours Tuesday when it became clear officials were unprepared for an election on new voting computers during the coronavirus pandemic.
Poll workers couldn't get voting machines to work. Precincts opened late. Social-distancing requirements created long lines. Some voters gave up and went home.
"What is going on in Georgia? We have been waiting for hours. This is ridiculous. This is unfair," said 80-year-old Anita Heard, who waited for hours to cast her ballot at Cross Keys High School, where poll workers couldn't start voting computers and ran out of provisional ballots. https://www.ajc.com/news/state--regional-govt--politics/voting-machines-and-coronavirus-force-long-lines-georgia-voters/VajM2D3aSHALhCz7KwDrpJ/
5. The crackdown before Trump's photo op
What video and other records show about the clearing of protesters outside the White House. https://www.washingtonpost.com/investigations/2020/06/08/timeline-trump-church-photo-op/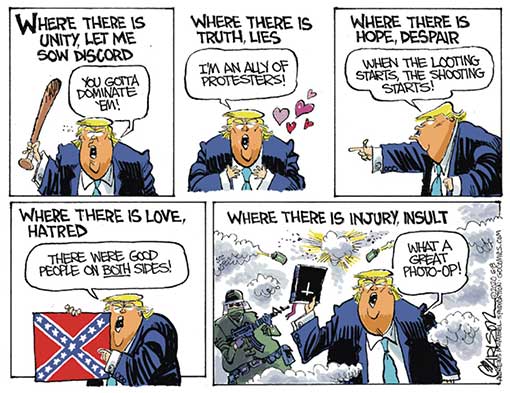 6. The 'Tear Gas Hoax' Hoax
By now, everyone reading this is aware that on Monday night President Trump committed a grotesque and unconstitutional abuse of power: To show that he was "reclaiming the territory" around the White House, our channel-surfing faux-strongman had law enforcement officers use gas, rubber pellets, batons, and smoke grenades to violently disrupt a peaceful protest just north of Lafayette Square—before curfew—under orders of Attorney General William Barr.
After the inevitable blowback the Trump administration and its propagandists—both in the public and private sectors—began test-driving some alternative facts about the events of Monday evening. Maybe the U.S. Park Police acted on its own out of self-defense, they suggested. Maybe its officers didn't use tear gas, they suggested. Maybe this was all one big coincidence.
In short, they think you are f..ing stupid. https://thebulwark.com/the-tear-gas-hoax-hoax/
7. US Park Police said using "tear gas" in a statement was a "mistake." It just used the term again.
A US Park Police spokesperson said Friday in an interview it was a "mistake" to insist in a statement on Tuesday that it didn't use tear gas the day before in a Washington, DC, park to disperse a crowd ahead of President Trump's photo op, explicitly noting that pepper balls shot by officials irritate the eyes and cause tears. https://www.vox.com/2020/6/5/21281604/lafayette-square-white-house-tear-gas-protest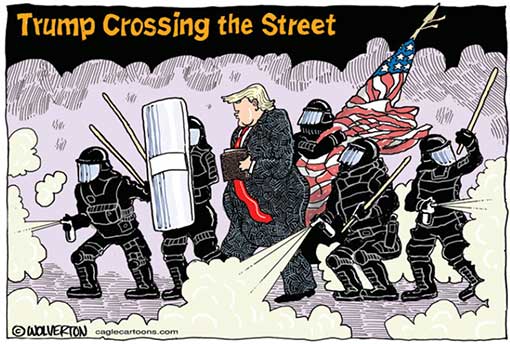 8. Black Lives Matter, ACLU Sue Trump And Barr For Ordering Attack On White House Protesters
The Trump administration's "actions to shut down the Lafayette Square demonstration," the lawsuit alleges, "is the manifestation of the very despotism against which the First Amendment was intended to protect."
The lawsuit, which was brought by the American Civil Liberties Union, the Washington Lawyers' Committee and the Lawyers' Committee for Civil Rights Under Law on behalf of Black Lives Matter D.C. and several individual protesters, alleges the Trump administration violated protesters' First and Fourth Amendment rights through their forcible efforts to break up the peaceful demonstration, saying the government "had no legitimate basis to destroy the peaceable gathering." "Defendants professed purpose—to clear the area to permit the President to walk to a photo opportunity at a nearby church—was a wholly illegal reason for abridging the constitutional rights of Plaintiffs and the others assembled in Lafayette Square," the lawsuit alleges. The civil rights groups also pointed out the president's own history of "hostility towards viewpoints different than his own" to demonstrate the administration's discriminatory motivation for kicking out the protesters, as well as Trump's comments to governors that they should "dominate" protesters. https://www.vanityfair.com/news/2020/06/black-lives-matter-aclu-sue-trump-barr-white-house-protesters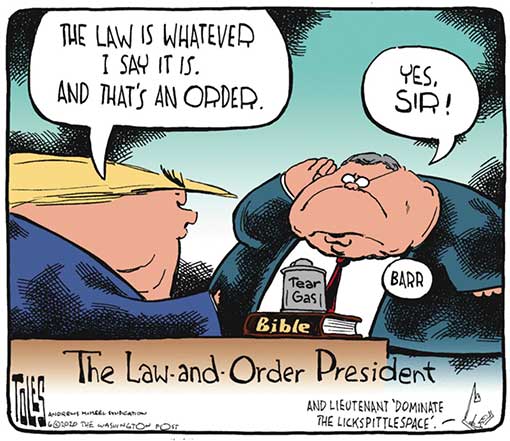 9. John Bolton plans to publish a tell-all about his time in the White House in late June
John Bolton is forging ahead with plans to publish "The Room Where It Happened: A White House Memoir" on June 23, after embarking on a media tour to promote the book the weekend before, according to people with knowledge of the negotiations who spoke on the condition of anonymity to describe private conversations. https://www.washingtonpost.com/politics/john-bolton-plans-to-publish-a-tell-all-about-his-time-in-the-white-house-in-late-june/2020/06/07/c72fcb4a-a8f4-11ea-868b-93d63cd833b2_story.html
10. People are sawing through and climbing over Trump's border wall. Now contractors are being asked for ideas to make it less vulnerable.
U.S. Customs and Border Protection has asked contractors for help making President Trump's border wall more difficult to climb over and cut through, an acknowledgment that the design currently being installed across hundreds of miles of the U.S.-Mexico boundary remains vulnerable.
The new request for information notice that CBP posted gives federal contractors until June 12 to suggest new anti-breaching and anti-climbing technology and tools, while also inviting proposals for "private party construction" that would allow investors and activists to acquire land, build a barrier on it and sell the whole thing to the government.
Trump continues to campaign for reelection on a promise to complete nearly 500 miles of new barrier along the border with Mexico by the end of 2020, but administration officials have scaled back that goal in recent weeks. The president has ceased promoting the $15 billion barrier as "impenetrable" in the months since The Washington Post reported smuggling crews have been sawing through new sections of the structure using inexpensive power tools. https://www.washingtonpost.com/immigration/trump-border-wall-vulnerable/2020/06/04/ccd40e5e-a66e-11ea-8681-7d471bf20207_story.html
11. CDC: Increase in calls to poison centers related to exposures to cleaners and disinfectants
The CDC released data on Friday from an internet survey commissioned to understand why more people have been calling poison control centers during the coronavirus pandemic.
Thirty-nine percent of respondents reported engaging in norecommended high-risk practices with the intent of preventing SARS-CoV-2 transmission, such as washing food products with bleach, applying household cleaning or disinfectant products to bare skin, and intentionally inhaling or ingesting these products. Unsurprisingly, respondents who engaged in high-risk practices more frequently reported an adverse health effect that they believed was a result of using cleaners or disinfectants than did those who did not report engaging in these practices. https://www.cdc.gov/mmwr/volumes/69/wr/pdfs/mm6923e2-H.pdf
12. Trump seeks to scale back environmental reviews for projects
Donald Trump signed an executive order Thursday directing agencies to look for ways to speed up building of highways and other major projects by scaling back environmental reviews, invoking special powers he has under the coronavirus emergency.
Separately Thursday, the Environmental Protection Agency formally proposed overhauling how the agency evaluates new rules on air pollutants, a move critics say will make it tougher to enact limits on dangerous and climate-changing emissions in the future.
The actions are the latest efforts from the Trump administration to emphasize the economy and jobs over the environment and public health. https://apnews.com/ea178bafbd3e4b0fbdfb4405d9e56d63
13. Hill Democrats quash push to 'defund the police'
Top Democrats are carefully — but forcefully — speaking out against growing calls from activists to defund police departments, an idea backed by prominent progressives to dismantle the system that has perpetuated the type of brutality seen in Floyd's death in Minneapolis.
With the GOP eagerly drawing up its attack ads, senior Democrats are hoping to stifle momentum for the idea before it overshadows their broader reform effort. Speaker Nancy Pelosi and Senate Minority Leader Chuck Schumer are instead pressing ahead with a sweeping bill to crack down on use of excessive force, bolster transparency and ban certain practices, like chokeholds, while leaving questions of funding or structure to local leaders. Already, nine Minneapolis City Council members vowed to dismantle the city's police department. https://www.politico.com/news/2020/06/08/defund-police-democrats-307766
14. Ex-U.S. diplomat: Trump evokes memories of Mussolini
Former U.S. Ambassador to the EU Anthony Gardner said Trump evokes memories of Italian fascist dictator Benito Mussolini and that former Trump officials who are now criticizing the president, like ex-Defense Secretary James Mattis, are "collaborators" who should have spoken out sooner or never joined the administration in the first place.
For a couple of years, I was troubled by many things that Donald Trump shares with Benito Mussolini, someone my Italian grandparents fled from in 1938," Gardner, a Democrat who is supporting former Vice President Joe Biden's campaign, said in the interview.
Gardner also slammed Trump's plan to reduce the number of U.S. military forces in Germany.
"It makes no sense," Gardner said. "It's a gift to Vladimir Putin, Donald Trump's good friend. This is another indication of how he embraces autocrats and enemies of our country. We should be holding firm. It serves not only defense of Europe and Germany but our own purposes, right? Because those bases are incredibly important also for the projection of our influence and our power on Europe, the Middle East and even beyond, so it makes no sense whatsoever. This is a political act. There is no military strategy behind it." https://www.politico.com/news/2020/06/08/ex-us-diplomat-trump-evokes-memories-of-mussolini-307398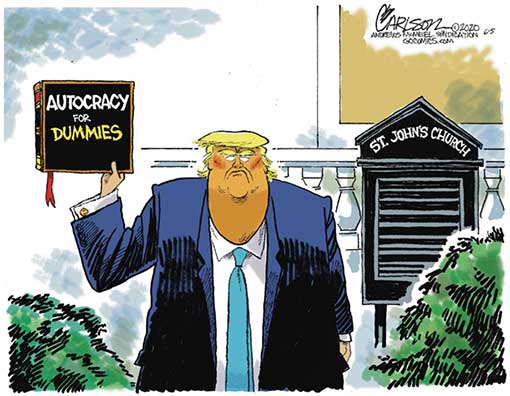 15. Interior to push drilling in Florida waters after November election
The Trump administration is preparing to open the door to oil and gas drilling off Florida's coast — but will wait until after the November election to avoid blowback in a swing state whose waters both parties have long considered sacrosanct, according to four people familiar with the plan.
That plan also included an expansion of offshore drilling in California, a move that would escalate the ongoing battles between the state and the administration over environmental issues since Trump took office. The people did not know whether the final proposal will include that section of coastline as well.
"Whatever is decided is expected to come out within two to three weeks of the election," said one person who has had recent discussions with Interior officials about the issue and who agreed to speak only on condition of anonymity. The eastern Gulf is the "golden trophy" for the industry because it could be producing oil within 10 years using existing infrastructure from the Gulf's western portion, the person said. https://www.politico.com/news/2020/06/10/interior-drilling-florida-waters-november-election-310595
16. Trump's New Favorite Channel Employs Kremlin-Paid Journalist
If the stories broadcast by the Trump-endorsed One America News Network sometimes look like outtakes from a Kremlin trolling operation, there may be a reason. One of the on-air reporters at the 24-hour network is a Russian national on the payroll of the Kremlin's official propaganda outlet, Sputnik.
Kristian Brunovich Rouz, originally from the Siberian city of Novosibirsk, has been living in San Diego, where OAN is based, since August 2017, reporting on U.S. politics for the 24-hour news channel. For all of that time, he's been simultaneously writing for Sputnik, a Kremlin-owned news wire that played a role in Russia's 2016 election-interference operation, according to an assessment by the U.S. intelligence community. https://www.thedailybeast.com/oan-trumps-new-favorite-channel-employs-kremlin-paid-journalist
17. Five Texas GOP county leaders share racist Facebook posts, including one juxtaposing an MLK quote with a banana
Abbott and other top Texas Republicans called for the resignation of the GOP chairs in Bexar and Nueces counties after they shared on social media a conspiracy theory that Floyd's death was a "staged event," apparently to gin up opposition to President Donald Trump.  https://www.texastribune.org/2020/06/04/texas-greg-abbott-bexar-GOP-conspiracy/
18. The DAILY GRILL
General Jim Mattis will be retiring, with distinction, at the end of February, after having served my Administration as Secretary of Defense for the past two years. During Jim's tenure, tremendous progress has been made, especially with respect to the purchase of new fighting….-- Donald Trump

VERSUS

Probably the only thing Barack Obama & I have in common is that we both had the honor of firing Jim Mattis, the world's most overrated General. I asked for his letter of resignation, & felt great about it. His nickname was "Chaos", which I didn't like, & changed to "Mad Dog"......His primary strength was not military, but rather personal public relations. I gave him a new life, things to do, and battles to win, but he seldom "brought home the bacon". I didn't like his "leadership" style or much else about him, and many others agree. Glad he is gone! — Donald J. Trump

VERSUS

Replying to @realDonaldTrump
1) You didn't fire Mattis
2) Obama didn't fire Mattis
3) You're lying about his "Mad Dog" nickname
4) You had to delete this and try again after you screwed up a two-letter word
5) Gen. Mattis served his country honorably
6) You're a draft dodger
7) You're going to prison — Palmer Report @PalmerReport

 

Tremendous progress is being made on vaccines. In fact, we're ready to go in terms of transportation and logistics. We have over 2 million ready to go if it checks out for safety." — Trump during a Friday morning news conference.

VERSUS

"I didn't hear him say that." — White House health advisor Dr. Anthony Fauci

 

@MittRomney is marching with a group of nearly 1,000 Christians to the White House. Here he is on video saying why he's walking: "... to make sure that people understand that Black Lives Matter" — Hannah Natanson@hannah_natanson

VERSUS

Tremendous sincerity, what a guy. Hard to believe, with this kind of political talent, his numbers would "tank" so badly in Utah! — Donald J. Trump @realDonaldTrump

 
19. From MEDIA MATTERS (They watch Fox News so you don't have to)
Fox News is defending and cheering on President Donald Trump after he had peaceful protesters outside the White House cleared with tear gas so that he could hold a photo-op on Monday, with some network personalities blaming the protesters themselves and offering nonsensical semantic quibbles over whether gas that caused tears was actually tear gas. Is there no line the network will not cross and no limit whatsoever on Fox's willingness to serve as eager propagandists for the president? https://www.mediamatters.org/fox-news/foxs-disgusting-propaganda-support-trump-tear-gassing-peaceful-protesters

Sean Hannity: Black Lives Matter is "planning to train armed militia for war on police." https://www.mediamatters.org/sean-hannity/sean-hannity-black-lives-matter-planning-train-armed-militia-war-police

Fox News deceptively edits video of police officers wrongfully handcuffing a Black family. https://www.mediamatters.org/crime-and-criminal-justice/fox-news-deceptively-edits-video-police-officers-wrongfully-handcuffing

Tucker Carlson: "Violent young men with guns will be in charge. They will make the rules, including the rules in your neighborhood. They will do what they want. You will do what they say. No one will stop them. You will not want to live here when that happens" https://www.mediamatters.org/tucker-carlson/tucker-carlson-violent-young-men-guns-will-be-charge-they-will-make-rules-including

Fox News host Laura Ingraham attacked religious leaders who criticized President Donald Trump after law enforcement officers tear-gassed protestors to disperse them so he could take a photo in front of St. John's Episcopal Church. Right wing media claimed that the the Episcopal bishop of Washington, has not "ever picked up a Bible" and that the archbishop of Washington, is "a fraud" who "does not understand fundamental Catholic teachings." https://www.mediamatters.org/bill-oreilly/right-wing-media-attack-faith-leaders-criticism-police-brutality-around-trumps-photo

Tucker Carlson and guest agree the time for "vigilante justice" against protesters is near, We are facing an insurrection by people that we don't quite understand who they are, but by all indications, they are violent leftist thugs. 71 percent of us want the National Guard in our cities tonight. 58 percent of us want the military in our cities tonight. Alright, the people are panicking. The country is on fire. https://www.mediamatters.org/tucker-carlson/tucker-carlson-and-guest-agree-time-vigilante-justice-against-protesters-near

Michael Savage: Giving a little history that you didn't learn in your history book, and you're going to see that the military not only has been in called, but will be called in and should've been called in on Saturday. And those punks should've been put down like the — like the feral dogs that they are. https://www.mediamatters.org/michael-savage/michael-savage-says-military-should-be-called-against-protests-those-punks-shouldve

Fox guest calls for American citizen George Soros to be deported because "he is the destruction of our civilization and a clear and present danger to our country." https://www.mediamatters.org/fox-news/fox-guest-calls-american-citizen-george-soros-be-deported-because-he-destruction-our

TUCKER CARLSON: LeBron James has been inciting violence, in my opinion. And yet, if you say anything about it, you're the racist. How can someone like LeBron James, who should be ashamed for what he's done, get away with it?  https://www.mediamatters.org/tucker-carlson/tucker-carlson-accuses-lebron-james-inciting-violence

TUCKER CARLSON: "This may be a lot of things, this moment we are living through, but it is definitely not about black lives and remember that when they come for you, and at this rate, they will." https://twitter.com/justinbaragona/status/1270151261934030852

TUCKER CARLSON: Democrats have no intention of abolishing the police. Listen carefully, and you will hear them admit that. Instead, they want to replace the police. Take the people who currently have badges, many of whom, by the way, voted for Donald Trump, and swap them out for new people, people who hate Donald Trump and hate the people who voted for Donald Trump. That's what is actually happening here, and it makes sense. Law enforcement is one of the very few institutions remaining in this country that the left does not yet control. https://www.mediamatters.org/tucker-carlson/tucker-carlson-says-democrats-are-trying-replace-trump-supporting-police-anti-trump
1. Maureen Dowd: Bonfire of Trump's Vanity
On Friday, Trump was so giddy about the surprisingly good jobs report that he mused about getting an R.V. so he and Melania could drive to New York. Cue "Green Acres." Since even a man killed by the police should offer Pence-like praise of Dear Leader, Trump blithely observed, "Hopefully, George is looking down right now and saying,
'This is a great thing that's happening for our country.'"
That afternoon, as protesters in front of St. John's danced to Sister Sledge's "We Are Family," the president threw racial chum in the Potomac. He tweeted that Drew Brees "should not have taken back his original stance on honoring our magnificent American Flag. OLD GLORY is to be revered … NO KNEELING!"
He called Muriel Bowser, the poised black mayor of D.C. who wanted the federal troops out of the capital, "incompetent" and then upgraded her to "grossly incompetent." Friday night, he retweeted someone who posted that "Barack Obama put a target on the back of every cop in this country."
It's sad to see the tall black fences going up around the White House, turning the "People's House" into an outpost as dark as the psyche of the man who lives within. But Bowser offered the best troll on the First Troller when she had the words "Black Lives Matter" painted in yellow in front of the White House and St. John's. She tweeted that she was renaming the area "Black Lives Matter Plaza."
And that matters. https://www.nytimes.com/2020/06/06/opinion/trump-washington-monuments-george-floyd-protests.html
2. Peter Baker: Trump May Compare Himself to Nixon in 1968, but He Really Resembles George Wallace
President Trump said last month that he had "learned a lot from Richard Nixon," and many interpreted his hard-line response to the street protests of recent days as a homage of sorts to the 1968 campaign. The president's Twitter feed has been filled with phrases famous from the Nixon lexicon like "LAW & ORDER" and even "SILENT MAJORITY."
But if anything, Mr. Trump seems to be occupying the political lane held that year by George Wallace, the segregationist former governor of Alabama who ran as a third-party candidate to the right of Nixon. While he does not share Wallace's most extreme positions, Mr. Trump is running hard on a combative pro-police, anti-protester platform, appealing to Americans turned off by unrest in the streets.
Mr. Trump's talk of "shooting" looters, his bellicose denunciation of "thugs" and "terrorists," his threats to unleash "vicious dogs" and "ominous weapons" and his vow to call in troops to "dominate" the streets all evoke Wallace's inflammatory language more than Nixon's that year. Mr. Trump has offered little empathy for the goals of peaceful protesters against racial injustice, emphasizing instead the sporadic looting and violence even as he has sought to discredit the victims of police brutality. https://www.nytimes.com/2020/06/09/us/politics/trump-2020.html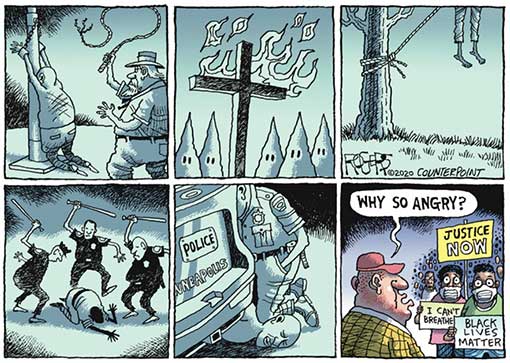 3. George F. Will: Trump must be removed. So must his congressional enablers.
In life's unforgiving arithmetic, we are the sum of our choices. Congressional Republicans have made theirs for more than 1,200 days. We cannot know all the measures necessary to restore the nation's domestic health and international standing, but we know the first step: Senate Republicans must be routed, as condign punishment for their Vichyite collaboration, leaving the Republican remnant to wonder: Was it sensible to sacrifice dignity, such as it ever was, and to shed principles, if convictions so easily jettisoned could be dignified as principles, for . . . what? Praying people should pray, and all others should hope: May I never crave anything as much as these people crave membership in the world's most risible deliberative body.
A political party's primary function is to bestow its imprimatur on candidates, thereby proclaiming: This is who we are. In 2016, the Republican Party gave its principal nomination to a vulgarian and then toiled to elect him. And to stock Congress with invertebrates whose unswerving abjectness has enabled his institutional vandalism, who have voiced no serious objections to his Niagara of lies, and whom T.S. Eliot anticipated:
We are the hollow men . . .
Our dried voices, when
We whisper together
Are quiet and meaningless
As wind in dry grass
or rats' feet over broken glass . . .
Those who think our unhinged president's recent mania about a murder two decades ago that never happened represents his moral nadir have missed the lesson of his life: There is no such thing as rock bottom. So, assume that the worst is yet to come. Which implicates national security: Abroad, anti-Americanism sleeps lightly when it sleeps at all, and it is wide-awake as decent people judge our nation's health by the character of those to whom power is entrusted. Watching, too, are indecent people in Beijing and Moscow. https://www.washingtonpost.com/opinions/no-one-should-want-four-more-years-of-this-taste-of-ashes/2020/06/01/1a80ecf4-a425-11ea-bb20-ebf0921f3bbd_story.html
4. Anne Gearan and Josh Dawsey: Trump's bad breakups: Mattis is the latest official to go from hero to zero in the president's telling
First, President Trump called Jim Mattis "one of the most effective generals and extraordinary leaders of our time."
Now, he says his former secretary of defense "is the world's most overrated General."
John F. Kelly was once a great Homeland Security secretary who would be an even better White House chief of staff, "if it's possible."
This week, Trump said Kelly is an also-ran who "was not in my inner-circle, was totally exhausted by the job, and in the end just slinked away into obscurity."
Jeff Sessions entered the administration being hailed by the president as "a world-class legal mind" who was "greatly admired by legal scholars and virtually everyone who knows him."
Now, Trump demeans him as someone who "didn't have a clue," "let our Country down," "was played like a drum" and is not to be trusted by Alabama voters weighing whether to return him to the Senate.
And Rex Tillerson went from "the embodiment of the American dream" whose "tenacity, broad experience and deep understanding of geopolitics make him an excellent choice for Secretary of State" to "'dumb as a rock' and totally ill prepared and ill equipped to be Secretary of State."
There are few constants in the tumult of the Trump administration, which has had far more staff departures than any recent president. But one rule of thumb is that if you speak ill of Trump — and a remarkable number of former officials have — the president will strike back.
But beyond illustrating Trump's counterpunching ethos, it's a pattern that raises serious questions about his ability to fill some of the most important posts in government and why he continually hires top officials he later comes to describe as incompetents. https://www.washingtonpost.com/politics/trump-mattis-kelly-sessions-tillerson-criticism-protests/2020/06/06/709c9cdc-a763-11ea-bb20-ebf0921f3bbd_story.html
5. George T. Conway III: Trump's soulless nature has done the nation incalculable harm
So much of Trump's inaptness and ineptness in these and other matters stems from his exceptional narcissism, and the empathic deficit that attends it. Few who have considered it would today doubt, as Sen. Ted Cruz (R-Tex.) so perceptively put it in 2016, that Trump was "a narcissist at a level I don't think this country has ever seen."
'But it's more than just narcissism that drives this failing, flailing president. However difficult they can be, even extreme narcissists can have consciences. They don't necessarily cast aside behavioral standards or laws, or lie ceaselessly with reckless abandon. Trump's behavior is conscienceless, showing utter disregard for the safety of others, consistent irresponsibility, callousness, cynicism and disrespect of other human beings. Contempt for truth and honesty, and for norms, rules and laws. A complete inability to feel remorse, or guilt. As a New Yorker profile of Trump put it nearly a quarter-century ago, Trump lives "an existence unmolested by the rumbling of a soul." That's Donald Trump's problem yesterday, today and tomorrow.
It's our problem, too, for now: We remain governed by a soulless man with a broken mind. The damage will continue, and it won't stop until voters end it. Come November, it will be up to the eligible human population of this country to look to their souls, their consciences, their humanity — and to cast their votes for one of their own. https://www.washingtonpost.com/opinions/2020/06/05/presidents-inhumanity-is-deeper-than-we-knew/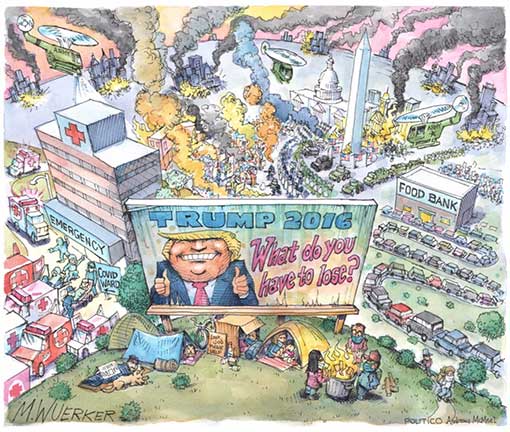 6. Max Boot: The retired generals are defending America from our greatest threat: The president
With Trump eager to unleash U.S. troops on U.S. cities General Jim Mattis unloaded. If words were bullets, this reprehensible administration would have been vanquished as thoroughly as the Iraqi army divisions that Mattis and his Marines confronted in the spring of 2003.
Mattis singled out "the abuse of executive authority that we witnessed in Lafayette Square" when security personnel gassed peaceful protesters "to provide a bizarre photo op for the elected commander-in-chief, with military leadership standing alongside." "We must reject any thinking of our cities as a 'battlespace' that our uniformed military is called upon to 'dominate,'" he wrote, referring to a phrase employed by Defense Secretary Mark T. Esper, and "we must reject and hold accountable those in office who would make a mockery of our Constitution." While his censure of Esper was implied, his excoriation of Trump was explicit: "Donald Trump is the first president in my lifetime who does not try to unite the American people—does not even pretend to try. Instead he tries to divide us."
Mattis just performed his latest service to a country he has served his whole life. He displayed moral courage in a way that few Republicans — and even fewer Trump appointees — have done. https://www.washingtonpost.com/opinions/2020/06/04/retired-generals-are-defending-america-our-greatest-threat-president/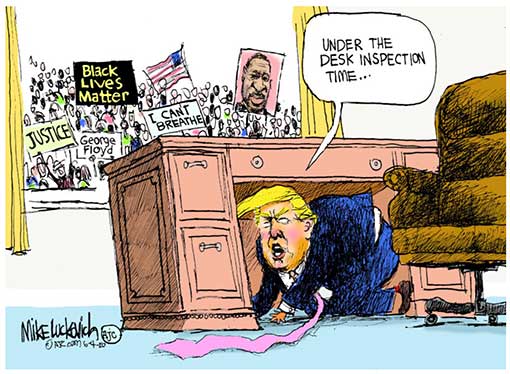 7. Alexandra Petri: Trump explains his favorite Bible stories
If there was one thought in America's mind when it watched our gallant president stride to St. John's Episcopal Church and heft a Bible in one hand, it was: That man has definitely seen or held a Bible — or, indeed, any book — before, and he knows it cover to cover, from Genesis to Two Corinthians and even beyond! But what could be his favorite stories from that much-loved book of his, or someone's? Here is my best guess.
• Lazarus: Very good illustration of how easy it is to recover if you put your mind to it and why nobody needs health coverage.

• Job: Someone is treated almost but not quite as badly as Donald Trump gets treated every day.

• Ruth: Ruth accompanies her relative Naomi to a new country in a disgraceful instance of chain migration.

• Joshua and the Battle of Jericho: Very sad story about a man blowing blasts on a trumpet and damaging a • wall.

• Revelation: Beautiful first draft of Trump inauguration speech.

• Abraham: Man confusingly remains married to the same woman for decades.

• Temptation of Jesus: Man offered infinite worldly power; says no, like an idiot.

• Crucifixion: Agitator gets what is coming to him. https://www.washingtonpost.com/opinions/2020/06/04/trump-explains-his-favorite-bible-stories/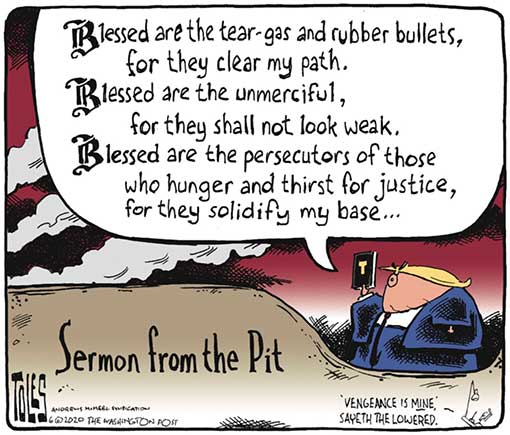 8. Richard North Patterson: Trump and the American Idiocracy
In place of reason, Trump treats his followers to that staple of a stunted worldview: a mind-numbing series of conspiracy theories. One of the latest—that antifa fomented the disorder following George Floyd's videotaped murder—is patently false; another, Obamagate, is so diabolical that it not only defies refutation, but comprehension. Not even our genius of a president can explain it.
This exemplifies a lynchpin of Trump's quest for re-election: the deliberate destruction of our shared belief that verifiable truth is the foundation of political discourse. As our societal agreement about credible sources and objective fact crumbles, so does our capacity to resist baseless theories, political quackery, and rank demagoguery. This fact-free environment provides Trump with a credulous audience unwilling, or unable, to perceive his constant lies and lethal grandiosity—or to comprehend his subversion of our democratic institutions and traditions.
Trump's intellectual Lotusland has a chorus of charlatans—Breitbart, Limbaugh, Fox News—whose counterfactual fulminations cement a class system of the mind that separates those addicted to fabulism and propaganda from those who are not. Like other class systems, this perpetuates itself, enhancing the danger that the Trump presidency will prove to be not an aberration but a prototype.
But with COVID-19, Trump's ignorance turned deadly. Trump did not spawn this pandemic; his inherent character, and the credulity of his loyalists, have simply made it worse—with no certain end in sight. https://thebulwark.com/trump-covid-19-and-the-american-idiocracy/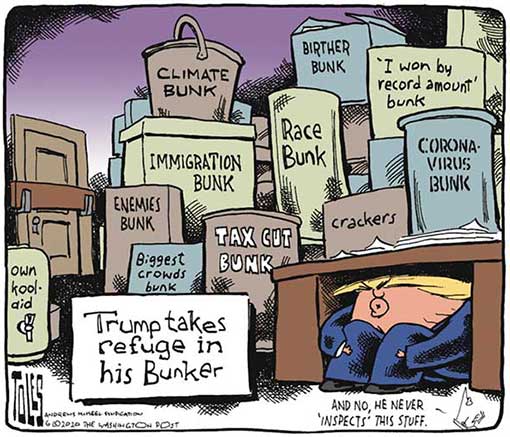 9. David Hopkins: Trump and the End of Confident Conservatism
Trump has started to echo Nixon's famous invocation of a supportive "silent majority." But he is the only president in the history of public opinion polling who has never had a majority of Americans on his side, even on his first day in office, and he has never shown much interest in courting skeptics rather than attacking them.
Winning a second term will likely require him to eke out a narrow margin in the electoral college, very possibly without a popular-vote plurality once again. The current governing regime seeks to retain political power from behind barricades that are primarily psychological, separated in spirit more than in physical distance from a growing population of fellow Americans whom it no longer trusts to be on its side.
When you see your own domestic political opponents as an irredeemably hostile force trying to destroy the country as you know it, perhaps it's only natural to fantasize about calling in the troops. http://www.honestgraft.com/2020/06/trump-floyd-protests-and-end-of.html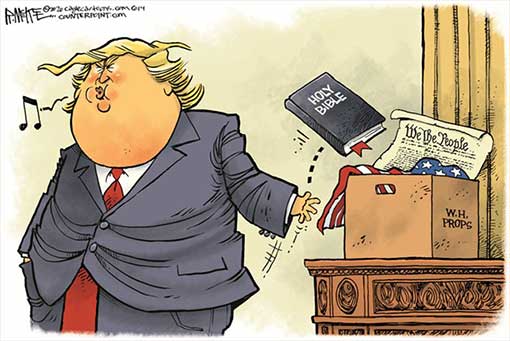 10. John Allen: A Moment of National Shame and Peril—and Hope
St. John's Episcopal Church is one of the most historic churches in the United States, in which every president since James Madison has worshipped. It had been damaged the night before, when a fire had been contained in the basement with little damage. But on the afternoon of June 1, it was surrounded by members of the U.S. Secret Service, other law enforcement personnel, and soldiers. Tear gas was hanging in the air, with vomit still on the street from demonstrators overcome by gas and pepper spray. The debris of peaceful protesters attacked in the clearing operation littered the street. As it became clear where the president was headed, and as the reality of what was unfolding set in, a horrified nation looked on.
The president stood in front of St. John's, holding a Bible aloft, and expropriated the image of the church, the Holy Bible, and the Christian faith as the backdrop and basis for his words and deeds in dealing with this crisis. It wasn't enough that peaceful protesters had just been deprived of their first-amendment rights—this photo-op sought to legitimize that abuse with a layer of religion. To make matters worse, he was joined in the church photo-op by the other members of his staff and cabinet, including the press secretary, the chief of staff, and the national security advisor. Much worse still, he was joined in the picture by Secretary of Defense Mark Esper and Attorney General William Barr. https://foreignpolicy.com/2020/06/03/trump-military-george-floyd-protests/
11. Portland Press Herald Editorial: Our View: To President Trump: You should resign now
President Trump: We're sorry that you decided to come to Maine, but since you are here, could you do us a favor? Resign.
You have never been a good president, but today your shortcomings are unleashing historic levels of suffering on the American people.
Your slow response to the coronavirus pandemic has spun a manageable crisis into the worst public health emergency since 1918. 
We are also in the middle of the worst economic collapse since the Great Depression. There is no national strategy to recover from the shock that is disproportionately affecting people who were already struggling to make it.
And in the face of the worst civic unrest since 1968, with millions of Americans in the streets protesting systemic racism, you fan the flames. 
In just the last week you gleefully tweeted about shooting fellow citizens; you goaded governors into escalating violent situations so they don't "look like jerks;" and you authorized the use of rubber bullets and tear gas to clear peaceful protesters out of a public space so you could pose for a Bible-waving photo-op. 
These are just a few examples of why you lack the character, maturity and judgment to lead our country in this perilous time.
America needs to heal again. Please resign now, and let us begin. https://www.pressherald.com/2020/06/05/our-view-to-president-trump-you-should-resign-now/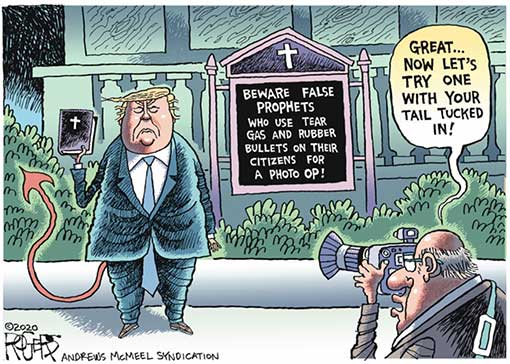 12. Eric Lutz: Trump's Team Is Struggling To Sell America On Another Four Years
Facing an ongoing public health crisis, double-digit unemployment, and nationwide protests over racism and police brutality, Donald Trump's aides have become increasingly desperate to change the conversation. The president himself has, as always, seemed content to careen from one outrage to another—saying whatever astoundingly tone-deaf thing pops into his head, compulsively counterpunching, and maligning the character of the late George Floyd in an astonishing 200 tweet day over the weekend. But behind-the-scenes, with 80 percent of voters saying the country is spinning out of control and his internal polls showing him trailing Joe Biden, the president's team is attempting to soften his touch with a new message.
What will that message be? Well, "Keep America Great," his slogan of choice until earlier this spring, no longer really applies, given the current state of the nation. Trump has tried a couple new options on for size—"TRANSITION TO GREATNESS," "LAW & ORDER"—but they haven't quite caught on. And, somehow, his declaration of war against American citizens isn't resonating. Aides close to Trump are hoping to steer him toward a message of "healing, rebuilding, restoring, recovering," a senior adviser told Axios. To that end, his reelection campaign has pushed a recovery narrative in a new ad touting the better than expected jobs numbers released last week: "The great American comeback has begun," the ad says. "Renewing. Restoring. Rebuilding. Together, we'll make America great again." But even the jobs report was not as good news as it seemed to be—a "misclassification error" made the unemployment figures seem better than they really were—and the search for a new campaign theme to counteract the damage Trump has done with all but his most ardent supporters has smacked of desperation.
"He is scrambling," Biden strategist Mike Donilon told the Washington Post. "There is no message from Donald Trump. What there is, is a demolition derby." https://www.vanityfair.com/news/2020/06/trumps-team-is-struggling-to-sell-america-on-another-four-years
13. Michelle Alexander: America, This Is Your Chance
After decades of reform, countless commissions and task forces and millions of dollars poured into "smart on crime" approaches, the police behave with about as much brutality today as they did in 1966 when a group of young black men, so fed up with the abuse inflicted upon the black community, created an organization called the Black Panther Party for Self-Defense.
Given this history, it should come as no surprise that growing numbers of people are working to defund the police and reimagine justice. Our nation has the highest rate of incarceration in the world. More than 95 percent of arrests every year are for nonviolent offenses like loitering, fare evasion and theft. Some are arrested for selling loose cigarettes (which resulted in Eric Garner's being choked to death by the police) or minor forgery (which resulted in George Floyd's being suffocated to death by the police).
People are right to wonder — is this justice? Can't we design alternative approaches to poverty, drug abuse, mental illness, trauma and violence that would do less harm than police, prisons, jails and lifelong criminal records? Fortunately, the extraordinary protests sweeping the nation and the globe are beginning to have an impact. The Minneapolis school board unanimously approved a resolution on Tuesday to stop using police officers to provide school security, citing the department's culture of violence and racism. And on Wednesday, the mayor of Los Angeles announced that city officials may cut up to to $150 million from the city's police budget "so we can invest in jobs, in health, in education and in healing." By Friday, the Minneapolis City Council president announced that the council was preparing to "dismantle the Minneapolis Police Department and replace it with a transformative new model of public safety." These developments reflect a long-overdue paradigm shift in our approach to race and criminal justice. https://www.nytimes.com/2020/06/08/opinion/george-floyd-protests-race.html
14. Bruce Bartlett: He Is Even Dumber Than We Thought
Republicans are not blind to Trump's shortcomings, although blind partisan loyalty generally keeps them on message in public, reserving their honest opinions to whispered comments behind closed doors. One who went public, however, was Erick Erickson, a former CEO of the popular Redstate.com website, a Republican hangout. In a rare moment of candor, he wrote in 2017:
"The president exudes incompetence and instability. Divulging classified information to the Russians through bragging; undermining his staff's defense of his conduct through inane tweets; even reportedly asking the FBI director to suspend an investigation of a former adviser—all these strike me not so much as malicious but as the ignorant actions of an overwhelmed man. Republicans excuse this behavior as Trump being Trump, but that will only embolden voters who seek greater accountability to choose further change over stability. The sad reality is that the greatest defense of the president available at this point is one his team could never give on the record: He is an idiot who does not know any better."
And that's the assessment of an ideological fellow traveler; as the polling results and unvarnished assessments of global diplomats suggest that the president is not merely "overwhelmed" and that the idiot defense for his chronic incompetence and misconduct is more than a simply rhetorical tactic. With the Trump presidency, H.L. Mencken's 1920 prediction that one day the White House "will be adorned by a downright moron" has now come true.  https://newrepublic.com/article/158069/donald-trump-not-smart-polls
15. Kim Wehle: Police and Systemic Racism: Suggestions for Reform. Steps that Congress, the courts, and the (next) president can take.
The killing of George Floyd by a Minneapolis police officer—who has been criminally charged and denied bail, along with three police colleagues who stood by and did nothing—and the case of Breonna Taylor, the EMT in Louisville who was killed when police shot 20 rounds into her apartment while executing a search warrant on the wrong residence, leave open many questions, including: What can the federal government do to stop systemic racism in the nation's police forces?
On the legal matters, here's a starter list.
1) The Supreme Court could loosen the judge-made protections of "qualified immunity" for law enforcement officers who violate individuals' constitutional rights.

2) The Department of Justice under Attorney General Barr could return to the Obama administration's aggressive use of court-enforced consent agreements to revamp police departments with histories of civil rights violations.

3) Congress could amend federal law to change the standards for immunizing police officers and police departments from liability, to enhance funding for training and federal supervision, and to mandate greater oversight and enforcement of the federal civil rights laws.

4) Research should be done on the impact of widespread civilian firearms possession on police officers' readiness to use guns in routine law enforcement.
As James Madison famously said in Federalist No. 51, "If men were angels, no government would be necessary." It's up to the citizenry to force government to do the right thing when it comes to racist policing—and the only reliable way to do so is at the ballot box. https://thebulwark.com/police-and-systemic-racism-suggestions-for-reform/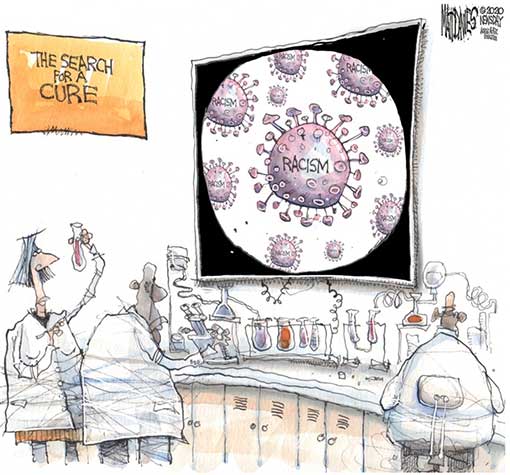 16. Dana Milbank:Trump's Republican Party displays its systemic racism
As the nation grapples with George Floyd's killing and what to do about persistent police brutality, this much has become clear: There is structural racism in the Republican Party.
In Texas, the Republican chairman of 12 counties and the Texas agriculture commissioner share grotesque postings on social media, including:
• Declaring George Floyd's killing a "staged event" to counter the "rising approval rating of President Trump."

• Placing a quote about justice from the Rev. Martin Luther King Jr. over the image of a banana.

• Alleging that the Jewish billionaire George Soros is paying protesters in an attempt to "start the race war."

• Calling the slain Floyd a "brutal criminal" and saying he faked his asphyxiation while a police officer pressed a knee to Floyd's neck.

• Showing a bloody scene from a 1992 riot and saying "this is why you don't brake for 'protesters.' "
This is not the Republican Party of former president George W. Bush, who last week called "for America to examine our tragic failures." It's not the party of Sen. Mitt Romney (R-Utah), the 2012 Republican presidential nominee, who nobly marched with Black Lives Matter demonstrators on Sunday. Nor is it the party of Colin Powell, who said he will vote for Biden and has no use for the Republican senators who "had nothing to say" about Trump's abuse of peaceful demonstrators. https://www.washingtonpost.com/opinions/2020/06/08/trumps-republican-party-displays-its-systemic-racism/
17. Jonathan Chait: Trump Has Gone Full Authoritarian
Trump has excited and cultivated the white-supremacist far right in ways no previous Republican president dared, and he has nurtured the pervasive sense of violent police impunity now on display in the streets. After the Obama administration built policies to repair the trust between police and urban communities, Trump tore them down contemptuously, restoring the practice of transferring used military equipment to police departments, which Obama had halted, and restricting the consent decrees Obama's Department of Justice had signed with more than a dozen police departments. Appearing at a Trump rally this past fall, Minneapolis police-union president Bob Kroll gloated, "The first thing President Trump did when he took office was turn that around, got rid of the Holder–Loretta Lynch regime, and decided to start taking — letting the cops do their job, put the handcuffs on the criminals instead of us."
The result of Trump's unwinding of police reform was predictable. So too was the police response to the protests. The irony of meeting protests against police brutality with more brutality seems to be lost on the cops. And while many have shown restraint, empathy, and compassion, it is they, not the violent ones, who seem to be exceptions. The good apples have been overwhelmed by cops applying gratuitous force to peaceful demonstrators and, with suspicious frequency, journalists — or, to use the Trumpian lingo, "enemies of the people."
Trump has used the same rationale to promote both the general policy of unshackling the police and the specific tactic of roughing up protesters: The law must be strictly enforced. Attorney General William Barr has denounced "district attorneys that style themselves as 'social justice' reformers, who spend their time undercutting the police." Trump has seized upon the violence and looting that has sprung up around the protests to legitimize a broader crackdown. https://nymag.com/intelligencer/2020/06/trump-has-gone-full-authoritarian.html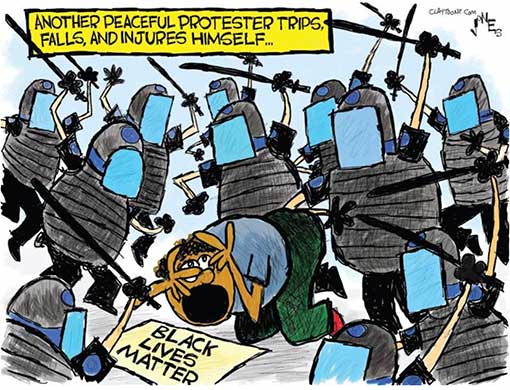 18. Jonathan Chait: Trump, Citing 'Conservative Treehouse,' Says Man Shoved to Ground Set Up Buffalo Cops
One of the most memorably horrific scenes of police abuse that played out across the country last week took place in Buffalo, where an officer shoved a 75-year-old man to the ground and then the rest of his colleagues marched past as the victim lay bleeding on the pavement.
Or so you think. Real-estate heir, reality television host, cable news junkie, swindler, and titular president of the United States, Donald Trump, proposed via Twitter that the episode is not what it seems:
Trump's theory is that the victim, elderly progressive activist Martin Gugino, set up the officers by deliberately taking a fall like he was a power forward for Duke. But the plot goes even deeper. Trump referred to a report from One American News, the station of choice for viewers who consider Fox News too sane. OAN based its report on a story broken by Conservative Treehouse.
The Conservative Treehouse theory of the case is that Gugino is secretly working either with, or somehow inspired by, antifa, despite no evidence linking him to the street-fighting cult composed largely of confused young men young enough to be his grandchildren. Conservative Treehouse breaks down video of Gungino's fall, Jim Garrison–style, and tries to claim he was reaching for the belt of the officer who shoved him. It alleges the old guy was attempting to covertly carry out "a method of police tracking used by antifa to monitor the location of police. In some cases, the more high-tech capture software can even decipher communication encryption, allowing the professional agitators to block (black out), jam, or interfere with police communication."
So obviously, the officer, attuned to the probability that the old man in front of him was executing a sophisticated espionage technique, had no choice but to shove him. At this point, Gungino exaggerated the fall and then started bleeding for some probably unrelated reason. And then the police had to walk past him, because if they stooped down to check on his health, he might have reached up and stolen their communications. https://nymag.com/intelligencer/2020/06/trump-buffalo-police-shoved-protester-conspiracy-theory.html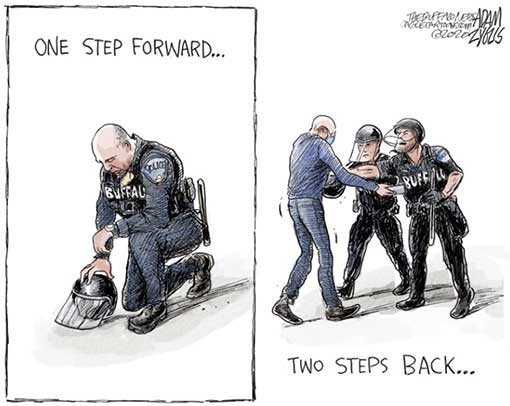 19. Washington Post Editorial: Trump chooses a senseless withdrawal from Germany. He threatens national security.
IN A transparent attempt to boost his sagging political fortunes, President Trump proposed to stage a summit meeting of the Group of Seven nations in Washington this month, with Vladimir Putin among the special guests. In a May 30 phone call that reportedly turned testy, German Chancellor Angela Merkel demurred, citing the continuing threat of the covid-19 pandemic as well as the lack of preparation for such a meeting.
One week later, Trump's riposte to Ms. Merkel surfaced: a vindictive and, for U.S. national security, deeply damaging decision to withdraw nearly a third of the American troops stationed in Germany. The move was made without consultation with the Germans, other NATO allies or even senior U.S. military officers in Europe, who were taken by surprise when the story emerged on Friday.
The pullout, which Mr. Trump arrived at in the absence of any National Security Council deliberation, could substantially weaken U.S. ability to deter Russian aggression in Europe or respond to other foreign crises. However, shortly after speaking with Ms. Merkel, Mr. Trump initiated a phone call with Mr. Putin, who will be thrilled by the president's unilateral disarmament and exacerbation of a rift with a key ally.
Mr. Trump appears to believe he is punishing Ms. Merkel by removing forces that nominally defend Germany. The sycophant whom the president installed as ambassador to Germany, Richard Grenell, has been arguing publicly that Germany doesn't merit U.S. bases when it fails to meet NATO defense spending guidelines. What he and the president fail to understand is that the 34,500 U.S. personnel in Germany — down from 235,000 during the Cold War — primarily bolster U.S. defense. The Ramstein Air Base is vital to operations in the Middle East and Africa, and the Landstuhl Regional Medical Center provides critical care to wounded American soldiers medevaced from Iraq and Afghanistan. https://www.washingtonpost.com/opinions/global-opinions/trump-chooses-a-senseless-withdrawal-from-germany-he-threatens-national-security/2020/06/08/9e95ad36-a9a7-11ea-a9d9-a81c1a491c52_story.html
20. Max Boot: The GOP has gone from tea party libertarianism to Trumpian authoritarianism
In 2014, Tom Cotton ran for the U.S. Senate proclaiming: "I believe in less government and more freedom." Seven days ago, amid massive anti-racism protests accompanied by scattered looting, the Republican senator from Arkansas demanded the deployment of at least five Army divisions to the streets. "No quarter for insurrectionists, anarchists, rioters, and looters," he wrote, employing a military term for "take no prisoners."
There was no conceivable justification for such a draconian move. But Cotton's panicky, premature demand is symbolic of the Republican Party's transition from tea party libertarianism to Trumpian authoritarianism.
When President Barack Obama was in office, Republicans fulminated against executive orders and government spending. Now, they've learned to stop worrying and embrace both at unprecedented levels. (The budget deficit is projected to be $3.8 trillion this year, more than six times higher than when Obama left office.) The rejection of libertarianism isn't necessarily a bad thing. What's worrying is that the Republican Party has become increasingly hostile toward liberal democracy.
The spur for this development is, of course, President Trump. He proclaims, "I have to the right to do whatever I want as president," and acts as though he means it. He has spent money on a border wall that Congress hasn't authorized; locked up immigrant children in cages; blocked immigration from multiple Muslim nations and now (under cover of the coronavirus pandemic) from all nations; purged government watchdogs; and issued an executive order cracking down on social media after Twitter fact-checked him. https://www.washingtonpost.com/opinions/2020/06/08/gop-has-gone-tea-party-libertarianism-trumpian-authoritarianism/