May 9, 2019
ON THE RECORD. . .
"I'm living rent-free inside of Donald Trump's brain, and it's not a very nice place to be, I can tell you that."— Hillary Clinton on President Trump's fixation with her.
"China, if you're listening, why don't you get Trump's tax returns?" — Hillary Clinton.
"I don't care how experienced you are. I don't care how many good people you have around you. That is not a job for 80-year-olds." — James Carville on Joe Biden's candidacy.
"I think the choice that we face in this country today is a choice between freedom and socialism," — Vice President Mike Pence saying that centrist Democrat Joe Biden is "advocating a socialist agenda," like others vying to take on President Trump.
According to a February poll, only 27 percent of Republicans believed Russia had indeed interfered in 2016 – even thought it's so well established at this point that we rarely see *explicit* attempts to publicly deny it. — Julian Sanchez@normative
Own the center left, own the mainstream. Our passions were for health care, bigger paychecks, cleaner government — a simple message. Do not get dragged into a protracted impeachment bid that will ultimately get crushed in the Republican-controlled Senate, and do not risk alienating the moderate voters who flocked to the party in 2018 by drifting too far to the left.  — Speaker Nancy. Pelosi offering Democrats her "coldblooded" plan for decisively ridding themselves of Mr. Trump.
Set aside for now questions of obstruction of justice and election help from Russia. The calumny and slander Trump is directing at Mueller, one of the best in American public life, is the very definition of misdemeanor. -- Dana Milbank in the Washington Post.
"It is wrong to say like McBath said, that the reason she won was because of her anti-gun stance. That didn't have anything to do with it — it had to do with being a minority female." — NRA president Carolyn Meadows telling the Marietta Daily Journal that Rep. Lucy McBath (D-GA) only won her seat in 2018 because she's black.
"We're finally learning the truth about this president. And yes, there has to be consequences. Yes, there has to be accountability. Yes, I think there's enough evidence now for the House of Representatives to move forward with impeachment. This is our country, and this is the one chance that we get to ensure that it remains a democracy and that no man, regardless of his position, is above the law." — Beto O'Rourke telling the Dallas Morning News that he now supports impeaching President Trump.
"Trump is goading us to impeach him. That's what he's doing. Every single day, he's just like taunting, taunting, taunting because he knows that it would be very divisive in the country, but he doesn't really care. He just wants to solidify his base." — House Speaker Nancy Pelosi at an event hosted by the Cornell University Institute of Politics and Global Affairs. "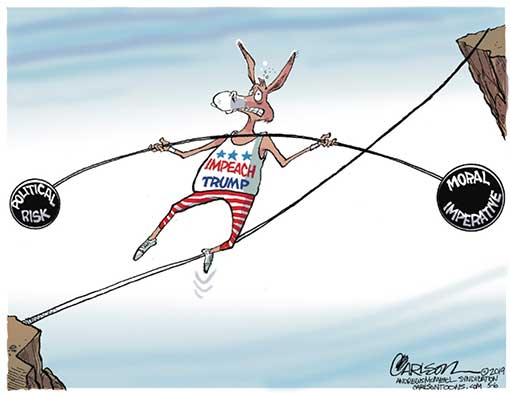 Real estate developers in the 1980's & 1990's, more than 30 years ago, were entitled to massive write offs and depreciation which would, if one was actively building, show losses and tax losses in almost all cases. Much was non monetary. Sometimes considered "tax shelter….you would get it by building, or even buying. You always wanted to show losses for tax purposes....almost all real estate developers did - and often re-negotiate with banks, it was sport. Additionally, the very old information put out is a highly inaccurate Fake News hit job! -- Donald Trump Twitter.
"If anything, you read this and you're like, wow, it's pretty impressive, all the things that he's done in his life. It's beyond what most of us could ever achieve." — Fox News host Ainsley Earhardt saying on Fox & Friends that the NY Times report showing President Trump losing $1.2 billion over ten years was "pretty impressive" and showed how much he had accomplished.
"He's becoming self-impeachable in terms of some of the things he's doing. Every single day, whether it's obstruction, obstruction, obstruction, obstruction of having people come to the table with facts or ignoring subpoenas. Every single day, the president is making a case." — Speaker Nancy Pelosi saying that President Trump is building his own case for impeachment by continuing to stonewall lawmakers in their demand for testimony and documents from the White House.
Given the Times report on Trump's staggering losses, I'd be fine if Random House simply took the book out of print. Or recategorized it as fiction. — Tony Schwartz@tonyschwartz, author of "Art of the Deal."
"There are two possibilities. He really doesn't believe it, he doesn't think the Russians were involved in 2016. He ignores the Mueller report and our intelligence agencies or in the alternative feels the Russians were on the side of the Republicans in 2016 and just might be again in 2020." — Sen. Dick Durbin suggesting that Mitch McConnell wasn't putting election security legislation up for a vote because Republicans may benefit from Russian interference in the 2020 election.
---
IN THIS ISSUE
FYI
OPINION
1. Andy Borowitz: Barr Unable to Give Honest Answer to Drive-Thru Window at Arby's
Attorney General William Barr on Thursday proved unable to give honest answers to a drive-thru window at a Bethesda, Maryland, Arby's restaurant.

Barr, who drove up to the window just after noon, appeared evasive and halting after the drive-thru attendant asked to take his order.

"I cannot recall what I would like to order at this time," Barr said, according to the attendant.

When pressed repeatedly to name a sandwich, drink, or side order that he preferred, Barr stonewalled, the attendant said.

"The questions I was asking him couldn't have been clearer," the attendant told reporters. "I asked him if he wanted to order a Smokehouse Brisket sandwich. He refused to give me a yes-or-no answer."

"I came away feeling that he had been less than candid," the attendant said.

Speaking through an official spokesperson later in the day, Barr said that he would never appear at Arby's again. https://www.newyorker.com/humor/borowitz-report/

2. Trump would have been charged with obstruction were he not president, hundreds of former federal prosecutors assert
More than 800 former federal prosecutors who worked in Republican and Democratic administrations have signed on to a statement asserting special counsel Robert S. Mueller III's findings would have produced obstruction charges against President Trump — if not for the office he held.
The statement offers a rebuttal to Attorney General William P. Barr's determination that the evidence Mueller uncovered was "not sufficient" to establish that Trump committed a crime. https://medium.com/@dojalumni/statement-by-former-federal-prosecutors-8ab7691c2aa1
3. Decade in the Red: Trump Tax Figures Show Over $1 Billion in Business Losses
By the time his master-of-the-universe memoir "Trump: The Art of the Deal" hit bookstores in 1987, Donald J. Trump was already in deep financial distress, losing tens of millions of dollars on troubled business deals, according to previously unrevealed figures from his federal income tax returns.
Mr. Trump was propelled to the presidency, in part, by a self-spun narrative of business success and of setbacks triumphantly overcome. He has attributed his first run of reversals and bankruptcies to the recession that took hold in 1990. But 10 years of tax information obtained by The New York Times paints a different, and far bleaker, picture of his deal-making abilities and financial condition.
The data — printouts from Mr. Trump's official Internal Revenue Service tax transcripts, with the figures from his federal tax form, the 1040, for the years 1985 to 1994 — represents the fullest and most detailed look to date at the president's taxes, information he has kept from public view. Though the information does not cover the tax years at the center of an escalating battle between the Trump administration and Congress, it traces the most tumultuous chapter in a long business career — an era of fevered acquisition and spectacular collapse.
The numbers show that in 1985, Mr. Trump reported losses of $46.1 million from his core businesses — largely casinos, hotels and retail space in apartment buildings. They continued to lose money every year, totaling $1.17 billion in losses for the decade.
In fact, year after year, Mr. Trump appears to have lost more money than nearly any other individual American taxpayer, The Times found when it compared his results with detailed information the I.R.S. compiles on an annual sampling of high-income earners. His core business losses in 1990 and 1991 — more than $250 million each year — were more than double those of the nearest taxpayers in the I.R.S. information for those years. https://www.nytimes.com/interactive/2019/05/07/us/politics/donald-trump-taxes.html
4. Trump May Redefine Poverty, Cutting Americans From Welfare Rolls
The Trump administration may alter the way it determines the national poverty threshold, putting Americans living on the margins at risk of losing access to welfare programs.
The possible move would involve changing how inflation is calculated in the 'official poverty measure,' the White House Office of Management and Budget said in a regulatory filing on Monday. The formula has been used for decades to determine whether people qualify for certain federal programs and benefits. https://www.bloomberg.com/news/articles/2019-05-06/trump-poverty-line-inflation
5. House Democrats threaten salaries of Trump officials who block interviews
House Oversight and Reform Committee Chairman Elijah Cummings (D-Md.) sent letters Tuesday calling for eight current and former Trump administration officials to provide information for two of the panel's investigations, cautioning that officials who block the interviews from taking place could see their salaries withheld.
"Please be advised that any official at the Department who 'prohibits or prevents' or 'attempts or threatens to prohibit or prevent' any officer or employee of the Federal Government from speaking with the Committee could have his or her salary withheld pursuant to section 713 of the Financial Services and General Government Appropriations Act," Cummings wrote in the letters. https://thehill.com/homenews/house/442557-house-democrats-threaten-salaries-of-interior-staff-who-block-interviews
6. Harris unloads on pundits who say only a white man can beat Trump
The California senator says Democrats will make a big mistake if they accept conventional wisdom on what it takes to win the Rust Belt.
The California senator and 2020 Democratic hopeful believes the media narrative taking shape in the presidential race over who is best positioned to reclaim the Midwest for Democrats —essentially that only certain voters will back certain candidates, regardless of where they stand on issues — ignores big swathes of the electorate that she can excite, namely African Americans and women. https://www.politico.com/story/2019/05/06/how-kamala-harris-is-taking-on-the-2020-pundits-1305498
7. 'Investigate the investigators' is new Trump rallying cry to counter Mueller report
For President Trump's reelection effort, "Investigate the investigators!" is becoming the new "Lock her up!"
Trump and his allies, seeking to amplify claims that the FBI spied on his 2016 campaign, are seizing on news reports and statements by Attorney General William P. to launch a political rallying cry they view as an antidote to special counsel Robert S. Mueller III's findings.
Dismissed by critics as an outlandish conspiracy theory, so-called "spygate" is fast becoming a central feature of the Trump campaign as it seeks to go on offense in the wake of a report that identified 10 instances of potential obstruction of justice by Trump. The campaign is publicly calling for criminal investigations into former FBI officials, making "spygate" fundraising pitches and selling spy-themed merchandise. The goal, officials said, is to turn the Russia probe into a political winner that could help him secure another term. https://www.washingtonpost.com/politics/investigate-the-investigators-is-new-trump-rallying-cry-to-counter-mueller-report/2019/05/04/9319b520-6db6-11e9-be3a-33217240a539_story.html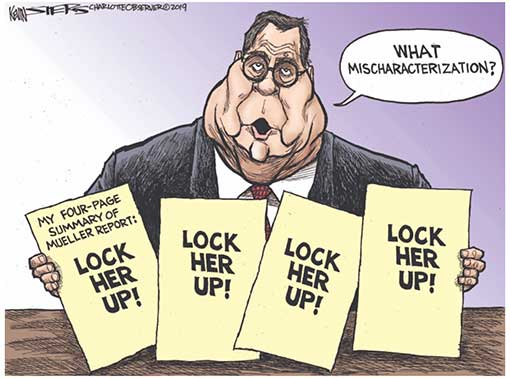 8. One million species face extinction, U.N. report says. And humans will suffer as a result.
One million plant and animal species are on the verge of extinction, with alarming implications for human survival, according to a United Nations report released Monday.
The landmark report by seven lead co-authors from universities across the world goes further than previous studies by directly linking the loss of species to human activity. It also shows how those losses are undermining food and water security, as well as human health.
More plants and animals are threatened with extinction now than any other period in human history, it concludes. Nature's current rate of decline is unparalleled, and the accelerating rate of extinctions "means grave impacts on people around the world are now likely," it says. https://www.washingtonpost.com/climate-environment/2019/05/06/one-million-species-face-extinction-un-panel-says-humans-will-suffer-result/
9. Trump's bipartisan infrastructure plan already imperiled as Mulvaney, GOP lawmakers object to cost
A $2 trillion infrastructure deal outlined this week by President Trump and top Democrats is already losing momentum, as the president's own chief of staff is telling people inside and outside the administration that the effort is too expensive and unlikely to succeed.
The tentative accord to repair the nation's roads, revitalize mass transit and expand broadband systems was reached at a private White House meeting Tuesday between Trump and Democratic leaders in Congress, who said they were pleasantly surprised by the president's willingness to back a large-scale spending effort. But the initiative has run into immediate opposition from Republicans who balk at the hefty price tag and from conservative allies who are pushing lawmakers to block it. Those opposed to the deal include Trump's top aide, Mick Mulvaney, and Senate Majority Leader Mitch McConnell (R-Ky.), who is not in favor of the spending, according to people who have spoken to him.  https://www.washingtonpost.com/politics/trumps-bipartisan-infrastructure-plan-already-imperiled-as-mulvaney-gop-lawmakers-object-to-cost/2019/05/03/bc1d1e74-6dae-11e9-be3a-33217240a539_story.html
10. Kamala Harris wants IG to investigate if Barr opened probes into Trump enemies at White House request
Sen. Kamala Harris sent a letter to the Justice Department's inspector general on Friday, requesting an investigation into whether Attorney General William Barr has acted upon requests or suggestions from President Donald Trump or other White House officials to investigate the President's "perceived enemies."
In a letter addressed to Department of Justice Inspector General Michael E. Horowitz, the Democratic presidential candidate cites the findings in special counsel Robert Mueller's report and Barr's Wednesday congressional testimony as the reasons for her letter.
"Such inappropriate requests by the President have been well documented," Harris wrote. "Special Counsel Mueller ... documented a disturbing pattern of behavior on the part of the President -- repeated attempts to target his perceived opponents."
"There must be no doubt that the Department of Justice and its leadership stand apart from partisan politics, and resist improper attempts to use the power of federal law enforcement to settle personal scores," the letter reads. https://www.cnn.com/2019/05/03/politics/kamala-harris-ig-investigation-barr-trump-enemies/index.html
11. Poll Shows Very Few Republicans Believe Russia Interfered In 2016 Election
Nearly two years into special counsel Robert Mueller's investigation, a new HuffPost/YouGov survey finds that only a minority of Republican voters believe that Russia interfered in the 2016 presidential election.
And even though a number of former Trump campaign officials have already pleaded guilty to crimes, a large chunk of Trump voters believes Mueller will eventually conclude that no one on Trump's team broke any laws. 
Just 27 percent of Republicans believe that Russia interfered in the 2016 election, the poll found, with 54 percent saying Russia didn't play a role and the remainder unsure. By contrast, 80 percent of Democrats and half of the public overall say they believe Russia interfered in the election.
Mueller's investigation has led to the indictments of 13 Russians accused of posing as Americans and using social media to damage Democratic nominee Hillary Clinton and boost Trump, as well as 12 Russian intelligence officers charged with hacking the Democratic National Committee and releasing stolen documents. https://www.huffpost.com/entry/mueller-poll-republicans-russian-interference_n_5c631e27e4b0b50014aa989d
Study: Major media outlets' Twitter accounts amplify false Trump claims on average 19 times a day. Major media outlets failed to rebut President Donald Trump's misinformation 65% of the time in their tweets about his false or misleading comments, according to a Media Matters review. That means the outlets amplified Trump's misinformation more than 400 times over the three-week period of the study -- a rate of 19 per day. https://www.mediamatters.org/blog/2019/05/03/study-major-media-outlets-twitter-accounts-amplify-false-trump-claims-average-19-times-day/223572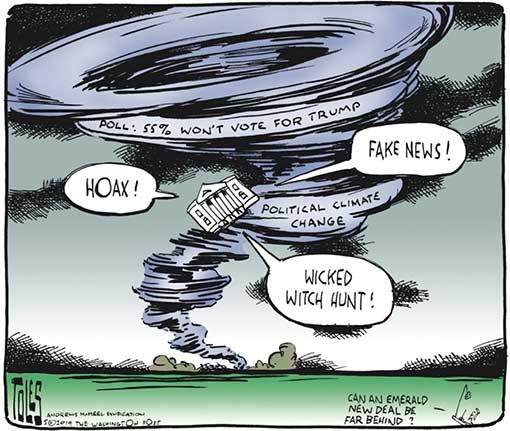 12. Foreign government leases at Trump World Tower stir more emoluments concerns
The U.S. State Department allowed seven foreign governments to rent luxury condominiums in New York's Trump World Tower in 2017 without approval from Congress, according to documents and people familiar with the leases, in what some experts say could be a potential violation of the U.S. Constitution's emoluments clause.
Congressional staffers confirmed to Reuters that the Trump World Tower lease requests were never submitted to Congress. Elijah Cummings, chairman of the House Oversight and Reform Committee, said his committee has been "stonewalled" in its efforts to obtain detailed information about foreign government payments to Trump's businesses.
"This new information raises serious questions about the President and his businesses' potential receipt of payments from foreign governments," Cummings said in a statement to Reuters. "The American public deserves full transparency." https://www.reuters.com/article/us-usa-trump-emoluments-exclusive-idUSKCN1S80PP
13. DOJ lays out case for striking down Obamacare in its entirety
The Trump administration offered its first full argument Wednesday for its reversal on the Affordable Care Act, arguing in new court filings that the entire law "should not be allowed to remain in effect."
The government argues in the filings that the so-called "individual mandate" requiring Americans to have coverage is unconstitutional and that the rest of the law should therefore also be struck down, even if the government "might support some individual provisions as a policy matter." https://www.cnn.com/2019/05/01/politics/affordable-care-act-lawsuit-trump/index.html
14. What traits are Democrats prioritizing in 2020 candidates?
A new CBS News/YouGov survey gave Democratic voters a series of match ups between hypothetical candidates for the Democratic presidential nomination in 2020. The survey randomly varied several traits for each candidate and respondents were asked to choose between Candidate A and Candidate B.
The traits that are important to voters are:
GENDER: When given one male and one female, voters selected the female 59% of the time. Men and women both preferred female candidates, but women were especially likely to pick females over males – by over 20 percentage points.

RACE: Voters picked people of color more frequently than whites, by 57% to 43%. Voters had a slight preference for Latino candidates and a strong preference for black candidates.

AGE: Overall, voters strongly preferred younger and middle-aged candidates to candidates in their 70s.

JOB TITLE: Voters had a strong preference for elected officials, choosing them in match ups with a businessperson 63% of the time.

SOCIAL CLASS: Voters of all education and income levels preferred working class and middle class background to wealthy ones.

REGION: There were not big differences by the candidate's home region.
Matching these results against the 21 actual Democrats running for president suggests that Sen. Kamala Harris (D-CA) is probably the best fit. https://www.cbsnews.com/news/democratic-voters-hungry-for-women-and-people-of-color-in-2020-nomination/
15. Emails show Trump admin had 'no way to link' separated migrant children to parents
On the same day the Trump administration said it would reunite thousands of migrant families it had separated at the border with the help of a "central database," an official was admitting privately the government only had enough information to reconnect 60 parents with their kids, according to emails obtained by NBC News.
"[I]n short, no, we do not have any linkages from parents to [children], save for a handful," a Health and Human Services official told a top official at Immigration and Customs Enforcement on June 23, 2018. "We have a list of parent alien numbers but no way to link them to children."
In the absence of an effective database, the emails show, officials then began scrambling to fill out a simple spreadsheet with data in hopes of reuniting as many as families as they could.
The gaps in the system for tracking separations would result in a months-long effort to reunite nearly 3,000 families separated under the administration's "zero tolerance" policy. Officials had to review all the relevant records manually, a process that continues.
Nearly a year later, as many as 55 children separated last year under zero tolerance are still in Health and Human Services (HHS) custody at shelters around the country. The shortage of data has also complicated efforts to find many other children, potentially thousands, separated prior to zero tolerance. The administration's lawyers have said in court filings that reunification could take years. https://www.nbcnews.com/politics/immigration/emails-show-trump-admin-had-no-way-link-separated-migrant-n1000746
16. The DAILY GRILL
"Puerto Rico has been given more money by Congress for Hurricane Disaster Relief, 91 Billion Dollars, than any State in the history of the U.S." — Trump, in a tweet, May 6, 2019

VERSUS

It's simply false for the president to assert that Puerto Rico has received $91 billion. It has been allocated less than half of that, and the president is treating a guesstimate as an established fact. There may be valid reasons for the estimate, though OMB has not explained them. But there's still no excuse for the president to cite the number as a solid figure. — Glenn Kessler. the Washington Post Fact Checker

 

The rapidly warming Arctic region presents a land of "opportunity and abundance," with untapped resources like oil, gas, uranium and gold and rare earth minerals. — Secretary of State Mike Pompeo at a meeting of the Arctic Council in Finland.

VERSUS

"The Arctic is rapidly unraveling, Pompeo and the administration [don't] understand it, [don't] acknowledge it, and [don't] understand its threat to the U.S. The fate of the Arctic is the fate of the coastal U.S., including the whole state of Florida." — Rafe Pomerance, chairman of Arctic 21 and senior fellow at the Woods Hole Research Center.
17. From MEDIA MATTERS (They watch Fox News so you don't have to)
Study: Major media outlets' Twitter accounts amplify false Trump claims on average 19 times a day. Major media outlets failed to rebut President Donald Trump's misinformation 65% of the time in their tweets about his false or misleading comments, according to a Media Matters review. That means the outlets amplified Trump's misinformation more than 400 times over the three-week period of the study -- a rate of 19 per day. https://www.mediamatters.org/blog/2019/05/03/study-major-media-outlets-twitter-accounts-amplify-false-trump-claims-average-19-times-day/223572

Fox News correspondent Griff Jenkins fearmongers about debunked "rumors of ebola" in migrant caravan. Jenkins: "Mexican officials knocking that down saying there are no cases of ebola, but confirming some cases of measles, syphilis and other things amongst these caravan migrants". https://www.mediamatters.org/video/2019/05/02/Fox-News-correspondent-Griff-Jenkins-fearmongers-about-debunked-rumors-of-ebola-in-migrant/223614

Laura Ingraham attacks her Fox colleague Chris Wallace for saying AG Barr spun Mueller report. https://www.mediamatters.org/video/2019/05/01/laura-ingraham-attacks-her-fox-colleague-chris-wallace-saying-ag-barr-spun-mueller-report/223611

Fox's Brian Kilmeade on Mueller's letter to Barr about the special counsel report: "Who cares what happened two weeks before it was released." https://www.mediamatters.org/video/2019/05/02/Foxs-Brian-Kilmeade-on-Muellers-letter-to-Barr-about-the-special-counsel-report-Who-cares-/223613

Tucker Carlson says Alex Jones, Laura Loomer, Milo and other extremists being banned from Facebook is "fascism." Carlson: "What we're watching now in real time is this country become unfree."  https://www.mediamatters.org/video/2019/05/03/tucker-carlson-says-alex-jones-laura-loomer-milo-and-other-extremists-being-banned-facebook-fascism/223628

"We need immediate legal action. We cannot allow this bad president to set bad precedent," said Rep. Lloyd Doggett (D-Texas). "If Trump once again faces only Republican silence and Democratic timidity, he will continue to erode our democracy by assuming more and more power." https://www.washingtonpost.com/business/economy/mnuchin-rejects-democrats-demand-to-hand-over-trumps-tax-returns-all-but-ensuring-legal-battle/2019/05/06/5483f8ac-7022-11e9-9eb4-0828f5389013_story.html

Trump ICE pick Mark Morgan has repeatedly backed putting children in cages: "Border Patrol actually did an incredible job" and "should be applauded." https://www.mediamatters.org/blog/2019/05/07/trump-ice-pick-mark-morgan-has-repeatedly-backed-putting-children-cages-border-patrol-actually-did/223640
18. From the Late Shows
Weekend Update: Senator Elizabeth Warren on College Debt Forgiveness - SNL: https://youtu.be/eWmgD8PZxCs

Kremlin Meeting - SNL: https://youtu.be/UhE_mGaSJ-Y

Weekend Update: William Barr's Senate Testimony - SNL: https://youtu.be/uq-Q8_NENVI

The Late Show with Stephen Colbert: William Barr's Master Class on Hair Splitting: https://youtu.be/zMaZwLIm3pY

Real Time with Bill Maher: Democracy: Endgame: https://twitter.com/billmaher/status/1124550111630057472

Jail Cell Cold Open - SNL: https://youtu.be/dvLfK0iOyD4
19. Floridians Gave Ex-Felons the Right to Vote. Lawmakers Just Put a Big Obstacle in Their Way.
In November, Florida voters approved a groundbreaking ballot measure that would restore voting rights for up to 1.5 million people with felony convictions. But the Republican-led Legislature voted on Friday to impose a series of sharp restrictions that could prevent tens of thousands of them from ever reaching the ballot box.
In a move that critics say undermines the spirit of what voters intended, thousands of people with serious criminal histories will be required to fully pay back fines and fees to the courts before they could vote. The new limits would require potential new voters to settle what may be tens of thousands of dollars in financial obligations to the courts, effectively pricing some people out of the ballot box.
"Basically, they're telling you, 'If you have money, you can vote. If you don't have money, you can't,'" said Patrick Penn, 42, who spent 15 years in prison for strong-arm robbery and a violent burglary. He said he does not know whether he owes money to the court, but worries it could now prove a complication when he gets ready to cast a ballot. "That's not what the people voted for."
With the House voting 67-42 along party lines on Friday to endorse the new restrictions, the legislation goes next to Gov. Ron DeSantis, who had called on the Legislature to set additional standards for registering ex-felons to vote.
The vast majority of criminal defendants are poor when they are arrested and even poorer after they are released from prison. https://www.nytimes.com/2019/05/03/us/florida-felon-voting-amendment-4.html
20. Trump Hails Steel Tariffs in Defiance of GOP Request to End Them
More than perhaps any other issue, trade is where Trump has broken with Republican free-market orthodoxy. GOP Senators used a Thursday meeting at the White House to voice their economic and political concerns with Trump's steel and aluminum tariffs, the ongoing trade conflict with China and new tariffs the president has threatened to impose on auto imports.
The Republican senators, led by Finance Committee Chairman Chuck Grassley of Iowa, said they emphasized the urgency of approving Trump's new North American trade deal, known as the USMCA, as well as the importance of removing existing tariffs and avoiding new ones. Grassley said he "urged President Trump to work with us get past the steel and aluminum tariffs issue so USMCA can become law."
The appeal appears to have had little success, as Trump followed the meeting with a Twitter post declaring that "Tariffs are working" for Pennsylvania, one of the swing states that helped lead him to electoral victory in 2016. https://www.bloomberg.com/news/articles/2019-05-02/trump-hails-steel-tariffs-in-defiance-of-gop-request-to-end-them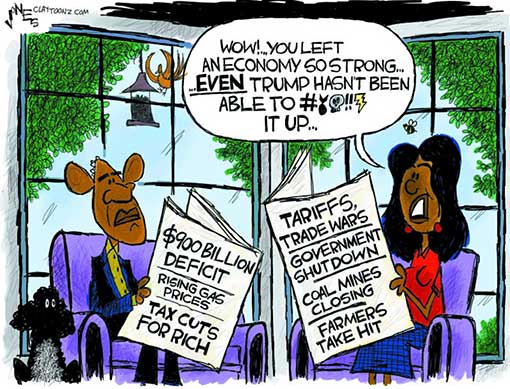 21. Will Democrats start playing hardball with Trump?
When will Democrats start making Donald Trump pay a political price for the administration's refusal to cooperate in congressional investigations? Will Democrats start demanding testimony and document production before they consider partnering with the president on legislation like an infrastructure bill? Remember: Democrats have tons of leverage here. The president needs them to do anything, including keeping the government funded and lifting the debt limit, not to mention more lofty goals like some infrastructure package or a prescription drug bill. https://www.politico.com/newsletters/playbook/2019/05/06/will-democrats-start-playing-hardball-with-trump-432288
22. Two more years? Trump's retweet sets off a furor over the idea of bonus time.
Trump for months has griped, complained and tweeted about what he says is the unfair Russia "witch hunt" investigation that has consumed nearly half of his presidency.
Now, the president has floated a possible solution: two bonus years.
Trump's suggestion came as House Speaker Nancy Pelosi (D-CA) also raised concerns about the president potentially refusing to accept the legitimacy of a Democratic victory in the 2020 presidential election — saying it was important that Democrats win 'big' to protect the country from such an outcome."
The remarks underscore real anxiety within factions of the country that Trump — who repeatedly complained about a 'rigged' election in 2016 — may decide to contest the legitimacy of the election in 2020 if he is defeated or otherwise argue for an extended time in office. … White House aides and other friends say they have not heard Trump privately discuss the possibility of an extended term — often an early warning sign he is seriously entertaining a controversial action. https://www.washingtonpost.com/politics/two-more-years-trumps-retweet-sets-off-a-furor-over-the-idea-of-bonus-time/2019/05/06/4bf102c0-7018-11e9-9eb4-0828f5389013_story.html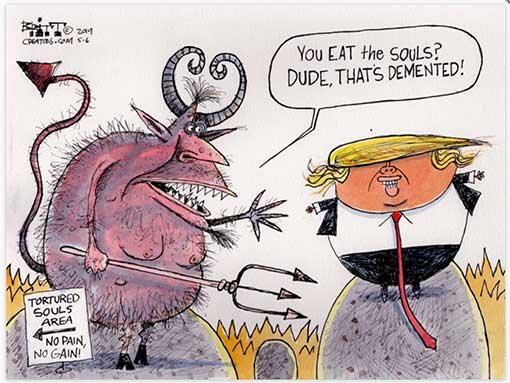 23. How Biden Is Eating Into Sanders' Coalition
Since officially jumping into the 2020 race less than two weeks ago, former Vice President Joe Biden has reshaped the Democratic primary. His polling numbers have risen from the high 20s to the low 40s since declaring his candidacy two weeks ago. In doing so, Biden has, for the moment, left the rest of the Democratic field in the dust.
Perhaps surprisingly to some, much of Biden's newfound supporters seem to have formerly backed fellow 2020 contender Vermont Sen. Bernie Sanders, even though Biden backers are more likely to be more moderate, nonwhite and older than Sanders.' Obviously, some of this trend towards Biden and away from Sanders is because Biden is now receiving much of the news attention Sanders had been getting.
But something else is at play: Biden does well among whites without a college degree who, as a group, backed Sanders in 2016. This could help Biden given that other Democrats haven't been able to break through among white Democrats without a college degree in the primary.
Whites without a college degree still make up a substantial portion of the Democratic Party. Despite much noise about how whites with a degree are the future for Democrats, each group is about 30% of the party. Nonwhites, both with and without college degrees, are about 40% in total. https://www.cnn.com/2019/05/08/politics/joe-biden-bernie-sanders-analysis/index.html
24. Climate rises to the top for Democrats and gets a big new push
Climate change has recently shot to the top of polls of issues that Democratic voters care about in the presidential primary, rivaling for the first time longstanding bread-and-butter topics like health care — and a leading environmental group has plans to keep it that way."
That's a big shift from the last presidential election in 2016, when climate change did not get a single question during the debates between Hillary Clinton and President Donald Trump, and just 15 percent of Democratic primary voters named it as their top priority. https://www.nbcnews.com/politics/2020-election/magic-moment-climate-rises-top-democrats-gets-big-new-push-n1003076
1. Jonathan Chait: Putin accomplice Mitch McConnell says "case closed."
During the 2016 election, CIA director John Brennan informed congressional leaders that Russian intelligence was interfering in the election in an effort to help Donald Trump win. Senate Majority Leader Mitch McConnell dismissed the conclusion, and depicted it as a frame-up. "You're trying to screw the Republican candidate," he charged, warning that he would refuse to sign a bipartisan statement warning Russia to back off. If blocking Russia meant hindering the Trump campaign, McConnell wasn't interested.
This morning, McConnell took to the Senate floor to deliver a coda to this historic act. In a speech that was notably smarmy even by his standards, the Senate Majority Leader declared the Mueller report to be "case closed," accused Democrats of refusing to accept the legitimacy of Trump's election, and called for an end to all investigation or inquiries of Mueller's findings.
McConnell is again denying the same thing he denied in 2016: that Russia intervened not just to "divide" Americans but specifically in order to help Trump win. If American political leaders in both parties had closed ranks and rejected Russia's intervention, it might have backfired. Instead, McConnell assisted their effort.
He continues to assist by using all his powers to prevent Trump from being held accountable for his misconduct. And he's doing it all in the name of supposedly defying Putin. If Putin is learning any lesson from this, it is that his next election-interference operation will once again enjoy the tacit support of McConnell and his party. http://nymag.com/intelligencer/2019/05/mitch-mcconnell-case-closed-trump-russia-mueller-collusion.html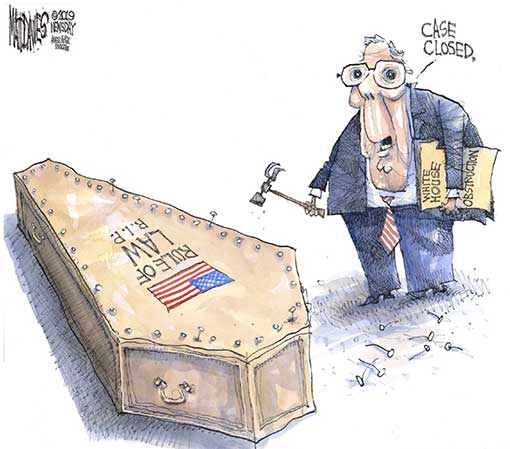 2. James Risen: Did Donald Trump's Grip on the Justice Department Sabotage Robert Mueller's Investigation?
Through his unrelenting efforts to obstruct the Trump-Russia investigation since its inception, President Trump has inflicted a slow-motion Saturday Night Massacre on the American people, a constitutional nightmare that has lasted two years instead of one night.
And it is still going on, despite the fact that special counsel Robert Mueller has completed his investigation. Trump now has a willing lackey in Attorney General William Barr, who is aiding and abetting the president's ongoing efforts to control the Justice Department and corrupt the country's system of checks and balances. https://theintercept.com/2019/05/07/mueller-report-trump-obstruction/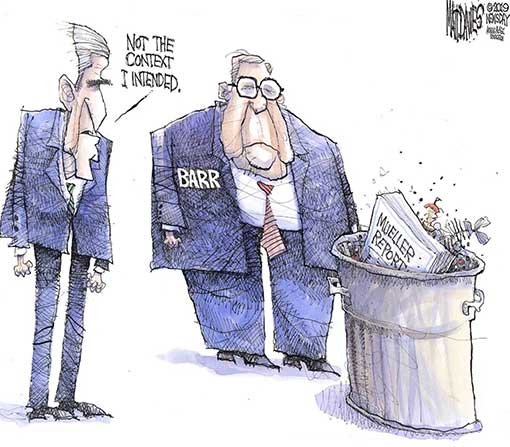 3. Bess Levin: New York Votes To Release Trump's Tax Returns, Blow Up His Web Of Lies
On Wednesday, the New York State Senate passed a bill by 39-21 that allows the commissioner of the New York Department of Taxation and Finance to release any state tax return requested by the chair of the House Ways and Means Committee, the Senate Finance Committee, or the Joint Committee on Taxation for any "specified and legitimate legislative purpose." Given that it's the president's home state and the headquarters of the Trump Organization, the Times notes that a tax return from New York could "contain much of the same financial information as a federal return," which Trump's allies have indicated will never see the light of day. On Tuesday, State Senator Brad Hoylman said the State Senate had enough votes to pass the bill, adding that in light of Mnuchin's slobbering loyalty, "New York's role [is] even more crucial [in] assisting Congress in its oversight." The bill would allow a treasure trove of information to be released, including corporation taxes, personal income taxes, and real-estate transfer taxes.
In addition to the tax-return legislation, the State Senate is also expected to pass a second bill that would eliminate the "double-jeopardy loophole," which gives people who have received a federal pardon indemnity from being tried by New York prosecutors on similar charges, the passage of which would likely be terrifying to Trump's array of toadies. https://www.vanityfair.com/news/2019/05/trump-new-york-state-tax-returns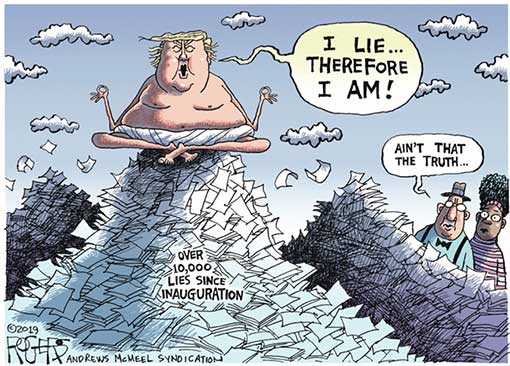 4. Benjamin Wittes: The Catastrophic Performance of Bill Barr
Not in my memory has a sitting attorney general more diminished the credibility of his department on any subject. It is a kind of trope of political opposition in every administration that the attorney general—whoever he or she is—is politicizing the Justice Department and acting as a defense lawyer for the president. In this case it is true.
Barr has consistently sought to spin his department's work in a highly political fashion, and he has done so to cast the president's conduct in the most favorable possible light. Trump serially complained that Jeff Sessions didn't act to "protect" him. Matthew Whitaker never had the stature or internal clout to do so effectively. In Barr, Trump has found his man.
Ironically, the redactions on the report—the matter on which I urged giving Barr the benefit of the doubt—are the one major area where his performance has been respectable. On this matter, he laid out a time frame for the release of the report. He met it. His redactions, as best as I can tell, were not unreasonable, though they were aggressive in some specific areas. To whatever extent he went overboard, Congress has a far-less-redacted version. The public, in any event, has access to a detailed account of Mueller's conclusions. On this point, Barr did as he said he would.
Where Barr has utterly failed, by contrast, is in providing "honest leadership that insulates [the department] from the predations of the president." I confess I am surprised by this. I have never known Barr well, but I thought better of him than that.
The core of the problem is not that Barr moved, as many people worried he would, to suppress the report; it is what he has said about it. I have spent a great deal of time with the Mueller report, about which Barr's public statements are simply indefensible. The mischaracterizations began in his first letter. They got worse during his press conference the morning he released the document. And they grew worse still yesterday in his testimony before the Senate Judiciary Committee. https://www.theatlantic.com/ideas/archive/2019/05/bill-barrs-performance-was-catastrophic/588574/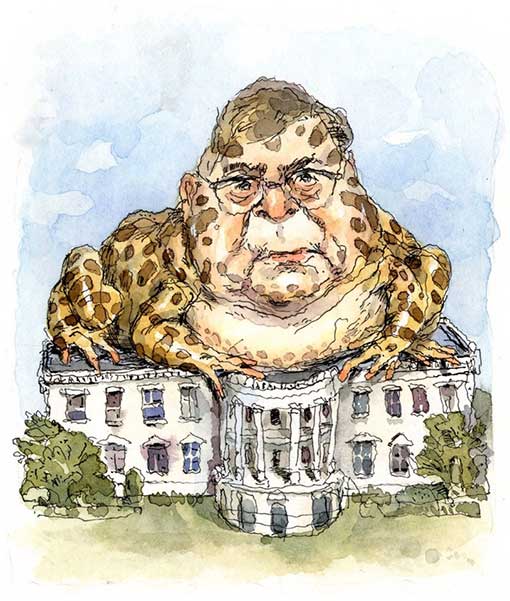 5. Andrew Cohen: Barr Didn't Even Try to Pretend He's an Honest Broker for the Justice Department
There's no great mystery about what Attorney General William Barr did Wednesday during his testimony before the Senate Judiciary Committee. He knows that Senate Democrats don't have the votes or the power to do anything substantial to impair his tragic choice to protect President Trump from the substantiated allegations against him. And so the nation's chief law enforcement official and top prosecutor, at taxpayer expense, spent hours spinning like a defense attorney with his client's liberty on the line. If every prosecutor was so keen to forgive and forget compelling evidence of criminal conduct the nation's prisons would be empty.
It was as disgraceful a performance by an attorney general as I have seen in 22 years as a legal analyst and commentator. And I say that having extensively covered the hapless appearances of Alberto Gonzales. He was the attorney general at the heart of the Bush administration's U.S. Attorney scandal a decade ago. At least he had the excuse of being as dumb as a rock. Barr is no dummy. He knows precisely what he's doing. His audience is an audience of one. It always has been. And he made it clear Wednesday, as if it had not been before, that he is no honest broker for the Justice Department. He's just another hack.
Over and over again, Barr refused to show a shred of independence from Trump or even pretend he needed to. The attorney general refused even to acknowledge what we all know to be true and what littered the Mueller report: that the president lied and deceived, repeatedly, for a long period, to protect himself and his political interests. When pressed for candor or to simply be intelligible by Democratic senators, Barr filibustered or used that hoary old lawyer's trick of pretending not to understand the question or the definitions of the words used in it. https://www.rollingstone.com/politics/politics-news/william-barr-testimony-trump-lawyer-829904/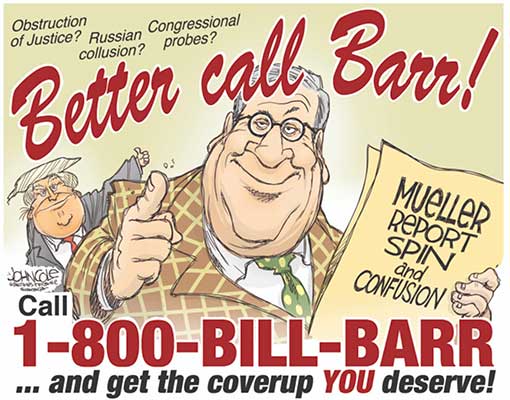 6. Jonathan Chait: Barr: It's Not Obstruction of Justice If the Obstruction Works
The most illuminating moment in William Barr's Senate testimony came when he elucidated the bizarre theory of presidential immunity that got him the job in the first place. If an investigation is "based on false allegations, the president does not have to sit there constitutionally and allow it to run its course," Barr explained. "That is important, because most of the obstruction claims that are being made here, or episodes here, do involve the exercise of the president's constitutional authority. And we do know now that he was being falsely accused."
This argument stacks several astonishing assumptions atop each other to produce a perverse conclusion. First, Trump could not possibly know that an investigation was unfounded, because it covered his entire campaign. Indeed, his first attempt to obstruct the inquiry came on behalf of Michael Flynn. Trump did not and could not know everything Flynn had done. He claims not to know much about the various contacts with Russia made by his subordinates, including the Trump Tower meeting. So the whole premise that Trump could know the investigation was groundless is not even a theoretically plausible description of his motives.
Barr's argument is that the president can decide an investigation is unfair and shut it down, thereby preventing it from proving underlying crimes, and then use the lack of proof of underlying crimes to justify his behavior. By the standard Barr is articulating, Trump can probably get away with all the crimes he wants as long as his obstruction of justice succeeds. http://nymag.com/intelligencer/2019/05/barr-its-not-obstruction-of-justice-if-obstruction-works.html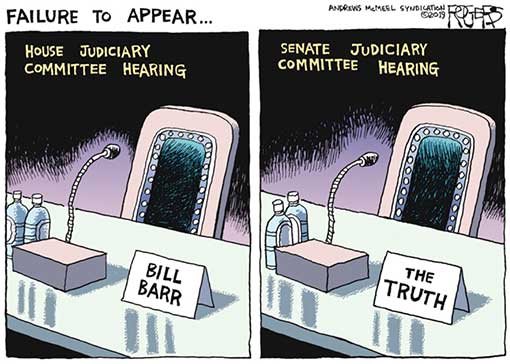 7. Max Boot: This nation is at the mercy of a criminal administration
Imagine that you live in a town that has been taken over by gangsters. The mayor is a crook and so are the district attorney and police chief. You can't fight city hall. But at least you know you can turn for help to the state or federal government. Now imagine that it's not a city or state that has been taken over by criminals — it's the federal government. Where do you turn for help? That is not a theoretical concern. After the release of special counsel Robert S. Mueller III's report, it's our grim reality.
Even before Mueller's probe ended, federal prosecutors in New York had implicated President Trump in ordering his lawyer, Michael Cohen, to violate federal campaign finance laws. Mueller then documented at least six ironclad incidents of obstruction of justice by Trump along with numerous instances of misconduct that, while not criminal, are definitely impeachable. The New York Review of Books reported that two prosecutors working for Mueller said that if Trump weren't president, he would have been indicted.
Now the administration is obstructing attempts to bring the president to justice for obstruction of justice. William P. Barr isn't the attorney general; he is, as David Rothkopf said, the obstructor general. We now know that Mueller wrote (in Barr's description) a "snitty" letter objecting that Barr's deceptive summary of his work, designed to falsely exonerate Trump, "threatens to undermine … public confidence in the outcome of the investigations."
It is hard to think of any president in the past 230 years, including Nixon, who has ever sabotaged the rule of law so flagrantly or so successfully to protect his own hide. And, sadly, it is hard to imagine that anything can be done about it before Nov. 3, 2020. The House could try to compel compliance with its subpoenas, but the Justice Department will never file criminal charges, and the courts could take years to decide a civil suit. The House could vote to impeach Trump or Barr — which they richly deserve — but that would be a purely symbolic act and could backfire politically because Senate Republicans, like the O.J. Simpson jury, would vote to acquit regardless of the evidence.
So for the next 18 months, at a minimum, this nation is at the mercy of a criminal administration. I am in despair as I have never been before about the future of our experiment in self-rule. Before Mueller filed his report, it was possible to imagine the president being brought to justice. That fantasy is no longer tenable. Instead we are left with the dismaying likelihood that the president will now feel emboldened to commit ever greater transgressions to hold onto power — and thus delay a possible post-presidential indictment. https://www.washingtonpost.com/opinions/2019/05/03/this-nation-is-mercy-criminal-administration/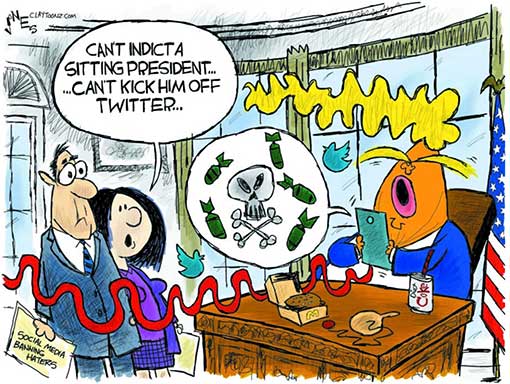 8. Paul Waldman: We're finally inching toward a smarter understanding of 'electability'
Many Democratic voters are agonizing over whether they should support their favorite candidate or the one who is most likely to defeat President Trump next fall. The problem is that the "electability" debate often proves hopelessly flawed, and for a time that looked to be happening again.
But that might be changing. The discussion around electability might be expanding beyond its usual narrow borders, in ways that could bring it in closer alignment with reality.
Let's give credit to Sen. Kamala D. Harris (D-Calif.) for challenging the conventional wisdom on this topic. This is what she said in a Sunday speech:
There has been a lot of conversation by pundits about "electability" and "who can speak to the Midwest?" But when they say that, they usually put the Midwest in a simplistic box and a narrow narrative, and too often their definition of the Midwest leaves people out. It leaves out people in this room who helped build cities like Detroit. It leaves out working women who are on their feet all day—many of them working without equal pay. And the conversation too often suggests certain voters will only vote for certain candidates regardless of whether their ideas will lift up all our families. It's shortsighted. It's wrong. And voters deserve better.
In other words, whenever we talk about electability there's an assumption — often stated quite explicitly — that to be electable means to be able to appeal to whites — particularly white men. When Harris pleads to consider African American voters as part of that conversation, she has a strong case to make. Turnout among African Americans dropped precipitously from 2012 to 2016; had Hillary Clinton duplicated Barack Obama's ability to get them to the polls, she would be president.
The point isn't that boosting African American turnout offers the only path to success, but that it's one of many factors to consider, instead of talking as though the only voter who matters to an electability discussion is a 60-year-old white guy sitting in a diner in Sheboygan. https://www.washingtonpost.com/opinions/2019/05/07/were-finally-inching-toward-smarter-understanding-electability/
9. Susan Glasser: Trump, Wrecker of Reputations
As striking as Trump's own crude efforts to humiliate, ther, are the numerous examples of those who seem to abase or degrade themselves in their efforts to curry favor with the President. Such behavior, of course, has long been a bipartisan feature of life in Washington, where access to power can do bad things to the character of those who seek it. The Trump Presidency has produced more than its share of examples, however, given that getting and staying in this President's good graces appears to require an extra helping of public obsequiousness, grovelling, flip-floppery, and over-the-top televised pronouncements.
This unseemly aspect of the Trump era was on full display at Wednesday's Senate Judiciary Committee hearing, where both the committee chairman, Senator Lindsey Graham, of South Carolina, and Attorney General Barr went out of their way to appeal to the President, at the expense of their own credibility. Graham, who ran against Trump, in 2016, and called the future President a "kook" who was "unfit" to hold the office, opened the hearing by reading aloud text messages exchanged, in 2016, between two F.B.I. agents, who expressed the same fears about Trump that Graham had at the time. Graham then announced that he had not actually read the whole Mueller report, the contents of which he proceeded to dismiss.
Barr's whole performance, in fact, was so over the top, so Trumpian, that it immediately led to an array of tweets and op-eds wondering why Barr, a once-respected figure in conservative legal circles and a relatively uncontroversial Attorney General during the Presidency of George H. W. Bush, would choose to end a distinguished career in such a fashion. After all, Barr, like Graham, hadn't even liked or supported Trump when he ran for President.
Washington enters May as it ended April, with a constitutional crisis in the making and no Infrastructure Week. But will the constitutional clash between the Democratic House and the Republican President be any less performance art than the nonexistent infrastructure deal they claimed to be making? After Wednesday's contentious Senate hearing, Lindsey Graham, whatever you think of his credibility, spoke what appeared to be a genuine political truth. He said that, as far as he and his Republican-controlled committee are concerned, there will be no more discussion of the Mueller report, no more testimony, and no impeachment. "It's over," he said, and he may well be right. https://www.newyorker.com/news/letter-from-trumps-washington/trump-wrecker-of-reputations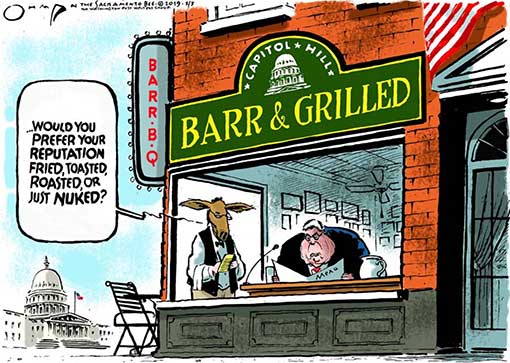 10. Alex Thompson: 'Lock her up' redux? Biden's son becomes the right's new target
President Donald Trump's political allies and his personal lawyer Rudy Giuliani have begun mobilizing to cast a legal cloud over Joe Biden and demanding that the Justice Department should open an investigation that could ensnare the former vice president as he launches his 2020 presidential bid.
"Biden conflicts are too apparent to be ignored and should be investigated quickly and expeditiously," Giuliani tweeted Thursday morning.
The attacks on Biden pivot off the lucrative business activities of his son Hunter during the Obama administration, most notably Hunter's work on the board of a Ukrainian energy company, Burisma Holdings. As part of a long campaign to pressure Ukraine to combat corruption in 2015 and 2016, then-Vice President Biden leveraged financial aid to the country in order to persuade the government to fire the country's top prosecutor.
The uproar hasn't come as a total surprise to Biden world. In the run-up to his announcement, Biden fretted to confidants that Hunter would become a campaign-trail issue. Aside from critical reports concerning Hunter Biden's business arrangements in Ukraine as well as China, he has been a tabloid favorite for his reported cocaine use and for leaving his wife for his brother's widow, who is a friend of Michelle Obama, according to the New York Post, which also reported this week that Hunter Biden broke up with his brother's widow just in time for his father's campaign launch.
Some veterans of Democratic presidential campaigns see echoes of 2016 in the way the story had staying power in the conservative media ecosystem and then gradually reemerged into the mainstream.
And that may be true, at least on the right. The story spread far and wide across conservative media Thursday. One Breitbart headline read: "NYT Confirms Hunter Biden Was Paid by Ukrainians While Father Was VP." One America News Network published a story headlined "Giuliani: Biden's Conflicts Of Interest, Alleged Corruption Must Be Probed." Laura Ingraham had Schweizer on her Fox News show.
"The left is also blame-shifting on a story we've covered extensively on Ingraham Angle," Ingraham said. "The Biden family's sketchy ties to Ukraine."
The Kremlin-backed news agency RT also has been playing up the Biden-Ukraine connection, publishing a story in early April headlined "Joe Biden's past strong-arming in Ukraine is coming back to haunt him." https://www.politico.com/story/2019/05/03/joe-biden-son-hunter-1300560
11. David Frum: A Crack in Trump's Stonewalling
Incredibly, even after the delivery of Special Counsel Robert Mueller's report, the American people still have only the haziest idea of Trump's business connections to Russia and Russians. Do those connections cast any light on why the Russian government was so eager to have him elected president in 2016? Perhaps that information is held somewhere within the Department of Justice or the FBI, but citizens and taxpayers can only guess.
If Trump has his way, the secrecy will continue for a lot longer. In the past few days, he's filed suit to prevent his bankers from complying with a congressional subpoena. His secretary of the Treasury has defied a never-before-questioned law and refused to surrender the president's tax returns to the House Ways and Means Committee. His attorney general mischaracterized the Mueller report, as Mueller complained in writing, and now has operational control over the ongoing criminal prosecutions bequeathed to the Justice Department by Mueller.
Trump's trouble is that the dike is sprouting more leaks than he has fingers with which to plug the expanding trickles. Two federal judges, one in Maryland and one in the District of Columbia, have approved lawsuits based on the U.S. Constitution's emoluments clause demanding information about Trump's revenues from foreign-government entities. Those lawsuits—one filed by congressional Democrats, the other by attorneys general for the state of Maryland and the District of Columbia—now proceed to two different appellate courts, the Fourth Circuit and the D.C. Circuit. At this rate, an emoluments case could reach the Supreme Court before the 2020 election.
Perhaps the Trump administration hopes that it can run out the clock on the bank subpoenas and the other matters, too. But so many clocks are ticking over so many inquiries into so many areas of potential scandal. Can they all be postponed and postponed past 2020? For a president with many guilty secrets, everything turns on the ability to insert delay after delay before ultimate legal defeat. It's not a great plan. It's liable to go wrong, maybe catastrophically wrong. At this point, though, it's all he's got. https://www.theatlantic.com/ideas/archive/2019/05/trump-cant-stonewall-much-longer/588547/
12. David Frum: Trump Attacks Facebook on Behalf of Racists and Grifters
President Donald Trump despises "fake news." The Washington Post, The New York Times—these are "enemies of the people." He has urged the Federal Communications Commission and the Federal Election Commission to force Saturday Night Live off the air to punish the comedy show for making jokes about him.
What he likes are independent and honest voices who say things such as: Vaccines cause autism. President Barack Obama's birth certificate is a "carefully crafted fake." Democratic Party insiders organized the murder of a staffer to cover up their nefarious plan to blame Russia for the hack of their emails. Sharia police are enforcing sharia law in Minneapolis. The Sandy Hook massacre never happened; the dead children were paid actors. (These are all false claims.)
After Facebook on Friday banned far-right figures and organizations from their platform, including the site Infowars, the president threatened to "monitor" social-media sites in retaliation. Through much of the late evening of May 3 and early morning of May 4, the president used his Twitter feed to champion the people who earn a large living spreading false reports. He hailed them as conservative thinkers whose free-speech rights have been abridged by social-media platforms.
One thing at least will follow from the president's Twitter campaign: It will become even more difficult than before for the shamefaced remains of what used to be mainstream conservatism to separate themselves from these grifters, racists, and liars. According to the president, they are now martyrs, saying things that deserve to be heard. There have been times in the past few years—especially during the hoax to shift blame from the Russians for hacking the Democratic National Committee—that Fox News and Infowars blurred into each other. Those days will now return. https://www.theatlantic.com/ideas/archive/2019/05/facebook-will-ignore-trumps-criticism/588745/
13. Jonathan Chait: Barr Has Protected Trump. His Next Step Is to Smear His Opponents.
Trump has always demanded an attorney general who will act as his personal sword and shield. In Trump's highly transparent mind, the two roles are inextricably linked. He is almost incapable of proclaiming his own innocence without immediately segueing to the alleged guilt of his enemies. He must be cleared, and his rivals must be investigated.
Republican media have already laid the predicate for an investigation. John Solomon, a vessel for Republican leaks, published a long story last month suggesting Ukrainian prosecutors were sitting on a trove of evidence of Democratic misconduct they were eager to share with American counterparts. A week ago, Trump excitedly told Sean Hannity that Barr was investigating "big" and "incredible" allegations from Ukraine.
It would hardly be a shock if all this came to nothing. Maybe Barr is mollifying Trump more cleverly than his predecessor, pretending to launch politically motivated investigations of Trump's preferred targets that will spin their wheels and go nowhere.
But the events of the last month give little comfort to the presumption that the rule of law is safe from Trump's predations. Every step Barr has taken indicates the meeting of the minds with the president is a genuine one, and that he has taken up his role as the president's Roy Cohn out of real conviction. The Republican Party has embraced wholesale the president's claim that he has been vindicated on his alliance with Russia and his efforts to block the probe thereof. What reason does Trump have to doubt that they will stand behind him if his loyal AG turns the federal prosecutorial apparatus against his enemies? http://nymag.com/intelligencer/2019/05/barr-trump-mueller-order-investigation-biden-ukraine.html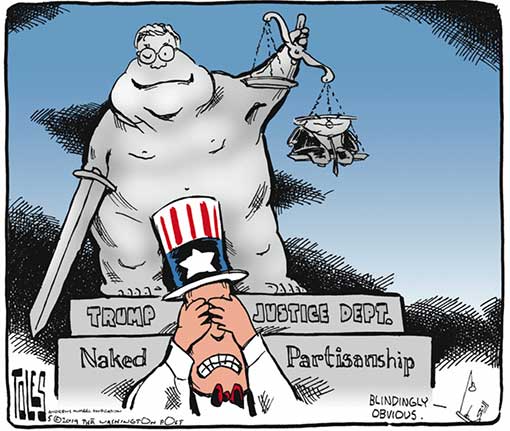 14. Greg Sargent: The White House's latest attack on Mueller reveals an ugly truth about Trump
President Trump's latest position on the Mueller report is that it both totally exonerates him and is fatally flawed at its very core — because it doesn't totally exonerate him.
Signs are mounting that House Democrats are reaching a breaking point in the face of Trump's maximal resistance to any and all oversight. That resistance just took a new turn, when Trump told Fox News that former White House counsel Donald McGahn should defy a subpoena to appear before Congress.
McGahn's testimony to special counsel Robert S. Mueller III provided the basis for the report's conclusions on some of Trump's worst obstruction of justice efforts, and Democrats hope he can shed more light on them. A major confrontation looks all but inevitable.
So the White House is justifying its maximal resistance with a broadened set of claims. These are set forth in a newly released letter that White House lawyer Emmet Flood sent to the Justice Department, complaining bitterly about Mueller's investigation.
Because the Mueller report disclosed his conclusion that he could not conclusively determine that Trump hadn't committed criminal obstruction of justice, the letter argues, the investigation is hopelessly tainted.
What's more, it argues, Trump fully cooperated with that tainted investigation. But now that it's over, he retains the right to exercise executive privilege to prevent his advisers from testifying to Congress — that is, to resist all efforts to further flesh out Mueller's conclusions.
The argument is ludicrous but revealing. It shows in a roundabout way that Trump's real position is that he should be beyond the reach of accountability entirely. https://www.washingtonpost.com/opinions/2019/05/03/white-houses-latest-attack-mueller-reveals-an-ugly-truth-about-trump/
15. Charles P. Pierce: Please Explain How This Entire Presidency Isn't a National-Security Crisis
the President* of the United States was on the line with the Russian president whose people ratfcked the 2016 presidential election and already may have started ratfcking the next one, and neither of those events even came up? This is like JFK's getting on the teletype with Khrushchev in October of 1962 and discussing the weather in Havana.
And this had escaped my notice.
Putin has echoed some of Trump's talking points in ridiculing the Mueller probe. Russian state television described it as a witch hunt orchestrated by the U.S. political establishment to punish Trump for seeking to improve ties with Russia. Putin has denied that the Russian government interfered in the 2016 U.S. presidential campaign. "We knew a mountain was being made out of a molehill, so to speak, because we knew how it would end beforehand," Putin said last month. "Now it has come to pass, but it did not make the domestic political situation in the U.S. any easier. Now new excuses are being sought to attack President Trump."
Explain to me how this entire presidency* isn't a national-security crisis. Jesus, Lord, somebody throw the emergency brake, or hand out parachutes. https://www.esquire.com/news-politics/politics/a27359285/president-trump-vladimir-putin-phone-call-mueller-report/
16. Will Bunch: Trump's diabolical plan to blow up democracy, get reelected and avoid jail just might work
How did Donald Trump's most recent week go?
Let's see ... his recently handpicked attorney general William Barr was accused of committing a crime by House Speaker Nancy Pelosi and seems on the brink of a contempt of Congress citation. A growing chorus of influential Democrats say the disclosures in the finally mostly released Mueller Report and the administration's growing defiance of Congress may leave no other choice but impeachment. And the 2020 Democrat that Trump seems to fear most -- former vice president Joe Biden -- has emerged as his party's clear front-runner for the nomination.
So I know what you're thinking and you're probably right: This was the best week, for Trump, out of his crisis-soaked 119 weeks in the White House.
Some of the reasons that Trump can light up a celebratory cigar on whatever taxpayer-reimbursed golf green he's bilking us at as I write this are – in part – the conventional ones. By every traditional measure, the economy is booming (and we'll defer the conversation about gig-working, rent-and-college-debt-drowning millennials for another day.) With that, and with Trump's idiot-savant political skills in getting Barr to roll out the Mueller Report findings to deaden any blows and somehow portray himself as a victim, the president has risen to 46 percent approval in the Gallup poll. That's highest of his presidency -- and equal to the number that got Trump elected on Nov. 8, 2016.
But the most significant development for Trump's 2020 reelection bid is something else that came into clear focus over the course of the week: The president has a plan for survival. It involves essentially shredding the Constitution, demolishing the government of "checks and balances" that was envisioned by the Founders, and promoting a crisis that will leave Americans angry and, at least psychologically, poised for a civil war. That sounds scary but the scariest part is: It just might work: Not for the nation, of course, but for Trump, which in Trumpland is the only outcome that matters. https://www.philly.com/opinion/commentary/trump-wants-impeachment-2020-reelection-strategy-blame-democrats-ignore-subpoenas-20190505.html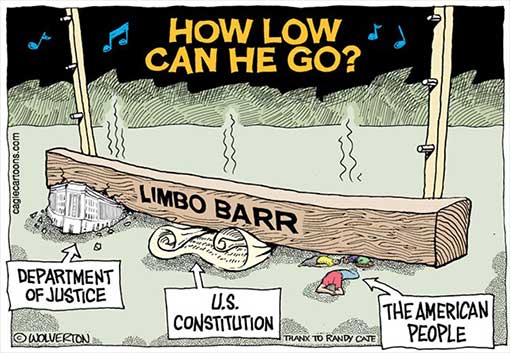 17. James Reston Jr.: Trump's Other Impeachable Offense
On July 30, 1974, nine days before President Richard Nixon resigned, the House Judiciary Committee added a third article to its impeachment charges against the president. The first two had dealt with obstruction of justice and abuse of power; Article III charged that Nixon had failed to comply with eight congressional subpoenas related to the Watergate investigation.
President Trump's assertion that there is nothing left to learn from congressional hearings — which, unlike the Mueller investigation, would be televised — may be correct. But that is beside the point; it is up to Congress, not him, to decide.
He also clearly fears the dramatic spectacle that such hearings would surely provide. Once again the Nixon model applies. Who can forget the scenes of John Dean, Nixon's former White House counsel, testifying about the "cancer on the president" and hush money payments to the Watergate burglars?
Nor can students of Watergate forget the power of the televised hearings of the House Judiciary Committee during the summer of 1974. Far from being politically divisive, they proved a dignified and appropriate response to egregious presidential misconduct — enough to persuade seven out of the committee's 17 Republicans to vote in favor of at least one of the articles of impeachment (Lawrence Hogan of Maryland, the father of the current governor of Maryland, was the only Republican to vote for all three impeachment articles).
If nothing else, televised hearings would demonstrate that Mr. Trump not only lacks respect for the rule of law, but for Congress and the separation of powers — a fact that, in and of itself, is an impeachable offense. https://www.nytimes.com/2019/05/05/opinion/trump-congress-subpoenas.html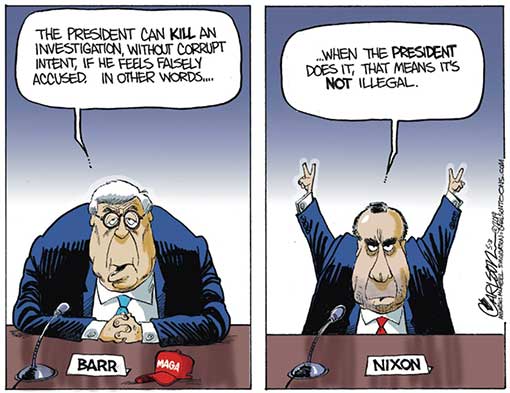 18. Margaret Talbot: Trump, Barr, and the Rule of Law
Barr is apparently a believer in the "unitary executive" theory, an expansive reading of the powers of the Presidency that's popular in conservative legal circles. Theory aside, though, serving as Trump's Attorney General—and keeping the job—seems to mean signing on to the Roy Cohn approach that Trump so admires: treating anything, including the Constitution, that does not serve Trump's interests as an urgent threat; projecting Trump's own venal motives onto his critics and opponents; denying and stonewalling.
What Trump denounces as "Presidential harassment" is, in fact, the means by which our government, with its coequal branches, works. But the way he talks about those branches makes them sound as divorced from the public good as he is. He refers to the Supreme Court, with his two appointees, as a venue in which he'll get "a fair shake," which he doesn't seem to think the lower courts offer. In March, the Washington Post reported that federal courts had ruled against the Administration sixty-three times, "an extraordinary record of legal defeat" that Trump blamed on "Obama judges"—even though a quarter of the judges are Republican appointees, and the defeats resulted from a sloppy approach to rule-making and his own prejudicial comments on immigration and other matters.
The former F.B.I. director James Comey wrote an Op-Ed in the Times last week, in which he noted, in part about Barr's behavior, that "accomplished people lacking inner strength can't resist the compromises necessary to survive Mr. Trump and that adds up to something they will never recover from." Until the next election, the scrutiny that Congress and the courts are applying to Trump may provide the best hope that our government will. https://www.newyorker.com/magazine/2019/05/13/trump-barr-and-the-rule-of-law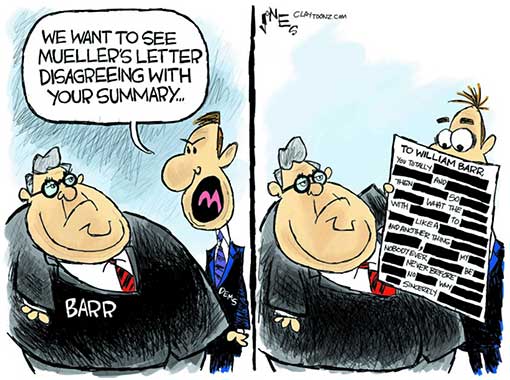 19. Virginia Heffernan: Trumpers beware: Remember who you were and what you stood for — before it's too late
If this country is ever going to disentangle from the Trumpism that's choking the life out of it, we're going to need escape routes.
We've heard plenty from self-congratulatory Democrats, cerebral #NeverTrumpers and aloof European historians who warn about the perils of authoritarianism in our naive nation.
What we need is advice from people who have been fully enchanted by President Trump's racism, corruption and assault on the rule of law.
Escapees from Trumpism can help break its spell for the more casual devotees: Expose what the high-ranking Trumpers espouse in order to enlighten the members of the fabled base about their mistakes.
At the very least, Trumpites seem to recognize that they will need to atone. Even Trump's mouthpiece lawyer Rudolph W. Giuliani may see the writing on the wall. He told a reporter, "I am afraid it will be on my gravestone. 'Rudy Giuliani: He lied for Trump.'"
To all Trumpites — rank-and-file or highly public — who likewise may be starting to grapple with what will happen to them when they meet their makers, Cohen, Comey and McHugh offer guidance: Remember who you were and what you stood for — before Donald and before it's too late. For you and the nation. https://www.latimes.com/opinion/op-ed/la-oe-heffernan-cohen-comey-trump-20190504-story.html
20. Helaine Olen: We're in danger of killing off the biodiversity that makes our way of life possible
On Monday, the United Nations released a report declaring that upwards of 1 million plant and animals forms of life are on track to become extinct within the next several decades, as a result of human activity. "Grave impacts on people around the world are now likely," the report dryly summarized. As Robert Watson, the British scientist in charge of the report, explained, "We are indeed threatening the potential food security, water security, human health and social fabric" of our lives.
Translation: We are killing off the life that makes human life possible. Unless we change our ways fast, our existence is going to become increasingly precarious. And not surprisingly, we're not approaching this fast-coming catastrophe with anything near the urgency it needs.
Biodiversity is all life on Earth, from blue whales to the flies that buzz about us. It's the fish and large mammals many of us eat, but also the flora that protects the streams and oceans, and the microorganisms we cannot see but are vital for health of the planet. Many species are in increased jeopardy as a result of human actions such as industrial agriculture and claiming wetlands for real estate development. As a result, an ever increasing number are likely to die off within a matter of decades. This is separate from the impact of climate change, though climate change does worsen the situation by causing even further damage to the ecosystem. As The Post's Darryl Fears put it, "The warming climate is a major driver that is exacerbating the effects of overfishing, widespread pesticide use, pollution and urban expansion into the natural world." All that, in turn, also kills off unique forms of life.
Yet the report also makes it clear this predicted mass biodiversity extinction is not inevitable. We can still avoid much, if not all, of this. Current economic incentives often favor nature destroying activities that make species extinctions more likely, but different government and financial policies could discourage the actions that are causing the biodiversity apocalypse, while promoting more life sustaining undertakings. https://www.washingtonpost.com/opinions/2019/05/07/were-danger-killing-off-biodiversity-that-makes-our-way-life-possible/