June 20, 2019
ON THE RECORD. . .
"Well, I got briefed on it yesterday, and it looks to me like they're trying to take away her right to free speech." — Trump's announcing that he will not punish White House counselor Kellyanne Conway for repeatedly violating the Hatch Act captures in miniature his apparent belief that the rules don't apply to him and his loyalists the way they do everyone else.
"This (tanker incident) is a way station to a wider conflict breaking out between Iran and the United States. If Iran was behind it, it is very clear the maximum pressure policy of the Trump administration is rendering Iran more aggressive, not less."  — Ali Vaez, senior Iran analyst and Iran project director for the International Crisis Group.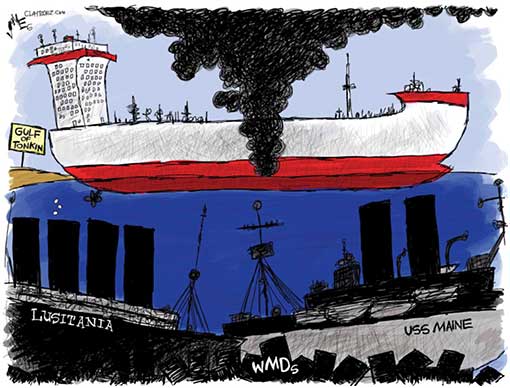 "They just can't let it go… He gets picked at every day over every different aspect of it. But the fundamental point is that they are trying to keep the 2016 election alive and the investigation alive when the American people have heard enough." — Senate Majority Leader Mitch McConnell (R-KY) over the backlash President Trump has received for saying he would hear out foreign assistance if offered in the 2020 election.
"How disgraceful it is that our Republican friends cower before this president when they know that the things he does severely damage democracy." —Sen. Chuck Schumer (D-NY), responding to Sen. Marsha Blackburn (R-TN) who blocked an effort by Sen. Mark Warner (D-VA) to pass a bill via unanimous consent requiring campaigns to report any offers of foreign assistance to the FBI.
'If plants could vote, they would vote for coal"; "serious damage. . . will be done to us, and indeed to the whole world, by cockamamie policies to 'save the planet' from CO2"; and "Warming and increased CO2 will be good for mankind." — William Happer who was assigned the important task of discrediting the assessment, made by federal intelligence agencies multiple times since Trump took office, that climate change poses a grave threat to national security. 
"It's sad that they were able to bludgeon her into submission. We've got some Hillary lawyers there in San Diego. — Rep. Duncan Hunter (R-CA), about his wife, Margaret, taking a plea deal on corruption charges and possibly testifying against him.
"The Trump Economy is setting records, and has a long way up to go....However, if anyone but me takes over in 2020 (I know the competition very well), there will be a Market Crash the likes of which has not been seen before! KEEP AMERICA GREAT" — Trump on Saturday predicting a stock market crash if he doesn't win re-election in 2020.
"Trump's credibility is about as solid as a snake oil salesman. That may work for selling his particular brand to his political base, but during serious times, it leaves him without a wealth of good will and trust from the public that what he is saying is true even on an issue as serious as Iran's complicity in the tanker explosions." — Jen Psaki, who was the White House communications director and top State Department spokeswoman under Mr. Obama.
"I think God was behind the last election." -- Evangelist Franklin Graham saying that divine intervention might be the reason President Trump, who may go down in history as one of the best presidents we've had.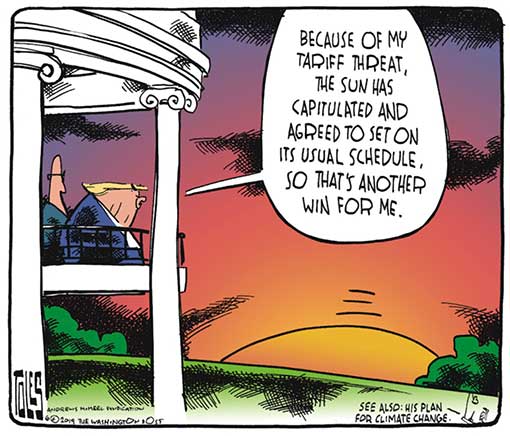 "Remember that I predicted a long time ago that President Obama will attack Iran because of his inability to negotiate properly-not skilled!" — Donald J. Trump@realDonaldTrump 10 Nov 2013
"If you can believe it, Abraham Lincoln was treated supposedly very badly. But nobody's been treated badly like me." — Donald Trump, in an ABC News Interview.
"I'm not sure why we need to have one. I know there are some who believe we have to do more election reform. I think some of it is calculated to add, I think, additional fuel to the Mueller report and the aftermath of that."— Sen. Lisa Murkowski (R-AK)i after being asked whether she thinks the Senate should pass an election security bill.
They plan to make the District of Columbia a state — that'd give them two new Democratic senators — Puerto Rico a state, that would give them two more new Democratic senators. And as a former Supreme Court clerk yourself, you've surely noticed that they plan to expand the Supreme Court. So this is full bore socialism on the march in the House. And yeah, as long as I'm the majority leader of the Senate, none of that stuff is going anywhere. — Senate Majority Leader Mitch McConnell
"The President's new threat of a mass deportation dragnet is an act of utter malice and bigotry, designed solely to inject fear in our communities. This plan revives the horror of the President's family separation policy, inflicting its inhumanity on countless hard-working families across America. — House Speaker Nancy Pelosi (D-CA)
---
IN THIS ISSUE
FYI
OPINION
1. Satire by Andy Borowitz: Replacement for Sarah Sanders Disqualified After Telling Truth on Job Application
A leading candidate to replace the White House press secretary, Sarah Huckabee Sanders, was disqualified after telling the truth repeatedly on his job application, the White House has confirmed.

According to the White House chief of staff, Mick Mulvaney, the candidate got high marks in his job interview by demonstrating "utter disregard and contempt for press freedoms."

But after a thorough examination of the candidate's job application, "a troubling series of truthhoods emerged," Mulvaney said.

"It turned out that he was telling the truth about his education and previous employment," the chief of staff said. "It was a pattern of honesty that we found deeply disturbing."

Mulvaney said that the "inexcusably veracious" answers had eliminated the candidate from further consideration. "We all feel like we just dodged a bullet," he said. "This whole episode just demonstrates how tough it is to replace Sarah Huckabee Sanders." https://www.newyorker.com/humor/borowitz-report/
2. Trump hails Michael Flynn as "war hero" ahead of sentencing
As Michael Flynn continues to await sentencing for lying to federal investigators about his contacts with Russian officials, President Trump is hailing his former national security adviser as a "war hero." The president tweeted about the embattled former Army lieutenant general early Thursday, saying he had "served with distinction."
The president also bid the ex-administration official good luck as he's retained a new lawyer in his case. Flynn has hired frequent conservative pundit Sidney Powell as his new counsel as he awaits his sentencing hearing. Powell, a former Texas prosecutor, is an outspoken critic of Robert Mueller's Russia probe and the Department of Justice, most recently writing a book in which she criticizes the DOJ for its alleged use of "illegal and unethical tactics." https://www.cbsnews.com/news/trump-defends-michael-flynn-as-war-hero-applauds-choice-in-new-attorney/
3. Trump gives the impeachment crowd a gift
Donald Trump's admission that he would accept a foreign government's assistance in an election -- and might not report it to the FBI -- is an absolutely stunning statement that would seem out of bounds to any and every reader of Playbook.
The President said this to ABC's George Stephanopoulos: "It's not an interference, they have information -- I think I'd take it. If I thought there was something wrong, I'd go maybe to the FBI -- if I thought there was something wrong. But when somebody comes up with oppo research, right, they come up with oppo research, 'oh let's call the FBI.' The FBI doesn't have enough agents to take care of it. When you go and talk, honestly, to congressmen, they all do it, they always have, and that's the way it is. It's called oppo research."
Far be it from us to divine why the president said this, and what exactly is going through his head. But the people we spoke to Wednesday night said it is rooted in a win-at-any-and-all-costs mentality -- a life-is-complicated vibe that tries to paint everyone else as rubes, and yet ignores the guts of American law. Furthermore, it reflects his thinking that he hates the idea the 2016 election was stolen from him, so he tries to rationalize the very things he and his campaign stand accused of doing. https://www.politico.com/newsletters/playbook/2019/06/13/trump-gives-the-impeachment-crowd-a-gift-446663
4. How Trump built the outrage wheel
 Sunday marks the fourth anniversary of Donald Trump descending that escalator and stunning the political world by saying that Mexico sends rapists across the border.
And it's been pretty much the central theme of his four years on the political stage: Say/do something controversial … Country reacts in outrage … Say/do another thing … Country reacts in outage, forgetting that first controversy.
Wash. Rinse. Repeat.
Consider last week's dispute: Trump's "Blazing Saddles" move on Mexico tariffs ("Nobody move … or the United States gets it").
Remember that?
This week ends with another outrage: Trump admitting that he'd accept dirt — again — from a foreign government.
This controversy-to-controversy-to-controversy cycle has been one of the president's biggest weaknesses.
It's why, after all, his approval rating is stuck in the low 40's when the unemployment rate is at 3.6 percent.
But it's also one his strengths: The controversy/outrage always changes, and it becomes easy to forget what last week's controversy/outrage was.
The political world still doesn't know how to handle this wheel of outrage.
And Democrats don't know, either… https://www.nbcnews.com/politics/meet-the-press/how-trump-built-outrage-wheel-n1017541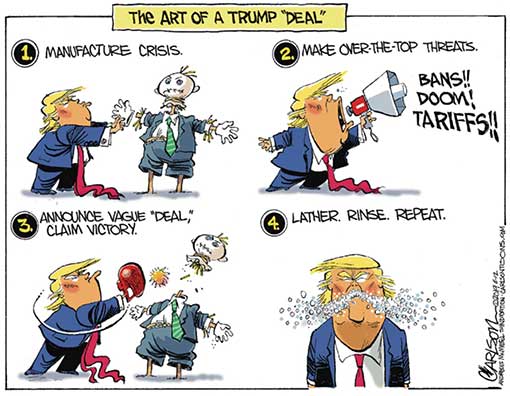 5. Larry Kudlow dismisses deficit concerns as GOP abandons fiscal toughness
President Trump's top economic adviser — who called federal spending "the most unbalanced fiscal story coming of Washington, really in our history" in 2009 — on Thursday said the deficit, which has risen about 80 percent since Trump took office and is on track to top $1 trillion for the first time in history, "doesn't bother me right now."
"I don't think we're at a crisis point now," Kudlow said in a Thursday interview at the Peterson Institute of International Economics. He pointed to the fact that the ratio of debt to GDP stands at about 90 percent. "That by itself is not a catastrophe." (Watch the whole interview here.)
The comment is latest piece of evidence tracing the GOP's rapid transformation from a party that held deficit hawkishness as a first principle into one now unbothered by a tide of red ink it has helped unleash.  https://www.washingtonpost.com/news/powerpost/paloma/the-finance-202/2019/06/14/the-finance-202-larry-kudlow-dismisses-deficit-concerns-as-gop-abandons-fiscal-toughness/5d02ce051ad2e52ca1223d8c/
6. Trump's plan to battle the 15 investigations facing him
In total, Trump faces at least 15 criminal or civil inquiries by nine federal, state and local agencies into his business, his charity, his campaign, his inaugural committee and his personal finances.
As he launches his campaign for a second term on Tuesday, Trump doesn't plan to avoid talking about the investigations. Unlike most other candidates who face allegations of wrongdoing, he hopes to use such charges as part of a strategy that he hopes will help win him reelection.
Trump plans to characterize the investigations in these blue states — just like those by special counsel Robert Mueller and congressional investigations — as attacks by the same people: Democrats, the media and his critics. To his backers, it's already been a winning strategy. https://www.politico.com/story/2019/06/17/donald-trump-investigations-1365910
7. GOP nervous that border wall fight could prompt year-end shutdown
It's only June, but President Trump's laserlike focus on immigration and desire for a border wall are making GOP lawmakers nervous that lagging talks on a budget deal could further bog down and lead to another government shutdown.
Trump is demanding $5 billion in border wall funding as part of a deal that would put limits on federal spending and raise the debt ceiling. https://thehill.com/homenews/senate/448674-gop-nervous-that-border-wall-fight-could-prompt-year-end-shutdown
8. The DAILY GRILL
"I believe that they would have no choice and that they should, yes," Harris told the NPR Politics Podcast, pointing to the 10 instances of possible obstruction that former special counsel Robert Mueller's report detailed without making a determination as to whether the episodes amounted to criminal conduct. "There has to be accountability," Harris added, "and the president is not above the law."

VERSUS

"Oh, give me a break. She's running for president. She's doing horribly. She's way down in the polls,"— Trump reacting to Sen. Harris' comments during his exclusive interview with ABC News' George Stephanopoulos.

 

If any public official or member of any campaign is contacted by any nation state or anybody acting on behalf of a nation state about influencing or interfering with our election, then that is something the FBI would want to know about it." — FBI Director Christopher Wray.

VERSUS

"It's not an interference, they have information — I think I'd take it," Trump said. "If I thought there was something wrong, I'd go maybe to the FBI — if I thought there was something wrong." — Trump saying he might accept dirt from another country on his potential Democratic rivals if offered.

 

The committee's demand was "unprecedented" and could "have lasting consequences for all taxpayers." After getting legal advice from the Justice Department, Mnuchin said he had determined the request (for Trump's tax returns) should be refused. — Treasury Secretary Steven Mnuchin in a letter to House Ways and Means Committee Chairman Richard E. Neal (D-MA)

VERSUS

"Here's what is actually 'pretextual' — the President telling a Cabinet Secretary to ignore the law to protect him, the Secretary usurping legal responsibilities of the IRS Commissioner to do it, and the OLC coming up with these flimsy, bogus excuses that won't stand up in court," he wrote on Twitter. — Rep. Don Beyer (D-Va.), who serves on the committee, disputed the notion that lawmakers were using a "pretextual" basis — or dubious justification — for demanding the materials.

 

"Yesterday the president gave us once again evidence that he does not know right from wrong. I believe that he has been involved in a criminal coverup." — Speaker Nancy Pelosi criticizing Trump for saying he was open to accepting opposition research from a foreign government.

VERSUS

"It's a fascist statement. It's a disgraceful statement. I call her Nervous Nancy. She's a nervous wreck." — Trump on Fox News.

 

I hope that it will be that I showed up every day and I did the very best job that I could to put forward the president's message ... to do the best job that I could to answer questions. To be transparent and honest throughout that process and do everything I could to make America a little better that day than it was the day before." — Sarah Huckabee Sanders on how she wants to be remembered.

VERSUS

"And I hope to be remembered for being a virgin." — Stormy Daniels

 

TRUMP, speaking about Iranians "screaming 'death to America'" when Barack Obama was in the White House: "They haven't screamed 'death to America' lately." — Fox News interview Friday.

VERSUS

THE FACTS: Yes they have. The death-to-America chant is heard routinely. — PBS Newshour

 

"Right now, we're getting 25% on $250 billion worth of goods. That's a lot of money that's pouring into our treasury. We've never gotten 10 cents from China. Now we're getting a lot of money from China." — Trump's remarks Monday …. "We're taking in, right now, billions and billions of dollars in tariffs, and they're subsidizing product." — Trump's remarks onTuesday in Council Bluffs.

VERSUS

THE FACTS: He's incorrect. The tariffs he's raised on imports from China are primarily if not entirely a tax on U.S. consumers and businesses, not a source of significant revenue coming into the country. — PBS Newshour

 

"The Democrats were very unhappy with the Mueller report. So now they're trying to do a do-over or a redo. And we're not doing that. We gave them everything. We were the most transparent presidency in history." — Trump's Oval Office remarks.

VERSUS

THE FACTS: It's highly dubious to say Trump was fully cooperative in the Russia investigation.Trump declined to sit for an interview with Mueller's team, gave written answers that investigators described as "inadequate" and "incomplete," said more than 30 times that he could not remember something he was asked about in writing, and — according to the report — tried to get aides to fire Mueller or otherwise shut or limit the inquiry. —PBS Newshour

 

The U.S. has increased its efforts to place "potentially crippling malware" within control systems of the Russian electrical grid—both in retaliation for Russia's own cyber-incursions into U.S. systems over the last few years, and to warn Putin against escalating cyber-strikes. As national security adviser John Bolton noted during a public appearance last week, the goal has largely been "to say to Russia, or anybody else that's engaged in cyberoperations against us, 'You will pay a price.'" -- NY Times

VERSUS

Do you believe that the Failing New York Times just did a story stating that the United States is substantially increasing Cyber Attacks on Russia. This is a virtual act of Treason by a once great paper so desperate for a story, any story, even if bad for our Country.....ALSO, NOT TRUE! Anything goes with our Corrupt News Media today. They will do, or say, whatever it takes, with not even the slightest thought of consequence! These are true cowards and without doubt, THE ENEMY OF THE PEOPLE! — Donald J. Trump@realDonaldTrump

 

McGahn "may have been confused" when he told Mueller that Trump instructed him multiple times to have the acting attorney general remove the special counsel because of perceived conflicts of interest. — Trump in an exclusive interview with ABC News Chief Anchor George Stephanopoulos, News

VERSUS

A source close to McGahn responds: "Anyone who believes Trump wasn't telling Don to get rid of Mueller using these conflicts is just stupid or believes in the tooth fairy." — JonathanSwan@jonathanvswan
9. MEDIA MATTERS (They watch Fox News so you don't have to)
Sean Hannity: Reaction to Trump's confession that he welcomes election help from foreign governments is "phony outrage over a non-story." Hannity: "That was a genius set up because the media mob will fall right into his trap breathlessly spewing fake, phony outrage over a non-story." https://www.mediamatters.org/video/2019/06/12/sean-hannity-reaction-trumps-confession-he-welcomes-election-help-foreign-governments-phony-outrage/223918

Watch CNN's Rick Santorum's pathetic attempt to justify Trump's confession that he welcomes election help from foreign governments. Santorum: " When you get opposition research in a campaign, you don't call the FBI. ... I got folks who threw information at me in all of my campaigns, and no, I never called the FBI" https://www.mediamatters.org/video/2019/06/12/watch-cnns-rick-santorum-s-pathetic-attempt-justify-trump-s-confession-he-welcomes-election-help/223917

Fox & Friends downplays Trump's admission that he wouldn't report foreign campaign dirt to the FBI: "What's the FBI going to do?" Ainsley Earhardt: The FBI would say "you're crazy. We'll call you back." https://www.mediamatters.org/video/2019/06/13/Fox---Friends-downplays-Trumps-admission-that-he-wouldnt-report-foreign-campaign-dirt-to-t/223919

How pro-Trump media spun Trump saying he'd accept dirt from foreign governments in the 2020 election. Conservative media claimed that Trump was just "playing," drew a false equivalence with the Steele dossier, and attacked Hillary Clinton. https://www.mediamatters.org/blog/2019/06/13/How-pro-Trump-media-spun-Trump-saying-hed-accept-dirt-from-foreign-governments-in-the-2020/223924

Pro-Trump pundit Steve Cortes says he went "to CNN partly at the suggestion of the White House itself and the president himself." https://www.mediamatters.org/blog/2018/05/24/pro-trump-pundit-steve-cortes-says-he-went-cnn-partly-suggestion-white-house-itself-and-president/220301

Fox & Friends says reducing income inequality is "stealing" from billionaires. https://www.mediamatters.org/video/2019/06/17/fox-friends-says-reducing-income-inequality-stealing-billionaires/223936

Fox Business host falsely claims the 2009 market crash was a "knee-jerk reaction" to President Obama's election. Charles Payne: "There is an instant reaction on Wall Street." https://www.mediamatters.org/video/2019/06/17/fox-business-host-falsely-claims-2009-market-crash-was-knee-jerk-reaction-president-obamas-election/223946

Trump says he will begin mass deportation as early as next week. White nationalists and conservative media have spent years calling for this. https://www.mediamatters.org/blog/2019/06/18/Trump-says-he-will-begin-mass-deportation-as-early-as-next-week-White-nationalists-and-con/223958

The Trump-Fox feedback loop could cause a war with Iran. Trump tweeted about a Fox News segment Monday morning that urged a U.S. military strike against Iran, a worrisome development as experts warn that rising tensions between the two nations could quickly spiral out of control. https://www.mediamatters.org/blog/2019/06/17/trump-fox-feedback-loop-could-cause-war-iran/223945

Fox host lies about Iran's enriched uranium levels as a guest calls for military strikes against Iran's navy and nuclear facilities. Charles Payne falsely claims Iran "said it's just days away from enriching uranium to weapons-grade levels." https://www.mediamatters.org/video/2019/06/18/fox-host-lies-about-irans-enriched-uranium-levels-guest-calls-military-strikes-against-irans-navy/223959
10. From the Late Shows
The Late Show with Stephen Colbert: Trump's Staffers Are Coughing For A Reason: https://youtu.be/-7dftOpIbTc

 

The Late Show with Stephen Colbert: Trump Lies To, Lashes Out At George 'Little Wiseguy' Stephanopoulos: https://youtu.be/4OGox-J9_wY

The Late Show with Stephen Colbert: Alexandria Ocasio-Cortez Shows Up In A Trump Tweet: https://youtu.be/vaWEiiGf3cU
11. 'Let me make something 100% clear': FEC chair lays down the law on foreign help
The head of the Federal Election Commission released a statement on Thursday evening reiterating, emphatically, that foreign assistance is illegal in U.S. elections.
"Let me make something 100% clear to the American public and anyone running for public office: It is illegal for any person to solicit, accept, or receive anything of value from a foreign national in connection with a U.S. election," wrote Ellen Weintraub, chairwoman of the FEC. "This is not a novel concept."
She also sent the statement via Twitter with the introductory line: "I would not have thought that I needed to say this."
Weintraub's statement comes after President Donald Trump told ABC News that he would probably hear out opposition information offered by a foreign national if given the chance in 2020. He also said he might not tell the FBI about it, even though bureau Director Christopher Wray said such assistance would need to be reported. https://www.politico.com/story/2019/06/13/fec-election-foreign-trump-1364598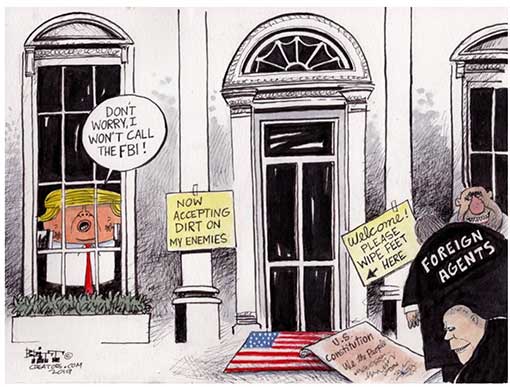 12. Saving face. How Donald Trump silenced the people who could expose his business failures
How did Donald Trump, a self-serving promoter who lost billions of dollars for his investors, convince the world that he is a financial genius? It wasn't just by fabricating tales of his success. It was also by bullying and silencing people who could have stopped those deceits — particularly reporters and Wall Street analysts — forcing all but a very few into a conspiracy of silence.
These tactics, which form a core element of his politics, were something I saw him hone firsthand in the 1980s and 1990s as Trump's company was imploding. https://www.washingtonpost.com/news/posteverything/wp/2019/06/14/feature/how-donald-trump-silenced-the-people-who-could-expose-his-business-failures/
13. Utah Rep. Chris Stewart says it would be 'foolish' for a candidate not to look at foreign intel against an opponent
Rep. Chris Stewart, a Utah Republican who sits on the House Intelligence Committee, said Friday that it would be "foolish" not to take information from a foreign government pertaining to an election campaign.
"It depends on who it is and the circumstances and how credible it is," Stewart told CNN's Jim Scuitto. "There might be valuable information that comes from one of our allies. If they look at it, and it's credible, I think it would be foolish not to take that information." https://www.sltrib.com/news/politics/2019/06/14/utah-rep-chris-stewart/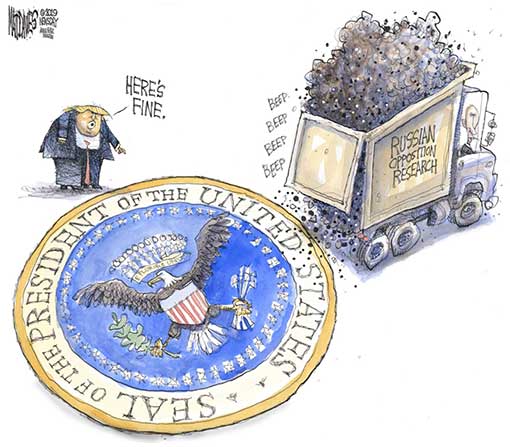 14. As promised, Trump slashes aid to Central America over migrants
U.S. President Donald Trump's administration on Monday cut hundreds of millions of dollars in aid to El Salvador, Guatemala and Honduras, after Trump blasted the three countries because thousands of their citizens had sought asylum at the U.S. border with Mexico. https://www.reuters.com/article/us-usa-immigration-trump/as-promised-trump-slashes-aid-to-central-america-over-migrants-idUSKCN1TI2C7
15. Trump says supporters might 'demand' that he serve more than two terms as president
Donald Trump on Sunday floated the possibility of staying in office longer than two terms, suggesting in a morning tweet that his supporters might "demand that I stay longer."
The president has previously joked about serving more than two terms, including at an event in April, when he told a crowd that he might remain in the Oval Office "at least for 10 or 14 years." https://www.washingtonpost.com/politics/trump-says-supporters-might-demand-that-he-serve-more-than-two-terms-as-president/2019/06/16/4b6b9ae2-9041-11e9-b570-6416efdc0803_story.html
16. This is Trump's worst poll number -- and what it means
The key poll question is whether people would "definitely not" vote for the President. This is an especially bad number for Trump. National polls generally show a majority of people (51-56 percent) say they wouldn't (Fox News polls being the exception). And now a poll also shows that number is remarkably bad for Trump in a surprising place: Texas. The University of Texas/Texas Tribune poll shows that, when asked if they would vote to reelect Trump, 43 percent responded "definitely not", and another 7 percent say "probably not." That's half the state intending not to vote for a Republican president -- in Texas. https://www.washingtonpost.com/politics/2019/06/18/this-is-trumps-worst-poll-number-what-it-means/
17. A new UN report lays out in gruesome detail just what they are looking past.
The report from a United Nations special rapporteur, Agnes Callamard, details what happened before Khashoggi's murder. It notes that every expert consulted says it is "inconceivable" the crown prince wasn't at least aware of the operation.
The Trump administration has made a calculated decision not to retaliate very much against Saudi Arabia for the assassination of Washington Post contributing columnist Jamal Khashoggi. Citing the importance of its alliance with the Saudis and the economic benefit of selling arms to them, President Trump and Secretary of State Mike Pompeo have also declined to judge Saudi Crown Prince Mohammed bin Salman harshly — even though the CIA concluded he ordered the killing.
A new report lays out in gruesome detail just what they are looking past. https://www.washingtonpost.com/politics/2019/06/19/these-new-gruesome-khashoggi-revelations-reinforce-ugly-bargain-trump-has-struck-with-saudi-arabia
18. Fact-checking President Trump's reelection campaign kickoff
Here we are again, four years later, fact-checking a campaign kickoff speech by Donald Trump.
The fact-checkable claims were different this time around, but history repeated itself nonetheless. Trump's campaign kickoff speech in Orlando was littered with the same false or misleading claims he has so often repeated as president.
Phony numbers on trade. Unfounded claims about immigrants. False statements about special counsel Robert S. Mueller III's investigation. Fishy economic statistics and wild exaggerations about his presidential accomplishments.
Our task was easier this time because, by now, we've assembled a database of more than 10,000 false or misleading claims from Trump. The president often deploys the same lines, over and over, in interviews, tweets and campaign rallies.
For some of the highlights — and lowlights — of Trump's campaign kickoff speech go to https://www.washingtonpost.com/politics/2019/06/19/fact-checking-president-trumps-reelection-campaign-kickoff/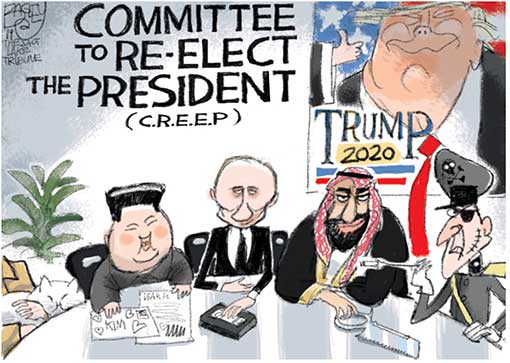 19. Trump EPA finalizes rollback of key Obama climate rule that targeted coal plants
The Trump administration finalized its biggest climate policy rollback Wednesday, requiring the U.S. power sector to cut its 2030 carbon emissions 35 percent over 2005 levels — less than half of what experts calculate is needed to avert catastrophic warming of the planet. https://www.washingtonpost.com/climate-environment/trump-epa-finalizes-rollback-of-key-obama-climate-rule-that-targeted-coal-plants/2019/06/19/b8ff1702-8eeb-11e9-8f69-a2795fca3343_story.html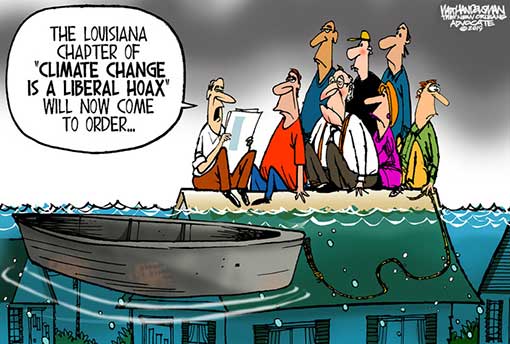 20. US Ally Saudi Arabia May Execute Teenager for His Protests — When He Was 10
IN 2011, as Arab Spring protests swept across the Middle East, demonstrations also kicked off in Saudi Arabia's oil-rich Eastern Province. Members of the kingdom's repressed Shiite minority took to the streets, calling for equal rights and a fairer distribution of oil revenues. The protesters included a group of around 30 kids on bicycles. As a video released last week by CNN shows, those children were led by a smiling 10-year-old in flip-flops named Murtaja Qureiris.
"The people demand human rights!" the young boy can be seen shouting through a megaphone.
Here's the problem: Demanding human rights in Saudi Arabia lands you in prison. Even if you're a kid.
Three years later, in September 2014, 13-year-old Murtaja was arrested while on his way to neighboring Bahrain with his family.
Last week, we learned that Saudi prosecutors are seeking the death penalty for 18-year-old Murtaja, who is being tried in an anti-terror court. CNN reports that the prosecutors want to "impose the harshest form of the death penalty, which may include crucifixion or dismemberment
Got that? The unelected government of a close ally of the United States is planning on brutally executing an 18-year-old member of a minority group, for crimes allegedly committed when he was 10 years old.
Let me repeat: Ten. Years. Old. after execution." https://theintercept.com/2019/06/16/saudi-crown-prince-child-execution/
1. Orlando Sentinel Editorial: Our endorsement for president in 2020: Not Donald Trump 
Some readers will wonder how we could possibly eliminate a candidate so far before an election, and before knowing the identity of his opponent.
Because there's no point pretending we would ever recommend that readers vote for Trump.
After 2½ years we've seen enough.
Enough of the chaos, the division, the schoolyard insults, the self-aggrandizement, the corruption, and especially the lies.
So many lies — from white lies to whoppers — told out of ignorance, laziness, recklessness, expediency or opportunity.
Trump's capacity for lying isn't the surprise here, though the frequency is.
It's the tolerance so many Americans have for it.
There was a time when even a single lie — a phony college degree, a bogus work history — would doom a politician's career.
Not so for Trump, who claimed in 2017 that he lost the popular vote because millions of people voted illegally (they didn't). In 2018 he said North Korea was no longer a nuclear threat (it is). And in 2019 he said windmills cause cancer (they don't). Just last week he claimed the media fabricated unfavorable results from his campaign's internal polling (it didn't).
Trump has diminished our standing in the world. He reneges on deals, attacks allies and embraces enemies.
The nation must endure another 1½ years of Trump. But it needn't suffer another four beyond that.
We can do better. We have to do better. https://www.orlandosentinel.com/opinion/editorials/os-op-sentinel-not-endorsing-donald-trump-2020-20190618-63ya7cyb5ngf3irllodwxnznui-story.html
2. Jonathan Chait: Trump Goes on TV to Solicit 2020 Foreign Collusion
President Trump today claimed, falsely, that the Mueller report found not only no collusion with Russia but that his campaign "rebuffed" offers of help from Moscow. But apparently Trump regrets his imaginary decision to refuse help from Russia, since he tells George Stephanopoulos in a new interview that, yes, if another foreign power offers him dirt on his next opponent, he'll gladly take it:
Of course, in the last election, Russia stole emails from Trump's opponent, and Trump not only exploited that crime but also made repeated attempts to get more stolen emails.
Perhaps more revealingly, Trump reiterated his view that he would not go to the FBI. Trump hates flippers, he's a stand-up guy, not a rat, and he respects the omertà.
Trump continues to show every sign of hoping and expecting to benefit from foreign collusion in 2020. In May, he intended to send Rudy Giuliani to Ukraine to pressure the government to supply dirt on Joe Biden. He and his ally, Mitch McConnell, are blocking measures (including ones with bipartisan support) to help safeguard elections against foreign attacks and social-media propaganda. His message to Russia, or any other government that wants a close relationship with him, is obvious: Do anything you can to help me win. http://nymag.com/intelligencer/2019/06/trump-goes-on-tv-to-solicit-2020-foreign-collusion.html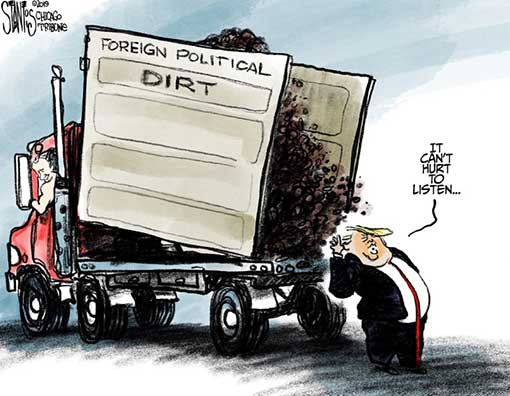 3. Ben Bradlee, Jr.: How Collusion Confusion Helps Trump
More than any American President, Donald Trump strains credulity. Of the ten-thousand-plus false or misleading statements he has made during his Presidency that fact-checkers have documented so far, one of the baldest claims came on March 24th. That was when the Attorney General, William Barr, stepped into the vacuum left by the special counsel Robert Mueller's report and announced that he had cleared Trump of any obstruction-of-justice charges.
Trump then crowed on Twitter, writing, "No Collusion, No Obstruction, Complete and Total EXONERATION. . . ." That statement was false on all three counts. Mueller's report explicitly did not exonerate Trump, and it cited at least ten possible instances of Trump's obstruction of justice, while noting that Justice Department policy prevented the filing of criminal charges against a sitting President. Mueller made no judgment on collusion, meanwhile, because that isn't a crime.
The New York Times documented at least a hundred and forty contacts by Trump and eighteen of his associates with Russian nationals and WikiLeaks, or their intermediaries, during the 2016 campaign. But that story, which appeared in April, after the release of Mueller's report, failed to get traction, as did the four-hundred-and-forty-eight-page report itself, which only a tiny fraction of the country seems to have read, thereby helping the White House, and Barr, to frame it as a vindication of Trump.
But the report—from its sweeping confirmation of the depth of Russian interference in the election (a conclusion that Trump still refuses to fully accept), to its ten examples of possible obstruction of justice, to its documentation of the extensive contacts between Russians and the Trump campaign—actually amounts to a searing indictment of the President. https://www.newyorker.com/news/news-desk/how-collusion-confusion-helps-trump
4. Tina Nguyen: Elizabeth Warren Is Surging—And The Trump Campaign Is Taking Notice
The Warren boomlet appears to have legs. Recent polling suggests the Massachusetts senator has pulled ahead of Bernie Sanders in Nevada, California, Minnesota, and South Carolina, potentially cementing her position in second place behind Joe Biden in the Democratic primary race. Quinnipiac finds that Warren would beat Donald Trump nationally by seven points; Fox News finds that she would beat the president by two.
It's a notable reversal of fortune, after a slow start for Elizabeth Warren's campaign, and one that has surprised some Democratic rivals. "You're seeing a candidate who actually came into the race with theory of how she wanted to run, and she's executed," a top Democratic strategist who supports Sanders recently told my colleague Chris Smith. "She looked dead in the water at the start of the year. Now she's in position to seize the nomination." Sanders, meanwhile, has stalled in national polls, and has ceded political ground to his left. "His candidacy this time around has ended up being a greatest-hits act. What new energy or idea is he bringing to the table? Warren has outmaneuvered him on policy." https://www.vanityfair.com/news/2019/06/elizabeth-warren-donald-trump-polling
5.  Ed Kilgore: McConnell Thinks Obama Was Reparations Enough
But then you have the people of not-so-good will who don't even want to engage in a discussion of America's residual and still-developing debts to those who have been denied rights in the past and the present. Mitch McConnell is one of their spokesmen, as he made clear today in remarks quoted by The Hill:
"I don't think reparations for something that happened 150 years ago for whom none us currently living are responsible is a good idea," McConnell said. "We've tried to deal with our original sin of slavery by fighting a civil war, by passing landmark civil-rights legislation. We elected an African-American president." 
I don't know what's worse: the belief that once slavery ended, the outrages associated with this particular "original" form of white supremacy ended, too, or the idea that civil-rights legislation (simply to give a distinct category of Americans what we all expect) and one president out of 45 are "reparations" in themselves and ought to be enough. It is credible that McConnell thinks the minute Obama took office any obligation to treat him with respect ended, since the Republican leader and his party spent the entire eight years of the Obama presidency seeking to deny him any positive legacy. http://nymag.com/intelligencer/2019/06/mcconnell-thinks-obamas-election-was-reparations-enough.html
6. Jamelle Bouie: Mitch McConnell, Too, Welcomes Russian Interference
McConnell's career makes clear that he has few, if any, political and ideological convictions. As Alec MacGillis, a reporter for ProPublica, observes in "The Cynic: The Political Education of Mitch McConnell," McConnell was reliably pro-choice until it became inconvenient and pro-union when it would get him votes. But his most revealing turnaround was on campaign finance.
As chairman of his county Republican Party in the 1970s, he backed aggressive campaign finance reform. He wanted "drastically" lower contribution limits, full donor disclosure, a ceiling on overall spending and public financing of elections. "Many qualified and ethical persons are either totally priced out of the election marketplace or will not submit themselves to questionable, or downright illicit, practices that may accompany the current electoral process," he wrote in a 1973 op-ed for The Courier-Journal in Kentucky.
In 1990, as the junior senator from Kentucky, he introduced legislation to abolish political action committees. In 1993, he backed a ban on funds collected outside the contribution limits for individual candidates — what had come to be known as "soft money." "Soft money should be banned," McConnell wrote at the time. "All campaign spending should be on the top of the table where voters can see it." By the end of the decade, however, McConnell would be a reliable foe of virtually every limit on the ability to raise and spend money in politics.
The reasons for his reversal were straightforward. At heart, McConnell is a partisan. When he thought campaign finance reform would harm Democrats or help him win higher office, he backed campaign finance reform. When he thought Democrats relied on soft money, he tried to ban soft money. But when those funds began to fill his campaign war chest, he changed his tune. By 1997, he had nothing but good things to say about soft money. "Soft money is just a euphemism for free speech," he said. For McConnell, winning was the only thing that mattered, and anything it took to win was fair game. https://www.nytimes.com/2019/06/13/opinion/mitch-mcconnell-russian-interference.html
7. Peter Hamby: "What can you say in 60 seconds?": As the first debate looms, Democrats prepare to face reality
The first chapter of the Democratic race for president has been defined by its steadiness. A handful of scandals once billed as potentially devastating—shoulder touching! Tupac! Standing on tables!—revealed themselves as little more than Twitter ephemera. The two most famous candidates, Joe Biden and Bernie Sanders, unsurprisingly remain atop most of the polls. The two candidates who have managed to climb up the ladder, Elizabeth Warren and Pete Buttigieg, have done so by defining a clear rationale for running and pounding their message daily, with a relentless media and travel schedule. The race, though, has remained mostly static, helmed by a pair of durable white-haired front-runners, a platoon of credible second-tier candidates, and a roster of one-percenters who look like they wandered off the set of Frasier.
What campaign obsessives are not discussing is another entirely possible outcome: that the first debates won't change very much at all. It might be true that tens of millions of Americans will excitedly tune in to watch a bunch of random politicians for two hours on back-to-back nights during summertime. It's possible too that some Democrats will murder-suicide each other in heated attempts to grab attention, shaking up the race. But because of the limited speaking time, and the need for each candidate to make a positive first impression, viewers could be in for two nights of kid gloves and hokey stories that deliver nothing but fodder for a Saturday Night Live cold open. "With 10 people on a stage, there is not a lot of time really to say anything," said the senior Democratic campaign official. "It's going to incentivize one-liners, or a certain kind of communication that some are going to be good at delivering and some aren't. But what can you say in 60 seconds on any issue? A thesis statement and a couple sentences, then you're going to get cut off." Speaking time for some candidates will also shrink as others ramble over their time, or as Democrats try to interject and pick their own fights, drowning out screen time for the ones who don't speak up. https://www.vanityfair.com/news/2019/06/first-democratic-debate-rules-2020-campaign
8. Susan B. Glasser: Forget "No Collusion." Trump Is Now Pro-Collusion
The worry about a president receiving assistance from a foreign country, let alone inviting it, was one of the central concerns of the Founders when they came up with the mechanism of impeachment. It need not be a conspiracy or a crime. It was about violating the integrity of the American political system — to the advantage of another country. They were thinking of Britain and France, their equivalent of Russia and China. And they were understandably paranoid about it. "He might betray his trust to foreign powers," Madison worried about waiting for the next election to call a president to account. Combine the blithe ease with which Trump considers this impeachable offense with his now-demonstrated attempts to obstruct justice, and now add a legal claim that the Congress cannot oversee what might be presidential criminality … well, you have a situation that impeachment was specifically designed for.
It is worth adding to this, for good measure, that, all the while, the president has been attempting to buttress Republican — and essentially white — power, by rigging the census to deny Democrats future seats, and thereby resources. We now have incontrovertible proof that this was the intention behind adding a citizenship question to the Census — thanks to a leaked hard drive. Put all this together and you begin to get a sense of how contested the result of the next election could be. Trump is deliberately undermining public confidence in its integrity. He did this rhetorically as a candidate. Doing it as an incumbent president is an even graver assault on our liberal democracy. Imagine Bush v. Gore, but with an incumbent president who controls the executive branch and has the Supreme Court in his pocket, and you begin to see the risk we are taking by leaving him in place.
He will do anything, we have to understand, to protect his psychic attachment to his own self-interest. Anything. I'll repeat what I believe: He will not leave his office if he narrowly loses in 2020. He'll fight — and rally his supporters to fight with him. He's not Nixon. He's Erdoğan. When, since becoming president, has Trump conceded anything?
A tyrant's path to power is not a straight line, it's dynamic. Each concession is instantly banked, past vices are turned into virtues, and then the ante is upped once again. The threat rises exponentially with time. If we can't see this in front of our own eyes, and impeach this man now, even if he will not be convicted, we are flirting with the very stability of our political system. It is not impregnable. Why is Putin the only person who seems to grasp this? http://nymag.com/intelligencer/2019/06/andrew-sullivan-donald-trump-and-the-art-of-the-lie.html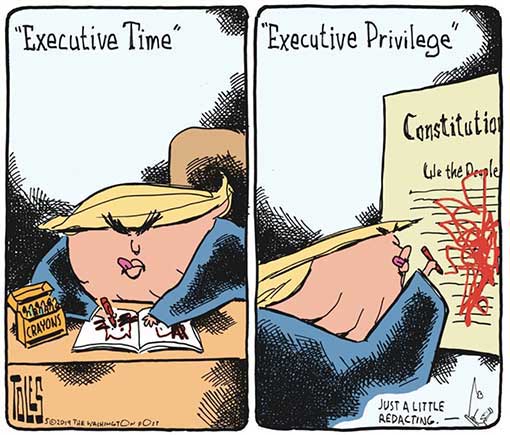 9. Jonathan Chait: Trump: Witness to My Crime Can't Testify, But Trust Me He's Lying
Some of the most damning crimes in the Mueller report come via former White House counsel Don McGahn, who was directed to obstruct justice by President Trump (but declined to carry out his illegal orders). McGahn testified about these orders to Mueller, thereby surrendering any claim the White House would have to keep the conversations private as part of executive privilege. The White House is nonetheless blocking McGahn from testifying to Congress.
ABC News' George Stephanopoulos asked Trump about McGahn's testimony in an interview this week. Trump called his former counsel a liar. "The story on that very simply, No. 1, I was never going to fire Mueller. I never suggested firing Mueller," he said. When asked why McGahn would lie, Trump said, "Because he wanted to make himself look like a good lawyer." Pressed again, Trump denied ever having told McGahn to fire Mueller.
So the White House maintains the following:
1. The Mueller report exonerates Trump, and any attempt to follow up on its findings is a "do-over," and thus unfair.

2. One of the most damning charges in the Mueller report, detailing Trump's efforts to obstruct justice, is a lie.

3. The witness who testified under oath to that charge cannot be allowed to testify to Congress.
The Mueller report shows no obstruction of justice, and the obstruction it shows is fake, and Congress can't hear from a person who testified about obstruction. We just have to take Trump's word on this, even though his words contradict other words of his. Just what you'd expect an innocent person to say, basically. http://nymag.com/intelligencer/2019/06/trump-mcgahn-cant-testify-but-trust-me-hes-lying.html
10.  Peter Baker: As Trump Accuses Iran, He Has One Problem: His Own Credibility
To President Trump, the question of culpability in the explosions that crippled two oil tankers in the Gulf of Oman is no question at all. "It's probably got essentially Iran written all over it," he declared on Friday.
The question is whether the writing is clear to everyone else. For any president, accusing another country of an act of war presents an enormous challenge to overcome skepticism at home and abroad. But for a president known for falsehoods and crisis-churning bombast, the test of credibility appears far more daunting.
For two and a half years in office, Mr. Trump has spun out so many misleading or untrue statements about himself, his enemies, his policies, his politics, his family, his personal story, his finances and his interactions with staff that even his own former communications director once said "he's a liar" and many Americans long ago concluded that he cannot be trusted.
Fact-checking Mr. Trump is a full-time occupation in Washington, and in no other circumstance is faith in a president's word as vital as in matters of war and peace. The public grew cynical about presidents and intelligence after George W. Bush's invasion of Iraq based on false accusations of weapons of mass destruction, and the doubt spilled over to Barack Obama when he accused Syria of gassing its own people. As Mr. Trump confronts Iran, he carries the burden of their history and his own. https://www.nytimes.com/2019/06/14/us/politics/trump-iran-credibility.html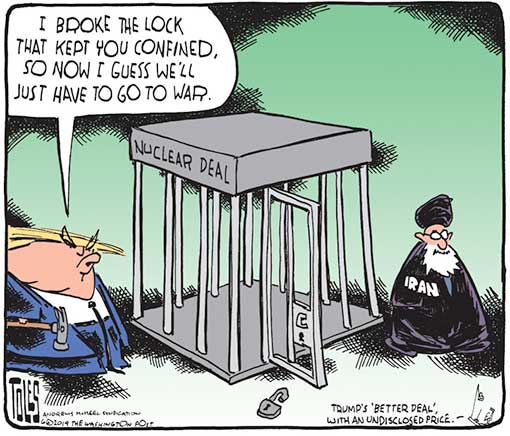 11. John Cassidy: The Stephanopoulos Interview Is Another Fine Mess for Trump
Some weeks the Trump Presidency is a horror show; some weeks it is slapstick. This week it was both. In the Middle East, tensions with Iran rose alarmingly, while, on the domestic front, Donald Trump got himself into yet another political mess. As of Saturday, it has been three days since Trump told George Stephanopoulos, of ABC News, that he would accept damaging information on political opponents from foreign governments, and the White House is still trying to repair the political damage. It isn't working. Instead, things are only getting worse for the President.
Trump had not only stated that he would willingly break the law. He had also reminded everyone of the contents of Volume I of the Mueller report, which detailed the extensive contacts in 2016 and thereafter between people connected to the Trump campaign and people connected to Vladimir Putin. The report concluded that the Russian government, with its hacking and Internet disinformation efforts, purposefully assisted the Trump campaign, and that some people connected to the campaign were eager to make the most of this assistance. But the report also said "there was insufficient evidence to charge a broader conspiracy"—a statement that Trump and his allies seized upon as vindication of the President's refrain that there was "No collusion," even though the report said explicitly, "we applied the framework of conspiracy law, not the concept of 'collusion.' " Now here was Trump saying, in effect, that he would gladly collude.
Even the late-night comics, who have been feeding on Trump's gaffes for years, were stunned, a Vanity Fair article noted. Seth Myers: "The guy who has spent two years scream-tweeting 'no collusion!' is now saying, 'If anyone's down to collude, I'm your guy.' . . . If Trump had been President during Watergate, he would have left a business card at the break-in." Stephen Colbert: "You've got to imagine Robert Mueller is just getting home with all of his boxes after clearing out his office, turns on the TV, and he's like, 'Damn it, honey, I'm going back to work. I'll see you in another two years.' " https://www.newyorker.com/news/our-columnists/the-stephanopoulos-interview-is-another-fine-mess-for-trump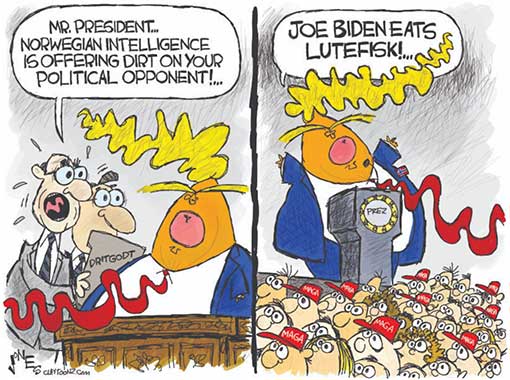 12. Susanna Rustin: We must transform our lives and values to save this burning planet
The case for action to tackle the climate emergency, on a scale far beyond anything that has yet been attempted, is increasingly widely understood. Almost three decades after the first UN climate treaty was agreed in Rio de Janeiro in 1992, and despite the commitments thrashed out among nation states at every summit since, global carbon emissions last year rose to a record 37.1bn tons.
In October, UN scientists warned that within 12 years a target of 1.5C of global heating would be out of reach. Above this level, temperature increases are predicted to cause colossal disruption: 10 million more people displaced as a consequence of higher sea levels; greatly increased risk of fires, drought and extreme weather of all kinds; shrinkage of plant and insect habitats with massive effects on agriculture as well as nature; the extinction of coral.
For decades, our attitude to the climate crisis has combined complacency and denial, while the number of people (and politicians) firmly committed to action on anything like the required level has struggled to climb above a tiny minority. With attention focused by recent, alarming temperature rises and emissions increases, as well as by the prospect of a series of crunch meetings at the UN, serious attempts are at last being made to frame a policy response.
The Green New Deal embraced by leftwing US Democrats and elsewhere is the best chance we have. Economist Joseph Stiglitz wrote recently that we should think of the response to climate change as a "third world war." It is helpful to have a historical analogy on which to draw, when thinking about the transformation that is needed if we are to avoid a descent into chaos and dystopia. To be paralyzed by panic would be a disaster. But there are also big differences between the situation human civilization faces now, and any we have ever faced before.
The climate crisis differs from a war because it does not have an end – or not in the same way. And while there is an enemy, in the hugely powerful fossil fuel industry and the politicians who are its backers, this is a much harder foe to identify than a foreign power. As for the Green New Deal, there is a risk that it can be made to sound too much like a leftwing utopia.
It is extremely difficult to see a safe way through the next few decades that does not involve a drastic reorientation of global priorities, towards wildlife and away from consumption. Meeting the UK's 2050 net-zero target, for example, will require planting almost 3bn trees. We can expect air quality to improve as we shift to electric cars. Some people are already discovering a new relationship with food. If the world is to come together as we need it to, human values will have to assert themselves over the forces of capital. https://www.theguardian.com/commentisfree/2019/jun/15/transform-lives-burning-planet-agriculture-consumption
13. Margaret Sullivan: Joe Biden and the 'electability' delusion — and why the media keep making the same mistake
As Iowa journalist Robert Leonard talks to voters around his state, he finds himself baffled at the national portrayal of Joe Biden's dominance in the presidential campaign.
The local Democrats he encounters respect the former vice president, he told me, but many of them also feel his time has passed.
They're far more excited about other candidates, five in particular: Sen. Elizabeth Warren (Mass.); Pete Buttigieg, the mayor of South Bend, Ind.; Sen. Kamala D. Harris (Calif.); former Texas congressman Beto O'Rourke and Sen. Cory Booker (N.J.).
So he shakes his head at the extensive coverage and commentary that depicts Biden as almost a shoo-in for a nomination that's more than a year away.
One example: CNN's morning briefing newsletter recently called Biden "the most formidable threat" to President Trump's reelection chances.
CNN is far from alone. It's common across the national media to see Biden pegged as the safest candidate for Democrats to put up to unseat Trump. He's got that secret sauce: electability.
"Sure, Democrats think he's electable, but they believe a half-dozen other candidates are, too," Leonard, the news director of two Iowa radio stations, told me. "No one I have spoken with sees Biden as more formidable than other top candidates." https://www.washingtonpost.com/lifestyle/style/the-electability-delusion--and-why-the-media-keep-making-the-same-mistake/2019/06/14/495c3b12-8de9-11e9-b08e-cfd89bd36d4e_story.html
14. Eric Levitz: The One Percent Have Gotten $21 Trillion Richer Since 1989. The Bottom 50% Have Gotten Poorer.
Some Democratic presidential candidates say that America's economic system is badly broken and in need of sweeping, structural change. Others say that the existing order is fundamentally sound, even if it could use a few modest renovations. The former are widely portrayed as ideologues or extremists, the latter as moderates.
And it's certainly true that Bernie Sanders and Elizabeth Warren are ideologically "extreme," if our baseline is the median member of Congress or the median policy agenda pursued by recent American presidents. But it's not clear why these would be the appropriate metrics.
After all, we do not equate calls for sweeping change (whether from recent precedent or from current consensus) with extremism in all circumstances. When young people in an Islamist autocracy take to the streets demanding basic civil rights, we do not regard them as radicals, or the regime's apologists as moderates. Our assessment of the dissenters' ideological character does not hinge on how far their values depart from those of the status quo order — but rather on how far that status quo departs from our consensus values.
Thus, whether it is truly extreme or moderate to demand sweeping changes to American capitalism depends on the degree to which the existing system aligns with common-sense views of what a just or rational economic system should look like. http://nymag.com/intelligencer/2019/06/the-fed-just-released-a-damning-indictment-of-capitalism.html
15. Frank Sharry: Democrats can turn immigration into a total loser for Donald Trump in 2020 — if they dare
In the world according to Trump, his 2016 campaign rode racism and xenophobia to victory. In the 2018 midterms, he doubled down, invoking caravans filled with criminals and terrorists and producing an ad so racist even Fox News wouldn't air it. Republicans suffered the largest midterm popular-vote defeat in American history. 
A wiser president would get it: His obsession with immigration fires up his core supporters but backfires badly with everyone else. Encouraged by White House whisperer Stephen Miller, Trump refuses to let up. Since the midterms, he has demanded billions for his border wall, shuttered the government for 35 days, declared a national emergency of dubious constitutionality, sent troops to the border, decapitated the Department of Homeland Security's leadership, and threatened economic warfare to get Mexico to (pretend to?) bend the knee.
Nevertheless, the numbers of families arriving at the border are sky high. His border strategy is as ineffective as it is cruel.
Meanwhile, at Trump rallies, he tells his followers that he is "finishing the wall" (he's not) and calls Democrats the party of "open borders and crime" (they're not). Yes, in 2020 he's going to run, and run hard, on xenophobia. 
What should Democrats do?
First, Democrats should recognize that the public is with them, not Trump. A majority of voters believe that immigration is good for America, object to Trump's race-baiting divisiveness, reject the practice of ripping toddlers from parents and putting kids in cages, oppose his border wall, and want Congress to create a line for undocumented immigrants to get into — with "Dreamers" and Temporary Protected Status holders in front.  https://www.usatoday.com/story/opinion/2019/06/18/trump-immigration-policies-democrats-ticket-white-house-column/1472246001/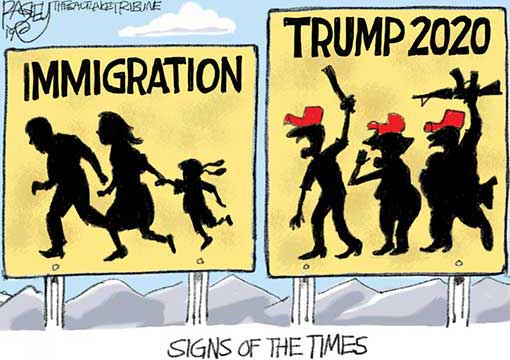 16.  Peter Wehner: Trump Is Betting That Anger Can Still Be Power
Donald Trump has been the most persistently unpopular first-term president in the postwar era. Much of the nation is exhausted and embarrassed by his presidency, pining for normalcy, eager to change the channel. The president's own internal polls show Mr. Trump trailing the former vice president, Joe Biden, not only in many battleground states Mr. Trump won in 2016, but in traditional Republican strongholds like Georgia.
But as we saw Tuesday night, during a huge, raucous rally in Orlando, Fla., Trump is viewed by his supporters almost as a demigod. One excited Trump supporter who was there told me he was overwhelmed by the unwavering support for Mr. Trump, driven by a sense that Mr. Trump has been deeply wronged — by the Mueller investigation, by the media and by what he described as "anti-Trump forces." He also told me, based on conversations he had with others at the rally, that Mr. Trump's supporters believe his era is "spiritually driven." What he meant by that is that person after person reported that when it comes to Mr. Trump and the presidency, "God has chosen him and is protecting him." It is the Children of Light against the Children of Darkness.
That certainly aligns with my sense of how Trump supporters see things. It's not just that Mr. Trump is exceedingly popular among Republicans, with his approval rating this year hovering in the high 80s and low 90s. It is that he has won their undying loyalty and affection. As a Republican friend of mine put it to me recently, Mr. Trump is the general leading the army into battle against an enemy that needs to be vanquished for the good of the nation. When facing an existential threat, there is no room for public dissent. In Mr. Trump's Republican Party, you are expected to treat him with reverence, submission and obeisance, or you will be treated as a traitor to king and cause. Just ask Jeff Flake, Bob Corker, Mark Sanford and Justin Amash. https://www.nytimes.com/2019/06/19/opinion/trump-2020-announcement.html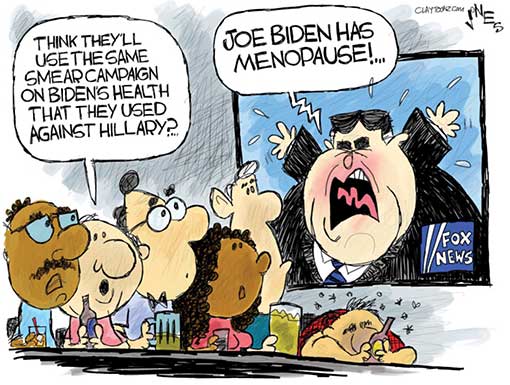 17. Jonathan Chait: Trump Awards Kook Art Laffer for Inventing Fake Curve
Last year, famed Republican economist Art Laffer co-authored a hagiographic tribute to President Trump and his agenda. Trump habitually bestows his most slavish supporters with pardons or — in the event they have not been convicted of any federal crimes — awards. Laffer accordingly will receive the Presidential Medal of Freedom today.
In the real world, Laffer's contributions have built a streak of unbroken wrongness over a time and scale few policy entrepreneurs in history can match. Laffer predicted Ronald Reagan's tax cuts would pay for themselves. When they instead produced historic deficits, Laffer continued to claim he was right. He predicted Bill Clinton's attempt to reduce the deficit by raising taxes on the rich would backfire ("I think the plan will fail. It entails price controls, which have never worked. It calls for tax increases, and that's exactly the wrong way to go. It makes no sense to raise taxes on people who work and pay more to those who don't work. This is the Reagan revolution in reverse"). Instead, revenue growth exceeded projections.
He likewise predicted President Obama's plan would "destroy the economy" (it did not) and that President Trump's tax cut would "pay for itself many times over" (it did not pay for itself at all), among many other failed predictions. Not content to botch his analysis of the federal budget, he has parachuted into several state governments and prodded Republicans into adopting his utterly false worldview. In Kansas and Louisiana, Republican governors listened to Laffer and produced fiscal catastrophe so comprehensive and undeniable Republicans in their state revolted.
Economists do not take Laffer's claims seriously. This has not reduced his influence whatsoever. Laffer has elevated his curve to metaphysical status within the party, which treats the skepticism of economists as more evidence of their own correctness. "Economists still ridicule the Laffer Curve," boasted Wall Street Journal editorial page editor Robert Bartley, "but policymakers pay it careful heed." http://nymag.com/intelligencer/2019/06/art-laffer-curve-trump-medal-freedom-tax-cuts.html