December 21, 2022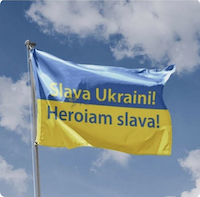 THE WEEK'S BEST QUOTES. . .
"It's almost as if I've offended SF's unhinged leftists … but nahhh."-- Elon Musk commenting on being booed at comedian Dave Chappelle's show.
https://www.nbcnews.com/tech/internet/chappelle-elon-musk-dave-video-audience-members-boo-rcna61330
"Fool us once, shame on you. Fool us 1,438 times, and it may finally be too much." -- A New York Post editorial calls Donald Trump a con artist after his "major announcement" releasing $99 digital trading cards.
https://nypost.com/2022/12/15/dont-give-any-money-to-con-artist-trump/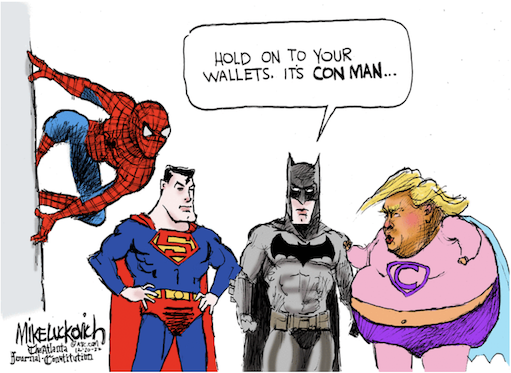 "Today, limited government means inciting violence against government officials … The Republican Party used to believe in a big tent … Now we shelter the ignorant, the racist."-- Rep. Adam Kinzinger (R-IL) rebukes the GOP during his farewell address as a member of Congress.
https://twitter.com/therecount/status/1603503445591334920
Even Steve Bannon and other key advisers to former President Donald Trump have had enough of his latest stunts — demanding everyone behind his wacky NFT collection be "fired today."
https://nypost.com/2022/12/16/steve-bannon-calls-for-firings-after-trumps-latest-stunt/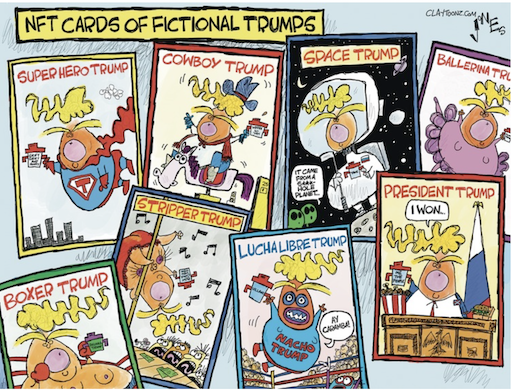 "I had some MAJOR ANNOUNCEMENTS the last couple of weeks, too…
Inflation's easing
I just signed the Respect for Marriage Act
We brought Brittney Griner home
Gas prices are lower than a year ago
10,000 new high-paying jobs in Arizona
— President Biden, mocking Donald Trump on Twitter. https://twitter.com/JoeBiden/status/160345560360679837

"If we don't do something different, we're just going to be in this Groundhog Day where something like this is going to repeat in 2024 and for the rest of this decade."— Peter Thiel, on the GOP's failure in the 2022 midterm elections. https://puck.news/newsletter_content/thiels-g-o-p-wrist-slap-the-s-b-f-whodunnit/

Twitter is now banning all links to other social media sites including Facebook, Instagram, Mastodon, Truth Social, Tribel, Post and Nostr along with 3rd-party social media link aggregators such as linktr.ee and lnk.bio. https://help.twitter.com/en/rules-and-policies/social-platforms-policy

I have no doubt that once the investigation proceeds and is concluded, if the evidence is as we presented it, I'm convinced the Justice Department will charge former President Trump. No one — including a former president — is above the law. — Jan. 6 Committee chair Bennie Thompson (D-MS). https://www.axios.com/2022/12/19/jan-6-committee-trump-doj-thompson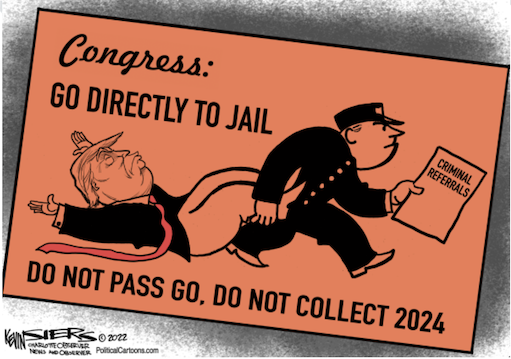 Kevin (Rep. Kevin McCarthy (R-CA)) basically is whatever you want him to be. He lies. He'll change the lie if necessary. How can anyone trust his word? — Former Rep. Bill Thomas (R-CA).
https://www.newyorker.com/magazine/2022/12/26/what-kevin-mccarthy-will-do-to-gain-power
Senate GOP: …we are obliged to inform you that if any omnibus passes in the remaining days of this Congress, we will oppose and whip opposition to any legislative priority of those senators who vote for this bill – including the… leader." — Message from 13 House GOP members.
https://twitter.com/chiproytx/status/1605031549165899776
"Zelensky is basically an ungrateful international welfare queen." — Donald Trump Jr.
https://twitter.com/DonaldJTrumpJr/status/1605576927573512192
"There are too many people who think, 'What can I say that will get me on the evening news or give me a sound bite or get me on this Twitter account,' or something else. They don't care about the country. They care about their political ambitions." — Retiring Sen. Patrick Leahy (D-VT)
https://apnews.com/article/vermont-patrick-leahy-d5c45691e05d35aeb733f54ef448d67e
"Had I known that standing up for truth would cost me my job, friendships, and even my personal security, I would, without hesitation, do it all over again. I can rest easy at night knowing that I fulfilled my oath to the office." — Rep. Adam Kinzinger (R-IL), in his farewell speech from Congress.
https://abc7chicago.com/adam-kinzinger-republicans-house-of-representatives-maga/12577139/
VIDEOS
"I don't think we should talk about him while we're eating." — Speaker Nancy Pelosi, brushing off a question about Donald Trump.
https://twitter.com/MikeSington/status/1603738713237749761
LITIGATION TRACKER
Pending Criminal and Civil Cases Against Donald Trump
.
https://www.justsecurity.org/75032/litigation-tracker-pending-criminal-and-civil-cases-against-donald-trump/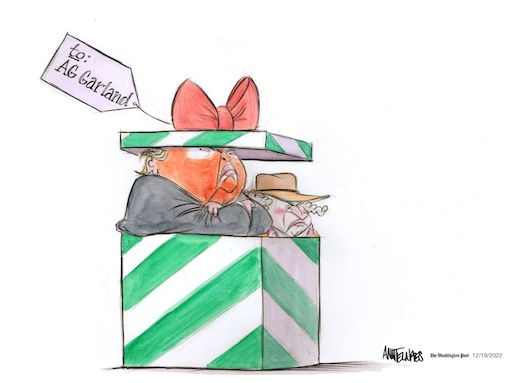 ---
IN THIS ISSUE
IN THE NEWS
OPINION
Introductory Material to the Final Report of the Select Committee. https://s3.documentcloud.org/documents/23466465/introductory-material-to-the-final-report-of-the-select-committee.pdf
Trump's tax documents released by the House Ways and Means Committee
.
https://fm.cnbc.com/applications/cnbc.com/resources/editorialfiles/2022/12/20/house_jctreport_dec22.pdf
Andy Borowitz: Elon Musk Named Most Exhausting Person of 2022
Recognizing him for his relentless contributions to the weariness of humanity, Time has named Elon Musk the Most Exhausting Person of 2022.
In bestowing the title on Musk, Time cited the Twitter C.E.O.'s nonstop but fruitless efforts to fill the yawning chasm of his soul by seeking the attention of indifferent strangers.
In order to win the Most Exhausting crown, Musk bested a formidable list of contenders, including Kanye West, Kari Lake, and Senator Joe Manchin.
Most impressive, he wrested the titled from Donald J. Trump, who had won the honor every year from 2016 to 2021.
The Time editors' decision drew no immediate response from Musk, who was preoccupied with a Twitter poll asking his followers what he should have for lunch. 
https://www.newyorker.com/humor/borowitz-report/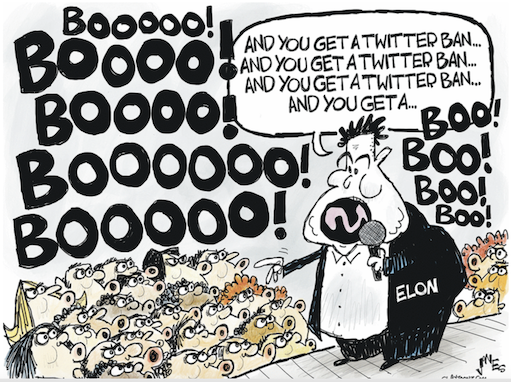 Trump reinvents 'rigged' election myth around Twitter allegations
Trump is now advancing a new theory of how the election was "stolen" from him: a supposed scheme among social media companies, the FBI and the Democrats to suppress information that might have helped Trump's campaign. The claim is fueled in part by new Twitter owner Elon Musk's decision to release internal documents about the platform's brief suppression of a 2020 news story about then-candidate Joe Biden's son amid concerns it might be the result of disinformation efforts.
https://www.washingtonpost.com/politics/2022/12/16/trump-twitter-election-rigged/
Trump, COVID slowed down immigration. Now employers can't find workers
Economists estimate that 'two years of lost immigration' is responsible for close to half of the 3.5 million workers missing from the labor force

The shortfall of immigrants is worsening widespread labor shortages and hobbling the U.S. economy at a time when more than 10 million jobs remain unfilled, particularly in low-paying and physically demanding industries such as hospitality, agriculture, construction and health care.

While the slowdown in legal immigration began well before the pandemic, the covid-19 crisis intensified the process as the Trump administration effectively halted the flow of foreign-born workers into the United States. Although immigration has rebounded somewhat since then, particularly in the last six months, major shortages remain, rippling through the economy at a time when the labor force is also missing workers from early retirements, ongoing health problems and caregiving challenges. Labor force shortages are also contributing to higher prices for some goods and services, as companies raise wages to compete for a smaller pool of workers and to keep existing staff. https://www.washingtonpost.com/business/2022/12/15/immigration-reform-congress-worker-shortage/
An Incoming GOP Rep-Elect Appears To Have Been Caught in a Web of Lies
A GOP representative-elect from New York hasn't even taken office yet, and he's already coming under scrutiny for allegedly lying… a lot.

George Santos is an incoming freshman lawmaker, set to take his seat in Congress in January. A Republican, Santos' victory in NY's 3rd Congressional District was a crucial win for the GOP in their successful bid to take control of the House in November. However, yesterday, The New York Times published a deep-dive into Santos' official biography, and a lot of things came up questionable — at best.

Santos claimed he graduated from Baruch College in 2010, but the college says it has no record of him. Santos also says he worked at Citigroup and Goldman Sachs, but those firms apparently have no record of him, either. According to his financial disclosure form, he drew a $750,000 salary from some company named the Devolder Organization, but it has no website or LinkedIn. Santos claims it's a "family firm" that managed $80 million in assets, but he didn't list any of its clients in his disclosures.

As The New York Times' report began gaining traction yesterday, it also left many pundits and progressives asking the same question: How the heck were Democrats caught this flat-footed by Santos' trail of lies in the first place?. https://nowthisnews.com/news/gop-congressman-false-biography-geore-santos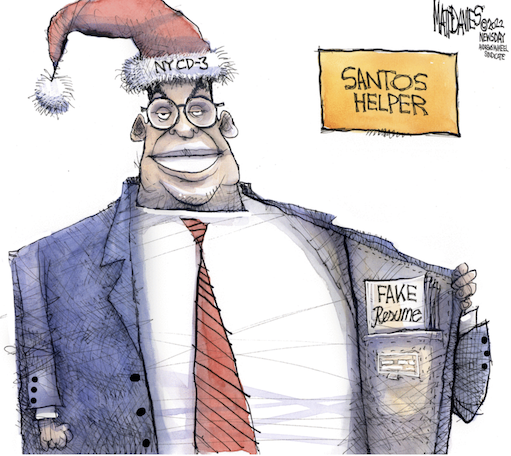 Another Russian oligarch dies in mysterious circumstances
Yet another oligarch has met a mysterious end as the death toll among the Russian elite continues to climb amid Vladimir Putin's war in Ukraine.

Dmitry Zelenov, 50, a real estate tycoon, died on December 9 in the French Riviera town of Antibes after tumbling down a flight of stairs, sustaining serious head injuries.

The circumstances around the real estate tycoon's death are remarkably similar to those of Anatoly Gerashchenko, the former head of Moscow's Aviation Institute (MAI) who died as a result of tumbling down a flight of stairs at the institute's headquarters in the Russian capital in September.

Gerashchenko's highly suspicious death came less than two weeks after Ivan Pechorin, 39, Vladimir Putin's point man for a corporation developing Russia's vast Arctic resources 'fell overboard' while sailing off the country's Pacific coast.

The corporation's former CEO, Igor Nosov, 43, also died suddenly in February, reportedly from a stroke.

On September 1, oil tycoon Ravil Maganov, the chairman of Lukoil, Russia's second largest oil company fell to his death from the sixth floor window of a Moscow hospital. Lukoil had previously voiced opposition to the war in Ukraine.https://www.dailymail.co.uk/news/article-11551217/Another-Russian-oligarch-dies-mysterious-circumstances-falling-stairs-France.html
Musk's magical media-shifting machine
Elon Musk and allies are building a new anti-left media ecosystem almost overnight. It's as if the New York Times editorial page suddenly flipped to the right. With the reins in Musk's hands, the right is gaining power in online spaces the left once dominated. https://www.axios.com/2022/12/18/musk-twitter-media-conservative-account-suspensions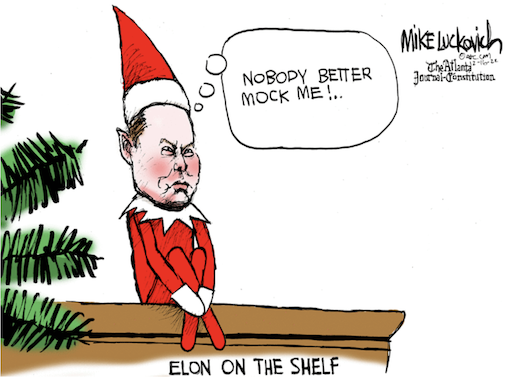 Schumer and Pelosi say Biden should run in 2024
Speaker Nancy Pelos and Senate Majority Leader Chuck Schumer both said President Joe Biden should run for a second term in 2024 after what they described as an "excellent" first two years in office. https://www.cnn.com/2022/12/15/politics/schumer-pelosi-interview/index.html
DeSantis reverses himself on coronavirus vaccines, moves to right of Trump
Early in the pandemic, Florida Gov. Ron DeSantis repeatedly praised President Donald Trump for the expedited development and rollout of a coronavirus vaccine. The governor's office pushed for $480 million in pandemic resources, including media campaigns promoting the shots, according to state budget documents. DeSantis even lauded the Biden administration for helping to expand access to vaccines.
"We're having more vaccine because of this, which is great," DeSantis said of a federal program shipping shots to pharmacies in February 2021.
But this past week, DeSantis threw himself into misleadingly disparaging the vaccines, convening skeptics to buck guidance from the Centers for Disease Control and Prevention and seeking to investigate vaccine makers for fraud.
https://www.washingtonpost.com/politics/2022/12/17/desantis-vaccine-reversal/
McCarthy's ongoing speaker battle paralyzes House
Kevin McCarthy's imperiled speakership bid is threatening to incapacitate Republicans during a crucial planning period, virtually guaranteeing a sluggish start for the new House majority," Politico reports.

The GOP leader on Thursday took the unusual step of punting conferencewide races for committee leadership slots until after his speaker election on Jan. 3, a maneuver that could help insulate him from disgruntled members who fall short in those contests and their allies."

But that delay will also mean days, if not weeks, of uncertainty for GOP committees as they begin their stint in the majority. Some of the most important panels, including those charged with tax-writing and border security, won't be able to prepare bills, tee up hearings, or even hire staff. While some House committees already have uncontested leaders in place, those chairs won't be able to choose their member lineup or potentially pay staff. The GOP's subpoena power, too, will be frozen. https://www.politico.com/news/2022/12/15/mccarthys-ongoing-speaker-battle-paralyzes-house-00074148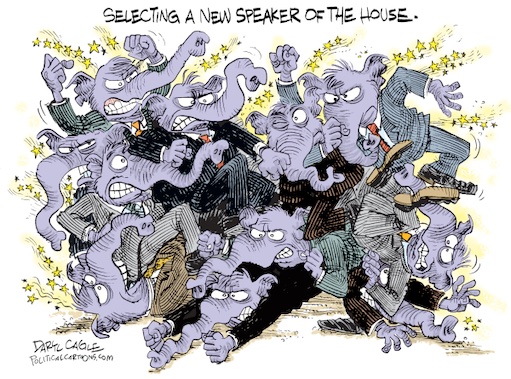 In Congress, Republicans confront divisions posing long-term threats
Congressional Republicans confronted sharp internal divisions Wednesday, with clashes over government spending and party leadership underscoring looming challenges in the GOP as it prepares to take control of the House in January.

House Republicans met Wednesday to discuss party rules that will govern their narrow majority next year, including a push by staunch conservatives dangling demands over Minority Leader Kevin McCarthy (Calif.) in exchange for votes to support his bid to become the next speaker. The tensions threaten to delay the start of basic House functions, such as proposing legislation and jump-starting investigations into the Biden administration.

"It's a volatile situation," Rep. Stephanie I. Bice (R-Okla.) said of the conversation about House rules. "And I think that the majority of the conference doesn't feel like that's in the best interest of the body as a whole." https://www.washingtonpost.com/politics/2022/12/14/republican-divisions-congress/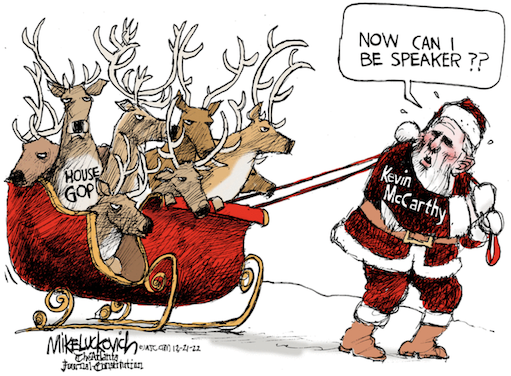 DeSantis builds his conservative resume as Trump flounders
In the last two days, Ron DeSantis sought a grand jury to investigate Covid-19 vaccines, questioned a new federal law protecting same-sex marriages and won a legislative victory that will hit the pocket books of lawyers.

And there will be more steps by DeSantis to lure conservatives to his side in the coming weeks and months ahead. There are already rumblings that state lawmakers will hold special legislative sessions between now and March to tackle issues such as guns and abortion.  https://www.politico.com/news/2022/12/15/desantis-trump-gop-same-sex-marriage-covid-00074027
Biden Advisers Craft Re-Election Plans as President Weighs Final Decision
President Biden's advisers are moving forward with planning for the president's likely 2024 re-election campaign, with discussions focused less on whether Mr. Biden will seek a second term and more on how a campaign would operate alongside the White House next year.

Mr. Biden's team has begun to hold preliminary discussions about the structure of the campaign and who could fill key roles, though there is no timeline for hiring, as well as where headquarters would be located. Possibilities include Philadelphia, where the 2020 campaign was based before the Covid-19 pandemic, and the president's hometown of Wilmington, Del., people close to the discussions said.  https://www.wsj.com/articles/biden-advisers-craft-re-election-plans-as-president-weighs-final-decision-11671248594
White House Begins Plan to Refill US Emergency Oil Reserves
The Biden administration is making good on a plan to replenish the nation's emergency oil reserves, starting with a 3 million barrel purchase of crude. … In addition, the DOE is planning a roughly 2 million barrel crude oil exchange to meet emergency supply needs caused by the shutdown of TC Energy Corp.'s Keystone pipeline. https://www.bloomberg.com/news/articles/2022-12-16/us-energy-department-to-buy-oil-to-replenish-emergency-reserve
Jan. 6 Defendant Charged With Plotting to Kill Agents Who Investigated Him
A Tennessee man already facing charges of assaulting a police officer during the storming of the Capitol last year was charged on Friday with plotting to assassinate several of the federal agents who had investigated him and to attack the F.B.I.'s field office in Knoxville, Tenn.
https://www.nytimes.com/2022/12/16/us/politics/jan-6-defendant-assassination-plot.html
What Trump promised, Biden seeks to deliver in his own way
Donald Trump pledged to fix U.S. infrastructure as president. He vowed to take on China and bulk up American manufacturing. He said he would reduce the budget deficit and make the wealthy pay their fair share of taxes.

Now, after two years as president, it's Joe Biden who is acting on those promises. He jokes that he's created an 'infrastructure decade' after Trump merely managed a near parody of 'infrastructure weeks." https://apnews.com/article/inflation-biden-politics-economy-business-e3f4d51b28d1c2ceab4766147406cf4c
Trump Hoarded Most Of The $147 Million In Small-Donor Money He Raised For Himself
Just weeks after touting a new super PAC to help Republican candidates in the November midterms, Donald Trump wound up spending just a fraction of the $100 million he had available ― and hoarded the rest for his own 2024 presidential run.

Interestingly, "not a dime spent helping Herschel Walker in Georgia for his Dec. 6 runoff." https://www.huffpost.com/entry/trump-campaign-hoarder_n_639a3c77e4b015bb57421383
Biden allies plot 2024 strategy focused on Trump, even if he fades away
Joe Biden beat Donald Trump once, and Democrats are crafting a strategy to try to beat him again in 2024 — even if his name isn't on the ballot,.

Anticipating that Trump may fade, Biden allies hope to persuade voters that the choice is the same and that any Republican successor would have to embrace enough of his policies to be a virtual clone of Trump himself.

Key to that approach is spotlighting Trump's policies and worldview and forcing other GOP candidates to take positions on whether they agree with Trump or not. https://www.nbcnews.com/politics/2024-election/biden-allies-plot-2024-strategy-focused-trump-even-fades-away-rcna61069
Poll: What Makes a Good Republican?
One third of Republican voters maintain that you have to deny the legitimacy of President Joe Biden's election in order to be considered a good Republican. https://www.monmouth.edu/polling-institute/reports/monmouthpoll_us_121622/
Woman Denied Abortion Even Though She's Miscarrying
An Idaho woman who is miscarrying — but has been denied an abortion because of state law — has been documenting herself getting sicker.

It's very distressing to watch.VIDEO. https://twitter.com/JessicaValenti/status/1603805360514637824
Democratic lawmakers are looking for the exits in case Twitter implodes
Elon Musk's daily Twitter wars have Democratic lawmakers looking for backup social media options in case the situation worsens. "It's definitely time to prepare for life after Twitter,"  Rep. Jared Huffman, D-Calif. said.

The Congressman said he is testing out Post, a new VC-backed Twitter rival still getting off the ground, while his wife is trying out Mastodon, an open-source platform that Musk is currently blocking links to on Twitter. https://www.semafor.com/article/12/16/2022/democratic-lawmakers-are-looking-for-the-exits-in-case-twitter-implodes
Government funding bill gives DOJ extra money for Jan. 6 prosecutions
The $1.7 trillion government funding bill released Tuesday includes extra money for the Justice Department to prosecute Jan. 6 cases. https://www.nbcnews.com/politics/justice-department/government-funding-bill-gives-justice-dept-extra-money-jan-6-prosecuti-rcna62557
McCarthy Backs Up Threat to GOP Senators
House GOP Leader Kevin McCarthy (R-CA) — who is still trying to shore up conservative backing for his speaker bid — gave his full support to the 13 House Republicans who said they will oppose and whip opposition to any legislative priority of those senators who vote for this bill – including the… leader.
Said McCarthy: "Agreed. Except no need to whip — when I'm Speaker, their bills will be dead on arrival in the House if this nearly $2T monstrosity is allowed to move forward over our objections and the will of the American people."
https://twitter.com/GOPLeader/status/1605233323814621188
Billionaire Oleg Deripaska's Sochi hotel complex seized after Russian court order
A Russian court has ordered the seizure of a luxury hotel complex owned by billionaire Oleg Deripaska, one of the few oligarchs to have criticized President Vladimir Putin's war in Ukraine, in a sign of the pressure facing the country's tycoons since the invasion.
Deripaska has been under US sanctions since 2018 over his links to the Kremlin. But the metals tycoon is the most prominent of the small number of Russian business leaders who have spoken out since Moscow's full-scale invasion of Ukraine in February.
https://www.ft.com/content/32052a11-89f3-4642-8dd4-11433a32f8a2
THE DAILY GRILL
"Katie Porter just said that pedophilia isn't a crime, she said it's an 'identity.' THIS IS THE EMBODIMENT OF EVIL! The sad thing is that this woman isn't the only VILE person pushing for pedophilia normalization. This is what progressives believe!" — Rep. Ronny Jackson, R-Texas
https://twitter.com/RonnyJacksonTX/status/1603451758352777220
VERSUS
Facts First: Jackson's claim is false. Porter did not say that pedophilia isn't a crime. Full video from a congressional hearing on Wednesday shows that Porter actually said that LGBTQ people are being falsely smeared on social media as being a "groomer" or "pedophile" merely because of their gender identity and sexual orientation. She did not defend pedophilia itself. In other words, Porter is being baselessly described as a supporter of pedophilia over comments in which she was denouncing how other people are being baselessly described as pedophiles. —  Daniel Dale
https://www.cnn.com/2022/12/15/politics/fact-check-ronny-jackson-katie-porter-groomers-and-pedophilia/
"I've been asked to explain MTG's belief in Jewish space lasers, why she showed up to a white supremacist's conference, and now why she's blindly following Kevin McCarthy and I'm not going to go there." — Rep. Lauren Boebert (R-CO) telling the Daily Caller that she is tired of being lumped together with Greene.
https://dailycaller.com/2022/12/19/exclusive-rep-boebert-refuses-explain-marjorie-taylor-greene-blind-support-mccarthy/
VERSUS
"She gladly takes our $$$, but when she's been asked: Lauren refuses to endorse President Trump, she refuses to support Kevin McCarthy, and she childishly threw me under the bus for a cheap sound bite." — Rep. Marjorie Taylor Greene (R-GA) slamming Rep. Lauren Boebert after the latter made fun of Greene.
https://twitter.com/RepMTG/status/1604987464942174208
David Frum: Justice Is Coming for Donald Trump
On January 6, Trump welcomed political violence on his behalf—and got what he wanted. He has not repented or reformed in the two years since. But the very threat makes it all the more necessary to proceed with the January 6 Committee's criminal referrals. If Trump does not face legal consequences for the events of that day, he and his supporters have reason to believe that Trump somehow frightened the U.S. legal system into backing down from otherwise amply justified action.
Trump has already announced a run for president in 2024. Whatever happens with that run, his likeliest Republican rivals are studying his methods, considering which to emulate and which to discard. The incitement of violence by the head of the government is not an infraction that can be dismissed and forgiven by any political system that hopes to stay constitutional.
For six years, the job of upholding the rule of law against Donald Trump has been passed from one unwilling set of hands to the next. Now the job has returned to where it started. There is nobody else to pass it to. The recommendation has arrived. The time for justice has come.
https://www.theatlantic.com/ideas/archive/2022/12/january-6-committee-criminal-referral-donald-trump/672514/
Nicholas Kristof: Are We in the West Weaker Than Ukrainians?
Polls find American support for aid to Ukraine still robust but slipping, especially among Republicans. And almost half of Americans want the United States to push Ukraine "to settle for peace as soon as possible," even if it loses territory — a finding that must gladden Vladimir Putin's heart.

The fundamental misconception among many congressional Republicans (and some progressives on the left) is that we're doing Ukraine a favor by sending it weapons. Not so. We are holding Ukraine's coat as it is sacrificing lives and infrastructure in ways that benefit us, by degrading Russia's military threat to NATO and Western Europe — and thus to us.

"They're doing us a favor; they're fighting our fight," Wesley Clark, the retired American general and former supreme allied commander of NATO forces in Europe, told me. "The fight in Ukraine is a fight about the future of the international community."

If the war ends in a way favorable to Russia, he argues, it will be a world less safe for Americans. One lesson the world would absorb would be the paramount importance of possessing nuclear weapons, for Ukraine was invaded after it gave up its nuclear arsenal in the 1990s — and Russia's nuclear warheads today prevent a stronger Western military response.

For years, military strategists have feared a Russian incursion into Estonia that would challenge NATO and cost lives of American troops. Ukrainians are weakening Russia's forces so as to reduce that risk.

Let's not let Russia beat the Ukrainian out of us: The world could use a spinal transplant from brave Ukrainians. https://www.nytimes.com/2022/12/14/opinion/ukraine-putin-russia.html
John Podhoretz: GOPocalypse Now?
The defeat of the Republican senatorial candidate Herschel Walker in a December runoff election in Georgia closes the circle on the most decisive rejection of the influence of any individual politician in our lifetimes. That politician is not Herschel Walker but Donald Trump. The question that now faces the Republican Party is whether its toxic romance with Trump will poison the well for the GOP for a generation or whether it can, as they say in the literature of addiction and recovery, break the cycle of abuse and begin to heal.
What happened in Georgia from Election Night in November 2020 until the runoff Walker lost in December 2022 was the perfect distillation of what happened across the country during the same period inside the party Trump has commandeered for his own personal use. Once the election results on November 8, 2020, showed Trump had lost to Joe Biden in Georgia by 12,000 votes, he began to create a narrative according to which the state's electors had been stolen from him by Democratic chicanery through illicit early and mail-in ballots.
That narrative had the effect of convincing gullible Republican voters choked by disappointment and still sick with love for Trump that there was no way the January 2021 runoff to decide the state's two Senate races could possibly be fair. As a result, nearly 500,000 voters who had come out for the general election in November stayed home when the runoff came around. An Atlanta Journal-Constitution study found that "the most precipitous declines occurred among Republican voters." The falloff was steepest in places, like Valdosta County, where Trump had held rallies nominally in support of the Republican Senate candidates, in which he spent his time railing against the supposedly monstrous injustice that had been done him.
https://www.commentary.org/articles/john-podhoretz/gop-trump-apocalypse/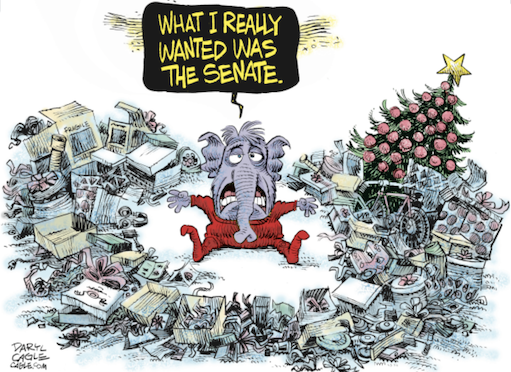 Noah Berlatsky: Elon Musk's reactionary populism
Musk, one of the richest people on earth, frames himself as a brave voice of the people fighting against entrenched elites. It's easy to call him an out-of-touch hypocrite — and everyone should call him that! — but the populist cosplay of the very rich isn't just a deception. It's the implementation of an ugly, more or less explicitly fascist, ideology. Musk thinks he's "of the people" because he sees his own power as deserved. For him and his ilk the real elites are the undeserving who dare to criticize the rightful hierarchy — or who simply dare to exist.

Thus Musk this week (not for the first time) framed trans people as dangerous oppressors. After making a snide (and tired) joke about pronouns, astronaut Scott Kelly politely asked him not to be a jerk. At that point, Musk doubled down.

"Forcing your pronouns upon others when they didn't ask, and implicitly ostracizing those who don't, is neither good nor kind to anyone," he wrote.

In Musk's populist fascist mirror-dimension, trans people — a tiny minority that are being targeted nationwide by viciously bigoted legislation — are a tyrannical cabal who have the power to ostracize and immiserate. Musk is cis, and assumes people will use his pronouns as a matter of course. He doesn't see that as "forcing" people to use his correct pronouns, because the entire dead weight of tradition and cis expectation is on his side. It's only when someone asks for a slight adjustment from the cis world that it's oppression. The problem is not wealthy people exploiting workers. It's trans people asking to have their existence nominally recognized. https://aaronrupar.substack.com/p/elon-musk-chappelle-booed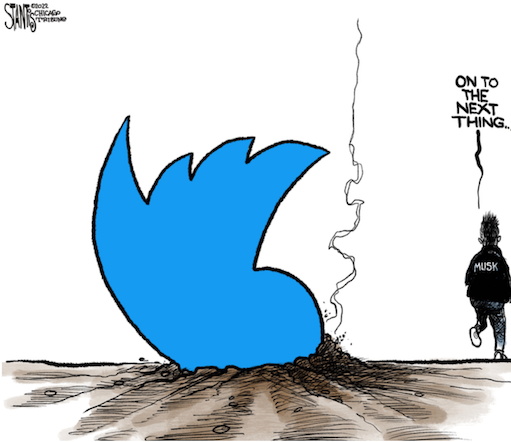 Bess Levin: Donald Trump's "Major Announcement": Urging Followers To Spend $99 On Badly Photoshopped NFTs Of His Face
Earlier this week, Donald Trump took to Truth Social tease the news that he would be making a "MAJOR ANNOUNCEMENT" on Thursday. Given that he already announced last month that he will be running for president for a third time, it was difficult to imagine what this new all-caps reveal could possibly be about. Would he be letting people know that after giving it a lot of time and thought, he'd come to the realization that his time in office was net negative on humanity, and that he would be both suspending his campaign and retreating to an out-of-the-spotlight life in the country? That he was ready to take responsibility for January 6 and whatever legal repercussions that come with doing so? That he'd been quietly volunteering at a local soup kitchen since leaving the White House and it had really opened his eyes to how the other half lives, and also taught him that small acts of kindness can have big impacts? It will undoubtedly shock you to hear that the answer was "none of the above."

Instead, the ex-president and world-renowned grifter used Thursday to unveil…a set of NFTs featuring his face not at all convincingly photoshopped onto other people's bodies. Each digital trading card goes for $99 and, as politics reporter Will Sommer put it, the non-fungible tokens for sale "are ugly even by the usual NFT standards." One of them depicts him as an astronaut. Another, as a sheriff. In perhaps the most cringeworthy one, he is ripping his shirt off, Superman-style, to reveal a six-pack. Included with every purchase is the chance to win a variety of prizes, from dinner with Trump to a personal Zoom call to an hour of golf. (For extra authenticity, we assume he will cheat.) Buy 45 of these "digital trading cards" and you're "guaranteed a ticket to a dinner with the president," where he'll no doubt serve his guests only the finest food money can buy.

The Trump NFT infomercial is beyond parody. Jesus Christ on a Popsicle stick levels of beyond parody. According to the Daily Beast, while some people in Trumpworld appear to understand how embarrassing all of this is, others insist this is the coolest thing a politician has ever done. One source—and we're not definitively saying this was Don Jr. but it sure sounds like something he would say!—called the cards "badass." https://www.vanityfair.com/news/2022/12/donald-trump-major-announcement-nft-digital-trading-cards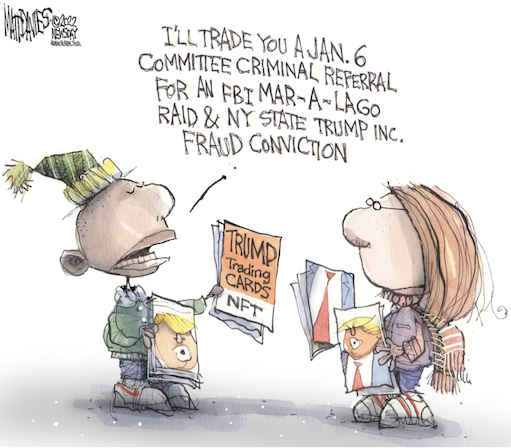 Jessica Taylor: The 2024 Dilemma for Sinema and Democrats
Sinema's change in alignment comes just as the 2024 Senate map — already brutal for Democrats — is coming into focus. She was already going to face a bruising primary where she was the underdog to win re-nomination, given how many times she's infuriated her now-former caucus and the more liberal wing of the party, many of whom helped her in 2018 turn Arizona's Senate seat blue for the first time in more than 40 years.
However, her odds for re-election were already bleak, with Rep. Ruben Gallego vocally exploring a primary challenge where he would have been the favorite over the incumbent. And now the prospect of running as an independent gives her an equally hard path to victory. Polls have shown her underwater across party identification. https://www.cookpolitical.com/analysis/senate/arizona-senate/2024-dilemma-sinema-and-democrats.
https://www.cookpolitical.com/analysis/senate/arizona-senate/2024-dilemma-sinema-and-democrats
Caleb Ecarma: Elon Musk, Apparently Obsessed With Idea He Could Be Assassinated, Censors Press On Twitter
Throughout Elon Musk's whirlwind Twitter ordeal, he has alluded to an apparent paranoia that he could be killed at any moment. In May, shortly after first agreeing to buy the company, he tweeted, "If I die under mysterious circumstances, it's been nice knowin ya." He doubled down on that suggestion this month, saying there was a "significant" chance he'd be an assassination target and that he might die in a foul play "suicide" conspiracy.

On Thursday night, this seeming fixation with an untimely demise become his chief justification for banning the Twitter accounts of several high-profile mainstream journalists, including CNN's Donie O'Sullivan, The New York Times' Ryan Mac, and The Washington Post's Drew Harwell. Musk accused the tech reporters of sharing "my exact real-time location, basically assassination coordinates." Keith Olbermann, Mashable's Matt Binder, The Intercept's Micah Lee, Voice of America's Steve Herman, and Aaron Rupar were among the other prominent pundits, reporters, and popular Twitter users suspended last night.

While it was obviously naive to believe that Musk would rule Twitter as the "free speech absolutist" he promised to be, the suspensions nonetheless came as a surprise to many, marking a massive change in the platform's treatment of journalists who critically cover its owner. https://www.vanityfair.com/news/2022/12/elon-musk-assassinated-censors-twitter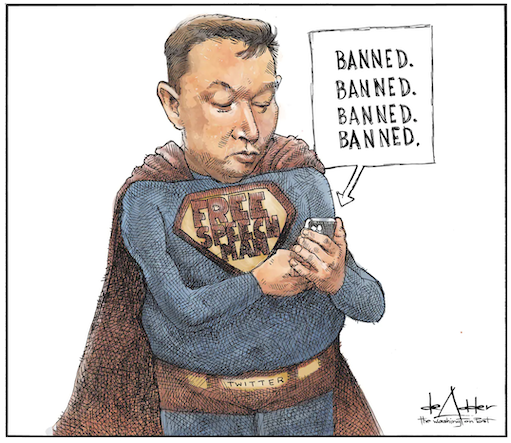 Wall Street Journal Editorial: Republican Party Masochists in Congress
If a Martian arrived in Washington this week not knowing who had won the November election, he'd be forgiven for thinking it was the Democrats. Usually the losers are in disarray, but not this time.

Democrats in the House minority have completed a seamless change of House leadership to a younger generation with little internal dissent. But Republicans, who ostensibly won the majority, can't even find the votes to elect a GOP Speaker, much less agree on budget strategy or much of anything else.

The GOP dysfunction since Election Day won't matter if it teaches Republicans that their only chance of influencing policy is to stay united. On the evidence so far, however, Republicans are the gang that couldn't shoot straight—except at one another. https://www.wsj.com/articles/republican-party-masochism-gop-house-kevin-mccarthy-andy-biggs-democrats-senate-nancy-pelosi-11671228536
Cynthia Miller-Idriss: Elon Musk's Twitter is a welcoming home for Trump-disillusioned QAnon
It's not clear whether Musk believes what he posts or if he just feeds on the attention controversy brings. He suspended several journalists from Twitter this week with no warning and little explanation, and has tweeted warnings about apocalyptic or population collapse, called for Fauci's prosecution and mocked gender-diverse pronoun usage.

Musk's follow the white rabbit tweet has breathed fresh life into a QAnon movement looking for a new messiah in a post-Trump moment.

"Follow the white rabbit" is an allusion used by QAnon members to both "Alice in Wonderland" and "The Matrix," and evokes a fantasy awakening to a world that lies beyond our own. It is a phrase regularly used by QAnon followers and "Q," their mysterious leader. In the context of Twitter's reinstatement of previously-banned QAnon accounts, Musk's white rabbit tweet has breathed fresh life into a QAnon movement looking for a new messiah in a post-Trump moment. https://www.msnbc.com/opinion/msnbc-opinion/elon-musk-replacing-trump-qanon-celebrity-du-jour-twitter-rcna61802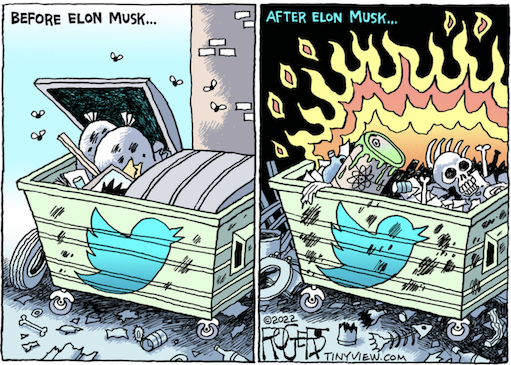 NY Times: The Inside Story of a Catastrophe
How could one of the world's most powerful militaries, led by a celebrated tactician like Mr. Putin, have faltered so badly against its much smaller, weaker rival? To piece together the answer, we drew from hundreds of Russian government emails, documents, invasion plans, military ledgers and propaganda directives. We listened to Russian phone calls from the battlefield and spoke with dozens of soldiers, senior officials and Putin confidants who have known him for decades.

The Times investigation found a stunning cascade of mistakes that started with Mr. Putin — profoundly isolated in the pandemic, obsessed with his legacy, convinced of his own brilliance — and continued long after drafted soldiers like Mikhail were sent to the slaughter. https://www.nytimes.com/interactive/2022/12/16/world/europe/russia-putin-war-failures-ukraine.html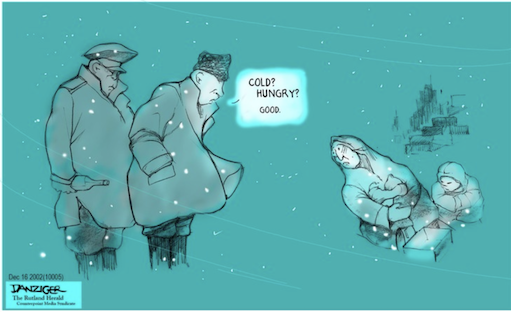 Jonathan Last: Bring Trump to Justice
Options for the Justice Department to act on the January 6 Committee referrals against Donald Trump:
● The government chooses not to prosecute: which incentivizes future attempts to overturn elections and legitimizes the stoking of political violence.
● The government prosecutes and loses: which both legitimizes the stoking of political violence and antagonizes the passions of more than a third of the country.
● The government prosecutes and wins: which creates open season for using the government to pursue political enemies, throws the 2024 Republican primary into disarray, and turns Trump into a martyr for his movement.
Conclusion: There is no happy ending here, no scenario in which a rough comity returns to our political life. In every path, the danger to democracy increases.
https://thetriad.thebulwark.com/p/bring-trump-to-justice