July 1, 2021
ON THE RECORD. . .
We conclude that there is uncontroverted evidence that responden (Rudy Giuliani) communicated demonstrably false and misleading statements to courts, lawmakers and the public at large in his capacity as lawyer for former President Donald J. Trump and the Trump campaign in connection with Trump's failed effort at reelection in 2020. These false statements were made to improperly bolster respondent's narrative that due to widespread voter fraud, victory in the 2020 United States presidential election was stolen from his client. We conclude that respondent's conduct immediately threatens the public interest and warrants interim suspension from the practice of law. — From the Attorney Grievance Committee's 33 page disciplinary proceedings instituted by the Attorney Grievance Committee for the First Judicial Department

"Shut the fuck up, Stephen." — Joint Chiefs Chairman Gen. Mark Milley, to Stephen Miller at a White House meeting on Black Lives Matter protests and civil unrest.

"I don't know what planet they were on." — Federal judge Royce Lamberth saying that the January insurrection at the Capitol was a "disgrace," forcefully rebuked the "utter nonsense" coming from some Republican lawmakers who are whitewashing what happened, 

There's a real fascist vibe to this One America News personality calming calling for the execution of potentially tens of thousands of Americans over fake voter fraud claims. I came across the clip because QAnon people are see it as proof that the mass executions are right around the corner. Lots of glee in the Q chat rooms, demands for how exactly their imagined executions will be carried out and complaints they had to wait too long.— Will Sommer

"What's been called 'the big lie' suddenly gains momentum, which in turn has fueled moves by Republican-controlled legislatures to reduce access to and gain more control over voting operations. Here's the bottom line. If we don't stop these kinds of efforts now, what we are going to see is more and more contested elections ... We are going to see a further de-legitimizing of our democracy as well as a breakdown of the basic agreement that has held this magnificent democratic experiment together all these years."— Barack Obama on how Trump has undermined American democracy.

"It's entertaining, but it's not real. And I know people want to say, yeah, they believe in the 'Big Lie' in some cases, but I think people recognize that it's a lot of show, and bombast. But it's going nowhere." — Sen. Mitt Romney (R-UT) on Donald Trump's ongoing lying that he won the 2020 election is "like WWF," comparing the former president's return to rally events with the lurid theatrics of staged wrestling entertainment.

"I consider him a traitor to this country. I consider him a traitor to his family. He doesn't see it. He's disgraced and dishonored himself." — Dave Gosar, one of the Rep. Paul Gosar's (R-AZ) 9 siblings, saying he should be removed from Congress for backing former President Trump's false claims of a stolen election and widespread voter fraud.

"It was a rally of a loser president. I mean, he's the first president to lose reelection in decades. I don't know why these people would go there and in essence ogle at and in many cases just sort of worship a loser." — Rep. Adam Kinzinger (R-IL), characterizing Trump's rally in Ohio over the weekend.

While McConnell and his GOP colleagues wring their hands over the national debt, they carefully gloss over the fact that during the Trump years, the national debt rose by about $6.8 trillion, or more than 48%. (The figures are for debt held by the public, leaving out intragovernmental borrowing.) —Michael Hiltzik
VIDEOS
Day of Rage: An In-Depth Look at How a Mob Stormed the Capitol: A six-month Times investigation has synchronized and mapped out thousands of videos and police radio communications from the Jan. 6 Capitol riot, providing the most complete picture to date of what happened — and why.
https://www.nytimes.com/video/us/politics/100000007606996/capitol-riot-trump-supporters.html

"How do we save this country before we become Rwanda?" — Tucker Carlson, in a diatribe on Fox News, with a graphic proclaiming "Anti-White Mania."

"He pretends white rage doesn't exist. He IS white rage. Don't sell yourself short, pal." — Brianna Keilar on Tucker Carlson, who said of Joint Chiefs Chairman Gen. Mark Milley, "He's not just a pig. He's stupid." -- VIDE0
Just Security is continuing to track every pending criminal and civil case against Donald Trump.
---
IN THIS ISSUE
IN THE NEWS
OPINION
Andy Borowitz: Americans Shocked to Learn That Giuliani Had Law License
After the state of New York banned Rudy Giuliani from practicing law, Americans expressed utter shock and disbelief that he had a law license.

"I did not know that he was an actual lawyer," Carol Foyler, who lives in Bridgeport, Connecticut, said. "I just thought he was some skeezy guy Trump met at a wedding or something."

"The fact that Rudy Giuliani had a law license shows that the system for granting law licenses is broken," Harland Dorrinson, a resident of Toledo, Ohio, said. "There need to be background checks to prevent this sort of thing from happening in the future."

Tracy Klugian, a spokesman for the New York State Supreme Court's appellate division, said that their offices have been deluged with requests for law licenses ever since the Giuliani news broke. "People now think we'll give a law license to anyone," he said. https://www.newyorker.com/humor/borowitz-report/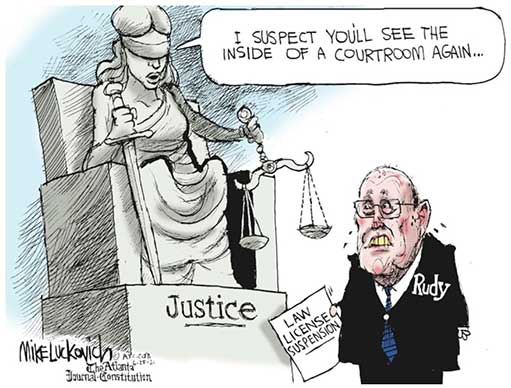 Conservatives as likely as conspiracy adherents to blame voter fraud for Biden victory.
In the survey, more than 3 in 5 right-leaning adults said they agreed that Joe Biden won the election due to widespread voter fraud, roughly on par with the share of QAnon and Protocols believers who said the same. https://morningconsult.com/2021/06/28/qanon-antisemitism-right-wing-authoritarianism-polling/
Majorities Associate the Capitol Riot with the Republican Party, Though Republicans Are More Split
A new Navigator Research survey showed respondents a picture of rioters at the Capitol and asked them which party they associated the image with.
The results were striking: 61% said the Republicans, and 20% said the Democrats.
However, among Fox News watchers, 33% said the Republicans, and 37% said the Democrats. https://navigatorresearch.org/divisions-in-america-by-news-consumption/
Historians Rank Trump as One of the Worst Presidents
A new C-SPAN Historians survey of U.S. presidents finds Donald Trump enters the ranks for the first time in the #41 position out of 44 presidents.
The historians ranked him dead last for "Moral Authority" and "Administrative Skills." https://www.c-span.org/presidentsurvey2021/
How Trump Ally Michael Flynn Nurtured — and Profited From — the QAnon Conspiracy Theory
The scope and timing of Flynn's engagement with the QAnon phenomenon — and the role he and key allies played in promoting false claims about election fraud — are coming into sharper view as Flynn's stature and influence in the QAnon universe continues to grow. Flynn's pledge on July 4, 2020, reignited long-running speculation about his role in an online influence campaign that law enforcement officials have linked to violent incidents, including the murder of a leading member of the Gambino crime family in New York and the January 6 assault on the Capitol. Over Memorial Day weekend, Flynn headlined a Q-themed conference in Dallas where he apparently endorsed a Myanmar-style military coup aimed at reinstating Trump as president. 
In November 2016, less than a week after Trump had been elected president, Flynn spoke at an event hosted by the Young America's Foundation.
Flynn buoyant and glowing with the excitement of the moment, Flynn declared that the sheer force of a digital "insurgency" had helped Trump win the presidency. The online campaign that Flynn had helped Trump wage was nothing short of a total break with the politics of the past, he said. "This was not an election," Flynn told the audience of young conservatives, "this was a revolution." Trump, Flynn declared, had been elected by an "army of digital soldiers."
That moment would cement Flynn's pivotal role in QAnon mythology. The video of his November 2016 speech and his role in defending Trump after his departure from the White House have since been referenced in countless QAnon posts, transforming him into the victim-hero of a fantastical, conspiratorial plot to save America from child traffickers, liberals, and the "deep state." https://theintercept.com/2021/06/27/qanon-michael-flynn-digital-soldiers/
Trump's revenge tour begins with eyes on one Ohio Republican
Former President Donald Trump kicked off his revenge tour against Republicans who defied him in the aftermath of the 2020 election on Saturday, using a sizable event here in Lorain County to lambast Ohio Rep. Anthony Gonzalez for voting to impeach him earlier this year.
The effort to oust the Republicans who crossed him will be one of the biggest tests of Trump's post-presidential power, assessing whether he still has the sway with base Republican voters that he enjoyed during his four years in the White House.
And on Saturday in Ohio, Trump looked to remind voters of Gonzalez's impeachment vote, and boost Max Miller, a former Trump aide who is challenging the congressman in the district's Republican primary next year.
"Max's opponent is a guy named Anthony Gonzalez, who's bad news. He's a grandstanding RINO, not respected in DC, who voted for the unhinged, unconstitutional illegal impeachment witch hunt," Trump said, mocking Gonzalez for, as he claimed, regularly calling the White House to fly on Air Force One when Trump would come to Ohio. "He's a sellout, he's a fake Republican, and a disgrace to your state, I will tell you that." https://www.cnn.com/2021/06/26/politics/trump-rally-anthony-gonzalez/index.html
Ex-NRA President Duped by Parkland Parents
Two time NRA President David Keene was duped by Parkland parents into giving a fake graduation speech to 3,044 empty chairs, representing the number of students who should have graduated this year but didn't because they were killed by guns.
Keene thought this was the rehearsal, but a quick Google search would have told him the high school doesn't even exist. https://www.youtube.com/watch?v=e-ZZ1REoqsU
Justice Dept. sues state of Georgia over new voting restrictions
Justice Department officials announced a federal lawsuit Friday against Georgia over new statewide voting restrictions that federal authorities allege purposefully discriminate against Black Americans, the first major action by the Biden administration to confront what it describes as efforts by Republican-led jurisdictions to limit election turnout.
The legal challenge takes aim at Georgia's Election Integrity Act, which was passed in March by the state legislature and signed into law by Gov. Brian Kemp (R). The law imposes new limits on the use of absentee ballots, makes it a crime for outside groups to provide food and water to voters waiting at polling stations, and hands greater control over election administration to the legislature.
The 46-page federal court filing came as numerous GOP-majority state governments have been seeking to impose new voting restrictions in the wake of President Biden's victory over Donald Trump last November. Trump has spent months waging a baseless effort to discredit the result, making false and unsubstantiated allegations of widespread voter fraud. https://www.washingtonpost.com/national-security/georgia-voting-law-justice-department-lawsuit/2021/06/25/8bc3cd08-d5bd-11eb-a53a-3b5450fdca7a_story.html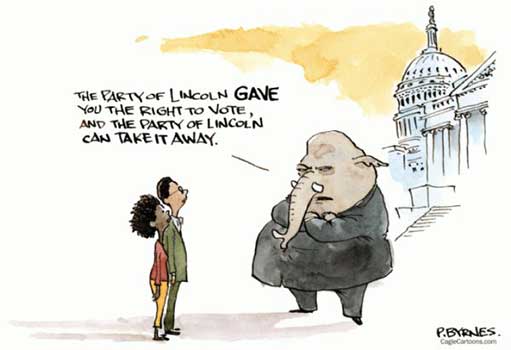 California's yoga, wellness and spirituality community has a QAnon problem
A world that has long embraced love, light and acceptance is now making room for something else: QAnon.
More commonly associated with right-wing groups, the conspiracy theory is spreading through yoga, meditation and other wellness circles. Friends and colleagues have watched with alarm as Instagram influencers and their New Age peers — yogis, energy healers, sound bathers, crystal practitioners, psychics, quantum magicians — embraced QAnon's conspiratorial worldview and sprayed it across social media.
The health, wellness and spirituality world has always been primed for that worldview, followers say. Though largely filled with well-meaning people seeking spiritual or physical comfort, the $1.5-trillion industry can also be a hotbed for conspiracies, magical thinking, dietary supplements with dubious scientific claims and distrust of institutional healthcare, including vaccines. https://www.latimes.com/california/story/2021-06-23/covid-adds-to-california-yoga-wellness-qanon-problem
Video Shows GOP Rep. Comparing Democrats to Nazis: 'They Want to Destroy the Country'
Pennsylvania Republican Rep. Scott Perry recently gave an extended tirade that argued Democrats are disloyal, unpatriotic, dangerous traitors to America—and twice invoked Nazis to make his point.
Perry, a member of the hard-right House Freedom Caucus, used the entirety of his 20-minute speech to argue that modern Democrats want to destroy America and don't share the same fundamental principles and values of real "patriots." 
The congressman argued that differentiating between Democrats was like discerning between Germans during the Nazi reign—that it was fair to lump all Democrats together as extremists because even those who don't support those views don't stand up to their members who do.
The Nazi comparisons weren't the only eyebrow-raisers in Perry's tirade, as he accused the media of lying about COVID-19 and mask-wearing, called the 2020 election a "debacle" while insinuating it was rigged, and cast the stakes of the fight against Democrats in near-apocalyptic terms.
"Ladies and gentlemen, there's a plan," he said ominously after accusing Democrats of trying to intentionally destroy America's economy by causing runaway inflation and oil scarcity. "They'll tell you they're patriots. But the patriots like the patriots in this room must acknowledge that things are different now. They want to destroy the country that you grew up in. They want to destroy the country that the founders made. That is their plan. That is their goal. That's why they're doing these things." https://www.vice.com/en/article/y3dn3m/gop-rep-compares-democrats-to-nazis-says-they-want-to-destroy-the-country
Dr. Anthony Fauci, the right's new favorite online punching bag
In the past three weeks, Anthony Fauci has been the target of an intense online campaign by far-right media personalities, obscure Facebook pages, Republican politicians, and the national Republican party committees. Donald Trump himself is specifically committed to attacking Fauci as well, Axios reported earlier this month. 
According to Crowdtangle, every single one of the top 25 posts on Facebook mentioning "Fauci" over the past month has been negative. They come from right-wing media sites, conservative activist Facebook pages, and Republican politicians alike from Rand Paul to Newsmax, and cumulatively have millions of views and interactions.
Dr. Fauci (and science in general) has always been vilified by these pages and other bad actors. However, the intensity and traction of these types of posts have only increased in the past 30 days. That spike in engagement and interest is driven by two things: (1) the COVID-19 "lab leak" theory becoming more mainstream, which Fauci has long said was unlikely but possible, and (2) the release of some of Fauci's emails due to a Freedom of Information Act request. These two things gave conservatives everything they needed to spin facts completely out of control and drive engagement on their calls to #FireFauci. 
Organic social media posts aren't the only way they're relentlessly attacking the good doctor. Republican candidates for local, state, and federal offices across the country are using Fauci's image in their fundraising ads to rile up their base and shamelessly raise campaign funds. By our estimates, over 40 Republican candidates and dozens more conservative organizations and Facebook pages have run more than 1,000 Facebook ads attacking Dr. Fauci in the past three months. Many of the ads are so similar that Republican digital firms must think they've struck gold.  https://fwiwnewsletter.substack.com/p/the-rights-new-favorite-online-punching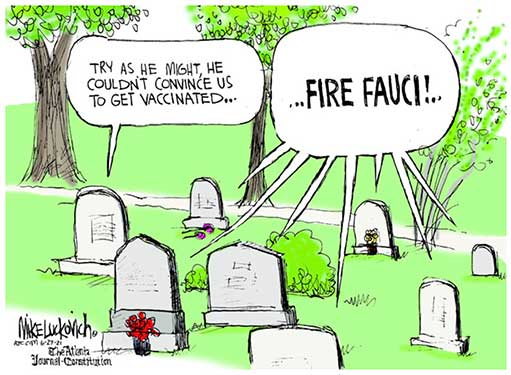 New Details Suggest Senior Trump Aides Knew Jan. 6 Rally Could Get Chaotic
ProPublica has obtained new details about the Trump White House's knowledge of the gathering storm, after interviewing more than 50 people involved in the events of Jan. 6 and reviewing months of private correspondence. Taken together, these accounts suggest that senior Trump aides had been warned the Jan. 6 events could turn chaotic, with tens of thousands of people potentially overwhelming ill-prepared law enforcement officials.
Rather than trying to halt the march, Trump and his allies accommodated its leaders, according to text messages and interviews with Republican operatives and officials.
Katrina Pierson, a former Trump campaign official assigned by the White House to take charge of the rally planning, helped arrange a deal where those organizers deemed too extreme to speak at the Ellipse could do so on the night of Jan. 5. That event ended up including incendiary speeches from Jones and Ali Alexander, the leader of Stop the Steal, who fired up his followers with a chant of "Victory or death!" https://www.propublica.org/article/new-details-suggest-senior-trump-aides-knew-jan-6-rally-could-get-chaotic
Democrats Move to Curb Methane
The House voted Friday to restore a rule targeting leaks of methane from oil and gas operations, reinstating Obama-era standards for limiting the potent greenhouse gas that had been dismantled under President Donald Trump.
The 229-to-191 vote marked a rare bipartisan step in the fight against climate change, but it comes amid growing tensions among Democrats over whether broader and more ambitious action is being sacrificed in the push for a bipartisan infrastructure deal. Twelve House Republicans sided with 217 Democrats to push through the measure.
The vote to reestablish more stringent oversight of methane, whose emissions have surged at a startling rate in recent years, focuses on the oil and gas sector, which ranks as the nation's largest industrial source of methane emissions. https://www.washingtonpost.com/climate-environment/2021/06/25/methane-climate-change/
Few Texans believe voting fraud is common, UT/TT poll shows, undercutting GOP rationale for tightening voting rules
Despite ceaseless Republican assertions that Texas' voting rules must be tightened to prevent electoral fraud, only a small slice of the state's registered voters believe ineligible voters often cast ballots in Texas elections, according to the University of Texas/Texas Tribune Poll.
In a June UT/TT poll, just 19% of voters indicated they think ineligible people frequently cast ballots. A bulk of voters — 42% — believe ineligible votes are rarely or never cast. Even among Republicans, a minority of voters — 31% — believe ineligible votes are frequently cast. https://www.texastribune.org/2021/06/25/texas-voting-polling-restrictions/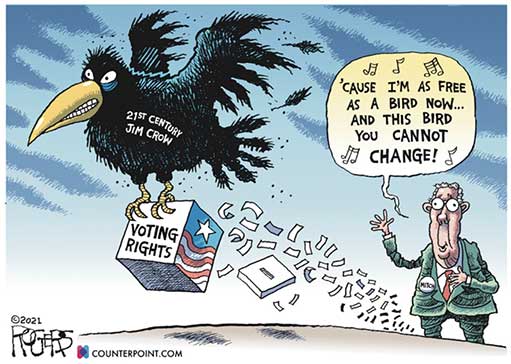 'No training, no license... no way,' say Texans in a direct rebuke to a new law
One week after Texas Governor Greg Abbott signed a bill into law allowing Texans to carry unlicensed handguns, voters say 74 - 24 percent that they oppose allowing anyone 21 years of age or older to carry handguns without a license or training, according to a Quinnipiac University poll of Texas registered voters released today.
Democrats oppose this 94 - 6 percent, independents oppose this 73 - 26 percent, and Republicans oppose this 58 - 36 percent. https://poll.qu.edu/poll-release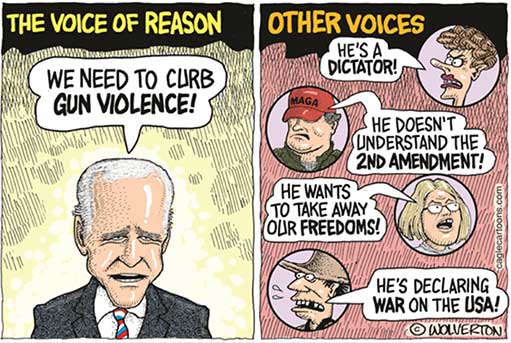 'The Tea Party to the 10th power': Trumpworld bets big on critical race theory
Former top aides to President Donald Trump have begun an aggressive push to combat the teaching of critical race theory and capitalize on the issue politically, confident that a backlash will vault them back into power.
These officials, including Trump's former campaign chief and two former budget advisers, have poured money and organizational muscle into the fight. They've aided activists who are pushing back against the concept that racism has been systemic to American society and institutions after centuries of slavery and Jim Crow. And some of them have begun working with members of Congress to bar the military from holding diversity trainings and to withhold federal funds from schools and colleges that promote anything that can be packaged as critical race theory.
The immediate goal, two Trump alumni said, is to get legislative language included in a must-pass bill. The larger one is to harness a national movement that could unseat Democrats. https://www.politico.com/news/2021/06/23/trumpworld-critical-race-theory-495712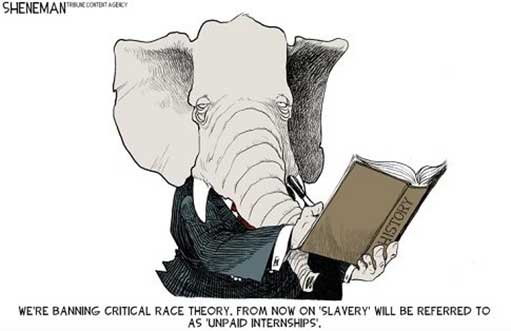 Prosecutor: Bank CEO sought 'power' with $16M Manafort loans
A Chicago bank owner traded $16 million in loans to ex-President Donald Trump's ex-campaign manager in a bid for a prestigious position in Trump's administration, a prosecutor told jurors in an opening statement Wednesday before a defense attorney assured them that the banker committed no crimes.
"This is a case about greed, but not greed for money. Greed for power, for prestige, for importance," Assistant U.S. Attorney Alexandra Rothman said shortly before pointing out Stephen Calk to a Manhattan jury and describing his dealings with Paul Manafort, who led Trump's presidential campaign for several months five years ago.
She recalled election night 2016, saying that Calk, the former chief executive of The Federal Savings Bank, messaged Manafort after it became clear Trump had won the election to promise that a $9.5 million real estate construction loan that had seemed stalled, if not dead, would be "wrapped up the next day."
Within weeks, Calk was interviewing at Trump Tower for a position in the administration and was eagerly pushing through another $6.5 million to Manafort so he could finish construction on a Brooklyn condominium and avoid foreclosure, Rothman said.
Manafort, the prosecutor said, was seen by Calk as "his personal piggybank to try to buy himself prestige and power." https://apnews.com/article/donald-trump-campaign-2016-election-2020-business-government-and-politics-478019f0d24c602d72fad277fd4d2706
Biden administration removes Rodney Scott as head of U.S. Border Patrol
The Biden administration has forced out the head of the U.S. Border Patrol, Rodney Scott, clearing a path for a leadership overhaul at an agency strained by a 20-year high in illegal border crossings, and whose top officials were broadly sympathetic to President Donald Trump.
Scott's departure was widely anticipated, with several of his current and former colleagues surprised he remained in the post long after President Biden's inauguration. During last year's presidential campaign, Scott appeared several times alongside Trump, eagerly defending his hard-line policies, leading some colleagues to privately express concern that Scott's enthusiasm occasionally veered into partisanship. https://www.washingtonpost.com/national/biden-administration-removes-rodney-scott-as-head-of-us-border-patrol/2021/06/23/c93411f6-d451-11eb-baed-4abcfa380a17_story.html
Police Officer Says Kevin McCarthy Is Lying
House GOP Leader Kevin McCarthy said that Washington, DC police officer Michael Fanone, who was badly hurt during the January 6 insurrection and has been trying to set up a meeting with him, told
CNN: "I'd gladly meet with him. We gave him the phone number to the scheduler and said we'd love to meet with you. Unfortunately he hasn't followed up."
But Fanone told the New York Times that McCarthy's statement was "bullshit," and said that no one gave him a phone number. https://twitter.com/mkraju/status/1407743156045615111?
Gov. Abbott signs 'anti-critical race theory' bill into law over objections from educators and civic groups
Texas on Tuesday became the latest conservative state to bar certain concepts related to race and racism from being discussed in the classroom, ignoring the passionate objections of educators who say the new law will make it harder for them to teach about America's true past and present.
A bill that legislators say sought to ban "critical race theory" in school — but never defined or mentioned the concept explicitly — stirred fear among educators that there could be repercussions for broaching current events during class.
"We've got a piece-of-junk legislation for us to work with," said Pat Hardy, a Republican member of the State Board of Education and a former history teacher who had hoped Abbott would veto the legislation.
Gov. Greg Abbott signed the broad legislation into law without fanfare, according to the Texas Legislature Online service. The law will go into effect in September. The governor's spokeswoman did not respond to The Dallas Morning News' requests for comment Tuesday night. https://www.dallasnews.com/news/education/2021/06/15/gov-abbott-signs-anti-critical-race-theory-bill-into-law-over-objections-from-educators-and-civic-groups/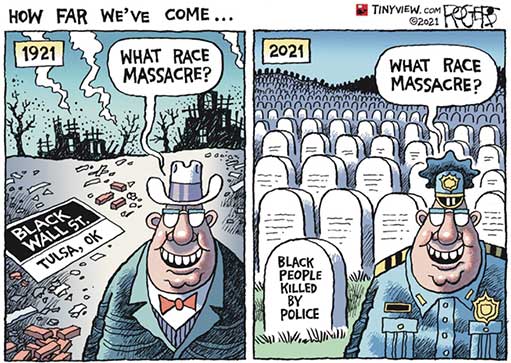 Alabama lawmaker wants to ban critical race theory, so he was asked what it is
State Rep. Chris Pringl has seen enough legislation to understand the law requires specificity. Many bills begin by laying out their legal definitions. How would his bill define critical race theory?
"It basically teaches that certain children are inherently bad people because of the color of their skin, period," Pringle said.
Were there other examples he could give me where critical race theory was being put into practice?
"These people, when they were doing the training programs — and the government — if you didn't buy into what they taught you a hundred percent, they sent you away to a reeducation camp," Pringle said. https://www.al.com/news/2021/06/whitmire-alabama-lawmaker-wants-to-ban-critical-race-theory-so-i-asked-him-what-it-is.html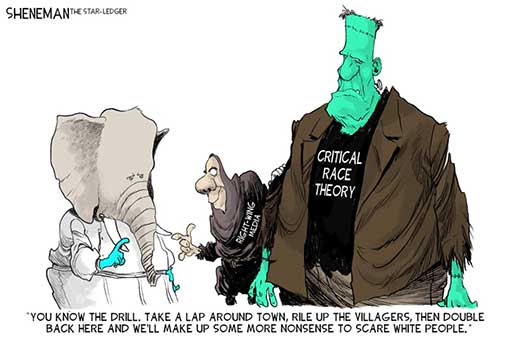 GOP megadonor funds S.D. troops' border deployment
South Dakota Gov. Kristi Noem, who's gaining attention as a possible 2024 presidential contender, made a splash on Tuesday with an announcement that she was deploying an unspecified number of National Guard troops to the U.S. Mexico border in Texas. Not announced was that the deployment will be paid for by a Tennessee billionaire and high-dollar Republican donor. https://www.axios.com/gop-megadonor-south-dakota-troops-border-21881b13-f0d8-461f-a7af-fe6288b5bcbd.html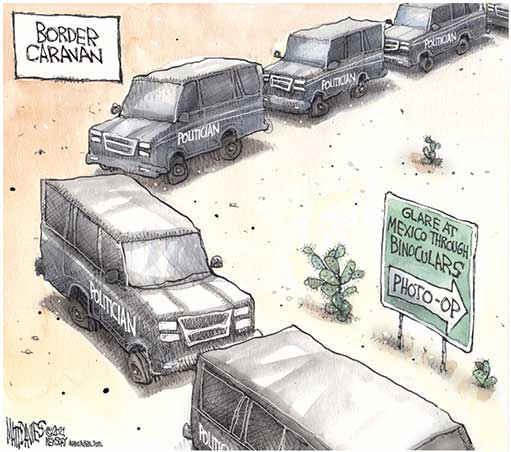 The DAILY GRILL
With Generals like this (Gen Milley, Chairman of the Joint Chiefs of Staff) it's no wonder we've fought considerably more wars than we've won. — Matt Gaetz

VERSUS

When did you serve, Congressman? Underage girls aren't allowed in the barracks, FYI. —Rachel Vindman

 

Fox News host Tucker Carlson made an explosive claim on his show Monday night: That he had learned through a whistleblower that the National Security Agency is spying on him and planning to leak his communications in a bid to take him off the air. "The Biden administration is spying on us," Carlson declared to millions of Fox's viewers. "We have confirmed that."

VERSUS

On Tuesday, NSA tweeted  a statement saying that the Fox host's claim "is untrue, that Tucker Carlson has never been an intelligence target of the Agency and the NSA has never had any plans to try to take his program off the air." NSA went on to say that it has a foreign intelligence mission, and that it "may not target US citizens without a court order that explicitly authorizes the targeting." https://www.cnn.com/2021/06/29/media/tucker-carlson-nsa-spying/index.html
Rosalind S. Helderman, Emma Brown, Tom Hamburger and Josh Dawsey: Inside the 'shadow reality world' promoting the lie that the presidential election was stolen
The baseless assertion that the election was stolen, backed by millions of dollars from wealthy individuals, is reverberating across this alternative media ecosphere five months after Trump and many of his backers were pushed off Facebook and Twitter for spreading disinformation that inspired a mob to attack the U.S. Capitol. While largely unnoticed by Americans who have accepted the fact of President Biden's victory, the deluge of content has captured the attention of many who think the election was rigged, a belief that is an animating force inside the Republican Party.
These falsehoods are now seeping into civic life, spurring citizens in multiple states to demand that local officials review the 2020 results.
Kim Wyman, the Republican secretary of state in Washington, said her staff contended with the latest barrage of email and calls just last week. "It told us something had transpired online," she said, adding: "You can't disprove the negatives that are being thrown out that are absolutely based on nothing."
The echo chamber is being sustained by figures such as Byrne, who says he has spent more than $5.5 million to examine election fraud since November, and Mike Lindell, the chief executive of MyPillow, who regularly speaks with Trump and says he has plowed $16 million into the effort. Other untold sums have been donated by ordinary Americans to nonprofit groups that say they are focused on "election integrity" and tout what has been dubbed the "big lie" about the 2020 election.
Their claims have been popularized by a steady stream of attention from far-right media outlets, including a daily podcast hosted by former White House chief strategist Stephen K. Bannon. And they are being reinforced by Trump, through a flurry of statements issued by his PAC, and at rallies around the country, including one hosted by Lindell this month in Wisconsin that featured a live video appearance by the former president.
The constant stream of purported evidence being cited by pro-Trump allies helps keep true believers engaged, according to University of Washington associate professor Kate Starbird. Recent polls show that more than 6 in 10 Republicans think Biden won as the result of fraud, a figure that has held steady months after Election Day.
"My worry as a researcher is that this is going to continue to be a prevailing belief system about how democracy works, and that people … will continue to have doubt and grow skeptical of the validity of the elections that we have," said Starbird, who studied the spread of disinformation after the November election. https://www.washingtonpost.com/politics/2021/06/24/inside-shadow-reality-world-promoting-lie-that-presidential-election-was-stolen/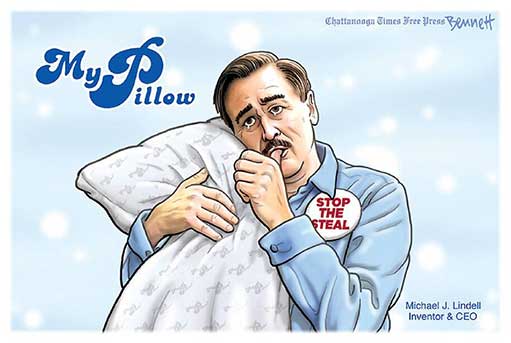 Paige St. John: How a racist myth about immigrants voting continues to fuel unproven claims of voter fraud
For more than three decades, the racist myth has circulated around elections, often told in rich detail, of undocumented immigrants traveling poll to poll to vote illegally.
In some variations, they travel by bus. In others, a van, usually white.
Occasionally, the story goes, the perpetrators are caught, but usually not.
But the core of this canard remained generally the same as it spread out of California and into national politics.
The story has been used by political candidates, anti-immigration activists and election "watchdog" activists recruiting volunteers and seeking restrictions on voting.
For national audiences, it has been invoked by right-wing provocateurs and broadcast by Russian trolls seeking to influence U.S. elections.
President Trump falsely claimed that millions of immigrants living in the country illegally voted in 2016 and, separately, that hundreds of buses carried voters across state lines to cast ballots in the New Hampshire election.
In that same election year, the fable of the traveling voters appeared in Arizona, Louisiana and Pennsylvania. One account described voters only as Black and said they were driven into Alabama to cast ballots in a special election.
The vast majority of the stories targeted Latinos, and often in derogatory terms. In those ways, they are not unlike other bald fictions used in U.S. history to justify voting restrictions against immigrating Catholics, Irish and Chinese people, freed Black Americans and others. https://www.latimes.com/california/story/2021-06-25/racist-myth-of-immigrants-voting-fuels-claims-of-voter-fraud
Paul Elie: The Catholic Bishops' Brawl Over Denying Joe Biden Communion
The workings of the United States Conference of Catholic Bishops have once again become headline news, as the members, after airing sharp differences among themselves in an online meeting, approved a plan, released last Friday, to draft a "teaching document" about the role of the Eucharist and about their dealings with Catholic politicians who support abortion rights—in particular, President Joe Biden.
The plan raised the dramatic prospect that the nation's second Catholic President, a faithful Sunday churchgoer, would not be allowed to go to the front of the altar and receive the Eucharist—the act at the center of the Mass, which represents the believer's communion with Christ and the Church. The plan was interpreted by the press and by the bishops themselves as a sign of deep divisions in American Catholicism; it thrust the conference "into the very heart of the toxic partisan strife" of electoral politics, as Cardinal Joseph Tobin of Newark put it. And it left many Catholics bewildered: How can it be that the Church here is putting President Biden in the dock, while last month Catholic officials in London abruptly cleared Westminster Cathedral for the wedding of two baptized Catholics, the twice-divorced Prime Minister Boris Johnson and his live-in paramour, who bore their child last year?
The U.S. bishops' immediate motive is clear: they want to send a message that to be a Catholic is to oppose legal abortion. The battle, though, is about much more. It is a sign of the traditionalists' profound anxiety about the stature of the Church and its leaders in public life—an anxiety akin to that of white working-class Trumpists about their stature in a changing American society. But it is also, strangely, a sign of openness: it suggests that under Pope Francis the Church hierarchy is finally coming clean as a group of men with differing points of view, shaped by alliances and compromises, and led by a pope who has forsworn the papal prerogative to shut down conflict by authoritarian means. https://www.newyorker.com/news/daily-comment/the-catholic-bishops-brawl-over-denying-joe-biden-communion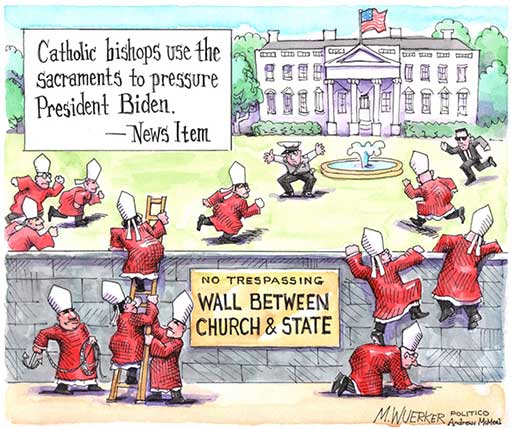 Colbert I. King: A message to GOP congressmen: In D.C., critical race theory is simple truth-telling
Grothman, the bill's chief sponsor, said in a news release that, through critical race theory curriculum, "students are being taught that they are defined by the color of their skin, not the content of their character." "This neo-racist ideology," warned Grothman, "should have no place in our public education system, especially in our nation's capital."
Set aside for a minute the confusion over just what is critical race theory. Understand, also, that D.C. schools don't teach critical race theory but do provide anti-racist training for educators and classroom discussions of systemic racism.
Concentrate, instead, on the "neo-racist ideology" that Grothman alleges critical race theory teaches. Such an ideology held a firm grip on D.C. public education, as well as the entire nation's capital, for decades. This was long before academics began examining how systemic racism has shaped American public policy.
I have intimate knowledge of the experiences that informed notions about racism's incarnation in the legal systems and policies of 19th- and 20th-century Washington, D.C.
Whether or not Grothman wants this fact taught, the truth is many Black people in D.C. and in the Deep South were raised under state-sponsored racism.
We attended public schools, lived in neighborhoods, went to movie theaters, ate in restaurants, prayed in churches and were laid to rest separated from White people, by law and custom. This focus on group identity — a practice purportedly loathed by apostles of conservatism — was not a mutually agreed upon arrangement. White people made those decisions, including to engage in the practice of denying equal job and housing opportunities.
And those judgments have had devastating consequences. The International Monetary Fund stated in a 2020 report on the economic cost of discrimination in the United States: "Racism has restrained Black economic progress for decades."
The telling of this history is not for the purpose, as charged by Grothman and critical race theory critics, of stoking cultural conflicts or "to set American against American." It is simple truth-telling. https://www.washingtonpost.com/opinions/2021/06/25/dc-gop-congressmen-critical-race-theory/?variant=116ae929826d1fd3