August 12, 2021
ON THE RECORD. . .
"You lucky people here in Alabama might get a knock on your door, because I hear Alabama might be one of the most unvaccinated states.Well, Joe Biden wants to come talk to you guys. He's going to be sending one of his police state friends to your front door to knock on the door, take down your name, your address, your family members' names, your phone numbers, your cellphone numbers, probably ask for your Social Security number, and whether you've taken the vaccine or not. What they don't know is in the South, we all love our Second Amendment rights, and we're not real big on strangers showing up on our front door, are we? They might not like the welcome they get." — Rep. Marjorie Taylor Greene (R-GA), hopefully inspiring the development of a vaccine against stupid.

"Even as many Republicans rail against mask mandates and spread skepticism about vaccines, GOP leaders have settled on one place where they take the spread of Covid very seriously — the border. The pivot occurred quickly. This week, one Republican leader after another rushed to blame the spread of the virus, not on the unvaccinated but on immigrants." -- Charlie Sykes

"Get better lawyers."— Speaker Nancy Pelosi to a Biden aide after being told that White House lawyers believed a nationwide evictions ban exceeded the government's legal power.

"The United States is the greatest country in the world — I will always think that — but don't tell me it's freer than Hungary cause that's a lie. The elections in Hungary had been free and fair, and the media was more balanced than in the US. Hungary offered an example to others in terms of cleanliness, order, the openness of society, the lack of crime and border control. Hungary's government had good reason to be proud of its work and its citizens had every reason to be thankful. —Fox's Tucker Carlson in Esztergom, Hungary, which has become the exemplar of the American right-wing "Trumpism." .

"Nobody will ever understand why Mitch McConnell allowed this non-infrastructure bill to be passed. He has given up all of his leverage for the big whopper of a bill that will follow. I have quietly said for years that Mitch McConnell is the most overrated man in politics—now I don't have to be quiet anymore." — Trump

"State law determines residency based on where a voter's 'habitation is fixed,' and those who move to another state with the intention of making it their residence lose their eligibility to vote in Georgia." — Atlanta Journal-Constitution." -- Prospective Republican Senate candidate Herschel Walker and his wife live in Texas, but she voted in Georgia's election for president last fall.

VIDEOS

"I remember 20 years old going to Trier, Germany and trying to find the home of Karl Marx cuz, y'know, 1848 -- he wrote Mein Kampf. I want to know what it's all about." — Fox News anchor Bill Hemmer who seems to think that Karl Marx wrote Mein Kampf.

"No matter who says there was no widespread fraud in the election... my conclusion is the same -- they are all wrong."— Mike Lindell, MyPillow's CEO keeps pushing false claims about the 2020 election.

After Trump's catastrophic failures, it's refreshing to have a real president who delivers. #BidenDelivers — Meidas Touch

Just Security is continuing to track every pending criminal and civil case against Donald Trump.
---
IN THIS ISSUE
IN THE NEWS
OPINION
Andy Borowitz: DeSantis Losing Support Among Voters Opposed to Dying
In a potentially ominous development for the Florida governor, a new poll shows Ron DeSantis hemorrhaging support among voters who identify as opposed to dying.

According to the poll, DeSantis's favorability numbers are plummeting among Floridians who describe themselves as "somewhat," "very," or "strongly" opposed to being dead.

Asked to name the issue most important to them, an overwhelming majority of anti-dying voters cited "continuing to exist," with the economy and immigration placing a distant second and third.

Harland Dorrinson, an aide to the Governor, dismissed the poll numbers as "a distraction" and said that "this obsession with not dying is the kind of political correctness the people of Florida are tired of."

"Governor DeSantis has had a very strong pro-dying message, and that's not going to change," the aide said. https://www.newyorker.com/humor/borowitz-report/
Democrats Eye Budget to Force Policy Changes, Testing Bounds of the Rules
Democrats in Congress plan to use their $3.5 trillion budget to try to unilaterally speed through a suite of far-reaching policy changes on immigration, labor and possibly voting rights over Republican opposition, leveraging their slim majorities in a bid to achieve much of President Biden's agenda in one fell swoop.
The budget blueprint that Democrats plan to push through the Senate next week already envisioned one of the most ambitious legislative efforts ever undertaken by Congress, including huge federal investments into expanding social and environmental programs. But with their legislative options dwindling, Democrats have concluded in recent weeks that they want to push the boundaries of what the budget can accomplish, beyond mere dollars and cents.
Party leaders plan to include measures to create a path to citizenship for as many as eight million undocumented immigrants and to crack down on employers' violating labor organizing rights. They are even weighing adding incentives to push states to expand ballot access. If they are successful, they could steamroll Republican opposition and enact those measures solely with Democratic votes, using a fast-track process known as reconciliation that shields legislation from a filibuster. https://www.nytimes.com/2021/08/06/us/politics/democrats-budget.html
New revelations expose future threat Trump poses
A burst of new disclosures exposing the extraordinary efforts by ex-President Donald Trump to steal power after his election defeat constitute a grave warning about the future and his potential bid to recapture the White House.
The audacity of the former President's attempts to subvert the law by weaponizing the Justice Department not only underscores how close the United States came to a full blown constitutional crisis this year. It also emphasizes that any attempt by Trump to use a war chest already worth $100 million to try to recapture the White House in 2024 would represent a mortal threat to democracy and the rule of law from a leader who was undeterred even by his own first impeachment.
New revelations emerging from Senate testimony, about a Trump Justice Department loyalist's alleged behind-the-scenes efforts to call into question elections in states the ex-President lost, also render the continued GOP whitewashing of history about Trump's crimes against the Constitution even more blatant and dangerous. https://edition.cnn.com/2021/08/09/politics/donald-trump-justice-department-elections-republicans/index.html
Trump Sails Away as Rudy Giuliani Drowns in Legal Bills
As Rudy Giuliani's legal bills have piled up in recent months—and as federal investigators intensify their probe into Donald Trump's longtime associate—the former president appears willing to provide just as much help as he usually does when his friends are in need: next to nothing.
For months now, Trump has consistently ignored or rejected Giuliani's pleas for assistance. And it's not just that Trump and other prominent Republicans have been unwilling to open up their wallets or war chests to help offset Giuliani's mounting legal costs; in many cases, Giuliani's former Trumpworld comrades have declined to even acknowledge the existence of his legal defense fund, which has struggled to raise much of anything from the public. https://www.thedailybeast.com/donald-trump-sails-away-as-rudy-giuliani-drowns-in-legal-bills
Election-Season Chaos Is No Longer Far-Fetched, but Preventable
Congress has to approve the seating of its own members, so what happens if, after the 2022 midterm elections, a Republican state legislature demands Congress refuse to seat some members duly elected in their states because of alleged voting irregularities—or demands the seating of someone local election officials didn't declare a winner?
That would surely set off a cascade of challenges from Democrats seeking to block Republican members, setting off a slide into chaos.
The scenario is frightening but no longer far-fetched, given what has been learned in recent days about efforts by former top Justice Department officials to pressure Georgia's state legislature to convene to pick its own slate of presidential electors after the 2020 presidential vote was counted, and subsequent efforts by legislators there and elsewhere to take control of elections and their outcome away from the local election officials who have long handled them. https://www.wsj.com/articles/election-season-chaos-is-no-longer-far-fetched-but-preventable-11628518759
Biden's Iran Nuclear Deal Ambitions Shrink as Tensions Flare
The Biden administration faces the sobering reality that returning to the Iran nuclear deal may no longer be feasible, as the Islamic Republic finds ways to cope with U.S. sanctions and races toward the capacity to build a bomb. https://www.bloomberg.com/news/articles/2021-08-09/biden-s-iran-nuclear-deal-ambitions-shrink-as-tensions-flare
Dominion Sues Newsmax, One America News Network, Others Over Election Claims
Dominion Voting Systems filed suits against Newsmax Media Inc. and One America News Network, accusing the two networks of defaming the company and its products by airing false reports that its machines switched votes from President Donald Trump to Mr. Biden. In each of the lawsuits, Dominion is seeking more than $1.6 billion in damages, citing lost profit and other costs.
"Newsmax helped create and cultivate an alternate reality where up is down, pigs have wings, and Dominion engaged in a colossal fraud to steal the presidency from Donald Trump by rigging the vote," the suit against Newsmax says. https://www.wsj.com/articles/dominion-sues-newsmax-one-america-news-network-others-over-election-claims-11628599768
Some people are taking an anti-parasitic to treat COVID
Some people itching to get their hands on a COVID-19 cure are putting themselves in danger for taking unprescribed doses of ivermectin, an anti-parasitic drug used to treat diseases such as river blindness or scabies in people and prevent heartworm disease and other infestations in animals.
The drug has been flying off the shelves of farm supply stores and veterinary offices as people, mostly those who refuse to get vaccinated, search for unconventional ways out of the pandemic. https://www.miamiherald.com/news/coronavirus/article253290108.html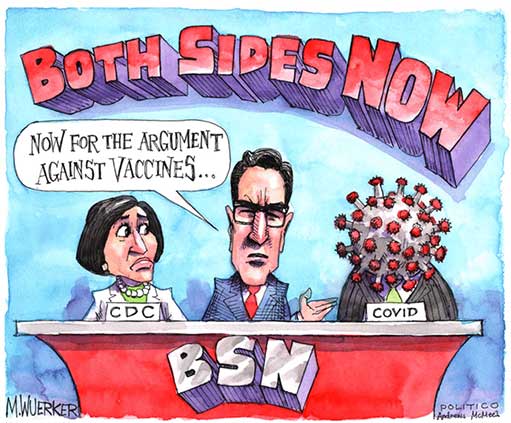 Trump's Repeating Donation Tactics Led to Millions in Refunds Into 2021
The aggressive fund-raising tactics that former President Donald J. Trump deployed late in last year's presidential campaign have continued to spur an avalanche of refunds into 2021, with Mr. Trump, the Republican Party and their shared accounts returning $12.8 million to donors in the first six months of the year, newly released federal records show.
The refunds were some of the biggest outlays that Mr. Trump made in 2021 as he has built up his $102 million political war chest — and amounted to roughly 20 percent of the $56 million he and his committees raised online so far this year.
Trailing in the polls and facing a cash crunch last September, Mr. Trump's political operation began opting online donors into automatic recurring contributions by pre-checking a box on its digital donation forms to take a withdrawal every week. Donors would have to notice the box and uncheck it to opt out of the donation. A second pre-checked box took out another donation, known as a "money bomb." https://www.nytimes.com/2021/08/07/us/politics/trump-recurring-donations.html
Wichita Republican official says she was blocked from vote after congratulating a Democrat
Precinct Committeewoman Cindy Miles said Republican Chairman David Thorne blocked her out of the special party convention election. The thrust of the dispute is over Miles congratulating a Democratic opponent online after losing Tuesday's Wichita City Council race.
"I made a comment the other day on social media and said 'Congratulations Mike Hoheisel, I expect that we'll see you as the next District 3 city councilperson,' because that's what I expect," Miles said. "He got the most votes in the election." https://www.kansas.com/news/politics-government/article253331218.html
Big Meat and Dairy's Unsavory Pushback on Climate Action
When you delve deeper into the environmental impacts of each step from animal to plate, it is all too clear how the emissions from food production — in particular, meat and dairy — are significant, and alarmingly so. Global emissions from livestock represent 14.5% of total greenhouse gas emissions and cattle represent a sizable share – about 62% – of the livestock sector's emissions.
The reason that animal-based products pack the biggest emissions punch is that their production processes are incredibly resource-intensive, requiring vast tracts of land, water, and other natural resources. Beef production is the worst offender, devouring most of these resources: Per calorie, beef depends on more land and emissions in its production than most other foods.
Indeed, a recent study asserts that "the world's biggest meat and dairy companies could surpass ExxonMobil, Shell, and BP as the world's biggest climate polluters within the next few decades." And former Energy Secretary Steven Chu maintains that "agriculture and land-use generate more greenhouse gas emissions than power generation," adding that "If cattle and dairy cows were a country, they would have more greenhouse gas emissions than the entire [European Union]." https://greenthatlife.com/big-meat/
Poll finds bipartisan infrastructure plan has wide support
New polling from the advocacy group Climate Power and the left-leaning polling firm Data for Progress found that 71% of likely voters, including a majority of likely Republican voters, support the bipartisan infrastructure framework. https://www.axios.com/poll-finds-bipartisan-infrastructure-support-f00637e4-8078-4338-800e-7ad5bdab599d.html
Timeline: What Georgia prosecutors are looking at as they investigate Trump's efforts to overturn the election
Prosecutors in Georgia are still investigating whether former President Donald Trump broke any laws when he tried to overturn his 2020 defeat in the hotly contested state. The probe ramped up earlier this year, with a grand jury convening in Atlanta.
Fulton County District Attorney Fani Willis has said the criminal investigation includes potential "solicitation of election fraud, the making of false statements to state and local governmental bodies, conspiracy, racketeering, violation of oath of office and any involvement in violence or threats related to the election's administration."
Months after the election, new information is still coming to light about Trump's potentially unlawful effort to overturn the results. Recent reports indicate that he considered installing a loyalist as acting attorney general at the Justice Department — someone who agreed with Trump's false claims about voter fraud and was prepared to pressure election officials in Georgia to overturn the results.
For a breakdown of what Georgia prosecutors will likely scrutinize as they piece together the timeline of Trump's public pressure campaign, his private calls to state officials overseeing the election, related litigation and more, go to https://www.cnn.com/interactive/2021/08/politics/trump-georgia-2020-election/
The DAILY GRILL
In February, GOP Sen. Ron Johnson of Wisconsin questioned whether the events of January 6 were really as violent as they appeared and suggested it wasn't an armed insurrection. And in May, Rep. Louie Gohmert of Texas claimed there was no evidence the riot was an "armed insurrection," adding that "Not one person has been charged with bringing a firearm to the Capitol."

VERSUS

Facts First: While it's impossible to know precisely how many firearms were brought to the Capitol on January 6, it's already clear that at least some of the people present were carrying guns that day. And as the police officers who testified at the committee on Tuesday made clear, rioters also used numerous other objects as weapons such as knives and bats. So far, with the investigation still ongoing, three individuals have been charged for allegedly bringing a gun onto Capitol grounds on January 6. At least two other individuals have also been charged with gun crimes in relation to the events of that day, though they are not accused of carrying on Capitol grounds.

 

"I love America, I think my country is the best in the world. But don't tell me America is more free than Hungary."— Tucker Carlson
"Who's freer? If you're an American, the answer is painful to admit." — Tucker Carlson

VERSUS

"War is peace. Freedom is slavery. Ignorance is strength." ― George Orwell, 1984

 

Facebook founder Mark Zuckerberg donated $400 million to help fund election offices as they scrambled to deal with the coronavirus pandemic late last summer.

VERSUS

"Since then at least eight GOP-controlled states have passed bans on donations to election offices this year as Republicans try to block outside funding of voting operations. The legislation often comes as part of Republican packages that also put new limits on how voters can cast ballots and impose new requirements on county or city-based election officials."

 

"YouTube suspended Sen. Rand Paul's (R-KY) account on Tuesday for posting a video claiming cloth face masks are ineffective against the coronavirus." — NBC News

VERSUS

A badge of honor . . . leftwing cretins at Youtube banning me for 7 days for a video that quotes 2 peer reviewed articles saying cloth masks don't work. — Sen. Rand Paul (R-KY)
Dana Milbank: We can't let the terrorists rewrite the history of Jan. 6
History, the adage goes, is written by the victors.
Would that it were true.
In the Civil War, the U.S. Army, at a staggering human cost, eventually crushed the traitors who took up arms against their own country. But Lost Cause mythology rewrote the rebellion as a conflict over states' rights, portrayed Confederates as gallant heroes fighting impossible odds, romanticized plantation life and sanitized slavery. The fictions, taught to generations of southerners, fueled Jim Crow and white supremacy.
In the retelling of Jan. 6, we see an echo of Lost Cause mythology. On that terrible day, terrorists took up arms against the United States, sacking the seat of the U.S. government in a deadly rampage. White supremacists marauded through the Capitol. It was a coup attempt, aimed at overturning the will of the people with brute force, encouraged by a defeated president and his allies. The Capitol Police and D.C. Metropolitan Police, badly outnumbered, ultimately prevailed in putting down the insurrection.
But now the losers are trying to rewrite the history of that day. The terrorists were "patriots." Theirs was a "normal tourist visit." They weren't armed. They were "hugging and kissing" the police. A woman, shot as she breached the last barrier keeping elected representatives from the mob, was a martyr shot in cold blood. The Capitol Police were ill-trained. It was Nancy Pelosi's fault.
The losers, again, are trying to write the history. They must not be allowed to succeed — for if they do, they will certainly try again to attack democracy.
President Biden joined the battle against the revisionists on Thursday as he presented the Congressional Gold Medal to the police who saved democracy on Jan. 6. "We cannot allow history to be rewritten," he said.
In a speech honoring the heroism of the police, Biden, at one point brushing a tear from his eye, called the attackers what they were. "A mob of extremists and terrorists launched a violent and deadly assault on the People's House and the sacred ritual to certify a free and fair election," he said. "It was insurrection … It was unconstitutional. And maybe most important, it was fundamentally un-American." https://www.washingtonpost.com/opinions/2021/08/06/we-cant-let-terrorists-rewrite-history-jan-6/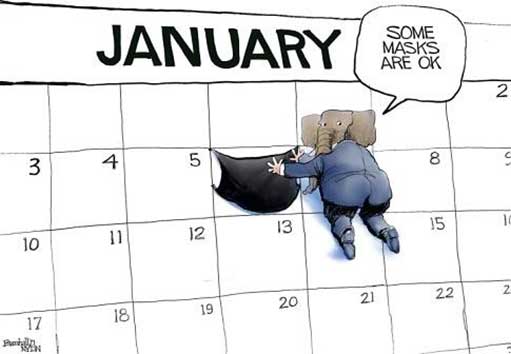 Zack Colman and Karl Mathiesen: 'Get scared': World's scientists say disastrous climate change is here
The long-feared era of disastrous climate change has arrived.
For the first time, the planet's top scientists said in a monumental report released on Monday they have definitively linked greenhouse gas emissions to the type of disasters driven by a warmer climate that have touched every corner of the globe this year: extreme rainfall in Germany and China, brutal droughts in the western U.S., a record cyclone in the Philippines and compound events like the wildfires and heat waves from the Pacific Northwest to Siberia to Greece and Turkey.
This is the world as it exists today, with an atmosphere 1.1 degrees Celsius hotter than it was in the pre-industrial era thanks largely to burning fossil fuels such as coal, oil and natural gas. Even grimmer: There is no scenario in the new analysis by the United Nations' Intergovernmental Panel on Climate Change in which the world avoids breaching the threshold of 1.5 degrees Celsius that the U.S., EU and several other countries have set as a target. Even the weaker 2-degree target that major polluters China and India have set as guideposts will be eclipsed unless greenhouse gas emissions peak by mid-century.
Those numbers have real-world consequences for billions of people, with cascading impacts on agriculture, human migrations and even wars, numerous studies in recent decades have warned.
An extreme heat wave that once would have occurred only twice a century would instead hit about every six years at the 1.5-degree threshold, the IPCC says. With 2 degrees of warming, you can expect them every four years.
"Human-induced climate change is already affecting many weather and climate extremes in every region across the globe," the IPCC authors concluded in the summary to the report that brought 234 authors across 66 countries together to analyze more than 14,000 studies. "Evidence of observed changes in extremes such as heatwaves, heavy precipitation, droughts, and tropical cyclones, and, in particular, their attribution to human influence, has strengthened since" the last report released in 2013. https://www.politico.com/news/2021/08/09/climate-change-scientists-report-disastrous-502799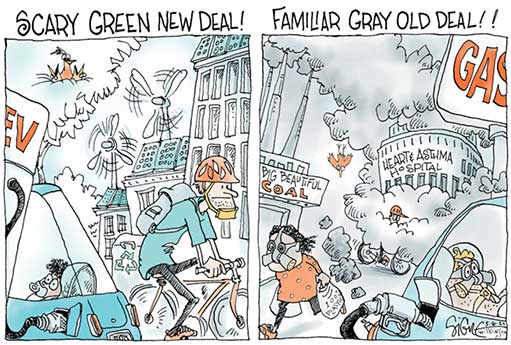 Biden, in a Push to Phase Out Gas Cars, Tightens Pollution Rules
The president is restoring and strengthening tailpipe emissions regulations from the Obama era, and has set a target that half of all vehicles sold in the United States be electric by 2030. The chief executives of the nation's three largest automakers ... pledged that 40 to 50 percent of their new car sales would be electric vehicles by 2030.
https://www.nytimes.com/2021/08/05/climate/biden-tailpipe-emissions-electric-vehicles.html
Mary Papenfuss: Pressure Mounting To Launch 'McMafia Law' Probe Into Trump's Scottish Golf Courses
Lawyers for a global activist organization are keeping up their pressure for a "McMafia" law order in Scotland to force former President Donald Trump to reveal the sources for his all-cash purchases and development of his two Scottish golf resorts.
The lawyers are citing an ongoing investigation and recent charges against the Trump Organization by New York prosecutors as part of a new push to probe Trump's clubs in Aberdeenshire and Ayrshire.
Trump triggered suspicions when he purchased land in Aberdeenshire in 2006 and then the Turnberry resort in 2014 in all-cash transactions at a time when he was seriously strapped for cash and couldn't find banks willing to lend him money.
Trump's Scottish resorts have yet to turn a declared profit — despite the millions of dollars he has pumped into them. The resorts, according to the Trump Organization, lost about $75 million in eight years through 2019.
They haven't pay a cent in taxes to the Scottish government. In fact, Trump's resorts collected some $800,000 in COVID-19 subsidies from British taxpayers.
Trump bought more than 1,000 acres in Aberdeenshire in 2006 for more than $10 million. He spent at least $60 million more building a course, hotel and cottages, according to company filings. The Trump Organization has said in statements and filings that it has spent a total of more than $140 million on the complex, noted Reuters.
In 2014, Trump bought the Turnberry resort in Ayrshire for $60 million, again all cash. According to U.K. filings, the Trump Organization spent $100 million more in cash on upgrades and other expenses.
Tracking money in the former president's Scottish resorts is difficult because Trump is the creditor for his own businesses, which means payment for many of the resorts' costs flow right back to the Trump Organization.
That circular flow of money within the Trump network provides an opportunity for money laundering, The New Yorker business writer Adam Davidson has suggested. He called the resorts "money disappearing" operations.
Trump "owns the asset, lends the money, owes the money, is owed the money," Davidson explained. "Every year, Trump lends millions to himself, spends all that money on something, and claims the asset is worth all the money he spent." https://www.huffpost.com/entry/trump-scottish-golf-courses-mcmafia-law_n_610cabd7e4b075592c79bc0b
Jonathan Chait: Tucker Carlson Has Seen the Future, and It Is Fascist 
In 1919, the progressive journalist Lincoln Steffens visited the nascent Soviet Union and declared, "I have seen the future and it works." Tucker Carlson's weeklong visit to Budapest, where he is using his Fox News show as an infomercial for Viktor Orban's illiberal regime, is being conducted in much the same spirit. "If you care about Western civilization and democracy and families, and the ferocious assault on all three of those things by the leaders of our global institutions, you should know what is happening here right now," Carlson gushed to his viewers.
Of course, "democracy" is not a category description any small-d democrat would apply to Hungary, a state that has "dropped any pretense of respecting democratic institutions" under Orban, according to Freedom House, which no longer categorizes it as a democracy at all.
These are not mere details, and Carlson is not overlooking them. He is laying down a marker in the highest profile way he can that Orban's iron fist is the future the Republican Party should want. The splashy imprimatur of a Fox News prime-time personality, who is probably the right's most influential media figure, is an important milestone in the Republican Party's long evolution into authoritarianism. https://nymag.com/intelligencer/2021/08/tucker-carlson-has-seen-the-future-and-it-is-fascist.html
Greg Sargent: The route to stealing the 2024 election begins with a simple step
It seems increasingly plausible that we'll see an effort to steal the 2024 presidential election if the Democratic candidate wins by a margin close enough to permit it. Indeed, whether this effort does or does not end up happening, a host of bad actors are already laying the groundwork for it right now, via the execution of a simple mission.
That mission is to come up with new ways to discredit the very idea that our elections are capable of rendering procedurally legitimate outcomes. That is the necessary precondition for any future effort to overturn an outcome that doesn't go to Republicans' liking.
As always, Trump himself has demonstrated how all this is supposed to work. Last week, the news broke that he privately urged the Justice Department to declare the election's outcome corrupt even though the department had found zero grounds for concluding anything like this.
"Just say that the election was corrupt + leave the rest to me," Trump told a senior department official, per that official's notes on the conversation.
Trump did not expect the department to reverse the results; he wanted the department only to help manufacture doubts about them. If conditions are right, this could very well be the playbook next time.
To be clear, those conditions may not materialize at all. If they do, such efforts very well may not come to fruition. And they would probably fail if they did.
But we shouldn't be under any illusions: We're seeing new test runs at manufacturing exactly the sort of uncertainty needed to execute such a scheme unfold as we speak. https://www.washingtonpost.com/opinions/2021/08/02/road-stealing-2024-election-begins-with-simple-step/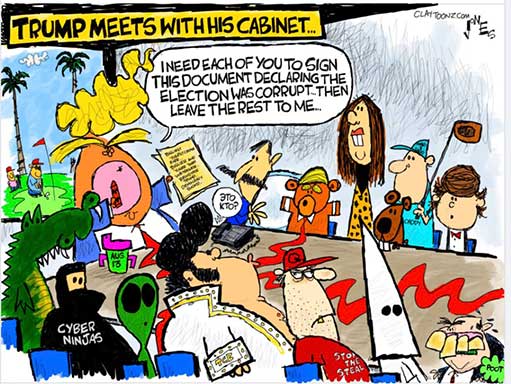 Eugene Robinson: Too many Republicans are taking covid-19's side in the fight against the pandemic
This is the GOP's pandemic now. Cynical and irresponsible Republican politicians have created an environment that is killing Americans who shouldn't have to die, swamping hospital systems with desperately ill patients, and generally ensuring that the pain and disruption of covid-19 are with us longer than they need be or should be. And they've done so in their own self-interest.
Yes, the more-infectious delta variant is driving this new wave. But vaccination and mask-wearing have the power to check that spike in cases, and to prevent those new diagnoses from turning into hospitalizations and deaths.
Can we possibly be so stupid that we ignore all empirical evidence and insist on inflicting grievous self-harm? Ambitious Republicans are betting that the answer to that question is yes.
Public enemy number one is Florida Gov. Ron DeSantis, who is transparently trying to position himself as a contender for the GOP presidential nomination in 2024. DeSantis has signed legislation barring local governments from imposing covid-19 restrictions and prohibiting businesses from requiring that patrons be vaccinated. He has fought to prohibit cruise ships sailing from Florida ports from mandating vaccinations. And though he supposedly supports local control over public schools, DeSantis has threatened to withhold state funding from districts that require students to wear masks.
DeSantis has taken the position that pandemic public health measures are an intolerable assault on personal freedom — a message many rank-and-file Republicans apparently welcome. Florida is now seeing as many as 20,000 new cases of covid-19 per day, more than any other state in the nation. Hospitals in cities such as Jacksonville are overwhelmed with more covid patients than they treated in the darkest days of January.
The president is restoring and strengthening tailpipe emissions regulations from the Obama era and has set a target that half of all vehicles sold in the United States be electric by 2030. https://www.washingtonpost.com/opinions/2021/08/05/too-many-republicans-are-taking-covid-19s-side-fight-against-pandemic/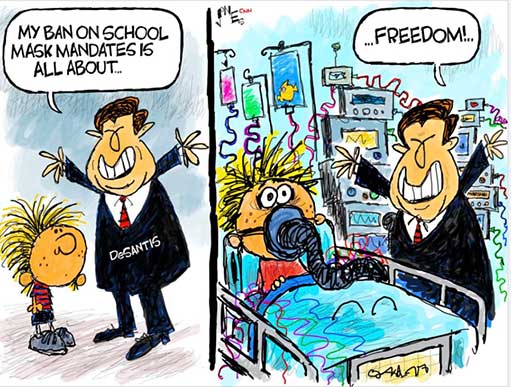 Rick Hasen: "Trump Is Planning a Much More Respectable Coup Next Time
Come 2024, crass and boorish unsubstantiated claims of stealing are likely to give way to arcane legal arguments about the awesome power of state legislatures to run elections as they see fit. Forget bonkers accusations about Italy using lasers to manipulate American vote totals and expect white-shoe lawyers with Federalist Society bona fides to argue next time about application of the "independent state legislature" doctrine in an attempt to turn any Republican presidential defeat into victory.
The Jan. 6 insurrection, and Trump's actions trying to change the electoral college votes in five states, was an attempted coup built on the Big Lie of voter fraud. But the potential coup next time will come in neatly filed legal briefs and arguments quoting Thomas Jefferson and wrapped in ancient precedents and purported constitutional textualism. It will be no less pernicious. https://slate.com/news-and-politics/2021/08/trump-2024-coup-federalist-society-doctrine.html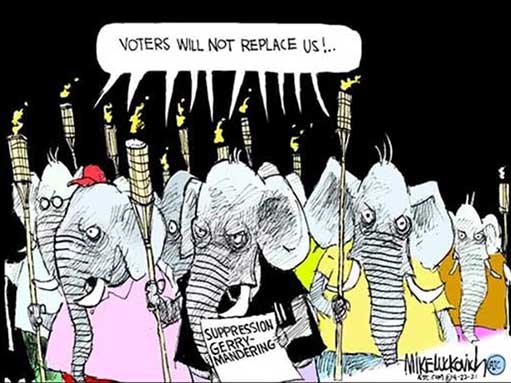 Aatish Taseer: How Rudy Giuliani Went From 9/11's Hallowed Mayor to 2021's Haunted Ghoul
If, 20 years on, we find the man we had lionized for his leadership on that day unfit to represent its memory—not because he is old, infirm, or gracefully losing his marbles, but because he is the face of a Trumpian madness in which great swathes of the country are implicated—that in itself is important. Giuliani's latest, possibly final act in politics is no mere private misfortune.
This is not Napoleon's hundred days, or the pathos-filled long kiss goodbye of so many giants, from Teddy Roosevelt to Margaret Thatcher, who find themselves unable to leave the stage when it is time to go. It is too shrewd a political calculation to be that. A recent Economist/YouGov poll had the former mayor's popularity among Republicans in the 60s—three times that of Mitch McConnell's. More important, Giuliani's particular brand of crazy, though more operatic, has afflicted too many GOP leaders in the age of Trump, from Lindsey Graham to Ron Johnson, for it to be seen as an anomaly. As Joe Klein, the author of Primary Colors, put it to me: "Rudy is the epitome of what has happened to our public life. And it's scary. People say it's only 30 percent of the country. Thirty percent is a lot!"
I'd go so far as to say our national reckoning depends on our ability to make a whole of the diptych Giuliani presents, now as the hero of 9/11, now as a figure whose madness is not his own, but a national madness, which in part has an origin in the events of that day—the wasteful wars that ensued, the harm done to our social fabric as the nation was diverted by adventurism, and the toll that ultimately took on the psyche of a country that grew every day more suspicious of itself. These were the conditions that engendered Trump.https://www.vanityfair.com/news/2021/08/how-rudy-giuliani-went-from-911s-hallowed-mayor-to-2021s-haunted-ghoul
Bess Levin: Florida Doctors Think Ron DeSantis Is a National Embarrassment
The medical community thinks the governor, who claims everything is fine despite the state being the biggest COVID-19 hot spot in the country, is a clown.
Last month, 's reelection campaign introduced koozies and T-shirts bearing the phrase "Don't Fauci My Florida" as his state began to see some of the highest hospitalizations, new infections, and deaths per capita in the country, claiming that Florida's economy would have been in the toilet if it had "followed Fauci." The items were listed along anti-mask merchandise printed with the DeSantis quote, "How the hell am I going to be able to drink a beer with a mask on?" While the governor's office swears the state is in great shape, and that the recent spike is merely a "seasonal" blip, the data seems to indicate otherwise.
Blasting DeSantis's seemingly pro-death stance, agriculture commissioner Nikki Fried, who is running for governor as a Democrat, told Politico: "To say it's not as bad as it was in the height of the pandemic last year is inaccurate, dishonest, and dangerous. Things are the worst they have ever been in the state throughout this pandemic with Florida now leading the nation per capita in hospitalizations." Democratic Rep. Charlie Crist, who is also challenging DeSantis, said last week the governor has "blood on his hands." Which he kind of does! https://www.vanityfair.com/news/2021/08/report-florida-doctors-think-ron-desantis-is-a-national-embarrassment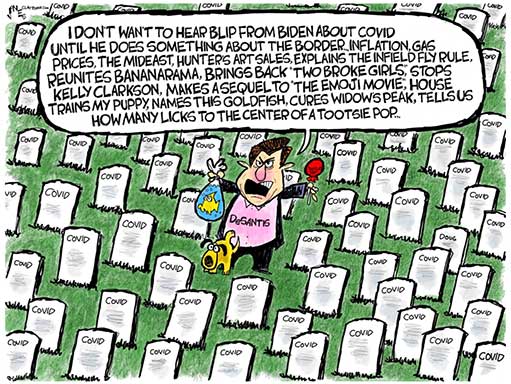 Eric Lutz: Florida And Texas Are Competing to See Who Can Come Up With the Dumbest COVID Rules
Earlier this week, President Joe Biden called on elected officials to help defeat the COVID-19 pandemic or "get out of the way." Rather than heed his advice, the nation's most irresponsible leaders have continued to do their thing, with states like Texas and Florida—which account for about a third of infections in the United States—seemingly competing to see who can come up with the most deranged approaches to the deadly virus.
Thanks to Ron DeSantis, the profoundly cynical and incorrigibly smug Florida governor, the Sunshine State had lead by a nose in this race to the bottom. DeSantis has mocked public health officials as caseloads skyrocketed, pursued an idiotic offensive against Biden, and enacted rules designed to prevent mask and vaccine requirements and to forbid municipalities from instituting their own COVID safety measures. "We think that's the most fair way to do it," DeSantis said last week, introducing an order making masks optional in schools. 
But Texas, led by Greg Abbott, who has also banned local COVID ordinances, has come roaring back. On Thursday, the state released a new guidance that somehow makes DeSantis's effort to block cruise ships from requiring vaccines seem smart: Under recommendations from the Texas Education Agency, schools do not need to conduct contract tracing and do not need to let parents know if a student has tested positive for the virus. If a student does come into contact with an infected person, a parent can still send them to school under the new guidance.
The moves by Florida and Texas, which come as other states are tightening precautions while the delta variant surges across the country, are perhaps best described as pro-COVID. Not only are they declining to push vaccinations, as other government and business officials are doing with increased urgency, the two governors are actively standing in the way of precautions to at least limit the spread of the virus, which they've cavalierly downplayed. "This is our COVID season," DeSantis shrugged Thursday. https://www.vanityfair.com/news/2021/08/florida-texas-competing-to-see-who-can-come-up-with-dumbest-covid-rules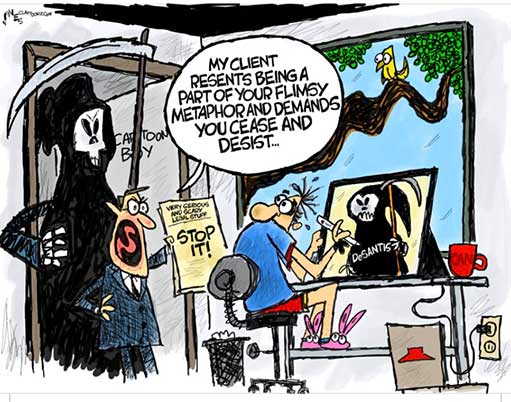 Bess Levin: Trump Is Two Weeks Away From Telling Supporters To Tattoo His Face On Their Asses
One of the primary knocks on Donald Trump's supporters is that they're idiots who don't know they're being lied to by a con man. And to date, the ex-president has done little to change that narrative!
Insider reports that Trump's Save America PAC sent a pair of emails to supporters on Wednesday urging them to start carrying "Trump Cards," which look like credit cards, if credit cards had Trump's signature on them and misspelled the word "official." (Designs of the cards have "ID" numbers on them and "Member Since 2021.") "The card you select will be carried by Patriots all around the Country," the first email reads, in all its cringeworthy glory. "They will be a sign of your dedicated support to our movement to SAVE AMERICA, and I'm putting my full trust in you." A second message, with more urgency, notes, "We're about to launch our Official Trump Cards, which will be reserved for President Trump's STRONGEST supporters.… We recently met with the President in his Florida office and showed him four designs. Originally we were planning on releasing just one design, but when President Trump saw the cards on his desk, he said, 'These are BEAUTIFUL. We should let the American People decide - they ALWAYS know best!'"
Naturally, the emails do not specify what benefits one is entitled to by carrying a "Trump Card." According to Insider, the link to vote for a design leads to a fundraising page, where supporters can continue funneling money directly into Trump's pocket.
In addition to being extremely sad and deeply cult-like, the ex-president's fake credit cards showcase visuals reminiscent of the Nazi Party, which did not go unnoticed. Per The Independent, "On Twitter, critics argued that the "Trump cards" were akin to belonging to a cult, and that the iconography of the golden eagle was on par with the imperial eagle and iconography of Nazis."  https://www.vanityfair.com/news/2021/08/donald-trump-trump-cards