September 28, 2023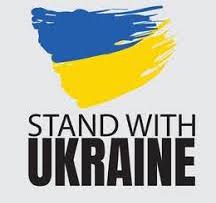 To subscribe to this FREE weekly newsletter simply email jellison@san.rr.com with "subscribe" as the subject.
THE WEEK'S BEST QUOTES. . .
A "very stupid, awkward, and highly overrated globalist." — Donald Trump lashing out at billionaire donor Charles Koch, who has raised more than $70 million to oppose Trump in the Republican presidential primary. https://truthsocial.com/@realDonaldTrump/posts/111100607592469279
"They're trying to circumscribe your ambitions. They are even telling our younger generations to have fewer children, or not to even have children, on the grounds that somehow children are going to make our climate and planet unlivable — and that's wrong to say." — Gov. Ron DeSantis (R) promised to roll back several of the Biden administration's climate initiatives, calling them "part of an agenda to control you and to control our behavior." https://www.nytimes.com/2023/09/20/us/politics/desantis-climate-energy-biden.html
"This is not conservative Republicanism. This is stupidity. The idea that we're going to shut the government down when we don't control the Senate, we don't control the White House. These people can't define a win. They don't know how to take yes for an answer. It's a clown show. You keep running lunatics. You're going to be in this position." — Rep. Mike Lawler (R-NY).  https://www.mediaite.com/politics/its-a-clown-show-moderate-republican-rips-gop-colleagues-this-is-what-happens-when-you-keep-running-lunatics/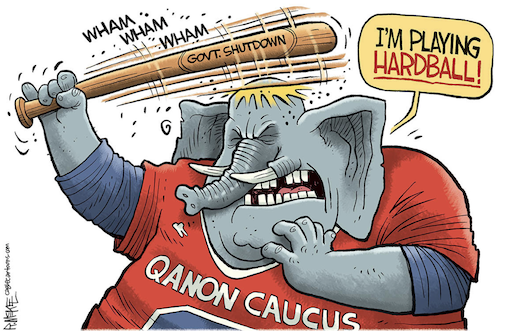 "I slowly shook my head. The president pulled the mask off and asked why I thought he should not wear it. I pointed at the straps of the N95 I was holding. When he looked at the straps of his mask, he saw they were covered in bronzer." Said Trump: "Why did no one else tell me that. I'm not wearing this thing. — Cassidy Hutchinson writes in her new book that Donald Trump almost never wore a mask during the peak of the coronavirus pandemic because he was worried about his makeup. https://www.theguardian.com/books/2023/sep/20/trump-meadows-joked-covid-biden-debate-cassidy-hutchinson-book
"My advice is, 'Go sit down with Hakeem Jeffries.' If he's got a solid majority of his caucus. Why wouldn't he? This is the tail wagging the dog. That's not the way to do it." — Rep. James Clyburn (D-SC), on the House GOP's inability to govern. https://www.nytimes.com/2023/09/21/us/politics/mccarthy-spending-house-republicans.html
"I would like to make clear. I would not back the former president of the United States. He is dangerous for the country. He is willing and has showed, time and time again, willingness to proliferate lies to vulnerable American people so he could stay in power… To me, that is the most un-American thing that you can do." — Former Trump White House aide Cassidy Hutchinson. https://www.cbsnews.com/news/former-white-house-staffer-cassidy-hutchinson-says-trump-is-dangerous-for-the-country/
"I didn't come here to shut the government down or play stupid games so we could raise $5 donations by claiming we're doing something and sticking it to the administration, when in fact all they would be doing is screwing the American people." — Rep. Mike Lawler (R-NY). https://hughhewitt.com/congressman-mike-lawler-r-ny-on-the-crack-up-in-the-house-gop-caucus
"Trump's too dumb to be a danger to democracy. Let's not give him that much credit. … I want everyone to relax. It's all going to work out. We survived Civil War, McCarthyism, 1968, 9/11 and even Jan. 6. 'Asshole leaders come and go, but our system stands strong.'" —- NH Gov. Chris Sununu (R). https://twitter.com/sewellchan/status/1705019883451285655

"Why do you bring people like that here? No one wants to see that, the wounded." — Donald Trump once warned the Chairman of the Joint Chiefs of Staff, Mark Milley, not to bring a wounded veteran to public events. https://themessenger.com/politics/milley-says-trump-told-him-to-ban-wounded-vet-from-events-no-one-wants-to-see-that

"The anger-tainment ecosystem that Fox News, above all, has created in the U.S. has left America angrier and more divided than it's been at any time since the Civil War. In order to keep its ratings up it has sought to enrage Americans, divide Americans… and it has knowingly—and Murdoch had a personal hand in this, as we know—it has knowingly spread lies, most consequentially the one where Donald Trump claimed to have won the 2020 election. And of course that created the environment that made the January 6 insurrection possible… Trump would never have been president without the platform that Fox News created." — Former Australian prime minister Malcolm Turnbull. https://www.abc.net.au/news/2023-09-22/malcolm-turnbull-says-fox-news-has-cultivated-an/102890556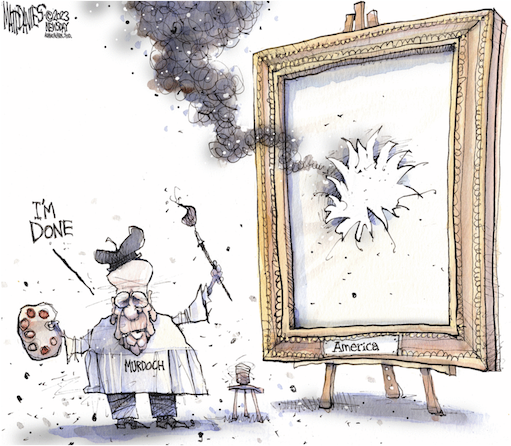 "It only takes four Republicans to potentially put [McCarthy] at risk and lose the speakership, but the fact is they have no alternative. They have nobody else that they can offer to put up there that the 200 of us would ever vote for." — Rep. Don Bacon (R-NE) brushing off threats to Speaker Kevin McCarthy. https://thehill.com/homenews/house/4219518-gop-moderate-scoffs-at-threats-to-remove-mccarthy/

"The arsonists are out there, number one, whining that their house is on fire; number two, are going to want credit that they put the fire out; and then number three, are gonna set up a GoFundMe site to get paid for it." — Rep. Garret Graves (R-LA) on the state of the House GOP caucus. https://twitter.com/emilybrooksnews/status/1705652558771945650

"It is not lost on me how quickly some are rushing to judge a Latino and push him out of his seat. I am not going anywhere." — Sen Menendez response to calls for his resignation. https://twitter.com/frankthorp/status/1705353232233480498

Gen. Mark Milley, the outgoing chairman of the Joint Chiefs of Staff —is a woke train wreck … he should be executed for treason." — Donald Trump on Truth Social.  https://truthsocial.com/@realDonaldTrump/posts/111111513207332826
Giuliani approached me "like a wolf closing in on its prey," — Cassidy Hutchinson writea about being in a tent with Rudy Giuliani and another campaign lawyer. https://www.usatoday.com/story/news/politics/2023/09/25/cassidy-hutchinson-book-enough/70963740007/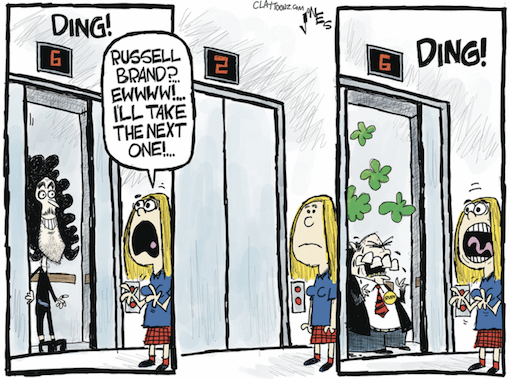 "The party allowing the government to close would be a mistake for both substantive and political reasons. Historically, Republicans have been blamed. So whether you look at it through a policy or a political lens, a shutdown is never beneficial." — Sen. Susan Collins (R-ME). https://www.politico.com/news/2023/09/23/susan-collins-gop-shutdown-00117741
"Kevin McCarthy is a spectator speaker. He may have the title, but Donald Trump and Marjorie Taylor Greene and Matt Gaetz, they all share the job." — Rep. Eric Swalwell (D-CA). https://www.politico.com/news/2023/09/24/swalwell-mccarthy-spectator-speaker-00117841
"The Republican Party is in complete disarray. It is chaotic. The speaker is on his knees begging, but he sold his soul when we had 15 roll calls that was taken in order for him to get to be speaker, and now he has no control. We're headed for a shutdown." — Rep. Maxine Waters (D-CA). https://www.politico.com/news/2023/09/24/waters-turner-mccarthy-government-shutdown-00117822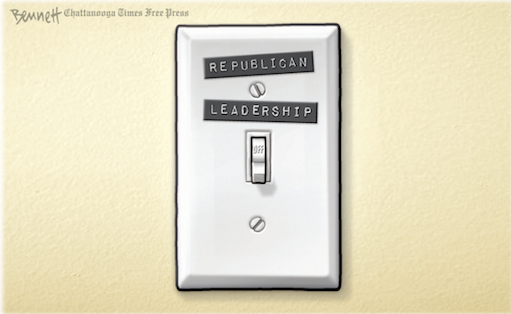 "Why would White House men - prez, vp, senior aide - EVER hire a woman after watching book pimps Cassiday Hutchinson, Alyssa Farah, Stephanie Grisham, Kayleigh McEnany, Olivia Troye throw mud @realDonaldTrump, @RudyGiuliani,  et. al. Pimp ladies be giving real MAGA WOMEN bad name." — Peter Navarro @RealPNavarro https://twitter.com/RealPNavarro/status/1705396545317748932?
"In a better society, quislings like the strange sodomy-promoting General Milley would be hung." — Rep. Paul Gosar (R-AZ), in his newsletter to constituents, called for outgoing Joint Chiefs of Staff chairman Mark Milley to be executed for "coordinating with Nancy Pelosi to hurt President Trump." https://news.yahoo.co m/rep-gosar-homophobic-sunday-rant-203400162.html

Sen. John Fetterman's (D-PA) is a communist and he's demonstrating his allegiance to Marxist principles by wearing "workers clothes"." — Rep. Clay Higgins (R-LA) https://twitter.com/RepClayHiggins/status/1705724018295193971

"I would consider voting to oust House Speaker Kevin McCarthy should the speaker opt to work with Democrats to pass funding measures ahead of the Sept. 30 funding deadline. — Rep. Tim Burchett (R-TN) https://themessenger.com/politics/burchett-says-he-would-consider-ousting-mccarthy-should-he-work-with-democrats-to-pass-funding

"UNLESS YOU GET EVERYTHING, SHUT IT DOWN" — Donald Trump in a Truth Social post calling on Republicans to shut down the government. https://truthsocial.com/@realDonaldTrump/posts/111123164335702676

"I honestly don't know what to say to my fellow Republicans other than you're gonna eat a shit sandwich, and you probably deserve to eat it." — Rep. Chip Roy (R-TX), talking to Fox News about the impending government shutdown. https://www.foxnews.com/politics/chip-roy-furious-at-fellow-republicans-over-spending-debacle-eat-a-s-sandwich
"Comcast and NBC are enemies of the people, should be investigated for "Country Threatening Treason.…They are a true threat to Democracy and are, in fact, THE ENEMY OF THE PEOPLE!" — Donald Trump on Truth Social. https://truthsocial.com/@realDonaldTrump/posts/111122815628828712

"This week, I hope to see my colleagues fully address the alleged systemic corruption of Senator Menendez with the same vigor and velocity they brought to concerns about our dress code." — Sen. John Fetterman (D-PA). https://twitter.com/sahilkapur/status/1706689675690201408

"I've been surprised by how little people hate each other in private. There's sort of an inherent falseness to the way that people present on American media." — Sen. J.D. Vance (R-OH)on what he's found surprising as a new member of the U.S. Senate. https://www.nytimes.com/2023/09/26/opinion/jd-vance-trump.html

"I don't want people to know we lost, Mark. This is embarrassing. Figure it out." — Donald Trump to White House chief of staff Mark Meadows after the 2020 presidential election. https://themessenger.com/politics/cassidy-hutchinson-book-reveals-chaos-at-end-of-trump-white-house-i-dont-want-people-to-know-we-lost
VIDEOS ...
The Lincoln Project' new ad that portrays President Biden's age and experience as an asset. https://twitter.com/ProjectLincoln/status/170485812794509744
"I heard some things he talked about, about race and things that he wanted to mix into the military. Our military is not an equal opportunity employer." — Sen. Tommy Tuberville (R-AL), on why he didn't vote to confirm Air Force Gen. Charles Q. Brown Jr. as the next chairman of the Joint Chiefs of Staff. https://twitter.com/davidgura/status/1706838403092717617

"This is a whole new concept of individuals that just want to burn the whole place down. That doesn't work." — Speaker Kevin McCarthy, talking to reporters about House Republicans voting down their own defense bill for the second time. https://twitter.com/AccountableGOP/status/1704891328243339683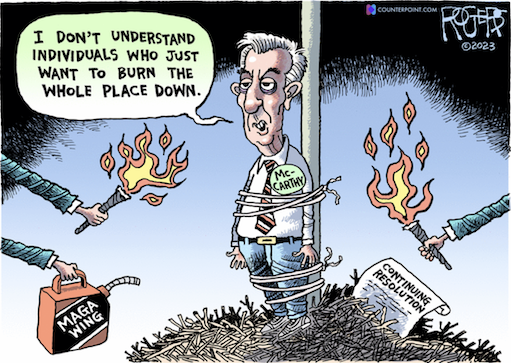 ---
IN THIS ISSUE
IN THE NEWS
OPINION
Andy Borowitz: Trump University Graduates Outraged They Were Never Taught to Defraud Banks
Graduates of Trump University are incensed that they were never taught that defrauding banks was a crucial strategy to building a real-estate empire, the grads have confirmed.
In interviews with Trump U. alumni, the former students expressed shock and dismay that such an important entrepreneurial skill was somehow omitted from the school's curriculum.

"If I had learned to defraud banks, my post-Trump University career would have played out very differently," Tracy Klugian, class of 2006, said. "As it is, I've gone bankrupt four times."

"Every time a bank asked me how much my properties were worth, I put down the correct figure," Harland Dorrinson, class of 2007, said. "Trump University really should have taught me how important it is to just pick a big number out of thin air."

Carol Foyler, '08, said that, given the school's failure to teach the fundamentals of asset overvaluation and bank swindling, her Trump University diploma "isn't worth the Staples printer paper it was printed on."

"Trump University claimed it would teach me all of Donald Trump's real-estate secrets," she said. "Now it seems like he kept his most important secrets secret." https://www.newyorker.com/humor/borowitz-report/
Judge Finds Trump Inflated Property Values, a Victory for New York A.G.
A New York judge ruled on Tuesday that Donald J. Trump persistently committed fraud by inflating the value of his assets, and stripped the former president of control over some of his signature New York properties.
The decision by Justice Arthur F. Engoron is a major victory for Attorney General Letitia James in her lawsuit against Mr. Trump, effectively deciding that no trial was needed to determine that he had fraudulently secured favorable terms on loans and insurance deals.

Ms. James has argued that Mr. Trump inflated the value of his properties by as much as $2.2 billion and is seeking a penalty of about $250 million in a trial scheduled to begin as early as Monday.

While the trial will determine the size of the penalty, Justice Engoron's ruling granted one of the biggest punishments Ms. James sought: the cancellation of business certificates that allow some of Mr. Trump's New York properties to operate, a move that could have major repercussions for the Trump family business. https://www.nytimes.com/2023/09/26/nyregion/trump-james-fraud-trial.html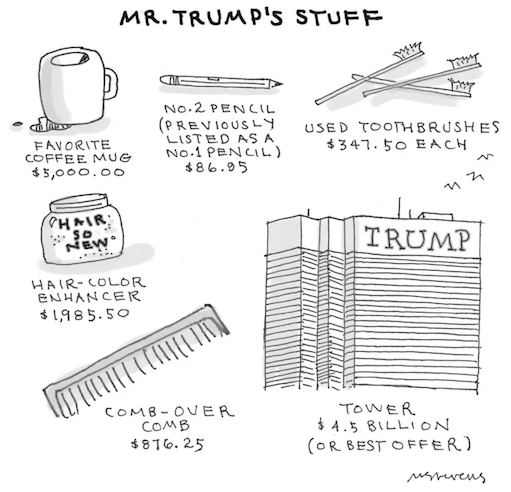 Hunter Biden sues former Trump lawyer Rudy Giuliani over infamous laptop
Hunter Biden on Tuesday sued former Trump lawyer Rudy Giuliani, his companies, and another attorney over alleged violations of computer fraud and data access related to a laptop computer Biden is said to have left at a Delaware repair shop.
From the suit: "For the past many months and even years, Defendants have dedicated an extraordinary amount of time and energy toward looking for, hacking into, tampering with, manipulating, copying, disseminating, and generally obsessing over data that they were given that was taken or stolen from Plaintiff's devices or storage platforms, including what Defendants claim to have obtained from Plaintiff's alleged 'laptop' computer."

The suit also says Biden's data was "manipulated, altered and damaged" before it was copied. https://www.cnbc.com/2023/09/26/hunter-biden-sues-rudy-giuliani-over-infamous-laptop.html
Tucker Carlson's debut in Russia 'show'
The blustering American TV personality Tucker Carlson has lambasted the United States for sending too much aid to Ukraine, called Ukraine President Volodymyr Zelensky "sweaty and rat-like" and given credence to Russia's baseless justifications for its invasion.
The former Fox News host's rhetoric on the war — he has called it a U.S.-led "regime-change war" against Russia — and his attacks on Zelensky's government — "a pure client state of the United States State Department" — aligns so well with the major propaganda points of Russian state television that one channel has decided to broadcast Carlson's new show on X, formerly Twitter, to millions of Russians, though apparently without Carlson's permission.

The channel, Rossiya 24, Russia's leading news channel, and the hosts of its political talk shows spend hours drumming into their audiences that Kyiv, not Moscow, is to blame for the brutal war, and that U.S. military aid will accomplish nothing other than helping "neo-Nazi Zelensky" fight "until the last Ukrainian." had recently been teasing a new show "Tucker," and the first episode aired over the weekend.
In that sense, Carlson would be a natural fit in the lineup. His descriptions of Zelensky, who is Jewish, as a rat, for instance, have been denounced by Jewish groups as resorting to an old antisemitic trope used by the Nazis, among others. He made those comments in the debut of his internet show in June, in which he also declared that aliens were visiting Earth and questioned the official accounts of the Sept. 11, 2001, terrorist attacks in New York and Washington. https://www.washingtonpost.com/world/2023/09/25/tucker-carlson-takes-dubbing-debut-russia-show/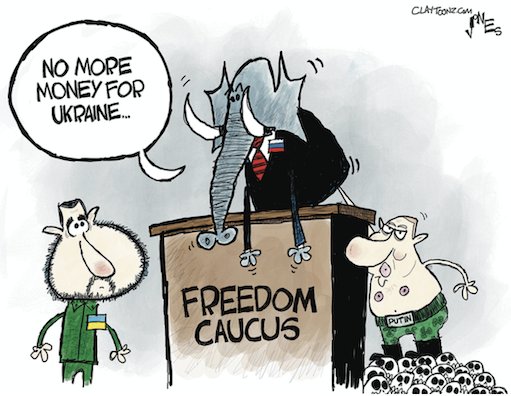 Fetterman Plans to Give Back Menendez Donation In Cash-Filled Envelopes
John Fetterman, the first senator to call on Bob Menendez to resign, plans to give back the $5,000 that the embattled New Jersey Democratic senator gave the Pennsylvania Democrat's Senate campaign in 2022.
And Fetterman wants to do it in envelopes full of hundred-dollar bills. https://themessenger.com/politics/fetterman-plans-to-give-back-menendez-donation-in-cash-filled-envelopes-exclusive
Biden World Is Worried About Spoilers
Biden world is worried about spoilers as third parties threaten to boost Trump. There's a creeping fear inside President Joe Biden's circle that the greatest threat to his re-election may come less from the Republican nominee and more from minor-party spoiler candidates.
Said one person familiar with White House discussions: It's pretty fucking concerning.

Biden met with Hillary Clinton, who had to contend with third-party candidates as the Democratic nominee in 2016, in a private pull-aside at the White House when she visited this month, said two people briefed on their interaction. Clinton pressed Biden to take the third-party threat seriously and come up with a way to compensate for it. https://www.nbcnews.com/politics/2024-election/biden-world-worried-third-party-spoilers-boosting-trump-2024-rcna111375
Prosecutors allege pressure tactics after Trump's political operation paid over $44 million to witness lawyers
Prosecutors are probing former President Donald Trump's political operation after it paid over $44 million to lawyers and law firms that have represented potential witnesses and codefendants in his ongoing legal cases since 2020 — accounting for about half of the operation's legal expenses during that time, Open Secrets reports.
The political network's payments to lawyers and law firms that represent witnesses and defendants in the former president's ongoing legal cases have raised concerns about Trump pressuring witnesses citing the former president's history of allegedly trying to influence witnesses. https://www.opensecrets.org/news/2023/09/prosecutors-allege-pressure-tactics-after-trumps-political-operation-paid-over-44-million-to-witness-lawyers/
Misinformation research is buckling under GOP legal attacks
The escalating campaign — led by Rep. Jim Jordan (R-OH) and other Republicans in Congress and state government — has cast a pall over programs that study not just political falsehoods but also the quality of medical information online.
Academics and government scientists say the campaign also is successfully throttling the years-long effort to study online falsehoods, which grew after Russian attempts to interfere in the 2016 election caught both social media sites and politicians unawares. https://www.washingtonpost.com/technology/2023/09/23/online-misinformation-jim-jordan/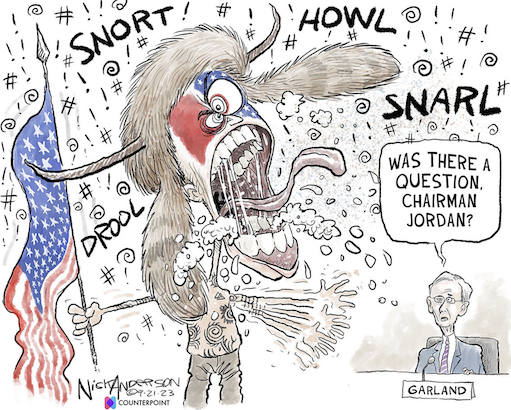 As Trump Prosecutions Move Forward, Threats and Concerns Increase
As the prosecutions of Mr. Trump have accelerated, so too have threats against law enforcement authorities, judges, elected officials and others. The threats, in turn, are prompting protective measures, a legal effort to curb his angry and sometimes incendiary public statements, and renewed concern about the potential for an election campaign in which Mr. Trump has promised 'retribution' to produce violence.
Given the attack on the Capitol by Trump supporters on Jan. 6, 2021, scholars, security experts, law enforcement officials and others are increasingly warning about the potential for lone-wolf attacks or riots by angry or troubled Americans who have taken in the heated rhetoric. https://www.nytimes.com/2023/09/24/us/politics/trump-prosecutions-threats-violence.html
Poll: Overwhelming majorities express concerns about Biden, Trump ahead of 2024 race
Three-quarters of voters say they're concerned about President Joe Biden's age and mental fitness, while nearly two-thirds have concerns about the multiple trials former President Donald Trump faces, a new national NBC News poll finds, casting a gloomy shadow over the upcoming 2024 presidential election.
The poll also shows Trump expanding his national lead in the Republican presidential nominating contest to more than 40 points over his nearest competition, and it has Biden and Trump deadlocked in a hypothetical rematch more than a year before the general election.

Yet what also stands out in the poll are the warning signs for Biden beyond his age — including an all-time high disapproval of his job performance, fewer than 4 in 10 voters approving of his handling of the economy and lagging interest in the election among key parts of the Democratic base. https://www.nbcnews.com/meet-the-press/first-read/poll-overwhelming-majorities-express-concerns-biden-trump-ahead-2024-r-rcna111347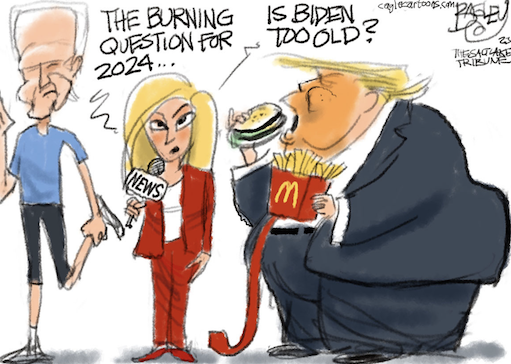 Anti-vaxxers are now a modern political force
The Covid-19 pandemic has produced a remarkable financial windfall for anti-vaccine nonprofits. Revenue more than doubled for the Informed Consent Action Network and Robert F. Kennedy Jr.'s Children's Health Defense in 2021 compared to the year prior… The nonprofits that survived on operating budgets of around a few million dollars just a few years prior are now raking in more than $10 million each.
The funding spike reflects a sea change for once-fringe entities. The anti-vaccine movement has now emerged as a modern political force. https://www.politico.com/news/2023/09/24/anti-vaxxers-political-power-00116527
Menendez Indictment Appears to Undercut Claims of 'Two-Tiered System' of Justice
The department's aggressive pursuit of Mr. Menendez appeared to undercut claims that Mr. Trump is the victim of pervasive political bias that targets leaders on the right while shielding transgressors on the left.
The entanglement of electoral politics and law enforcement is becoming the norm, and the prosecution of a top Democrat up for re-election in 2024 has political as well as legal reverberations. And the indictment, brought by federal prosecutors in Manhattan with limited participation from the Justice Department's national security division in Washington, comes at a politically opportune moment for the besieged department. https://www.nytimes.com/2023/09/22/us/politics/menendez-indictment-republicans-garland-justice.html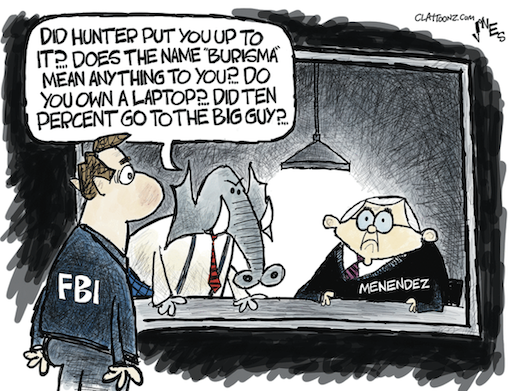 Clarence Thomas Secretly Participated in Koch Network Donor Events
Supreme Court Justice Clarence ThomasThomas has attended at least two Koch donor summits, putting him in the extraordinary position of having helped a political network that has brought multiple cases before the Supreme Court.
Thomas' involvement in the events is part of a yearslong, personal relationship with the Koch brothers that has remained almost entirely out of public view. It developed over years of trips to the Bohemian Grove, a secretive all-men's retreat in Northern California. Thomas has been a regular at the Grove for two decades, where he stayed in a small camp with real estate billionaire Harlan Crow and the Kochs, according to records and people who've spent time with him there.
https://www.propublica.org/article/clarence-thomas-secretly-attended-koch-brothers-donor-events-scotus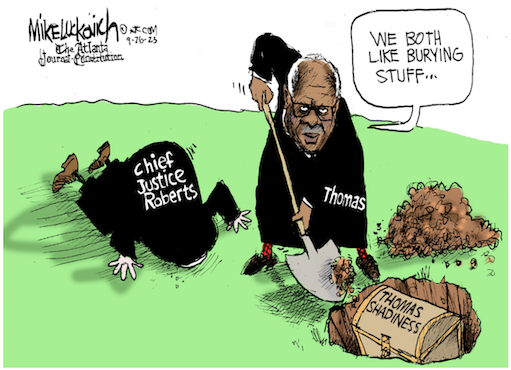 Candidate Who Lost by 18,000 Votes Finally Admits Defeat
Alexandra del Moral Mealer, Harris County Judge Lina Hidalgo's former Republican opponent, dropped her lawsuit challenging the results of the election she lost last November by over 18,000 votes, according to court documents filed Thursday.
Mealer filed an election contest lawsuit on Jan. 6, one of 22 similar cases brought by GOP candidates in Harris County.
https://www.houstonchronicle.com/politics/houston/article/mealer-drops-lawsuit-hidalgo-18381600.php
America's dumbest, wildest budget fight yet
How strange that some American politicians have persuaded themselves it is patriotic and wise to menace their own country's credit or shut down its government. Amid such nonsense, one can forget that Washington teems with bureaucrats, non-profiteers and even members of Congress who are devoted students of public policy, brimming with zeal for sensible reform.
Upon encountering such would-be do-gooders in this era of legislative hissy fits, should one be filled with relief, or pity?
https://www.economist.com/united-states/2023/09/21/americas-dumbest-wildest-budget-fight-yet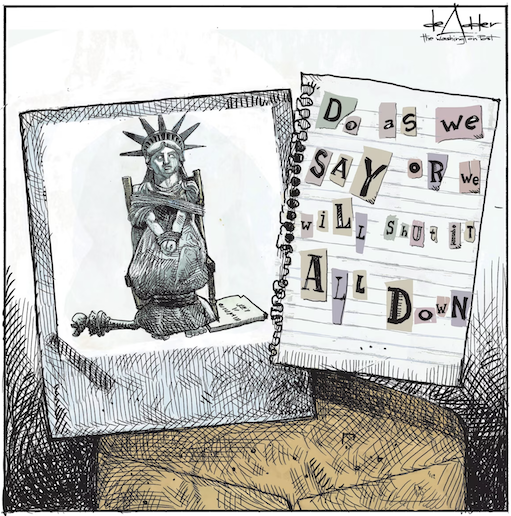 Virginia is the next big battleground for abortion rights and may send a signal for 2024
For those on either side of the debate, Virginia — where all state House and Senate seats are up for election and early voting begins Friday — is among the biggest fights this year over abortion rights. The Commonwealth's odd-year elections are often an indicator of the national mood heading into major election years and offer both parties a chance to test campaign strategies, messaging and policy ahead of 2024 contests for president, Congress and other offices.
Democrats are banking on abortion rights to be a winning issue, just as it was in the 2022 midterms and in earlier contests this year in Virginia and elsewhere. https://apnews.com/article/virginia-abortion-battleground-state-cea29fcf164f639219a1908a7ea32bba
DeSantis Would Eliminate Funding for Covid Vaccines
Gov. Ron DeSantis (R) told ABC News that he wouldn't allow federal funding for Covid-19 vaccines.
He also promised that people involved in the federal response to the pandemic would be held accountable for what he maintained were harmfully restrictive public health measures intended to cut widespread infections and deaths. https://abcnews.go.com/Politics/desantis-talks-trump-black-history-disney-state-gop/story
Trump team changes obscure GOP rules in hopes of clinching presidential nomination early
Strategic, surgical efforts by former President Trump's campaign to overhaul obscure Republican Party rules in states around the nation, including California, have created an opportunity for the GOP front-runner to quickly sew up his party's presidential nomination.
The former president's aides have sculpted rules in dozens of states, starting even before his 2020 reelection bid. Their work is ongoing: In addition to California, state Republican parties in Nevada and Michigan have recently overhauled their rules in ways clearly designed to favor Trump. https://www.latimes.com/politics/story/2023-09-21/trump-delegate-gop-presidential-nomination-desantis
Taylor Swift Registers 35,000 New Voters
A Taylor Swift Instagram post drove record-breaking web traffic to Vote.org this week and helped the site register more than 35,000 new voters.
Swift's push comes as the nonpartisan nonprofit launches a campaign to register 8 million voters before Election Day 2024. They aim to target young people via efforts on college campuses, with social media influencers and other tactics. https://www.axios.com/2023/09/21/taylor-swift-registered-voters-2024-election
THE DAILY GRILL ...
On Friday Speaker Kevin McCarthy told reporters he would remove the roughly $300 million for Ukraine from the Pentagon bill and give it a separate vote as he faced GOP pushback on its inclusion. https://www.politico.com/news/2023/09/23/mccarthy-ukraine-aid-00117801

VERSUS

On Saturday, McCarthy said the bill will move forward with the Ukraine aid included, arguing it would be too complicated to remove because of the Republicans' funding strategy of bringing the Defense bill to the floor with other measures. https://www.politico.com/news/2023/09/23/mccarthy-ukraine-aid-00117801



"If McCarthy pursues the hard-right approach favored by Rep. Matt Gaetz (R-FL) and a handful of other members — passing GOP-written bills packed with spending cuts and conservative policy riders — it is dead on arrival in the Democratic-controlled Senate. A shutdown is inevitable." https://www.politico.com/news/2023/09/25/kevin-mccarthys-shutdown-matt-gaetz-00117896

VERSUS

"If, instead, McCarthy passes a bipartisan continuing resolution to keep the government open, it likely imperils his speakership by decisively turning the House's hardline conservatives against him. A motion to vacate is inevitable." https://www.politico.com/news/2023/09/25/kevin-mccarthys-shutdown-matt-gaetz-00117896
Brian Klaas: Trump Floats the Idea of Executing Joint Chiefs Chairman Milley. America's response is distracted and numb
Late Friday night, the former president of the United States—and a leading candidate to be the next president—insinuated that America's top general deserves to be put to death.
That extraordinary sentence would be unthinkable in any other rich democracy. But Donald Trump, on his social-media network, Truth Social, wrote that Mark Milley's phone call to reassure China in the aftermath of the storming of the Capitol on January 6, 2021, was "an act so egregious that, in times gone by, the punishment would have been DEATH." (The phone call was, in fact, explicitly authorized by Trump-administration officials.) Trump's threats against Milley came after The Atlantic's publication of a profile of Milley, by this magazine's editor in chief Jeffrey Goldberg, who detailed the ways in which Milley attempted to protect the Constitution from Trump.

And yet, none of the nation's front pages blared "Trump Suggests That Top General Deserves Execution" or "Former President Accuses General of Treason." Instead, the post barely made the news. Most Americans who don't follow Trump on social media probably don't even know it happened.

Trump's rhetoric is dangerous, not just because it is the exact sort that incites violence against public officials but also because it shows just how numb the country has grown toward threats more typical of broken, authoritarian regimes. The United States is not just careening toward a significant risk of political violence around the 2024 presidential election. It's also mostly oblivious to where it's headed. https://www.theatlantic.com/ideas/archive/2023/09/trump-milley-execution-incitement-violence/675435/.
Doyle McManus: Trump has a second-term agenda, and it's more terrifying than ever
In speeches, interviews and campaign videos, Trump has promised to:
● Use the military to participate in the largest deportation of undocumented immigrants in American history;
● Order the National Guard into cities with high crime rates, whether local officials want it or not;
● Prosecute Californians who protect minors coming to the state for gender-affirming care;
● Impose a 10% tariff on almost all foreign goods, increasing prices for consumers;
● Appoint a special prosecutor to go after his political opponents, beginning with Biden;
● Purge the federal civil service of anyone who questions his views.
Some of those pledges may turn out to be illegal or impractical, but they're more than bluster. Most of them reflect views Trump has held for decades; he'll try to act on them even if laws and judges get in his way.
https://www.latimes.com/politics/story/2023-09-24/mcmanus-column-trump-second-term-agenda
Jeffrey Goldberg: How General Mark Milley protected the Constitution from Donald Trump
In normal times, the chairman of the Joint Chiefs, the principal military adviser to the president, is supposed to focus his attention on America's national-security challenges, and on the readiness and lethality of its armed forces. But the first 16 months of Milley's term, a period that ended when Joe Biden succeeded Donald Trump as president, were not normal, because Trump was exceptionally unfit to serve. For more than 200 years, the assumption in this country was that we would have a stable person as president, one of Milley's mentors, the retired three-star general James Dubik, told me. That this assumption did not hold true during the Trump administration presented a unique challenge for Milley, Dubik said.
Milley was careful to refrain from commenting publicly on Trump's cognitive unfitness and moral derangement. In interviews, he would say that it is not the place of the nation's flag officers to discuss the performance of the nation's civilian leaders.
https://www.theatlantic.com/magazine/archive/2023/11/general-mark-milley-trump-coup/675375/
Harry Litman: What Trump's assistant told investigators about classified records — and why it's so damning
News reports this week led with the startling new detail that Trump sent Michael notes and to-do lists carelessly scrawled on the back of classified documents. It's a memorable snippet that drives home Trump's indifference to classification and national security.
For a prosecutor, however, that was among the least of the revelations from Michael, known as 'Trump Employee 2' in the first federal indictment of the former president. What marks Michael as a blockbuster witness is her singular ability to tell the story of Trump's conspiracy to obstruct justice in unimpeachable terms. https://www.latimes.com/opinion/story/2023-09-20/donald-trump-classified-records-indictment-mar-a-lago-molly-michael-harry-litman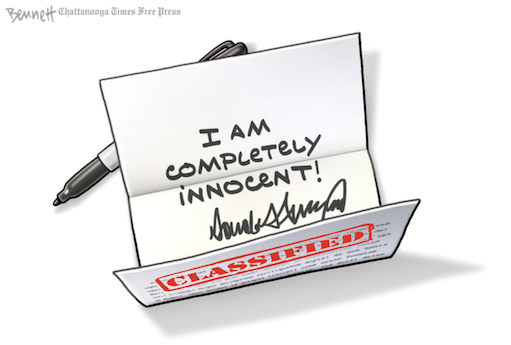 Susan B. Glasser: House Republicans Refuse to Host Zelensky Because They're Too Busy Fighting One Another
Politics is all about contrast. And one of the sharpest contrasts going in Washington has been exposed by the brewing opposition among House Republicans to Ukraine funding. It's a cause that many of Trump's loudest adherents on Capitol Hill have taken up with increasing fervor as polls have shown that the initial, strongly bipartisan support for assistance is ebbing and a majority of the G.O.P. electorate is now opposed to continuing to fund the war effort.
President Biden has made backing Ukraine the signature foreign policy of his tenure, securing congressional approval for more than forty-five billion dollars in military aid and rallying nato allies against Vladimir Putin's war of aggression on its neighbor. On Tuesday, in his annual speech to the U.N. General Assembly, Biden framed support for Kyiv as a basic test of the international order: If we allow Ukraine to be carved up, he said, is the independence of any nation secure? On Thursday, he hosted Ukraine's President, Volodymyr Zelensky, at the White House. Mr. President, we're with you, and we're staying with you, Biden promised.
Biden's steadfast defense of Zelensky, commitment to allies, and opposition to Putin are among his strongest claims to international leadership, not to mention the strongest possible contrast with Trump. Have we forgotten so soon Trump's excruciating meeting with Zelensky in 2019, when the young Ukrainian leader squirmed like a hostage as he sat alongside Trump and awkwardly claimed that nobody pushed him to investigate Biden, hours after Trump released the transcript of his infamous phone call with Zelensky showing that he had done just that? When he was President, Trump rarely missed a chance to excoriate the nation's allies and praise its adversaries and parroted Russian talking points on Ukraine. After the 2022 invasion, he even went so far as to laud Putin's strategic genius. Just a few days ago, Trump revelled once again in praise from Putin, who has all but endorsed the former President's campaign to return to the White House in 2024.

Meanwhile, on Capitol Hill this week, McCarthy bowed down to his Trump-inspired anti-Ukraine fringe—seventy House Republicans, or one-third of the G.O.P. conference voted to cut off aid in a vote earlier this summer—and refused to agree to Zelensky's request to address a joint session of Congress, or to convene a meeting between Zelensky and all House members. McCarthy claimed that the chamber was too busy with spending negotiations, which, given the embarrassing chaos that swirled all day in the House after the defense appropriation rule was defeated, seemed like a particularly lame excuse. Once again, the contrast could not have been starker.  Over on the Senate side of the Capitol, where the Republican leader Mitch McConnell is an outspoken supporter of Ukraine, he and Majority Leader Chuck Schumer hosted Zelensky for a special session in the old Senate chamber, where the Ukrainian President received two standing ovations. According to Schumer, Zelensky summed up the stakes of the present Washington debate with admirable succinctness: If we don't get the aid, he told the senators, we will lose the war.

Most of the seasoned Hill watchers I've spoken with in recent weeks still believe that support for Ukraine is there, at least for now. The bigger problem is the American political calendar: 2024 looms, and, with it, the prospect of Trump—or another Republican taking his pro-Putin line—returning to power. No wonder the boss in the Kremlin is paying such close attention. https://www.newyorker.com/news/letter-from-bidens-washington/house-republicans-refuse-to-host-zelensky-because-theyre-too-busy-fighting-one-another\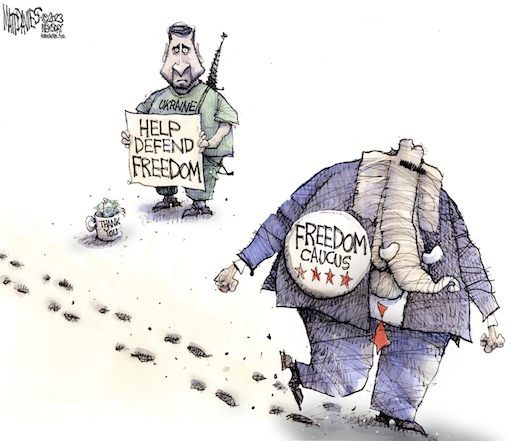 Rick Hasen: The Supreme Court Needs to Make a Call on Trump's Eligibility
There's an old saying that sometimes it is more important for the law to be certain than to be right. Certainty allows people to plan their actions knowing what the rules are going to be.
Nowhere is this principle more urgent than when it comes to the question of whether Donald Trump's efforts to subvert the 2020 election results have disqualified him from becoming president again. As cases raising the question have begun working their way through the courts in Colorado, Minnesota, and elsewhere, the country needs the Supreme Court to fully resolve the issue as soon as possible. https://www.theatlantic.com/ideas/archive/2023/09/supreme-court-needs-make-call-trumps-eligibility/675416/
Max Boot: If you want to save democracy in 2024, Biden is the only viable choice
I fear for America's future and hence the world's — more so now than ever. I had relaxed a bit after the last two national elections, which had seemed to signal a return to normalcy. Donald Trump was decisively defeated in 2020 and, in 2022, most of his fellow election deniers also lost in their bids to take over the election machinery of swing states.
But now we're back in Crazytown. Trump is the almost certain Republican nominee in 2024. And, if current polls are to be believed, he has an excellent chance of winning the presidency again — despite his two impeachments, his incitement of an insurrection, and the 91 felony counts he currently faces in four criminal cases.

A year ago, I naively imagined that Trump would be politically hurt by being indicted. Once again, I either overestimated the American public or underestimated Trump. If anything, the criminal cases seem to have helped him politically. He leads all his Republican challengers by a very wide margin: In the FiveThirtyEight polling average, he is at nearly 56 percent among Republican voters.

The prospect of another Trump term is the greatest foreseeable disaster that can befall the United States and the world. Trump is likely to be 10 times more dangerous this time around, because he won't allow any adults in the White House to act as a check on his worst instincts — no more Jim Mattis as defense secretary, John F. Kelly as chief of staff or H.R. McMaster as national security adviser. In a second term, Trump is likely to only appoint advisers as unhinged as he is.

We can only speculate what this will mean, but the likelihood is that Trump will cut off aid to Ukraine, pull out of NATO, eviscerate the civil service and the military's top ranks, and appoint an attorney general who will prosecute his enemies. For a start. He was eager to do all of those things in his first term but was dissuaded or blocked by the "deep state." He's unlikely to allow that to happen again. He has become even more radical and more authoritarian since leaving office, and he now has much more experience in getting what he wants out of the government.

The consequences will be dire enough domestically, imperiling U.S. democracy, but they will be even worse internationally. Among other alarming consequences, a Trump presidency could allow Russian leader Vladimir Putin to defeat Ukraine and remake the 21st-century global order in favor of tyrants and aggressors. https://www.washingtonpost.com/opinions/2023/09/25/biden-realistic-trump-alternative-democracy/
Charlie Sykes: Old School Bribery
There's something almost nostalgic about reading the indictment against New Jersey Senator Robert Menendez. By which I mean clownishly nostalgic, because it's a throwback to an age when our corrupt politicians were old-school crooks, and frankly, rather stupid. There are no seven-levels of separation influence-peddling, no elaborate shell-companies or conspiracies.
What we have here, ladies and gentlemen, is a throwback — a house full of gold bars, envelopes stuffed with cash ($480,000), and a shiny new Mercedes parked in the garage. A slightly modern twist: DNA linking all of this boodle to the guys who paid cash for their own U.S. senator. https://morningshots.thebulwark.com/p/cassidy-and-the-guys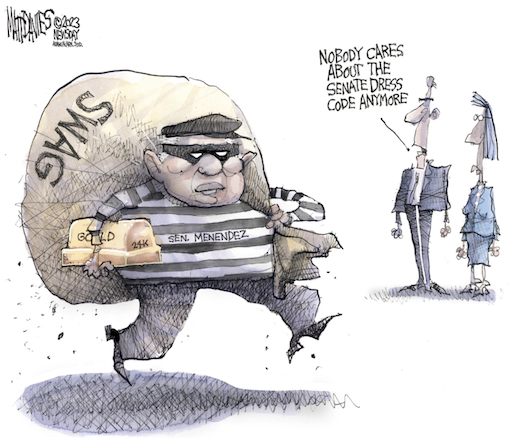 David Cay Johnston: Judge Gives Trump Organization the Corporate Death Penalty
Donald Trump is no longer in business.
Worse, the self-proclaimed multibillionaire may soon be personally bankrupt as a result, stripped of just about everything because for years he engaged in calculated bank fraud and insurance fraud by inflating the value of his properties, a judge ruled Tuesday.

His gaudy Trump Tower apartment, his golf courses, his Boeing 757 jet and even Mar-a-Lago could all be disposed of by a court-appointed monitor, leaving Trump with not much more than his pensions as a one term president and a television performer.

A New York State judge on Tuesday cancelled all of the business licenses for the Trump Organization and its 500 or so subsidiary  companies and partnerships after finding that Trump used them to, along with his older two sons, commit fraud.

Under the New York General Business Law you can only do business in your own name as a sole proprietor or with a business license, which the state calls a "business certificate."  All of Trump's businesses were corporations or partnerships that require business certificates.
The evidence and the issues were so clear cut, Judge Arthur F. Engoron ruled on Tuesday, that there was no reason to waste the court's time trying them. https://www.dcreport.org/2023/09/26/donald-trump-liable-for-fraud/
Molly Jong-Fast: Let's Not Sleepwalk Into Another Trump Presidency
As anyone who lived through the past eight years can attest, you underestimate Trump at your own peril. By glossing over the unhinged things Trump is saying and doing, we in the mainstream media are enabling him to do even more.
Perhaps the largest underreported story out of Trumpworld right now is his hand in the coming government shutdown. It's very likely the government will shut down on Saturday because Republicans in the House are refusing to fund it. (Something else many in the news media aren't saying explicitly.) Matt Gaetz, who has emerged as Kevin McCarthy's biggest antagonist, accusing the Speaker of empty politicking rather than accomplishing things for the right, certainly isn't ignoring the former president. "Trump Opposes the Continuing Resolution. Hold the line," Gaetz recently posted on X, along with a screenshot of Trump's Truth Social post urging Republicans to "defund these political prosecutions against me and other Patriots." Gaetz, part of the burn-it-all-down caucus, appears inspired by the biggest arsonist: Donald Trump.
After so many years of Trump's outrageous comments, lies, grievances, and threats, it's hard to be shocked anymore. And perhaps that's our problem. This is the most likely Republican nominee, and a man who is leading Biden in some polls. Trump is not getting better—if anything he's getting worse. Beyond the treason talk, he recently engaged in antisemitism toward liberal Jews on Rosh Hashanah—"Let's hope you learned from your mistake & make better choices moving forward!"—he suggested—and he seemed ready to buy a glock Monday in South Carolina while out on bail, which could be a federal gun crime, you know, like the one Hunter Biden is currently being charged with. (A Trump spokesperson later clarified that he didn't buy it, but "simply indicated that he wanted one.")
Now, I understand the mainstream media may be bored with the crazy, but our country is once again sleepwalking into disaster, and if journalists aren't clear about the stakes of a second Trump presidency, it will be, at least partially, our fault. https://www.vanityfair.com/news/2023/09/donald-trump-democracy-media-2024-election