August 20, 2020
ON THE RECORD. . .
"If she's the future of the Republican party, we're in trouble… QAnon is the mental gonorrhea of conspiracy theories. It's disgusting and you want to get rid of it as fast as possible." — Rep. Denver Riggleman (R-VA) referring to Marjorie Taylor Greene (R), the Republican nominee in Georgia's 14th congressional district.

"The next several months will determine the fate of the world, and you have the privilege of deciding that fate with your actions. You won't get a second chance." — Walter Shaub, former Director of the Office of Government Ethics.

"Not if the president has anything to do with it." — Speaker Nancy Pelosi when asked if the American people will have a free, fair and credible election in November.

"I don't want to scare people, but I want you to be prepared. I have every reason to believe that Trump is not going to go, you know, silently into the night if he loses. He's going to try to confuse us, he's going to try to bring all kinds of lawsuits, he's got his crony Attorney General Barr ready to do whatever is necessary." — Hillary Clinton.

Folks, let's be clear: Trump is saying no deal in stimulus talks because the Dems want money for the post office. In sabotaging the post office, Trump is sabotaging the economy. — John Stoehr

Reporter: Do you regret all of the lying that you have done to the American people?
Trump: What?
Reporter: Do you regret all of the lying that you have done to the American people?
*silence*
Trump doesn't answer and moves on to the next reporter. https://twitter.com/Yamiche/status/1294032634256011265

Marge Simpson Has Something To Say | The Simpsons: https://youtu.be/RUPi9e_LWM4

Trump inherited the longest economic expansion in history from @BarackObama and @JoeBiden. And then, like everything else he inherited, he ran it straight into the ground.-- Kamala Harris tweet.

"Short term, I think it's fair to say we really have not distinguished ourselves in a positive way by how we responded to the crisis when it was upon us. And the proof of the pudding of that is simply that we have 5 percent of the world's population but 25 percent of the world's deaths due to covid-19. And there's no way to spin that in a positive light." — Sen. Mitt Romney (R-UT) offering a rare Republican criticism of the Trump administration's coronavirus response.

Trump's calculated dismantling of USPS proves one thing clearly: He is WELL AWARE that we do not want him as our president. He's chosen to blatantly cheat and put millions of Americans' lives at risk in an effort to hold on to power. —Taylor Swift

The Republican Party is "no longer about the establishment versus the MAGA forces of disruption. It's about those who still care about facts... and those who have no allegiance to them" — CNN's @jaketapper on some GOP leaders welcoming the candidacy of a QANON conspiracy supporter. VIDEO

"My dad was a healthy 65-year-old. His only preexisting condition was trusting Donald Trump, and for that, he paid with his life." — Kristen Urquiza, who lost her father to COVID-19.

While people need to be are of the fact that Trump still has decent winning chances (27% in our model), there's also about a 33% chance that he suffers the biggest popular vote loss for an incumbent since Hoover (exceeding Carter in 1980). The uncertainty runs in both directions. — Nate Silver tweet.

"We are going to win four more years. And then after that we'll go for another four years, because they spied on my campaign. We should get a redo of four years." — Trump at a mini-rally 

"You've seen what's going on in New Zealand? Big surge in New Zealand. It's terrible. We don't want that." — Trump after New Zealand reported 22 new coronavirus cases in two days. The United States is currently averaging 50,000 new cases every day.

"If you think things cannot possibly get worse, trust me — they can, and they will, if we don't make a change in this election,." — Michelle Obama, speaking at the Democratic Convention,

"How are you different than a snake oil salesman? You have no medical background, there's no evidence of this substance ... it hasn't been tested in animals or humans." — Anderson  Cooper questioning MyPillow CEO Michael Lindell, a Trump supporter, who is promoting oleandrin, an unproven therapeutic treatment for the coronavirus.

REPORTER: Is the President saying if he doesn't win this election that he will not accept the results unless he wins?
MCENANY: The President has always said he'll see what happens and make a determination in the aftermath. — From a White House press briefing with press secretary Kayleigh McEnany.

Don't buy GOODYEAR TIRES - They announced a BAN ON MAGA HATS. Get better tires for far less! (This is what the Radical Left Democrats do. Two can play the same game, and we have to start playing it now!). — Trump, reminding those of us who don't wear MAGA hat to buy Goodyear tires.

POLITICAL ADS.....

War on USPS | VoteVets: https://twitter.com/votevets/status/1293916263945707522

Ready to Lead | Joe Biden For President 2020: https://youtu.be/7iYhor3dxFE

"He is a f&*king moron." - Rex Tillerson, Trump's former Secretary of State | The Lincoln Project: https://twitter.com/ProjectLincoln/status/1294263214071521281

Dignity | Joe Biden For President 2020: https://youtu.be/gqZgy_ucCy0

Regret | The Lincoln Project: https://youtu.be/HvUHLn0iTA8

2016 Voters For Trump Ad | SNL: https://youtu.be/Qg0pO9VG1J8

The most perfect ad for @JoeBiden's campaign. | Brian Tyler Cohen: https://twitter.com/briantylercohen/status/1294831045460684800

Testimonial ad from Trump's Former DHS Chief of Staff @MilesTaylorUSA, declaring his support for Joe Biden and describing Trump's presidency as "terrifying" and "actively doing damage to our security." | Republican Voters Against Trump: https://twitter.com/RVAT2020/status/1295428130170195968
---
IN THIS ISSUE
FYI
OPINION
1. Andy Borowitz: Trump Questions Whether Oakland Is Located in United States
Donald Trump stirred controversy on Saturday by questioning whether the city of Oakland was located in the United States of America.

"Some very smart people are wondering about that," Trump told reporters at the White House. "It's something that needs to be looked into."

Trump explained that Oakland was "probably a completely different country," because "a lot of countries end in the word 'land.' "

"You've got countries like Ireland, Iceland, and Greenland," he said. "So you probably would have to add a country like Oakland to that list."

Trump's suffix-based theory of countries drew a question from one of the reporters present, CNN's Jim Acosta.

"Portland also ends in 'land,' " Acosta said. "Does that mean that, when you sent federal troops to Portland, you were invading a foreign country?"

"No, that means you're a terrible person," Trump replied. https://www.newyorker.com/humor/borowitz-report/
2. Trump retweets Russian propaganda about Biden that US intel agencies say is intended to influence 2020 election
Donald Trump on Sunday night retweeted Russian propaganda about former Vice President Joe Biden that the US intelligence community recently announced was part of Moscow's ongoing effort to "denigrate" the Democrat ahead of November's election.
By retweeting material that the US government has already labeled as propaganda -- and doing so with the 2020 Democratic National Convention kicking off on Monday -- Trump demonstrated once again that he is willing to capitalize on foreign election meddling for his own political gain.
A Twitter spokesman told CNN on Monday that the account Trump retweeted had been suspended "for violations of the Twitter Rules on platform manipulation and spam." The original post, which contained snippets of the Biden tapes, was no longer online as of Monday night. https://www.cnn.com/2020/08/17/politics/trump-retweets-known-russian-disinformation-biden-derkach/index.html
3. Firm Helping Run U.S. Coronavirus Database Refuses Senators' Questions
The private health care technology vendor that is helping to manage the Trump administration's new coronavirus database has refused to answer questions from top Senate Democrats about its $10.2 million contract, saying it signed a nondisclosure agreement with the federal Department of Health and Human Services. https://www.nytimes.com/2020/08/14/world/covid-19-coronavirus.html
4. The Party of Q: Why Marjorie Taylor Greene may be the future of the GOP
Tom Cotton, Josh Hawley, and Ted Cruz are not the future of the Republican Party. Neither is Donald Trump Jr., Nikki Haley, or Marco Rubio. Nor will it be Never Trumpers like Larry Hogan, Mitt Romney or the folks behind the Lincoln Project.
The future of the Republican Party very well may be Marjorie Taylor Greene — the QAnon conspiracy theory believer and future Congresswoman from Georgia. Greene is one of eleven QAnon supporting Republican Congressional nominees on the ballot this fall.
The GOP embracing a movement considered a "domestic terror threat" by the FBI was not pre-ordained, but it is what they are choosing through reflexive cowardice and political convenience. https://messagebox.substack.com/p/the-party-of-q
5. Esper eyes $2.2 billion cut to military health care
Pentagon officials working on Defense Secretary Mark Esper's cost-cutting review of the department have proposed slashing military health care by $2.2 billion, a reduction that some defense officials say could effectively gut the Pentagon's health care system during a nationwide pandemic. https://www.politico.com/news/2020/08/16/esper-eyes-22-billion-cut-military-health-care-395578
6. Fox News' Demonization Of Kamala Harris Is Off To A Fast Start
In the less than 72 hours since Joe Biden chose Kamala Harris as his running mate, Fox News has unloaded on the California senator. From insisting she was chosen because "she's a Black, she's a female"; to lobbing sexist attacks about her lack of "personal charm" and "warmth"; to attributing her success to "powerful alliances with powerful men"; to suggesting that Biden is a puppet candidate while Harris is the Democratic Party's real choice for 2020, it's becoming clear there is no line of attack too low for the conservative network. https://www.vanityfair.com/news/2020/08/fox-news-demonization-kamala-harris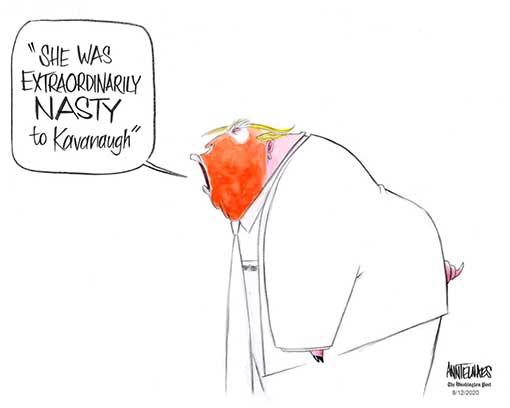 7. Seven Senators to USPS Board of Governors - Do Your Job
A letter from Senators Warren, Schumer, Sanders, Wyden, Smith, Peters and Klobuchar to the USPS Board of Governors asking them to reverse the changes to postal service operations by DeJoy, citing relevant law:
It is critical that you act immediately to address efforts by President Trump and Mr. DeJoy to sabotage the Postal Service. You should immediately, using authorities granted under your bylaws to revoke powers given to the Postmaster General and make decisions on all (Postal Service] matters that the Board may consider appropriate action to reverse any and all actions taken during Mr. DeJoy's tenure that have harmed service.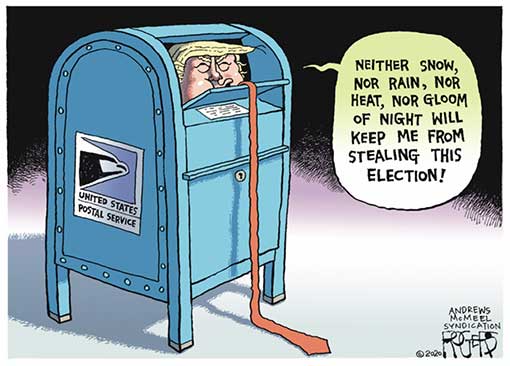 8. G.O.P.-Led Senate Panel Details Ties Between 2016 Trump Campaign and Russia
A sprawling report released Tuesday by a Republican-controlled Senate panel that spent three years investigating Russia's 2016 election interference laid out an extensive web of contacts between Trump campaign advisers and Russian government officials and other Russians, including some with ties to the country's intelligence services.
The report by the Senate Intelligence Committee, totaling nearly 1,000 pages, provided a bipartisan Senate imprimatur for an extraordinary set of facts: The Russian government undertook an extensive campaign to try to sabotage the 2016 American election to help Mr. Trump become president, and some members of Mr. Trump's circle of advisers were open to the help from an American adversary.
The report showed extensive evidence of contacts between Trump campaign advisers and people tied to the Kremlin — including a longstanding associate of the onetime Trump campaign chairman Paul Manafort, Konstantin V. Kilimnik, whom the report identifies as a "Russian intelligence officer." https://www.nytimes.com/2020/08/18/us/politics/senate-intelligence-russian-interference-report.html
9. Senate committee made criminal referral of Trump Jr., Bannon, Kushner, two others to federal prosecutors
The Republican and Democratic chairmen of the Senate Intelligence Committee made criminal referrals of Donald Trump Jr., Jared Kushner, Steve Bannon, Erik Prince and Sam Clovis to federal prosecutors in 2019, passing along their suspicions that the men may have misled the committee during their testimony. https://www.nbcnews.com/politics/justice-department/senate-made-criminal-referral-trump-jr-bannon-kushner-two-others-n1237155
10. Trump says he didn't discuss hacked emails with Roger Stone. A bipartisan Senate report says he did.
The Senate Intelligence Committee's bipartisan report, which the committee's Republican majority approved, says the committee assessed that the president discussed hacked emails with his longtime associate, Roger Stone — even though Trump told special counsel Robert Mueller he didn't recall doing so. https://www.nbcnews.com/politics/national-security/bipartisan-senate-report-describes-2016-trump-campaign-eager-accept-help-n1237002
11. Senate Intelligence Committee report says Trump campaign was eager to accept help from Russia
The report's "detailed review of Vladimir Putin's campaign to elect then-candidate Donald Trump reveals damning and illuminating facts about the actions taken by President Trump, his family, and his most senior campaign advisors, and it goes beyond the work of Special Counsel Robert Mueller," Senate Minority Leader Chuck Schumer, D.-N.Y., said in a statement. "It shows how much the Trump campaign relied on hacked Russian information for its own political gain, while courting multiple connections with Moscow's operatives." https://www.nbcnews.com/politics/national-security/bipartisan-senate-report-describes-2016-trump-campaign-eager-accept-help-n1237002
12. William Barr Disdains Election Deadline With Plan to Report on FBI Probe
Attorney General William Barr is promising more revelations from a probe of the government's investigation into Russian meddling in 2016, but he may be running out of time.
Barr said last week's formal charge against a former FBI lawyer is just the first of several "significant" developments he expects to come out before the Nov. 3 presidential election.
But Barr's critics say Justice Department policy states that he has until about Sept. 4 to make any information public. The attorney general disagrees, and President Donald Trump -- lagging in the polls -- has made clear he expects his top law enforcement officer to press on.  https://pressfrom.info/us/news/politics/-517281-william-barr-disdains-election-deadline-with-plan-to-report-on-fbi-probe.html
13. Trump Ads Attack Biden Through Deceptive Editing and Hyperbole
The New York Times reviewed all of the Trump campaign's television ads since June. Two-thirds contained clearly misleading claims or videos. For the details go to: https://www.nytimes.com/2020/08/15/us/politics/trump-campaign-ads-biden.html
14. Trump campaign sues key Iowa counties over absentee mailings
Donald Trump's reelection campaign has sued two Democratic-leaning Iowa counties that are making it easy to vote by mail during the coronavirus pandemic, seeking to invalidate tens of thousands of voters' absentee ballot applications.
At issue are absentee ballot request forms that the counties are sending to registered voters with personal information already filled in, including their names, dates of birth and voting pin numbers. Voters just have to review, sign and return the forms to get ballots in October that they can mail back or drop off, avoiding crowded polling places. https://apnews.com/22e6d33f1a2eeadde8e193a9330cde16
15. Dr. Fauci Takes Aim at Tucker Carlson: He 'Triggers Some of the Crazies in Society'
"I'm not concerned about what he says… I think you could say that when he does that, it triggers some of the crazies in society to start threatening me, actually threatening, which actually happens… I mean, who would have thought when I was in medical school doing things to save people's lives, I'd have to be going around with a security detail? That's really ridiculous. https://www.mediaite.com/news/dr-fauci-takes-aim-at-tucker-carlson-he-triggers-some-of-the-crazies-in-society/
16. Trump And His Campaign Amplify Untrue 'Birther' Conspiracy Against Kamala Harris
Trump, who led a "birther" conspiracy movement against former President Barack Obama, told reporters Thursday that he heard a "highly qualified, very talented lawyer" opine that Harris didn't qualify to serve as vice president but did not know if it were true or not. Trump was responding to a question and was referring to a Newsweek opinion piece by law professor John Eastman inaccurately calling into question Harris' eligibility.
"I heard it today that she doesn't meet the requirements," Trump said. "I have no idea if that's right. I would have assumed that the Democrats would have checked that out before she gets chosen to run for vice president."https://www.npr.org/2020/08/13/902362014/trump-and-his-campaign-amplify-birther-conspiracy-against-kamala-harris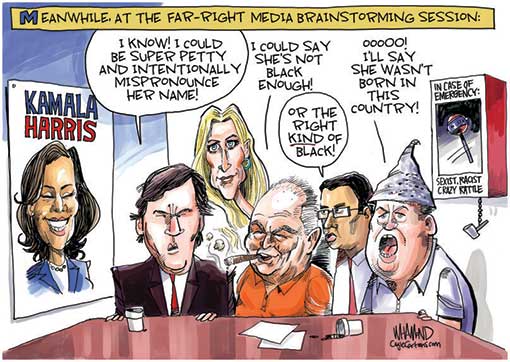 17. Trump's assault on the U.S. Postal Service gives Democrats a new campaign message
Democrats say that President Trump's assault on the U.S. Postal Service has handed them a new political message in the 2020 election, with a chance to make inroads with constituencies who have long favored Republicans.
High-profile Democrats from former president Barack Obama to House Speaker Nancy Pelosi (D-Calif.) sounded the alarm Friday about the president's moves to denigrate government-run mail services, decrying it as an assault on democracy and the needs of citizens who rely on its daily deliveries.
Those most affected by reports of slowdowns in delivery services include veterans, senior citizens and rural residents who have long voted Republican, arming Democratic challengers and incumbents with a salient campaign issue. Democrats are already blanketing the airwaves, latching on to the opportunity to highlight support for an institution that has a 91 percent approval rating, according to an April survey by the Pew Research Center. https://www.washingtonpost.com/politics/trump-democrats-post-office-campaign/2020/08/14/390f8b82-de4d-11ea-809e-b8be57ba616e_story.html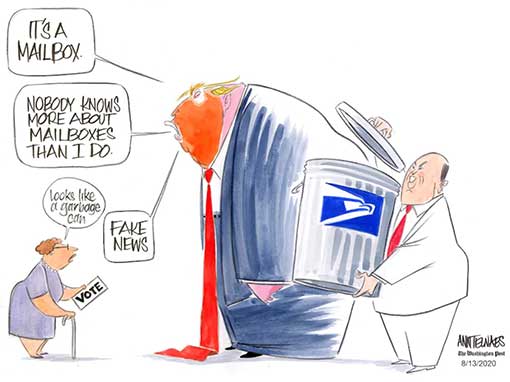 18. Trump officials could face criminal charges for USPS sabotage
Rep. Bill Pascrell, Jr. (D-NJ) made a criminal referral to the New Jersey Attorney General on Friday night, asking him to impanel a grand jury to look at possible breach of state election laws by President Trump, Postmaster General Louis DeJoy and others for 'their accelerating arson of the post office,' he said. Alarming headlines have emerged in recent days as many states prepare to facilitate widespread mail balloting due to the coronavirus pandemic. President Trump openly admitted he was withholding federal aid from the postal service to prevent mail-in voting, and USPS has notified 46 states and D.C. that it will struggle to deliver some mail ballots on time.
If DeJoy or others were charged in New Jersey for state crimes, Trump could not pardon them as his power only applies to federal crimes. https://www.rawstory.com/2020/08/trump-officials-could-face-criminal-charges-for-usps-sabotage-and-the-president-may-not-be-able-to-pardon-them/
19. Herman Cain Twitter Account Shares Posthumous Attack on Biden and Harris
Herman Cain's Twitter account has shared an attack on Democratic presidential candidate Joe Biden and his running mate Kamala Harris despite the former Republican presidential candidate having died earlier this year. https://www.msn.com/en-us/news/politics/herman-cain-twitter-account-shares-posthumous-attack-on-biden-and-harris/ar-BB17UhVB
20. Postal carriers union endorses Biden, warns that 'survival' of USPS is at stake
Joe Biden gained the presidential endorsement of the National Association of Letter Carriers on Friday, a union that boasts nearly 300,000 active and retired postal workers. https://www.nbcnews.com/politics/2020-election/postal-workers-union-endorses-biden-warns-survival-usps-stake-n1236768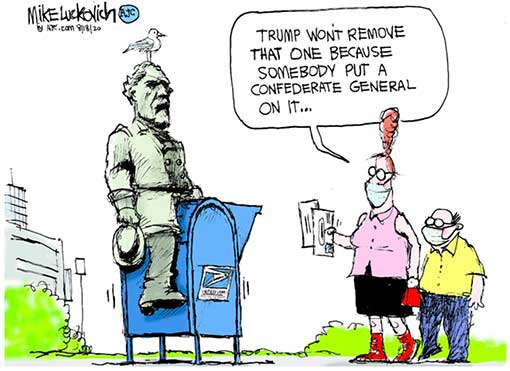 21. Besieged on all sides, Ron Johnson says his probe 'would certainly' help Trump win reelection
Sen. Ron Johnson (R-WI) this week said his probe of Obama-era intelligence agencies would help President Trump win reelection, igniting fury from Democrats who say it was an explicit admission he's using his committee to damage Joe Biden's candidacy for president, Politico reports.
Said Johnson: "The more that we expose of the corruption of the transition process between Obama and Trump, the more we expose of the corruption within those agencies, I would think it would certainly help Donald Trump win re-election and certainly be pretty good, I would say, evidence about not voting for Vice President Biden. https://www.politico.com/news/2020/08/13/dems-ron-johnson-probe-trump-win-reelection-394987
22. Mike Bloomberg pledges $60 million to help House Democrats
Former New York mayor Mike Bloomberg plans to spend $60 million to strengthen the Democratic House majority in November, roughly matching the money he invested in flipping control of the House in 2018, according to a Bloomberg adviser familiar with the plans. https://www.washingtonpost.com/politics/mike-bloomberg-pledges-60-million-to-help-house-democrats/2020/08/17/a5756994-e0b5-11ea-8181-606e603bb1c4_story.html
23. Trump eyes new unproven coronavirus "cure"
To the alarm of some government health officials, President Trump has expressed enthusiasm for the Food and Drug Administration to permit an extract from the oleander plant to be marketed as a dietary supplement or, alternatively, approved as a drug to cure COVID-19, despite lack of proof that it works.
The experimental botanical extract, oleandrin, was promoted to Trump during an Oval Office meeting in July. It's embraced by HUD Secretary Ben Carson and MyPillow founder and CEO Mike Lindell, a big Trump backer, who recently took a financial stake in the company that develops the product. https://www.axios.com/trump-covid-oleandrin-9896f570-6cd8-4919-af3a-65ebad113d41.html
24. Interior Secretary Approves Oil Drilling in Alaska's Arctic Refuge
The Trump administration approved an oil leasing program for the Arctic National Wildlife Refuge on Monday, opening up the pristine 19-million-acre wilderness to drilling for the first time and making it difficult to unwind the decision should Democrats recapture the White House in November. https://www.wsj.com/articles/interior-secretary-to-approve-oil-drilling-in-alaska-s-arctic-refuge-11597667400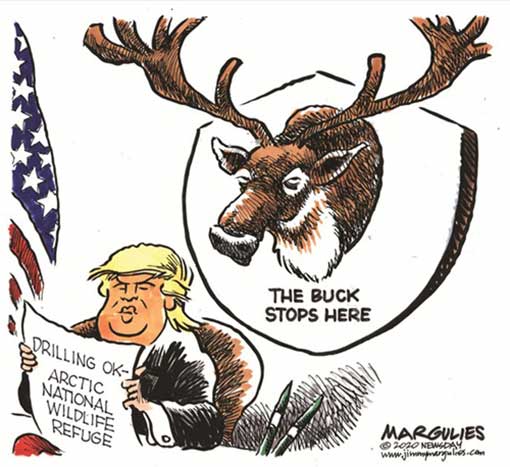 25. In rule change, Postal Service forbids employees from signing absentee ballots as witnesses
In a nationwide rule change that went unnoticed this summer, the U.S. Postal Service has forbidden employees from signing absentee ballots as witnesses while on duty. The change could make it more difficult for Alaskans, particularly rural residents, to vote by mail.
In Alaska and several other states, absentee ballots must be signed by a witness who can verify that a ballot was legitimately filled out by a particular voter. Without a signature, the ballot will not be counted. https://www.adn.com/politics/2020/08/18/in-rule-change-postal-service-forbids-employees-from-signing-absentee-ballots-as-witnesses/
26. Supreme Court Sets Obamacare Showdown for Week After Election
The U.S. Supreme Court said it will hear its blockbuster clash over the constitutionality of the Affordable Care Act on Nov. 10, a week after an election in which Democrats are seeking to make health care a central focus. https://www.bloomberg.com/news/articles/2020-08-19/supreme-court-sets-argument-for-nov-10-in-obamacare-case
27. Trump campaign sues New Jersey over mail-in voting plans
Donald Trump's reelection campaign sued New Jersey Tuesday over the state's decision to use a hybrid voting model for November's election in which all residents will be mailed a ballot, leaving it up to them to decide if they would like to vote by mail or in person. https://www.cnn.com/2020/08/19/politics/trump-campaign-new-jersey-mail-in-ballots/index.html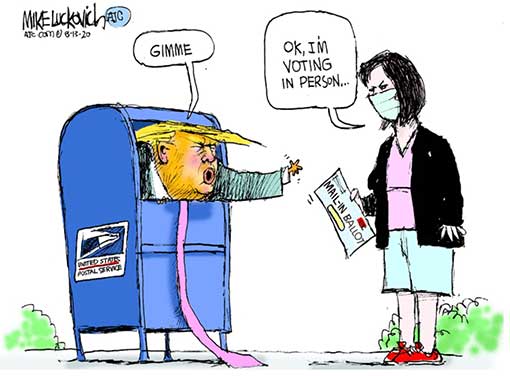 28. The DAILY GRILL
The "suburban housewife" will be voting for me. They want safety & are thrilled that I ended the long running program where low income housing would invade their neighborhood. Biden would reinstall it, in a bigger form, with Corey Booker in charge! @foxandfriends @MariaBartiromo — Donald J. Trump

VERSUS

It doesn't get much worse than this: Trump is saying to "suburban housewives of America" that Biden "will destroy your neighborhood and your American Dream," while promising them that under his presidency, they "will no longer be bothered or financially hurt by having low income housing built in your neighborhood." — Cheri Jacobus in the NY Daily News.

 

The more that we expose of the corruption of the transition process between Obama and Trump, the more we expose of the corruption within those agencies, I would think it would certainly help Donald Trump win reelection and certainly be pretty good, I would say, evidence about not voting for Vice President Biden." -- Sen. Ron Johnson who appears to be using the Homeland Security Committee he chairs as some kind of political action committee -- to the point that the Wisconsin Republican has even been accused of serving as a vessel for Kremlin-backed propaganda intended to undermine Biden's candidacy.

VERSUS

"This damning acknowledgment totally exposes that Ron Johnson's disgraceful conduct is the definition of malfeasance. It is beyond time for him to end this embarrassing and deeply unethical charade once and for all — as a number of his Senate Republican colleagues have long wanted." — Biden spokesman Andrew Bates.

 

The Bob Woodward book will be a FAKE, as always, just as many of the others have been. But, believe it or not, lately I've been getting lots of GREAT books! — Donald J. Trump

VERSUS

POTUS did over a dozen interviews with Woodward for this book. Woodward was spotted in the West Wing many times. — Kaitlan Collins

 

"AOC was a poor student ... this is not even a smart person, other than she's got a good line of stuff. I mean, she goes out and she yaps." — Trump about AOC.

VERSUS

"Let's make a deal, Mr. President: You release your college transcript, I'll release mine, and we'll see who was the better student. Loser has to fund the Post Office." — Rep. Alexandria Ocasio-Cortez (D-NY) responded to President Trump's insult calling her a "poor student" by challenging him to release his college transcript.

 

"Now, they need that money in order to make the post office work, so it can take all of these millions and millions of ballots. Now, if we don't make a deal, that means they don't get the money. That means they can't have universal mail-in voting, they just can't have it." — Trump in an interview with Fox Business Network's Maria Bartiromo.

VERSUS

"This is an assault on our democracy and economy by a desperate man who's terrified that the American people will force him to confront what he's done everything in his power to escape for months — responsibility for his own actions," — Biden campaign spokesman Andrew Bates

 

Congratulations to future Republican Star Marjorie Taylor Greene on a big Congressional primary win in Georgia against a very tough and smart opponent. Marjorie is strong on everything and never gives up - a real WINNER! — Trump tweet

VERSUS

"there's a once-in-a-lifetime opportunity to take this global cabal of Satan-worshiping pedophiles out, and I think we have the president to do it." --  Marjorie Taylor Greene, referring to her QAnon beliefs.

 

"I've voted absentee. The president has voted absentee. He's always been for absentee for a reason. What he's not for is mass mail-in voting."  —  Kayleigh McEnany, attempting to draw a distinction between absentee voting and the mail-in voting.

VERSUS

Of course, there is absolutely no difference between the mail-in ballots Trump has cast and the mail-in ballots he's claimed will delegitimize this year's election—both go through the same process, which is to say both go through the United States Postal Service. -- Vanity Fair

 

"I did not remember discussing WikiLeaks with Stone, nor do I recall being aware of Mr. Stone having discussed WikiLeaks. with individuals associated with my campaign." — Trump, in written responses to the special counsel

VERSUS

"Despite Trump's recollection, the committee assesses that Trump did, in fact, speak with Stone about WikiLeaks and with members of his campaign about Stone's access to WikiLeaks on multiple occasions." — Senate Intelligence Committee report.

 

"When you look at the rest of the world ... now all the sudden, a lot of the places that they were using to hold up, they're having a big surge. They were holding up names of countries, and now they're saying, 'Whoops.' In fact, even New Zealand." — Trump on New Zealand which had an additional 13 cases reported on Tuesday, taking the total number of active cases to 90.

VERSUS

We know by now to take everything that Donald Trump says with an enormous grain of salt, But coming from the leader of a country that had 42,000 new cases just yesterday, I think it's an absurd comparison." — James Shaw, the Green Party's co-leader, told RNZ.

 

"Looking back into history, the response by the ObamaBiden team to the H1N1 Swine Flu was considered a weak and pathetic one. Check out the polling, it's really bad. The big difference is that they got a free pass from the Corrupt Fake News Media!" — Trump

VERSUS

"Americans give the Obama administration high marks for its handling so far of the continuing spread of swine flu, or H1N1 virus, in the United States… 66% of Americans say they approve of how the administration is handling the situation, while 16% disapprove and 17% have no opinion." — Gallup from April 2009

 

Great going Laura. You have a great chance against a Pelosi puppet! — Donald J. Trump

VERSUS

Laura Loomer is best known for having called Muslims "savages," for describing herself as a "proud Islamophobe," and for getting booted from Twitter for tweets about Rep. Ilhan Omar (D-Minn.) that violated its code against hateful conduct. — Washington Post.
29. From MEDIA MATTERS (They watch Fox News so you don't have to)
On August 12, the day after presumptive Democratic presidential nominee Joe Biden announced that Sen. Kamala Harris (D-CA) would be his running mate, Fox News attacked her in a majority of its segments about the choice.On one of the network's "straight" news shows, Trump campaign adviser Steve Cortes said, "Joe Biden has selected a Berkeley radical to join his ticket," adding that in the process, "he has emboldened the furthest fringe leftist elements of American politics." On The Ingraham Angle, a segment displaying a chyron reading "How Kamala Harris would abuse the DOJ" featured Trump personal lawyer Rudy Giuliani claiming Harris is "a very mean woman, and she was a terrible prosecutor," attacking her prosecutorial record, and claiming, "Nobody likes her." https://www.mediamatters.org/fox-news/fox-news-attacked-kamala-harris-majority-its-segments-her-vp-pick

Right-wing media freak out over "tyrannical" Biden proposal for nationwide mask mandate, On Thursday, Democratic presidential nominee Joe Biden proposed a three-month national mask mandate, saying that "every governor should mandate mandatory mask-wearing" in response to the coronavirus pandemic. Right-wing media immediately leapt at the opportunity to smear Biden's proposal as "tyrannical," incorrectly stating that he wants to implement mask-wearing indefinitely and taking Biden out of context to suggest an indifference to Americans' rights.  https://www.mediamatters.org/coronavirus-covid-19/right-wing-media-freak-out-over-tyrannical-biden-proposal-nationwide-mask

Rush Limbaugh pushed vile sexist smears against Kamala Harris, promoting right-wing stories calling Kamala Harris a "mattress" and "hoe." https://www.mediamatters.org/rush-limbaugh/rush-limbaugh-pushed-vile-sexist-smears-against-kamala-harris

Right-wing media are pushing back against complaints that the recent slowdown in the United States Postal Service, initiated by the Trump administration, is delaying the delivery of Social Security checks. After all, they say, Social Security has operated on a direct deposit system since 2013. But not everyone is using this system. CNN reporter Daniel Dale looked at the official government statistics and found that while over 99% of beneficiaries use the direct deposit system, there are still nearly 550,000 checks sent out every month, and the total grows to 850,000 checks when including further programs from the Social Security Administration. https://www.mediamatters.org/voter-fraud-and-suppression/right-wing-media-spread-false-claims-about-social-security-checks-and

Watch the convention speech slamming Trump's COVID-19 response that Fox News refused to air: Kristin Urquiza: "His only preexisting condition was trusting Donald Trump, and for that he paid with is life" https://www.mediamatters.org/fox-news/watch-convention-speech-slamming-trumps-covid-19-response-fox-news-refused-air
1. Jonathan Chait: Bipartisan Senate Report Shows How Trump Colluded With Russia
Unlike Mueller's tightly circumscribed criminal probe, the Senate Intelligence Committee report did investigate collusion. The most important evidence of collusion has either already been exposed (Trump officials taking a meeting with a Russian agent offering Vladimir Putin's help with the campaign) or happened right in front of our eyes (Trump going on television to ask Russia to steal and publish Hillary Clinton's emails). The real question is how extensively or tightly Trump's campaign managed to coordinate its activity with Russia. And while it lacked the broad-ranging investigative powers Mueller could have used if he wanted, the Senate Intelligence Committee turned up damning evidence.
The primary locus of Russian interference was Russian hacking of Democratic emails and then leaking them in order to benefit Trump's campaign. Two Trump advisers seem likely to have been involved in this scheme: campaign manager Paul Manafort and outside adviser Roger Stone.
Manafort had previously run a pro-Russian presidential campaign in Ukraine before signing up with Trump (for free). His business partner, Konstantin Kilimnik, was and is a Russian intelligence agent. "On numerous occasions, Manafort sought to secretly share internal Campaign information with Kilimnik," the report finds.
The committee concedes it "was unable to reliably determine why" Manafort shared this information. However, it concluded that "some evidence suggests Kilimnik may be connected to the GRU hack-and-leak operation related to the 2016 U.S. election." It also found "two pieces of information" that "raise the possibility of Manafort's potential connection to the hack-and-leak operations."
The report redacts all the evidence connecting both Kilimnik and Manafort to the hack-and-leak operation. But these aren't anonymously floated claims by hostile elements. This was a report issued by a Republican-controlled committee that had no incentive to make Trump look guilty.
Stone, like Manafort, did not cooperate. Instead, he lied to investigators. Trump also lied (in written answers to Mueller) about his conversations with Stone. You can say this is a lack of proof, but it is certainly not a lack of evidence of collusion. The evidence is extensive.
In a court of law, any defendant is entitled to a presumption of innocence. In the court of public opinion, the rules work differently. All the evidence points to the conclusion that Trump colluded with Russia and persuaded his top lieutenants to cover up their guilt. The traditional investigative technique of exposing a corrupt organization by flipping the mid-level staff against the boss doesn't work when the boss has the power to pardon them and is shameless enough to use it. But the bipartisan Senate report has laid bare enough of the reality that was clear all along: They acted guilty because they were guilty. https://nymag.com/intelligencer/2020/08/bipartisan-senate-report-shows-2016-trump-russia-collusion.html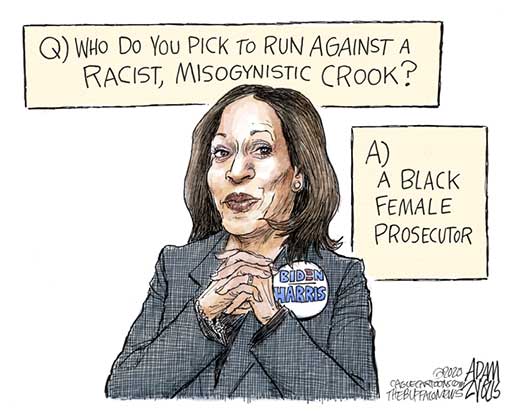 2. Eric Lutz: Trump Is Having A Full-Blown Temper Tantrum Over Michelle Obama
What does it really look like to expose a politician for who they are? It was Michelle Obama on Monday night, speaking at the virtual Democratic National Convention. Of course, she didn't hurl puerile insults at the president—she didn't need to. But she also didn't need any rhetorical flourishes to lacerate him—no jokey jabs, no grand metaphors. All she needed was five simple words, words the president himself had used just this month to describe the rising COVID death toll : "It is what it is."
For all his autocratic aspirations, Trump is no political wizard. He is, as Obama nailed him in her incisive, effortless takedown, a fraud, an incompetent in completely over his head, degrading the national discourse and flexing authoritarian muscles not because he's an evil genius, but because he's so thoroughly inadequate, so "unable to meet the moment," that those strongman tactics are all he's got. "He simply cannot be who we need him to be for us," she said in her rousing address Monday. "It is what it is."
The searing speech clearly struck a nerve with the president, who rattled off a series of desperate rebuttals against the former first lady and Barack Obama, one of the headliners for Wednesday's DNC programming. https://www.vanityfair.com/news/2020/08/trump-is-having-a-full-blown-temper-tantrum-over-michelle-obama
3. Michael Cohen: Disloyal, The Foreword: The Real Real Donald Trump
The United States was being torn apart, its political and cultural and mental well-being threatened by a clear and present danger named Donald Trump, and I had played a central role in creating this new reality. To half of Americans, it seemed like Trump was effectively a Russian-controlled fraud who had lied and cheated his way to the White House; to the other half of Americans, to Trump's supporters, the entire Russian scandal was a witch hunt invented by Democrats still unable to accept the fact that Hillary Clinton had lost fair and square in the most surprising upset in the history of American presidential elections.
Both sides were wrong. I knew that the reality was much more complicated and dangerous. Trump had colluded with the Russians, but not in the sophisticated ways imagined by his detractors. I also knew that the Mueller investigation was not a witch-hunt. Trump had cheated in the election, with Russian connivance, as you will discover in these pages, because doing anything—and I mean anything—to "win" has always been his business model and way of life. Trump had also continued to pursue a major real estate deal in Moscow during the campaign. He attempted to insinuate himself into the world of President Vladimir Putin and his coterie of corrupt billionaire oligarchs. I know because I personally ran that deal and kept Trump and his children closely informed of all updates, even as the candidate blatantly lied to the American people saying, "there's no Russian collusion, I have no dealings with Russia…there's no Russia."  https://disloyalthebook.com/download-the-disloyal-foreword-written-by-michael-cohen/
4. John Barry: A Warning for the United States From the Author of 'The Great Influenza'
Bad as the virus has been this summer, it actually spreads better in low temperatures, and when temperatures fall, more people will be inside in poorly ventilated areas where transmission is also more likely. If the U.S. goes into the fall with new daily cases in the tens of thousands, as they are now, then the numbers could explode and the Morgan Stanley prediction could come true. Considering our containment efforts to date, there is little reason for optimism.
If that occurs, the economy will not come back. Jerome Powell, the chairman of the Federal Reserve, said as much recently. "The path forward for the economy is extraordinarily uncertain and will depend in large part on our success in keeping the virus in check," he said at a July 29 news conference. He added: "A full recovery is unlikely until people are confident that it is safe to re-engage in a broad range of activities."
But containment, and the confidence that goes with it, is not remotely where we are at the moment. Among developed nations, the U.S. ranks first in categories one would prefer to be last in: number of cases and number of deaths. It lags well behind in economic recovery as well. As of this writing, the European Union and Britain combined have a population of about 510 million, and 1,924,569 -19 cases. They have had around 8,000 cases for the latest daily count. The United States, population 328 million, just passed 5.4 million cases, with 42,303 the latest daily case count.
In April, I predicted that summer would not bring relief from the virus, and that we would experience not a second wave but continuous swells, depending on how well we complied with public health measures. Unfortunately too many states eased up too early or did little or nothing to control the virus. On the day that prediction was published, April 30, the seven-day average of new cases was 28,943. On Aug. 16, the seven-day average was 51,523..
I also warned of not simply swells but a viral hurricane-like storm surge if the country does not act aggressively and the public fails to comply. I stand by that prediction. Tens of thousands more will die on top of the more than 170,000 already lost in the U.S., and millions will suffer economic devastation.
And, in reality, all of it will be unnecessary. God help us. https://www.nytimes.com/2020/08/18/opinion/coronavirus-economy.html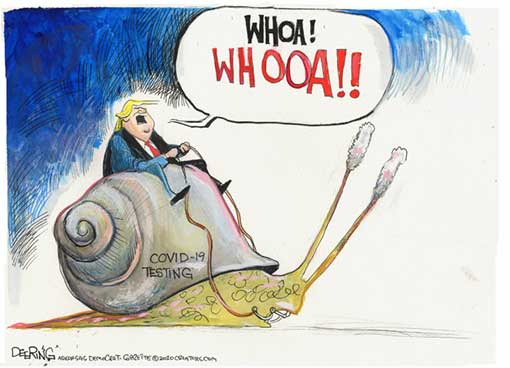 5. Amanda Carpenter: The Post Office Scandal is Either Stupid or Evil, Your Choice
In a normal election year, without coronavirus and a sitting president denouncing mail-in voting systems, people may have looked at mail slowdowns and drop boxes being hauled away and locked up and not really thought much of it. But, when Trump tweets things such as "MAIL-IN VOTING WILL LEAD TO MASSIVE FRAUD AND ABUSE. IT WILL ALSO LEAD TO THE END OF OUR GREAT REPUBLICAN PARTY. WE CAN NEVER LET THIS TRAGEDY BEFALL OUR NATION" it's kind of hard to fault people for thinking the president might up to something.
Because he is.
Behind the scenes, Trump's presidential campaign is suing Nevada over its mail-in voting system and trying to invalidate absentee ballot requests in three Iowa counties. Earlier this summer, Trump's lawyers took Pennsylvania to court for its mail-in system but failed to produce any evidence of vote-by-mail fraud by the Friday deadline the judge imposed. (Oops.)
In discussion with Fox Business's Maria Bartiromo earlier this month about why he would not agree to Democratic requests for emergency Post Office funding Trump said, "They need that money in order to have the Post Office work so it can take all of these millions and millions of ballots…If they don't get those two items, that means you can't have universal mail-in voting because they're not equipped to have it."
So: The president says that mail-in voting will destroy his party. He says that he "can never let" mail-in voting happen. And he then says that by denying the Post Office funding, then they won't have the capability to process mail-in voting.
Boy, it's a real mystery why people think Trump might shut down the Post Office to help him win reelection. https://thebulwark.com/the-post-office-scandal-is-either-stupid-or-evil-your-choice/
6. Max Boot: Republicans are becoming the QAnon Party
On Tuesday, Marjorie Taylor Greene, a racist conspiracy-monger, won a Republican primary in Georgia that will almost certainly result in her winning a congressional seat in a deep-red district. Greene is unrepentant in her racism and conspiracy mongering. She has falsely claimed that George Soros, a liberal Jewish financier, is a "Nazi himself trying to continue what was not finished." She has described the election of Omar and another Muslim woman to Congress as an "Islamic invasion of our government." She has suggested that "the most mistreated group of people in the United States today are White males."
As if that weren't bad enough, Greene is also a supporter of QAnon. This cult, which has been linked to acts of violence, believes that President Trump is fighting a secret clique of "deep state" child molesters. Greene said in a video: "There's a once-in-a-lifetime opportunity to take this global cabal of Satan-worshiping pedophiles out, and I think we have the president to do it."
Some Republican members of Congress have denounced Greene for her "disgusting" comments, but House Minority Leader Kevin McCarthy (R-Calif.) didn't lift a finger to block her election, and Trump welcomed her win. He called her a "future Republican Star" who is "strong on everything and never gives up — a real WINNER!"
And why shouldn't Trump welcome this QAnon wing nut to his party? She fits right in. Media Matters for America found that 53 congressional candidates have promoted QAnon this year. Besides Greene, they include Lauren Boebert, who defeated a Republican incumbent in a congressional primary in Colorado, and Jo Rae Perkins, who won the Republican Senate primary in Oregon. NBC News wasn't kidding when it suggested Congress could soon have a "QAnon caucus."
Under Trump, the GOP has become a party of white nationalists and conspiracy-mongers. I had feared that the Republican swing to the far right would lead the Democrats to go to the far left — and Sen. Bernie Sanders's (I-Vt.) brief run as the Democratic front-runner had confirmed my concerns. But the ticket of Joe Biden and Sen. Kamala D. Harris (Calif.) is as mainstream and moderate as you can get. Trump & Co. can bellow all day long that they are lackeys for Sanders and "the Squad," but it's simply not credible. The Republican Party, by contrast, isn't just catering to extremists — it's led by one. https://www.washingtonpost.com/opinions/2020/08/12/republicans-are-becoming-qanon-party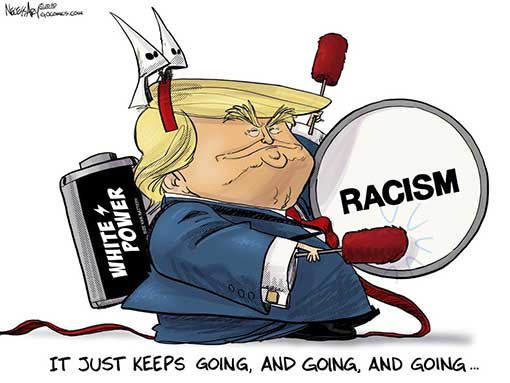 7. Will Bunch: Trump's coup-by-mail is underway. America can't wait until November to fight back
First, they came for the mailboxes.
The once-fantastical notion of a political or military coup in the United States has long lingered in the American imagination. Older Boomers might remember, for example, the book and movie Seven Days in May. It's a riveting plot line because, in a nation with a 231-year tradition of peacefully transferring power, a coup was always something that Can't Happen Here. Americans' knowledge of how coups even work comes mostly from stories on NPR from faraway lands where soldiers seize a nation's key choke points, as tanks roll onto the tarmac of the international airport and camouflaged men appear at the state TV station.
Now ... It's Happening Here.
Donald Trump and his loyalists have seized control of a key American choke point: the U.S. Postal Service, a vital institution that's existed in some form since before the Declaration of Independence and is shouted-out in the U.S. Construction. It's a brazenly opportunistic move, taking the good-natured — and only in hindsight, naive — intentions of state and local officials to make it easier to cast ballots in a pandemic by encouraging voting by mail, and diabolically turning the plan on its head. Just as past tyrants might have burned bridges or wheat fields, Trump and his designated henchman — his wealthy donor Louis DeJoy — are vandalizing the post office in plain sight with the election less than three months away, disappearing mailboxes and throwing expensive sorters into dumpsters. https://www.inquirer.com/opinion/commentary/trump-mailboxes-sorters-usps-2020-election-louis-dejoy-20200816.html?scrolla=5eb6d68b7fedc32c19ef33b4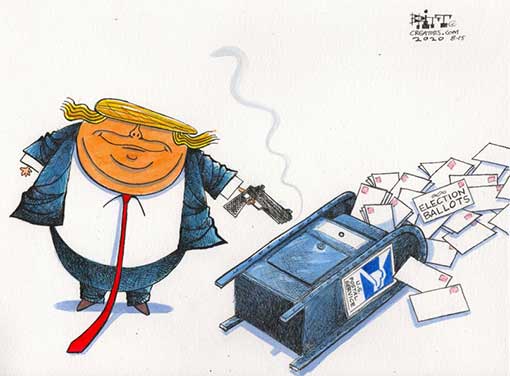 8. Peter Baker: Trump as Candidate: Racist Attacks, Conspiracy Theories, War on the Post Office
How many ways are there to say that this is not normal?
That it is not normal for a president to employ transparently racist and sexist attacks. Or pressure his attorney general to prosecute his foes with an election looming. Or resist money for the Postal Service in order to stop people from voting by mail. Or embrace a conspiracy theorist running for Congress. Or condemn American cities to "rot."
Trump, of course, long ago redefined what constitutes normal in the White House, but with 77 days left in a campaign that polls show he is losing, he is pushing all the boundaries at once. At the same time the champion of birtherism is again scraping the raw edges of America's divisions over race, gender and national origin, he is propelling fringe ideas into mainstream conversation. And now, running as the incumbent, he has levers of power available to help salvage a flagging campaign.
Yet what once would have caused jaws to drop barely seems to register for long at this point because it is so quickly overshadowed by the next norm-busting statement or action. Five years after he originally kicked off his quest for the presidency, Mr. Trump has said and done so many things once considered out of bounds that his critics no longer even know whether to raise alarms or ignore another palpable bid for attention.
When the president recently promoted a "very impressive" doctor who blames various ailments on demon sperm and says treatments are being developed from alien DNA, it was barely a one-day story. When he endorsed a QAnon adherent running for Congress who warns that the world is controlled by a "global cabal of Satan-worshiping pedophiles," it did not last that long. https://www.nytimes.com/2020/08/17/us/politics/trump-election.html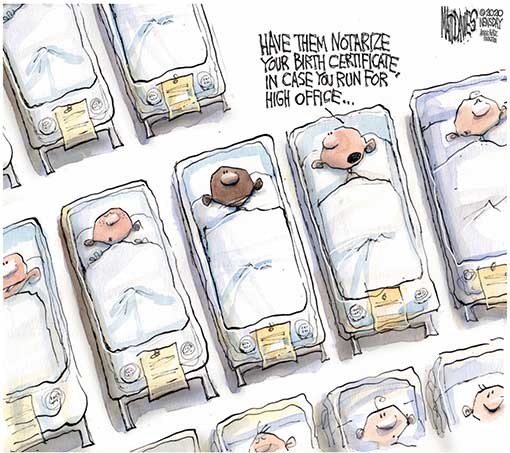 9. David Ignatius: Kamala Harris reminds the world why America is great
Harris reminds the world why America is great. This is the land, not of carnage, as President Trump would have it, but of opportunity. People overseas, in India and nearly everywhere else I travel, still yearn to come to America for much the same reason that Harris's mother and father did. People can be free and prosperous here — and they can march in the streets in protest to demand their rights, as Harris and her parents did, too.
Harris's life story interweaves the two great positive themes that animate our national life now — the "Black Lives Matter" demand for equality and justice and the immigrant yearning for security, prosperity and freedom. She complements Biden, the genial if occasionally inarticulate septuagenarian, in an uncanny way. If he's sleepy, she's a jolt of caffeine. https://www.washingtonpost.com/opinions/kamala-harriss-story-is-an-american-story/2020/08/16/4d5c1a7c-de72-11ea-b205-ff838e15a9a6_story.html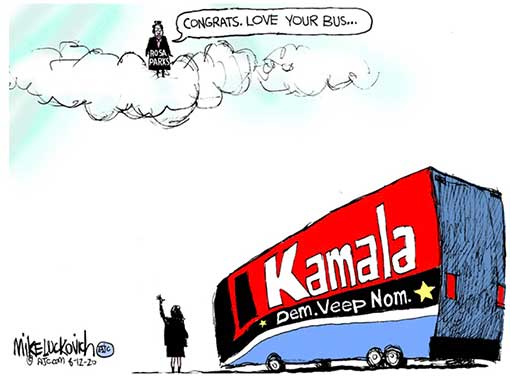 10. Mark Joseph Stern: The White Supremacist "Scholars" Pushing the Kamala Harris Birther Lie
Sen. Kamala Harris is a citizen of the United States who is eligible to serve as vice president. This is not an argument but a statement of fact, because children born in the U.S. to immigrant parents receive birthright citizenship under the Constitution. It is as debatable as the solution to 2+2—which is to say it's not up for debate. A cadre of racists, however, argue otherwise: They allege that these children do not automatically receive American citizenship. They are objectively wrong. But the conservative legal movement continues to entertain their lie, lending it a patina of legitimacy. In turn, media outlets give these charlatans a megaphone through which to launder their racist falsehoods.
And that, in short, is why President Donald Trump is floating the fictitious claim that Harris may not qualify to serve as vice president. "I heard today that she doesn't meet the requirements," Trump said on Thursday. For support, he alluded to a Newsweek opinion column written by John Eastman, whom the president described as "very highly qualified." In truth, Eastman is not qualified to pass judgment on anyone's citizenship. He is a fabulist whose toxic views have grown like a cancer on the right, forming the pseudo-intellectual foundation for birtherism 2.0.
Today's racists have carried on this repulsive tradition with Harris. They want nothing more than to instigate yet another argument about birthright citizenship. But the 14th Amendment settled this debate, and those who deny that reality deserve as much respect as those who insist that the earth is flat or that the Holocaust didn't happen. Some questions have definitive answers. And birthright citizenship for the children of immigrants is not up for debate. https://slate.com/news-and-politics/2020/08/kamala-harris-birther-birthright-citizenship-claremont.html
11. Kyle Murphy: I Resigned from U.S. Government After My Own Leaders Began to Act Like the Autocrats I Analyzed
I left government service after more than a decade because I lost faith in the courage of the Secretary of Defense and the Chairman of the Joint Chiefs of Staff to refuse unlawful orders from the President. They effectively labeled me and other Americans expressing our views in a peaceful assembly as enemies. They authorized troops to use overwhelming force and set a dangerous precedent by enabling the president to ignore state and local officials' objections and deploy federal forces in response to popular protests. While the military is, thankfully, out of the spotlight for now, the president has turned to other eager allies — in the Department of Homeland Security and the Department of Justice — who believe their components of the federal government can clamp down on dissent with a veneer of legality.
I have seen up close the president's disdain for democratic values, and recent events should be put in the context of a continuous slide toward authoritarianism. In 2015, I was detailed to the White House as an apolitical civil servant on the National Security Council (NSC) staff. My term was set to conclude in January 2017, but I agreed to extend for two months at the request of NSC leaders to support an orderly transition between administrations. I briefed President Donald Trump before several introductory calls to foreign heads of state, and as is customary, I listened in and prepared the official transcripts. I was appalled by the ways he actively undermined the democratic principles we have long aspired to model and to advance globally. https://www.justsecurity.org/72008/i-resigned-from-u-s-government-after-my-own-leaders-began-to-act-like-the-autocrats-i-analyzed/
12. Stephen Collinson: Trump's election meddling is threatening US democracy
Never mind meddling by Russia, China or Iran. The most dangerous threat to the integrity of November's election is coming from the man sworn to protect it, the President of the United States.
Trailing badly in the polls, overtaken by the worst health crisis in 100 years and deprived of the cruising economy he had hoped to ride to a second term, President Donald Trump is actively trying to discredit an election that could see him turned out of office -- or is at least preparing the groundwork for a bitter legal battle that could drag on for weeks in the event of a close result. https://www.cnn.com/2020/08/14/politics/trump-election-meddling-democracy-russia/index.html