September 14, 2017
ON THE RECORD. . .
"It is shameful that Republicans are allowing Trump to profit off the Presidency. History will look back on the President's actions as a brazen violation of our Constitution," -- Rep. Steve Cohen (D-TN) on GOP leaders not allowing votes on Democratic proposals to prevent taxpayer funds from benefiting businesses owned by Donald Trump.
Sanders has created what amounts to his own party organization, "Our Revolution," which endorses candidates — a signal to voters of Sanders' backing and of its separation from the Democratic Party. -- Thomas B. Edsall 9/07/17
"I think there's going to be a rebellion against everybody, not just leadership. If we get to December and we've not repealed Obamacare, don't build the wall… it's not going to be pretty." — Rep. Mark Meadows (R-NC).
"I think it's fair to say that I didn't realize how quickly the ground was shifting under all our feet. I was running a traditional presidential campaign with carefully thought-out policies and painstakingly built coalitions, while Trump was running a reality TV show that expertly and relentlessly stoked Americans' anger and resentment." — Hillary Clinton, quoted by CNN in her new book, "What Happened."
"To have any kind of focus on the cause and effect of the storm; versus helping people, or actually facing the effect of the storm, is misplaced. To discuss the cause and effect of these storms, there's the… place and time to do that, it's not now." — EPA Administrator Scott, saying that talking about climate change would be "very, very insensitive" to the people of Florida.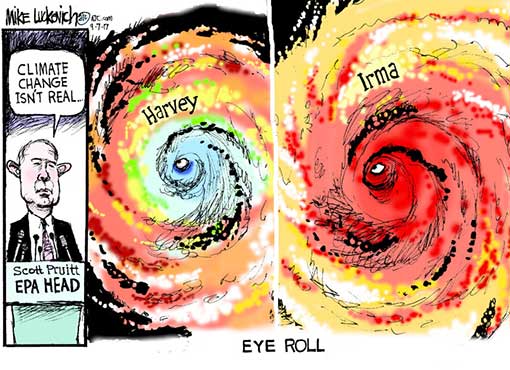 With normal presidencies, history often takes its time reaching a verdict. But once in a while, the verdict arrives with the speed of a tweet after an imagined slight. Judging from the assessments of six distinguished historians such is Trump's grim fate. His time in office, like so much of his life, will be deemed a corrupt, messy shambles. The only lingering question is the extent of the damage he will have done by the time he is forced out of office. -- Graydon Carter
"It makes all of their normalizing and 'Trumpsplaining' look silly and hollow. Trump betrays everyone: wives, business associates, contractors, bankers and now, the leaders of the House and Senate in his own party. They can't explain this away as a 15-dimensional Trump chess game. It's a dishonest person behaving according to his long-established pattern." — GOP strategist Rick Wilson, about his party's congressional leaders.
"Republicans fear that Mr. Trump has relinquished his role as leader of the party, instead assuming the mantle of his own political movement. And they are bracing for an election season in which their deeply unpopular president does more to undermine than aid candidates of the party he ostensibly oversees." -- New York Times
"Joe Biden said the Democratic Party in 2016 'did not talk about what it always stood for — and that was how to maintain a burgeoning middle class.' I find this fairly remarkable, considering that Joe himself campaigned for me all over the Midwest and talked plenty about the middle class." — Hillary Clinton, quoted by CNN, from her new book What Happened.
"This is the time to talk about climate change. This is the time that the president and the EPA and whoever makes decisions needs to talk about climate change. If this isn't climate change, I don't know what is. This is a truly, truly poster child for what is to come." — Miami Mayor Tomás Regalado (R), quoted by the Miami Herald, criticizing the Trump administration for denying the connection between climate change and increasingly destructive storms.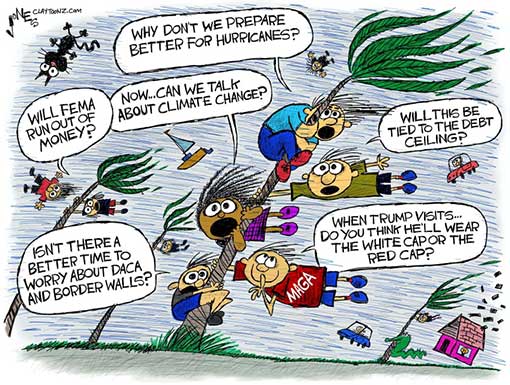 U.S. "intelligence missed it when Russian intelligence stole the president of the United States." -- Vyacheslav Nikonov, a member of the Russian parliamentary body, the Duma
"It should be explored. I want to know what happens in all the countries that have it — how well it works or the challenges they have." -- Sen. Joe Manchin (D-WV), the Senate's most conservative Democrat saying that Congress should consider adopting a single-payer health-care system, is a sign of how fast politics are shifting on what was once seen as a fringe issue on the left.
"Before I know what's happening, his hands are on my shoulders and his lips are on my cheek. My eyes widen. My body freezes. My heart stops. Fuck. I hope the cameras didn't see that. My bosses are never going to take me seriously." — Katy Tur, writing in Unbelievable: My Front Row Seat to the Craziest Campaign in American History, recounting when Donald Trump tried to kiss her on the set of "Morning Joe."
Clinton made mistakes. But she got a raw deal, too. Any Democrat is going to get that same raw deal in 2020 unless the party has expanded the image of what and who it is and represents. It can't be just a party of educators and lawyers and civil servants and a few other categories whose members are concentrated in a few cities and states. -- Michael Tomasky in the Daily Beast
"A small but still significant number of left-wing voters may well have thrown the election to Trump. Jill Stein, the Green Party candidate, called me and my policies 'much scarier than Donald Trump' and praised his pro-Russia stance. This isn't surprising, considering that Stein sat with Putin and Michael Flynn at the infamous Moscow dinner in 2015 celebrating the Kremlin's propaganda network RT, and later said she and Putin agreed 'on many issues'… in each state, there were more than enough Stein voters to swing the result, just like Ralph Nader did in Florida and New Hampshire in 2000. Maybe, like actress Susan Sarandon, Stein thinks electing Trump will hasten 'the revolution.' Who knows?' -- Hillary Clinton on the Green Party presidential nominee. -- Hillary Clinton on the Green Party's presidential nominee.
The way I look at it is that the person who has to be held responsible is Donald Trump. He is the president, he listens to who he listens to, he tweets and speaks out, makes common cause with white supremacists, and neo-Nazis and Ku Klux Klanners, takes away the protections that were granted to 800,000 DREAMers, and in so many ways just trying to impose a political agenda that is turning the clock back, or attempting to do so in ways that I find not only really repulsive, but wrongheaded in terms of the kind of country we are. -- Hillary Clinton in an interview with Refinery29
---
IN THIS ISSUE
FYI
OPINION
1.  Andy Borowitz: White House Rejects Supremacist Label: "No One Has Done More Than Trump to Prove White People Are Not Superior"
Upbraiding the ESPN anchor Jemele Hill for calling Donald Trump a "white supremacist," the White House press secretary, Sarah Huckabee Sanders, said on Wednesday that "no one has done more than President Trump to prove that white people are not superior."

"It's grossly unfair that Ms. Hill sought to portray Donald Trump as an upholder of white supremacy, when everything he says or does directly undermines that whole concept," Sanders said. "Anyone who thinks that Donald Trump is on some mission to make white people look good hasn't been paying attention."

Ending on a personal note, Sanders said that she was "a hundred-per-cent sure" that her boss is not a white supremacist. "Donald Trump cannot even spell the word 'supremacist,' " she said.  https://www.newyorker.com/humor/borowitz-report/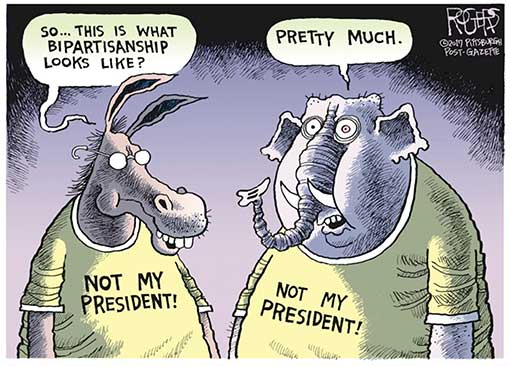 2. 30 of the Mostly Racist Facebook Memes the Russians Used to Corrupt Your Mind
The Daily Beast scoured search engine caches and found remains from the now-shuttered SecuredBorders page, just one of Russia's propaganda communities, including dozens of their posts and graphics. A collection of the Russian Facebook memes they recovered is at http://www.thedailybeast.com/30-batsht-crazy-mostly-racist-facebook-memes-the-russians-used-to-corrupt-your-mind
3. Russia's Facebook Fake News Could Have Reached 70 Million Americans
Facebook acknowledged that Russian propagandists spent $100,000 on election ads. It neglected to mention how many millions of people those ads reached.
Russian-funded covert propaganda posts on Facebook were likely seen by a minimum of 23 million people and might have reached as many as 70 million, according to analysis by an expert on the social-media giant's complex advertising systems. That means up to 28 percent of American adults were swept in by the campaign.
On Wednesday, Facebook's chief security officer, Alex Stamos, revealed that Russia had "likely" used 470 fake accounts to buy about $100,000 worth of advertising promoting "divisive social and political messages" to Americans. It was Facebook's first public acknowledgment of the role it unwittingly played in the Kremlin's "active measures" campaign. Stamos' statement was also conspicuous by what it omitted: Facebook has refused to release the ads. More significant, it hasn't said what kind of reach Russia attained with its ad buy. http://www.thedailybeast.com/russias-facebook-fake-news-could-have-reached-70-million-americans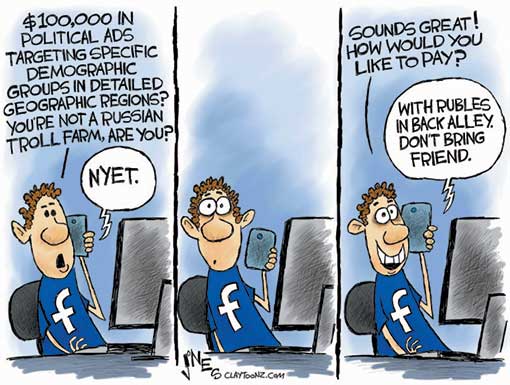 4. Russia Used Facebook to Organize Anti-Immigrant Rallies
Russian operatives hiding behind false identities used Facebook's event management tool to remotely organize and promote political protests in the U.S., including an August 2016 anti-immigrant, anti-Muslim rally in Idaho.
The Facebook events—one of which echoed Islamophobic conspiracy theories pushed by pro-Trump media outlets—are the first indication that the Kremlin's attempts to shape America's political discourse moved beyond fake news and led unwitting Americans into specific real-life action.  http://www.thedailybeast.com/exclusive-russia-used-facebook-events-to-organize-anti-immigrant-rallies-on-us-soil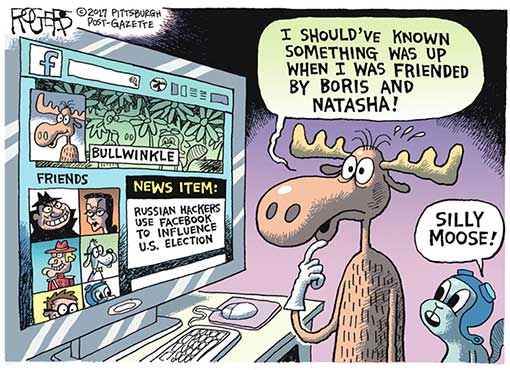 5. The DAILY GRILL
"They need illegal aliens to fill the churches. That's it's obvious on the face of it." -- Stephen Bannoncriticizing the response of the Catholic Church to President Trump's plan to end DACA

VERSUS

"It seems to me that Mr. Bannon has forgotten that he is the son of immigrants and forgotten the teachings of his Church. There is power in faith and community, with all of us working together to support the common good. Mr. Bannon, on the other hand, seems to be caught in fear, division, and hatred." -- Sister Simone Campbell on Twitter.

 

"Ridiculous." -- Paul Ryan (R-WI) on the Democrats proposal to raise the debt ceiling for three months, instead of the six months Republicans were asking for.

VERSUS

"Perfectly reasonable and rational." -- Paul Ryan (R-WI) defending the President who agreed with the Democrats.

 

"My personal view is we've got to start looking at single-payer. I think we should have hearings. We're getting there. It's going to happen." -- Former Montana Sen. Max Baucus (D-MT),  a principle drafter of the Affordable Care Act who helped steer the bill toward the center in 2009, told the Bozeman Daily Chronicle that he now supports a single-payer system.

VERSUS

"Just eight years ago, he refused to even hold a hearing on single-payer. To say now that he not only supports it, but that he thinks it's inevitable, is a sign of just how dramatically Democrats are pulling to the left on health care." -- Sam Baker

 

"So there is a desire to advance this climate change agenda, and hurricanes are one of the fastest and best ways to do it. You can accomplish a lot just by creating fear and panic. You don't need a hurricane to hit anywhere.All you need is to create the fear and panic accompanied by talk that climate change is causing hurricanes to become more frequent and bigger and more dangerous, and you create the panic, and it's mission accomplished, agenda advanced." -- Rush Limbaugh on Tuesday

VERSUS

"The views expressed by the host of this program [are] documented to be almost always right 99.8 percent of the time," -- Rush Limbaugh before announcing he would be leaving South Florida after claiming that Hurricane Irma would not hit the United States and that scientists and the liberal media were hyping up the hurricane as proof of their global warming "lie."

 

"Here is Miami International Airpot. STAY SAFE!!"-- Dan Scavino, director of social media for Trump's White House, linking to footage of a plane moving on a flooded tarmac. Scavino said that he was sharing social media footage of the hurricane with the president and vice president each hour.

VERSUS

This video is not from Miami International Airport. - Miami Int'l Airport @iflymia
6. From MEDIA MATTERS (They watch Fox News so you don't have to)
In a homemade video, Alex Jones smashes a bug he calls Nancy Pelosi to do his part to "spotlight the cockroaches" https://www.mediamatters.org/video/2017/09/07/homemade-video-alex-jones-smashes-bug-he-calls-nancy-pelosi-do-his-part-spotlight-cockroaches/217872

Right-wing media pushed false, racist narrative of widespread looting during Hurricane Harvey .  https://www.mediamatters.org/blog/2017/09/07/Right-wing-media-pushed-false-racist-narrative-of-widespread-looting-during-Hurricane-Harv/217873

Right-wing media's new voter fraud "proof" is even more asinine than usual. https://www.mediamatters.org/research/2017/09/08/right-wing-medias-new-voter-fraud-proof-even-more-asinine-usual/217887

"Do you worry 100 years from now someone is going to take that memorial down like they are trying to remake our memorials today?" -- Ryan Zinke, a "Fox and Friends" co-host compared the 9/11 national monument for the victims of Flight 93 to Confederate monuments.  http://talkingpointsmemo.com/livewire/fox-news-host-likens911-memorial-to-confederate-statues

Roger Stone: It's possible White House chief of staff John Kelly is having Trump drugged. Stone: "I have now heard not from one, but two different sources, that he seemed disoriented and was slurring his speech in conversations. To me this is a tip off that he may be being medicated. Is General [John] Kelly above this? No." https://www.mediamatters.org/video/2017/09/11/roger-stone-it-s-possible-white-house-chief-staff-john-kelly-having-trump-drugged/217906

Alex Jones: Sources tell me Trump is being "covertly drugged" and is now slurring his words by 6 or 7 p.m. each night. Jones: Multiple people tell me "they believe that they are putting a slow sedative that they're building up that's also addictive in his Diet Cokes and in his iced tea and that the president by 6 or 7 at night is basically slurring his words and is drugged" https://www.mediamatters.org/video/2017/09/11/alex-jones-sources-tell-me-trump-being-covertly-drugged-and-now-slurring-his-words-6-or-7-pm-each/217904
7. Striking proposal shows Russia wanted to do more than cause chaos during the election
A document provided to the State Department by a Russian diplomat in April outlined a broad, ambitious plan to overhaul Moscow's relationship with Washington on the heels of Russia's campaign to undermine confidence in the US presidential election and help elect Donald Trump.
Putin was not only optimistic, but extremely eager: He dispatched a diplomat to deliver the plan — which he hoped would be implemented immediately — barely three months into Trump's presidency. By that point, the White House had already begun exploring ways to lift or ease the sanctions on Russia imposed by Obama in mid-2014 and late 2016.
The administration looked into easing or lifting the sanctions just days after Trump's inauguration, according to reports by Yahoo News and NBC. And a senior White House official asked the State Department in March to assess if the sanctions were harming US interests and whether lifting them would increase Russia's oil production and therefore help the American economy.
Trump also emphasized, both during and after the election, his desire to pursue a reset with Russia akin to the one spearheaded by Obama and then-Secretary of State Hillary Clinton in 2009 — before Russia invaded Crimea and eastern Ukraine and meddled in a US presidential election.
Above all else, though, the Russian proposal reveals that Moscow thought it could leverage a friendlier president to whitewash its aggression in eastern Europe, Ukraine, and Syria. Viewed through that lens, it becomes difficult to characterize Russia's attempts to influence the election as a one-off experiment in sowing chaos. 
But the "reset" document indicates that Russia's ambitions went beyond trolling its adversary: Moscow wanted legitimacy, and thought Trump would prove it —  no strings attached. http://www.businessinsider.com/russia-reset-us-trump-relationship-2017-9
8. From the Late Shows
The Late Show with Stephen Colbert: Stephen Watched Trump's Ivanka Comments So You Don't Have To (Vomit):  https://youtu.be/VqmRz8Pwh-g

The Late Show with Stephen Colbert: The Worst Part Of Steve Bannon's First Interview: Steve Bannon https://youtu.be/ajFmgmUSYAc

The Daily Show: Steve Bannon Confirms Everyone's Worst Suspicions About Him on "60 Minutes": https://youtu.be/Ji84ClIa_SQ

Trump Responds to Hurricane Irma, Bannon Speaks Out: A Closer Look: https://youtu.be/nPmNV7F4PxY
9. Late Night Jokes for Dems
If you pick up a copy of Hillary's book, you'll see that a lot of notable people wrote little blurbs in the back cover. I'll show you what I mean. For example, Vladimir Putin wrote, "Was like fairytale Cinderella book. Princess failed and pumpkin becomes president."-- Jimmy Fallon

And finally, President Trump wrote, "I loved it. Especially the end, I really did not see that coming. Enjoy."-- Jimmy Fallon

Congressional leaders are still upset with President Trump's decision on the DACA immigration plan. They called it "brainless," "heartless," and "cowardly." All Trump needs are some ruby slippers, and he's off to see the wizard! -- Jimmy Fallon

President Trump tweeted this morning quote, "For all of those (DACA) that are concerned about your status during the six-month period, you have nothing to worry about — no action!" Incidentally, "no Action" was also part of Donald and Melania's marriage contract. -- Seth Meyers

President Trump called for a simplification of the tax system yesterday, and promised that under his plan, "95 percent of Americans will be able to file their tax returns on a single page." Wow, that's only one more page than Trump used. -- Seth Meyers

Technically, I guess Steve Bannon wasn't fired, because on the day he left, the administration issued a statement: "White House chief of staff John Kelly and Steve Bannon have mutually agreed today would be Steve's last day." Yes, it was mutual. Same way my college girlfriend and I mutually agreed that she'd be happier having sex with Gary. -- Stephen Colbert

Congratulations are in order for Hope Hicks, who today became the new White House communications director. She replaces Anthony Scaramucci, who returned to his former job harassing waitresses at Hooters. -- Jimmy Kimmel

Hicks is now the third White House communications director in less than eight months. Trump goes through them like he goes through buckets of KFC. -- Jimmy Kimmel

It's crazy that this is the first time Ted Cruz has been caught looking at porn because, in every single photo, he looks like he just got caught looking at porn. -- James Corden

Donald Trump went against his own party and sided with Democrats in a deal to raise the debt ceiling. And because it's Trump, the debt ceiling will not only be raised, it will also be covered in gold leaf. And feature a tasteless painting of Donald Trump holding a sword and riding a lion. -- James Corden

Trump was actually agreeing with the Democrats. They must have been suspicious of this. They must have been in the Oval Office, like, "This is easy. Maybe a bit TOO easy — oh God, it's a trap, why is the door locked, help!" -- James Corden

Former White House chief strategist Steve Bannon gave an odd interview to Charlie Rose where he criticized the Catholic Church, saying they had been terrible on the issue of immigration and that they need illegal aliens to fill their churches. This is just in case you had any doubt that Steve Bannon is literally the Antichrist. -- James Corden
10. The Republican choice on immigration
Trump is not a guy who resents illegal immigration because it's unsafe for the country and unfair to the hardworking, law-abiding immigrants who embrace our laws and ideals and who give up everything they've known for their children's future. Trump is a guy who resents immigrants, period. He is a neo-nativist. His 'America first' actually means 'Americans only.'
But Republicans, in particular, have a choice to make. They can hold firm to the traditional conservative argument, or they can allow their party to be transformed by Trumpism. They can stand up for our essential identity as a nation of immigrants, or they can blame outsiders for all that ails the society. September 7, 2017 https://www.yahoo.com/news/republican-choice-immigration-090024500.html
11. Democrats Frustrated with Bernie Backers
Prominent Democrats are increasingly riled by attacks from Bernie Sanders' supporters, whose demands for ideological purity are hurting the party ahead of the 2018 midterms and 2020 presidential election, they say. But it's not just the outside agitators that Democratic lawmakers, operatives, and activists are annoyed with: They're tired of what they see as the senator's hesitance to confront his own backers, either in public or through back channels.
Tensions boiled over recently when a handful of Sanders loyalists bashed freshman Sen. Kamala Harris — a rising star in the party and potential 2020 hopeful — as an establishment tool. Democrats were also rankled that other prominent Sanders allies said support for single-payer health care should be a litmus test for candidates. September 8, 2017 http://www.politico.com/story/2017/09/08/bernie-backers-attacks-infuriate-democrats-242386
12. White House Staffers May Get Legal Defense Fund
In a reflection of how serious the administration is taking the matter, sources tell The Daily Beast there are currently efforts underway to organize a legal defense fund for White House staffers. Such a fund would help cover the legal bills associated with Mueller's probe, which are expected to be large. A Washington white collar attorney told The Daily Beast that everyone questioned by Mueller will likely need to retain counsel. Those lawyers will likely bill between $500 and $1000 per hour. September 8, 2017 http://www.thedailybeast.com/mueller-wants-to-talk-to-hope-hicks-over-misleading-russia-statement
13. How California could jolt the 2020 presidential race
California is pushing forward with a plan to change the state's primary date from June to March, a move that could scramble the 2020 presidential nominating contest and swing the early weight of the campaign to the West.
If adopted by the legislature this week — as is widely expected — and signed into law by Gov. Jerry Brown, the early primary could benefit at least two potential presidential contenders from California — U.S. Sen. Kamala Harris and Los Angeles Mayor Eric Garcetti — while jeopardizing the prospects of other candidates who will struggle to raise enough early money to compete in expensive media markets in the nation's most populous state.  http://www.politico.com/story/2017/09/10/california-could-jolt-2020-presidential-elections-242530
14. The Daily Kos: Another Installment of Why I Love Joy Reid!
https://www.dailykos.com/stories/2017/9/10/1697480/-And-Now-For-Another-Installment-of-Why-I-Love-Joy-Reid
1. Paul Krugman: Dreamers, Liars and Bad Economics
The truth is that letting the Dreamers work legally helps the U.S. economy; pushing them out or into the shadows is bad for everyone except racists.
To understand why, you need to realize that America, like other advanced economies, is facing a double-barreled demographic challenge thanks to declining fertility.
On one side, an aging population means fewer workers paying taxes to support Social Security and Medicare. Demography is the main reason long-run forecasts suggest problems for Social Security, and an important reason for concerns about Medicare. Driving out young workers who will pay into the system for many decades is a way to make these problems worse.
On the other side, declining growth in the working-age population reduces the returns to private investment, increasing the risk of prolonged slumps like the one that followed the 2008 financial crisis.
In short, letting Dreamers work is all economic upside for the rest of our nation, with no downside unless you have something against people with brown skin and Hispanic surnames. Which is, of course, what this is all really about. https://www.nytimes.com/2017/09/08/opinion/dreamers-liars-and-bad-economics.html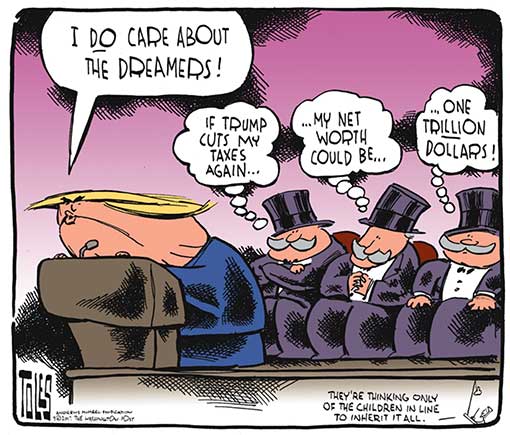 2. Robert Dallek: Judging the Trump presidency
Trump offers a master class in how not to be president. He has deepened skepticism about his suitability for the highest office by raging at opponents, decrying the media as enemies of the American people, dismissing as disloyal those who are in any way critical, and offering distorted versions of reality on virtually every subject, starting with the claim that the first 100 days of his administration were the most successful in history. His ignorant and offhand approach to foreign policy—first and foremost, his seemingly deliberate attempts to weaken and even threaten NATO—has dismayed America's allies and emboldened its enemies. A special counsel has been appointed to investigate Russian interference in the election, reminding Americans of the process that drove Richard Nixon from office.
Trump would do well to study Roosevelt and, surely, Lincoln, along with other presidents, to grasp how they sought (or failed to seek) broad popular unity. It says something fundamental about the man that no one imagines he would actually do this. The problem is not just that it would take work. The larger problem is that he has no interest in the goal. September 6, 2017 https://www.vanityfair.com/news/2017/09/historians-on-trump-presidency
3. John Cassidy: How Small Can Donald Trump Make the Presidency?
For some time now, it has been clear that Donald Trump is wading ever deeper into the cesspool. From his reaction to the white-supremacist-inspired violence in Charlottesville, to his attempt to bar transgender people from serving in the armed forces, to his pardon of Joe Arpaio, the controversial former Maricopa County, Arizona, sheriff who rounded up and mistreated Latinos, Trump has recently been intent on pandering to his most embittered and prejudiced supporters.
From a cold political standpoint, these reprehensible acts may contain some logic. With his approval ratings in the mid-thirties, and with the Russia investigation seemingly closing in on him and his family, Trump's survival depends on his ability to whip up his remaining supporters. Fear of incurring these supporters' wrath (and a possible primary challenge) presumably prevents many congressional Republicans from breaking with the President.
Yet again, Trump has embraced a policy that targets the politically powerless, ignores the real challenges facing the country, further divides it, and tarnishes its international reputation. ("What a cruel, sour place is Trump's America," Helen O'Rahilly, an Irish television executive, wrote on Twitter.) A Presidency that has been shrinking before our eyes practically since its first day has been further diminished. Eventually, it may well shrink to nothing. But, between now and then, look for things to get even uglier.  https://www.newyorker.com/news/john-cassidy/how-small-can-donald-trump-make-the-presidency
4. Charles M. Blow: Inner Racism Revealed
As Michelle Obama said: "Being president doesn't change who you are. No, it reveals who you are." That is what is happening with Donald Trump.
Trump has in the course of his life been on all sides of many issues, although he was always a liar, bully, misogynist, opportunist and economic isolationist. But his racial hostility and white supremacy seem to have blossomed with his entry into politics and his Russia-aided election. After spending a life catering to the appetites of the greedy and gauche, he realized that there was an exponentially larger market of white nationalists and neo-Nazis. To the aspirational he could be landlord, but to the racists he could be overlord.
Trump's outrageous decision this week to end DACA, the Obama-era Deferred Action for Childhood Arrivals, which allowed many young people brought to this country as children to stay and work here, is just the latest expression of Trump's growing intolerance and his growing adoption and internalizing of white nationalist ideology.
Not only did Trump wimp out and send the anti-immigration zealot Jeff Sessions out to make the announcement, he also made the sadistic and emotionally manipulative act of professing his "love" for the Dreamers last week, while moving to bring them pain this week.
Donald Trump continues to say in every way possible that power and privilege in America is primarily the provenance of people who are white, male, Christian and straight, and that all others should be targeted for denial, oppression or removal.
Sometimes you simply have to call a thing a thing, and the thing here is that Trump's inner racist is being revealed, and America's not-so-silent racists are rising in applause.  Sept 7, 2017 https://www.nytimes.com/2017/09/07/opinion/inner-racism-revealed.html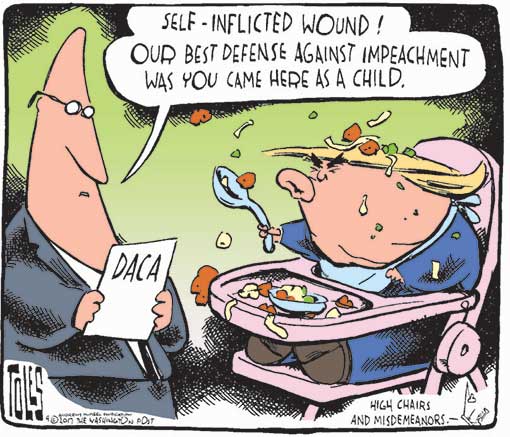 5. Joshua Green: Trump Again Highlights the GOP Divisions
The Republican bounty from Donald Trump's unexpected presidential victory last November was the rare opportunity it afforded the GOP to enact an agenda without Democratic input. Because Republicans won control of the White House and both houses of Congress, nothing could inhibit them—in theory—from passing their preferred legislation. This happy scenario was the culmination of Republican fantasy: As the veteran conservative activist Grover Norquist once put it, Republicans needed only to elect a president 'with enough working digits to handle a pen' to sign those bills into law.
Under Trump, Norquist's fantasy has given way to a sobering reality. Rather than sign off on a succession of Republican bills, President Trump has instead managed to exacerbate nearly every major division within the GOP, whether cultural or political. September 6, 2017 https://www.bloomberg.com/news/articles/2017-09-06/with-daca-decision-trump-again-highlights-gop-divisions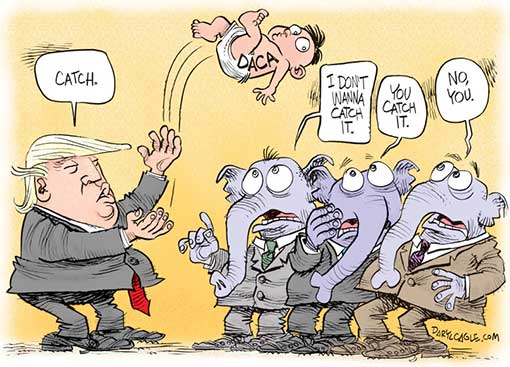 6. Anthony L. Fisher: Trump's DACA suspension proves his brand isn't winning — it's cruelty
The sudden and shocking moment in January when Trump suspended the U.S. refugee admissions program and halted visitors from seven predominantly Muslim countries — including U.S. green card holders and people already on planes — was cruel, impractical, and sowed chaos. Though it interfered with businesses and educational institutions, it was a Trumpist's win, because the president demonstrated to his base that he's the type of guy who will wield the blunt force of presidential power without so much as thinking it through.
When Trump announced his ban on transgender troops in the military, and the removal of the approximately 1,000 already serving, the evangelicals who swallowed their sense of morality and voted for the philandering vulgarian with the penchant for sexual harassment were rewarded with a pointlessly cruel policy that the U.S. military neither asked for nor wanted. But still, winning.
Upon pardoning Sheriff Joe Arpaio — who abused his state-granted power to violate constitutional rights as a matter of policy — the president praised the disgraced sheriff's toughness. Though Arpaio's sadism included (but was not limited to) placing women and children in chain gangs, feeding detainees barely subsistence-level amounts of food, and housing them outdoors in what he called "concentration camps" under scorching Arizona heat (157 people would die while in custody on Arpaio's watch), Trump admires a man who knows how to punish people. As does Trump's base, and because it so outraged "the media" and "liberals," the presidential pardon of an unrepentant convicted criminal can be sold as more of that promised winning.
The deportation of the DREAMers — should it come to pass — would be a national stain on the honor of the United States for all time. Even Republican congressional leaders who opposed President Obama's creation of DACA recognize that simply repealing it is savagely inhumane, and while they can attempt to distance themselves from Trump's cruelty to their hearts' content, it won't matter to Team #MAGA. The more the president inflicts pain, the more they'll be convinced they are winning.  http://theweek.com/articles/722742/trumps-daca-suspension-proves-brand-isnt-winning--cruelty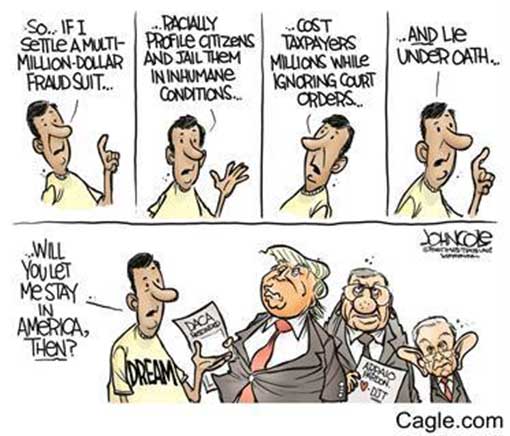 7. Paul Krugman: The Paranoid Style In Conservative Politics
Lots of people are having fun with Rush Limbaugh's insistence that warnings about Irma were a liberal plot, part of the great conspiracy to scare people about climate change — plus a sales gimmick for batteries and bottled water. (He evacuated his Palm Beach mansion soon afterwards.)
But you're missing the point if you think this is about Rush Limbaugh. Crazy conspiracy theorizing about climate change isn't an aberration on the right, it's the norm. Almost every senior figure in energy and environmental policy within the Trump administration is a climate change denier, with most of them having expressed the view that the science is a hoax. And in this case Trump isn't bypassing the GOP establishment: these people are the party's establishment.
Rush Limbaugh makes a good punching bag, both because of his general grotesqueness, and because his personal flight from Florida provides a perfect punch line. But the paranoid style in policy debates is pretty much universal on the modern right.  9/09/17 https://krugman.blogs.nytimes.com/2017/09/09/the-paranoid-style-in-conservative-politics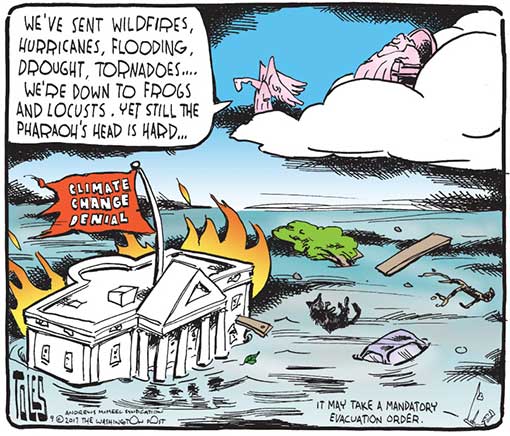 8. Joy-Ann Reid: What's Going to Happen When the Trumpists Realize the America They Yearn for Is Gone?
The latest NBC/Wall Street Journal poll—which shows a yawning cultural divide between Trump voters and Republicans on the one hand and everyone else on the other on everything from gay marriage to immigration—doesn't tell us much that we didn't know, but it does tell us something we should remember. The United States is not one country but two; and like many Western democracies, our two halves are cleaving apart.
The fault lines will be familiar to anyone who has observed Europe as its rural and urban populations speed to opposite societal poles, and as influxes of non-white immigrants and refugees, driven by war or increasingly by climate change, combine with globalization and a free-moving labor force to alter the social compact. In the recent French presidential election, the divide was described as between the "metropolitans"—the urban, modern France that favored Emmanuel Macron and the "peripherals"—the rural, aging France that clung to the far-right Marine Le Pen.
The U.S. version pits what Stephen Miller and the Bannonites derisively call the "cosmopolitan elites"—but which actually includes both white urbanites and majorities of every non-white and non-Christian ethnic group at all socioeconomic levels—versus the nearly all-white-Christian Trump coterie—rural, suburban and exurban. It's "high output" America—the fewer than 500 counties Hillary Clinton carried, which account for 64 percent of the nation's gross domestic product—versus "low output America"—the more than 2,600 Trump counties, which nonetheless contribute just a third of nation's economic output. And as Ta-Nehisi Coates points out in his blunt and brilliant new essay, it's a fault line Trump and the Bannonites have also openly cleaved around white identity politics.  http://www.thedailybeast.com/whats-going-to-happen-when-the-trumpists-realize-the-america-they-yearn-for-is-gone
9. Jonathan Chait: The Only Problem in American Politics Is the Republican Party
Political scientist Lee Drutman argues in a Vox essay that American politics is descending into what he calls "doom-loop partisanship." Drutman notes that Americans have been "retreating into our separate tribal epistemologies, each with their own increasingly incompatible set of facts and first premises," each heavily racialized, in which "[t]here's no possibility for rational debate or middle-ground compromise. Just two sorted teams, with no overlap, no cross-cutting identities, and with everyone's personal sense of status constantly on the line."
Drutman attributes this to winner-take-all elections, the expanding power of the presidency, and the growing influence of money in politics. I think, despite all the very real design flaws in American politics, the problems he describe stem mainly from the pathologies of the Republican Party.
The doom loop Drutman describes is, in reality, both sides responding to the phenomenon of Republican extremism. Republicans are sealed off in a bubble of paranoia and rage, and Democrats are sealed off from that bubble. Democrats fear Republican government because it is dangerous and extreme. Republicans fear Democratic government because they are dangerous and extreme.  http://nymag.com/daily/intelligencer/2017/09/the-only-problem-in-american-politics-is-the-republicans.html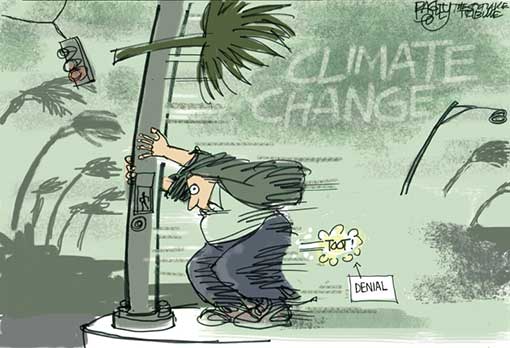 10. Greg Sargent: Hillary Clinton's new book blasts Republicans and Russia. She's 100 percent right.
Today Hillary Clinton's new book about the 2016 campaign is getting released. This means a lot of very smart people will suddenly decide that they can't keep these two ideas in their heads at the same time:
Hillary Clinton, her weaknesses as a candidate, and the mistakes she made were partly to blame for her loss.
There are other reasons she lost, and it is not only appropriate for her — and us — to discuss them; it's desirable, because they have major implications for the future of our democracy.
Clinton's book, by most accounts, tries to balance those two basic claims. I have not read it, so I can't say whether it balances them fairly, or whether she feints toward blaming her own failings while dodging accountability for herself via an overemphasis on other causes. But a lot of Twitter traffic today suggests an unwillingness to allow space for the notion that both those claims can even be reconciled or discussed simultaneously at all. That's absurd, and it could have terrible consequences.  https://www.washingtonpost.com/blogs/plum-line/wp/2017/09/12/hillary-clintons-new-book-blasts-republicans-and-russia-shes-100-percent-right/
11. Michelle Ruiz: No, Hillary Clinton, the First Woman to Win a Major-Party Presidential Nomination, Does Not Need to Shut Up About It
The history of sexist animosity against Clinton makes it hard to see the dismissal of her book as anything but more of the same. Though she's a convenient and familiar scapegoat, Clinton isn't hurting the Democratic party by sharing her account of history—it happened, after all—nor is she a roadblock to its moving forward. Must she enter the witness protection program or move to the Italian countryside and pull an Under the Tuscan Sun for Dems to be able to craft a compelling message for 2018 and 2020? (For one, they can't blame her for that corny "Better Deal" slogan.) Instead of willing her away, her party should probably read What Happened and try to learn from her mistakes. As for the cries that Clinton is "cashing in," please refer to the Amazon listings for books penned by Obama, McCain, Biden, Gore, and Romney. If Clinton is cashing in, she's in good company.
But most hollow of all may be the argument that Clinton isn't doing the women and girls she appealed to in her concession speech any favors by speaking out. "Clinton's behavior doesn't help would-be glass ceiling-crackers," the Washington Post wrote. "Publicly calling out misogyny is probably not the best strategy for combating it, or for encouraging other women to run for office." On the contrary, condemning misogyny whenever and wherever you see it, in a forum as public as possible, is the precise way to fight it. Hence why, after Clinton's loss, a record 16,000 women have reached out to Emily's List in 2017 about running for office. Clinton doesn't have to keep quiet—and neither do they. https://www.vogue.com/article/hillary-clinton-what-happened-doesnt-have-to-shut-up/amp
12. Jeffrey Toobin: Trump's Cynical Voter-Fraud Commission 
It is difficult to imagine a more cynical enterprise than the Presidential Advisory Commission on Voter Integrity, which Trump appointed after he claimed (falsely) that the casting of illegal votes last November accounted for his loss of the popular vote, which Hillary Clinton won by a margin of nearly three million. Trump named Kris Kobach, the Kansas secretary of state, who has been the nation's leading advocate for restrictions on voting rights, as the vice-chair of the commission. 
The results of Trump's voting commission are preordained. It will inevitably seek to impose measures that will have the effect of erecting barriers to voting for poor people, who generally vote Democratic. The commission will call for requiring more forms of identification to register, and the possession of photo identification to actually cast ballots. In addition, the commission will almost certainly pursue limitations on early voting and absentee balloting, all as part of a supposed effort to combat fraud. During the Obama Administration, the Justice Department, under Eric Holder and then Loretta Lynch, got courts to limit some of the worst voter-suppression efforts, especially those in Texas and North Carolina. But Attorney General Jeff Sessions has withdrawn from this undertaking, and, just as he did when he was a senator, he has embraced the vote-suppression agenda.
If the President had the slightest inclination toward bipartisanship, as some appear to think he displayed last week, he would disband the fraud commission. It exists solely to help the Republican Party, with no residual benefits for anyone else in the country. Trump, of course, will not disband it, and his failure to do so will be the clearest evidence (if any is needed) that there was no pivot last week, but at most a very slight detour on the road to an electoral future of Republican dominance. https://www.newyorker.com/news/daily-comment/trumps-voter-fraud-commission-heads-to-new-hampshire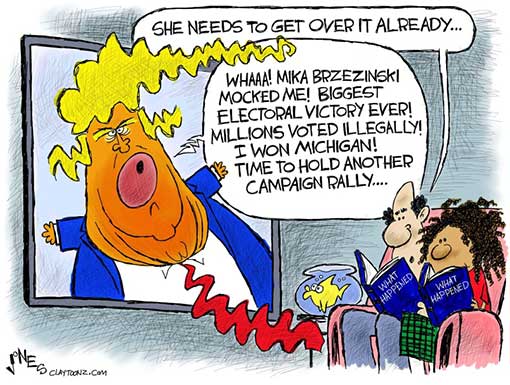 13.  Eugene Robinson: Climate-Change Denial Is a Cruel Insult to Storm Victims
When, if not now, is the time to talk about global warming and what to do about it? The answer from the Trump administration and the Republican Party, basically, is succinct in its willful ignorance: "How about never? Is never good for you?"
No rational U.S administration would look at the devastation from Hurricanes Harvey and Irma and seek to deny climate change. At present, however, there is no rational U.S. administration.
We have instead a president and an Environmental Protection Agency chief who refuse to acknowledge the obvious. Thoughts and prayers are welcome at times like these, but they are insincere if not supplemented by analysis and action. Future megastorms will likely be worse, scientists say; the question for policymakers is to what degree.
When, if not now, is the time to talk about global warming and what to do about it? The answer from the Trump administration and the Republican Party, basically, is succinct in its willful ignorance: "How about never? Is never good for you?"
No rational U.S administration would look at the devastation from Hurricanes Harvey and Irma and seek to deny climate change. At present, however, there is no rational U.S. administration.
We have instead a president and an Environmental Protection Agency chief who refuse to acknowledge the obvious. Thoughts and prayers are welcome at times like these, but they are insincere if not supplemented by analysis and action. Future megastorms will likely be worse, scientists say; the question for policymakers is to what degree.
And maybe Trump doesn't get the fact that the rest of the world recognizes both the environmental and the economic benefits of clean energy technologies. It is likely, I believe, that at some point there will be world-changing breakthroughs in solar power, battery capacity and nuclear fusion. I hope these advances are made in the United States; I fear they will be made in China, Japan or Germany.
The Trump administration should at least be insisting that coastal communities in Texas and Florida be rebuilt taking climate change into account. Sea level rise is an unquestioned fact; the cruelest insult to those now suffering would be to pretend it is not. September 12, 2017 https://www.realclearpolitics.com/articles/2017/09/12/climate-change_denial_is_a_cruel_insult_to_storm_victims_134964.html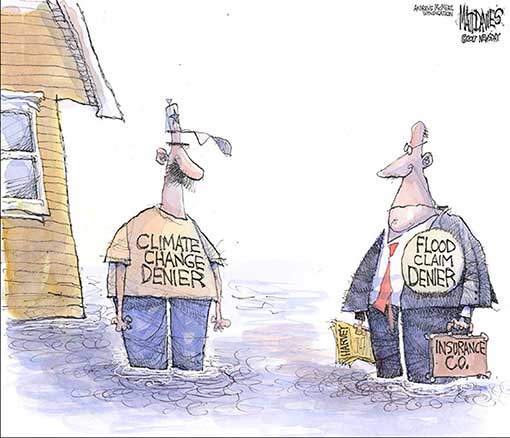 14. Jonathan Chait: Bernie Sanders's Bill Gets America Zero Percent Closer to Single Payer
The sight of 15 Senate Democrats, including many of the party's likely presidential contenders, co-sponsoring Bernie Sanders's single-payer health-care bill may look like a momentous step. "What that means," writes Jake Tapper, "is that with the notable exception of former Vice President Joe Biden, every top tier(ish) 2020 Democrat is now on board with a policy proposal that Clinton said less than two years ago would 'never, ever come to pass.'"
But this image of progress only holds true if you imagine the process as a series of continuous steps. In reality, single payer has always been, and remains, a political dilemma that nobody has been able to resolve, and there is no evidence the resolution has grown any easier. What looks like a large step forward is actually a party edging closer to a cliff it has no intention of going over.
The barrier to single payer is that the American health-care system has been built, by accident, around employer-based insurance. The rhetoric of single payer concentrates its moral emphasis on people who lack insurance at all. ("Do we, as a nation, join the rest of the industrialized world and guarantee comprehensive health care to every person as a human right?" writesSanders today.) But the barrier to single-payer health care is the people who already have coverage. Designing a single-payer system means not only covering the uninsured, but financing the cost of moving the 155 million Americans who have employer-based insurance onto Medicare.
Obama himself said many times that, if he were starting a health-care system from scratch, he would prefer a single-payer system. Sanders's single-payer bill is vague enough that the Democrats co-sponsoring it are really doing nothing more than saying the same thing Obama did: A single-payer plan would be nice, in a world that looks nothing like the one we inhabit. http://nymag.com/daily/intelligencer/2017/09/sanderss-bill-gets-u-s-zero-percent-closer-to-single-payer.html