September 19, 2019
ON THE RECORD. . .
"He has become more convinced than ever that he is the 'chosen one. The blend of the megalomania and the insecurity make him ultimately dismissive of anybody's opinion that doesn't match his own." — Tony Schwartz, who co-wrote Trump's 1987 bestseller, "The Art of the Deal."

"There is no person that is part of the daily Trump decision-making process that can survive long term. The president doesn't like people to get good press. He doesn't like people to get bad press. Yet he expects everyone to be relevant and important and supportive at all times. Even if a person could do all those things, the president would grow tired of anyone in his immediate orbit." — A former Trump official

"I think it is the last gasp of a dying majority here. And every single one of those House members and state senators are going to be up for election next year along with me running for re-election for governor. And there will be a judgment day in North Carolina." — North Carolina Gov. Roy Cooper (D), quoted by the Raleigh News & Observer, on Republicans calling a surprise budget veto override vote with few Democrats present.

"Look, there's institutional segregation in this country. And from the time I got involved, I started dealing with that. Red-lining banks, making sure we are in a position where — look, you talk about education. . . . The teachers are — I'm married to a teacher, my deceased wife is a teacher. They have every problem coming to them. We have [to] make sure that every single child does, in fact, have 3-, 4- and 5-year-olds go to school. School. Not day care. School. We bring social workers into homes with parents to help them deal with how to raise their children. It's not that they don't want to help, they don't know quite what to do. Play the radio, make sure the television — excuse me, make sure you have the record player on at night, the — the — make sure that kids hear words, a kid coming from a very poor school . . .." — Joe Biden from the transcript of the third Democratic debate.

"A Very Stable Genius!" Thank you. Donald J. Trump @realDonaldTrump Sep 14, 2019

Republicans are running TV ads setting pictures of me on fire to convince people they aren't racist. Life is weird! — Alexandria Ocasio-Cortez@AOC on the racist Republican ad that ABC aired midway through Thursday night's Democratic debate, that starts with a still of Alexandria Ocasio-Cortez's official congressional portrait — then sets it on fire.

"I think the Texas election in 2018 is powerful foreshadowing for what to expect across the country in 2020. The Democrats in Texas increased their turnout more than 100 percent." — Sen. Ted Cruz (R-TX) warning that Texas will be "hotly contested" in 2020.

President Trump says working with him is easy because "I make all the decisions, and they don't have to work." — Kaitlan Collins @kaitlancollins CNN

"If anyone thinks Trump can't be re-elected, they better get another think coming. He can be re-elected. Hope to hell he isn't." — Former Sen. Harry Reid (D-NV), quoted by the Nevada Independent.

"Have a great weekend. The president makes such a thing possible for us all." — Fox Business Network host Lou Dobbs reminding his viewers to The Fox Business host has become one of Trump most devoted worshippers.

Trump awaits instructions from his Saudi masters. Having our country act as Saudi Arabia's bitch is not 'America First.'" — Rep. Tulsi Gabbard (D-HI), saying on Twitter that President Trump is awaiting "instructions from his Saudi masters."

"I've given up on the Republican Party, the Republican Party is a cult, right. They no longer stand for ideals. The Republican Party right now is all about washing their leaders' feet every day, that's what they do." — Former Rep. Joe Walsh (R-IL) told CNN the Republican party was a "cult" and President Trump is a "would-be dictator."

The Trump plan "could have devastating consequences for our kids' health and the air we breathe, if California were to roll over. But we will not — we will fight this latest attempt and defend our clean car standards. California, global markets, and Mother Nature will prevail." — Gavin Newsom (D) on the Trump administration plan to revoke California's right to set stricter air pollution standards for cars and light trucks, part of a larger effort to weaken an Obama-era climate policy aimed at cutting greenhouse gas emissions from the nation's auto fleet.

"The Constitution does not give the president the power to unilaterally use our military for Saudi Arabia's interests to go to war nor does it give him the power to do so without the express consent of Congress. If I were president now, I would make very clear that we will not use our military to further the interests of Saudi Arabia or any other country."— Rep. Tulsi Gabbard (D-Hawaii)

"Number one, she didn't have 20,000 people. And number two, I think anybody would get a good crowd there. Anybody that can't get people standing in the middle of Manhattan in the most densely populated area of the country…anybody could do that. — Donald Trump insisting on Tuesday that 2020 Democratic candidate Sen. Elizabeth Warren (D-MA) did not, in fact, have 20,000 people attending her rally in New York City Monday night  – and that even if she did, it's not a big deal.

"Objectively speaking, Corey Lewandowski is the biggest liar I've ever interacted with in Trumpworld and that is saying something." — Daily Beast reporter Asawin Suebsaeng@swin24 during there House Judiciary Committee's first official impeachment hearing.

"God bless 2020 Democratic presidential candidates putting forth Medicare for All proposals, but know what that entails. I believe the path to ' care for all' is a path following the lead of the Affordable Care Act. Let's use our energy to have health care for all Americans, and that involves over 150 million families that have it through the private sector." — Speaker Nancy Pelosi told CNBC that Democrats should focus on making improvements to the Affordable Care Act instead of pushing to introduce "Medicare for All."
---
IN THIS ISSUE
FYI
OPINION
1. No-deal chaos fears as secret Brexit papers published
A no-deal Brexit could result in rising food and fuel prices, disruption to medicine supplies and public disorder on Britain's streets, according to secret documents the government was forced by MPs to publish on Wednesday.
A five-page document spelling out the government's "planning assumptions" under Operation Yellowhammer – the government's no-deal plan – was disclosed in response to a "humble address" motion. https://www.theguardian.com/politics/2019/sep/11/operation-yellowhammer-fears-no-deal-brexit-chaos-forced-to-publish-secret-papers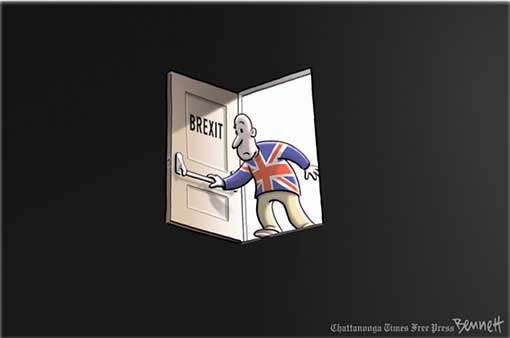 2. Americans increasingly see climate change as a crisis
A new Washington Post/Kaiser Family Foundation poll finds that a strong majority of Americans — about 8 in 10 — say that human activity is fueling climate change, and roughly half believe action is urgently needed within the next decade if humanity is to avert its worst effects. Nearly 4 in 10 now say climate change is a "crisis," up from less than a quarter five years ago.
However, two-thirds say President Trump is doing too little to tackle the problem.
Though Americans are increasingly worried about climate change, fewer than 4 in 10 say they believe that tackling the problem will require them to make "major sacrifices." And most are unwilling to pay for it out of their own pockets. https://beta.washingtonpost.com/climate-environment/americans-increasingly-see-climate-change-as-a-crisis-poll-shows/2019/09/12/74234db0-cd2a-11e9-87fa-8501a456c003_story.html
3. U.S. Deficit Tops $1 Trillion in First 11 Months of Fiscal Year
The U.S. budget gap widened to more than $1 trillion in the first 11 months of the fiscal year, the Treasury Department said Thursday, the first time year-to-date deficits have topped that amount in seven years. https://www.wsj.com/articles/u-s-deficit-tops-1-trillion-in-first-11-months-of-fiscal-year-treasury-says-11568311201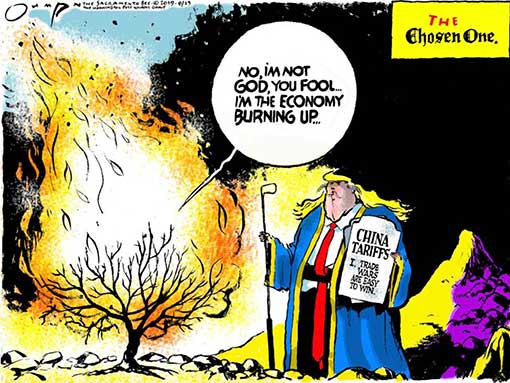 4. The DAILY GRILL
On Thursday, the Treasury Department announced that the federal deficit topped $200 billion in August, bringing the total deficit for the year to more than $1 trillion. -- Philip Bump 

VERSUS

"I'm the king of debt. I'm great with debt. Nobody knows debt better than me. I've made a fortune by using debt, and if things don't work out I renegotiate the debt. I mean, that's a smart thing, not a stupid thing." — Trump in June 2016.

 

Who the hell is Joy-Ann Reid? Never met her, she knows ZERO about me, has NO talent, and truly doesn't have the "it" factor needed for success in showbiz. Had a bad reputation, and now works for the Comcast/NBC losers making up phony stories about me. Low Ratings. Fake News! -- Donald J. Trump @realDonaldTrump
 

VERSUS

Joy Ann Reid has her own show based on merit and did NOT inherit her position from her father or cheat to win her job like you did, @realDonaldTrump. -- Sarah Reese Jones @PoliticusSarah

 

1. The Fake News is saying that I am willing to meet with Iran, "No Conditions." That is an incorrect statement (as usual!). — Donald J. Trump @realDonaldTrump

VERSUS

Q    Do you have preconditions for that meeting?
PRESIDENT TRUMP:  No preconditions.  No.  If they want to meet, I'll meet.  Anytime they want.  Anytime they want.  It's good for the country, good for them, good for us, and good for the world.  No preconditions.  If they want to meet, I'll meet. — Transcript of remarks by President Trump in his Joint Press Conference with Prime Minister Conte of Italy

 

Saudi Arabia oil supply was attacked. There is reason to believe that we know the culprit, are locked and loaded depending on verification, but are waiting to hear from the Kingdom as to who they believe was the cause of this attack, and under what terms we would proceed! — Donald J. Trump @realDonaldTrump Sep 15, 2019

VERSUS

Saudi Arabia should fight their own wars, which they won't, or pay us an absolute fortune to protect them and their great wealth-$ trillion! — Donald J. Trump @realDonaldTrump Aug 31, 2014

 

"Michelle and I are sad to hear about the passing of Cokie Roberts. She was a trailblazing figure; a role model to young women at a time when the profession was still dominated by men; a constant over forty years of a shifting media landscape and changing world, informing voters about the issues of our time and mentoring young journalists every step of the way. She will be missed – and we send our condolences to her family." — Former President and First Lady Obama on the death of Cokie Roberts' role in journalism in a historical and cultural context.

VERSUS

"I never met her. She never treated me nicely. But I would like to wish her family well. She was a professional and I respect professionals. I respect you guys a lot, you people a lot. She was a real professional. Never treated me well, but I certainly respect her as a professional." — Donald Trump
5. From the Late Shows
The Late Show with Stephen Colbert: It's A Lot Of Fun To Work For Donald Trump: https://youtu.be/8DyYh0mkyzg

Sparks Fly At Third Dem Debate - Colbert's LIVE Monologue: https://youtu.be/qiasBmnE2Z0
6. From MEDIA MATTERS (They watch Fox News so you don't have to)
Fox host Tomi Lahren suggests that Americans may need to shoot immigrants who are coming to the United States. Lahren: "The people in the middle of this country, we are going to be armed and ready, because we have to have a means to defend ourselves from — who knows who's coming in?" https://www.mediamatters.org/tomi-lahren/fox-host-tomi-lahren-suggests-americans-may-need-shoot-immigrants-who-are-coming-united

Sebastian Gorka and Michelle Malkin warn that "Soros-allied organizations" are working toward "demographic conquest." https://www.mediamatters.org/sebastian-gorka/sebastian-gorka-and-michelle-malkin-warn-soros-allied-organizations-are-working

Fox & Friends hosts outraged that presidential candidates called out Trump's racism. Brian Kilmeade defends Trump's racist Baltimore smear as "almost 100% accurate." https://www.mediamatters.org/fox-friends/fox-friends-hosts-were-furious-presidential-candidates-called-out-trumps-racism

Appearing on a Daily Caller podcast, Michelle Malkin pushes anti-Catholic, anti-Semitic, and racist conspiracy theories about immigration. Malkin fearmongered that "every sect of Catholicism" pushes "open borders," Soros groups "obstruct enforcement of our immigration law," and a "conga line" of immigrants are coming from Central America. https://www.mediamatters.org/michelle-malkin/appearing-daily-caller-podcast-michelle-malkin-pushes-anti-catholic-anti-semitic

On Fox & Friends, Donald Trump Jr. touts debate ad that used the Cambodian genocide to attack Democrats.Trump Jr.: "There was a Cambodian lady that put out this incredible ad, who went through the Cambodian genocide -- and two million people killed and the disaster that is socialism and communism that they're all espousing" https://www.mediamatters.org/fox-friends/fox-friends-donald-trump-jr-touts-debate-ad-used-cambodian-genocide-attack-democrats

"I think this cannot go without retribution," said Fox & Friends co-host Brian Kilmeade on Monday. "They have provoked us before," co-host Steve Doocy chimed in. "Think about the tankers they have seized, they shot one of our drones out of the sky, and now it looks like this, even though the Houthi rebels are saying, 'Oh we did it, 100%.' Yeah, right." "The drone attacks, extremely disturbing from a security standpoint: What stops it from happening here?" Kilmeade added. "We have to keep the Strait of Hormuz open, and we've got to protect the world's oil supply." https://www.mediamatters.org/fox-friends/trumps-fox-friends-advisers-recommend-retribution-against-iran

Corey Lewandowski testifying to Congress: "I have no obligation to be honest with the media 'cause they're just as dishonest as anybody else." https://www.mediamatters.org/corey-lewandowski/corey-lewandowski-testifying-congress-i-have-no-obligation-be-honest-media

 

"Listen, let's be honest. We've seen videos in front of these plants and — four or five guys in shorts. Look at this. I mean, that's not — that's probably a plant that has thousands of workers. You know, this is not like a strike, or you know, the kind of historic strikes that we've known or used to be accustomed to. And it's going to be a tough one." …  "The GM losing $100 million a day and striking workers making 200 bucks a day. Who can hold out the longest?" In fact, the UAW's strike pay is only $250 per week — as acknowledged on Fox Business' own website. https://www.mediamatters.org/charles-payne/fox-host-auto-workers-strike-just-four-or-five-guys-shorts
7. Idle mines portend dark days for top US coal region
At two of the world's biggest coal mines, the finances got so bad that their owner couldn't even get toilet paper on credit.
Warehouse technician Melissa Worden divvied up what remained of the last case, giving four rolls to each mine and two to the mine supply facility where she worked.
Days later, things got worse.
Mine owner Blackjewel LLC filed for Chapter 11 bankruptcy protection on July 1. Worden at first figured the accounts would get settled quickly and vendors of everything from copy paper to parts for house-sized dump trucks would soon be back to doing normal business with the mines.
"The consensus was: In 30 days, we'll look back on this, and we made it through, and we'll be up and running, and it's a fresh start," she said.
What happened instead has shaken the top coal-producing region in the United States like a charge of mining explosive. Blackjewel furloughed most of its Wyoming employees and shut down Eagle Butte and Belle Ayr mines, the first idled by hardship since coal mining in the Powder River Basin exploded in the 1970s. https://apnews.com/8c87064f45d04625857f99030b243fe7
8. New Republican rules give Trump an advantage in Michigan's GOP primary
Republicans in several states are making it harder for primary challengers to have a shot at competing with Trump in 2020. Michigan Republican Party spokesperson Tony Zammit said the state party's delegate apportionment rules were changed this year, requiring candidates to receive at least 20% of the primary vote in order to receive any delegates. https://www.mlive.com/public-interest/2019/09/new-republican-rules-give-trump-an-advantage-in-michigan-primary.html
9. John Bolton Already Talking With Book Agents: 'He Has a Lot to Dish'
Following his acrimonious departure from the White House, former National Security Adviser John Bolton has insisted that he will have his "say in due course."
It hasn't yet been a full week, but it appears he's found a vehicle for clearing the air. According to two people with knowledge of the situation, Bolton has already expressed interest in writing a book on his time in the Trump administration, and has been in contact in recent days with literary agents interested in making that happen.
"He has a lot to dish," one of the sources said, adding it was not clear if Bolton had settled on an agency yet. https://www.thedailybeast.com/former-trump-adviser-john-bolton-already-talking-with-book-agents-he-has-a-lot-to-dish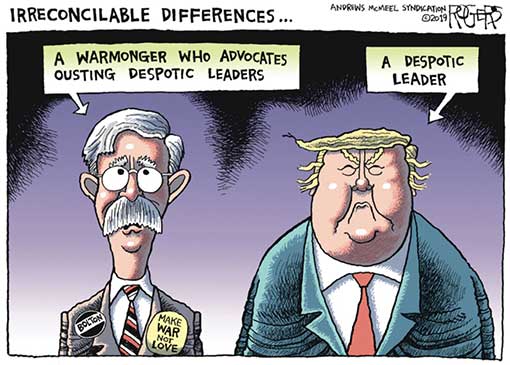 10. The 3 villains of Democrats' 2020 plan
"Democrats plan to portray President Trump, Justice Brett Kavanaugh and Senate Majority Leader Mitch McConnell as the three villains defining the three branches of government for the 2020 campaign."
Each of these white men, they will argue, symbolizes Republican corruption and rule-bending." https://www.axios.com/democrats-2020-villains-trump-kavanaugh-mcconnell-6a33ca05-0e46-44f8-91aa-d7ce5e3084ae.html
11. Warren Pitches Corruption Attack as Campaign Theme
Elizabeth Warren cemented a fight against corruption as the argument underpinning her presidential campaign, telling thousands gathered in this liberal bastion that "giant corporations have bought off our government."
Earlier on Monday, Ms. Warren released an anticorruption proposal on the blog site Medium that built on legislation she announced last year. It adds new lobbying restrictions including a federal ban on all fundraising activities hosted by lobbyists. But the evening speech at Washington Square Park in Manhattan, the splashiest event of Ms. Warren's presidential campaign, gave her a prominent forum to emphasize anticorruption policies." https://www.wsj.com/articles/elizabeth-warren-pushes-further-restrictions-on-lobbyists-11568631601
12. Rep. Omar says Trump 'put my life at risk' after he retweeted a false claim that she 'partied' on 9/11 anniversary
Rep. Ilhan Omar (D-MN) accused President Trump of spreading "lies that put my life at risk" after the president retweeted a post falsely claiming that the Minnesota Democrat "partied on the anniversary of 9/11," the Washington Post reports.
Omar said the video of her dancing was taken not on the anniversary of the Sept. 11, 2001, attacks but at a Congressional Black Caucus event. https://www.washingtonpost.com/politics/rep-omar-says-trump-put-my-life-at-risk-after-he-retweeted-a-false-claim-that-she-partied-on-911-anniversary/2019/09/18/ee8d9c56-da20-11e9-ac63-3016711543fe_story.html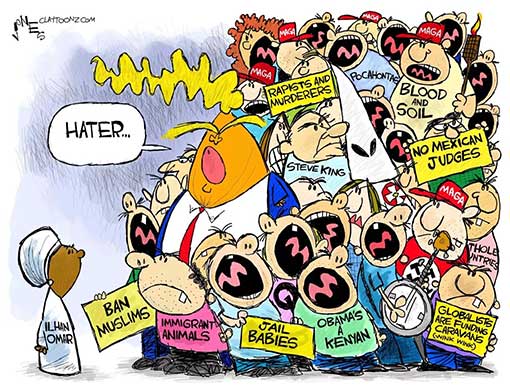 13. Trump is handing Democrats an opening on the economy
Most forecasters predict that the U.S. economy is likely to slow from nearly 3 percent growth last year to about 1.5 to 2 percent growth in 2020, which is about the same pace as at the end of the Obama administration. It will be even harder for Trump to keep claiming the economy is the "greatest in history" when it's growing at a pace he used to slam as weak and "broken." https://www.washingtonpost.com/business/2019/09/17/trump-is-handing-democrats-an-opening-economy/
14. Fact check: From Iran pre-conditions to the weather in North Carolina, Trump made 87 false claims last week
Trump made 25 of last week's 87 false claims at his campaign rally in North Carolina, 22 in his speech to a retreat for House Republican members of Congress, 19 on Twitter, 18 in exchanges with reporters, two in a speech to a Historically Black Colleges and Universities conference, and one at a briefing on Hurricane Dorian damage. Details at https://www.cnn.com/2019/09/18/politics/fact-check-trump-87-false-claims-mid-september/
15. Military has spent nearly $200,000 at Trump's Scottish resort since 2017
Since Donald Trump took office, the U.S. military has spent nearly $200,000 at the president's luxury Scotland resort, according to figures and documents the Pentagon provided to the House Oversight Committee.
The spending, which has all occurred since August 2017, paid for the equivalent of hundreds of nights of rooms at the Turnberry resort over approximately three dozen separate stays, the committee said. https://www.politico.com/story/2019/09/18/military-trumps-scottish-resort-1501877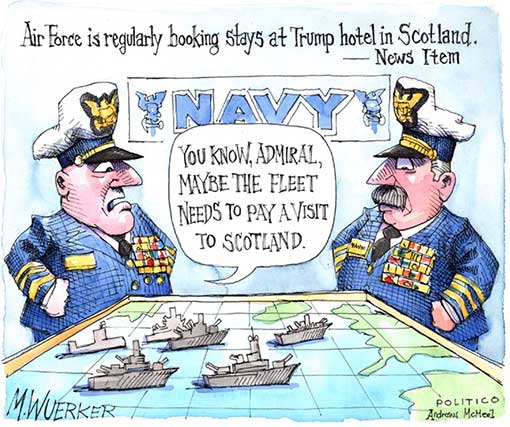 16. Sanders campaign wracked by dissension
Some of Bernie Sanders' fiercest supporters are sounding the alarm that the campaign is bogged down by disorganization, personality clashes and poor communication between state operations and national headquarters.
After a pair of setbacks this week — the acrimonious shakeup of his staff in New Hampshire on Sunday and loss of the Working Families Party's endorsement to Elizabeth Warren a day later — Sanders' allies and former aides are worried that recent disappointments are not one-off stumbles but rather emblematic of larger problems in his bid for the White House. The concerns are particularly acute in New Hampshire. https://www.politico.com/story/2019/09/17/bernie-sanders-campaign-dissension-1500287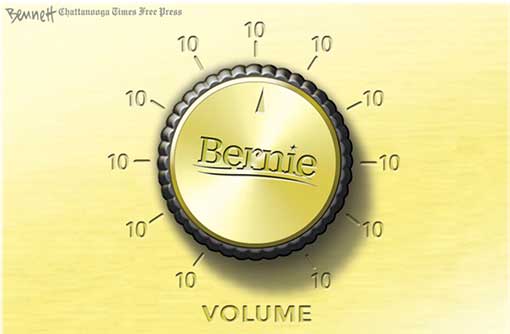 17. Pentagon has warned of dire outcomes if military projects canceled for wall don't happen
The Pentagon warned of dire outcomes unless Congress paid for urgently needed military construction projects nationwide — the same projects that have now been canceled to fund President Trump's border wall.
The warnings are contained in Defense Department budget requests sent to lawmakers in recent years. They include potentially hazardous living conditions for troops and their families, as well as unsafe schools that would impede learning. In numerous cases, the Defense Department warned that lives would be put at risk if buildings don't meet the military's standards for fire safety or management of explosives.
Even before $3.6 billion in construction funding was pulled to support a wall along the U.S.-Mexico border, military buildings across the country often had been neglected in favor of other priorities. The defense spending limits that took effect after a 2013 budget deal designed to end a government shutdown starved the military's construction budget for years, officials and analysts say, meaning many construction projects are long overdue. https://www.washingtonpost.com/business/economy/pentagon-has-warned-of-dire-outcomes-if-military-projects-canceled-for-wall-dont-happen/2019/09/18/03e99ac6-d988-11e9-ac63-3016711543fe_story.html
1. John Cassidy: Trump's Awful Middle East Policies Are Coming Back to Haunt Him
By needlessly reneging on the U.S.-Iranian nuclear deal and launching a sanctions campaign that amounts to economic warfare against Tehran, he has strengthened the Iranian hard-liners and further destabilized a region that was already in turmoil. By enabling Saudi Arabia in bombing Yemen and carrying out horrendous war crimes, he has contributed to a terrible humanitarian crisis: according to the United Nations, about 3.3 million of the Yemenis who have fled remain displaced, and another fourteen million desperately need food, medicine, and other assistance.
So far in his Presidency, Trump has largely escaped personal responsibility or political consequences for his bad and foolhardy policies. Now some of the repercussions are hitting home. https://www.newyorker.com/news/our-columnists/trumps-awful-middle-east-policies-are-coming-back-to-haunt-him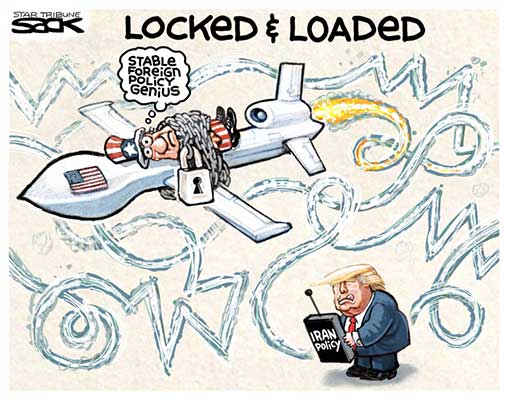 2. Max Boot: The Saudi oil attacks are signs of Trump's Mideast fiasco
Saturday's attacks on two major Saudi oil facilities appear to represent a sharp escalation in the struggle for regional primacy between Saudi Arabia and Iran. A drone strike was said to have knocked out half of the Saudis' daily oil production. The Houthi rebel group in Yemen assumed responsibility, but Secretary of State Mike Pompeo pinned the blame on Iran.
Every step of the way, Trump either cheered the Saudis on or looked the other way from their appalling misconduct. "I have great confidence in King Salman and the Crown Prince of Saudi Arabia, they know exactly what they are doing," Trump tweeted after MBS locked up dozens of wealthy Saudis without trial. Turns out the 34-year-old MBS has no more idea what he is doing than America's 38-year-old crown prince, Jared Kushner, who has become his champion within the U.S. government.
Yet Trump keeps covering for the Saudis: He refuses to name MBS as the culprit behind Khashoggi's murder and he has vetoed two bills to end U.S. support for the bloody war in Yemen. Most significant of all, Trump exited the Iran nuclear deal in spite of Iran's compliance — just as his friends in Riyadh and Jerusalem urged him to.
So here we are with the Middle East tinderbox on the verge of igniting. Iran is signaling that it will break out of the fuel enrichment limits of the nuclear deal and that it will not scale back its destabilizing activities. Israel has responded by stepping up airstrikes against Iranian proxies in Lebanon, Syria and Iraq. A costly war with Iran that could drag in Israel, Saudi Arabia and the United States looms ever closer.
In recent months, Trump seemed to be having second thoughts about his misguided approach to Iran. Hence his decision to get rid of national security adviser John Bolton, an anti-Iran uber-hawk, and has signaled his openness to talks with Iran — even to easing Iran sanctions. The attacks on Saudi oil infrastructure will make it harder for Trump to compromise; if the Iranian regime was responsible, it may have just shot itself in the foot.
A sponsor of terrorism and a heinous human rights abuser, Iran deserves an outsize share of the blame for destabilizing the Middle East. But Trump has only aggravated the crisis by blindly backing his friends in Israel and Saudi Arabia. The attack on Saudi oil production is only the latest blowback — and far from the last. https://beta.washingtonpost.com/opinions/2019/09/15/mideast-is-tinderbox-trump-has-aggravated-crisis/
3. Jonathan Bernstein: Why Are Democrats in Disarray Over Impeachment?
The basic problem is that House Democrats can't seem to agree on where their impeachment effort stands. Judiciary Committee Chairman Jerrold Nadler says that 'formal impeachment proceedings' are underway. Others, including in the House leadership, have expressed much more ambiguous views of what's happening.
A few things are contributing to this muddle. One is a push from many party actors who basically judge everything short of impeaching President Trump as a total flop – a position that I still think doesn't make much sense. Another is that some House Democrats in tough districts are overly cautious about taking on the president. But perhaps the biggest factor is that the Democrats have had a majority in the House for more than nine months now and have at best managed to produce a handful of memorable moments in oversight hearings on Trump's many scandals and general lawlessness. At best. Maybe. https://www.bloomberg.com/opinion/articles/2019-09-12/why-are-democrats-in-disarray-over-impeaching-donald-trump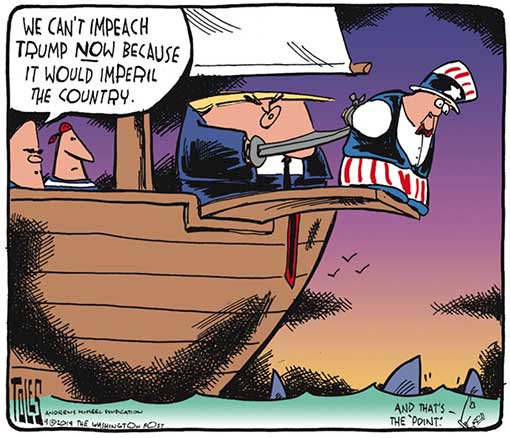 4. Susan Glasser: Trump Finally Fired John Bolton, but Does It Really Matter?
The spectacle of the Trump Presidency often overwhelms our ability to process the stakes of any individual episode. But the firing of John Bolton was not just another Washington farce in what the President himself has now started calling, as he did the other day, on Twitter, 'the Age of Trump.' Bolton's exit serves as a reminder that the intensive national-security decision-making process of previous Presidents, Republican and Democrat alike, has been abandoned by Trump, subverted to the Presidential ego, and will not return for the duration of his tenure.
It's worth remembering that, as all this played out inside the White House, the Taliban almost showed up at Camp David, in time to mark the eighteenth anniversary of 9/11. Bolton, who evidently made his vocal opposition to the idea known to the media in a way that likely hastened his firing, didn't stop Trump from hosting them. Nor, for that matter, did Pompeo, whose State Department team has been overseeing the talks. In the end, it was only the Taliban's decision to continue killing American soldiers while simultaneously negotiating with the United States that provided the pretext for Trump to put a stop to his own hastily conceived idea. Trump will now become the only President ever to have had four national-security advisers in three years, but he might as well consider not having one at all.
https://www.newyorker.com/news/letter-from-trumps-washington/trump-finally-fired-john-bolton-but-does-it-really-matter
5. Mark Sanford, Joe Walsh and Bill Weld: We are Trump's Republican challengers. Canceling GOP primaries is a critical mistake.
A president always defines his or her party, and today the Republican Party has taken a wrong turn, led by a serial self-promoter who has abandoned the bedrock principles of the GOP. In the Trump era, personal responsibility, fiscal sanity and rule of law have been overtaken by a preference for alienating our allies while embracing terrorists and dictators, attacking the free press and pitting everyday Americans against one another.
No surprise, then, that the latest disgrace, courtesy of Team Trump, is an effort to eliminate any threats to the president's political power in 2020. Republicans have long held primaries and caucuses to bring out the best our party has to offer. Our political system assumes an incumbent president will make his case in front of voters to prove that he or she deserves to be nominated for a second term. But now, the Republican parties of four states — Arizona, Kansas, Nevada and South Carolina — have canceled their nominating contests. By this design, the incumbent will be crowned winner of these states' primary delegates. There is little confusion about who has been pushing for this outcome.
What does this say about the Republican Party? If a party stands for nothing but reelection, it indeed stands for nothing. Our next nominee must compete in the marketplace of ideas, values and leadership. Each of us believes we can best lead the party. So does the incumbent. Let us each take our case to the public. The saying "may the best man win" is a quintessential value that the Republican Party must honor if we are to command the respect of the American people. Cowards run from fights. Warriors stand and fight for what they believe. The United States respects warriors. Only the weak fear competition.
In the United States, citizens choose their leaders. The primary nomination process is the only opportunity for Republicans to have a voice in deciding who will represent our party. Let those voices be heard. https://beta.washingtonpost.com/opinions/we-are-trumps-republican-challengers-canceling-gop-primaries-is-a-critical-mistake/2019/09/13/7a951c84-d665-11e9-86ac-0f250cc91758_story.html
6. How Trump may bulldoze 'America's Amazon'
In the hottest Alaskan summer on record, amid countless signs of a climate in crisis, a camera phone captured a Republican fundraiser on Kenai Peninsula.
Judging from the laughs and smiles, you'd never know that they are a few dozen miles from the Swan Lake Fire, now burning for over three months. But the mood is giddy because a surprise caller is on speaker -- President Trump.
Holding up the phone in one hand and swatting at late-season hornets with the other, Sen. Dan Sullivan nods and grins as Trump promises to fulfill a Republican wish list that environmentalists have been fighting for generations.
He mentions drilling for oil in the Arctic National Wildlife Refuge way up north and building a road through the Izembek National Wildlife Refuge in the south. "King Cove Road! Yessir!" says Sullivan as Mississippi Senator Roger Wicker nods with vigor.
Spread across the islands and fjords of the Alaskan panhandle, Tongass is roughly the size of West Virginia, full of towering old growth spruce, cedar and hemlock, some trees twice as old as America itself. It traps and hold so much carbon, it's known as "America's Amazon."
The pristine wilderness holds a bounty of salmon, bears, wolves, eagles and whales living alongside around 70,000 people.
And in the little town of Tenakee Springs, the reaction is "one of shock and dismay."
"After all the work that we put in to keep this area roadless and keep this as pristine as we possibly can," fishing captain Tuck Harry says as he shakes his head.
"And would you characterize yourself as sort of a tree-hugging liberal?" I ask him.
He laughs. "No, not at all. Not a tree-hugging liberal at all," he says, looking across a mirror-flat Tenakee Inlet at hillsides once scarred by clear-cuts.
"When I go down and talk to some of my oldest friends of 35 years, they can see what's happened. They can see the degradation of the streams down there. That's not what we want to have happen here," fishing guide Tuck Harry says.
"So to the governor and the president, this is what I'm saying: Do not do this to us." https://www.cnn.com/2019/09/13/politics/alaska-trump-tongass-forest-weir-wxc/index.html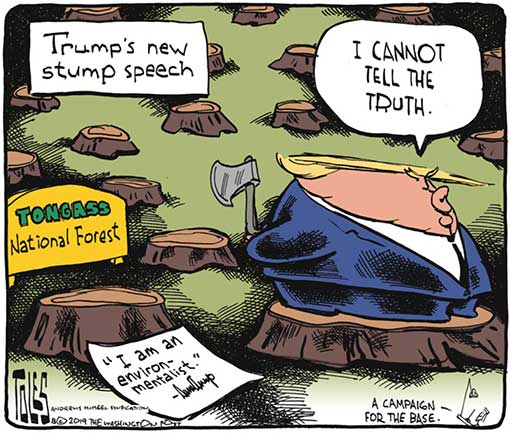 7. Robert Reich: Trump is seriously, frighteningly unstable – the world is in danger
In retrospect, what's most disturbing about "Sharpiegate" isn't Trump's clumsy effort to doctor a National Weather Service map or even his brazen move to get the same agency to lie on his behalf.
It's how utterly petty his motive was. We've had presidents trying to cover up a sexual liaison with an intern and a botched burglary, but never have we had one who went to such lengths to cover up an inaccurate weather forecast. Alabama being hit by a hurricane? Friends, this is not rational behavior.
Trump also cancelled a meeting with the Taliban at Camp David. The meeting was to have been secret. It was scheduled for the week of the anniversary of 9/11. He cancelled it by tweet.
Does any of this strike you as even remotely rational?
Before that, Trump cancelled a state visit to Denmark because Denmark wouldn't sell Greenland to the US. Hello? Greenland wasn't for sale. The US no longer buys populated countries. The state visit had been planned for months.
He has repeatedly told senior officials to explore using nuclear bombs to stop hurricanes hitting the US. He believes video games cause mass shootings. He thinks climate change is no big deal.
No president has ever been sent packing. Nixon resigned because he saw it coming. Trump would sooner start a civil war
He says trade wars are "good and easy to win". He insists it's Chinese rather than US consumers who pay his tariffs. He "orders" American firms to stop doing business in China.
He calls the chairman of the Federal Reserve an "enemy." He retweets a comedian's sick suggestion that the Clintons were responsible for the suicide of convicted sex offender Jeffrey Epstein.
I think we have to face the truth that no one seems to want to admit. This is no longer a case of excessive narcissism or grandiosity. We're not simply dealing with an unusually large ego.
The president of the United States is seriously, frighteningly, dangerously unstable. And he's getting worse by the day. https://www.theguardian.com/commentisfree/2019/sep/15/donald-trump-nuts-impeachment-25th-amendment-2020-election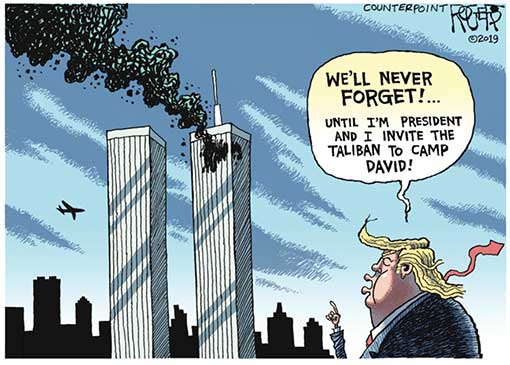 8. Greg Sargent: Get ready for a spectacular display of Trump's corruption
At a rally in New Mexico on Monday night, President Trump ridiculed the idea that Democrats might impeach him based on the special counsel's findings. He claimed the investigation was run by "18 Trump haters," but that "after two years, they found nothing."
In so doing, Trump suggested that the investigation was deeply corrupt while simultaneously claiming it totally exonerated him — two big lies in one.
Yet even as Trump lied to his rallygoers' faces, we learned that the White House counsel has ordered two top Trump advisers to defy subpoenas for testimony to the Judiciary Committee, which is considering articles of impeachment against Trump, while sharply limiting a third former adviser's testimony to the panel.
Which raises a question: If the case against Trump's corruption were so weak, then why would Trump and the White House have to go to such extraordinary lengths to stonewall Congress' ability to exercise its most basic and fundamental oversight authority? https://www.washingtonpost.com/opinions/2019/09/17/get-ready-spectacular-display-trumps-corruption/
9. Katrina vanden Heuvel: Democrats, don't be afraid to go big in 2020
Democrats can no longer take their "blue wall" in the upper Midwest for granted; that much is clear. But winning back the states that Trump turned red should not come at the expense of the party's efforts to expand the electoral map, compete for new voters and build a more diverse coalition nationally. If it does, Democrats are likely to regret it even if they pull off a victory in the presidential race.
Narrowing the playing field to a few swing states could severely undermine Democrats' efforts to win back the Senate. The potential success of the next president's domestic agenda depends on control of the upper chamber, where Republicans currently hold 53 seats. With legitimate pickup opportunities in Arizona, North Carolina and Georgia (where two seats are up for grabs), Democrats need to energize voters in places that are widely considered less winnable and therefore less important to the outcome of the presidential race than the Rust Belt. Fiercely competing for those states' electoral votes could help generate the enthusiasm Democrats need to swing the Senate and advance progressive goals.
The consequences could be similarly massive further down the ballot. That includes not only House elections, in which Democrats have a chance to expand the majority they won in 2018 but also state and local races that, despite their importance, analysis of the electoral map tends to ignore.
Nobody, of course, is suggesting that Democrats should not fight hard to win back the states they lost in 2016. But "going big," as Abrams puts it, actually improves Democrats' chances of defeating Trump by creating more possible paths to victory. It also reflects a fundamental understanding that the party's future depends on its ability to reach new voters and build progressive power in places where it does not currently exist. To win in the long run, Democrats need to compete everywhere today. https://www.washingtonpost.com/opinions/2019/09/17/democrats-dont-be-afraid-go-big/
10. James Hohman: Ignore the circus. Look at what Trump is doing to the environment, immigrants and health care.
It's so easy to get distracted by political theatrics, but it's so important not to lose sight of the forest for the trees. Tectonic changes in public policy under the Trump administration will have a vastly greater impact on the lives of everyday Americans than anything he tweets or any stunt his former campaign manager pulls on Capitol Hill. A flurry of mostly under-the-radar stories over the past 24 hours put in stark relief why it's more important to pay attention to what the president and his appointees do than what they say.
A few examples of Trump's latest moves:
... plans to formally revoke California's long-standing right to set stricter air pollution standards for cars and light trucks
... bulldozers and excavators rush to install Trump's border barrier could damage or destroy up to 22 archaeological sites within Arizona's Organ Pipe Cactus National Monument
... set up tent courts for virtual asylum hearings.
... increase fees nine-fold for immigrants appealing deportations
... fired the general counsel for DHS
https://www.washingtonpost.com/news/powerpost/paloma/daily-202/2019/09/18/daily-202-ignore-the-circus-look-at-what-trump-is-doing-to-the-environment-immigrants-and-health-care/5d81aa3688e0fa7bb93a8bfb/