March 29, 2018
ON THE RECORD. . .
"It sucks. This is a Great-Dane-sized whiz down the leg of every taxpayer in this country. No thought whatsoever to adding over a trillion dollars in debt." -- Senator John Kennedy, a Louisiana Republican who opposes the House passed a $1.3 trillion spending bill.  

"It is really state-run TV, it is a pure propaganda machine, and does an incredible disservice to this country. There are a handful of good journalists there, but I think they are lost in a complete propaganda machine, and the idea that they're a news channel is not the case at all." --  CNN president Jeff Zucker on Fox News

"The fact that Attorney General Sessions would claim that a 'lack of candor' justified Mr. McCabe's termination is hypocrisy at its worst." -- Former Sen. Al Franken, noting that Jeff Sessions has repeatedly demonstrated a lack of candor — under oath — about his own interactions with Russians."

"He is this unique amalgam of being an egomaniac and being wildly insecure all at once. And he has this need, I think, in front of people to win them over almost regardless of who they are, and in that moment he's quite happy to do that." -- Tim O'Brien, author of "TrumpNation."

"What we're doing is because we're not scared of these adults, because we have nothing to lose, we don't have an election to lose, we don't have a job to lose — we just have our lives to lose." — High School junior and March for Our Lives organizer Jaclyn Corin

"President Trump's cruelty reminded me of the days immediately following the firing of James B. Comey, as the White House desperately tried to push the falsehood that people in the FBI were celebrating the loss of our director. The president's comments about me were equally hurtful and false, which shows that he has no idea how FBI people feel about their leaders." -- Former FBI Deputy Director Andrew McCabe referring to the president celebrating his punishment saying: "Andrew McCabe FIRED, a great day for the hard working men and women of the FBI — A great day for Democracy."

"After more than a year in office, Trump may have finally found his sea legs. But that doesn't change the fact that he's captaining the Titanic while his obsequious lackeys in the White House quietly rearrange the deck chairs." -- Neil J. Young

"The president may be able to fire Mr. [Robert] Mueller and others who may challenge him, but he cannot fire me, or my client. We will not be going away any time soon. If they [in Trumpworld] are upset about what has transpired over the last two weeks, they are really going to be upset when they see what is going to transpire over the next few months—because the last two weeks haven't been a warm-up lap." --  Michael Avenatti, Stormy Daniels' attorney

"This is about the cover-up. This is about the extent that Mr. Cohen and the president have gone to intimidate this woman, to silence her, to threaten her, and to put her under their thumb. It is thuggish behavior from people in power. And it has no place in American democracy." -- Stormy Daniels' attorney, Michael Avenati

"We have a president that will tweet about the most mundane matters, but he won't tweet about my client, the affair, the agreement or the $130,000 payment. You know why he won't tweet about it? Because it's true. It's 100 percent true." -- Michael Avenatti

"How about kids instead of looking to someone else to solve their problem, do something about maybe taking CPR classes or trying to deal with situations that when there is a violent shooter that you can actually respond to that." -- Former GOP Sen. Rick Santorum

"It's all they've got. It's a one-trick pony. It's the tax pony, and that's the only horse they have to ride." -- Senate Minority Whip Dick Durbin (D-Ill.) on the GOP's plan to do another round of tax cuts this year. https://www.politico.com/story/2018/03/27/tax-cuts-gop-2018-midterms-482158
---
IN THIS ISSUE
FYI
OPINION
1. Andy Borowitz: Millions Willing to Work for Mueller for Free If That Would Speed Things Up
Millions of Americans would gladly work for Robert Mueller for free if that would help speed things up, a new poll finds.

According to the survey, a substantial number of Americans would leave their jobs, their homes, and even their families to join the special counsel's team if doing so would help bring this nightmare to a swifter conclusion.

A spokesperson for the special counsel confirmed that his office has been receiving thousands of résumés a day from Americans begging to do anything to help Mueller "move things along."

"We hate to disappoint people, but we're overwhelmed," the spokesperson said. "Right now, I have about five thousand résumés from people who just want to help investigate Jared." https://www.newyorker.com/humor/borowitz-report
2. Huge Majority Say Trump Is Not a Good Role Model
A new Quinnipiac poll finds American voters disapprove 53 - 40 percent of the job Trump is doing as president and say 57 - 34 percent that he has damaged rather than improved the U.S. reputation around the world. 
Trump does not have a sense of decency, voters say 55 - 42 percent. He is not a good role model for children, voters say 67 - 29 percent. 
"Should President Donald Trump meet Kim Jung-Un eyeball to eyeball? 'Absolutely,' say American voters," said Tim Malloy, assistant director of the Quinnipiac University Poll. 
"Will a deal be struck? 'Looks good,' voters say. 
"But is the president equipped to handle negotiations? That's where the doubt creeps in. 
"Americans say President Trump is damaging the country's image globally; flunking the decency test and setting a bad example for kids. There's no way to spin or sugarcoat it. The optics are ugly. "
American voters say 57 - 38 percent that President Trump is not honest. Looking at other qualities, voters say:
56 - 41 percent that he does not have good leadership skills;
53 - 43 percent that he does not care about average Americans;
64 - 32 percent that he is not level headed;
62 - 35 percent that he is a strong person;
57 - 38 percent that he is intelligent;
59 - 37 percent that he does not share their values.
Only 30 percent of voters are proud to have Trump as president, while 50 percent are embarrassed. .
By a 55% to 42% margin they say Trump "does not have a sense of decency," and by a 67% to 29% margin they say "he is not a good role model for children."
Said pollster Tim Malloy: "Americans say President Trump is damaging the country's image globally; flunking the decency test and setting a bad example for kids. There's no way to spin or sugarcoat it. The optics are ugly.  https://poll.qu.edu/national/release-detail?ReleaseID=2529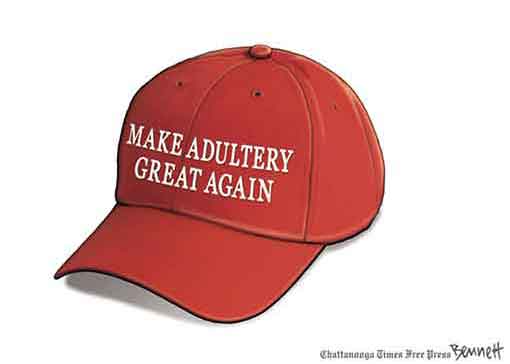 3. Republicans Face Epic Hurdle In Midterms
Republicans already have more retirements than any presidential party in a midterm cycle from 1974 to 2018, and they are not far behind Democrats in 1978 in terms of the open seats they hold. Because seats lacking an incumbent are more difficult for the incumbent party to retain, this situation should deeply worry the GOP.  http://www.centerforpolitics.org/crystalball/articles/exit-stage-left-or-right-midterm-retirements-and-open-seats-in-the-u-s-house-from-1974-to-2018/
4. Has Trump Already Sealed the GOP's Fate In 2018?
Every time Donald Trump breaks a window, congressional Republicans obediently sweep up the glass."
"That's become one of the most predictable patterns of his turbulent presidency—and a defining dynamic of the approaching midterm elections. Each time they overtly defend his behavior, or implicitly excuse him by failing to object, they bind themselves to him more tightly."
"With all of this, the GOP leadership is sending an unmistakable signal to voters antagonistic or ambivalent about Trump: So long as Republicans hold the congressional majority, they will not act to meaningfully constrain, or even oversee, the president. That choice represents an epic gamble for November—and beyond." https://www.theatlantic.com/politics/archive/2018/03/trump-gop-midterms/556166/
5. The DAILY GRILL
I am considering a VETO of the Omnibus Spending Bill based on the fact that the 800,000 plus DACA recipients have been totally abandoned by the Democrats (not even mentioned in Bill) and the BORDER WALL, which is desperately needed for our National Defense, is not fully funded. -- Trump on Twitter

VERSUS

Lest we forget, before any Democrats were in a position to "abandon 800,000 plus DACA recipients" Trump abandoned them by rescinding the executive order that created DACA in the first place.  -- NY Magazine
6. From MEDIA MATTERS (They watch Fox News so you don't have to)
Fox & Friends: The Civil War was started by John Brown and radical abolitionists.  https://www.mediamatters.org/video/2018/03/22/fox-friends-civil-war-was-started-john-brown-and-radical-abolitionists/219698

Trump's panel of "experts" on trans military ban included anti-LGBTQ hate groups and extremists. https://www.mediamatters.org/blog/2018/03/25/trump-s-panel-experts-trans-military-ban-included-anti-lgbtq-hate-groups-and-extremists/219731

Fox host on student-led gun safety marches: "Spare me if I don't want to hear the sanctimoniousness of a 17-year-old." https://www.mediamatters.org/video/2018/03/25/fox-host-student-led-gun-safety-marches-spare-me-if-i-dont-want-hear-sanctimoniousness-17-year-old/219729

Fox & Friends attacks March For Our Lives protesters as over-emotional and ignorant. https://www.mediamatters.org/blog/2018/03/26/fox-friends-attacks-march-our-lives-protesters-over-emotional-and-ignorant/219734

Alex Jones' Infowars releases video depicting Parkland survivor Emma Gonzalez as member of the Hitler Youth https://www.mediamatters.org/video/2018/03/27/alex-jones-infowars-releases-video-depicting-parkland-survivor-emma-gonzalez-member-hitler-youth/219754

The right wing's conspiracy theory network is now going after high school kids.  https://www.mediamatters.org/blog/2018/03/27/right-wings-conspiracy-theory-network-now-going-after-high-school-kids/219752

Fox & Friends coverage of the March For Our Lives vs. neo-Nazis marching.  https://www.mediamatters.org/blog/2018/03/26/fox-friends-coverage-march-our-lives-vs-neo-nazis-marching/219739
7. From the Late Shows
Full Frontal with Samantha Bee: Iraq War: 15 Years Later:  https://youtu.be/ekq24bjTSY4

Who Says Conservatives Can't Do Comedy? - The Opposition w/ Jordan Klepper:  https://youtu.be/HsMIGNaAJLM
8. Late Night Jokes for Dems
Trump was given briefing materials stating specifically in all caps, "DO NOT CONGRATULATE." But his aides said they were not sure he read the notes. Oh, I can promise you he didn't read the notes. He also didn't read the Bible. He didn't read the Constitution. He didn't read the sign that says, "No Carts on the Green." He probably doesn't even know what it says on his own hat. And it doesn't even seem like he can read [photo of Robert Mueller] the writing on the wall. -- Seth Meyers

Thousands of flights were delayed or canceled today due to a snowstorm in the Northeast. So I guess your life has been spared for one more day, dogs who had tickets on United! -- Seth Meyers

The news about Trump is really getting juicy. Now multiple porn stars are saying they had affairs with him. It's tough for Trump, because he doesn't know whether to deny it or brag about it. -- Jimmy Fallon

President Trump is now being sued by a porn star, a reality star, and a Playboy model – or as Trump's evangelical supporters call that, "the holy trinity." -- Conan O'Brien P

Trump switched to the third person in the middle of the tweet because he was quoting Alan Dershowitz, an adviser to O.J. Simpson during his murder trial. Because what better way to prove your innocence than by saying, "See? O.J.'s lawyer said I didn't do anything wrong."-- James Corden

It was revealed yesterday that President Trump congratulated Russian President Vladimir Putin over the phone for winning his controversial re-election, even though his advisers wrote in all capital letters on his note cards, "DO NOT CONGRATULATE." Now, you can see what went wrong here — the White House advisers didn't follow protocol. You can't just give him a card. You need to write down "Do Not Congratulate" in an email, send that email to Fox News, Sean Hannity will then read it to him on the air. That is how you get a message across. -- James Corden

You've got to hand it to Trump. Between Playboy models, porn stars, and having his own helicopter, he's living out every 14-year-old boy's fantasy every day. -- James Corden
9. GOP Lawmaker Blames 'Deep State' for Carson's Spending
Rep. Claudia Tenney (R-NY) appeared to blame the nefarious "Deep State" for ordering a costly dining set for Secretary of Housing and Urban Development Ben Carson.
Said Tenney: "Somebody in the Deep State, it was not one of his people apparently, ordered a table, like a conference room table or whatever it was for a room. And that's what the cost was. Ben Carson tried to—he said 'you know how hard it is to turn it back because of the way that the procurement happens?'"  https://www.thedailybeast.com/gop-rep-the-deep-state-is-responsible-for-ordering-ben-carsons-dining-set
10. Mueller examining Cambridge Analytica, Trump campaign ties
Special counsel Robert Mueller is scrutinizing the connections between President Donald Trump's campaign and the data mining firm Cambridge Analytica, which has come under fierce criticism over reports that it swiped the data of more than 50 million Facebook users to sway elections.
Mueller's investigators have asked former campaign officials about the Trump campaign's data operations, particularly about how it collected and utilized voter data in battleground states, according to a person with direct knowledge of the line of inquiry but not authorized to discuss it publicly.
The investigators have also asked some of Trump's data team, which included analysts at the Republican National Committee, about its relationship with Cambridge Analytica, according to two former campaign officials. The campaign paid the firm just under $6 million for its work in 2016, according to federal records.  https://apnews.com/aeb8b38a3573406e9e207ef184376552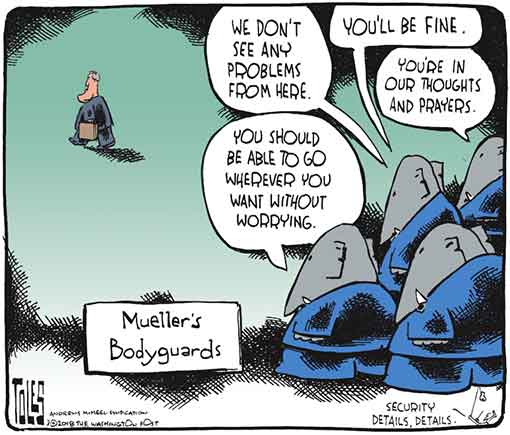 11. Trump's Lies Will Keep Failing in Court
In November 2016, after Donald Trump had issued his feeble lie that millions of illegal ballots cost him the popular vote, Kansas Secretary of State Kris Kobach came to the aid of the president-elect's damaged pride. Trump, said Kobach, was "absolutely correct" about the existence of these phantom voters.
Kobach's humiliation last week in Kansas, before a federal judge appointed by President George W. Bush, suggests that, for some tenets of the Trump creed, the shadowy gulf between the assertion and the evidence is unbridgeable.
The U.S. attorney general has vastly more legal firepower at his command than the Kansas secretary of state. And Sessions may not be foolish enough to attempt to prove the administration's bogus claims in court.
If he does, another round of evidence-based humiliation awaits.  https://www.bloomberg.com/view/articles/2018-03-22/trump-s-lies-on-immigrants-will-keep-failing-in-court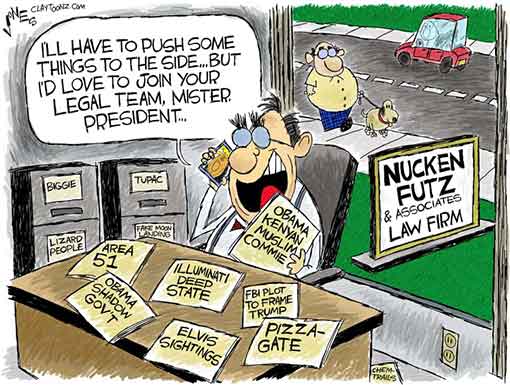 12. GOP-affiliated Groups Have Spent $3 Million at Trump Properties
Republican-affiliated campaigns, committees and outside groups have spent more than $3 million at various Trump properties since just after the 2016 election through last month, with roughly $924,000 coming from the Republican National Committee, according to an ABC News analysis of Federal Election Commission reports.
The Trump campaign accounts for about $1.46 million of the money paid to Trump properties.
Just last month alone, the Republican National Committee spent more than $271,000 at several properties and venues owned by President Trump, according to latest documents filed with the FEC. http://abcnews.go.com/Politics/gop-affiliated-groups-spent-million-trump-properties/story?id=53917120
13. Mueller Weighs Putting Off Trump Obstruction Decision
Special Counsel Robert Mueller's investigation into whether President Donald Trump obstructed justice is said to be close to completion, but he may set it aside while he finishes other key parts of his probe, such as possible collusion and the hacking of Democrats, according to current and former U.S. officials.
That's because Mueller may calculate that if he tries to bring charges in the obstruction case -- the part that may hit closest to Trump personally -- witnesses may become less cooperative in other parts of the probe, or the president may move to shut it down altogether.
The revelation is a peek into Mueller's calculations as he proceeds with his many-headed probe, while pressure builds from the president's advisers and other Republicans to show progress or wrap it up.  https://www.bloomberg.com/news/articles/2018-03-12/mueller-is-said-to-weigh-putting-off-trump-obstruction-decision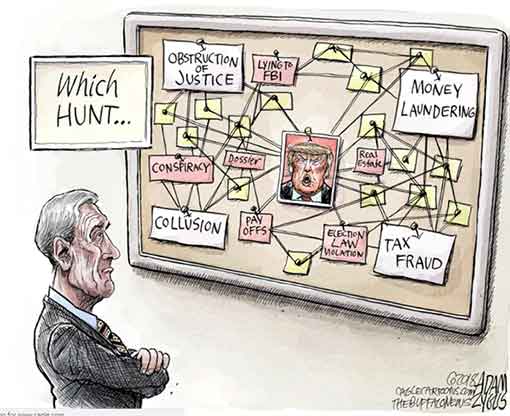 14. U.S. miners' union to endorse two more Democrats in coal country
(Reuters) - The main U.S. coal miners' union is set to endorse two Democrats running for Congress in West Virginia, two sources familiar with the matter said on Thursday - a boost for Democrats trying to win over a constituency that voted heavily for Republican Donald Trump in 2016.
The United Mine Workers of America on Friday will endorse Richard Ojeda for U.S. Representative in the state's third district, as well as incumbent Senator Joe Manchin, a Democrat and former West Virginia governor, the sources said. They asked not to be named as they were discussing a confidential matter.  https://www.reuters.com/article/us-usa-election-coal-endorsements-exclus/exclusive-u-s-miners-union-to-endorse-two-more-democrats-in-coal-country-idUSKBN1GY1YM
15. Leaked: Cambridge Analytica's blueprint for Trump victory
Intensive survey research, data modelling and performance-optimising algorithms were used to target 10,000 different ads to different audiences in the months leading up to the election. The ads were viewed billions of times, according to the presentation.
The document was presented to Cambridge Analytica employees in London, New York and Washington DC weeks after Trump's victory, providing an insight into how the controversial firm helped pull off one of the most dramatic political upsets in modern history.
"This is the debrief of the data-driven digital campaign that was employed for Mr Trump," said Brittany Kaiser, 30, who was Cambridge Analytica's business development director until two weeks ago, when she left over a contractual dispute. https://www.theguardian.com/uk-news/2018/mar/23/leaked-cambridge-analyticas-blueprint-for-trump-victory
16. 'Lone DNC Hacker' Guccifer 2.0 Slipped Up and Revealed He Was a Russian Intelligence Officer
Guccifer 2.0, the 'lone hacker' who took credit for providing WikiLeaks Guccifer 2.0, the "lone hacker" who took credit for providing WikiLeaks with stolen emails from the Democratic National Committee, was in fact an officer of Russia's military intelligence directorate (GRU), The Daily Beast has learned. It's an attribution that resulted from a fleeting but critical slip-up in GRU tradecraft.
That forensic determination has substantial implications for the criminal probe into potential collusion between President Donald Trump and Russia. The Daily Beast has learned that the special counsel in that investigation, Robert Mueller, has taken over the probe into Guccifer and brought the FBI agents who worked to track the persona onto his team. https://www.thedailybeast.com/exclusive-lone-dnc-hacker-guccifer-20-slipped-up-and-revealed-he-was-a-russian-intelligence-officer
17. Summons Issued For Trump In Emoluments Case
A lawsuit filed by D.C. and Maryland against President Trump over his alleged business conflicts has been expanded to include Trump in his personal capacity as a businessman, which means that a summons has been sent to perhaps the most famous address in Washington: 1600 Pennsylvania Avenue.
The attorneys general for both states argue in a lawsuit that Trump is violating the emoluments clause of the U.S. Constitution, which in part bans public officials from receiving gifts and payments from foreign governments without approval from Congress.
They argue that Trump's refusal to divest from his sprawling business empire — in particular, the Trump International Hotel in downtown D.C. — has meant that foreign governments have directly paid the Trump Organization for hotel bookings and events.  https://wamu.org/story/18/03/21/summons-issued-trump-emoluments-case/
18. How Close Is Donald Trump to a Psychiatric Breakdown?
With reports that a giddy commander in chief is running around the White House like a kid freed of any adult supervision, having dispatched every moderate who hasn't resigned in hopes of saving a shred of his integrity, Donald Trump now appears to be in a state of mania as he escalates his efforts to bolster his fragile ego before he goes into the cage with special prosecutor Robert Mueller—or fires him.
This was exactly what the contributors to the book The Dangerous Case of Donald Trump warned about six months ago. The psychiatric professionals who contributed to the book have monitored and come to know Trump's character better than most clients they have treated or people they have interviewed. As the special prosecutor's noose tightens around the president and his cultish family, it is increasingly clear that he is an imminent danger to the public, and this impinges on professionals' duty to society. Sheehy wrote about the book and its genesis in these pages last October (Sheehy and Sword also contributed to the book).
Trump's paranoia, exaggerated by the real and imminent threat of prosecution for obstruction of justice, money laundering, and physical intimidation of women he has bought for sexual pleasure, is reaching a break point. Democratic Sen. Richard Blumenthal warns of a "catastrophic crisis" pitting an unhinged president against the rule of law and the future of democracy. https://www.thedailybeast.com/how-close-is-donald-trump-to-a-psychiatric-breakdown
19. Former Cambridge Analytica workers say firm sent foreigners to advise U.S. campaigns
Cambridge Analytica assigned dozens of non-U.S. citizens to provide campaign strategy and messaging advice to ­Republican candidates in 2014, according to three former workers for the data firm, even as an attorney warned executives to abide by U.S. laws limiting foreign involvement in elections.
Its dirty little secret was that there was no one American involved in it, that it was a de facto foreign agent, working on an American election, according to former Cambridge Analytica research director Christopher Wylie.  https://www.washingtonpost.com/politics/former-cambridge-analytica-workers-say-firm-sent-foreigners-to-advise-us-campaigns/2018/03/25/6a0d7d90-2fa2-11e8-911f-ca7f68bff0fc_story.html
1. Andrew Sullivan: America Takes the Next Step Toward Tyranny
This is the second phase of tyranny is when many constraints that had been in place to moderate the tyrant's whims are set aside; no advice that counters his own gut impulses can be tolerated. And so, over the last couple of weeks, we have seen the president fire Rex Tillerson and Andrew McCabe, two individuals who simply couldn't capitulate to the demand that they obey only Trump, rather than the country as well.
No one with these instincts for total domination over others is likely to moderate the longer he is in power. Au contraire. It always gets worse. And so Tillerson has been replaced by a fawning toady, Mike Pompeo, a man whose hatred of Islam is only matched by his sympathy for waterboarders. Pompeo has been replaced in turn by a war criminal, who authorized brutal torture and illegally destroyed the evidence, Gina Haspel. Whatever else we know about Haspel, we know she follows orders.
Gary Cohn has been replaced by Larry Kudlow — a sane person followed by a delusional maniac Trump sees on Fox, who instantly thought up ways for the president to cut taxes further without congressional approval. And the State Department, indeed the entire diplomatic apparatus, has, it seems, been replaced by Jared Kushner, a corrupt enthusiast for West Bank settlements who no longer has a security clearance. http://nymag.com/daily/intelligencer/2018/03/america-takes-the-next-step-toward-tyranny.html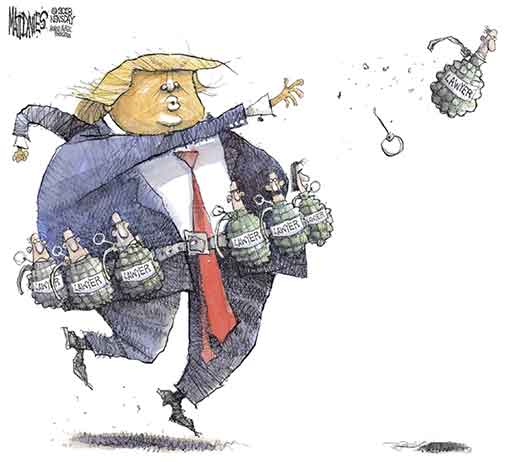 2. Jonathan Chait: Nobody Is Left to Save the World From Trump Now
The combination of and Trump poses an especially potent danger. Trump once declared "I love war, in a certain way." Both men think in terms of zero-sum conflict and harbor an obsession with dominating their adversaries. They are temperamental twins. In North Korea or elsewhere, Bolton could goad Trump into dangerous reaction. Some people fooled themselves into believing Trump would govern as a dove of some kind. But any dovish impulses he had were a product of his lack of control over the government. Trump might dismiss the use of power by people who aren't Trump, but is not inclined to be shy about wielding power that he commands himself.
The great danger of a Trump presidency has never been the things that are the most likely to happen. It has been the tail risks — any number of low-probability, high-impact events that are far more likely to occur with an authoritarian buffoon in the White House than under a normal president. Trump has spent his presidency surrounded by people who were at least attempting to contain these risks — say, a constitutional crisis, or a meltdown of the international order. As awful and comically surreal as the first year and a quarter of his term has been, after Trump has taken full command of his administration, we may see it as a golden age. http://nymag.com/daily/intelligencer/2018/03/nobody-is-left-to-save-the-world-from-trump-now.html
2. Wendy R. Sherman: Trump and Bolton's Plan to Isolate Allies and Encourage Enemies
John R. Bolton, President Trump's new national security adviser, has never met a war he didn't want.
Mr. Bolton defends the 2003 invasion of Iraq and he advocates attacking North Korea, too. He believes that the United States should have bombed Iran years ago, rather than negotiating an international agreement to prevent it from obtaining a nuclear weapon.
Since going into force in 2016, that deal has blocked Tehran's path to a nuclear weapon and prevented a nuclear arms race in the Middle East. By every account, Iran is complying with the agreement, has committed to never obtaining a nuclear weapon and has subjected itself to rigorous monitoring and verification. And yet, Mr. Trump appears committed to killing it. Mr. Bolton's appointment has only cemented the expectation that the nuclear deal's life expectancy is short. May 12 is the next deadline by which the president has to extend sanction waivers and certify Iran's compliance to preserve the accord. If he doesn't, the fallout will be profound.
Nothing about this decision will increase American security. It will be a leap into the unknown, with devastating consequences. Once lost, the hard-won trust and faith in America will not be easily regained. Mr. Bolton and Mr. Trump should not make this huge mistake. https://www.nytimes.com/2018/03/25/opinion/trump-bolton-allies-enemies.html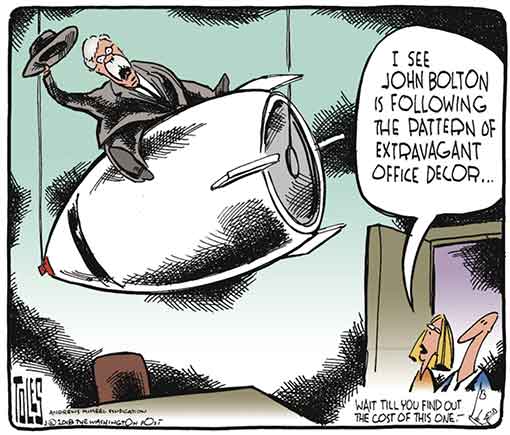 3. Jonathan Chait: Trump Hired Bolton to Make Foreign Policy Exciting Again
The news of John Bolton's appointment as national security adviser frightened the foreign policy community, which has long shunned him as a true believer in his own belligerent credo. But the real danger it reveals is in Trump himself. The foreign policy apparatus really has been engaged in an unprecedented campaign of leaking, the only possible motivation for which is its white-knuckled terror of a president who clearly lacks the mental capacity to handle the awesome power he has gained.
Trump seems to find normal foreign policy boring, and craves the kind of narrative drama found in the manufactured cartoon moralism found on Fox News, where evil abounds, and the only question is whether it will be faced down by tough guys or by sniveling wimps. http://nymag.com/daily/intelligencer/2018/03/trump-hired-bolton-to-make-foreign-policy-exciting-again.html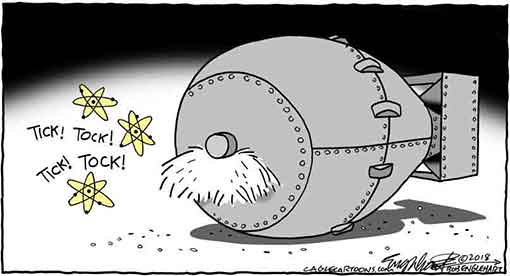 4. Amy Walter: Deja Vu All Over Again. Health Care Takes Center Stage in 2018 Campaigns
While Republicans argue that Americans are going to vote with their pocketbooks this fall (thanks to a growing economy boosted by tax cuts and deregulation), Democrats seem to be betting that health care — costs and access — will be the more salient issue in 2018. In fact, as we saw in the special election in PA-18, Democrat Conor Lamb made the case that many of his constituents are going to have to use their tax cut refund to pay for escalating health care costs. It's also true that Americans are more emotionally attached to health care than they are to almost any other issue. They may not love the health care system they have today, but they also dislike the idea of government messing with it.
In 2010, of course, voters punished Democrats for messing with the system. But, eight years later, Obamacare is more popular than ever. A February Kaiser Foundation poll found the long-maligned health care law garnering 54 percent approval, including 55 percent among independents. Republicans remain sour on the law, with 78 percent disapproving. In fact, since last summer, Obamacare has enjoyed support from a narrow majority of Americans (50-54 percent). Back in 2016, approval of Obamacare averaged in the low to mid-40 percent range. It's not clear if this new level of support is due to increased happiness with the law, or if it's become more popular as GOP attempts to dismantle have intensified. https://www.cookpolitical.com/analysis/national/national-politics/deja-vu-all-over-again-health-care-takes-center-stage-2018
5. Rick Wilson: Only Ryan and McConnell Can Pen in Tyrannosaurus Trump
Of course, he's going to fire Mueller.

Of course, it's going to trigger a constitutional crisis.

Of course, Republicans will do nothing.
Every single day, Tyrannosaurus Don tests the limits of his enclosure. Every day, he pushes against the walls, looking for weak spots and for places where the electric fence isn't working. Outside, the zookeepers in this Jurassic political park toss a cow carcass over the wall, praise their big boy dino, and marvel how large his fingers look. They smile and congratulate themselves that they've appeased the monster for another day, managing its violent, ravenous urges.
The beast never rests, though. It's never satisfied with boundaries, limits, laws, or traditions. Every day, Trump wants what he wants, even if it destroys everything around him. What he wants right now is to fire special counsel Robert Mueller, end the Russia investigation, and prevent his allies, friends, and family members from being sent to the Graybar Hotel and his legacy to the dustbin of history.
Republicans who believe firing Mueller will change the political dynamic and free Trump to do whatever the hell they think he'd do without the special counsel on the scene are dreaming. Trump is already permanently stained, a president with an asterisk next to his name, a joke, a con, and a political poison that's devouring their campaigns and their legacies. Even the White House clown bus of mooks, slowcoaches, edge case cranks, and kissers of his double-wide backside seem to understand more than the GOP in Congress; he's crazier than a rat in a septic tank, and only Congress has any power over his behavior.  https://www.thedailybeast.com/only-ryan-and-mcconnell-can-pen-in-tyrannosaurus-trump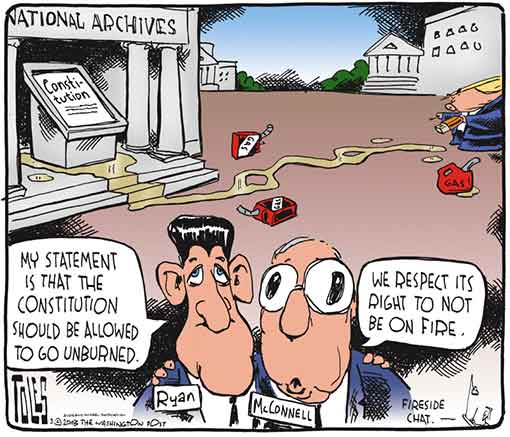 6. Thomas Friedman: What Trump and Putin Have in Common
That steady erosion of norms is what Trump is doing to America and Putin is doing to the world. And if we let them get away with it, your kids won't just grow up in a different America, they'll grow up in a different world.
I don't know what is sufficient to stop them, but I know what is necessary. American voters have to go to the polls and deal a resounding electoral defeat to this Republican Party, which Trump has taken over like an invasive species. America needs a healthy conservative party in our two-party system. But this G.O.P. is not a conservative party and it is not healthy.
It's an intellectually and morally corrupt coalition that sells its soul to whoever will energize its base and get G.O.P. candidates elected — deficit hawks one year, deficit doves the next; free traders one year, protectionists the next — whoever pays the most in votes or money gets to choose. Only a resounding defeat might get this G.O.P. to look itself in the mirror and ask, How did we lose our soul?
As for Putin, the only way to brush him back is with economic sanctions that truly hurt him and his corrupt clique of oligarchs, and an offensive cyber campaign that exposes just how much money they have all stolen from the Russian people.
Bullies like Trump and Putin are relentless. They will keep driving through red lights, smirking all the way, as long as we let them. But American voters can stop Trump, and America and its allies can stop Putin — if they act together. Then you won't see Putin or Trump smiling so much anymore. As the great philosopher Mike Tyson once said, "Everybody has a plan till they get punched in the mouth."  https://www.nytimes.com/2018/03/20/opinion/donald-trump-vladimir-putin-turkey.html
7. Gabriel Sherman: "now I'm F---ing Doing It My Way": Jubilant And Self-liberated, The President Prepares For War With Mueller
In the days since Mueller subpoenaed the Trump Organization business records, Trump has been on the attack. Last Saturday, Trump encouraged Dowd to call for an end to the Russia probe, a source told me. On Sunday, Trump blasted Mueller as partisan, tweeting: "Why does the Mueller team have 13 hardened Democrats, some big Crooked Hillary supporters, and Zero Republicans?" And on Monday, he retained combative lawyer Joseph diGenova, who once declared on Fox News that the Justice Department was framing Trump with a "false crime."
Trump's new offensive is a sign that he's unilaterally abandoning the go-along, get-along strategy advocated by Dowd and Ty Cobb, the White House lawyer overseeing the response to Mueller. Cobb's standing with Trump has been falling for months, after Cobb made the now-infamous prediction that the Russia probe would be over by Thanksgiving 2017. Dowd assured Trump that he had a "great relationship with Mueller" and could manage him, according to sources. That obviously hasn't happened. "Trump just wants something to change and nothing was changing," the outside adviser said. The genial and mustachioed Cobb has always been somewhat of an odd fit for Trump, whose mental picture of a lawyer is Roy Cohn, his early mentor. Sources said Trump reluctantly conceded to allow Cobb to play good cop. "Trump is looking at this saying, I did it your way for months, now I'm fucking doing it my way," a former West Wing official said. (The White House did not respond to a request for comment.)
In private, Trump friends and outside advisers have been stoking his desire to go on the offensive for months. Trump has heard that his lawyers are "idiots"; that Mueller's probe is a "coup d'etat"; and that Trump's only crime is having "won the election." https://www.vanityfair.com/news/2018/03/the-president-trump-prepares-for-war-with-mueller
8. Walter Shapiro: John is a hawk itching for war – and few are there to stop him
it is possible to derive a glimmer of I-told-you-so satisfaction from the total collapse of the establishment theory that a race of bemedaled generals and oil-industry titans could contain Trump. In truth, we now confront the frightening image of Trump Unchained, like a fugitive from a low-rent 1960s movie about Hercules.
All signs from the White House suggest that Trump is going to war on multiple fronts. The Bolton bombshell came just hours after the president's lead attorney, the often conciliatory John Dowd, resigned in frustration over Trump's brass-knuckle attacks on special counsel Robert Mueller.
If Trump fires Mueller it would, of course, prompt the biggest constitutional crisis since Watergate. But, at least, on the Mueller front, no nuclear weapons would be launched, except as over-wrought metaphors.
Alas, Bolton as national security adviser would come equipped with a war-fighting capacity that goes far beyond mere words. Nothing is more chilling than the argument for attacking North Korea that Bolton sketched out in a Wall Street Journal op-ed just a few weeks ago: "The threat is imminent, and the case against pre-emption rests on the misinterpretation of a standard that derives from prenuclear, pre-ballistic-missile times."
Bolton was the wild man in George W Bush's tragically misguided, but sane, administration. Under Trump, though, he may end up as the sanest man in the Land of the Crazy. https://www.theguardian.com/commentisfree/2018/mar/23/john-bolton-hawk-itching-war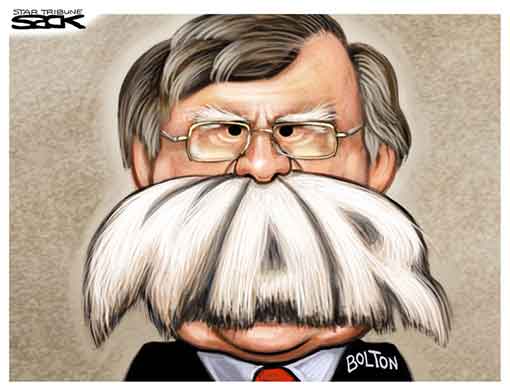 9. Richard North Patterson: Exploiting America's Tribal Warfare Is Donald Trump's Survival Strategy
There is no good time for Donald Trump to be president of the United States. But 2018 is among the worst.
True, we are not at this moment engaged in all-consuming war. But what is so dangerous today is our civil war of the soul: By virtually every measure, Americans are more alienated from each other than ever before.
For someone who displays amoral, narcissist tendencies like Trump, our grave societal fissure is an irresistible opportunity ― and a tool of survival. In great measure, the president's hope of thwarting the Russia investigation depends on igniting a cataclysmic civic rupture, turning his followers against the rule of law itself.
Here lies fertile ground. Instead of sharing a common vision, Americans are forming into opposing tribes based on culture and demographics. Under stress, their estrangement could tear us apart.
However malignant his motives, Trump is the ultimate accelerant of this potentially lethal chasm ― not its cause. Over time, we have sorted ourselves into communities separated by geography, ethnicity, education, economic status and sources of information. And so demography breeds demagoguery ― in this case, invoked by a president to govern outside the law. https://www.huffingtonpost.com/entry/opinion-patterson-trump-tribalism_us_5ab40bcde4b008c9e5f56904
10. Maureen Dowd: Bolt the Oval Against Bolton
When Trump ran for president against Jeb Bush, he continued attacking W. and presenting himself as a noninterventionist, focus-on-America candidate.
But somehow, in his King George madness, Trump has circled back to elevate one of the chief Iraq war hawks to be his national security adviser.
That move sent a shiver through the capital, among both Democrats and Republicans, who whispered, "Anyone but Bolton!"
Bolton is a clever infighter. He learned from the best. He pushed to go to war in Iraq and still thinks it was a good idea, just as he has pushed to go to war in North Korea and get regime change in Iran and Syria. He is a fervent believer in pre-emptive war.
After all those years of criticizing W. on war, Trump is now letting himself be guided by W.'s most hawkish adviser. And the president, whose curiosity only extends to himself, seems determined to stay an empty vessel. That makes him, like W., a magnet for extremists who want to hijack the Oval. https://www.nytimes.com/2018/03/24/opinion/sunday/john-bolton-trump-dowd.html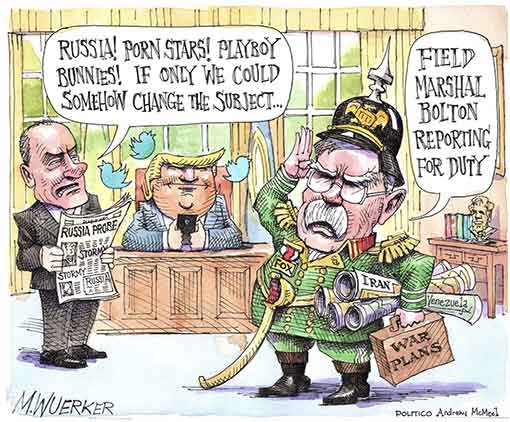 12. Eric Levitz: John Bolton and the Anti-Muslim Bigotry of Mainstream Conservatism
Now, a white former U.N. ambassador — who is currently affiliated with anti-Muslim hate groups — is about to become the most powerful foreign-policy adviser in the American government. Since 2013, John Bolton has served as chairman of the Gatestone Institute, a far-right think tank that claims Muslims have established hundreds of  "microstates governed by Islamic Sharia law" (a.k.a. "no-go zones") throughout France; that Muslim refugees have brought "a rape epidemic" and "exotic diseases" with them to Germany; and that the United Kingdom is on the cusp of becoming an "Islamist colony."
And the incoming national security adviser boasts informal ties to even-more virulent anti-Muslim bigots. Pamela Geller is one of the most notorious Islamophobes in the United States. After gaining national attention for organizing the campaign against the opening of an Islamic cultural center in Manhattan's Financial District (a.k.a. "The Ground Zero Mega-Mosque"), Geller proceeded to lead the "Stop Islamization of America" organization, author multiple books decrying the Islamization of the West, and organize a "Draw the Prophet" cartoon contest in Garland, Texas. She has argued that President Obama was "a Muhammadan" who "wants jihad to win"; that when Muslims "pray five times" they're "cursing Christians and Jews five times a day"; that there is no such thing as "moderate Islam."
John Bolton spoke at Geller's rallies against the "Ground Zero Mosque," made numerous appearances on her video blog, and wrote the foreword to a book she co-authored in 2010 entitled The Post-American Presidency: The Obama Administration's War on America. In that exposé, Geller claimed that Europe's acceptance of Muslim immigrants constituted "slow cultural and demographic suicide" — and that "Barack Hussein Obama" was leading the United States toward "a soft sharia: the quiet and piecemeal implementation of Islamic laws that subjugate non-Muslims." Not only has Bolton never disavowed his ties to Geller, he lent a laudatory blurb to a book she published in November of last year (Fatwa: Hunted in America). http://nymag.com/daily/intelligencer/2018/03/john-bolton-and-the-islamophobia-of-mainstream-conservatism.html