January 25, 2018
ON THE RECORD. . .
Why would Trump so vehemently deny any business dealings with Russia and why so many people would go to such lengths to disguise their assorted Russian contacts. What was it they were trying so hard to keep hidden? -- Jennifer Rubin in the WA Post
Taken in its entirety, the "shithole shutdown" is the perfect encapsulation of governance in the Trump era: dysfunction and chaos driven by anger and fear toward America's changing demographics, and the congressional GOP's cowardly acquiescence to Trump's ever-shifting demands. -- Ezra Klein in Vox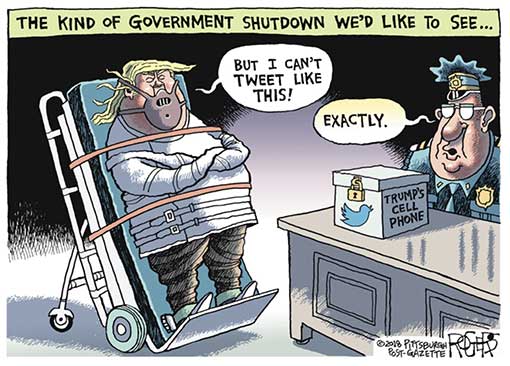 Q. Donald, we're having a hell of a time trying to negotiate here in Washington. So tell me: If you were president, what would you do? -- Greta Van Susteren

A. Well, very simply, you have to get everybody in a room. You have to be a leader. The president has to lead. He's got to get [the Speaker of the House] and everybody else in a room, and they have to make a deal. You have to be nice, and be angry, and be wild, and cajole, and do all sorts of things. But you have to get a deal. -- Trump on how President Obama could avoid a government shutdown. October 2013

"We kind of gave him—'All right, you get a mulligan. You get a do-over here.'" — Evangelical leader Tony Perkins on President Trump's extramarital relationship with porn star Stormy Daniels.
"I believe Donald Trump is a good man. He did everything wrong as a candidate and he won, and I don't understand it. Other than I think God put him there." — Evangelical leader Franklin Graham
"We had the Women's March this past weekend. If these women really want to march for someone, they should march for someone like Sarah Huckabee Sanders, first mommy press secretary, she handles this media perfectly." -- Trump shill Tomi Lahren on Fox and Friends.
---
IN THIS ISSUE
FYI
OPINION
1. Andy Borowitz: Sarah Huckabee Sanders Offers to Lie for Free During Shutdown
The press secretary said that her offer had already inspired other top Administration figures to lie for free during the shutdown, including Vice-President Mike Pence, Attorney General Jeff Sessions, and White House doctor Ronny Jackson.

After making her announcement, Sanders moved on to a broad range of other topics, including her assertion that the government had not shut down.

EARLIER: Amid reports that Donald Trump might soon be summoned to appear before Robert Mueller, the White House doctor wrote a note on Wednesday indicating that Trump was too sick to talk to the special counsel.

Minutes after the White House doctor issued his note, the special counsel responded by indicating that if Trump is too ill to come to Mueller's office, then Mueller would be "more than happy" to interrogate Trump at his sickbed.

The White House doctor, however, quickly rebuffed this offer. "The strain of being under oath and giving truthful answers could kill him," the doctor said.  https://www.newyorker.com/humor/borowitz-report/
2. Immigration Talks Quickly Hit a Wall
Senators crashing on a two-week deadline to come up with an immigration plan are already sparring over funding for President Donald Trump's border wall, what qualifies as border security — even what the scope of the negotiations are.
It was an inauspicious start Tuesday to the bipartisan effort to break the months-long impasse over Dreamers and the budget that crescendoed with last weekend's government shutdown. That crisis ended quickly, but Congress could be back in almost the same spot in two weeks absent a deal that can get 60 votes.
The path to 60, though, looks rocky indeed.  https://www.politico.com/story/2018/01/23/senate-trump-immigration-talks-hit-wall-362981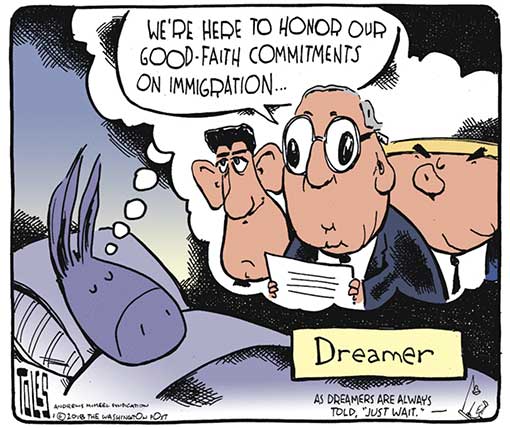 3. Porn star had a racy tale about Trump. Why are we only learning about it now?
Several journalists surely knew who Stormy Daniels was in 2016, and it probably wasn't because they'd seen her in one of the many porn films she'd made.
The adult-film actress was on the radar of a number of mainstream news outlets in the waning days of the presidential campaign. Reporters from ABC, Fox News, the Daily Beast and Slate.com were pursuing a potentially explosive story: that Daniels had allegedly had an affair with Donald Trump in 2006, only months after Trump's wife, Melania, had given birth to their son, Barron."
Why wasn't the story reported at the time, when it might have intensified questions surrounding Trump's character just before voters went to the polls? Journalists say they held back because they couldn't independently corroborate key elements of Daniels's account, including in one instance from Daniels herself. The story, in other words, failed to rise to journalistic standards, never mind that it involved a man who regularly attacks the news media for lacking standards.  https://www.washingtonpost.com/lifestyle/style/a-porn-star-had-a-racy-tale-about-trump-why-are-we-only-learning-about-it-now/2018/01/17/25087144-fba6-11e7-8f66-2df0b94bb98a_story.html
4. The DAILY GRILL
The president "has changed the way he's looked at a number of things" and that experts had shown Trump that along the U.S.-Mexico border, there "are places where, geographically, a wall would not be realistic. Campaign to governing are two different things, and this president has been very, very flexible in terms of what is within the realm of the possible." -- WH Chief of Staff John Kelly

VERSUS

Donald Trump insisted Thursday that his position on his long-promised border wall "has never changed or evolved" and that Mexico will end up paying for it, apparently responding to and contradicting his chief of staff's comments a day earlier.

In one of the biggest stories in a long time, the FBI now says it is missing five months worth of lovers Strzok-Page texts, perhaps 50,000, and all in prime time. Wow! -- Donald J. Trump @realDonaldTrump

VERSUS

Some clarification: 50,000 is the *total* number of texts between Peter Strzok and Lisa Page that the DOJ Inspector General has reviewed on FBI servers. It is not the number of *missing* texts. That number - which span a 5 month period - is not known. -- David Wright @DavidWright_CNN
5. From MEDIA MATTERS (They watch Fox News so you don't have to)
Conservative pundit and former Rep. Tom Tancredo, who is now running for Colorado governor, has used his Facebook account to share racist images as well as conspiracy theories suggesting that former Democratic presidential nominee Hillary Clinton killed her purported political enemies.  https://www.mediamatters.org/blog/2018/01/18/pundit-and-gop-candidate-tom-tancredo-shared-seth-rich-clinton-murder-conspiracy-theories-and-racist/219088

Tucker Carlson guest defends white supremacists and claims that Hispanics in Arizona represent the end of American society. Mark Steyn: "The white supremacists are American citizens. The illegal immigrants are people who shouldn't be here."  https://www.mediamatters.org/video/2018/01/18/tucker-carlson-guest-defends-white-supremacists-and-claims-hispanics-arizona-represent-end-american/219106

Lou Dobbs calls for U.S. Marshals to take "top people" in the Justice Department and FBI into custody. Dobbs: "I can't understand why the U.S. Marshalls haven't been dispatched to the Justice Department and the FBI"  https://www.mediamatters.org/video/2018/01/22/lou-dobbs-calls-us-marshals-take-top-people-justice-department-and-fbi-custody/219139
6. FBI investigating whether Russian money went to NRA to help Trump
The FBI is investigating whether a top Russian banker with ties to the Kremlin illegally funneled money to the National Rifle Association to help Donald Trump win the presidency, two sources familiar with the matter have told McClatchy.
FBI counterintelligence investigators have focused on the activities of Alexander Torshin, the deputy governor of Russia's central bank who is known for his close relationships with both Russian President Vladimir Putin and the NRA, the sources said.
It is illegal to use foreign money to influence federal elections.
It's unclear how long the Torshin inquiry has been ongoing, but the news comes as Justice Department Special Counsel Robert Mueller's sweeping investigation of Russian meddling in the 2016 election, including whether the Kremlin colluded with Trump's campaign, has been heating up.  http://www.mcclatchydc.com/news/nation-world/national/article195231139.html
7. From the Late Shows
Weekend Update on the Government Shutdown - SNL:  https://www.youtube.com/watch?v=_4Sk1R2RxvY&feature=youtu.be

Weekend Update: Robert Mueller - SNL:  https://www.youtube.com/watch?v=JU1aQmjFikM&feature=youtu.be

Weekend Update on Unemployment for Black Americans - SNL:  https://www.youtube.com/watch?v=b60iiT4VWKc

The Late Show with Stephen Colbert: Stormy Daniels: Sex With Trump Was 'Textbook Generic':  https://youtu.be/0NeuAFz7NFk

The Late Show with Stephen Colbert: Trump Is Conveniently One Pound Under Obese:  https://youtu.be/-n_4YQ2ozY4
8. Late Night Jokes for Dems
President Trump claimed that he scored higher on his cognitive test than all his predecessors. His psychological test could use a little work, though [shows three Rorschach images]: "Hillary Clinton in prison… Hillary Clinton in prison… A butterfly talking to Hillary Clinton in prison." -- Seth Meyers

President Trump's border wall is back in the news. Because while speaking to the Hispanic caucus in Washington yesterday, chief of staff John Kelly told lawmakers that when Trump promised voters a Mexican border wall during his campaign, he had not been, quote, "fully informed." Now to be fair, "not fully informed" could describe literally any statement Trump has made since 2003. -- James Corden

Trump immediately shot back at this, saying his plan for a border wall remains the same. He tweeted, "The wall is the wall. It has never changed or evolved from the first day I conceived of it." Great, now he thinks he invented walls. -- James Corden

After his doctor earlier this week said that he would recommend Trump exercise more, the president said yesterday that he gets "more exercise than people think." Does he? I am not sure backpedaling on campaign promises counts as exercise. -- James Corden

In Touch magazine is set to drop a 5,000-word interview with porn star Stormy Daniels about a 2006 affair when she allegedly had sex with Donald Trump. All 5,000 of those words are "ew, ew, ew, ew." -- James Corden

I guess Congress had 24 hours to pass a short-term spending bill if they want to avoid a shutdown. Trump told them to do their jobs, then went back to announcing the winners of a made-up awards show. -- Jimmy Fallon

Trump named The New York Times, ABC News, and CNN as the top three reporters of fake news. His top three reporters of real news were Fox News, his Magic 8-ball, and Snapple caps. -- Jimmy Fallon

President Trump is now claiming his approval rating among black Americans has doubled. In other words, Ben Carson voted twice. -- Conan O'Brien
9. Trump is historically unpopular. But the intensity gap should really terrify Republicans.
With the anniversary of Donald Trump's inauguration there's a raft of new polls out assessing what the American people think of the president, and the big story is that, just as he has cast aside norms of behavior, candor and propriety from his first day in office, Trump is breaking new ground.
There's never been a president who was as deeply unpopular for as long as he has been at this stage of his presidency.
And when you look deeper into the polls, you see signs of real trouble for Republicans, driven by Trump's ability to suck up everyone's attention and focus. The president is always the main protagonist of our political story, but we may never have seen a period as personalized in one figure as this one is. And that is the single biggest problem Republicans face this November.
Let's begin with the top line of the polls:
Pew Research Center puts Trump's job approval at 37 percent, with 56 percent disapproving

NBC News puts approval at 39 percent, with 57 percent disapproving

CBS News puts approval at 37 percent, with 58 percent disapproving

The Los Angeles Times puts approval at 32 percent, with 55 percent disapproving
In the history of modern polling, there has never before been a president with a net negative approval rating at the end of his first year. There's always some degree of honeymoon as the public gives the president a chance to succeed or fail. It's true that as partisanship (especially negative partisanship) has intensified in recent years, there's an approval ceiling that any president will bump up against, barring some extraordinary event such as the 9/11 attacks.  https://www.washingtonpost.com/blogs/plum-line/wp/2018/01/19/trump-is-historically-unpopular-but-the-intensity-gap-should-really-terrify-republicans/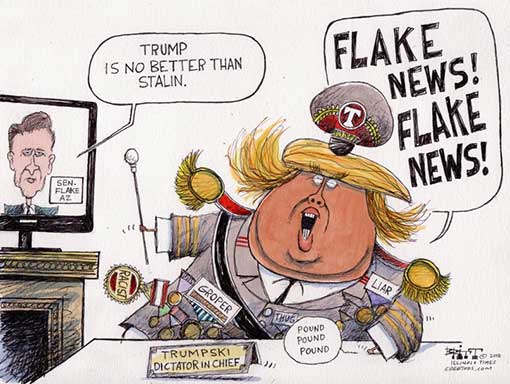 10. A free-for-all destroyed the Republican Party. Could Democrats be next?
If half the untested politicians and zillionaires who've signaled some interest in the Democratic nomination actually follow through, we'll have to turn around the debating halls so it's the moderators who sit on the dais and the candidates who pack the house.
All of which might be good for Democrats, whose public brand could certainly use a little reimagining. But I see a very real danger here for them, which is that if no one in the upper echelons of the party starts thinking about how to contain this field, they might be setting themselves up to relive the Republican experience of 2016.
But if I were an elite Democratic contributor or one of the party's senior governors, I'd be thinking about how to build early support around a candidate I believed could win and govern. I'd at least try to shape a field where the influential governing blocs of the party — governors, mayors, senators — arrayed behind a couple of candidates with widespread support.  https://www.yahoo.com/news/free-destroyed-republican-party-democrats-next-100045082.html
11. Poll: Under Trump, global approval of U.S. leadership hits historical low
A new Gallup poll finds other nations' approval of U.S. leadership under President Trump hit a historical low of 30% in 2017.
"The measure, the lowest since Gallup began tracking it worldwide in 2007, signals an 18-point drop from a year earlier, when 48% approved of the national influence under former President Obama. It is the single largest year-to-year drop in approval of U.S. leadership — or of any country examined — to date. The steep decline, researchers said, can be largely attributed to the shift in leadership in the West Wing.  https://www.politico.com/story/2018/01/18/trump-global-leadership-polls-344989
12. As Trump's first year in office ends, his support base has eroded and the opposition is energized
Donald Trump began his presidency a polarizing figure; he ends his first year a beleaguered one.
As the anniversary of Trump's inauguration approaches on Saturday, the president's support has eroded, his opposition has gained energy and his party faces bleak prospects for the midterm elections in November, according to a new USC-Dornsife/Los Angeles Times nationwide poll.
Just under one-third of those polled, 32%, approved of Trump's job performance, compared with 55% who disapproved and 12% who were neutral. That 23-point deficit represents a significant decline since April and the last USC/L.A. Times national poll, which found Trump with a 7-point approval deficit, 40% to 47%.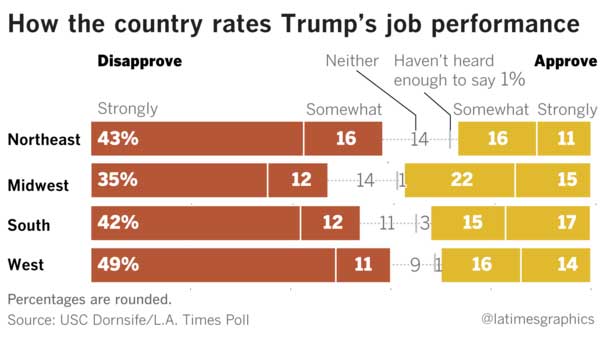 http://beta.latimes.com/politics/la-na-pol-trump-poll-20180119-story.html
13. Mueller's Probe Is Dangerously Close To A Republican Red Line
As the multiple probes into Donald Trump's ties to Russia have spiraled onward, Republicans have increasingly moved to cast doubt on their origins, plunging the inquiries into a stew of partisan bickering. And though in recent weeks members of Congress have seemingly moved to bury the hatchet, a new report could re-ignite—and even worsen—partisan tensions.
According to McClatchy D.C., the F.B.I. is investigating whether a top Russian banker with close ties to President Vladimir Putin illegally channeled money through the N.R.A. to bolster Trump's bid for the White House. The revelation that the special prosecutor might target the gun lobby, arguably the most influential and sacrosanct faction of the Republican Party, could embolden G.O.P. lawmakers to bring a swift end to the Trump-Russia probe and hasten a Mueller ouster. (The N.R.A. did not immediately respond to the outlet's request for comment.)  https://www.vanityfair.com/news/2018/01/donald-trump-robert-mueller-nra
14. Trump's Solar Tariffs Mark Biggest Blow to Renewables Yet
In the biggest blow he's dealt to the renewable energy industry yet, President Trump decided on Monday to slap tariffs on imported solar panels.
The tariffs are just the latest action Trump has taken that undermine the economics of renewable energy. The administration has already decided to pull the U.S. out of the international Paris climate agreement, rolled back Obama-era regulations on power plant-emissions and passed sweeping tax reforms that constrained financing for solar and wind. The import taxes, however, will prove to be the most targeted strike on the industry yet and may have larger consequences for the energy world.  https://www.bloomberg.com/news/articles/2018-01-22/trump-taxes-solar-imports-in-biggest-blow-to-clean-energy-yet
15. One year in, is Donald Trump's presidency a fluke or a political turning point?
By most political measures, Donald Trump shouldn't be in the White House. That's not an assessment of his policies or fitness for the job. Rather, it's judging by the rules that once seemed to govern presidential campaigning.
Trump never held office, never served in government or spent a day in military uniform. His campaign was slipshod; he was vastly outspent by his Democratic rival and faced strong Republican opposition after a hostile takeover of the GOP. Perhaps most striking, more than 60% of those surveyed thought Trump was unqualified to be president the day he was elected. The same exit polls found Trump viewed favorably by fewer than 4 in 10 Americans; only 1 in 3 considered him 'honest and trustworthy.'
Which raises a question on Trump's first anniversary as president: Was his victory a fluke? Or did Trump's improbable win signal a fundamental transformation in presidential politics, shattering norms and paving a path for other candidates with scant experience, or outsiders from the executive suite, Hollywood, the sports world or other less-conventional breeding grounds?  http://www.latimes.com/politics/la-na-pol-trump-presidential-politics-20180122-story.html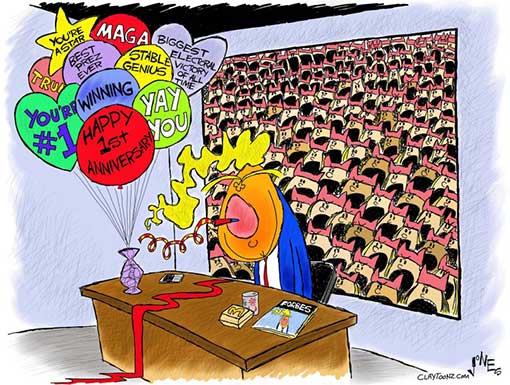 16. Poll: Almost half of voters question Trump's mental stability
Amid the lowest approval rating in the first year for a president, voters are also questioning Donald Trump's mental stability, according to a new ABC News/Washington Post poll.
Forty-eight percent of voters think Trump is mentally stable, versus the 47 percent of voters who think he is not.
Trump's job approval rating at his one year mark is at 36 percent, while 58 disapprove. The next lowest approval rating from a president at one year was Gerald Ford in 1975 with 45 percent.  https://www.politico.com/story/2018/01/22/poll-trump-mental-health-354902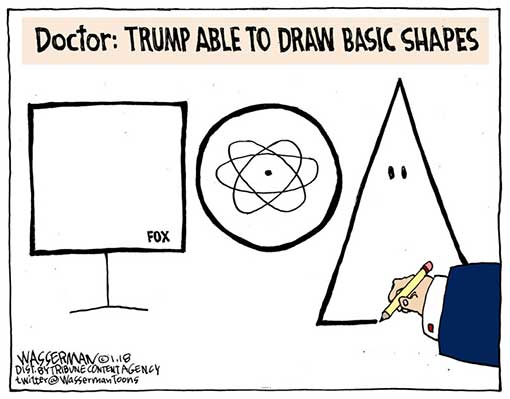 17. Analysts say Russian Twitter accounts promoted Republican talking points during government shutdown
The White House branded the federal budget impasse, which appeared to be ending on Monday, as the "Schumer Shutdown" in its attempt to pin the blame on Senate Minority Leader Charles E. Schumer (D-N.Y.). 
But it wasn't just Republicans using that phrase during the weekend government shutdown. Independent analysts said Twitter accounts linked to Russia have spread the same message.
The website Hamilton 68, which monitors accounts it considers to be part of Russian influence networks, said #SchumerShutdown was the top hashtag over the last two days.  http://www.latimes.com/politics/washington/la-na-pol-essential-washington-updates-analysts-say-russian-twitter-accounts-1516648365-htmlstory.html
1. Josh Marshall: Trump, Wolff and The Secret of the Russia Story
Key Trump insiders like Jared Kushner and Donald Trump Jr. have often claimed the campaign was too disorganized to collude with Russia. We were new at this! We barely had a proper campaign at all. That's not how it works. It's chaotic settings with corrupt individuals who always attract spies and grifters looking for an angle and a mark: the desperate and the greedy, the corrupt and the stupid. Similarly, they look for chaos and disorganization. Any reasonably competent press organization would have been aware of the fact that Wolff had managed almost unprecedented and unimaginable access to the West Wing of the White House, essentially unfettered. They also would have seen that he has a long track record of gaining access with flattery and then telling stories which are nasty, catty and vicious, if perhaps also accurate. No one put any of that together. Despite all the later denials, Trump himself personally appears to be the one who first rose to Wolff's bait, public insistence on Trump's greatness.  https://talkingpointsmemo.com/edblog/trump-wolff-and-the-secret-of-the-russia-story
2. Nicholas Kristof: What We Can Learn From 'S- Countries'
Despite President Trump's reported call to reject immigrants from "shithole countries," people from these countries actually have plenty to teach us.
Let's start with a quiz: Which country was the first in the world to ban government discrimination against gays in its constitution?
A) Norway

B) New Zealand

C) South Africa
Answer: It's the so-called s-hole country, South Africa. It also bans discrimination based on gender and disability. Someday all the world will be so enlightened.
"Africa, like any continent, has its problems," notes Ken Roth of Human Rights Watch. "But it also has its areas where it excels. We diminish ourselves when we dismiss entire nations with an epithet rather than open ourselves to the positive examples they set."  https://www.nytimes.com/2018/01/17/opinion/shithole-countries-africa.html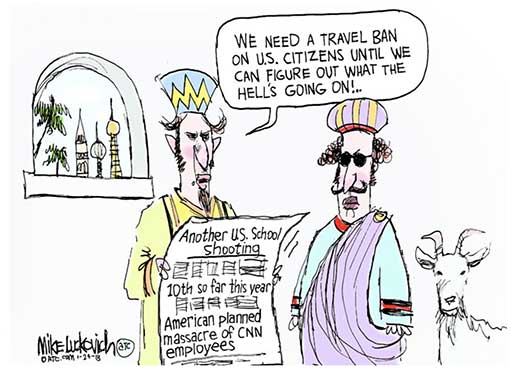 3. Paul Waldman: How Trump convinced America that character doesn't matter
Many years from now, a young person will ask you, "What was it like when Donald Trump was president? Was it really as crazy as people say?" There will be a thousand ways you could answer that question, but try this one: "Well, at one point it was revealed that a month before he was elected, Trump paid $130,000 in hush money to a porn star named Stormy Daniels to keep her quiet about an extramarital affair, and the media was so uninterested that they didn't even put the news on the front page, if they reported it at all. That's how crazy it was."
A visitor from an earlier age might assume that the news media, concerned about the propriety of sticking its nose into a gentleman's private affairs, decided to withhold what they knew from the public. That happened often in the past, from the reporters who said nothing about John F. Kennedy's womanizing to those who decided in 1996 that the story that Bob Dole had an extramarital affair in the 1960s simply had no bearing on what kind of president he'd be, so they declined to publish the news. "It just didn't pass the relevance test," said Len Downie, then editor of The Washington Post.
That's not what's happening in 2018, of course. The simple explanation for why the Stormy Daniels story — and I repeat, President Trump paid a porn star $130,000 in hush money to cover up an extramarital affair — isn't the subject of screaming headlines and round-the-clock cable news attention is that there are 10 other insane stories going on at the same time. This administration is such a chamber of horrors that neither the media nor the public can possibly follow every potential scandal, and since nobody's all that surprised that Trump was shtupping a porn star or that he paid her off, it isn't worth talking about.
But there's another explanation, one that gets deeper into the way Trump has twisted and degraded our entire national debate: President Trump is such a horrifying human being that he has ironically made it harder for us to draw the right connections between presidential character on the one hand, and leadership and policy on the other. Never has character mattered more, and yet at times we're almost blinded by the utter madness and chaos emitting from the White House on any given day.
Even if giving a six-figure payout to a porn star as hush money would have destroyed any other president, we might decide that it doesn't tell us anything about Donald Trump that we didn't already know, so it's not worth getting worked up over. In other words, he can get away with it because he's already understood to be such an awful person. How many presidents can you say that about?  http://theweek.com/articles/748930/how-trump-convinced-america-that-character-doesnt-matter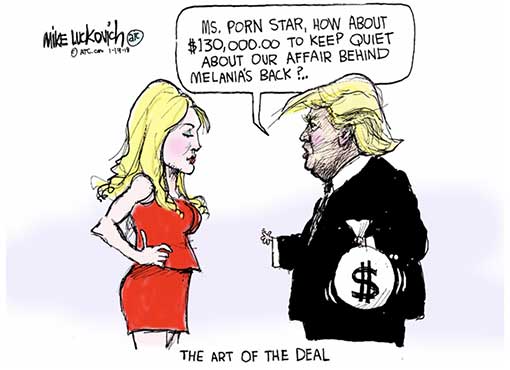 4. LA Times Editorial: A year in, Trump distracts while his appointees sledgehammer the government
Domestically, Trump has embraced a scorched-earth attitude toward regulations on businesses. He has failed to fill positions across his administration while simultaneously appointing foxes to oversee such henhouses as the Environmental Protection Agency, the Department of Education and the Consumer Financial Protection Bureau. He has sought to weaken worker and consumer protections, to end policies aimed at reducing greenhouse gas emissions, to shrink public lands (including slashing the size of national monuments), while seeking to open more federally controlled land and waters to oil, gas and other exploitative industries. His nationalistic opposition to immigration, his decision to end the Deferred Action for Childhood Arrivals program and his draconian approach to immigration enforcement have made a broken system worse.
So where is the nation after the first year of President Trump? Paying attention, in some cases, to the wrong things. Lies and provocations and Twitter rants are only one part of this presidency. Another is the ongoing effort to dismantle not just government agencies but the mission of government itself.  http://beta.latimes.com/opinion/editorials/la-ed-trump-first-year-20180120-story.html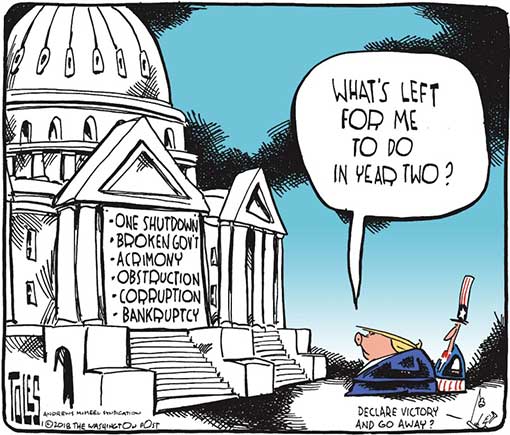 5. Jack Shafer: Week 35: A Double Scoop of Dossier Dirt
Movie sequels almost never capture the panache of the original, so the hope that Fusion GPS co-founder Glenn Simpson's interview before the House Intelligence Committee (Nov. 14) would break news beyond the disclosures contained in Simpson's earlier interview with the Senate Judiciary Committee was foolish. And yet Simpson's mighty tongue broke new ground, the way The Godfather: Part II did in its era, advancing what we know about the Trump Tower scandal as House transcripts were released this week. The journalist-turned-opposition-research-artist who commissioned the Steele Dossier displaced for the moment the question of Russian meddling in the 2016 election and directed it on informed speculation that Donald Trump had engaged in money laundering with Russians for years.
Simpson told the committee that he had found general "patterns of buying and selling that we thought were suggestive of money laundering" between Trump and the Russians, namely "fast turnover deals and deals where there seemed to have been efforts to disguise the buyer." Would the Russian government have known if Russian organized crime had laundered money through purchases of Trump golf courses or Trump condos? Rep. Adam Schiff (D-Calif.) asked.
"What is well known and well established in criminology now is that the Russian mafia is essentially under the dominion of the Russian government and Russian intelligence services," Simpson said. "And many of the oligarchs are also mafia figures."  https://www.politico.com/magazine/story/2018/01/20/week-35-a-double-scoop-of-dossier-dirt-216485
6. Paul A. Kramerjan: Trump's Anti-Immigrant Racism Represents an American Tradition
President Trump has inspired widespread outrage and disgust with his crude, racist disparagement of Haiti, El Salvador and African nations and the predominantly black and brown immigrants from these places.
As horrifying as this remark was, his groundbreaking transparency provides an opportunity. Racism has long fueled United States immigration exclusions and restrictions, but these days it's rare to hear rhetoric that openly reflects this reality, providing us a chance to delve into its roots and implications.
We've grown accustomed to the dog-whistling of anti-immigrant racism. Where blood, purity and civilization were once its everyday vocabulary, anti-racist and immigrant rights activism have, at least until recently, succeeded in forcing such talk underground. Our era's seemingly race-neutral languages of security, legality, culture, productivity and assimilation are often strongly inflected with racial meanings, but they're subtler and deniable, attracting far less opposition than, say, likening countries to outhouses.
Public utterances like Mr. Trump's have and should inspire outrage, but we need to go deeper, challenging the racist views — both flagrant and soft-pedaled — that have long shaped America's immigration policy. And we need to ask hard questions about the ways racism has decisively, durably shaped the immigration debate in ways that usually go unnoticed.
The truth is, many of the United States' early policies toward immigrants were conceived in recognizably Trumpian terms, in substance if not in tenor. The president's headline-making sentiment that people from countries like Norway (read: white people) were preferable would have been recognizable to the founders.  https://www.nytimes.com/2018/01/22/opinion/trumps-anti-immigrant-racism-represents-an-american-tradition.html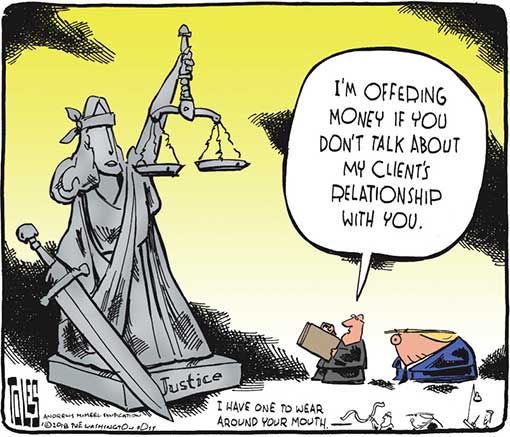 7. Frida Ghitis: Trump's America is caving, as autocrats rise
A year ago, we knew what kind of a candidate Donald Trump was, but we held out hope that his campaign-trail outrages amounted to electoral theater, to calculated tactics. We didn't know with certainty what kind of a president he would become.
Now we know.
A couple of new nonpartisan reports released just ahead of the first anniversary of Trump's assuming office give us the facts: The Trump presidency is eroding American democracy, undercutting American standing in the world, and contributing to a dangerous global trend.
As a candidate, Trump had expressed admiration for autocrats, attacked the free press, refused to disclose information his predecessors routinely had, and refused to divest himself of conflicts of interest. Still, I noted it was "too early to know" how he would govern with full certainty.
Now the world knows.
The United States, still a vibrant democracy with deep roots, remains in the "free" category in the Freedom House report, despite its slide in rank since Trump arrived. His administration's brazen defiance of the standards of a strong, healthy democracy includes, in Freedom House's analysis, Trump's relentless attacks on the media, his "pattern of false statements," "violations of basic ethical standards," "hiring of family members as advisers," removal of information of public interests from government websites, "for political or ideological reasons." The list goes on and on.  http://www.cnn.com/2018/01/20/opinions/trumps-america-is-caving-as-autocrats-rise-ghitis/index.html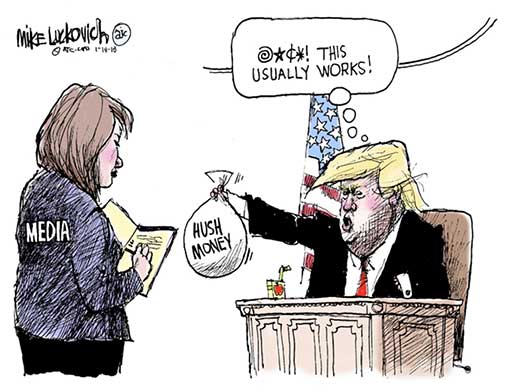 8. Ryan Cooper: The indolence of evil
When running for president, Donald Trump promised a presidency of violent xenophobia unparalleled since the Trail of Tears and the Long Walk. He would deport every unauthorized immigrant — who were in his mind 90 percent murderers and rapists from Mexico — all 11 million of them. Then he would build a gigantic wall across the entire southern border, and somehow make Mexico pay for it.
But as president, Trump has proved incapable of the level of organization and discipline required to achieve really grotesque crimes against humanity. So instead, his immigration policy has evolved into simple brute cruelty against helpless immigrant populations who are easy to target.
The 800,000 DREAMers (or people brought to the United States as young children) were as of September going to be forced out of the country without a rather unlikely congressional fix, though legal developments may have resurrected the program for the time being.
Meanwhile, people who had been granted residency under the Temporary Protected Status program are being queued up for mass deportation as well. Nearly 60,000 Haitians, who had been living in the U.S. since the 2010 earthquake, were ordered to prepare to leave in November of last year, while 200,000 El Salvadorans (more than half of whom have been here for over 20 years, and are parents to 190,000 American children) were given the same orders in January.
There is no reason at all to do any of this except to inflict pain on brown people while forcing them out of the country. Contrary to conservative yelps about getting "tough on crime" (which for some reason seem to be coming from credibly accused sex criminals quite a lot these days) this only enables more crime by making immigrant-heavy communities unwilling to speak to the police, lest their friends or family be rounded up by Trump's goons.
All in all, it's a monstrous record, but at least well short of a full-on campaign of a quasi-ethnic cleansing campaign targeting 11 million people. In Trump's America, that counts as something of a victory.  http://theweek.com/articles/749408/indolence-evil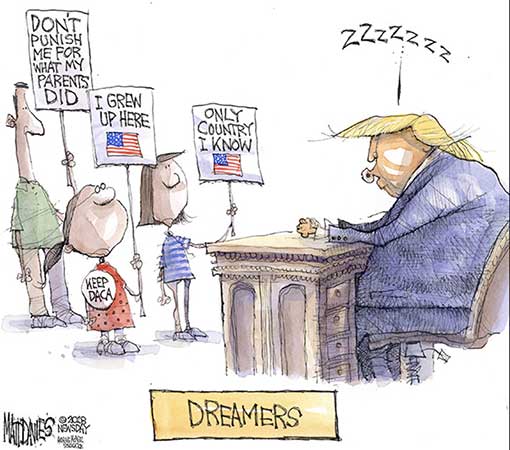 9. Paul Waldman: Republicans go full Illuminati
If you're fortunate enough not to be a regular consumer of Fox News, conservative talk radio, or the more colorful outposts of conspiracy theorizing popular on the right, you might think that Robert Mueller is an experienced prosecutor leading a methodical investigation into the Trump campaign's ties to Russia. At the end of that investigation, you probably think, Mueller will present his findings, there either will or won't be evidence of serious wrongdoing, some people might be indicted (a couple already have), and whatever the outcome of those criminal cases, our political system will have to sort out what to do about the whole matter, if anything.
But if you do watch Fox or listen to Rush Limbaugh or read websites like Breitbart, you're living in an entirely different reality, in which there's a massive and sinister conspiracy at work and the only appropriate response is to live every moment of every day on the verge of outright panic.
In this bizarre fantasy world, the FBI — as conservative an agency as you'll find in the federal government — is actually an organization committed to destroying Donald Trump, so gripped is it with pro-Democratic bias.  http://theweek.com/articles/750337/republicans-full-illuminati
10. Morton Kondracke: Failure on DACA Will Stain U.S., Not Just the GOP
The fate of more than 1 million "Dreamers" will indelibly define America's character in the eyes of our own population and the world.
The fact that these innocent young people have been kept in agonized limbo for years is bad enough. They were brought to the U.S. as children by illegal immigrant parents, grew up here and know no other country. Legislation to give them legal status was first introduced in 2001, but has never passed Congress.
As part of the deal reached Monday to re-open the government, Senate Republican leader Mitch McConnell promised that he'd permit a vote on immigration legislation—but it's still deeply unclear whether Dreamers will be given legal status or thrown out of the country.
Their fate rests not only with the Senate, but with the House of Representatives — where majority Republicans in the past have been hostile to "amnesty" — and with President Trump, whose position shifts constantly.
Deporting the Dreamers will be a blight on this country comparable to some of the most inhumane and shameful episodes in our history — the forced expulsion of Native Americans from the southeastern U.S. starting in 1830s,  the World War II internment of Japanese-Americans, the failure to end segregation even after 1.2 million blacks had served in World War II, and U.S. refusal to provide haven for Jews fleeing Nazi Germany.
The spectacle would shock the world — ruining America's standing (what is left of it in the Trump era) as a beacon of freedom, decency and democratic leadership.  https://www.realclearpolitics.com/articles/
2018/01/24/failure_on_daca_will_stain_us_not_just_the_gop_136079.html