August 17, 2023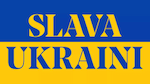 To subscribe to this FREE weekly newsletter simply email jellison@san.rr.com with "subscribe" as the subject.
THE WEEK'S BEST QUOTES. . .
"Mike Pence has released a new campaign ad attacking President Joe Biden for high gas prices—but, as he delivers his spiel to the camera the gas pump can be heard beeping off camera with increasing urgency, beckoning him, as gas pumps do, to pay and select a kind of fuel. He somehow keeps up the whole charade throughout the incessant beeping, holding the nozzle into his gas tank as if viewers might not notice there's no gas coming out.
https://twitter.com/Mike_Pence/status/1689014062305128448
"You can basically make up your own reality in right-wing media." — Former Republican staffer, Justin Higgins.
https://www.newsweek.com/former-republican-staffer-admits-gop-would-intentionally-spread-lies-1818999
"Deranged Jack Smith has just asked for a trial on the Biden Indictment to take place on January 2nd., just ahead of the important Iowa Caucuses. Only an out of touch lunatic would ask for such a date, ONE DAY into the New Year,  and maximum Election Interference with IOWA! Such a trial, which should never take place due to my First Amendment Rights, and massive BIDEN CORRUPTION, should only happen, if at all, AFTER THE ELECTION. The same with other Fake Biden Indictments. ELECTION INTERFERENCE!" — Donald Trump accusing Special Counsel Jack Smith of "election interference for proposing a January 2, 2024 trial date.
https://www.newsweek.com/trump-reacts-lunatic-jack-smiths-proposed-trial-date-1819029
"The Fraud Squad." -- A Donald Trump TV ad airing a in Atlanta, and other TV markets, that attacks the Fulton County district attorney who could soon charge the former president with his fourth criminal indictment.
https://rumble.com/v34qf04-fraud-squad.html
"What Crooked Joe Biden, who can't string two sentences together, has done to our once great Country through his Open Borders CATASTROPHE, may go down as the greatest and most damaging mistake ever made in USA HISTORY. It is not even believable that such incompetence and stupidity could have been allowed to happen." … "Biden has the "mind, ideas, and I.Q. of a First Grader. Biden "is not only dumb and incompetent, I believe he has gone MAD, a stark raving Lunatic, with his HORRIBLE AND COUNTRY THREATENING ENVIRONMENTAL, OPEN BORDERS, & DOJ/FBI WEAPONIZATION POLICIES." —Donald Trump unleashed a torrent of insults against President Biden Truth Social: attacking him in personal terms as Trump's legal problems continue to mount.
https://thehill.com/homenews/administration/4147012-trump-unleashes-on-biden-as-legal-problems-mount/
"Justice should be blind, but Biden has weaponized government against his leading political opponent to interfere in the 2024 election.  Now a radical DA in Georgia is following Biden's lead by attacking President Trump and using it to fundraise her political career. Americans see through this desperate sham." — Speaker Kevin McCarthy.
https://twitter.com/SpeakerMcCarthy/status/1691288262365663232
"Maybe, just maybe, the reason Trump keeps getting indicted for crimes is not that the criminal justice system is in the grips of a vast liberal conspiracy but that he is, in fact, a criminal?" — Jonathan Chait.
https://nymag.com/intelligencer/2023/08/donald-trump-tells-witness-not-to-testify-jeff-duncan-georgia-indictment-fani-willis.html
The month "was the warmest on record for land, warmest on record for oceans, and when you combine the two, it was the warmest on record for the combined land and ocean anomaly values. So it set a record in all three categories." — Karin Gleason, chief of the monitoring section at NOAA's National Centers for Environmental Information.
https://www.latimes.com/california/story/2023-08-15/july-was-the-planets-hottest-month-on-record-so-far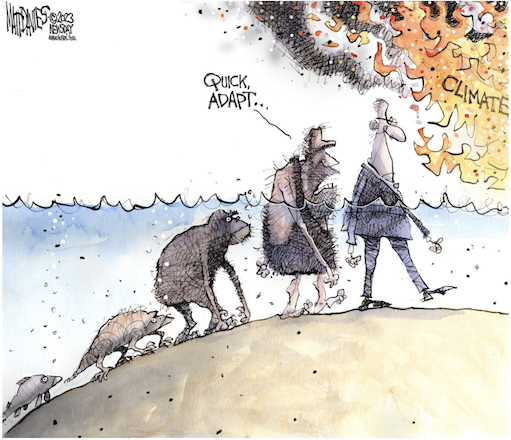 "Why would you send Jared Kushner to the Middle East when you have Rex Tillerson and Mike Pompeo as secretaries of state? Two incredibly accomplished men. You send him? Why? We found out the answer six months after he left office: $2 billion from the Saudis to Jared Kushner and Ivanka Trump, $2 billion, and because he did all this and more with his family. He's normalizing this conduct." — Chris Christie tying Jared Kushner cashing in on his relationship with the Saudis to Hunter Biden making millions overseas in a campaign stop.
https://www.mediaite.com/politics/chris-christie-says-jared-kushner-was-the-hunter-biden-of-the-trump-white-house-exactly-the-same-thing/
"Donald Trump is a liar. Donald Trump is a loser. And Donald Trump is a national security threat to the United States of America. And we need to be honest about that. And if we nominate him, if the GOP nominates him, then we're giving Joe Biden and Kamala Harris four more years." — Former Rep. Will Hurd (R-TX) on PBS' "Firing Line with Margaret Hoover."
https://thehill.com/homenews/campaign/4150149-liar-loser-a-national-security-threat-hurd-rips-into-trump/
In what has become a signature move, Donald Trump arrived at a booth selling pork chops on a stick in Iowa and loudly proclaimed for the cameras that he is "buying food for everyone!" Then he grabs one, hands it to a reporter, and walks away with no one getting any pork chops bought by Trump from the stand.
https://www.meidastouch.com/news/trump-pork-chops
"I am reading reports that failed former Lt. Governor of Georgia, Jeff Duncan, will be testifying before the Fulton County Grand Jury. He shouldn't. I barely know him but he was, right from the beginning of this Witch Hunt, a nasty disaster for those looking into the Election Fraud that took place in Georgia." — Donald Trump warning former Georgia Lt. Gov. Geoff Duncan (R) against testifying before the Fulton County grand jury in the state's 2020 election probe.
https://truthsocial.com/@realDonaldTrump/posts/11088808744006099
1
"Being an inveterate liar is a major liability in litigation. So is being openly disdainful of the entire process. And so is complexity. But put all three of those together at the same time for the same defendant, and his goose is cooked. So you can put a fork in Donald Trump—he's done." —  Clark Neily. senior vice president for legal studies at the Cato Institute.
https://www.cato.org/blog/trumps-toast-folks
"They could pass expungements, reversals, nullifications, apologies, pardons and valentines to Donald Trump, but it makes no difference." — Rep. Jamie Raskin about the GOP's case for trying to erase Trump's record.
https://www.politico.com/newsletters/huddle/2023/08/16/dems-start-laughing-off-house-gops-trump-protection-push-00111426
"There is no good way for DeSantis to attack Trump about Jan. 6 or anything else. There is no point in chaining a goat to a stake in front of a T. Rex, then asking the goat to assault the T. Rex. It has not worked out well for other goats, many stronger and smarter than this one… So, no, I would not advise the candidate who lost to the Mouseketeers to attack the T. Rex." — GOP strategist Alex Castellanos.
https://slate.com/news-and-politics/2023/08/desantis-trump-campaign-primary-political-operatives-advice.html
"I would tell DeSantis the hard truth. In my 40 years in presidential politics, I have never seen a worse campaign and candidate. He should withdraw from the race." — Democratic strategist Joe Trippi, when asked what advice he would give Gov. Ron DeSantis.
https://slate.com/news-and-politics/2023/08/desantis-trump-campaign-primary-political-operatives-advice.html
VIDEOS ...
"It's staggering that a party that we all considered problematic in some respects, but that we thought of as a serious political party less than a decade ago, is what it is now, which is, you know, a whorehouse." — John Heilemann.
https://twitter.com/therecount/status/1691430785952161792
"It goes to the very foundation of democracy. Nixon abused some powers, he exceeded his authority when he shouldn't, but he wasn't taking on the basics of the country, whereas Trump wanted to stay in office, he wanted to use Georgia and abuse Georgia as part of that plan, and so this is very different and much more serious and much more troubling. … the case "is much bigger than Watergate… it's of a whole different dimension." — Former Nixon White House Counsel John Dean, observing  that Fulton County District Attorney Fani Willis had not just charged Donald Trump with criminally conspiring to overthrow the 2020 election, "she threw the book at him."
https://www.youtube.com/watch?v=Q2aGCC2q_-A
School is back in session! And the GOP has been working overtime to make school great again! Go back to school the far right way, and say goodbye to woke books, lunch programs, and your peace of mind! -- The Lincoln Project.
https://twitter.com/ProjectLincoln/status/1691072185572691968
"Many of the allies I don't know because we have so many allies so I don't know exactly what you're talking about." — Donald Trump, when asked by a reporter about the actions of his allies in the alleged Georgia election interference in 2020.
https://twitter.com/Acyn/status/1690448460322115584
"Dark forces" are attempting to "rewrite the Bible" using AI. — General Michael Flynn warns.
https://twitter.com/patriottakes/status/1689683031366279179
"COVID was "pre-planned by an elite group of people.
Event 201
occurred in 2019 before any of us knew about the pandemic." — Sen. Ron Johnson (R-WI) in an epic rant on Fox News.
https://twitter.com/WarClandestine/status/1690024961535004672
---
IN THIS ISSUE
IN THE NEWS
OPINION
Andy Borowitz: Clarence Thomas Hikes Price of Supreme Court Decisions to Keep Pace with Inflation
Citing "unfortunate economic realities," Clarence Thomas is hiking the price of Supreme Court decisions to keep up with inflation.
The jurist disclosed his new rate card in a mass e-mail sent to more than a hundred super-donors.
"I have tried to keep my prices reasonable, but, as inflation proves more stubborn than predicted, I have no choice but to adjust my rates accordingly," he wrote.
"Sadly, the days of shredding civil rights in exchange for ten private-jet flights are over," he added.
It remains to be seen whether the billionaires who received Thomas's e-mail will tolerate his steeper prices or whether they will explore a budget option such as Neil Gorsuch.
https://www.newyorker.com/humor/borowitz-report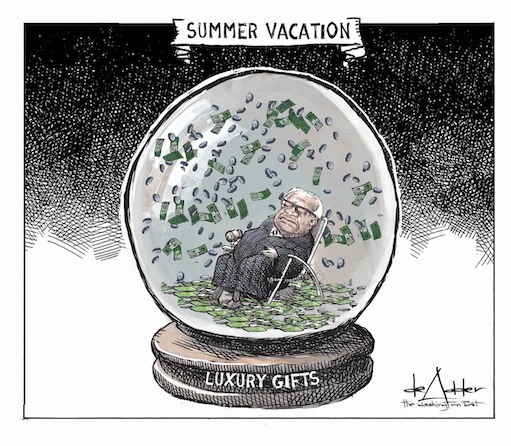 Donald Trump's 2024 Campaign Plans Collide With Strategy to Stay Out of Jail
Donald Trump's campaign strategy is increasingly colliding with the legal one, sapping his time and financial resources as he pursues the twin goals of winning another term in the White House and staying out of prison.
The former president says he is so politically energized by the three criminal indictments he faces that he claims he needs one more to ensure his election—a wish he could receive in the coming days from a Georgia grand jury over his efforts to overturn the 2020 election.
But Trump's inflammatory attacks on prosecutors and judges are in direct conflict with his lawyers' efforts to win him acquittals.
https://www.wsj.com/articles/donald-trumps-2024-campaign-plans-collide-with-strategy-to-stay-out-of-jail-43c53342
Trump Stiffed His Co-Conspirators
Several of the attorneys who spearheaded President Donald Trump's frenzied effort to overturn the results of the 2020 election tried, and failed, to collect payment for the work they did for Trump's political operation, despite the fact that their lawsuits and false claims of election interference helped the Trump campaign and allied committees raise $250 million in the weeks following the November vote.
Among them was Trump's closest ally, former New York mayor Rudy Giuliani. Trump and Giuliani had a handshake agreement that Giuliani and his team would get paid by the Trump political operation for their post-election work.
https://www.cnbc.com/2023/08/15/trump-alleged-co-conspirators-never-got-paid-by-trump-team.html
Americans are divided along party lines over Trump's actions in election cases
The poll from The Associated Press-NORC Center for Public Affairs Research, which was conducted before Monday's charges in the Georgia case, also shows that about half of Americans — 53% — approve of the Justice Department indicting Trump over his efforts to remain in office after losing the 2020 election.
The poll finds 85% of Democrats approve of the criminal charges brought Aug. 2 by Special Counsel Jack Smith, compared with 47% of independents and just 16% of Republicans. Overall, 3 in 10 Americans disapprove, including about two-thirds of Republicans.
https://apnews.com/article/trump-indictment-poll-georgia-elections-b6140eed88b3153e41dbf9e008d5a21b
The Tweets Haunting Trump
Georgia's racketeering indictment against former President Trump and 18 of his allies lists 161 overt acts allegedly committed in furtherance of a conspiracy to overturn the 2020 election.
Twelve of those overt acts are tweets sent from Trump's account.
And we don't even know what Special Counsel Jack Smith found in his direct messages.
https://www.axios.com/2023/08/15/trump-indictment-racketeering-tweets-overturn-election-2020
No Labels on the Ballot in 10 States
A national political movement that could offer an independent presidential ticket in 2024 as an alternative to major-party nominees said Monday it has now won ballot access in 10 states, after North Carolina election officials formally granted official status to a 'No Labels' affiliate.
The other states are Alaska, Arizona, Arkansas, Colorado, Florida, Nevada, Oregon, South Dakota and Utah.
https://apnews.com/article/no-labels-bipartisan-presidential-candidate-d230dd3a3da6d78da6707c0165aa6443
Former Trump advisor blames Jews for their own deportations to Auschwitz
In a recent speech, Michael Flynn, a Christian nationalist, suggested mothers were complicit in handing over their young children to go on trains to Auschwitz.
https://www.thejc.com/news/news/former-trump-advisor-blames-jews-for-their-own-deportations-to-auschwitz-6BMJn5y5XpBfAJcNGhwFpy
Florida Students Now Need Parental Permission to Use Nicknames, 'Alternate' Names Under New Ron DeSantis Rule
Florida students will now be required to get their parents' consent before using a nickname in schools, a move that critics say targets the LGBTQ+ community and could extend well beyond, People reports.
The rule would impact everyone from students who prefer using a shorthand nickname ('Tom' versus 'Thomas,' for instance), to those who prefer a different name altogether, including transgender students (who have already been the target of numerous pieces of legislation in Florida in recent months).
But even if a transgender student did get permission from their parent to use a different name, teachers would still not be obligated to use that student's preferred pronouns.
https://people.com/florida-students-now-need-parental-permission-use-non-legal-name-7571342
New probe confirms Trump officials blocked Puerto Rico from receiving hurricane aid
The administration of former President Donald Trump obstructed an investigation looking into why officials withheld about $20 billion in hurricane relief for Puerto Rico following the devastating aftermath of Hurricane Maria in 2017, one of the deadliest U.S. natural disasters in over 100 years, a new report says.
https://www.nbcnews.com/news/latino/new-probe-confirms-trump-officials-blocked-puerto-rico-receiving-hurri-rcna749
House Oversight GOP claims they don't need to find direct payments to Joe Biden to prove corruption in Hunter Biden business dealings memo
House Oversight Republicans laid out their intention to accuse President Joe Biden of corruption even without direct evidence that he financially benefited from Hunter Biden's foreign business dealings, a clear shift in their strategy that they said was launched to investigate the president.
The new strategy is highlighted in a
memo
released by the committee on Wednesday.
The memo follows the increasing drumbeat from many House Republicans – and certainly the GOP presidential frontrunner Donald Trump – to pursue impeachment of the sitting president even without a clear establishment of facts.
https://www.cnn.com/2023/08/09/politics/house-oversight-republicans-hunter-biden/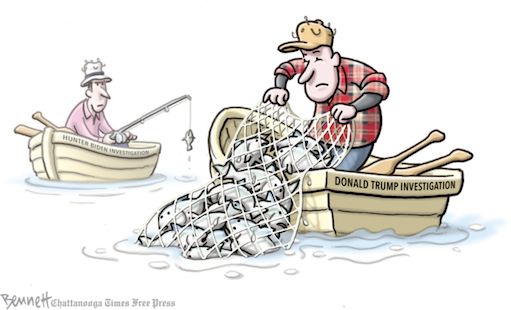 House GOP will subpoena Biden family, says Republican chairman
House Oversight Committee Chairman James Comer (R-KY) said that his committee, which has been investigating the foreign business dealings of President Biden's family members, will eventually move to subpoena the Biden family – a move Comer hinted could include the president himself.
We know that this is going to end up in court when we subpoena the Bidens. So we're putting together a case, and I think we've done that very well. We've shown the bank records, Comer said. If I had subpoenaed Joe and Hunter Biden the first day I became chairman of the committee, it would have been tied up in court and the judge would have eventually thrown it out. … We have put together a case that I think would stand up in any court of law in America.
https://thehill.com/homenews/house/4147617-house-gop-will-subpoena-biden-family-says-republican-chairman/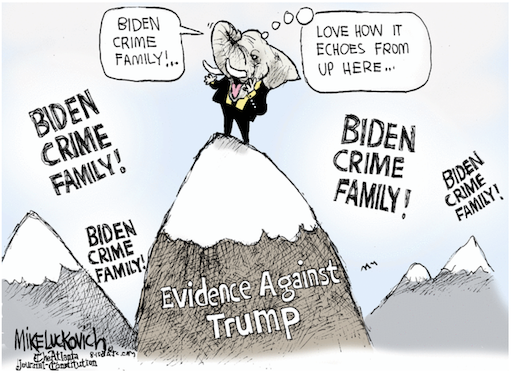 WH Torches Hunter Biden Probe In Scathing New Memo: GOP 'Now Admit They Haven't Uncovered Any Proof' Implicating Biden
Today House Republicans on the Oversight Committee released another memo full of years-old news, innuendo, and misdirection – but notably missing, yet again, is any connection to President Biden.
Perhaps that is because – as recently as last week – the House Republicans' own self-proclaimed hero witness who was going to be able to come under oath and tell us exactly what role Joe Biden played testified that President Biden never discussed these business dealings and was not involved.
This has been a pattern: time after time, Comer hypes up self-proclaimed bombshell findings about President Biden, and time after time, he fails to provide any actual evidence. Today's release is yet another flop.
So after seven months of wasting time and millions of taxpayer dollars on their evidence-free wild goose chase, Comer is making it clear that he is shamelessly moving the goal posts.
https://www.mediaite.com/news/wh-torches-hunter-biden-probe-in-scathing-new-memo-gop-now-admit-they-havent-uncovered-any-proof-implicating-biden/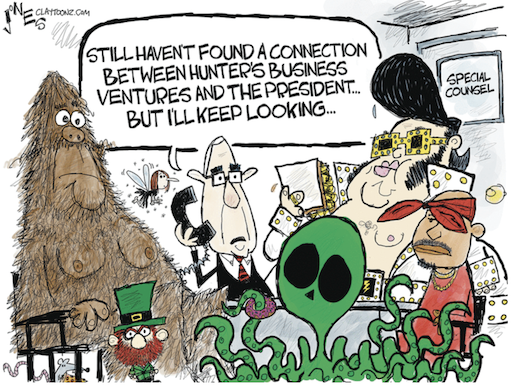 Clarence Thomas' 38 Vacations: The Other Billionaires Who Have Treated the Supreme Court Justice to Luxury Travel
The fullest accounting yet shows how Thomas has secretly reaped the benefits from a network of wealthy and well-connected patrons that is far more extensive than previously understood.
During his three decades on the Supreme Court, Clarence Thomas has enjoyed steady access to a lifestyle most Americans can only imagine. A cadre of industry titans and ultrawealthy executives have treated him to far-flung vacations aboard their yachts, ushered him into the premium suites at sporting events and sent their private jets to fetch him — including, on more than one occasion, an entire 737. It's a stream of luxury that is both more extensive and from a wider circle than has been previously understood.
Like clockwork, Thomas' leisure activities have been underwritten by benefactors who share the ideology that drives his jurisprudence. Their gifts include:
At least 38 destination vacations, including a previously unreported voyage on a yacht around the Bahamas; 26 private jet flights, plus an additional eight by helicopter; a dozen VIP passes to professional and college sporting events, typically perched in the skybox; two stays at luxury resorts in Florida and Jamaica; and one standing invitation to an uber-exclusive golf club overlooking the Atlantic coast.
This accounting of Thomas' travel, revealed for the first time here from an array of previously unavailable information, is the fullest to date of the generosity that has regularly afforded Thomas a lifestyle far beyond what his income could provide. And it is almost certainly an undercount.
https://www.propublica.org/article/clarence-thomas-other-billionaires-sokol-huizenga-novelly-supreme-court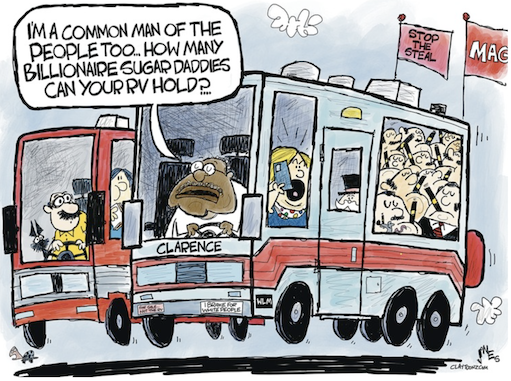 After a Win in Ohio, Abortion Rights Groups Are Backing Ballot Measures in 2024
Abortion-rights supporters are working to put reproductive rights directly to voters in 2024, part of an effort to boost turnout and buoy Democratic candidates after a string of state-level victories on the issue, Bloomberg reports.
On Tuesday, voters in Ohio overwhelmingly rejected a measure that would have made it harder to pass an initiative on the ballot in November that would enshrine abortion rights into that state's constitution.
Now, advocates are backing abortion-rights ballot initiatives in the presidential battleground of Arizona. Similar efforts are underway in Florida, Maryland, Missouri, New York and South Dakota, most of which have Senate elections in 2024.
https://www.bloomberg.com/news/articles/2023-08-09/ohio-issue-1-win-has-abortion-rights-groups-planning-2024-ballot-measures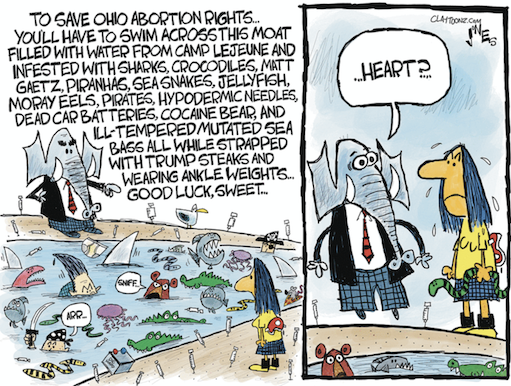 House GOP weighs government shutdown escape hatch: A deal with Dems
By Sept. 30, House GOP leaders have to pass a major bipartisan spending deal or a short-term patch to keep the government open, with both options requiring cooperation from McCarthy's hardliners. But those recalcitrant conservatives are signaling they'll be loath to support either solution, almost certainly putting the onus on House Minority Leader Hakeem Jeffries and his Democrats to help avert disaster.
What's more unusual this time, though, is that Democrats will probably need to do more than simply chip in to pass a bipartisan deal or a deadline extension. They'll have to vote to help Republicans move any agreement to the House floor.
https://www.politico.com/news/2023/08/10/house-republicans-democrats-deal-00110508
More Than 1,100 Have Faced Charges Over January 6
Donald Trump last week joined more than 1,100 people who have been charged in connection with the January 6 Capitol riot, Axios reports.
By the numbers: 110 people have been found guilty at trial and about 366 have been sentenced to incarceration in connection to the attack… About 632 people have pleaded guilty to federal charges, including many who could face incarceration at sentencing.
https://www.axios.com/2023/08/09/jan-6-criminal-charges-capitol-attack-riot
Republicans Face No Win Conundrum on Abortion
A decisive defeat for abortion foes in the red state of Ohio, the seventh such loss since the Supreme Court overturned Roe v. Wade, has sent alarm bells ringing among some Republicans and prominent conservatives over the clear salience of the issue.
But Republican strategists face a no-win conundrum. Retreating on abortion would infuriate the majority of their base that wants to ban the procedure, while their current strategy is alienating a formidable slice of swing voters who favor some GOP positions but oppose the party's stance on reproductive rights.
https://www.nbcnews.com/politics/2024-election/abortion-setback-ohio-alarms-gop-democrats-see-roadmap-2024-rcna99029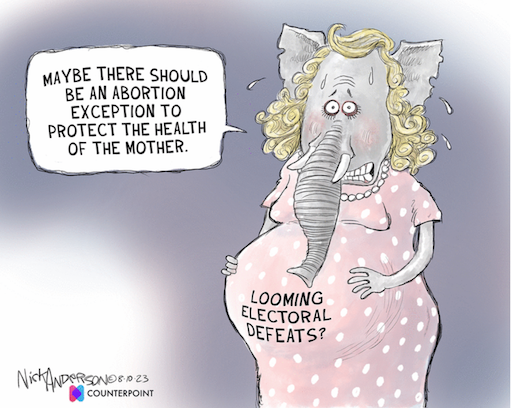 Spiraling Legal Bills Threaten Trump With Cash Crunch
New disclosures reveal the remarkable degree to which Mr. Trump's political and legal cash are intermingled, much like his own political and legal fate.
Mr. Trump's complex political orbit is already spending more than it is taking in, and tapping into money it raised years ago — an unusual trajectory this far out from an election. And the burn rate raises questions about whether such an approach is untenable, or whether Mr. Trump will eventually need to dip into his own fortune to pay for his lawyers, his 2024 campaign or both.
https://www.nytimes.com/2023/08/11/us/politics/donald-trump-legal-bills-campaign.html
Biden's new data trove boosts Dems for 2024
President Biden's campaign — racing Republicans to identify persuadable 2024 voters — is leaning into a recently developed database that includes contact information for 90% of U.S. voters, gleaned from 500 organizations during the past decade.
The database, run by an independent firm called Democratic Data Exchange (DDx), allows Democrats and allied groups — campaigns, state parties, super PACs and hundreds more — to bridge a longtime inability to share information.
https://www.axios.com/2023/08/10/biden-democrats-boost-their-data-game-for-2024
How the California Governor Went From a Nuisance to a Top Biden Ally
When California Gov. Gavin Newsom sparred with Fox News' Sean Hannity in June and touted President Joe Biden's accomplishments directly to the person who spends an hour each night attacking them, no one loved the contentious back-and-forth more than Biden and his top aides.
Newsom – because of his ability to appear on Fox News with conservative hosts like Hannity – is now seen as one of Biden's best surrogates heading into the next election.
https://themessenger.com/politics/biden-newsom-relationship-debate-2024-presidential-election
No Place for Asa Hutchinson in the GOP Anymore
In another era, Asa Hutchinson — whose resume includes stints as a Congressman and U.S. attorney, leading roles at the DEA and Homeland Security, and two terms as a popular red-state governor — would have been a shoo-in for the first debate of a Republican primary, if not an instant contender for the nomination. You might call him the apotheosis of what comedian Bill Maher has dubbed 'Republican Classic': Pro-life, pro-gun, pro-free trade; anti-debt, anti-Putin, anti-coup.
But Hutchinson has struggled amid the shifting sands of his party. While policy-wise, he remains mostly in lockstep — as governor, he signed one of the country's strictest abortion bans — he lacks the fire-breathing, troll-the-libs ethos that animates much of the modern GOP, and has displayed an occasional bipartisan streak (while leading the National Governors Association, he backed President Biden's infrastructure bill).
https://www.politico.com/news/magazine/2023/08/11/asa-hutchinson-post-trump-republican-candidate-00110698
Biden world sees the making of a wider path to victory in 2024
Joe Biden's team thinks his path to victory in 2024 could look an awful lot like it did in 2020. But people close to the president believe that voters' enthusiasm about abortion rights could also unlock new roads to another term
The most straightforward route that those in Biden world see includes protecting the blue wall of Rust Belt states that were essential to his success three years ago, while preparing for repeat battles in the new swing states of Georgia and Arizona that he swiped from the Republican column.
https://www.politico.com/news/2023/08/11/biden-world-2024-election-abortion-00110775
Ron DeSantis and his backers paid $95,000 to an Iowa religious leader's group
As Florida Governor Ron DeSantis scrambles to shore up his struggling run for the Republican presidential nomination, he has spent far more than any rival on courting an influential Christian conservative leader and his following in the key early voting state of Iowa.
The DeSantis campaign, a super PAC linked to him and a nonprofit group supporting him together paid $95,000 in recent months to the Family Leader Foundation, an Iowa-based nonprofit led by evangelical leader Bob Vander Plaats.
https://www.reuters.com/world/us/desantis-his-backers-paid-95000-iowa-religious-leaders-group-documents-show-2023-08-12/
How Trump Benefits From an Indictment Effect
These series of falling dominoes — call it the indictment effect — can be measured in ways that reveal much about the state of the Republican Party.
The analysis highlights Mr. Trump's dominance over the party, revealing the years of conditioning of millions of Republican voters who view Mr. Trump's legal troubles as a proxy attack on them. And it displays an upside-down reality where criminal charges act as political assets — at least for the purpose of winning the Republican nomination.
Said GOP pollster Tony Fabrizio: The rally around the flag is not a new phenomenon in American politics, but Donald Trump has certainly taken it to a new level. With Trump the rally around the flag happens to be about him personally.
https://www.nytimes.com/2023/08/13/us/politics/trump-indictment-effect.html
Not That We're Counting
Donald Trump is now facing 91 criminal charges in 4 criminal cases, CNN reports.
Trump currently has five trials scheduled between now and May, with more trial dates to be determined.
https://www.cnn.com/politics/live-news/trump-fulton-county-georgia-08-14-23/h_3e279320f2ba518105782f61371e030f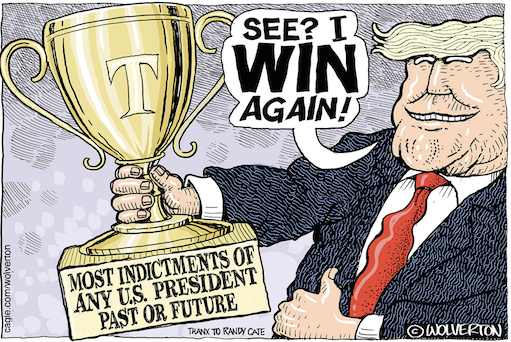 Elon Musk's X is throttling traffic to websites he dislikes
The company formerly known as Twitter has begun slowing the speed with which users can access links to the New York Times, Facebook and other news organizations and online competitors, a move that appears targeted at companies that have drawn the ire of owner Elon Musk.
"
The delayed websites included X's online rivals Facebook, Instagram, Bluesky and Substack, as well as the Reuters wire service and the Times. All of them have previously been singled out by Musk for ridicule or attack.
https://www.washingtonpost.com/technology/2023/08/15/twitter-x-links-delayed/
Biden's plan to forgive student debt for over 800,000 borrowers upheld by judge
A federal judge dismissed a lawsuit Monday from conservative groups looking to block student loan forgiveness for some 804,000 borrowers.
The decision marks a win for student loan borrowers and for President Biden, who promised to continue pursuing debt relief after the Supreme Court's decision last month to strike down his administration's loan forgiveness plan.
https://www.axios.com/2023/08/14/student-debt-biden-lawsuit-dismissed
THE DAILY GRILL ...
We the undersigned write to request that United States Attorney David C. Weiss be extended special counsel protections and authorities to conduct the Hunter Biden investigation. — Sen. Ron Johnson (R-WI), in a letter to Attorney General Merrick Garland on September 16, 2022.
https://senatorkevincramer.app.box.com/s/nht4g40xl7bjbhycjmhjohfvcf2xuzh6

VERSUS

There may be others who would be a worse pick than U.S. Attorney Weiss to be special counsel, but based on the prosecution of Hunter Biden to date, he has got to be close to the worst pick. This is unbelievable. — Sen. Ron Johnson (R-WI). https://twitter.com/SenRonJohnson/status/1690073161906237440



"This should be decided at the ballot box and not in a bunch of liberal jurisdictions trying to put the man in jail. They're weaponizing the law." —Sen. Lindsey Graham (R-SC) took to Fox News last night to decry to latest indictments of Donald Trump. https://twitter.com/Acyn/status/1691243829981020160

VERSUS

The problem with Graham's argument is that it was decided at the ballot box. Trump refused to accept the results.
Maggie Haberman, Jonathan Swan and Alan Feuer: 'Biased.' 'Corrupt.' 'Deranged.' Trump's Taunts Test Limits of Release.
After eight years of pushing back at a number of institutions in the United States, Mr. Trump is now probing the limits of what the criminal justice system will tolerate and the lines that Judge Chutkan sought to lay out about what he can — and cannot — say about the election interference case she is overseeing. He has waged a similarly defiant campaign against others involved in criminal cases against him, denouncing Jack Smith, the special counsel who brought two federal indictments against him, as 'deranged'; casting Fani T. Willis, the district attorney of Fulton County, Ga., as 'corrupt'; and even singling out witnesses.
Some lawyers have said that if Mr. Trump were an ordinary citizen issuing these attacks, he would be in jail by now. The question is whether Mr. Trump will face consequences for this kind of behavior ahead of a trial.
https://www.nytimes.com/2023/08/16/us/politics/trump-chutkan-2020-election-truth-social.html
Peter Baker: Trump Indictment, Part IV: A Spectacle That Has Become Surreally Routine
The nation once recoiled at presidential candidates caught driving under the influence or swiping lines in a speech without credit. Now one of the two major parties has not ruled out a front-runner charged with conspiring to subvert democracy, endangering national security, obstructing justice and falsifying records of hush money to a pornographic film star.
The notion that a rap sheet with multiple felonies would not be automatically disqualifying would have stunned the 44 presidents who came before him, including the Republicans.
https://www.nytimes.com/2023/08/14/us/politics/trump-indictments-georgia-criminal-charges.html
Harry Litman: What makes the Georgia indictment of Donald Trump so different from all the others
Trump's latest indictment is also distinct from the others by virtue of the government-friendly laws that will apply at trial. Those begin with RICO, the Georgia version of which is unusually expansive, encompassing predicate acts such as perjury that are not included in its federal counterpart.
"
Georgia also has stricter laws governing the conditions of release that lean toward pretrial detention, including a requirement that defendants show they pose no risk of intimidation to witnesses. Given Trump's history, imagine the challenge that presents for his lawyers when he is arraigned, probably later this month.
Georgia also has strong speedy-trial provisions that could allow another defendant to demand to be tried within a few months, which could put Trump in a tight spot.
Even as it repackages much familiar evidence and treads some of the ground covered by another prosecution, Trump's fourth indictment is a lot more than piling on. In some respects, it is the most far-reaching and portentous response to Trump's assault on democracy.
https://www.latimes.com/opinion/story/2023-08-15/donald-trump-indictment-fulton-county-georgia-rudy-giuliani-fani-willis
Michelle Goldberg: At a College Targeted by DeSantis, Gender Studies Is Out, Jocks Are In
In two weeks, the new school year will begin at Florida's New College, the progressive public liberal arts school singled out by Gov. Ron DeSantis for cultural transformation. Returning students will find an institution that is increasingly unrecognizable.
Over a third of the faculty members have left. Many of last year's students are continuing their education elsewhere. Hampshire College, a small private liberal arts school in New England, has offered financial aid to New College students so they can transfer without tuition increases. Thirty-five plan to attend Hampshire this fall, and 30 more have inquired about doing so in the spring, a large number, given that last year New College had fewer than 700 students. Last week, New College's leadership announced that it was moving to abolish the gender studies department. Chris Rufo, the culture warrior whom DeSantis put on New College's board of trustees, boasted that it would be "the first public university in America to begin rolling back the encroachment of gender ideology and queer theory on its academic offerings."
The dismantling of gender studies is striking because of how closely it follows a playbook for the ideological transformation of higher education pioneered by Hungary, which banned gender studies in 2018. Given that Rufo frames the New College takeover as a demonstration project to be repeated by red states nationwide, I'd expect attempts to scrap gender studies to spread.
https://www.nytimes.com/2023/08/14/opinion/columnists/gender-studies-ron-desantis-florida.html
Philip Bump: So where's the bribe, James Comer?
It has now been more than three months since House Oversight Committee Chairman James Comer (R-Ky.) and Sen. Charles E. Grassley (R-Iowa) issued a release in which they accused President Biden of having been allegedly engaged in a bribery scheme with a foreign national.
That allegation was based on an FBI interview of an informant who had spoken with Mykola Zlochevsky, founder of the Ukrainian energy company Burisma. If validated, it would mark not only a significant legal violation on the part of Biden, but the first time that Comer's breathless efforts to tie Biden to foreign payments was actually demonstrated.
It was not validated. Comer and Grassley — who were already familiar with an FBI form detailing the contents of the interview — spent a few weeks demanding that the FBI release the interview to the public. The FBI, concerned both about putting the informant at risk and about making public unsubstantiated claims, decided to offer a redacted version of the memo for legislators to see. Comer and Grassley then started complaining about the redactions as they demanded more people be able to see the interview. Eventually, Grassley just went ahead and released a lightly redacted version on social media.
The idea that Biden (and his son Hunter Biden, who served on Burisma's board) had been bribed took hold as an article of faith on the right. Fox News has mentioned bribe or bribery in the context of Biden more than 1,100 times since the allegation was first made — despite the lack of evidence beyond that FBI interview document and despite the erosion of the credibility of the allegation in at least two ways. Hunter Biden's business associate Devon Archer testified under penalty of perjury that Joe Biden wasn't involved in his son's business. Meanwhile, an old conversation between Zlochevsky and an ally of former president Donald Trump's lawyer Rudy Giuliani was unearthed in which Zlochevsky denied having any contact with or receiving any assistance from Joe Biden.
On Wednesday, Comer released a new assessment of payments made to Hunter Biden, Archer and others while Biden and Archer were in business together. In testimony given to the Oversight Committee last week, Archer explained that their work centered on raising money and making connections in Washington, D.C. — but that while Hunter Biden encouraged people to think that he was bringing his father's clout into play, Joe Biden was not actually engaged in their work. The new articulation of the money that was paid to Biden and Archer reflects that; none of the $20 million that Comer claims went to the Biden family and their business associates — an intentionally loose description of the recipients — was shown to have gone to Joe Biden.
That's unquestionably an ongoing challenge for Comer's efforts to impugn President Biden with his son's business activity. In the abstract, anyway; Comer's ideological allies are eager to collapse Hunter Biden's income (and even Archer's) into a broader pool of money to the Bidens in which Joe Biden is somehow implicated. But the lack of payments made to the president is even more problematic for the Comer-Grassley claim about bribes. After three months, a period that clearly included more assessments of income received by Hunter Biden (though a lot of the $20 million was already reported), there's not a whiff of the alleged $5 million paid to Joe Biden by Zlochevsky. It's less than a phantom.
Comer's team tried to dig up this bribe that they have convinced their allies exists, without luck. So he issues a news release about the Biden family and suggests that bribery claims don't need actual proof and prepares for his next Sean Hannity interview.
https://www.washingtonpost.com/politics/2023/08/09/comer-biden-analysis/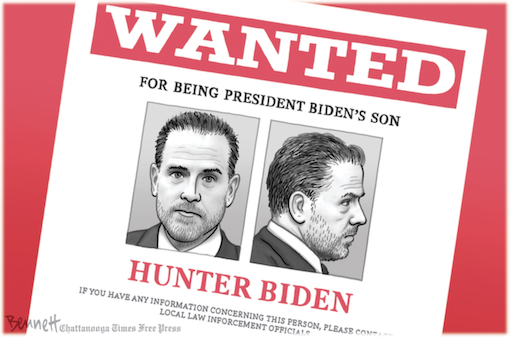 John Cassidy: Why Republicans Are Complaining About the Hunter Biden Special Counsel That They Asked For
This past Friday, Garland gave the Republicans what they wanted and elevated Weiss to the status of special counsel, saying that Weiss himself had requested this move and that it would be in the public interest. How did the Republican letter-writers respond to the news? Here are some of their statements:
Senator Lindsey Graham: "This doesn't pass the smell test."

Representative Jim Banks: "What a joke."

Representative Pete Sessions: "AG Merrick Garland hired a Special Counsel who he knew would not investigate Biden's illegal behavior while he was VP."

Senator Marsha Blackburn: "Merrick Garland appointed David Weiss as special counsel because he knows Weiss will protect Hunter."
It's all about uncovering political corruption, members of the House Oversight Committee say, pointing to bank records which they say show members of the Biden family and their associates received at least twenty million dollars from foreign interests. For some reason, though, these Republicans don't seem bothered by much larger sums that a business owned by another Presidential family member received from a foreign government that he had direct dealings with when he was serving in the Trump Administration.
Six months after Jared Kushner left the White House, in 2021, Saudi Arabia's sovereign wealth fund, whose board is led by Crown Prince Mohammed Bin Salman, invested two billion dollars in a private-equity firm that Kushner had set up. During Kushner's time in the White House, he had maintained close ties to M.B.S. even after U.S. intelligence agencies concluded that the Saudi leader approved the murder of Jamal Khashoggi, the Saudi dissident and Washington Post journalist. This past April, Times uncovered  that the Saudi wealth fund went ahead with the huge investment in Kushner's firm despite objections from some of its advisers that the firm was inexperienced, and that investing in it was risky. Since then, barely a peep from the G.O.P. corruption fighters.
It's all just politics, an old Washington adage goes. Never has that been truer than in Republicans' fascination with Hunter Biden. 
https://www.newyorker.com/news/our-columnists/why-republicans-are-complaining-about-the-hunter-biden-special-counsel-that-they-asked-for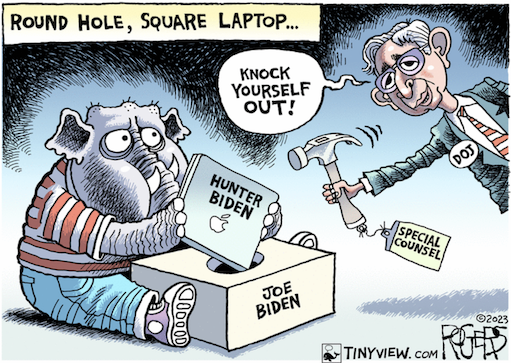 Alexandra Petri: The Supreme Court justice lifestyle is for me!
I see now that I was wrong to rule out a career as  Supreme Court justice. I believe the amount of law you need to know was greatly exaggerated. Supreme Court justice is the lifestyle for me. ProPublica, which, as I understand it, is a publication dedicated entirely to concocting ludicrous fantasy vacations I would never have imagined in my wildest dreams and then revealing that Justice Clarence Thomas has been on them (among other perks), has just revealed even more luxury vacations that Thomas has taken, with the assurance that this is almost certainly an undercount of the luxurious, undisclosed travel he has received. Now that is a disclaimer! (Most Supreme Court justices take only one or two vacations per year. Vacations Thomas, who takes 3,800 annually, is an outlier and should not have been counted.)
I did not know about all the perks! I did not know you got assigned a personal billionaire (or several) and got to live the lifestyle of one of America's wealthier car dealers. I did not know you would not only get to travel with them, be serenaded with their custom you-inspired songs (is this a perk?) and get to visit their humble, rustic lodges but also get to travel without them, in their planes. Nor did I realize that the
Exclusive golf club access! Sports tickets in fancy boxes! All the football you can eat! RVs! Yachts! Helicopters! It's a miracle the justices manage to take any rights away from anyone! They are always off on vacation somewhere, on someone else's dime — indeed, I would not call this living on someone else's dime. There is no way a dime covers all this!
I am going to rethink my life! I thought if you wanted your reality to be jetting from beach to beach and experiencing prime seats at concerts and sporting events, you had to be born a Kardashian or some sort of minor oil baron. I thought you could not also have a day job in D.C. where you got to work in a nice marble building and tell people whether things are legal or not and whether they can be president, or alive.
I thought if I wanted to ride in helicopters and play golf in exclusive venues, I would have to give up my dream of unlimited power over other people's lives. But now I see I was wrong. I was also wrong about needing to know all those laws and precedents! Anyway, I would like to be a Supreme Court justice now. My only complaint for the current justices, until I can join them, is that if you are going to take all these vacations at the behest of billionaires, I wish you would not also come back from those vacations and take my rights away. Just stay on vacation, I say.
https://www.washingtonpost.com/opinions/2023/08/11/clarence-thomas-billionaire-vacation-ethics-satire/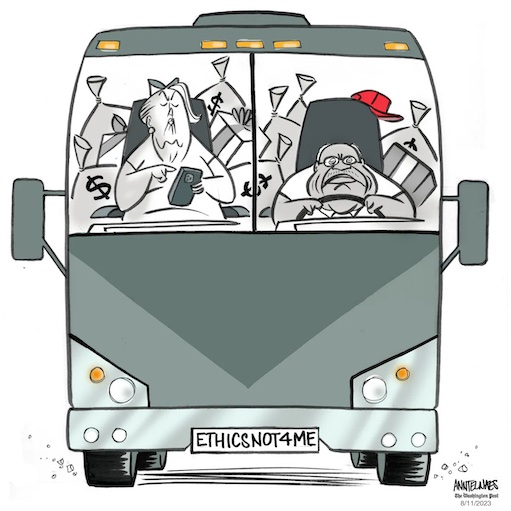 Maggie Astor: Voters Are Sending a Clear Message on Abortion
If anyone doubted the message that voters have been sending in election after election since the Supreme Court overturned Roe v. Wade last year, Ohioans underscored it once more on Tuesday: Voters are highly motivated by abortion. They have repeatedly supported abortion rights even in red states, and have turned out to say so even on typically low-turnout primary dates.
That was clear in Kansas a year ago, when voters in a highly Republican state overwhelmingly rejected a constitutional amendment that would have allowed legislators to ban abortion. It was clear in November, when abortion-related questions were on the ballot in five states with different political leanings, and all five states voted in favor of abortion rights. It was clear this April, when a majority of voters in closely divided Wisconsin elected a liberal Supreme Court justice who had run on her support for abortion rights.
And now it is clear in Ohio, where voters turned out in much larger numbers than is normal in an August election, and voted against the amendment by 14 percentage points in a state that voted for Donald J. Trump in 2020 by about eight points.
https://www.nytimes.com/2023/08/09/us/politics/ohio-abortion-issue-1-takeaways.html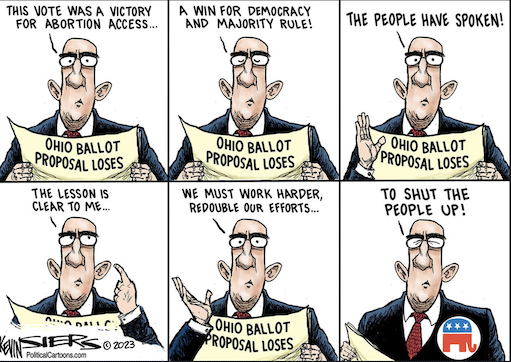 Russell Berman: Is Trump Daring a Judge to Jail Him?
When Donald Trump appeared last week in a Washington, D.C., courtroom for his arraignment on federal election charges, the presiding judge gave the former president a few simple instructions for staying out of jail while he awaited trial.
Trump could not talk to potential witnesses about the case except through lawyers, Magistrate Judge Moxila Upadhyaya told him, and he could not commit a crime on the local, state, or federal level. Both are standard directives to defendants. But then Upadhyaya added a warning that seemed tailored a bit more specifically to the blustery politician standing before her: I want to remind you, the judge said, it is a crime to intimidate a witness or retaliate against anyone for providing information about your case to the prosecution, or otherwise obstruct justice.
When Upadhyaya asked Trump if he understood, he nodded. Fewer than 24 hours later, Trump appeared to flout that very warning—in its spirit if not its letter—by threatening his would-be foes in an all-caps post on Truth Social: IF YOU GO AFTER ME, I'M COMING AFTER YOU! Over the following week, he attacked a potential witness in the case, former Vice President Mike Pence (delusional); Special Counsel Jack Smith (deranged); and the federal judge assigned to oversee his case, Tanya Chutkan, an appointee of former President Barack Obama (Smith's number one draft pick, in Trump's words).
Trump's screeds highlight a challenge that will now fall to Chutkan to confront: constraining a defendant who's both a former president and a leading candidate to take the White House—and who seems bent on making a mockery of his legal process. h
ttps://www.theatlantic.com/politics/archive/2023/08/trump-arraignment-charges-judge-first-amendment/674993/