October 1, 2020
ON THE RECORD. . .
"Proud Boys? Stand back and stand by. ... Somebody's got to do something about antifa and the left." -- Trump

"The country needs a strong Republican Party that's done so much for our country, and to have it be hijacked as a cult at this time is really a sad thing for America." — Speaker Nancy Pelosi

Joe Biden's challenge as trying to "win an argument with a crackhead." — Ruthie, an undecided voter from Pennsylvania in Frank Luntz's presidential debate focus group.
Donald J. Trump: "Get rid of the ballots and you'll have a very — we'll have a very peaceful — there won't be a transfer frankly, there'll be a continuation." Those are not the words of an American President. They are the words of the First American Dictator. We need a blowout. -- Laurence Tribe

"You want to go into history to look for something like this? Go into Italian history and look at Mussolini. This is the way dictators come to power."-- Presidential historian Michael Beschloss

"We will have a vaccine so soon, you won't even believe it, although they are trying to do a little bit of a political hit. 'Let's delay the vaccine just a little bit.' Did you notice that?" -- Trump suggesting to supporters that his opponents were orchestrating delays to the development of a coronavirus vaccine in order to undermine him in the election.

"We're going to have to see what happens. You know that I've been complaining very strongly about the (mail-in) ballots and the ballots are a disaster. We want to get rid of the ballots. There won't be a transfer frankly, there will be a continuation." — Trump when asked if he would commit to making sure there is a peaceful of transferal of power after the election.

"If President Trump cared at all about people with pre-existing conditions, he would drop his lawsuit to overturn the Affordable Care Act in the middle of a pandemic." — Pelosi taking aim at an executive order from Donald Trump, who claims will ensure coverage for people with pre-existing conditions.

"A huge part of this nation's glory to the extent it exists as a beacon to others is the peaceful transfer of power based on the vote of the people of this country. Mail-in ballot balloting has been with us forever, and that peaceful transfer of power is what the people of this country rely on when they go to vote. It is appalling and outrageous that anyone would suggest for a minute if they lose an election they're not going to leave! Period." — Massachusetts Gov. Charlie Baker (R) condemned President Trump's "appalling and outrageous" refusal to commit to a peaceful transfer of power if he loses the presidential election,

"I would encourage people to be critical thinkers, and to get their news from a variety of sources and make up their own mind and be a skeptical, discerning electorate — which is what I think is the best defense against malign foreign influence." — FBI Director Christopher Wray.

"That makes me smart." — Trump in a 2016 debate against Hillary Clinton, when she accused him of not paying federal income taxes.

Federal income taxes paid in 2017 (jointly with spouse):

Joe Biden - $3,742,974
Kamala Harris - $516,469
Bernie Sanders - $343,882
Elizabeth Warren - $268,484
Donald Trump - $750

"I'm not sure anybody hasn't already made up their mind they're for Trump. But who knows. He's sort of like Goebbels. You say the lie long enough, keep repeating it, repeating it, repeating it, it becomes common knowledge." — Joe Biden comparing President Trump to Nazi propaganda chief Joseph Goebbels on Saturday.

Civility is a trait of inner character and self-confidence. That is why we are so disturbed by Trump's name-calling and childish taunting, his penchant for conspiracy theories and his embrace of conspiracy websites, all of which reflect a disturbing paranoia. Donald Trump may pretend to be heir to the great Republican tradition that appealed to us both but he is no Republican. He is simply an ill-formed man who lacks basic self-control and shows no semblance of inner character. — Former Reps. Charles Djou (R-HI) and Mickey Edwards (R-OK)

Punished by pandemic, buckled by economic hardship and riven by relentless partisanship, America is facing an election unlike any in modern times, a vote shadowed by menace and fringed with paranoia — much of it fed by the occupant of the Oval Office, who incessantly acts to undermine confidence in the result. —

LA Times

"Now Donald Trump is the boss of the agency he considers an adversary." — Rep. Richie Neal (D-Mass.), the chairman the Ways and Means Committee who has been suing to get Trump's tax records, expressing concern that Trump will try to influence the IRS's handling of his audit.

"Everything he says is false." — CDC Director Robert Redfield, who has grown increasingly concerned that President Trump, pushed by a new member of his coronavirus task force, Dr. Scott Atlas, is sharing incorrect information about the pandemic with the public.

"I did not want to join the ranks of the Senate Republicans who know that Trump is the wrong man for the job but won't say it publicly. … I was not going to hide. And I think there are too many people hiding about Trump. — Bob Woodward.

Trump could be "very realistically facing a potential bankruptcy" but "the more likely scenario that I see is that he'll find some corrupt foreign entity to help him out of the situation." — Michael Cohen

"The attorney general acts as though his job is to serve only the political interests of Donald J. Trump. This is a dangerous abuse of power." —Assistant US Attorney, James Herbert, citing Barr's handling of special counsel Mueller's report, his involvement in cases like Flynn's and his echoing of Trump's baseless allegations about mail-in ballots.

"Trump's titanic financial losses confirm that while he campaigned as a so-called brilliant financial wizard, Trump is a cheat, a fraud and perhaps the worst businessman in the world." — Rep. Bill Pascrel (D-NJ)

Trump paid $750 in taxes the year he was elected! That's way less than the $130,000 in hush money he paid Stormy Daniels. In 2012, Trump criticized Barack Obama for "only" paying $161,950 in taxes. That's a lot more than $750 too! And it's a lot more than the $0 in taxes Trump frequently paid. — Timothy L. O'Brien

 

POLITICAL ADS.....

#LyingLindsey | MeidasTouch: https://twitter.com/MeidasTouch/status/1309494377744445441

President Trump's First Term By The Numbers | Now This: https://youtu.be/NX-DdOUlcqs

New Start | Joe Biden For President 2020: https://youtu.be/foiRlQg87CE

Our Moment | The Lincoln Project: https://youtu.be/9mzcW0zUSKg

------------------------------------------

Trevor Reacts to the First Biden-Trump Debate | The Daily Social Distancing Show:
https://www.youtube.com/watch?time_continue=7&v=e3NoIG6CtU4
---
IN THIS ISSUE
FYI
OPINION
1. Andy Borowitz: Trump Somehow Not Likable Even After Being Coached by Chris Christie and Rudy Giuliani
Donald J. Trump somehow seemed unlikeable and obnoxious in his first 2020 debate performance, despite extensive pre-debate coaching from Chris Christie and Rudy Giuliani, campaign staffers have confirmed.

After the debate, staffers were baffled that Trump could appear so off-putting and odious after being prepped by two of the nation's most beloved and appealing public figures.

"Call it an aura, if you will, or a kind of magic, but Chris and Rudy have that special sauce that makes people want to hug them," one aide said. "We all thought that, by putting Trump in the same room with them, some of their fairy dust would rub off on him."

"It didn't happen," the aide said. "Chalk it up to the mysteries of politics."

In the wake of Trump's abysmal performance, the campaign is replacing Christie and Giuliani as coaches for the second debate. "It's more important than ever to make Trump likable, and that's why we're bringing in Mitch McConnell and Devin Nunes," the aide said. https://www.newyorker.com/humor/borowitz-report/
2. Proud Boys celebrate Trump's 'stand by' remark about them at the debate.
Members of the Proud Boys, a far-right group that has endorsed violence, celebrated on Tuesday night after President Trump mentioned them during the first presidential debate.
Asked whether he condemned white supremacists and military groups, Mr. Trump demurred and then said, "Proud Boys — stand back and stand by."
Within minutes, members of the group were posting in private social media channels, calling the president's comments "historic." In one channel dedicated to the Proud Boys on Telegram, a private messaging app, group members called the president's comment a tacit endorsement of their violent tactics.
In another message, a member commented that the group was already seeing a spike in "new recruits." https://www.nytimes.com/2020/09/29/us/trump-proud-boys-biden.html
3. Long-Concealed Records Show Trump's Chronic Losses And Years Of Tax Avoidance
The Times obtained Donald Trump's tax information extending over more than two decades, revealing struggling properties, vast write-offs, an audit battle and hundreds of millions in debt coming due.
Donald J. Trump paid $750 in federal income taxes the year he won the presidency. In his first year in the White House, he paid another $750.

He had paid no income taxes at all in 10 of the previous 15 years — largely because he reported losing much more money than he made.
As the president wages a re-election campaign that polls say he is in danger of losing, his finances are under stress, beset by losses and hundreds of millions of dollars in debt coming due that he has personally guaranteed. Also hanging over him is a decade-long audit battle with the Internal Revenue Service over the legitimacy of a $72.9 million tax refund that he claimed, and received, after declaring huge losses. An adverse ruling could cost him more than $100 million. https://www.nytimes.com/interactive/2020/09/27/us/donald-trump-taxes.html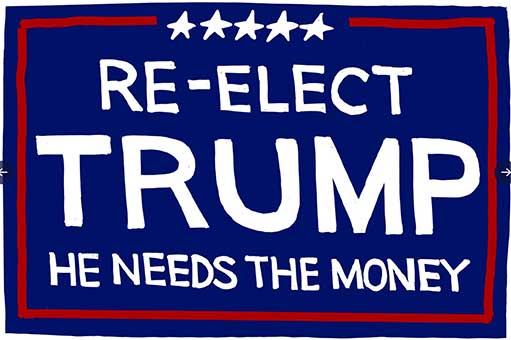 4. Early surge of Democratic mail voting sparks worry inside GOP
Democratic voters who have requested mail ballots — and returned them — greatly outnumber Republicans so far in key battleground states, causing alarm among GOP party leaders and strategists that President Trump's attacks on mail voting could be hurting the party's prospects to retain the White House and the Senate this year.
Of the more than 9 million voters who requested mail ballots through Monday in Florida, Pennsylvania, North Carolina, Maine and Iowa, the five battleground states where such data is publicly available, 52 percent were Democrats. Twenty-eight percent were Republicans, and 20 percent were unaffiliated. https://www.washingtonpost.com/politics/gop-mail-ballots/2020/09/29/131a06fc-0263-11eb-b7ed-141dd88560ea_story.html
5. ICE preparing targeted arrests in 'sanctuary cities,' amplifying president's campaign theme
The Trump administration is preparing an immigration enforcement blitz next month that would target arrests in U.S. cities and jurisdictions that have adopted "sanctuary" policies, according to three U.S. officials who described a plan with public messaging that echoes the president's law-and-order campaign rhetoric.
The Immigration and Customs Enforcement operation, known informally as the "sanctuary op," could begin in California as soon as later this week. It would then expand to cities including Denver and Philadelphia, according to two of the officials, who spoke on the condition of anonymity to describe sensitive government law enforcement plans. https://www.washingtonpost.com/immigration/trump-ice-raids-sanctuary-cities/2020/09/29/99aa17f0-0274-11eb-8879-7663b816bfa5_story.html
6. Chinese Citizens Are Already Receiving a Coronavirus Vaccine
In the race to develop a vaccine for the coronavirus, one deadline has been defined with a precision that, if not scientific, has the clarity of an equation: the first Tuesday in November. Throughout the fall, Donald Trump has frequently intimated that a vaccine might be approved before the election. The President may turn out to be correct, although the product that's most likely to beat November 3rd is called Xinxing Guanzhuang Bingdu Miehuo Yimiao. https://www.newyorker.com/news/news-desk/the-november-surprise-of-chinas-coronavirus-vaccine
7. Intel chief releases Russian disinfo on Hillary Clinton that was rejected by bipartisan Senate panel
Director of National Intelligence John Ratcliffe on Tuesday declassified a Russian intelligence assessment that was previously rejected by Democrats and Republicans on the Senate Intelligence Committee as having no factual basis, according to two sources familiar with the matter.
The extraordinary disclosure, released to Senate Judiciary Committee Chairman Lindsey Graham (R-S.C.) earlier Tuesday, rankled Democrats, who said the move effectively put Russian disinformation into the public sphere in order to boost President Donald Trump's unsubstantiated claims about the government's efforts to investigate Russian interference in the 2016 election.
"It's very disturbing to me that, 35 days before an election, the director of national intelligence would release unverified Russian rumint," or rumor intelligence, Senate Intelligence Committee Vice Chairman Mark Warner (D-Va.) told reporters. https://www.politico.com/news/2020/09/29/john-ratcliffe-hillary-clinton-russia-423022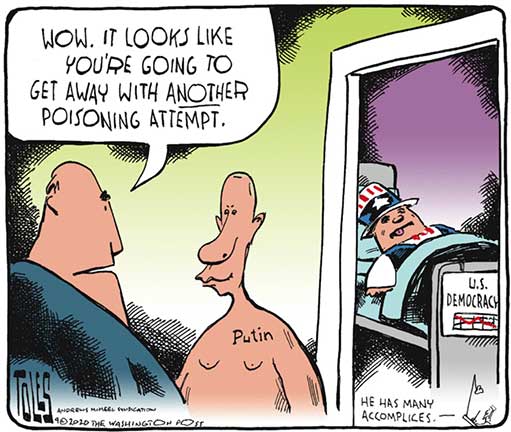 8. Obamacare Support Hits Record High as Supreme Court Faces Ideological Shift
With the survival of the Affordable Care Act in jeopardy following President Donald Trump's nomination of conservative Judge Amy Coney Barrett to replace the late Justice Ruth Bader Ginsburg on the Supreme Court, a new Morning Consult poll finds a record-high 62 percent of voters in support of the 2010 health law. https://morningconsult.com/2020/09/29/obamacare-support-polling-supreme-court/
9. HHS ad blitz sputters as celebrities back away
The health department's $300 million-plus, taxpayer-funded vehicle to boost confidence in President Donald Trump's response to the pandemic is sputtering. Celebrities are refusing to participate, and staff are arraying against it. Some complain of the unstated aim of helping Trump's re-election. Others point to an ill-prepared video team and a 22-year-old political appointee who has repeatedly asserted control despite having no public health expertise, according to six people with close knowledge of the campaign and documents related to its operations. https://www.politico.com/news/2020/09/29/hhs-ad-blitz-sputters-as-celebrities-back-away-423274
10. Trump readies thousands of attorneys for election fight
A year before President Donald Trump alarmed Americans with talk of disputing elections last week, his team started building a massive legal network to do just that.
Dozens of lawyers from three major law firms have been hired. Thousands of volunteer attorneys and poll watchers across the country have been recruited. Republicans are preparing pre-written legal pleadings that can be hurried to the courthouse the day after the election, as wrangling begins over close results and a crush of mail-in ballots. Attorneys from non-battleground states, including California, New York and Illinois, are being dispatched to more competitive areas and trained on local election laws.
A 20-person team of lawyers oversees the strategy, which is mainly focused on the election process in the 17 key states the Trump campaign is targeting, like Pennsylvania, Wisconsin and Michigan. https://www.politico.com/news/2020/09/27/trump-legal-network-election-day-fight-422035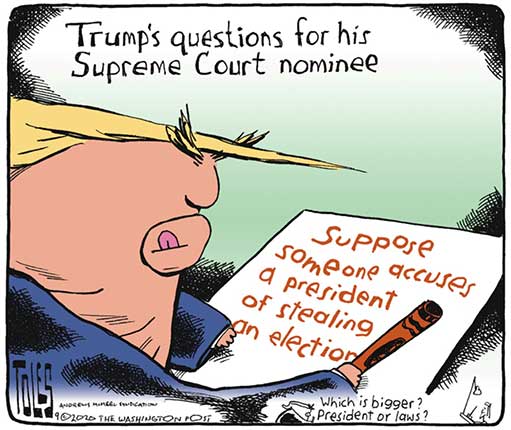 11. Pompeo to keynote Florida conservative Christian event, raising ethical and legal questions
Secretary of State Mike Pompeo is slated to keynote a gala event for a conservative Christian organization in Florida -- an appearance that comes a month before Election Day and may violate legal and ethical guidelines.
Not only is the top US diplomat advertised as the featured guest at the Florida Family Policy Council's 15th Anniversary Gala on October 3, a "personal visit with Secretary of State Mike Pompeo" is included with a $10,000 table sponsorship. Tickets to a VIP reception featuring Pompeo are included in $5,000 and $3,000 table sponsorships and $500 VIP tickets, according to the organization. https://www.cnn.com/2020/09/26/politics/pompeo-florida-family-policy-council/index.html
12. 'Was That a Display of Lying, Ignorance or Insanity?'
Australian television anchor Leigh Sales put Sarah Huckabee Sanders on the hot seat over President Trump's lies — and her own lies when she served as his press secretary. https://www.youtube.com/watch?v=hBiLMpq4RyY
13. Republican Senator Proposes Bill That Would Make It Illegal to Count Votes
Senator Rick Scott's "Help America Vote Act of 2020" would require that mail-in ballots be counted within 24 hours of when voting closes on Election Day. Scott's proposed legislation would also prevent mail-in ballots received prior to Election Day from being processed and counted until the morning of Nov. 3, contradicting state election statutes across the country including one that he signed when he was governor of Florida.. Any votes that did not get counted simply would not count. https://slate.com/news-and-politics/2020/09/republican-senator-bill-illegal-mail-vote-count-deadline.html
14. Florida's Republican Governor Unveils a Shocking Plan to Criminalize Protests
Florida Republican Gov. Ron DeSantis, a Trump lackey, is pushing legislation that would outlaw protests that turn disorderly and allow law enforcement to round up and prosecute all present, transforming participation in a protest from a protected constitutional right to a crime. The changes read like the rulebook of a dictatorship—and rather than being an aberration, represent a hot new trend on the political right. https://www.motherjones.com/anti-racism-police-protest/2020/09/ron-desantis-protests-florida/
15. Mary Trump Sues President and Family, Claiming Fraud of Millions
In her best-selling memoir, Mary L. Trump, President Trump's niece, told a family story that detailed the ways in which she claims her relatives — the president among them — tricked, bullied and ultimately cheated her out of an inheritance worth tens of millions of dollars.
On Thursday, more than two months after the book was published and a little more than one month before the election, Ms. Trump told her story again — this time in a lawsuit.
In its first sentence, the lawsuit says that, for the Trumps, "fraud was not just the family business — it was a way of life." https://www.nytimes.com/2020/09/24/nyregion/mary-trump-suing-trump-family.html
16. Bloomberg focuses on Florida Hispanics with new $8 million Spanish ad blitz
The influx of Michael Bloomberg election cash in Florida is yielding yet another million dollar ad buy to make the case for Democratic presidential nominee Joe Biden, this time in a $6 million Spanish-language TV and radio blitz that will run in major media markets throughout the key battleground state.
Priorities USA Action, the largest Democratic super PAC in the country, is teaming up with Latino Victory Fund to launch a series of Spanish ads on stations in Miami, Tampa and Orlando, focusing on the state's Hispanic voters. Priorities is spending $4 million on TV ads and $2 million on the radio programs.
The new buy comes after the former New York City mayor announced 10 days ago that he was pledging $100 million to defeat Trump in the Sunshine State, which aides to Bloomberg have stressed is key to a Democratic win. Last Thursday, Bloomberg's aides released details of his plan to flood Florida's airwaves, touting an initial $5.4 million, weeklong ad campaign on TV, and teasing additional ads. https://www.msn.com/en-us/news/politics/bloomberg-focuses-on-florida-hispanics-with-new-8-million-spanish-ad-blitz/ar-BB19mmbv
17. Vice President Mike Pence defends Trump holding rallies amid coronavirus
Vice President Mike Pence defended President Donald Trump's return to holding large rallies, typically with thousands of supporters seen standing shoulder-to-shoulder and not wearing masks, even after 200,000 Americans have died from the novel coronavirus.
"We've trusted governors in our states, and most importantly we've trusted the American people," Pence said. https://abcnews.go.com/Politics/pence-defends-trump-holding-rallies-amid-coronavirus-election/story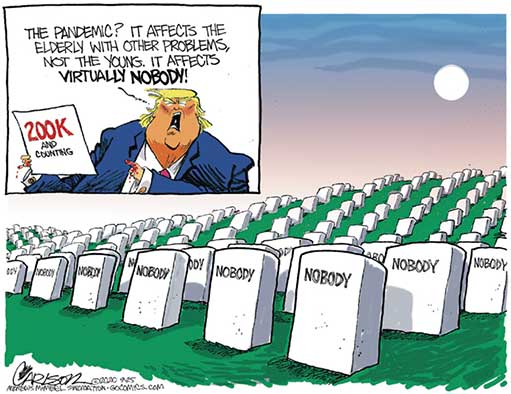 18. POLITICO Playbook: Are we a banana republic?
With 40 days left until election day, it seems as though the united states is well on its way to becoming a banana republic.
The president will not commit to a peaceful transfer of power … Wednesday night at the White House: Q: "Will you commit to making sure there's a peaceful transferral of power after the election?" Donald Trump: "well, we're going to have to see what happens, you know that. I've been complaining very strongly about the ballots and the ballots are a disaster. … get rid of the ballots and we'll have a very peaceful -- there won't be a transfer frankly. There will be a continuation. The ballots are out of control. You know it. And you know who knows it better than anybody else? The Democrats know it better than anybody else." https://www.politico.com/newsletters/playbook/2020/09/24/are-we-a-banana-republic-490423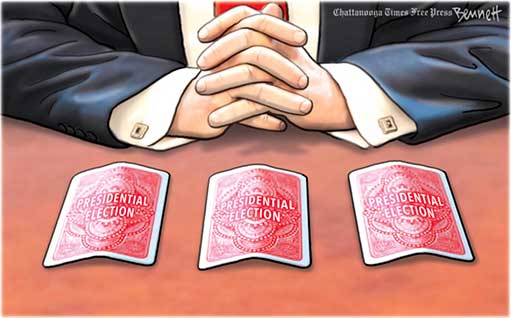 19. Trump's 3,400 Conflicts Of Interest
The numbers are truly staggering. As of September 21, President Trump has racked up 3,403 conflicts of interest. The list reads like an instruction manual for how not to drain the swamp: 
President Trump has made more than 500 visits to the properties he owns and profits from. The president's frequent travel to and from his properties has cost American taxpayers well over $100 million.
President Trump has made more than 300 visits to the golf courses he owns and profits from, despite saying repeatedly during his presidential campaign in 2016 he would not have time for golf. His insistence on spending time at his properties has resulted in at least a million dollars in taxpayer money being spent at his properties.
141 members of Congress have patronized Trump properties. These visits often coincide with events held by special interests or wealthy political donors that rake in millions of dollars for his properties. 
Special interest groups, many of which have business before the Trump administration, have hosted or sponsored 130 events at Trump properties since he took office. Political groups have held another 88 events at Trump properties. 
Foreign government-tied entities have held 13 events at Trump properties, and at least 145 foreign officials have visited one of Trump's properties. Foreign governments have granted President Trump's businesses 67 trademarks, and have awarded additional trademarks to his daughter's business, all potentially in an effort to secure favorable treatment from the Trump administration.
President Trump has repeatedly used his office to promote his businesses and grant wealthy paying customers personal access to him, his staff, and those who have his ear. It is a gross abuse of public trust, and with each conflict, he becomes more complicit in the destruction of the ethical norms that form the cornerstone of a working democracy. https://www.citizensforethics.org/president-trumps-3400-conflicts-of-interest/
20. Louis DeJoy tells judge Postal Service mail-sorting machines can't be reassembled
Postmaster General Louis DeJoy told a judge the U.S. Postal Service can't reassemble the hundreds of high speed mail-sorting machines that were taken apart this year, a project that more than a dozen states allege was intended to undermine the upcoming election. https://www.staradvertiser.com/2020/09/25/breaking-news/louis-dejoy-tells-judge-postal-service-mail-sorting-machines-cant-be-reassembled/
21. GOP Sen. Thom Tillis embraced QAnon conspiracy about COVID-19 death count in town hall
Sen. Thom Tillis, R-N.C., on Thursday told a virtual town hall audience that he believed the 200,000 deaths attributed to COVID-19 in the U.S. had been inflated in order to "encourage people to use social distancing."
The response echoes a false conspiracy theory pushed by adherents of the baseless QAnon movement: that public health officials are allegedly lying to the public about the true death count because of ulterior or possibly sinister motives. Only 6% of the reported deaths are attributable solely to COVID-19, conspiracy theorists claim.  https://www.salon.com/2020/09/24/exclusive-gop-sen-thom-tillis-embraced-qanon-conspiracy-about-covid-19-death-count-in-town-hall/
22. Behind the White House Effort to Pressure the C.D.C. on School Openings
Top White House officials pressured the Centers for Disease Control and Prevention this summer to play down the risk of sending children back to school, a strikingly political intervention in one of the most sensitive public health debates of the pandemic, according to documents and interviews with current and former government officials.
As part of their behind-the-scenes effort, White House officials also tried to circumvent the C.D.C. in a search for alternate data showing that the pandemic was weakening and posed little danger to children. https://www.nytimes.com/2020/09/28/us/politics/white-house-cdc-coronavirus-schools.html
23. Revealed: Trump campaign strategy to deter millions of Black Americans from voting in 2016
3.5 million Black Americans were categorized by Donald Trump's campaign as 'Deterrence' – voters they wanted to stay home on election day.
Tonight, civil rights campaigners said the evidence amounted to a new form of voter "suppression" and called on Facebook to disclose ads and targeting information that has never been made public.
The 'Deterrence' project can be revealed after Channel 4 News obtained the database used by Trump's digital campaign team – credited with helping deliver his shock victory to become president four years ago. https://www.channel4.com/news/revealed-trump-campaign-strategy-to-deter-millions-of-black-americans-from-voting-in-2016 VIDEO
24. Trump administration orders assessment on bolstering nuclear warheads as talks with Russia stall
The Trump administration has asked the military to assess how quickly it could pull nuclear weapons out of storage and load them onto bombers and submarines if an arms control treaty with Russia is allowed to expire in February, according to three people familiar with the discussions. https://www.politico.com/amp/news/2020/09/28/trump-russia-nuclear-deal-talks-422736
25. Schiff subpoenas DHS for documents and testimony related to whistleblower allegations
The House Intelligence Committee has subpoenaed the Department of Homeland Security over documents and testimony related to an ongoing investigation into the agency's intelligence office, the panel's chairman, Rep. Adam Schiff, announced Tuesday.
The subpoenas are connected to the committee's probe into actions taken by the department's intelligence arm during recent protests around the country and a whistleblower complaint filed earlier this month that alleges top political appointees in the department repeatedly instructed career officials to modify intelligence assessments to suit President Donald Trump's agenda by downplaying Russia's efforts to interfere in the US and the threat posed by White supremacists. https://www.cnn.com/2020/09/29/politics/house-intelligence-committee-dhs-subpoenas-whistleblower/index.html
26. Most Republicans greet the news of Trump's tax avoidance with silence.
Republican lawmakers reacted with nearly complete silence on Monday to a New York Times investigation that revealed President Trump paid just $750 in federal income taxes in 2016 and 2017 and that he oversees a network of businesses that are riddled with debt and losing hundreds of millions of dollars. https://www.nytimes.com/live/2020/09/28/us/trump-vs-biden-elections
27. Courts view GOP fraud claims skeptically as Democrats score key legal victories over mail voting
With just weeks to go before the Nov. 3 election, voting rights advocates and Democrats have advanced on key fronts in the legal war, scoring victories that make mail voting easier, ensure votes cast by mail are counted and protect the wide distribution of mail ballots in some states.
A review by The Washington Post of nearly 90 state and federal voting lawsuits found that judges have been broadly skeptical as Republicans use claims of voter fraud to argue against such changes, declining to endorse the GOP's arguments or dismissing them as they examined limits on mail voting. In no case did a judge back President Trump's view — refuted by experts — that fraud is a problem significant enough to sway a presidential election. https://www.washingtonpost.com/politics/courts-voting-fraud-claims-republicans/2020/09/28/ceff1184-fda2-11ea-b555-4d71a9254f4b_story.html
28. The DAILY GRILL
Trump on Thursday pledged to send $200 prescription drug coupons to 33 million Medicare beneficiaries "in the coming weeks," a political ploy to curry favor with seniors who view drug prices as a priority.

VERSUS

The nearly $7 billion required to send the coupons, Trump said, would come from savings from Trump's "most favored nations" drug pricing proposal. That regulation has also not yet been implemented — meaning the Trump administration is effectively pledging to spend $6.6 billion in savings that do not currently exist.

 

Robocalls sent by Trump surrogates Kimberly Guilfoyle and the President's daughter-in-law Lara Trump are encouraging Republican voters to use absentee ballots to vote in November, calling them one of the "best ways" to support President Trump in November. Both calls attempt to draw a false distinction between absentee voting and other forms of mail-in voting. Guilfoyle's call goes so far as to claim the "radical left" wants to "confuse you" on mail-in voting and that "Democrats want to scare you away from voting absentee." "Absentee voting and universal vote-by-mail may sound similar but could not be more different," says Guilfoyle. "Absentee voting is safe, secure and supported by President Trump. The radical left wants universal vote-by-mail, which is proven to be filled with fraud, abuse and mistakes." https://www.cnn.com/2020/09/24/politics/fact-check-rnc-robocalls-misinformation/index.html

VERSUS

Both robocalls are littered with misinformation. Experts say there is little difference between absentee ballots and voting-by-mail. There is no evidence that voting by mail leads to widespread fraud and abuse. It is also false to suggest that Democrats prefer universal voting-by-mail to absentee ballots. -- Facts First

 

"The radical left are laying the groundwork to steal this election from my father. Their plan is to add millions of fraudulent ballots that can cancel your vote and overturn the election." -- Trump Jr. in a video posted by the Trump campaign.

VERSUS

 There is no factual basis for the claim that the left plans to use "millions of fraudulent ballots" or seeks to "steal this election" from President Donald Trump. The President himself has referred this week, also with no basis, to "fake ballots." Trump has made repeated false and misleading claims calling the integrity of the election into question. -- Facts First

 

@BarackObama who wants to raise all our taxes, only pays 20.5% on $790k salary. Do as I say not as I do. -- Trump tweet

VERSUS

According to tax returns obtained by the New York Times for a story published Sunday evening, Trump himself paid nothing in federal income tax that year. Obama had reduced his tax burden for 2011 by donating $172,130 to 39 charities, and he said at the time that he believed he should be paying more in taxes. Trump reduced his tax burden to nothing by, among other things, claiming gargantuan losses on various investments. Attacking Obama for paying 20.5 percent of his income in taxes while paying nothing himself is just the latest illustration of Trump's hypocrisy.

 

"The amazing thing is that half of the country is paying nothing. Zero. And even if you don't make a lot, you should have to pay something. Just something to be a part of the game. Half of the country's paying nothing. — Trump in a Hannity radio interview in 2011.

VERSUS

Trump paid no federal income taxes in 10 out of 15 years beginning in 2000 because he reported losing significantly more than he made. — The New York Times.
29. From MEDIA MATTERS (They watch Fox News so you don't have to)
Steve Bannon launched a "national tour" to spread incoherent election conspiracy theories. Former White House chief strategist Steve Bannon has kicked off a national speaking tour about the upcoming election titled "The Plot to Steal 2020." It's a thinly veiled attempt to spread conspiracy theories and discredit any efforts to ensure that citizens can vote safely.  Bannon, who recently pleaded not guilty to federal fraud charges, has stated that the tour will take place in select swing states and via digital streaming platforms. In his most recent appearance, he outlined three main prongs of his conspiracy theory: Democrats will use "lawfare," social media, and street protests to supposedly steal the election from Donald Trump. His vague and incoherent conspiracy theories have also featured heavily in recent episodes of his podcast, War Room: Pandemic.   https://www.mediamatters.org/steve-bannon/steve-bannon-launches-national-tour-spread-incoherent-election-conspiracy-theories
PASTOR ROBERT JEFFRESS (CONTRIBUTOR): Romans 13 says "law enforcement officers are ministers of God sent to punish evildoers and to resist law enforcement is to resist God himself." No, I'm not talking about condoning police malpractice, but those cases are few and far between. Most police are doing the right thing and the Bible says to resist them is to resist God himself. And I'll tell you, at our church here in downtown Dallas, our city's out of control trying to defund the police, we're handing out yard signs to our members that says "defend, don't defund, the police." Because we know we're on the right side of God and His word when we stand up for law enforcement officers.
https://www.mediamatters.org/lou-dobbs/fox-contributor-law-enforcement-officers-are-ministers-god-sent-punish-evildoers
Since August 2017, sheriffs associated with far-right and anti-immigrant groups have made at least 83 appearances on Fox News, pushing extreme narratives on immigration and gun control and boasting about their refusal to enforce coronavirus lockdown orders. https://www.mediamatters.org/fox-news/extremist-sheriffs-have-made-83-appearances-fox-news-2017
1. John Harris: An Epic Moment of National Shame: The Debate Was an Embarrassment for the Ages
At frequent intervals on Tuesday night, the natural human reaction—lower the sound, wince and look away—took over, and the first presidential debate of the 2020 general election became nearly unwatchable.
Those who did persist in watching were rewarded, in a perverse way: They witnessed history in the making. The proceeding was an epic spectacle, a new low in presidential politics, a new high watermark in national shame.
The stain will be visible for many years to come. It will serve as a reminder of the night the dam broke, and currents of contempt that have been building in public life for many years flooded the stage with tens of millions of Americans viewing President Donald Trump, Democratic nominee Joe Biden and an overwhelmed moderator on live television. https://www.politico.com/news/magazine/2020/09/30/presidential-debate-national-shame-423521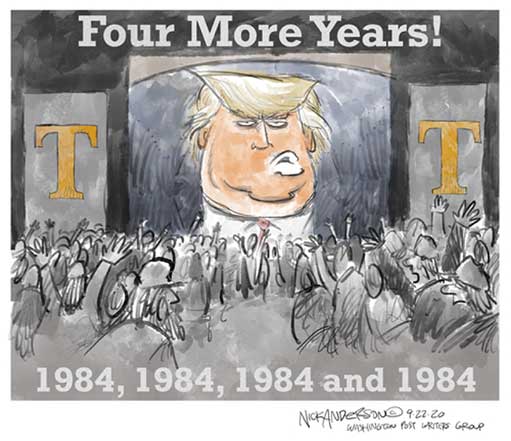 2. Dan Balz: Trump sets the tone for the worst presidential debate in living memory
No one alive has ever seen a presidential debate like Tuesday night's unseemly shout fest between President Trump and former vice president Joe Biden — 90 minutes of invective, interruptions and personal insults. It was an insult to the public as well, and a sad example of the state of American democracy five weeks before the election.
The tone of the debate was established by Trump in the opening minutes, and it never changed to the end of the evening. The president constantly ignored moderator Chris Wallace's repeated pleas to maintain order as he took every opportunity and more to verbally hector Biden, throw his rival off balance and take up as much space as possible. This was the Trump who lives on Twitter, not someone who occupies the highest office in the land. https://www.washingtonpost.com/politics/trump-and-biden-stage-the-worst-presidential-debate-in-living-memory/2020/09/29/9cdbeb56-027e-11eb-b7ed-141dd88560ea_story.html
3. Walter Shapiro: The Desperation of Donald Trump
I am old enough to have watched—as boy and man—every fall presidential debate since John Kennedy went up against Richard Nixon and his five o'clock shadow in 1960. And never have I witnessed a guttersnipe, bully-boy performance like Trump's on the debate stage.
I grieved for American democracy Tuesday night. And I am frightened by the specter of two more presidential debates as moderators insist on playing by rules of civil discourse in the face of Trump the Termagant.
This was the Fyre Festival of presidential debates. Moderator Chris Wallace repeatedly lost control of the proceedings—and has been rightly faulted for not doing more to restrain Trump. But in Wallace's defense, even a lion tamer with a whip and a chair would have had a hard time dealing with Trump, who seemed, for much of the evening, to be auditioning for a starring role in Raging Bull. https://newrepublic.com/article/159540/desperation-donald-trump
4. Susan Glasser: "This Is So Unpresidential": Notes from the Worst Debate in American History
What does the worst debate in American history look like? It looks like the debate that took place on Tuesday night between President Donald Trump and the former Vice-President Joe Biden. It was a joke, a mess, a disaster. A "shit show," a "dumpster fire," a national humiliation. No matter how bad you thought the debate would be, it was worse. Way worse. Trump shouted, he bullied, he hectored, he lied, and he interrupted, over and over again.
To the extent that there was a substantive headline, it was Trump's refusal to disavow white supremacy—after, it should be noted, claiming that he has been great for African-Americans—and his continued campaign to undermine public confidence in the upcoming election by baselessly asserting that ballots will be interfered with. "This is not going to end well," he said, of the election, showing once again that his plan is to attack the very idea of voting itself. He then repeated it, as if for emphasis. "This is not going to end well." It sure sounded like a threat. https://www.newyorker.com/news/letter-from-trumps-washington/this-is-so-unpresidential-notes-from-the-worst-debate-in-american-history
5. Karen Tumulty: The debate was a nightmare, and a fitting summation of Trump's presidency
The nightmare that played out Tuesday evening on a debate stage in Cleveland served at least one useful purpose. It encapsulated, in a single 98-minute span, the entire presidency of Donald J. Trump.
All of the impulses that drive Trump were unleashed: The lying. The rage. The bluster. The incoherence.
It is hard to imagine that anyone but the most obdurate of partisans could have watched the spectacle and thought, Gee, wouldn't it be great to have four more years of this? https://www.washingtonpost.com/opinions/2020/09/30/debate-was-nightmare-fitting-summation-trumps-presidency/
6. Thomas L. Friedman: Trump Sent a Warning. Let's Take It Seriously.
President Trump has made it unmistakably clear in recent weeks — and even more crystal clear at the Tuesday debate — that there are only two choices before voters on Nov. 3 — and electing Joe Biden is not one of them.
The president has told us in innumerable ways that either he will be re-elected or he will delegitimize the vote by claiming that all mail-in ballots — a time-honored tradition that has ushered Republicans and Democrats into office and has been used by Trump himself — are invalid.
Trump's motives could not be more transparent. If he does not win the Electoral College, he'll muddy the results so that the outcome can be decided only by the Supreme Court or the House of Representatives (where each state delegation gets one vote). Trump has advantages in both right now, which he has boasted about for the past week.
I can't say this any more clearly: Our democracy is in terrible danger — more danger than it has been since the Civil War, more danger than after Pearl Harbor, more danger than during the Cuban missile crisis and more danger than during Watergate. https://www.nytimes.com/2020/09/29/opinion/trump-election-fraud-2020.html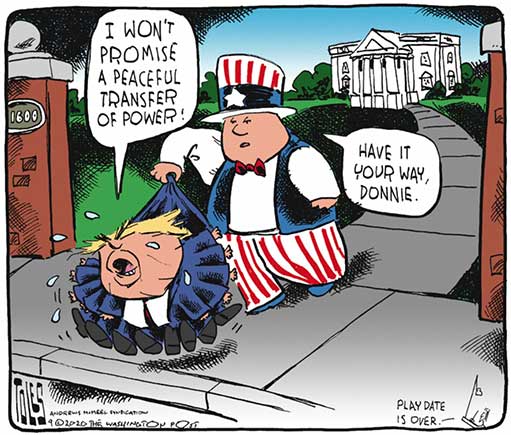 7. Jonathan V. Last: The President Is a Sociopath. And 60 Million Americans Like It.
The Cleveland debate was a miniature, 90-minute version of the last 4 years: depressing, exhausting, full of craziness and lies.
Who won? I don't know. Honestly: I cannot understand how anyone with an IQ over 80 could have watched this disgrace and not come away understanding that the president of the United States is a sociopath.
Donald Trump dominated the debate. Utterly and completely. He was a doughy, orange honey-badger, yelling, shouting, cajoling, needling and—this is the important part—never shutting up. He kept ploughing ahead, no matter what. He bulldozed Chris Wallace. He bulldozed Joe Biden. He turned every question into what he wanted to talk about. He hit all of the notes he wanted: Burisma, stock market, shutdowns, Pocahontas.
If you are a fan of the Trump lifestyle brand—if you have a Trump flag on your boat and wear a MAGA hat because you love pissing off the brown girl with the nose ring at Starbucks—then I suspect that you thought this was the greatest performance by any debater in the history of debates. https://thebulwark.com/the-president-is-a-sociopath-and-60-million-americans-like-it/
8. Rex Huppke: Trump's toxic debate performance was 90 minutes of disqualifying noise and cruelty
Like most Americans who have not spent the past decade broiling their brains in Fox News and right-wing radio, I watched President Donald Trump's noisily toxic performance in Tuesday's presidential debate and wondered: Which gods have I angered, and how might I appease them?
It was a concussive 90 minutes. Trump's relentless, snarling interruptions and refusal to abide by even the rough outlines of the debate's rules created as disgraceful a display of public behavior as we'll ever — hopefully — see from a U.S. president.
That wasn't a leader prepared to debate policy knowledge and instill confidence in his steady hand. That was a red-faced, snot-nosed kid in the third-row seat of someone's minivan throwing a wailing temper tantrum, the kid we see in the parking lot and think, "Man, I'm glad that's not my child."
But for those less inclined to chaos, it was a grotesque spectacle, one that left me and I'm sure many others slack-jawed, wondering how anyone — anyone! — can watch Trump angrily blather and not see an incompetent, cruel narcissist. https://www.chicagotribune.com/columns/rex-huppke/ct-debate-trump-biden-presidential-white-supremacy-2020-huppke-20200930-3mce4p3nvbejfo3yvdkhnwwine-story.html
9. Philadelphia Inquirer Editorial: Trump won't commit to a peaceful transition of power, so it's up to us to save democracy
One of the ongoing challenges of the Donald Trump presidency is that there are so many alarms set off by his troubling tweets, dubious claims, and unfounded statements that it is hard to know which alarms should be taken seriously. A number of reports over the past week suggest we are watching a five-alarm fire that threatens to consume American democracy.
On Wednesday, Trump said that he believes the result of the upcoming presidential election will "end up in the Supreme Court." Avoiding a tie vote in this instance is one reason for his rush to fill the late Ruth Bader Ginsburg's seat ahead of Election Day. While there is precedent for election results to go before the Supreme Court (the 2000 election between George W. Bush and Al Gore), it is unprecedented for anyone, including the sitting president, to publicly assume the results will require litigation before a single ballot has been cast.
Later that day, when asked whether he will commit to a peaceful transition of power after the election, Trump responded, "We're going to have to see what happens," and repeated unsubstantiated concerns over mailed ballots.
Having a president who is so dismissive of the very foundation of democracy — the peaceful transition of power — is frightening enough. That fear becomes exponentially greater when he is backed by a party that is willing to use any tool in its arsenal to bypass the will of the people.https://www.inquirer.com/opinion/editorials/trump-peaceful-transfer-power-pennsylvania-2020-election-20200925.html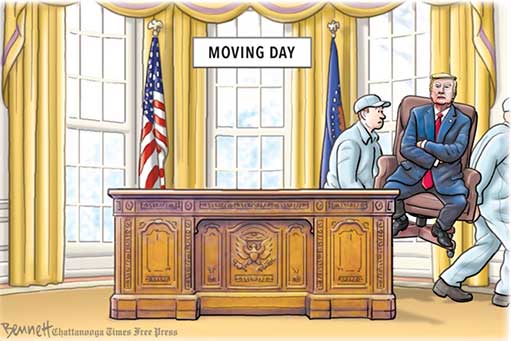 10. Washington Post Editorial: Trump's contempt for truth leaves a toxic legacy around the world
Democracies cannot function if ideological differences are compounded by the circulation of conspiracy theories and falsified data; established facts are the foundation for policymaking and legislative compromise. Mr. Trump has greatly accelerated what was already a drift by elements of the Republican Party toward rejection of science and other hard reporting. His incessant lying — from inflation of the crowds at his inauguration to the course of the coronavirus pandemic — has led many of his followers to beliefs that are provably false and, in some cases, are the product of disinformation campaigns by hostile powers.
Mr. Trump, meanwhile, has waged a relentless campaign to discredit the institutions that seek to disseminate truth and discredit false stories, especially the U.S. intelligence community and the news media. Thoroughly documented intelligence reports on Russia's interventions in U.S. politics, including the current election campaign, are, he says, "a hoax" conjured by a "deep state." Media revelations of corruption and malfeasance in his administration are "fake news."
Mr. Trump himself recently welcomed the support of QAnon adherents. He also made clear that his campaign to defeat Democratic nominee Joe Biden in the November election will be founded on lies. At the Republican convention, the president and his surrogates repeatedly advanced the false claims that Mr. Biden favors defunding police, that he condones rioting in U.S. cities, and that he and his son were involved in corrupt dealings in Ukraine and China. If he loses, Mr. Trump likely will tell his supporters that it was because of fraud —and many of them will believe him. https://www.washingtonpost.com/opinions/2020/09/22/trump-contempt-truth-editorial/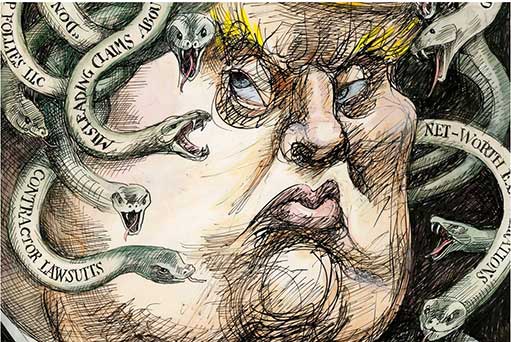 11. Bess Levin: White House Doubles Down On Donald Trump's Vow To Stay In Power No Matter What
Time was, the American people could reliably expect that the loser of the presidential election would accept defeat and, if said loser was the incumbent candidate, vacate the White House without a fight. That was a reasonable assumption because (1) most candidates who've made it to the general election have been relatively sane individuals, and (2) we don't live in a dictatorship. In 2020, however, one of the people running for president is an unhinged maniac with authoritarian tendencies, and so on Wednesday, a member of the press corps actually had to ask him what his plans are vis-à-vis accepting the election results—and his answer was completely terrifying.
"Win, lose, or draw in this election, will you commit here today for a peaceful transferal of power after the election?" reporter Brian Karem asked Donald Trump, who didn't even attempt to give the impression he cares whatsoever about preserving democracy. "Well, we're going to have to see what happens," Trump said. "You know that. I've been complaining very strongly about the ballots, and the ballots are a disaster." Pressed again to "commit to making sure that there's a peaceful transferal of power," Trump responded, "Get rid of the ballots and...we'll have a very peaceful—there won't be a transfer, frankly. There will be a continuation. The ballots are out of control. You know it. You know who knows it better than anybody else? The Democrats know better than anybody else." https://www.vanityfair.com/news/2020/09/donald-trump-get-rid-of-ballots-wont-leave-white-house
12. Eric Lutz: The Trump Campaign Is Reportedly Plotting An Election Coup To "Bypass" A Biden Win
Citing the president's baseless claims of fraud, Team Trump could ask GOP-controlled state governments to choose electors, completely ignoring an unfavorable or uncertain popular vote, state and national Republican sources told Gellman.
"The state legislatures will say, 'All right, we've been given this constitutional power,'" a Trump campaign legal adviser explained to the Atlantic. "'We don't think the results of our own state are accurate, so here's our slate of electors that we think properly reflect the results of our state.'"
Does completely ignoring the will of the voters seem anti-democratic? Unconstitutional? Impossible? One would think. But as Gellman points out, however authoritarian this kind of end-around may seem, the Constitution doesn't forbid such a move, and it's something the Trump campaign could pull off. Indeed, state Republican leaders have already casually indicated that they'd be all too happy to enable this kind of power grab. "I've mentioned it to them, and I hope they're thinking about it too," Lawrence Tabas, chairman of the Republican Party in Pennsylvania, one of the swing states on which the 2020 race could hinge, told Gellman. "It is one of the available legal options set forth in the constitution." https://www.vanityfair.com/news/2020/09/trump-campaign-election-coup-bypass-biden-win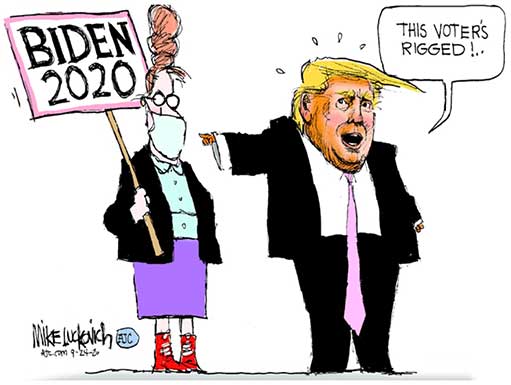 13. Evan Osnos: The TikTok Fiasco Reflects the Bankruptcy of Trump's Foreign Policy
Trump's approach to TikTok and WeChat, like much of his foreign policy, is a gesture of defeatism camouflaged as strength. From his earliest days in politics, he has stood for the closure of the American mind, and the withdrawal of American power and confidence. He exited the Trans-Pacific Partnership, the Paris climate accord, and the Iran nuclear agreement; he ordered American troops in Syria to abandon the Kurds and other American allies, a move that James Mattis regarded as so disloyal and imprudent that he resigned as Secretary of Defense. In the present case, Trump would rather wall off Americans digitally and philosophically than establish guidelines on privacy, free speech, and data collection.
The TikTok fiasco is a product of cronyism, empty bombast, and nationalism—a political recipe that, historically, America has tended to criticize in its opponents. But, as a Pew survey reported this month, global confidence in the United States, especially among allies, is as low as it has been since the measurements began, nearly two decades ago. In the most damning indicator, Trump inspires less confidence than Vladimir Putin and Xi Jinping. https://www.newyorker.com/news/daily-comment/the-tiktok-fiasco-reflects-the-bankruptcy-of-trumps-foreign-policy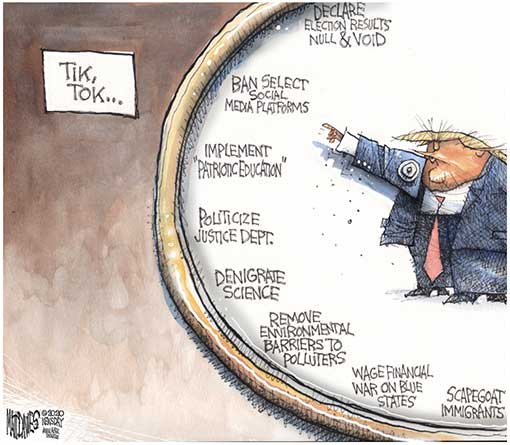 14. Jeffrey Toobin: There Should Be No Doubt Why Trump Nominated Amy Coney Barrett
There should be no doubt about why Barrett has been chosen. Much of the commentary about her selection will focus on the issue of abortion, and her likely role in overturning Roe v. Wade. During the 2016 campaign, Trump repeatedly promised to appoint Justices who would vote to overrule that landmark, and with his three selections, including Neil Gorsuch and Brett Kavanaugh, he appears to have delivered. Barrett is not only a member of a conservative organization within the Catholic Church; her legal writings, and the views of some who know her, suggest that she would overturn Roe.
It should go without saying that the nomination and the expected confirmation of Barrett in the final days before a Presidential election represent a paramount act of hypocrisy for McConnell and the other Republicans who denied even a hearing to Merrick Garland, President Barack Obama's choice for the Supreme Court, in 2016. But the fact that these Republicans are willing to risk that charge shows how important the Supreme Court is to them. Far more than a senator, a Supreme Court Justice can deliver on the agenda. The war on abortion is just the start. https://www.newyorker.com/news/daily-comment/there-should-be-no-doubt-why-trump-will-nominate-amy-coney-barrett
15. Dana Millbank: This is not a drill. The Reichstag is burning
"It's abundantly clear that Trump plans to fabricate an election "emergency." First, he claimed mail-in balloting, a tried-and-true system, is fraudulent. Now his supporters are trying to harass in-person voters.
When Virginia's early voting opened this week, Trump supporters descended on a polling station, waving Trump signs and flags, chanting and forming a gantlet through which voters had to walk. When the New York Times reported that this voter intimidation campaign began at a nearby rally featuring the Republican National Committee co-chairman, the Virginia GOP responded mockingly from its official Twitter account: "Quick! Someone call the waaaambulance!"
Let's be clear. There is only one political party in American politics embracing violence. There is only one side refusing to denounce all political violence. There is only one side talking about bringing guns to the polls; one side attempting to turn federal law-enforcement officials into an arm of a political party. And Trump is trying to use law enforcement to revive tactics historically used to bully voters of color from voting — tactics not seen in 40 years.
Some of what Trump and his lieutenants have been doing is merely unseemly: using the machinery of government to attack previous and current political opponents, likening pandemic public health restrictions to slavery, or threatening to overrule regulators if they question the safety of vaccines.
But embracing violence to resolve democratic disagreement is another matter. Trump embraced the "very fine people" among the homicidal neo-Nazis in Charlottesville. He embraced as "very good people" armed protesters who stormed the Michigan Capitol to intimidate lawmakers. He embraced his supporter who allegedly shot and killed two people at a protest in Wisconsin. He embraced the "GREAT PATRIOTS" who drove into Portland, Ore., hurling paintballs and pepper spray at demonstrators. He embraced officers who kill unarmed African Americans, saying they simply "choke" under pressure.
Now he's rejecting the peaceful transfer of power. Worse: Most Republican officeholders dare not contradict him. The Times reported that of all 168 Republican National Committee members and 26 Republican governors it asked to comment on Trump's outrage, only four RNC members and one governor responded.
In Federalist 48, James Madison prophetically warned that tyranny could triumph under "some favorable emergency." In 1933, Hitler used the burning of the Reichstag to do just that. Trump now, it appears, is aiming to do likewise.
America, this is our Reichstag moment. We have the power to stop it. Don't let democracy burn to the ground. https://www.washingtonpost.com/opinions/2020/09/25/this-is-not-drill-reichstag-is-burning
16. Brian Karem: The Question I Asked Trump That Blew Up the Week
We have often even monitored other countries—and in some cases enforced our will on them—to maintain stable governments and assure the peaceful transition of power. Do we now need monitors in our own country to ensure the same?
Trump is again, as he has for four years, sowing the seeds of divisiveness—and there is plenty of speculation as to why.

He has been accused of a variety of nefarious activities that could lead to criminal charges once he is out of office.
He has a boy-band crush on Russian President Vladimir Putin and has been quoted musing and scheming about a possible third term in office because he believes he deserves a do-over for reasons that escape most people with a brain stem.
The world is now aware of what we are up against in the United States as the countdown to the November election continues. https://thebulwark.com/the-question-i-asked-trump-that-blew-up-the-week/
17. New Yorker Editorial: The New Yorker Endorses a Biden Presidency
On November 8, 2016, Donald John Trump, a shady real-estate pitchman and reality-TV host from New York, was elected the forty-fifth President of the United States. The distinguishing features of his character––bigotry, deceit, narcissism––were as evident during the 2016 campaign as they are now. But, though many more voters supported his opponent, the Trump Presidency had to be endured. Contempt has been at the core of his time in office: contempt for the Constitution; contempt for truth and dissent; contempt for women and people of color; contempt for champions of civil rights as great as John Lewis and Ruth Bader Ginsberg. Trump's contempt for science and the basic welfare of Americans is so profound that, through an enraging combination of incompetence, indifference, and stupidity, he has failed to meet the pitiless demands of a viral pandemic. The national death toll is more than two hundred thousand.
The polls suggest that Joe Biden currently leads the 2020 Presidential race. We suffer no delusions: Trump has on his side demagogic skill and ruthlessness, a willingness to break any norm or law in order to win. Nevertheless, we hope that Biden will displace him by a margin that prevents prolonged dispute or the kind of civil unrest that Trump appears to relish. Ideally, Biden will have an opportunity to govern with Democratic majorities in both the House and the Senate, which would vastly increase his chances of passing legislation to confront the nation's array of crises. https://www.newyorker.com/magazine/2020/10/05/the-new-yorker-endorses-a-biden-presidency
18. Catherine Rampell: Trump's long-hidden tax returns make him look like a terrible businessman, or a cheat. Probably both.
Trump reportedly paid only $750 in federal income in 2016 and 2017, and none at all in 10 of the previous 15 years.
Remember when Mitt Romney was caught on tape condemning the moochers of America, the 47 percent who pay no income taxes? Turns out he was talking about Trump.
Trump claimed no tax liability for so many years because, according to the documents reviewed by the Times, he sustained mindbogglingly huge, chronic losses. The magnitude of these reported losses suggests he has been a thoroughly incompetent businessman or has been cheating Uncle Sam.
Most likely both. https://www.washingtonpost.com/opinions/2020/09/28/trumps-long-hidden-tax-returns-make-him-look-like-terrible-businessman-or-cheat/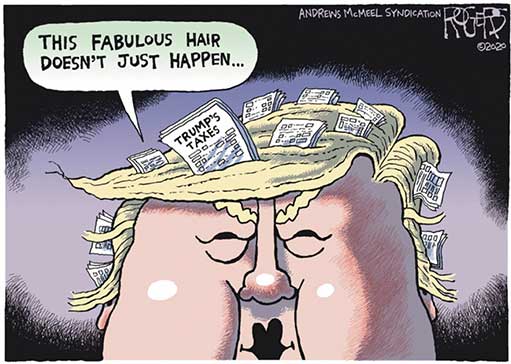 19. Tim Miller:Trump Tax Returns Show He's a Populist Fraud
You can't con people, at least not for long. You can create excitement, you can do wonderful promotion and get all kinds of press, and you can throw in a little hyperbole. But if you don't deliver the goods, people will eventually catch on." -- Donald J. Trump, The Art of the Deal
Donald Trump's long economic populist con came to a close on Sunday when the New York Times reported that for most of the past 15 years, while he was living a life of luxury that most Americans can only dream of, he was racked with massive debts and paying no income tax thanks to business write-offs on flamboyant haircuts, consulting fees paid to his daughter, and a summer retreat where his large adult sons liked to ride ATVs and laugh at the poor suckers who had to mow the lawn.
Trump was not the brilliant businessman skilled at tax write-offs that we had been promised. He was a fraud who was paying nothing at all. Literally. https://thebulwark.com/trump-tax-returns-show-hes-a-populist-fraud/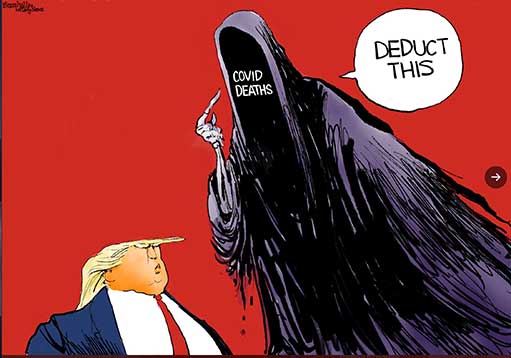 20.  Bridget Read: Trump Wrote Off $70,000 on His Taxes … for Hairstyling
In the New York Times' bombshell report on Donald Trump's tax returns, one detail sticks out like a spindly comb-over flapping in the breeze: Trump has spent a whopping $70,000 in personal hairstyling "for television" and wrote it off as a business expense.
The amount is shocking in the context of the rest of the Times report, which reveals that Trump's reported income was so low that he avoided paying federal income taxes for over a decade and paid only $750 to the IRS after he became president. So while he was purporting to be a genius developer, TV star, and magnate to the public, Trump was declaring huge losses and using them to avoid paying taxes to the federal government. One year, he even received a staggering $72.9 million refund from the IRS. Another tactic he employed: writing off expenditures, like his $70,000 in hairstyling for The Apprentice and air travel between his hotels, as "business expenses." He wrote off another $100,000 paid to one of Ivanka Trump's stylists to similarly reduce his tax amount. https://www.thecut.com/2020/09/trump-taxes-trump-wrote-off-usd70-000-in-hairstyling-expenses.html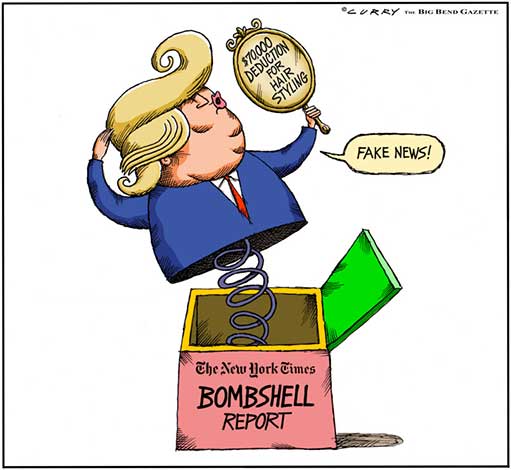 21. Jonathan V. Last: Like a Rat in a Trap
Cornered
Question: When is the last time the sitting president of the United States accused his opponent of using performance-enhancing drugs and demanded that he take a drug test following a debate?
Obviously, the answer is: Never. Because prior to this moment our country has never had a president who was both psychologically and cognitively unbalanced.
But Trump's bizarre drug-test demand isn't just a symptom. It's an indicator of how desperate he is.
What you have here is a powerful man who is cornered. Who knows that he is cornered. And who knows that we know it, too.
I mention all of this because it suggests to me that the danger for America is increasing, rather than decreasing. The eyewall of this storm is still out to sea. And it's bearing down on us. https://thetriad.thebulwark.com/p/like-a-rat-in-a-trap