September 8, 2016
ON THE RECORD. . .
"It certainly takes more than trying to make up for a year of insults and insinuations by dropping in on our neighbors for a few hours and then flying home again. That is not how it works." - Hillary Clinton 9/01/16
No one knows how much damage that Trump is going to cause the Republican Party beyond 2016. It is really something, to watch a party just march right over a cliff, and no one can stop them." -- James Carville
"The right-wing paranoid fringe takeover of the Republican Party is now complete. "Just when you thought he couldn't sink any lower, Donald Trump goes and hires right-wing hit man David Bossie. Bossie is a conspiracy theorist of the highest order who has spent decades desperately lying about Hillary Clinton. ... Bossie is an unhinged man who will say and do anything to hurt his political opponents. With Bossie and Bannon at the helm, the Trump campaign is now in the hands of some of the most extreme figures in American politics." -- Brad Woodhouse, President of Correct The Record September 2, 2016
"If you don't do something about it, you're gonna have trucks every corner." -- Latinos for Trump co-founder Marco Gutierrez 9/02/16
"I'll concede that Debbie Wasserman Schultz is a corporate stooge." — Sore loser Tim Canova (D), who lost his primary challenge to Rep. Debbie Wasserman Schultz (D-FL), 57 to 43 percent.
"Journalists should be asking is if Trump is "softening the ground for people — who are white supremacists, who are white nationalists, who would self-identify that way — to feel comfortable with their views being brought into the national discourse to the point where they can do a five minute interview happily on national television?" And the answer is yes, clearly. And there is lots of evidence of that." --Former CNN host Soledad O'Brien
"I just don't think she has a presidential look, and you need a presidential look," — Donald Trump to ABC News.
"I don't choke. She chokes." — Donald Trump 9/06/16
"Donald Trump is not qualified to serve as president and does not deserve your vote." -- Dallas Morning News Editorial 9/06/16
"As far as my taxes are concerned, the only one that cares is the press, I will tell you.And even the press, I tell you, it's not a big deal." -- Donald Trump 9/06/16
---
IN THIS ISSUE
1. Donald Trump and the entertainers who took over the Republican Party
2. The Trumping Of Darrell Issa
3. The Borowitz Report: Mexican President Says He Made Trump Pay For Lunch
4. The Revenge of Roger's Angels - How Fox News women took down the most powerful, and predatory, man in media 
5. The DAILY GRILL
6. From MEDIA MATTERS (They watch Fox News so you don't have to)
7. Mark Fiore Cartoon: What do you have to lose?
8. Sabato's Crystal Ball: Senate 2016: Flip Flop
9. What the media got wrong about the FBI's Clinton email investigation notes
10. Political Ads/Statements
11. Flooding of Coast, Caused by Global Warming, Has Already Begun
12. Clinton Crushing Trump With Latino Voters
13. Trump Volunteers Must Agree to Never Say Anything Bad
14. How the Press is Making the Clinton Foundation into the New Benghazi
15. Few Voters Foolish Enought to Think Trump Would Be Able to Get Mexico to Pay for Wall 
16. Late Night Jokes for Dems
17. Moody's economic model finds Clinton pulling away from Trump
18. USA Freedom Girls Sue Trump Campaign for Stiffing Them 
1. Garrison Keillor: When this is over, you will have nothing that you want
2. Paul Waldman: Trump's history of corruption is mind-boggling. So why is Clinton supposedly the corrupt one?
3. Dana Milbank: Trump reverts to his xenophobic self
4. Eugene Robinson: The ugliest, most appalling spectacle in American politics 
5. Eli Stokols: Trump's immigration rope-a-dope
6. Charles M. Blow: The Duplicity of Donald Trump
7. Washington Post Editorial: Donald Trump's bet: We are all chumps 
8. Molly Ball: Donald Trump and the Politics of Fear
9. Josh Marshall: Trump's Blood Libel & Press Failure
10. Eyal Press: Trump And The Truth: Immigration And Crime
11. Washington Post Editorial: America has accepted 10,000 Syrian refugees. That's still too few.
12. Paul Waldman: Donald Trump's deportation double-talk
13. Paul Krugman: Hillary Clinton Gets Gored
1. Donald Trump and the entertainers who took over the Republican Party
The reason Trump succeeded isn't that complicated after all. He didn't win the nomination by tapping into some nascent political movement. He won by doing a fairly good impression of a right-wing media celebrity. Every issue, every conspiracy, every applause line has been ripped from their websites, radio shows, and television programs. It's why he became America's most prominent birther. It's why he floated rumors that Ted Cruz's dad killed JFK, and that Hillary Clinton killed Vince Foster. It's why he talks the way he does about Mexicans and Muslims and women and African Americans. It's why he's been able to get away with knowing little to nothing about policy or government or world affairs — because Trump, like any good talking head, only speaks in chyrons and clauses and some-people-are-sayings."
Trump's greatest trick has been to realize that right-wing media stars have a built-in audience that Republican politicians don't. To that audience, Jeb Bush talks like Washington talks. Ted Cruz talks like conservative ideologues talk. Marco Rubio talks like the last consultant he spoke with talks. But Trump talks like a true talk radio fan — longtime listener, first-time caller. He comes off like the winner of a reality TV show in which one lucky Fox viewer gets picked to run for president of the United States. September 6, 2016 https://theringer.com/how-the-far-right-media-controls-donald-trump-3d077ca46a21#.t8j68olbb
2. The Trumping Of Darrell Issa
Could Donald Trump bring down Darrell Issa, one of the best-funded and strongest Republican congressmen of the two-thousands?
Polls released by Democrats, which should be treated with caution, suggest the Issa-Applegate race is within the margin of error. In other words, Issa, one of the best-funded and strongest Republican House candidates of the two-thousands, may now be an indicator that Trump is a Presidential-level Todd Akin who will bring down much of his party with him in November.
It's not too surprising that Issa, in the year of Trump, is having some trouble. His San Diego-area district has more millennials, more Latinos, and fewer older white voters than ever. "I think the reality of the evolving demographics in San Diego County, coupled with the influx of turnout from the Bernie Sanders phenomenon, created a much more challenging environment for Darrell than we've seen in years past," Kurt Bardella, a former top aide to Issa, said of the closer-than-expected primary. -- Ryan LIzza AUGUST 31, 2016 http://www.newyorker.com/news/news-desk/the-trumping-of-darrell-issa
3. The Borowitz Report: Mexican President Says He Made Trump Pay For Lunch
The war of words between Donald J. Trump and Mexican President Enrique Peña Nieto continued on Thursday as Peña Nieto vehemently asserted that he made the Republican Presidential nominee pay for lunch during his visit to Mexico City.

"As soon as we sat down to order, I made it very clear that I had no intention of paying for lunch," Peña Nieto said. "And when the check arrived, I made absolutely no move to pick it up."

To support his claim, Peña Nieto tweeted out a photo of himself seated at a table with an aggrieved-looking Trump, who appears to be placing an American Express card on top of a restaurant check.

Responding to the Mexican President's claim, the Trump campaign issued a statement of its own. "As anyone who has read 'The Art of the Deal' knows, Donald J. Trump is a master negotiator," the statement began. "While he did pay for Peña Nieto's lunch, he extracted a commitment from the Mexican President to pick up the check the next time they go to dinner. It's a well-established fact that dinner is far, far more expensive than lunch. Yet again, Donald Trump entered into a negotiation and won big."

Minutes after the Trump campaign released its statement, Peña Nieto took to Twitter again, where he indicated he had "no intention" of ever having dinner with Trump. Read more at http://www.newyorker.com/humor/borowitz-report/
4. The Revenge of Roger's Angels - How Fox News women took down the most powerful, and predatory, man in media.
It took 15 days to end the mighty 20-year reign of Roger Ailes at Fox News, one of the most storied runs in media and political history. Ailes built not just a conservative cable news channel but something like a fourth branch of government; a propaganda arm for the GOP; an organization that determined Republican presidential candidates, sold wars, and decided the issues of the day for 2 million viewers. That the place turned out to be rife with grotesque abuses of power has left even its liberal critics stunned. More than two dozen women have come forward to accuse Ailes of sexual harassment, and what they have exposed is both a culture of misogyny and one of corruption and surveillance, smear campaigns and hush money, with implications reaching far wider than one disturbed man at the top.
Meanwhile, Ailes is walking away from his biggest career train wreck yet, seeking relevance and renewed power through the one person in the country who doesn't see him as political kryptonite, the candidate he created: Donald J. Trump. Ailes may be trying to sell us another president, but now we know the truth about the salesman. -- Gabriel Shermanhttp://nymag.com/daily/intelligencer/2016/09/how-fox-news-women-took-down-roger-ailes.html
5. The DAILY GRILL
"CLINTON SAYS COULD NOT RECALL ALL BRIEFINGS DUE TO CONCUSSION: FBI REPORT." --Reuters headline

VERSUS

The headline isn't just wrong, it's a fabrication—one that, like the false AP tweet on the Clinton Foundation—will undoubtedly be spun up into a scandal and feature heavily in Trump's nightly tirade. It doesn't just play into the right wing talk of a mystical Clinton illness, it builds it a stadium and brings in cheerleaders. It's not just wrong. It's execrable. -- The Daily Kos 9/02/16

 

"Kurtz: 'What do you do if they make assertions that you know to be untrue?' Chris Wallace: 'That's not my job.'" --Jay Rosen @jayrosen_nyu

VERSUS

"If only there were a profession whose role was to ascertain and spread true information" -- James Poniewozik (@poniewozik)

 

Clinton's "powerful evidence of criminal intent" was how she deleted 33,000 emails and erased them with "expensive BleachBit software" that he claims is "used by criminals seeking to hide evidence from law enforcement." -- Rudy Giuliani 9/04/16

VERSUS

Instant fact check: BleachBit is actually free to download.

 

Lyin' Hillary Clinton told the FBI that she did not know the "C" markings on documents stood for CLASSIFIED. How can this be happening? -- Donald J. Trump ✔@realDonaldTrump

VERSUS

(C) stands for CONFIDENTIAL. Confidential, Secret, Top Secret are levels of classification. DoD Directive 5200.01. twitter.com/realDonaldTrump ... -- John Noonan @noonanjo national security adviser to former Gov. Jeb Bush (R)

 

"Hillary and her top aides told the FBI and others related in the lawsuits that they couldn't recall or remember -- can't remember anything!By the way, if she really can't remember, she can't be president! --Donald Trump 9/07/16

VERSUS

Over the course of one deposition in a lawsuit regarding Trump University, Donald Trump says that he doesn't know the answer to a question hundreds of times. He claims not to recall details related to questions dozens more. The moral of the story? People who literally live in big glass towers should be careful where they throw stones. -- Philip Bump 9/07/16
6. From MEDIA MATTERS (They watch Fox News so you don't have to)
White Nationalist Media Cheers Trump's "Almost Perfect" Immigration Speech http://mediamatters.org/blog/2016/08/31/white-nationalist-media-cheers-trump-s-almost-perfect-immigration-speech/212803

Fox's Tucker Carlson: Trump's Wall Proposal Should Be Taken Seriously Because The White House Has A Wall Around It. Carlson: "Every Sophisticated Person" Scoffs At Trump's Wall Proposal "Except When Obama Builds" One "Around The White House" http://mediamatters.org/video/2016/09/01/foxs-tucker-carlson-trumps-wall-proposal-should-be-taken-seriously-because-white-house-has-wall/212806

Trump's Efforts To Influence Debate Moderator Selection Seem To Have Paid Off. Moderator Selections Don't Include A Latino Journalist, But Do Include Someone From Fox News http://mediamatters.org/blog/2016/09/02/trump-s-efforts-influence-debate-moderator-selection-seem-have-paid/212836

Fox Host Wants U.S. To Give Mexico Land To Move Undocumented Immigrants To "Friendly" "Deportation Stations." Eric Bolling: "They Go To This Island Within The United States ... Why Is That So Bad?" http://mediamatters.org/video/2016/09/01/fox-host-wants-us-give-mexico-land-move-undocumented-immigrants-friendly-deportation-stations/212823

Recently released FBI documents regarding the department's investigation into Clinton's use of the private server conclusively show that the interagency classification dispute would have occurred regardless of whether she had used a State Department email account and resulted in large part from career State Department officials sending information in good faith that was later deemed classified. http://mediamatters.org/research/2016/09/02/fbi-memo-confirms-clinton-email-classification-story-has-little-do-her-private-server/212839
7. Mark Fiore Cartoon: What do you have to lose?
8. Sabato's Crystal Ball: Senate 2016: Flip Flop
This may prove to be the shortest period of control for a party since the early 2000s. From the vantage point of Labor Day, it appears as though that 2014 flip could become a 2016 flop, and on Nov. 8, Democrats have a good chance to grab at least a tie (broken by the new vice president) and possibly a majority of as many as several seats. We let the Senate races settle over the summer but summer's effectively over — and we are making eight different ratings changes this week. Many favor Democrats, but a few favor Republicans. The takeaway is that as we head into the stretch run of the campaign, the Democrats seemingly hold a narrow edge in the race for a majority. But that majority could be quite small, small enough that Republicans could be poised to wipe it out in 2018, perhaps leading to another bare minimum stint in the majority. http://www.centerforpolitics.org/crystalball/articles/senate-2016-flip-flop/
9. What the media got wrong about the FBI's Clinton email investigation notes
Here Are 6 Things They're Not Telling You About Hillary Clinton FBI Notes That Prove She's Right: http://thedailybanter.com/2016/09/here-are-6-things-theyre-not-telling-you-about-hillary-clinton-fbi-notes-that-prove-shes-right/

Glaring Inaccuracies in NBC's Hillary Clinton FBI Reporting: In the light of a highly critical and distorted segment covering the release of the FBI's Hillary Clinton investigation notes on Sunday's Meet the Press, NBC News and Chuck Todd must answer questions about glaring inaccuracies and potential anti-Clinton bias in their coverage. http://thedailybanter.com/2016/09/glaring-inaccuracies-in-nbcs-hillary-clinton-fbi-reporting/
10. Political Ads/Statements
Donald Trump's Immigration Ink Blot | The Briefing

Donald Trump's wall: a bad idea from an even worse negotiator | The Briefing

Trump's embarrassment in Mexico | The Briefing

Priorities USA Action: I Love War
11. Flooding of Coast, Caused by Global Warming, Has Already Begun
For decades, as the global warming created by human emissions caused land ice to melt and ocean water to expand, scientists warned that the accelerating rise of the sea would eventually imperil the United States' coastline.
Now, those warnings are no longer theoretical: The inundation of the coast has begun. The sea has crept up to the point that a high tide and a brisk wind are all it takes to send water pouring into streets and homes.
Federal scientists have documented a sharp jump in this nuisance flooding — often called "sunny-day flooding" — along both the East Coast and the Gulf Coast in recent years. The sea is now so near the brim in many places that they believe the problem is likely to worsen quickly. Shifts in the Pacific Ocean mean that the West Coast, partly spared over the past two decades, may be hit hard, too.
The gridlock in Washington means the United States lacks not only a broad national policy on sea-level rise, it has something close to the opposite: The federal government spends billions of taxpayer dollars in ways that add to the risks, by subsidizing local governments and homeowners who build in imperiled locations along the coast.
As the problem worsens, experts are warning that national security is on the line. Naval bases, in particular, are threatened; they can hardly be moved away from the ocean, yet much of their land is at risk of disappearing within this century. 9/03/16 NYT's Justin Gillis http://nyti.ms/2c1Fbio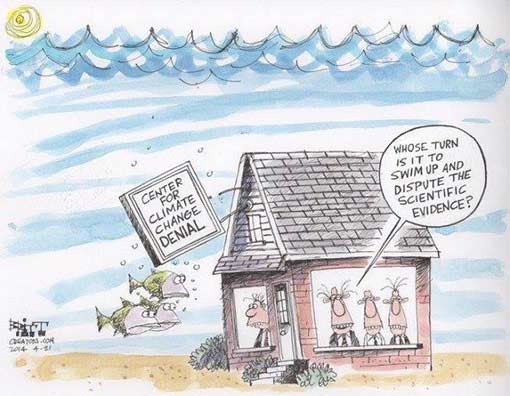 12. Clinton Crushing Trump With Latino Voters
A new Latino Decisions poll finds Hillary Clinton leads Donald Trump by 70% to 19% among Latino voters.
Clinton has a 68% to 29% (net +39) favorability rating while Trump has a 21% to 74% (net -53) favorability rating. September 2, 2016 http://www.latinodecisions.com/files/4014/7282/4681/AV_Wave_2_Natl_Deck_Sept_2016.pdf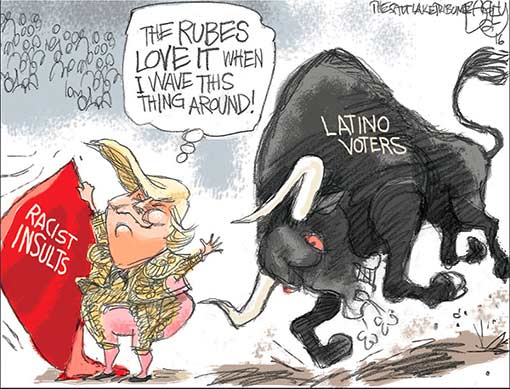 13. Trump Volunteers Must Agree to Never Say Anything Bad
"Online volunteers seeking to help Donald Trump by making phone calls might be signing up for more than they bargained for," the Cincinnati Enquirer reports.
"To sign up on Trump's website, potential volunteers must agree to a 2,271-word non-disclosure agreement in which they also promise they won't compete against or say anything bad about Trump, his company, his family members or products – now and forever." September 1, 2016 http://www.cincinnati.com/story/news/politics/elections/2016/08/31/volunteer-dial-trump-first-sign--non-disclosure-form/89673064/
14. How the Press is Making the Clinton Foundation into the New Benghazi
Did donors to the Foundation get special access to the secretary and the department as a result of their donations? If they did get special access, did they receive any favors? Did Hillary or her staff do anything illegal, unethical, or contrary to U.S. interests or administration policy? The good news is that as a result of these investigations we can now answer those questions pretty definitively: no, no, and no. The bad news is that the press doesn't seem to want to take 'no' for an answer, even if the answer is based on the evidence of its own reporting.' Paul Glastris http://bit.ly/2cmIOQY
15. Few Voters Foolish Enough to Think Trump Would Be Able to Get Mexico to Pay for
Donald Trump has made his promise that Mexico would pay to build a wall along the U.S. border a centerpiece of his proposed immigration policy. But, according to an ABC News/SSRS survey, only 13 percent of voters believe the Republican presidential candidate could deliver on that promise if elected. http://abcnews.go.com/Politics/majority-voters-trump-mexico-pay-wall/story?id=41849627
16. Late Night Jokes for Dems
"Chris Christie just vetoed a proposal to boost New Jersey's minimum wage to $15 an hour. Then fast food workers said, 'After all we've done for you?'" –Jimmy Fallon

"Today, the president of Mexico hosted Donald Trump. It was just another example of a Mexican doing a job that Americans don't want." –Conan O'Brien

"After insulting Mexico for the past year, Donald Trump was in Mexico today. Things got awkward when he made a speech that started out, 'Hola, Rapists.'" –Conan O'Brien

"New Jersey Gov. Chris Christie was spotted singing and dancing at a Bruce Springsteen concert. Then Christie tried to crowd surf and killed nine people." –Conan O'Brien

"Today Donald Trump made a last-minute trip to Mexico to meet with Mexican President Enrique Peña [Nieto] — and you just know that as soon as Trump crossed into Mexico, even Hillary Clinton was like, 'OK, let's get cracking on that wall.'" –James Corden

"The Mexican president is saying that he told Trump that Mexico would not pay for the wall, while Trump says they never discussed who would pay for it. In Trump's defense, who has ever gone down to Mexico and remembered what they did?" –James Corden

"If you're feeling frustrated with Trump's Mexico antics and you're not quite sold on Hillary Clinton, luckily there's another presidential candidate who has been making her voice heard and that's Green Party candidate Jill Stein. If you don't know who Jill Stein is, just picture Bernie Sanders, and now picture the woman in the back of his rally selling dream catchers." –James Corden

"Donald Trump and Mexican president Enrique Peña Nieto held a joint press conference where Trump said the two did discuss his proposed border wall but did not address payment for its construction. Said Trump, 'You know me, I don't like to talk about money.'" –Seth Meyers

"On Sunday in California, several dozen Latinos held a rally for Donald Trump. They were a group calling themselves 'Latinos Who Don't Really Follow the News.'" –Conan O'Brien

"This November, Californians get to vote on whether or not to legalize recreational marijuana. They can either forget to vote in person, or forget to vote by mail." –Conan O'Brien
17. Moody's economic model finds Clinton pulling away from Trump
A Moody's Analytics forecasting model which heavily weighs state-by-state income growth suggests Hillary Clinton will win in a landslide over Donald Trump.
The latest forecast puts 16 states, which includes Washington, D.C., firmly in Democratic territory, with 11 more leaning in that direction for a total of 332 electoral votes. Republicans hold comfortable leads in 21 states, with three more leaning red, giving its candidate 206 electoral voters. September 6, 2016 http://thehill.com/policy/finance/294635-clinton-gains-ground-over-trump-in-economic-model
18. USA Freedom Girls Sue Trump Campaign for Stiffing Them
The USA Freedom Kids, a pre-teen dance troupe that briefly became a national sensation after they performed for Donald Trump, said in a newly filed lawsuit the Trump campaign broke verbal agreements for performances at two events and refused to pay even a $2,500 stipend for the group's travel expenses. 9.06.16 http://www.thedailybeast.com/articles/2016/09/06/usa-freedom-girls-sue-trump-campaign-for-stiffing-them.html
The Late Show with Stephen Colbert: Please Welcome: The USA Freedom Grown-Ups
1. Garrison Keillor: When this is over, you will have nothing that you want
The cap does not look good on you, it's a duffer's cap, and when you come to the microphone, you look like the warm-up guy, the guy who announces the license number of the car left in the parking lot, doors locked, lights on, motor running. The brim shadows your face, which gives a sinister look, as if you'd come to town to announce the closing of the pulp factory. Your eyes look dead and your scowl does not suggest American greatness so much as American indigestion. Your hair is the wrong color: People don't want a president to be that shade of blond. You know that now.
Running for president is your last bid for the respect of Manhattan. If you were to win election, they couldn't ridicule you anymore. They could be horrified, but there is nothing ridiculous about being Leader of the Free World. You have B-52 bombers at your command. When you go places, a battalion of security guys comb the environs. You attract really really good speechwriters who give you Churchillian cadences and toss in quotes from Emerson and Aeschylus and Ecclesiastes.
Meanwhile, you keep plugging away. It's the hardest work you've ever done. You walk out in the white cap and you rant for an hour about stuff that means nothing and the fans scream and wave their signs and you wish you could level with them for once and say one true thing: I love you to death and when this is over I will have nothing that I want. 8/31/16 http://www.chicagotribune.com/news/opinion/commentary/ct-donald-trump-losing-garrison-keillor-20160831-story.html
2. Paul Waldman: Trump's history of corruption is mind-boggling. So why is Clinton supposedly the corrupt one?
The truth is that you'd have to work incredibly hard to find a politician who has the kind of history of corruption, double-dealing, and fraud that Donald Trump has. The number of stories which could potentially deserve hundreds and hundreds of articles is absolutely staggering. Here's a partial list:
• Trump's casino bankruptcies, which left investors holding the bag while he skedaddled with their money

• Trump's habit of refusing to pay contractors who had done work for him, many of whom are struggling small businesses

• Trump University, which includes not only the people who got scammed and the Florida investigation, but also a similar story from Texas where the investigation into Trump U was quashed.

• The Trump Institute, another get-rich-quick scheme in which Trump allowed a couple of griftersto use his name to bilk people out of their money

• The Trump Network, a multi-level marketing venture (a.k.a. pyramid scheme) that involved customers mailing in a urine sample which would be analyzed to produce for them a specially formulated package of multivitamins

• Trump Model Management, which reportedly had foreign models lie to customs officials and work in the U.S. illegally, and kept them in squalid conditions while they earned almost nothing for the work they did

• Trump's employment of foreign guest workers at his resorts, which involves a claim that he can't find Americans to do the work

• Trump's use of hundreds of undocumented workers from Poland in the 1980s, who were paid a pittance for their illegal work

• Trump's history of being charged with housing discrimination

• Trump's connections to mafia figures involved in New York construction

• The time Trump paid the Federal Trade Commission $750,000 over charges that he violated anti-trust laws when trying to take over a rival casino company

• The fact that Trump is now being advised by Roger Ailes, a person whose abusive and predatory actions toward women were so well-known and so loathsome that in 1968 the morally upstanding folks in the Nixon administration refused to allow him to work there despite his key role in getting Nixon elected.
The point is not that these stories have never been covered, because they have. The point is that they get covered briefly, then everyone in the media moves on. If any of these kinds of stories involved Clinton, news organizations would rush to assign multiple reporters to them, those reporters would start asking questions, and we'd learn more about all of them.
That's important, because we may have reached a point where the frames around the candidates are locked in: Trump is supposedly the crazy/bigoted one, and Clinton is supposedly the corrupt one. Once we decide that those are the appropriate lenses through which the two candidates are to be viewed, it shapes the decisions the media make every day about which stories are important to pursue. 9/05/16 https://www.washingtonpost.com/blogs/plum-line/wp/2016/09/05/trumps-history-of-corruption-is-mind-boggling-so-why-is-clinton-supposedly-the-corrupt-one/ or http://wapo.st/2cmYeEo or http://wpo.st/xh_w1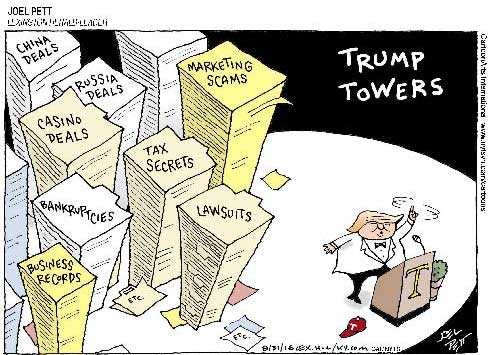 3. Dana Milbank: Trump reverts to his xenophobic self
The Republican presidential nominee immigrated briefly to Mexico on Wednesday for a hastily arranged visit with the leader of the country he has made his No. 1 scapegoat. He spent all of an hour with President Enrique Peña Nieto — but when the two men emerged, whoever was occupying Trump's body sounded nothing at all like the bombastic billionaire.
Alas, within hours (of returning from Mexico), Trump was back to his xenophobic self. The bickering began even before he cleared Mexican airspace, as Peña Nieto, contradicting Trump, said he had told Trump at the beginning of the meeting that Mexico would not pay for a wall.
But Trump, having completed his photo op with the Mexican president, discarded the "friend" he had apparently just used as a prop. Trump landed in Phoenix for what was supposed to be a detailed "policy address" on immigration but was a familiar, nativist rant. Preceded at the lectern by Joe Arpaio, the Arizona sheriff and anti-immigration hard-liner, Trump launched into a lament for the "countless Americans" who are "victims of violence" by illegal immigrants who are "dangerous, dangerous, dangerous criminals."
"We will build a great wall along the southern border!" he said to an enormous cheer.
"And Mexico will pay for the wall! One-hundred percent. They don't know it yet, but they're going to pay for the wall."
In his first formal international trip as the Republican presidential nominee, Donald Trump visited a country where he is broadly despised for his vilification of illegal immigrants.
So much for working beautifully together.
This was the Trump we all knew, the Trump who questions the judicial independence of an American-born judge because of his Mexican heritage, who fights with Mexican American journalists, claims that Spanish-language broadcaster Univision "takes its marching orders" from Mexico, and asserts that Mexico is "killing us."
But back on American soil, he returned to his familiar lines: "It's called America First! . . . There will be no amnesty! . . . You cannot obtain legal status or become a citizen of the United States by illegally entering our country." 8/31/16 https://www.washingtonpost.com/opinions/trump-reverts-to-his-xenophobic-self/2016/08/31/03a0ed6c-6fc8-11e6-9705-23e51a2f424d_story.html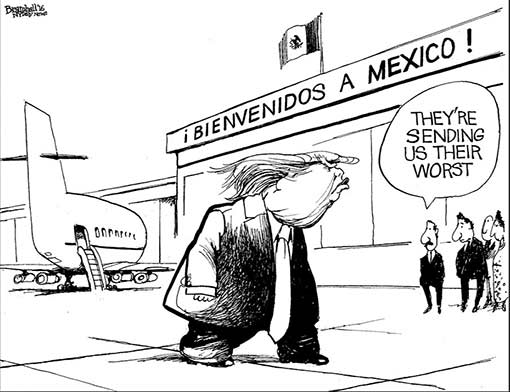 4. Eugene Robinson: The ugliest, most appalling spectacle in American politics
Every once in a while, the curtains part and we get a glimpse of the ugliest, most shameful spectacle in American politics: the Republican Party's systematic attempt to disenfranchise African Americans and other minorities with voter-ID laws and other restrictions at the polls.
If you thought this kind of discrimination died with Jim Crow, think again. Fortunately, federal courts have blocked implementation of some of the worst new laws, at least for now. But the most effective response would be for black and brown voters to send the GOP a message by turning out in record numbers, no matter what barriers Republicans try to put in our way.
Republicans claim they want support from African Americans, Hispanics and other minorities. They don't deserve the time of day until they stop this appalling effort to keep us from voting at all. 9/05/16 https://www.washingtonpost.com/opinions/the-ugliest-most-appalling-spectacle-in-american-politics/2016/09/05/95179af4-714c-11e6-8365-b19e428a975e_story.html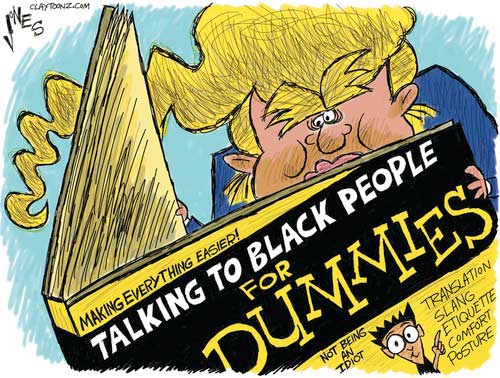 5. Eli Stokols Trump's immigration rope-a-dope
After playing at diplomacy in Mexico following two weeks of muddled messaging on his signature issue, Donald Trump shed any pretense of a softer message or general election "pivot" with a declaration of his fealty to the hard-line positions and inflammatory rhetoric that propelled him to the Republican nomination.
Trump's surprising trip to the presidential residence in Mexico City on Wednesday afternoon, which created a moment for him to stand side by side with an elected head of state and declare sovereign nations' rights to protect their people, amounted to a well-executed bit of campaign stagecraft by the GOP nominee who, after a year of demonizing Mexico and its people, managed to strike a far more diplomatic tone — for him, anyway — on the international stage.
"I happen to have a tremendous feeling for Mexican-Americans," Trump said, eschewing the usual vitriol as he stood before a dark marble wall that evoked speeches by foreign leaders at the United Nations.
Having ditched his traveling press corps, Trump's lie that he and President Enrique Peña Nieto didn't discuss who would pay for his border wall wasn't exposed until the Mexican president tweeted that they had a few hours later. And minutes after he stepped onto another stage here Wednesday night and began to speak to his raucous supporters, it was even more clear that the sojourn across the southern border, much like his campaign's two weeks of gentle walkbacks, was a ruse — that Trump and his campaign had used Peña Nieto as a prop in an opening act that served only to set up an evening stemwinder. The farce was, in hindsight, clear even before Trump approached the mic, as two of his warm-up speakers, Rudy Giuliani and Jeff Sessions, donned Trump hats that read "Make Mexico Great Again too."
Time after time, the crowd of more than 5,000 people, clad in red Trump hats and waving campaign signs, erupted unprompted into chants of "Build the wall!" and "Lock her up!" 9/01/16 http://www.politico.com/story/2016/09/donald-trump-immigration-address-227616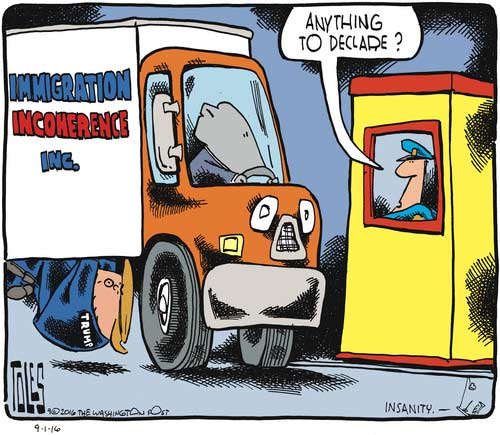 6. Charles M. Blow: The Duplicity of Donald Trump
Donald Trump is the internet troll of presidential politics. When he's securely removed from the objects of his scorn, he's tough as nails; when he's in their presence, he quivers like a bowl of Jell-O.
Such is the way of a bully.
Furthermore, when he is surrounded by supporters who cheer his base nature, he amplifies the enmity. When the applause of hostility is out of earshot, he tones down his vitriol to a whimper.
He is not only a bully, it seems to me, but also something of a coward, who lacks the force of his convictions — or who lacks basic convictions at all. He seems to be simply playing to the audience, whatever that audience may be. He's amenable to the mood of any particular room.
This is the most frightening type of man, whose basic character is vile but not inviolable, who springs from darkness and bends toward anything that casts light, even if that light is, as the internet loves to say, a dumpster fire.
This is what every voter must remember: Trump has two faces and two sets of facts and too much latitude to spread his animus, anti-intellectualism and lies, and he must never see the inside of the Oval Office. 8/31/16 http://www.nytimes.com/2016/09/01/opinion/campaign-stops/the-duplicity-of-donald-trump.html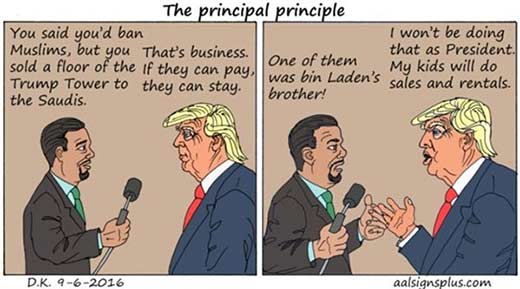 7. Washington Post Editorial: Donald Trump's bet: We are all chumps
Because his claim to the presidency is founded on his claimed success as a businessman, his tax and financial records are particularly salient. Has he really made as much money as he boasts? Has he paid taxes? Has he sheltered money in the Cayman Islands, done deals with Russian oligarchs? Who knows? Not the voters — and, as far as Mr. Trump is concerned, there is no need for us to bother our little heads with such matters. As his son Eric said, "You would have a bunch of people who know nothing about taxes" — he means us dumb voters, in case you miss the reference — "trying to look through and trying to come up with assumptions they know nothing about."
Ms. Clinton is not always a paragon of candor. But she has released far more information about her health; far, far more information on her policy goals; and decades of tax returns.
And here's one more reason those tax returns matter so much: A taxpayer must attest to the truthfulness of his or her returns, whereas we know that Mr. Trump in many other arenas tells falsehoods. In a book, he boasts of his habit of "truthful hyperbole." On the campaign trail, he repeatedly lies — Muslims celebrated in New Jersey after 9/11, Mr. Trump did not mock a reporter's disability — and when confronted with contrary video or documentary evidence simply repeats his fiction. Post reporter David A. Fahrenthold has painstakingly exposed Mr. Trump's falsehoods when it comes to charitable giving.
What else is he lying about? We don't know, you don't know, and Mr. Trump seems to believe we can all live with that. Can we? It's a question Americans will have to answer on Election Day. 9/04/16 https://www.washingtonpost.com/opinions/donald-trumps-candidacy-is-one-giant-insult-to-the-american-electorate/2016/09/04/d3f039b4-7135-11e6-8533-6b0b0ded0253_story.html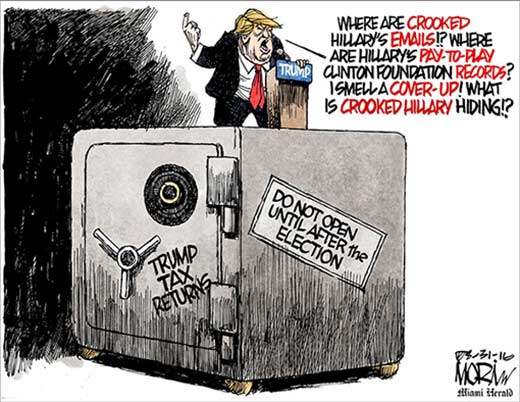 8. Molly Ball: Donald Trump and the Politics of Fear
Fear and anger are often cited in tandem as the sources of Trump's particular political appeal, so frequently paired that they become a refrain: fear-and-anger, anger-and-fear. But fear is not the same as anger; it is a unique political force. Its ebbs and flows through American political history have pulled on elections, reordering and destabilizing the electoral landscape.
This week, Trump delivered a speech on immigration that depicted outsiders as afrightening threat. "Countless innocent American lives have been stolen because our politicians have failed in their duty to secure our borders," he said. His acceptance speech at the Republican National Convention similarly made clear the extent to which his message revolves around fear. "The attacks on our police, and the terrorism in our cities, threaten our very way of life," Trump thundered. "Any politician who does not grasp this danger is not fit to lead our country. Americans watching this address tonight have seen the recent images of violence in our streets and the chaos in our communities. Many have witnessed this violence personally; some have even been its victims."
Notes of uplift were few and far between in the convention speech, and commentators were duly shocked by its dark tone. (The conservative writer Reed Galen calledTrump's convention "a fear-fueled acid trip.") Trump summons fear in the conventional way, by describing in concrete terms the threats Americans face. But he also, in a more unusual maneuver, summons fear in the abstract: There's something going on, folks.
There is a final punch line to the analysis of Trump as the candidate of fear. His opponent, Hillary Clinton, is now campaigning on a fear-based appeal of her own—the fear of Trump. http://www.theatlantic.com/politics/archive/2016/09/donald-trump-and-the-politics-of-fear/498116/
9. Josh Marshall: Trump's Blood Libel & Press Failure
Watch Trump's speeches, with the yelling, the reddened face, the demand for vengeance and you see there's little to distinguish them from what we see at Aryan Nations or other white hate rallies that we all immediately recognize as reprehensible, wrong and frankly terrifying. This isn't 'rough' language or 'hard edged' rhetoric. It's hate speech. Precisely what policy solution Trump is calling for is almost beside the point. Indeed, it wouldn't be hate speech any less if Trump specified no policy solution at all.
This isn't normal. It was normal in the Jim Crow South, as it was in Eastern Europe for centuries. It's not normal in America in the 21st century. And yet it's become normalized. It's a mammoth failure of our political press. But it's not just theirs, ours. It's a collective failure that we're all responsible for. By any reasonable standard, Donald Trump's speech on Wednesday night should have ended the campaign, as should numerous other rallies where Trump has done more or less the same thing for months. There's a reason why the worst of the worst, the organized and avowed racists, were thrilled and almost giddy watching the spectacle. But it has become normalized. We do not even see it for what it is. It's like we've all been cast under a spell. That normalization will be with us long after this particular demagogue, Donald Trump, has left the stage. Call this what it is: it is hate speech, in its deepest and most dangerous form. SEPTEMBER 2, 2016 http://api.talkingpointsmemo.com/edblog/trump-s-blood-libel-press-failure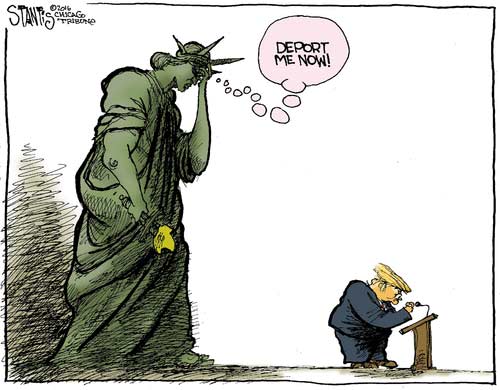 10. Eyal Press: Trump And The Truth: Immigration And Crime
Again and again in his Presidential campaign, Trump has issued sweeping assertions about how immigrants are "bringing crime" to America. Wednesday offered only the latest, and loudest, example. Examining these claims is instructive, not for what they tell us about Trump but for what they reveal about immigrants, whose relationship to crime is greatly misunderstood. If you live in a city that has become less dangerous in recent decades, a growing body of evidence suggests that you actually have immigrants to thank.
So, for more than a year, Trump has used the spotlight on him to smear and malign tens of millions of people who have made the communities they inhabit safer places for people of all backgrounds to raise children or pursue their dreams. They'll be gone, he says—he's building a wall. Americans deserve to be reminded that these ideas aren't just frightening in their intolerance. If your concern is public safety, they're backward. SEPTEMBER 2, 2016 http://www.newyorker.com/news/news-desk/trump-and-the-truth-immigration-and-crime
11. Washington Post Editorial: America has accepted 10,000 Syrian refugees. That's still too few.
IN THE face of the most calamitous refugee crisis since World War II, the United States has finally begun granting refuge to displaced Syrians on a pace that, while still unequal to the problem's scale and the United States' capacity, at least starts to acknowledge that a crisis exists.
In an announcement Monday, the White House said the administration had met its goal of granting asylum to 10,000 Syrians in the current fiscal year, which ends in a month. Officials said they expect to continue accepting asylum applications in coming weeks and months.
The modesty of the numerical goal is incommensurate with the weight of the challenge posed by some 5 million Syrian refugees, including roughly1.1 million already in Europe. Measured against resettlement programs on behalf of refugees by Germany, France, Britain and other Western countries, to say nothing of those by Turkey, Lebanon and Jordan, America's own efforts are meager. Canada, with a population barely a tenth the size of the United States', has resettled three times more Syrian refugees since last fall. And Washington's goal for the next fiscal year, starting Oct. 1, is no greater than its goal for the current year.
Previous waves of immigrants and refugees — Irish, Italians, Jews and Vietnamese — have been despised, feared and shunned by some Americans, much as Syrians are being vilified by some Americans now. Yet like their predecessors, Syrians, joining 150,000 of their countrymen already in the United States, will make new and productive lives that ultimately add to America's unique dynamism. 9/02/16 https://www.washingtonpost.com/opinions/global-opinions/america-has-accepted-10000-syrian-refugees-thats-still-too-few/2016/09/02/470446e2-6fc0-11e6-8533-6b0b0ded0253_story.html
12. Paul Waldman: Donald Trump's deportation double-talk
The true Trump isn't the one sleepily reading a prepared statement someone else has written for him in order to make him sound reasonable. The true Trump is the one whose face reddens, his voice growing gravelly and insistent as he whips his crowds in a frenzy. The true Trump is the one who brings up parents of young people killed by undocumented immigrants on to the stage to tell their stories and testify that if Donald Trump had been president their children would still be alive.
To be clear, these individuals' suffering and grief is undeniable; what's ghastly is the way Trump is using them. The fact is that immigrants commit fewer crimes than native-born citizens. But isn't it true that if we had no undocumented immigrants, then their children would indeed be alive? Yes, but think of it this way: What if Trump kept bringing up on stage Christian parents whose children had been killed by Jews, or white parents killed by blacks, saying that this is the problem we have to solve? In a country of more than 300 million people, he'd have no trouble finding enough examples. Would anyone deny that the spectacle was a vile incitement to hatred? The message of this stunt, repeated over and over again, is simple: Immigrants should be hated and feared.
If you want to know what Trump really thinks, that's where to find your answer. Don't listen to the surrogates trying to convince you that, despite everything he's said, Trump has a big heart, he cares deeply about families, he wants to construct a policy that's reasonable and considered and effective. If you think that's the true Trump, you need to pay closer attention. 9/05/16 https://www.washingtonpost.com/blogs/plum-line/wp/2016/09/05/donald-trumps-deportation-double-talk/?utm_term=.8c89a6b85d86&wpisrc=nl_most-draw5&wpmm=1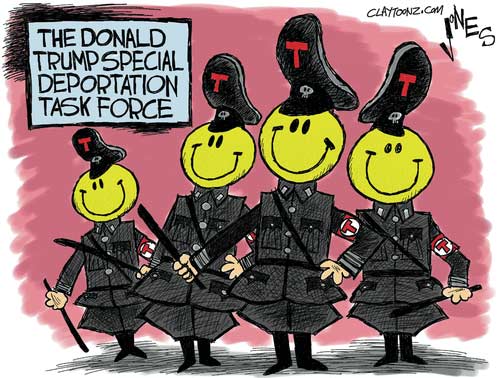 13. Paul Krugman: Hillary Clinton Gets Gored
Americans of a certain age who follow politics and policy closely still have vivid memories of the 2000 election — bad memories, and not just because the man who lost the popular vote somehow ended up in office. For the campaign leading up to that end game was nightmarish too.
You see, one candidate, George W. Bush, was dishonest in a way that was unprecedented in U.S. politics. Most notably, he proposed big tax cuts for the rich while insisting, in raw denial of arithmetic, that they were targeted for the middle class. These campaign lies presaged what would happen during his administration — an administration that, let us not forget, took America to war on false pretenses.
Yet throughout the campaign most media coverage gave the impression that Mr. Bush was a bluff, straightforward guy, while portraying Al Gore — whose policy proposals added up, and whose critiques of the Bush plan were completely accurate — as slippery and dishonest. Mr. Gore's mendacity was supposedly demonstrated by trivial anecdotes, none significant, some of them simply false. No, he never claimed to have invented the internet. But the image stuck.
And right now I and many others have the sick, sinking feeling that it's happening again. 9/06/16 http://www.nytimes.com/2016/09/05/opinion/hillary-clinton-gets-gored.html
14. Kathleen Parker: Another group that loses if Trump wins? Animals.
The animal kingdom will have lost one of its staunchest defenders when the Oval Office is abandoned by Barack Obama, who through a series of critical administrative rule makings has done more to protect animals than any other president in recent memory.
This will be especially devastating if Donald Trump replaces him — not only because of his sons' lust for hunting exotic game but also because his recently announced agriculture advisory committee includes several active opponents of animal protection policies, a group the Humane Society Legislative Fund has called a "rogues gallery" of anti-animal welfare activists.
By now, many will have seen the photographs circulating on social media of Eric Trump and Donald Trump Jr. displaying their trophy kills. Junior says he'd like to head the Interior Department, which, among other things, oversees trophy-hunting imports. 9/06/16 https://www.washingtonpost.com/opinions/another-group-that-loses-if-trump-wins-animals/2016/09/06/270eb888-7478-11e6-be4f-3f42f2e5a49e_story.html
15. Donald Trump's America: Bigger, Badder and Broke
Donald Trump has a plan to make America broke again.
The Republican presidential nominee rolled out a series of billion-dollar military proposals in Philadelphia Wednesday—but his costly plans to balloon the size of the Defense Department seem to ignore the  $19 trillion debt he rails about in his stump speeches.
Trump even found himself at odds with his first major national security address in April, when he lamented that "our resources are totally over extended"—and blamed President Obama's administration for making the United States weaker through wasteful spending and massive debt.
But it wasn't a contradiction Trump was eager to alleviate now. Like a foreign policy hawk's Santa Claus, Trump handed out billion-dollar presents to the Army, Navy, Air Force and Marine Corps like trivial candy canes.
"We will make America strong again, we will make America safe again, and we will make America great again—greater than ever before," Trump bragged, as he finished his speech on Wednesday.
How he'll pay for it—well, that will have to wait for another speech. 9/07/16 http://www.thedailybeast.com/articles/2016/09/07/donald-trump-s-america-bigger-badder-and-broke.html
16. Heather Digby Parton: Press, lies and Hillary's campaign: Years of smears have created a fictional version of Clinton. They're also a disservice to voters.
That tweet from Chris Cilizza of The Washington Post's The Fix blog is cleverly framed to be about the voters' view of this campaign. Both candidates do have high unfavorable ratings among the public (as does the Congress and pretty much every other institution, including the press.) That jaded comment by a member of the media, however, illustrates something  important. Some members of the press are not just commenting on a reality; they are pushing the theme of two equally unpalatable candidates and it just isn't true.
The main problem for Clinton is that people think she is a congenital liar. When asked what it is she lied about, most people can't point to anything specific; they just know she's  dishonest and corrupt. The fact that she's been dogged by political enemies and investigated by special prosecutors, the media and Congress with unlimited budgets and every possible means of getting to the truth and has been exonerated doesn't seem to register. Indeed, the fact-checkers all find her to be more honest than virtually anyone in politics while Donald Trump, by contrast, lies more than he tells the truth.
To understand how this came to be, go back to a column from 1996 in The New York Times by vicious right-wing columnist William Safire who first dubbed her a "congenital liar." All the crimes that he accused her of committing and lies he insisted that she had told later proved him to be the liar (or badly misinformed), but it didn't matter. For many reasons, not the least of which was simple sexism, it was set in stone that this feminist, lawyer first lady was devious, calculating and power mad — Madame Defarge and Evita rolled into one. The political press has filtered its coverage of her through that lens ever since. 9/06/16 http://www.salon.com/2016/09/06/press-lies-and-hillarys-campaign-years-of-smears-have-created-a-fictional-version-of-clinton-theyre-also-a-disservice-to-voters/