November 25, 2021
THIS WEEK"S TEN BEST QUOTES
In this season of thanksgiving, let us be grateful that some measure of calm and sanity has returned to the White House. — Dana Milbank

The US is the only leading economy where real household income (which accounts for inflation) and real GDP are higher than before the pandemic. Every country is struggling with supply chains and inflation but our economic response has let us weather it better than anyone else. — Bharat Ramamurti, Deputy Director of the National Economic Council.

"Look, we are a state that has a long, proud tradition of responsible gun ownership. And most of us here in Texas do not want to see our friends, our family members, our neighbors shot up with these weapons of war. So yes, I still hold this view." — Texas gubernatorial candidate Beto O'Rourke (D) — saying he stands by his controversial 2019 comment that "we're going to take your AR-15, your AK-47."

While we heard Kevin McCarthy speak for a great duration of time last night, it was like a really long death rattle. The outcome was already determined as a consequence of poor leadership and poor strategy. — Rep. Matt Gaetz

"The COP26 climate summit has turned into a PR event, where leaders are giving beautiful speeches and announcing fancy commitments and targets, while behind the curtains governments of the Global North countries are still refusing to take any drastic climate action." — Greta Thunberg.

"If you took the worst orator in the world, gave him the worst speech in the world, and made him read it for the longest time in the world. That would be a lot like listening to Kevin McCarthy tonight. Except, probably better." — Rep. Adam Schiff (D-CA).

The Republican party's vilification of members of Congress who have criticized Donald Trump or supported bipartisan legislation is "ruining America." — New Hampshire governor, Chris Sununu (R) adding another tacit voice to the small but growing internal opposition to the former president.

"With more than 50 foreign-policy nominations stalling on the Senate floor I have been as energetic as I can about getting these through' the upper chamber." — Idaho Sen. Jim Risch, the top Republican on the Senate Foreign Relations Committee, pushing back against his party's blockade of President Joe Biden's picks to top diplomatic posts.

"I think the stakes are really, really high.The entire reason that the Progressive Caucus gave their votes [for the infrastructure bill] was based on direct promises from the president, as well as direct promises from more conservative Democratic holdouts. And from House leadership as well. So if those promises don't follow through, it's going to be very, very difficult for them to get votes on anything moving forward, because the trust that was already so delicate will have been broken." — Rep. Alexandria Ocasio-Cortez (D-New York).

"Personally, I'd prefer endorsements from people who didn't lose Maryland by 33 points." — Maryland Gov. Larry Hogan (R), shortly after Donald Trump announced that he was endorsing Maryland state Del. Daniel Cox (R) for governor in next year's GOP primary.

VIDEOS

"Here's the real problem with the so-called Build Back Better bill. It's communism. America was never meant to be a communist country." — Rep. Marjorie Taylor Greene (R-GA).

"Republican or Not | SNL: Game show contestants (Simu Liu, Ego Nwodim) are given clues to try to identify which guests are Republicans. https://youtu.be/8h_N80qKYOM
Litigation Tracker: Pending Criminal and Civil Cases Against Donald Trump
---
IN THIS ISSUE
IN THE NEWS
OPINION
Andy Borowitz: Ted Cruz Attacks Bob the Builder for Spreading Pro-Infrastructure Propaganda
In his latest attack on a fictional character beloved by children, Senator Ted Cruz has lambasted Bob the Builder for spreading what the legislator called "blatant pro-infrastructure propaganda."

Cruz said that Bob, who originates from the United Kingdom, should "stop throwing his precious wrench into the American economy by supporting runaway government spending."

"Whenever you see Bob the Builder, he's maniacally building something," Cruz said. "Our children are being exposed to his sick and twisted message that functional infrastructure is good."

Because of Bob the Builder's "extreme pro-infrastructure views," the senator said that he has banned Bob's program from the Cruz household.

"Sorry, Bob the Builder, but I like my TV shows without the stench of socialism," Cruz said. https://www.newyorker.com/humor/borowitz-report/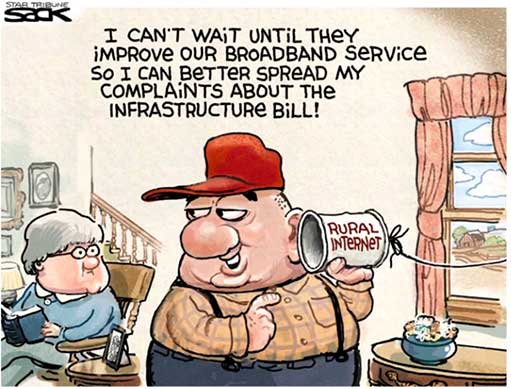 N.Y. prosecutors set sights on new Trump target: Widely different valuations on the same properties
The Trump Organization owns an office building at 40 Wall Street in Manhattan. In 2012, when the company was listing its assets for potential lenders, it said the building was worth $527 million — which would make it among the most valuable in New York.
But just a few months later, the Trump Organization told property tax officials that the entire 70-story building was worth less than a high-end Manhattan condo: just $16.7 million, according to newly released city records.
That was less than one-thirtieth the amount it had claimed the year before.
That property is now under scrutiny from the Manhattan district attorney and New York attorney general, along with several others like it for which the Trump Organization gave vastly different value estimates, according to public records and people familiar with their investigations who spoke on the condition of anonymity to discuss ongoing inquiries. https://www.washingtonpost.com/politics/trump-organization-investigation-property-values-vance-james/2021/11/19/78c15850-4706-11ec-95dc-5f2a96e00fa3_story.html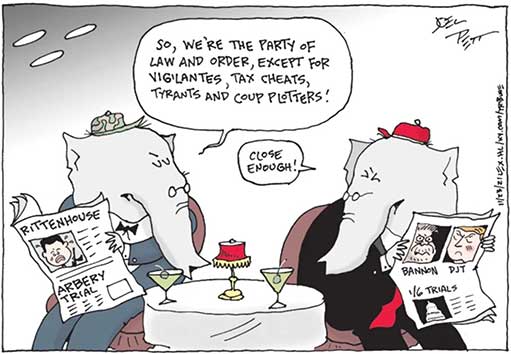 Republican Governors Distance Themselves From Trump, Drawing His Ire
As Republicans in the nation's capital mostly fall in line behind former President Donald Trump's bid to maintain control of the party, in state capitals, they are distancing themselves from the memes and demands that have emanated from Mar-a-Lago.
Republican governors around the country have flashed streaks of independence based mainly on political calculations that they are better off giving priority to local issues and constitutional obligations. As a result, about half of the 16 Republican governors up for re-election next year also face primary challenges from opponents endorsed by the former president or otherwise inspired by him. The conflicts have highlighted divisions in the party—and among former Trump administration officials. Former Vice President Mike Pence, who was the governor of Indiana before joining Mr. Trump's ticket, told the Republican Governors Association this week that he had their back. "I want to be clear," Mr. Pence said during a private speech to the group. "I'm going to be supporting incumbent Republican governors." https://www.wsj.com/articles/republican-governors-distance-themselves-from-trump-drawing-his-ire-11637357756 
A MAGA squad of Trump loyalists sees its influence grow amid demands for political purity among Republicans
The show of force from Donald Trump's staunchest congressional allies began almost immediately after 13 House Republicans voted this month in favor of a massive infrastructure bill that handed President Biden one of the biggest victories of his tenure.
"Traitor Republicans," Rep. Marjorie Taylor Greene (R-Ga.) declared in a series of tweets where she posted their office phone numbers after vowing that all those in her party who "hand over their voting card to Nancy Pelosi to pass Biden's Communist takeover of America will feel the anger of the GOP voter."
Others chimed in. Rep. Madison Cawthorn (R-N.C.) promised to "primary the hell" out of any Republican who voted for the measure.
Rep. Lauren Boebert (R-Colo.) tweeted it was "Time to name names and hold these fake republicans accountable." And, this past week, Rep. Matt Gaetz (R-Fla.) told a pro-Trump podcast that there was never a situation during the infrastructure debate in which Republicans should work with Democrats: "They were going to win it all, or we were going to win it all."
The continuing turmoil in the House GOP conference over how and whether to punish members who back anything supported by Democrats shows how an emboldened group of far-right House members is gaining influence over the Republican Party in Congress. These representatives are positioning themselves to further purify the House GOP conference as a branch of Trump's "Make America Great Again" movement.
This MAGA squad consists largely of a handful of recently elected members and others who lack the traditional trappings of power such as committee chairmanships or leadership posts. But they have rocketed to fame — especially on the political right — with massive social media followings, frequent appearances on pro-Trump media and growing fundraising networks that get a boost with every provocative tweet or TV hit. https://www.washingtonpost.com/politics/greene-boebert-gosar-gaetz/2021/11/20/c77dc78a-47dd-11ec-973c-be864f938c72_story.html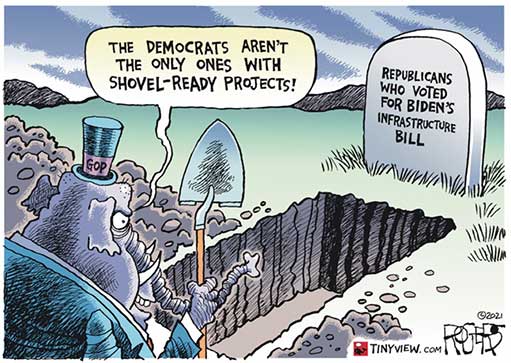 GOP opposition to vaccine mandates extends far beyond Covid-19
Right-wing politicians' resistance to vaccine mandates is extending far beyond Covid-19 immunizations, a startling new development that carries vast implications for the future of public health. 
In Idaho, a lawmaker introduced a bill that would define vaccine mandates — of any kind — as a form of assault. In Florida, a prominent state senator has called for a review of all vaccine requirements, including those for immunizations that have enjoyed wide public acceptance for decades, like polio and the measles, mumps, and rubella shot. And in Montana, the Republican governor recently signed into law a new bill that forbids businesses, including hospitals, from enforcing any vaccination requirements as a condition of employment. 
The bills represent the latest wave of resistance to the Biden administration's push to impose Covid-19 vaccine mandates for nearly all Americans. But the new, across-the-board revolt against vaccine requirements of any kind, experts told STAT, could begin to reverse a century of progress against diseases that, thanks to vaccines, are afterthoughts to most Americans. https://www.statnews.com/2021/11/17/gop-opposition-to-vaccine-mandates-extends-far-beyond-covid-19/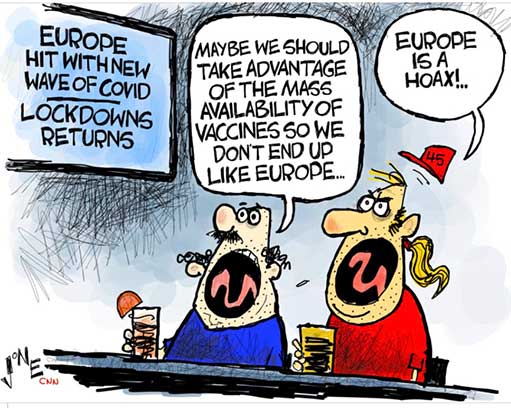 Republican voters don't like heresy in the church of Trump
A recent Harvard/Harris survey finds that, if Trump runs, he'll start with the support of 47 percent of GOP primary voters — nearly 40 points ahead of the next closest contender. If he doesn't, then the three leading candidates are Mike Pence — Trump's vice president — at 23 percent, Ron DeSantis — doing his best Trump impression as Florida governor — at 21 percent, and Cruz himself at 12 percent. Meanwhile, Christie, who had the heresy of admitting the 2020 election wasn't stolen name is frequently left off these types of surveys. The message from Republican voters is clear: If Trump doesn't run, they want someone just like him — no matter the lunacy. https://www.washingtonpost.com/opinions/2021/11/21/republican-voters-dont-like-heresy-church-trump/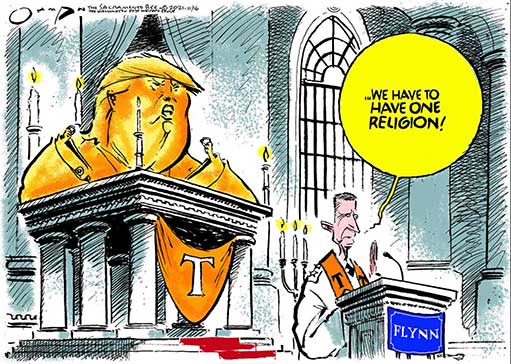 Trump's First Post-Presidency Book Will, Fittingly, Require Little Reading and Cost Way Too Much
Nearly two hundred and thirty American dollars. That's how much former President Trump is charging for a signed copy of his forthcoming picture book, which he is touting as "a must-have for all Patriots."
Leave it to Trump to try to swindle his supporters out of money, and just in time for the holidays. Our Journey Together, Trump's first book since he was president, will be published on Dec. 7 by Winning Team Publishing, a company started by Donald Trump Jr. and Sergio Gor. News of the book's publication was first reported by The Washington Examiner. The book is a coffee table-style publication that will contain more than 300 images, some of which will include captions in Trump's distinctive all-caps handwriting. To buy the book, Trump is charging $74.99 or, for a signed copy, $229.99. https://www.rollingstone.com/politics/politics-news/trump-our-journey-together-picture-book-1260164/
Two Fox News Contributors Quit in Protest of Tucker Carlson's Jan. 6 Special
The trailer for Tucker Carlson's special about the Jan. 6 mob at the Capitol landed online on Oct. 27, and that night Jonah Goldberg sent a text to his business partner, Stephen Hayes: "I'm tempted just to quit Fox over this."
"I'm game," Mr. Hayes replied. "Totally outrageous. It will lead to violence. Not sure how we can stay."
The full special, "Patriot Purge," appeared on Fox's online subscription streaming service days later. And last week, the two men, both paid Fox News contributors, finalized their resignations from the network.
Their departures also mark the end of a lingering hope among some at Fox News — strange as this is for outsiders to understand — that the channel would at some point return to a pre-Trump reality that was also often hyperpartisan, but that kept some distance from Republican officials. Fox's chairman, Rupert Murdoch, recently deplored Trumpism while acting as though — as Bloomberg's Tim O'Brien noted — he didn't run the company. https://www.nytimes.com/2021/11/21/business/jonah-goldberg-steve-hayes-quit-fox-tucker-carlson.html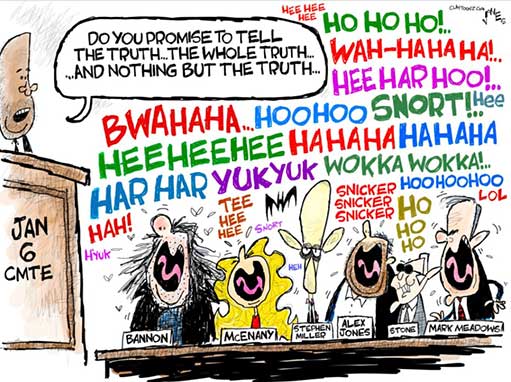 GOP Donors Back Manchin and Sinema as They Reshape Biden's Agenda
Over the summer, as he was working to scale back President Joe Biden's domestic agenda, Sen. Joe Manchin of West Virginia traveled to an $18 million mansion in Dallas for a fundraiser that attracted Republican and corporate donors who have cheered on his efforts.
In September, Sen. Kyrsten Sinema of Arizona, who along with Manchin has been a major impediment to the White House's efforts to pass its package of social and climate policy, stopped by the same home to raise money from a similar cast of donors for her campaign coffers.
This month, billionaire Wall Street investor Kenneth G. Langone, a longtime Republican megadonor who has not previously contributed to Manchin, effusively praised him for showing "guts and courage" and vowed to throw "one of the biggest fundraisers I've ever had for him."
Stanley S. Hubbard, a billionaire Republican donor, wrote his first check to Sinema in September and said that he was considering doing the same for Manchin because of their efforts to trim the sails of the Democrats' agenda. "Those are two good people — Manchin and Sinema — and I think we need more of those in the Democratic Party," he said.
Miller, who is a top Republican fundraiser, helped steer Ryan's team to people who could assist in planning the fundraisers for Sinema and Manchin. And Miller's wife gave to Sinema's campaign.
G. Brint Ryan, the Republican donor who hosted the fundraisers in Dallas for Manchin and Sinema, said the senators were "out of step with their party, but I tend to believe that they're in the right."
In the days around the fundraisers at his home, Ryan, his employees, his company's political action committee and a relative's law firm combined to donate nearly $80,000 to Sinema's campaign and more than $115,000 to Manchin's.
The $2.6 million raised by Sinema's campaign through the first nine months of this year was 2 1/2 times as much as she raised in the same period last year, while the $3.3 million raised by Manchin's campaign was more than 14 times as much as his haul through the end of September last year. https://www.seattletimes.com/nation-world/nation-politics/gop-donors-back-manchin-and-sinema-as-they-reshape-bidens-agenda/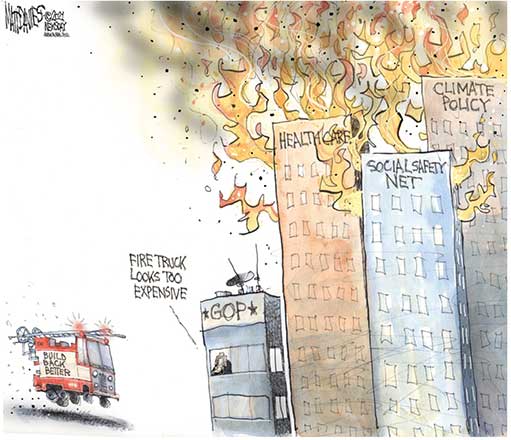 GOP Dark Money Group Giving Big to White Supremacists
Efforts to overturn the election. Jan. 6 organizers. White supremacist groups. And more than a dozen private and public universities.
They all have one thing in common: They received anonymous funding funneled through a single conservative dark money behemoth.
That's the news in the latest IRS filing from Donors Trust—a conservative, Koch-aligned nonprofit which does not need to reveal the names of its donors and has been called the "dark money ATM of the right."
The disclosure, first obtained by CNBC, shows the group channeled major support for entities which fought to overturn President Joe Biden's 2020 victory and organized the Jan. 6 rallies in Washington, D.C.
Donors Trust also gave more than $2 million to groups linked to white supremacists, including the VDARE Foundation.
Norm Eisen, a government ethics expert and senior fellow at the Brookings Institution, analyzed the filing with colleagues and remarked that it was "profoundly concerning for the future of our democracy."
"The Donors Trust is taking advantage of the dangerous opacity of our tax and related laws and regulations to fund alleged white supremacist and white nationalist associated groups, those who were bad actors in wrongly attempting to spread misinformation about or overturn the legitimate 2020 election results, and even groups that were responsible for the rally that helped trigger the Jan. 6 insurrection," he told The Daily Beast. https://www.thedailybeast.com/the-gop-dark-money-group-donors-trust-giving-big-to-vdare-white-supremacists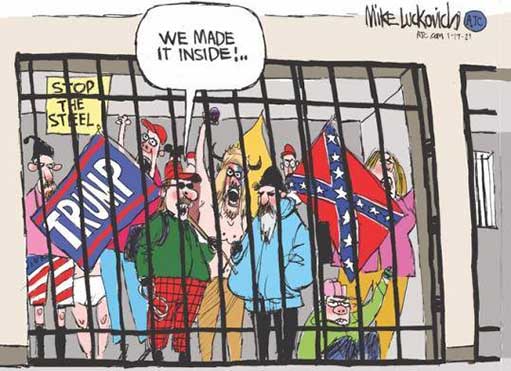 The DAILY GRILL
A Grinnell College National Poll found that if the 2024 presidential election were held today, the same percentage of likely voters would vote for former President Donald Trump (40%) as President Biden (40%), and 14% of voters say they would choose someone else. https://www.grinnell.edu/news/62-americans-say-politics-not-law-drives-supreme-court-decisions

VERSUS

A Marquette Law School Poll survey of adults nationwide finds a majority of Republicans wanting former President Donald Trump to run for president in 2024, although a majority of all adults in the survey say they do not want him to run. Among all respondents, 28% would like to see Trump make another run for the presidency, while 71% do not want him to run again. https://www.marquette.edu/news-center/2021/new-marquette-law-poll-finds-majority-of-republicans-favor-a-trump-run-for-president-in-2024.php
Max Boot: Republicans are fomenting a violent insurgency in America. It may have already started.
The United States has a serious problem with political violence, particularly right-wing violence, which has overtaken Islamist attacks as the No. 1 domestic terrorism threat. The list of right-wing outrages includes Oklahoma City 1995 (168 dead), Pittsburgh 2018 (11 dead) and El Paso 2019 (23 dead). The 2020 Kenosha, Wis., shooting, which left two dead, is part of the same alarming trend. Even though Kyle Rittenhouse was found last week to have acted in self-defense, he remains morally culpable for showing up with an assault-style rifle at a protest, looking for trouble.
In many other instances — e.g., the 2018 pipe bombing attempts targeting critics of President Donald Trump — tragedy was only narrowly averted. The Jan. 6 riot was both horrible and not nearly as bad as it could have been: Though 140 police officers were injured in the worst assault on the Capitol since the War of 1812, the insurrectionists did not succeed in killing or kidnapping any lawmakers.
Faced with this alarming trend, a responsible political party would damp down its incendiary rhetoric and urge its supporters to moderate their zeal. That is not what Republicans are doing. They continue to fan the flames of hatred, violence and division.
Many on the right routinely depict Democrats as America's enemies. At one recent conference, Sen. Ted Cruz (R-Tex.) said, "The left hates America," while Sen. Josh Hawley (R-Mo.) said: "Their grand ambition is to deconstruct the United States of America." At the same time, Republicans make a fetish of gun ownership and use; weapons of war are the hottest fashion accessory in GOP campaign ads.
The message many Republicans receive is that violence is justified to save the United States from a leftist takeover. An audience member at a pro-Trump event spoke for many when he asked: "When do we get to use the guns?"
An American Enterprise Institute poll found that 39 percent of Republicans believe, "if elected leaders will not protect America, the people must do it themselves, even if it requires violent actions." Another survey by the University of Chicago found that 21 million adults believe the "use of force is justified" to restore Trump to the presidency. https://www.washingtonpost.com/opinions/2021/11/22/republicans-are-fomenting-violent-extremism-are-also-hostage-extremists/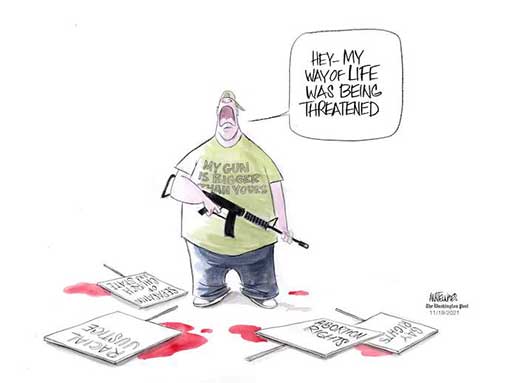 Nicholas Goldberg: Focusing on Trump may be a bad strategy for Democrats. But let's be honest: He's the real issue
Republican officeholders who have sold their souls by cravenly capitulating to Trump and his falsehoods about the 2020 election should be voted out of Congress. Rep. Kevin McCarthy (R-Bakersfield) and his ilk have shown themselves to be dangerous and unprincipled, and they should pay for their irresponsibility.
I know there are plenty of Republicans who think that people like me are still in the grip of some sort of Trump derangement syndrome. But in my view, a second Trump term in office would be catastrophic for the United States, its reputation, its moral standing, its democratic process and its peace and security — not to mention for the future of the climate and the planet.
The mere possibility of a Trump restoration in 2024 should have voters of all parties leaping from their couches as if stung and running for the polls to vote no.
Sure, issues matter. It would be highly presumptuous of me to suggest voters shouldn't be concerned about taxes and inflation and schools and all the other matters that make life easier or harder to live day-to-day. Democratic incumbents of course must persuade voters that they're making progress fulfilling the promises they made during the last campaign.
But honestly, with the exception of climate change, it's hard to think of any single issue that matters as much as the possibility of Trump's return. And empowering his sycophants and enablers in the midterm empowers Trump himself two years later.
https://www.latimes.com/opinion/story/2021-11-15/democratic-strategy-trump-midterm-elections
Michelle Cottle:The G.O.P. Has a Bad Men Problem
How upbeat is the Republican Party about its prospects for taking control of the House and Senate next year?
So upbeat that it apparently is cool with the fact that in three Senate races — Georgia, Missouri and Pennsylvania — it has leading candidates who have been accused of harassing, abusing, threatening or otherwise mistreating women.
Once upon a time, this situation likely would have provoked a major display of concern, or at least an attempt at damage control, by the Republican establishment. Instead many party officials are brushing off related questions like pesky bits of dryer fluff.
While the particulars of these cases vary — the allegations, the candidates' responses, the warmth of the party's embrace — the creeping not-so-casual misogyny is indicative of the dark path down which former President Donald continues to lead the G.O.P.
It is not simply that Mr. Trump has long worn his shabby treatment of women like a perverse merit badge — a symbol of how the rules of decent society do not apply to him. He also has made the Republican Party a welcoming place for other like-minded men. As president, rarely did he confront a harassment or abuse scandal in which he didn't make clear his sympathies for the accused and his skepticism of the accusers. Pity the poor harasser. So misunderstood. So persecuted by humorless prigs. It almost takes the fun out of groping random chicks. https://www.nytimes.com/2021/11/19/opinion/trump-gop-misogyny.html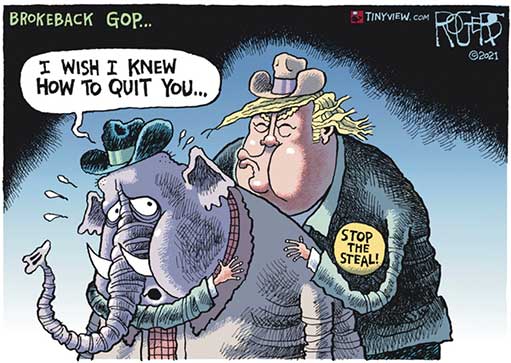 Christopher Mathias: Tucker Carlson's Jan. 6 'Documentary' Is His Most Nakedly Fascist Piece Of Propaganda Yet
Tucker Carlson's "Patriot Purge," a revisionist history of the Jan. 6 riot at the U.S. Capitol, clocks in at an easily binge-watchable 70 minutes, spread over three episodes. It's produced with the aesthetics and narrative suspense of an action thriller. The good guys are the "patriots" who stormed the Capitol. The bad guys are those in the media and government who are persecuting them. "The left is hunting the right," Carlson warns his viewers.
It is the most nakedly fascist piece of propaganda Carlson has ever produced. And it comes at a dangerous moment: The insurrection is on its way to becoming as noble an enterprise as the Boston Tea Party for large parts of the American right.
"Patriot Purge" is deeply conversant with far-right mythologies about Jan. 6 and broader fantasies about supposed persecution of far-right groups by the federal government. That's not surprising, considering who worked on the series: Carlson co-wrote "Patriot Purge" with a man who previously produced white nationalist movies, and the series counts two white nationalists among its protagonists. https://www.huffpost.com/entry/tucker-carlson-patriot-purge-is-fascist-january-6-revisionism_n_6192b4a9e4b05e93cbb3c1d7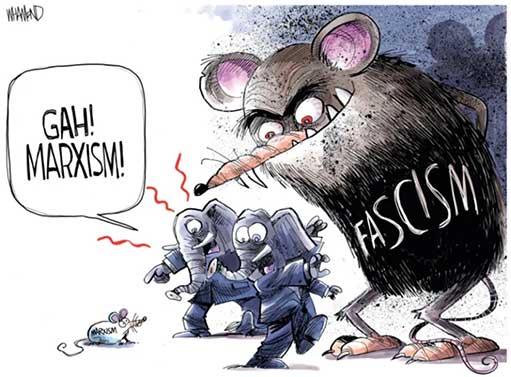 Steve Hayes and Jonah Goldberg: Why We Are Leaving Fox News
Fox News still does real reporting, and there are still responsible conservatives providing valuable opinion and analysis. But the voices of the responsible are being drowned out by the irresponsible. 
A case in point: Patriot Purge, a three-part series hosted by Tucker Carlson. 
The special—which ran on Fox's subscription streaming service earlier this month and was promoted on Fox News—is presented in the style of an exposé, a hard-hitting piece of investigative journalism. In reality, it is a collection of incoherent conspiracy-mongering, riddled with factual inaccuracies, half-truths, deceptive imagery, and damning omissions. And its message is clear: The U.S. government is targeting patriotic Americans in the same manner —and with the same tools—that it used to target al Qaeda. 
"The domestic war on terror is here. It's coming after half of the country," says one protagonist. "The left is hunting the right, sticking them in Guantanamo Bay for American citizens—leaving them there to rot," says another, over video of an individual in an orange jumpsuit being waterboarded.
This is not happening. And we think it's dangerous to pretend it is. If a person with such a platform shares such misinformation loud enough and long enough, there are Americans who will believe—and act upon—it.
This isn't theoretical. This is what actually happened on January 6, 2021.
Over the past five years, some of Fox's top opinion hosts amplified the false claims and bizarre narratives of Donald Trump or offered up their own in his service. In this sense, the release of Patriot Purge wasn't an isolated incident, it was merely the most egregious example of a longstanding trend. Patriot Purge creates an alternative history of January 6, contradicted not just by common sense, not just by the testimony and on-the-record statements of many participants, but by the reporting of the news division of Fox News itself. 
The tension between doing that work well and remaining loyal to Fox has tested us many times over the past few years. But with the release of Patriot Purge, we felt we could no longer "do right as we see it" and remain at Fox News. So we resigned. https://thedispatch.com/p/why-we-are-leaving-fox-news
David Brooks: Joe Biden Is Succeeding
If presidencies were judged by short-term popularity, the Biden effort would look pretty bad. But that's a terrible measure. First-term presidents almost always see their party get hammered in the midterm after their inauguration. That's especially true if the president achieved big things. Michigan State political scientist Matt Grossmann looked at House popular vote trends since 1953. Often when presidents succeeded in passing major legislation — Republicans as well as Democrats — voters swung against the president's party. Look, just to take a recent example, at how Obamacare preceded a Democratic shellacking in 2010. People distrust change. Success mobilizes opposition. It's often only in retrospect that these policies become popular and even sacred.
Presidents are judged by history, not the distraction and exhaustion of the moment. Did the person in the Oval Office address the core problem of the moment? The Biden administration passes that test. Sure, there have been failures — the shameful Afghanistan withdrawal, failing to renounce the excesses of the cultural left. But this administration will be judged by whether it reduced inequality, spread opportunity, created the material basis for greater national unity.
It is doing that. https://www.nytimes.com/2021/11/18/opinion/biden-infrastructure-stimulus-bill.html
Jennifer Rubin: It's not 'polarization.' We suffer from Republican radicalization.
You know the argument: America is divided into warring camps. The center has collapsed. Compromise is impossible. We have become uncivil and angry.
While it's true that the country is more deeply divided along partisan lines than it has been in the past, it is wrong to suggest a symmetrical devolution into irrational hatred. The polarization argument too often treats both sides as equally worthy of blame, characterizing the problem as a sort of free-floating affliction (e.g., "lack of trust"). This blurs the distinction between a Democratic Party that is marginally more progressive in policy positions than it was a decade ago, and a Republican Party that routinely lies, courts violence and seeks to define America as a White Christian nation. https://www.washingtonpost.com/opinions/2021/11/18/its-not-polarization-we-suffer-republican-radicalization/
Griff Witte and Hannah Allam: Rittenhouse acquittal magnifies divisions in a polarized America
Ever since the early-morning hours that day in August 2020, when video footage of a teenager opening fire on the streets of Kenosha first started to circulate, Kyle Rittenhouse has been a human canvas onto which the nation's political divisions were mapped.
To many on the right — including gun-rights groups, Trump loyalists and white supremacists — he was a folk hero, a vigilante for justice who had stood up to a rampaging mob.
Americans on the left, including racial-justice activists, gun-control advocates and police reformers, saw something quite different: a trigger-happy youth who had recklessly used his AR-15 to escalate an already-chaotic situation into the realm of deadly violence.
Those irreconcilable depictions played out vividly as news of Rittenhouse's acquittal Friday on all counts in a Wisconsin courtroom ricocheted from coast to coast. Although the question before the jury had been relatively narrow — was Rittenhouse acting in self-defense, or not? — the jury's decision was imbued with far greater resonance on both sides.
Rittenhouse's defenders saw justice at work. His critics recorded one more count against a fundamentally unfair legal system.
Within seconds of the verdict, far-right forums were ablaze with celebratory messages and memes depicting Rittenhouse as a hero. In the Proud Boys public channel on Telegram, supporters mocked how upset "the left" would be once authorities release the gun used in the shootings, as is customary after an acquittal.
"NOT GUILTY!!!!!!!" tweeted Rep. Matt Gaetz (R-Fla.), who had suggested earlier in the week he would offer Rittenhouse a congressional internship if he was acquitted.
"May Kyle and his family now live in peace," added Rep. Marjorie Taylor Greene (R-Ga.), who urged her followers to donate to Rittenhouse's legal defense. "Those who help, protect, and defend are the good guys." https://www.washingtonpost.com/national/reaction-rittenhouse-verdict/2021/11/19/bd9c9ede-47d4-11ec-973c-be864f938c72_story.html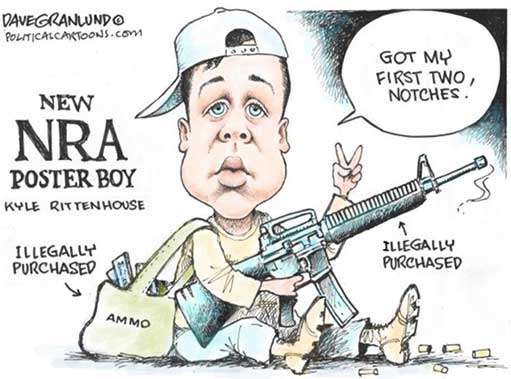 E.J. Dionne Jr.: The GOP bets on resentment over problem solving
The leaders of both parties in the House of Representatives offered the nation an important lesson last week about why our politics are broken and our national mood is so surly.
The master class was taught inadvertently by Minority Leader Kevin McCarthy (R-Calif.) and somewhat more consciously by House Speaker Nancy Pelosi (D-Calif.). Their closing speeches on the Build Back Better bill passed by the House on Friday illustrates how our political parties are not even in the same business anymore.
The Republican enterprise is devoted to stoking anger and social resentment, not to enacting legislation. Democrats may take an eternity to do it, but they actually want to pass bills, create programs and spotlight day-to-day concerns (child care, health care) that government can plausibly address.
McCarthy's 8 ½-hour rant reflected his need to mollify the GOP's large right wing with a protracted, nihilistic scream of opposition, even if "some of his claims," as The Post's Marianna Sotomayor, Paul Kane and Jacqueline Alemany wrote, "wildly defied the facts."
His marathon of negativity capped a week in which just two House Republicans joined Democrats in voting to censure Rep. Paul A. Gosar (R-Ariz.) for tweeting an anime video that depicted him killing Rep. Alexandria Ocasio-Cortez (D-N.Y.).
The party's collective refusal to draw a line against such odiousness speaks to a degree of extremism that is partly obscured by the willingness of a small number of Republicans, particularly in the Senate, to work with Democrats on a handful of issues.
The GOP now focuses on undermining our electoral system and stoking division across racial lines. In pursuit of these goals, Republicans are willing to tolerate and apologize for right-wing violence and intimations of violence by the likes of Gosar. https://www.washingtonpost.com/opinions/2021/11/21/gop-bets-resentment-over-problem-solving/