October 24, 2019
ON THE RECORD. . .
"How in life can you do those kinds of things when you've just said it right there on national TV? It's not an etch-a-sketch." — Rep. Francis Rooney (R-FL) on Mick Mulvaney's walking back his assertion that aid for Ukraine was withheld in part to pressure that country to investigate Democrats..
"Jim Mattis, a four-star Marine general and Trump's first defense secretary, was the world's most overrated general. ... You know why? He wasn't tough enough. I captured ISIS. Mattis said it would take two years. I captured them in one month." — Trump during a meeting with congressional leadership.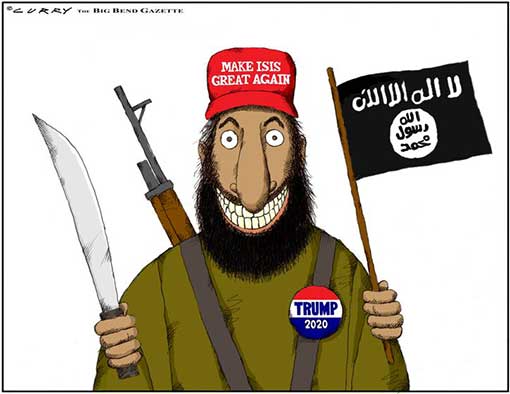 "I earned my spurs on the battlefield; Donald Trump earned his spurs in a letter from a doctor."— Former Defense Secretary James Mattis.
"Syria may have some help with Russia, and that's fine. It's a lot of sand. They've got a lot of sand over there. So there's a lot of sand that they can play with. But we were supposed to be there for 30 days; we stayed for 10 years. And it's time for us to come home. ... The Kurds are much safer right now ... They're not angels, if you take a look." — Trump about the US withdrawal from Syria that endangered our longtime allies, the Kurds.
"The cease-fire does not change the fact that America has abandoned an ally, adding insult to dishonor. The administration speaks cavalierly, even flippantly, even as our ally has suffered death and casualty. Their homes have been burned and their families have been torn apart. …The decision to abandon the Kurds violates one of our most sacred duties. It strikes at American honor. What we have done to the Kurds will stand as a bloodstain in the annals of American history." — Mitt Romney harshly criticizing Trump's decision to withdraw U.S. forces from Syria after his fellow Senate Republicans blocked a vote on a House-passed resolution condemning the move.
"The American side accepted the legitimacy of our operation and targets. We got what we wanted."— Turkey's foreign minister, Mevlut Cavusoglu on the victory for Turkey that came not on the battlefield, but at the negotiating table, courtesy of the American delegation led by Mike Pence.
"You've got a leader that has been in office for over 30 years, that opened the door on unfettered abortion in this country. His civil rights icon status was a joke because he did nothing to bring rights to his people; all he did was divide, all he did was play the race card. Cummings was a corrupt and lawless leader who waged "a cooked, deceptive, demonic attempt" to take down Trump. Everything that he's done has been nothing but trying to take this president out. I believe that God had had enough, and God moved." — Chris McDonald, vocal right-winger and conspiracy theorist asserting that God had taken Rep. Elijah Cummings (D-MC) life because of his opposition to Donald Trump.
"The immediate cause of this crisis was President Trump's betrayal of our Kurdish partners, which set into motion a humanitarian crisis, a resurgence of ISIS, a strategic victory for Russia and Iran, and irreparable damage to America's standing in the world. The President is an arsonist who later pretends to be a fireman."— Rep. Eliot Engel (D-NY), chairman of the House Foreign Relations Committee, condemning the administration's efforts to frame the Ukraine disaster as a triumph.
There would be no reporters — "enemies of the president" — at 1600 Pennsylvania Avenue if it was up to him. — Newt Gingrich
"He has elements, I'm sure, of honor in his life. And there's things that I think are not honorable. And I mention that because of the payment to a porn star for sexual relations outside of marriage. Look, I'm one of those who believes that we have a responsibility to be honorable and faithful to our wives." — Sen. Mitt Romney.
"I'm making a big difference for the country. So whether I lost $2 billion, $5 billion, more or less, it doesn't make any difference to me. I don't care. If you're rich, it doesn't matter. I'm doing this for the country." — Trump repeating his claim that he had lost billions of dollars by becoming president — an assertion that neither the White House nor the Trump Organization has provided evidence for — and asserted that holding the G-7 event at Doral would have saved the country money because it would have been "free."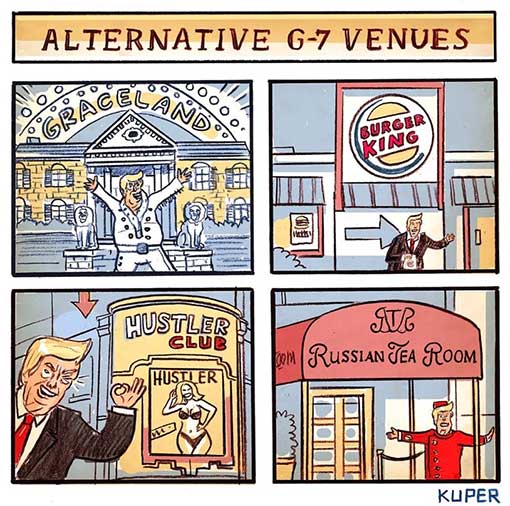 "The president's frustrated. If you had to go through the three years that the president has lived through I think that just is an example of the frustration that the president feels. Remember this all started even before he got elected. This all started on July 31, 2016, when Jim Comey opened the investigation." — Rep. Jim Jordan (R-OH) defending Trump comparing impeachment to lynching.
"He may or may not have early-stage dementia, but he definitely has early-stage fascism . . . This guy has the self-esteem of a small pigeon." #VFSummit — Anthony Scaramucci about Donald Trump.
"He's a piece of shit." — Ambassador Rice on Lindsey Graham "While Trump's been president there hasn't even been a hint of scandal. Not a hint." — Mark Levin, on his radio show.
The Never Trumper Republicans, though on respirators with not many left, are in certain ways worse and more dangerous for our Country than the Do Nothing Democrats. Watch out for them, they are human scum! — Donald J. Trump@realDonaldTrump
Never Trumper Republican John Bellinger, represents Never Trumper Diplomat Bill Taylor (who I don't know), in testimony before Congress! Do Nothing Democrats allow Republicans Zero Representation, Zero due process, and Zero Transparency.....Does anybody think this is fair? Even though there was no quid pro quo, I'm sure they would like to try. Worse than the Dems! — Donald J. Trump@realDonaldTrump claiming that he doesn't know his own acting ambassador to Ukraine, who delivered devastating impeachment testimony against him.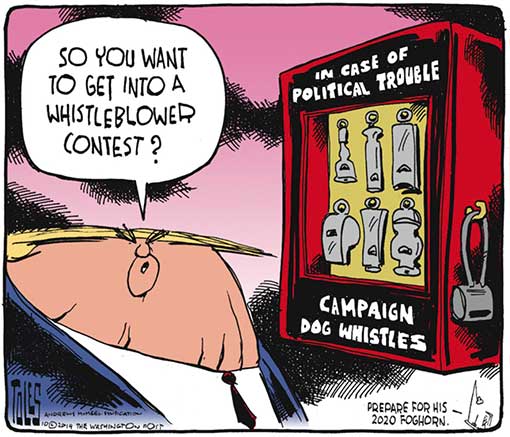 ---
IN THIS ISSUE
FYI
OPINION
1. Andy Borowitz: The Life-Changing Magic of Impeaching Trump
Over the past five years, millions of Americans have ascended to a higher plane of fulfillment by tidying up their homes. By talking to our possessions, one by one, and asking if they spark joy, we have achieved a kind of contentment we never dreamed possible.

Now it's time to tidy up a residence that belongs to all of us: the White House.

At first, this seems like a daunting task. After all, the White House has a hundred and thirty-two rooms.

But there's no reason to despair. Many useless things have already been hauled away. Reince Priebus, John Kelly, Steve Bannon, Kirstjen Nielsen, Michael Flynn, John Bolton, Sean Spicer, Hope Hicks, Sarah Huckabee Sanders—none of them sparked joy. And now they are all gone. And Anthony Scaramucci, who sparked joy as briefly as those paisley pants you immediately regretted buying at H&M—he is gone, too.

Clearly, though, more culling remains to be done.

We must look at Donald Trump and ask ourselves, "Does this spark joy?" And, although the answer to that question might be somewhat different in Russia, North Korea, and Turkey, the answer here is a resounding no.

Remember how, once you tidied up your dwelling, you discovered hidden treasures buried under all of those needless possessions? Well, once that garish orange thing that sparks no joy has been removed from the Oval Office, you'll be amazed what you'll find underneath. Things you forgot you even had, like democracy. https://www.newyorker.com/humor/borowitz-report/

VIDEO at https://video.newyorker.com/watch/the-new-yorker-festival-andy-borowitz-the-life-changing-magic-of-impeaching-trump/
2. Pelosi's 'fact sheet' on Trump impeachment
Speaker Nancy Pelosi's office on Monday released a "fact sheet" detailing allegations against President Trump amid House Democrats' ongoing impeachment inquiry.
Read the full document provided by Pelosi's office at https://thehill.com/homenews/house/466755-read-pelosis-fact-sheet-on-trump-impeachment
3. Putin and Hungary's Orban helped sour Trump on Ukraine
President Trump's effort to pressure Ukraine for information he could use against political rivals came as he was being urged to adopt a hostile view of that country by its regional adversaries, including Russian President Vladi­mir Putin, current and former U.S. officials said.
Trump's conversations with Putin, Hungarian Prime Minister Viktor Orban and others reinforced his perception of Ukraine as a hopelessly corrupt country — one that Trump now also appears to believe sought to undermine him in the 2016 U.S. election, the officials said.
Neither of those foreign leaders specifically encouraged Trump to see Ukraine as a potential source of damaging information about Democratic presidential candidate Joe Biden, nor did they describe Kyiv as complicit in an unsubstantiated 2016 election conspiracy theory, officials said.
But their disparaging depictions of Ukraine reinforced Trump's perceptions of the country and fed a dysfunctional dynamic in which White House officials struggled to persuade Trump to support the fledgling government in Kyiv instead of exploiting it for political purposes, officials said.
U.S. officials emphasized that while Putin and Orban denigrated Ukraine, Trump's decision to seek damaging material on Biden was more directly driven by Trump's own impulses and Kyiv conspiracy theories promoted by his attorney Rudolph W. Giuliani. https://www.washingtonpost.com/national-security/putin-and-hungarys-orban-helped-sour-trump-on-ukraine/2019/10/21/a0af1e9c-f40b-11e9-ad8b-85e2aa00b5ce_story.html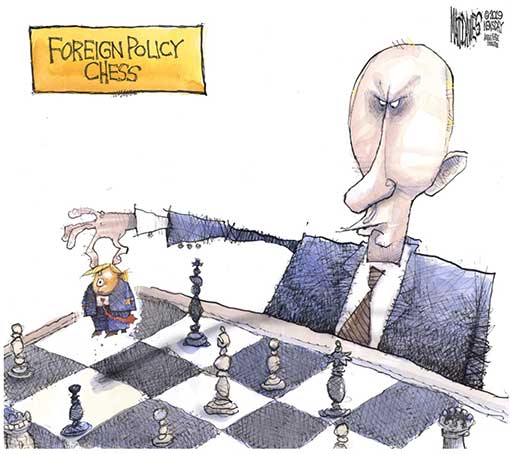 4. Facebook: Russian trolls are back. And they're here to meddle with 2020
People linked to the Internet Research Agency, the Kremlin-backed troll group indicted by the United States for its alleged interference in the 2016 US presidential election, are laying the groundwork to do the same in 2020, new information released by Facebook on Monday suggests.
Profiles originating in Russia had since the beginning of this year been building a network of accounts on Instagram designed to look like groups in swing states, the company said.
Although the accounts posed as Americans from all sides of the political spectrum, many were united in their opposition to the candidacy of former Vice President Joe Biden, according to Graphika, a social media investigations company that Facebook asked to analyze the accounts. https://www.cnn.com/2019/10/21/tech/russia-instagram-accounts-2020-election/index.html
5. AG Barr expands mysterious review into origin of Russia investigation
A review launched by Attorney General William Barr into the origins of the Russia investigation has expanded significantly amid concerns about whether the probe has any legal or factual basis, multiple current and former officials told NBC News.
Greg Brower, former assistant FBI director for congressional affairs and a former U.S. Attorney, said it's not normal for a U.S. Attorney to conduct an investigation without an FBI referral of criminal allegations. That's the role of inspector generals, he said.
"It's unusual to the point that it looks to be political and it's a bad thing for DOJ to appear to be doing something for political reasons," Brower said, adding that it appears that "for political purposes, the White House wants to be able to say through the election cycle that all of this is being investigated." https://www.nbcnews.com/politics/justice-department/ag-barr-expands-controversial-review-origin-russia-investigation-n1068971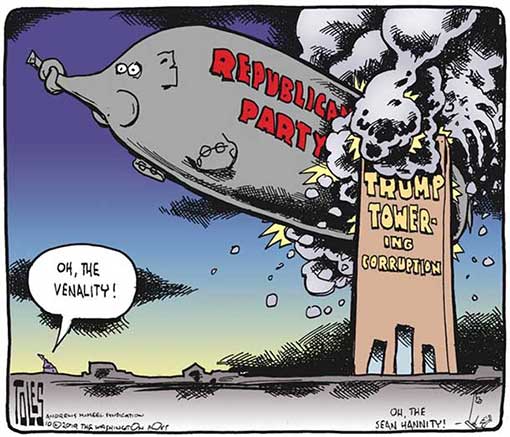 6. Things Aren't Getting Better for 2020's Most Vulnerable Senate Republicans
The most vulnerable Republican senators are not improving their standing in their home states ahead of a tough 2020 election cycle, while the field of potential Democratic challengers took shape and began to flex its muscle.
According to Morning Consult's latest quarterly Senator Approval Rankings based on nearly 534,000 responses from registered voters collected July 1 through Sept. 30, Republicans representing Colorado, Arizona, North Carolina, Maine and Iowa all saw their net approval — the share of voters who approve of a senator's job performance minus the share who disapprove — decline between the second and third quarters of 2019. https://morningconsult.com/2019/10/17/things-arent-getting-better-for-2020s-most-vulnerable-senate-republicans/
7. The DAILY GRILL
A trio of Democratic senators asked the White House for information to justify what they called its "outrageous" decision to have the next G-7 summit held at President Donald Trump's Miami golf resort. -- CNBC

VERSUS

Picking Trump National Doral Miami "may seem careless politically, but on the other hand there's tremendous integrity in his boldness and his transparency."-- Sen. Kevin Cramer, R-N.D.

 

America doesn't need to worry about terrorists who are "7,000 miles away." — Donald Trump downplaying the threat posed by the Islamic State fighters who have reportedly escaped since he abandoned the Kurds.

VERSUS

The terrorists who killed nearly 3,000 Americans on Sept. 11, 2001, came from 7,000 miles away." Rep. Liz Cheney (R-Wyo.), the House Republican Conference chair,

 

In 2018, Canada spent roughly 11 percent of its GDP on health care. Under its single-payer insurance model, that investment was enough to provide every Canadian with premium, free access to the world's 14th-highest-performing health-care system. -- Eric Levitz

VERSUS

That same year, the United States spent 18 percent of its GDP on health care — which, under our system, was inadequate to provide any form of insurance to nearly 30 million Americans, nor to prevent 50 percent of our people from delaying or forgoing medical care due to affordability concerns. For these reasons, among others, America's exorbitant investment in its medical sector has bought us the world's 29th-ranked health-care system. That places the wealthiest country in human history just behind the Czech Republic on the small matter of caring for its ill. -- Eric Levitz

 

"When I took over, it was a mess. … One of our generals came in to see me and he said, 'Sir, we don't have ammunition.' I said, 'That's a terrible thing you just said.' He said, 'We don't have ammunition.' Now we have more ammunition than we've ever had." — Trump, in a news conference with Italian President Sergio Mattarella at the White House.

VERSUS

No military official has claimed that munitions, whether PGMs or for any other kind of weapon, were depleted. Finally, we note that Carter's comments from 2016 indicate that U.S. officials were working on rebuilding PGM stockpiles before Trump took office. -- The Washington Post

 

-- "As you know, you have designed and implemented your [impeachment] inquiry in a manner that violates fundamental fairness and constitutionally mandated due process. For example, you have denied the President the right to cross-examine witnesses, to call witnesses, to receive transcripts of testimony, to have access to evidence, to have counsel present, and many other basic rights guaranteed to all Americans." — White House counsel Pat Cipollone, in a letter to House Democratic leaders, Oct. 8, 2019

-- "Even Salem witch trials didn't use anonymous testimony. The accused had to be confronted by a witness willing to put their name and reputation behind the charges and then had to be available for cross examination. Ah, the Soviet Union had trials with anonymous, unnamed witnesses. Welcome to McCarthy II." — Rudolph W. Giuliani, personal attorney to President Trump, in a pair of tweets, Oct. 8, 2019

VERSUS

It is grossly misleading to say Trump is unable to call or cross-examine witnesses, or have counsel present, in the House impeachment inquiry. The Constitution says the Senate holds impeachment trials. The House, on the other hand, acts as the prosecutor. The founders thought about it, and that's how they split their roles. Especially bonkers is Giuliani's comparison to the Salem witch trials and McCarthyism. But it should not go unnoticed that the White House counsel's letter, though more sober in tone, makes the unfounded claim that House Democrats are violating Trump's "constitutionally mandated due process" rights. The Supreme Court ruled in 1993 that impeachment proceedings are different from those in the criminal justice system and that judges could not referee impeachment questions. These claims are worth Four Pinocchios. -- Washington Post

 

"Why is it that every family goes into politics and enriches themselves? … We stopped doing deals when my father … went into politics. All these kids, they started doing deals when their family went into politics. And it's sickening." — Eric Trump, attacking the Bidens for the two qualities most closely associated with is father: arrogance and dishonesty.

VERSUS

"Eric Trump's claim that 'we got out of all international business' is clearly and demonstrably false," said Noah Bookbinder, executive director of Citizens for Responsibility and Ethics in Washington, a nonprofit government watchdog that tracksTrump's conflicts of interest. "Both Eric Trump and Donald Trump Jr. have repeatedly traveled internationally to conduct business." In September, a local council in Scotland voted to let the company build 550 homes and a second golf course as an expansion of a Trump-owned golf course in the area. Eric Trump described the construction as "a new phase of development" in a celebratory tweet -- Politifact

 

-- So some day, if a Democrat becomes President and the Republicans win the House, even by a tiny margin, they can impeach the President, without due process or fairness or any legal rights. All Republicans must remember what they are witnessing here - a lynching. But we will WIN !-- Donald J. Trump@realDonaldTrump

-- '"So yeah, this is a lynching in every sense. This is un-American. I've never seen a situation in my lifetime as a lawyer where somebody's accused of major misconduct who cannot confront the accuser, call witnesses on their behalf and have the discussion in the light of day so the public can judge." — Sen. Lindsey O. Graham

VERSUS

-- You think this impeachment is a LYNCHING? What the hell is wrong with you? Do you know how many people who look like me have been lynched, since the inception of this country, by people who look like you. Delete this tweet. -- Bobby L. Rush@RepBobbyRush

-- '@realDonaldTrump and @LindseyGrahamSC this is a lynching. (IMAGE) Trump this is not happening to you and it's pathetic that you act like you're such a victim; but it did happen to 147 black people in your state Lindsey. "A lynching in every sense"? You should know better. — Michael Steele @MichaelSteele

-- '"You are comparing a constitutional process to the PREVALENT and SYSTEMATIC brutal torture of people in THIS COUNTRY that looked like me?" -- Rep. Karen Bass (D-CA), chairwoman of the Congressional Black Caucus.
8. Impeachment inquiry shows Trump at the center of Ukraine efforts against rivals
Over two weeks of closed-door testimony, a clear portrait has emerged of a president personally orchestrating the effort to pressure a foreign government to dig up dirt on a potential 2020 political rival — and marshaling the full resources of the federal bureaucracy to help in that endeavor.
On Thursday, acting White House chief of staff Mick Mulvaney waded further into the morass, saying during a rare news conference that he understood Trump to be asking for a quid pro quo with his Ukrainian counterpart — only to attempt to retract those comments in a bellicose statement six hours later.
"We do — we do that all the time with foreign policy," Mulvaney said when asked about a quid pro quo during the news conference, adding moments later: "And I have news for everybody: Get over it. There's going to be political influence in foreign policy."
Contrary to weeks of denials from the president and his defenders, a growing body of evidence makes clear it was Trump himself who repeatedly pushed his own government and a foreign power to intervene in domestic political concerns, enlisting and ensnaring a growing number of administration officials in a way that increasingly made even some members of his own team uncomfortable. https://www.washingtonpost.com/politics/impeachment-inquiry-shows-trump-at-the-center-of-ukraine-efforts-against-rivals/2019/10/17/e99235f0-f0ea-11e9-b648-76bcf86eb67e_story.html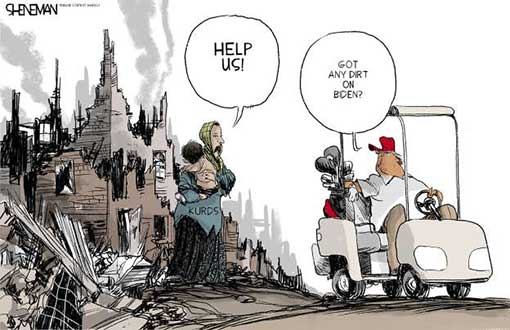 9. From MEDIA MATTERS (They watch Fox News so you don't have to)
Media coverage of Trump's attacks on Somali refugees shows that his racist incitement has become normalized. https://www.mediamatters.org/immigration/media-coverage-trumps-attacks-somali-refugees-shows-his-racist-incitement-has-become

Right-wing media tries to smear former Ukraine ambassador Marie Yovanovitch. Despite grave Judicial Watch allegations about a "surveillance" campaign from right-wing figures, the facts so far point to mere tracking of a pro-Trump disinformation campaign. https://www.mediamatters.org/judicial-watch/right-wing-media-tries-smear-former-ukraine-ambassador-marie-yovanovitch

Fox News helps Eric Trump lie about how Trump's adult children profit off the presidency. https://www.mediamatters.org/eric-trump/fox-news-helps-eric-trump-lie-about-how-trumps-adult-children-profit-presidency

After White House chief of staff Mick admitted that President Donald Trump engaged in a quid pro quo with Ukraine -- a claim the White House and his defenders have denied for weeks -- Fox News is insisting that Mulvaney misspoke and is incorrect, that he is simply being misinterpreted, or that what he said was fine and Trump did nothing wrong. https://www.mediamatters.org/trump-impeachment-inquiry/fox-news-defends-trump-after-mick-mulvaney-admits-quid-pro-quo-ukraine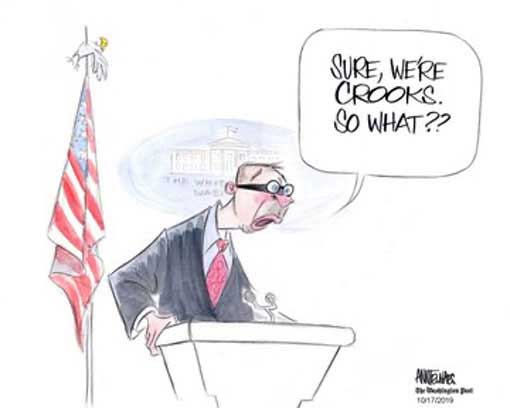 10. From the Late Shows
The Late Show with Stephen Colbert: Colbert Gets A Surprise Visit From Rudy Giuliani: https://youtu.be/zcAVs7S4hAY

Late Night with Seth Meyers: Trump Lashes Out After G7 Controversy, Mulvaney's Ukraine Confession: A Closer Look: https://youtu.be/_yB-dahkbPA
11. The revenge of the State Department
They've been derided as a "deep state," slurred as "Obama holdovers," threatened with draconian budget cuts and told President Donald Trump doesn't even need them.
Now, America's diplomats are taking their revenge.
In recent days, current and former foreign service officers have defied Trump administration orders and trudged to Capitol Hill to testify before House committees conducting an impeachment investigation against the president. Colleagues inside the State Department and their allies in the broader foreign policy community are quietly hailing them as heroes, with special praise for those testifying despite still being on the government payroll. https://www.politico.com/news/2019/10/20/state-department-trump-051564
12. Commies Versus the Klan? Democrats and Republicans Have a Dim View of Each Other
The latest edition of the American Values Survey from the Public Religion Research Institute shows pretty clearly that partisans subscribe to extremist characterizations of what makes the other side tick. Putting aside whether these are true (we'll return to that topic later), it's amazing how little Democrats have in common with Republicans, and vice versa, in how they view the other party.
The survey asks whether the Democratic Party is "trying to make capitalism work for the average American" or "has been taken over by socialists." Self-identified Democrats agree with the former description over the latter by an 83-15 margin, but self-identified Republicans agree with the latter over the former by an 82-17 margin. This probably isn't just a vestige of the era of Bernie Sanders and Alexandria Ocasio-Cortez, by the way; you may recall there was a serious effort ten years ago to get the Republican National Committee to constantly refer to the Donkey Party as the "Democrat Socialist Party" shortly after the centrist Barack Obama took office.
Meanwhile, the PRRI survey asked if the GOP is "trying to protect the American way of life against outside threats" or "had been taken over by racists." Republicans chose the former characterization by a 94-5 margin, while Democrats chose the latter by an 80-17 margin. http://nymag.com/intelligencer/2019/10/commies-versus-klan-dems-and-gops-dim-views-of-each-other.html
13. Take the Quiz: Can You Tell Hannity's 'Questions' From Trump's 'Answers'?
On Monday night, President Trump gave an interview to Fox News personality Sean Hannity. Or did Hannity give the interview to Fox News personality Donald Trump? Take the quiz to guess which of the following was a Hannity "question" and which was a Trump "answer." http://nymag.com/intelligencer/2019/10/trump-hannity-quiz-can-you-tell-questions-from-answers.html
14. Ukrainian leader felt Trump pressure before taking office
More than two months before the phone call that launched the impeachment inquiry into President Donald Trump, Ukraine's newly elected leader was already worried about pressure from the U.S. president to investigate his Democratic rival Joe Biden.
Volodymyr Zelenskiy gathered a small group of advisers on May 7 in Kyiv for a meeting that was supposed to be about his nation's energy needs. Instead, the group spent most of the three-hour discussion talking about how to navigate the insistence from Trump and his personal lawyer, Rudy Giuliani, for a probe and how to avoid becoming entangled in the American elections, according to three people familiar with the details of the meeting. https://apnews.com/b048901b635f423db49a10046daaf8a8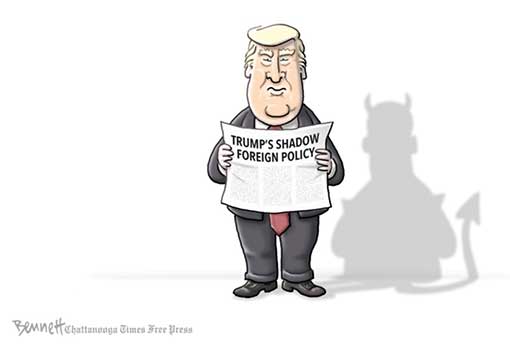 15. In court hearing, Trump lawyer argues a sitting president would be immune from prosecution even if he were to shoot someone
President Trump's private attorney William S. Consovoy said Wednesday that the president could not be investigated or prosecuted as long as he is in the White House, even for shooting someone in the middle of Fifth Avenue.
Judge Denny Chin pressed Consovoy about the hypothetical shooting in the middle of Manhattan.
"Local authorities couldn't investigate? They couldn't do anything about it?" he asked, adding, "Nothing could be done? That is your position?"
"That is correct," Consovoy answered emphasizing that the immunity applied only while Trump is in office. https://www.washingtonpost.com/local/legal-issues/ny-based-appeals-court-to-decide-whether-manhattan-da-can-get-trumps-tax-returns/2019/10/22/8c491346-ef6e-11e9-8693-f487e46784aa_story.html
16. The Investigation Into Rudy Giuliani's Associates Has Widened
A federal grand jury investigating activities surrounding Rudy Giuliani's back-channel campaign in Ukraine has demanded legal documents that include records of extravagant spending at Trump hotels and millions of dollars in financial transfers by Lev Parnas and Igor Fruman, two key operatives who carried out the plan, according to a source familiar with the demand.
The documents requested by a subpoena that was issued in Florida last week could shed light on whether other people, including foreign nationals, were trying to influence the top levels of government and impact the 2020 presidential campaign. https://www.buzzfeednews.com/article/mikesallah/federal-investigators-are-probing-suspicious-financial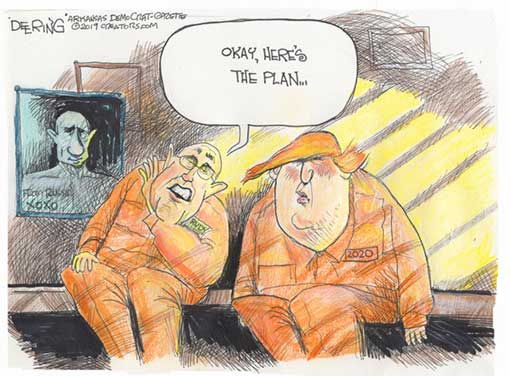 17. Dick's Sporting Goods CEO quietly tests presidential bid
Ed Stack, the CEO of Dick's Sporting Goods and a longtime Republican donor, is testing the waters for a possible third-party presidential bid that could scramble the dynamics of the 2020 general election.
The prospect of a well-funded, third-party candidate could have a significant impact in a race where Trump is expected to be unable to win a majority of the popular vote. In 2016, Trump won just 46 percent against Hillary Clinton and has consistently scored below 50 percent in national polls. where Trump is expected to be unable to win a majority of the vote. https://www.politico.com/news/2019/10/23/dicks-sporting-goods-ceo-presidential-run-055565
1. Jonathan Bernstein: Does Trump Realize the Trouble He's In?
Wednesday, the 1,000th day of Donald Trump's presidency, went badly. That's no surprise; most of the first 999 days went badly too. I have no idea if he's going to wind up getting ousted from office, either as a result of the impeachment House Democrats are readying or the 2020 election. But things are getting worse for Trump — whether he realizes it or not.
Every once in a while, some event offers a clarifying reminder of the president's poor judgment. On Wednesday, it was the release of a letter Trump wrote to Turkish President Recep Tayyip Erdogan. The letter itself was an embarrassment, in which Trump, soon after telling Erdogan on the phone that U.S. forces would move out of his way to enable Turkey's invasion of Syria, tried to walk things back. Sort of. As Henry Farrell and Abraham Newman put it at the Monkey Cage, the president opted for "threatening rhetoric reminiscent of a Mafia boss" to "make loud threats that he may not be able to deliver on." As soon as the letter was published, professional diplomats and historians said they had never seen something so amateurish from a U.S. president.
But what really underlined Trump's problem for me wasn't that he wrote an incompetent letter to follow up on what seems to have been an incompetent phone call. Or that his Syria policy, as my Bloomberg Opinion colleague Eli Lake notes, has resulted in chaos and death. Or that, on a crass political level, he's managed to alienate his congressional allies just as he needs them most, with House Republicans voting overwhelmingly on Wednesday to condemn his decision. 
 Every president has policy fiascoes at some point. Every president slumps in the polls. Every president makes hiring decisions that go wrong. But normal presidents, most of the time, recognize their errors — even if they don't admit them publicly — and work hard to improve things. Trump, to be blunt, doesn't. It's destroying his presidency, and damaging the nation. https://www.bloomberg.com/opinion/articles/2019-10-17/erdogan-letter-does-donald-trump-realize-the-trouble-he-s-in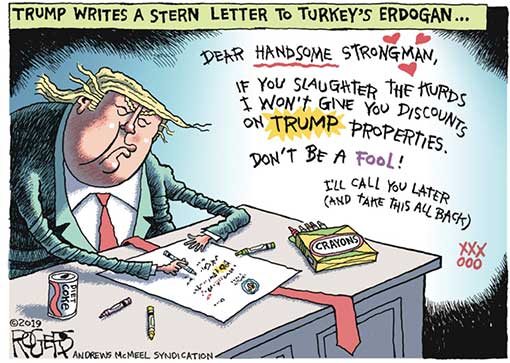 2. Dana Milbank: The day that irony died
It is my sad duty to report that, after a long and painful illness, irony is dead.
Irony was already on life support last week when Trump brothers Don Jr. and Eric, who owe everything they have to family money and favoritism, spoke out against nepotism — in the Biden family.
Surrounded by loving admirers, irony finally succumbed at 6:22 p.m. Monday, when Republicans attempted to force a vote in the House censuring Rep. Adam Schiff (D-CA), and claiming the leader of the impeachment inquiry "misled the American people."
So, after defending President Trump through 13,435 false or misleading statements as of last week (by The Post Fact Checker's tally), Republicans are now thoroughly outraged because they think somebody misrepresented something Trump said.
And so Rep. Andy Biggs (R-Ariz.), with the blessing of GOP leadership, the co-sponsorship of 172 Republicans and a sum total of zero self-awareness, read aloud on the House floor Monday evening a censure resolution saying Schiff "manufactured a false retelling of the conversation" between Trump and the Ukrainian president — an example of "conduct that misleads the American people in a way that is not befitting an elected member of the House." (Schiff said at the time it was a "parody" and was "in not so many words" what Trump actually said.) https://www.washingtonpost.com/opinions/2019/10/21/republicans-have-killed-irony/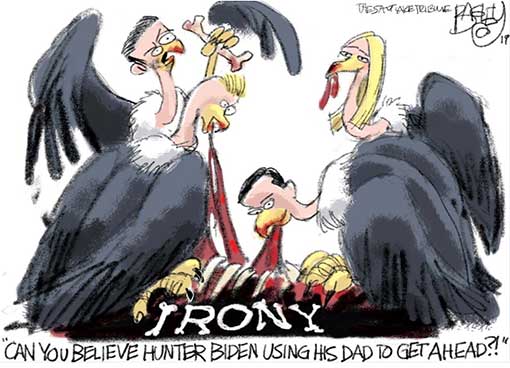 3. William D. Cohan: "There Is Definite Hanky-Panky Going On": The Fantastically Profitable Mystery Of The Trump Chaos Trades
Traders in the Chicago pits have been watching these kinds of wagers with an increasing mixture of shock and awe since the start of the Trump presidency. They are used to rapid fluctuations in the S&P 500 index; volatility is common, of course. But the precision and timing of these trades, and the vast amount of money being made as a result of them, make the traders wonder if all this is on the level."
Are the people behind these trades incredibly lucky, or do they have access to information that other people don't have about, say, Trump's or Beijing's latest thinking on the trade war or any other of a number of ways that Trump is able to move the markets through his tweeting or slips of the tongue? Essentially, do they have inside information?
There is no way for another trader, let alone an outsider such as me, to know who is making these trades. But regulators know or can find out. One longtime CME trader who has been watching with disgust says he's never seen anything quite like these trades, not at least since al-Qaida cashed in before initiating the September 11 attacks. "There is definite hanky-panky going on, to the world's financial markets' detriment," he says. "This is abysmal."
Federal regulators might start here: In the last 10 minutes of trading on Friday, August 23, as the markets were roiling in the face of more bad trade news, someone bought 386,000 September e-minis. Three days later, Trump lied about getting a call from China to restart the trade talks, and the S&P 500 index shot up nearly 80 points. The potential profit on the trade was more than $1.5 billion. https://www.vanityfair.com/news/2019/10/the-mystery-of-the-trump-chaos-trades
4. Adam K. Raymond: World's Least Self Aware Person, Donald Trump Jr., Attacks Bidens for Nepotism
President Trump's two sons, Donald Jr. and Eric, who were born into wealth and work at a company their grandfather founded, have spent the last few weeks contending for the title of World's Least Self-Aware Person.
First, one of them goes on TV or Twitter and attacks Hunter Biden for trading on his father's name, brushing aside their own histories of doing the same. Then the other one goes on TV or Twitter and wags their finger at Joe Biden allowing his son to profit off his name, never mentioning that their sister and brother-in-law are senior White House officials whose companies are raking in cash as they help craft U.S. policy. With each appearance, the irony and sanctimony are ratcheted up.
The brotherly competition reached its apex Wednesday night when Don Jr., who became an executive vice-president at his father's company at the age of 23, appeared on Sean Hannity's Fox News show and said this: "When you're the father and your son's entire career is dependent on that, they own you."
Don Jr. won. He is the World's Least Self-Aware Person — a man who shares his name with the president and routinely profits off his father's position in the White House is criticizing someone else for being "dependent" on his father. Where would Donald Trump Jr. be if his name was not Donald Trump Jr.? Probably not on TV. Not giving $50,000 speeches. And certainly not anywhere close to the White House. http://nymag.com/intelligencer/2019/10/donald-trump-jr-attacks-hunter-and-joe-biden-for-nepotism.html
5. Tony Schwartz: Why Trump can't change, no matter what the consequences are
In April 2016, on the verge of securing the Republican nomination for president, Donald Trump announced that his "campaign is evolving and transitioning, and so am I." At a rally around the same time, he told supporters that "at some point, I'm going to be so presidential that you people will be so bored," but "I just don't know that I wanted to do it quite yet." 
When Trump was elected, some critics held out hope that he would grow in office, as other presidents have. No one believes that's possible anymore. After Mick Mulvaney took over as Trump's third chief of staff last December, he let it be known that his approach would be to "let Trump be Trump." Mulvaney was simply succumbing to reality. As Trump himself has said, he is essentially the same person today that he was at age 7. He has his story, and he's sticking to it.
Growth and development are about seeing more. The wider, deeper and longer our perspective, the more variables we can consider — and the more capable we become. Likewise, the more responsibility we take for our behaviors, and the less we blame others for our shortcomings, the more power we have to influence our destiny. 
None of this is possible for Trump. https://www.washingtonpost.com/outlook/why-trump-cant-change-no-matter-what-the-consequences-are/2019/10/18/cf502cf6-f117-11e9-89eb-ec56cd414732_story.html
7. Josh Kraushaar: Red Flags All Over for Senate Republicans
Buried in the Washington drama of impeachment, corruption, and foreign policy chaos this past week was a ground-shaking bit of news: New polling and fundraising figures show that Mitch McConnell's hold on the Senate majority is looking awfully precarious. Indeed, the pathway for a narrow Democratic takeover of the upper chamber is looking clearer than ever.
Here's the big picture: If Trump doesn't win a second term, Democrats need to net only three seats to win back the majority. Assuming they can't hang onto Sen. Doug Jones' seat in ruby-red Alabama (but hold Sen. Gary Peters' seat in traditionally blue Michigan), the magic number is four. And when you add Sen. Cory Gardner's tough race in Colorado to the toss-up list, they've got five promising opportunities to defeat Republican senators.
In a normal political environment, Republicans would have good reason to be confident they could win some of these hotly contested races. But given the trajectory of Trump's presidency and the trend lines in the battlegrounds, Republicans don't have much room for error. Right now, control of the Senate past 2020 looks awfully close to a toss-up with over a year until the election. https://www.nationaljournal.com/s/682314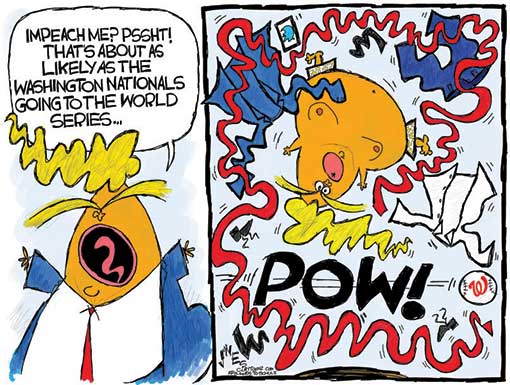 8. Robin Wright: Turkey, Syria, the Kurds, and Trump's Abandonment of Foreign Policy
Much of the world watched aghast, last week, as President Donald Trump shattered any notion of an informed or sane U.S. foreign policy. He paved the way for President Recep Tayyip Erdoğan, of Turkey, to invade Syria, abandoning America's Kurdish partners in the Syrian Democratic Forces, who had eliminated the Islamic State's caliphate in March, after five years of gruelling warfare. (The S.D.F. lost eleven thousand soldiers; the U.S. lost six.) Erdoğan views Kurds—the world's largest ethnic group without a state—as terrorists, because of a Kurdish separatist campaign in Turkey. After a phone call with Erdoğan, Trump ordered the withdrawal of a thousand U.S. Special Forces soldiers, who had been backing the S.D.F., even though isis sleeper cells are still waging an insurgency in Syria and Iraq. The retreat was so abrupt that the U.S. had to bomb a depot full of arms that it didn't have time to remove.
Trump's ignorance of the world has never been so blatant—or produced such bipartisan opposition. The House of Representatives voted 354–60 to condemn the pullout. On the Senate floor, Mitt Romney, Republican of Utah, rebuked the President for leaving "a bloodstain on the annals of American history." Yet Trump seemed delighted with his decision to let the Turks and the Kurds—both U.S. allies—fight it out. "It was unconventional, what I did," he told the crowd at a campaign rally in Dallas, on Thursday. "Sometimes you have to let them fight like two kids. Then you pull them apart."
Trump and Erdoğan share a crude egotism and a paranoia about deep states trying to undo them, but Erdoğan deftly gamed Trump. On October 9th, Trump sent a remarkably puerile letter to the Turkish leader, warning him not to go too far. History, he wrote, "will look upon you forever as the devil if good things don't happen." He added, "Don't be a fool!" Erdoğan reportedly tossed the letter into the trash. The same day, he launched Operation Peace Spring, to destroy the S.D.F. https://www.newyorker.com/magazine/2019/10/28/turkey-syria-the-kurds-and-trumps-abandonment-of-foreign-policy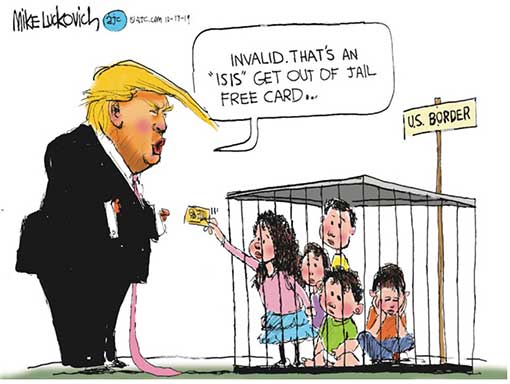 9. Jonathan Chait: Why Congress Might Impeach Trump and Actually Remove Him From Office
To be sure, throwing out Trump entails a lot of risk. To date, Republicans have taken the safer course of sticking with him despite all his counterproductively repellent behavior. To outsiders, their alliance with Trump appears immutable. But on the inside, the picture may be more fluid. The Republican Establishment took great comfort in the presence of John Kelly, James Mattis, H. R. McMaster, and other staid figures who quietly assured official Washington they could restrain the president's destructive impulses. Their departure has given Trump a freer hand to seize the powers of his office and act out in ways that evade any means of control.
The Syria debacle is genuinely alarming to the party, because it
shows Trump unleashing a strategic catastrophe, leading to thousands of escaped terrorists, through a simple phone call the implications of which he seems not to have understood. The up-front costs of ripping off the Band-Aid and removing Trump might seem less risky than allowing another year of a completely unconstrained toddler president.
In Casino, the bosses accepted a lot of erratic and risky behavior from Nicky Santoro because he was ultimately a useful ally. They didn't care that he was a violent criminal — they were violent criminals, too. But they eventually decided that his flamboyant and uncontrollable behavior put their whole racket at risk. And when their calculation of his value tipped from acceptable risk to unacceptable risk, the end came swiftly and unexpectedly. http://nymag.com/intelligencer/2019/10/congress-impeach-trump-actually-remove-him.html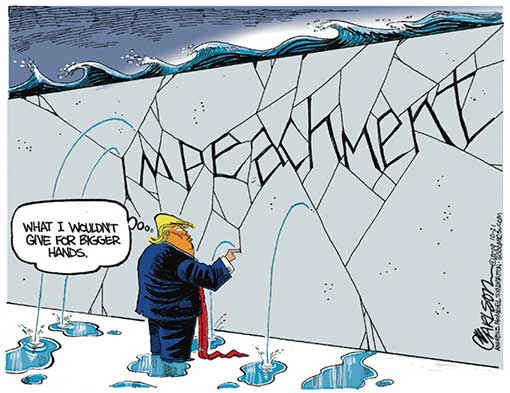 10. Peter Nicholas: The Unraveling of Donald Trump
The country is entering a new and precarious phase, in which the central question about President Donald Trump is not whether he is coming unstrung, but rather just how unstrung he is going to get.
The boiling mind of Trump has spawned a cottage industry for cognitive experts who have questioned whether he is, well, all there. But as the impeachment inquiry barrels ahead on Capitol Hill, several associates of the president, including former White House aides, worry that his behavior is likely to get worse. Angered by the proceedings, unencumbered by aides willing to question his judgment, and more and more isolated in the West Wing, Trump is apt to lash out more at enemies imagined and real, these people told me. Conduct that has long been unsettling figures to deteriorate as Trump comes under mounting stress. What unfolded Wednesday inside the West Wing's walls might be only a foretaste of what House Speaker Nancy Pelosi described that day, after a meeting with Trump, as a presidential "meltdown."
"He's grown more comfortable in the job and less willing to assimilate new information and trust new advisers," a former White House official told me. "He's decided to throw caution to the wind and go it alone, especially when he's stressed and feels under attack and threatened in various ways. Then his worst impulses and vices shine through." https://www.theatlantic.com/politics/archive/2019/10/trump-impeachment-mental-health/600292/
11. Stephen Collinson: The guardrails are off the Trump presidency
That apt mission doctrine for a presidency blazing with abuses of power, conflicts of interest and unhinged behavior is the work of White House acting chief of staff Mick Mulvaney, whose barn burner of a briefing on a day of political train wrecks, staggering misdirection and reality bending sent a clear message."
"Democrats can impeach President Donald Trump, Republicans can bemoan his betrayal of the Kurds and the media can fact-check him till the cows come home — but nothing is going to restrain or moderate him. In fact, he's becoming ever more incorrigible."
The President's brazen willingness to do exactly what he wants — key to his appeal to voters angry with the political establishment in 2016 — shone through a wild few hours that briefly stole the spotlight from the Democratic impeachment inquiry." https://www.theatlantic.com/politics/archive/2019/10/trump-impeachment-mental-health/600292/
12. John Bowden: Ex-special ops commander: 'Our republic is under attack from the president'
Retired Adm. William McRaven argued in an op-ed Thursday that President Trump is "destroying" the United States, warning that the future of the country is "in peril" if Trump is not removed from office.
McRaven, former commander of U.S. Special Operations, wrote an op-ed for The New York Times, "Our Republic Is Under Attack From the President." In it, he argues that Trump is launching "assaults" on various U.S. institutions: "on the intelligence and law enforcement community, the State Department and the press."
"They have seen our leaders stand beside despots and strongmen, preferring their government narrative to our own. They have seen us abandon our allies and have heard the shouts of betrayal from the battlefield," McRaven said of veterans who attended an Office of
"If our promises are meaningless, how will our allies ever trust us? If we can't have faith in our nation's principles, why would the men and women of this nation join the military? And if they don't join, who will protect us?" he wrote. https://thehill.com/policy/defense/466369-former-special-ops-commander-our-republic-is-under-attack-from-the-president
13. Jonathan Chait: Trump Writes Unhinged 'Legal' Letter Demanding That CNN Pay Him Money
This week, right-wing hoaxster James O'Keefe launched the latest of his series of secretly recorded videos, which purport to prove various conservative conspiracy theories but fail. The new version involves a CNN contractor recording employees grumbling about various complaints about the network, none of which establish the plot O'Keefe set out to prove, and some of which suggest the opposite (an employee complains that CNN covers Trump rallies but not Biden ones, which are too boring).
Even some of the conservative movement's dimmest stars came away unimpressed. The project nonetheless seems to have left an impression on Donald Trump, a devoted follower and purveyor of nearly all the right's conspiracy theories, a fanatical devotee of cable news, and, incidentally, the president of the United States. Trump has directed his lawyer to threaten a lawsuit against CNN on the basis of O'Keefe's flimsy video.
The letter claims that O'Keefe has personally disproven CNN's claim to be a news network dedicated to reporting facts. "In the Footage, your employees appear to state that CNN attempts to make its reporting appear neutral and unbiased, when in fact its reporting is far from neutral and highly biased against the President." The letter then moves on to its true complaint, stating (without any evidence whatsoever), "Never in the history of this country has a President been the subject of such a sustained barrage of unfair, unfounded, unethical and unlawful attacks by so-called 'mainstream' news, as the current situation."
Continuing from this extremely shaky factual foundation, Trump's letter proceeds to a ludicrous legal argument: CNN has violated the Lanham Act, which controls truth in advertising. Therefore, by claiming to be a real news network while subjecting Trump to hours of critical coverage, it has misrepresented itself. For some reason Trump claims he is personally entitled to financial compensation from CNN as a result. Trump plans to "seek compensatory damages, treble damages, punitive damages, injunctive relief, reimbursement of legal costs, and all other available legal and equitable remedies."
Trump's business career shows a long history of threatening absurd lawsuits for the purpose of intimidation. At times he has succeeded in bullying his targets into backing down. Usually, he fails to follow through on his threats. Even if Trump does follow through and file a lawsuit, it would be laughed out of any court — even one stocked entirely with Trump appointees.
However, Trump's impulse here should not be merely dismissed as another ineffectual tantrum from the toddler president. The effort to intimidate news organizations he cannot control directly is a persistent theme of his presidency. Trump has used his powers as president to punish independent media when the opportunity has presented itself. And as the cordon of professionals working to restrain him has disintegrated, the space between Trump's impulses and his official acts has collapsed. Just last week, the president formally endorsed, via a quasi-legal letter, his even more absurd position that Congress cannot legally impeach him.
Trump's authoritarian impulses frequently appear cartoonish because they are executed so clumsily, and based not in any fascist theory of government but in his literal failure to grasp separation of powers, popular sovereignty, and the rule of law as concepts. But to be an authoritarian clown is still to be an authoritarian. http://nymag.com/intelligencer/2019/10/trump-letter-cnn-project-veritas-first-amendment.html
14. Ron Chernow: Hamilton pushed for impeachment powers. Trump is what he had in mind.
Trump has described the impeachment proceedings as a "coup," and his White House counsel has termed them "unconstitutional." This would come as a surprise to Alexander Hamilton, who wrote not only the 11 essays in "The Federalist" outlining and defending the powers of the presidency, but also the two essays devoted to impeachment.
There seems little doubt, given his writings on the presidency, that Hamilton would have been aghast at Trump's behavior and appalled by his invitation to foreign actors to meddle in our elections. As a result, he would most certainly have endorsed the current impeachment inquiry. It's not an exaggeration to say that Trump embodies Hamilton's worst fears about the kind of person who might someday head the government.
Among our founders, Hamilton's views count heavily because he was the foremost proponent of a robust presidency, yet he also harbored an abiding fear that a brazen demagogue could seize the office. That worry helps to explain why he analyzed impeachment in such detail: He viewed it as a crucial instrument to curb possible abuses arising from the enlarged powers he otherwise championed. https://www.washingtonpost.com/outlook/2019/10/18/hamilton-pushed-impeachment-powers-trump-is-what-he-had-mind/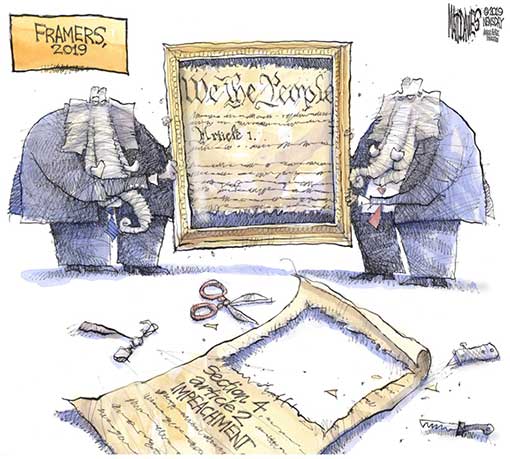 15. Robin Wright: Turkey, Syria, the Kurds, and Trump's Abandonment of Foreign Policy
Much of the world watched aghast, last week, as President Donald Trump shattered any notion of an informed or sane U.S. foreign policy. He paved the way for President Recep Tayyip Erdoğan, of Turkey, to invade Syria, abandoning America's Kurdish partners in the Syrian Democratic Forces, who had eliminated the Islamic State's caliphate in March, after five years of gruelling warfare. (The S.D.F. lost eleven thousand soldiers; the U.S. lost six.) Erdoğan views Kurds—the world's largest ethnic group without a state—as terrorists, because of a Kurdish separatist campaign in Turkey. After a phone call with Erdoğan, Trump ordered the withdrawal of a thousand U.S. Special Forces soldiers, who had been backing the S.D.F., even though isis sleeper cells are still waging an insurgency in Syria and Iraq. The retreat was so abrupt that the U.S. had to bomb a depot full of arms that it didn't have time to remove.
Trump's ignorance of the world has never been so blatant—or produced such bipartisan opposition. The House of Representatives voted 354–60 to condemn the pullout. On the Senate floor, Mitt Romney, Republican of Utah, rebuked the President for leaving "a bloodstain on the annals of American history." Yet Trump seemed delighted with his decision to let the Turks and the Kurds—both U.S. allies—fight it out. "It was unconventional, what I did," he told the crowd at a campaign rally in Dallas, on Thursday. "Sometimes you have to let them fight like two kids. Then you pull them apart."
Trump and Erdoğan share a crude egotism and a paranoia about deep states trying to undo them, but Erdoğan deftly gamed Trump. On October 9th, Trump sent a remarkably puerile letter to the Turkish leader, warning him not to go too far. History, he wrote, "will look upon you forever as the devil if good things don't happen." He added, "Don't be a fool!" Erdoğan reportedly tossed the letter into the trash. The same day, he launched Operation Peace Spring, to destroy the S.D.F. https://www.newyorker.com/magazine/2019/10/28/turkey-syria-the-kurds-and-trumps-abandonment-of-foreign-policy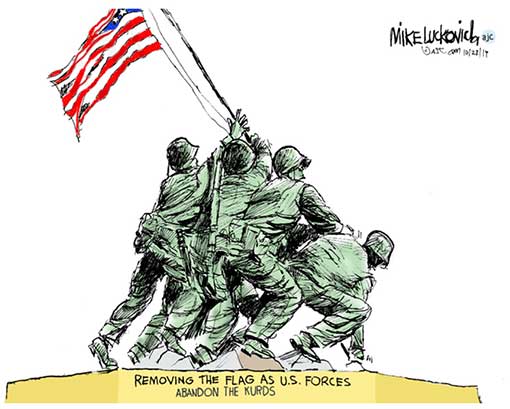 16. Chris Cillizza: How much more of Donald Trump can Republicans possibly take?
It's worth remembering that fact at this moment as congressional Republicans find themselves confronted with a cavalcade of troubling news stories about President Donald Trump and his conduct in office. Because while elected GOP officials have almost totally capitulated to Trump's hostile takeover of their party, there is always a point at which you simply cannot look even quasi-objectively at the actions of this president and conclude that standing behind him remains the right (or even defensible) thing to do.
The most damning development is, obviously, the Tuesday testimony of Bill Taylor, the top US diplomat in Ukraine. Taylor's opening statement to Congress makes clear -- beyond any reasonable doubt -- that there was a quid pro quo organized by the White House: Announce investigations into Trump's preferred subjects (Crowdstrike, the Bidens) and get the military aid money being withheld. https://www.cnn.com/2019/10/23/politics/donald-trump-taylor-ukraine-republicans/index.html
17. McKay Coppins: The Liberation of Mitt Romney
Romney understands, of course, that many of his Republican colleagues live in fear of being subjected to a presidential Twitter tirade. In fact, some believe that Trump's targeting of Romney is intended as a warning to other GOP lawmakers lest they step out of line. That fear is one of the reasons his caucus has attempted such elaborate rhetorical contortions to defend Trump as the House impeachment inquiry turns up damning evidence. "I think it's very natural for people to look at circumstances and see them in the light that's most amenable to their maintaining power," he told me in an interview last month at The Atlantic Festival.
Romney told me that he does not have an abstract definition of "high crimes and misdemeanors," and that when it comes to identifying impeachable acts, he follows Supreme Court Justice Potter Stewart's famous standard for defining hard-core porn: "I'll know it when I see it." Asked if he's seen it yet, Romney told me that he'll make up his mind once he hears all the evidence at the trial: "At this stage, I am strenuously avoiding trying to make any judgment."
In the meantime, Romney is leading the Republican revolt over the president's recent decision to pull troops out of northern Syria, leaving America's Kurdish allies behind. In a withering speech on the Senate floor last week, he condemned the administration's betrayal of the Kurds, and called for hearings on the matter. He told me that he wants to see a transcript of the phone call between Trump and Turkish President Recep Tayyip Erdoğan that preceded the troop withdrawal. "This is not just a disagreement on foreign policy," he said. "This is a violation of fundamental American honor."
Amid all the tumult, Romney has come to terms with the fact that there will be little progress on his legislative to-do list for the foreseeable future. (Between impeachment proceedings and next year's elections, who has time to pass laws?) Nor is Romney especially well positioned to launch a bid for the Republican presidential nomination, despite endless fantasizing by pundits. (He has said he's not planning to run again.) While his battles with the president have earned him plaudits from some in Utah—where support for Trump is uncommonly weak for a red state—he is widely viewed as a villain in MAGA world.
But Romney is looking beyond the next year, and beyond the president's base, as he tries to lay the groundwork for a post-Trump Republican Party. While he acknowledges the failures of his own presidential campaign, he told me that he doubts Trump's electoral coalition will be replicable in the long run. "We have to get young people and Hispanics and African Americans to vote Republican," he said, adding that he hopes these voters will see his resistance to Trump as a sign that one day they could find a home in the GOP. If that seems naive, the senator is probably okay with it. In cynical times like these, someone has to serve as the guardian of lost causes.
After all, Romney said, "the president will not be the president forever." https://www.theatlantic.com/politics/archive/2019/10/mitt-romney-middle-impeachment-fight/600373/
18. Jacob Bacharach:Trump's G7 scandal points to a better path for impeachment
The Democrats and much of the so-called National Security community have so far preferred to hang their impeachment efforts on this amateurish espionage by Trump's hilariously corrupt and inept circle of fund-bundlers, lawyers, and half-wit foreign operatives. But while I have no doubt that whatever it is he and his buddies were trying to do in Ukraine — if they even knew themselves — was just as criminal, unethical, immoral, and dumb as its expanding cast of hacks and hangers-on, I am not convinced it makes the best public case.
 
I do believe that he wanted in some inchoate way to use Doral to enrich himself, but I also think it was a secondary consideration to the fact that he really did believe it was the "best" place, that collection of over-fertilized lawns and bad restaurants under the rumbling skies of a nearby airport.
The plainness of the attempted crime, the gleeful "I-did-it" quality of Trump's original announcement via Twitter that he would award the giant G7 conference to himself, followed by the petulant incredulity that he would have to reverse himself, suggests that both he and the embarrassed sycophants who rushed to defend him before he threw them under the bus by abruptly reversing himself, had not considered — could not even imagine — that it would hurt him.
It is almost dismayingly ordinary, and it has been going on for his entire term now, the petty thievery of his Washington hotel, his daughter's chintzy brands, his sons', well, whatever it is that those boys do precisely. The brief flirtation with Doral seemed to hold the potential to refocus some of the impeachment inquiry's energy on this open, American criminality and away from the world's worst Graham Greene novel.
For once, enough of political Washington seemed to at least agree that it looked bad. Why it looked worse than, say, renting 500 Trump hotel rooms to the Saudis is a point of D.C. protocol and politesse that I'll never be able to parse. But if we are to hope for a true Nixonian reckoning for this terrible administration, I still think, despite some misgivings, that it is less likely to come from a spy store, more likely to come from forcing him to declare, over and over again, "I am not a crook." https://theoutline.com/post/8129/trump-g7-doral-scandal-impeachment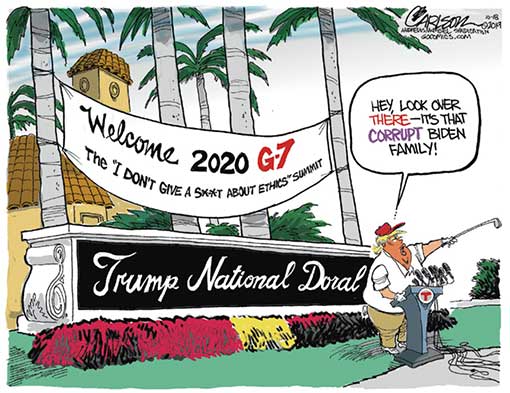 19. Kurt Bardella: Mike Pompeo and Jim Jordan's Astounding Hypocrisy
For eight years, House Republicans searched for a "smoking gun" that could unravel the presidency of Barack Obama. They presided over hundreds of oversight hearings, issued more than 100 subpoenas, held the attorney general in contempt of Congress, and even formed a special select committee devoted exclusively to one investigation, on Benghazi. As someone who spent five years working alongside Republicans on the Oversight Committee, I can tell you that we never found a "smoking gun" like the testimony that was provided yesterday from the senior U.S. diplomat in Ukraine, William B. Taylor.
As I read through Taylor's statement, which was given under oath, I couldn't help but think to myself how my former Republican colleagues would have reacted if similar testimony had been given by a career diplomat during the Obama administration, especially during the Benghazi investigation, which produced 33 hearings in two years.
The reality is that if Pompeo, Jordan, and House Republicans had received the kind of bombshell testimony we heard from Taylor yesterday, they would have immediately moved to impeach the president. https://www.theatlantic.com/ideas/archive/2019/10/how-trumps-defenders-now-approached-benghazi-back-then/600556/
20. Michael Gerson: The smoking gun has already been revealed
No one disputes that Trump froze hundreds of millions of dollars in military aid to Ukraine shortly before his call to Zelensky. No one can dispute that this created massive leverage with a beleaguered client country. No one disputes that Trump reminded Zelensky of U.S. largesse three times in the released rough transcript of the call. No one disputes that Zelensky assured Trump of Ukrainian reciprocity. No one denies that Trump found this insufficient and asked for further favors: the investigation of a political opponent and his son, as well as of a crackpot theory that Ukraine was behind the hacking of Democratic National Committee emails. No one can dispute that the fulfillment of those favors would have been regarded as politically advantageous by the president.
Whatever strategy Republicans adopt, the smoking gun has already been revealed. It is the rough transcript of the Ukraine conversation that the White House initially parked in a classified computer system but released after the call was exposed by a whistleblower. A common-sense reading of that text reveals a president of the United States involved in a politically motivated shakedown of a foreign leader.
This is a quid pro quo. It is a corrupt quid pro quo. It is a proven quid pro quo. In the end, there is only one question: Does it rise to the level of "high crimes and misdemeanors"?
Here is where well-intentioned Republican legislators will struggle. They know that foreign powers such as Russia have influenced U.S. elections by subterfuge. They will determine whether an American president can encourage foreign influence on U.S. elections without consequence. https://www.washingtonpost.com/opinions/the-smoking-gun-has-already-been-revealed/2019/10/21/681d3882-f426-11e9-ad8b-85e2aa00b5ce_story.html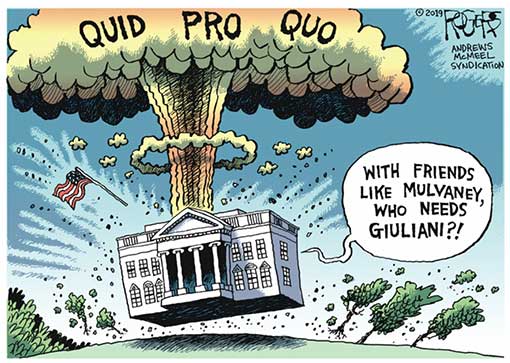 21. Dan Balz: New testimony undercuts Trump's claim of no quid pro quo on Ukraine. How will Washington respond?
The closed-door testimony by the United States' senior diplomat in Ukraine significantly changes the discussion about whether President Trump withheld military assistance to compel a foreign government to investigate one of his political rivals.
It is no longer a question of whether this happened. It is now a question of how the president explains it and how lawmakers — especially Republicans — choose to respond to it.
The lengthy prepared testimony by William B. Taylor Jr. to the House Intelligence Committee is painstakingly clear in its rendition of events. His account directly contradicts the president and asserts that military assistance was withheld for months as Trump was demanding an explicit statement from Ukraine's President Volodymyr Zelensky confirming that he would launch investigations the president wanted.
Trump's long-standing characterization that there was no quid pro quo runs smack into evidence to the contrary. Characterizations now count for less than explanations. How does he explain what Taylor outlines, which is that Trump was directly linking military assistance to demands that the Ukraine president announce publicly his intention to start investigations into the 2016 campaign and former vice president Joe Biden and his son Hunter Biden? https://www.washingtonpost.com/politics/new-testimony-undercuts-trumps-claim-of-no-quid-pro-quo-on-ukraine-how-will-washington-respond/2019/10/22/4d611646-f50a-11e9-a285-882a8e386a96_story.html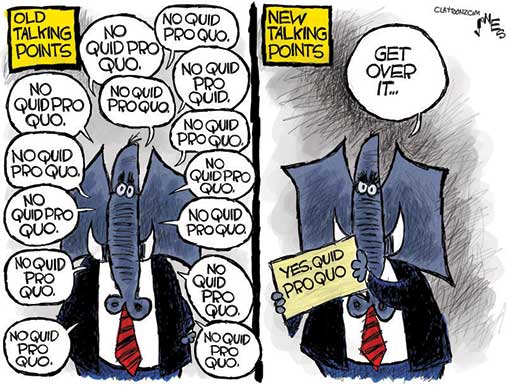 22. Margaret Carlson: With Trump, It's Not the Cover-Up. It's the Crime
It's an article of faith since Watergate that it's not the crime, it's the cover-up that fells a president. Members of Congress are organized to hold hearings to explore the cancer on the presidency. Reporters, like dobermans, are bred to sniff it out.
What if there is no cover-up, no need to meet with Deep Throat in an underground garage to get to the bottom of a break-in of Democratic headquarters? What if shame has gone the way of the landline, an artifact of White Houses past? 
These aren't hypothetical questions. It upends the moral universe to have a president who brags about a call to the point of releasing the transcript in which he shakes down the Ukrainian president in a weapons-for-dirt-on-Biden deal as if it were perfectly normal. True enough, it didn't contain the words "quid pro quo," as if the absence of a Latin phrase no one uses in conversation supports Trump's assertion that he wasn't withholding money to fight Vladimir Putin's invading army until he got what he wanted. https://www.thedailybeast.com/with-trump-its-not-the-cover-up-its-the-crime