January 18, 2018
ON THE RECORD. . .
And by the way, you're going to hear more about this fake, phony birth certificate." -- Sheriff Arpaio, still saying he still has "no doubt" that Obama has a phony birth certificate.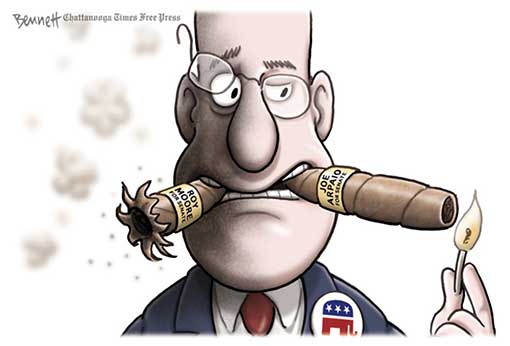 "My performance — some people called it my performance, I consider it work — got great reviews by everybody except two networks… Some said it was one of the greatest meetings they've ever seen." — Trump, quoted by Axios, boasting about his handling of yesterday's bipartisan meeting on immigration.
"This is CNN Tonight, I'm Don Lemon. The president of the United States is racist. A lot of us already knew that." — CNN anchor Don Lemon, opening his broadcast.
Q: Do you think this president is racist?

Former RNC chair Michael Steele: "Yeah, I do. At this point the evidence is incontrovertible. It's right there."
"I think that Mr. Kim Jong-un has obviously won this round. He has completed his strategic task: he has a nuclear weapon, he has missiles of global reach, up to 13,000 km, which can reach almost any point of the globe." — Russian president Vladimir Putin, noting that Kim Jong-un was a "shrewd and mature politician."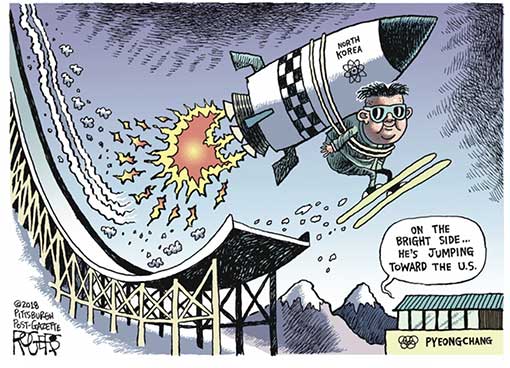 "In scaring others, Trump Country also scares itself. Trumpism traffics in fear and demands mobilization. Mobilization demands an enemy. With every passing day, and every tweet, the image of the immigrant as the enemy looms larger, while the circle of "us" continues to get smaller." --  Masha Gessen in the New Yorker
"Trump is a liar and an idiot. He's a con man, pure and simple, who sold us a bag of shit." -- Chuck Jones, former president of United Steel Workers Local 1999, in Indianapolis, who disputed Trump's initial characterization of the Carrier deal and was targeted by Trump on Twitter as a result.
The anniversary of the devastating earthquake 8 years ago is a day to remember the tragedy, honor the resilient people of Haiti, & affirm America's commitment to helping our neighbors. Instead, we're subjected to Trump's ignorant, racist views of anyone who doesn't look like him. -- Hillary Clinton@HillaryClinton
"When the wave comes, it's always underestimated in the polls. That is the reason that Republicans are ducking for cover." —  A conservative political strategist, quoted by the Washington Post.
"We have to judge him by what he says and does. These comments even by the best of descriptions, these comments were racist comments. And for a President of the United States to have to say straight out I am not a racist, this echoes of President Nixon back in the mid-70s saying I am not a crook. You know, as a people the country, as a society, we're better than this. -- Dan Rather on "The Rachel Maddow Show."
"We face the challenge of an openly racist president of the United States. Donald Trump is a racist bully, and we know how to deal with bullies. We don't back down. We don't shut up. We fight back." — Sen. Elizabeth Warren (D-MA)
"An American president who cannot take criticism — who must constantly deflect and distort and distract — who must find someone else to blame — is charting a very dangerous path. And a Congress that fails to act as a check on the President adds to the danger." — Sen. Jeff Flake (R-AZ), in a speech on the Senate floor (VIDEO)
---
IN THIS ISSUE
FYI
OPINION
1. The Borowitz Report: Trump Demands Poem on Statue of Liberty Be Revised to Exclude Shithole Countries
Donald J. Trump demanded on Thursday that the poem at the base of the Statue of Liberty be revised immediately to exclude nations he considered "shithole countries."

Speaking to reporters, Trump said that the poem as it currently stands "is basically an open invitation that says, like, if you come from a shithole country, welcome aboard."

"I don't know the entire poem, but it's something like 'Give us your tired, your poor, your yadda yadda yadda,' " he said. "We could keep all that but then put in, right at the end, in big letters, maybe, 'except if you're from a shithole country.' "

"I think if a boat from a shithole country came and saw that poem with those words at the end, they would turn around and go right back to wherever they came from," he said.

Shortly after Trump made his remarks about "shithole" countries, representatives of the countries he designated as such released a joint response.

"We do not understand President Trump's aversion to so-called 'shithole countries,' since he is doing his best to turn the United States into one," the statement read.  https://www.newyorker.com/humor/borowitz-report/
2. The DAILY GRILL
"Haiti? Why do we want people from Haiti here?" Then they got Africa. 'Why do we want these people from all these shithole countries here? We should have more people from places like Norway." -- Donald Trump

VERSUS

Norwegians respond:

@realDonaldTrump no one from Norway wants to come to this shithole country. They have healthcare for all, family leave, free education and real gun control. https://t.co/yL0gmS55Yw — Michael J. McDonald (@MMStearnsCastle) 

Of course people from #Norway would love to move to a country where people are far more likely to be shot, live in poverty, get no healthcare because they're poor, get no paid parental leave or subsidized daycare and see fewer women in political power. #Shithole — Christian Christensen (@ChrChristensen) 

#Norway:
•Named Happiest Country
•Named Best Country To Live In by UN
•Named Most Prosperous Country
•Free colleges/universities
Norwegians, reading today's news from the States:
"Why in the world would we want to go to that #shithole country?"  https://t.co/oSmMDZRonK -- (@TheMrJayBrown) 

Years ago a #Norwegian colleague moved back to #Norway with his American wife because they were ready to start a family and considered the U.S. too violent and dangerous a place to raise children. #shithole — Anneliese Bruner (@AnnelieseMaria) 

Trump: "Why are we having all these people from shithole countries come here? Why not people from Norway?" Norwegians: "Why would we move to a country with a shithole President?" — Nick Jack Pappas (@Pappiness) 

My family came from Norway, and I can tell you that we Norwegians think Trump is a racist "shithole."— Thor Benson (@thor_benson) 

 

Reason I canceled my trip to London is that I am not a big fan of the Obama Administration having sold perhaps the best located and finest embassy in London for "peanuts," only to build a new one in an off location for 1.2 billion dollars. Bad deal. Wanted me to cut ribbon-NO! — Donald J. Trump (@realDonaldTrump) January 12, 2018 -- Trump falsely blaming his decision To cancel London visit on Obama

VERSUS

The George W. Bush administration had decided more than a decade ago to relocate the embassy from offices on prime land in the tony neighborhood of Mayfair in central London to a plot on the banks of the Thames in the south of the city. Security concerns drove the move, in line with a worldwide upgrade and redesign of embassy facilities to better protect them from vehicle bombs and other terrorism. -- Washington Post

 

"Nobody here talks about her. Nobody here talks about Hillary Clinton, I promise you," --  Kellyanne Conway on Wednesday night referring to the Trump administration.

VERSUS

Disproven and paid for by Democrats "Dossier used to spy on Trump Campaign. Did FBI use Intel tool to influence the Election?" @foxandfriends Did Dems or Clinton also pay Russians? Where are hidden and smashed DNC servers? Where are Crooked Hillary Emails? What a mess! — Donald J. Trump (@realDonaldTrump) on Friday
3. Democratic leaders face internal mutiny over Dreamers deal
Democratic leaders are facing a potential revolt within their ranks as they edge toward a deal with Republicans that would protect Dreamers from deportation but also include concessions to conservatives that many Democratic lawmakers say are unacceptables.
Many Democrats, particularly in the House, are horrified that their leaders would even agree to discuss issues beyond legal status for Dreamers and limited measures to curb illegal immigration. The concerns span multiple factions of the Democratic conference, and, combined with opposition from Republican immigration hard-liners, they could put passage of a DACA deal at risk.  https://www.politico.com/story/2018/01/11/democrats-daca-dreamers-immigration-mutiny-334454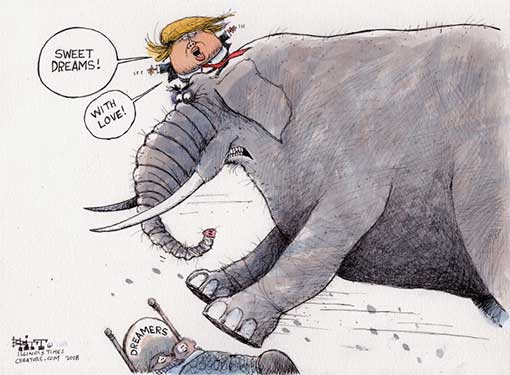 4. Republicans Have 4 Convicted Criminals Running For Congress In 2018
When Joe Arpaio, the former Maricopa County sheriff, announced his Senate candidacy on Tuesday, he became the fourth viable Republican 2018 congressional candidate who's been convicted of a crime. And like two of the other GOP cons running for office, he has cited his criminal record as a partial justification for his candidacy.
Arpaio was convicted of misdemeanor criminal contempt of court in July 2017 for defying a court order requiring him to stop illegally detaining people he suspected of being undocumented immigrants based on their race. President Donald Trump pardoned himone month later.
The other convicted criminals running for office as Republicans are Don Blankenship, the former head of the coal mining company Massey Energy who is running in the Republican primary to challenge Sen. Joe Manchin (D-W.Va.); former Rep. Michael Grimm, who is challenging incumbent Rep. Dan Donovan (R-N.Y.) to reclaim the Staten Island congressional seat he once held; and Rep. Greg Gianforte (R-Mont.), who is running for re-election.  https://www.huffingtonpost.com/entry/joe-arpaio-2018-election_us_5a563b5ae4b03417e8743168
5. Mueller adds veteran cyber prosecutor to special-counsel team
Special counsel Robert Mueller "has added a veteran cyber prosecutor to his team, filling what has long been a gap in expertise and potentially signaling a recent focus on computer crimes.
"Legal analysts have said that one charge Mueller might pursue would be a conspiracy to violate the Computer Fraud and Abuse Act, if he can demonstrate that members of Trump's team conspired in Russia's hacking effort to influence the election.  https://www.washingtonpost.com/world/national-security/mueller-adds-veteran-cyber-prosecutor-to-special-counsel-team/2018/01/10/860f3364-f585-11e7-b34a-b85626af34ef_story.html
6. How Democracies Die
"Democracy no longer ends with a bang—in a revolution or military coup—but with a whimper: the slow, steady weakening of critical institutions, such as the judiciary and the press, and the gradual erosion of long-standing political norms. The good news is that there are several exit ramps on the road to authoritarianism. The bad news is that, by electing Trump, we have already passed the first one." --  From "How Democracies Die" by Steven Levitsky and Daniel Ziblatt
7. Most Americans Say Trump Not Fit to Be President
A new Quinnipiac poll finds that American voters say President Trump is intelligent by a 53% to 44% margin, but they also say 69% to 28% that he is not level-headed and by 57% to 40% that he is not fit to serve as president.

Grading President Trump's first year in office, 39% of voters give him an "F," while 17% give him a "D."

Trump's job approval is a dismal 36%.  https://poll.qu.edu/national/release-detail
8. From MEDIA MATTERS (They watch Fox News so you don't have to)
Alex Jones' mockery of Oprah's childhood rape is a harbinger of pro-Trump media in 2020.Jones also called her a Nazi who is "as bad as Hitler" and hosted Gavin McInnes to repeatedly call her a "slut."  https://www.mediamatters.org/blog/2018/01/11/alex-jones-mockery-oprahs-childhood-rape-harbinger-pro-trump-media-2020/219039

Video: Fox News is leading the charge toward a possible nuclear war with North Korea.  https://www.mediamatters.org/blog/2018/01/11/video-fox-news-leading-charge-toward-possible-nuclear-war-north-korea/219037

CNN analyst: Trump saying immigrants from El Salvador, Haiti, and Africa come from "shithole countries" is "straight up racist."  https://www.mediamatters.org/video/2018/01/11/cnn-analyst-trump-saying-immigrants-haiti-and-africa-come-shithole-countries-straight-racist/219042

MSNBC's Ali Velshi points out that the two largest private prison companies donated hundreds of thousands of dollars to the Trump campaign. Criminal justice expert Lauren-Brook Eisen: Immigrant detention in particular is a "a huge boon to the private prison industry under the Trump administration."  https://www.mediamatters.org/video/2018/01/11/msnbcs-ali-velshi-points-out-two-largest-private-prison-companies-donated-hundreds-thousands-dollars/219041
9. From the Late Shows
Morning Joe Michael Wolff Cold Open - SNL:  https://youtu.be/AiyZ92_JZxA

Colin Jost and Michael Che: Weekend Update on and Fury - SNL:  https://youtu.be/8EQAwrDwE6Y

The Late Show with Stephen Colbert: Tuck Buckford Wants To Be Trump's Poison Tester:  https://youtu.be/YoflETqTpLE

Jimmy Kimmel Live: Trump ACTUALLY Called These Countries S**tholes:  https://youtu.be/rMFxV-l3qG0

Late Night with Seth Meyers: Trump Attacks Feinstein, Makes Racist Immigration Comment: A Closer Look:  https://youtu.be/4FBqT80fVKY

The Late Show with Stephen Colbert: Is The President A Pornstar-Dating Racist?:  https://youtu.be/TRynzqncY_M
10. Late Night Jokes for Dems
Sen. Jeff Flake said today that President Trump's proposed border wall doesn't need to be a wall, but more of a fence. They'll even settle for a net or a sternly worded sign, parking cones, and if they still can't afford it, just get some old guy who yells, "Get! Get outta here!" -- Seth Meyers

First lady Melania Trump has added three new people to her personal White House staff. She just needs one more to make it over the fence. -- Seth Meyers

On Saturday, officials in mistakenly sent out an alert that said a missile was headed toward the island. And Trump didn't comment until the next day. That's classic Trump right there. I mean, the first time there actually IS fake news, he's nowhere to be found. -- Jimmy Fallon

On Saturday the word s***hole was projected on to Trump's D.C. hotel. It got even worse when Motel 6 sued them for copyright infringement. -- Jimmy Fallon

Congress is questioning Twitter about allowing extremists on their site. In response, Twitter said, "We have to, he's the president." -- Conan O'Brien
11. The Republican stampede out of Congress
The number of Republican incumbents in the House calling it quits has now surged past 30, more at this stage of the cycle than in any recent election. It isn't hard to see why, since everyone is predicting an enormous Democratic wave that sweeps over every competitive race, and a few we didn't realize would be competitive. If you're looking at a tight race like Issa was — he won re-election in 2016 by a mere 1,621 votes — you're probably asking yourself whether you're doomed and there's no point bothering to run again. That's the thing about wave elections: They sweep away all local concerns and the ability of an individual candidate to stop it, as voters just cry their displeasure in the voting booth with little regard to who's on the ballot.
But if anyone can survive that kind of wave, it's a well-known incumbent. That's why s are so important: They make it much easier for the other party to pick up seats, potentially making the wave even bigger. And there's another key reason so many Republicans are retiring. It's not because they're afraid they'll lose, but because they're afraid of what would happen if they won, but their party lost control.  http://theweek.com/articles/747961/republican-stampede-congress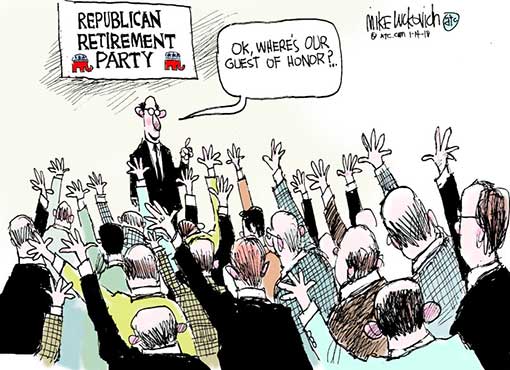 12. Cybersecurity firm: US Senate in Russian hackers' crosshairs
"The same Russian government-aligned hackers who penetrated the Democratic Party have spent the past few months laying the groundwork for an espionage campaign against the U.S. Senate," the AP reports.
"The revelation suggests the group often nicknamed Fancy Bear, whose hacking campaign scrambled the 2016 U.S. electoral contest, is still busy trying to gather the emails of America's political elite.  https://apnews.com/9a6888c2163f43a7913c808e8cf9bc6e/Cybersecurity-firm:-US-Senate-in-Russian-hackers'-crosshairs
13. The Four States to Watch In 2018
Turning to this year's midterm races, the NBC Political Unit has identified what we consider the four most important states to watch in 2018:
Arizona: Competitive Senate contest that could decide control of the chamber; emerging presidential battleground state; a couple of competitive House races (AZ-1, AZ-2); large Latino population.

Florida: Competitive gubernatorial race (both in the primaries and general) and whoever wins could be a national star; likely competitive Senate race; huge 2020 battleground; and a handful of must-watch House races (FL-27, FL-26, FL-18).

Ohio: Competitive gubernatorial race (both in the primaries and general) and whoever wins could be a national star; likely competitive Senate; huge 2020 battleground.

California: As many as NINE competitive House races (CA-7, CA-39, CA-49, CA-25, CA-48, CA-10, CA-45, CA-21, CA-50). If Democrats win six or more of these districts, they're likely going to win back control of the House.  https://www.nbcnews.com/politics/first-read/trump-s-self-inflicted-wounds-are-mangling-his-presidency-n837071
14. Secret Money: How Trump Made Millions Selling Condos To Unknown Buyers
More than one-fifth of Donald Trump's US condominiums have been purchased since the 1980s in secretive, all-cash transactions that enable buyers to avoid legal scrutiny by shielding their finances and identities, a BuzzFeed News investigation has found.
Records show that more than 1,300 Trump condominiums were bought not by people but by shell companies, and that the purchases were made without a mortgage, avoiding inquiries from lenders.
Those two characteristics signal that a buyer may be laundering money, the Treasury Department has said in a series of statements since 2016.
Trump condo sales that match Treasury's characteristics of possible money laundering totaled $1.5 billion, BuzzFeed News calculated. They accounted for 21% of the 6,400 Trump condos sold in the US. Those figures include condos that Trump developed as well as condos that others developed in his name under licensing deals that pay Trump a fee or a percentage of sales.  https://www.buzzfeed.com/thomasfrank/secret-money-how-trump-made-millions-selling-condos-to
15. Trump Accuser Signed a NDA Preventing Her from Talking About Donald Trump
The Daily Beast was informed that porn star Jessica Drake is not allowed to discuss President Trump on account of a non-disclosure agreement she signed barring her from any such talk.
"Jessica's NDA blankets any and every mention of Trump, so she's legally unable to comment," her publicist informed The Daily Beast. "Jessica signed a non-disclosure agreement after her allegations of misconduct, and she can't do as much as peep his name publicly."  https://www.thedailybeast.com/trump-accuser-jessica-drake-has-an-nda-preventing-her-from-talking-about-donald-trump
16. Stormy Daniels: Donald Trump Cheated on Melania With Me
Porn star Stormy Daniels tells In Touch that she had sex with Donald Trump in his Lake Tahoe, NV, hotel suite in 2006 — a story that was corroborated by her good friend Randy Spears and supported by her ex-husband. She also took a polygraph test.
Said Daniels: "The sex was textbook generic. I actually don't even know why I did it, but I do remember while we were having sex, I was like, 'Please, don't try to pay me.'"
After having sex, Daniels said: "We hung out for a little while and he just kept saying, 'I'm gonna call you, I'm gonna call you. I have to see you again. You're amazing. We have to get you on The Apprentice.'"  http://www.intouchweekly.com/posts/stormy-daniels-affair-donald-trump-151571
17. GOP Has Completely Sold Its Conservative Soul When It Comes To The Budget
The GOP's mostly positive reaction to Trump's suggestion that earmarks once again become standard operating procedure in Congress also came at roughly the same time that McConnell was sayingthe Senate might further abandon its conservative soul by not doing a budget at all this year.
But what McConnell didn't say was that the fiscal 2019 budget resolution will be the first that will show the bottom line impact of all the GOP policies: a $1 trillion or higher annual deficit every year of the Trump administration and beyond. Even if Congress and the Office of Management and Budget again choose to ignore the facts, the Congressional Budget Office, Wall Street and other private sector analyses will project annual trillion dollar deficits. McConnell doesn't want his Republican members to face the political repercussions of having to vote for that.  https://www.forbes.com/sites/stancollender/2018/01/14/gop-has-completely-sold-its-conservative-soul/#5a1ec7ad393d
18. Why Trump voters need the immigrants they want to turn away
The irony in President Donald Trump's hostility to immigration, expressed again in reports of his vulgar comments about Africa and Haiti last week, is that in appealing to the racial and cultural resentments of his political base he is directly threatening their economic interests.
The equation is unmistakable: as America ages, the older and blue-collar whites at the core of Trump's electoral coalition in 2016 need more working-age immigrants to pay the taxes that fund Social Security and Medicare.
Without robust immigration, each American worker will need to support substantially more retirees in the future than workers do today. And that will greatly increase the pressure for either unsustainable tax increases or biting benefit reductions in the federal retirement programs that the older and blue-collar whites central to Trump's support rely upon so heavily."  http://www.cnn.com/2018/01/16/politics/trump-voters-immigration/index.html
19. Doctor Says Trump Has Heart Disease
CNN's chief medical correspondent Dr. Sanjay Gupta said that he believes tests reveal that President Trump has heart disease.  http://thehill.com/homenews/administration/369287-sanjay-gupta-by-all-standards-trump-has-heart-disease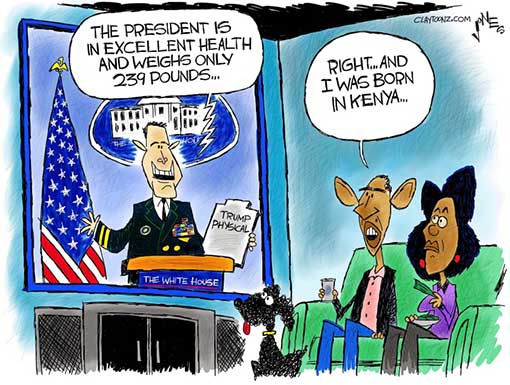 20. Trump's credibility crisis on Capitol Hill
So now, instead of securing a bipartisan deal to fund the government and help a large group of immigrants that Trump said deserve compassion, the president and Republican Congress are scrambling, yet again, just to keep the government open. Trump abruptly changed course and sided with the hawkish anti-immigration wing inside his White House, rejecting bipartisan Senate agreement to protect the Dreamers.
It demonstrates once again to Democrats — and Republicans — that Trump is an unpredictable, unreliable partner who cannot be trusted to keep his word. To lawmakers on Capitol Hill, there may be no greater crime, since all members and senators know their word is their bond. Once you lose that credibility, you're done as a deal-maker.  https://www.politico.com/story/2018/01/17/trump-credibility-capitol-hill-lawmakers-negotiating-342989
1. Bret Stephens: Proud to Live in a Nation of Holers
America is a nation of holers. It is an improbable yet wildly successful experiment in the transformation — by means of hope, opportunity and ambition — of holers into doers, makers, thinkers and givers. Are you of Irish descent? Italian? Polish? Scottish? Chinese? Chances are, your ancestors did not get on a boat because life in the old country was placid and prosperous and grandpa owned a bank. With few exceptions, Americans are the dregs of the wine, the chaff of the wheat. If you don't know this by now, it makes you the wax in the ear.
Donald Trump is the wax in the ear.
Donald Trump has not, to say the least, risen from a hole. But he is sinking into one. It may be that it won't damage him politically — Republican Party leaders, increasingly unshameable, will mumble mild disapproval until the news cycle turns — but it does damage the country. We have a president even more ignorant of America than he is of the rest of the world.
Maybe there really is something wrong with the president's head. Modify with any four letters you wish.  https://www.nytimes.com/2018/01/12/opinion/proud-nation-of-holers.html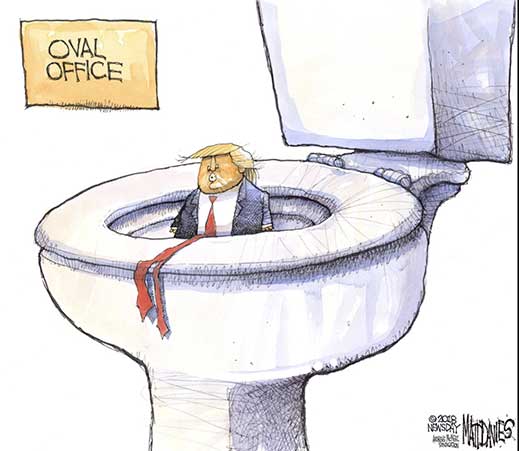 2. James Fallows: Have They No Sense of Decency?
"Have you no sense of decency?" It's the question that the members of the Republican majority in the Congress—51 senators, 239 representatives—might bear in mind, in the "shithole" era.
If only two of those senators would stand up against Donald Trump, with their votes rather than just their tweets or concerned statements, they would constitute an effective majority.
With the 49 Democratic and independent senators, these two would make 51 votes, which in turn would be enough to authorize real investigations. They could pass a formal resolution of censure. They could call for tax returns and financial disclosure. They could begin hearings, on the model of the nationally televised Watergate hearings of 45 years ago.
They could behave as if they took seriously their duties to hold the executive branch accountable. They could make a choice they know will be to their credit when this era enters history — as did the Republicans who finally turned against their own party's President Nixon during the Watergate drama, as did the Democrats who finally turned against their own party's President Johnson over the Vietnam war, as did the Republicans who finally turned against their own poisonous Senator McCarthy in the episode that gave rise to "Have you no sense of decency?" more than 60 years ago. They could spare themselves the shame that history attaches to people who did the wrong thing, or nothing, or kept looking the other way during those decisive periods.
They could remind their colleagues of the Senate's appropriate check-and-balance function.
And they could spare themselves, in history's perspective, the question Joseph Welch so memorably asked the rampaging Senator Joe McCarthy, during the Army-McCarthy hearings of 1954.  https://www.theatlantic.com/politics/archive/2018/01/have-you-no-sense-of-decency/550502/
3. Charles M. Blow: Trump Is a Racist. Period.
Racism is simply the belief that race is an inherent and determining factor in a person's or a people's character and capabilities, rendering some inferior and others superior. These beliefs are racial prejudices.
The history of America is one in which white people used racism and white supremacy to develop a racial caste system that advantaged them and disadvantaged others.
Understanding this, it is not a stretch to understand that Donald Trump's words and deeds over the course of his life have demonstrated a pattern of expressing racial prejudices that demean people who are black and brown and that play to the racial hostilities of other white people.
It is not a stretch to say that Trump is racist. It's not a stretch to say that he is a white supremacist. It's not a stretch to say that Trump is a bigot.
Those are just facts, supported by the proof of the words that keep coming directly from him. And, when he is called out for his racism, his response is never to ameliorate his rhetoric, but to double down on it.
I know of no point during his entire life where he has apologized for, repented of, or sought absolution for any of his racist actions or comments.
Instead, he either denies, deflects or amps up the attack.
Trump is a racist. We can put that baby to bed.  https://www.nytimes.com/2018/01/14/opinion/trump-racist-shithole.html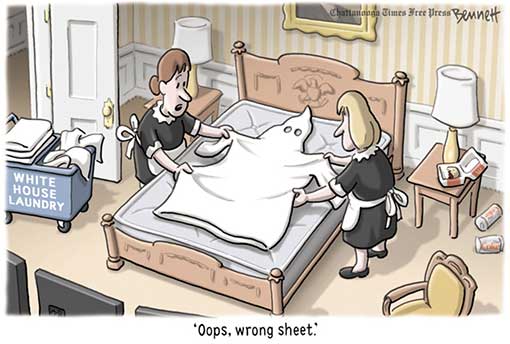 4. Paul Waldman: Why Trump's attorneys are desperate to keep Mueller from interviewing him
While it may not be a common opinion among liberals like myself, I've long suspected that President Trump may not have been directly involved in whatever sad excuse for a conspiracy his campaign engaged in with the Russians during the 2016 campaign. The campaign was a chaotic mess, and while we already know about multiple contacts between staffers and both Russian officials and those with connections to Russian officials, so far we haven't seen evidence that Trump himself was a part of what appears to have been a rather bumbling attempt at international intrigue.
That's not to say such evidence won't ultimately appear, just that we haven't seen it yet. On the first major question being addressed by Special Counsel Robert Mueller's investigation — was there collusion between the Trump campaign and Russia, and if so, what and who did it involve — the president might turn out to be innocent.
But that's just the beginning of Mueller's probe, and its other areas of focus render Trump much more vulnerable. Which is why Mueller wants to interview Trump personally — and why Trump's lawyers are probably terrified at the prospect.
It's one thing for Trump to say (and tweet) that the Russia scandal is all a hoax made up by Democrats. It's another thing entirely for him to be forced to answer specific questions under oath by an experienced prosecutor who has gathered a huge amount of evidence and testimony from other witnesses.  http://theweek.com/articles/747547/why-trumps-attorneys-are-desperate-keep-mueller-from-interviewing
5. LA Times Editorial: Trump is a liar, but his 'shithole' remark shows he's often scariest when he says what he truly believes
Ten months ago, the Los Angeles Times editorial board published a multipart series about President Trump calling him "Our Dishonest President."  We called him that because of a pattern of lies, misstatements and denials of reality that we argued were designed not just to deflect criticism, but to undermine the very idea of objective truth.
But sometimes Donald Trump is at his scariest when he's saying what he truly believes.
Trump's dwindling ranks of supporters say they like him because he calls things as he sees them. He's not polished — he's the antithesis of the smooth-talking pol, the Washington insider, the denizen of the D.C. swamp. Fine. But now he has offered us another glimpse into what the unfettered Trump sees. The ugliness here isn't in the view, but in the viewer. Add these comments to the long list of embarrassments we've suffered as a nation since Nov. 8, 2016.  http://beta.latimes.com/opinion/editorials/la-ed-shithole-countries-20180111-story.html
6. Amy Davidson Sorkin: Donald Trump Compounds His "Shithole Countries" Bigotry with Lies
What is the difference between calling countries in Africa, the Caribbean, and Central America "shitholes," as President Donald Trump is widely reported to have done, and saying, as he did on Twitter, that he had been "tough" but hadn't used that precise language? Not much, really. It is only a reminder that the President's dishonesty is in close contention with his bigotry in the contest for his most distinctive characteristic. His crudity is in the race, too. Trump is confounding and often self-contradictory, but in this case he is neither mysterious nor subtle.
Such bigotry is not new, of course, in American history—it was central to the enslavement of millions of African-Americans, the denial of citizenship to Chinese-Americans, the internment of Japanese-Americans, and the scorn that earlier generations of immigrants faced. But Trump seems to glory in that past, whether in his remarks sympathizing with white supremacists in Charlottesville or in his interest, with regard to Guantánamo, in detention without due process. His dishonesty encompasses both the actual attributes of other countries and people and his own words.
"Never said anything derogatory about Haitians other than Haiti is, obviously, a very poor and troubled country," Trump tweeted on Friday. (In December, the Times reported that, at another immigration meeting, he had described Haitians as all having aids.) The tweet continued, "Never said 'take them out.' Made up by Dems. I have a wonderful relationship with Haitians. Probably should record future meetings - unfortunately, no trust!" There is, indeed, no trust in the White House or around it. Instead, there are lies, and there is racism.  https://www.newyorker.com/news/daily-comment/donald-trump-compounds-his-shithole-countries-bigotry-with-lies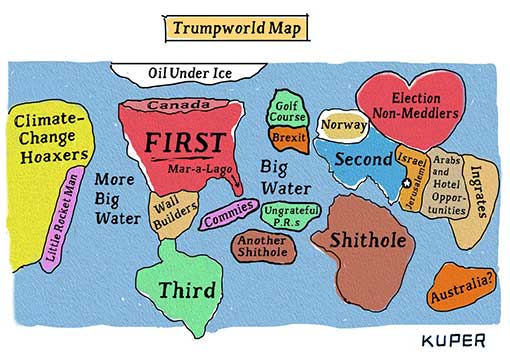 7. NY Times Editorial: Donald Trump Flushes Away America's Reputation
Where to begin? How about with a simple observation: The president of the United States is a racist. And another: The United States has a long and ugly history of excluding immigrants based on race or national origin. Mr. Trump seems determined to undo efforts taken by presidents of both parties in recent decades to overcome that history.
Of course he did. Remember, Mr. Trump is not just racist, ignorant, incompetent and undignified. He's also a liar.
Even the president's most sycophantic defenders didn't bother denying the reports. Instead they justified them. Places like Haiti really are terrible, they reminded us. Never mind that many native-born Americans are descended from immigrants who fled countries (including Norway in the second half of the 19th century) that were considered hellholes at the time.
Mr. Trump has made clear that he has no useful answers on immigration. It's up to Congress to fashion long-term, humane solutions. A comprehensive immigration bill that resolves all these issues would be best. But if that is not possible, given the resistance of hard-core anti-immigration activists in Congress, legislators should at least join forces to protect the Dreamers, Salvadorans, Haitians and others threatened by the administration's cruel and chaotic actions.  https://www.nytimes.com/2018/01/12/opinion/donald-trump-flushes-away-americas-reputation.html
8. Elizabeth Kolbert: The Damage Done by Trump's Department of the Interior
Secretary of the Interior Ryan Zinke is, in many ways, a typical Trump appointee. A lack of interest in the public interest is, these days, pretty much a precondition for running a federal agency. Consider Betsy DeVos, the Secretary of Education, or Scott Pruitt, the head of the Environmental Protection Agency, or Rick Perry, the Secretary of Energy. Nearly all Trump's Cabinet members have shown disdain for the regulatory processes they're charged with supervising. And, when it comes to conflicts of interest, they seem, well, unconflicted. In October, the Interior Department's inspector general opened an investigation into Zinke's travel expenses, which include twelve thousand dollars for a charter flight from Las Vegas to Kalispell, Montana, on a plane owned by executives of a Wyoming oil-and-gas company.
Still, Zinke manages to stand out for the damage he is doing. Essential to protecting wilderness is that there be places wild enough to merit protection. Once a sage-grouse habitat has been crisscrossed with roads, or a national monument riddled with mines, the rationale for preserving it is gone. Why try to save something that's already ruined? "They're determined to lease and develop every acre they possibly can, which will minimize the potential for conserving these landscapes in the future," Jim Lyons, who was a Deputy Assistant Secretary at the Interior Department during the Obama Administration, told the Washington Post. "They're quite efficient, and they know exactly what they want to do."
In the decades to come, one can hope that many of the Trump Administration's mistakes—on tax policy, say, or trade—will be rectified. But the destruction of the country's last unspoiled places is a loss that can never be reversed.  https://www.newyorker.com/magazine/2018/01/22/the-damage-done-by-trumps-department-of-the-interior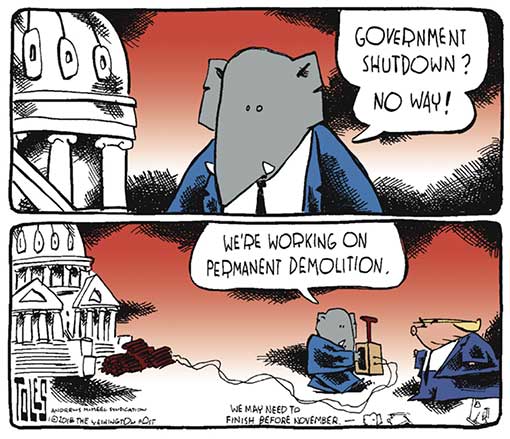 9. David Ignatius: The Trump-Russia Collusion Investigation Is Far From a 'Witch Hunt'
"Does this concern you at all?" asks a tart email message from a Trump supporter who wonders why the mainstream media doesn't take a closer look at allegations that the Justice Department's investigation of Russian meddling in the 2016 election has been tainted by bias.
It's a fair question. President Trump has made very serious charges, tweeting in December that the FBI's "reputation is in Tatters -- worst in History!" And Republicans in Congress have claimed that the bureau was manipulated by a former British intelligence officer named Christopher Steele, who supposedly pumped up allegations about Trump-Russia collusion with a "dossier" that was financed by Hillary Clinton.
Far from a yarn concocted by Steele, the FBI probe was driven by its own independent reporting about Papadopoulos, who pleaded guilty last October to lying about his Russia contacts. The bottom line: There may be something in tatters at the center of this investigation, but it isn't the FBI.
A question for Republicans in Congress who have been so quick to trash FBI officials and defend Trump: Does this concern you at all?  https://www.realclearpolitics.com/articles/2018/01/17/the_trump-russia_collusion_investigation_is_far_from_a_witch_hunt_136020.html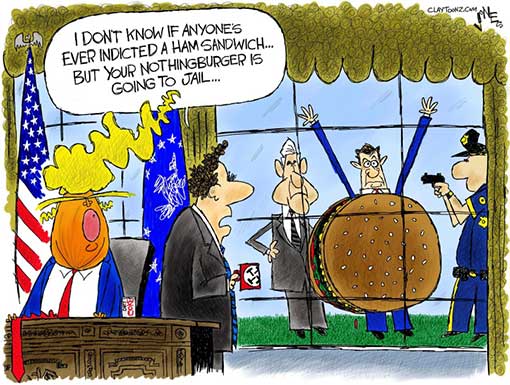 10.  John McCain: Mr. President, stop attacking the press
Trump's attempts to undermine the free press makes it more difficult to hold repressive governments accountable. For decades, dissidents and human rights advocates have relied on independent investigations into government corruption to further their fight for freedom. But constant cries of "fake news" undercut this type of reporting and strip activists of one of their most powerful tools of dissent.
We cannot afford to abdicate America's long-standing role as the defender of human rights and democratic principles throughout the world. Without strong leadership in the White House, Congress must commit to protecting independent journalism, preserving an open and free media environment, and defending the fundamental right to freedom of opinion and expression.
We can do this by encouraging our partners and allies to review their laws and practices, including the abuse of defamation and anti-terrorism laws, to better protect press freedom and ensure that they do not unduly shrink the space for free speech. We can authorize U.S. foreign assistance to support independent media outlets and programs that create greater media pluralism. We can do more to foster conditions in which freedom of expression and information can thrive, including working to change increasingly political attitudes toward journalism. And we can condemn violence against journalists, denounce censorship and support dissidents and activists as they seek to speak the truth.
Ultimately, freedom of information is critical for a democracy to succeed. We become better, stronger and more effective societies by having an informed and engaged public that pushes policymakers to best represent not only our interests but also our values. Journalists play a major role in the promotion and protection of democracy and our unalienable rights, and they must be able to do their jobs freely. Only truth and transparency can guarantee freedom.  https://www.washingtonpost.com/opinions/mr-president-stop-attacking-the-press/2018/01/16/9438c0ac-faf0-11e7-a46b-a3614530bd87_story.html