October 11, 2018
ON THE RECORD. . .
Kavanaugh has a distinct honor: He will be the first justice nominated by someone who lost the popular vote to earn his seat on the bench with support from senators representing less than half of the country while having his nomination opposed by a majority of the country. -- Philip Bump https://www.washingtonpost.com/politics/2018/10/06/senators-representing-less-than-half-us-are-about-confirm-nominee-opposed-by-most-americans/
Here is one thing I don't understand: why is the MAGA crowd always in a perpetual state of anger even after they win. Trump gets elected, they stayed angry. They hold all levers of power in DC, still angry. They win tax vote, still angry. They win kavanaugh, still angry. -- Matthew Dowd
"But Graham is special. He really is. I can't think of another Republican whose journey from anti-Trump outrage to pro-Trump obsequiousness was quite so illogical or half as sad, and his conduct during the war over Kavanaugh completed it. For the president he fought overtime, he fought nasty and he fought without nuance. In so doing, he distilled our rotten politics — its transactional nature, its tribal fury, its hysterical pitch — as neatly as anybody in the current Congress does." -- Frank Bruni
"All of us need to be aware of that — every single one of us — and to realize how precious the court's legitimacy is. It's an incredibly important thing for the court to guard is this reputation of being impartial, being neutral, and not being simply extension of a terribly polarizing process." — Supreme Court Justice Elena Kagan
"Women are "extremely happy" about Kavanaugh's confirmation because they're apparently relieved the men in their lives are less likely now to be accused of sexual assault." -- Donald Trump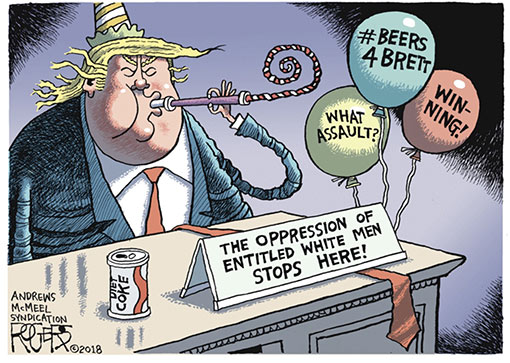 "Well, there were a lot of things happening that weren't correct, they weren't true and there were a lot of things that were left unsaid. And I thought I had to even the playing field. It was very unfair to the judge, and now I can very nicely say Justice Kavanaugh. It was a very unfair situation. So I evened the playing field." -- Trump saying he mocked Christine Blasey Ford, in an effort "even the playing field."
"I'm stronger than mule piss." — Senate Majority Leader Mitch McConnell (R-KY), quoted by the New York Times, explaining to President Trump just how committed he was to pushing Brett Kavanaugh through to Supreme Court confirmation.
"Her (Rep. Marsha Blackburn (R-TN) ) voting record in Congress appalls and terrifies me." -- Taylor Swift in a stunning turnaround from her refusal to discuss anything related to politics.
The very rude elevator screamers are paid professionals only looking to make Senators look bad. Don't fall for it! Also, look at all of the professionally made identical signs. Paid for by Soros and others. These are not signs made in the basement from love! #Troublemakers — Donald J. Trump (@realDonaldTrump) 
"If I were you, the last thing I would be doing is referencing other people getting out of federal prison. Because after you are indicted, you will likely be passing them on your way in. BTW, they don't have silver spoons or gold toilets in the joint. Buckle up, Buttercup." -- Michael Avenatti after Donald Trump Jr. joked over Twitter that Avenatti could pick former Rep. Anthony Weiner as his running mate.
"I remember what they did to me for 25 years -- the falsehoods, the lies, which unfortunately people believe because the Republicans have put a lot of time, money, and effort in promoting them. So when you're dealing with an ideological party that is driven by the lust for power, that is funded by corporate interests who want a government that does its bidding, it's -- you can be civil, but you can't overcome what they intend to do unless you win elections." -- Hillary Clinton
---
IN THIS ISSUE
FYI
OPINION
1. Satire by Andy Borowitz: Kavanaugh Disappointed to Discover Supreme Court Has No Happy Hour
In a setback for the newest Associate Justice on his first day at work, Brett Kavanaugh said on Tuesday that he was "very disappointed" to learn that the Supreme Court does not have a happy hour.

Kavanaugh told reporters that he made the horrifying discovery as the clock ticked down to 5 p.m. and "everyone was still in their offices working and stuff."

"I mean, I couldn't believe it," Kavanaugh said. "I had been busting my tail for six hours, and I needed to blow off some steam."

Ruth Bader Ginsburg was the member of the Court who delivered the bad news to Kavanaugh. "When she told me, I guess I started crying a bit, which I now regret," he said. "She just kind of closed her office door and went back to work or whatever."

Kavanaugh's unpleasant discovery that the Supreme Court has "absolutely no drink specials" has left him wondering if his bruising confirmation battle "was even worth it."

"This place blows," he said. https://www.newyorker.com/humor/borowitz-report/
2. Media Ignores Story on Secret Behind Trump's Wealth
Donald Trump rose to prominence and the presidency on the strength of his self-proclaimed mastery of The Art of the Deal. It was that business acumen, Trump claimed, that allowed him to turn a paltry loan from his father into a vast empire. But last week, The New York Times revealed that Trump was not the self-made billionaire he had claimed to be but rather the recipient of at least $413 million from his father, in part through tax schemes the paper described as "outright fraud."
The next day, perhaps in an effort to regain momentum, the Times republished its storyin a separate section. But that morning, Meet the Press, This Week, Face the Nation, and Fox News Sunday — weekly talk shows that focus on politics and historically set the news agenda for the week — all completely ignored it. https://www.mediamatters.org/blog/2018/10/08/press-helped-build-donald-trumps-lie-now-it-has-reckon/221599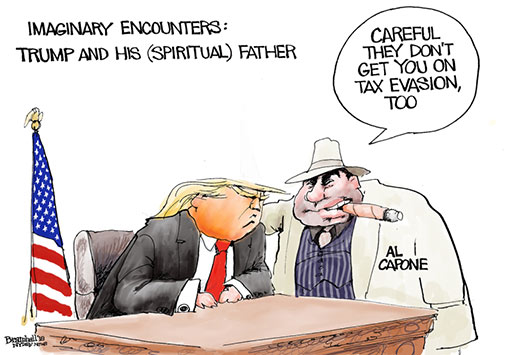 3. POLITICO race ratings: The GOP House is crumbling
The Republican House majority continues to show signs of collapsing, with Democrats steadily gaining ground toward erasing the 23-seat margin and ending eight years of GOP control.
A total of 68 seats currently held by Republicans are firmly in play — rated as "Lean Republican" or worse for the GOP — presenting a stark contrast to the Democratic side, where only a half-dozen Democratic seats are in similar jeopardy.
With a month to go until Election Day, there are now 209 seats either firmly or leaning in the Democratic column — only nine shy of the 218 the party needs to wrest away control of the chamber — according to the latest update of POLITICO's race ratings. https://www.politico.com/story/2018/10/09/race-ratings-congress-midterms-881099
4. How the Suburbs Will Swing the Midterm Election
If you want to find a Republican member of Congress, head out into the country. To find a Democrat, your best shot is in a city. But to find a competitive election this fall? Head to the suburbs, where control of the House of Representatives will likely be decided.
More than 40 percent of the U.S. House of Representatives is composed of predominantly suburban districts, according to a new CityLab analysis that classifies all 435 U.S. House districts according to their densities. These seats are currently closely divided between Democrats and Republicans. But that balance could be washed away by a "blue wave" in November. There are 28 Republican-held suburban districts that are competitive this fall under FiveThirtyEight's projections—close to 40 percent of Republicans' 74 suburban seats. The number of suburban Democratic seats in play: 1 out of 90. https://www.citylab.com/equity/2018/10/midterm-election-data-suburban-voters/572137/
5. From MEDIA MATTERS (They watch Fox News so you don't have to)
Fox Business anchor: Anti-Kavanaugh protesters are "a real danger to democracy." Fox & Friends co-host Pete Hegseth agrees: "It's thug tactics"  https://www.mediamatters.org/video/2018/10/05/fox-business-anchor-anti-kavanaugh-protesters-are-real-danger-democracy/221590

NRATV's Dan Bongino: "My entire life right now is about owning the libs. That's it." https://www.mediamatters.org/video/2018/10/05/nratv-s-dan-bongino-my-entire-life-right-now-about-owning-libs-s-it/221586

The press helped build Donald Trump's lie; now it has to reckon with that. Donald Trump rose to prominence and the presidency on the strength of his self-proclaimed mastery of "The Art of the Deal." It was that business acumen, Trump claimed, that allowed him to turn a paltry loan from his father into a vast empire. But last week, The New York Times revealed that Trump was not the self-made billionaire he had claimed to be but rather the recipient of at least $413 million from his father, in part through tax schemes the paper described as "outright fraud." https://www.mediamatters.org/blog/2018/10/08/press-helped-build-donald-trumps-lie-now-it-has-reckon/221599

Fox's midterm engagement strategy is telling its viewers that Democrats are coming to kill them. With the midterm elections only four weeks away, a slew of Fox News commentators are warning their conservative viewers that they are physically imperiled by a "violent" leftist "mob" and must vote to keep Republicans in power in order to protect themselves. Their argument is an effort to turn out the GOP base by weaponizing conservative criticism of the protestors who opposed Brett Kavanaugh's confirmation to the Supreme Court. https://www.mediamatters.org/blog/2018/10/09/foxs-midterm-engagement-strategy-telling-its-viewers-democrats-are-coming-kill-them/221620

Abortion opponents celebrate Kavanaugh's confirmation as their chance to end Roe v. Wade. Following the confirmation of Brett Kavanaugh to the Supreme Court, anti-abortion advocates stopped downplaying the newest justice's stance on abortion rights. Instead, once Kavanaugh had secured the necessary votes in the Senate, abortion opponents celebrated his confirmation as an opportunity to end Roe v. Wade once and for all. https://www.mediamatters.org/blog/2018/10/09/abortion-opponents-celebrate-kavanaugh-s-confirmation-their-chance-end-roe-v-wade/221623
6. Mike Pence and the Trump administration's complicity in downplaying Russian election interference
Vice President Pence on Thursday became the latest top official to participate in the subterfuge.
In a major speech on China, he claimed that Beijing "wants a different American president" and that the nation "is meddling in America's democracy."
Pence even made this claim: "As a senior career member of our intelligence community told me just this week, what the Russians are doing pales in comparison to what China is doing across this country, and the American people deserve to know it."
"Regrettably we found China has been attempting to interfere in our upcoming 2018 election, coming up in November, against my administration. They do not want me or us to win because I am the first president to ever challenge China on trade, and we are winning on trade — we are winning on every level. We don't want them to meddle or interfere in our upcoming election."
One problem: The administration has yet to produce evidence of actual election interference by China — or to even cite credible specific allegations.
Second, it's true that China's (and other countries') retaliatory tariffs are politically targeted. The Brookings Institution has done a good job documenting the disproportionate impact on Trump-voting counties. That could plausibly be geared toward affecting the election outcome, but it could also simply be an attempt to prevent Trump from ratcheting up his trade war and imposing more tariffs. It's also not strictly "election interference." https://www.washingtonpost.com/politics/2018/10/05/mike-pence-trump-administrations-complicity-downplaying-russian-election-interference/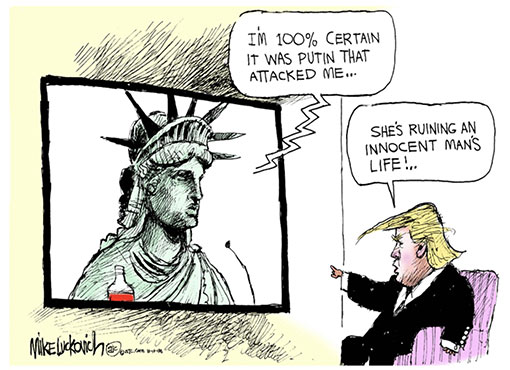 7. From the Late Shows
Brett Kavanaugh Post-Game Cold Open - SNL: https://youtu.be/lgO3pBfrgxs

Weekend Update: Senate Confirms Judge Brett Kavanaugh to the Supreme Court - SNL: https://youtu.be/w8U6VI_51Bg

Trump Takes A Stand For The Real Victims: Men: https://youtu.be/7GOR9_xiGu8

Trump Weaponizes Victimhood to Defend Kavanaugh - Between the Scenes | The Daily Show: https://youtu.be/4LZ3P1sv9jE

Brett Kavanaugh: Last Week Tonight with John Oliver (HBO): https://youtu.be/opi8X9hQ7q8
8. Late Night Jokes for Dems
Seth Meyers

President Trump today postponed his planned meeting with Deputy Attorney General Rod Rosenstein, so as not to conflict with the Senate hearing on the sexual assault allegations against Supreme Court nominee Brett Kavanaugh. And when Trump cancels a meeting to watch TV, you know what that means — it's a weekday.

Stephen Colbert

Everybody is still talking about the big Kavanaugh-Blasey Ford hearing yesterday. One assumes. I don't know. I actually taped this monologue yesterday, which means I can't tell you what happened regarding Brett Kavanaugh — which, based on his drinking, seems to be something I have in common with Brett Kavanaugh.

There's one thing that unites us: None of us can figure out how our computers work, not even Robert Mueller, who was spotted this week at the Apple Genius Bar. [Imitating Mueller] "Let's just say, hypothetically, someone lost a very, very important file. It's called ivankaconfession.pdf. I know it's here somewhere. Also, can you remove Russian spyware from a person's skull?"

And you'll notice that Mueller's wife is next to him, so this might not be Russia-related at all. [Imitating Mueller's wife] "Oh, so you can pull off the biggest investigation in decades, but you can't get my iPhoto to stop going into slide-show mode?"
9. Note to Rep. Duncan Hunter: Racism lives and breathes in California too. It always has
Racism has been part of California's history since the arrival of the Spanish and Father Junipero Serra's creation of the Catholic mission system that in effect enslaved Native Americans. Ancient history? No. More of a harbinger.
But someone needs to tell that to Rep. Duncan Hunter (R-Alpine), who told supporters last week that the kind of historical racism that in many ways defined the South had no connection with California, or present times. "We've done a lot of bad things in this country. So what?" Hunter said. "We didn't do it. My generation sure as heck didn't do it. I was born in San Diego. Sorry, Southerners. You guys had some issues back in the day. Didn't happen out here on the West Coast."
Hunter is one of the House's most conservative members. In the same speech last week, he suggested that his challenger in the November election, Ammar Campa-Najjar, was a "radical Muslim" trying to infiltrate the U.S. government. Campa-Najjar, of Palestinian and Latino heritage, is an American-born Christian who worked in the Obama White House. Hunter went on to complain that schoolchildren in San Diego were being encouraged to honor Islam.
So intolerance lives on in California. For proof of that all Hunter needs to do is look in the mirror. http://www.latimes.com/opinion/editorials/la-ed-hunter-white-supremacists-charlottesville-20181004-story.html
10. Judge Halts Plans to End Protections for Some Immigrants, Citing Trump's Racism
A federal judge on Wednesday blocked the Trump administration's plans to end protections for immigrants from Sudan, Nicaragua, Haiti, and El Salvador.
The decision, which ends the threat of deportation for hundreds of thousands of people living and working in the U.S., came after a class action lawsuit from recipients of Temporary Protected Status, or TPS. In the suit, the immigrants argued that the administration was motivated by racism when it decided to strip them of TPS protections.
The judge agreed. "President Trump harbors an animus against non-white, non-European aliens which influenced his … decision to end the TPS designation," U.S. District Judge Edward Chen wrote in his decision.
Chen also emphasized the damage that ending TPS would do to recipients, many of whom "have lived, worked, and raised families in the United States." Those with children who were born in the U.S. would be faced with the impossible choice of "bringing their children with them (and tearing them away from the only country and community they have known) or splitting their families apart." http://nymag.com/daily/intelligencer/2018/10/judge-halts-plan-to-end-immigrant-protections.html
11. Senate races move right, House races move left in political fallout from Kavanaugh confirmation fight
The nomination fight over Judge Brett M. Kavanaugh has injected new volatility into the midterm elections, reshaping races across the country and sharpening the already bitterly partisan tone for the final four-week stretch before Nov. 6.
Much uncertainty remains — not least because of the rapid-fire succession of evolving crises that have marked President Trump's term in office — but for now the weeks-long Kavanaugh saga appears to be pushing House races toward Democrats, even as it has given Republicans better odds of maintaining control of the Senate.
That division stems from the make-up of the races and the political geography of the most competitive battles. House contests this year already were expected to be determined by suburban women, who had pulled away from the president over his term in the White House and appear to be the most sympathetic to Christine Blasey Ford, the woman who testified that Kavanaugh had assaulted her when both were teenagers.
But most of this year's competitive Senate races are in traditionally red states, and as Republicans have rallied to Kavanaugh's side, the chances of Democratic upsets there have dropped, at least for now. https://www.washingtonpost.com/politics/senate-races-move-right-house-races-move-left-in-political-fallout-from-kavanaugh-confirmation-fight/2018/10/05/74372af2-c811-11e8-b1ed-1d2d65b86d0c_story.html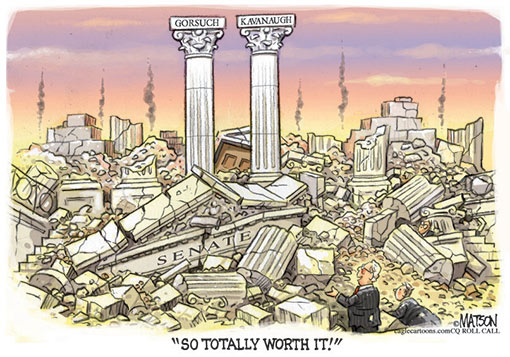 12. Judge Strikes Down Immigration Law That DOJ Used To Withhold Funding
A U.S. judge in California struck down an immigration law Friday that the Trump administration has used to go after cities and states that limit cooperation with immigration officials.
The ruling by Judge William Orrick also directed the U.S. Department of Justice to give California $28 million that was withheld over the state's immigration policies.
It was at least the third decision by a U.S. district court judge in recent months declaring the immigration law unconstitutional.
However, none of the three rulings immediately invalidated enforcement of the law nationwide. The law at issue forbids states and cities from blocking officials from reporting people's immigration status to U.S. authorities.
Orrick's ruling Friday in lawsuits by California and San Francisco may be the most significant yet because it applies to a major target of the administration's opposition to sanctuary jurisdictions. Orrick forbid Attorney General Jeff Sessions from enforcing the immigration law against California or any of its cities or counties. https://talkingpointsmemo.com/news/judge-immigration-law-california-withhold-funding
13. Trump administration transfers hundreds of migrant children to border tent camp
The Trump administration has transferred hundreds of children who entered the U.S. illegally to a temporary tent shelter on the border in Texas that immigrant advocates have condemned as "substandard."
The camp, which is operated by a private contractor, has been quietly expanding on a barren desert tract in the border town of Tornillo, southeast of El Paso, and now houses 1,600 immigrant children.
It is considered temporary and therefore is not required to be licensed as a childcare facility or to provide the same medical, mental health and educational services as roughly 100 other facilities for children across the U.S.
Immigrant rights advocates, who say lawyers have been restricted from visiting the shelter, called on Congress this week to demand better oversight.
Dr. Alan Shapiro, who serves in the American Academy of Pediatrics Immigrant Health Special Interest Group, urged Congress to create an independent medical and mental health monitoring team for children in government custody.
In the meantime, federal officials are still trying to clean up the mess caused by the zero-tolerance policy. A total of 254 children remain in limbo in the U.S. because their parents were deported. http://www.latimes.com/nation/la-na-texas-tornillo-20181003-story.html
14. Was There a Connection Between a Russian Bank and the Trump Campaign?
Examining records for the Trump domain, a group of scientists discovered D.N.S. lookups from a pair of servers owned by Alfa Bank, one of the largest banks in Russia. Alfa Bank's computers were looking up the address of the Trump server nearly every day. There were dozens of lookups on some days and far fewer on others, but the total number was notable: between May and September, Alfa Bank looked up the Trump Organization's domain more than two thousand times. "We were watching this happen in real time—it was like watching an airplane fly by," Max said. "And we thought, Why the hell is a Russian bank communicating with a server that belongs to the Trump Organization, and at such a rate?"
Only one other entity seemed to be reaching out to the Trump Organization's domain with any frequency: Spectrum Health, of Grand Rapids, Michigan. Spectrum Health is closely linked to the DeVos family; Richard DeVos, Jr., is the chairman of the board, and one of its hospitals is named after his mother. His wife, Betsy DeVos, was appointed Secretary of Education by Donald Trump. Her brother, Erik Prince, is a Trump associate who has attracted the scrutiny of Robert Mueller, the special counsel investigating Trump's ties to Russia. Mueller has been looking into Prince's meeting, following the election, with a Russian official in the Seychelles, at which he reportedly discussed setting up a back channel between Trump and the Russian President, Vladimir Putin. https://www.newyorker.com/magazine/2018/10/15/was-there-a-connection-between-a-russian-bank-and-the-trump-campaign
15. Blasey Ford Lawyers: She's 'Horrified' At Trump's Mockery, Receiving 'Unending' Threats
Lawyers for professor Christine Blasey Ford gave some insight into how their client has fared in the days since her harrowing testimony before the Senate Judiciary Committee, saying that she is "horrified" at the jokes President Donald Trump has made at her expense and that she and her family have not yet been able to move home due to "unending threats."
"Her family has been through a lot," attorney Debra Katz told MSNBC's Kasie Hunt. "They are not living at home. It's going to be quite some time before they're able to live at home. The threats have been unending. It's deplorable. It's been very frightening."
On Trump's mockery at a campaign rally, Katz said that Blasey Ford was "horrified."
"She was upset by it, yes, as any woman would be who is the victim of sexual assault, who is mocked and belittled by anyone, never mind the President of the United States," attorney Lisa Banks added. https://talkingpointsmemo.com/news/horrified-trump-mockery-threats-blasey-ford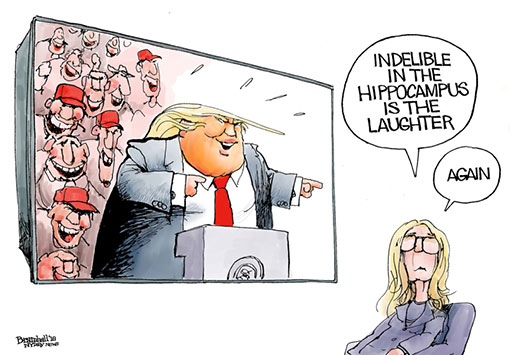 16. Major Climate Report Describes a Strong Risk of Crisis as Early as 2040
A landmark report from the United Nations' scientific panel on climate change paints a far more dire picture of the immediate consequences of climate change than previously thought and says that avoiding the damage requires transforming the world economy at a speed and scale that has "no documented historic precedent."
The report, issued on Monday by the Intergovernmental Panel on Climate Change, a group of scientists convened by the United Nations to guide world leaders, describes a world of worsening food shortages and wildfires, and a mass die-off of coral reefs as soon as 2040 — a period well within the lifetime of much of the global population.
The report "is quite a shock, and quite concerning," said Bill Hare, an author of previous I.P.C.C. reports and a physicist with Climate Analytics, a nonprofit organization. "We were not aware of this just a few years ago." The report was the first to be commissioned by world leaders under the Paris agreement, the 2015 pact by nations to fight global warming.
The authors found that if greenhouse gas emissions continue at the current rate, the atmosphere will warm up by as much as 2.7 degrees Fahrenheit (1.5 degrees Celsius) above preindustrial levels by 2040, inundating coastlines and intensifying droughts and poverty. Previous work had focused on estimating the damage if average temperatures were to rise by a larger number, 3.6 degrees Fahrenheit (2 degrees Celsius), because that was the threshold scientists previously considered for the most severe effects of climate change. https://www.nytimes.com/2018/10/07/climate/ipcc-climate-report-2040.html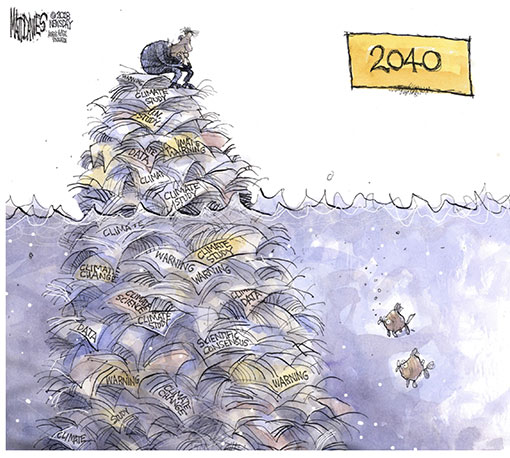 17. House Republicans distort and dissemble in slashing TV ads
Attack ads have always been a staple of campaign season. But Republicans have twisted facts in some ads to an extraordinary degree as they fight to save their House majority, weaving narratives about Democratic candidates that are misleading at best — or blatantly false at worst.
In several ads, military vets — who count as some of Democrats' best recruits to defeat sitting Republicans this year — have had their patriotism called into question. One spot insinuates that Spanberger, who is challenging Rep. Dave Brat (R-Va.), has ties to extremists because she taught at a Saudi Arabia-funded Muslim school that two infamous terrorists once attended. The CIA not only knew about the job, but also later hired Spanberger and employed her for eight years.
Democrats say the spots, aired mostly by the outside GOP super PAC Congressional Leadership Fund and the National Republican Congressional Committee, smack of desperation. In some cases, local Republicans, religious leaders and newspaper editorial boards have denounced the attacks. https://www.politico.com/story/2018/10/09/republican-attack-ads-midterms-876287
1. Matthew Yglesias: Brett Kavanaugh's confirmation will delegitimize the Supreme Court — and that's good
Brett Kavanaugh's confirmation as an associate justice of the Supreme Court has prompted not only exuberance and anger but also a kind of hazy worry in some corners that the circumstances of his ascension will call the Court's legitimacy into doubt.
The truth is it's about time. The one upside to putting a person on the bench whose dishonesty and (literal and metaphorical) intemperance has been on such flagrant display is that it could prompt a sorely needed reckoning with the larger issue of the Court's mostly pernicious role in American public affairs.
For the past 25 years, the judiciary has moved increasingly further right and the Supreme Court has tossed out duly enacted legislation, opened the floodgates to public corruption, and undermined substantive democracy. The public has largely missed this bigger picture because the American progressive movement has focused attention on the role of Court in protecting abortion rights.
Reasonable people can disagree about the appropriate remedy to this problem, but the first step is to recognize it exists. And there's no better face for an increasingly radical and anti-democratic Supreme Court than the ruddy, yelling visage of Brett Kavanaugh. https://www.vox.com/2018/10/5/17941312/brett-kavanaugh-supreme-court-legitimacy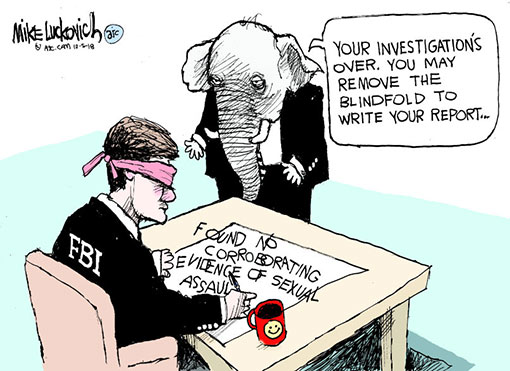 2. Jonathan Chait: Republicans Defend and Cover Up Trump's Tax Fraud
President Trump has flouted decades of precedent by refusing to release his tax returns. One possible reason for this is that they might reveal his foundational myth as a self-made man as a lie, and that his main business was receiving payments from Daddy through what the Times calls "outright fraud." The emerging Republican line on these revelations is that Trump did nothing wrong and no further investigation is warranted.
Asked about the New York Times report, senator and barometer of party opinion Marco Rubio told CNN's Marita , "I think it's a testament to how crazy and complicated the tax code is in general." The tax code is complex, but the Times was not revealing that Trump or his family were confused about the law. They deliberately crafted a series of ruses, including shell companies that would pad expenses and funnel the profits from father Fred to son Donald.
Yes, the tax code is complicated, but Trump was deliberately violating some relatively simple instructions. His crooked tax schemes are not a testament to the complexity of the tax code any more than Hannibal Lecter is a testament to the complexity of exactly which kinds of meat can be consumed under the kosher laws.
Democrats have been saying for months that, if they win a chamber of Congress, they will subpoena the tax returns under a 1924 law which allows them to do it. Kevin Brady, chairman of the House Ways & Means Committee, warns that if Trump's tax returns are released, anybody's returns can be/
Yes, YOUR returns might be next, assuming "you" are the presidential nominee of a major party and/or had your manifestly illegal tax fraud described in 8,000 word detail in the newspaper of record. http://nymag.com/daily/intelligencer/2018/10/republicans-defend-and-cover-up-trumps-tax-fraud.html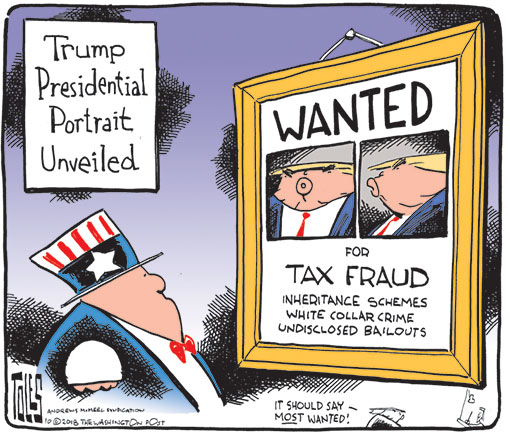 3. Peter Hamby: "This Is What We Were Worried About": Kavanaugh, Trump, And The Swift Boating Of The Supreme Court
President Donald Trump's ugly derision of Christine Blasey Ford in Mississippi this week was simultaneously loathsome and entirely predictable. "How did you get home? I don't remember," he said on Tuesday night, mocking Ford's testimony last week against Supreme Court nominee Brett Kavanaugh. "How'd you get there? I don't remember. Where is the place? I don't remember. How many years ago was it? I don't know." Trump, as usual, was playing to the worst instincts of a rowdy crowd that gleefully laughed along with him. But strikingly, they were all needling a 51-year-old woman who has spent decades grappling with the psychological and emotional fallout from a teenage sexual assault.
This is who Trump is, of course, and you could read it on the faces of the White House correspondents who went on television the next morning to dissect his speech. Despite calling Ford "credible" and "compelling" the preceding week, reporters knew the president was never going keep his actual thoughts to himself, because he never has, despite what his aides or Republicans on Capitol Hill want. It was the real Trump who spoke in Mississippi Tuesday, the one who has rarely expressed even a shred of empathy for the most vulnerable among us, whether it be immigrant children, the disabled, the poor, and especially the victims of sexual assault. Remember, it is the official position of the White House that every single one of the women who have accused Trump of sexual misconduct are liars. All 16 of them.
And yet: Trump's electoral success is derived from his ability to surf his own pure instinct, however crude or impolitic, and translate it into a weirdly ad-hoc political strategy. He knows that the Kavanaugh saga is shaping up to be exactly the kind of thing that motivates the kind of voter that brought him to the Oval Office in the first place—the aging white man. So why would he not take Kavanaugh's side in the most Trump-y way imaginable? Aside from his elite credentials and Bethesda, Maryland, bearing, Kavanaugh himself is something of a stand-in for the Republican voter in the age of Trump—a white, fiftysomething man, furious that what he feels is owed to him might be slipping away thanks to sinister forces at work in our culture. A white guy in a competitive Senate state like Texas, North Dakota, Florida, or West Virginia can surely identify with a man who may have done something stupid in high school or college, but doesn't think it should ruin his life. https://www.vanityfair.com/news/2018/10/kavanaugh-trump-and-the-swift-boating-of-the-supreme-court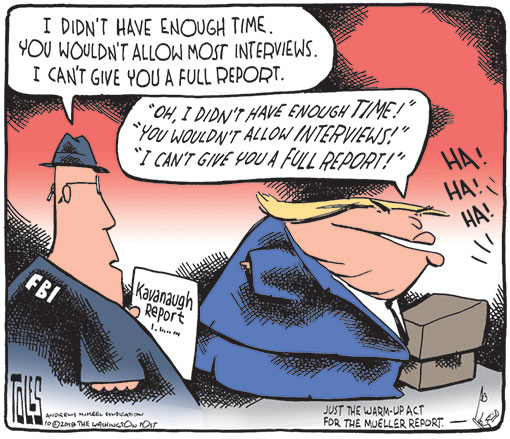 4. Eric Levitz: In Op-ed, Kavanaugh Assures Skeptics That He Will Say Whatever They Want to Hear
Here is a rough summary of what Brett Kavanaugh is, ostensibly, asking you to believe: Christine Blasey Ford is an exceptionally gifted (and exceptionally sociopathic) amateur actress — or else, a person suffering from a severe memory disorder — who wrongly accused him of a serious crime. This false allegation caused the Supreme Court nominee to lose control of his emotions, and, in a fit of frustrated anger, to write a (carefully proofread and copyedited) opening statement to the Senate that was full of wholly unsubstantiated claims about the vast, left-wing conspiracy against him. But this hyperpartisan tantrum was an aberration, one entirely out of step with his long, distinguished career (as a Republican operative, turned George W. Bush aide, turned far-right federal judge). When he isn't being accused of a crime he did not commit, he will treat Democratic arguments with the utmost intellectual charity (heck, he might even be willing to entertain bizarre premises like "when a Democrat expresses concern about a sworn allegation of sexual assault against me, that is not dispositive evidence that George Soros has paid her to destroy my career by any means necessary"). He will be an independent, impartial judge — and definitely will not work to ensure that "what goes around comes around."
Perhaps this account strikes you as a plausible. But there is an alternative theory: Brett Kavanaugh is an opportunistic, partisan judge who will say whatever he needs to in order to win confirmation to the Supreme Court — and once there, will reason however he needs to in order to arrive at the conclusions the conservative movement prefers. http://nymag.com/daily/intelligencer/2018/10/brett-kavanaughs-wsj-wall-street-journal-op-ed-apology-crass-opportunism.html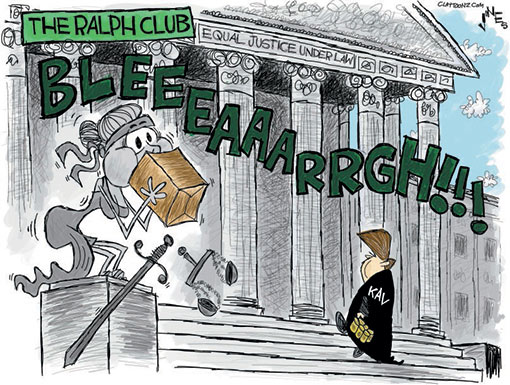 5. Susan B. Glasser: "None of This Was Fair": the Kavanaugh Nomination Marks the Triumph of Trumpism on Capitol Hill
For President Trump the whole fight has, arguably, been a triumph, and exactly the sort of triumph he loves: divisive and loud, with enraged liberals sputtering and his political base riled up and loving it. Trump appears to have succeeded in nominating two new conservatives to the Supreme Court in less than two years, cementing its turn to the right for years or decades. All the better, from the President's point of view, he did so while igniting a new round in the American culture war only a few weeks before the midterm elections. Trump stoked his voters' sense of grievance by claiming that Kavanaugh was the victim of a "big fat con job" to smear an innocent man by evil feminists, liberals, and even the Jewish financier George Soros. As a bonus, the media temporarily shifted its attention away from the meltdown that is Trump's White House. We were no longer talking about Bob Woodward and Anonymous, the flipping of Trump's campaign chairman Paul Manafort and Trump's lawyer Michael Cohen, the impending report from the special counsel, Robert Mueller, or the President's escalating threats to fire the Attorney General and his deputy. Even many of his #NeverTrump critics fell in line with the President over the Kavanaugh nomination. And some of the party stalwarts on Capitol Hill who had disdained the President in 2016 sounded an awful lot like Trump as they shouted their outrage over Kavanaugh's treatment. Kavanaugh himself will go down as the most openly partisan candidate to make it to the Supreme Court in modern times, having taken the unprecedented step of campaigning for his job on Fox News and in the Wall Street Journal, while blaming the allegations against him on Trump-hating Democrats out for revenge "on behalf of the Clintons." "The surprise was not that Republicans on the Hill acquiesced to President Trump. They did that a long time ago," Charlie Sykes, the former radio-talk show host and contributing editor to the conservative Weekly Standard, told me. Sykes is one of Trump's few remaining G.O.P. critics. "Now they have become Trump." https://www.newyorker.com/news/letter-from-trumps-washington/none-of-this-was-fair-the-kavanaugh-nomination-marks-the-triumph-of-trumpism-on-capitol-hill-susan-collins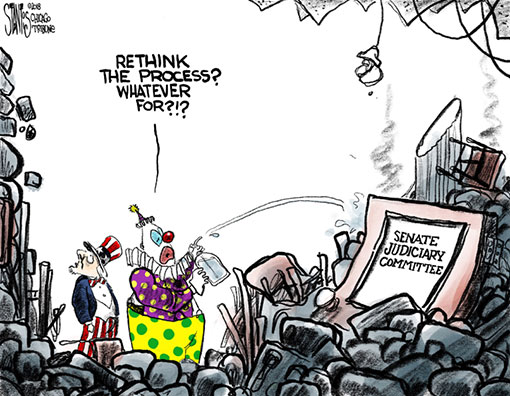 6. Sophia A. Nelson:  Brett Kavanaugh's confirmation is the ultimate affirmation of the patriarchy — and Republican women let it happen
So, we end up where we began.
Things have not changed for women as much as we had all hoped.
America was founded upon the principle that all men (people) are created equal. It was understood that citizens of the Republic would have the right to think and express themselves freely, be secure in their persons and be grounded in certain "unalienable rights."
Of course, we know that those "rights," penned so eloquently by Thomas Jefferson (arguably the original "Republican"), were only granted to white, Protestant men or white male landowners. Regardless of birth or station in life, white men in the early colonies owned the land, they owned the commerce, they owned the slaves, they held all the elected positions and they held all the wealth.
In short, white men — by birthright — were entitled to everything.
This is important context for the moment we now find ourselves in. Republicans — male and female alike — have finally achieved what they wanted: the confirmation of Judge Brett Kavanaugh to the Supreme Court, no matter its bitter and divisive cost to the nation. https://www.nbcnews.com/think/opinion/brett-kavanaugh-confirmation-ultimate-affirmation-patriarchy-republican-women-let-it-ncna917386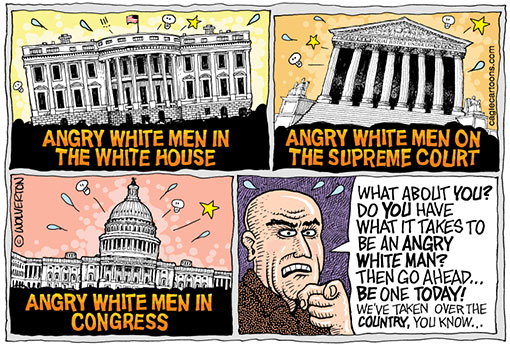 7. Frank Bruni: Lindsey Graham Is the Saddest Story in Washington
His fight for Brett Kavanaugh completed his transformation into Donald Trump's slobbering manservant.
The battle over Brett Kavanaugh's nomination to the Supreme Court was an especially ugly episode of a reality-show presidency that degrades almost everyone swept up in it, and many characters stagger away from it looking worse than ever.
That's Senator Lindsey Graham you see at the head of the pack. That's Graham you hear talking and talking and talking some more, in committee rooms and on stages and before the television cameras that he rushes to the way a toddler chases soap bubbles. His words are whichever ones guarantee a major role and a powerful patron, which means that these days he sounds like a more articulate echo of his golfing buddy: Donald Trump.
That wouldn't, by itself, be cause to dwell on him. Washington is lousy with lackeys, and not even the maddest of kings thins their ranks.
But Graham is special. He really is. I can't think of another Republican whose journey from anti-Trump outrage to pro-Trump obsequiousness was quite so illogical or half as sad, and his conduct during the war over Kavanaugh completed it. For the president he fought overtime, he fought nasty and he fought without nuance.
In so doing, he distilled our rotten politics — its transactional nature, its tribal fury, its hysterical pitch — as neatly as anybody in the current Congress does.
Has a diva at La Scala ever delivered an aria as overwrought as the one that Graham performed on the day when both Christine Blasey Ford and Brett Kavanaugh testified before the Senate Judiciary Committee? I doubt it. https://www.nytimes.com/2018/10/06/opinion/sunday/lindsey-graham-brett-kavanaugh.html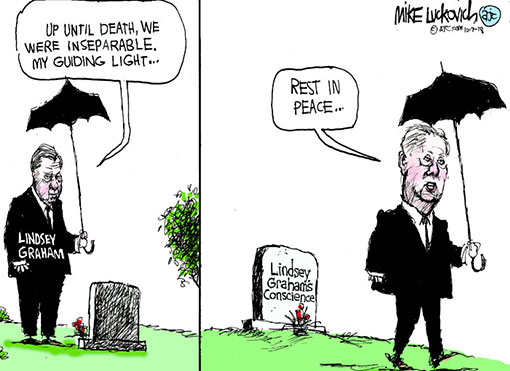 8. Ryan Cooper: The partisan hackery of the Supreme Court
The mask has finally slipped, and the Supreme Court has once and for all been revealed as nothing but a partisan political machine. There is no better evidence than Brett Kavanaugh's confirmation to the court, decided by a 50-48 vote on Saturday.
This is a serious blow to the fortunes of many Americans — but particularly women. The Supreme Court is now all but assured a conservative majority for many years to come, and Kavanaugh and Co. are highly likely to continue the current trend in conservative jurisprudence of allowing any restriction on abortion that is not a straight-up ban.
If there's a silver lining to be found, it's that Kavanaugh's elevation to the court, in spite of multiple allegations of sexual misconduct, and a demonstrable pattern of lying under oath, may finally destroy the Supreme Court's last vestiges of nonpartisan legitimacy. Even setting aside the pile of assault allegations, nominating an enraged right-wing extremist — which is exactly what Kavanaugh revealed himself to be in his hearing on Sept. 27 — makes the conservative game on the courts clear. They want to abuse the power of judicial review to strike down liberal laws and enshrine conservative ones as inherently constitutional. The sooner liberals grasp this reality, the better. http://theweek.com/articles/800083/partisan-hackery-supreme-court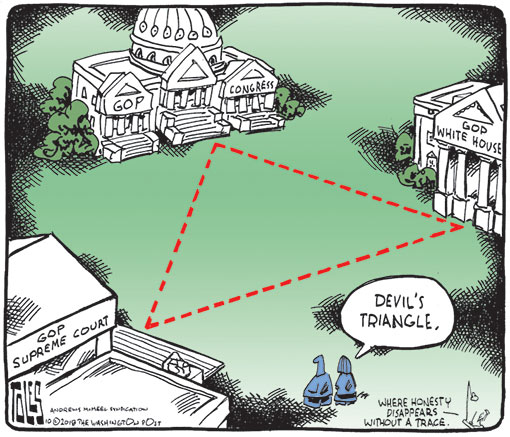 9. Paul Krugman: The Paranoid Style in G.O.P. Politics
Republicans are an authoritarian regime in waiting
Senior figures in the Republican Party, which controls all three branches of the federal government — if you had any questions about whether the Supreme Court was a partisan institution, they should be gone now — are sounding just like the white nationalists in Hungary and Poland. What does this mean?
The answer, I submit, is that the G.O.P. is an authoritarian regime in waiting.
Trump himself clearly has the same instincts as the foreign dictators he so openly admires. He demands that public officials be loyal to him personally, not to the American people. He threatens political opponents with retribution — two years after the last election, he's still leading chants of "Lock her up." He attacks the news media as enemies of the people.
Add in the investigations closing in on Trump's many scandals, from tax cheating to self-dealing in office to possible collusion with Russia, all of which give him every incentive to shut down freedom of the press and independence of law enforcement. Does anyone doubt that Trump would like to go full authoritarian, given the chance?
And who's going to stop him? The senators parroting conspiracy theories about Soros-paid protesters? The newly rigged Supreme Court? What we've learned in the past few weeks is that there is no gap between Trump and his party, nobody who will say stop in the name of American values.
But as I said, the G.O.P. is an authoritarian regime in waiting, not yet one in practice. What's it waiting for?
Well, think of what Trump and his party might do if they retain both houses of Congress in the coming election. If you aren't terrified of where we might be in the very near future, you aren't paying attention. https://www.nytimes.com/2018/10/08/opinion/gop-trump-kavanaugh-conspiracies-partisan.html
10. NY Times Editorial: Coal Is Killing the Planet. Trump Loves It.
If we keep burning coal and petroleum to power our society, we're cooked — and a lot faster than we thought. The United Nations scientific panel on climate change issued a terrifying new warning on Monday that continued emissions of greenhouse gases from power plants and vehicles will bring dire and irreversible changes by 2040, years earlier than previously forecast. The cost will be measured in trillions of dollars and in sweeping societal and environmental damage, including mass die-off of coral reefs and animal species, flooded coastlines, intensified droughts, food shortages, mass migrations and deeper poverty.
The worst impacts can be avoided only by a "far-reaching and unprecedented" transformation of the global energy system, including virtually eliminating the use of coal as a source of electricity, the panel warned.
Yet President Trump, who has questioned the accepted scientific consensus on climate change, continues to praise "clean beautiful coal" and has directed his Environmental Protection Agency to reverse major strides undertaken by the Obama administration to reduce greenhouse gas emissions from coal-fired power plants. This is unbelievably reckless. In addition to undermining the fight against climate change, the president's efforts to prop up the dirtiest of all fuels will also exact a significant toll on public health, on the hearts and lungs of ordinary Americans. https://www.nytimes.com/2018/10/08/opinion/epa-climate-environment-trump.html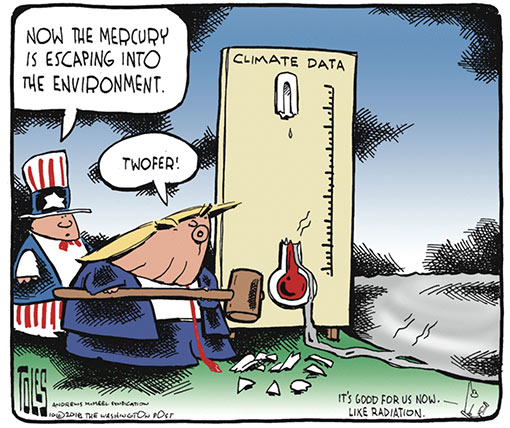 11. Eric Levitz: Republicans: Protesters Are an Unruly Mob — Unless They're Heavily Armed and Support Us
Democrats "have encouraged mob rule," Judiciary committee chair Chuck Grassley lamented from the Senate floor Friday, before proceeding to tell Fox Business that he believed the protesters were mercenaries employed by George Soros, as "it fits in his attack mode and how he uses his billions and billions of resources." Utah senator Orrin Hatch echoed this assessment, decrying the self-proclaimed sexual assault survivors who'd gathered in the capitol as "a paid mob trying to prevent senators from doing the will of their constituents." Marco Rubio, meanwhile, criticized the media for treating these (entrepreneurial) anarchists with undue sympathy, tweeting, "Imagine the coverage on cable news if an angry mob of conservatives stormed the steps of the Supreme Court building."
On one level, this is just bog-standard, bad-faith Republican messaging. The GOP long ago determined that it can't compete on the strength of its (deeply unpopular) tax cuts and health-care agenda, or even, on a straightforward presentation of its positions on "culture war" issues — most Republican voters want more border enforcement, and a pathway to legalization for all undocumented immigrants (i.e., the Democratic Party's official position on immigration). Rather, Republicans know that their best bet is to stoke the paranoid fears and cultural resentments of their base, through demagogic lies if necessary. So, the party that insisted on a thorough, nonpartisan investigation of Christine Blasey Ford's allegations is trying to end "due process" in the United States; protesters who nonviolently made their voices heard in the halls of power are assaulting "democracy"; Dianne Feinstein is the lead sponsor of an "open borders bill"; and some Democratic House candidates are literal terrorists. http://nymag.com/daily/intelligencer/2018/10/brett-kavanaugh-left-protests-mob-republicans-bundy-midterms.html