April 9, 2020
ON THE RECORD. . .
"The polling sucked. The campaign panicked about the numbers in red states. They don't expect to win states that are getting blown to pieces with coronavirus." — A former White House official on why Trump only shifted his tone as the coronavirus virus spread to "Trump country."

"You see what happens, it's witch hunt after witch hunt after witch hunt, and in the end, it's people doing the witch hunt who are losing, and they've been losing by a lot. And it's not any time for witch hunts." -- Trump after House Speaker Nancy Pelosi announced a bipartisan committee overseeing his administration's handling of the coronavirus pandemic.

Trump Org is reportedly seeking debt help from Deutsche as the bank is being probed by DOJ is the "absolute nightmare" he has warned against. — Former White House ethics chief Walter Shaub

Hey Laura, it is a calamity. It's a calamity because of the willful, delusional, purposeful denial of this crisis for months by Trump and sycophantic and dishonest propagandists like you. It is the greatest failure in Presidential history and exposes you as a lethal fraud. — Steve Schmidt tweet to Laura Ingraham.

"We will not see diseases like the coronavirus come here… and isn't it refreshing when contrasting it with the awful presidency of President Obama." — Trump campaign press secretary Kayleigh McEnamy, on Fox News.

"Doctors disagree about things all the time. My qualifications in terms of looking at the science is that I'm a social scientist. I have a Ph.D. And I understand how to read statistical studies, whether it's in medicine, the law, economics or whatever." — White House trade adviser Peter Navarro saying he was qualified to engage and disagree with Dr. Anthony Fauci on the use of an anti-malarial drug as a coronavirus treatment.

"In Trump's predecessors, for all their imperfections, I could sense the beat of a heart and see the glimmer of a soul. In him I can't, and that fills me with a sorrow and a rage that I quite frankly don't know what to do with. … But what has taken me by surprise and torn me up inside are the aloofness, arrogance, pettiness, meanness, narcissism and solipsism that persist in Trump — that flourish in him — even during a once-in-a-lifetime emergency that demands something nobler. Under normal circumstances, these traits are galling. Under the current ones, they're gutting. — Frank Bruni in the NY Times.

Didn't you just put a doctor on your show who faked their employment at Lenox Hill hospital and touted a COVID "treatment" that you tweeted & Twitter had to remove because a man may have died trying self-administer it? I'm sorry, why are you on TV again? — Alexandria Ocasio-Cortez @AOC responding to Laura Ingraham.

"The experts failed, yet the experts now have more power than ever before... We can't allow experts to make the big decisions. That is not their job. This is a democracy. It is our job." — Tucker Carlson blaming public health experts for bungled COVID-19 response.

"The American people deserve an honest and effective government. They are counting on you to use authorized channels to bravely speak up — there is no disgrace for doing so. Please do not allow recent events to silence your voices." — Michael Atkinson, the intelligence community inspector general whom President Trump fired late Friday night has called on whistle-blowers to overcome any fears and come forward with information about waste and illegality in the government despite the administration's reprisals.

"Advertising in the Failing New York Times is WAY down. Washington Post is not much better. I can't say whether this is because they are Fake News sources of information, to a level that few can understand, or the Virus is just plain beating them up. Fake News is bad for America!" — Trump railing against the New York Times and Washington Post after both publications criticized his handling of the coronavirus pandemic. Advertising is down for all publications due to the recent collapse in economic activity.

Here is Trump giving potentially deadly medical advice in bizarre, hushed tones.

 I do, regrettably, know far too much about the career of Donald Trump. And his weeks long hydroxychloroquine song and dance is simply a redux of the pitch job that has served him so well for four decades: Sell the newest Trump-branded miracle scheme as hard as possible until it becomes completely untenable, the feds show up, or the next one bubbles up from the recesses of his frontal lobe." -- Tim Miller in the Bulwark.

"People should ask themselves whether this coronavirus 'pandemic' could be a big hoax, with the actual danger of the disease massively exaggerated by those who seek to profit – financially or politically – from the ensuing panic." — Former Republican presidential candidate Ron Paul.

"This president will always put America first. He will always protect American citizens. We will not see diseases like the coronavirus come here. We will not see terrorism come here. And isn't that refreshing when contrasting it with the awful presidency of President Obama?" — Kayleigh McEnany, who has been tapped to replace White House press secretary Stephanie Grisham.

"Either voters will have to brave the polls, endangering their own and others' safety. Or they will lose their right to vote, through no fault of their own." — Justice Ruth Bader Ginsburg excoriating her conservative colleagues over their decision to deny Wisconsin Democrats' request to extend the deadline for absentee voting in today's primary due to the pandemic.

"Because I'm allowed to." — Trump's response when asked how he reconciled his position that mail-in voting is "horrible" and "it's corrupt" with the fact that he voted by mail in in Florida's election last month.

Republicans should fight very hard when it comes to state wide mail-in voting. Democrats are clamoring for it. Tremendous potential for voter fraud, and for whatever reason, doesn't work out well for Republicans. @foxandfriends — Trump, who knows that when more people are able to vote, Republicans lose.

"Everybody is amazed at the job we're doing. And the public is starting to find out. They're starting — you know, one of the reasons I do these news conferences — because if I didn't, they would believe fake news. And we can't let them believe fake news." — Trump, at his daily coronavirus briefing.

Bernie Sanders is OUT! Thank you to Elizabeth Warren. If not for her, Bernie would have won almost every state on Super Tuesday! This ended just like the Democrats & the DNC wanted, same as the Crooked Hillary fiasco. The Bernie people should come to the Republican Party, TRADE! — Trump making it clear that a divided Democratic Party - and in particular an aggrieved Sanders coalition - is essential to his theory of how to win in 2020.

Thank u, @BernieSanders for putting national interest above all else. Let us unite behind @JoeBiden and focus on one goal: beating Trump. Trump's inept. He's divisive. He's a narcissist. He's a liar. We can't afford to have him (mis)leading this nation during times of crisis. — Ana Navarro-Cárdenas

The #coronavirus crisis continues to drastically accelerate. The people are suffering. Yet the current occupant of the White House rewrites history, deflects responsibility and mishandles the situation. It's no wonder Americans don't trust him during this crisis.-- VIDEO from Nancy Pelosi @TeamPelosi

I waited 2.5 hours today in rain and hail (and a mask and gloves) to vote in Milwaukee because @wisgop and @scotus would rather risk lives than have a fair election. Instead of 182 polling sites, we had 5.#VoterSuppression #WisconsinPrimary. — Trudy Harwood @TrudyandPierre
---
IN THIS ISSUE
FYI
OPINION
1.  Andy Borowitz: Peter Navarro's Ph.D. Revealed to Be from Trump University
Peter Navarro, the trade adviser who is playing a key role in the White House's coronavirus response, earned a Ph.D. from Trump University, it emerged on Tuesday.

Although Navarro has bragged about his academic attainments, his doctorate from Trump U. had remained a well-kept secret until Tuesday morning, when Donald J. Trump cited it as "the reason I hired him."

According to his newly revealed Trump University transcript, Navarro majored in Trump Studies, which the defunct university's course catalogue described as the "study of the incredible achievements and philosophy of Donald J. Trump."

To earn his Ph.D., Navarro wrote a doctoral dissertation entitled "Donald J. Trump: Genius or Savior?" Extolling Navarro's academic work, Trump said, "If it comes down to an argument between Tony Fauci and Peter Navarro, I'll go with the Trump University grad, every time."

For his part, Navarro told reporters that "fighting a pandemic isn't rocket science," but added that he is also an expert in rocket science. https://www.newyorker.com/humor/borowitz-report/
2. How Tea Party Budget Battles Left the National Emergency Medical Stockpile Unprepared for Coronavirus
Fiscal restraints imposed by Republicans in Congress in the early years of the Obama administration left the U.S. less prepared to respond to the coronavirus pandemic today.
Dire shortages of vital medical equipment in the Strategic National Stockpile that are now hampering the coronavirus response trace back to the budget wars of the Obama years, when congressional Republicans elected on the Tea Party wave forced the White House to accept sweeping cuts to federal spending.
Among the victims of those partisan fights was the effort to keep adequate supplies of masks, ventilators, pharmaceuticals and other medical equipment on hand to respond to a public health crisis. Lawmakers in both parties raised the specter of shortchanging future disaster response even as they voted to approve the cuts. https://www.propublica.org/article/us-emergency-medical-stockpile-funding-unprepared-coronavirus
3. Tracking Covid-19 cases in the US
https://www.cnn.com/interactive/2020/health/coronavirus-us-maps-and-cases/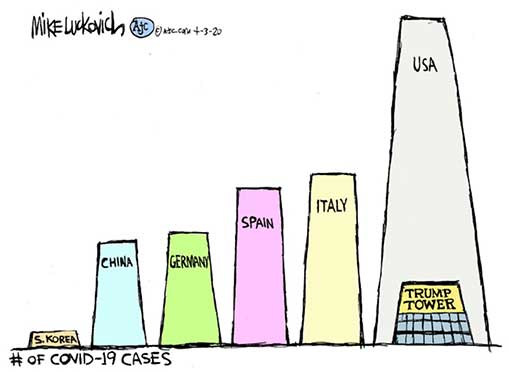 4. Trump's new coronavirus argument: 2 million people are being saved
Don't focus on the 200,000 people the coronavirus might kill in the U.S., think about the 2 million people President Donald Trump is saving.
Even as Trump adopts a somber, get-ready-for-the-worst tone, he still has sought to portray himself as a hero for his actions thus far, batting away questions about whether he has adequately responded to the coronavirus outbreak.
"What would have happened if we did nothing?" the president asked Tuesday night https://www.politico.com/news/2020/04/01/trump-coronavirus-millions-saved-160814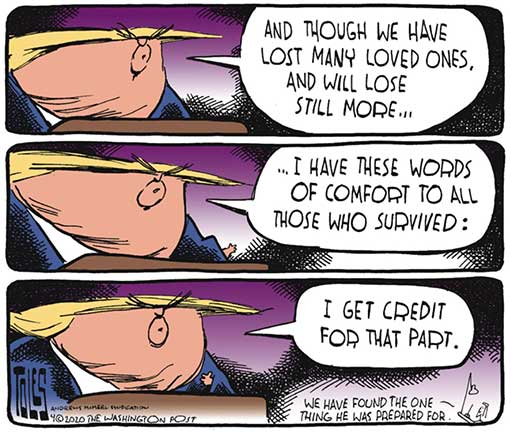 5. Fake News in the Time of Coronavirus
From fake cures to useless products, fake news about Covid-19 is spreading fast. Amazon has already deleted more than a million items deemed to be false advertising or price gouging.
The problem is, it's not just a case of misinformation, but literally a matter of life or death. For example, the "miracle mineral supplement" contains a type of bleach and has serious side effects. And drinking alcohol to slow the virus, as some did in Iran, only results in alcohol poisoning.
To know how to handle the coronavirus, it's more important than ever to be able to weed out reliable information (likely provided by your local health authority) from the fake stories that are rife on social media. https://www.websiteplanet.com/blog/fake-news-and-digital-marketing/
6. Coronavirus Hasn't Stopped Jared Kushner's Real Estate Empire From Hounding Tenants With Debt Collection, Eviction Lawsuits
JARED KUSHNER'S family real estate company, which owns and manages thousands of apartment units, continued its aggressive eviction practices and debt collection lawsuits as Americans wait for government relief. Well into the coronavirus crisis, which has led to skyrocketing unemployment, court records show properties owned by Kushner Companies are still filing new eviction lawsuits.
At least 15 tenants in New Jersey and Maryland have been on the receiving end of lawsuits from Kushner-owned properties even after both states declared states of emergency. Gov. Phil Murphy, D-N.J., and Gov. Larry Hogan, R-Md., have both called for a moratorium on evictions and courts have been closed, postponing hearing dates for a range of debt collection-related activities. https://theintercept.com/2020/04/04/jared-kushner-real-estate-company-evictions/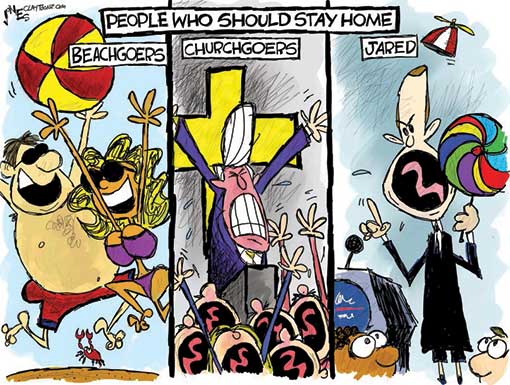 7. 'It's a sh-- sandwich': Republicans rage as Florida becomes a nightmare for Trump
Already anxious about Trump's chances in the nation's biggest swing state, Republicans now are dealing with thousands of unemployed workers unable to navigate the Florida system to apply for help. And the blowback is directed straight at Trump's top allies in the state, Gov. Ron DeSantis and Sen. Rick Scott.
Privately, Republicans admit that the $77.9 million system that is now failing Florida workers is doing exactly what Scott designed it to do — lower the state's reported number of jobless claims after the great recession.
"It's a sh-- sandwich, and it was designed that way by Scott," said one DeSantis advisor. "It wasn't about saving money. It was about making it harder for people to get benefits or keep benefits so that the unemployment numbers were low to give the governor something to brag about."
With hundreds of thousands of Floridians out of work, the state's overwhelmed system is making it nearly impossible for many people to even get in line for benefits. https://www.politico.com/states/florida/story/2020/04/03/its-a-sh-sandwich-republicans-rage-as-florida-becomes-a-nightmare-for-trump-1271172
8. Senators clash over Hunter Biden probe in classified briefing
A key Senate committee is vowing to press forward with its investigation targeting former Vice President Joe Biden's son Hunter, despite logistical challenges posed by the global coronavirus pandemic.
The probe, which Democrats vigorously oppose, has fueled tension among the Senate's ranks, even breaking out into a rare and previously unreported verbal altercation between senators during a classified briefing. https://www.politico.com/news/2020/04/03/hunter-biden-senate-probe-162118
9. The greatest error may be believing that the crisis will be over in three to four months.
At this stage in the COVID-19 pandemic, uncertainty prevails. The greatest error that geopolitical analysts can make may be believing that the crisis will be over in three to four months, as the world's leaders have been implying. As documented in The Atlantic and elsewhere, public-health experts make a compelling case that COVID-19 could be with us in one way or another until a vaccine comes on the market or herd immunity is achieved—either of which could take 12 to 18 months, unless we get lucky with a cure or an effective treatment before then. A long crisis, which is more likely than not, could stretch the international order to its breaking point. Even after a vaccine is available, life will not go back to normal. COVID-19 was not a black swan and will not be the last pandemic. A nervous world will be permanently changed.
COVID-19 is the fourth major geopolitical shock in as many decades. In each of the previous three, analysts and leaders grossly underestimated the long-term impact on their society and on world politics. https://www.theatlantic.com/ideas/archive/2020/04/pandemic-lasts-18-months-will-change-geopolitics-good/609445/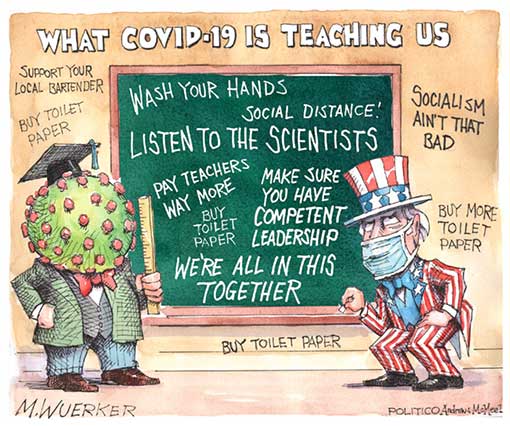 10. Trump's New Purge
Sources close to President Trump expect him to fire more inspectors general across his government, after his Friday night removal of Michael Atkinson, the intelligence community I.G. who alerted Congress to the complaint that triggered impeachment.
Conservative allies of the president have told him that these I.G.s are members of the "deep state" trying to undermine him. Trump appears to have embraced that view. https://www.axios.com/trump-purge-inspector-general-519c798e-f8d2-4de3-bd96-d9b663c1acde.html
11. Voters Increasingly Dissatisfied With Lack of Preparidness
40% of 2016 Trump voters say the president did not take coronavirus seriously enough early in the crisis, up 17 points since early last week.

There's been a 7-point increase since March 23rd in the percentage of Americans saying they are seriously concerned that Trump downplayed the threat of the coronavirus early on.

Six in ten Americans say Trump's failure to act early raises serious concerns, with people of color especially concerned about Trump's early inaction.

A clear majority of Americans say that "unprepared" applies to Trump's coronavirus response.
The share of Americans who say "Honest" does not apply to Trump's coronavirus response has grown by 9 points.

A plurality of Americans (47%) are more concerned that Trump was unprepared and made early mistakes than they are about the lack of action right now (20%).

Trump's overall approval now stands at 45%, just two points above his average approval rating in Navigator's tracking pre-coronavirus. https://navigatorresearch.org/wp-content/uploads/2020/04/Public-Opinion-on-Coronavirus-Navigator-Daily-04.04.20.pdf
12. Trump says in-person general election should happen; claims without evidence that 'a lot of people cheat' with mail-in voting
Punctuating the White House task force briefing Friday, President Trump said adamantly that the general election would still take place Nov. 3, dismissing any suggestion of mail-in voting.
He was asked if mail-in voting should be an option if coronavirus was still present in the fall, something Anthony Fauci has said is possible, to prevent further spread as people cast their ballots in-person.
"I think a lot of people cheat with mail-in voting," Trump said. "People should vote with ID, voter ID, I think voter ID is very important. The reason they don't want voter ID is because they intend to cheat."
Trump did not provide any evidence to back up his assertion and immediately ended Friday's news conference after discussing the topic. He and his wife Melania Trump voted by absentee ballot in New York in the 2018 midterm elections. https://www.washingtonpost.com/world/2020/04/03/coronavirus-latest-news/#link-TEIFDF6JXRA65HGQIGJH3I4QOY
13. Trump campaign declares war on Dems over voting rules for November
Donald Trump's political operation is launching a multimillion-dollar legal campaign aimed at blocking Democrats from drastically changing voting rules in response to the coronavirus outbreak.
In the past several weeks, the reelection campaign and the Republican National Committee have helped to oversee maneuvering in a handful of battleground states with an eye toward stopping some Democratic efforts to alter voting laws, and to bolster Trump. The mobilization is being closely coordinated with Republicans at the state and local levels.
The Trump campaign and RNC are actively engaged in litigation in Wisconsin, where the parties are at loggerheads over an array of issues including voter identification, and in New Mexico, where the battle involves vote-by-mail. The skirmishing has also spread across key states like Pennsylvania and Georgia, where the well-organized Trump apparatus has fought over changes that could sway the outcome of the election.
The enterprise — which includes more than two dozen GOP officials, including lawyers dedicated entirely to litigation — shows how completely the pandemic has upended the 2020 election. While litigation over voting issues is not uncommon, the coronavirus — and the likely obstacles it will create for voting in November — has brought the issue to the forefront of the campaign. https://www.politico.com/news/2020/04/03/trump-2020-election-legal-battle-coronavirus-162152
14. Trump administration ended pandemic early-warning program to detect coronaviruses
Two months before the novel coronavirus is thought to have begun its deadly advance in Wuhan, China, the Trump administration ended a $200-million pandemic early-warning program aimed at training scientists in China and other countries to detect and respond to such a threat. https://www.latimes.com/science/story/2020-04-02/coronavirus-trump-pandemic-program-viruses-detection
15. Donald Trump's utterly childish letter to Chuck Schumer
Moments before he urged people to take politics out of the coronavirus fight -- Donald Trump sent an absolutely unbelievable letter to Senate Minority Leader Chuck Schumer.
The letter which the White House released reads like a sort of Mad Libs you might fill out and leave in the locker of your 7th grade enemy. It makes abundantly clear that Trump is annoyed with Schumer's push for a more robust federal response to the coronavirus pandemic and angry at the New York Democrat's push for White House trade adviser Peter Navarro to be replaced as the coordinator of the Defense Production Act. https://www.cnn.com/2020/04/03/politics/chuck-schumer-donald-trump-letter-coronavirus/
16. Mortgage Defaults Could Pile Up at Pace That Dwarfs 2008
Mortgage lenders are preparing for the biggest wave of delinquencies in history. If the plan to buy time works, they may avert an even worse crisis: Mass foreclosures and mortgage market mayhem.
Borrowers who lost income from the coronavirus -- already a skyrocketing number, with a record 10 million new jobless claims -- can ask to skip payments for as many as 180 days at a time on federally backed mortgages, and avoid penalties and a hit to their credit scores. But it's not a payment holiday. Eventually, they'll have to make it all up.
As many as 30% of Americans with home loans – about 15 million households –- could stop paying if the U.S. economy remains closed through the summer or beyond, according to an estimate by Mark Zandi, chief economist for Moody's Analytics.
https://www.bloomberg.com/news/articles/2020-04-02/home-lenders-brace-for-up-to-15-million-u-s-mortgage-defaults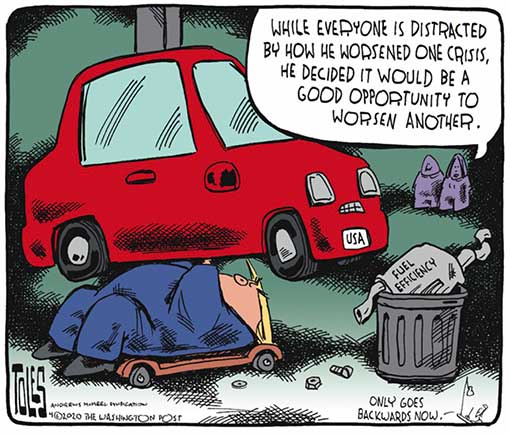 17. Anthony Fauci's security is stepped up as doctor and face of U.S. coronavirus response receives threats
Anthony S. Fauci, the nation's top infectious-diseases expert and the face of the U.S. response to the novel coronavirus pandemic, is facing growing threats to his personal safety, prompting the government to step up his security, according to people familiar with the matter.
Last month, an article depicting him as an agent of the "deep state" gained nearly 25,000 interactions on Facebook — meaning likes, comments and shares — as it was posted to large pro-Trump groups with titles such as "Trump Strong" and "Tampa Bay Trump Club." https://www.washingtonpost.com/politics/anthony-faucis-security-is-stepped-up-as-doctor-and-face-of-us-coronavirus-response-receives-threats/2020/04/01/ff861a16-744d-11ea-85cb-8670579b863d_story.html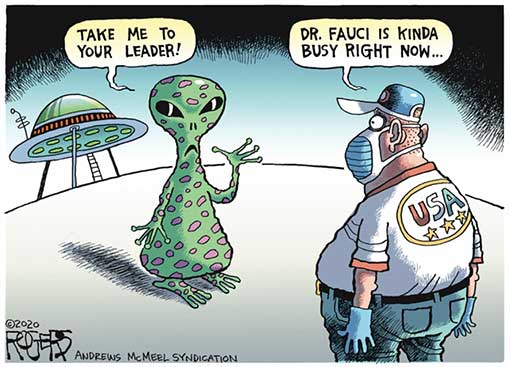 18. Trump's Failed Coronavirus Response Cost Him Incumbent's Edge
Springtime may be a time for rebirth and hope, but it's also a time when heavily bankrolled presidents vanquish the out-party nominee."
Except, this year, that's impossible. Trump clearly has his hands full with a major crisis. What is more, the seriousness of this pandemic (and the fact that Trump has already botched his handling of it) makes it very hard to deploy his brand of scorched-earth mockery. Doing so would not just provoke a potential backlash for its unseemliness, it would also reinforce the notion that Trump isn't fully focused on saving lives.  
In essence, the coronavirus did what no imaginable force could possibly do: It neutralized Donald Trump's ability to humiliate his opponent, while giving his opponent the perfect excuse to lay low. The Hunter Biden/Burisma "scandal," for example, isn't likely to have anywhere near the resonance Trump hoped.  https://www.thedailybeast.com/trumps-failed-coronavirus-response-cost-him-his-incumbents-edge-over-joe-biden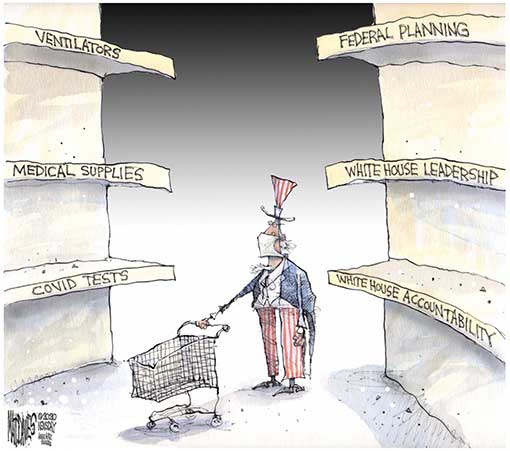 19. 430,000 People Have Traveled From China to U.S. Since Coronavirus Surfaced
Since Chinese officials disclosed the outbreak of a mysterious pneumonia like illness to international health officials on New Year's Eve, at least 430,000 people have arrived in the United States on direct flights from China, including nearly 40,000 in the two months after President Trump imposed restrictions on such travel, according to an analysis of data collected in both countries. https://www.nytimes.com/2020/04/04/us/coronavirus-china-travel-restrictions.html
20. Trump Getting Coronavirus Advice from 'Quack' Dr. Oz
As the global pandemic and a staggering economic crisis As the global pandemic and a staggering economic crisis swells, Dr. Mehmet Oz, the controversial celebrity doctor, has been advising senior Trump administration officials on coronavirus-related matters.
Oz has appeared on Fox News 21 times since March 24, including a virtual town-hall event where he promoted hydroxychloroquine as a coronavirus treatment and got to speak directly to Trump and Vice President Mike Pence. Oz is still in the midst of a media blitz that has focused on swinging by some of the shows that Trump watches most obsessively. https://www.thedailybeast.com/trump-eyes-accused-quack-dr-oz-for-coronavirus-and-hydroxychloroquine-advice
21. Americans hit by economic shocks as confusion, stumbles undermine Trump's stimulus effort
The Trump administration has stumbled in its initial push to implement the $2 trillion coronavirus aid package, with confusion and fear mounting among small businesses, workers and the newly unemployed since the bill was signed into law late last month.
Small-business owners have reported delays in getting approved for loans without which they will close their doors, while others say they have been denied altogether by their lenders and do not understand why. The law's provision to boost unemployment benefits has become tangled in dated and overwhelmed state bureaucracies, as an unprecedented avalanche of jobless Americans seeks aid.
Officials at the Internal Revenue Service have warned that $1,200 relief checks may not reach many Americans until August or September if they haven't already given their direct-deposit information to the government. Taxpayers in need of answers from the IRS amid a rapidly changing job market are encountering dysfunctional government websites and unresponsive call centers that have become understaffed as federal workers stay home. https://www.washingtonpost.com/business/2020/04/05/americans-hit-by-economic-shocks-confusion-stumbles-undermine-trumps-stimulus-effort/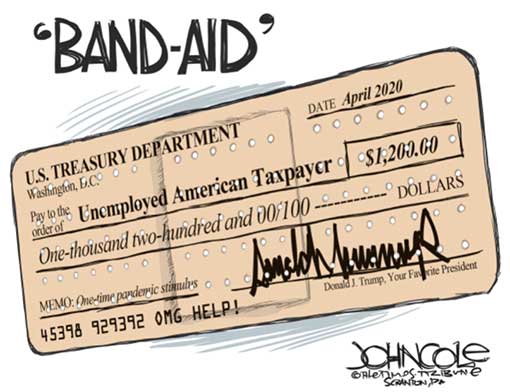 22. Appeals Court Allows Texas to Ban Most Abortions During Coronavirus Pandemic
A federal appeals court on Tuesday allowed Texas to suspend most abortions in the state during the coronavirus public-health crisis, a move that could quickly send the issue to the Supreme Court.
The U.S. Court of Appeals for the Fifth Circuit, in a 2-to-1 ruling, lifted a trial judge's restraining order that prevented the state from curbing abortions on the grounds that it would save medical resources. https://www.wsj.com/articles/appeals-court-allows-texas-to-ban-most-abortions-during-coronavirus-pandemic-11586292416?mod=djemalertNEWS
23. Trade Adviser Warned White House in January of Risks of a Pandemic
A top White House adviser starkly warned Trump administration officials in late January that the coronavirus crisis could cost the United States trillions of dollars and put millions of Americans at risk of illness or death.
The warning, written in a memo by Peter Navarro, President Trump's trade adviser, is the highest-level alert known to have circulated inside the West Wing as the administration was taking its first substantive steps to confront a crisis that had already consumed China's leaders and would go on to upend life in Europe and the United States.
"The lack of immune protection or an existing cure or vaccine would leave Americans defenseless in the case of a full-blown coronavirus outbreak on U.S. soil," Mr. Navarro's memo said. "This lack of protection elevates the risk of the coronavirus evolving into a full-blown pandemic, imperiling the lives of millions of Americans."
Dated Jan. 29, it came during a period when Mr. Trump was playing down the risks to the United States, and he would later go on to say that no one could have predicted such a devastating outcome. https://www.nytimes.com/2020/04/06/us/politics/navarro-warning-trump-coronavirus.html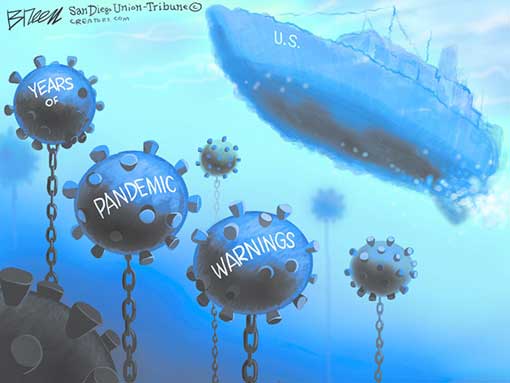 24. Black Americans Face Alarming Rates of Coronavirus Infection in Some States
The coronavirus is infecting and killing black people in the United States at disproportionately high rates, according to data released by several states and big cities, highlighting what public health researchers say are entrenched inequalities in resources, health and access to care.
The statistics are preliminary and much remains unknown because most cities and states are not reporting race as they provide numbers of confirmed cases and fatalities. Initial indications from a number of places, though, are alarming enough that policymakers say they must act immediately to stem potential devastation in black communities. https://www.nytimes.com/2020/04/07/us/coronavirus-race.html
25. "An election day unlike any other: Wisconsinites vote in the middle of a coronavirus pandemic
It was an election day for the history books, unprecedented and unimaginable.
After Gov. Tony Evers tried to delay it, and the state Supreme Court declared the vote must go on, Wisconsinites went to the polls in Tuesday's spring election and cast ballots carefully, deliberately and defiantly in the midst of the coronavirus pandemic.
"People died for my right to vote, so if I have to take a risk to vote that's what I have to do," said Michael Claus, 66, who was among several hundred people waiting in an early morning line to vote at Milwaukee's Riverside University High School.
Across the state, in schools, churches and town halls, poll workers risked their health to make sure democracy worked. Members of the National Guard also pitched in.
In Milwaukee, where only five polling sites were open, the workers donned face masks and rubber gloves, handed out black pens to voters, wiped surfaces clean and kept the lines moving as best they could even as the state remained under a safer-at-home order. https://www.jsonline.com/story/news/politics/elections/2020/04/07/wisconsinites-vote-midst-coronavirus-pandemic/2960420001/
26. Trump claims that his daughter created 10 percent of all the jobs in the United States
On Tuesday, President Trump hosted a call with business leaders to discuss efforts to provide financial relief to small businesses. During that call, he made an astounding claim: that his daughter Ivanka personally created 15 million jobs.
To put this claim in perspective, as of January — before the coronavirus pandemic caused the US economy to start hemorrhaging jobs — about 152 million people in the United States were employed, according to the Bureau of Labor Statistics. So Trump is claiming that his daughter created about 10 percent of all the jobs in the United States. https://www.vox.com/2020/4/8/21212802/trump-ivanka-10-percent-jobs-walmart-15-million
27. Coronavirus Was Slow to Spread to Rural America. Not Anymore.
A new wave of coronavirus cases is spreading deep into rural corners of the country where people once hoped their communities might be shielded because of their isolation from hard-hit urban centers and the natural social distancing of life in the countryside.
The coronavirus has officially reached more than two-thirds of the country's rural counties, with one in 10 reporting at least one death. Doctors and elected officials are warning that a late-arriving wave of illness could overwhelm rural communities that are older, poorer and sicker than much of the country, and already dangerously short on medical help. https://www.nytimes.com/interactive/2020/04/08/us/coronavirus-rural-america-cases.html
28. Intelligence Report Warned of Virus In November
As far back as late November, U.S. intelligence officials were warning that a contagion was sweeping through China's Wuhan region, changing the patterns of life and business and posing a threat to the population, according to four sources briefed on the secret reporting.
Concerns about what is now known to be the novel coronavirus pandemic were detailed in a November intelligence report by the military's National Center for Medical Intelligence (NCMI), according to two officials familiar with the document's contents.
"Analysts concluded it could be a cataclysmic event," one of the sources said of the NCMI's report. "It was then briefed multiple times to" the Defense Intelligence Agency, the Pentagon's Joint Staff and the White House. https://abcnews.go.com/Politics/intelligence-report-warned-coronavirus-crisis-early-november-sources/story
29. The DAILY GRILL
"They're doing tests on airlines — very strong tests — for getting on, getting off. They're doing tests on trains — getting on, getting off." — Trump at an April 1 press briefing.

VERSUS

There is no evidence plane and train passengers in the US are being tested for the coronavirus at all, let alone both when they get on and get off. — Daniel Dale for CNN

 

"Just spoke to my friend MBS (Crown Prince) of Saudi Arabia, who spoke with President Putin of Russia, & I expect & hope that they will be cutting back approximately 10 Million Barrels, and maybe substantially more which, if it happens, will be GREAT for the oil & gas industry!" — Trump on Twitter

VERSUS

Just yesterday: "Now, gasoline's gonna be 99 cents a gallon and less, you know that. That's already starting, it's popping up — 99 cents. So that's like giving a massive tax cut to people of our country." — Trump celebrating the decline in gas prices as a massive tax cut:

 
30. From MEDIA MATTERS (They watch Fox News so you don't have to)
Tucker Carlson: Dr. Anthony Fauci is suggesting "national suicide" and "we should never let someone like that run this country." https://www.mediamatters.org/tucker-carlson/tucker-carlson-dr-anthony-fauci-suggesting-national-suicide-and-we-should-never-let

Art Laffer reacts to 6.6 million unemployment claims: Stimulus will "make the economy worse, not better." I'm the biggest fan of this president's ever. I think he's been the best president so far in the last 50 years. I mean, really, I'm a huge fan. But this stimulus package will make things worse, not better. What we need to do is let people who work and produce keep their income, not have the government take it, and by putting that stimulus package in just like in the 2008-2009 period, and in the Great Depression, it will make the economy worse, not better.  https://www.mediamatters.org/coronavirus-covid-19/art-laffer-reacts-66-million-unemployment-claims-stimulus-will-make-economy

The new Trumpist coronavirus talking point is that the death count is "inflated." As the death toll from the novel coronavirus that causes COVID-19 soars in the U.S. and statistical models predict more than 100,000 to come, conservative media personalities are pushing the ghoulish argument that the fatality statistics are "inflated" because they count people who died with the disease but also had underlying conditions. This is the next frontier in the right's effort to downplay the effect of the coronavirus in order to defend President Donald Trump. https://www.mediamatters.org/fox-news/new-trumpist-coronavirus-talking-point-death-count-inflated

MARIA BARTIROMO (HOST): I understand, I think, what Liz was referring to when she says these numbers don't matter. That's exactly what Steven Mnuchin said, the Treasury secretary, the other day. And I think Liz, what you mean is, is that this is going to be temporary. You believe it's going to be temporary and we're going to see a big snapback here, and that's why you're not putting too much into these numbers. Do I have that right, Liz? https://www.mediamatters.org/coronavirus-covid-19/fox-news-contributor-66-million-new-unemployment-claims-are-any-these-numbers
31. From the Late Shows
Saluting the Heroes of the Coronavirus Pandumbic | The Daily Show: https://youtu.be/NAh4uS4f78o

OAN: Last Week Tonight with John Oliver: https://youtu.be/UnSILVWDKL8
1. Philip Rucker and Robert Costa: Commander of confusion: Trump sows uncertainty and seeks to cast blame in coronavirus crisis
In the three weeks since declaring the novel coronavirus outbreak a national emergency, President Trump has delivered a dizzying array of rhetorical contortions, sowed confusion and repeatedly sought to cast blame on others.
History has never known a crisis response as strong as his own, Trump says — yet the self-described wartime president claims he is merely backup. He has faulted governors for acting too slowly and, as he did Thursday, has accused overwhelmed state and hospital officials of complaining too much and of hoarding supplies.
America is winning its war with the coronavirus, the president says — yet the death toll rises still, and in the best-case scenario more Americans will die than in the wars in Vietnam, Korea, Afghanistan and Iraq combined.
The economy is the strongest ever and will rebound in no time, he says — yet stock markets have cratered and in the past two weeks a record 10 million people filed for unemployment insurance.
As Trump has sought to remake his public image from that of a skeptic of the pandemic's danger to a savior forestalling catastrophe and protecting hundreds of thousands of people from a vicious contagion, he also has distorted the truth, making edits and creating illusions at many turns. https://www.washingtonpost.com/politics/commander-of-confusion-trump-sows-uncertainty-and-seeks-to-cast-blame-in-coronavirus-crisis/2020/04/02/fc2db084-7431-11ea-85cb-8670579b863d_story.html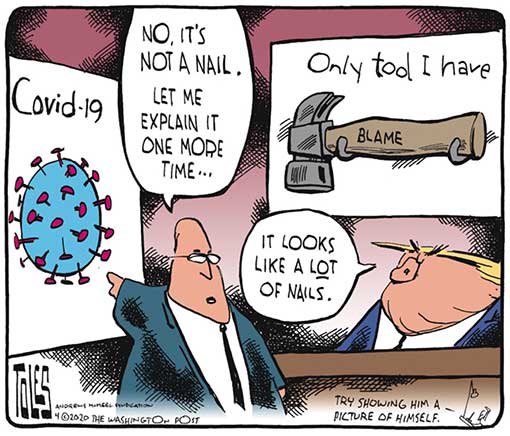 2. John Stoehr: The GOP's Separatist Movement Exposed
One thousand Americans died Wednesday. One thousand more could die today. Six and a half million filed for unemployment insurance benefits in one week, on top of 3.3 million last week. Yet leading Republicans, like Senator Ron Johnson, are urging people to go back to work. Yet leading Republicans, like Senator Tom Cotton, are calling for revenge on China. All the while, Trump appears poised to divvy up the spoils of last week's passage of the $2 trillion economic stimulus so friendly states like Florida get all the help they need while unfriendly states like New York get jack.
The legislation, called the CARES Act, sets aside half a trillion dollars in corporate loans. (That's on top of $4 trillion in unlimited "quantitative easing" and direct borrowing by and from the Fed.) A provision requires the president to designate an inspector general to oversee accountability of the fund. But in a signing statement, the president said he will do no such thing. After all, acquittal means a president is no longer constitutionally bound to take care that the law is faithfully executed. Well, a GOP president, anyway. Separate but not equal means Democrats go to the wall.
The GOP is acting like a separatist movement.
The rich get richer. The rest get whatever's coming to them.
Unemployment numbers are worse than they were in the Great Depression. Americans might die from the novel coronavirus in greater numbers than all the men who died fighting in World War II. In normal times, white Americans might not have noticed the Republican Party's separatist movement. Normal times are history now. https://stoehr.substack.com/p/the-gops-separatist-movement-exposed
3. Will Bunch: In Tuesday's Wisconsin primary, Republicans will literally kill you to win an election
What we are witnessing here in real-time is one insidious GOP pathology — a years long assault on the voting rights  that underpin American democracy — morphing into something much, much sicker. On Tuesday morning, voters in Milwaukee — many wearing masks, struggling to keep a distance of six feet — lined up around the block at the city's just five polling places (down from a normal 180, because of so few volunteers in a time of coronavirus) to wait possibly hours, and also increase their risk of infection, to vote. For Republicans in Wisconsin's statehouse and its courts, this incredible hardship in voting was a feature, not a bug.
And what exactly is so damned important that Republicans are willing to, in an only loosely metaphorical sense, shoot a man or two in the middle of Milwaukee's 5th Street and get away with it? It's not the supposed marquee election, the Democratic presidential primary (possibly the last contested one of 2020) between Joe Biden and Sen. Bernie Sanders. No, the big concern is over a low-profile special election between a Republican and a Democrat to fill a vacancy on the Wisconsin Supreme Court. It's exactly the GOP's dominance in this type of low-profile election — ignored by much of the public even as billionaire pro-business donors pump in huge wads of cash — that's enabled their war on American democracy.
It's complicated, and Republicans want to keep it that way and keep average folks clueless about the tricks they use to thwart the will of the majority of the people who live in a state like Wisconsin. In reality, the whole criminal enterprise is a massive Jenga structure that will collapse in dozens of shattered pieces if you can just pull out one of them, which is why the GOP is literally fighting to the death to keep voters from doing that in Tuesday's election. https://www.inquirer.com/columnists/attytood/wisconsin-holds-2020-primary-coronavirus-republican-voter-suppression-20200407.html
4. Yasmeen Abutaleb, Josh Dawsey, Ellen Nakashima and Greg Miller: The U.S. was beset by denial and dysfunction as the coronavirus raged
The United States will likely go down as the country that was supposedly best prepared to fight a pandemic but ended up catastrophically overmatched by the novel coronavirus, sustaining heavier casualties than any other nation.
The Trump administration received its first formal notification of the outbreak of the coronavirus in China on Jan. 3. Within days, U.S. spy agencies were signaling the seriousness of the threat to Trump by including a warning about the coronavirus — the first of many — in the President's Daily Brief.
And yet, it took 70 days from that initial notification for Trump to treat the coronavirus not as a distant threat or harmless flu strain well under control, but as a lethal force that had outflanked America's defenses and was poised to kill tens of thousands of citizens. That more-than-two-month stretch now stands as critical time that was squandered.
Trump's baseless assertions in those weeks, including his claim that it would all just "miraculously" go away, sowed significant public confusion and contradicted the urgent messages of public health experts. https://www.washingtonpost.com/national-security/2020/04/04/coronavirus-government-dysfunction/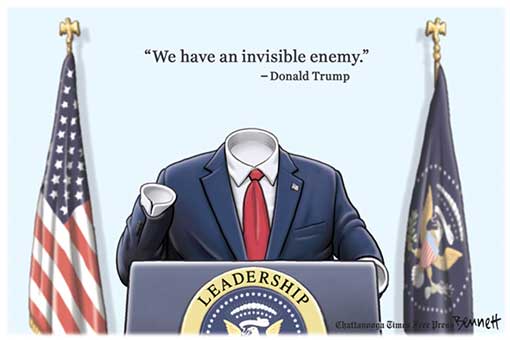 5. Adam Serwer: We Can Finally See the Real Source of Washington Gridlock
McConnell, who had demanded to know "how we're going to pay for" the $831 billion American Reinvestment and Recovery Act, enthusiastically supported the $2 trillion CARES Act. Graham, who had complained that $800 billion was far too much spending in 2009, said last month's bill would "help save the country." Grassley bragged about having "beefed up" funding for small businesses and unemployment insurance. Alexander declared, "We are here not as Democrats and Republicans, but we are here to work together to do whatever we can to address COVID-19." The soaring spirit of civic responsibility that was altogether absent during the Great Recession suddenly reasserted itself, even as the overriding concern about excess government spending disappeared.
The distinction between 2009 and 2020 cannot be explained by the fact that this economic slowdown was a necessary part of combatting the coronavirus. Although those affected today are hurting through no fault of their own, the same was true of millions of Americans in the Great Recession. For that matter, most Republicans—including McConnell, Graham, Grassley, and Alexander—had voted for the 2008 bank bailout prior to voting against the stimulus. In other words, they voted to help those most responsible for the Great Recession, then voted to stiff those Americans whose lives and livelihoods had been destroyed by the bankers' greed and regulators' ineptitude, and who would suffer through a sluggish recovery as a result.
The complete Republican reversal on the need for the federal government to address an economic crisis is not merely hypocrisy, although it is also that. Ideological divides between the left and right did not evaporate during the negotiations—in fact, they fell along familiar lines. Democrats wanted more generous provisions for unemployment insurance and aid to families, and Republicans wanted more money for big business and fewer strings attached to it. But those differences did not prevent Congress from legislating. Washington gridlock does not stem from ideological differences about the size or role of government, although those conflicts inevitably shape legislation. It stems from the ideological conviction, held by much of the Republican Party, that the Democratic Party is inherently illegitimate and has no right to govern. https://www.theatlantic.com/ideas/archive/2020/04/republican-party-discovers-virtues-stimulus/609244/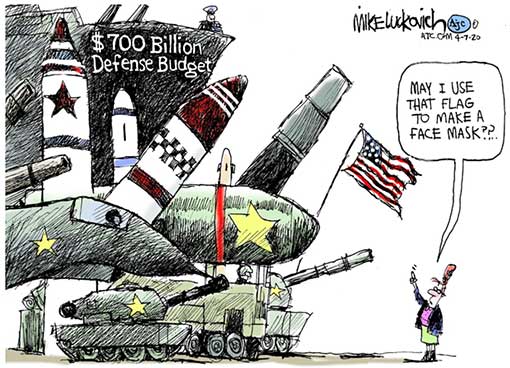 6. Alison Durkee: Americans Can't Sign Up for Health Insurance During a Global Pandemic, Trump Decides
The coronavirus outbreak and ensuing economic fallout is resulting in widespread financial hardship, as entire industries come to a standstill, workers get laid off, and the stock market tanks. As more and more Americans contract the coronavirus, another major source of financial anxiety for many will be health care costs, as serious cases of COVID-19 could result in massive hospital and physician bills. For those who are going into the global pandemic uninsured, however, the Trump administration is offering little relief. Politico reports that President Donald Trump and senior officials rejected plans this week to reopen the federal health care exchange at Healthcare.gov for a special enrollment period in response to the coronavirus, despite the idea being previously under consideration.
The Trump administration's refusal to allow more Americans to easily sign up for ACA insurance isn't the GOP's only attack on the health care program in the midst of the global pandemic, as Republican-led states and the Trump administration have resolved to keep moving forward with their lawsuit to kill the ACA despite the coronavirus. "It's always been a question of legality, not health care policy," Samantha Fisher, a spokesperson for the Tennessee Attorney General, argued to the Daily Beast. Trump himself has repeatedly decried the ACA amid his coronavirus response, saying at a recent press briefing that he wants to "get rid of the bad healthcare and put in a great healthcare." "What we'd like to do is totally kill it," Trump said at a Fox News town hall. The Supreme Court's decision on the lawsuit is likely to come as the U.S. still grapples with and recovers from COVID-19: Arguments are set to take place in the fall, with a decision coming as soon as spring 2021, potentially before a vaccine for the coronavirus is readily available. If the court overturns the law and kicks millions off of their health care plan—the country's health care problem in the wake of COVID-19 could soon get exponentially worse. "The only thing worse than a public health pandemic is a public health pandemic without health care," Democratic strategist Jesse Ferguson told the Daily Beast. "It's like watching the Chernobyl disaster and deciding to bulldoze the fallout shelters." https://www.vanityfair.com/news/2020/04/trump-rejects-aca-special-enrollment-period-coronavirus
7. Chris Smith: "He's Walking the Line": Inside Andrew Cuomo's Psychological Game With Trump
The phone conversations themselves are usually unremarkable in tone. Governor Andrew Cuomo and President Donald Trump talk about what medical supplies are urgently needed to fight the coronavirus pandemic in New York. The chat seems productive. They hang up. And then Trump tweets a potshot, saying Cuomo needs to "do more." Or the president suggests that New York is somehow profiteering, sending hospital masks "out the back door." Or he goes into the White House briefing room, as he did on Wednesday, and snipes that Cuomo "shouldn't be complaining because we gave him a lot of ventilators…The problem is with some people, no matter what you give, it's never enough. It's never enough."
Cuomo has tangled with plenty of venal or bullying politicians before. What's different this time around is that he's contending with an amoral player who outranks him. Part of what makes Trump unpredictable is that he has never had any core values, other than ego gratification. Cuomo, by contrast—as tough and cynical as he can be—has a soul. In the governor's life-or-death dealings with the president, that could turn out to be Cuomo's most powerful asset. https://www.vanityfair.com/news/2020/04/inside-andrew-cuomos-psychological-game-with-trump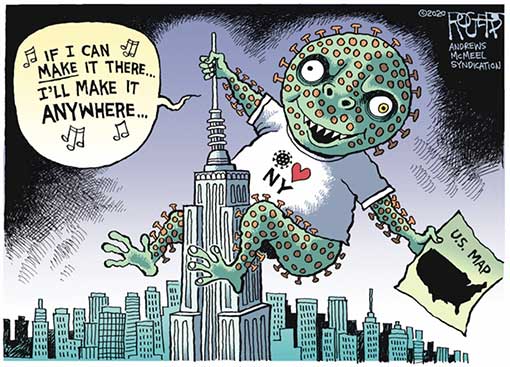 8. Susan B. Glasser: The Coronavirus Is the World's Only Superpower
When you are done being angry about all the crazy, nasty, inconsistent, and untrue things that Donald Trump says each day about the coronavirus and other matters, remember that the flood of words is cover for an Administration that in some ways barely exists relative to its predecessors, especially when it comes to crucial areas of domestic, economic, and international security—or even straightforward crisis management. Turnover at the upper levels of Trump's White House stands at eighty-three per cent, according to a Brookings Institution tracker. In his Cabinet, Trump has had far more turnover than Presidents Ronald Reagan, Barack Obama, and both George Bushes. The capacity of the federal government to respond to this catastrophe—even if Trump had been so inclined—has never been weaker. The virus was not of Trump's making, but his government's incoherent, disorganized response to it was utterly predictable.
Watching the Trump carnival from afar, the former Swedish Prime Minister Carl Bildt summed up the week's events, and those of the many painful weeks to come: "This is the first great crisis of the post-American world," he wrote on Twitter. "The UN Security Council is nowhere to be seen, G20 is in the hands of the Crown Prince of Saudi Arabia and the White House has trumpeted America First and Everyone Alone for years. Only the virus is globalized." https://www.newyorker.com/news/letter-from-trumps-washington/the-coronavirus-is-the-worlds-only-superpower
9. Jennifer Senior: This Is What Happens When a Narcissist Runs a Crisis
Since the early days of the Trump administration, an impassioned group of mental health professionals have warned the public about the president's cramped and disordered mind, a darkened attic of fluttering bats. Their assessments have been controversial. The American Psychiatric Association's code of ethics expressly forbids its members from diagnosing a public figure from afar.
Enough is enough. As I've argued before, an in-person analysis of Donald J. Trump would not reveal any hidden depths — his internal sonar could barely fathom the bottom of a sink — and these are exceptional, urgent times. Back in October, George T. Conway III, the conservative lawyer and husband of Kellyanne, wrote a long, devastating essay for The Atlantic, noting that Trump has all the hallmarks of narcissistic personality disorder. That disorder was dangerous enough during times of prosperity, jeopardizing the moral and institutional foundations of our country.
But now we're in the midst of a global pandemic. The president's pathology is endangering not just institutions, but lives.
Starting with the basics: Narcissistic personalities like Trump harbor skyscraping delusions about their own capabilities. They exaggerate their accomplishments, focus obsessively on projecting power, and wish desperately to win. https://www.nytimes.com/2020/04/05/opinion/trump-coronavirus.html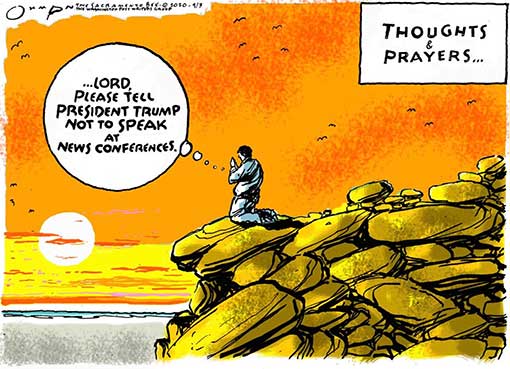 10. Michelle Goldberg: Putting Jared Kushner In Charge Is Utter Madness
Reporting on the White House's herky-jerky coronavirus response, Vanity Fair's Gabriel Sherman has a quotation from Jared Kushner that should make all Americans, and particularly all New Yorkers, dizzy with terror.
According to Sherman, when New York's governor, Andrew Cuomo, said that the state would need 30,000 ventilators at the apex of the coronavirus outbreak, Kushner decided that Cuomo was being alarmist. "I have all this data about I.C.U. capacity," Kushner reportedly said. "I'm doing my own projections, and I've gotten a lot smarter about this. New York doesn't need all the ventilators." (Dr. Anthony Fauci, the country's top expert on infectious diseases, has said he trusts Cuomo's estimate.)
Even now, it's hard to believe that someone with as little expertise as Kushner could be so arrogant, but he said something similar on Thursday, when he made his debut at the White House's daily coronavirus briefing: "People who have requests for different products and supplies, a lot of them are doing it based on projections which are not the realistic projections."
Kushner has succeeded at exactly three things in his life. He was born to the right parents, married well and learned how to influence his father-in-law. Most of his other endeavors — his biggest real estate deal, his foray into newspaper ownership, his attempt to broker a peace deal between the Israelis and the Palestinians — have been failures.
Undeterred, he has now arrogated to himself a major role in fighting the epochal health crisis that's brought America to its knees. "Behind the scenes, Kushner takes charge of coronavirus response," said a Politico headline on Wednesday. This is dilettantism raised to the level of sociopathy.
https://www.nytimes.com/2020/04/02/opinion/jared-kushner-coronavirus.html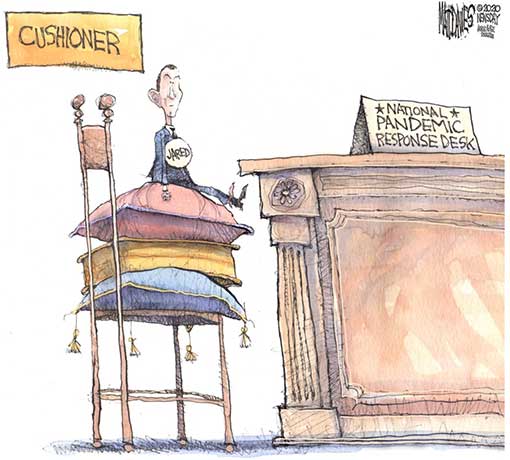 11. Jonathan Chait: The GOP's Refusal to Oversee Trump's Emergency Power Is an Invitation to Corruption
Yesterday, House Speaker Nancy Pelosi announced a new select committee to oversee the disbursement of $2 trillion in economic rescue funds. House Intelligence Committee Chair Adam Schiff has proposed a committee-level investigation into reports of political favoritism in the distribution of medical gear and other emergency supplies. President Trump preemptively announced his position on these probes. Unsurprisingly, he dismisses either committee and rejects any legitimate role for oversight at all.
"This is not the time for politics, endless partisan investigations — here we go again — have already done extraordinary damage to our country in recent years," he announced preemptively, before any reporter could even ask. "You see what happens. It's a witch hunt after witch hunt after witch hunt."
Having lowered the bar to the ground and stomped it repeatedly, Trump has rendered his wholesale rejection of oversight into a nonissue. But measured against history, his stance is extraordinary. He is attempting to destroy a vital part of how government should, and used to, operate. And he has brought the entire Republican Party along with him to this dangerous position. https://nymag.com/intelligencer/2020/04/trump-coronavirus-congress-pelosi-oversight-witch-hunt.html
12. Ashley Parker and Philip Rucker: How Trump's attempts to win the daily news cycle feed a chaotic coronavirus response
The novel coronavirus has decimated the economy, turned hospitals into battlefields and upended the daily lives of every American. But in Trump's White House, certain symptoms remain: a president who governs as if producing and starring in a reality television show, with each day a new episode and each news cycle his own creation, a successive installment to be conquered.
Facing a global pandemic, Trump still seems to lurch from moment to moment, with his methods and messages each day disconnected from — and in some cases contradictory to — the ones just prior. The pattern reveals a commander in chief unsure of how to defeat the "silent enemy," as he has labeled it.
Instead, Trump has focused on his self-image — claiming credit wherever he believes it is owed, attempting to project strength and decisiveness, settling scores with critics, boasting about the ratings of his televised news conferences and striving to win the cable news and social media wars.
"You have the president of the United States emceeing these reality TV shows," said David Lapan, a former Trump administration official now working at the Bipartisan Policy Center. https://www.washingtonpost.com/politics/trump-daily-reality-show-coronavirus-response/2020/04/04/97932e34-75c5-11ea-87da-77a8136c1a6d_story.html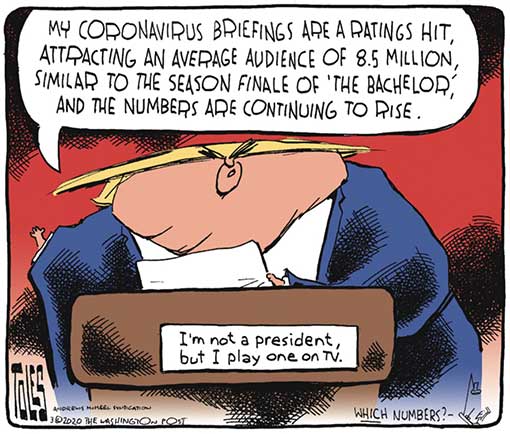 13. Max Boot: The worst president. Ever.
Until now, I have generally been reluctant to label Donald Trump the worst president in U.S. history. As a historian, I know how important it is to allow the passage of time to gain a sense of perspective. Some presidents who seemed awful to contemporaries (Harry S. Truman) or simply lackluster (Dwight D. Eisenhower, George H.W. Bush) look much better in retrospect. Others, such as Thomas Jefferson and Woodrow Wilson, don't look as good as they once did.
So I have written, as I did on March 12, that Trump is the worst president in modern times — not of all time. That left open the possibility that James Buchanan, Andrew Johnson, Franklin Pierce, Warren Harding or some other nonentity would be judged more harshly. But in the past month, we have seen enough to take away the qualifier "in modern times." With his catastrophic mishandling of the coronavirus, Trump has established himself as the worst president in U.S. history.
This fiasco is so monumental that it makes our recent failed presidents — George W. Bush and Jimmy Carter — Mount Rushmore material by comparison. Trump's Friday night announcement that he's firing the intelligence community inspector general who exposed his attempted extortion of Ukraine shows that he combines the ineptitude of a George W. Bush or a Carter with the corruption of Richard Nixon.
Trump is characteristically working hardest at blaming others — China, the media, governors, President Barack Obama, the Democratic impeachment managers, everyone but his golf caddie — for his blunders. His mantra is: "I don't take responsibility at all." It remains to be seen whether voters will buy his excuses. But whatever happens in November, Trump cannot escape the pitiless judgment of history. https://www.washingtonpost.com/opinions/2020/04/05/worst-president-ever/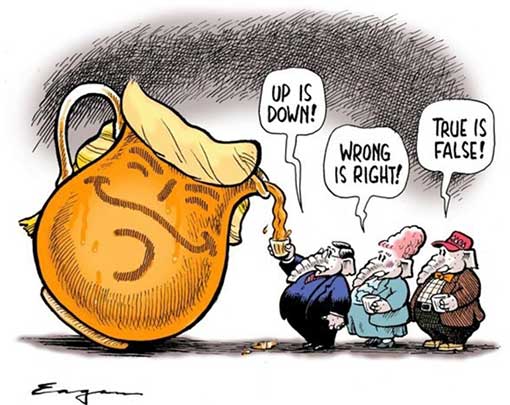 14. Giuliani, a familiar voice in Trump's ear, promotes experimental coronavirus treatments
Rudolph W. Giuliani, who was in the center of the impeachment storm earlier this year as an unpaid private attorney for President Trump, has cast himself in a new role: as personal science adviser to a president eager to find ways to short circuit the coronavirus epidemic.
In one-on-one phone calls with Trump, Giuliani said, he has been touting the use of an anti-malarial drug cocktail that has shown some early promise in treating covid-19, but whose effectiveness has not yet been proved. He said he now spends his days on the phone with doctors, coronavirus patients and hospital executives promoting the treatment, which Trump has also publicly lauded. https://www.washingtonpost.com/politics/giuliani-a-familiar-voice-in-trumps-ear-promotes-experimental-coronavirus-treatments/2020/04/05/d4b3b56a-7438-11ea-85cb-8670579b863d_story.html
15. Maureen Dowd: He Went to Jared
The president seems oblivious to the fact that his own clown car of an administration bungled the priceless lead time we had to get ready for the pandemic.
With the death toll in this country soaring past 7,000, Trump is focused on the same thing he is always focused on: himself. He proudly told reporters Wednesday, "Did you know I was No. 1 on Facebook? I just found out I was No. 1 on Facebook. I thought that was very nice for whatever it means." Our doom, perhaps?
Trump's most defining qualities have been on display in this fight: He has been mercurial, vindictive, deceptive, narcissistic, blame-shifting and nepotistic.
At the Thursday briefing, the president brought out another wealthy, uninformed man-child who loves to play boss: Jared Kushner. Where's our Mideast peace deal, dude? Surely Trump did not think giving Kushner a lead role would inspire confidence. This is the very same adviser who told his father-in-law early on that the virus was being overplayed by the press and also urged him to tout a Google website guiding people to testing sites that turned out to be, um, still under construction.
Now he is leading a group, mocked within the government as "the Slim Suit crowd," that is providing one more layer of confusion — and inane consultant argot — to the laggardly, disorganized response. https://www.nytimes.com/2020/04/04/opinion/sunday/coronavirus-trump-jared-kushner.html
16. Sergio Correia, Stephan Luck, and Emil Verner: Fight the Pandemic, Save the Economy: Lessons from the 1918 Flu
The patterns we identify in the data suggest that timely and aggressive non-pharmaceutical interventions (NPIs) can limit the most disruptive economic effects of an influenza pandemic. The epidemiology literature finds that early public health interventions reduce peak mortality rates—flattening the curve—and lower cumulative mortality rates. Because pandemics are highly disruptive to the local economy, these efforts can mitigate the abrupt disruptions to economic activity that result from such shocks. As a result, the swift implementation of NPIs can also contribute to "flattening the economic curve," reinforcing the effects of more traditional economic policy interventions.
Anecdotal evidence suggests that our results have parallels in the COVID-19 outbreak. Governments that implemented NPIs swiftly, such as those in Taiwan and Singapore, have not only limited infection growth; they also appear to have mitigated the worst economic disruption caused by the pandemic. For example, economist Danny Quah notes that Singapore's management of COVID-19 has avoided major disruptions to economic activity without leading to a sharp increase in infections through the use of forceful, early interventions. Therefore, well-calibrated, early, and forceful NPIs should not be seen as having major economic costs in a pandemic.
Altogether, our evidence implies that it's the pandemic and the associated spike in mortality that constitute the shock to the economy. To the extent that NPIs are a means to attack the root of the problem, mortality, they can also save the economy. https://libertystreeteconomics.newyorkfed.org/2020/03/fight-the-pandemic-save-the-economy-lessons-from-the-1918-flu.html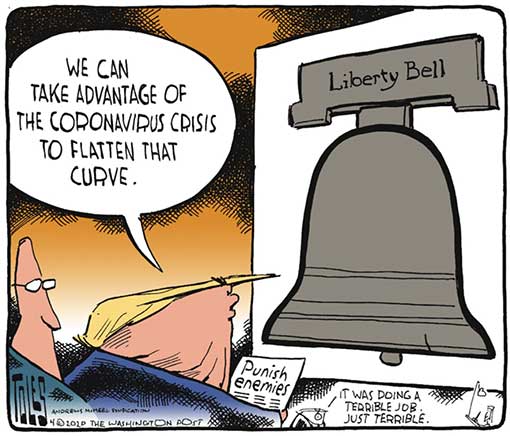 17. Jonathan Chait: Why Trump Is Overruling Scientists to Pursue His Pet Coronavirus Drug
Trofim Lysenko was a Soviet biologist who gained the favor of Joseph Stalin by promoting pseudoscientific theories that purported to apply Marxist-Leninist theory to biology. Lysenko's insight was to dismiss the burgeoning field of genetics as a capitalist lie, and to posit a socialist alternative theory of biology that refused to accept that plants were bound by any such thing as "genes." Orange trees would flourish in Siberia, he promised Stalin. Catering both to the regime's state ideology and its yearning for prosperity — he promised his methods would yield orange trees in Siberia — Lysenko established his crackpot theories as official Soviet science, and purged scientists who refused to endorse them. Stalin directed Soviet farmers to follow Lysenko's bizarre theories, contributing to mass starvation.
There are eerie echoes of Lysenkoism in President Trump's obsession with promoting hydroxychloroquine, a medication used to treat malaria, as a cure for the coronavirus. The parallel is not exact: Hydroxychloroquine has shown some anecdotal promise as a coronavirus therapy. It might emerge as a treatment, and conceivably even the major treatment, for the coronavirus. What gives Trump's hydroxychloroquine obsessions its creepy Lysenkoist tinge is that the fervor is altogether disconnected from science.
Trump has repeatedly touted the medication, at times with a fervency that makes him sound like a marketer hired to promote the drug. "Hydroxychloroquine. Try it. If you like," he suggested from the podium Saturday. In perhaps the most surreal moment of his pitch, he announced that he might personally try the medication, even though he does not have the coronavirus: "I think people should — if it were me — in fact, I might do it anyway. I may take it. Okay? I may take it. And I'll have to ask my doctors about that, but I may take it."
What it augurs more broadly about Trump's disdain for public-health expertise is even darker. Over the last two days, Trump has visibly balked at social-distancing guidelines and renewed his impatience to reopen the economy soon. His demand to produce a silver-bullet wonder drug right away seems both to grow out of his dissatisfaction with public-health authorities and is feeding into his skepticism of them. Lysenko's pseudoscience killed millions of people. How many Americans will perish from Trump's? https://nymag.com/intelligencer/2020/04/trump-fauci-navarro-giuliani-scientists-coronavirus-hydroxychloroquine.html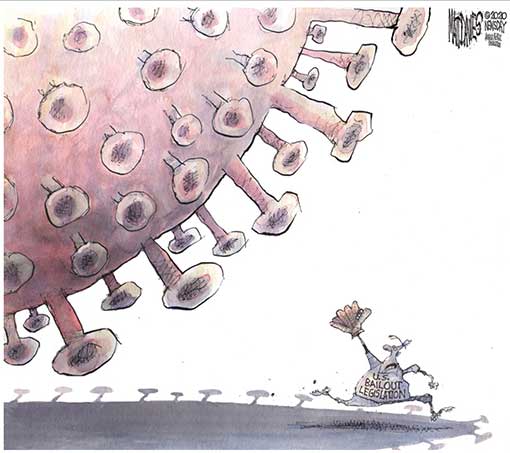 18. Bess Levin: Meet the Ignorant Cranks Behind Trump's Big Hydroxychloroquine Push
On Sunday night, during his 928,365th televised coronavirus briefing, Donald Trump made an extremely hard sell for the anti-malarial drug hydroxychloroquine, whose effectiveness against COVID-19 is still virtually unknown. "What do you have to lose?" the president asked of taking a drug for which there is very little data, as though he was talking about trying a new flavor of Laffy Taffy or experimenting with two-ply versus four-ply toilet paper. "I really think they should take it," he said of ill patients. "But it's their choice. And it's their doctor's choice or the doctors in the hospital. But hydroxychloroquine. Try it, if you'd like."
In the case of hydroxychloroquine, the president has latched onto the counsel of a group of individuals who are no more qualified to opine on the matter than Melania "The tennis pavilion must go on!" Trump. One of those individuals is White House economic adviser Peter Navarro, who you might remember from such hits as sending emails under a fake name in support of his tariff policies; the claim that an impaired manufacturing sector leads to "an increase in abortion, spousal abuse, divorce, and infertility"; and being hired by Jared Kushner after the first son-in-law found him on Amazon. Despite the fact that the drug has not been shown to work against the COVID-19 in any significant clinical trials, and that previous reports from China and France did not include control groups, Navarro loooooves himself some hydroxychloroquine, a position he made clear by flipping out on Dr. Anthony Fauci over the weekend for having the temerity to suggest the medicine was not ready for primetime.
According to Axios, in a meeting over the weekend, Navarro—who, to be clear, has zero public health experience—dropped a stack of folders in front of the group and started talking about studies he's seen showing the "clear therapeutic efficacy" of the drug that, in the real world, don't actually exist. Fauci, who did go to medical school, reportedly pointed this out, saying that at this point there is only anecdotal evidence that the drug works. He then added that much more data is needed, which Navarro seemingly heard as, "Your mother's a whore, Pete."
And there you have it, folks. Not really sure what else there is to say here except that we need to keep Dr. Fauci in a protective bubble from which both anyone who might have the virus and people like Rudy, Dr. Oz, and Navarro are forced to stay 60 feet back. https://www.vanityfair.com/news/2020/04/donald-trump-hydroxychloroquine-push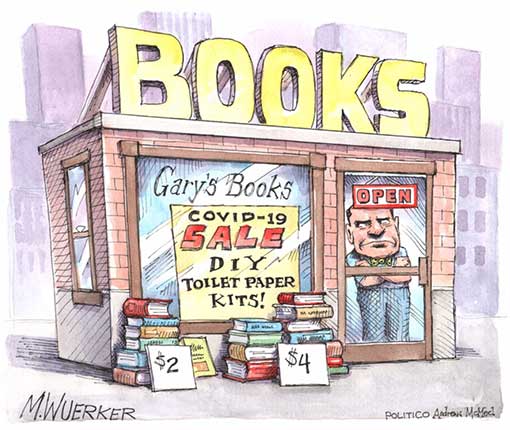 19. David Wallace-Wells: There Is No Plan for the End of the Coronavirus Crisis
For a month, American journalists and public-health experts have praised the coronavirus response of South Korea and Singapore above all others. On Tuesday, Singapore will close its schools and most businesses to guard against an out-of-control outbreak; South Korea just extended its social-distancing policy. In the early months of this pandemic, the most developed parts of Asia have visibly outperformed the rest of the world — a differential that has produced a string of viral charts showing the benefits of mask-wearing and universal testing. But in recent days, Hong Kong and Taiwan, noting a rise of new cases arriving via international visitors, have shut their borders. Cases are spiking in Japan, and a second wave of infections is feared in China, as well. Which means that, all told, many of the nations desperate Americans have spent the last few months praising as exemplary models of public health management do not actually have the virus under control — or at least not to the degree it appeared a few weeks ago, or to the degree you might be hoping for if you expected a (relatively) quick end to quarantine measures and economic shutdown followed by a (relatively) rapid snapback to "normal" life and economic recovery.
If the countries held up as models for how we should proceed can't figure it out, what does it mean for the U.S., which is saddled with broken institutions and has already bungled and delayed its response at nearly every stage? Here in New York, we are about to enter our third week of sheltering in place; in San Francisco and Seattle, the social-distancing orders have been in effect even longer. Yet there is no clarity to be found from the federal or state or local level for how long these measures will last. And there is no public or concrete plan for, and little visible discussion about, what it would mean to sunset them: how and at what point and in what ways we will try to exit this temporary-but-indefinite wartimelike national bunkering almost all 330 million of us now find ourselves in. What, exactly, is the endgame here? https://nymag.com/intelligencer/2020/04/there-is-no-plan-for-the-end-of-the-coronavirus-crisis.html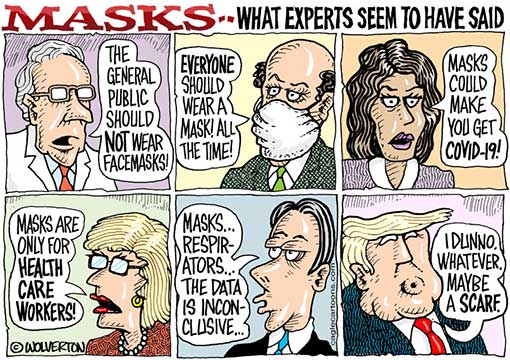 20. Jonathan Chait: The Next Coronavirus Bill Is Democrats' Last Chance to Ensure a Fair Election
As House Democrats set to work on the next round of economic relief legislation, they face a more urgent choice than they seem to realize. If they send that bill to President Trump without measures guaranteeing voting rights during the pandemic, they are signing a death warrant for the 2020 election.
A vision of the future sits before us in Wisconsin. The coronavirus has devastated in-person voting. Due to a shortage of poll volunteers willing to risk their lives, 175 of Milwaukee's 180 voting locations will be closed. Voting clerks have run short of envelopes needed to process the surge in absentee ballots, thousands of voters have yet to receive the ballot they requested, and even many voters who can obtain an absentee ballot will be excluded by rules requiring witness signatures (which are difficult to obtain during a quarantine) and voter ID (which is impossible to find.)
The state's Republicans have adamantly opposed either delaying the election or expanding mail voting options. "Hundreds of thousands of workers are going to their jobs every day, serving in essential roles in our society. There's no question that an election is just as important as getting takeout food," insisted the state legislature's Republican leaders. The comparison is fatuous. People get food because they need it to survive. They are far less likely to venture out to a polling location, where they are forced to wait in absurdly long lines at the risk of their health for a symbolic affirmation of civic duty that gives them no concrete benefit. https://nymag.com/intelligencer/2020/04/coronavirus-bill-election-vote-suppression-wisconsin-mail.html
21. David Frum: This Is Trump's Fault
That the pandemic occurred is not Trump's fault. The utter unpreparedness of the United States for a pandemic is Trump's fault. The loss of stockpiled respirators to breakage because the federal government let maintenance contracts lapse in 2018 is Trump's fault. The failure to store sufficient protective medical gear in the national arsenal is Trump's fault. That states are bidding against other states for equipment, paying many multiples of the pre-crisis price for ventilators, is Trump's fault. Air travelers summoned home and forced to stand for hours in dense airport crowds alongside infected people? That was Trump's fault too. Ten weeks of insisting that the coronavirus is a harmless flu that would miraculously go away on its own? Trump's fault again. The refusal of red-state governors to act promptly, the failure to close Florida and Gulf Coast beaches until late March? That fault is more widely shared, but again, responsibility rests with Trump: He could have stopped it, and he did not.
The lying about the coronavirus by hosts on Fox News and conservative talk radio is Trump's fault: They did it to protect him. The false hope of instant cures and nonexistent vaccines is Trump's fault, because he told those lies to cover up his failure to act in time. The severity of the economic crisis is Trump's fault; things would have been less bad if he had acted faster instead of sending out his chief economic adviser and his son Eric to assure Americans that the first stock-market dips were buying opportunities. The firing of a Navy captain for speaking truthfully about the virus's threat to his crew? Trump's fault. The fact that so many key government jobs were either empty or filled by mediocrities? Trump's fault. The insertion of Trump's arrogant and incompetent son-in-law as commander in chief of the national medical supply chain? Trump's fault.
For three years, Trump has blathered and bluffed and bullied his way through an office for which he is utterly inadequate. But sooner or later, every president must face a supreme test, a test that cannot be evaded by blather and bluff and bullying. That test has overwhelmed Trump. https://www.theatlantic.com/ideas/archive/2020/04/americans-are-paying-the-price-for-trumps-failures/609532/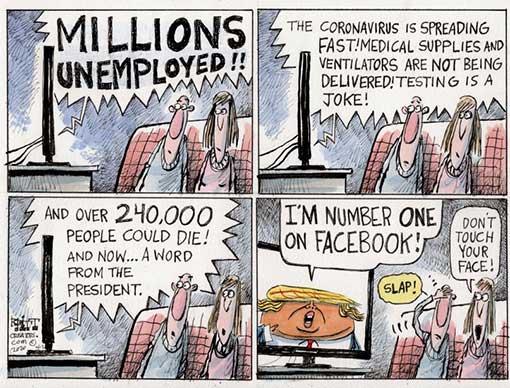 22. Eric Lutz: Trump's War On Oversight Claims Another Victim
Donald Trump continued his raid on government watchdogs Tuesday, abruptly removing the inspector general who had been tasked with overseeing the $2 trillion coronavirus rescue package signed into law late last month. The move, which came days after the president fired Michael Atkinson over his role in the impeachment proceedings, raises significant concerns about the sweeping relief bill—and signals an escalation in Trump's assault on inspectors general, oversight officials that his allies have convinced him are part of a "deep state" effort to undermine him.
In shaking up the panel tasked with providing oversight on how $2 trillion in Congressionally-approved rescue funds is being spent, Trump has exacerbated concerns many Democrats had about the mammoth legislation. Senate Democrats had objected to an initial Republican relief proposal on the grounds that it provided little oversight, condemning it as a "slush fund" for Trump. They eventually secured measures they believed would provide accountability, but Trump—in signing the package—said he wouldn't comply. Removing Fine appears to be confirmation of the fears that Trump will refuse to adhere to transparency measures. "Frankly, if the House of Representatives does not condition all further COVID aid on the restriction of the president's removal authority, they will have made a mistake," Paul Rosenzweig, a former Department of Homeland Security official under George W. Bush, told the Washington Post. "They should realize that the president is no longer operating in any semblance of good faith and he is more dangerous to the fabric of American democracy than the virus." https://www.vanityfair.com/news/2020/04/trumps-war-on-oversight-claims-another-victim