December 12, 2019
ON THE RECORD. . .
"The G.O.P. defense, in essence, is that facts are irrelevant, no matter how damning or inconvenient, and that Trump has the power to do whatever he wants, even if it seems inappropriate, improper, or simply wrong." — Susan Glasser
"All I got to say is: If you love America, mamas, don't let your babies grow up to go to Harvard or Stanford law school." — Rep. Louie Gohmert (R-Tex.), a Baylor University Law School graduate, speaking at a news conference following the 8½-hour impeachment inquiry hearing.
"The information did not meet our expectations, so we made it up, preying on the vulnerable and feeding the prejudices and fears of Jones's audience. We ignored certain facts, fabricated others and took situations out of context to fit our narrative." — Josh Owens, a former staff member at Alex Jones's far-right conspiracy site Infowars, admits in the New York Times to making up stories for the site about the threat of Shariah law within the United States.
"Trump doesn't give a shit about what's good for our country. It's all about what's in it for him personally and for his re-election campaign." — House Intelligence Committee chairman Adam Schiff (D-CA)
"It doesn't make you look as good. Being a vain person, that's very important to me. It gives you an orange look, I don't want an orange look." — Trump expressing his dislike of energy efficient light bulbs during a roundtable event on small business.
"Go after your enemies. I mean, they're after you. Go after your enemies. I think that Clinton probably is too nice a guy in a certain respect. … I don't think he's going after people the way he should and I really believe his thing is to be liked and I don't think that's a very good position to be in right now." — Donald Trump on Hardball in September 1998, advising Bill Clinton on how to fight impeachment.
"Of course Russia interfered in the election. But here's the game the media is playing. Because Russia interfered, the media pretends nobody else did. Ukraine blatantly interfered in our election." — Sen. Ted Cruz (R-TX) making the unfounded allegation that Ukraine interfered in the 2016 presidential election in a NBC News interview.
"You have to vote for me, you have no choice. You're not going to vote for Pocahontas, I can tell you that. You're not going to vote for the wealth tax. Let's take 100 percent of your wealth away. No, no. Even if you don't like me — and some of you don't, some of you I don't like at all actually — and you're going to be my biggest supporters because you'll be out of business in about 15 minutes." — Trump saying to a conference of American Jews that he did not have to worry about getting their votes, because they would cast ballots with business interests in mind.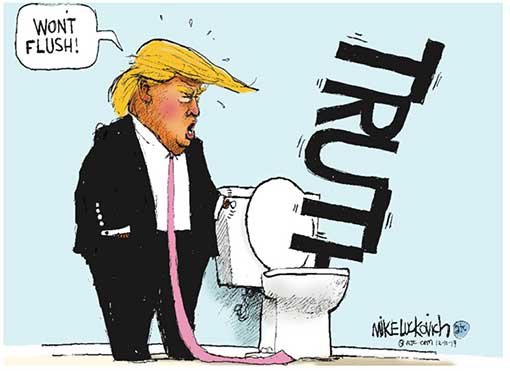 "It is impossible that the whistle-blower is a hero and I'm not. And I will be the hero! These morons—when this is over, I will be the hero." — Mr. Giuliani predicting that he would emerge from all the investigations wreathed in glory, an indispensable man who served the country against the odds.
"President Trump had a quiet Sunday schedule, with just one afternoon event in the Blue Room. But by midnight, he had fired off 105 tweets and retweets, going for the usual suspects — Democratic rivals, the impeachment inquiry and allegations of fake news by the mainstream media." — Rishika Dugyala in Politico
'Why isn't this bipartisan?' demands person who vowed to oppose it at every step. Because I really, I truly want to give impeachment a fair shake, you know. I would! I just wish this process had support from both sides, as the wolf said when the sheep suggested "not eating the sheep" as a plan. Unfortunately, this is not the kind of thing on which we are going to agree. — Satire by Alexandra Petri
"The countless hours I have spent in the investigation of Russian election interference and the impeachment inquiry have rendered my soul weary. I will never understand how some of my colleagues, in many ways good people, could ignore or deny the President's unrelenting attack on a free press, his vicious character assassination of anyone who disagreed with him, and his demonstrably very distant relationship with the truth." — Rep. Denny Heck (D-WA) announcing his retirement.
Nancy Pelosi's announcement of the agreement with pro-labor and pro-environmental fixes to the new North American trade deal on the same day that impeachment articles was nothing short of brilliant. In one fell swoop, she demolished the notion that the House cannot legislate, investigate and impeach at the same time. Oh, they sure can. — Jennifer Rubin
"Over the course of a more than 90-minute delivery on Tuesday night, Trump pushed conspiracy theories and blatant lies, trashed law enforcement officials that aren't blindly loyal to him, exhibited thuggish tendencies toward protesters, made misogynistic remarks, and demonstrated that he fundamentally misunderstands the Constitution. It was one of his most troubling performances in recent memory and served as a stark illustration of just how ugly Trump's reelection campaign will be." —  Aaron Rupar
---
IN THIS ISSUE
FYI
OPINION
1. Andy Borowitz: Giuliani Kidnapped by Ukrainian Circus
While on a mission to Ukraine to acquire information about the business dealings of Hunter Biden, Rudy Giuliani was kidnapped by a traveling Ukrainian circus, Giuliani confirmed on Tuesday.
"It was the strangest thing," he told reporters. "I was on a street corner talking to some people about the Bidens, and these guys came up to me and said, 'Come with us.' I thought they were taking me to a cable-news studio."

Where they were taking him, it turned out, was the Krychevsky Wonder Show, a popular family-owned circus that has been traveling around Ukraine since 1873.

"We saw this guy acting entirely bizarre, and we decided we had to have him in our circus," Oleh Krychevsky, its current proprietor, said. "It's hard to find a sideshow attraction with that much potential."

For two days, Giuliani filled a giant tent at Krychevsky's, regaling audiences with tales of CrowdStrike, Burisma, and a person named Alexandra Chalupa. But soon his relationship with the circus soured.
"Even after the crowds went home, and we were all ready for bed, he wouldn't stop talking," Krychevsky, who ultimately fired Giuliani from the circus, said. "He is exhausting."

Only after Giuliani's tenure with the circus was over did Krychevsky learn the man's true identity. "I was told he was the former mayor of New York," he said. "I still find that impossible to believe." https://www.newyorker.com/humor/borowitz-report/
2. Read the Articles of Impeachment
https://www.scribd.com/document/439196284/Articles-of-Impeachment
3. Fact check: A list of 45 ways Trump has been dishonest about Ukraine and impeachment
https://www.cnn.com/2019/11/16/politics/fact-check-trump-dishonesty-ukraine-and-impeachment/index.html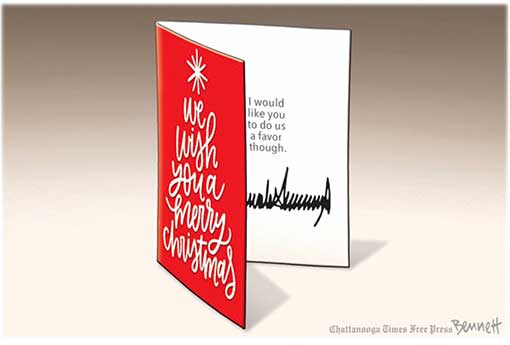 4. Texans on southern border vow to fight Trump's efforts to take their homes for border wall
President Trump aims to build 166 miles of border barrier in Texas, almost all of it slated to go on private land that the government has yet to acquire — thousands of parcels along the river, an unknown number of them occupied by their owners, including churches and single-family homes. No new border wall has been built on private land in Texas since the president took office, but land acquisition in the Rio Grande Valley is about to enter a new phase this week, as U.S. attorneys began filing initial petitions in court while making cash offers to property owners, according to Justice Department officials with knowledge of the process.
On Friday, the federal government filed its first land acquisition case to condemn nearly 13 acres of private property in the Rio Grande Valley, a parcel near the river levee in Hidalgo County. The owner was offered $93,449 in compensation for the land.
The fight that likely will ensue pits Texans against Trump, who has long said he wants to take whatever land he needs to build his signature promise to America. Landowners, including some who support Trump, are preparing a legal fight that could stall the wall-building effort and lead to years-long court battles over private land rights, family homes and what the Trump administration deems a critical national security issue. https://www.washingtonpost.com/immigration/texans-on-southern-border-vow-to-fight-trumps-efforts-to-take-their-homes-for-border-wall/2019/12/06/ef7c1fa8-1525-11ea-a659-7d69641c6ff7_story.html
5. Federal judge blocks Trump plan to spend $3.6 billion in military funds on border wall
A federal judge in El Paso on Tuesday blocked the Trump administration's plan to pay for border barrier construction with $3.6 billion in military funds, ruling that the administration does not have the authority to divert money appropriated by Congress for a different purpose.
The Trump administration was planning to use those funds to build 175 miles of steel barriers, and the court's permanent injunction is a setback for Trump's pledge to erect 450 linear miles of fencing by the end of next year.
District Court Judge David Briones, a Bill Clinton appointee, said in his ruling that the administration's attempt to reprogram military construction funds by emergency proclamation was unlawful and that the plaintiffs in the case were entitled to a permanent injunction halting the government. https://www.washingtonpost.com/immigration/federal-judge-blocks-trump-plan-to-spend-36-billion-in-military-funds-on-border-wall/2019/12/10/e534468a-1b9f-11ea-87f7-f2e91143c60d_story.html
6. The Mueller Report Illustrated
"The Mueller Report Illustrated: The Obstruction Investigation" brings to life the findings of special counsel Robert S. Mueller III in an engaging and illuminating presentation.
This six-part digital series is drawn directly from episodes detailed in the Mueller report in which prosecutors found evidence of possible obstruction of justice, as well as congressional testimony and Washington Post reporting. https://www.washingtonpost.com/graphics/2019/politics/mueller-report-illustrated/about/
7. How the Ukraine pressure campaign began as an effort to undercut the Mueller investigation
As 2018 came to a close, the special counsel investigation was bearing down on President Trump.
Special counsel Robert S. Mueller III had secured the cooperation of Trump's onetime fixer, Michael Cohen, and appeared to be preparing to indict a longtime adviser, Roger Stone. Trump's former campaign chairman, Paul Manafort, was in jail after pleading guilty to multiple felonies, and Mueller's prosecutors were pressing him to explain why he had given 2016 polling data to an associate with alleged ties to Russian intelligence.
It was in this uncertain moment that Trump's personal attorney Rudolph W. Giuliani said he had the idea to focus on Ukraine. That November, he received a tip from a former colleague that it was the Ukrainians who had conspired to help Democrats in 2016, Giuliani said in recent interviews.
"I knew they were hot and heavy on this Russian collusion thing, even though I knew 100 percent that it was false," Giuliani recently told conservative broadcaster Glenn Beck. "I said to myself, 'Hallelujah.' I've got what a defense lawyer always wants: I can go prove someone else committed this crime."
Giuliani's efforts to undermine the special counsel probe eventually snowballed into the current impeachment crisis gripping the capital — highlighting how the pressure Trump and his allies put on Ukraine originated as an effort to sow doubts about the Russia investigation. https://www.washingtonpost.com/politics/how-the-ukraine-pressure-campaign-began-as-an-effort-to-undercut-the-mueller-investigation/2019/12/02/208204c8-12c9-11ea-9cd7-a1becbc82f5e_story.html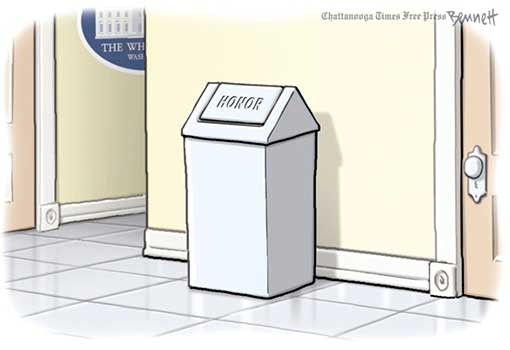 8. Atmospheric river storms are getting worse and causing billions in damage across California
Atmospheric river storms like the one pounding California this week are becoming more intense and cost Western states roughly $1 billion in damage annually, according to a report on the weather phenomenon.
As the climate warms, extreme atmospheric rivers will become more intense, researchers found. Modest increases in a storm's intensity can result in significant monetary damage. Without stabilizing the global climate system, it's not just the land that will be at risk, Tom Corringham, one of the authors of the study by the Scripps Institution of Oceanography said: "It's one of the many ways in which the economy will be affected by climate change." https://www.latimes.com/environment/story/2019-12-05/notorious-storms-getting-worse-cause-billions-in-damage-across-california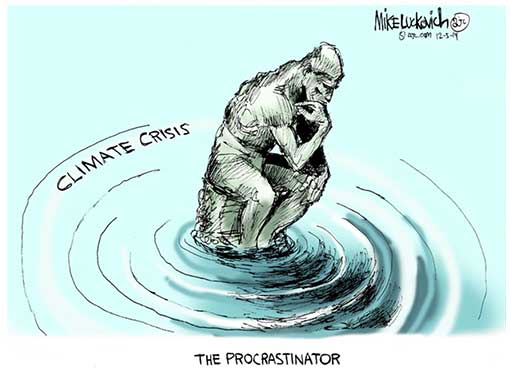 9. More than 500 law professors say Trump committed 'impeachable conduct'
More than 500 legal scholars have signed on to an open letter asserting that President Trump committed "impeachable conduct" and that lawmakers would be acting well within their rights if they ultimately voted to remove him from office.
The signers are law professors and other academics from universities across the country, including Harvard, Yale, Columbia, the University of California at Berkeley, the University of Michigan and many others. The open letter was published online Friday by the nonprofit advocacy group Protect Democracy.
"There is overwhelming evidence that President Trump betrayed his oath of office by seeking to use presidential power to pressure a foreign government to help him distort an American election, for his personal and political benefit, at the direct expense of national security interests as determined by Congress," the group of professors wrote. "His conduct is precisely the type of threat to our democracy that the Founders feared when they included the remedy of impeachment in the Constitution." https://www.washingtonpost.com/national-security/more-than-500-law-professors-say-trump-committed-impeachable-conduct/2019/12/06/35259c16-183a-11ea-a659-7d69641c6ff7_story.html
10. Karen McDougal, Who Claimed Trump Affair, Sues Fox News
A former Playboy model who has said she had an affair with Donald J. Trump before he was president sued Fox News on Thursday, saying that Tucker Carlson, one of the network's hosts, had intentionally defamed her on his television show.
The model, Karen McDougal, said Mr. Carlson had falsely accused her of extortion last year when he said that she "approached Donald Trump and threatened to ruin his career and humiliate his family if he doesn't give them money."
Ms. McDougal said in the lawsuit, which was filed in New York State court in Manhattan, that she never threatened Mr. Trump. She is seeking damages from Fox News for harming her reputation, but she does not name Mr. Carlson as a defendant. The network is responsible for his comments, she said, and his accusations were reckless and easy to verify as false. https://www.nytimes.com/2019/12/05/us/fox-news-mcdougal.html
11. Trump's Tax Cuts Push U.S. Burden Lower in World
Trump's 2017 tax cuts reduced the U.S. tax burden to one of the lowest among major world economies, according to a Thursday report by an intergovernmental organization.
U.S. tax burdens dropped by the largest amount among those countries in 2018, and the U.S. now has lower taxes than all but three countries in the Organization for Economic Cooperation and Development, the report said. https://www.wsj.com/articles/trumps-tax-cuts-push-u-s-burden-lower-in-world-11575540004
12. House committee chair calls for investigation into $400 million border wall contract
The chairman of the House Committee on Homeland Security on Wednesday called for an investigation into a $400 million border wall contract awarded this week to North Dakota-based Fisher Sand and Gravel, a company President Trump personally urged military officials to hire. https://www.washingtonpost.com/immigration/house-committee-chair-calls-for-investigation-into-400-million-border-wall-contract/2019/12/04/368e8a20-16bb-11ea-a659-7d69641c6ff7_story.html
13. North Korea threatens to resume calling Trump 'dotard
North Korea threatened to resume insults of President Trump and consider him a "dotard" if he keeps using provocative language, such as referring to its leader as "rocket man." https://apnews.com/c3f58108244e4c6097222ac372307598
14. The DAILY GRILL
"They have to start showing, more than they do, the respect and support that law enforcement deserves ― and if communities don't give that support and respect, they might find themselves without the police protection they need." — AG William Barr threatening "communities" that don't sufficiently respect cops.

VERSUS

No American president in history has radiated disrespect for law enforcement like Trump. One might think Barr's putative concern with respect for the law might leave at least some room to chastise a president whose lifelong contempt for following the law has led to openly expressing a Mafia-like disdain for cooperating with police. — Jonathan Chait

 

"The Inspector General's report now makes clear that the FBI launched an intrusive investigation of a U.S. presidential campaign on the thinnest of suspicions that, in my view, were insufficient to justify the steps taken. It is also clear that, from its inception, the evidence produced by the investigation was consistently exculpatory. Nevertheless, the investigation and surveillance were pushed forward for the duration of the campaign and deep into President Trump's administration." —Attorney General William

VERSUS

According to the IG, the FBI's initial investigation had a sufficient factual basis. It was opened for an authorized purpose — to protect against a potential national security threat or federal crime — and in compliance with FBI policy. The IG found no evidence that political bias influenced the decisions of senior intelligence or law enforcement officials. — Chairman Schiff's reply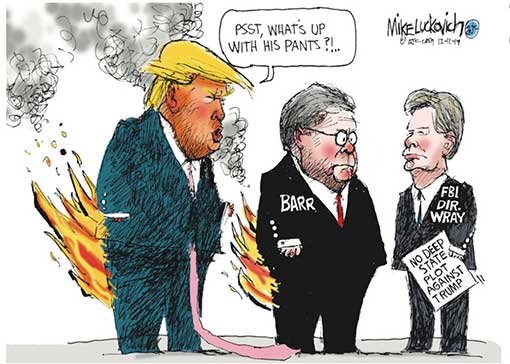 15. From MEDIA MATTERS (They watch Fox News so you don't have to)
Watch: Donald Trump in 2014 enthusiastically called for impeaching Obama. https://www.mediamatters.org/fox-friends/watch-donald-trump-2014-enthusiastically-called-impeaching-obama

CNN's Rick Santorum: "Things go on that may be impeachable all the time when presidents talk" to foreign leaders. https://www.mediamatters.org/rick-santorum/cnns-rick-santorum-things-go-may-be-impeachable-all-time-when-presidents-talk-foreign

Fox News' crusade against food stamps gains a victory with new rule change approved by the Trump administration. https://www.mediamatters.org/charles-payne/fox-news-crusade-against-food-stamps-gains-victory-new-rule-change-approved-trump

Fox News anchor lies, claims Trump wants key witnesses to testify. Fox News' purported "news" side anchor Sandra Smith peddled an absolute fiction Thursday morning, claiming that President Donald Trump wants key witnesses to testify in the impeachment proceedings — when he's actually been blocking them the whole time. https://www.mediamatters.org/sandra-smith/fox-news-anchor-lies-claims-trump-wants-key-witnesses-testify

Fox News runs interference for Devin Nunes after revelation of calls with Lev Parnas: Fox News' pro-Trump personalities are rallying to the defense of House Intelligence Committee ranking member Devin Nunes (R-CA) after the Intelligence Committee's report on its impeachment inquiry revealed that he had been in contact with Lev Parnas, a central figure in the Ukraine abuse of power scandal who is under indictment for campaign finance violations related to the scheme. https://www.mediamatters.org/devin-nunes/fox-news-runs-interference-devin-nunes-after-revelation-calls-lev-parnas
16. From the Late Shows
NATO Cafeteria Cold Open - SNL: https://youtu.be/LBjGD5VGVg0

The Late Show with Stephen Colbert: Trump's Golf Club Employees Spill The Beans On Their Boss: https://www.youtube.com/watch?v=KN8RHFD0eoM

Jimmy Kimmel Live: PROOF: The World is Laughing at Donald Trump: https://youtu.be/B_zdHfLeaZo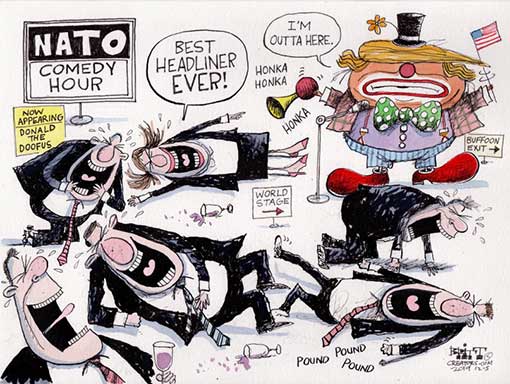 17. Republicans mount ad blitz on impeachment, making some vulnerable Democrats nervous
Republicans are dramatically outspending Democrats on impeachment-related ads on Facebook and television, illustrating how fully the GOP has embraced the issue as a political winner as public opinion remains split on the House effort to remove the president.
The ad blitz has worried some Democrats in swing districts who are being painted as do-nothing, pro-impeachment radicals. The Democrats have been urging party leaders for weeks to strike back with their own countermessage. https://www.washingtonpost.com/politics/republicans-mount-ad-blitz-on-impeachment-making-some-vulnerable-democrats-nervous/2019/12/07/b771f2b4-1781-11ea-a659-7d69641c6ff7_story.html
18. House Democrats slam Trump admin for 'illegally withholding' Puerto Rico hurricane aid
Democratic lawmakers Thursday accused the Trump administration of "illegally withholding" $10.2B in funding for hurricane recovery efforts in Puerto Rico after missing a legally required deadline to kick off the process three months ago.
Congress had mandated the housing agency to issue funding notices to 18 disaster-stricken states and territories no later than Sept. 4. They published all the notices except Puerto Rico's. The publication of the notice would have allowed island officials to start drafting a plan that would create the structures needed to manage $10.2 billion in much-needed recovery funds. https://www.nbcnews.com/news/latino/house-democrats-slam-trump-admin-illegally-withholding-puerto-rico-hurricane-n1096421
19

. Read the Inspector General's report on the Trump-Russia investigation
The Justice Department inspector general's report examining the FBI's investigation into possible coordination between the Trump campaign and Russia rebuts allegations of illegal spying and that political bias played a role in the probe begun ahead of the 2016 election, but finds serious faults in other areas. Read it at:  https://www.washingtonpost.com/context/read-the-inspector-general-s-report-on-the-trump-russia-investigation/f97e93ca-d5b4-4d8f-a37f-8b2cdfdcdc88/
20. Kamala Harris Leads Senators In Demanding 'Immediate Removal' Of Stephen Miller
Sen. Kamala Harris (D-CA) and a large group of Democratic senators have signed a letter that will be sent to the White House on Monday calling on President Donald Trump to fire senior adviser Stephen Miller in light of leaked emails showing that "what is driving Mr. Miller" is "not national security, it's white supremacy—something that has no place in our country, federal government, and especially not the White House."  
"Simply put," the letter continues, "Mr. Miller is unfit to serve in any capacity at the White House, let alone as a senior policy adviser." 
The Trump administration has continued to defend Miller over the past month. Although never denying the authenticity of the emails published by the Southern Poverty Law Center, the White House has attempted to discredit the civil rights organization, calling it a "long-debunked far-left smear organization." https://www.huffpost.com/entry/stephen-miller-kamala-harris-senators-letter-white-nationalist_n_5ded8571e4b00563b8534265
21. Former FBI lawyer Lisa Page sues Justice Department for releasing anti-Trump texts to media
Former FBI lawyer Lisa Page, a target of repeated attacks by President Trump, sued the bureau and the Justice Department on Tuesday, alleging officials unlawfully released a trove of politically charged text messages she exchanged with a senior FBI agent with whom she was having an affair.
Page's lawsuit said the attention has "radically altered her day-to-day life."
"The officials who authorized the disclosure and their allies sought to use, and ultimately did use, the messages to promote the false narrative that Plaintiff and others at the FBI were biased against President Trump, had conspired to undermine him, and otherwise had engaged in allegedly criminal acts, including treason," Page's complaint read. https://www.washingtonpost.com/national-security/2019/12/10/former-fbi-lawyer-lisa-page-sues-justice-department-releasing-anti-trump-texts-media/
22. Donald Trump Says America Was Laughed At 4 Years Ago, But Is 'Respected' Now—Week After Viral World Leaders NATO Video
The president told his backers in Hershey, Pennsylvania, last night that America was "winning again" four years after being "not respected" and "laughed at" under the Obama administration.
But at a reception for NATO leaders at Buckingham Palace during the organization's 70th-anniversary summit in London last week, a video published by CBC showed Canadian Prime Minister Justin Trudeau appearing to joke about Trump with French President Emmanuel Macron, British Prime Minister Boris Johnson and Dutch PM Mark Rutte. https://www.newsweek.com/donald-trump-america-laughed-respected-now-nato-leaders-viral-video-1476632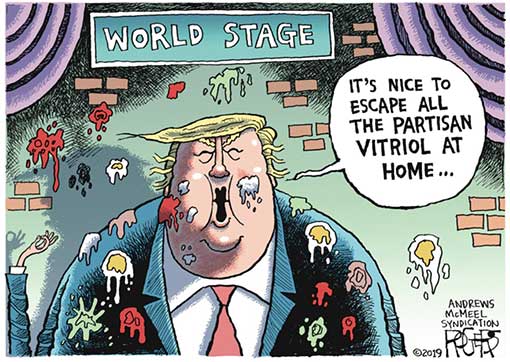 1. Rick Wilson: The Traitors Among Us
America once used the words "treason" and "traitors" only in cases of actual betrayal of our nation's most vital secrets or interests. They were profound words, deep with meaning, grim in import, carrying with them the knowledge that the penalty for treason was death.
Be honest: The words "traitor" and "treason" don't have the sting they once had; they've been devalued from mis- and over-use by this president. For Donald Trump, any opposition, either personal, ideological, or political is treason. Anyone who stands in his path betrays the Great Leader. Anyone who fails to take the knee is a traitor.
Like hearing an insult too many times drains it of its potency, Trump has diluted the power of that approbation. He has labeled loyal, dedicated Americans who served this country in the military and law enforcement as traitors, so much so that we could almost give in to the temptation to excuse it as "Trump being Trump" and let it slide like any of the other insults he vomits forth on the daily.
Which is a shame, because America is in the midst of a treason boom right now, and more than a few people in Trump's immediate orbit — and Trump himself — richly and actually deserve the title of traitor, and the treason inherent in their acts and words is apparent. https://www.rollingstone.com/politics/political-commentary/traitors-donald-trump-republican-party-922194/
2. Darren Samuelsohn and Meridith McGraw: Possible pardons loom for former Trump aides
Roger Stone's supporters are making a pardon pitch everywhere President Donald Trump looks: Fox News, InfoWars, Twitter, even the White House driveway.
Michael Flynn abruptly hired a bombastic lawyer who spouts Trump-friendly theories about FBI duplicity that are widely seen as a pardon play.
Paul Manafort has kept himself on Trump's radar from behind bars in a federal penitentiary by feeding the president's personal attorney a conspiracy theory that Ukraine, and not Russia, interfered in the 2016 campaign.
In any other administration, at any other time, it would be shocking to consider the possibility that three men with such deep personal ties to the president might get their legal troubles expunged in an election year — not to mention by a president facing impeachment.
But this is not any other administration. https://www.politico.com/news/2019/12/09/possible-pardons-loom-former-trump-aides-078480
3. Ex-Ethics Chief Walter Shaub: William Barr Will Try To Interfere In 2020 Election
Barr, who traveled the world looking for ways to defend the politician he serves instead of the rule of law, has also signaled he may use the criminal investigative apparatus of the state to go after perceived enemies of his boss—weaponizing it as a tool of a political party.
Even the mere suggestion that he would do this is a direct assault on democracy and a betrayal of the public trust. It is extremely dangerous and may chill legitimate investigations. It's the stuff of autocracies. It must not be tolerated. It cannot be tolerated in a republic.
Barr even talks like an authoritarian. He said he'd ignore any ethics guidance he disagreed with. He ignored the 1st amendment and blamed "secularism" for society's ills. He told certain "communities" [wink] they need to show more respect or live without police protection.
In this context, it's important to remember that Trump fired Sessions the day after the election because he would not stop the Russia investigation. A president firing someone for failing to treat him as though he is above the law should have been viewed as an impeachable act.
Instead, Barr was greeted warmly as a stabilizing force by people who should have known better. But, as the beneficiary of a slow motion Saturday Night Massacre, Barr was hired to do what Sessions wouldn't do. He was hired for this moment in history.
It's important not to make the same mistake twice. Some people underestimated Barr's ruthless partisanship before. No one should do that again. Like Trump, Barr is capable of doing anything he can get away with—and that includes interfering in the 2020 election, if we let him. https://twitter.com/waltshaub/status/1204601744166129665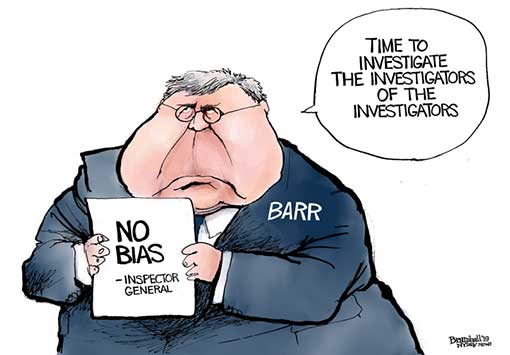 4. Eric Lutz: Amazon Claims Trump Blocked $10 Billion Contract Because He Hates Jeff Bezos
Amazon is now officially accusing Donald Trump of derailing its potential deal with the Department of Defense, directing the lucrative contract to Microsoft instead. In a court filing released Monday, the company alleged that the president orchestrated "behind-the-scenes attacks" on Amazon Web Services and CEO Jeff Bezos and called for the $10 billion Joint Enterprise Defense Infrastructure contract the government awarded to Microsoft to be reviewed.
"The question is whether the President of the United States should be allowed to use the budget of DOD to pursue his own personal and political ends," the company argued in the filing. "DoD's substantial and pervasive errors are hard to understand and impossible to assess separate and apart from the President's repeatedly expressed determination to, in the words of the President himself, 'screw Amazon.'" (A Pentagon spokesperson said in a statement to CNBC that "there were no external influences on the source selection decision.")
In a 103-page filing, Amazon accuses Trump of "[intervening] directly in the very final phases of the two-year procurement process" and the Pentagon of "[glossing] over wide gaps" between the services offered by AWS and Microsoft. "Basic justice requires re-evaluation of proposals and a new award decision," Amazon argued. https://www.vanityfair.com/news/2019/12/amazon-claims-trump-blocked-10-billion-defense-contract-because-he-hates-jeff-bezos
5. Paul Waldman and Greg Sargent: The inspector general report just blew up Trump's lies. So Barr is rushing to the rescue.
The Justice Department's inspector general has released his long-awaited report on the FBI investigation of Russia's 2016 effort to help elect Donald Trump president. Though it identifies serious errors and omissions in the FBI's work — many related to Foreign Intelligence Surveillance Act (FISA) warrants to surveil Carter Page, an informal Trump campaign adviser — the report torpedoes the endless claim by Trump and his propagandists that the entire Russia investigation was a "witch hunt" and a "hoax."
The Trump argument has been that the entire investigation was built on top of deeply nefarious motives — that is, that the "deep state" was corruptly conspiring to prevent Trump from being elected president — and that it all was illegitimate. This was the argument of the president of the United States: that a law enforcement investigation into a foreign attack on our democracy was a "hoax" and a "witch hunt."
Barr is in the process of completing his own "review" of the investigation, and it's plainly obvious that he is going to try to use it to cast doubt on these inspector general conclusions. Let's remember that Barr put out a profoundly dishonestly summary of the special counsel's report, one clearly designed to game media coverage of it in advance.
There is no need to grant Barr even the slightest presumption of good faith this time around. It isn't just that history on the special counsel's report; it's that he already told us what his intention is, by implying at the outset with his "spying" comment that there just might be something to that "deep state" plot, and, now, by telling us exactly how he's going to try to dispute the inspector general's findings, as well. https://www.washingtonpost.com/opinions/2019/12/09/inspector-general-report-just-blew-up-trumps-lies-so-william-barr-is-rushing-rescue/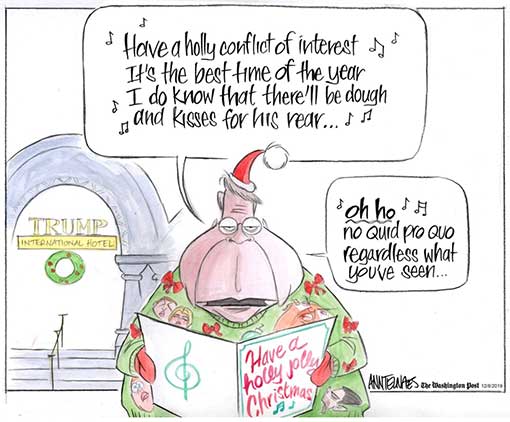 6. LA Times Editorial: President Scrooge's Christmas gift to millions of poor Americans: A cut to their small stipend
In a rare moment of bipartisanship, Congress rejected President Trump's efforts on last year's farm bill to impose new food stamp restrictions that would have cut benefits for more than a million needy people. So Trump decided to pursue the changes through executive action. On Wednesday, the U.S. Department of Agriculture finalized the first of three new regulatory changes to food stamps, formally known as the Supplemental Nutrition Assistance Program, just in time for the holidays. And boy, it is just as punitive and miserly as we feared. Bah, humbug!
Collectively, the changes could impact 3.7 million low-income people, and not only able-bodied adults without kids. The Urban Institute estimates that as many as half a million families with children could lose SNAP eligibility. Too bad for all those Tiny Tims out there.
You're a mean one, Mr. Trump. https://www.latimes.com/opinion/story/2019-12-09/trumps-christmas-gift-to-millions-of-poor-americans-a-cut-to-their-small-food-stipend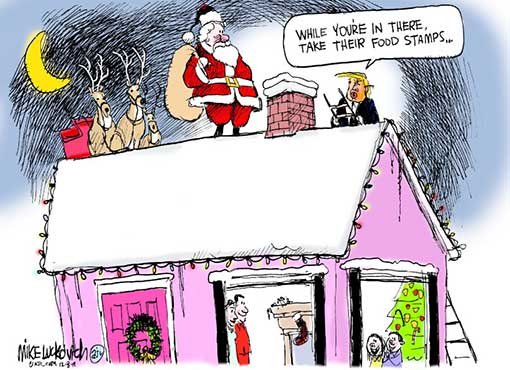 7. Eugene Robinson: Blame Trump's neglect for the death of Carlos Gregorio Hernandez Vasquez
Sixteen-year-old Carlos Gregorio Hernandez Vasquez died horribly and needlessly. The Trump administration's policy of deliberate, punishing cruelty toward Latin American migrants killed him.
That is the only conclusion to be drawn from a shocking report by the nonprofit newsroom ProPublica about Hernandez's death in May at a U.S. Border Patrol station in Texas. I assume the agents and health-care workers who should have given Hernandez lifesaving attention are decent human beings, not monsters. But they work within an intentionally monstrous system that assigned no value to a young Guatemalan boy's life.
President Trump's racist and xenophobic immigration policies are not grounds for impeachment; rather, they are an urgent reason to defeat him in the coming election. But at least six migrant children, including Hernandez, have died in federal custody on Trump's watch. Somebody should be held accountable. Somebody should go to jail.
Hernandez died of influenza and neglect. https://www.washingtonpost.com/opinions/the-trump-administration-is-to-blame-for-a-teen-migrants-death/2019/12/09/569ae0e8-1ac6-11ea-8d58-5ac3600967a1_story.html
8. Max Boot: The new DOJ report refutes Trump's conspiracy theory. But his supporters won't care.
If there were any justice in the world, we would never hear any of the deep state conspiracy theories ever again. But, of course, Trump and his supporters will not be stymied by the lack of factual support for their charges — any more than those who believe that Lee Harvey Oswald was not a lone gunman or that the moon landing was faked will be compelled to recant by a lack of evidence. Trump predictably claimed after the report's release that it was "far worse than I ever thought possible" and his highly partisan attorney general, William P. , just as predictably opined that the whole FBI investigation was unjustified. Who needs facts when you have conspiracy theories?
Trump's calumnies against the FBI may now be dispelled, at least for rational observers, but they have served their purpose. By the time the Mueller investigation was finished, nearly 40 percent of voters were convinced that Trump had been spied on. This belief helped Trump to escape accountability despite copious evidence of his obstruction of justice and his campaign's reliance on Russian assistance.
Now that Trump is finally being impeached for his attempted extortion of Ukraine, he and his supporters are advancing another unfounded conspiracy theory to distract attention: They claim that Ukraine interfered in the 2016 election to hurt Trump. This is no more true than the allegation of FBI spying on Trump, but it is likely to serve its purpose by convincing Trump supporters that he is the real victim here. You have to give Trump credit: He has figured out how to weaponize outlandish conspiracy theories. By the time they are definitively refuted, it's too late. https://www.washingtonpost.com/opinions/2019/12/09/new-doj-report-refutes-trumps-conspiracy-theory-his-supporters-wont-care/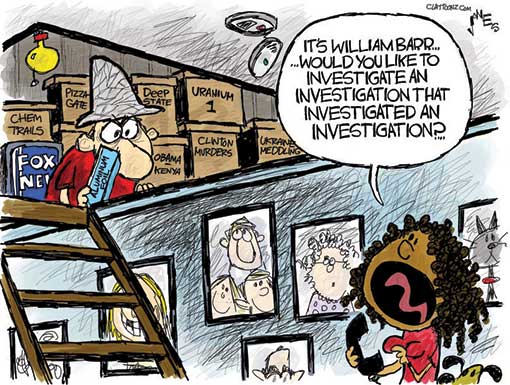 9. Dana Milbank: Impeachment Diary
Walk to the back of the impeachment hearing room, into the Republican cloakroom where lawmakers huddle during proceedings, and you'll find a closed double door with a sign taped to it announcing:
"This is not a door. Thank you."
Pay no attention to the latch, the push bar, the light visible through the crack, the wood panels: This is not a door.
It's the perfect distillation of the defense of President Trump in these final days of the House impeachment proceedings. This is not a quid pro quo. This is not an abuse of power. This is not an obstruction of justice. It doesn't matter if it looks like a duck, swims like a duck and quacks like a duck. This is not a duck. Thank you.
Trump backers under the influence of Infowars and Fox News will follow Republicans into the conspiracy funhouse. The rest of us will continue to believe that the hinged slab in the doorway is a door. https://www.washingtonpost.com/opinions/2019/12/09/gop-if-it-looks-swims-quacks-like-duck-its-an-avocado/
10. Katie Glueck and Maggie Haberman: G.O.P. Tactic on Impeachment: Turn Ukraine Allegations Against Biden
Trump's re-election campaign has run menacing and misleading ads. The barrage of attacks is the latest example of Mr. Trump's monthslong fixation with Mr. Biden, who leads the Democratic field in national polling and has bested the president in head-to-head surveys in several key battleground states. Mr. Biden and many independent experts have called the allegations of corruption false, and Mr. Biden's campaign insists that they demonstrate how worried the president is about facing him in a general election.
"It obviously worked against Hillary Clinton," said Karen Finney, a Democratic consultant and former Clinton campaign senior spokeswoman, of Mr. Trump's attacks. "There's a lot of people that don't know, believe in blind faith what's said on Fox or out of the president's mouth."
Democrats see a parallel to Republican efforts to tarnish Hillary Clinton over her email practices in the run-up to the 2016 election. That campaign, they say, proved how damaging a constant stream of insinuations and accusations from Mr. Trump and his allies can be. https://www.nytimes.com/2019/12/06/us/politics/joe-biden-trump-ukraine.html
11. Max Boot: Will the GOP's born-again Trumpers ever pay the price for selling out?
I, too, am soul-weary and incredulous that so many Republicans who are "in many ways good people" could become imitators and enablers of the most dishonest and corrupt president in U.S. history. I'm not talking about crazy conspiracy-mongers like Rep. Devin Nunes (R-Calif.), Rep. Jim Jordan (R-Ohio) or Rep. Matt Gaetz (R-Fla.). Given their intellect and character, you can't expect anything better from them. I'm not even thinking of Sen. Ted Cruz (R-Tex.), who is smarter but just as unprincipled. What I find crushing is how many normal, mainstream Republicans who know better have sold out to President Trump.
The paradigmatic case is, of course, Sen. Lindsey O. Graham (R.-S.C.), who once upon a time accurately denounced Trump as a "race-baiting, xenophobic religious bigot." Now "Lickspittle Lindsey" will not even look at the copious evidence against Trump because he claims the impeachment process is "a bunch of B.S." Another notorious example is Secretary of State Mike Pompeo, who warned that Trump would turn out to be an authoritarian leader. Now he will not even protect State Department employees from character assassination by Trump's henchmen. I met both Graham and Pompeo in the pre-Trump era (which now seems as distant as the Paleozoic era) and I am still shellshocked by their transformation. It's as if their brains have been scooped out and replaced with Trumpian mush. https://www.washingtonpost.com/opinions/2019/12/10/will-gops-born-again-trumpers-ever-pay-price-selling-out/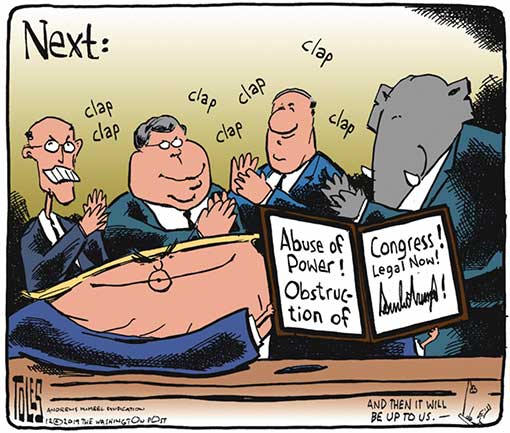 12. Jonathan Chait: Rudy Not Even Waiting for Impeachment to End to Resume Ukraine Shakedown
The official House Republican impeachment report is dedicated to nitpicking the vast evidence of misconduct against President Trump, and wedging a handful of available facts into an alternative frame. President Trump, argues the report, "holds a deep-seated, genuine, and reasonable skepticism of Ukraine due to its history of pervasive corruption." Trump wasn't trading favorable policy for particular investigations, Republicans insist. He just wanted to be sure the country had cleaned up its act before he sent them a check.
Meanwhile, at this very moment, Rudy is back in Ukraine, blowing that defense to smithereens.
Giuliani — who, incredibly, still represents Trump as an "attorney" despite being the reported target of an increasingly dire criminal investigation — is continuing the same work he's been undertaking on Trump's behalf for two years. The House Republican line is that Trump wasn't trying to order up dirt that would discredit the Mueller investigation and the Bidens. No, he was just really serious about corruption. Yet Giuliani is meeting with various Ukrainians "as part of his investigation into the Bidens and his bid to undercut the credibility of the impeachment investigation."
This fact isn't being dug up by hostile reporters against Giuliani's wishes. He is literally broadcasting it. Last night he tweeted, "The conversation about corruption in Ukraine was based on compelling evidence of criminal conduct by then VP Biden, in 2016, that has not been resolved and until it is will be a major obstacle to the US assisting Ukraine with its anti-corruption reforms." http://nymag.com/intelligencer/2019/12/rudy-running-irregular-channel-in-plain-sight-right-now.html
13. Markos Kounalakis: King Trump
Distinguishing a monarchy from a republic is a civics lesson once taught in school. Our education system dumped civic literacy a while back, so it might be time for a national refresher course. We all need it, especially he of self-proclaimed "great and unmatched wisdom"—Trump the Infallible.
But if ever there were a fallible man—true of me and all men—the current White House occupant certainly qualifies.
Unlike President Trump, I'm usually willing to admit my mistakes, apologize when I've wronged someone and try to make up for my screw-ups. Being ready, willing and able to deal with my imperfections is a result of my Sunday school moral training and the ethical lessons I was taught at home.
Trump? Whether it's deliberately part of his shtick or simply his obtuse nature, Trump has never confronted a problem or a failed policy that wasn't someone else's fault and, therefore, undeserving of an apology. He is all offense and no defense. Infallibility means never having to say you're sorry.
Trump's unbound and haughty arrogance, while noxious, could be tolerable if the only people affected were those in his small personal and professional coterie. Here's the problem though: He's the most powerful person in the universe and sits atop the greatest nation in this planet's history. A little humility on his part would go a long way.
Unfortunately, Trump's attitude and governing style have led to a constitutional confrontation where the president and his defenders insist that, as a matter of his role and authority, he is essentially infallible and his power absolute. Of course, even those of us who have forgotten the basics of our three-branch system of government and the primacy of Congress—the "First Branch" under Article I—recall "checks and balances."
Checks and balances ensure a president can't just do whatever he feels like doing. Trump demurs. He says he has a constitutional "right to do whatever I want as president." So, we're at an impasse.
Will our representatives defer to one man's grip on power, inflated ego, and sense of absolute infallibility? We pray they be just and choose wisely. https://washingtonmonthly.com/2019/11/30/king-trump/
14. Max Boot: To GOP hypocrites: I never want to hear about Hillary Clinton's emails again
If there were a global competition for insincerity, President Trump would have won the equivalent of an Oscar, a gold medal, a Ballon d'Or and a Vince Lombardi Trophy combined. You simply could not be more two-faced; it is not humanly possible. His picture belongs in the dictionary under the very word "hypocrisy."
Trump, recall, spent much of 2016 leading chants of "Lock her up!" because Hillary Clinton made the mistake of employing a private server for some of her official emails as secretary of state. Trump still routinely refers to the former first lady and secretary of state as "Crooked Hillary" as if she had actually committed a crime. Never mind that the Justice Department decided not to prosecute and that a lengthy State Department investigation, completed during the Trump administration, found "no persuasive evidence of systemic, deliberate mishandling of classified information."
And yet, while castigating Clinton for supposedly mishandling classified information, Trump has been engaging in far more egregious examples of the very same sin.
All of Trump's other security breaches pale by comparison with Trump's promiscuous use of a cellphone to conduct top-secret conversations.
Trump resisted the efforts of former White House chief of staff John F. Kelly to stop using a cellphone and to employ only White House landlines because he didn't want his aides to have a log of his calls. It is hard to imagine why Trump would be so paranoid about being monitored by his own aides if he weren't doing something very wrong — which, as we know from the impeachment proceedings, he clearly is.
The only thing more appalling than Trump's cavalier disregard for the basic requirements of handling classified information is the complete lack of concern by his followers who were once so exercised by Clinton's far more innocuous security lapses. They are championship hypocrites too. I never want to hear about Hillary's emails again as long as I live. https://www.washingtonpost.com/opinions/2019/12/06/lock-her-up-we-now-know-trump-did-far-worse/
15. Joshua Yaffa: How Donald Trump Is Making It Harder to End the War in Ukraine
But, as the impeachment hearings have shown, Trump has proved distrustful of Ukraine, viewing the country through the repeatedly disproven conspiracy theory that Ukraine, and not Russia, had tried to interfere in the 2016 U.S. election. To the extent that he cared about Ukraine at all, Trump paid more attention to the efforts of his lawyer Rudy Giuliani to dig up politically useful dirt on Joe Biden. (Gordon Sondland, U.S. Ambassador to the E.U., relayed to a colleague of Taylor's at the embassy in Kyiv that "Trump cares more about the investigations of Biden" than Ukraine itself.) So, the odds of Trump playing "grand peacemaker" were never all that great to begin with, but were reduced to precisely zero by the whistle-blower complaint that sparked impeachment hearings.
The ongoing political fight in Washington risks turning Ukraine into what Zelensky, like previous Ukrainian Presidents, studiously tried to avoid: a partisan issue, subject to the whims, calculations, and hypocrisies that politics often require of its most devoted practitioners. For most of the twenty-five years of Ukraine's post-Soviet independence, it enjoyed consistent and bipartisan support in Washington—including, and most importantly, after 2014, when Russia annexed Crimea and sparked war in the Donbass. In the age of Trump, that has eroded. On December 2nd, the Fox News host Tucker Carlson encapsulated a creeping drift in pro-Trump circles of the Republican Party, saying on air, "I think we should probably take the side of Russia, if we have to choose between Russia and Ukraine." https://www.newyorker.com/news/news-desk/how-donald-trump-is-making-it-harder-to-end-the-war-in-ukraine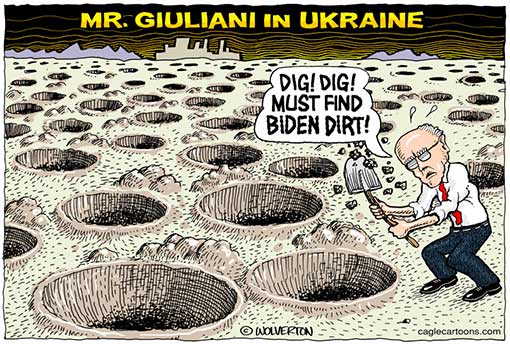 16. Jordan Hoffman: Donald Trump Forces America To Ponder His Toilet Habits
Donald Trump, the President of the United States, spoke passionately yesterday about toilets.
"People are flushing toilets 10 times, 15 times as opposed to once," he said from the Roosevelt Room of the White House, to reporters with cameras, in front of other members of the government. Our nation's discourse very quickly went to pot.
While the last thing any of us ever want to do is dwell upon the bathroom habits of our Commander in Chief, one simply must ask what the hell is going on inside this man's digestive tract or his mind to suggest that there are people flushing toilets "10 times, 15 times" in areas where water "rushes out to sea because you could never handle it."
In the video, which you should only watch with someone else in the room so you can confirm "are you seeing what I'm seeing?" Trump's voice nearly cracks when describing the toil of "washing your hands" with one of these newfangled, pusillanimous streams. One is reminded perhaps of Leonardo DiCaprio's heartbreaking performance as Howard Hughes during the tragic ending of The Aviator. https://youtu.be/2Yj-U8FQnYQ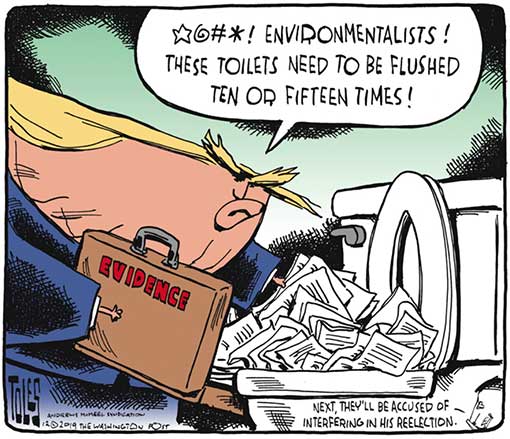 17. Garry Kasparov: I lived in the post-truth Soviet world and I hear its echoes in Trump's America
It was increasingly obvious back then, even to communist true believers, that what we were being told didn't match the world we saw around us. As the joke went, "there is no news in the truth and no truth in the news." Eventually the disparity between truth and lies became too great; life wasn't improving and more and more information was making it through the Iron Curtain. Denying reality became too grave an insult to our dignity, an underestimated ingredient in the spirit of revolution.
I have lived through several world-changing upheavals. I'm a post-Soviet citizen; the country of my birth ceased to exist in 1991. We enjoyed less than a decade of tenuous freedom in Russia before Vladimir Putin launched its post-democratic phase. My ongoing attempts to fight that tragedy led to my exile in the United States. Now my new home finds itself locked in its own perilous battle -- a battle to avoid becoming the latest member of the post-truth world.
President Donald Trump and his Republican defenders in Congress have followed his lead in declaring war on observed reality. Critical reports are "fake news," journalists reporting the facts are "enemies of the people," a phrase of Vladimir Lenin's, debunked conspiracy theories are repeated, and public servants testifying under oath about documented events are dismissed as Never Trumpers.
Unable to change the facts, Trump and his supporters instead try to shift the debate into an alternate universe where the truth is whatever they say it is today. Trump repeats the same lies over and over, and it's hard to say which is more troubling -- that his followers don't realize that they are lies or that they don't care. Globalization and the internet may have made the world smaller, but now we're experiencing a counterattack, the regionalization of truth.
American tech giants are happy to help Putin create a false reality inside the borders of Russia. Apparently Apple and Google will stand up to the FBI, but not the FSB, aka the KGB. Software is soft power, and US companies betray the values of the nation that enabled their success by doing the bidding of dictators. Tech firms defending themselves by saying it's just business, not politics, sound a lot like the Hollywood studios that edited their movies and fired Jewish staff under Nazi pressure in the 1930s.
What's the truth? In the era of regionalized facts, it depends on where you stand, what channel you're watching, and what party you belong to. But there cannot be a red state reality and a blue state reality any more than there should be one world map inside of Russia and a different one outside. Trump is finally facing the music, and that must begin with everyone facing the facts. https://www.cnn.com/2019/12/04/opinions/kasparov-trump-america-post-truth-world/index.html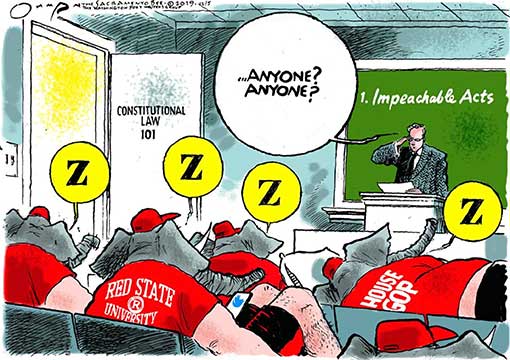 18. Kyiv Post Editorial: Rudy's sideshows
At a time when Ukraine needs to project an image of confidence and competence on the global stage, here comes Rudy to again treat the country as a bottomless pit of political intrigue. He is seeking to exploit some of Ukraine's least honest former officials to weave a fable exonerating Trump from the very clear truth that he tried to blackmail Ukrainian President Volodymyr Zelensky into investigating his political opponents and boosting his 2020 campaign.
Giuliani's visit to Ukraine underlines a disturbing reality of Ukraine-U.S. relations under Trump. While military aid for the country has increased under the Trump administration, the president's behavior and actions by his proxies have raised serious questions about the reliability of the United States as a partner.
Giuliani demonstrates that, even when Trump is preoccupied with other matters, his motley band of associates — official and unofficial — will always be ready to do what they do best: exploit, manipulate, and sow chaos. For Ukraine's sake, we hope Giuliani departs as soon as possible. https://www.kyivpost.com/article/opinion/editorial/rudys-sideshows.html
19. Jim Dwyer, Jo Becker, Kenneth P. Vogel, Maggie Haberman and Sarah Maslin Nir: The Indispensable Man: How Giuliani Led Trump to the Brink of Impeachment
Step by step, Giuliani has escorted President Trump to the brink of impeachment. Mr. Giuliani himself is now under criminal investigation by federal prosecutors in the very office where he enjoyed his first extended draughts of fame nearly four decades ago. The separate troubles he has gotten his client and himself into are products of the uniquely powerful position he has fashioned, a hybrid of unpaid personal counsel to the president and for-profit peddler of access and advice.
Practically no name, other than Mr. Trump's, was mentioned more than Mr. Giuliani's at the impeachment hearings and in a subsequent Democratic report that described him as the hub of a grievous abuse of presidential power (or legitimate advocate for Mr. Trump, in the Republicans' minority response).
A dozen witnesses testified over five days, and if Mr. Giuliani were somehow subtracted from their stories, there seems to be no one in or out of government who could take his place as the president's man on the ground. No one to carry out a campaign to force a vulnerable ally, Ukraine, to damage a political opponent of Mr. Trump and undermine a special counsel investigation in ways that would help both Mr. Trump and an ally now in prison for laundering millions of dollars.
No impeachment train, picking up steam. https://www.nytimes.com/2019/12/08/us/politics/giuliani-trump-impeachment.html
20. Jennifer Rubin: The 'travesty' is William Barr
William P. Barr's Tuesday interview with NBC News was certainly the most dishonest, frightful and deplorable given by an attorney general in modern times. He attacked the just-released inspector general report and excoriated the FBI for a "travesty" in investigating Russian manipulation of our 2016 election. His false — deliberately false — assertions were jaw-dropping...
Barr's conduct is nothing short of disgraceful and continues his pattern of misstating facts and out-and-out lying about documents to protect President Trump. The House Judiciary Committee should call him up to the Hill and make him explain his remarks, this time under oath. While impeachment of Barr is likely too much to ask, a motion of censure would be entirely appropriate. The next president should conduct a thorough investigation of Barr's antics and identify those who enabled him in violation of ethical obligations.
There is an irony here in that earlier this year Barr held the Mueller report for three weeks, put out distorting spin and let that spin fester in public before the actual document appeared. This time, word leaked in advance of the report that the IG had debunked Republicans' loony conspiracy theories. When the IG then dropped the report it was Barr who was caught flat-footed, scrambling to catch up and desperate to try to distract from the Judiciary Committee's hearing on impeachment. Perhaps the skillful handling of reports of this nature and the strategic timing of leaks/characterization of findings deserve their own verb: to "Muellerize," that is to fix the public view of a document long enough before its actual release and thereby catch the opposition flat-footed. https://www.washingtonpost.com/opinions/2019/12/10/travesty-is-william-barr/