January 21, 2016
ON THE RECORD ....
"If we, the Republican Party, becomes the party of angry people, that insinuate that most immigrants are drug dealers or rapists, that's a terrible direction for our party. We are never going to grow as a party, we are never going to increase our vote among the Hispanic population, the black population, among women, all of those things we need to expand our party, Donald Trump takes us in the wrong direction. He would be a disaster. We'll be, we'll be slaughtered, in a landslide" -- Sen. Rand Paul who says he's going to spend "every waking hour" trying to stop Donald Trump from getting the Republican nomination. 1/15/16

"Ultimately, Trump and Cruz don't amount to much more than two pathological liars competing over who can tell lies the best." -- Allen Clifton 1/15/15

"Every time I watch one of these debates, I come away with the same feeling: As liberals, we cannot allow Republicans to win the White House in 2016. I'm not using hyperbole when I say that I'm not sure this nation could ever recover from the damage one of these fools would do. With the Supreme Court, health care, women's rights, immigration, climate change, gay rights and many more other vital issues hanging in the balance this election, liberals must come together to make damn sure the next president of the United States is either Hillary Clinton or Bernie Sanders." -- Allen Clifton 1/15/15

Percentage of Americans in 1997 who thought that the American people had a "good deal" of political wisdom: 50. Percentage who think so today: 25 -- February 2016 Harper's Index.

"There's a binary quality to the larger Obama legacy: If he is succeeded by a Democrat, his achievements will be solidified and built on. If a Republican takes over, the new President will join with a Republican Congress to dismantle much of what his predecessor built." -- Jonathan Alter NY Daily News 1/17/16 

"It needs to be very clear that these buildings will never, ever return to the federal government," -- LaVoy Finicum, a 54-year-old Arizona rancher and one of the group's leaders, says the siege at the Malheur National Wildlife Refugewill continue until the federal government cedes control of the 187,000-acre refuge to Harney County. 

"The real issue is that Congress is owned by big money." — Sen. Bernie Sanders, quoted by NBC News, during last night's Democratic debate.

"Whether it's Hillary Clinton, Bernie Sanders or Martin O'Malley, we must vote blue – no matter who. Not only for president, but Congress as well. The change we want is within our power. We just have to seize upon the power we have to keep Republicans from destroying this country." --Allen Clifton 1/17/16

"I think every single American should be outraged. We've had a city in the United States of America where the population, which is poor in many ways, and majority African American has been drinking and bathing in led contaminated water. And the governor of that state acted as though he didn't really care. He had requests for help that he basically stonewalled. I'll tell you what: If the kids in a rich suburb of Detroit had been drinking contaminated water and being bathed in it, there would have been action." -- Hillary Clinton 1/17/16

"It can't be fun for Clinton to be Sanders's piñata this month and next, but for March 1 on, it shouldn't be that bad, and there is no point winning the nomination if you render your­self un­elect­able in the fall." -- Charlie Cook on why Clinton shouldn't move too far to the left. 1/18/16

"Donald Trump is the most unelectable Republican I've seen in my lifetime. Every problem we had in 2012, he's made worse." — Sen. Lindsey Graham (R-SC) 1/19/16 

"For Republicans, the only good outcome of Trump vs. Cruz is for both to lose. The future of the party as the carrier of a humane, inclusive conservatism now depends on some viable choice beyond them." -- Michael Gerson, who worked with Ted Cruz on George W. Bush's first presidential campaign.

"It's understandable and consistent with the establishment organizations voting for the establishment candidate, but it's an endorsement that cannot possibly be based on the facts and the record." -- Bernie Sanders campaign spokesperson Michael Briggs.criticizing the Human Rights Campaign for endorsing Hillary Clinton. 1/19/16

"Here in the heartland, we like our politicians in the mainstream, and he is not — he's a socialist. He's entitled to his positions, and it's a big-tent party, but as far as having him at the top of the ticket, it would be a meltdown all the way down the ballot." -- Gov. Jay Nixon of Missouri, who is working to elect a Democratic successor. "

"He is from the private sector, not a politician, can I get a "Hallelujah!" Where, in the private sector, you actually have to balance budgets in order to prioritize, to keep the main thing, the main thing, and he knows the main thing: a president is to keep us safe economically and militarily. He knows the main thing, and he knows how to lead the charge. So troops, hang in there, because help's on the way because he, better than anyone, isn't he known for being able to command, fire!" -- Sarah Palin endorsing Donald Trump. 1/19/16
---
IN THIS ISSUE
1. Fact checking the 6th Republican presidential debate
2. The DAILY GRILL
3. From MEDIA MATTERS (They watch Fox News so you don't have to)
4. SNL cold open: The GOP debate 
5. Trump's MLK Day Speech Ignored MLK
6. Late Night Jokes for Dems
7. Stephen Colbert:19 Days And Counting
8. Mark Fiore Cartoon: Obama control
9. The Borowitz Report: Fact Checker of Republican Debate Hospitalized for Exhaustion
10. Only Republican Voters Can Stop Donald Trump Now
11. Freedom Kids perform for a Donald Trump rally in Pensacola 
1. Paul Krugman: Weakened at Bernie's
2. Goldie Taylor: Flint Was Forgotten Before It Was Poisoned
3. Juan Williams: GOP to blame for civility's breakdown
4. E.J. Dionne: Obama Fights the Furies
5. USA Today Editorial: Republicans' demographic death wish
6. Jonathan Chait: Have Republicans Given Up on Fighting Donald Trump?
7. Dana Milbank: Trump's rivals help him hijack the GOP
1. Fact checking the 6th Republican presidential debate
ABC News: http://abcnews.go.com/Politics/wireStory/ap-fact-check-claims-republican-debate-36303883

NJ.com: http://www.nj.com/politics/index.ssf/2016/01/fact_checking_christie_in_6th_gop_presidential_deb.html

CNN: http://www.cnn.com/2016/01/14/politics/republican-debate-fact-check/

Politifact: http://www.politifact.com/truth-o-meter/lists/people/fact-checking-2016-gop-presidential-candidates/

US News: http://www.usnews.com/news/politics/articles/2016-01-15/ap-fact-check-claims-from-the-republican-debate

PBS Newshour: http://www.pbs.org/newshour/rundown/fact-checking-the-6th-republican-debate/

FactCheck.org: http://www.factcheck.org/2016/01/factchecking-the-sixth-republican-debate/

NY Times: http://www.nytimes.com/interactive/2016/us/elections/fact-check.html
2. The DAILY GRILL
All I'm saying is that she's under investigation by the FBI. Just pause and think about that. That's not, that's a pretty uncommon thing for a presidential candidate. And each and every week it just seems like there's more information. Now there's, according to Fox again there's expanded investigation on the connection with the Clinton Foundation. This is a serious deal. So I'm, look, I want to win. I think the Republicans need to win. We need to unify. Hillary Clinton would be an unmitigated disaster for ideological purposes. But she also has this legal problem that would really undermine our country. -- Jeb! who says "I only get my news from Fox & Friends, so that's all I get."

VERSUS

"Past reports that Clinton herself was under investigation by the FBI have fizzled to the reality that the handling of Clinton's email is being investigated, but the investigation does not focus on Clinton herself. Fox has been claiming it has sources (anonymous, of course) saying that the FBI is investigating Clinton herself after all and it's going to be HUGE. Apparently that's what Bush was talking about at the debate. Unnamed Fox News sources."  -- Laura Clawson in the Daily Kos

 

"I support Planned Parenthood privately with my personal contribution and that should be the goal of any such agency, to find private donations… It's also no secret that I am pro-choice." — Gov. Chris Christie, quoted by the Newark Star Ledger in 1994.

VERSUS

"You guys should really shred the Star-Ledger from now on … Whatever you read in the Star-Ledger about me, you should just take the opposite." -- Gov. Chris Christie, even though the article's author, Brian T. Murray, is now a spokesman for Christie.

 

"Donald [Trump] comes from New York and he embodies New York values," -- Ted Cruz 1/15/16

VERSUS

"Drop Dead, Ted .... Hey, Cruz: You don't like N.Y. values? Go back to Canada!" --NY York Post 1/15/16

 

"He has made an intentional effort to humble us back to size as if to say 'We no longer need to be so powerful because our power has done more harm than good.America is in far greater danger today than it was eight years ago." -- Sen. Marco Rubio 1/04/16

VERSUS

"Yes, it is fair to call it a conspiracy. What are you saying. Are you suggesting that the notion that we are creating a plot to take everybody's guns away so that we can impose martial law is not a conspiracy? Yes. That is a conspiracy. I would hope you would agree with that. Is that controversial? Except on some websites around the country?" -- President Obama to Anderson Cooper 1/07/16

 

"The reason that I'm here to support Mr. Trump is because America needs help. And we need a strong leader. And we need someone like Mr. Trump with leadership qualities, somebody with courage, someone that's strong like John Wayne. If John Wayne were around, he'd be standing right here instead of me." -- John Wayne's daughter1/19/16

VERSUS

"I believe in white supremacy, until the blacks are educated to a point of responsibility. I don't believe giving authority and positions of leadership and judgment to irresponsible people … I don't feel we did wrong in taking this great country away from [the Native Americans] … Our so-called stealing of this country from them was just a matter of survival. There were great numbers of people who needed new land, and the Indians were selfishly trying to keep it for themselves." -- Quote from John Wayne's 1971 Playboy interview

 


"This debate should be driven by facts and common sense, not fearmongering about targeting widows and orphans or other strawman arguments that the White House has made from time to time."-- Mitch McConnell 1/19/16

VERSUS

"I don't think orphans under five are being, you know, should be admitted into the United States at this point. --Sen. Chris Christi 11/17/15
3. From MEDIA MATTERS (They watch Fox News so you don't have to)
Fox's Eric Bolling Calls Sesame Street A "Left-Wing Communist Diatribe"http://mediamatters.org/video/2016/01/14/foxs-eric-bolling-calls-sesame-street-a-left-wi/207979

Fox's Gutfeld Suggests "We Return To The Wild West? And Promote Guns To Stop Violencehttp://mediamatters.org/video/2016/01/14/foxs-gutfeld-suggests-we-return-to-the-wild-wes/207977

Fox's Eric Bolling Advises GOP Debaters To Turn Every Debate Question "Into A Hillary Clinton Takedown"http://mediamatters.org/video/2016/01/14/foxs-eric-bolling-advises-gop-debaters-to-turn/207975

Fox's Tantaros: Hillary Clinton Is Like "A Thoroughbred Horse" "On Her Way To The Glue Factory"http://mediamatters.org/video/2016/01/15/foxs-tantaros-hillary-clinton-is-like-a-thoroug/208005

Hannity: " I live in New York, and it -- you know for those of you that don't live in New York, I gotta tell you something. You have no idea what it's like to live under communism. We have Comrade De Blasio."http://mediamatters.org/video/2016/01/15/hannity-i-live-in-new-york-so-i-know-what-its-l/208017

Ann Coulter: Donald Trump "Won Me Over With That Mexican Rapist Speech"http://mediamatters.org/video/2016/01/19/ann-coulter-donald-trump-won-me-over-with-that/208053

NRA Board Member Ted Nugent Calls For Clinton And Obama To Be Hanged Over Benghazihttp://mediamatters.org/blog/2016/01/20/nra-board-member-ted-nugent-calls-for-clinton-a/208062
4. SNL cold open: The GOP debate
http://www.nbc.com/saturday-night-live/video/republican-debate-cold-open/2969842
5. Trump's MLK Day Speech Ignored MLK
Speaking to thousands at Liberty University on Monday, Republican presidential candidate Donald Trump dedicated breaking the attendance record for the school's convocations to Martin Luther King, Jr.
It was the only reference Trump made to the historic civil rights leader, who is celebrated on the third Monday of January every year. Instead of honoring King's legacy, Trump gave what has become his usual stump speech — self-congratulations on leading the polls, followed by a lot of positions that King would have certainly disagreed with.
"If I'm president, you're going to see Merry Christmas in department stores," Trump told the cheering evangelical crowd. "We're going to protect Christianity."
Liberty University was founded by the elder Falwell, who opposed efforts to divest from South African over apartheid and denounced Nobel Peace Prize winning Archbishop Desmond Tutu as a "phony." 1/18/15http://thinkprogress.org/politics/2016/01/18/3740431/trump-at-liberty-university/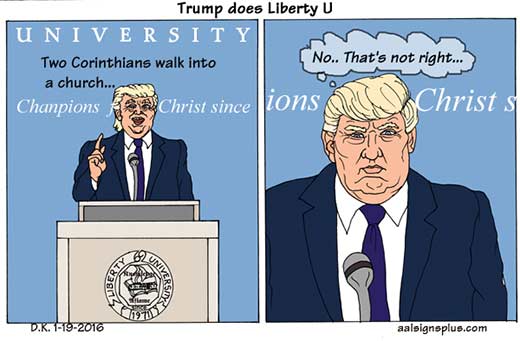 6. Late Night Jokes for Dems
Bernie's really picking up some momentum. In fact yesterday, he received an endorsement from the progressive website MoveOn.org. As opposed to, Jeb Bush, who was just endorsed by the website 'No, seriously. MoveOn.org!'" –Jimmy Fallon

"While commenting on the State of the Union, Donald Trump said President Obama is 'living in a fantasy land.' Donald Trump then went to sleep in his solid gold bed with his supermodel wife." –Conan O'Brien

"Donald Trump has been endorsed by one of the country's most prominent hate groups — his ex-wives." –Conan O'Brien

"President Obama gave his final State of the Union address last night. It was the president's shortest State of the Union address, clocking in at 58:49. Mine would have been however long it takes to say, 'You're on your own, suckers.'" –Jimmy Kimmel

"If you're a Republican you don't want to get caught agreeing with anything Obama says because it could ruin your political career, so you have to sit there and make a face like you're witnessing your family getting eaten by coyotes through the whole thing." –Jimmy Kimmel

"Kim Davis, the county clerk who refused the same-sex marriage licenses, was also at the State of the Union address. She was sporting her meanest scowl and her fullest mullet for the event. She said she was there to encourage all Christians — she even wore Joseph's amazing Technicolor dream coat." –Jimmy Kimmel

"President Obama said last night that he treated his last State of the Union address just like his first, because he's 'just as hungry.' Probably because he's only been allowed to eat kale for the last seven years." –Seth Meyers

"Ben & Jerry's ice cream wants to make a flavor inspired by Bernie Sanders. Whatever flavor it winds up being, we know Bernie will hate it for being too rich." –Jimmy Fallon

"It's been nearly two weeks since members of an anti-government militia took over a federal bird sanctuary in Oregon in order to protest the government's control of federal lands. The members of the militia are heavily armed with AR-15s, AK-47s, and other lethal weaponry one would expect to find on a bunch of dudes guarding some cockatoos." –James Corden

"Ammon Bundy, the leader of the militia, has compared his occupation of the wildlife refuge to that of Rosa Parks. And I think we all remember when Rosa Parks got on a public bus, sat down, then whipped out an AK-47 and threatened to kill anyone who made her change seats." –James Corden

"The militia are short on supplies, and have released a wish list of items they hope people will donate to their cause. You have to see this list. These guys did not plan ahead. They're asking for four aprons, ice scrapers, candles, throw rugs. It's like a wedding registry for the most boring couple you know." –James Corden

"There is only one thing they say they needed badly on this list — eggs. They need eggs badly, at a bird sanctuary." –James Corden
7. Stephen Colbert:19 Days And Counting
8. Mark Fiore Cartoon: Obama control
9. The Borowitz Report: Fact Checker of Republican Debate Hospitalized for Exhaustion
A fact checker who has vetted all of the 2016 Republican Presidential debates was hospitalized for exhaustion during the sixth G.O.P. forum in Charleston on Thursday evening.

Martin Slessky, a former journalist who works for HonestyWatch, a Minnesota-based fact-checking organization, was resting comfortably after suffering what his doctors called a "total physical and mental collapse" during Thursday's debate.

Harland Dorrinson, the executive director of HonestyWatch, said he first became concerned about Slessky's health when the fact checker started having heart palpitations and shortness of breath every time Texas senator Ted Cruz spoke.

"I turned to Martin and said, 'Are you all right? Are you going to be able to make it through this?' " Dorrinson said. "And he said, 'I'll be fine. Ben Carson is starting to talk now, that'll be soothing.' "

But moments later, when New Jersey governor Chris Christie falsely claimed that he never supported the nomination of Supreme Court Justice Sonia Sotomayor, Slessky experienced acute dizziness and blurry vision, and was immediately rushed to the hospital.

HonestyWatch's Dorrinson said it was unlikely that he would ask Slessky or any of his other fact checkers to work future Republican debates. "I care about these people," he said. "Many of them have families."
Speaking from his hospital bed on Friday, Slessky still seemed blindsided by his sudden disintegration. "Going into the debate, I actually believed that the volume of falsehoods was going to be more manageable this time," he said. "I thought Carly Fiorina not being there would help."

LATER: An endorsement from former Alaska Governor Sarah Palin is expected to widen Donald J. Trump's already impressive lead among so-called "idiot voters," an aide to the billionaire said on Tuesday.Read more athttp://www.newyorker.com/humor/borowitz-report/
10. Only Republican Voters Can Stop Donald Trump Now
With the possible exception of Ted Cruz and Jeb Bush, who took their shots at the billionaire from New York, the other candidates seemed to have given up any hope of standing up to him. And neither Cruz nor Bush managed to knock Trump down. Now, it appears, only the Republican voters can do that. According to the latest polls, they don't seem to be in any rush.
Ari Fleischer, George W. Bush's former spokesman, estimated on Twitter that Trump now had a sixty per cent chance of getting the nomination. That's just one person's opinion, of course, but it reflects a widespread fatalism in the Republican establishment. Trump, once regarded as a political neophyte who would inevitably self-destruct, is now increasingly seen as an unstoppable force.http://www.newyorker.com/news/john-cassidy/only-republican-voters-can-stop-donald-trump-now
11. Freedom Kids perform for a Donald Trump rally in Pensacola
1. Paul Krugman: Weakened at Bernie's
We now have a clear view of Sanders' positions on two crucial issues, financial reform and health care. And in both cases his positioning is disturbing — not just because it's politically unrealistic to imagine that we can get the kind of radical overhaul he's proposing, but also because he takes his own version of cheap shots. Not at people — he really is a fundamentally decent guy — but by going for easy slogans and punting when the going gets tough.
On finance: Sanders has made restoring Glass-Steagal and breaking up the big banks the be-all and end-all of his program. That sounds good, but it's nowhere near solving the real problems. The core of what went wrong in 2008 was the rise of shadow banking; too big to fail was at best marginal, and as Mike Konczal notes, pushing the big banks out of shadow banking, on its own, could make the problem worse by causing the risky stuff to "migrate elsewhere, often to places where there is less regulatory infrastructure."
On health care: leave on one side the virtual impossibility of achieving single-payer. Beyond the politics, the Sanders "plan" isn't just lacking in detail; as Ezra Klein notes, it both promises more comprehensive coverage than Medicare or for that matter single-payer systems in other countries, and assumes huge cost savings that are at best unlikely given that kind of generosity. This lets Sanders claim that he could make it work with much lower middle-class taxes than would probably be needed in practice.
To be harsh but accurate: the Sanders health plan looks a little bit like a standard Republican tax-cut plan, which relies on fantasies about huge supply-side effects to make the numbers supposedly add up. Only a little bit: after all, this is a plan seeking to provide health care, not lavish windfalls on the rich — and single-payer really does save money, whereas there's no evidence that tax cuts deliver growth. Still, it's not the kind of brave truth-telling the Sanders campaign pitch might have led you to expect.
And look: if the political theory behind supporting Sanders is that the American people will vote for radical change if you're honest about what's involved, the campaign's evident unwillingness to fully confront the issues, its reliance on magic asterisks, very much weakens that claim. 1/19/16 http://krugman.blogs.nytimes.com/2016/01/19/weakened-at-bernies/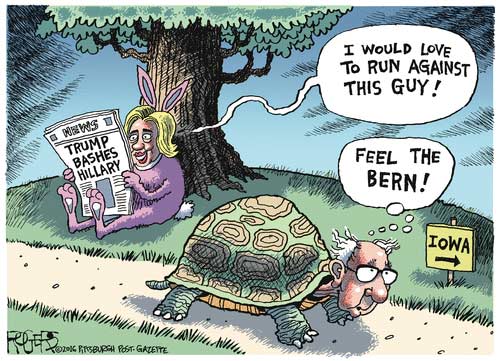 2. Goldie Taylor: Flint Was Forgotten Before It Was Poisoned
It would have taken a five-minute test to prove the river water unsafe. City leaders, who were then weighing less expensive options, knew as early as 2011 that water from the Flint River would need treatment with an anticorrosive agent before it would be drinkable.
In the end, the governor says he had no choice, since Detroit "kicked Flint off" its Lake Huron system. The fact is that never happened. Detroit asked for a rate change and instead of negotiating, Gov. Rick Snyder's appointee opted out. They were more concerned about saving money than saving lives.
To make matters worse, the Michigan State Department of Environmental Quality decided $100 a day was too much to pay for an anticorrosive additive that could appropriately treat the water. Consequently, the iron pipes eroded— turning the water brown—and lead began seeping into the water supply..
State and federal officials knew there was a problem. With brown water pumping out of kitchen faucets and fire hydrants, there was no way to hide their error.
Ultimately, it took 18 months and a mother named LeAnne Walters who wouldn't give up, Chicago-based EPA regulations manager, a local physician, an investigative journalist and a class action lawsuit to force the state to do the right thing.1.18.16http://www.thedailybeast.com/articles/2016/01/18/flint-was-forgotten-before-it-was-poisoned.html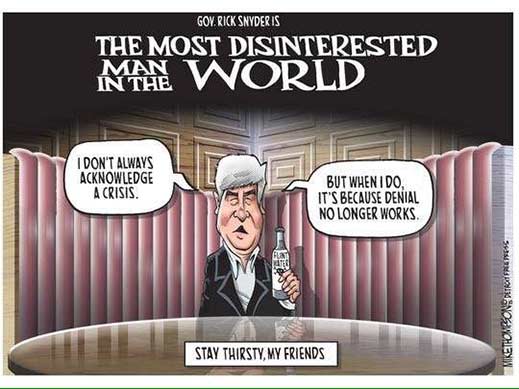 3. Juan Williams: GOP to blame for civility's breakdown
"It's one of the few regrets of my presidency, that the rancor and suspicion between the parties has gotten worse instead of better," the president said during his final State of the Union address last week. He added, "a president with the gifts of Lincoln or Roosevelt might have better bridged the divide." 
While I'm all for humility, the president is not to blame for the rancor and polarization that have characterized his presidency. 
It was Senate Republican Leader Mitch McConnell (Ky.) who famously declared that his number one goal was to make Obama a "one-term president."
Obama is not responsible for the unprecedented obstructionism employed by McConnell's Senate Republicans to block nearly all of his nominees and proposals. He has not even used executive action to get around Congress as extensively as did Presidents Clinton and George W. Bush. But his critics deride him as a constitutional outlaw.
Similarly, ObamaCare is based on Republican proposals such as the healthcare plan Mitt Romney put in place as governor of Massachusetts. How is Obama to blame for Congressional Republicans stopping cap-and-trade proposals to reduce air pollution when the idea originated with them? 
And now the country is in a jumble because the GOP is in a jumble. Democracy breaks down when one of the two political parties refuses to compromise or respect the twice-elected president, and throws a temper tantrum when its members don't get their way.
This isn't President Obama's fault. It isn't even really the fault of the Donald Trump and all his imitators running for the party's nomination. It is the fault of the leaders of the Republican Party who have let anger and extreme voices define their party.http://thehill.com/opinion/juan-williams/266155-juan-williams-gop-to-blame-for-civilitys-breakdown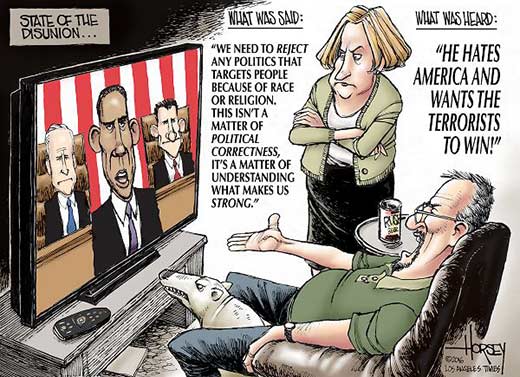 4. E.J. Dionne: Obama Fights the Furies
The most venomous part of the Republican Party has seized control of the national dialogue. This forced President Obama to use his final State of the Union message on Tuesday to battle against intolerance, anger, pessimism and despair.
But his diplomacy and self-criticism understated the deep costs of the obstruction directed his way by partisan opponents throughout his presidency. If you wonder why Americans are so dispirited, consider a Pew survey finding that on the political "issues that matter" to them, 79 percent of Republicans and those who leaned that way thought they were "losing," but so did 52 percent of Democrats and Democratic leaners. Overall, those who saw themselves on the losing end outnumbered winners, 64 percent to 25 percent. When nearly two-thirds of us feel like losers, it should be no surprise that the current rage is rage.
Haley's comments and the reaction they drew from the GOP's rejectionist caucus suggest that leaders of the Republican Party may realize they miscalculated in spending years stoking indignation among the faithful. Who, really, can blame rank-and-file Republicans for taking their alienation seriously and turning to Trump and Sen. Ted Cruz as the most forceful expressions of it?
The media and the Democrats also bear responsibility. The networks see Trumpian wrath as a ratings magnet and act accordingly. Democrats have stashed their debates in the far corners of the television schedule and have not found a way to balance touting their achievements with answering legitimate discontent. The president took a stab at this on Tuesday. It was a decent effort. It will take a lot more to subdue the furies. 1/13/16http://www.realclearpolitics.com/articles/2016/01/13/obama_fights_the_furies__129306.html
5. USA Today Editorial: Republicans' demographic death wish
In 2013, a study commissioned by the Republican National Committee (RNC) urged the party to court ethnic voters and pass comprehensive immigration reform. An addendum one year later restated the case by citing the adage that insanity is "doing the same thing over and over again and expecting different results."
Welcome to the insanity that is the GOP.
Ignoring the RNC, the party's presidential front-runner, Donald Trump, is calling for mass deportations of the nation's estimated 11 million undocumented immigrants. At the same time, the party's two Latino contenders, Ted Cruz and Marco Rubio, are fighting over who is more opposed to immigration reform.
In 2012, Latino voters remembered the harsh rhetoric Mitt Romney used about "self-deportation" in the GOP primaries; Romney ended up with just 27% of the Hispanic vote, according to surveys of voters leaving the polls.
At the rate they are going, this year's Republican front-runners will be lucky to match Romney's total. And the RNC will be commissioning another autopsy in 2017 that reaches the same conclusions as the last one. 1/13/16http://www.usatoday.com/story/opinion/2016/01/13/immigration-ted-cruz-marco-rubio-donald-trump-editorials-debates/78080544/
6. Jonathan Chait: Have Republicans Given Up on Fighting Donald Trump?
Months ago, during the Summer of Trump, Republicans looked at the appearance of this gross, comic, orange interloper among them with a mix of shock and disdain. Fox News tried to discredit him as a serious candidate; nobody else onstage knew quite what to do with him. Since then, Trump has created facts on the ground, making himself an indispensable element of the party. He now seems completely normal.
Part of it is that Trump has gotten better, more polished. His cartoonish facial gestures come less frequently. He is less outrageous (and less funny). He seems to control his tone more effectively.
But mainly, Republicans have decided to start treating him as a regular candidate and a member of their party in good standing, rather than an impostor who has hijacked it on a lark. He faced the same softball questions as everybody else, with no follow-ups. (Would you put your business in a blind trust if elected? Trump: Oh, yeah, I'd let my kids run it.In other words, no.)
Jeb Bush went after Trump on his unfathomable proposal to exclude all Muslim immigrants, but he did so almost as a supplicant, asking him to "reconsider." It was as if Bush was afraid Trump would turn on him again, and Trump, recognizing Bush's gesture as a plea for mercy, reciprocated.
Signs have popped up everywhere that Republicans have not only begun to accept Trump as one of them, a regular candidate, but to even resign themselves to his candidacy. http://nymag.com/daily/intelligencer/2016/01/have-republicans-given-up-on-fighting-trump.html#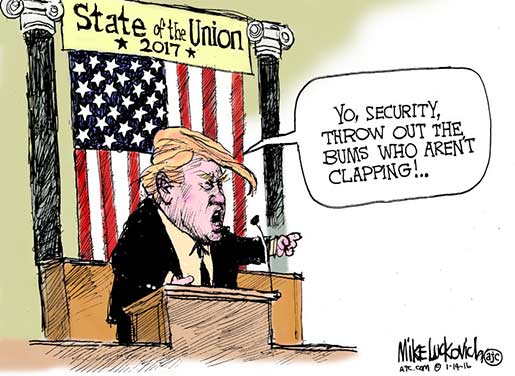 7. Dana Milbank: Trump's rivals help him hijack the GOP
"I will gladly accept the mantle of anger."
Thus did Donald Trump react to South Carolina Gov. Nikki Haley, who in herRepublican response to the State of the Union address bravely called on Americans to resist the temptation "to follow the siren call of the angriest voices."
And nobody wears the mantle of anger as well as Trump. The rest of the Republican presidential contenders, acolytes in anger all, seem happy to help him on with the cloak, to hem the sleeves and let out the waist until the fury fits perfectly.
Republicans like to blame Trump for hijacking the party, but equally to blame are the others in the race for letting it happen — and continuing to do so, now just two weeks from the Iowa caucuses. Thursday night's debate was another depressing development: Any of four men on the stage — Marco Rubio, Jeb Bush, Chris Christie or John Kasich — could have been a viable alternative to the fear and demagoguery offered by Trump and Ted Cruz. Instead, they cluttered the stage and quarreled among themselves, offering little beyond faint echoes of Trump's rage.
And while his rivals quarreled over trifles, Trump got one step closer to the nomination. 1/15/16https://www.washingtonpost.com/opinions/trumps-rivals-help-him-hijack-the-gop/2016/01/15/1676bb72-bb93-11e5-b682-4bb4dd403c7d_story.html