July 23, 2020
ON THE RECORD. . .
"It's like stop and frisk meets Guantanamo Bay." -- Oregon attorney Juan Chavez on unidentified federal agents snatching protesters off the streets of Portland, Oregon, and throwing them into the back of rented minivans.

"This is one of the most craven, callous failures of leadership that I've ever witnessed in my life. This is a death cult. The Texas GOP. Only they want you to do the dying." — Former Rep. Beto O'Rourke (D-TX) on Texas Gov. Greg Abbott (R) and Lt. Gov. Dan Patrick's (R) failed response to the coronavirus crisis.

"The department was established to protect America from the ever-present threat of global terrorism. It was not established to be the president's personal militia." — Former head of the Department of Homeland Security, Tom Ridge, condemning the Trump administration's decision to send federal officers into the streets of Portland to quell protests.

"But I wish her well, whatever it is." — Trump, when asked on Tuesday if he thinks Ghislaine Maxwell will "turn in powerful men." What "it" is: a federal investigation into a sex-trafficking operation that Maxwell allegedly helped orchestrate.

I never spoke to Rep. Yoho before he decided to accost me on the steps of the nation's Capitol yesterday. Believe it or not, I usually get along fine w/ my GOP colleagues. We know how to check our legislative sparring at the committee door. But hey, "b*tches" get stuff done.-- Alexandria Ocasio-Cortez responding to Florida's Rep. Ted Yoho (R-Fla.)  who reportedly called her a "F**king bitch" on the steps of the capitol.

"We cannot give up liberty for security. Local law enforcement can and should be handling these situations in our cities but there is no place for federal troops or unidentified federal agents rounding people up at will." — Sen. Rand Paul (R-KY) voicing opposition to President Trump's efforts to send federal law enforcement agents to Democratic-controlled cities.

"New York and Chicago and Philadelphia, Detroit, and Baltimore and all of these—Oakland is a mess—we are not going to let this happen in the country, all run by liberal Democrats. We're going to have more federal law enforcement, that I can tell you." — Trump threatening to send federal law-enforcement officials into cities like New York and Chicago following his deployment of such forces to Portland, Oregon, over the weekend to crack down on protesters.

"He raised the white flag. He has no idea what to do. It's zero. It's only one thing he has in mind — how does he win reelection? And it doesn't matter how many people get COVID and or die from COVID because he fears that if the economy is strapped as badly as it is today that, in fact, he is going to be in trouble." — Joe Biden slammed Trump's handling of the coronavirus pandemic.

"These kids have got to get back to school…. And if they do get COVID-19, which they will — and they will when they go to school — they're not going to the hospitals…. They're going to go home and they're going to get over it. We gotta move on. We can't just let this thing stop us in our tracks." — Missouri Gov. Mike Parson (R).

"I want more briefings but, more importantly, I want the whole White House to start acting like a team on a mission to tackle a real problem. Navarro's Larry, Moe and Curly junior-high slap fight this week is yet another way to undermine public confidence that these guys grasp that tens of thousands of Americans have died and tens of millions are out of work." — Sen. Ben Sasse (R-NE).

In addition to being sued over a mask mandate and voluntary advisory guidelines on COVID-19, Gov Kemp has asked for an emergency injunction to "restrain" me from issuing press statements and speaking to the press. Far more have sacrificed too much more for me to be silent. — Atlanta Mayor Keisha Lance Bottoms

"The national testing scene is a complete disgrace. So every test we send out to private lab partners nationally — Quest, LabCorp — seven days, eight days, nine days, maybe six days if we're lucky. Almost useless from a epidemiological or even diagnostic perspective." — Colorado Gov. Jared Polis (D).

"I will be right eventually. You know I said, 'It's going to disappear.' I'll say it again. It's going to disappear, and I'll be right . . . You know why? Because I've been right probably more than anybody else." — Trump reiterating his long-held theory to Chris Wallace.

"Biden is winning over Trump in this category of voters 70 to 30, and if that sticks, he cannot win states like Wisconsin, Michigan and Pennsylvania." — Former Speaker Paul Ryan (R-WI).

"The country is ambling toward a cliff, putting millions of Americans' lives and livelihoods in danger and all but ensuring prolonged economic distress nationwide. It didn't have to be this way. Yet here we are, unable to shake out of it." — Emily Stewart

Not many of us get to live to see our own legacy play out in such a meaningful, remarkable way. John Lewis did. And thanks to him, we now all have our marching orders — to keep believing in the possibility of remaking this country we love until it lives up to its full promise. — Barack Obama

There were times when Lewis, who died on Friday, at the age of eighty, might have felt the temptation at times to give up, to give way. But it was probably his most salient characteristic that he always refused despair; with open eyes, he acknowledged the darkest chapters of American history yet insisted that change was always possible. — David Remnick in the New Yorker.

We know from before and I guarantee you I know now because now I get briefings again. The Russians are still engaged in trying to delegitimize our electoral process. Fact. China and others are engaged as well in activities that are designed for us to lose confidence in the outcome." — Joe Biden, citing intelligence briefings that he is now receiving.

"Donald is a psychologically deeply damaged man, based on his upbringing and the situation with his parents. He is not going to get better and he is without question going to get worse." — Mary Trump on "Cuomo Prime Time."

"It is officially official. Governor Kemp does not give a damn about us. Every man and woman for himself or herself. Ignore the science and survive the best you can." — Savannah Mayor Van Johnson (D), responding to Georgia Gov. Brian Kemp's (R) order overriding local mandates requiring face masks.

"Trump is doing things every single day that is literally forcibly unravelling his political career and that is the hidden secret, the underbelly of a narcissist. They have a very full blown self-destructive streak in their personalities. He's got his hand on the self detonator now." — Anthony Scaramucci who, for a brief period, was Donald Trump's communications director.

"Pres. Trump wants schools to open, "and when he says open, he means open and full, kids being able to attend each and every day. The science should not stand in the way of this. The science is on our side here." — WH Press Secretary Kayleigh McEnany.

As of today, hospitals are directed by the Trump administration to report Covid data not to CDC but solely to Teletracking and HHS Protect, both owned by billionaire Trump allies. Dictators control information. Time for some civil disobedience by hospital administrators? — Lawrence Tribe

POLITICAL ADS.....

What is wrong with the president? | The Lincoln Project: https://twitter.com/ProjectLincoln/status/1283938709348519938

Trump is building his wall — just not the one he promised. | The Lincoln Project: https://twitter.com/mmfa/status/1283130468871876608

Trump wants American voters to be impressed that he could identify a picture of an elephant | The Lincoln Project: https://twitter.com/ProjectLincoln/status/1284865260407660544

Wake up! | The Lincoln Project; https://youtu.be/JqZV--6Q2fg

How It Starts | The Lincoln Project; https://youtu.be/gzHE_SY334o

With @realDonaldTrump, the buck stops with someone else | The Lincoln Project: https://twitter.com/ProjectLincoln/status/1284935580623699971

Portland is how it starts.I The Lincoln Project: https://twitter.com/ProjectLincoln/status/1284978834127953920

Trump taking responsibility? It was all a dream | The Lincoln Project: https://twitter.com/ProjectLincoln/status/1285043882758221824

Trumpfeld | The Lincoln Project: https://youtu.be/gsaO3v4SvwA

A complete failure in leadership | The Lincoln Project: https://twitter.com/ProjectLincoln/status/1284912895151792133

#UnpresidentedIdiot | MeidasTouch: https://twitter.com/BMeiselas/status/1284970853357113344
---
IN THIS ISSUE
FYI
OPINION
1. Andy Borowitz: Feds in Unmarked Van Looking for Suspicious Characters Pick Up Jared Kushner
In what the Department of Homeland Security is calling "an unfortunate incident," federal agents in an unmarked van who were looking for suspicious characters snatched Jared Kushner off the street.

According to the agents, the van was patrolling the vicinity of the White House when they spotted a "shifty-eyed male" who "didn't look right."

"He checked all the boxes for suspicious," one of the agents said. "He definitely didn't look like someone who should be anywhere near the White House."

Despite the protests of a screaming Kushner, the agents loaded him into the van and sped away to an undisclosed location.

According to White House sources, Kushner was missing for several hours before anyone in the West Wing realized he was gone.

His disappearance was finally noticed late in the afternoon, when members of the White House coronavirus task force observed that their daily meeting had gone "more smoothly than usual."

Speaking to reporters about the Kushner incident, the acting head of the Department of Homeland Security, Chad Wolf, said that the practice of picking up random people on the street and putting them in unmarked vans is a "terrific idea," but acknowledged that it might need to be "tweaked."

"Our agents need to be given much more explicit guidance about who qualifies as a suspicious character, or Stephen Miller could be next," he said. https://www.newyorker.com/humor/borowitz-report/
2. From 'Sleepy Joe' to a destroyer of the 'American way of life,' Trump's attacks on Biden make a dystopian shift
Trump has launched a slash-and-burn campaign against an exaggerated caricature of his Democratic opponent, casting former vice president Joe Biden as a destroyer of basic freedoms and a threat to voter's safety who would "let terrorists roam free" and "abolish the American way of life."
In new advertising, tweets and public statements that began to appear earlier this month, Trump has argued that the presumptive Democratic nominee is a harbinger of chaos and destruction, depicting a fantastical scarecrow largely divorced from reality.
"Joe Biden and the Radical Left want to Abolish Police, Abolish ICE, Abolish Bail, Abolish Suburbs, Abolish the 2nd Amendment — and Abolish the American Way of Life. No one will be SAFE in Joe Biden's America!" Trump tweeted Wednesday. In fact, Biden opposes calls to abolish police or U.S. Immigration and Customs Enforcement, seeks new gun regulations under current judicial interpretations of the Constitution and sees the nation's suburban voters, especially women, as a core part of his political base. https://www.washingtonpost.com/politics/from-sleepy-joe-to-the-dystopian-candidate-how-trump-has-recast-his-attacks-on-biden/2020/07/18/5a6a3e36-c830-11ea-b037-f9711f89ee46_story.html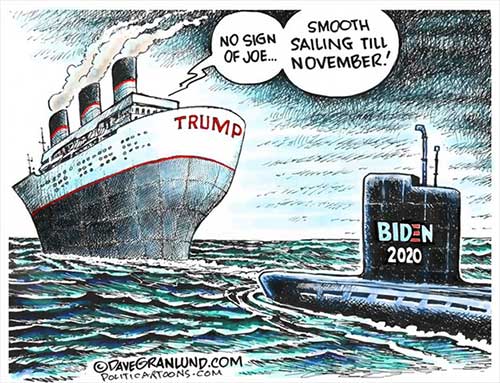 3. Axios-Ipsos poll: Coronavirus skeptics are growing
A rising number of Americans — now nearly one in three — don't believe the virus' death toll is as high as the official count, despite surging new infections and hospitalizations, per this week's installment of the Axios-Ipsos Coronavirus Index.
Republicans, Fox News watchers and people who say they have no main source of news are driving this trend.
• Fox News watchers who say deaths are being over-counted shot up from 44% to 62%, even higher than Republicans overall.

• Other big gains came from those who say they have no primary news source, from 32% to 48%; and those whose primary sources include local news, from 30% to 44%.

• There was a smaller increase among people whose primary news source is one of the networks or major U.S. newspapers, while views of those who primarily watch CNN and MSNBC remained about the same.
https://www.axios.com/axios-ipsos-poll-gop-skeptics-growing-deaths-e6ad6be5-c78f-43bb-9230-c39a20c8beb5.html
4. Biden Pledges to Invest $775 Billion in Caregiving Programs to Help Parents Struggling in the Pandemic
Acknowledging the extraordinary hardships that families have had to confront during the coronavirus pandemic, presumptive Democratic presidential candidate Joe Biden announced on Tuesday a proposal to invest $775 billion in caregiving programs that would address the pressing needs of those caring for small children, older adults, and family members with disabilities. https://www.vogue.com/article/joe-biden-promises-775-billion-dollars-caregiving-programs-coronavirus
5. Eviction Looms for Millions of Americans Who Can't Afford Rent
Millions of Americans who have missed rent payments due to the coronavirus pandemic could be at risk of being evicted in the coming months unless government measures to protect them are extended.
Nearly 12 million adults live in households that missed their last rent payment, and 23 million have little or no confidence in their ability to make the next one. https://www.wsj.com/articles/eviction-looms-for-millions-of-americans-who-cant-afford-rent-11594891802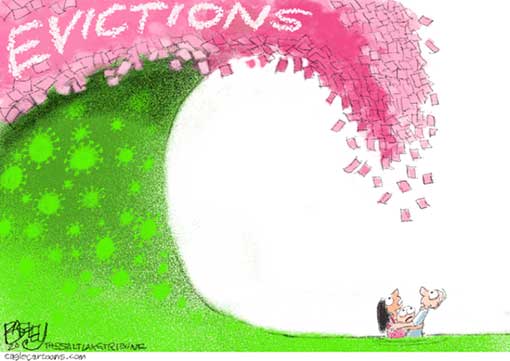 6. How Donald Trump Moved Millions From His Campaign Donors To His Private Business
Donald Trump has not given a dime to his reelection campaign, opting instead to fund the entire effort with his donors' money. His business, meanwhile, has continued to charge the campaign for things like food, lodging and rent. The result is that $2.2 million of contributions from other people has turned into $2.2 million of revenue for Trump.
And that's just counting the money flowing directly through the president's campaign. His reelection apparatus also includes two joint fundraising committees, which work with the Republican Party to raise money for Trump. Since he took office, those entities—named Trump Victory and the Trump Make America Great Again Committee—have funneled another $2.3 million into the president's private business, according to a review of Federal Election Commission records. Then there's the Republican National Committee, which has spent an additional $2.4 million at Trump properties. Add it all up, and the president, working in concert with the party he leads, has helped push $6.9 million into his businesses since taking office.
Then there's the Republican National Committee, which has spent an additional $2.4 million at Trump properties. Add it all up, and the president, working in concert with the party he leads, has helped push $6.9 million into his businesses since taking office. https://www.forbes.com/sites/michelatindera/2020/07/21/how-donald-trump-moved-millions-from-his-campaign-donors-to-his-private-business/#5172a36c735c
7. Trump administration pushing to block new money for testing, tracing and CDC in upcoming coronavirus relief bill
The Trump administration is trying to block billions of dollars for states to conduct testing and contact tracing in the upcoming coronavirus relief bill, people involved in the talks said Saturday.
The administration is also trying to block billions of dollars that GOP senators want to allocate for the Centers for Disease Control and Prevention, and billions more for the Pentagon and State Department to address the pandemic at home and abroad. https://www.washingtonpost.com/us-policy/2020/07/18/white-house-testing-budget-cdc-coronavirus/
8. A new Trump campaign ad depicting a police officer being attacked by protesters is actually a 2014 photo of pro-democracy protests in Ukraine
A new ad for President Donald Trump's reelection campaign used an image of pro-democracy protests in Ukraine from 2014 to show what it called "chaos & violence" in the US.
The ad, published on Tuesday, includes a photo of the president listening to police leaders next to another photo appearing to show a group of protesters attacking a police officer on the ground. https://www.businessinsider.com/trump-campaign-ad-police-officer-attacked-2014-ukraine-protests-2020-7
9. The crisis that shocked the world: America's response to the coronavirus
Six months after the coronavirus appeared in America, the nation has failed spectacularly to contain it. The country's ineffective response has shocked observers around the planet.
Many countries have rigorously driven infection rates nearly to zero. In the United States, coronavirus transmission is out of control. The national response is fragmented, shot through with political rancor and culture-war divisiveness. Testing shortcomings that revealed themselves in March have become acute in July, with week-long waits for results leaving the country blind to real-time virus spread and rendering contact tracing nearly irrelevant.
The fumbling of the virus was not a fluke: The American coronavirus fiasco has exposed the country's incoherent leadership, self-defeating political polarization, a lack of investment in public health, and persistent socioeconomic and racial inequities that have left millions of people vulnerable to disease and death. https://www.washingtonpost.com/health/2020/07/19/coronavirus-us-failure/
10. Inside Trump's Failure: The Rush to Abandon Leadership Role on the Virus
Each morning at 8 as the coronavirus crisis was raging in April, Mark Meadows, the White House chief of staff, convened a small group of aides to steer the administration through what had become a public health, economic and political disaster.
Their ultimate goal was to shift responsibility for leading the fight against the pandemic from the White House to the states. They referred to this as "state authority handoff," and it was at the heart of what would become at once a catastrophic policy blunder and an attempt to escape blame for a crisis that had engulfed the country — perhaps one of the greatest failures of presidential leadership in generations. https://www.nytimes.com/2020/07/18/us/politics/-coronavirus-response-failure-leadership.html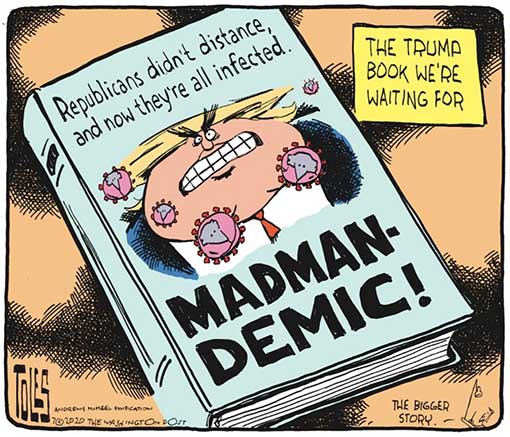 11. Baseless conspiracy portrays Trump as battling a cabal of Satanist elites
The QAnon conspiracy theory is founded on the belief that the world is run by a powerful group of evil politicians and celebrities including the Clintons, the Obamas, the Bushes, George Soros and Hollywood celebrities including Oprah Winfrey and Tom Hanks.
QAnon followers believe Trump is aware of this and is fighting against an entrenched "deep state" of bureaucrats within the government to bring them to justice.
They call the moment when the Clintons and other members of the cabal will be arrested "the Storm," a term inspired by an offhand comment Trump made during an October 2017 photo op with high-ranking military officials and their spouses. "You guys know what this represents?" Trump asked the news media. "Maybe it's the calm before the storm."
The conspiracy theory has been laid out by an anonymous figure known as Q — probably a group of people — who leaves cryptic messages for his followers to decipher on the website 8kun (Q previously posted on 4chan and 8chan).
Q's followers believe that, once they convince others, there will be a "Great Awakening https://enewspaper.latimes.com/infinity/article_share.aspx
12. Biden Announces $2 Trillion Climate Plan
Joe Biden announced on Tuesday a new plan to spend $2 trillion over four years to significantly escalate the use of clean energy in the transportation, electricity and building sectors, part of a suite of sweeping proposals designed to create economic opportunities and strengthen infrastructure while also tackling climate change.
"These are the most critical investments we can make for the long-term health and vitality of both the American economy and the physical health and safety of the American people," he said. "When Donald Trump thinks about climate change, the only word he can muster is 'hoax.' When I think about climate change, the word I think of is 'jobs.'" https://www.nytimes.com/2020/07/14/us/politics/biden-climate-plan.html
13. Trump declines to say whether he will accept November election results
In an interview on "Fox News Sunday," Trump claimed without evidence that mail-in voting could "rig" the outcome of the election.https://www.washingtonpost.com/politics/trump-declines-to-say-whether-he-will-accept-november-election-results/2020/07/19/40009804-c9c7-11ea-91f1-28aca4d833a0_story.html
14. Trump's shameful work rule
Credit is due once again to the Trump administration for its steadfastness in the face of real-world crises that could derail its long-term project of relentlessly doing exactly the wrong thing at exactly the wrong time.
Case in point: The administration just doubled down on its intention to impose work requirements on Medicaid recipients.
This falls into the category of thumbing its nose at a double-barreled disaster — the spread of COVID-19 and an unemployment rate that is reaching levels nationwide not seen since the Great Depression.
In other words, Trump is angling to take away healthcare for the neediest Americans unless they can look for or secure a job amid rampant joblessness. https://www.pressreader.com/usa/los-angeles-times/20200716/281646782444880
15. Trump Job Approval Down
A new American Research Group poll finds President Trump's approval at a record low of 36%.
16. White House Won't Let CDC Testify in Congressional Hearing on Schools Reopening
The White House has blocked CDC officials from testifying in a House Education and Labor Committee hearing scheduled next week on reopening schools, a senior CDC official confirmed to The Daily Beast. The committee's chair, Rep. Bobby Scott (D-VA), had invited CDC Director Robert Redfield last week to testify on July 23 to discuss "the immediate needs of K-12 public schools to safely reopening." But, at the direction of the White House, Redfield won't attend. https://www.thedailybeast.com/white-house-wont-let-cdc-testify-in-house-education-and-labor-hearing-on-schools-reopening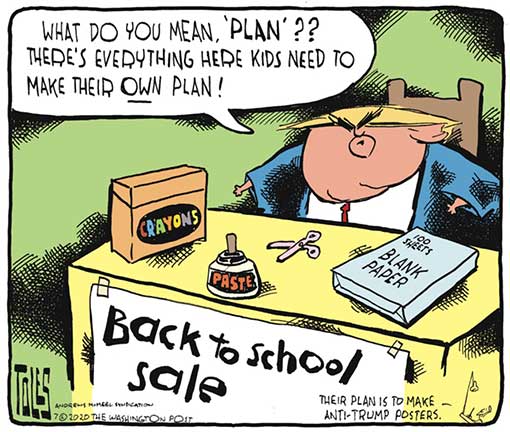 17. Trump Promotes Caricature of What Conservatives Want
"People love it," Mr. Trump told Catherine Herridge of CBS News, when she asked about a flag that many Americans equate with the brutal history of slavery in the United States. "I know people that like the Confederate flag, and they're not thinking about slavery. I just think it's freedom of speech."
It was the latest example of Mr. Trump promoting a caricatured view of what he believes his base wants — in this case defending a symbol of oppression that even the state of Mississippi has decided to retire, as well as the U.S. military, which issued new guidance on flags on Friday.
From holding a Bible aloft for a photo op outside a historic church, to scolding NASCAR for banning the Confederate flag at its races, to heralding the "heritage" of the South, Mr. Trump repeatedly elevates to the public stage what he imagines are the top priorities for the voters who back him. https://www.nytimes.com/2020/07/18/us/politics/trump-base.html?referringSource=articleShare
18. White House portraits of Bill Clinton and George W. Bush moved from prominent space to rarely used room
The official portraits of former Presidents Bill Clinton and George W. Bush were removed from the Grand Foyer of the White House within the last week, aides told CNN, and replaced by those of two Republican presidents who served more than a century ago.
White House tradition calls for portraits of the most recent American presidents to be given the most prominent placement, in the entrance of the executive mansion, visible to guests during official events.
That was the case through at least July 8, when President Donald Trump welcomed Mexican President Andrés Manuel López Obrador after which the Clinton and Bush portraits were moved into the Old Family Dining Room, a small, rarely used room that is not seen by most visitors. https://www.cnn.com/2020/07/17/politics/white-house-portraits-clinton-bush-trump/index.html
19. Rancor between scientists and Trump allies threatens pandemic response as cases surge
This week's remarkable character assault by some top White House advisers on Anthony S. Fauci, the nation's leading infectious-disease expert, signified President Trump's hostility toward medical expertise and has produced a chilling effect among the government scientists and public health professionals laboring to end the pandemic, according to administration officials and health experts.
As novel coronavirus cases surge out of control coast to coast, the open rancor between the scientific community and a White House determined above all to resuscitate the economy and secure a second term for Trump threatens to further undermine the U.S. response, which already lags behind those of many other developed nations. https://www.washingtonpost.com/politics/rancor-between-scientists-and-trump-allies-threatens-pandemic-response-as-cases-surge/2020/07/17/d950e9b6-c777-11ea-a99f-3bbdffb1af38_story.html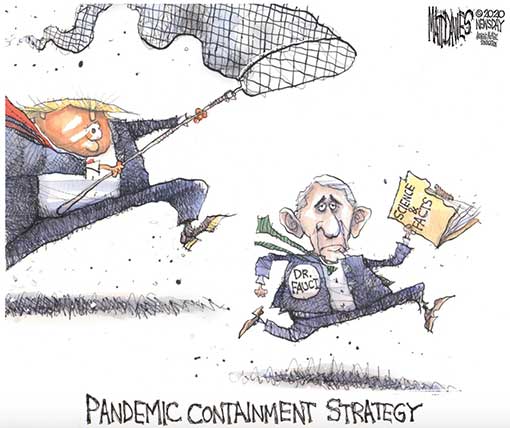 20. The DAILY GRILL
WALLACE: But can you give a — can you give a direct answer, you will accept the election?
TRUMP: I have to see. Look, you – I have to see. No, I'm not going to just say yes. I'm not going to say no. And I didn't last time either.

VERSUS

"The fact is, whether he knows it yet or not, he will be leaving." — Nancy Pelosi, on MSNBC,

 

Trump interrupted a Fox News interview so his staff could show proof that Joe Biden had proposed defunding the police.

VERSUS

Fox host Chris Wallace later told his audience that Trump "couldn't find any indication, because there isn't any, that Joe Biden has sought to defund and abolish the police."

 

"The most outrageous lies are the ones about Covid 19. Everyone is lying. The CDC, Media, Democrats, our Doctors, not all but most, that we are told to trust. I think it's all about the election and keeping the economy from coming back, which is about the election. I'm sick of it." -- Former game show host Chuck Woolery's message that Trump retweeted to his more than 83 million followers. 
 

VERSUS

"To further clarify and add perspective, Covid-19 is real and it is here. My son tested positive for the virus, and I feel for of those suffering and especially for those who have lost loved ones." -- Chuck Woolery tweeted before his account disappeared. 

On Tuesday, President Trump released an extraordinary memorandum suggesting that he gets to decide who counts as a "person" — and that undocumented immigrants do not qualify.

VERSUS

The 14th Amendment to the Constitution provides that "representatives shall be apportioned among the several states according to their respective numbers, counting the whole number of persons in each state, excluding Indians not taxed." This text is unambiguous. With a narrow exception for some Native Americans, all persons within the United States must be counted in the decennial census. And all persons must be counted when representation is allocated to states in the House of Representatives. — Ian Millhiser in Vox
21. AP FACT CHECK: Trump bending facts on virus, Biden, economy
TRUMP: "Dr. Fauci at the beginning said, 'This will pass. Don't worry about it. This will pass.' He was wrong."
THE FACTS: Dr. Fauci never claimed the virus would just "pass" or disappear.

TRUMP: "Dr. Fauci told me not to ban China, it would be a big mistake. I did it over and above his recommendation."
THE FACTS: That's incorrect. While Fauci expressed some initial reservations about travel restrictions on China, he supported the decision by the time it was made.

TRUMP: "I will be right eventually. You know I said, 'It's going to disappear.' I'll say it again. It's going to disappear, and I'll be right."
TRUMP: "We'll put out the flames. … It's going to be under control."
THE FACTS: "The virus is not going to disappear," according to Fauci. Nor can it be considered "under control" and its flame "put out" while cases have surged to new daily highs.

TRUMP: "We go out into parking lots and everything, everybody gets a test."
THE FACTS: He's repeating the false notion that anybody who wants a COVID-19 test can get one.

TRUMP: "Cases are up, because we have the best testing in the world and we have the most testing."
THE FACTS: It's not true that infections are high only because the U.S. diagnostic testing has increased. Trump's own top public health officials have shot down this line of thinking. Infections are rising because people are infecting each other more than they were when most everyone was hunkered down.

TRUMP: "No country has ever done what we've done in terms of testing. We are the envy of the world.
THE FACTS: U.S. testing is not the envy of the world, nor is the U.S. the only country that does mass testing.

TRUMP: "I think we have one of the lowest mortality rates in the world."
CHRIS WALLACE: "That's not true, sir."

TRUMP: "Number one, low mortality rate."
THE FACTS: Trump's claim is wholly unsupported.

TRUMP: "If you remember, I was the one that did the European Union very early."
THE FACTS: U.S. health officials actually believe Trump was late in restricting travel from parts of Europe.

TRUMP: "Biden wants to defund the police."
THE FACTS: To be clear, Biden has not joined the call of protesters who demanded "defund the police" after George Floyd's killing in Minneapolis. He's proposed more money for police, conditioned to improvements in their practices.

TRUMP: "I built the greatest economy ever built anywhere in the world; not only of this country, anywhere in the world, until we got hit with the China virus."
THE FACTS: Not true. The economy was healthy back then but not the best in U.S. history, much less world history.

TRUMP: "I got soldiers the biggest pay raises in the history of our military."
THE FACTS: Trump often boasts about the size of the military pay raises under his administration, but there's nothing extraordinary about them. https://www.pbs.org/newshour/politics/ap-fact-check-trump-bending-facts-on-virus-biden-economy
22. From MEDIA MATTERS (They watch Fox News so you don't have to)
Fox News panel attacks Dr. Anthony Fauci: "He has put our children last." Melissa Francis: "He is expanding the gap between rich and poor for decades to come ... he deserves a lot of the blame for the fact that he hasn't made teachers essential workers" https://www.mediamatters.org/coronavirus-covid-19/fox-news-panel-attacks-dr-anthony-\-he-has-put-our-children-last

In a mere five days, the network managed to misinform about the science of the virus 115 times. These include claims about specific coronavirus data, such as arguing that increased testing explains the rising positivity rate (it doesn't), suggesting that the mortality rate is the most or only important statistic (it isn't), and dismissing the recent rise in new cases. Fox pushed these and other misinformation about coronavirus data 40 times. https://www.mediamatters.org/coronavirus-covid-19/fox-news-pushed-coronavirus-misinformation-253-times-just-five-days

Right-wing media's favorite climate contrarians go on Fox shows to bash Biden's climate plan
In their new books, Michael Shellenberger and Bjorn Lomborg dismiss the seriousness of climate change. https://www.mediamatters.org/fox-news/right-wing-medias-favorite-climate-contrarians-go-fox-shows-bash-bidens-climate-plan

Fox News repeated coronavirus misinformation 253 times in its weekday coverage from July 6 through 10, including claims that undermined scientific research about the pandemic, eroded trust in public health experts and policy recommendations, called for reopening schools and businesses without regard to public health precautions, and politicized the country's response to the virus. https://www.mediamatters.org/coronavirus-covid-19/fox-news-pushed-coronavirus-misinformation-253-times-just-five-days

Fox New's airwaves were filled with fiery images of Portland's streets and praise for Trump's response on Monday night and Tuesday morning. Network prime-time stars Tucker Carlson and Sean Hannity claimed the city of Portland in its entirety had been "destroyed by the mob" and was in "constant chaos," and suggested that Democratic presumptive nominee Joe Biden supported the violence. On Fox & Friends, Portland was "rocked by violence" and the president was "defending law & order." "It's time — well, to do what you're doing, and we appreciate everything you are doing," Fox Business host Lou Dobbs told Ken Cuccinelli, acting deputy secretary of Homeland Security, the department that sent the armed guards to Portland. https://www.mediamatters.org/fox-news/fox-news-fuels-trumps-dangerous-portland-law-and-order-strategy

A new Axios/Ipsos poll finds that people who get their news from Fox News are more likely to buy into a conspiracy theory that has frequently been spread by right-wing media since the pandemic began: The false and baseless idea that the coronavirus death count has been inflated. The poll found that 62% of Fox News watchers said the real number of coronavirus deaths is lower than the official number, closely aligning with 59% of Republicans. By contrast, only 9% of Democrats and 31% of Americans overall professed this view. https://www.mediamatters.org/coronavirus-covid-19/poll-more-and-more-fox-news-viewers-believe-conspiracy-theory-about-covid-19
1. Richard Wolffe: Trump's sweaty Fox News interview shows his 2020 chances melting away
At this point in Trump's Twilight Zone, the audience has a good sense of the plot twists that lie ahead in the next four months. It consists of as much concocted chaos as humanly possible.
There will be terrorist protesters in every major city, whisked off the streets by Trump's paramilitaries in rented minivans. Thank goodness we have machine-gun-toting goons to protect us from all that graffiti.
There will be caravans of coronavirus-filled immigrants scaling the freshly-painted border wall, which has done such a fantastic job of protecting us all from the pandemic.
After Nixon sweated his way to defeat against Kennedy, he returned to win the presidency eight years later with a law and order campaign that promised to shut down civil rights protests and stop enforcing civil rights laws.
Our Trumpified version of Tricky Dick is a little less subtle than the original.
He claimed that people flying the confederate flag were "not talking about racism". But when asked about removing the names of confederate generals from US military bases, Trump could only think about race. And some weird stuff about a couple of world wars. https://www.theguardian.com/global/commentisfree/2020/jul/20/trump-interview-fox-news-election-polls-chances-melting-away
2. LA Times Editorial: Trump's crackdown in Portland shows his wretched talent for making everything worse
The deployment of federal agents in Portland, Ore., over the objection of state and local officials, to shoot and gas protesters and to snatch people from the street to stuff them into unmarked vans is an unconscionable assault on democracy and a dangerous and needless ratcheting up of tension.
President Trump's action in defiance of Oregon's governor and Portland's mayor has predictably given new life to nonstop protests that began after the May 25 death of George Floyd in Minneapolis police custody but had begun to peter out. The president has thus employed his wretched talent for exacerbating division and discord at precisely the time the nation needs a leader to calm overheated passions and fears.
Presidents have broad power to deploy troops to quell lawlessness, but they generally exercise that power only when governors request help or when the commander-in-chief himself determines that state authorities are failing to deal with the problem. They send in federal forces to protect people or to enforce the Constitution, as when President Eisenhower sent troops to Little Rock, Ark., in 1957 to enforce the right of Black students to enroll in a previously all-white high school and to make clear that the Supreme Court ruling in Brown vs. Board of Education would be enforced, that the doctrine of "separate but equal" had been overturned, and that state segregationists could not defy the basic American principle that all people are equal under law.
Trump, by contrast, directed federal agencies to use their muscle to protect statues and other federal properties, not people or the Constitution. And he says he plans to do this in more cities — evidently, because he thinks displaying force against the citizenry is going to help him in November.
This has become part of his pattern. In the weeks before overreacting to the Portland protests, Trump used troops to clear his path for a photo op near the White House. He set forth his doctrine that "when the looting starts, the shooting starts." He articulated his principle that states should "dominate the streets," and if they didn't, that he would override their authority. https://www.latimes.com/opinion/story/2020-07-20/portland-worsens-under-trump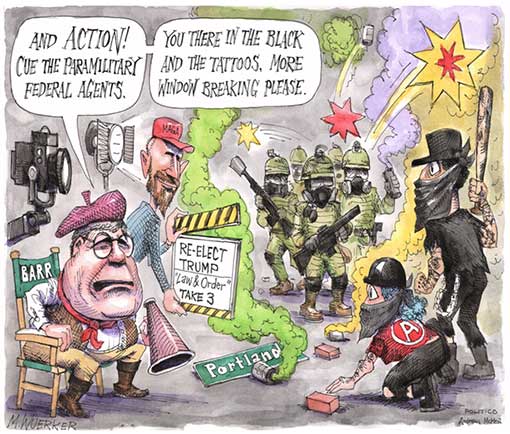 3. Peter Wehner: Donald Trump Is a Broken Man
The most revealing answer from Donald Trump's interview with Fox News Channel's Chris Wallace came in response not to the toughest question posed by Wallace, but to the easiest.
At the conclusion of the interview, Wallace asked Trump how he will regard his years as president.
"I think I was very unfairly treated," Trump responded. "From before I even won, I was under investigation by a bunch of thieves, crooks. It was an illegal investigation."
When Wallace interrupted, trying to get Trump to focus on the positive achievements of his presidency—"What about the good parts, sir?"—Trump brushed the question aside, responding, "Russia, Russia, Russia." The president then complained about the Flynn investigation, the "Russia hoax," the "Mueller scam," and the recusal by his then–attorney general, Jeff Sessions. ("Now I feel good because he lost overwhelmingly in the great state of Alabama," Trump said about the first senator to endorse him in the 2016 Republican primary.)
Donald Trump is a psychologically broken, embittered, and deeply unhappy man. He is so gripped by his grievances, such a prisoner of his resentments, that even the most benevolent question from an interviewer—what good parts of your presidency would you like to be remembered for?—triggered a gusher of discontent. https://www.theatlantic.com/ideas/archive/2020/07/trump-wallowing-self-pity/614434/
4. Eric Lutz: Trump's Campaign Strategy: Scare The Bejesus Out Of Older Voters
In Trump's advertisement, an elderly woman sits on the couch in her darkened living room. She's watching Fox News, where Sean Hannity is taking Joe Biden to task for seeking to defund police departments—a position that the Democratic nominee has not actually adopted, much to the chagrin of some in his party's progressive wing. As she shakes her head at the television, a masked man creeps around her house and attempts to jimmy open her door with a crowbar. She tries to call the police, but to no avail; the phone rings in an empty station. "Hello, you've reached 9-1-1," says a voice on the answering machine. "I'm sorry that there is no one here to answer your emergency call. But leave a message and we'll get back to you as soon as we can." The intruder finally breaks in and comes after the woman, who drops the phone in horror.
"You won't be safe," the tagline reads, "in Joe Biden's America."
Even by the standard of political ads, the president's recent campaign spot is ham-handed. But it is emblematic of Donald Trump's apparent effort to revive his flagging re-election bid by scaring the shit out of Republican voters, particularly the older ones who help form the core of his base. Unable and unwilling to address the coronavirus crisis that has killed 144,000 Americans and counting, and out of step with a growing number who support the nation's reckoning over racism, the president has cast himself as a defender of "law and order" against the violent anarchy that he says is plaguing the nation. In this alternate universe his campaign has constructed, Portland, Chicago, and other cities are "totally out of control"—and would get worse if Trump weren't there to send in his secret police. https://www.vanityfair.com/news/2020/07/trumps-campaign-strategy-scare-the-bejesus-out-of-older-voters
5. Ron Brownstein: Trump Is Determined to Split the Country in Two
Trump's alarms about "angry mobs" and "violent mayhem" in Democratic cities might allow him to recapture some Republican-leaning white suburbanites and energize his rural and small-town support, analysts in both parties told me. But as I've written before, his belligerent tone simultaneously risks hardening the opposition he's facing from the many suburban voters who feel that he's exposing them to more danger—both in his response to the policing protests and his unrelenting push to reopen the economy despite the coronavirus's resurgence. In last week's national Quinnipiac University poll, just over seven in 10 white voters holding at least a four-year college degree disapproved of Trump's handling of both race relations and the outbreak.
The larger political implication of these battles is to deepen the sense that the nation is hardening into antagonistic camps separated by an imaginary border that circles all of the major population centers, dividing the metropolitan core within from the less densely settled places beyond.
Trump is determined to widen that trench. He is trying to rally red America by portraying blue cities as a threat, and then positioning himself as the human wall against them. Until now, Trump has advanced that divisive vision through rhetoric denouncing cities and through policies that cost them money and influence, such as eliminating the federal deduction for state and local taxes, trying to block Justice Department grants for cities that don't fully cooperate with federal immigration authorities, and his renewed efforts to strip undocumented immigrants from the census.
But in these final months before the November election, Trump's deployment of federal forces is transforming his political war on big cities into something much closer to the real thing. "It's breathtaking in its danger," said Emanuel, the former Chicago mayor. And if Trump wins a second term—especially if that victory relies on another rural surge to overcome massive opposition across the big metros—the chaos in Portland might look like only the preliminary skirmish for an even more incendiary collision to come. https://www.theatlantic.com/politics/archive/2020/07/trumps-portland-offensive-fits-long-pattern/614476/
6. Abigail Tracy: "We Need Them to F--king Do Something": Former Pandemic Officials Call Trump's COVID-19 Response a National Disaster
After months of mixed messaging from the White House, any expectation that Trump—seemingly singularly focused on restarting the economy, once his best hope of winning reelection in November—will suddenly lead the country out of this pandemic feels misguided. After all, more than 130,000 Americans had to die from COVID-19 before the president donned a mask in public. "This is horrifying, the situation we're in right now, and is a direct result of a White House failing to take ownership of [its] role as the lead in a national disaster, a 50-state disaster, and to provide strong, clear policies that would guide an entire nation," Juliette Kayyem, a former Department of Homeland Security official in the Obama administration who played a critical role in the H1N1 crisis, told me. "Instead you had a president who was fighting the science, questioning the scientists, undermining what we knew would stop the virus, pushing for early openings and seeming untouched by the impact that this was having on the American public. Just seems impervious." In recent days, Trump has appeared more focused on beans than the coronavirus crisis.
Shockingly, the administration seems to be turning away from science and public health experts instead of running toward them as the virus ravages the country. "There's such a lack of clear thinking by people that are in positions of leadership," the former official told me. "Either they're totally stupid or they're totally corrupt." White House officials, under a cloak of anonymity, kept busy planting attacks in the press against Dr. Anthony , head of the National Institute of Allergy and Infectious Diseases and a member of the White House coronavirus task force, earlier this week.
One official, trade adviser Peter Navarro wrote an op-ed for USA Today, in which he said, "Fauci has been wrong about everything I have interacted with him on." Fauci, for his part, continues down the high road. "I don't like the conflict. I'm an apolitical person. I don't like to be pitted against the president," he told Norah O'Donnell in an interview for InStyle magazine. "It's pretty tough walking a tightrope while trying to get your message out and people are trying to pit you against the president. It's very stressful."
https://www.vanityfair.com/news/2020/07/trump-administration-coronavirus-response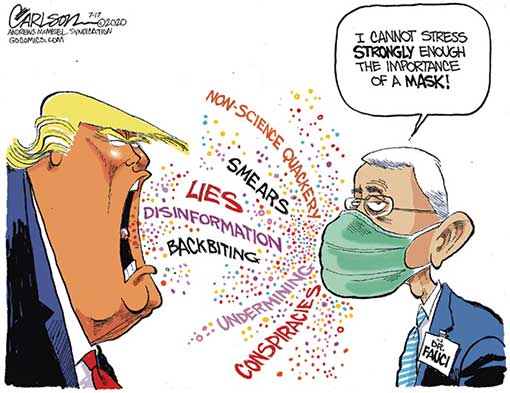 7. Karen Tumulty: The Trump campaign is the grift that keeps on grifting
There has long been an element of grift to political campaigns.
But there has never been anything quite like the racket that President Trump appears to have going.
In two days alone during March, the president's reelection effort forked over roughly $380,000 of its contributors' money to his hotels for "facility rental/catering services."
The Trump Organization told my colleague David Fahrenthold that this paid for a "donor retreat" to Trump's Mar-a-Lago resort in Palm Beach, Fla. A source familiar with the arrangement explained to Fahrenthold that the figure had to be broken into 43 separate payments, because Mar-a-Lago can't handle credit card transactions of more than $10,000.
The campaign has also been paying more than $37,000 a month in rent to Trump Tower in New York, which is odd, considering that the campaign's headquarters is in an office building in Rosslyn.
The Center for Responsive Politics has been keeping track of all of this on its OpenSecrets website. During this election cycle, the center reports, the president's campaign and its related committees have steered $2.6 million of their donors' money to Trump's family-owned properties and businesses. The Republican Party has spent nearly $1 million as well, and GOP candidates, elected officials and their political action committees have spent another $391,000.
Trump's donors, big and small, apparently are so dazzled by the aura of celebrity he has created around himself that they don't care how much of their own money goes directly into his businesses. It's all part of the experience. https://www.washingtonpost.com/opinions/2020/07/17/trump-campaign-is-grift-that-keeps-grifting/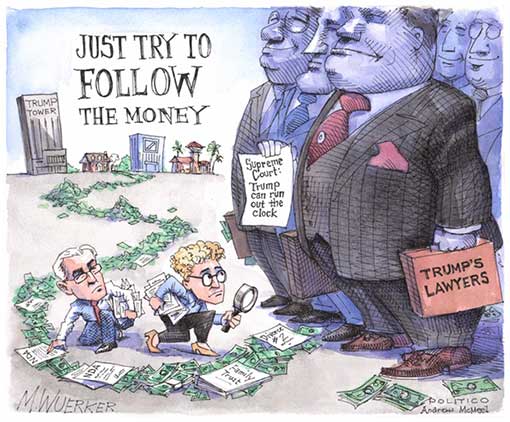 8. Barbara McQuade: Why Trump's Military Tactics in Portland Will Likely Backfire
The first rule of effective law enforcement is to gain the trust of the community you serve. Former FBI Detroit Special Agent in Charge Andy Arena frequently said that law enforcement officers can never be successful if they are perceived as an occupying army. Law enforcement is a social compact between community and police to protect the peace. Policing agencies derive their power from the consensus of the governed. As a result, the best law enforcement leaders spend countless hours meeting with community stakeholders, understanding their needs and using discretion to decide which arrests serve the best interests of the people. Overly aggressive tactics against certain groups can undermine the trust that is essential to serve effectively. Trust takes years to build and an instant to lose.
Even if the aggressive federal tactics are successful in suppressing violence in Portland, that success comes at a price. In addition to compromising protesters' First Amendment rights to demonstrate, federal law enforcement is eroding public trust. When agents knock on doors to investigate crimes in the future, how many residents will open up and talk? When agents testify on the witness stand in courtrooms, how many jurors will believe them? Law enforcement relies on tips and leads from witnesses to crime. How many Portland residents will volunteer information to agents who act like authoritarian thugs? Law enforcement agencies lose their legitimacy when they are perceived as acting outside the best interests of the communities they serve. The resulting lack of respect for the law leads to less compliance.
Building trust is an important part of the work of law enforcement. But the federal agents in Portland are engaging in the exact opposite strategy. This political stunt may have some appeal to those who preach law and order, but not to those who practice it. https://nymag.com/intelligencer/2020/07/trumps-military-tactics-in-portland-will-likely-backfire.html
9. Amanda Carpenter: Get Ready for the 2020 Election Recount
If you thought the 36-day national agony over "hanging chads" in the 2000 presidential election was bad, imagine what President Trump might do if the 2020 election is too close to call on Election Night. He's already preparing the script for a remake of the 2000 election with his own authoritarian twist.
By now, it's easy to ignore Trump's angry, conspiracy-laced tweets about a rigged election. We shouldn't, though, because it very well could be a preview of what's to come. For example, here's a tweet from last Friday:
Mail-In Ballot fraud found in many elections. People are just now seeing how bad, dishonest and slow it is. Election results could be delayed for months. No more big election night answers? 1% not even counted in 2016. Ridiculous! Just a formula for RIGGING an Election........Absentee Ballots are fine because you have to go through a precise process to get your voting privilege. Not so with Mail-Ins. Rigged Election!!! 20% fraudulent ballots? — Donald J. Trump
He's right about one thing. Election results are likely to be delayed this year. Coronavirus concerns have prompted states to expand mail-in voting options, and millions of Americans have taken up the offer. Those ballots take much longer to count than in-person votes. When the 2000 election became "too close to call," everything came down to a trio of Florida counties where lawyers wrangled over butterfly ballots, miscounts, undervotes, overvotes, hanging chad, swinging chad, tri chad, dimpled chad, and pregnant chad, too. This time, President Trump is already questioning ballots three months before a single vote is cast.
So, go on and get your anti-anxiety meds ready because the stage is set for a democratic crisis far worse than what we lived through in 2000. This time around, Trump has every lever of the federal government at his disposal. Smear merchants and bots will drive social media discussion, not James Baker and Warren Christopher in the courtrooms. Forget the so-called "Brooks Brothers riot" by a bunch of GOP staffers on a floor of a drab bureaucratic building in Miami. This time around, the Proud Boys and Antifa will be warring in the streets. Do you feel the walls closing in yet?
The 2020 stage is a tinderbox compared to 2000. As of today, over 138,000 Americans have died from COVID-19. The commander-in-chief Republican candidate is egging on his base in speeches and tweets depicting his opponents as radical left mobsters hell-bent on destroying the country. Pro-gun activists have swarmed state capitols to protest pandemic lockdowns. Mass protests and violence have broken out in cities across America in the wake of the killing of George Floyd. To top it all off, President Trump deployed soldiers to gas peaceful protesters in Lafayette Square. And for what? A freaking photo op.
The 2020 election is our country's last, best hope to stop President Trump. Still, there are no guarantees if he contests the outcome. Those who wish to defeat Trump need to make it a blowout. This election can't be too close to call. https://thebulwark.com/get-ready-for-the-2020-election-recount/
10. Juan Williams: We must not become numb to Trump's abnormality
Trump's Cabinet features "a former coal lobbyist as administrator of the Environmental Protection Agency, a former lobbyist for the defense contractor Raytheon Technologies as defense secretary, a lobbyist for the auto industry at the helm of the Energy Department and a former oil and gas lobbyist as interior secretary."
This administration is a gusher of conflicts of interest.
That's why it is easy to become numb to the Trump administration crossing red lines that define normal, ethical behavior by people at the highest level of government.
At this point you might be scandal fatigued. You might agree that it is bad but excuse it as not the end of the world. But then you find out there is more.
How about the attorney general pressuring career prosecutors to recommend a lighter sentence for Roger Stone, an old friend of the president who had been convicted of lying to Congress?
Yes, Attorney General William Barr twisted the arm of federal prosecutors to take it easy on Stone on the basis of "political considerations," according to congressional testimony from an assistant U.S. attorney, Aaron Zelinsky.
Then Trump took it to the next level. He commuted Stone's sentence.
Even the conservative editors of National Review couldn't swallow that one. They wrote that "Trump's handling of the matter is indefensible. It is another indication of his perverse, highly personalized view of the criminal justice system."
"An American president commutes the sentence of a person convicted by a jury of lying to shield that very president," is the way Sen. Mitt Romney (R- Utah) described the astonishing act. He summed it up as an act of "unprecedented, historic corruption."
While that was taking place, the attorney general also looks to have been trying to help another of the president's friends get out of legal trouble.
In that case, Barr tried to force out the prosecutor reportedly investigating the president's personal lawyer, Rudy Giuliani. Barr wanted to install a new U.S. attorney with no experience as a criminal prosecutor.
Geoffrey Berman, who was the Trump-appointed U.S. attorney in Manhattan, told Congress that Barr made him an unseemly offer if he agreed to quit.
Berman testified that Barr told him he could take over the civil rights division of the Justice Department but really use his time to build up a "book of business," or list of clients that could help him get a big payday when he took a job at a private law firm.
Now that is a scandal in any other administration. But, again, it is just another day in the Trump presidency.
After all, this is the attorney general who ordered federal troops to use chemical agents and smoke bombs against Americans protesting police brutality. Why? So, the president could create a photo-op. Really.
This is not normal. https://thehill.com/opinion/white-house/508047-juan-williams-we-must-not-become-numb-to-trumps-abnormality
11.  Jonathan Chait: American Death Cult 
Last October, the Nuclear Threat Initiative and the Johns Hopkins Center for Health Security compiled a ranking system to assess the preparedness of 195 countries for the next global pandemic. Twenty-one panel experts across the globe graded each country in 34 categories composed of 140 subindices. At the top of the rankings, peering down at 194 countries supposedly less equipped to withstand a pandemic, stood the United States of America.
It has since become horrifyingly clear that the experts missed something. The supposed world leader is in fact a viral petri dish of uncontained infection. By June, after most of the world had beaten back the coronavirus pandemic, the U.S., with 4 percent of the world's population, accounted for 25 percent of its cases. Florida alone was seeing more new infections a week than China, Japan, Korea, Vietnam, Thailand, Malaysia, Indonesia, the Philippines, Australia, and the European Union combined.
During its long period of decline, the Ottoman Empire was called "the sick man of Europe." The United States is now the sick man of the world, pitied by the same countries that once envied its pandemic preparedness — and, as recently as the 2014 Ebola outbreak, relied on its expertise to organize the global response.
Our former peer nations are now operating in a political context Americans would find unfathomable. Every other wealthy nation in the world has successfully beaten back the disease, at least significantly, and at least for now. New Zealand's health minister was forced to resign after allowing two people who had tested positive for COVID-19 to attend a funeral. The Italian Parliament heckled Prime Minister Giuseppe Conte when he briefly attempted to remove his mask to deliver a speech. In May — around the time Trump cheered demonstrators into the streets to protest stay-at-home orders — Boris Johnson's top adviser set off a massive national scandal, complete with multiple calls for his resignation, because he'd been caught driving to visit his parents during lockdown. If a Trump official had done the same, would any newspaper even have bothered to publish the story?
It is difficult for us Americans to imagine living in a country where violations so trivial (by our standards) provoke such an uproar. And if you're tempted to see for yourself what it looks like, too bad — the E.U. has banned U.S. travelers for health reasons. https://nymag.com/intelligencer/2020/07/republican-response-coronavirus.html