June 15, 2023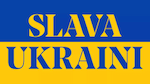 To subscribe to this FREE weekly newsletter simply email jellison@san.rr.com with "subscribe" as the subject.
THE WEEK'S BEST QUOTES. . .
Fox hits a new low!! This is a real Fox News chyron.
https://twitter.com/oliverdarcy/status/1668786455487848449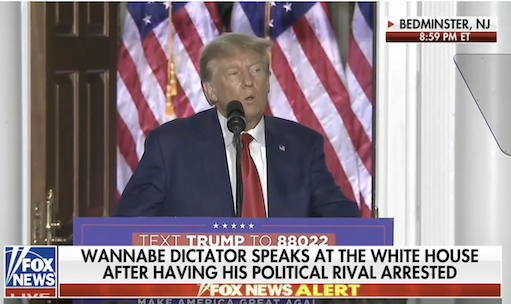 "This is my commitment...if I'm elected the next U.S. President, to pardon Donald J. Trump for these offenses in this federal case." — Vivek Ramaswamy demands that other GOP presidential candidates sign his pledge to pardon Donald Trump.
https://twitter.com/AccountableGOP/status/1668631460683845632
"If Merrick Garland wants to use these officials to harass Joe Biden's political opponents, we will grind his department to a halt." — Sen. J.D. Vance (R-Ohio) announcing that he will place a hold on all Justice Department nominees.
https://twitter.com/JDVance1/status/1668687446022692893
"If you want to get to President Trump, you're going to have to go through me, and 75 million Americans just like me. And most of us are card-carrying members of the NRA. That's not a threat, that's a public service announcement."  — Kari Lake speaking at a convention of Georgia Republicans.
https://www.businessinsider.com/kari-lake-says-gop-has-guns-and-trumps-back-2023-6
"We have now reached a war phase. Eye for an eye." — Rep. Andy Biggs (R-AZ), after Trump's indictment was made public.
https://twitter.com/RepAndyBiggsAZ/status/1667241900938502146
Today is indeed a dark day for the United States of America. It is unconscionable for a President to indict the leading candidate opposing him. Joe Biden kept classified documents for decades.  I, and every American who believes in the rule of law, stand with President Trump against this grave injustice. House Republicans will hold this brazen weaponization of power accountable. — Speaker Kevin McCarthy falsely claiming that Donald Trump had been indicted by President Biden.
https://twitter.com/SpeakerMcCarthy/status/1666979107681325064
"They all know their only shot is jail time or a heart attack for Trump. And truthfully, they're all hoping and praying for either one." — Former Rep. Joe Walsh (R-IL) on the long shot presidential campaigns of Mike Pence, Chris Christie and Tim Scott.
https://www.politico.com/newsletters/playbook/2023/06/08/pence-gets-in-trump-gets-pinned-00100980
"As president, I could have declassified, but now I can't." — Donald Trump acknowledged on tape in a 2021 meeting that he had retained "secret" military information that he had not declassified.
https://www.cnn.com/2023/06/09/politics/trump-tape-didnt-declassify-secret-information/index.html
"Wouldn't it be better if we just told them we don't have anything here?" — Donald Trump, according to one of his lawyers in the indictment, discussing the FBI subpoena for classified documents.
https://storage.courtlistener.com/recap/gov.uscourts.flsd.648653/gov.uscourts.flsd.648653.3.0_2.pdf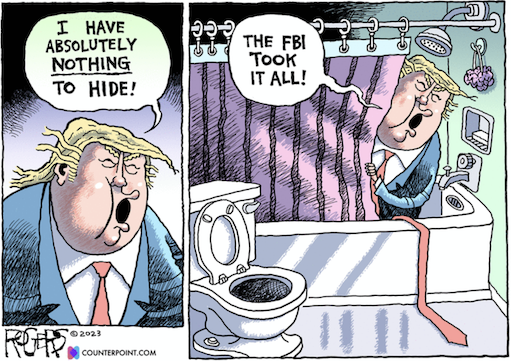 "I will appoint a "real special prosecutor to go after the most corrupt president in the history of the USA, Joe Biden." -- Donald Trump threatening retaliation for his indictment by special counsel Jack Smith "when" he is reelected.
https://truthsocial.com/@realDonaldTrump/posts/110531998908318312
"We got to stand up to the radical left Democrats, their lawless partisan prosecutors … Every time I fly over a blue state, I get a subpoena … I've put everything on the line and I will never yield. I will never be detained. I will never stop fighting for you." — Donald Trump, in a defiant speech last weekend.
https://www.theguardian.com/us-news/2023/jun/10/donald-trump-georgia-speech-indictment-north-carolina
"He would never admit guilt because there was nothing wrong with declassifying documents taking documents with you negotiating with National Archives. He wants to finish what he started on 1/6." — Alina Habba, an attorney for Donald Trump, saying that the Trump would not take a plea deal in connection to his federal indictment in handling classified documents.
https://thehill.com/blogs/blog-briefing-room/news/4044432-trump-attorney-says-the-former-president-would-never-take-plea-deal/
Speaker Kevin McCarthy (R-CA) when asked about the indictment of Donald Trump for having classified documents scattered across Mar-a-Lago:
REPORTER: "Was that a good look for the former president to have boxes in a bathroom?"
McCARTHY: "I don't know, is it a good picture to have boxes in a garage that opens up all the time? A bathroom door locks." https://twitter.com/KateSullivanDC/status/1668312955623014402?s=20
On the renaming of Fort Bragg:
MIKE PENCE: "We will end the political correctness in the hallways of the Pentagon and North Carolina will once again be home to Fort Bragg." https://twitter.com/Acyn/status/1667579779762073602
RON DESANTIS: "I also look forward to, as President, restoring the name of Fort Bragg to our great military base in Fayetteville, North Carolina… It's an iconic name and iconic base, and we're not gonna let political correctness run amok. https://twitter.com/DeSantisWarRoom/status/1667306460236087303
"This is my commitment...if I'm elected the next U.S. President, to pardon Donald J. Trump for these offenses in this federal case." — Vivek Ramaswamy demands that other GOP presidential candidates sign his pledge to pardon Donald Trump.
https://twitter.com/AccountableGOP/status/1668631460683845632
"GOP primary voters can benefit from reading the latest Trump indictment and asking what it means for a second Trump term. The facts alleged show that Mr. Trump has again played into the hands of his enemies. His actions were reckless, arrogant and remarkably self-destructive. This is the same Donald Trump they will get if they nominate him for a third time." — The Wall Street Journal.
https://www.wsj.com/articles/donald-trump-indictment-classified-documents-mar-a-lago-merrick-garland-republican-party-f8c5776b
"We need to have Republicans stand up and say 'the emperor has no clothes,' because after the primary, I guarantee you the other party is going to be saying this." — Rep. Don Bacon (R-NE).
https://thehill.com/homenews/house/4049722-gops-bacon-on-trump-indictment-the-emperor-has-no-clothes/
"This country was founded on the principle that no one is above the law, and whether it is the Clintons or whether it is some in the Republican Party who think they are above the law, that the law doesn't apply to them, that's not how it works." — Sen. Cruz at an Orlando rally in 2016, making it clear that if Clinton were to be elected he'd go after her.
https://www.motherjones.com/politics/2023/06/donald-trump-indictment-gop-comments-desantis-pence-cruz-scott-gaetz-mccarthy/

"Every investigation thus far makes one conclusion abundantly clear: Secretary Clinton's fundamental lack of judgment and wanton disregard for protecting and keeping information confidential raises continued questions about the exposure of our nation's diplomatic and national security secrets." — House Majority Leader Kevin McCarthy's 2016 statement on the FBI's investigation into Secretary Hillary Clinton's email practices.
https://www.speaker.gov/leader-mccarthy-on-the-fbis-investigation-of-hillary-clinton/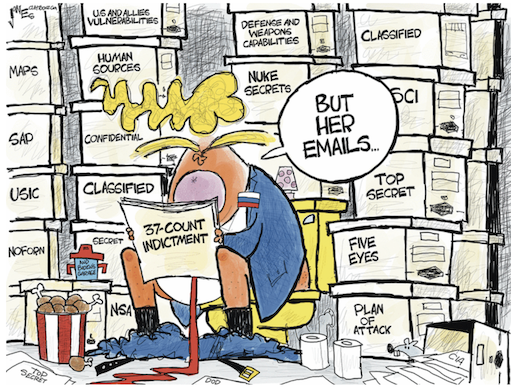 VIDEOS ...
"It's so childish. It's so juvenile. He is such a spoiled baby. When a spoiled baby misbehaves, you send them to their room, not the White House." — Chris Christie, responding to Donald Trump mocking his weight.
https://twitter.com/GovChristie/status/1666565331056308229
A Reporter's Video from Inside the Capitol Siege.
https://www.newyorker.com/video/watch/a-reporters-footage-from-inside-the-capitol-siege
"In my administration, I'm going to enforce all laws concerning the protection of classified information. No one will be above the law." — Donald Trump, at a campaign rally on August 18, 2016.
https://twitter.com/HowardMortman/status/1667118247064346626
Kimberl Guilfoyle is confident that Trump is going to beat the case because Jack Smith doesn't understand the law as well as she does.
https://twitter.com/RonFilipkowski/status/1668352251851599872
---
IN THIS ISSUE
IN THE NEWS
OPINION
Andy Borowitz: Official Documents Mysteriously Missing from Miami Courthouse
What are being called "highly sensitive official documents" have mysteriously gone missing from the Wilkie D. Ferguson, Jr. U.S. Courthouse in Miami, Florida, members of the courthouse's security team have revealed.
Harland Dorrinson, head of security for the federal courthouse, said that the documents were "safe and sound" in the morning but had "suddenly disappeared" in the afternoon.
"These documents belong to the court and cannot be legally removed from the court," he said. "The person who did so has committed a serious crime."
Dorrinson acknowledged that he and his team have "no leads whatsoever" as to the identity of the perpetrator and asked the public for their assistance in cracking the case.
"Whoever took these papers has no respect for the property of the federal government," he said. "Who would do something like that?"
https://www.newyorker.com/humor/borowitz-report 
DeSantis crafts plan to dismantle DOJ
DeSantis at a private strategy session revealed at least six specific elements of his plan to return the DOJ and FBI to a more limited "pre-9/11" mission::
Physically relocate the FBI headquarters from D.C. and break up other "problematic components of the DOJ."

Fire political and career appointees in droves and dismantle civil service protections.

Put the "kibosh" on DOJ and FBI's role in policing misinformation.

Reorganize DOJ's Civil Rights Division.

Direct DOJ to go after progressive local prosecutors in big cities who "are not prosecuting cases against violent criminals."

Revoke the security clearances of certain former intelligence officials. https://www.axios.com/newsletters/axios-sneak-peek-206f39d8-f37f-4448-a49b-7ae5ea82305c.html
Now on the 2024 ballot: Trump's freedom
If Trump is the GOP nominee next year, he essentially could be campaigning for his freedom — an unprecedented scenario in the United States. Winning the presidency would give him a chance to install sympathetic Justice Department officials, or even try to pardon himself if he's convicted.

Such a pardon would be legally untested, but Trump, as president, was reported to have expressed interest in a self-pardon after his attempts to overturn the results of the 2020 election culminated in the riot at the Capitol.
Even if Trump isn't the Republican nominee next year, some of his GOP rivals already are pledging to either pardon him or significantly restructure the Justice Department in ways that might help him if they win. https://www.axios.com/2023/06/10/now-2024-ballot-trump-freedom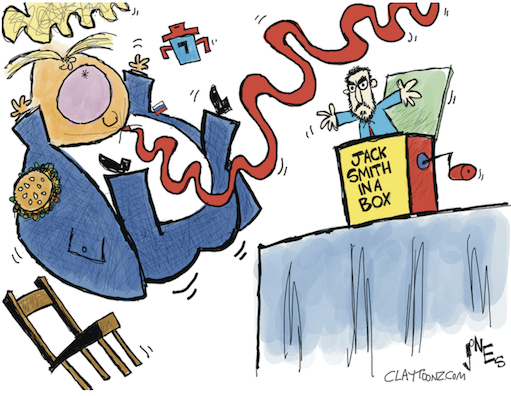 DOJ investigating conservative-backed efforts in Wyoming to infiltrate DNC ahead of 2020 election, sources say
Federal prosecutors are investigating conservative-backed efforts in Wyoming to infiltrate the Democratic National Committee ahead of the 2020 election.
The investigation appears to stem from a 2021 New York Times article that, citing interviews and documents, detailed an undercover operation by conservatives to infiltrate progressive groups, political campaigns, and the offices of Democratic as well as moderate Republican elected officials during the 2020 election cycle. https://www.cnn.com/2023/06/08/politics/prosecutors-investigate-efforts-infiltrate-dnc/
Florida anti-LGBTQ laws prompt families who feel unsafe to flee
A tectonic shift in how the LGBTQ community perceives its welcome is underway in a state famed for both a vibrant gay history in pockets like Key West and a past filled with examples of intolerance and aggression. While some of the new legislation builds on previous laws, gay rights advocates say they are alarmed by the sheer number of bills and the increasingly hostile rhetoric from DeSantis and Republican state lawmakers, who have championed the legislation as making Florida safe for children and standing up for parental rights, echoing a theme frequently used on the campaign trail by DeSantis.
In recent weeks, several civil rights groups have issued travel advisories for Florida, warning LGBTQ tourists to reconsider plans to visit the Sunshine State. The overall impact of the laws make Florida "openly hostile toward African Americans, people of color and LGBTQ+ individuals," the NAACP, the oldest civil rights organization in the nation, said in its warning in May. https://www.washingtonpost.com/nation/2023/06/10/florida-anti-lgbtq-laws/
Trump Uses Indictments to Raise Money
The last time Mr. Trump was charged, in New York, his campaign said it had raised more than $12 million in the week after the indictment — a huge bump in his previously anemic fund-raising.
Since then, Mr. Trump's fund-raising has fallen back to a disappointing level, according to people briefed on the situation.
So, not even an hour had passed since Mr. Trump learned of his indictment before his campaign had sent its first mass email to monetize the sense of shared persecution and victimhood that the former president has fostered among his supporters. The Trump fund-raising appeal began, "We are watching our Republic DIE before our very eyes."
https://www.nytimes.com/2023/06/09/us/politics/trump-indictment-club-bedminster-nj.html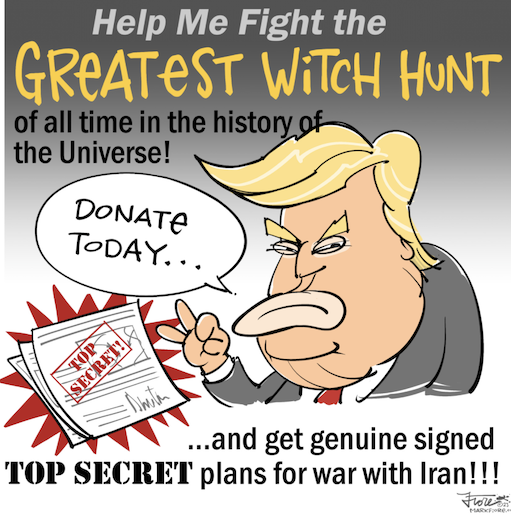 Newsom Wants 28th Amendment for Guns
Gov. Gavin Newsom is seeking an amendment to the U.S. Constitution that would restrict gun ownership — a daunting and likely quixotic response to the deadliest wave of mass shootings in U.S. history that would nonetheless position California as the most aggressive state in the union on gun control.
Newsom outlined his plan Thursday to pursue the amendment, seeded with cash left over from his landslide 2022 reelection, fueled by frustration over the country's failure to adopt restrictions that polls show most Americans broadly support and a conservative Supreme Court that has rolled back gun laws.
https://www.politico.com/news/2023/06/08/newsom-gun-control-amendment-00100954
G.O.P. Rebels Are Breaking the Rule on Rules, Upending How the House Works
It has long been an axiom of the House majority: Vote against a piece of legislation put forth by your party if you absolutely must, but never, ever vote against the 'rule' to bring that legislation to the floor.
Until the last few weeks, that standard had held for more than two decades. But now, about a dozen rebellious House Republicans have decided to leverage their badly needed votes on the routine procedural measures to win policy concessions, breaking the longstanding code of party discipline and threatening the traditional operation of the House.
https://www.usatoday.com/story/news/politics/2023/06/13/bidens-age-and-trumps-legal-perils-are-liabilities-with-voters-poll/70310586007/
Freedom Caucus adds new members in the wake of House floor rebellion
After hardline House conservatives aggravated GOP leaders by halting the chamber floor in protest, the Freedom Caucus — which most of the agitators call home — is growing in numbers.
The Trump-aligned bloc admitted two new members this week: Reps. Diana Harshbarger (R-TN) and Eric Burlison (R-MO). Their admittance, confirmed by two Republicans who spoke on condition of anonymity, shows that while some in the Freedom Caucus may be sparking blowback with their rebellion against GOP leaders, the group is also expanding its reach.
https://www.politico.com/news/2023/06/13/house-fW
GOP's booming support for guns is turning off millennial, Gen Z Republicans
The generational disconnect suggests broader GOP opposition to gun restrictions will be a steady irritant inside a party already struggling to appeal to young voters. It could also challenge White House hopefuls and members of Congress to eventually refine their message on guns with Republican primary and general election voters, even if the concerns of young people won't transform GOP politics overnight.
https://www.politico.com/news/2023/06/08/millennial-gen-z-republicans-gun-restrictions-mass-shootings-00100878
Five House Races Shift Towards the Democrats
With the surprise Supreme Court ruling throwing out the Alabama congressional map, the Cook Political Report has shifted five House seat ratings toward the Democrats:
AL-1: Jerry Carl (R) – Solid R to Toss Up

AL-2: Barry Moore (R) – Solid R to Toss Up

LA-5: Julia Letlow (R) – Solid R to Toss Up

LA-6: Garret Graves (R) – Solid R to Toss Up

NC-1: Don Davis (D) – Toss Up to Lean D
https://www.cookpolitical.com/ratings/house-race-ratings
FBI agent who testified for Republicans was suspended over leaked sensitive information
Garret O'Boyle, an FBI agent who was presented in a public hearing by House Republicans as a whistleblower, was suspended by the bureau because internal investigators had concluded that he leaked sensitive investigative information to the right-wing group Project Veritas.
House Democrats are now accusing O'Boyle of lying to the committee and are referring the matter to Attorney General Merrick Garland.
https://www.nbcnews.com/politics/congress/fbi-agent-testified-republicans-was-suspended-leaked-classified-inform-rcna88407
Oh-So-Mature Trump Aides Want Him to Focus on DeSantis' Penis
It wouldn't be the first juvenile move by Team Trump in this young primary season. Already, Trump has suggested that DeSantis, his chief rival, might be secretly gay. He's gone after DeSantis over pronunciation of his own last name. He has claimed to have salacious dirt on Florida's governor, that he might release during the primary. Recently, Trump's campaign went after one of DeSantis' top aides, apparently insulting her physical appearance.
Now, some of Trump's longtime advisers are even urging him to continuously make reference to the size of DeSantis' penis, telling him such insults could stick with GOP primary voters and mess with his rival's head.
https://www.rollingstone.com/politics/politics-features/trump-desantis-2024primary-personal-attacks-1234765006/
House Is Paralyzed as Far-Right Rebels Continue Mutiny Against McCarthy
Hard-right Republicans pressed their mutiny against Speaker Kevin McCarthy into a second day on Wednesday, keeping control of the House floor in a raw display of their power that raised questions about whether the speaker could continue to govern his slim and fractious majority.
Mr. McCarthy, who enraged ultraconservative Republicans by striking a compromise with President Biden to suspend the debt limit, has yet to face a bid to depose him, as some hard-right members have threatened. But the rebellion has left him, at least for now, as speaker in name only, deprived of a governing majority. 
https://www.nytimes.com/2023/06/07/us/politics/mccarthy-house-republicans-mutiny.html
Democrats look to spend their way out of school culture wars
The divergent paths on education will likely be a top issue in the 2024 election cycle. Republicans have used state and local education policy to great effect in recent elections, scoring political victories by agitating voters about what's happening in classrooms.
But now state-level Democrats believe they have a potent counterpunch by boasting about big funding hikes and new programs like free meals all aimed at improving student achievement.
https://www.politico.com/news/2023/06/07/democrats-public-education-spending-00100197
Ron DeSantis' Approval Rating Has Collapsed
A new Civiqs poll finds Gov. Ron DeSantis currently has a net approval rating of negative 19 points, with an average of 55% of respondents disapproving of him, compared with 36% who have a favorable view of the Republican.
https://www.newsweek.com/ron-desantis-approval-rating-2024-polls-1805073
The Republican presidential field is largely set
As of now, the former president is running in a field that features no fewer than nine high-profile challengers. They include Mike Pence, a former vice president; four current or former governors: Florida Gov. Ron DeSantis, North Dakota Gov. Doug Burgum, former New Jersey Gov. Chris Christie and former Arkansas Gov. Asa Hutchinson; Nikki Haley, the former ambassador to the United Nations and also a former South Carolina governor; U.S. Sen. Tim Scott of South Carolina; biotech entrepreneur Vivek Ramaswamy; and conservative talk show host Larry Elder, an unsuccessful candidate for California governor.
A handful of higher-profile Republicans are still considering a run, including former Energy Secretary Rick Perry, Miami Mayor Francis Suarez and Virginia Gov. Glenn Youngkin.
https://apnews.com/article/republican-president-2024-trump-desantis-pence-christie-a6fb1ec47fcae4e815658f1c5ae13ac0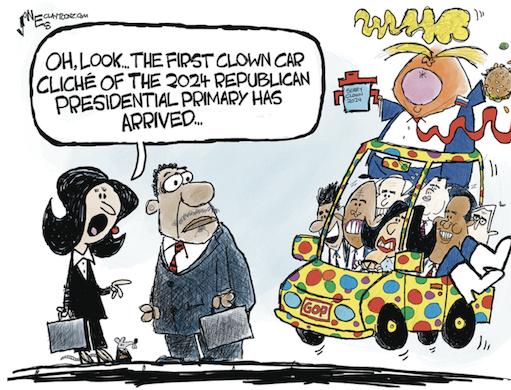 Pluralities of Americans support second Trump indictment, say charges are politically motivated
A plurality of Americans think that former President Donald Trump should have been indicted by a federal grand jury on charges related to his handling of classified documents, yet a near equal number say the charges are politically motivated, according to a new ABC News/Ipsos poll.
Nearly half -- 48% -- of Americans think Trump should have been charged in this case, whereas 35% think he should not have been and 17% saying they do not know, per the ABC News/Ipsos poll conducted using Ipsos' KnowledgePanel.
Not surprisingly, an overwhelming majority (86%) of self-identified Democrats believe the former president should have been charged. On the other hand, Republicans remain mostly loyal to Trump, with two in three (67%) saying the former president and current frontrunner for the Republican nomination should not have been charged. Independents are more divided, with 45% believing he should have been charged, a third saying he should not have been, and 22% saying they don't know.
Overall, a solid majority of over three in five Americans find the charges either very (42%) or somewhat serious (19%), while only 28% of the public say it's not too serious or not serious at all. One in ten say they don't know. And party splits are expectedly polarized, with about nine in 10 Democrats saying the charges are very or somewhat serious while half of Republicans find them to be not too serious or not serious at all. A majority of independents (63%) find the charges very or somewhat serious, while 38% say they are not too serious or not serious at all.
https://abcnews.go.com/Politics/pluralities-americans-support-trump-indictment-charges-politically-motivated/story
Trump Supporters' Violent Rhetoric in His Defense Disturbs Experts
The federal indictment of former President Donald Trump has unleashed a wave of calls by his supporters for violence and an uprising to defend him, disturbing observers and raising concerns of a dangerous atmosphere ahead of his court appearance in Miami on Tuesday.
In social media posts and public remarks, close allies of Mr. Trump — including a member of Congress — have portrayed the indictment as an act of war, called for retribution and highlighted the fact that much of his base carries weapons. The allies have painted Mr. Trump as a victim of a weaponized Justice Department controlled by President Biden, his potential opponent in the 2024 election.
https://www.nytimes.com/2023/06/10/us/politics/trump-supporter-violent-rhetoric.html
North Carolina GOP censures Sen. Tillis for supporting LGBTQ+ rights, immigration policies
Republican delegates in North Carolina voted Saturday at their annual convention to censure Thom Tillis, the state's senior U.S. senator, for backing LGBTQ+ rights, immigration and gun violence policies.
https://apnews.com/article/thom-tillis-censure-north-carolina-gop-15f25266d24c0b15cb4d2a1c61037678
Pence's Weak Case Against Biden
Mike Pence's
presidential campaign launch video
  points to a general problem that any GOP nominee will face: Despite Biden's poor poll numbers, he is not yet presiding over the kind of economic or foreign policy disaster that historically creates a one-term president — which might be one reason that the video also leans heavily on culture war grievances that target groups with little to do with the economy and foreign policy: BLM, trans rights activists, drag show performers.
https://www.politico.com/newsletters/playbook/2023/06/07/christies-tough-talk-pences-better-angels-00100698
MAGA conspiracy theorists hit with big fine over 2020 robocalls
Two Trump-loving conspiracy theorists who tried to suppress the Black vote with false and intimidating robocalls ahead of the 2020 have been hit with a $5.1 million fine for their actions, the Federal Communications Commission has announced.
https://www.msnbc.com/the-reidout/reidout-blog/robocalls-2020-election-fcc-fine-wohl-burkman-rcna88646
THE DAILY GRILL
"I think the counts under the Espionage Act, that he willfully retained those documents, are solid counts. I do think we have to wait and see what the defense says, and what proves to be true, but I do think that ... if even half of it is true, then he's toast. I mean, it's a very detailed indictment, and it's very, very damning." — Former Trump Attorney General Bill Barr on Fox News on Sunday, where he laid out his view of what Special Counsel Jack Smith's indictment meant for his former boss.  https://www.thedailybeast.com/bill-barr-tells-fox-news-if-even-half-of-the-indictment-is-truetrump-is-toast

VERSUS

"I think he's a coward who didn't do his job. He was desperately afraid of being impeached. I think he's more weak than anything else. And now he goes and he sits down and—if they can find a chair for him, because it's not that easy—and he sits down and he just bloviates and it's disgraceful. He's so it's actually unpatriotic. It's so bad for our country. Just so bad, but yet he's got a lot of hatred. I fired him for just not doing his job." —-Donald Trump slammIng former AG Bill Barr as a "gutless pig." https://www.thedailybeast.com/trump-loses-it-after-bill-barr-calls-the-indictment-damning


"Espionage charges are absolutely ridiculous. Whether you like Trump or not, he did not commit espionage. He did not disseminate, leak or provide information to a foreign power or to a news organization to damage this country. He is not a spy. He's overcharged." — Sen. Lindsey O. Graham (R-S.C.) https://www.washingtonpost.com/politics/2023/06/12/trump-indictment-defense-espionage/

VERSUS

"The plain text of the Act fails to require a specific intent either to harm the national security of the United States or to benefit a foreign power." — Legal expert Stephen Vladeck noting his own testimony from 2010 about the Espionage Act. https://www.judiciary.senate.gov/imo/media/doc/10-05-12VladecksTestimony.pdf


Clinton's actions have sent the worst message to the millions of hard-working federal employees who hold security clearances and are expected to … abide by the rules. They don't take their oaths lightly, and we shouldn't expect any less of their leaders. ... America simply cannot afford any more Clinton drama. — Statement by Sen. Marco Rubio (R-FL) in 2016 https://www.rubio.senate.gov/public/index.cfm/2016/7/rubio-comments-on-hillary-clinton-s-mishandling-of-classified-information

VERSUS

Trump should get a pass because indicting him would be 'divisive' and invite 'attacks' on American institutions. — Marco Rubio now, the vice chair of the Senate Intelligence Committee, is fine with Trump's alleged misdeeds: https://twitter.com/CBSMornings/status/1668233819852353537
Stephen Collinson: Trump's main 2024 election goal is now to save himself
Trump's showmanship bolstered a strategy of putting his legal woes at the center of a campaign already rooted in claims he's the blameless victim of a politicized justice system.
But Tuesday's political choreography showed this approach is more than a political strategy. It revealed a deeper, emerging reality about the 2024 campaign. Trump's legal defense strategy is now entirely fused with his electoral one. His bid to regain the White House is no longer a mere political campaign but has now become about self-preservation. As his court battles grind on, his biggest aim appears to be recapturing the presidential authority that might give him the power to make his potential criminal liability – and even the threat of jail time, if convicted – go away.
https://www.cnn.com/2023/06/14/politics/donald-trump-indictment-2024-campaign/index.html
Jeffrey Blehar: Trump's Indictment Is Worse Than You Think It Is
The indictment can be found
here
. Come and see. Come one, come all, and read it. The text is lucid, the case is made with a minimum of jargon, and it hits like multiple icepick blows to the skull.
Do not willingly keep yourself ignorant of its enormity because you would prefer to huddle in a tortoise-shell defensive crouch. There aren't merely claims, there are evidentiary submissions, including remarkable photographs and excerpts of recorded conversations.
Trump is nailed dead to rights, and what matters most of all is that it's not on some technical offense. What he was doing, before only a physical raid on Mar-a-Lago stopped this madness, turns out to have been less an act of mere carelessness than an active threat to United States national security, one fueled solely by Trump's demented behavior and sense of self-entitlement.
https://www.nationalreview.com/2023/06/trumps-indictment-is-worse-than-you-think-it-is/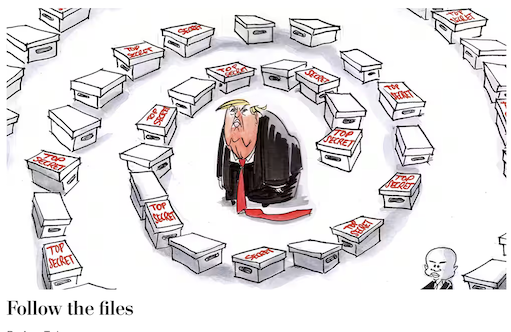 Shane Goldmacher, Maggie Haberman and Jonathan Swan: How Trump Plans to Beat His Indictment, Politically
For Mr. Trump and his team, there has been a sense of familiarity, even normalcy, in the chaos of facing a 37-count indictment in the classified documents case. After two House impeachments, multiple criminal investigations, the jailing of his business's former accountant, his former fixer and his former campaign manager, and now two criminal indictments, Mr. Trump knows the drill, and so do his supporters.
The playbook is well-worn: Play the victim. Blame the 'Deep State.' Claim selective prosecution. Punish Republicans who stray for disloyalty. Dominate the news. Ply small donors for cash.
His allies see the indictment as a chance to end the primary race before it has even begun in the minds of Republican voters, with a
new commercial
already being shown framing 2024 as an active battle with President Biden.
https://www.nytimes.com/2023/06/12/us/politics/trump-indictment-strategy.html
Peter Baker: Trump's Case Puts the Justice System on Trial, in a Test of Public Credibility
History's first federal indictment against a former president poses one of the gravest challenges to democracy the country has ever faced. It represents either a validation of the rule-of-law principle that even the most powerful face accountability for their actions or the moment when a vast swath of the public becomes convinced that the system has been irredeemably corrupted by partisanship.
Mr. Trump, his allies and even some of his Republican rivals have embarked on a strategy to encourage the latter view, arguing that law enforcement has been hijacked by President Biden and the Democrats to take out his strongest opponent for re-election next year. Few if any of them bothered to wait to read the indictment before backing Mr. Trump's all-caps assertion that it was merely part of the 'GREATEST WITCH HUNT OF ALL TIME.' It is now an article of faith, a default tactic or both.
https://www.nytimes.com/2023/06/10/us/politics/trump-documents-indictment-democracy.html
Paul Farhia: How conservative media reacted to the Donald Trump indictment
In the hours after Donald Trump announced that he had been indicted on a charge of hoarding classified documents, conservative media outlets and personalities jumped to the usual barricades.
"A dark day in America," Fox News host Sean Hannity said on his program Thursday night. The sometime Trump adviser continued: "Our system of justice has now been weaponized beyond belief, and this country is in serious trouble."
"Well, they did it, and how dare they — they indicted him again," fulminated Greg Kelly, a prime time host on Newsmax, a smaller cable channel that has attempted to outflank Fox on the right. He added: "This will not derail Donald Trump, no way."
By then, the framing of the indictment was largely set — initially by Trump, who broke his own news Thursday evening on his Truth Social platform. He called the at-the-time unreleased indictment the work of "the corrupt Biden administration," though it was the work of a grand jury, acting on evidence presented by a special counsel appointed by attorney general Merrick Garland to limit perceptions of political influence.
"Peak Witch Hunt" blared the red headline on Breitbart, though its lead story consisted of little more than the transcript of Trump's comments from a video he posted on Thursday denouncing "the boxes hoax."
The Trump talking points — the prosecution is unfair, Democrats are guilty of similar crimes, the indictment amounts to 2024 "election interference" — quickly echoed across Trump-partisan media. It was a replay of the reaction to Trump's first indictment, in March, by prosecutors in New York City in connection to alleged hush-money payoffs to an adult-film star.
It was a reminder of how the modern news landscape offers safe spaces for partisan views, unmolested by contrary facts, analysis or interpretation. Trump's fervent supporters could find immediate solace in information sources that confirmed their worldview.
https://www.washingtonpost.com/media/2023/06/09/trump-indictment-conservative-media-react/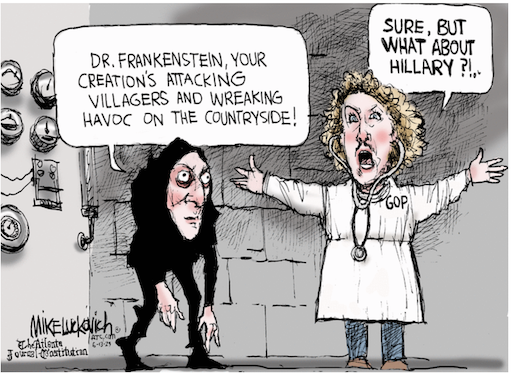 Isaac Arnsdorf and Amy Gardner: Worries over electability pierce united GOP front on Trump indictment
Laurie Wood was in the hotel elevator when she saw the text alert on her phone: Donald Trump had been indicted. "Here we go again," she thought.
In town as a first-time delegate to the Georgia GOP convention here, Wood stepped out onto a terrace for a cigar party grateful to be spending this historic night with fellow conservatives. State committee members gathered amid the smoke and mosquitoes were already anticipating Trump's speech to the convention on Saturday, and now many were just finding out and beginning to reckon with the latest political earthquake.
"Game on," said John Fredericks, a pro-Trump talk radio host popular in Georgia and Virginia, when a reporter read him Trump's social media posts announcing the charges. "Indict away. Every indictment we get more emboldened, we get stronger, we get more votes, because working people in this country are on to their game. Trump will be the nominee, and he will win an overwhelming victory regardless of the number of witch-hunt indictments that the communists and the liberals try to push on him."
The cigar party's host, Republican National Committee member Jason Thompson, was quick to dismiss the indictment, which remains sealed but is said to arise from Trump's handling of classified materials after leaving the White House. "Honestly that's probably the weakest case — I'm a lawyer, I would know," Thompson said between puffs. "All the presidents take documents with them, and they're trying to make something out of it because it's Trump."
https://www.washingtonpost.com/media/2023/06/09/trump-indictment-conservative-media-react/
Bess Levin: Bill Barr: Trump Is an Egomaniac Who "Repels" Voters and Is "Unfit" for Office…And I'd Totally Vote for Him in 2024
Speaking to CBS Mornings on Tuesday about the Justice Department's probe into Trump's handling of classified documents and potential obstruction of justice, Bill Barr said, contrary to his ex boss's claims, the investigation has absolutely not been a witch hunt. "In fact, they approached this very delicately and with deference to the president," Barr said, adding that if Trump had simply returned the documents when asked, the investigation would have "gone nowhere…but he jerked them around for a year and a half." Whether special counsel Jack Smith indicts Trump or not remains to be see but regardless, Barr said, there is "no excuse for what [Trump] did here."
Asked by host Gayle King what he expects the public reaction to a possible indictment might be, Barr responded: "This says more about Trump than it does the Department of Justice. He's so egotistical that he has this penchant for conducting risky, reckless acts to show that he can sort of get away with it…and he's done this repeatedly at the expense of all the people who depend on him to conduct the public's business in an honorable way." Asked about Trump's third bid for office, the former attorney general declared him "almost unique in his inability to attract voters. He repels people other than his core base."
Given all this, you might think that there would be absolutely no way that Barr would cast a vote for Trump in the 2024 general election, especially considering Barr has also said that Trump was responsible for January 6, and became "manic and unreasonable," in the run-up to the attack that left five people dead. But: Surprise! (Or not, because he's said it before.) Claiming that neither Trump nor Joe Biden are "fit for the office," Barr said he would nevertheless go for Trump should 2024 turn out to be another matchup between the two men. He did not tell King how he sleeps at night, but presumably the answer would be "Just fine, why do you ask?"
https://www.vanityfair.com/news/2023/06/bill-barr-donald-trump-2024
Ankush Khardor: The 'Lock Him Up' Election
Trump is walking a tightrope now, but so too is Biden, in his own way.
If the charges against Trump are legally and factually compelling, then Garland and Smith will have done the country a considerable service by finally breaking the norm of elite political impunity that has conspicuously and regrettably governed the country for the last half-century since Richard Nixon was pardoned by Gerald Ford to ensure he would not be prosecuted over the Watergate cover-up.
This prosecution, however, almost certainly will not be over by the time of the general election next fall. In ordinary circumstances, you would expect a complex, high-profile prosecution to take — from start to finish, including appeals — two to three years. Even if a trial manages to take place next year and Trump is convicted, there will undoubtedly be appeals, and Trump would likely be allowed to remain free while that process unfolds, perhaps even actively campaigning on how he should be reelected so that he can pardon himself and prosecute Biden for some reason or another.
As a practical matter, that means that the result of the presidential election will also control whether this prosecution reaches an orderly resolution. After the Manhattan charges were filed, Biden stayed far away from commenting on Trump's case and he's likely to do so in the near term over this indictment. But this will not be tenable so long as Trump is a candidate. As a result, the Biden campaign will have to defend this project and the underlying principles that they reflect, whether they like it or not, which will put them in the strange — and yes, again, unprecedented — position of having to support the prosecution of the sitting president's most significant political rival, the very thing that Biden hoped to avoid upon entering office.
For now, we are witnessing one of the most complex and consequential legal and political battles of our lifetimes — one with a shockingly wide spectrum of possibilities for how it all shakes out.
https://nymag.com/intelligencer/2023/06/trump-indictment-turns-2024-into-lock-him-up-election.html
NY Times Editorial: Trump Left the Justice Dept. No Choice
It is hard to overstate the gravity of the criminal indictment issued against Donald Trump late Thursday by a federal grand jury. For the first time, a former president has been charged with violating federal laws, laws that he swore to uphold just over six years ago. It is the first time a former leader of the executive branch has been charged with obstructing the very agencies he led, and the first time a former commander in chief has been charged with endangering national security by violating the Espionage Act.
The indictment, unsealed on Friday, accuses Mr. Trump of 37 crimes. The majority of them — 31 of the counts — are for willful retention of national defense information, each a violation of the Espionage Act. There is one count of conspiracy to obstruct justice, in which Mr. Trump is accused of conspiring with his personal aide, Walt Nauta, to hide classified documents from the F.B.I. and the grand jury investigating the case. The other charges involve withholding documents, corruptly concealing documents and making false statements to law enforcement authorities.
The potential prison sentences for Mr. Trump add up to as much as 420 years, even though conviction almost never results in the maximum sentence. But this indictment confronts the country with the harrowing prospect of a former president facing years behind bars, even as he runs to regain the White House.
Mr. Trump and his Republican allies are already trying to politicize the indictment, insisting that the charges issued by 23 randomly chosen residents of South Florida were an attempt by President Biden to demolish his rival. But the evidence compiled by the government is so substantial that it is clear the Justice Department had no choice but to indict.
https://www.nytimes.com/2023/06/09/opinion/trump-indictment-documents.html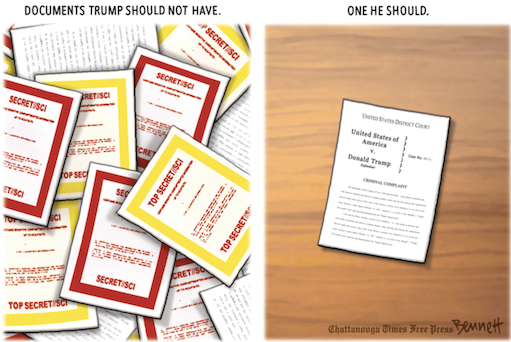 Jonathan Chait: Why No Amount of Evidence Will Make Republicans Admit
Trump was not raised in a traditional conservative milieu. He came into a seedy, corrupt world in which politicians could be bought off and laws were suggestions. He worked with mobsters and absorbed their view of law enforcement: People who follow the law are suckers, and the worst thing in the world is a rat.
That ethos ultimately explains Trump's approach to classified information. He casually discarded all the rules concerning government secrecy as president — using an unsecured mobile phone, tearing up official documents, sharing highly classified information with Russian officials, and conducting state affairs at his loosely secured Florida resort. After leaving office, he naturally assumed he could continue flouting regulations about government secrecy. If the government was demanding its documents back, that was not an order but a negotiation. And why should he give up his leverage? He had something they wanted.
You can imagine the futility of trying to explain to Trump the seriousness and national security implications of the laws he was brazenly flouting, if any of his aides even bothered trying to get it across to him.

It is the interplay of the two forces, the paranoia of the right and the seamy criminality of the right's current champion, that has brought the party to this point. Trump's endlessly repeated "witch hunt" meme blends together the mobster's hatred of the FBI with the conservative's fear of the bureaucrat. His loyalists have been trained to either deny any evidence of misconduct by their side or rationalize it as a necessary countermeasure against their enemies.
The concept of "crime" has been redefined in the conservative mind to mean activities by Democrats. They insist upon Trump's innocence because they believe a Republican, axiomatically, cannot be a criminal. https://nymag.com/intelligencer/2023/06/trump-indictment-why-republicans-will-never-admit-his-guilt.html
Matt Dixon and Jonathan Allen; How Ron DeSantis found a home in Florida's swamp
Ron DeSantis promised to drain the swamp in Tallahassee. Instead, over more than four years as governor, he has reconfigured the swamp to suit his political needs and shielded it from Florida's famous sunshine.
In anticipation of his 2024 presidential bid, he pushed the Legislature to change Florida's resign-to-run law. He revised state policy so he could transfer $80 million in campaign cash to a federal political committee. And just after his official announcement last month, his administration pressured state legislators and lobbyists to aid his presidential campaign while they awaited his decisions on pet projects in the budget.
His use of state power to aid his presidential ambitions hasn't come as a surprise to Florida political insiders who have watched him use the tools of governance to advance his agenda and ideology.
Now, as DeSantis campaigns for the presidency, he's renewing his vow to drain a swamp — this time in Washington — and is trying to convince conservative voters that he is better suited than former President Donald Trump to shrink government and make it more accountable to the public. https://www.nbcnews.com/politics/2024-election/ron-desantis-found-home-floridas-swamp-rcna86919
James Poniewozik The Paranoid Style in Tucker Carlson's Home Office
Most of the time, it does not qualify as newsworthy to see a man in your social media feed staring into a camera, asking "What exactly happened on 9/11?" and demanding to know why the media isn't digging for the truth about J.F.K.'s assassination. Usually, it's just a sign that you should not have accepted so many friend requests from high school classmates you barely remember.
But when that man was recently paid millions of dollars by Fox News to say much the same things on one of the most popular shows on cable TV, attention is paid. In Tuesday's debut episode of "Tucker on Twitter," the new home-brew show from Tucker Carlson, the ousted prime-time star's brand of resentment, insinuation and dog-whistly mocking finally gets the guy-ranting-from-his-den visuals that suit it.

There's a touch of echo in the audio; there are wall hangings, wood paneling, a bit of woodsy green through a window. Carlson holds his own Teleprompter controller and wears a suit with a pocket square. The overall look is talk-show Green Acres, or Ron Swanson if he shaved and went to prep school.

As a production, Tucker on Twitter looks less like a newscast than one of the improvised lockdown shows that late-night talk hosts recorded from home in the early Covid days of 2020. But in this case, Carlson's quarantine is self-inflicted.

But since 2017, Carlson has made himself likely the most influential broadcaster in conservative politics by posturing as an outsider on the inside. However well he can monetize a Twitter audience, it's another matter to retain as much political-cultural power as an outsider on the outside. Nor do we know if this is a real transformation or just a stopgap until Carlson is contractually free to go back on TV.

Until then, the truth is out there, and so is Tucker Carlson — whether or not they are necessarily in the same place. https://www.nytimes.com/2023/06/07/arts/television/tucker-carlson-twitter.html
Susan B. Glasser: Finally, a Few G.O.P. Candidates Dare to Speak Trump's Name
The Republican civil war that Donald Trump's continued ascendance has long heralded is finally happening. That much is evident from recent events. But you can be forgiven for confusing it with a clown show. There is no clear line where one ends and the other begins. In the 2024 G.O.P. Presidential primaries, a few candidates have—finally, belatedly—begun to criticize the former President, but is any of it really serious in this age of performative B.S. that has come to characterize the Trump-era Republican Party?
A clown show is Trump's preferred form of politics, and he relishes nothing more than a fight, or, as is now the case, many fights simultaneously. Criminal charges against a front-runner, at virtually any other time in American history, would likely have been seen as disqualifying. The pile-on from other Republicans might, in a different moment, be seen as confirmation of the candidate's incredible weakness. Yet Trump remains the overwhelming leader in the G.O.P. race.

And, rather than unite against him, the other Republicans in the fast-growing field—ten and counting with the addition this week of Christie, Pence, and the little-known North Dakota governor, Doug Burgum—seem determined to replay the early 2016 primary season, when Trump's fervent minority was enough for him to win in a crowded race despite the majority of Republicans not supporting him.

If anything, since that race, Trump has only perfected the art of using division to his own advantage. The New York indictment caused his poll numbers to go up, not down. He anticipates the same thing happening if federal charges are indeed forthcoming. And why shouldn't he? In an NBC survey in April, sixty-eight per cent of Republican voters polled said that charges against him were a politically motivated attempt to stop Trump and agreed with the statement No other candidate is like him, we must support him.

With Trump both a proven loser and at some actual risk of future imprisonment, there remains a real, if slim, chance that this could be an actual Republican race and not another coronation. But, if this is a genuine civil war inside the G.O.P., even some of the combatants don't seem fully committed to the fight. Take Pence, who long ago secured his place as among America's most sanctimonious—and most subservient—politicians. Shortly after his announcement, he quickly undercut his strong words about Trump and January 6th, vowing to back whoever became the eventual Republican nominee—presumably even if it is Trump, a man he had just said dishonored the Constitution. https://www.newyorker.com/news/letter-from-bidens-washington/finally-a-few-gop-candidates-dare-to-speak-trumps-name
\