October 13, 2022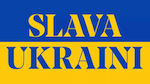 If you have a friend, family member, or neighbor who would like to subscribe to this FREE weekly newsletter they should simply email jellison@san.rr.com with "subscribe" as the subject.
THE WEEK'S BEST QUOTES. . .
Sen. Ron Johnson (R-WI)
is "the worst Wisconsin political representative since the infamous Sen. Joseph McCarthy." — A Milwaukee Journal Sentinel editorial.
https://www.jsonline.com/story/opinion/2022/10/12/ron-johnson-has-no-business-being-wisconsin-senator-any-longer-editorial/7888310001/
Russia is a dangerous place to take a fall. Every year, Russian citizens are killed by accidental falls, either out of windows or down staircases. I do not want to tell Vladimir Putin how to run his country, but really: He should set up some version of OSHA to make windows and stairs safer for Russian VIPs. Russia is such an perilous place that it's worth considering what might happen if
Putin
himself were to slip and fall out of a window.
-- Jonathan Last
https://thetriad.thebulwark.com/p/what-happens-if-putin-falls-out-of
"The early states are full of white liberals. They don't like Joe. Then when we move to real Democrats, African Americans in the south, they loved him and he steamrolled everybody. Because in my party, the heart and soul of the party are people of color, not pain-in-the-ass white liberals on Twitter. I'm sorry to use bad language."  —
Democratic strategist Paul Begala
calling out those in his party who he thinks could stand in the way of Joe Biden's reelection..
https://www.huffpost.com/entry/paul-begala-democratic-party-joe-biden-2024_n_6346a302e4b04cf8f373a13f
"My fear is that you're going to see like what you see in Russia right now. All of these individuals flying out of windows or mysterious deaths of suicide. Donald has a very long list of — we'll call it an enemies list — and I'm certain that I am definitively on it." —
Michael Cohen fears for his safety
if Donald Trump ever becomes president again.
https://thehill.com/blogs/in-the-know/3683520-michael-cohen-says-he-fears-for-his-safety-if-trump-becomes-president-again/
"When my coalition of secretary of state candidates around the country get elected, we're gonna fix the whole country and President Trump is gonna be president again. President Trump and I lost an election in 2020 because of a rigged election." —
Jim Marchant, the GOP candidate for secretary of state in Nevada
, appeared on stage alongside former President Donald, boasting that he and his QAnon coalition of candidates would put Trump back in the White House in 2024.
https://www.vice.com/en/article/4ax7nm/jim-marchant-trump-qanon
"Quite frankly, you have the "national regime media" that they wanted to see Tampa, because they thought that would be worse for Florida. They don't care about the lives here. If they can use it to pursue their political agenda, they will do it." --
Florida governor Ron DeSantis (R)

.
https://www.yahoo.com/entertainment/desantis-claims-national-regime-media-140939712.html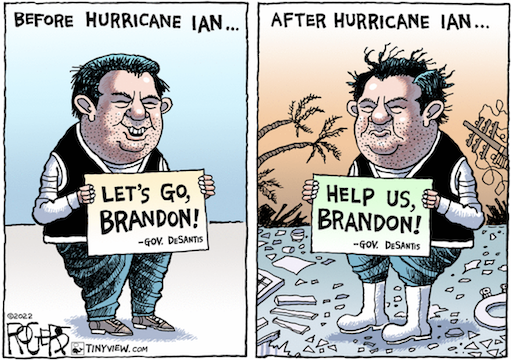 When my coalition of secretary of state candidates around the country get elected, we're gonna fix the whole country and President Trump is gonna be president again. —
Jim Marchant, the GOP candidate for secretary of state in Nevada
, appeared on stage alongside former President Donald Trump this weekend and openly boasted that he and his QAnon coalition of candidates would put Trump back in the White House in 2024, Vice News reports.
https://www.theguardian.com/us-news/2022/oct/10/republican-jim-marchant-nevada-trump-pledge-2024
VIDEOS
There are serious issues with NOAA that are hurting the lobster industry, but this comparison from

GOP candidate Ed Thelander

is disgusting and unproductive. Comments like these show he's unfit for office. https://twitter.com/MaineDems/status/1580282210225385473



Alex Jones

responds to owing around $1B in damages to Sandy Hook families by shamelessly asking for donations to fund InfoWars. "They want to ... scare us away from questioning Uvalde ... or Parkland ... We're not scared, and we're not going away, and we're not going to stop." https://twitter.com/therecount/status/1580290464523198465

Former Trump appointee Kash Patel now claims

Trump "verbally declassified" 

the documents found in his possession at Mar-a-Lago sometime during December 2020 or January 2021. https://twitter.com/RonFilipkowski/status/1580201397865566208

"For almost 40 years now I've been voting Republican. I don't know that I have ever voted for a Democrat. But if I lived in Arizona now, I absolutely would...for governor and for secretary of state" --

Liz Cheney

https://twitter.com/AccountableGOP/status/1578050188995854338



Arizona gubernatorial candidate Kari Lake (R)

 used stock footage of Russian soldiers marching in her campaign ad, claiming (incorrectly) they were the Arizona National Guard. https://twitter.com/HeartlandSignal/status/1578065209515823105

I think

Walker

is the most important Senate candidate in the country because he'll do more to change the Senate… by his deep commitment to Christ. He had a lot of concussions..— Newt Gingrich, defending Herschel Walker (R) on Fox News. https://twitter.com/Acyn/status/1577468545801355267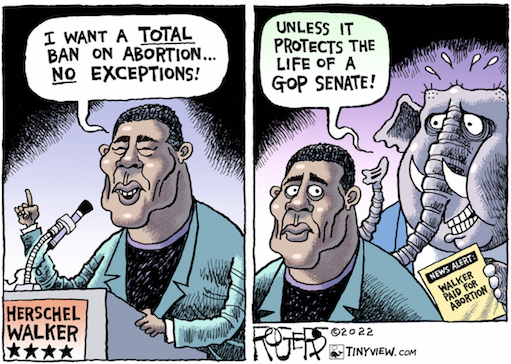 New Herschel Walker ad

: "As everyone knows, I had a real battle with mental health — even wrote a book about it. By the grace of God, I've overcome it." https://twitter.com/malloryblount/status/1577742645799141382
LITIGATION TRACKER
Pending Criminal and Civil Cases Against Donald Trump
. 
https://www.justsecurity.org/75032/litigation-tracker-pending-criminal-and-civil-cases-against-donald-trump/
---
IN THIS ISSUE
IN THE NEWS
OPINION
Andy Borowitz: Herschel Walker Categorically Denies Ever Playing Football
Claiming that he is the victim of an orchestrated campaign of "outrageous lies," Herschel Walker has categorically denied ever playing football.

Speaking at a rally in Atlanta, the candidate for the United States Senate lashed out at political enemies who, he alleged, have attempted to link him to the National Football League.

"I have never—I repeat, never—played football in my life, and I will sue anyone who claims that I did," he declared. "This is a new low."

His denial drew strong support from Senator Ted Cruz, who told reporters, "If Herschel Walker says that he never played football, we have to take him at his word. The people who are slinging this mud at him are the same crew who said that Donald Trump took home documents and I vacationed in Cancun."

Walker's increasingly erratic statements have inspired calls for him to be examined by a doctor, a demand that he flatly refused. "I don't need to see a doctor, but I'll see Dr. Oz," he said.
https://www.newyorker.com/humor/borowitz-report/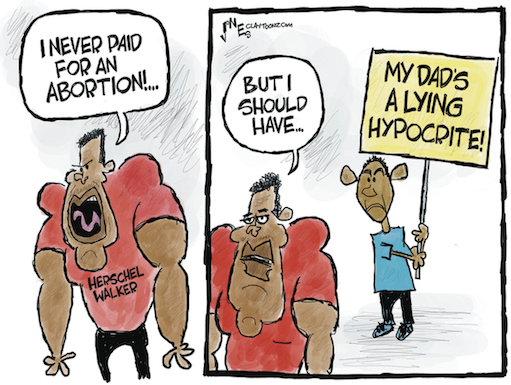 F

ulton County prosecutor investigating Trump aims for indictments as soon as December
The Georgia prosecutor leading an investigation into efforts by Donald Trump and his allies to overturn the 2020 election is aiming to quickly wrap up the grand jury's work after the midterm elections and could begin issuing indictments as early as December, sources familiar with the situation tell CNN.

Fulton County District Attorney Fani Willis has said that her investigation into attempts to subvert the 2020 election will go quiet beginning later this week to avoid any appearance of influencing the upcoming election. But while her investigation will not make any overt moves in the next few weeks, her team is gearing up for a flurry of activity after Election Day." https://www.cnn.com/2022/10/06/politics/fani-willis-georgia-prosecutor-trump-indictments-december/index.html
66 clinics across 15 states have stopped offering abortions post-Roe
As of Wednesday, abortions are almost entirely unavailable in 14 states — Alabama, Arizona, Arkansas, Idaho, Kentucky, Louisiana, Mississippi, Missouri, Oklahoma, South Dakota, Tennessee, Texas, West Virginia and Wisconsin. And access is significantly limited in a 15th state, Georgia, where the procedure is allowed until the detection of fetal cardiac activity, which usually happens around six weeks of pregnancy.

The 14 states were responsible for 125,780 abortions in 2020… And 41,620 abortions were performed in Georgia the same year. https://www.politico.com/news/2022/10/06/clinics-stopped-abortions-post-roe-00060534
How Trump's legal expenses consumed GOP donor money
Donald Trump's political operation has spent more money since he left office on lawyers representing the former president and a pair of nonprofits staffed by former Cabinet members than it has on Republican congressional campaigns, according to a review of financial filings.

Trump's leadership PAC, Save America, has blitzed supporters in recent days with fundraising solicitations that focus on next month's high-stakes contest for control of Congress. "It is IMPERATIVE that we win BIG in November," blared an email last week.

The group has contributed about $8.4 million so far directly to Republican campaigns and committees, while devoting $7 million to Trump's lawyers and another $2 million to the nonprofits, which employ former members of his administration, including former White House chief of staff Mark Meadows. Legal fees are expected to climb, Trump advisers say, as he employs a growing retinue of lawyers to fend off federal, state and county-level investigations. https://www.washingtonpost.com/politics/2022/10/11/trump-legal-fees-donor-funds-rnc/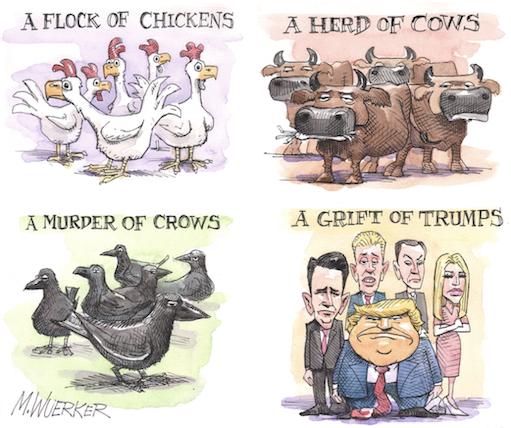 The Russians Are Coming
Two Russian men fleeing the draft navigated nearly 300 miles of rough fall Bering Sea waters, landing on St. Lawrence Island in Alaska.

"The men told villagers they had sailed their boat from the city of Egvekinot in Northeastern Russia" a distance of 279 miles. https://mobile.twitter.com/Osinttechnical/status/1578089019883257866
House GOP amps up talk about impeaching Biden's border chief, posing a test for McCarthy
House GOP Leader Kevin McCarthy will be swiftly confronted in a Republican majority with a politically dicey proposition gaining steam within his conference: Launching impeachment proceedings against President Joe Biden's top official in charge of the southern border.

Senior Republicans and a number of McCarthy allies are signaling little appetite – for now – in immediately impeaching Biden himself, despite the push among a handful of far-right Republicans seeking to remove the sitting President from office if their party takes the House in next month's midterms.

But more than a dozen of former President Donald Trump's top congressional allies – and several Republicans close to the leadership – told CNN that the focus instead should be on targeting Alejandro Mayorkas, the secretary of the Department of Homeland Security, and that a new GOP majority should hold impeachment proceedings over the problems at the border. Senior GOP sources close to leadership say it's a matter of when – not if – House Republicans initiate an impeachment inquiry and that Mayorkas has become their No. 1 target, with their base itching for revenge after Trump's two impeachments. https://www.cnn.com/2022/10/06/politics/kevin-mccarthy-alejandro-mayorkas-republican-impeachment-effort/index.html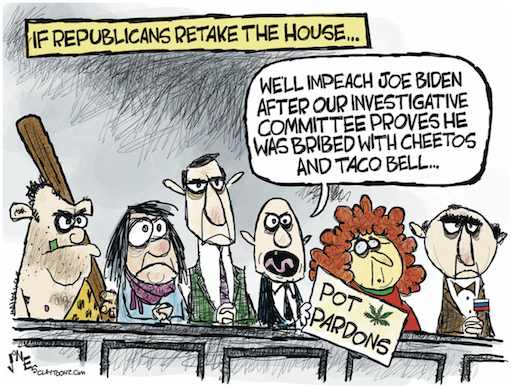 Republican support from this key voting group is in jeopardy. Abortion is to blame
Democrats are counting on those "silent" women voters to join them in Michigan and other battleground states across the country, where abortion has scrambled the calculus on how they may vote this fall. The campaigns in Michigan show Democrats are not just leaning on abortion policy to juice turnout amongst the party's base, especially the large portion of it composed of college-educated women. Abortion is also a key part of the effort to persuade blue-collar women to switch sides, particularly in states where their Republican counterparts advocate a "no exceptions" approach to abortion access. https://www.politico.com/news/2022/10/06/abortion-gop-women-ads-00060507
How the war in Ukraine has remade Europe
European leaders who gathered at a conference here were heady with what many described as an impending Ukrainian triumph over Russian President Vladimir Putin and the lawless, autocratic system he represents."

Just three years ago, French President Emmanuel Macron pronounced that NATO was suffering "brain death." With President Donald Trump fulminating about NATO, too, the transatlantic alliance seemed to be collapsing on both sides of the ocean.

The war in Ukraine has largely reversed Europe's phobia about the utility of military power — and the value of a strong alliance with the United States. To be sure, Europeans are wrapping themselves more in Ukraine's blue and yellow flag than the red, white and blue. But it marks an enormous shift, not least because it's shared by younger Europeans who have little memory of the Cold War but are repelled by the brutality of Putin's authoritarian regime. https://www.washingtonpost.com/opinions/2022/10/05/ukraine-war-changed-europe-nato-russia/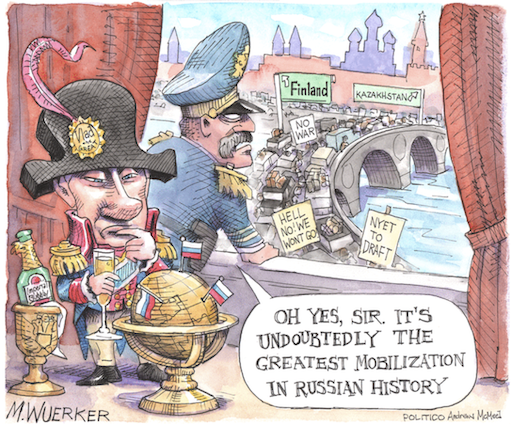 Democrats aim to keep spotlight on abortion, as they face midterm head winds
With five weeks left until the midterms, Democrats are seeking to use every tool at their disposal to keep the focus on abortion, an issue they see as a powerful motivator and closing message.

Democrats see an advantage on the abortion issue. Fifty-one percent of registered voters said they trust Democrats to do a better job with abortion while 32 percent prefer Republicans, according to a recent Washington Post-ABC News poll. And 62 percent of voters named abortion as among their leading issues when they cast ballots in November. The same poll found 64 percent of voters disapproving of the Supreme Court striking down Roe, with 54 percent disapproving "strongly."

To highlight the issue, Democrats have also boosted paid political advertisements on abortion, airing more than 132,000 ads on the topic in September, up from 33,000 abortion-related ads in August, according to AdImpact, which tracks commercials.

These include advertisements Rep. Abigail Spanberger (D) released this week featuring a woman who says, "At the age of 17, I was raped. It was devastating." She pointed to prior comments from Republican challenger Yesli Vega made earlier this year that appeared to cast doubt on whether women can get pregnant after being raped. "That made me sick," the woman says in the ad. https://www.washingtonpost.com/elections/2022/10/05/democrats-abortion-midterms/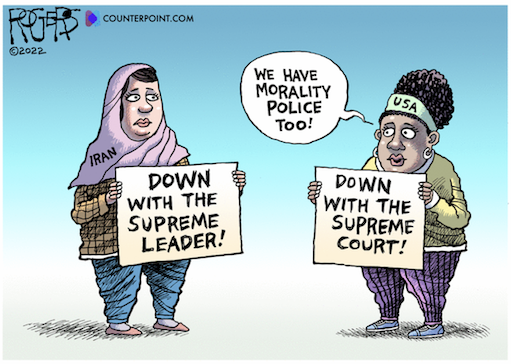 Trump Says US Agency Packed Top-Secret Documents. These Emails Suggest Otherwise.
Former President Donald Trump publicly said that one reason that the FBI found boxes of classified documents improperly stored at his Florida estate was that federal workers had packed up the White House after his 2020 defeat.

But documents obtained by Bloomberg News under a Freedom of Information Act request suggest a different story. More than 100 pages of emails and shipping lists between White House and transition staff and the US General Services Administration describe the minutiae of moving the Trump White House from Washington, DC, to Florida, down to how many rolls of bubble wrap and tape, all within a plan signed by then-Chief of Staff Mark Meadows. https://www.bloomberg.com/news/articles/2022-10-05/trump-says-feds-packed-top-secret-mar-a-lago-documents-foia-says-they-didn-t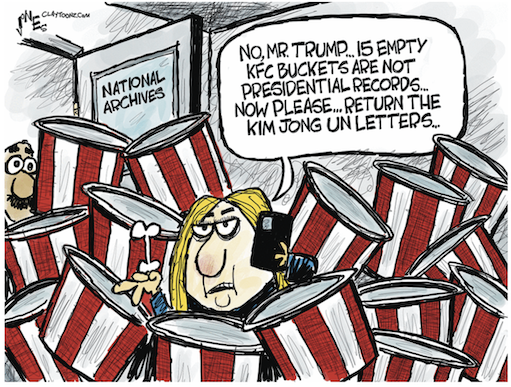 GOP cuts into Democrats' lead among Latino voters, new poll shows
Of all the numbers from our recent NBC News/Telemundo poll of Latino voters, this set maybe stands out the most: Conservative Latinos have gone from Democratic-leaning voters in 2012 to Republican base voters now.

In the merged NBC News/Wall Street Journal polls of 2012, 49% of self-described conservative Latinos said they preferred Democratic control of Congress, versus 40% who wanted Republicans in charge — a 9-point edge for Democrats.

But in our Sept. 2022 NBC News/Telemundo poll, a whopping 73% of conservative Latinos say they prefer Republicans in control of Congress, versus 17% who prefer Democrats — a 56-point advantage for the GOP.

That's a net 65-point swing in a decade, and it helps to explain how Republicans have cut into Democrats' lead among Latino voters.  https://www.nbcnews.com/meet-the-press/meetthepressblog/one-demographic-driven-much-gops-gains-latino-voters-rcna50844
A majority of GOP nominees — 299 in all — deny the 2020 election results
A majority of Republican nominees on the ballot this November for the House, Senate and key statewide offices — 299 in all — have denied or questioned the outcome of the last presidential election, according to a Washington Post analysis.

Candidates who have challenged or refused to accept Joe Biden's victory — 53 percent of the 569 analyzed by The Post — are running in every region of the country and in nearly every state. Republican voters in three states nominated election deniers in all federal and statewide races The Post examined.

Although some are running in heavily Democratic areas and are expected to lose, most of the election deniers nominated are likely to win: Of the nearly 300 on the ballot, 173 are running for safely Republican seats. Another 52 will appear on the ballot in tightly contested races. https://www.washingtonpost.com/nation/2022/10/06/elections-deniers-midterm-elections-2022/
Volatility Is a Constant in This Campaign Season
Charlie Cook: We've seen two major shifts in the political momentum already this year, something highly unusual in a midterm election. More importantly, there is no reason to be sure that all of that volatility is in our rearview mirror. That's because so many voters feel cross-pressured: They are concerned about (if not mad at) one party for one or more reasons, but also have anxieties or alarm about the other party for entirely different reasons.

The question is which set of trepidations will be top of mind when they make their final voting decision. The spotlight of anger that long focused primarily on Democrats has now become a floodlight illuminating shortcomings in each party, with several issues having the potential to be the Achilles' heel that cripples that party. https://www.washingtonpost.com/elections/2022/10/05/democrats-abortion-midterms/
Governor races in at least five states could determine abortion legality
The future of abortion access in a handful of battleground states may rest with who wins the governor's mansion in November.

Democrats are leaning into that message on the campaign trail, seeking to make the November elections a referendum on what they describe as the Republican Party's extreme position on abortion. This dynamic is playing out in gubernatorial contests in Wisconsin, Michigan, Pennsylvania, Georgia and Arizona — all of which have GOP-controlled state legislatures. https://www.washingtonpost.com/politics/2022/10/06/governor-races-least-five-states-could-determine-abortion-legality/
Who in the World Is Still Answering Pollsters' Phone Calls?
Nate Cohn: In the poll we have in the field right now, only 0.4 percent of dials have yielded a completed interview. If you were employed as one of our interviewers at a call center, you would have to dial numbers for two hours to get a single completed interview.

The NY Times has more resources than most organizations, but this is getting pretty close to 'death of telephone polling' numbers. https://www.nytimes.com/2022/10/12/upshot/midterms-polling-phone-calls.html
Federal watchdog probes whether COVID aid enabled Florida's migrant flight
A federal watchdog is investigating whether Florida improperly tapped coronavirus aid to fly migrants to Martha's Vineyard, part of a widening government inquiry into states that put their pandemic dollars toward controversial immigration crackdowns.

The inspector general for the Treasury Department confirmed its new interest in a letter sent last week to Sen. Edward J. Markey (D-Mass.) and other members of Congress who had expressed concern that the spending approved by Gov. Ron DeSantis (R) "violates federal law."

The probe comes roughly a month after Florida flew dozens of migrants, including children, from Texas to Massachusetts, in the latest example of a Republican-led state sending migrants to Democratic-leaning communities.

To pay for the flights, DeSantis said he would tap a $12 million fund in the state's recent budget. But that money came from the interest Florida had earned on the more than $8 billion it received under the last federal stimulus package, called the American Rescue Plan, The Washington Post reported as part of its year-long investigation into the pandemic aid, known as the Covid Money Trail. https://www.washingtonpost.com/business/2022/10/12/federal-watchdog-probes-whether-covid-aid-enabled-floridas-migrant-flight/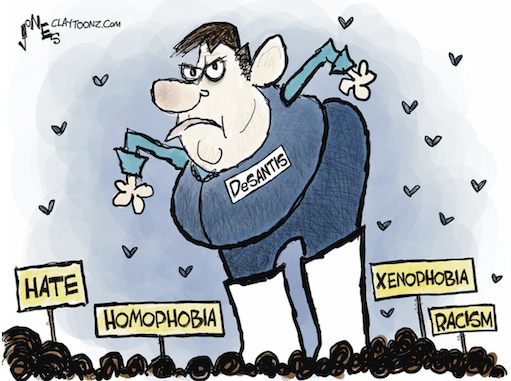 Hannity Airs Joe Biden's Private Voicemail to Hunter Biden
Fox News may not know the damage they just did to the Republican Party.  On Monday's episode of Hannity, in one of Fox News' most embarrassing segments yet, Sean Hannity aired a private voicemail Joe Biden left for his son Hunter Biden, who was struggling with substance abuse addiction at the time. In the voicemail, Biden tenderly expresses unconditional love for his son, which a Fox producer helpfully typed up: "It's Dad. I'm calling to tell you I love you. I love you more than the whole world, pal," Biden says, audibly emotional. "You gotta get some help. I don't know what to do. I know you don't either."

The the voicemail had been left on an "abandoned laptop" belonging to Hunter Biden which the Daily Mail first published in 2018. Somehow, with the midterms a few weeks away, conservatives' closing message seems to be that loving your children is a shameful scandal. The party of "family values" crushes it, yet again. https://www.newsweek.com/hannity-airs-joe-biden-private-voicemail-hunter-biden-1750602

The actual heart wrenching audio is at https://twitter.com/ScottMStedman/status/1579657571610537984
GOP Candidate Under Criminal Investigation Pledges To Indict His Opponent
It's a situation unprecedented in Michigan political history: A candidate for statewide office is running under the possibility of being indicted by the very office that he's seeking, with a vow to indict the current officeholder if he wins.
The fact that the office in question also happens to be for attorney general, the chief law enforcement officer of the state, only underscores the extraordinary nature of the contest. https://michiganadvance.com/2022/10/12/under-criminal-investigation-deperno-seeks-to-be-the-states-chief-law-enforcement-officer/
Trump worker told FBI about moving Mar-a-Lago boxes on ex-president's orders
A Trump employee has told federal agents about moving boxes of documents at Mar-a-Lago at the specific direction of the former president, according to people familiar with the investigation, who say the witness account — combined with security-camera footage — offers key evidence of Donald Trump's behavior as investigators sought the return of classified material. https://www.washingtonpost.com/national-security/2022/10/12/maralago-witness-trump-boxes-moved/
Green's baseless accusation unleashes social media firestorm against Mrvan family
An apparent falsehood perpetuated by Republican congressional candidate Jennifer-Ruth Green has incited a mob of her social media supporters to subject Rep. Frank Mrvan (D-IN) his wife, Jane, and their children to vile insults and implied threats to their safety.
The utter lack of evidence hasn't stopped Green's supporters from condemning Mrvan on Twitter as "deeply evil," a "lowlife," "sick bastard" and a "twisted son of a (expletive)" who probably has "a twisted history with women" — based solely on a press release from Green as amplified by several Republican congressmen and political operatives, including U.S. Sen. Todd Young, R-Ind.
https://www.nwitimes.com/news/local/govt-and-politics/elections/greens-baseless-accusation-unleashes-social-media-firestorm-against-mrvan-family/article_c1da7552-16fb-5aef-a011-b12ba087a96b.html
Laxalt family endorses Democratic rival, Cortez Masto, in Senate race
Fourteen members of Republican Senate candidate and former Attorney General Adam Laxalt's family announced Wednesday that they would collectively endorse his Democratic opponent, incumbent Sen. Catherine Cortez Masto, in the heated race for Nevada's U.S. Senate seat.
The three-page letter, obtained by The Nevada Independent, does not mention Laxalt by name or his Senate campaign, focusing instead on praising Cortez Masto. That includes her positions on women's issues, opposition to a proposed federal mining tax, public land preservation and her record as the state's attorney general from 2007 to 2015.
"We believe that Catherine possesses a set of qualities that clearly speak of what we like to call 'Nevada grit,'" the letter said, adding that "no further comments will be made, as we believe this letter speaks for itself."
Nevada's Senate race is among the most competitive nationwide, with control of the seat likely to determine which major party wields the Senate following the 2022 midterms. https://thenevadaindependent.com/article/fourteen-members-of-laxalt-family-endorse-democratic-rival-cortez-masto-in-senate-race
THE DAILY GRILL
"If that had happened, I would have said it. Cause there's nothing to be ashamed of there. You know people have done that. But I know nothing about it, and if I knew about it, I would be honest and talk about it." -- Herschel Walker (R) discussed allegations he paid for a woman to have an abortion.
https://hughhewitt.com/herschel-walker-returns/
VERSUS
"Sure, I was stunned, but I guess it also doesn't shock me, that maybe there are just so many of us that he truly doesn't remember. But then again, if he really forgot about it, that says something, too."— A woman who told the Daily Beast that U.S. Senate candidate Herschel Walker (R) paid for her abortion, after Walker denied it.
https://www.thedailybeast.com/she-had-an-abortion-with-herschel-walker-she-also-had-a-child-with-him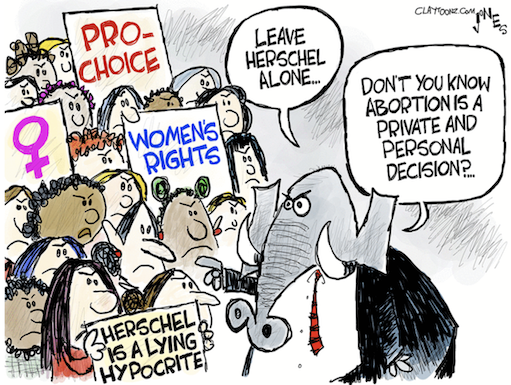 Jonathan Chait: How to Make a Semi-Fascist Party
People imagine democracy and fascism as a simple binary, leaving them unable to acknowledge political systems that reside in the vast space between the two. But this middle ground between Reagan and Mussolini is where the Republican Party's most influential ideologists and power brokers are consciously heading.

Semi-fascism contains many features of democracy, like contested elections and permissible criticism of the ruling party, but without the liberal guardrails that maintain democracy's openness and stability, such as a judiciary, bureaucracy, and news media that are empowered and motivated to check abuses of power. Thus semi-fascism has a nasty tendency to slide into something more like the outright version, in which effective public opposition to the ruling party becomes impossible. https://nymag.com/intelligencer/2022/10/how-to-make-a-semi-fascist-party.html
Paul Waldman: Republicans have found the 2022 version of 'death panels'
While Democrats have spent the bulk of their campaign ad dollars warning voters about the threat their opponents pose to abortion rights, Republicans have focused on inflation and crime. But now it looks like the GOP has expanded its campaign agenda. Punchbowl News reports on some startling new ad expenditures.
Since Aug. 1, Republican candidates and groups have spent more than $12 million on roughly 24,000 airings of ads warning of a massive influx of IRS agents.
In other words, Republicans have found their "death panels." Or at least, they think they have.
They could say that it's better for our tax collection agency to have fewer resources so it won't trouble too many taxpayers, but instead they say an army of 87,000 jackbooted IRS agents is coming for you.
That washes clean their own actions as well. So when they defund the IRS, they aren't helping the wealthy avoid paying their fair share, they're keeping regular folks safe from the tax Gestapo. Or as House Minority Leader Kevin McCarthy (R-Calif.) recently promised, "On our very first bill, we're going to repeal 87,000 IRS agents."
They'll certainly try; congressional Republicans believe few things with more conviction than the idea that wealthy people paying taxes is a moral outrage. But whenever they come up with a new "death panel," remember that the whole point is to make you terrified of government. And because the things government is actually doing aren't scary enough, they have to spin out horror stories that are nothing but fiction.  https://www.washingtonpost.com/opinions/2022/10/05/republicans-irs-death-panel/
Jonathan Capehart: Why Black people feel Jackson's 'seat at the table' is ours, too
When you're Black in America, you spend a lot of time counting firsts. The higher the first, the more we marvel (and shake our heads at how long it took to happen). The higher the first, the more the person who achieved it comes to represent how we want the nation to see us.
The latest vessel of our aspirations is Justice Ketanji Brown Jackson, the first Black woman confirmed to the Supreme Court and the third Black person ever to sit on its mahogany bench. And, man, did she show up and show out during her first week at work. But the real test — for her and us — comes in all the weeks that now follow.
Jackson spoke up early during Monday's arguments in a case challenging the Clean Water Act, asking questions before half her colleagues did and within the first 10 minutes. On Tuesday, she took the facile reasoning about laws "deeply rooted in this Nation's history and tradition" that Justice Samuel A. Alito Jr. used to help overturn Roe v. Wade and turned it into a sledgehammer against Alabama's gerrymandered congressional maps.
Jackson's skillful questioning not only set legal Twitter aglow; it also became another item of pride for African Americans, especially Black women. "I love that Justice Jackson isn't doing the thing that a lot of Black women are expected to do when we start a new job chock full of white folks which is to be quiet and not make a fuss. To know our place," journalist Imani Gandy tweeted. "She's come out SWINGING and I LOVE IT." https://www.washingtonpost.com/opinions/2022/10/06/jackson-supreme-court-first-arguments-progress/
Edward Luce: America Is History's Most Successful Failing State
A key sign of a fading power is its currency losing value. Britain, like ancient Rome, could tell you a thing or two about that. By this yardstick America is close to an imperial peak. The euro is too fragmented, and China's yuan too restricted, to threaten King Dollar's primacy. Bitcoin is a pyramid scheme. Yet political science tells us that America is more divided than at any point since the eve of its civil war in the 1850s. Could it be defying the laws of historical gravity — a failing state that outshines its rivals?
The answer is yes, for the time being. A nation can be both rich and ungovernable for long periods. The last country anyone would compare to America is Belgium, which has been dubbed the richest "failed state" in the world. Yet US politics looks more like Belgium's every day. https://politicalwire.com/2022/10/06/america-is-historys-most-successful-failing-state/
Tim Miller:The Most Toxic Politicians Are Dragging Us to Hell With Emails and Texts
As it turned out, grass-roots fund-raising is also what ending democracy looks like. As with any other mass movement, people-powered campaigns followed the standard Hofferian trajectory: beginning as a cause, turning into a business and becoming a racket. Our online fund-raising system is not only enriching scam artists, clogging our inboxes and inflaming the electorate; it is also empowering our politics' most nefarious actors.

It is how Donald Trump and his cast of clueless coupsters raised nine figures to 'stop the steal' that they had fabricated to try to stay in power. It is one way our most extreme candidates dominate the conversation and gain power in our political system. It has redirected money from politicians who work to find compromises that might just help people, diverting it instead to those who either have no chance to win or, worse yet, can win and want to undermine that work for their own ends. And it's hard to imagine how we can stop it. https://www.nytimes.com/2022/10/06/opinion/small-dollar-donations-online.html
Bess Levin: Get Ready For Elon Musk To Turn Twitter Into A Right-Wing Cesspool That Could Hand Trump 2024
Republicans are, for obvious reasons, excited about Mr. Musk's taking over Twitter. But the ultimate political consequences of his ownership are harder to predict. It's theoretically possible—though, I concede, probably unlikely—that Mr. Musk's owning Twitter could be good for Democrats in 2022 and 2024, if it allows more Republican politicians to stake out extreme positions on Twitter that end up backfiring on them at the ballot box. But whatever moves Mr. Musk makes before 2024, it's a good bet that they will be closely scrutinized for signs that he is putting his thumb on the scale.

As Andrew Bleeker, president of the progressive political public affairs firm Bully Pulpit Interactive, told Politico, Trump coming back to Twitter could have a "tremendous impact on 2024 elections, especially if Donald Trump is a presidential candidate. You can think of it as a $40 billion donation to the Trump campaign. Of course, Trump won't be the only font of disinformation and hate returning to the platform should Musk take the reins. Per the Times' Roose:
Mr. Musk, who styles himself a centrist but often crusades against the "woke left," has made no secret of his plans to make Twitter a friendlier platform for right-wing voices. He has expressed support for The Babylon Bee, a conservative satire site whose Twitter account was suspended after it published a transphobic humor piece about a Biden administration official. And Representative Marjorie Taylor Greene, whose personal Twitter account was suspended this year for repeatedly sharing misinformation about COVID-19 vaccines, has urged Mr. Musk to reinstate her along with other right-wing commentators, including Alex Jones, the founder of Infowars.
"I think there's a serious threat to democracy," Jessica González, co-CEO of Free Press, a nonpartisan media advocacy organization, told Politico. "I think we'll see prolific conspiracy theories, and white supremacists return to the platform and a lot more people who hold power and who are willing to use platforms to spread hate and harassment campaigns."
Musk has previously stated that Twitter should avoid getting involved in content regulation, and given his long, well-documented history of spreading misinformation, attacking his perceived enemies, and retaliating against people who he thinks have wronged him, it's easy to see why. Which is pretty concerning to people who think Twitter already has a problem with misinformation and abuse (especially toward women and minorities). He's also claimed that his interest in buying Twitter is all about his love for free speech though, obviously, he's only actually a defender of free speech when it suits him.
Anyway, be afraid. https://www.vanityfair.com/news/2022/10/elon-musk-twitter-deal-donald-trump-right-wing-hate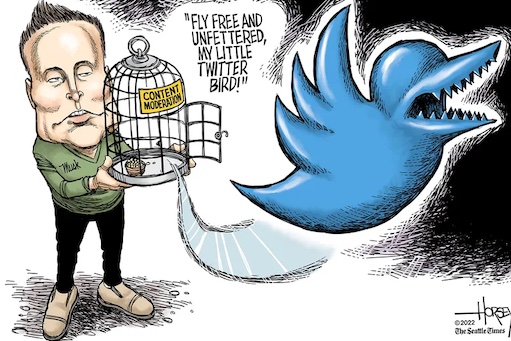 Jennifer Rubin: Cheney is a strong GOP voice against election deniers. Where are the rest?
The extent to which Republican election deniers will appear on the ballot in November is horrifying. The Post reports that nearly 300 nominees openly challenge President Biden's election, a profound lie that threatens the core of our electoral politics. This means that after the midterms, federal and state offices will be infested with individuals who are willing to lie about the 2020 election or too deluded to understand there was zero evidence of fraud.
Worse is the tepid response from Republicans who know better.
Rep. Liz Cheney (R-Wyo.) remains the shining exception that proves the rule of Republican cowardice. In addition to calling out the "Putin wing" of her party and Fox News for spreading Russian propaganda (disclosure: I am an MSNBC contributor), she slammed Arizona Republican candidates on Wednesday at an appearance at Arizona State University hosted by the McCain Institute.
It's unfathomable that former officials who can no longer suffer political harm would remain mute in the face of the debacle for democracy that Cheney raises. All they need to say is, "I agree with Cheney. Don't vote for any of these people." Really, is simple honesty and patriotism that hard? https://www.washingtonpost.com/opinions/2022/10/06/cheney-election-deniers-republicans-arizona/
Norm Ornstein: How Far Would a Republican Majority Go?
If there is one timeworn cliché about elections, it is that the next one is the most significant in our lifetime. There is reason to believe it is true this time. Although the outcomes remain uncertain, one thing is clear: If Republicans win control of the House of Representatives, the country will face a series of fundamental challenges much greater than we have had in any modern period of divided government, including a direct and palpable threat of default and government shutdown.

The Republican majority will be more radical, reckless, and willing to employ nuclear options to achieve its goals than any of its predecessors have been, and its leadership, starting with McCarthy, will be either compliant or too weak to head off catastrophe. https://www.theatlantic.com/ideas/archive/2022/10/economy-default-2022-republican-midterm-elections/671707/
Lawrence Freedman: The consequences of Putin's weakness
For a long time Putin's control over the media allowed him to ignore the growing gap between his claimed ambitions and the situation on the ground. It was evident from the start of the Special Military Operation on 24 February that all was not going to plan. Yet despite many subsequent setbacks, Putin continued to claim that success would eventually be Russia's. This official optimism lasted to the end of August. Ukraine's offensives had yet to show much progress and Russia had not given up on its own. Putin could hope that the prospect of a long cold winter ahead would lead Europe to abandon its support for Ukraine, pushing it to end the war on Russian terms.

This optimism has now evaporated and it is impossible to pretend that all is well. The costs of this doomed enterprise are being felt at home, marked by those left dead, wounded and traumatized by the fighting, and the flight of men fearful of facing a similar fate if they are sent to the front. Those in the West who doubted that Ukraine's fight back could lead to all occupied territory being liberated assumed that Putin could be persuaded to agree some compromise deal, one that would leave him with some of Ukraine's territory if not as much as he wanted. Yet at no point has Putin given any encouragement to such views. It has become very difficult to imagine a 'face-saving' deal as there is not much 'face' left to be saved. Humiliation has occurred. Moreover Putin has put himself in the position where agreeing a peace involving even partial withdrawal from currently occupied territory would mean abandoning territory that he claims to have acquired for Russia. And Ukraine has rejected any talk of a partial withdrawal. https://samf.substack.com/p/retribution-and-regime-change