February 18, 2021
ON THE RECORD. . .
"It is so pathetic that Senator McConnell kept the Senate shut down so that the Senate could not receive the Article of Impeachment and has used that as his excuse for not voting to convict Donald Trump." — Speaker Nancy Pelosi

"Jim Jones was a religious cult leader, Donald Trump is a political cult leader. As a victim of violence and of a cult leader, I am sensitive to conduct that smacks of that. We have got to be wary of anyone who can have such control over people that they lose their ability to think independently." — Rep. Jackie Speier who was shot five times and left for dead, while Congressman Leo Ryan and four others were killed by members of the People's Temple cult in 1978.

"Well, Kevin, I guess these people are more upset about the election than you are." — Trump's response to House Minority Leader Kevin McCarthy (R-Calif.) who was begging the president to tell the mob clad in Trump gear to end the violence.

"He is still operating from a playbook of obsequiousness that has become second nature — never airing grievances publicly, and delivering his often rose-colored counsel to Trump only in private, one-on-one settings." — Rep. Joaquin Castro (D-Tex.), one of the impeachment managers. saying that former VP Mike Pence has "no plans to condemn Trump or to speak out during the Senate impeachment trial", despite the near miss with rioters Pence experienced on January 6.

"We have no regrets at all. We left it totally out there on the floor of the U.S. Senate, and every senator knew exactly what happened. … I thought that I successfully demolished [the defenses] at the trial, but there's no reasoning with people who basically are acting like members of a religious cult and when they leave office should be selling flowers at Dulles Airport." -- Rep. Jamie Raskin (D-MD), lead impeachment manager

"The biggest winner of this whole impeachment trial is Lara Trump. My dear friend Richard Burr, who I like and have been friends to a long time, just made Lara Trump almost the certain nominee for the Senate seat in North Carolina to replace him if she runs, and I'll certainly be behind her because she represents the future of the Republican Party." — Sen. Lindsey Graham (R-S.C.) 

"We didn't need more witnesses. We needed more senators with spines." — Del. Stacey Plaskett (D-U.S. Virgin Islands) on CNN's "State of the Union"

"I have also announced that it shall be the policy of my administration that no more American taxpayer dollars be diverted to construct a border wall, and that I am directing a careful review of all resources appropriated or redirected to that end." — President Joe Biden saying that the declaration of a national emergency at our southern border was unwarranted.

Vice President Kamala Harris will be the target of an impeachment effort if Republicans take control of the House of Representatives in 2022—because she tweeted support for a bail fund for Black Lives Matter protesters. — Sen. Lindsey Graham (R-SC), who voted that Trump was not guilty for encouraging an insurrection to overturn his election defeat.

The RNC celebrates President's Day by tweeting out a picture of former President Donald Trump photoshopped next to Mount Rushmore to "honor the many great Presidents that have made America the amazing country that it is."

"The fact of the matter is this didn't seem like an armed insurrection to me." — Sen. Ron Johnson (R-WI) on WISN radio.

 "The 'cancel culture' is "the number one issue for the country to address today." — Rep. Jim Jordan (R-OH), while the country is amid a deadly pandemic and economic carnage.

"Republicans are normalizing, they are mainstreaming, what counterterrorism experts would say is violent extremism: that it is acceptable to use inflammatory rhetoric and encourage violence to achieve your ends." — Elizabeth Neumann, a former Trump Homeland Security official.

"The Republican Party can never again be respected or strong with political 'leaders' like Sen. Mitch McConnell at its helm. Mitch is a dour, sullen, and unsmiling political hack, and if Republican Senators are going to stay with him, they will not win again. He doesn't have what it takes, never did, and never will." -- Donald Trump's very long statement attacking Senate Minority Leader Mitch McConnell (R-KY). In it he also promised to "back primary rivals" of certain incumbent GOP senators.

"From my standpoint, Leader McConnell speaks for himself. In this case, I don't believe he speaks for the conference, and I think he needs to be a little careful. You know when I speak, I do actually try and take in mind how it might reflect on the party." — Sen. Ron Johnson (R-WI), saying that Senate Minority Leader Mitch McConnell's (R-KY) position on former President Donald Trump "put the minority leader at odds with the bulk of his own party," 

"We did not send him there to vote his conscience, we did not send him there to do the right thing, whatever he said he was doing. — Dave Ball, Washington County Pennsylvania GOP chair, on voting to censure Sen. Pat Toomey (R-PA) for his impeachment vote to convict Donald Trump. https://twitter.com/JanNWolfe/status/1361510807620706304

"Donald Trump used social media to provoke and distract Americans around the clock, rewiring the country's nervous system and diminishing the value of each individual news cycle. Now we're going to learn whether our fried collective circuits can recover." — Politicians, celebrities and business leaders are trying to adapt to a new world beyond the attention inflation of the Trump era.

Amid a deadly pandemic and economic carnage, Jim Jordan says "cancel culture" is "the number one issue for the country to address today" — Rep. Jim Jordan (R-OH) on Fox News. 

"Oh my, what a disappointment you are to us and to God! You have embarrassed the Kinzinger family name!" -- Two days after Rep. Kinzinger called for removing Mr. Trump from office following the Jan. 6 riot at the Capitol, 11 members of his family sent him a handwritten two-page letter, saying he was in cahoots with "the devil's army" for making a public break with the president.

"I know Trump can be a handful, but he is the most dominant figure in the Republican Party. We don't have a snowball's chance in hell of taking back the majority without Donald Trump." — Sen. Lindsey Graham (R-SC) offered Senate Minority Leader Mitch McConnell (R-KY) some unsolicited advice on Hannity.

"There's no question—none—that Pres. Trump is practically and morally responsible for provoking the events" of January 6. "The people who stormed this building believed they were acting on the wishes and instructions of their president." -- Sen. Mitch McConnell

"Your leadership in the US Senate does not represent the Republican voters that put our faith in you in the last primary election. Therefore I am formally requesting you resign your position as Republican Caucus Leader of the US Senate, forthwith and with all possible dispatch." — Nelson County, KY Republican party chair Don Thrasher called on Senate Minority Leader Mitch McConnell (R-KY) to resign his leadership position, telling McConnell it was due to "complete and total disdain for the will of your constituents."

"Mitch is a dour, sullen, and unsmiling political hack, and if Republican Senators are going to stay with him, they will not win again,. "He will never do what needs to be done, or what is right for our Country."— In a statement released by the Save America PAC, Trump said he would fight head-on McConnell's focus on "electability" in GOP candidates and would back pro-Trump Republicans in congressional primaries where "necessary and appropriate."

"Rush thought we won, and so do I, by the way. I think we won substantially… You would have had riots going all over the place if that happened to a Democrat. We don't have the same support at certain levels of the Republican system."— Donald Trump, calling  Fox News to comment on Rush Limbaugh's death.
VIDEOS

Second Impeachment Trial Cold Open - SNL: https://youtu.be/tjE5m5JEuVg

Weekend Update: Stephanie Green on Conspiracy Theories - SNL: https://youtu.be/Qsu-DMEPbwU

Weekend Update: Trump Acquitted in Second Impeachment - SNL: https://youtu.be/WBwY5FmAyIU
---
IN THIS ISSUE
IN THE NEWS
OPINION
Andy Borowitz: Giuliani to Be First Guest of Lou Dobbs Total Landscaping
Lou Dobbs has selected Rudy Giuliani to be the first guest of his new media venture, Lou Dobbs Total Landscaping.

Dobbs said that his new show will offer "more freedom" than his Fox Business show did, because there will be no cameras recording it.

"Since it won't be on television or the Internet, we can let it rip," Dobbs said. "It's just going to be me and my guest sitting on lawn chairs in the parking lot of a landscaping company, shouting at passersby. It's a dream format for me."

Dobbs advised Giuliani "not to hold back" during his appearance on L.D.T.L. and "to spew the first baseless accusations that pop into his head."

"There's no way he can ever be sued, because no one will ever see or hear him," Dobbs said. "Take that, cancel culture." https://www.newyorker.com/humor/borowitz-report/giuliani-to-be-first-guest-of-lou-dobbs-total-landscaping
Trump's heaping list of legal problems post-impeachment
● Georgia officials announced that the former President faces two new investigations over calls he made to election officials in an attempt to overturn the state's election results. https://www.cnn.com/2021/02/13/politics/trump-legal-problems-post-impeachment/index.html

● Trump faces a criminal investigation in New York where the Manhattan District Attorney's office is looking into whether the Trump Organization violated state laws, such as insurance fraud, tax fraud or other schemes to defraud. https://www.cnn.com/2021/02/13/politics/trump-legal-problems-post-impeachment/index.html

● New York State Attorney General Letitia James' office is conducting a civil investigation into whether the Trump Organization inflated the values of his assets in order to secure favorable loans and insurance coverage. James' investigation could become criminal. https://www.cnn.com/2021/02/13/politics/trump-legal-problems-post-impeachment/index.html

● Federal prosecutors investigating the January 6 insurrection at the US Capitol have signaled that no one is above the law, including Trump, and have stressed that nothing is off the table when asked if they were looking at the former President's role in inciting violence. https://www.cnn.com/2021/02/13/politics/trump-legal-problems-post-impeachment/index.html

● DC's Attorney General Karl Racine warned that Trump could face criminal charges in the days after insurrection, saying DC laws prohibit statements that "clearly encourage, cajole and... get people motivated to commit violence," he told MSNBC in January. Racine said in the interview that his office, which enforces local codes for the city, is collaborating with federal prosecutors on the case. https://www.cnn.com/2021/02/13/politics/trump-legal-problems-post-impeachment/index.html

● Civil suits include one by DC AG Racine's office, which alleges the Trump Organization and Presidential Inaugural Committee abused more than $1 million in inauguration funds by "grossly overpaying" to use event space at Trump's Washington, DC, hotel for his inauguration in 2017. https://www.cnn.com/2021/02/13/politics/trump-legal-problems-post-impeachment/index.html

● With the help of AG Bill Barr, defamation lawsuits were largely delayed while Trump was in office. One was filed by E. Jean Carroll, a former magazine columnist who accused him of rape, and another by Summer Zervos, a former contestant on "The Apprentice" who claims the President sexually assaulted her in 2007. Both women say he defamed them by saying their claims were lies. https://www.cnn.com/2021/02/13/politics/trump-legal-problems-post-impeachment/index.html

● A legal issue that hits closer to home is whether Trump will be able to continue living full time at Mar-a-Lago. Neighbors of the Palm Beach resort have argue that Trump breached an agreement with the town by moving in full time last month. Town zoning laws allow him to live there full time if he is considered a "bona fide employee" of the club. https://www.cnn.com/2021/02/13/politics/trump-legal-problems-post-impeachment/index.html

● A civil lawsuit filed in Washington federal court on Tuesday by the NAACP and Rep. Bennie Thompson, D-Miss., claiming that Trump, his personal lawyer Rudy Giuliani, and two right-wing extremist groups, the Oath Keepers and Proud Boys, conspired to incite the Capitol riot. https://www.cnbc.com/2021/01/15/trump-criminal-investigation-manhattan-da-probes-seven-springs-estate.html

● The Manhattan district attorney's office has expanded its criminal probe of President Donald Trump's company to include its Seven Springs Estate property in Westchester County, New York. https://www.cnbc.com/2021/01/15/trump-criminal-investigation-manhattan-da-probes-seven-springs-estate.html

● New York prosecutors are investigating financial dealings around some of Donald Trump's signature Manhattan properties, extending the known range of the criminal probe of the former president and his company, according to people familiar with the matter. https://www.wsj.com/articles/new-york-prosecutors-investigating-trumps-manhattan-properties-11613241198

● The top prosecutor in Fulton County, Georgia, has opened a criminal investigation of a January phone call in which then-President Donald Trump urged Secretary of State Brad Raffensperger to "find" him enough votes to overturn his election loss to Joe Biden. https://www.cnbc.com/2021/02/10/georgia-da-opens-criminal-probe-of-trump-call-to-secretary-of-state.html

● The office of the Illinois Attorney General had asked that the judge impose the maximum possible fines: $50,000 for two violations plus an additional $10,000 per day for each day the hotel continued to cool the building using water from the river. With violations occurring since 2017, the former president's hotel chain could be ordered to pay as much as $12 million in fines. https://www.yahoo.com/entertainment/trump-could-fined-12-million-144647001.html
First They Guarded Roger Stone. Then They Joined the Capitol Attack
At least six people who had provided security for Roger Stone entered the Capitol during the Jan. 6 attack, according to a New York Times investigation.
Videos show the group guarding Mr. Stone, a longtime friend of former President Donald J. Trump, on the day of the attack or the day before. All six of them are associated with the Oath Keepers, a far-right anti-government militia that is known to provide security for right-wing personalities and protesters at public events.
https://www.nytimes.com/interactive/2021/02/14/us/roger-stone-capitol-riot.html
Democrats and Biden prepare to unveil bill that would provide a pathway to citizenship for undocumented immigrants
The Biden administration, in concert with Hill Democrats, is preparing to unveil legislation this week that seeks to provide a pathway to citizenship to the 11 million undocumented immigrants living in the United States.
Biden's bill will also likely join a series of other immigration measures that are narrowly focused on undocumented immigrants who were brought to the US as children, are in the US under a form of humanitarian relief, and are working in agriculture -- setting up a dizzying number of attempts to provide legalization to the undocumented population. https://amp.cnn.com/cnn/2021/02/16/politics/biden-immigration-legislation-pathway-to-citizenship/index.html
National Republicans dive into Newsom recall push
National Republicans for the first time are jumping into the effort to recall California Gov. Gavin Newsom, the party's most aggressive move yet to oust the first-term Democrat.
The Republican National Committee is investing $250,000 into the recall campaign, launching a digital and texting program encouraging Californians to sign onto a petition that would qualify the recall for a vote later this year. https://www.politico.com/news/2021/02/11/california-newsom-recall-republicans-468747
Perry says Texans willing to suffer blackouts to keep feds out of power market
Former Texas Gov./Trump's energy secretary suggested that going days without power is a sacrifice Texans should be willing to make if it means keeping federal regulators out of the state's power grid.
"Texans would be without electricity for longer than three days to keep the federal government out of their business," Perry is quoted as saying. https://www.houstonchronicle.com/business/energy/article/Perry-says-Texans-wiling-to-suffer-blackouts-to-15956705.php
Beto O'Rourke: 'We are nearing a failed state in Texas' due to Republican leaders
Former Democratic presidential candidate Beto O'Rourke blamed Republican leaders in Texas for what he says was a failure to prepare for widespread power outages resulting from a massive winter storm that swept across the state this week. 
"The energy capital of North America cannot provide enough energy to warm and power people's homes," O'Rourke said. "We are nearing a failed state in Texas. And it has nothing to do with God or natural disasters. It has everything to do with those in positions of public trust who have failed us. "https://thehill.com/homenews/539147-beto-orourke-we-are-nearing-a-failed-state-in-texas-due-to-republican-leaders
Dozens of former Republican officials in talks to form anti-Trump third party
Dozens of former Republican officials, who view the party as unwilling to stand up to former President Donald Trump and his attempts to undermine U.S. democracy, are in talks to form a center-right breakaway party, four people involved in the discussions told Reuters.
The early stage discussions include former elected Republicans, former officials in the Republican administrations of Ronald Reagan, George H.W. Bush, George W. Bush and Trump, ex-Republican ambassadors and Republican strategists, the people involved say.
More than 120 of them held a Zoom call last Friday to discuss the breakaway group, which would run on a platform of "principled conservatism," including adherence to the Constitution and the rule of law - ideas those involved say have been trashed by Trump.
The plan would be to run candidates in some races but also to endorse center-right candidates in others, be they Republicans, independents or Democrats, the people say. https://www.reuters.com/article/us-usa-trump-party-exclusive/exclusive-dozens-of-former-republican-officials-in-talks-to-form-anti-trump-third-party-idUSKBN2AB07P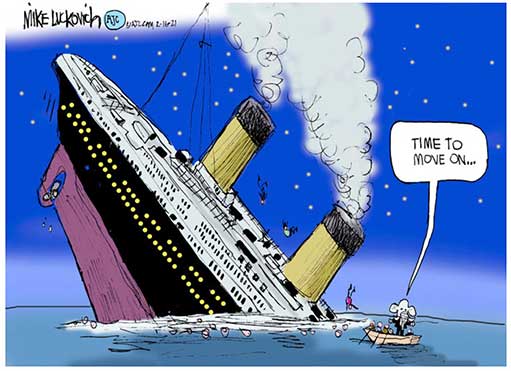 Survey: More than a quarter of white evangelicals believe core QAnon conspiracy theory
A new survey reports more than a quarter of white evangelical Protestants believe a QAnon conspiracy theory that purports former President Donald Trump is secretly battling a cabal of pedophile Democrats, and roughly half express support for the debunked claim that antifa was responsible for the recent insurrection at the U.S. Capitol.
Experts say the data point to a widening ideological divide not only between white evangelicals and other religious groups in the country, but also between white evangelical Republicans and other members of their own party. https://religionnews.com/2021/02/11/survey-more-than-a-quarter-of-white-evangelicals-believe-core-qanon-conspiracy-theory/
Ex-secretary of State spent $10K in taxpayer funds on China-made swag for dinners
Former Secretary of State Mike Pompeo spent more than $10,000 of taxpayer money on China-made pens for attendees at private dinner parties he hosted, including CEOs, conservative media figures and Republican donors, according to State Department records.
The pens Pompeo handed out to his Madison Dinner guests cost an average of more than $26 apiece, according to the records, first reported Thursday by the advocacy group Citizens for Responsibility and Ethics in Washington.https://www.cnbc.com/2021/02/11/mike-pompeo-spent-taxpayer-funds-on-pens-made-in-china-for-elite-dinners.html
Tucker Carlson Goes Full Conspiracy Theorist
Fox News host Tucker Carlson went full conspiracy theory and told his viewers that the Capitol riot was a plot from "liberal America" to change the "old order" of the country, the Daily Beast reports.
Said Carlson: "The feds likely had paid informers in the ranks of the protesters." https://www.thedailybeast.com/tucker-carlson-goes-full-conspiracy-theorist-ties-insurrection-to-george-floyds-death9
Ex-Trump lawyer Sidney Powell served $1.3B Dominion Voting lawsuit
After evading attempts for weeks by a civil process server that included being "pursued over state lines," former Donald Trump lawyer Sidney Powell was served with a $1.3 billion lawsuit at her home in North Carolina. https://www.citizen-times.com/story/news/2021/02/10/ex-trump-lawyer-sidney-powell-served-1-3-b-lawsuit-biltmore-forest/6710949002/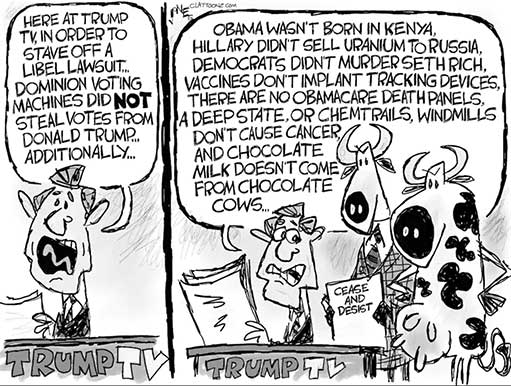 House Republicans' 2022 strategy to beat Democrats: Target "socialist agenda" and "job killing policies"
House Republicans have laid out their path to winning back the chamber they came close to flipping in 2020. They plan to rely on a similar playbook: slamming the Democrats as socialists who will implement "job killing policies," while at the same time downplaying any divisions within the GOP.
Since President Biden has taken office, the National Republican Congressional Committee has honed in on the impacts of closing the Keystone XL pipeline and delays in reopening schools. https://www.cbsnews.com/news/house-republicans-strategy-2022/
Democrats eye big ACA changes in COVID relief bill
Democrats' coronavirus relief proposal includes major changes to the Affordable Care Act, aiming to make health insurance more affordable for the millions of people who have lost their employer-
based coverage during the pandemic.
These changes would check off a lot of moderate Democrats' heath care agenda, at least temporarily. They include some of the biggest changes that President Biden campaigned on.
The House Ways and Means committee legislation would enhance ACA subsidies for two years.
People making up to 150% of federal poverty would be eligible for fully subsidized plans, and no one — regardless of their income — would pay more than 8.5% of their income for health insurance.
People receiving unemployment would also be eligible for full subsidies for a year.
The Energy and Commerce legislation incentivizes states that haven't done so to expand Medicaid. https://www.axios.com/aca-coronavirus-democrats-health-affordability-795d2c6c-e2ea-4988-8db4-fc167778fb07.html
Kinzinger PAC to go on attack against 'Trumpism'
Rep. Adam Kinzinger (R-Ill.) plans to target lawmakers including Reps. Marjorie Taylor Greene (R-Ga.) and Matt Gaetz (R-Fla.) with his new political action committee, which aims to aid GOP candidates that don't embrace Trumpism. 
The Illinois lawmaker — who has been a vocal Trump critic and was one of the 10 GOP House members to vote in favor of impeaching the former president for inciting a riot at the Capitol on Jan. 6 — told The Washington Post he has a "huge list" of members he would like to see challenged for perpetuating conspiracy theories and the unsubstantiated claim that the 2020 election was stolen.  https://thehill.com/homenews/house/538241-kinzinger-pac-to-go-on-attack-against-trumpism
Biden is winning Republican support for his $1.9 trillion coronavirus relief plan. Just not in Washington.
Surveys show that a broad majority of Americans support the assistance, including large numbers of Republicans. Only a minority among Republican voters agree with GOP lawmakers that the aid package is too large, polls have found. https://www.washingtonpost.com/national/local-republicans-support-biden-covid-relief-plan/2021/02/14/9791d4ba-6d65-11eb-9ed1-73d434b5147f_story.html
A GOP donor gave $2.5 million for a voter fraud investigation. Now he wants his money back.
True the Vote was one of several conservative "election integrity" groups that sought to press the case in court. Though its lawsuits drew less attention than those brought by the Trump campaign, True the Vote nonetheless sought to raise more than $7 million for its investigation of the 2020 election.
Documents that have surfaced in Eshelman's litigation, along with interviews, show how True the Vote's private assurances that it was on the cusp of revealing illegal election schemes repeatedly fizzled as the group's focus shifted from one allegation to the next. The nonprofit sought to coordinate its efforts with a coalition of Trump's allies, including Trump attorney Jay Sekulow and Sen. Lindsey O. Graham (R-S.C.), the documents show. https://www.washingtonpost.com/investigations/true-vote-lawsuit-fraud-eshelman/2021/02/15/a7017adc-6724-11eb-886d-5264d4ceb46d_story.html
Pizzagate's Violent Legacy
The gunman who terrorized a D.C. pizzeria is out of prison. The QAnon conspiracy theories he helped unleash are out of control. https://www.washingtonpost.com/dc-md-va/2021/02/16/pizzagate-qanon-capitol-attack/
Giuliani no longer representing Trump 'in any legal matters
Trump signaled frustration with Giuliani last month after he became the first president in US history to be impeached twice. He told his staff to stop paying Giuliani's legal fees. https://www.cnn.com/2021/02/16/politics/rudy-giuliani-donald-trump/index.html
On social media, vaccine misinformation mixes with extreme faith
In an insular world on the social media app TikTok, young Christians act out biblically inspired scenes in which they are forced to take a vaccine for the coronavirus, only to end up splattered in fake blood and on the brink of death.
The melodramatic videos are an attempt to represent how the introduction of coronavirus vaccines could herald the biblical End Time. Along with hundreds of thousands of other vaccine-questioning posts by social media users all over the world, they're demonstrating the ways in which health misinformation is targeting Christians, some reaching sizable audiences. https://www.washingtonpost.com/technology/2021/02/16/covid-vaccine-misinformation-evangelical-mark-beast/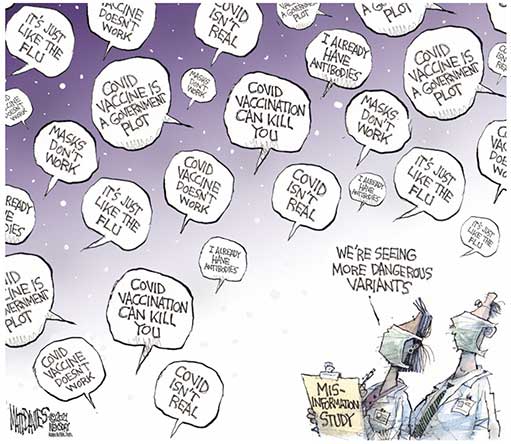 Biden's Approval at 62%
A Morning Consult poll shows the Biden approval rating of 62% with registered voters. Just 23% of registered voters think the Republican Party is going in the right direction, while 63% say the party is on the wrong track.
A Gallup poll shows that at this point in his presidency Trump's approval rating was below 40%
Dominion Says It Will Sue MyPillow CEO Mike Lindell Over Election Fraud Claims
MAGA diehard and pillow magnate Mike Lindell is the next target of a Dominion Voting Systems lawsuit over his wild claims about nonexistent election-fraud conspiracy, with the lead attorney representing Dominion telling The Daily Beast he expects to file the suit "imminently."
The suit would make Lindell the third pro-Trump figure sued by Dominion after the company filed $1.3 billion suits against attorneys Sidney Powell and Rudy Giuliani. https://www.thedailybeast.com/dominion-says-it-will-sue-mypillow-ceo-mike-lindell-over-election-fraud-claims
POLITICO Playbook: Republicans can't quit Trump
While the rest of the country wants less DONALD TRUMP, Republicans just can't quit him. Our flash POLITICO/Morning Consult poll conducted in the days following the Senate trial shows that despite the impeachment managers' gripping presentation and video laying out Trump's role in the Jan. 6 rampage, the GOP remains the undisputed party of Trump.
Republican voters got over any misgivings they had about Trump's role on Jan. 6 very quickly. Fifty-nine percent of Republican voters said they want Trump to play a major role in their party going forward. That's up 18 percentage points from a Morning Consult poll conducted on Jan. 7, and an increase of 9 points from a follow-up poll on Jan. 25, before the impeachment trial began.
Another piece of evidence: While Trump's overall favorability rating is an abysmal 34% in our latest poll, 81% of Republican respondents gave him positive marks. Trump was at 77% approval among Republicans on Jan. 7 and 74% on Jan. 25. https://www.politico.com/newsletters/playbook/2021/02/16/republicans-cant-quit-trump-491756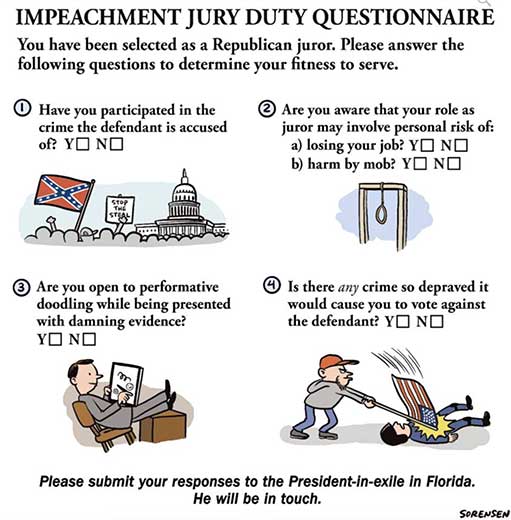 The push to punish Pat Toomey points to a future tied to Trump for Pennsylvania Republicans
The Republican push to censure Sen. Pat Toomey symbolizes a broader question facing the GOP nationally and in Pennsylvania: Where does it go after Donald Trump?
The rush to punish Toomey, one of just seven Republicans who voted Saturday to convict Trump in his impeachment trial, reflects the hold that the former president and his devoted voters retain within the party. Toomey's defenders, meanwhile, have so far come largely from a more traditional GOP power base: Republicans in the moderate suburbs or the business community, elements that historically drove the party's candidates, including Toomey, to statewide victories. https://www.inquirer.com/politics/pennsylvania/pat-toomey-trump-impeachment-vote-pennsylvania-republican-party-20210216.html
57 GOP State And Local Officials Were At The Capitol Insurrection
In the mob on Jan. 6, according to HuffPost's analysis, were, at least, 16 Republican members of state houses or assemblies, four state senators, a state attorney general, six county commissioners, seven city council members, two mayors, three school board members, two state GOP chairs, two prosecutors and a slew of other officials and party functionaries. The group also included an extremist sheriff from Oklahoma who discussed harming members of Congress, a town council member from Massachusetts who is closely affiliated with the violent neo-fascist gang the Proud Boys and a county commissioner from Florida who once discussed beheading liberals. https://www.huffpost.com/entry/57-gop-officials-at-capitol-insurrection_n_6026e5e2c5b6f88289fb90a6
Is the GOP's extremist wing now too big to fail?
In a survey released last week by the conservative American Enterprise Institute, not only did a majority of GOP voters endorse the statement "the traditional American way of life is disappearing so fast that we may have to use force to save it.", but nearly one-third of them also embraced the convoluted QAnon conspiracy theory Greene has espoused alleging that Trump is defending the nation against a global ring of influential child sex traffickers.
Voters sympathetic to these conspiracy theories and the use or threat of violence as a political tool, says Daniel Cox, a research fellow at the American Enterprise Institute who supervised the poll, have become "a really important faction that the Republican Party is going to have to address. There is a part of the GOP that is really buying into this stuff." https://amp.cnn.com/cnn/2021/02/14/politics/republican-extremism-trump-impeachment/index.html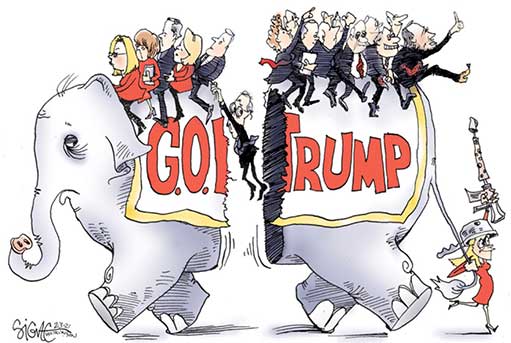 DOJ announces charges against North Korean hacker spies accused of stealing more than $1.3 billion in cash and cryptocurrency
The Justice Department on Wednesday unsealed charges against three North Korean hacker spies accused of conspiring to steal and extort more than $1.3 billion in cash and cryptocurrency from banks and businesses around the world.
The indictment builds upon 2018 charges brought against one of the alleged hackers in connection with the North Korean regime's 2014 cyber attack on Sony Pictures Entertainment, marking the first time the United States charged a Pyongyang operative.
The move shows the degree to which North Korea relies on financial cyber theft to obtain hard currency in a country whose main exports are under United Nations and U.S. sanctions, and that is further isolated by a self-imposed coronavirus blockade.  https://www.washingtonpost.com/national-security/north-korea-hackers-banks-theft/2021/02/17/3dccf0dc-7129-11eb-93be-c10813e358a2_story.html
The DAILY GRILL
One of the first people arrested was the leader of antifa." — Michael van der Veen, a lawyer for Mr. Trump.

VERSUS

Facts First: The F.B.I. has said there is no evidence that supporters of the Antifa movement had participated in the Capitol siege.

 

"The entire Democratic Party and national news media spent the last four years repeating without any evidence that the 2016 election had been hacked." — Mr. van der Veen

VERSUS

Facts First:  United States intelligence agencies concluded years ago that Russia had tried to interfere in the 2016 election. The Republican-led Senate agreed last year that Russia had disrupted that election to help Mr. Trump.

 

"The House waited to deliver the articles of impeachment to the Senate for almost two weeks, only after Democrats had secured control over the Senate. — David I. Schoen, another lawyer for Mr. Trump.

VERSUS

Facts First: Democrats had considered delivering the article of impeachment earlier, but Senator Mitch McConnell of Kentucky, then the majority leader, precluded the possibility. In a letter on Jan. 8, he informed Republican lawmakers that the Senate was in recess and "may conduct no business until Jan. 19."

 

"President Trump wanted the signature verification to be done in public. How can a request for signature verifications to be done in public be a basis for a charge for inciting a riot?" — Mr. Castor

VERSUS

Facts First: Gabriel Sterling, a top election official in Georgia, explained that the secretary of state's office also brought in signature experts to check over 15,000 ballots. They discovered issues with two, and after further examination, concluded that they were legitimate.

 

Van der Veen claimed that the insurrection at the Capitol was "preplanned and premeditated by fringe left and right groups."

VERSUS

Facts First: This is false: there is no evidence that left-wing groups were involved in planning or participating in the insurrection. Members of right-wing groups, conversely, have been charged with both planning and participating. Though Trump's legal team has repeatedly attempted to muddy the waters, the evidence shows it was Trump supporters who were overwhelmingly responsible for the attack.

 

Van der Veen: "Mr. Trump did not spend the weeks prior to January 6 inciting violence. He spent those weeks pursuing his election challenge through the court system and other legal procedures, exactly as the Constitution and the Congress prescribed."

VERSUS

Facts First: This is a highly incomplete account of Trump's behavior after the election. Rather than simply file lawsuits and await court decisions, Trump mounted a relentless public campaign to convince his supporters of the lie that they had been cheated out of victory. He also urged supporters to come to Washington for a January 6 protest he promised would be "wild."

Van der Veen echoed false attacks Trump himself had made in the past, claiming President Joe Biden and Vice President Kamala Harris "repeatedly refused to condemn" acts of violence during riots last year.

VERSUS

Facts First: This is false. Both Biden and Harris condemned riots and violence last year on multiple occasions. They expressed support for peaceful protest.

 

"In seconds, the lives of dozens of families, and the life of an American community, were changed forever. We owe it to all those we've lost and to all those left behind to grieve to make a change. The time to act is now. Tired of ads? Want to support our progressive journalism? Click to learn more. — President Joe Biden's statement proposing tougher gun laws.

VERSUS

".@JoeBiden had 30,000 armed guards at his inauguration, he clearly believes in good guys with guns. The best way to prevent school shootings is to repeal all gun free school zones and protect our kids like he protects himself." — Rep. Marjorie Taylor Greene's response

 

An August 2020 GOP Sen. Ted Cruz tweet took aim at the Office of the Governor of California, which urged residents to conserve energy by turning off lights, limiting the usage of electrical appliances and adjusting thermostats. At the time, California was gripped by a major heat wave and implementing its first rolling power blackouts since 2001.

VERSUS

GOP Sen. Ted Cruz 2020 tweet criticizing California's energy policies went viral on Monday as the senator's own state, Texas, reeled from a massive snowstorm that knocked out power to more than 4 million homes and businesses.

 

"This shows how the Green New Deal would be a deadly deal for the United States of America." — Texas Gov. Greg Abbott (R) blaming solar and wind power for the blackouts in his state.

VERSUS

"Although renewable energy sources did partially fail, they only contributed to 13 percent of the power outages, while providing about a quarter of the state's energy in winter. Thermal sources, including coal, gas and nuclear, lost almost twice as many gigawatts of power because of the cold… Critics have also noted that wind turbines can operate in climates as cold as Greenland if they're properly prepared for the weather." -- Washington Post
From MEDIA MATTERS (They watch Fox News so you don't have to)
Anti-vaccine conspiracy theorist Robert F. Kennedy Jr. is using multiple Facebook pages he operates to spread lies about the safety of vaccines against COVID-19 as part of a campaign to discourage people from receiving the lifesaving shots. Kennedy's anti-vaccine campaign is sure to have deadly consequences: Increased COVID-19 vaccine hesitancy will slow down -- and at worst, foreclose the possibility -- of the development of herd immunity against the disease in the U.S. through vaccination rather than through natural infection, which could cause millions of unnecessary deaths.  https://www.mediamatters.org/facebook/banned-instagram-vaccine-misinformation-robert-f-kennedy-jrs-dangerous-lies-continue
Max Boot: In office, Trump was the greatest threat to U.S. democracy. Now it may be Tucker Carlson.
When Donald Trump was in office, he posed the most dangerous threat to American democracy. With the former president now golfing full-time, the most dangerous threat may well emanate from the Fox "News" Channel — and specifically from its top-rated host, Tucker Carlson. He seems to be on a mission to make America's worst problems even worse.
Carlson is full of off-the-wall analogies that demonstrate his invincible ignorance of history. "The moment they took power, Democrats began a kind of Counter-Reformation against the free Internet," he claimed. "They started the most sweeping mass censorship campaign in the history of this country." (Guess he's never heard of the 1798 Alien and Sedition Acts or the 1873 Comstock Act or the 1917 Espionage Act.) Later, he compared the Democrats to the "Red Guards." He can't decide if the targets of his ire are militant Catholics or militant Communists.
Carlson went on to paint Fox News as a lonely, embattled champion of free speech: "Everyone else in the media is standing in crisp formation, in their starched matching uniforms and their little caps, patiently awaiting orders from the billionaire class. And then there's Fox News off by itself, occasionally saying things that are slightly different." Pretty rich coming from a TV star who is reportedly paid $10 million a year by a giant corporation controlled by two billionaires, Rupert Murdoch and his son Lachlan.
No one is trying to punish Fox News for expressing "slightly different" views. I am a staunch believer in free speech. I spent most of my life in the conservative movement. (Carlson and I were once affiliated with the same magazine — the Weekly Standard.) I welcome a debate that features conservative views.
But that is not what Carlson represents. He is peddling lunatic conspiracy theories that endanger people's lives and shred our social fabric. The executives at Fox News — and at the cable systems that carry it — should be ashamed of themselves for beaming this dangerous claptrap into millions of homes. https://www.washingtonpost.com/opinions/2021/02/12/tucker-carlson-conspiracies-fox-news-dangerous/
 Alexander Burns: Republican Acquittal of Trump Is a Pivotal Moment for the Party
The vote stands as a pivotal moment for the party Mr. Trump molded into a cult of personality, one likely to leave a deep blemish in the historical record. Now that Republicans have passed up an opportunity to banish him through impeachment, it is not clear when — or how — they might go about transforming their party into something other than a vessel for a semiretired demagogue who was repudiated by a majority of voters.
Defeated by President Biden, stripped of his social-media megaphone, impeached again by the House of Representatives and accused of betraying his oath by a handful of Republican dissenters, Mr. Trump nonetheless remains the dominant force in right-wing politics. Even offline and off camera at his Palm Beach estate, and offering only a feeble impeachment defense through his legal team in Washington, the former president continues to command unmatched admiration from conservative voters.
Indeed, in a statement celebrating the Senate vote on Saturday, Mr. Trump declared that his political movement "has only just begun."
The determination of so many Republican lawmakers to discard the mountain of evidence against Mr. Trump — including the revelation that he had sided with the rioters in a heated conversation with the House minority leader, Kevin McCarthy — reflects how thoroughly the party has come to be defined by one man, and how divorced it now appears to be from any deeper set of policy aspirations and ethical or social principles. https://www.nytimes.com/2021/02/13/us/politics/trump-impeachment-republicans.html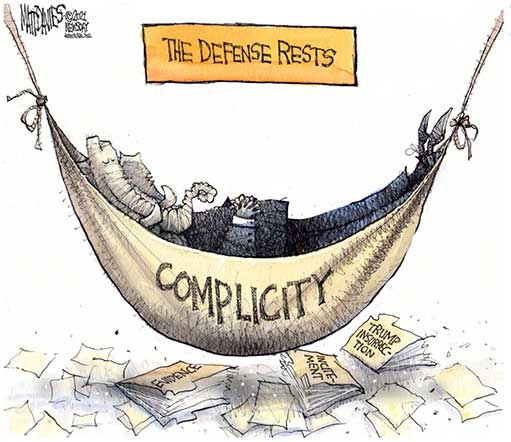 Jamelle Bouie: If There Was a Republican Civil War, It Appears to Be Over
The Republican Party belongs to Trump for as long as he wants it. Its most prominent politicians will follow his lead and attempt to build on his example. His children and in-laws will have a place as heirs to his legacy. If Trump decides to seek the White House for a second term, the nomination is almost certainly his to lose.
What does it mean, in practice, for Trump to retain this strong a hold over the Republican Party? Since "Trumpism" isn't a policy platform as much as it is a singular devotion to the man himself, a Trumpified Republican Party is one in which candidates do everything they can to shape themselves in his image. Just look at the candidates who would like to be president, if Trump doesn't run. Most of them were, at some point before he became president, critics, with harsh words for Trump's policies, personality and proclivities. These days, however, they're his biggest fans.
Even state and legislative candidates are borrowing from Trump and aligning themselves with his political movement. Here where I live, in Virginia, Amanda Chase and Kirk Cox, Republican candidates for governor, are running on guns and "cancel culture," with Chase still treating Trump as if he were the rightful president. Josh Mandel, running for Senate in Ohio, reintroduced himself to voters as a pro-MAGA Republican. "I'm going to Washington to advance a Trump America First Agenda and to stand up for economic freedom and individual liberty."
With Trump's grip on the party and its image what it is, the outcome we're most likely to see is the one we already experienced: a Republican Party with Trump at its head, committed to nothing but his insatiable ego. https://www.nytimes.com/2021/02/17/opinion/trump-mconnell-republicans.html
Steve Schmidt: About Kevin McCarthy
Last night, Kevin McCarthy stood next to a flag-draped coffin of a murdered policeman.
Today, he said he didn't know what QAnon was. QAnon is the dangerous conspiracy theory that turned into the murderous insurrection that Kevin McCarthy stoked with his cynical lying.
McCarthy's cynicism is staggering.
His dishonesty is pathological. There aren't many instances to point toward of a political leader more unsteady and overmatched than Kevin McCarthy was tonight. What a debacle for Bakersfield Bohrmann.
Just days ago, he was puffed up and confident. He was fresh from basking in the glow of the leader from his pilgrimage to Mar-a-Lago. He went on conspiracy loon Maria Bartiromo's show to explain that Liz Cheney owed an explanation and apology to the House Conference.
He got neither.
Cheney basically gave him the congressional version of a "Go fuck yourself."
Liz Cheney didn't apologize and didn't explain. She called the question and asked for the vote that Kevin McCarthy stumbled into. The fringe freedom caucus was repudiated by that vote, while at the same time demonstrating their iron grip on Kevin McCarthy's puppet strings.
McCarthy branded himself as dishonest and weak, which would normally be enough for a night's work, but he was just getting started. By the time he walked out on stage tonight; red-faced and edgy, he had lost the fight he provoked and set in motion the events that will lead to his inevitable fall and the end of his career in national politics. The headline tonight is Kevin McCarthy lost his shot at ever being Speaker.
That is good news for America. https://www.maxnewstoday.com/post/steve-schmidt-slams-kevin-mccarthy
Dana Milbank: Trump left them to die. 43 Senate Republicans still licked his boots
In the end, the darkest truth of Donald Trump's crime came to light.
As his marauders sacked the Capitol on Jan. 6 in their bloody attempt to overturn the election, House Republican leader Kevin McCarthy called the then-president and pleaded for Trump to call off the attack.
Trump refused, essentially telling McCarthy he got what he deserved. Trump was, in effect, content to let members of Congress die.
That damning account, in a statement Friday night from Rep. Jaime Herrera Beutler (Wash.), a Republican who defended Trump during his first impeachment, momentarily threw the Senate's impeachment trial into chaos on its final day.
Trump's lawyers, in their slashing, largely fictitious defense, claimed that Trump was "horrified" by the violence, hadn't known that Vice President Mike Pence was in danger and took "immediate steps" to counter the rioting.
But Herrera Beutler revealed such claims to be a lie. When McCarthy "finally reached the president on January 6 and asked him to publicly and forcefully call off the riot, the president initially repeated the falsehood that it was antifa that had breached the Capitol," she wrote. McCarthy, she continued, "refuted that and told the president that these were Trump supporters. That's when, according to McCarthy, the president said: 'Well, Kevin, I guess these people are more upset about the election than you are.' " https://www.washingtonpost.com/opinions/2021/02/13/trump-left-them-die-43-senate-republicans-still-licked-his-boots/
Tom Nichols: Republicans who acquitted Trump put their careers over duty, honor and the Constitution
The Republicans have repeatedly betrayed both Lincoln and the Union. The party whose first president died as a martyr at the hands of an insurrectionist is now controlled by empty, hollow people who rolled their eyes and lazed their way through the trial of a president who was manifestly guilty of inciting an insurrection.
If nothing else, perhaps this disgusting dishonoring of the memory of our 16th president should persuade the rest of us to bring back the actual Feb. 12 and Feb. 22 birthdays of Presidents Lincoln and Washington as national holidays, so that we do not confuse their heroism and nobility with the cult of personality practiced by modern Republicans.
The Republicans who voted to acquit Trump acted with selfishness, cynicism and even malice. They have smeared their betrayal of the Constitution all over their careers the same way the January insurrectionists smeared excrement on the walls of the Congress itself.

At least human waste can be washed away. What the Republicans did on Feb. 13, 2021, will never be expunged from the history of the United States. https://www.usatoday.com/story/opinion/2021/02/14/republicans-acquitted-trump-betrayed-america-history-column/6743905002/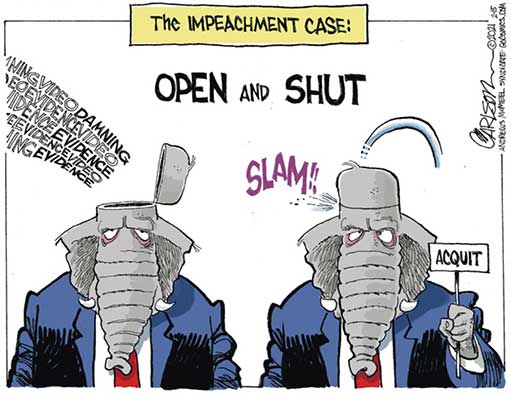 Charlie Sykes: Trump's Party, But Worse
Republicans told us who they were. Let's run the numbers from the last few weeks:
● The number of Republicans who backed the Texas lawsuit to overturn the presidential election: 126

● The number of Republicans who voted against certifying the electoral votes of Pennsylvania: 138

● The number of Republicans who voted to protect conspiracy theorist/bigot Marjorie Taylor Greene's committee assignments: 199

● The number of House Republicans who voted against impeachment: 197

● And then Saturday's vote. Overall the pro-Trump GOP vote (in the House and Senate): 240-17.
This is Donald Trump's party. But worse.
Over the last five years, Republicans have shown willingness to accept — or least ignore — lies, racism, and xenophobia.
But now it is a party that is also willing to acquiesce to sedition, violence, extremism, and anti-democratic authoritarianism.
Maybe that's what Lindsey Graham meant when he talked about "Trump-plus." https://morningshots.thebulwark.com/p/trumps-party-but-worse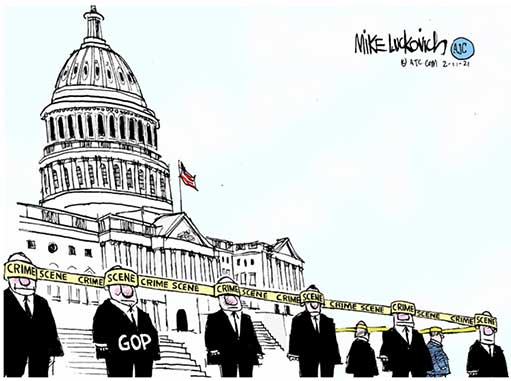 Jonah Goldberg: McConnell's choice is emblematic of the GOP's rot
The Republican Party is broken.
If Mitch McConnell were just another Republican senator, I'd say he was the eighth bravest. The seven bravest are the ones who voted to convict Donald Trump.
If you claim to honestly believe the Constitution forbids the Senate from convicting a former president (who, recall, was impeached while in office) you're free to do so.I think that is a profoundly wrong and dangerous view, creating the "January exception" the impeachment managers warned about. But if that's your sincere view, you should be the one denouncing Trump's actions more than anyone else. You should be full of anger, sorrow and frustration that this lamentable oversight by the founders — which again, doesn't actually exist — prevents you from doing what the facts and morality warrant: convicting Trump for his hideous behavior leading up to, and including, the events of Jan. 6.
That is precisely what McConnell did Saturday, delivering a blistering and accurate denunciation of Trump's moral, political and, possibly, criminal culpability. And while McConnell was wrong in his vote, he at least voiced the truth, something beyond the likes of those governed solely by political appetites — Senators Josh Hawley of Missouri, Ted Cruz of Texas, Lindsey Graham of South Carolina, Rand Paul of Kentucky, Marco Rubio of Florida et al. https://enewspaper.latimes.com/infinity/article_share.aspx