August 18, 2016
ON THE RECORD. . .
"We believe that Donald Trump's divisiveness, recklessness, incompetence, and record-breaking unpopularity risk turning this election into a Democratic landslide, and only the immediate shift of all available RNC resources to vulnerable Senate and House races will prevent the GOP from drowning with a Trump-emblazoned anchor around its neck," states a draft of the letter obtained by POLITICO. "This should not be a difficult decision, as Donald Trump's chances of being elected president are evaporating by the day." -- 70 Republicans' in an open letter to RNC Chairman Reince Priebus urging him to stop spending any money to help Donald Trump win in November and shift those contributions to Senate and House races.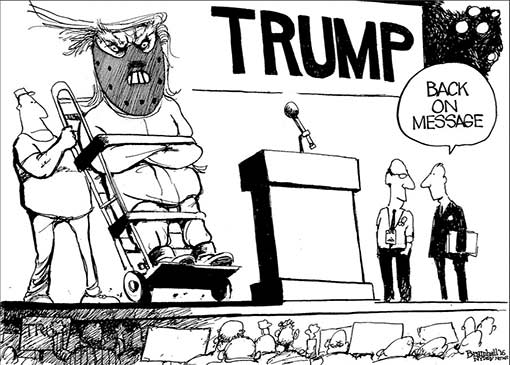 There's a third explanation for the missing $63m. The end-of-June FEC report indicates that Trump had lent his campaign $50m. Although Trump promised to forgive this loan, NBC news reported that he never filed the papers to actually do this. Perhaps Trump repaid himself from the $63m, leaving little money for ads and field staff. -- Bob Burnett 8/12/16
"If the disgusting and corrupt media covered me honestly and didn't put false meaning into the words I say, I would be beating Hillary by 20%." — Donald Trump, on Twitter
"Well, I support Hillary. I think she's fantastic." -- Donald Trump in 2008, throwing his support behind then-Senator Hillary Clinton's bid for the Democratic presidential nomination. 8/15/16
"Allowing himself (Khizr Khan) to be so controlled by Hillary that he would dishonor the memory of his heroic son shows the man's lack of character and backbone. I am certain that most Gold Star parents would despise Mr Kahn's (sic) attempt to politicize his son's loss." -- Carl Paladino, co-chair for Donald Trump's campaign in New York, who previously suggested that Khan is "a member of the Muslim Brotherhood" and that Trump therefore does not have to respect or refer to him as a "Gold Star parent." 8/15/16
"Under those eight years, before Obama came along, we didn't have any successful radical Islamic terrorist attack inside the United States." -- Former New York City mayor Rudy Giuliani, who later explained that he was using "abbreviated language" for the fact that he overlooked 9/11. 8/16/16
"Trump still has no detailed plan to keep America safe and no amount of teleprompter speeches can hide the fact he is utterly unfit to be Commander-in-Chief." --Correct the Record 8/16/16
Ratings challenged @CNN reports so seriously that I call President Obama (and Clinton) "the founder" of ISIS, & MVP. THEY DON'T GET SARCASM? -- Donald J. Trump on Twitter
"He can fire and hire anyone he wants from his campaign. They can make him read new words from a teleprompter but he's still the same man who insults Gold Star families, demeans women, mocks people with disabilities and thinks he knows more about ISIS than our generals. There is no new Donald Trump. This is it. I hope you will talk to any of your friends who are flirting with the idea of voting for Donald Trump. Friends don't let friends vote for Trump." -- Hillary Clinton 8/17/16
Trump's campaign has now entered the Hospice Phase. He knows he's dying and wants to surround himself with his loved ones. -- Charlie Sykes on Trump hiring Breitbart CEO as campaign manager
---
IN THIS ISSUE

1. The Borowitz Report: Trump Blasts Media For Reporting Things He Says
2. The DAILY GRILL
3. Trump: If I Can't Win by Calling Obama the Founder of ISIS, Then I Don't Want to Win
4. Made in America: A buyer's guide for Donald Trump
5. From MEDIA MATTERS (They watch Fox News so you don't have to)
6. From the Late Shows
7. Political Ads/Statements
8. Triumph the Insult Comic Dog: Trump Supporters React to Outrageous Campaign Ads
9. Poll: Persistent Partisan Divide Over 'Birther' Question
10. We Just Lived Through The Hottest Month In Recorded History
11. The Trump Campaign Doom Loop
12. Unfiltered Voices From Donald Trump's Crowds
13. Clinton Surges Past 270 Electoral Votes
14. Late Night Jokes for Dems
15. Manafort tied to undisclosed pro-Putin lobbying
16. Fact-checking Donald Trump's 'major' speech on the Islamic State 
1. William Kennedy Smith and Jean Kennedy Smith: Political violence is no joke
2. WA Post Editorial: No, Hillary Clinton does not want to 'abolish' the Second Amendment
3. David A. Fahrenthold and Robert O'Harrow Jr. : Trump: A True Story
4. Michael Wahid Hanna and Daniel Benaim: How Do Trump's Conspiracy Theories Go Over in the Middle East? Dangerously 
5. Jon Reinish: Donald Trump's Destruction Isn't Funny Anymore 
6. Sean Wilentz: Hillary's New Deal: How a Clinton Presidency Could Transform America
7. Julian Zelizer: The scary road that Donald Trump is walking
8. Adam Taylor: When Trump calls Obama the 'founder of ISIS,' he sounds like a Middle East conspiracy theorist
9. Fareed Zakaria: It's not just Trump: The GOP is not serious on the economy
10. John Cassidy: Why Trump's Crazy Talk About Obama And ISIS Matter 
11 David Remnick: The cracked integrity of Donald Trump 
12. Lawrence Mishel: Donald Trump's economic plan recycles the failed policies of past Republicans
13. Jennifer Rubin: New campaign shake-up, same old awful Trump
14. Stephen F. Hayes: Trump Has Decided To Live in Breitbart's Alternative Reality 
1. The Borowitz Report: Trump Blasts Media For Reporting Things He Says
The Republican nominee Donald Trump tore into the media on Thursday for what he called their "extremely unfair practice" of reporting the things he says.

"I'll say something at a rally and I look out and see all these TV cameras taking every word down," Trump told Fox News' Sean Hannity. "No one in politics has ever been subjected to this kind of treatment."

"It's unbelievable and, frankly, very unethical," he added.

"I've always said that I would be willing to debate if I'm treated fairly," Trump told Hannity. "But if the media keeps recording everything I say, word for word, and then playing it back so that everyone in the country hears exactly what I said, I would consider that very, very unfair."

ELSEWHERE: Clarifying his position on a key national-security issue, Donald Trump said on Friday that as President he would be willing to use nuclear weapons, "but only in a sarcastic way."

Pressed by Blitzer to explain the difference between a sarcastic and non-sarcastic nuclear attack, Trump responded, "You'd use the weapons and everything, but then you'd say, 'Just kidding.' "

Trump did not specify which nations he would target for a sarcastic nuclear attack. "I can't say right now," he said. "But there are a lot of countries that need to lighten up." http://www.newyorker.com/humor/borowitz-report/
2. The DAILY GRILL
"The Trump campaign has confirmed to Hannity.com that Mr. Trump did indeed send his plane to make two trips from North Carolina to Miami, Florida to transport over 200 Gulf War Marines back home." —Sean Hannity Show website quotes an article titled "200 Stranded Marines Needed A Plane Ride Home, Here's How Donald Trump Responded." 5/19/16

VERSUS

Despite the rumors on base, it's clear that Trump had nothing to do with the dispatch of the jet to the troops stranded at Camp Lejeune. The aircraft that ferried the troops was part of the Trump Shuttle fleet, at a time when Trump barely had control over the airline and was frantically trying to negotiate deals with bankers to prevent the collapse of his business empire. Trump Shuttle had a contract with the military, and this flight home was part of that contract. Simple as that. The Trump campaign earns Four Pinocchios for confirming a story that is easily debunked. -- Glenn Kessler

 

"Remember we weren't even in Afghanistan by this time. Barack Obama went into Afghanistan creating another problem." -- Katrina Pierson, a spokesperson for Donald Trump's presidential campaign blaming PresidentBarack Obama for invading Afghanistan. 8/13/16

VERSUS

In fact, the invasion of Afghanistan took place in 2001 after the attacks on September 11 of that year. Obama was a state senator in Illinois at the time. -- Sam Stein 8/13/16 
 

 

"She's one of the wealthiest women in politics. Combined income: $30 million. Tours the world in private jets. Protected by armed guards for 30 years," the voice-over says, presumably referring to Secret Service protection. "But she doesn't believe in your right to keep a gun at home for self-defense. She's an out-of-touch hypocrite. And she'd leave you defenseless." -- NRA Advertisement

VERSUS

This is a classic example of a fear-mongering ad based on little evidence but leaps of logic. While the NRA does not go so far as to claim that Clinton wants to abolish the Second Amendment, the wording of its claim suggests that.. Clinton is certainly in favor of more gun regulations and tougher background checks, and a more nuanced ad could have made this case. Conjuring up a hypothetical Supreme Court justice ruling in a hypothetical case is simply not enough for such a sweeping claim. That tips the ad's claim into the Four-Pinocchio category. -- Glenn Kessler, WA Post Fact Checker 8/15/16
3. Trump: If I Can't Win by Calling Obama the Founder of ISIS, Then I Don't Want to Win
For anyone worried that Donald Trump will foment a wave of political violence following his increasingly probable loss this November, we've got good news and bad news.

The bad news is that Trump plans to continue to warn his supporters that the "co-founder of ISIS" he's running against will probably rig the election and then try to take their guns. The good news is that, if he loses, he apparently doesn't intend to continue stoking such fears after Election Day. Or, at the very least, he's going to take a nice long vacation before returning to those old habits. http://nymag.com/daily/intelligencer/2016/08/donald-trump-already-looking-forward-to-post-loss-vacation.html
4. Made in America: A buyer's guide for Donald Trump
Trump couldn't be bothered to find manufacturers in America, so the Clinton campaign did it for him. 8/03/16 Read more athttps://www.hillaryclinton.com/feed/made-in-america-a-buyers-guide-for-donald-trump/
5. From MEDIA MATTERS (They watch Fox News so you don't have to)
Rush Limbaugh Bemoans CNN's "Instant Fact Check" Captions That Call Out Trump's Lies. Limbaugh: "It's Editorializing" And "They Don't Take The Time To Explain What Trump Means"http://mediamatters.org/video/2016/08/11/rush-limbaugh-bemoans-cnns-instant-fact-check-captions-call-out-trumps-lies/212337

Alex Jones: "It Is Surreal To Talk About Issues Here On Air And Then Word-For-Word Hear Trump Say It Two Days Later. And it just shows how dialed-in this guy is and that's why they're so scared of him."http://mediamatters.org/video/2016/08/11/alex-jones-it-surreal-talk-about-issues-here-air-and-then-word-word-hear-trump-say-it-two-days-later/212339

Trump Names Serial Misinformer Betsy McCaughey To Economic Advisory Council. New York Post Columnist's Claim To Fame Was Having Helped Popularize Mythical Obamacare "Death Panels"http://mediamatters.org/blog/2016/08/11/trump-names-serial-misinformer-betsy-mccaughey-economic-advisory-council/212342

Kimberly Guilfoyle: "It's Like The Most Unholy Partnership Of All Time Between The Obama Administration, Hillary Clinton, Constantly Making Comments Trying To Bait Trump Into Saying Something That Will Sidetrack Him"http://mediamatters.org/video/2016/08/12/fox-host-blames-obama-and-hillary-clinton-baiting-trump-making-controversial-comments/212381

The Daily Caller published an entire article based on the false premise that the Clinton's had given almost all their charitable donations to the Clinton Foundation. The Clintons' tax returns instead show they gave that money to the Clinton Family Foundation, an entirely separate entity, which distributes its funds to a variety of other charitable and nonprofit organizations. http://mediamatters.org/blog/2016/08/12/how-faceplant-while-reporting-clinton-tax-returns/212375

The Fox News Cycle Explained: https://youtu.be/eIf5vbviKyU

NRA Magazine: Gunned-Down Dallas Police Officers "Gave Their Lives" For Gun Rightshttp://mediamatters.org/blog/2016/08/16/nra-magazine-gunned-down-dallas-police-officers-gave-their-lives-gun-rights/212431
6. From the Late Shows
Trump shocks his own supporters

Last Week Tonight With John Oliver: Trump new claim on Obama and Clinton

The Daily Show - Did Donald Trump Call for Hillary Clinton's Assassination?

The Daily Show - The Hardest Job in the World: Donald Trump's Campaign Surrogates
7. Political Ads/Statements
Kids inspired by Trump | The Briefing

https://amp.twimg.com/v/55f01c0d-6f98-461a-9887-c0b469ae4a07

What is Donald Trump hiding in his tax returns? | The Briefing

Trump Exposes Trump (video)

https://www.youtube.com/watch?v=kSE-XoVKaXg

Donald Trump's Foreign Policy | The Briefing

Trump Test | The Briefing
8. Triumph the Insult Comic Dog: Trump Supporters React to Outrageous Campaign Ads
9. Poll: Persistent Partisan Divide Over 'Birther' Question
Donald Trump launched onto the political stage five years ago with claims that President Barack Obama was not a U.S. citizen. Though Obama has since produced birth certificates certifying his birth in Hawaii, recently, such rumors have been given new life by commentators and pundits on the right.
72% of registered Republican voters still doubt President Obama's citizenship, according to a recent NBC News|SurveyMonkey poll conducted in late June and early July of more than 1,700 registered voters. And this skepticism even exists among Republicans high in political knowledge. http://www.nbcnews.com/politics/2016-election/poll-persistent-partisan-divide-over-birther-question-n627446
10. We Just Lived Through The Hottest Month In Recorded History
Yes, it's hot out there thanks to global warming. NASA reports that last month was the hottest July on record.
That follows the hottest June or record, hottest May, April, March, February, and January. It's almost like there is a pattern….
How hot was it last month? Parts of the Arctic and Antarctic averaged as high as 7.7°C (13.9°F) above average. No wonder we've seen records broken for the melting of the ice sheets and Arctic sea ice. https://thinkprogress.org/nasa-july-hottest-month-15697c48873e#.bjieryfms
11. The Trump Campaign Doom Loop
(1) Trump's polling gets a negative shock. 

(2) Fewer moderates attend his rallies.

(3) Only hard-core supporters go see Trump.

(4) Trump tailors speeches to get a rise out of his audience

(5) With an audience of crazies, Trump needs to sound even crazier

(6) In sounding crazier, Trump's poll #s sink, more voters turned off

(7) Only the most die-hard supporters attend his rallies

(8) Back to (2)
8/12/16 Dan Drezner in Twitter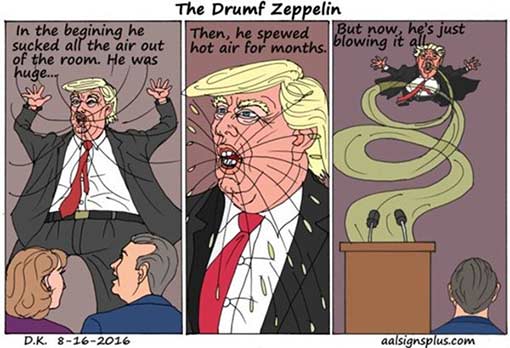 12. Unfiltered Voices From Donald Trump's Crowds
http://www.nytimes.com/video/us/politics/100000004533191/unfiltered-voices-from-donald-trumps-crowds.html?action=click&contentCollection=us&module=lede®ion=caption&pgtype=article or http://nyti.ms/2b2TMuo
13. Clinton Surges Past 270 Electoral Votes
As the race stands today, Trump could sweep the entire Toss Up column and still come up two electoral votes short of the 270 needed to win."
While Trump supporters have a candle lit in hopes that there are more e-mail scandal revelations that could hurt Clinton, it is certainly equally if not a better bet that the real estate mogul's refusal to release his tax returns and the suspicion that he paid little or no federal income tax in recent years will be even more problematic for him. Moreover, Trump's lack of message discipline and penchant for making impolitic and/or downright dangerous statements only makes it that much tougher for him to get back on track. Charlie Cook: " 8/15/16 Read more at http://cookpolitical.com/story/9855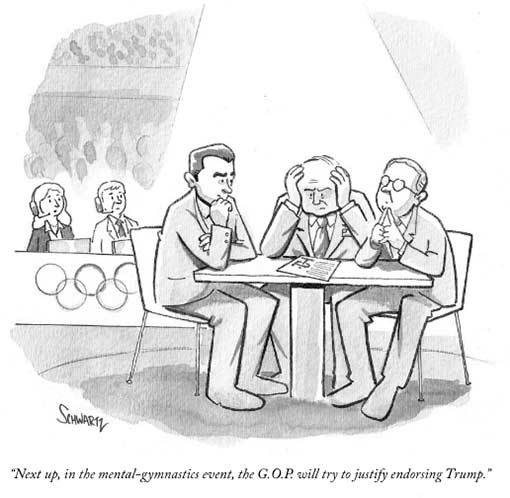 14. Late Night Jokes for Dems
"Donald Trump will be holding a Q and A session on the online message board Reddit — Trump's Q and A will be unique in that he will both ask and answer the questions. 'Am I the most handsome candidate in history? Interesting question, thanks for asking. I will say, a lot of people think so.'" –Seth Meyers

"The Republicans want to defund Planned Parenthood. The Democrats want to stop Donald Trump from preventing access to birth control. They compromised, and now, Planned Parenthood will hand out pictures of Donald Trump as birth control." –Jimmy Fallon

"I really like Trump and Pence's chemistry. You can tell these guys have been friends since all the way back on July 18th of 2016." –James Corden

"It was a good day for Ben Carson. He just signed a deal to be the new face of Tylenol PM." –Jimmy Kimmel

"Donald Trump said he wishes he had the time to play Pokémon Go. When she heard that, Hillary Clinton said, 'Oh, you will.'" –Conan O'Brien

"According to a poll that just came out, Donald Trump is getting zero percent of the black vote in some states. Trump said, 'Don't worry, by the time the election comes around I will double that.'" –Conan O'Brien
15. Manafort tied to undisclosed pro-Putin lobbying
Donald Trump's campaign chairman helped a pro-Russian governing party in Ukraine secretly route at least $2.2 million in payments to two prominent Washington lobbying firms in 2012, and did so in a way that effectively obscured the foreign political party's efforts to influence U.S. policy.
Under federal law, U.S. lobbyists must declare publicly if they represent foreign leaders or their political parties and provide detailed reports about their actions to the Justice Department. A violation is a felony and can result in up to five years in prison and a fine of up to $250,000. 8/17/16 Read more at http://www.thedailybeast.com/cheats/2016/08/17/manafort-aided-secret-pro-putin-lobbying.html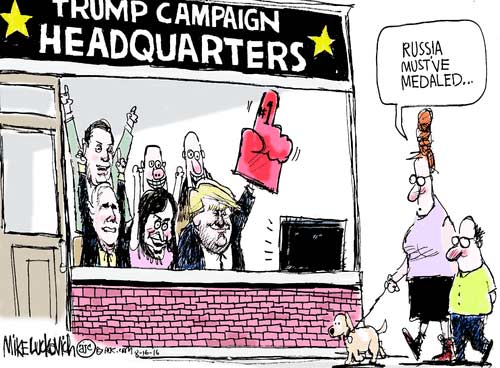 16. Fact-checking Donald Trump's 'major' speech on the Islamic State
Donald Trump delivered what was billed as a "major" speech on how to deal with the threat posed by the Islamic State terrorist group, a.k.a. ISIS. For reasons known only to Trump, he continued to repeat false statements that have been repeatedly debunked in the past. A roundup of some of the more notable claims made in the speech is at https://www.washingtonpost.com/news/fact-checker/wp/2016/08/16/fact-checking-donald-trumps-major-speech-on-the-islamic-state/
1. William Kennedy Smith and Jean Kennedy Smith: Political violence is no joke
By now, we have heard enough dark and offensive rhetoric from Trump to know that it reflects something fundamentally troubled, and troubling, about his candidacy. Trump's remarks frequently, if not inevitably, spark outrage, which is followed by a clarification that, in lieu of an apology, seeks to attribute the dark undertones of his words to the listener's twisted psyche. This fools no one. Whether you like what he is saying or, like a growing segment of the electorate, you reject it, it is easy to grasp Trump's meaning from his words. But what to make of a candidate who directly appeals to violence, smears his opponents and publicly bullies a Gold Star family, a decorated prisoner of war and a reporter with a disability, among others? To borrow the words of Army Counsel Joseph Welch, directed at another dangerous demagogue: "Have you no sense of decency, sir, at long last? Have you left no sense of decency?"
The truth remains that words do matter, especially when it comes to presidential candidates. On that basis alone, Donald Trump is not qualified to be president of the United States. 8/10/16 Read more at https://www.washingtonpost.com/opinions/take-it-from-a-kennedy-political-violence-is-no-joke/2016/08/10/2fa12232-5f3e-11e6-af8e-54aa2e849447_story.html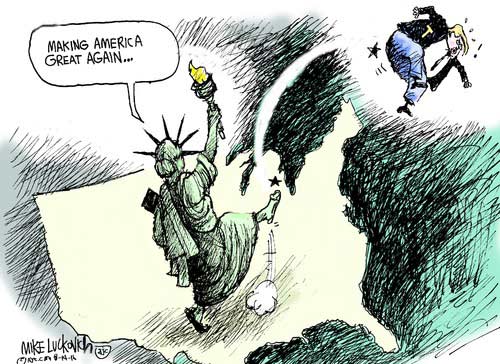 2. WA Post Editorial: No, Hillary Clinton does not want to 'abolish' the Second Amendment
DONALD TRUMP'S latest on-stage outrage was really two. The one that got the attention this week was his apparent suggestion that "Second Amendment people" rise in an armed insurrection against the federal government if Hillary Clinton wins the election. The second was his premise for the claim: that "Hillary wants to abolish, essentially abolish, the Second Amendment."
The addition of "essentially" does not render this absurd statement any less absurd. Ms. Clinton plays up her opposition to the National Rifle Association, but her positions are, if anything, too modest.
What Mr. Trump seems to have meant — always a risky way to begin a sentence — is that Ms. Clinton would appoint judges who might scale back the overly broad protections for gun ownership that the Supreme Court has interpreted the Second Amendment to provide. Doing so would not be anything like abolishing an amendment, which no court can do. It would reflect a legitimate legal debate, anchored in the text, on the Second Amendment's confounding words.
In any case, Ms. Clinton does not appear to be interested in pressing a radical re-interpretation of the Second Amendment. "Gun ownership is part of the fabric of many law-abiding communities," her fact sheet on gun policy declares. She has endorsed a balance between upholding Americans' constitutionally protected access to firearms and enacting rudimentary safety measures. What kinds of safety measures? The sorts that, polling indicates, most Americans support.
We would argue that the next president should aim to move well beyond this familiar policy template. Decent universal background checks would help, but requiring all gun owners to be properly licensed would help more. As so-called smart-gun technology improves, it may be technically and legally feasible to require fingerprint readers and other safety devices on guns sold in the United States.
The country should be looking for measures that reduce gun deaths without significantly curbing legitimate gun use. That goal does not seem to interest the NRA — or the lobby's latest mouthpiece, Mr. Trump. 8/10/16 Read more at https://www.washingtonpost.com/opinions/no-hillary-clinton-does-not-want-to-abolish-the-second-amendment/2016/08/10/88163ab6-5f38-11e6-af8e-54aa2e849447_story.html?utm_term=.fc1ca65bd545&wpisrc=nl_opinions&wpmm=1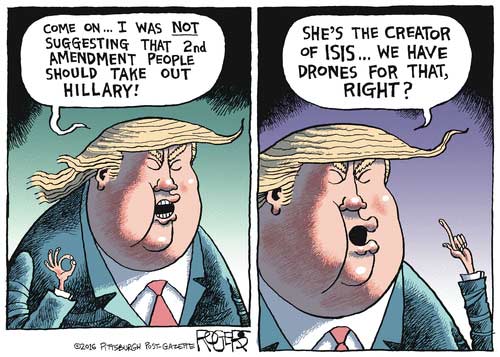 3. David A. Fahrenthold and Robert O'Harrow Jr. : Trump: A True Story
It was a mid-December morning in 2007 — the start of an interrogation unlike anything else in the public record of Trump's life.
Trump had brought it on himself. He had sued a reporter, accusing him of being reckless and dishonest in a book that raised questions about Trump's net worth. The reporter's attorneys turned the tables and brought Trump in for a deposition.
For two straight days, they asked Trump question after question that touched on the same theme: Trump's honesty.
The lawyers confronted the mogul with his past statements — and with his company's internal documents, which often showed those statements had been incorrect or invented. The lawyers were relentless. Trump, the bigger-than-life mogul, was vulnerable — cornered, out-prepared and under oath.
Thirty times, they caught him.
Trump had misstated sales at his condo buildings. Inflated the price of membership at one of his golf clubs. Overstated the depth of his past debts and the number of his employees.
That deposition — 170 transcribed pages — offers extraordinary insights into Trump's relationship with the truth. Trump's falsehoods were unstrategic — needless, highly specific, easy to disprove. When caught, Trump sometimes blamed others for the error or explained that the untrue thing really was true, in his mind, because he saw the situation more positively than others did.  http://wapo.st/2aCKjNm
4. Michael Wahid Hanna and Daniel Benaim: How Do Trump's Conspiracy Theories Go Over in the Middle East? Dangerously
Last week, Mr. Trump repeatedly claimed that President Obama is "the founder of ISIS." Even when a sympathetic conservative radio host offered Mr. Trump a chance to backtrack from his ridiculous claim and instead blame the Obama administration's policies for the Islamic State's rise, the Republican candidate doubled down: "No, I meant he's the founder of ISIS. I do." (The next day, Mr. Trump belatedly took to Twitter to plead sarcasm.)
This will most likely fade from the news cycle as Mr. Trump moves on and the next controversy arises. But these misleading words will reverberate far beyond America's shores for years to come, and there will be serious implications for American foreign policy.
Just this weekend, Hezbollah's leader, Hassan Nasrallah, publicly endorsed Mr. Trump's remarks: "This is an American presidential candidate. This was spoken on behalf of the Republican Party. He has data and documents." (Apparently, the "sarcasm" was lost on Mr. Nasrallah, whose group backs the government of Bashar al-Assad in Syria.)
Everything the United States does in the Middle East — from diplomatic negotiations to humanitarian aid to military and intelligence cooperation — is made more difficult when would-be partners and their publics suspect the worst.
The United States has certainly made mistakes in the Middle East. America's actions, like those of any nation, should be subject to scrutiny and criticism. But honest debate — much like our political debate at home — is poisoned by explosive and misleading claims, whether those claims are merely overheated political rhetoric or spurious accusations.
Not long ago, when America's overseas enemies and critics wanted to mislead their publics to believe that the American government was in cahoots with terrorists like the Islamic State or Al Qaeda, they had to look to the United States' political fringe for confirmation of their own conspiracy theories. Now, thanks to Mr. Trump, America's enemies can simply run the videotape of a major party's nominee for president. 8/16/16 Read more at http://www.nytimes.com/2016/08/17/opinion/how-do-trumps-conspiracy-theories-go-over-in-the-middle-east-dangerously.html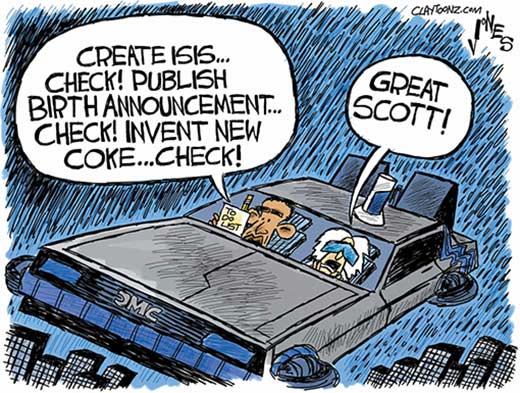 5. Jon Reinish: Donald Trump's Destruction Isn't Funny Anymore
We are here.
We have arrived here. Donald Trump last week called for Russia to hack Hillary Clinton and commit rogue state espionage against a political leader. That was treasonous in my mind. That was beyond all reason. America reeled. He has thrown such insanity at us repeatedly that it's become normalized.
Mexicans are rapists. Muslim Americans and refugees alike are terror threats. Women should be punished by law for seeking to end a pregnancy. Build the wall. Round up Latino American families in the night like rabid dogs.
This was all most foul. This week it got worse. On Tuesday, August 9, Donald Trump, the Republican Party's nominee to be leader of the free world, outwardly promoted "Second Amendment" solutions against Hillary Clinton: her body, her campaign, potential judicial nominees.
There is no gray area. This is exhorting gun violence. This is pushing his followers to take up arms and inflict harm. Grievous harm. Civil war.
Say no. If you are sane, if you stand with life, if you care about this nation, our character and our survival, this is when you get off the sidelines and say no. This is the line in the sand. Our psychological Maginot Line has been breached. 8/11/16 Read more at http://observer.com/2016/08/donald-trumps-destruction-isnt-funny-anymore/
6. Sean Wilentz: Hillary's New Deal: How a Clinton Presidency Could Transform America
As much as Trump's rise catalyzed the collapse of the Republican center, Clinton's success marked the resilience of the Democratic center. Clinton won the primaries because vital, loyal constituents inside the Democratic base, above all nonwhite voters, backed her convincingly. Most important, she enjoyed the overwhelming support of self-identified Democrats, on the order of 64 percent to 35 percent. Although sometimes cast as a victory of the party establishment over a rank-and-file insurgency, Clinton's triumph showed that she was the strong favorite of the party's base.
Clinton's politics were also in line with the main themes of the Democratic Party's as they have developed over the past 80-odd years. Assembling various strains of reformist politics, Roosevelt's New Deal expounded a greatly enlarged conception of federal power to address the emergency of the Great Depression, to attack economic inequality and the power of those FDR called "economic royalists," and to expand public works for public benefits. Successive Democratic presidents adapted New Deal principles to the changing situation of a more affluent America after World War II, and put their own stamp on FDR's legacy, from Harry S. Truman's Fair Deal to John F. Kennedy's New Frontier to Lyndon B. Johnson's Great Society.
Hillary Clinton has already indicated what she would pursue in her first 100 days in office: launching her infrastructure program; investing in renewable energy; tightening regulation of health-insurance and pharmaceutical companies; and expanding protection of voting rights. She has also said that she will nominate women for half of her Cabinet positions. And not far behind these initiatives are several others, including immigration reform and raising the minimum wage.
Even without a unifying title, it is a sweeping agenda, the latest updating of Democratic reformism. Democratic politics at their most fruitful have always been more improvisational than programmatic, more empirical than doctrinaire, taking on an array of issues, old and new, bound by the politics of Hope pressing against the politics of Nostalgia. So it was with FDR and Truman, so it has been with Barack Obama, and so it would be with Hillary Clinton.  http://www.rollingstone.com/politics/features/how-a-hillary-clinton-presidency-could-transform-america-w433768
7. Julian Zelizer: The scary road that Donald Trump is walking
Trump's campaign has centered on criminalizing Hillary Clinton. From the moment he announced his nickname for her, "Crooked Hillary," it became pretty clear where Trump was going to go with his attacks.
Using the email scandal and Benghazi as the basis of his accusation, Trump has set out to depict the Democratic nominee as nothing more than a high-level criminal who has managed to escape punishment. More than anything else, this became the central theme of the Republican National Convention.
While challenging the character of your opponent is nothing new in American politics (Lyndon Johnson warned that Barry Goldwater was unstable enough to start a nuclear war; Ronald Reagan basically accused Jimmy Carter of willfully allowing the Iranians to retain control of the American hostages), the level of vitriol directed toward Clinton was pretty astounding.
The main chant in the convention hall at Cleveland was"Lock her up!" And there were many convention speakers who actually joined in with the delegates. One of the most stunning moments took place when Lt. General Michael Flynn told the delegates that "We do not need a reckless president who believes she is above the law." The crowd started to chant, "Lock her up!" Rather than asking for calm, Flynn incited, "Lock her up, that's right. Yep, that's right, lock her up."
Notably Trump has surrounded himself with some unsavory figures who have echoed these darker themes. One of Trump's advisors on veterans affairs, New Hampshire state representative Al Baldasaro, said on Jeff Kuhner's radio show of the Clinton email story: "This whole thing disgusts me. Hillary Clinton should be put in the firing line and shot for treason."
Trump needs to understand that being a political leader brings with it the responsibility of containing the anger of your supporters and directing those emotions toward policy and political debate instead of violence. He needs to know that with a large following of loyal supporters he can't control, his off-the-cuff statements could have devastating consequences. 8/10/16 Read more at http://www.cnn.com/2016/08/10/opinions/trump-remarks-fit-a-pattern-zelizer/index.html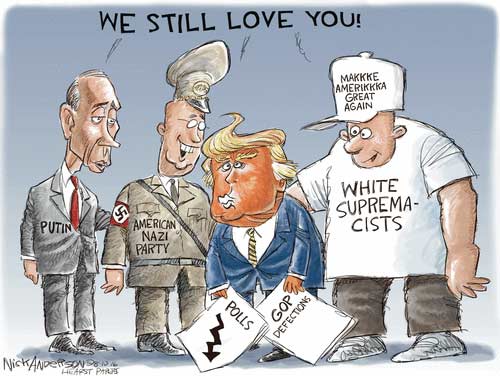 8. Adam Taylor: When Trump calls Obama the 'founder of ISIS,' he sounds like a Middle East conspiracy theorist
Trump is not the first to single out Clinton, a former secretary of state, as an alleged "co-founder" of the Islamic State, either. In 2014, a number ofArabic-language social media users shared screen shots and excerpts of a Hillary Clinton "autobiography" that they called "Password 360." In one passage, Clinton appears to write that the United States, with the help of the Muslim Brotherhood, helped create the Islamic State.
The focus on conspiracy theories in the Middle East comes from a troubling history of real conspiracies — ones in which the West was often complicit. However, the U.S. involvement in the creation of the Islamic State is both more complicated and more mundane. Many analysts would argue that the U.S.-led invasion of Iraq in 2003 was a key catalyst for events that ultimately led to the creation of the Islamic State. Despite Trump's repeated attempts to assert the opposite, records show that he did not oppose that invasion. Obama, however, did oppose it.
And while Trump told CNBC that Obama's 2011 move to withdraw U.S. troops from Iraq is why he considers the U.S. president the founder of ISIS, BuzzFeed News notes that the real estate tycoon had repeatedly called for an immediate withdrawal of troops from Iraq around that time. Moreover, Obama withdrew the troops to meet a deadline set in a 2008 agreement reached with Iraq by his predecessor, George W. Bush. https://www.washingtonpost.com/news/worldviews/wp/2016/08/11/when-trump-calls-obama-the-founder-of-isis-he-sounds-like-a-middle-east-conspiracy-theorist/?wpisrc=nl_wv&wpmm=1
9. Fareed Zakaria: It's not just Trump: The GOP is not serious on the economy
Republican economic plans nowadays are simply not serious. In the primaries, the three main candidates of "the party of fiscal discipline" — Marco Rubio, Ted Cruz and Donald Trump — presented plans that added$8 trillion, $10 trillion or $11 trillion in debt over the next decade (according to the nonpartisan Tax Policy Center). Even the much-respected Paul Ryan proposed a plan with a $2.4 trillion hole in it. These vast gaps are papered over with magical assumptions of higher growth and the usual vague calls to end waste, fraud and abuse. (Whether you like or dislikeHillary Clinton's economic plan, its numbers add up.)
Trump's plans are a replay of these dishonest techniques. He proposes large tax cuts but of course doesn't pay for them, assuming the usual bogus growth numbers to make them look better on paper. He promises to cut regulations, saying at a rally this week that he might reduce them by 70 or 75 percent, which is so absurd that I don't think even he believes it. His added twist is protectionism, but even here the technique is the same. He makes wild promises that he would never be able to fulfill.
Imagine, instead of all this, a Republican Party that believed firmly in limited government — and proposed policies that were true to these beliefs. It could present a serious plan that rationalized America's unwieldy and corrupt tax code, simplifying the structure, even cutting rates — but only to the extent these were actually paid for by increased revenues from closing loopholes, deductions and credits. https://www.washingtonpost.com/opinions/my-dreams-for-a-different-republican-party/2016/08/11/1156ff46-6005-11e6-af8e-54aa2e849447_story.html
10. John Cassidy: Why Trump's Crazy Talk About Obama And ISIS Matters
"Suggesting an election is going to be stolen, this is Third World dictatorship stuff," CNN's Brian Stelter said. "The problem for Trump is that his supporters believe what he says," Vox's Dara Lind wrote. "If he says a Trump loss means the election has been stolen, there are millions of people prepared to believe it." Just as there are many people who are willing to believe—or to internalize and accept, anyway—that Obama created isis, even though it was founded four years before he came to office.
So is this what Trump is up to—diligently seeking to create an enduring America First movement that will eventually supplant the Republican Party? I wouldn't give him that much credit. He's precisely the self-centered, shortsighted, and insecure figure he appears to be, and he's now flailing around for excuses to explain a humiliating defeat in the making. In his interview with CNBC, he said, "If, at the end of ninety days, I've fallen short . . . it's O.K. I go back to a very good way of life."
But even if Trump is just along for the ride, that doesn't excuse what he is doing. Four years from now, or eight years from now, a more disciplined and self-controlled figure could take up where he left off. If at that time the United States were facing a serious economic or national-security crisis, more Americans—conceivably even a majority of them—might be willing to accept the argument that regular politicians have failed and betrayed them, and that drastic measures are called for. Healthy democracies don't decay overnight. They gradually rot from within, with termites like Trump undermining their foundations. 8/11/16 Read more at http://www.newyorker.com/news/john-cassidy/why-trumps-crazy-talk-about-obama-and-isis-matters
11. David Remnick: The cracked integrity of Donald Trump
You have to say this for the crooked demagogues and reactionary populists of the American past: they may have stirred the bitter soup of nativist resentment with as much zeal as Donald J. Trump, but their family counselors did not take time out from politics to cruise the Aegean on a plutocrat's yacht; their rhetorical counselors did not attempt, for decades, to instill fear in their employees through the most squalid sort of sexual terror; and their political counselors never worked in the interest of Slavic autocrats. Oh, Father Coughlin, we hardly knew ye!
Day by day, news bulletin by news bulletin, the Trump campaign spirals to new depths of strategic confusion and moral chaos. On the escalators at Trump Tower, the direction is always down, down, down.
At the center of the campaign is Trump himself, and, summoning the spirit of Sinatra's most irritating song, he has made it clear that he will win or lose by doing it his way, by refusing to "pivot" or blandify his message and language. There is a kind of cracked integrity in this. No matter what the polls and cable gasbags say, he is going to be himself. "I am who I am. It's me. I don't want to change," he told a local-television interviewer, in Wisconsin. "I mean, you have to be you. If you start pivoting, you're not being honest with people." 8/17/16 Read more at http://www.newyorker.com/news/news-desk/the-cracked-integrity-of-donald-trump
12. Lawrence Mishel: Donald Trump's economic plan recycles the failed policies of past Republicans
Donald Trump fashions himself a populist, but his economic plan just recycles the failed policies of deregulation and massive tax cuts for the rich and corporations. If such policies were effective, we would remember George W. Bush's presidency as one of great prosperity, instead of a period of stagnant wages for blue- and white-collar workers. We've lowered taxes and curtailed regulations for years and there's no evidence that growth has improved as a result.
Trump's economic policies will be welcomed by corporations and the wealthy GOP donors he's now courting, and the businessmen on his so-called economic policy team. Perhaps these policies will finally earn Trump the love of the GOP establishment. But he remains a dangerous candidate who does not have the interest of workers in mind. 8/17/16 Read more at  http://www.epi.org/press/donald-trumps-economic-plan-recycles-the-failed-policies-of-past-republicans/
13. Jennifer Rubin: New campaign shake-up, same old awful Trump
In  case you had any doubt, Donald Trump sent an unmistakable sign that he has no intention of running a legitimate campaign. He demoted his much-maligned campaign chairman, Paul Manafort, and elevated pollster Kellyanne Conway and — no, seriously — Stephen Bannon, Trump pal and chairman of the much-mocked Trump-cheerleading outlet Breitbart News. Neither one has ever run something remotely as complex as a presidential campaign. Bannon is in some sense Trump's twin — a brawler, a bully and someone unburdened by facts. If you thought the current campaign was a three-ring circus, get ready for a caravan of contortionists, clowns and high-wire walkers.
"I am who I am. It's me," Donald Trump said on a Wisconsin talk radio interview on Tuesday. He continued: "I don't wanna change. Everybody talks about, 'Oh well, you're gonna pivot, you're gonna' — I don't wanna pivot. I mean, you have to be you. If you start pivoting, you're not being honest with people."
Listen, Republicans. He could not be more clear. There will be no professional campaign. There is no sticking to script. There will be no presidential tone. There will be no end to the conspiracy theories, to the infatuation with Russian President Vladimir Putin or to the lies about what his positions used to be (e.g. his initial stance on the Iraq War). Republicans can no long mollify themselves or remain in the good favor of Trumpkins by waiting for Trump to become something he is not. 8/17/16 Read more at https://www.washingtonpost.com/blogs/right-turn/wp/2016/08/17/new-campaign-shake-up-same-old-awful-trump/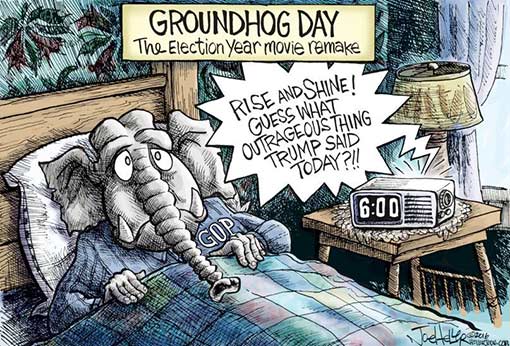 14. Stephen F. Hayes: Trump Has Decided To Live in Breitbart's Alternative Reality
Eleven weeks before the general election, with polls showing Donald Trump staring at a potential electoral rout, the New York businessman decisively ended speculation that he would "pivot" to end the race a more "presidential" candidate by naming Stephen Bannon, chairman of Breitbart News, as the campaign's new chief executive.
The campaign overhaul means that Trump is choosing to end his campaign living in the alternate reality that Breitbart creates for him on a daily basis—where everything he does is the best, where everyone who questions him is an idiot or a traitor, where big rallies portend electoral victories, where House speaker Paul Ryan is the problem with modern conservatism, where polls that find him down are fixed, where elections he loses are rigged, where immigration and trade are the nation's most pressing issues, and where, truly, Trump alone can fix it all.
Breitbart is the only place that is more Trumpian than Trump. When others roll their eyes at Trump's campaign boasting and public self-reverence, Breitbart writers seem to believe he's being too modest. When Trump can't explain his own words, Breitbart faults the journalists who have asked the questions. (I speak from experience on this.)
Hiring Bannon allows Trump to seek external validation of what already exists in his own mind. It's Trump's way of channeling himself. 8/17/16 Read more at http://www.weeklystandard.com/trump-has-decided-to-live-in-breitbarts-alternative-reality/article/2003871