October 5, 2023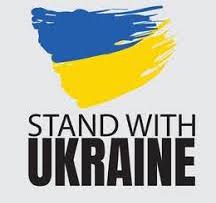 To subscribe to this FREE weekly newsletter simply email jellison@san.rr.com with "subscribe" as the subject.
THE WEEK'S BEST QUOTES. . .
"Not my monkey; not my circus. I'm a hard no." — Rep. Eric Swalwell (D-CA), on whether he would vote to save Speaker Kevin McCarthy (R-CA).
https://www.nbcnews.com/politics/congress/democrats-torn-vote-speaker-mccarthy-job-gaetz-rcna118439
"A person who admires autocrats and murderous dictators. A person that has nothing but contempt for our democratic institutions, our Constitution, and the rule of law. There is nothing more that can be said … God help us." — Former Trump White House chief of staff John F. Kelly delivered a blistering
statement to CNN's Jake Tapper
  that, for the first time, served to confirm years-old comments attributed to Trump and for which Kelly was present.
https://www.washingtonpost.com/politics/2023/10/02/john-kellys-full-throated-confirmation-trumps-ugliest-comments-parsed/
"Windmills are causing whales to die in numbers never seen before. Nobody does anything about that. They're washing up onshore. You wouldn't see it once a year. Now they're coming up on a weekly basis. The windmills are driving them crazy. They're driving the whales, I think a little batty." —  Donald Trump making the claim, which is rooted in a climate sceptic conspiracy theory, at a rally in Summerville, S.C.
https://www.indy100.com/politics/trump/donald-trump-whales-windmills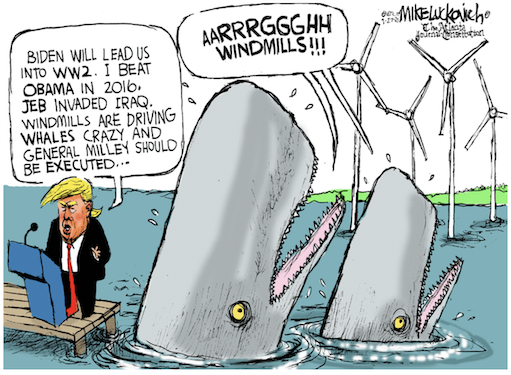 "Look, I'm a soldier. I've been faithful and loyal to the Constitution of the United States for 44 and a half years, and my family and I have sacrificed greatly for this country, and my mother and father before them. And, you know, as much as these comments are directed at me, it's also directed at the institution of the military, and there's 2.1 million of us in uniform, and the American people can take it to the bank that all of us, every single one of us, from private to general, were loyal to that Constitution and will never turn our back on it, no matter what. No matter what the threats, no matter what the humiliation, no matter what." — Former Joint Chiefs of Staff chairman Mark Milley, responding to Donald Trump's death threat.
https://www.cbsnews.com/news/general-milley-responds-to-trump-social-media-post-60-minutes/
"It's hard to grasp the complete derangement of this moment. Three days before they're set to shut down the United States government, Republicans launch a baseless impeachment drive against President Biden. No one can figure out the logic of either course of action." — Rep. Jamie Raskin (D-MD) on Thursday slammed Republicans for proceeding with their impeachment inquiry hearing into President Biden as the U.S. government teeters on the brink of a shutdown.
https://www.axios.com/2023/09/28/democrats-government-shutdown-impeachment-hearing
.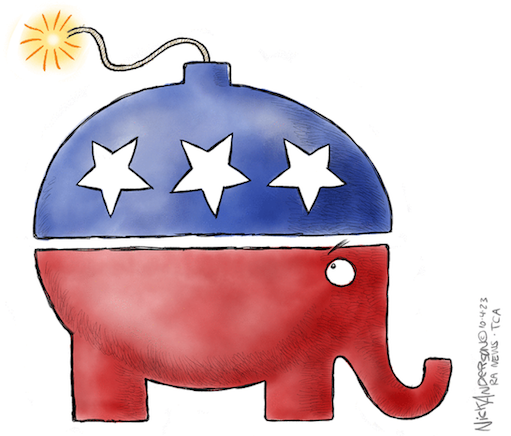 "Picking witnesses that refute House Republicans' arguments for impeachment is mind-blowing. This is an unmitigated disaster." —  One senior GOP aide to CNN.
https://twitter.com/MZanona/status/1707434463674671558
"You know, when you elect a bowl of Jell-O, what you get is a bowl of Jell-O. And it's not gonna change! And the reason that they put him in there is because he was a bowl of Jell-O." — James Carville, about Speaker Kevin McCarthy.
https://www.mediaite.com/politics/james-carville-on-mccarthys-speakership-when-you-elect-a-bowl-of-jell-o-what-you-get-is-a-bowl-of-jell-o/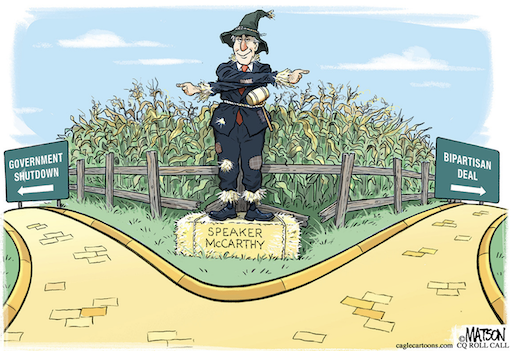 "Here's what went down: we just won a clean 45 day gov extension, stripped GOP's earlier 30% cuts to Social Security admin etc, staved off last minute anti-immigrant hijinks, and averted shutdown (for now). People will get paychecks and MTG threw a tantrum on the way out." — Representative Alexandria Ocasio-Cortez (D-NY).
https://heathercoxrichardson.substack.com/p/september-30-2023
"The truth is we shouldn't be here in the first place. It shouldn't have gotten here in the first place. It's time to end governing by crisis, and keep your word when you give it in the Congress." — President Biden on Saturday's stunning turnaround on a government funding bill.
https://www.politico.com/live-updates/2023/10/01/congress/biden-blast-00119354
"I had heard this rumor (Trump isn't getting a jury trial in his $250m civil fraud suit brought against him by New York AG James because his legal team didn't request one on the paperwork), and now the judge just confirmed it. It is mind-blowing. For Trump to have his fate in the hands of this judge, whom he has vilified, is malpractice by his lawyers and very ominous for him."  — Harry Litman
https://twitter.com/harrylitman/status/1708857002259300729
"Every time the radical Democrats indict me, I consider it a great honor. Because I'm being indicted for you." — Trump 
https://www.rollingstone.com/politics/politics-news/trump-speech-will-they-arrest-me-today-1234836394/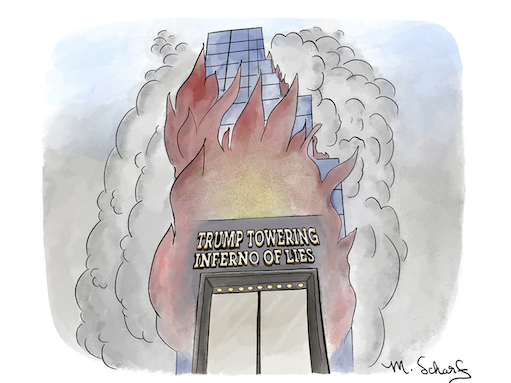 VIDEOS ...
"These poor girls having to be in the blast zone of this lunatic ranting and raving."  — Ron Filipkowski.
https://twitter.com/RonFilipkowski/status/1708922724565836050
"This is a judge that should be disbarred. This is a judge that should be out of office. This is a judge that some people say could be charged criminally for what he's doing. He's interfering with an election and it's a disgrace." — Donald Trump, leaving his civil fraud trial in New York City.
https://twitter.com/Acyn/status/1708897731920445803
Donald Trump's campaign is broke, all his Super PACs are broke, and the courts are shutting down his crooked shell companies in New York. This time his corrupt kids, lawyers, or MAGA supporters cannot even save him from the inevitable." — The Lincoln Project.
https://twitter.com/ProjectLincoln/status/1708829190747808134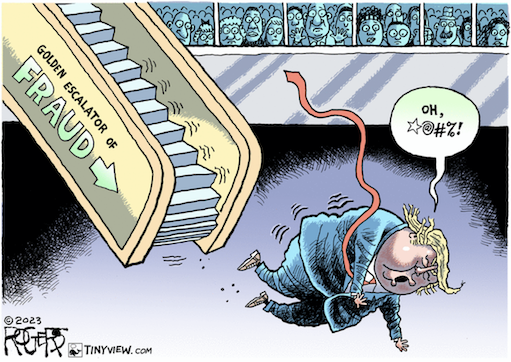 Get Ahead | Biden-Harris 2024 ad:
https://www.youtube.com/watch?v=NGbFBUHFDTM&t=25s
"We don't take an oath to a king, or queen, or a tyrant or a dictator. And we don't take an oath to a wannabe dictator… we take an oath to the Constitution… and we're willing to die to protect it." — Joint Chiefs of Staff chairman Mark Milley, at his retirement ceremony.
https://twitter.com/AndrewFeinberg/status/1707788800577945927
"Donald Trump's threats to military leaders 'is a parallel to the 1930s in Nazi Germany.' That's 15-25 House members, a couple of Senators, and all those who are Trump MAGA loyalists—it's a major threat to the armed forces of the United States." — Retired Gen. Barry McCaffrey told MSNBC that Said McCaffrey:
https://twitter.com/allinwithchris/status/1707189900129538178
 A bizarre selfie walking video accusing President Biden — without any evidence — of being involved in "prostitution rings." -- Rep. Nancy Mace (R-SC), who is what passes for a serious Republican these days,
https://twitter.com/atrupar/status/1648761391023546371
---
IN THIS ISSUE
IN THE NEWS
OPINION
Andy Borowitz: Matt Gaetz Accuses Kevin McCarthy of Behaving Like an Adult
In a sign of the worsening feud among congressional Republicans, Representative Matt Gaetz lashed out at Kevin McCarthy, accusing the Speaker of "behaving like an adult."
"Listening to others and striking a compromise are adulthood at its worst," he charged. "Kevin McCarthy needs to look at himself in the mirror and ask if he wants to be an adult, or a Republican."

Gaetz said that, now that McCarthy has "crossed a red line into adult behavior," there was "no telling" what he might do next. "Soon he'll be sitting still and keeping his hands to himself," he said.

"I guess when it comes down to it, Kevin likes adults," he noted. "I've always preferred children."

Speaking to reporters, McCarthy bristled at being called an adult by a member of his own conference. "I don't see how name-calling solves anything," he said. https://www.newyorker.com/humor/borowitz-report/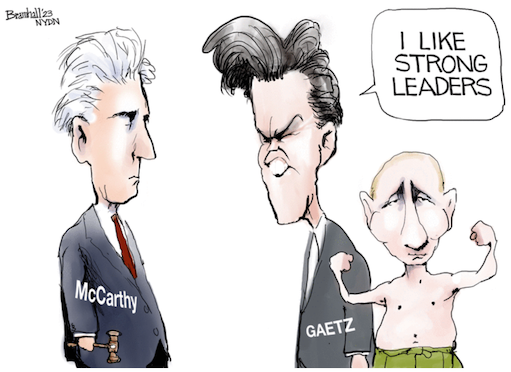 Putin's Next Target: U.S. Support for Ukraine, Officials Say
American officials said they are convinced that Mr. Putin intends to try to end U.S. and European support for Ukraine by using his spy agencies to push propaganda supporting pro-Russian political parties and by stoking conspiracy theories with new technologies.
The Russia disinformation aims to increase support for candidates opposing Ukraine aid with the ultimate goal of stopping international military assistance to Kyiv…

Mr. Putin, the officials said, appears to be closely watching U.S. political debates over Ukraine assistance. Republican opposition to sending more money to Kyiv forced congressional leaders to pass a stopgap spending bill on Saturday that did not include additional aid for the country. https://www.nytimes.com/2023/10/02/us/politics/putin-ukraine-spy-united-states.html
For Supreme Court, ethics have become the elephant in the courtroom
Some of the issues and political stalemates that haunt the Supreme Court are returning for the term that begins Monday, accompanied by another concern: how to convince the public that the justices take seriously their ethical obligations, the Washington Post reports.
Reports about some justices hobnobbing with billionaire friends on lavish trips and maintaining ties to those who have business before the court have become the elephant in the courtroom. https://www.washingtonpost.com/politics/2023/10/01/supreme-court-new-term-ethics/
Feinstein's Replacement Will Be Free to Run in '24
Gov. Gavin Newsom's appointee to the late Sen. Dianne Feinstein's Senate seat, Emily's List President Laphonza Butler, will be free to run for a full term in 2024, and there will be no precondition that this is a temporary replacement.
https://twitter.com/AndrewDesiderio/status/1708600537367621936.
To Many Americans, Government Dysfunction Is the New Normal
As the nation's capital seemed to be barreling toward another debilitating federal government shutdown this weekend, America, well, did not exactly seem to be on the edge of its collective seat, the New York Times reports.
Those are probably not signs of public confidence that the nation's leaders would somehow avoid plummeting off the cliff at the last minute, even though, surprisingly, they did. Instead, they may indicate that America at this point assumes that Washington actually will go over the cliff, because that is what Washington does these days. After all, the 11th-hour congressional deal that kept the government open lasts only until mid-November.

America, it seems, has come to expect crisis. https://www.nytimes.com/2023/10/01/us/politics/government-dysfunction-normal.html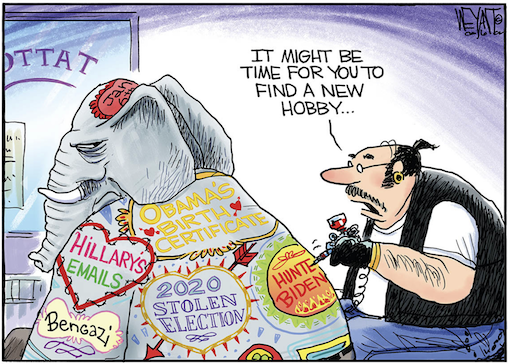 North Carolina Republicans Create 'Secret Police Force'
North Carolina's new $300 billion state budget contains a provision that gives extraordinary investigative powers to a partisan oversight committee co-chaired by Senate Leader Phil Berger (R) and House Speaker Tim Moore (R).
The Joint Legislative Committee on Government Operations — or Gov Ops for short — is empowered to seize 'any document or system of record' from anyone who works in or with state and local government during its investigations.
https://popular.info/p/north-carolina-republicans-create
Supreme Court declines to consider longshot bid to disqualify Trump from running for president
The Supreme Court said Monday that it will not take up a longshot challenge to Donald Trump's eligibility to run for president because of his alleged role in the January 6, 2021, attack on the US Capitol.

The case was brought by John Anthony Castro, a little-known candidate for the Republican presidential nomination, who sued Trump earlier this year in an effort to disqualify him from running for president and holding the office given his alleged provision of aid or comfort to the convicted criminals and insurrectionist that violently attacked our United States Capitol on January 6, 2021.
The case was denied without any comment or recorded vote. https://www.cnn.com/2023/10/02/politics/donald-trump-fourteenth-amendment-ballot-case-supreme-court/
MyPillow magnate Mike Lindell's latest election conspiracy theory is his most bizarre yet
Since the presidential election, Christina Jensen says she's been stopped on the street several times by acquaintances who wanted to share troubling news: hackers from Beijing had switched nearly 24,000 votes for Donald Trump in their rural, GOP-leaning Wisconsin county.
Jensen, the Clark County clerk and a Republican herself, has patiently explained that the local election computer system isn't connected to the internet – and the county has less than 17,000 registered voters overall.

But she finds herself unable to convince those constituents of the simple fact that the election wasn't stolen: They are like, 'Well, Mike Lindell says this,' Jensen said.

Lindell, the MyPillow CEO and a close ally of former President Donald Trump, has emerged as one of the most vocal boosters still pushing false claims about the 2020 election. In a series of so-called documentaries, Lindell has advanced an increasingly outlandish theory that foreign hackers broke into the computer systems of election offices like Clark County to switch votes – in what he has described as the biggest cyber-crime in world history.

Lindell and his company are facing a $1.3 billion defamation lawsuit from the voting machine company Dominion, which Lindell has falsely accused of being involved in voter fraud.

Now, Lindell is resorting to a last-ditch attempt to promote his theory, planning a cyber symposium this month in Sioux Falls, South Dakota, where he says he will release 37 terabytes of data showing election hacking. https://www.cnn.com/2021/08/05/politics/mike-lindell-mypillow-ceo-election-claims-invs/index.html
House Votes to Strip Defense Secretary of Salary as Right Wing Flexes Muscles
The Republican-led House voted on Wednesday, a little more than three days before a government shutdown, to reduce the salary of Defense Secretary Lloyd Austin to $1, as right-wing lawmakers tried to transform a Pentagon spending bill and a series of other funding measures into weapons to take aim at President Biden, his agenda and his top officials.
There is little chance that Mr. Austin, the first Black defense secretary, will actually see his pay cut. The military spending bill is all but certain to die in the Senate, where it is expected to meet with bipartisan opposition. https://www.nytimes.com/2023/09/27/us/politics/house-republicans-lloyd-austin-salary.html
GOP senators say they won't stop Democrats from replacing Feinstein on Judiciary Committee
Top Republican senators said Friday they won't try to prevent Democrats from replacing the late Sen. Dianne Feinstein (D-CA) on the Judiciary Committee after the vacancy left Democrats without a majority on the key panel.
Feinstein's death means the key panel that processes President Joe Biden's judicial nominees is now split evenly, 10 to 10, between Democrats and Republicans. A tie vote means a nominee fails to advance out of committee, meaning Democrats would need at least some GOP support to send any potential judges to the full Senate. https://www.nbcnews.com/politics/congress/republicans-replace-dianne-feinstein-judiciary-committee-rcna118151
Menendez plans Puerto Rico donor retreat amid Democratic fears over his reelection plans
He may be facing bribery charges and calls for his resignation from more than half of his Senate Democratic colleagues. But donors can still hit the links and dine with Sen. Bob Menendez at a luxurious beachside hotel – for a price, CNN reports.
A political action committee tied to Menendez is hosting donors in two weeks for an evening reception with the senator and his chief of staff at the Ritz-Carlton hotel at Dorado Beach in Puerto Rico – a move likely to prompt Democratic fears that the embattled senator will try to hang onto his seat despite his criminal charges. https://www.cnn.com/2023/09/28/politics/menendez-puerto-rico-donor-retreat/index.html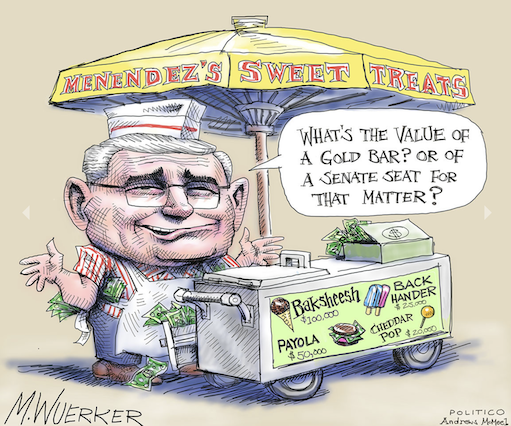 Trump Agreed with Mar-a-Lago Appraisal in 2020
Donald Trump has sought to discredit a New York judge's blockbuster ruling threatening his business empire by arguing that Mar-a-Lago alone is worth more than a billion dollars.
But fewer than three years ago, his tax representative told Palm Beach County officials that Trump 'agrees' his private club in South Florida is worth just $26.6 million.
https://themessenger.com/politics/trumps-tax-representative-said-in-2020-he-agrees-with-26-6-million-appraisal-of-mar-a-lago-exclusive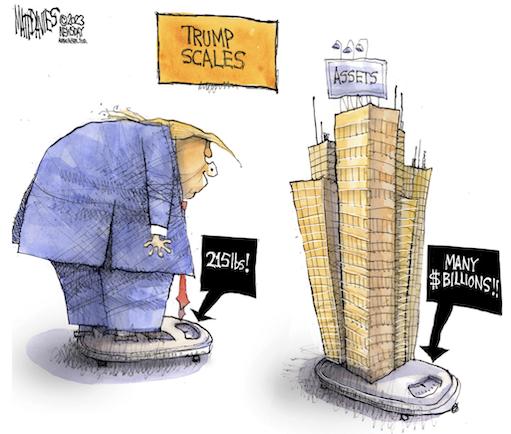 Near-Total Abortion Ban in Idaho Reinstated
A federal appeals court has lifted a lower court ruling that prevented the State of Idaho from enforcing aspects of its near-total ban on abortion.
https://www.politico.com/news/2023/09/28/appeals-court-idaho-abortion-ban-00118977
Democratic rising stars rally around Biden's reelection. They're also eyeing 2028 bids of their own
As Biden faces concerns, including from voters in his own party, about his prospects in a grueling reelection campaign, a new generation of high-profile Democrats are fanning out for the 80-year-old president. Those close to the ambitious Democrats insist they are focused squarely on the 2024 campaign when Biden may face a tough rematch against Donald Trump.
But in building their national profiles, they're also positioning themselves for what could be a contentious 2028 primary — and giving the party something of an insurance policy in case they are suddenly needed next year.
https://apnews.com/article/biden-successor-democrats-2028-presidential-hopefuls-e335f0b82972e683cdd346f0d9ea881b
DeSantis Says He Would Sign a 15-Week Abortion Ban as President
In the chaos of Wednesday night's noisy Republican presidential debate, Senator Tim Scott of South Carolina interrupted Gov. Ron DeSantis of Florida to pose a question on abortion that Mr. DeSantis had dodged directly answering for months.
Would the Florida governor sign a 15-week limit on abortion as president, Mr. Scott asked, talking over both Mr. DeSantis and Dana Perino, one of the moderators, in a way that made his full remarks difficult to hear.
Yes, I will, Mr. DeSantis replied.
The moment — which largely escaped attention in real time but was noted by The Daily Signal, a news website published by the conservative Heritage Foundation think tank — clarifies Mr. DeSantis's position on abortion, an issue that has split the Republican primary field. Mr. DeSantis signed a six-week abortion ban in Florida this year, but had not clearly committed to supporting federal legislation restricting the termination of pregnancies.
https://www.nytimes.com/2023/09/28/us/politics/desantis-abortion-trump.html
Trump's Sprawling Legal Defense Effort Under Strain
New York Times: In some cases, people caught up in the cases reached out for help finding lawyers and paying their legal bills. In others, Mr. Trump's lawyers contacted them, offering to put them in touch with lawyers already working on the cases.
Mr. Trump's political action committee, seeded with money he had raised with debunked claims of widespread fraud in the 2020 election, became the piggy bank for paying the bills, helping to knit together the interests of key figures in the investigations.

But as Mr. Trump's legal problems have expanded, the ad hoc system has come under intense strain with the PAC doling out financial lifelines to some aides and allies while shutting the door on others. It is now running short of money, possibly forcing Mr. Trump to decide how long to go on helping others as his own legal fees mount. https://www.nytimes.com/2023/09/28/us/politics/trump-lawyers-pac.html
Musk Visits Texas-Mexico Border, Weighing In on Migration Issue
Billionaire Elon Musk waded into the U.S. immigration debate on Thursday, paying a visit to the Texas border with Mexico to meet with local politicians and law enforcement and obtain what he called an unfiltered view of the situation.
Donning a cowboy hat, Elon Musk on Thursday popped up at the southern border, interviewing a Republican congressman on an X live-stream as he amplified GOP talking points on immigration. Musk said he was at the U.S.-Mexico border to get the real story — taking another jab at news organizations. https://www.bloomberg.com/news/articles/2023-09-28/musk-visits-texas-mexico-border-weighing-in-on-migration-issue#xj4y7vzkg
Trump Ordered Not to Comment on Judge's Staff in Fraud Case
A New York judge placed a limited gag order on Donald J. Trump on Tuesday after the former president posted a message to social media targeting the judge's law clerk, Allison Greenfield, shortly before noon on his Truth Social site. His post was a picture of Ms. Greenfield with Senator Chuck Schumer, the Democratic majority leader. Mr. Trump mocked Ms. Greenfield as Schumer's girlfriend and said that the case against him should be dismissed.

The post was taken down during a lunch break, shortly after a closed-door meeting in the room where Mr. Trump is being tried.
Justice Arthur F. Engoron explained what had happened after the break, though he did not name Ms. Greenfield or Mr. Trump, referring to him only as a defendant. Personal attacks on my members of my court staff are unacceptable, inappropriate and I will not tolerate them under any circumstances, he said. https://www.nytimes.com/2023/10/03/nyregion/trump-gag-order-fraud-trial.html
Red State Politics Are Cutting Life Expectancy
Americans are more likely to die before age 65 than residents of similar nations, despite living in a country that spends substantially more per person on health care than its peers. Many of those early deaths can be traced to decisions made years ago by local and state lawmakers over whether to implement cigarette taxes, invest in public health or tighten seat-belt regulations. https://www.washingtonpost.com/health/interactive/2023/republican-politics-south-midwest-life-expectancy/
Charlie Sykes:The Fall of Kevin McCarthy .... was inevitable.
We wake up today to a Republican Party in disarray, bitterly divided, at war with itself, and seemingly shocked that nurturing and appeasing its lunatic fringe could end this badly.
If only they had been warned.
For the first time in the nation's history, a sitting speaker of the House has been ousted; and Kevin McCarthy now has the historic distinction of having the shortest tenure with the gavel since the guy who died of tuberculosis in 1876.

McCarthy, who so desperately wanted that title and the portrait — and who made one surrender after another to get them — will now be remembered merely as an asterisk, if even that.

Indeed, Kevin would be a tragic figure, if he were not so utterly and clownishly pathetic. His tenure was marked by serial humiliations, each paving the way to his thoroughly undignified downfall. "Each one hopes that if he feeds the crocodile enough, the crocodile will eat him last," Winston Churchill once quipped. "All of them hope that the storm will pass before their turn comes to be devoured."

On Tuesday, it was Kevin's turn. And he made a particularly noisome morsel.

In the end, McCarthy's abbreviated speakership was done in by the defection of eight right-wing Republicans. He could have been rescued by the Democrats, but their message was unanimous and unambiguous: Drop Dead, Kevin.

So, McCarthy became the latest victim of the MAGA-ization of his party. Despite all of Kevin's groveling, Trump didn't lift even a single tiny finger to save him. For the Orange God King, it was perfectly on-brand. https://morningshots.thebulwark.com/p/the-fall-of-kevin-mccarthy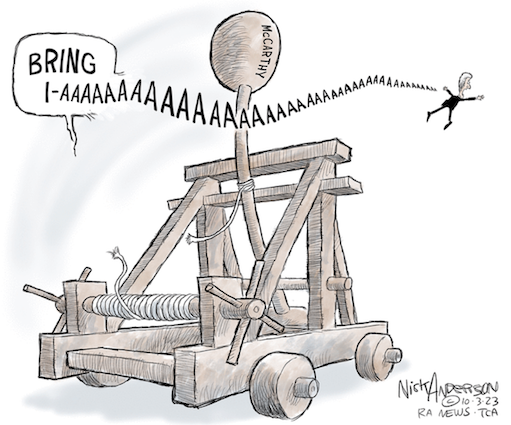 Paul Krugman: Why MAGA Wants to Betray Ukraine
Whatever anti-Ukraine voices like Elon Musk may pretend, it's not about the money.
Right-wing hard-liners, both in Congress and outside, claim to be upset about the amount we're spending supporting Ukraine. But if they really cared about the financial burden of aid, they'd make the minimal effort required to get the numbers right. No, aid to Ukraine isn't undermining the future of Social Security or making it impossible to secure our border or consuming 40 percent of America's G.D.P.
How much are we actually spending supporting Ukraine? In the 18 months after the Russian invasion, U.S. aid totaled $77 billion. That may sound like a lot. It is a lot compared with the tiny sums we usually allocate to foreign aid. But total federal outlays are currently running at more than $6 trillion a year, or more than $9 trillion every 18 months, so Ukraine aid accounts for less than 1 percent of federal spending (and less than 0.3 percent of G.D.P.). The military portion of that spending is equal to less than 5 percent of America's defense budget.
Incidentally, the United States is by no means bearing the burden of aiding Ukraine alone. In the past, Donald Trump and others have complained that European nations aren't spending enough on their own defense. But when it comes to Ukraine, European countries and institutions collectively have made substantially larger aid commitments than we have. Notably, most of Europe, including France, Germany and Britain, has promised aid that is higher as a percentage of G.D.P. than the U.S. commitment.
But back to the costs of aiding Ukraine: Given how small a budget item that aid is, claims that aid to Ukraine somehow makes it impossible to do other necessary things, such as securing the border, are nonsense. MAGA types aren't known for getting their numbers right or, for that matter, caring whether they get their numbers right, but I doubt that even they really believe that the monetary costs of helping Ukraine are insupportable.
And the benefits of aiding a beleaguered democracy are huge. Remember, before the war, Russia was widely viewed as a major military power, which a majority of Americans saw as a critical threat (and whose nonwoke military some Republicans exalted). That power has now been humbled.
https://www.nytimes.com/2023/10/02/opinion/columnists/maga-republicans-ukraine.html
Brian Klass: The Case for Amplifying Trump's Insanity
There's a puzzle at the heart of Trump news and it's this: why doesn't the press go FULL BLOCK CAPITALS when a leading presidential candidate, yet again, incites violence?
If Joe Biden called to execute shoplifters, do you think there'd be a big headline in the New York Times, or do you think you'd have to scroll well past the articles on pumpkin spice lattes and DogTV to find out about it?
We all know the answer.
When Joe Biden didn't trip but nearly tripped last week, it was headline news. How absurd is that? A candidate who didn't quite fall over is a bigger news story than a candidate calling to execute shoplifters? (For the record, roughly ten percent of the US population shoplifts, so millions would face potential execution under Trump's proposal).
This is what I call the Banality of Crazy—and it's warping the way that Americans think about politics in the Trump and post-Trump era.
According to the old saying, there's no headline in the papers for Dog Bites Man, but there is for Man Bites Dog. The idea is that the press covers the unusual rather than the routine, even if the routine story is more important than the unusual one.
(It's worth noting, however, that the Biden scandal that made headlines within hours of Trump being found liable for massive financial fraud was a literal Dog Bites Man story about Commander Biden, the president's bite-happy German Shepherd. Seriously, go to Google News and search Biden dog and Trump shoplifters and see the difference in the results. It's so depressing).
https://www.forkingpaths.co/p/the-case-for-amplifying-trumps-insanity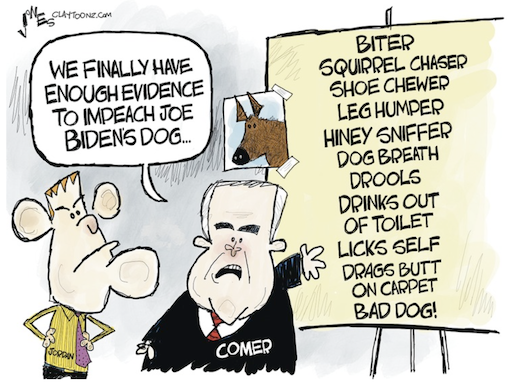 Dan Balz: Squabbles, missteps and a struggle to govern: The Republican week that was
There are good weeks and bad weeks and then there is the week that the Republican Party is just concluding, a kaleidoscopic display of self-inflicted wounds by politicians struggling to govern and a party still loath to confront the damage done by former president Donald Trump.
At every turn this past week, when the spotlight was on them, Republicans showed the public their worst: marching toward a government shutdown wholly of their own making and then suddenly reversing course in the hope of avoiding one; botching their first hearing in an impeachment inquiry into President Biden that was launched without serious forethought or evidence of criminal wrongdoing; squabbling and shouting by presidential candidates during a nationally televised debate that mostly ignored the elephant not onstage.

Meanwhile, that elephant, Trump, facing 91 felony counts in four indictments, tried to look past his challengers for the Republican nomination. He went to Detroit to focus his attacks on Biden with a speech that was notable for promises of the kind that went largely unfulfilled during his four years in office.
Trump's speech highlighted the gap between campaigning and governing, but that was even more evident in the Congress throughout the week as House Republicans stumbled toward the midnight Saturday deadline to produce something to keep the government open, while Speaker Kevin McCarthy (R-Calif.) struggled to maintain his grip on the gavel in the face of rebellion from his hard-right colleagues. https://www.washingtonpost.com/politics/2023/09/30/republican-shutdown-trump-missteps/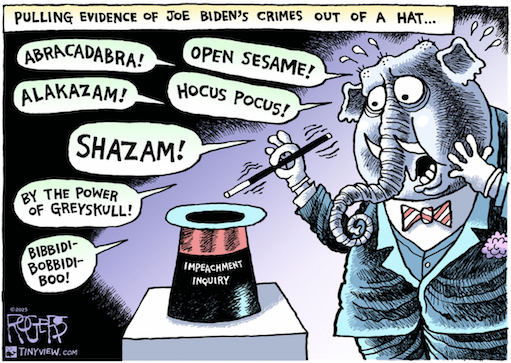 Aaron Blake: How the right's elevation of Robert F. Kennedy Jr. could now backfire
The American right's efforts to elevate Robert F. Kennedy Jr. were as transparent as they were cynical. The idea, as advanced by Stephen K. Bannon and the like, was clearly to try to embarrass President Biden in the Democratic primary. So they used Kennedy's inflated early poll standing as an excuse to treat the primary challenge from a fringe figure as something real and threatening.
Fox News picked up the ball and ran with it, publishing many dozens of stories and featuring him regularly on-air. House Republicans even invited him to testify on Capitol Hill.

The latest indications are that Kennedy will end his Democratic primary challenge against Biden and instead run in the general election. Mediaite reported Friday that he will declare an independent bid on Oct. 9, and Kennedy is now teasing a major announcement on that date, while saying and doing the kinds of things that suggest Mediaite's report is accurate.

And while Kennedy is a lifelong Democrat from the country's preeminent Democratic family, there is plenty of reason to believe that a third-party bid could hurt Donald Trump more than Biden. https://www.washingtonpost.com/politics/2023/10/01/how-rights-elevation-robert-f-kennedy-jr-could-now-backfire/
David Corn: Trump Loses Battle in His Long War on Reality
Almost two decades ago, during the second year of George W. Bush and Dick Cheney's misbegotten war in Iraq, there was a media hubbub when an unidentified White House aide told a writer for the New York Times Magazine that the Bush-Cheney gang could create its own reality. Deriding what he called the reality-based community, this administration official said, We're an empire now, and when we act, we create our own reality. And while you're studying that reality—judiciously, as you will—we'll act again, creating other new realities, which you can study too, and that's how things will sort out. We're history's actors…and you, all of you, will be left to just study what we do.
This person seemed to suggest that truth—actual facts—did not matter to the powerful. They could be negated by might and force of will. Leaders of strength could dictate reality and impose what years later would be called alternative facts. This much-commented-upon remark was widely read as a sign of the immense arrogance and hubris of the Bush-Cheney crowd: We control how the world is perceived.
This episode came to mind as I read the ruling issued this week by New York Judge Arthur Engoron, who pronounced that Donald Trump had committed fraud for years by massively overvaluing his properties and assets and who ordered several of Trump's businesses removed from Trump's control. This was a major blow to Trump's corporate and real estate empire. It was also a stunning defeat for Trump in his decades-long war on reality.
Like the Bush-Cheney aide, Trump for most of his life has acted as if the truth means nothing and he can concoct his own convenient reality. He has done this through deception, bullshit, subterfuge, and never-ending image spinning. That is, through unrelenting fraud. https://link.motherjones.com/public/32881532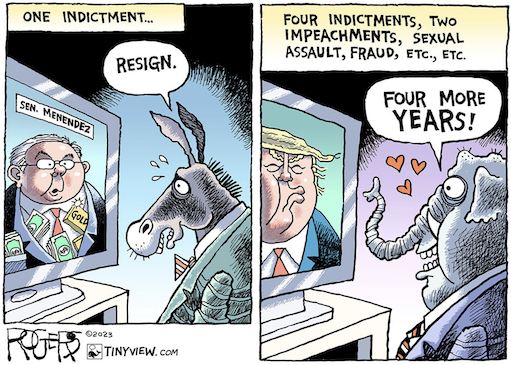 David Remnick: The Washington Gerontocracy
In a declining society, the images of an aging leadership can come to embody a general sense of withering and decay. A civic nightmare becomes the caricaturist's dream. In Moscow, the late nineteen-seventies and early eighties was the era known as zastoi, the time of stagnation. Leonid Brezhnev, the Communist Party's longtime General Secretary until his death, in 1982, suffered from arteriosclerosis and an alarming dependence on sleeping pills; ordinary Soviets, in the privacy of their kitchens, mocked his inability to speak a clear sentence. Brezhnev's successor, Yuri Andropov, was stricken by kidney failure shortly after taking office and lasted fifteen months. The Kremlin H.R. department promoted Konstantin Chernenko, an unsteady chain-smoker in his eighth decade. His emphysema was so acute that he could not climb the steps to the Lenin Mausoleum. Soon, he was often working from the hospital. In February, 1985, a large room there was remodelled so that television viewers could watch him casting his ballot at his local polling station. Two weeks later, Chernenko was dead.
Is the United States in the midst of its own zastoi? Are we a teetering democracy of gerontocrats? The polls show that much of the American electorate fears just that. Cautionary tales abound: Senate Minority Leader Mitch McConnell, age eighty-one, standing frozen before the cameras, unable to speak, evidently suffering the aftereffects of a fall; Senator Dianne Feinstein, age ninety, evidently confused in hearings and interviews. Nancy Pelosi, rather than returning home to San Francisco with a justified sense of triumph, is running. Again. Even those who admired Ruth Bader Ginsburg deeply must admit that her decision to gamble on her fragile health and the Hillary Clinton campaign could not have been costlier.

The prospect of a Presidential election as a contest of the ancients is not a heartening one, and the anxieties it provokes cannot be dismissed as ageism. What are younger people, especially, to make of a political culture in which incumbents cling so tenaciously to their seats? The median age for senators is now around sixty-five. Mitt Romney, announcing his retirement, at the age of seventy-six, wasn't wrong to declare that it is time for a new generation of leaders to take the helm.
And yet voting is often a matter of choosing among highly constrained choices. The portrait of Biden that emerges from Franklin Foer's new book, "The Last Politician," isn't always flattering, but it makes plain that Biden is the one calling the shots in this Administration. Unlike the Eastern Bloc gerontocracies of the zastoi era, there's nothing ossified about its approach to politics. In the 2020 primaries, Democratic voters picked Biden by a sizable margin; he has not, amazingly enough, grown any younger since. The real menace isn't posed by an elderly pol intent on protecting and renewing a democratic republic; it's posed by a chaos agent who fomented insurrection and promises to return America to a state of misery. https://www.newyorker.com/magazine/2023/10/02/the-washington-gerontocracy