November 3, 2022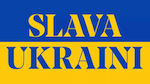 A friend, family member, or neighbor who would like to subscribe to this FREE weekly newsletter should simply email jellison@san.rr.com with "subscribe" as the subject.
THE WEEK'S BEST QUOTES. . .
Father God, we come to you in the name of Jesus. We're asking you to open the eyes of President Trump's understanding, that he will know the time of divine intervention. He will know how to implement divine intervention. And you will surround him, Father, with none of this deep-state trash, none of this RINO trash. You surround him, people that you pick, with your own mighty hand. In the name of Jesus. — Michel Flynn, prayer at a ReAwaken America event in Lancaster County, Penn.
https://www.theatlantic.com/ideas/archive/2022/10/michael-flynn-maga-christian-trump/671852/
There's not a single God fearing Christian that is a leftist, because those two things are incompatible. —  Derrick Van Orden (R), who is running in Wisconsin's 3rd Congressional district at a prayer breakfast.
https://lacrossetribune.com/news/local/van-orden-at-sparta-prayer-breakfast-leftists-can-t-be-christian/article_888aca20-5563-11ed-8927-7f5326e1e893.html
Why wouldn't that come from the party that lost the Civil War? The party that wanted to own people because they viewed them as less than human? Do you think that the Democrats are over losing to the north? — Michigan gubernatorial nominee Tudor Dixon (R) invoking a conspiracy that the Covid-19 pandemic and protests in the summer of 2020 after the killing of George Floyd were part of a decades-long plan by the Democratic Party to 'topple' the United States as retaliation for losing the US Civil War, adding that the party wanted to enslave people again.
https://www.cnn.com/2022/10/27/politics/kfile-tudor-dixon-conspiracy-democrats-topple-america/index.html
In a ruse to expose tolerance for violence against immigrants, we told GOP Rep. Paul Gosar that we've been shooting illegals on our ranch in Southern Arizona. Gosar responded, "Say a prayer because this country needs you."
https://twitter.com/lawindsor/status/1585734115323584513
I just think it tells you how far from where we are when the Republican Party chairwoman says that Jan. 6 was 'normal political discourse.' If there's any Republican or any Democrat or any independent who believes that, then God help us. — Former Rep. J.C. Watts (R-OK) said the RNC's dismissal of January 6 as normal political discourse shows the depth to which the party has fallen during the Trump era.
https://www.washingtonexaminer.com/news/house/j-c-watts-rnc-chair-ronna-mcdaniel-jan-6-donald-trump
What's the worst thing the Democratic Party wants to hear? Chairman Jim Jordan. There are gonna be people jumping off bridges in San Francisco by the thousands. You know, New York City, they may literally shut down. — Sen. Lindsey Graham (R-SC) was met with roaring laughter from a crowd of Republican voters on Tuesday evening when he suggested that Republican Rep. Jim Jordan's ascension to chair of the House Judiciary Committee could result in a raft of suicides, 
https://www.businessinsider.com/lindsey-graham-jump-bridges-san-francisco-jim-jordan-jd-vance-2022-10
It would be treachery to run against Trump for the 2024 Republican presidential nomination …it would be the most stunning act of ingratitude and treachery in the history of American politics. — Roger Stone warned Florida Gov. Ron DeSantis (R)
https://www.huffpost.com/entry/roger-stone-desantis-warning-donald-trump-2024-election_n_635aff8ce4b023ac31c37eb5
I have served under four presidents as speaker or leader. I served with many leaders on the Republican side. Unfortunately, that gentleman is the least substantive person. There is nothing of substance there. — Speaker Nancy Pelosi (D-CA), about Rep, Kevin McCarthy (R-CA).
https://www.latimes.com/politics/story/2022-10-27/kevin-mccarthy-donald-trump-midterms-profile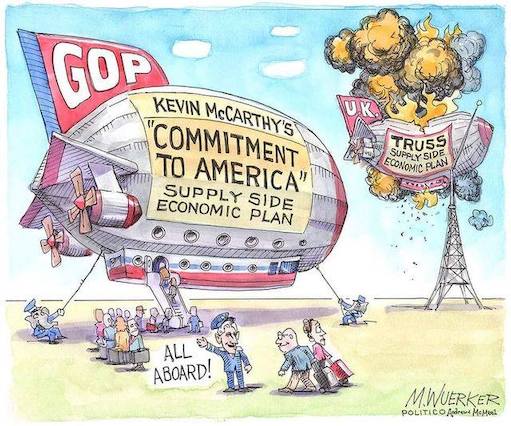 The Republican Party and its mouthpieces now regularly spread hate and deranged conspiracy theories. It is shocking, but not surprising, that violence is the result. As citizens, we must hold them accountable for their words and the actions that follow. — Hillary Clinton
https://twitter.com/HillaryClinton/status/1586411168880807936
Rep. Marjorie Taylor Greene repeatedly indicated support for executing prominent Democratic politicians in 2018 and 2019 before being elected to Congress, a CNN KFile review of hundreds of posts and comments from Greene's Facebook page shows. 
https://www.cnn.com/2021/01/26/politics/marjorie-taylor-greene-democrats-violence/index.html
"I understand why you might be worried about the course of the country. Sometimes it's tempting just to tune out, watch football, watch 'Dancing With The Stars.' I'm here to tell you tuning out is not an option." — Barack Obama.
https://www.detroitnews.com/story/news/politics/michigan/2022/10/29/barack-obama-election-gretchen-whitmer-detroit-michigan-rally-voting-vote-ballot-president-governor/69592935007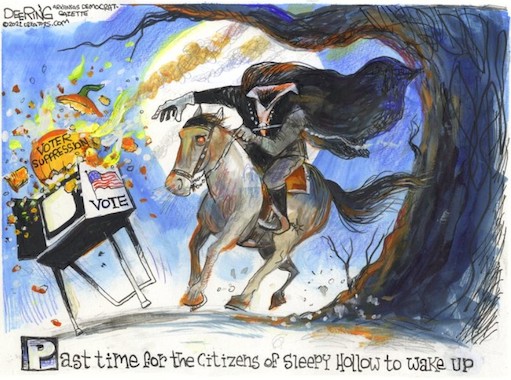 "With Paul Pelosi, that's a terrible thing, with all of them it's a terrible thing. Look at what's happened to San Francisco generally. Look at what's happening in Chicago. It was far worse than Afghanistan." — Donald Trump about the attack on Speaker Pelosi's husband. https://thehill.com/homenews/house/3712340-trump-attack-on-paul-pelosi-a-terrible-thing/

Donald Trump Jr. mocked the violent attack on Speaker Nancy Pelosi's husband by posting an image of a pair of Hanes underwear and a hammer alongside the caption: "Got my Paul Pelosi Halloween costume ready." https://www.thedailybeast.com/donald-trump-jr-mocks-nancy-pelosis-husbands-hammer-attack-with-meme
"I've seen the dehumanization of Nancy Pelosi. I don't think anyone's been dehumanized like she has consistently. Now I watched this one guy, Jesse Watters or something on Fox News. What he's been saying about Paul Pelosi the last five, six months, mocking him consistently. Don't tell me that's not aiding and abetting all this. Of course it is." — Gov. Gavin Newsom accusing Fox News of creating a culture that led to attack on Paul Pelosi https://www.cbsnews.com/news/gavin-newsom-paul-pelosi-nancy-pelosi-fox-news-attack/.

"Liz Cheney and I are not courageous. There's no strength in this. We're just surrounded by cowards." — Rep. Adam Kinzinger (R-IL), on why Republicans are having such a hard time condemning the violent assault on Paul Pelosi. https://twitter.com/Morning_Joe/status/1587479994934116357

"If you go to the Satanic temple website, they have an entire five-minute video explaining why abortion is a religious ritual. They literally say that it is a sacrifice, it is a religious ritual for them to have an abortion, it is sick. And as you mentioned, the baby body parts… they sell the organs. There's a ton of money involved in freshly harvested organs. There's so much evidence out there. —  Kristina Karamo (R), the Trump-backed candidate for Michigan secretary of state, once expressed support in 2020 for one of QAnon's most outlandish conspiracies: that elites drink the blood of children and 'sell baby body parts' after abortions." https://www.vice.com/en/article/epzkdp/kristina-karamo-qanon-blood-body-parts

If you got him talking about politics, it was all over. Because he really believed in the whole MAGA, 'Pizzagate,' stolen election — you know, all of it, all the way down the line. If you go to Fox News, if you go on the internet and you look at QAnon, you know, he had all these theories. —  Frank Ciccarelli, the former boss of the man accused of violently assaulting Speaker Nancy Pelosi's husband. https://www.nytimes.com/2022/11/01/us/pelosi-attack-depape-arraignment.html

Rep. Claudia Tenney (R-NY) on Tuesday posted a remarkably cruel tweet laughing at the brutal beating of House Speaker Nancy Pelosi's husband. Then, instead of deleting her tweet, she simply turned off the replies. https://twitter.com/atrupar/status/1587440620062359552

VIDEOS

There's no bottom. Fox News is a terrorist organization. https://twitter.com/Angry_Staffer/status/1586536256179212288

"This is what happens when you convince a third of the country that the election was stolen and that the other side is an enemy. This is the kind of stuff that every Republican needs to speak out on." — Rep. Adam Kinzinger (R-IL) pointing the finger at Republicans for promoting the same conspiracy theories that apparently motivated the suspect in the brutal assault on speaker Nancy Pelosi's husband. https://twitter.com/CNNSitRoom/status/1586148973227773953

The Biden administration is trafficking children, so we can drink their blood to look younger. — After being fired by CBS News, Fox News and even Newsmax, Lara Logan appeared on Mike Lindell TV to accuse the Biden administration is trafficking children so we can drink their blood to look younger. https://twitter.com/MikeSington/status/1585709281273257987

Joe Biden is not running this country. There is a cabal of unelected elitists who are running this country. Probably Barack Obama is involved. Probably Eric Holder. But who knows, we know it is not Biden .…— Rep. Ralph Norman (R-SC) https://twitter.com/RonFilipkowski/status/1585368823590313984

Identifying as cats and that schools were accommodating their demands to use litter boxes instead of toilets. — New Hampshire U.S. Senate nominee Don Bolduc (R) kitty litter in schools hoax. https://twitter.com/dabbs346/status/1585628356187389955

Disgusting Republican Gov. Glenn Youngkin celebrates the attack on Paul Pelosi, "we're going to send her [Nancy Pelosi] back to be with him in California. That's what we're gonna go do. That's what we're gonna go do.' https://twitter.com/KaivanShroff/status/1586063976139739136

SNL Cold open mocks Republican candidates ahead of midterm elections. https://youtu.be/q8SmmkfBem8

SNL's Horror Movie Trailer summarizes the discussions happening in Democratic circles everywhere. https://youtu.be/46WZfo1yFkI
LITIGATION TRACKER
Pending Criminal and Civil Cases Against Donald Trump
. 
https://www.justsecurity.org/75032/litigation-tracker-pending-criminal-and-civil-cases-against-donald-trump/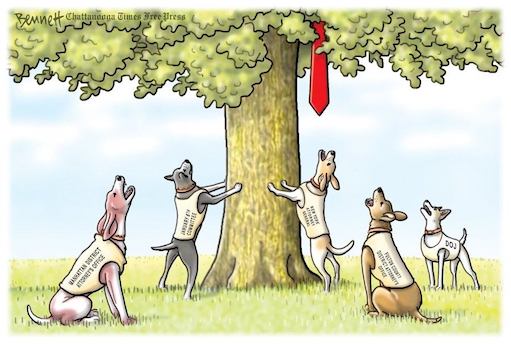 ---
IN THIS ISSUE
IN THE NEWS
OPINION
Andy Borowitz: Herschel Walker Calls It Unfair to Expect a Man to Remember Every Abortion He Has Paid For
Stating that he was tiring of the media's " 'gotcha' questions," Herschel Walker said that it was unfair to expect a man to remember "every single abortion" that he has ever paid for.

"Everywhere I go, people say, 'Did you pay for this abortion, did you pay for that abortion?' " the Republican Senate candidate told supporters. "How are you supposed to remember every single abortion? This is why people no longer trust the media."

Speaking hypothetically, Walker added, "Let's say you paid for ten abortions, or twenty, thirty, forty. You mean to tell me you'd remember every last one, clear as day? The answer is no, you wouldn't."

"There's no way a man could remember every single solitary abortion unless he kept an abortion journal, and I don't know anyone who does that," Walker said, before aides grabbed him and ushered him away from the microphone.   https://www.newyorker.com/humor/borowitz-report/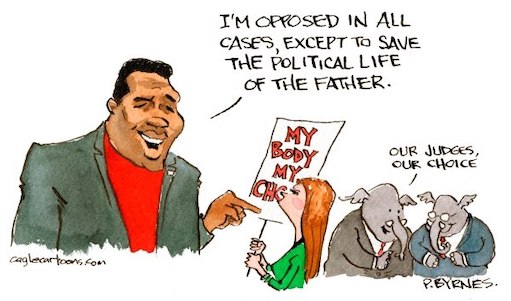 Who Paid for This Ad?
The super PAC ad opposing US support of Ukraine that ran during the World Series wasn't paid for by Vladimir Putin, instead it was paid for by Citizen's for Sanity. Their board that includes three former Trump administration officials involved in the America First Legal Foundation, a group founded by former Trump White House official Stephen Miller and aimed at using the legal system to challenge President Joe Biden's agenda. https://www.opensecrets.org/news/2022/09/new-dark-money-group-tied-to-former-trump-officials-launches-provocative-ads-ahead-of-2022-midterms/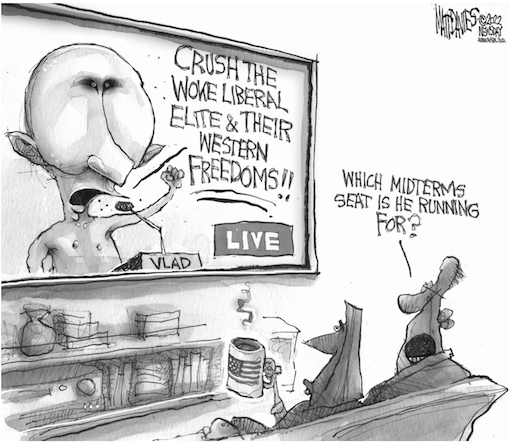 Trump Peddles Pelosi Attack Conspiracy — And Has Been Saying Worse in Private
If there's even a little truth to what's being said, it's crazy.
Donald Trump promoted baseless claims about the attack against House Speaker Nancy Pelosi's husband Paul Pelosi in an interview with conservative radio host Chris Stigall. Trump told Stigall on Tuesday that weird things going on in that household, and repeated the unfounded idea that a window in the Pelosi home was broken from the inside to the out. It wasn't a break-in, it was a break-out.

Trump also falsely suggested that Pelosi may have known the intruder, replying Yeah, yeah, it's a lot of bad stuff when Stigall said the 911 call indicated they may have had a relationship.

Conspiracy theories and mockery of the attack on Pelosi were heavily promoted by prominent conservative pundits, including Donald Trump Jr., Rep. Clay Higgins, and the hosts of Fox News' Fox & Friends. The hashtag PelosiGayLover trended after newly christened Twitter owner Elon Musk posted a link to an article from the Santa Monica Observer, a notorious right-wing rag known for peddling false information, claiming the attacker was actually Pelosi's same-sex lover. There's nothing to substantiate the claim, but that has not stopped Trump from privately inquiring in the past few days about the viral gay-lover conspiracy theory, the source tells Rolling Stone. https://www.rollingstone.com/politics/politics-news/trump-pushes-conspiracy-theory-paul-pelosi-attack-1234622321/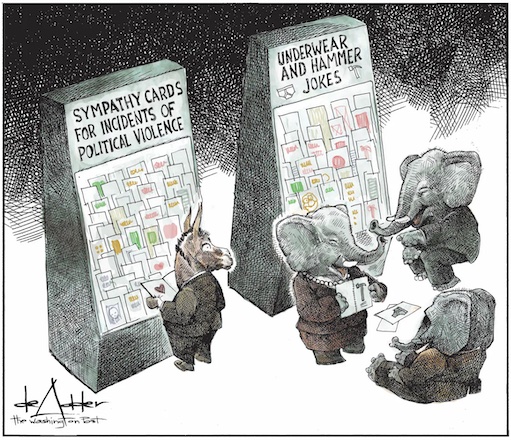 Giuliani attempt to dismiss defamation suit by Georgia election workers is denied
A federal judge has rejected Rudy Giuliani's effort to dismiss a lawsuit brought by two Georgia election workers who he falsely accused of election fraud — stoking a furor that led to threats and harassment against both women. https://www.politico.com/news/2022/11/01/giuliani-defamation-georgia-election-workers-00064418
Hillary Clinton Seeks Sanctions on Trump Over Failed Conspiracy Suit
Hillary Clinton asked a federal judge to sanction former President Donald Trump and his lawyers for filing an allegedly frivolous lawsuit accusing them of conspiring to undermine his term in office.

Trump and his attorneys should be ordered to pay $1.06 million in legal fees and costs that were racked up by Clinton, her 2016 presidential campaign and several other Democratic-linked defendants for filing the suit as a 'political stunt,' according to a filing Monday in federal court in Florida. https://www.bloomberg.com/news/articles/2022-10-31/clinton-asks-judge-to-sanction-trump-over-failed-conspiracy-suit
Biden quietly but clearly prepares a potential reelection bid
President Biden and first lady Jill Biden have been meeting since September with senior advisers at the White House residence to prepare a potential 2024 reelection campaign.

The meetings of what advisers describe as a 'very small group' come as the Democratic National Committee has been making plans to respond on President Biden's behalf to former president Donald Trump or other potential presidential contenders who could announce campaigns in the coming months. https://www.washingtonpost.com/politics/2022/11/01/biden-plans-2024-reelection-bid/
GOP Senate Campaigns Have No Answers on Inflation
The campaigns of eight Senate candidates in competitive races—J.D. Vance in Ohio; Mehmet Oz in Pennsylvania; Herschel Walker in Georgia; Blake Masters in Arizona; Ron Johnson in Wisconsin; Ted Budd in North Carolina; Adam Laxalt in Nevada; and Mike Lee in Utah were asked about their plans to lower gas prices and to fight inflation?

The campaigns of Oz, Lee, Walker, and Masters did not respond, while the others all offered the eerily similar responses that you can find below. Usually, these solutions came in the form of pointing out horrible things the Biden administration has done. Not mentioned: global supply shocks tied to the pandemic shutdown, monopoly power and corporate concentration*, corporate profits, the war in Ukraine, OPEC, housing (the main driver of inflation through much of 2022), or the Federal Reserve. https://www.esquire.com/news-politics/a41819936/republicans-inflation-gas-prices-plan/
Supreme Court denies Lindsey Graham appeal to block subpoena in election subversion case
The Supreme Court has denied Sen. Lindsey Graham's emergency bid to block a subpoena from Atlanta-area prosecutors investigating Donald Trump's effort to subvert the 2020 election.

The court, with no noted dissent, agreed that Graham can be required to provide testimony to a grand jury about matters that aren't related to his official congressional work. Anything on his legislative business would be off limits, the high court's order said. https://www.politico.com/news/2022/11/01/supreme-court-denies-lindsey-graham-appeal-to-block-subpoena-in-election-subversion-case-00064462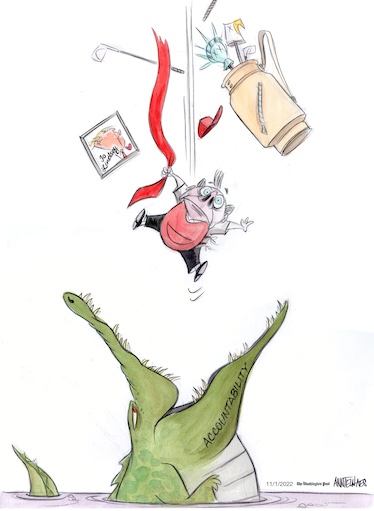 Trump lawyers saw Justice Thomas as 'only chance' to stop 2020 election certification
Donald Trump's attorneys saw a direct appeal to Supreme Court Justice Clarence Thomas as their best hope of derailing Joe Biden's win in the 2020 presidential election, according to emails newly disclosed to congressional investigators.

We want to frame things so that Thomas could be the one to issue some sort of stay or other circuit justice opinion saying Georgia is in legitimate doubt, Trump attorney Kenneth Chesebro wrote in a Dec. 31, 2020, email to Trump's legal team. Chesebro contended that Thomas would be our only chance to get a favorable judicial opinion by Jan. 6, which might hold up the Georgia count in Congress. https://www.politico.com/news/2022/11/02/trump-lawyers-saw-justice-thomas-as-only-chance-to-stop-2020-election-certification-00064592
How Democrats and GOP View Threat to Democracy
There is broad agreement on one thing: American democracy is under threat. Two-thirds (66%) of Americans say it is, and that jumps to 79% among likely voters. Democrats and Republicans are equally likely to see a threat, but the threats they see are different.

Democrats who believe democracy is under threat are most likely to name the lack of acceptance of election results by some candidates (79%), political extremism (78%), and gerrymandering (61%) as threats they have in mind when thinking of democracy under threat, with corruption (59%) a close fourth.

Republicans are most likely to cite votes not being counted correctly (76%), ineligible voters casting ballots (72%), and corruption (70%). https://today.yougov.com/topics/politics/articles-reports/2022/10/27/preference-likely-voters-two-weeks-election
With Falsehoods and Ridicule About Pelosi Attack, Republicans Mimic Trump
The reaction to the assault on Mr. Pelosi among Republicans — who have circulated conspiracy theories about it, dismissed it as an act of random violence and made the Pelosis the punchline of a dark joke — underscores how thoroughly the G.O.P. has internalized his example. It suggested that Republicans have come to conclude that, like Mr. Trump, they will pay no political price for attacks on their opponents, however meanspirited, inflammatory or false.

If anything, some Republicans seem to believe they will be rewarded by their right-wing base for such coarseness — or even suffer political consequences if they do not join in and show that they are in on the joke. https://www.nytimes.com/2022/11/01/us/politics/pelosi-attack-republicans-trump.html
Ads targeting transgender kids flood swing states
A deluge of radio spots and mailers targeting transgender children is hitting swing-state voters as part of a broad ad campaign directed by prominent Trump administration alums.
Polling rarely registers transgender-related issues as a top priority for voters, with other topics like the economy and public safety taking the lead in this midterm cycle. But America First Legal, launched by longtime Donald Trump aide Stephen Miller, has plastered airwaves and mailboxes with the issue ahead of the election — all without mentioning candidates currently running for office, as both groups are registered nonprofits.
https://www.politico.com/news/2022/11/01/ads-targeting-transgender-kids-swing-states-00064505
Inside the growing Republican fissure on Ukraine aid
Opposition to — or skepticism of — sending more U.S. money to Ukraine has accelerated within the GOP in recent weeks, with House Minority Leader Kevin McCarthy (R-CA) signaling earlier this month that Republicans would end or limit spending on the war if they take control of the House in next week's midterms.

The threat to cut funding marks a sharp turn for a party whose members almost universally embraced aiding Ukraine after Russia invaded in February. Over the past eight months, supporters of former president Donald Trump have joined with skeptics of military intervention and anti-Biden forces within the GOP to challenge traditionally hawkish Republicans.

The result is a rare fissure in the GOP, one likely to flare into a more open battle if Republicans retake Congress and are faced with forceful requests from Biden and emotional appeals from Ukrainian President Volodymyr Zelensky. https://www.washingtonpost.com/politics/2022/10/31/republican-split-on-ukraine-aid/
Churches are breaking the law and endorsing in elections, experts say. The IRS looks the other way.
At one point, churches fretted over losing their tax-exempt status for even unintentional missteps. But the IRS has largely abdicated its enforcement responsibilities as churches have become more brazen.
In fact, the number of apparent violations found by ProPublica and the Tribune, and confirmed by three nonprofit tax law experts, are greater than the total number of churches the federal agency has investigated for intervening in political campaigns over the past decade, according to records obtained by the news organizations.
https://www.texastribune.org/2022/10/30/johnson-amendment-elections-irs/
Elon Musk, right-wing figures push misinformation about Pelosi attack
Elon Musk and a wide range of right-wing personalities cobbled together misreporting, innuendo and outright falsehoods to amplify misinformation about last week's violent assault on Paul Pelosi to their millions of online followers.

A forum devoted to former White House adviser Stephen K. Bannon's right-wing radio show alerted its 78,000 subscribers to "very strange new details on Paul Pelosi attack." Roger Stone, a longtime political consigliere to former president Donald Trump, took to the fast-growing messaging app Telegram to call the assault on House Speaker Nancy Pelosi's husband an "alleged attack," telling his followers that a "stench" surrounded mainstream reporting about the Friday break-in that left Pelosi, 82, hospitalized with a skull fracture and other serious injuries.

The skepticism didn't stay in right-wing echo chambers but seeped also into the feeds of popular online personalities, including Musk, Twitter's new owner, who wrote that here is a tiny possibility there might be more to this story than meets the eye, pointing his 112 million followers to a sensationalist account of the episode published by a site known for spreading right-wing misinformation before deleting the tweet several hours later. https://www.washingtonpost.com/politics/2022/10/30/paul-pelosi-attack-misinformation-elon-musk/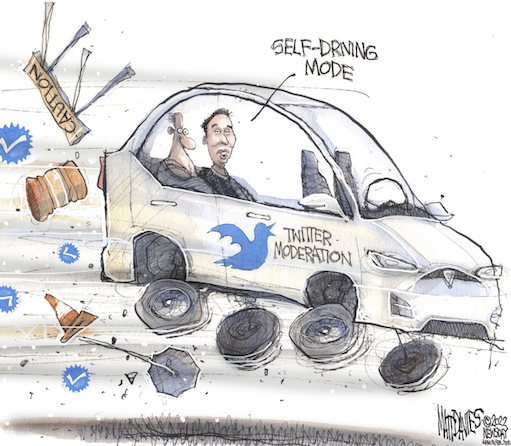 Affirmative action is at death's door at the Supreme Court
The Supreme Court said in 2003 that colleges and universities could consider race as a factor when deciding which students to admit, for the sake of building a diverse student body. But now, the much more conservative court appears to be changing its mind.
The court is set to hear oral arguments this week over the admissions processes at Harvard and the University of North Carolina, both of which give a little extra weight to applicants who come from certain underrepresented groups.
Life is full of surprises, but the court has sent just about every conceivable signal that it's likely to put a stop to those sorts of policies.
https://www.axios.com/2022/10/30/affirmative-action-supreme-court-harvard-unc
GOP 2024 primary set to begin right after the midterms
The shadow campaign for the Republican presidential nomination is poised to break wide open, with about a dozen 2024 contenders scheduled to showcase themselves to leading donors and activists attending an annual Republican Jewish Coalition conference.
Donald Trump is not on the guest list. He was invited to Las Vegas but declined… But nearly every other prominent Republican eyeing a White House bid is coming. That includes former Vice President Mike Pence and two veterans of Trump's Cabinet: former Secretary of State Mike Pompeo and former U.S. Ambassador to the United Nations Nikki Haley.
Also appearing is Florida Gov. Ron DeSantis, considered a top Trump rival should both mount presidential campaigns… Virginia Gov. Glenn Youngkin, the latest entrant into the GOP's 2024 sweepstakes, is headlining the RJC's megadonor fundraising dinner — a slot coveted by ambitious Republicans — the Thursday before the conference begins. https://www.washingtonexaminer.com/news/campaigns/gop-2024-primary-rjc-gathering-featuring-several-contenders-not-trump
Twitter Roils With Hate Speech as Trolls Test New Limits
In the wake of Elon Musk buying Twitter a tide of slurs and racist memes swelled on the platform, sparking concern that the site is entering an era of hateful speech.

Twitter has long wrestled with how to enforce content policies fairly on its platform in order to appease the advertisers, users and powerful world leaders that use its service. But as Musk, a self-styled 'free speech absolutist,' took over ownership of the company, some conservative officials, partisan extremists and conspiracy peddlers saw reason to celebrate the change. https://www.bloomberg.com/news/articles/2022-10-29/musk-s-twitter-roils-with-hate-speech-as-trolls-test-new-limits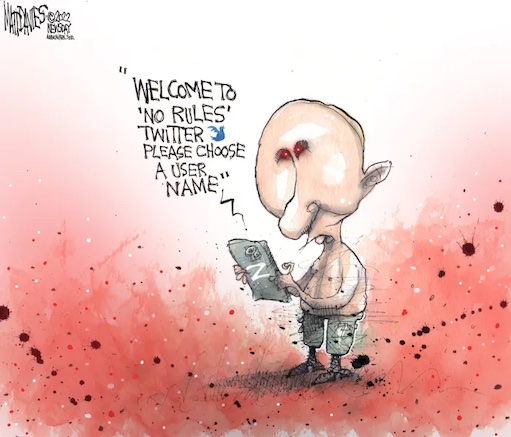 Masked Poll Watchers Are Showing Up at Voting Sites With Handguns and Kevlar Vests
Two people armed with handguns and wearing tactical military gear, balaclavas masking their face and the license plates on their cars covered, stood watch over a ballot drop box during early voting last week in Mesa, Arizona.
This scene, reported by the Maricopa County Elections Department on Friday, is one that some elections officials and law enforcement fear might spread as believers in Donald Trump's false claims that a second term as president was stolen from him through voter fraud amp up activity ahead of the Nov. 8 election.
https://www.bloomberg.com/news/articles/2022-10-27/masked-poll-watchers-are-showing-up-at-voting-sites-with-handguns-and-kevlar-vests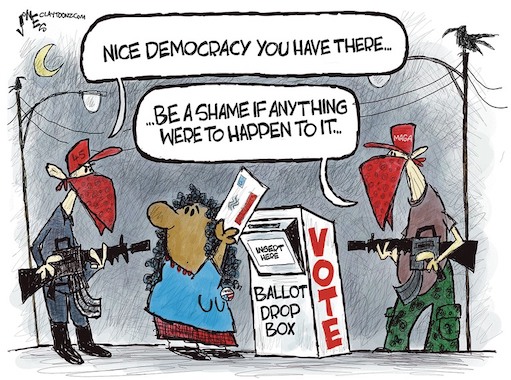 Pa. Republicans move to impeach Philadelphia's progressive prosecutor
Pennsylvania Republicans announced Wednesday plans to impeach and potentially remove from office Philadelphia DA Larry Krasner, a national leader among progressive prosecutors who was overwhelmingly re-elected last year.
Krasner is not accused of committing a crime. Nor do his critics allege corruption. Instead, they accuse him of dereliction of duty for what they say is a failure to adequately enforce criminal laws, leading to rising crime rates and declining quality of life for Philadelphians.
The extraordinary move — the state Legislature has impeached only two officials in its entire history, in 1994 and 1811 — comes just two weeks before a midterm election in which Republicans have focused on crime while Democrats have highlighted threats to democracy from politicians willing to defy elections.
https://www.nbcnews.com/politics/2022-election/pa-republicans-move-impeach-philadelphias-progressive-prosecutor-rcna54112
Far-right skeptics of GOP may soon have a state's worth of Senate power
As Trump leveraged his fame and wealth to seize power, billionaire investor Peter Thiel was by his side. Watching. People tuning in to the 2016 Republican convention would have seen Thiel giving an awkward, generic speech about patriotism and Hillary Clinton and probably assumed he was just another one of the random people selected to testify to Trump's business acumen.
But Thiel had his own philosophy and his own ambitions. As the 2022 midterm elections approach and two longtime allies of Thiel's stand on the brink of election to the U.S. Senate, it seems safe to say that Thiel is doing to Trump what Trump did to the GOP: Leveraging Trump's existing popularity on the right to build his own power center in American politics.
Thiel and his compatriots, including Fox News's Tucker Carlson, are on the brink of seeing GOP-skeptical right-wing allies wielding as much power in the Senate as the state of California.
https://www.washingtonpost.com/politics/2022/10/26/peter-thiel-blake-masters-jd-vance-trump-republicans/
A Third Say God Intended U.S. to Be the 'Promised Land'
A new PRRI poll finds that 31% of Americans believe that God intended America to be a new promised land where European Christians could create a society that could be an example to the rest of the world.
https://www.prri.org/research/challenges-in-moving-toward-a-more-inclusive-democracy-findings-from-the-2022-american-values-survey/
Why the Republicans' anti-democracy turn has become normalized
Despite the best efforts of Democrats, these midterms do not look like being a referendum on the increasingly institutionalized anti-democratic tendencies of the right. With a few exceptions, after winning their primary contests most Republicans have de-emphasized the relitigation of the last election, as they seek to widen their appeal beyond the party base. They have more or less successfully defined the race as a referendum on Mr Biden's leadership, crime, culture-war excess, education, inflation and immigration.
After a hopeful summer for Democrats in the wake of the Supreme Court's unpopular ruling on abortion, the national environment has recently soured for the party in power, which now fears it may lose even the governorships of Oregon and New York. It is normal to see a backlash in midterm years. This time, though, it would come with an unfortunate side-effect: the continuing moral rotting of a previously grand old party.
https://www.economist.com/united-states/2022/10/27/why-the-republicans-anti-democracy-turn-has-become-normalised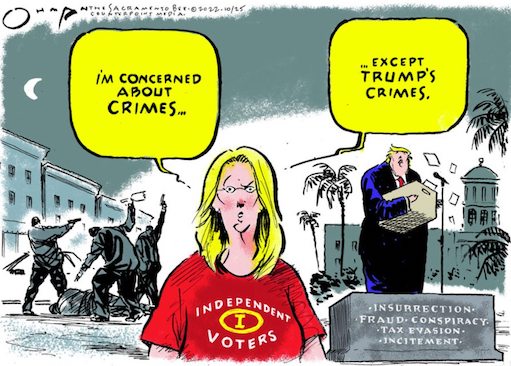 Abortion isn't the top voting issue for most Americans. It's still motivating them to turn out
Abortion isn't the top issue on all voters' minds heading into the November midterms. But it's notably more important to voters in 2022 than in years past — and the Supreme Court's decision overturning Roe v. Wade in June is actively motivating more voters to turn out, a major new survey shows.
https://19thnews.org/2022/10/abortion-voting-issue-motivation-survey/
Shell and Total, Oil Giants, Report Huge Profits on High Energy Prices
The good times continue at Shell. The London-based energy giant reported adjusted earnings for the third quarter of $9.45 billion, its second-highest profit on record and more than double the $4.1 billion it made in the same period a year earlier.
Shell is mainly benefiting from high oil and natural gas prices partly stoked by the war in Ukraine, as Russia squeezes gas flows to Europe.
https://www.nytimes.com/2022/10/27/business/shell-earnings-profit-oil-gas.html
Prosecutors Seek Testimony on Trump's Claims to Have Declassified Documents
Federal prosecutors investigating former President Donald Trump's handling of national security documents want to question one of his confidants about a claim that Mr. Trump had declassified national security documents he took when he left the White House, the New York Times reports.
That claim has hovered over the investigation since the confidant, Kash Patel; Mr. Trump himself; and other allies said publicly that Mr. Trump had declassified the documents while still president.
No evidence has emerged that Mr. Trump did so, and Mr. Trump's lawyers have not repeated the claim in an ongoing court dispute with prosecutors over materials seized by the F.B.I. during a search of Mar-a-Lago, his Florida estate, in August.
https://www.nytimes.com/2022/10/26/us/politics/trump-declassified-documents-testimony.html
Marjorie Taylor Greene Vows Revenge on Companies That Stopped Donating to GOP Election Deniers: 'Not Going to Be Forgotten'
Rep. Marjorie Taylor Greene (R-GA) told Steve Bannon that she hasn't forgotten that some corporations halted donations to Republican lawmakers who didn't vote to certify the 2020 presidential election.
Said Greene: They stopped donating. All the lobbyists, all the big corporations stopped to a whole bunch of my Republican colleagues that they used to donate to. They said, 'Oh, no. We can't support you because of the big lie' or whatever they want to call it.
She added: So, I want you to know – and this is something they should all know – that's not going to be forgotten by a whole bunch of my Republican colleagues because that was really ridiculous and wrong.
https://www.mediaite.com/politics/marjorie-taylor-greene-vows-revenge-on-companies-that-stopped-donating-to-gop-election-deniers-not-going-to-be-forgotten/
Trump Bid to Block Tax Returns From House Panel
A federal appeals court rejected former President Donald Trump's request to reconsider a ruling that his tax returns must be disclosed to a congressional committee, Bloomberg reports.

The order from the US Court of Appeals for the DC Circuit clears the way for the House Ways and Means Committee to get Trump's financial documents, although the former president could still try to petition the US Supreme Court to intervene. https://www.bloomberg.com/news/articles/2022-10-27/trump-loses-latest-push-to-block-tax-returns-from-house-panel
Then on Tuesday, Chief Justice John Roberts temporarily blocked a House committee from obtaining several years of former President Donald Trump's tax returns.
The chief justice ordered the stay to freeze the House Ways and Means Committee's request for the documents, which Trump has fought for years. The former president on Monday filed an emergency application asking the Supreme Court to intervene in the case after a federal appeals court last week denied Trump's request to block the release of his tax returns.
Roberts granted Trump's request by placing an administrative stay on the tax returns, which is temporary and "pending further order of the undersigned or of the Court." The chief justice gave the House panel until Nov. 10 to respond to Trump's application to delay the committee from obtaining years of his tax records from the Treasury Department. https://www.politico.com/news/2022/11/01/roberts-blocks-house-committee-trump-tax-returns-00064399
Outspoken Trump ally Kash Patel goes mum as Mar-a-Lago probe progresses
One of Donald Trump's most outspoken defenders, Kash Patel, who in interviews and on social media has launched blistering attacks against the FBI and repeatedly insisted Trump did nothing wrong in keeping a cache of allegedly classified documents at his Mar-a-Lago estate, recently said he is no longer talking about the matter.
https://abcnews.go.com/Politics/outspoken-trump-ally-kash-patel-mum-mar-lago/story
Is Herschel Walker the worst candidate the Republicans have ever run?
Walker embodies everything the Republican party has claimed to oppose: violent crime, abortion, homes broken by absentee fathers, race-based affirmative action and straight-up incompetence. And yet no matter what Walker is accused of, up to and including acts many Republicans define as murder, he retains the support of the Republican party, and his race for a Georgia Senate seat remains a tight one.
https://www.theguardian.com/commentisfree/2022/oct/27/herschel-walker-worst-candidate-republicans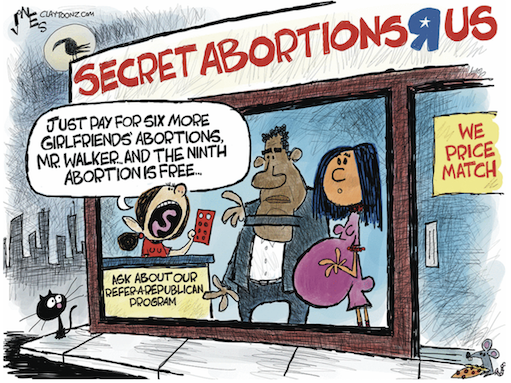 Why the Republicans' anti-democracy turn has become normalized
Despite the best efforts of Democrats, these midterms do not look like being a referendum on the increasingly institutionalized anti-democratic tendencies of the right. With a few exceptions, after winning their primary contests most Republicans have de-emphasized the relitigation of the last election, as they seek to widen their appeal beyond the party base. They have more or less successfully defined the race as a referendum on Mr Biden's leadership, crime, culture-war excess, education, inflation and immigration.
After a hopeful summer for Democrats in the wake of the Supreme Court's unpopular ruling on abortion, the national environment has recently soured for the party in power, which now fears it may lose even the governorships of Oregon and New York. It is normal to see a backlash in midterm years. This time, though, it would come with an unfortunate side-effect: the continuing moral rotting of a previously grand old party.
https://www.economist.com/united-states/2022/10/27/why-the-republicans-anti-democracy-turn-has-become-normalised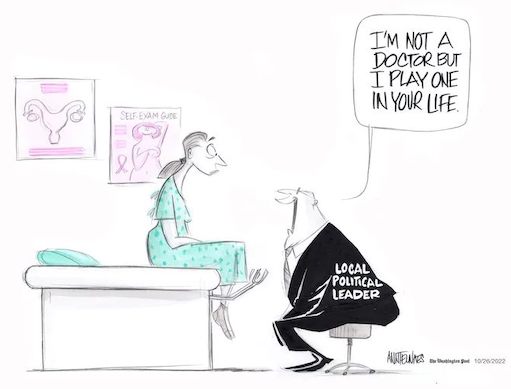 David Frum: Only the GOP Celebrates Political Violence
There's nothing partisan about political violence in America… But if both Republicans and Democrats, left and right, suffer political violence, the same cannot be said of those who celebrate political violence. That's not a 'both sides' affair in 2020s America.

You don't see Democratic House members wielding weapons in videos and threatening to shoot candidates who want to cut capital-gains taxes or slow the growth of Medicare. Democratic candidates for Senate do not post video fantasies of hunting and executing political rivals, or of using a firearm to discipline their children's romantic partners. It's not because of Democratic members that Speaker Nancy Pelosi installed metal detectors to bar firearms from the floor of the House. No Democratic equivalent exists of Donald Trump, who regularly praises and encourages violence as a normal tool of politics, most recently against his own party's Senate leader, Mitch McConnell. https://www.theatlantic.com/ideas/archive/2022/10/pelosi-republicans-partisan-political-violence/671934/
Nilay Patel: Welcome to hell, Elon
You fucked up real good, kiddo.

Twitter is a disaster clown car company that is successful despite itself, and there is no possible way to grow users and revenue without making a series of enormous compromises that will ultimately destroy your reputation and possibly cause grievous damage to your other companies.

I say this with utter confidence because the problems with Twitter are not engineering problems. They are political problems. Twitter, the company, makes very little interesting technology; the tech stack is not the valuable asset. The asset is the user base: hopelessly addicted politicians, reporters, celebrities, and other people who should know better but keep posting anyway. You! You, Elon Musk, are addicted to Twitter. You're the asset. You just bought yourself for $44 billion dollars.

The problem when the asset is people is that people are intensely complicated, and trying to regulate how people behave is historically a miserable experience, especially when that authority is vested in a single powerful individual.

What I mean is that you are now the King of Twitter, and people think that you, personally, are responsible for everything that happens on Twitter now. It also turns out that absolute monarchs usually get murdered when shit goes sideways. https://www.theverge.com/2022/10/28/23428132/elon-musk-twitter-acquisition-problems-speech-moderation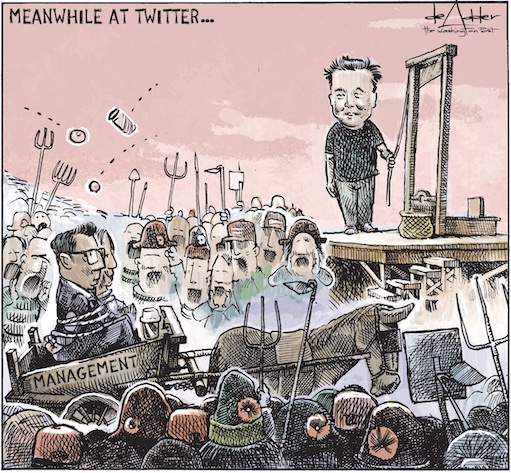 Lara Korte: Why Gavin Newsom isn't even bothering to campaign for reelection
Gavin Newsom is not asking for your vote. He doesn't need it.

Sliding into a second term might be good for Newsom, but it could be bad for the party. The lack of a competitive race at the top of the ticket could mean low turnout — an unwelcome prospect for Democrats running in critical, closely-contested congressional races in Orange County and the Central Valley.

"I think he has to be careful," GOP consultant Rob Stutzman said of Newsom. "The last time we had a non-competitive reelection for [Gov. Jerry] Brown in 2014, a midterm Democratic presidential election, it was a rough year for Democrats. That was their worst election of the decade in California."

Newsom's campaign — or lack of one — is in many ways a product of deep blue California, where Democrats hold a supermajority in the Legislature and outnumber Republicans two-to-one in voter registration. But it also suggests that the California governor — one of the most prominent Democrats outside of Washington — sees himself largely as a counterweight to a resurgent Republican Party that may be poised to retake the House and the presidency in 2024. It's also fueled speculation that the governor is running a covert presidential primary campaign. https://www.politico.com/news/2022/10/30/gavin-newsom-campaign-reelection-00064071
Susan B. Glasser: Putin Is Inventing a Whole New Kind of Nuclear Blackmail
When Putin first started invoking the spectre of nuclear conflagration after invading Ukraine, Michael Dobbs, a historian whose book One Minute to Midnight is a definitive account of the 1962 standoff, pointed out that crisis had only lasted thirteen days, compared with the months or years that this one could persist. And of course, the longer the war in Ukraine goes on, the riskier it becomes. On Thursday, when I asked Dobbs to compare the two, his reply was unnerving. I don't see the same opportunities for defusing the current crisis with a Cuba-like compromise, he said, referring to the full withdrawal of Soviet missiles from Cuba in return for a non-invasion pledge from the U.S. and secret promise to dismantle American intermediate-range missiles in Turkey. Dobbs added, Mathematically, therefore—length of the crisis multiplied by the number of things that can go wrong and lack of obvious exit ramps—the degree of risk is comparable, perhaps higher now.

In other words, the rolling, protracted nuclear crisis he envisioned at the start of Russia's war now seems to be happening—with no obvious short-term possibility for a deal to end it, given the horrific conventional war that Putin has launched and the existential stakes for Ukraine.

Sixty years ago, the Cuban missile crisis concluded less than two weeks before midterm elections in which Democrats performed better than expected. Republicans cried foul, saying President John F. Kennedy had used the crisis for his, and his party's, political benefit. Barry Goldwater, who would be the G.O.P. nominee in the subsequent Presidential election, even alleged that Kennedy had timed the crisis specifically for maximum domestic political effect.

There will be no such benefit to Biden or his party this year. Quite the opposite, in fact. The politics of the war are increasingly fraught in Washington, and the House Minority Leader, Kevin McCarthy, recently suggested that if his party takes back the House—as it is expected to—Republicans will no longer provide a blank check for supporting Ukraine. Biden cannot even take his own party's backing as an unquestioned guarantee going forward, a point reinforced this week when thirty Democrats in the Congressional Progressive Caucus sent him a letter that appeared to undercut the Administration's policy by urging that he open immediate negotiations with Putin to end the war. Amid Putin's nuclear bluster, it was a strikingly off-message line, and the representatives quickly withdrew the letter. But the point was made: This year's midterms represent their own kind of superpower crisis. America's political divisions are the world's problem, too.

On the campaign trail, Ukraine has hardly registered as an issue, but that is only because so many fundamental questions about the future of American democracy are being contested. If Republicans take back one or both houses of Congress, the reverberations will surely be felt on the battlefield in Ukraine—and even more so if, as expected, Donald Trump soon thereafter announces he is running again for the White House. The former President has retained his admiration for Russia's authoritarian leader. When Putin launched the invasion of Ukraine last winter, Trump even called his strategy genius. There is a real prospect that Trump could not only run but win. Does anyone doubt that Putin is waiting and hoping for just this outcome? Whatever you call it, this crisis may have only just begun.  https://www.newyorker.com/news/letter-from-bidens-washington/putin-is-inventing-a-whole-new-kind-of-nuclear-blackmail
John Cassidy: Beware Elon Musk's Takeover of Twitter
In recent years, all the big social-media companies, Twitter included, have, under public pressure, invested in content-moderation policies, which employ artificial-intelligence programs and actual humans to search out posts and users that violate the platforms' terms-of-service agreements. On paper, Twitter's rules are quite strict. They say that users can't use the platform to threaten violence against an individual or a group of people, nor promote the glorification of violence, nor promote terrorism or violent extremism, nor encourage suicide or self-harm, nor engage in the targeted harassment of someone, or incite other people to do so, nor harass other people on the basis of race, ethnicity, national origin, caste, sexual orientation, gender, gender identity, religious affiliation, age, disability, or serious disease.

It was on the basis of these rules that Twitter, two days after the January 6th assault on the Capitol by supporters of Donald Trump, issued a permanent ban to the former President's account due to the risk of further incitement of violence. Musk's insistence on free speech and his claims of left bias in Twitter policies have sparked concern that he would loosen content-moderation standards and let Trump back onto the platform. Such a move would likely be accompanied by the return of many other right-wing incendiaries and disinformation merchants.

The optimistic case for Musk's purchase is that, since he is reportedly investing tens of billions of dollars of his own money, he has a strong incentive to make a financial success of it, and this wouldn't be consistent with allowing the platform to turn into even more of a cesspit. To his credit, Musk has demonstrated a strong record of innovation at his other companies, and some of the proposals that he has floated for Twitter—such as eliminating spam or fake accounts; expanding subscriptions; and giving users more leeway to edit their tweets, or post longer ones—seem reasonable.

The pessimistic case is that Musk, in downplaying the dangers of adopting a laissez-faire approach to content, is being naïve, or that, despite his public assurances, he isn't operating in good faith. While he claims to be a political centrist and a responsible new owner of Twitter, some of his own tweets have targeted individuals for abuse or echoed right-wing memes. Earlier this year, he said that he had voted Republican for the first time, supporting Mayra Flores, a conservative Texas congresswoman who won a special election in June. He also said that he was leaning toward supporting Florida's Republican governor, Ron DeSantis, in 2024.

Musk is entitled to his political views, of course. But the world's richest man now runs one of the world's most powerful social-media platforms, and, since he is taking the company private, he won't be answerable to public shareholders. That alone is an alarming development. Nobody should take it on trust that the outcome will be a benign one. https://www.newyorker.com/news/our-columnists/beware-elon-musks-takeover-of-twitter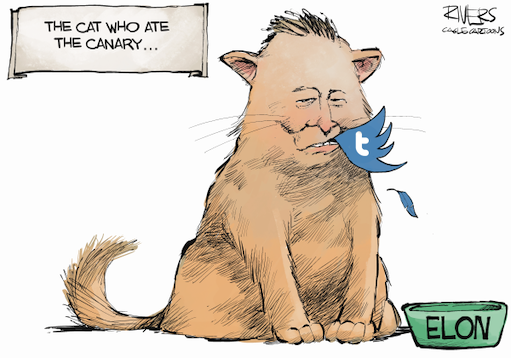 Jeffrey Frankel: The allure of the GOP is baffling. Voters will regret falling for it
For many, the economy is top priority. History shows it will probably suffer under Republican rule.

American voters seem poised to hand the Republican Party control of the House of Representatives, and possibly the Senate as well, in November's midterm elections. The same goes for many state races, where polls show Republicans gaining ground.

Such an outcome could have profound consequences for American democracy, especially if it results in even greater degradation of the U.S. electoral system. Given the large number of 2020 election deniers running for office in 2022 and the enormous power over how votes are cast and counted that victory would give them, this prospect is increasingly worrisome.

The Republicans' likely midterm victory is baffling. The GOP is now dominated by an extremist faction whose prominent members claim (or have claimed) not only that former President Trump won the 2020 presidential election, but also that climate change is a hoax, COVID-19 is a conspiracy and former President Obama was not born in the United States. While many Republicans do not say such things (and many who do probably do not believe what they are saying), the Trumpian extremists are in charge.

Despite their hostility to most voters' economic interests — and to democracy itself — the Republicans are still favored to win. That is inexplicable, and alarming. https://www.latimes.com/opinion/story/2022-10-27/republicans-midterms-election-deniers-economy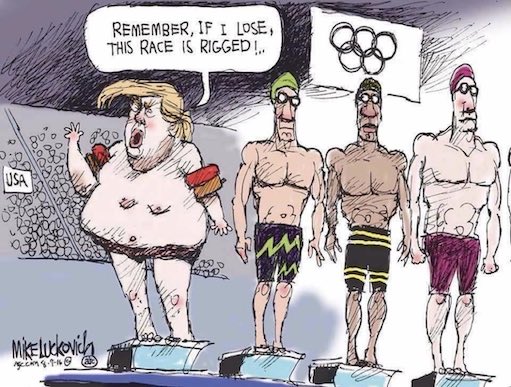 Jonathan Bernstein: Spin Election Results Now, Win Political Battles Later
A lot of election commentary this week has centered around the notion that Democrats are suddenly struggling. It looks like Democrats will have a tough Election Day. But that's something we have known was likely since Joe Biden won the 2020 election. Political scientists find that midterms are mainly driven by the president's popularity — which in turn tends to be a function of the economy. With a Democrat in the White House and with perceptions of the economy so negative, the chances for an overall winning year for Democrats have always been slim.

Indeed, as political scientist John Sides points out, analysis that just takes into account those fundamentals — presidential popularity and  economic sentiment — estimates that Republicans, all else being equal, would gain between 40 and 45 seats in the House and between one and three seats in the Senate. Some models are even more optimistic about Republican gains. As Sides says, 'basic indicators suggest that 2022 should be bad for Democrats and you should calibrate your expectations to that.' https://www.bloomberg.com/opinion/articles/2022-10-28/midterms-2022-spin-election-results-now-win-political-battles-later
Maureen Dowd: The Pelosis and a Haunted America
Halloween has always been my favorite holiday. I loved putting up twinkling bats and watching midnight monster-chiller-horror movies.

Not this year.

The world is too scary. Politics is too creepy. Horror is too real.

Now the bad spirits are lurking all around us. They will not be driven off.

America seems haunted by random violence and casual cruelty every day. In New York, subway riders getting pushed onto the tracks and innocent bystanders being shot. Officials across the country facing kidnapping plots, armed visits to their homes, assaults and death threats. No place seems safe, from parks to schools to the supposedly impregnable, guarded Capitol and homes of the wealthy and well known.

In some states, women — and girls — seeking abortions are treated as criminals. In Uvalde, Texas, terrified children frantically calling the police are slaughtered by a teenage psychopath with an AR-15-style rifle as 376 police officers lingered in and around the elementary school waiting for … what?

Now comes news of a maniac breaking into a house in the middle of the night, bludgeoning an 82-year-old man in the head with a hammer while demanding to know where his famous wife was. Perfect Halloween movie fare. Except it actually happened.

The police said the intruder was David DePape, a 42-year-old from Berkeley, Calif. CNN reported that DePape's relatives confirmed that a Facebook account spewing Trumpian conspiracies on topics ranging from climate change to Covid was his. In his posts, he cast doubt on the validity of the 2020 election — sharing pillow pusher and Trump lickspittle Mike Lindell's absurd videos. And he defended the Trump rioters who stormed the Capitol.

On Twitter, Adam Kinzinger urged G.O.P. candidates and elected officials to speak out against the "horrific" attack. He probably didn't have in mind the sort of speaking out that Gov. Glenn Youngkin of Virginia did. Youngkin made a joke of the assassination attempt: "There's no room for violence anywhere, but we're going to send her back to be with him in California."

Democrats had a nice run, on climate change and gun legislation, and enjoyed some backlash to the Dark Prince of the Supreme Court, Samuel Alito. Now Republicans seem set to win back the House, and maybe the Senate, with a range of incompetent and hypocritical candidates.

"I cannot believe anybody would vote for these people," Pelosi told The Times's Carl Hulse on a fund-raising swing.

But a feral mood has taken hold. If you think Washington is monstrous now, just wait. https://www.nytimes.com/2022/10/28/opinion/pelosi-nancy-paul-attack.html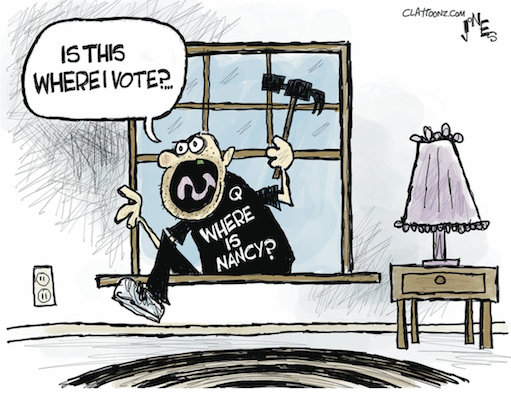 Chas Danner: New Twitter Owner Tweets, Then Deletes Pelosi-Attack Conspiracy Theory
Billionaire and newly minted social-media mogul Elon Musk changed his Twitter bio to "Chief Twit" after taking control of the company on Thursday. On Sunday, he offered a fresh demonstration of why it wasn't just a play on words.

At 5:15 in the morning, the new Twitter owner posted a tweet sharing a baseless conspiracy theory about the attack on Paul Pelosi, Speaker of the House Nancy Pelosi's husband, on Friday. Musk was replying to a tweet Hillary Clinton had posted about the attack linking the violence to how "The Republican Party and its mouthpieces now regularly spread hate and deranged conspiracy theories."

Musk, who has 112 million followers, replied to Clinton that "there is a tiny possibility there might be more to this story than meets the eye" — then shared a post from a disreputable news site promoting a right-wing conspiracy theory that Mr. Pelosi knew his attacker, claiming that Mr. Pelosi was drunk and had gotten into a fight with a male prostitute — a right-wing conspiracy theory that has emerged in the aftermath of the attack. Musk's tweet was deleted several hours later, but not before it was retweeted more than 30,000 times and had received more than 110,000 likes, according to the San Francisco Chronicle.

The article Musk shared was from the Santa Monica Observer, which the misinformation-tracking firm Newsguard has rated "anything but trustworthy" and the Los Angeles Times editorial board last year noted "is notorious for publishing false news":

In 2016, for example, it claimed that Hillary Clinton had died and that a body double had been sent to debate Donald Trump. Months later it reported, incorrectly, that Trump had appointed Kanye West to a high-level position in the Interior Department. Last year, it reported falsely that sunlight could be a remedy for COVID-19 sufferers and that Bill Gates, a major funder of vaccine research, had been responsible for a polio epidemic.

It is, in other words, exactly the kind of website a billionaire "free-speech absolutist" who routinely stirs controversy by tweeting bizarre nonsense would link out to. https://nymag.com/intelligencer/2022/10/elon-musk-tweets-deletes-pelosi-attack-conspiracy-theory.html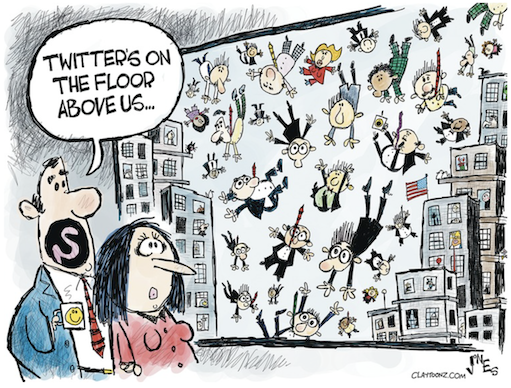 Jacob Heilbrunn: How the Republican Fringe Became the Mainstream
As the historian Richard Hofstadter once observed, the alarming thing about American politics isn't that most believers in conspiracy theories are crazy. It's that they aren't. 'It is the use of paranoid modes of expression by more or less normal people that makes the phenomenon significant,' he wrote. Hofstadter's theory may sound like a description of Donald Trump and his followers, but it was, of course, written much earlier—in 1964, about the encroaching paranoia in American politics expressed by the presidential candidate Barry Goldwater, who infamously declared in his acceptance speech that 'extremism in the defense of liberty is no vice.' Goldwater's candidacy ultimately flamed out, but the passions and hatreds he inspired have only grown. Now more than ever, the Republican Party has become the vehicle for an assault not only on liberalism, but on American democracy itself.
In the present day, the GOP's delusions have become so pervasive that even former party stalwarts such as Liz Cheney have ended up as lonely dissidents, reduced to hoping that some sliver of sanity can be retrieved from the wreckage to rebuild the party. Even the events of January 6, 2021, proved no more than a speed bump for the Trumpian project, whose adherents are exploiting it as a kind of Beer Hall Putsch moment to double down on purging the GOP and ensuring fresh fealty to the former guy.
Whether he is the nominee in 2024 or not, Trump, like Goldwater, has fundamentally altered the Republican Party for years, if not decades, to come. The party's candidates are aping his refusal to concede defeat, demonizing Democrats as an internal subversive enemy, and embracing a variety of hallucinatory conspiracy theories as the ticket to electoral success. The fringe became the center in the GOP—and why it isn't going away anytime soon. https://washingtonmonthly.com/2022/10/30/republican-extremists-marjorie-taylor-greene-paul-gosar/