November 15, 2018
ON THE RECORD. . .
"It's time we all quit dancing around what is now a state-owned news channel." -- Sen. Claire McCaskill (D-MO) saying that the president's inflammatory appeals to division and fear were ubiquitous, in large part because of Fox News.
"I'm certainly guilty of bluffing and posturing and punking the Democrats. Unless they've passed some law against bullshit and I missed it, I'm engaging in tradecraft. It's politics." — Roger Stone.
"I will not stand idly by while unethical liberals try to steal an election." -- Republican Gov. Rick Scott, claiming south Florida election officials are fraudulently mishandling ballots.
"It's incredible that a president would travel to France for this significant anniversary — and then remain in his hotel room watching TV rather than pay in person his respects to the Americans who gave their lives in France for the victory gained 100 years ago tomorrow." -- David Frum, who served as a speechwriter to former president George W. Bush.
The 5,600 American troops who rushed to the brown, dry scrub along the southwest border are still going through the motions of an elaborate mission that appeared to be set into action by a commander in chief determined to get his supporters to the polls, and a Pentagon leadership unable to convince him of its perils. -- Thomas Gibbons-Neff and Helene Cooper for the NY Times
"The truth is there was no collusion with the Russians and the Trump campaign. There was interference by the Russians into the election, but that was not collusion with the campaign. That's where the left seems to be combining those two issues. The last thing they want right now is for the truth to come out, and for the fact that there's not a single piece of evidence that demonstrates that the Trump campaign had any illegal or any improper relationships with the Russians. It's that simple." -- Matt Whitaker, on the Willow Majority show:
"The Medal of Freedom has always been awarded based on service, as the award is intended. Trump uniquely envisions government service as a business for self-enrichment, and so it comes as no surprise at all that Trump would award an otherwise honorable medal to Miriam Adelson on the grounds of who gives him the most money." -- Craig Holman, a government affairs lobbyist at Public Citizen, about Trump awarding the Presidential Medal of Freedom — the nation's highest civilian honor — to the wife of one of the Republican Party's most prominent patrons. 
"Patriotism is the exact opposite of nationalism. Nationalism is a betrayal of patriotism by saying, 'our interest first, who cares about the others?'" -- President Emmanuel Macron implicitly rebuking Trump's 'America First' assault on globalism and international institutions.
"That's not altered, that's sped up. They do it all the time in sports to see if there's actually a first down or a touchdown. So I have to disagree with the, I think, overwrought description of this video being doctored as if we put somebody else's arm in there." -- White House counselor Kellyanne Conway asserting Sunday that a "sped-up" video is not the same as an "altered" video, while defending the White House's use of an altered video of a hand motion made by CNN reporter Jim Acosta in order to justify suspending his press pass.
"The prospect of Presidential Harassment by the Dems is causing the Stock Market big headaches!" -- Donald Trump on Twitter, blaming a market downturn on the prospect of Democrats aggressively wielding their newfound oversight power when they take control of the House next year. 
"Macron suggests building its own army to protect Europe against the U.S., China and Russia. But it was Germany in World Wars One & Two – How did that work out for France? They were starting to learn German in Paris before the U.S. came along." -- Trump ridiculing France's losses in the World Wars.
"So after all of Trump's gleefulness about how he personally hounded Jeff Flake out of office, Republicans ended up losing Flake's seat." -- The Toronto Star's Daniel Dale
"President @realDonaldTrump a no-show because of raindrops? Those veterans the president didn't bother to honor fought in the rain, in the mud, in the snow — & many died in trenches for the cause of freedom. Rain didn't stop them & it shouldn't have stopped an American president." -- Former secretary of state John F. Kerry, a decorated Navy veteran of the Vietnam War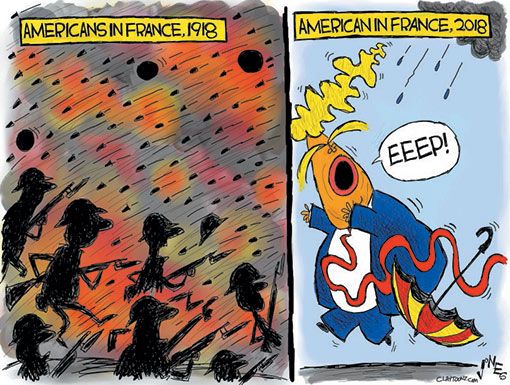 "The Republicans don't win and that's because of potentially illegal votes. When people get in line that have absolutely no right to vote and they go around in circles. Sometimes they go to their car, put on a different hat, put on a different shirt, come in and vote again. Nobody takes anything. It's really a disgrace what's going on. If you buy a box of cereal — you have a voter ID. They try to shame everybody by calling them racist, or calling them something, anything they can think of, when you say you want voter ID. But voter ID is a very important thing." -- Donald Trump
"If Stacey Abrams doesn't win in Georgia, they stole it. It's clear." — Sen. Sherrod Brown (D-OH)
"This is a temporary blip on the radar screen… I hope so, if not we're in real trouble." — Rep. Mark Sanford (R-SC) on the Trump presidency.
"Yesterday was November 13, we were marking the murder of 130 of our people. So I'll reply in English: 'common decency' would have been appropriate." ---- French government spokesman Benjamin Griveaux saying that "President" Trump, who attacked his French counterpart in a series of tweets on Tuesday, should have shown "common decency" since the country was mourning the anniversary of deadly attacks in Paris.
"The California Republican Party isn't salvageable at this time." — Former California GOP Assembly leader Kristin Olsen
---
IN THIS ISSUE
FYI
OPINION
1. Andy Borowitz: Trump Warns That Florida Recount Could Set Dangerous Precedent of Person with Most Votes Winning
Calling for an "immediate end" to the recount in Florida, Donald J. Trump warned on Monday that it could set a dangerous precedent of the person with the most votes winning.

Speaking to reporters at the White House, Trump said that those in favor of the recount had a "sick obsession with finding out which candidate got the most votes."

"Democrats are going on and on about counting every last vote until they find out who got the most," Trump said. "Since when does getting the most votes mean you win?"

Trump said that, if the recounts are allowed to proceed, "We could be looking at a very bad, very sad situation where to be considered legitimately elected you have to get more votes than the other candidate."

Having just returned from the Armistice commemoration in Paris, Trump said that Florida's recount has made America "the laughingstock of the world," adding, "Putin told me they never do recounts in Russia." https://www.newyorker.com/humor/borowitz-report/
2. U.S. Budget Deficit Jumps to $100 Billion at Start of Fiscal Year
The U.S. recorded a $100.5 billion budget deficit in October, an increase of about 60 percent from a year earlier, as spending grew twice as fast as revenue.
The deficit widened from $63.2 billion in the same month last year, the department said in an emailed statement on Tuesday. October marks the start of the U.S. fiscal year.
A ballooning U.S. budget shortfall -- fueled by tax cuts, spending hikes and an aging population -- is driving the Treasury Department to raise its long-term debt issuance.  https://www.bloomberg.com/news/articles/2018-11-13/u-s-budget-gap-jumps-to-100-billion-at-start-of-fiscal-year
3. Poll: Trump Has Little Support for Re-Election
A new Monmouth poll finds a little more than 3 in 10 Americans want to see President Trump win a second term in the White House.
Those who don't want to see Trump reelected predictably varies by party, but 16% — not an insignificant number — of Republicans say Trump should be a one-term leader… while 92% of Democrats and 58% of independents said the same. https://www.politico.com/story/2018/11/14/poll-trump-2020-reelection-support-990015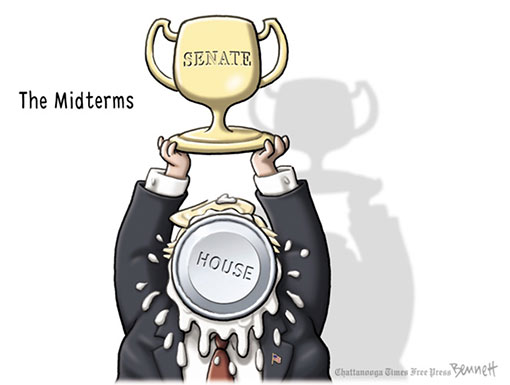 4. Staff anger spills over at White House
Bottled-up hostility in President Trump's administration flowed to the surface Tuesday during a remarkable 12-hour period following an awkward midterm détente and tense trip to Paris over which the president is still seething.
White House aides and advisers have long anticipated an internal staff reckoning once the uneasy truce broke and the dust settled after the elections. But some conceded that the drumbeat of exits, the threat of subpoenas from the Russia probe and anticipated investigations by a newly empowered Democratic House — along with a raft of negative media attention in recent days — were taking a heavy toll on not only the president, but also on the aides and advisers' thinning ranks. https://www.politico.com/story/2018/11/13/trump-staffers-white-house-989243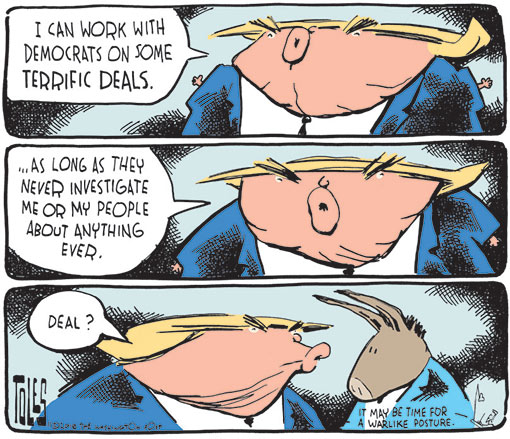 5. The Trump-GOP 2020 doomsday scenario
Three factors that should worry Trump and the GOP:
1. The midterm results were actually a terrible leading indicator for him. Turns out that without Hillary atop the ticket, Midwest states like Wisconsin are tough for Trump, and Southern states with rising Hispanic populations are slowly growing more Democratic. Long term, the GOP should be freaking out about this.

2. Trump and the GOP face two years of public investigations, coming from three different and dangerous directions: Robert Mueller, the state of New York and Congress. Two years of probing hell await. 

3. The prolonged recovery is on borrowed time, and a recession could well hit at the worst possible time for Trump — in the thick of the presidential race. Live by the markets, die by the markets. https://www.axios.com/donald-trump-2020-presidential-election-chances-86143c8b-9045-414d-b61a-80d67be9107a.html
6. Trump, stung by midterms and nervous about Mueller, retreats from traditional presidential duties
For weeks this fall, an ebullient President Trump traveled relentlessly to hold raise-the-rafters campaign rallies — sometimes three a day — in states where his presence was likely to help Republicans on the ballot.
But his mood apparently has changed as he has taken measure of the electoral backlash that voters delivered Nov. 6. With the certainty that the incoming Democratic House majority will go after his tax returns and investigate his actions, and the likelihood of additional indictments by special counsel Robert S. Mueller III, Trump has retreated into a cocoon of bitterness and resentment, according to multiple administration sources. http://www.latimes.com/politics/la-na-pol-trump-absent-20181113-story.html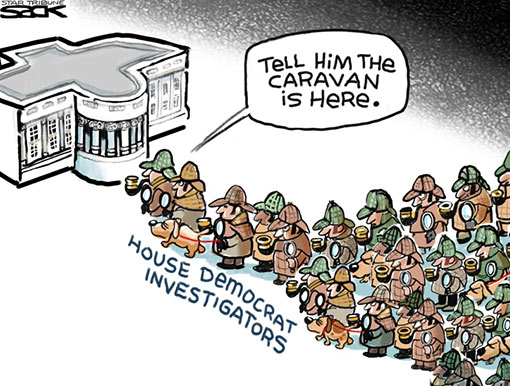 7. Republicans used redistricting to build a wall around the House. Trump just tore it down.
For years, some Democrats said gerrymandering was an insurmountable roadblock to the House majority that couldn't be cleared until after the 2020 census.
Then along came President Donald Trump.
House Democrats steamrolled Republicans in an array of districts last week, from those drawn by independent commissions or courts, to seats crafted specifically by Republicans with the intention of keeping them in the GOP column.
The overriding factor: a Republican president who political mapmakers could not have foreseen at the beginning of the decade. Trump altered the two parties' coalitions in ways that specifically undermined conventional wisdom about the House map, bringing more rural voters into the GOP tent while driving away college-educated voters. https://www.politico.com/story/2018/11/13/republicans-trump-redistricting-house-2018-984947
8. 17 Black Women Sweep to Judgeships in Texas County
The photo was unforgettable: 19 black women, all dressed in black, gathered in a mock courtroom in Thurgood Marshall School of Law. All of them were running for judgeships in November.
On Tuesday, 17 of them won their races by double-digits in Harris County, Tex., the nation's third largest county, which includes Houston. Each of the lawyers, all Democrats ranging in age from 31 to early 60s, will join the bench in January for four-year terms in the civil, criminal, family and probate courts. https://www.nytimes.com/2018/11/09/us/black-female-judges-texas-election.html
9. Tight race in Georgia shines light on voting restrictions
Kemp aggressively deleted inactive voters from registration rolls, enforced an "exact match" policy that could have prevented thousands of Georgians from registering to vote and launched an investigation that disrupted a major voter registration drive.
Now Republican Brian Kemp is declaring himself the victor in Georgia's race for governor, a race so close that even marginal differences in voting and turnout could make the difference in determining whether the race goes to a runoff.
"The effort has not been to make it hard for everyone to vote," Sells said. "It has been to make it hard for people that some in the Republican party think are going to vote against them."
Many voters in and around Atlanta, especially in predominantly black neighborhoods, were incensed by excessively long lines on Election Day, some with waits up to three hours. Some would-be voters couldn't last and left without casting a ballot.
An investigation earlier this year by the Atlanta Journal-Constitution found that Georgia election officials have closed 213 polling places — or about 1 in 12 statewide — since 2012, a year before the Supreme Court allowed officials in the state to change polling places without federal approval. The newspaper revealed that Kemp had sent a memo to local election officials laying out reasons for such actions, including cutting costs and responding to lower numbers of voters. A Kemp spokeswoman said the move was not political. https://apnews.com/87bffcc6f34a43fa97f875d0abdae238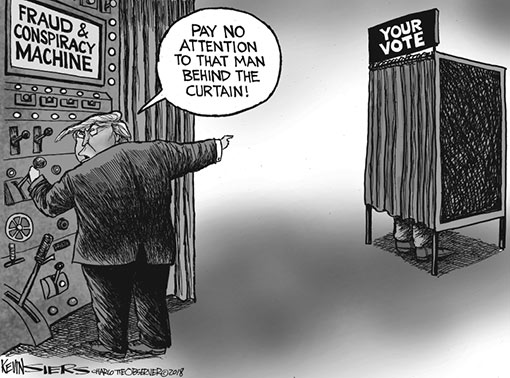 10. Even for This President, It Was a Remarkable Week of Attacks on American Institutions
In the three days after the Democrats captured the House, President Trump fired his attorney general and replaced him with a loyalist critical of both the courts and the Russia investigation. He banned a CNN correspondent from the White House, while threatening he would do the same to other journalists. And he accused election officials in Florida and Arizona of rigging the vote against candidates he had campaigned for.
It was a remarkable assault on the nation's institutions, even by a president who has gleefully taken a hammer to the press, to judges and prosecutors he does not like, and to an electoral process he has denounced as fraudulent since the day he took office.
Mr. Trump's actions suggested a president lashing out after a midterm election loss that he had initially cast as a victory. https://www.nytimes.com/2018/11/09/us/politics/trump-whitaker-press-attacks-midterms.html
11. "If Beto Wants To Be President, He Should Run Now": As The Midterm Dust Settles, A New Class Of Democratic Superstars Eye 2020
Kamala Harris won 2020's earliest round, but Bloomberg, Biden, and Sherrod Brown all had good nights, too. More on the prospective 2020 Democratic presidential candidates at https://www.vanityfair.com/news/2018/11/midterms-beto-orourke-kamala-harris-democratic-superstars-eye-2020
12. The DAILY GRILL
"We're very happy with how it's going with North Korea. We think it's going fine. The sanctions are on. The missiles have stopped, the rockets have stopped. The hostages are home." -- Trump

VERSUS

North Korea suspended its nuclear tests in September 2017, but American experts believe Pyongyang continues to develop fissile material, has 30 to 60 nuclear warheads and might have a ballistic missile capable of hitting the continental United States. North Korea can produce enough fissile material for six to seven bombs annually, said Siegfried Hecker, a Stanford University nuclear scientist. North Korea is still refusing to turn over an accounting of its nuclear assets to the United States and other nations, a demand that the Trump administration sees as an important step toward denuclearization. -- Edward Wong in the NY Times

 

 "I don't know Matt Whitaker." -- Mr. Trump after reports surfaced that Mr. Whitaker had called courts "the inferior branch" of government and had been on the advisory board of a company that a federal judge shut down and fined nearly $26 million for cheating customers..

VERSUS

"I can tell you Matt Whitaker is a great guy. I know Matt Whitaker." -- Trump, iin an appearance on Fox & Friends in October when he was asked if Whitaker was being considered to replace Sessions.

Ocasio-Cortez described in a New York Times interview how her transition to Washington will be "very unusual" because she has to wait several months without a paying job until she begins her term in January. "I have three months without a salary before I'm a member of Congress," she said. "So, how do I get an apartment? Those little things are very real."

VERSUS

Fox News commentators responded to her comment to the NY Times with snickers: "I think what she's talking about is all of the money in Washington, all of the wealth in Washington, all of the power, and a little simple person like her from New York can't find a place to live It is a brilliant political lie." -- Fox and Friends panelist Judy Miller. "Video at https://twitter.com/ParkerMolloy/status/1060928235574300672/video/1

 

"I'm a Nationalist. Use that word. Use that word." -- Trump proudly declaring the coded language of white supremacy at a campaign rally .

VERSUS

"Patriotism is the exact opposite of nationalism. Nationalism is a betrayal of patriotism. By saying our interests first, who cares about the others, we erase what a nation holds dearest, what gives it life, what makes it great and what is essential: its moral values." -- French President Emmanuel Macron

 

I'm sick to my stomach. Jacob Cruz murdered 17 students & staff, including my daughter Meadow. Yet in July, Broward Sheriff @ScottJIsrael let people into the jail to get him & other animals registered to vote.The Despicable Democrats have no shame.Can't let them steal this election. -- Andrew Pollack

VERSUS

There is nothing suspicious or mysterious about what Cruz did from his cell. In general, jail inmates are constitutionally entitled to register and vote before their trials, assuming no prior convictions or legal disqualifications. Broward County records show that in 2016 and previous elections, several inmates did exactly that from the same jail where Cruz now sits. It's absolutely normal. It's his constitutional right. Nothing different happened this year from any other year" -- Broward County sheriff's office spokeswoman Veda Coleman-Wright
13. From MEDIA MATTERS (They watch Fox News so you don't have to)
The Infowars-White House pipeline is alive and well. Sarah Huckabee Sanders shared an edited Infowars video to prop up the White House's lies about CNN's Jim Acosta. https://www.mediamatters.org/blog/2018/11/08/infowars-white-house-pipeline-alive-and-well/222029

Right-wing media claim Democrats are trying to "steal" Florida elections by insisting all votes be counted. https://www.mediamatters.org/blog/2018/11/08/infowars-white-house-pipeline-alive-and-well/222029

Fox News defends acting attorney general from criticism of his anti-Mueller op-ed because "he was expressing his opinion."  https://www.mediamatters.org/video/2018/11/08/fox-news-defends-acting-attorney-general-criticism-his-anti-mueller-op-ed-because-he-was-expressing/222034

Fox regular who called for "a cleansing" of the FBI and DOJ is advising Trump on a replacement attorney general. Pro-Trump lawyer Joseph diGenova has repeatedly attacked the Russia probe and Sessions. https://www.mediamatters.org/blog/2018/11/08/fox-regular-who-called-cleansing-fbi-and-doj-advising-trump-replacement-attorney-general/222035

Acting Attorney General Matthew Whitaker compared taxation to theft at gunpoint at 2013 Senate campaign event. Whitaker: "That's the only way they collect taxes is the threat of a gun." https://www.mediamatters.org/video/2018/11/08/acting-attorney-general-matthew-whitaker-compared-taxation-theft-gunpoint-2013-senate-campaign-event/222036

Sean Hannity suggests Florida recount is an illegal Democratic plot to steal the election. Hannity: "Each day more votes are just appearing out of nowhere from Nelson and Gillum." https://www.mediamatters.org/video/2018/11/08/sean-hannity-suggests-florida-recount-illegal-democratic-plot-steal-election/222037

Liberty Counsel's podcast compares same-sex marriage to pedophilia and adultery. Liberty Counsel founder Mat Staver: "Some things are just simply wrong." https://www.mediamatters.org/video/2018/11/09/Liberty-Counsels-podcast-compares-same-sex-marriage-to-pedophilia-and-adultery/222051

Sean Hannity attacks Michelle Obama because she criticized Trump's racist birther lies. https://www.mediamatters.org/video/2018/11/09/sean-hannity-attacks-michelle-obama-because-she-criticized-trump-s-racist-birther-lies/222055

Sean Hannity says efforts to count all Florida votes "purposefully violated the federal law and Florida state law" https://www.mediamatters.org/video/2018/11/09/sean-hannity-says-efforts-count-all-florida-votes-purposefully-violated-federal-law-and-florida/222053

Mainstream media parrots Trump's baseless claims regarding Florida recounts: Following news that Florida Senate and gubernatorial races would be heading to recounts, many mainstream media outlets reported on President Donald Trump's claims of voter fraud in the Florida election, but failed to note in their tweets and headlines that the accusations were baseless. https://www.mediamatters.org/blog/2018/11/13/mainstream-media-parrots-trump-s-baseless-claims-regarding-florida-recounts/222059

Sinclair is already gearing up for Trump 2020.  New "must-run" segment airing a week after midterms boosts Trump and dismisses Democratic chances in 2020. https://www.mediamatters.org/blog/2018/11/13/sinclair-already-gearing-trump-2020/222057

Mike Huckabee pushes bogus claim that Florida election officials are attempting to "swing an election." Even after Florida law enforcement officials found not one credible allegation of voter fraud, Huckabee suggests ballots are being fabricated for Democrats. https://www.mediamatters.org/video/2018/11/13/mike-huckabee-pushes-bogus-claim-florida-election-officials-are-attempting-swing-election/222056
14. 'What a stupid question': Trump demeans three black female reporters in three days
"President" Trump has made no secret of his contempt for reporters, whom he calls "fake news" and "enemy of the American people." He's also had unkind things to say about women and people who are African American.
This week, he hit a trifecta, singling out three African American women who are journalists. The women — Abby Phillip, April Ryan and Yamiche Alcindor — earned his contempt apparently just for asking him questions.
Trump called one of Phillip's questions "stupid," described Ryan as "a loser" and brushed off Alcindor, saying her question was "racist." https://www.washingtonpost.com/lifestyle/style/what-a-stupid-question-trump-demeans-three-black-female-reporters-in-two-days/2018/11/09/272113d0-e441-11e8-b759-3d88a5ce9e19_story.html?utm_term=.5a471ce0af52
15. Trump baselessly accuses Democrats of trying to steal elections
President Trump on Friday claimed "FRAUD" is taking place in Florida and Georgia, where gubernatorial and Senate races have tightened while votes continue to be counted. Without evidence, the president claimed that Broward County "miraculously started finding Democrat votes." Trump promised in a tweet to "expose" them. In another tweet, Trump sarcastically quipped that we should "blame the Russians" for the fact that "they are just now finding votes in Florida and Georgia."
In Arizona, Trump claimed, "SIGNATURES DON'T MATCH" on ballots, though officials there are actively working to count and verify votes in the still-undecided Senate race. "Electoral corruption - Call for a new Election?" Trump wrote. "We must protect our Democracy!"  https://theweek.com/5things/806869/trump-baselessly-accuses-democrats-trying-steal-elections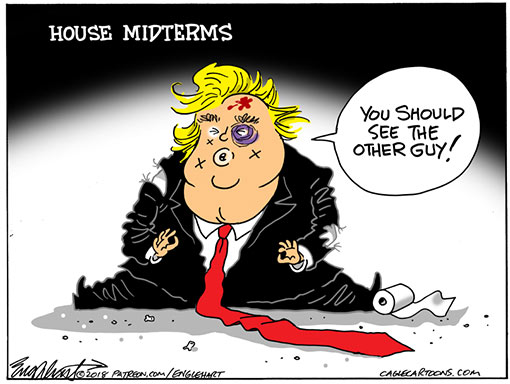 16. From the Late Shows
Jeff Sessions Farewell Cold Open - SNL: https://youtu.be/EGy-xpK-1mw

Weekend Update: White House Press Intern - SNL: https://youtu.be/4b6ttHSgIFM

Jimmy Kimmel Live: Trump Lashes Out at Reporters: https://www.youtube.com/watch?v=QPraYA_OxWI

The Late Show with Stephen Colbert: Trump And Putin's Weekend In Paris: https://youtu.be/d_clS0mfxhQ

Jeff Sessions, You're Fired. Guy from CNN, You're Hired. | The Daily Show: https://youtu.be/28NKj86lTw4

The Late Show with Stephen Colbert: Jeff Sessions Bids Stephen Adieu: https://youtu.be/T__gy81L9pM

Trump's Anti-Press Press Conference & Jeff Sessions's Forced Resignation | The Daily Show: https://youtu.be/_OfSMdshr_I

That Went Ok! | November 7, 2018 Act 1 | Full Frontal on TBS: https://www.youtube.com/watch?v=8TFDtXirb8A

The Late Show with Stephen Colbert: A Nation Of Immigrants Is Being Told To Fear Immigrants: https://www.youtube.com/watch?v=twQ4APg9VKo

The Late Show with Stephen Colbert: How To Concede To A Dead Politician: https://www.youtube.com/watch?v=DMGEdjWewTM&list=PLiZxWe0ejyv9WMtlFU206Ywcqlr2Q0awh
17. Trump can't immediately end DACA, appeals court panel says, setting up Supreme Court fight
A federal appeals court ruled Thursday that President Trump cannot immediately end the "dreamers act" that shields from deportation young undocumented immigrants who were brought to the country as children.
The unanimous decision by a three-judge panel of the U.S. Court of Appeals for the 9th Circuit makes it more likely that the Supreme Court will settle the question. The Trump administration has asked the justices to move quickly to add it to the docket for this term.
"To be clear: we do not hold that DACA could not be rescinded as an exercise of Executive Branch discretion," Judge Kim McLane Wardlaw said in the opinion. "We hold only that here, where the Executive did not make a discretionary choice to end DACA — but rather acted based on an erroneous view of what the law required — the rescission was arbitrary and capricious under settled law." https://www.washingtonpost.com/politics/courts_law/trump-cant-end-daca-appeals-court-says-setting-up-supreme-court-fight/2018/11/08/4a76f928-e386-11e8-ab2c-b31dcd53ca6b_story.html
18. Cartoons: Jeff Sessions's tenure as attorney general
Sessions is out. Ann Telnaes draws the highlights of his time in the role of Attorney General.. https://www.washingtonpost.com/graphics/2018/opinions/amp-stories/jeff-sessions-s-time-as-attorney-general-told-through-cartoons/
19. A.G. Underwood Calls For The Recusal Of Acting Attorney General Whitaker From Special Counsel's Investigation
New York Attorney General Barbara D. Underwood – part of a coalition of 18 Attorneys General – called for the recusal of Acting Attorney General Matthew Whitaker, referencing his widely-circulated public comments criticizing Special Counsel Robert Mueller's investigation of Russian interference in the 2016 presidential election.
The letter states that in print, on television, and through social media, Whitaker has suggested cutting the Special Counsel Mueller's budget or limiting his authority to follow lines of inquiry. The Attorneys General also write that Deputy Attorney General Rod Rosenstein should continue to supervise the Special Counsel's investigation, which must proceed free from interference or supervision that would "appear to many Americans to be biased." 
The letter was signed by the Attorneys General of Massachusetts, New York, California, Connecticut, Delaware, Hawaii, Illinois, Maryland, Minnesota, New Jersey, New Mexico, North Carolina, Oregon, Rhode Island, Vermont, Virginia, Washington, and the District of Columbia. https://ag.ny.gov/press-release/ag-underwood-calls-recusal-acting-attorney-general-whitaker-special-counsels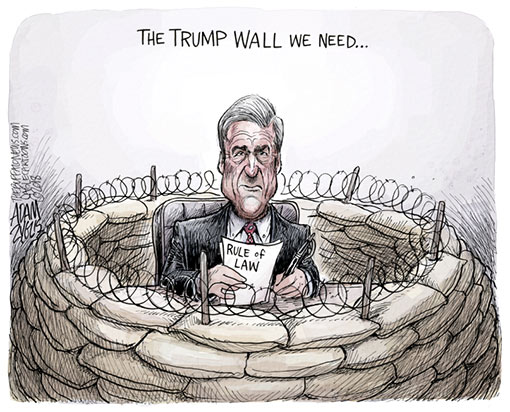 20. Donald Trump Played Central Role in Hush Payoffs to Stormy Daniels and Karen McDougal
Trump intervened directly to suppress stories about his extramarital relationships with Stormy Daniels and Karen McDougal, the Wall Street Journal reports.
Taken together, the accounts refute a two-year pattern of denials by Mr. Trump, his legal team and his advisers that he was involved in payoffs to Ms. McDougal and a former adult-film star. They also raise the possibility that the president of the United States violated federal campaign-finance laws.
The Wall Street Journal found that Mr. Trump was involved in or briefed on nearly every step of the agreements. He directed deals in phone calls and meetings with his self-described fixer, Michael Cohen, and others. The U.S. attorney's office in Manhattan has gathered evidence of Mr. Trump's participation in the transactions. https://www.wsj.com/articles/donald-trump-played-central-role-in-hush-payoffs-to-stormy-daniels-and-karen-mcdougal-1541786601
21. Roger Stone Cheers as Conspiracists Descend on a Florida Election, Again, to Stop 'Radical Leftists' From Counting Votes
A loose coalition of fringe right-wing personalities, local political activists and associates of longtime GOP trickster and Donald Trump adviser Roger Stone descended upon the Broward County Board of Elections Friday in order to protest the high-stakes recounting of the U.S. senate race between Republican Rick Scott and Democrat Bill Nelson.
The ongoing ballot count, in a race where Scott claimed victory on an election night when he led by less than one half of one percentage point and that Nelson has yet to concede, has drawn a host of far-right internet personalities to Broward.
Former Infowars reporter Joe Biggs declared on Twitter that he was heading to Florida to stop "radical leftists."
Right-wing activist Laura Loomer, a former James O'Keefe associate who has made her name by yelling at prominent Democrats in a stunt that she calls "Loomering", said on Twitter that she too was headed to Broward and planned to meet with Stone.
"I'll #Loomer the whole state of Florida if that's what it takes," Laura Loomer tweeted. https://www.thedailybeast.com/roger-stone-cheers-as-conspiracists-descend-on-a-florida-election-again-to-stop-radical-leftists-from-counting-votes
1. Joe Scarborough: Trump lost. And it wasn't even close.
President Trump lost. And it was not even close.
On Tuesday, the president and his allies paid a high political price for their preposterous claims about caravans filled with leprosy, Middle Eastern terrorists, Hispanic "breeders" and gang invaders. Those lies cost the hobbled president every bit as much as his vicious attacks on the free press and his foul campaign calls to imprison political adversaries. Despite all claims to the contrary, Trump Republicans faced a bitter reckoning at the polls in dozens of congressional races and hundreds of legislative battles across the United States.
Trumpism proved to be so politically toxic that Republicans likely took their worst shellacking in U.S. House races since the darkest days of Watergate. Trump Republicans lost at least 30 seats in Congress and took a beating nationally. In state legislative races, the tally was even worse, with more than 300 Republican legislators watching their political careers get washed away by the blue wave.
In states such as Nevada, GOP politicians paid a particularly heavy price for their fealty to the former Manhattan Democratic donor. As the Nevada Independent's Jon Ralston noted Thursday, his state's six Republican constitutional officers were reduced to one. Nevada no longer has a Republican representing it in the U.S. Senate and just one in the House of Representatives, and Trump's party also lost seats in the Nevada Assembly and in the state Senate. As Ralston noted with a dash of understatement: "That is a wave." https://www.washingtonpost.com/opinions/trump-lost-and-it-wasnt-even-close/2018/11/09/7e7e7986-e45c-11e8-b759-3d88a5ce9e19_story.html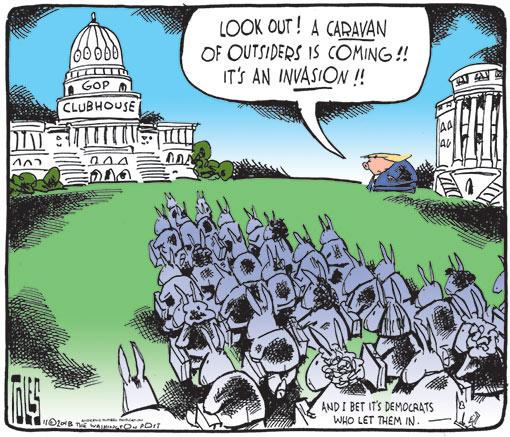 2. Dan Balz: The GOP's deficit with suburban women starts at the White House
Three years ago, when he was a candidate for president, Sen. Lindsey O. Graham (R-S.C.) lamented that his party was "in a hole with Hispanics" and said then-candidate Donald Trump should not be the party's spokesman on the issue of immigration.
Now, in the wake of Republican losses in House races in last week's midterms, Graham has found another problem plaguing his party. "We've got to address the suburban woman problem, because it's real," he said on Fox News as Democrats were claiming the majority in the House.
Graham conceded that "style does matter, and sometimes it can drown out substance." He said he thought President Trump was moving to address the issue of his tone. But there's little evidence to back that up. Trump is the principal reason for the GOP's woeful performance in competitive suburban House districts.
For many suburban women — not all, by any means, but for many — Trump is toxic. It is not just that they disagree with him. Disagreement on some policy issues did not create the energy that brought so many women off the sidelines and into political activism. It was the president's style, his behavior, his treatment of other people, the allegations of sexual misconduct, the disrespect he has shown.
These attitudes were on display in the days after the midterms, when Trump berated three female African American White House correspondents, all professionals and all doing their jobs. What he said to them — calling out one for asking what he said was a stupid question when it was not, and claiming another had asked a racist question, which it was not — was more than disrespectful. It was beneath the office he holds.
Women see those moments and form lasting opinions about the president. Women who have fought discrimination and endured sexual harassment in the workplace or elsewhere recoil when the president makes comments like that. Judgments began solidifying early in his campaign when he labeled illegal immigrants from Mexico as rapists and worse, when he attacked a federal judge of Mexican heritage, when he went after a Gold Star family whose Muslim son had been killed in combat, when the Access Hollywood video went public. https://www.washingtonpost.com/politics/the-gops-deficit-with-suburban-women-starts-at-the-white-house/2018/11/13/e453fa60-e768-11e8-b8dc-66cca409c180_story.html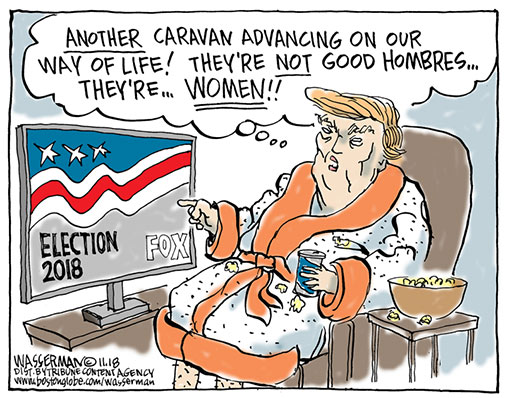 3. David Leonhardt: A Tool of Autocrats
Once again, Republicans are trying to thwart the basic functioning of government — in this case, a full counting of the votes in Florida and Georgia. They're choosing power over democracy.
President Trump, Senator Marco Rubio, Governor Rick Scott of Florida and Georgia's Brian Kemp have all falsely accused Democrats of trying to steal elections. "An honest vote count is no longer possible," Trump tweeted yesterday. Kemp's campaign accused his opponent, Stacey Abrams, of "making up numbers." Scott told Fox News that Senator Bill Nelson, his Democratic opponent, is trying "to steal this election." None of these claims are true.
And they're damaging. "The new voting wars threaten to undermine the very foundation of American democracy: that election officials can fairly and accurately count ballots and that they can declare a winner whom the losers will accept as legitimate," writes Richard Hasen in Slate. "When electoral procedures lose popular legitimacy, it is nearly impossible to get that legitimacy back," argues Tom Pepinsky, a Cornell political scientist. "We're in a dangerous place as a country," says Brendan Nyhan of the University of Michigan. https://www.nytimes.com/2018/11/13/opinion/florida-georgia-election-recount-republicans.html
4. April Ryan: I'm a black woman. Trump loves insulting people like me.
And the taunting, schoolyard-bully atmosphere winds up putting a stain on the highest office in the land. The White House is where decisions about war and peace, taxes and spending, and fundamental human rights are made — a place where life or death can be determined by the stroke of a pen. The presidency is the one office that's supposed to represent everyone, no matter their faith, race, gender or orientation.
Correspondents don't go to the White House every day to make friends. We do our jobs courteously, but also thoroughly and assertively, to get answers for our viewers, listeners and readers about the statements and actions that affect all Americans' lives. Sometimes that means having a quiet sidebar with a member of the White House communications staff. Sometimes that means meeting with first son-in-law and presidential adviser Jared Kushner to discuss the administration's approach to criminal justice reform. Sometimes that means shouting a question at the president as he crosses the White House lawn on the way to boarding Marine One. You can tell, though, by the way Trump has responded in recent days to more than one black female journalist that he sees our presence there as illegitimate. If he didn't, he'd either answer our questions or simply ignore them, not berate us.
But when Trump denigrates black women, he's sending the message that he doesn't see us equally.
Every morning that I walk through the White House gates, I thank God for the privilege of doing the job that I do, and for the trust and faith that my listeners put in me to ask for, and bring home, the truth. Every day, I try to remember that, to the best of my knowledge of my family's history, I am only five generations removed from the last known member of my family to be enslaved, Joseph Dollar Brown, who was sold on the auction block in North Carolina. And I carry that knowledge with me, because I owe it to him to cover the presidency the best way I know how, no matter how much pushback I get. https://www.washingtonpost.com/outlook/2018/11/10/im-black-woman-white-house-reporter-trump-loves-insulting-people-like-me/
5. Wash Post Editorial: There is no way this man should be running the Justice Department
IS MATTHEW G. WHITAKER the legitimate acting attorney general? From approximately the second President Trump ousted Attorney General Jeff Sessions and tapped Mr. Whitaker to temporarily exercise the office's vast authority, legal experts have sparred over whether Mr. Trump can unilaterally elevate someone from a role that does not require Senate confirmation to one that does. But regardless of whether the promotion is legal, it is very clear that it is unwise. Mr. Whitaker is unfit for the job.
Several prominent legal scholars point out that the Constitution demands that "principal officers" of the United States must undergo Senate confirmation. A 19th-century Supreme Court case suggests there may be limited room for temporary fill-ins, but Mr. Whitaker's appointment is hardly so temporary; he could serve for most of the rest of Mr. Trump's first term. Even if Mr. Whitaker's promotion is constitutional, Congress passed a law governing Justice Department succession that also seems to prohibit Mr. Whitaker's ascent. The department has a capable, Senate-confirmed deputy attorney general in Rod J. Rosenstein; he should be running the department in the absence of a permanent replacement.
The Senate above all should be offended by the president's end run around its authority. Majority Leader Mitch McConnell (R-Ky.) should demand hearings and consider filing a lawsuit. Instead, he is helping to establish a troubling precedent, saying only that he expects Mr. Whitaker to be a "very interim AG." Yet no random official should be endowed with all the powers of an office as powerful as attorney general, meant for a Senate-vetted individual, even for a relatively short time.
And Mr. Whitaker is worse than random. It took less than 24 hours for material to emerge suggesting he could not survive even a rudimentary vetting. https://www.washingtonpost.com/opinions/there-is-no-way-this-man-should-be-running-the-justice-department/2018/11/09/f4a2ee60-e45e-11e8-8f5f-a55347f48762_story.html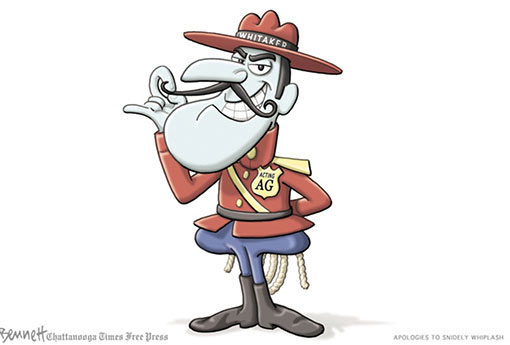 6. Jonathan Blitzer: Jeff Sessions Is Out, But His Dark Vision for Immigration Policy Lives On
On Wednesday, Sessions resigned under pressure from the White House. For the past year and a half, the President, who felt betrayed that Sessions recused himself from the Russia investigation, in March, 2017, had routinely mocked and insulted his Attorney General. Trump upbraided him in the Oval Office, called him a "dumb Southerner" behind his back, and taunted him in speeches and on Twitter. ("I'm so sad over Jeff Sessions because he came to me," Trump said in September. "He wanted to be Attorney General, and I didn't see it.") But, as the Trump Administration adopted increasingly draconian policies, it became clear that, for Sessions, orchestrating the most systematic and wide-reaching assault on immigrants in modern history was well worth enduring near-constant humiliations from the President. As the government's top lawyer, Sessions was responsible for, among other things, cancelling DACA, spurring family separations, trying to defund sanctuary cities, dismantling the asylum system, reshaping the immigration courts, and retooling multiple travel bans. To the extent that the President has styled himself as an anti-immigration crusader, it's with a script written entirely by Sessions.
Where immigration policy is concerned, Trump will be hard-pressed to find an Attorney General as ideologically single-minded and crafty as Sessions was. Yet Sessions's departure will likely do little, if anything, to slow the broader agenda he's already set in motion. In large part, this is because Sessions can rely on a cabal of former staffers and loyalists across the federal bureaucracy to carry on in his absence. The most notorious and powerful of them is, of course, Stephen Miller, who is now leading the President's crackdown on immigrants as a senior policy adviser in the White House. In effect, Sessions's reach extends across every government agency that shapes immigration policy. https://www.newyorker.com/news/news-desk/jeff-sessions-is-out-but-his-dark-vision-for-immigration-policy-lives-on
7. E.J. Dionne Jr.: How Trump lost the midterms
The 2018 elections began the demolition of the Trump coalition.
There remains much work to do. The results in some states were disappointing, and President Trump's grip on the Republican Party was strengthened. But a large majority of Americans rejected the president's divisive, ethnonationalist politics. Democrats shook his hold on voters in the old industrial heartland. And women won in unprecedented numbers.
The anti-Trump movement's single most important objective was to break unified Republican control of Washington. The opposition achieved this by taking over the House. With votes still to be counted, the Democrats were likely to gain more than 30 seats, and possibly into the mid-to-high 30s.
As important for the long term, the popular vote share for Democratic candidates was overwhelming — when all of slow-counting California's votes are tallied, the Democrats' margin will likely surpass the GOP's in their 1994, 2010 and 2014 waves. While only a third of the Senate was up, all House seats were on the ballot. So the House vote is the best indicator of disaffection with Trump.
Most striking was Democratic success in the historically blue-collar states and counties that flipped to Trump in 2016 and led to his victory.
Democrats held Senate seats in Ohio, Pennsylvania, Wisconsin and Michigan, all key for him two years ago. They picked up governorships in Wisconsin and Michigan and held on to Pennsylvania's by a landslide. Democrats gained at least seven governorships from the Republicans, rebuilding from the disastrous midterm outcomes during President Barack Obama's terms. https://www.washingtonpost.com/opinions/how-trump-lost-the-midterms/2018/11/07/55f124d6-e2c8-11e8-8f5f-a55347f48762_story.html
8. Dana Milbank: Thought the election might restore some order? Oh you poor, sweet child.
On Tuesday, American voters had their say: They gave Democrats control of the House, a check on the chaotic and rageful Trump presidency that left many voters saying in Election Day polls that they felt anxious and overwhelmed.
On Wednesday, President Trump gave his response: He will be even more chaotic and rageful going forward.
Trump called a news conference Wednesday and, incredibly, proclaimed Tuesday's loss "a great victory for us . . . very close to complete victory."
He mocked Republicans who lost, claiming they didn't embrace him enough: "Too bad, Mike . . . Mia Love gave me no love."
He threatened to respond to House Democrats' prospective probes of his administration by bringing government "to a halt," going to a "warlike posture" and directing Senate Republicans to investigate House Democrats.
He raged at the media , renewing his "enemy of the people" accusation, telling CNN's Jim Acosta "you are a rude, terrible person" and accusing an African American journalist, PBS's Yamiche Alcindor, of asking "such a racist question" because she dared to inquire about Trump's self-declaration as a "nationalist" emboldening white nationalists.
And then, the coup de grace: Soon after the news conference ended, Trump announced that he had ousted Attorney General Jeff Sessions. He hadn't even bothered to tell Sessions himself. Trump replaced him with a loyalist, Matthew Whitaker, who has publicly criticized special counsel Robert S. Mueller III's Russia probe and speculated about ways to end it. https://www.washingtonpost.com/opinions/thought-the-election-might-restore-some-order-oh-you-poor-sweet-child/2018/11/07/a4e13896-e2dd-11e8-8f5f-a55347f48762_story.html
9. Jonathan Chait: Trump Has Found His Roy Cohn in Matt Whitaker
Trump has every reason to believe that he has found his Roy Cohn in Matt Whitaker. The archconservative new acting attorney general has run for office and appears to see his future in Republican politics. As a candidate, he publicly declared that judges should be "people of faith" who had "a biblical view of justice." In practical terms, he has interpreted the biblical view of justice the way most of his fellow Christian conservatives do: a combination of stern, Old Testament punishments meted out to Democrats combined with New Testament forgiveness toward any sin by a Republican.
Whitaker has publicly attacked the FBI for failing to indict Hillary Clinton for using a personal email. He defended Donald Trump Jr.'s decision to meet with a Russian operative promising dirt on Hillary Clinton. He opposed the appointment of a special counsel to investigate Russian election interference ("Hollow calls for independent prosecutors a re just craven attempts to score cheap political points and serve the public in no measurable way.") Whitaker has called on Rod Rosenstein to curb Mueller's investigation, and specifically declared Trump's finances (which include dealings with Russia) off-limits. He has urged Trump's lawyers not to cooperate with Mueller's "lynch mob" http://nymag.com/intelligencer/2018/11/matt-whitaker-is-trumps-corrupt-partisan-attorney-general.html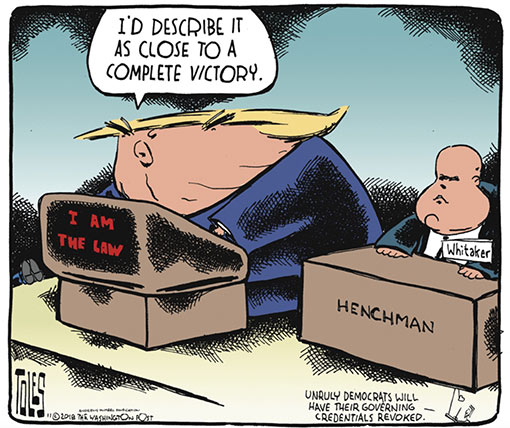 10. Damon Linker: The Republican plot against democracy
But when it comes to the presidency, it's Bush v. Gore that provides the playbook. When a statewide contest is close, with precious electoral votes at stake, Republicans will do everything they can to freeze a lead when they have it or eliminate one when they have a shot at overtaking it. This isn't ordinary political hard ball. It's potentially a frontal assault on the basic integrity of democratic norms and procedures. Precisely because it's so unorthodox, the claims made to justify it need to be amped up, which is why the president of the United States has taken to spreading outright lies about voter fraud in Florida.
In a world where the ability of Republicans to win the presidency while playing by the rules is in rapid decline, this is our future. The GOP will continue to compete fairly in elections only as long as the party has a realistic expectation of winning. Once Republicans become convinced that victory requires leaving fairness behind, most will not hesitate to adopt new, more "flexible" rules that give them an edge, affording them a chance to hold onto power despite their dwindling support in the electorate.
The honorable Republican is fast becoming an endangered species. The only question is how long it will take until he goes entirely extinct. https://theweek.com/articles/807436/republican-plot-against-democracy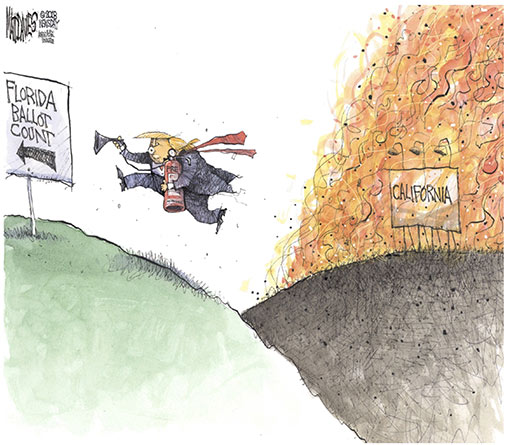 11. Jonathan Chait: Trump Is Trapped, and Trying to Protect Himself at All Costs
On November 7, President Trump woke up to a world in which Democrats had smashed through a gerrymandered map to win three dozen House seats, depriving him of both his legislative majority and his effective immunity from congressional oversight and accountability. He responded in the most Trumpian way: with an atavistic display of brute dominance. He insisted the election had been a triumph ("It was a very close to complete victory"), belittled Republicans who had lost for declining his "embrace," pulled the press pass from CNN reporter Jim Acosta, and warned Democrats not to investigate anything in his administration or he would refuse to work with them and have Senate Republicans investigate them back.
And then he fired Attorney General Jeff Sessions, whose sole offense, in Trump's eyes, was recusing himself from the Russia investigation. Trump maintains the attorney general's job is to protect the president's political interests, even if the president or his allies have committed serious crimes. In an interview with the New York Times last year, Trump explicated this belief. Barack Obama, according to Trump, had engaged in all manner of wrongdoing (as any Fox News addict could tell you), but Attorney General Eric Holder shielded him from investigation. Trump held up this imagined cover-up as admirable. "Holder protected the president," he said. "And I have great respect for that, I'll be honest, I have great respect for that."
Whitaker's hostility to the Mueller investigation is surely what recommended him to the president. He claimed Trump's campaign had not colluded with Russia ("The truth is there was no collusion with the Russians and the Trump campaign") at a time when such a defense could not possibly be known. He even denied that Russia interfered in the election at all, a conclusion directly at odds with what U.S. intelligence agencies have found. He has said Mueller has no right to probe Trump's finances (which of course contain links to Russia) and called for Deputy Attorney General Rod Rosenstein to curb the investigation. Trump had appointed Whitaker as Sessions's chief of staff, a position that reportedly allowed him to serve as the president's eyes and ears within the building. http://nymag.com/intelligencer/2018/11/trump-is-trapped-and-trying-to-protect-himself-at-all-costs.html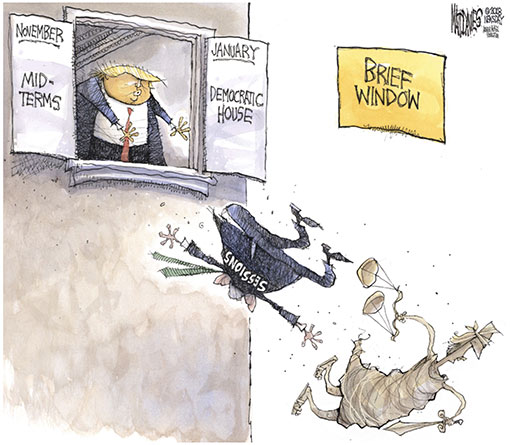 12. Max Boot: Trump shows his contempt for the men and women in uniform
It seems that soldiers who were captured aren't the only ones that President Trump doesn't like. He also apparently doesn't care much for the ones who died for their country.
On Saturday afternoon, the president was scheduled to attend a ceremony at the Aisne-Marne American Cemetery, where 2,289 U.S. soldiers are buried — a small part of the 116,000 Americans who gave the last full measure of devotion during World War I. It was the sort of solemn occasion that U.S. presidents have considered an integral part of their duty at least since the Gettysburg Address. But Trump couldn't be bothered.
The White House explained that bad weather grounded the helicopters that Trump and his entourage were planning to take. Yet somehow bad weather did not prevent French President Emmanuel Macron, German Chancellor Angela Merkel or Canadian Prime Minister Justin Trudeau from attending outdoor ceremonies commemorating the end of World War I that afternoon. Somehow bad weather did not stop Gen. Joseph F. Dunford Jr., the chairman of the Joint Chiefs of Staff, and retired general John F. Kelly, the White House chief of staff, from attending the very ceremony that Trump could not make.
Rather than make the hour-long drive (Aisne-Marne is only 55 miles from Paris), the low-energy president remained behind at the U.S. ambassador's residence. It's not as if he didn't sacrifice anything, however. Odds are that his room didn't have Fox News. So he was probably reduced to watching CNN all afternoon. If the New York dating scene was Trump's personal Vietnam, this was his personal Verdun. https://www.washingtonpost.com/opinions/global-opinions/trump-shows-his-contempt-for-the-men-and-women-in-uniform/2018/11/10/1f8f2632-e524-11e8-8f5f-a55347f48762_story.html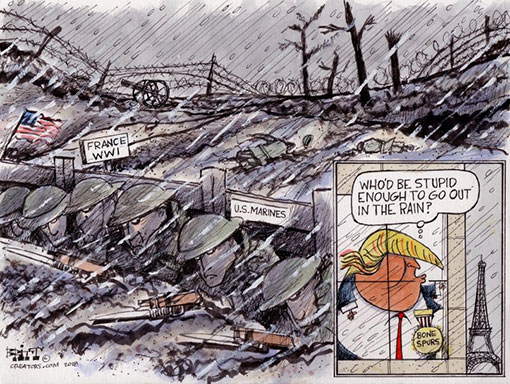 13. Shikha Dalmia: Trump's asylum order is a dastardly assault on the rule of law
President Trump's last-minute fearmongering campaign against the Central American migrant caravan may have fired up his base, but it failed to win swing voters. And his despicable ad depicting these helpless people fleeing violence in their own countries as an invading horde full of "cop killers" badly backfired. Republicans who embraced this message fared poorly at the polls.
But instead of backing off, the president is doubling down on his plan to gut the nation's asylum laws. This is almost certainly a lawless and unprecedented use of his executive powers. Nonetheless, he has just issued a presidential proclamation that will pretty much suspend America's asylum program as we know it.
The 1965 Immigration and Nationality Act allowed anyone — regardless of whether they entered the country legally or illegally — to request asylum upon arrival. But as part of the administration's "zero tolerance" policy," over the summer it started slapping asylum seekers found entering between ports of entry rather than actual ports as required with criminal charges. However, that did not affect their asylum petition. They could be fined or punished for trying to enter the country illegally. But if they could convince border agents that they had a "credible fear" of persecution in their home countries, they were still entitled to a hearing by a judge who would make the final call on whether they could stay.
But Trump apparently wasn't content with simply criminalizing asylum seekers for minor transgressions. He wants to turn them away by any means necessary. https://theweek.com/articles/806663/trumps-asylum-order-dastardly-assault-rule-law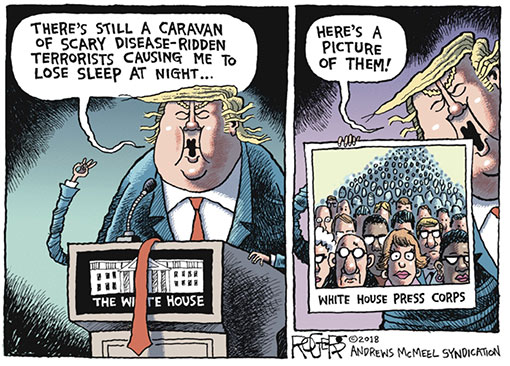 14. Amy Davidson Sorkin: The Post-Midterms Dangers of Donald Trump
One of the more dangerous outcomes of the midterms is the belief, in some quarters of the G.O.P., that putting the Party in Trump's hands was worth it. Three of the Democratic senators whom he personally campaigned against—Joe Donnelly, in Indiana; Claire McCaskill, in Missouri; and Heidi Heitkamp, in North Dakota—lost. "He worked very hard, drew large crowds, and I think it clearly had a positive impact," Mitch McConnell, who will remain the Senate Majority Leader, said, apparently untroubled by the bigotry, the lies, and the fear-mongering that Trump had used as he worked up those crowds. McConnell also warned against "Presidential harassment"—a phrase that, in the Trump era, could describe many things, but by which he meant the Democrats' using control of the House to investigate Trump.
Yet Trump is right in one respect. The midterms were a party-building exercise, if all one was trying to build is the Party of Trump. The G.O.P. is acclimating itself to accepting divisiveness and unconstitutional travesties—including, perhaps, efforts to end birthright citizenship—in return for a few Senate seats. Worse, more and more Republicans elected under Trump's auspices, such as Josh Hawley, of Missouri, and Marsha Blackburn, of Tennessee, don't even see their association with him as a trade-off. They like what the President stands for and seem to regard being loyal to him and keeping him happy as natural parts of the job. https://www.newyorker.com/magazine/2018/11/19/the-post-midterms-dangers-of-donald-trump
15. Adam B. Schiff: Matthew Whitaker, we're watching you
Only hours after the magnitude of Democratic gains in the House became apparent, President Trump ousted Attorney General Jeff Sessions, putting special counsel Robert S. Mueller III's investigation in imminent danger. This represents the president's most direct challenge yet to the rule of law.
Instead of elevating Deputy Attorney General Rod J. Rosenstein, the most senior Senate-confirmed officer at the Justice Department, Trump circumvented normal succession by handpicking Matthew G. Whitaker, Sessions's chief of staff and a person who has publicly criticized the special counsel's investigation and has troubling conflicts of interest.
The president and Whitaker should heed this warning: The new Democratic majority will protect the special counsel and the integrity of the Justice Department. Should Whitaker fail to recuse himself — all indications are that he plans not to — and seek to obstruct the investigation, serve as a back channel to the president or his legal team or interfere in the investigations in any way, he will be called to answer. His actions will be exposed.
Trump, and those who would abet him in undermining the independence of the Justice Department, should understand this: The truth will come out.
After his firing by President Richard M. Nixon, former Watergate special prosecutor Archibald Cox said the question of "whether ours shall continue to be a government of laws and not men is now for Congress and ultimately the American people." With this latest, unprecedented action, Trump has put Cox's question once more squarely before the people's representatives. We must answer it by acting as a coequal branch of government and defending the rule of law. https://www.washingtonpost.com/opinions/adam-schiff-matthew-whitaker-were-watching-you/2018/11/12/996bcdf2-e696-11e8-bbdb-72fdbf9d4fed_story.html