April 16, 2020
ON THE RECORD. . .
"You know what? I'll tell you, it does amaze me that President Obama hasn't supported Sleepy Joe. It just hasn't happened. When is it going to happen? When is it going to happen? Why isn't he? He knows something that you don't know, that I think I know, but you don't know. So it'll be interesting." — Trump during the daily coronavirus briefing from the White House on Wednesday.

"We cannot let our Democracy be casualty of the current health pandemic. We cannot wait until October to gear up for alternative methods to vote. We have to get ahead of it, we have to start now, there is an urgency here." — California's secretary of state, Alex Padilla

"Without any basis, they started this investigation of his campaign, and even more concerning actually is what happened after the campaign — a whole pattern of events while he was president … to sabotage the presidency — or at least have the effect of sabotaging the presidency." —AG William Barr calling the Russia investigation "one of the greatest travesties in American history."

"Millions of COVID-19 tests will need to be administered if the country's economy is going to reopen safely and effectively. This is going to be a horrendous transformational period for us. I don't think we ever get back to normal. I think this is one of the new normals now in public health. — NY Gov. Andrew Cuomo

" Any time we have a crisis of any sort there is always this popping up of conspiracy theories." — Dr. Anthony Fauci, dismissing the idea, largely promoted by Rush Limbaugh, Mark Levin, Tucker Carlson, and Brit Hume, that the US's Covid-19 death toll is being inflated by unrelated medical conditions.

"Covid-19 isn't shifty Schiff, It's a once-a-century threat to American life and livelihood." —The Wall Street Journal editorial board chastising the president for his behavior at the briefings, brandishing all the familiar tools in his rhetorical arsenal: belittling Democratic governors, demonizing the media, trading in innuendo and bulldozing over the guidance of experts.

Distracted. This attack ad by the Lincoln Project concedes Donald Trump had other priorities before launching his lackluster battle against COVID-19. But he wasn't distracted by impeachment, as he claims. Instead, he was too busy golfing and packing people into campaign rallies.

The Wall Street Journal always "forgets" to mention that the ratings for the White House Press Briefings are "through the roof" (Monday Night Football, Bachelor Finale, according to @nytimes) & is only way for me to escape the Fake News & get my views across. WSJ is Fake News! — Trump lashing out at the WSJ.

"There is no politics here. I have no political agenda, period. I am not running for president, I am not running for vice president. I am not running anywhere. I am not going to Washington. I am staying right here." — Gov. Andrew Cuomo

"The numbers are somewhat stabilizing, but it is stabilizing at a horrific rate." — Gov. Andrew Cuomo on the 783 deaths in New York yesterday from the coronavirus.

"Make no mistake: An effective plan to beat the virus is the ultimate answer to how we get our economy back on track. So we should stop thinking of the health and economic responses as separate. They are not." — Joe Biden writing in the New York Times.

"I fear, if we open up too early, and we have not sufficiently made that health recovery and cracked the back of this virus, that we could be pouring gasoline on the fire, even inadvertently." — New Jersey Gov. Phil Murphy (D)

"In accommodating Trump and his base, McConnell and other Republicans went along as Party leaders dismantled the country's safety net and ignored experts of all kinds, including scientists. Mitch is kidding himself if he thinks he'll be remembered for anything other than Trump. He will be remembered as the Trump facilitator." — Stuart Stevens, a longtime Republican political consultant, in his forthcoming book, "It Was All a Lie."

Paula Reid of CBS pointed out that there was nothing on the timeline between Feb. 6, when the Centers for Disease Control and Prevention began shipping test kits, and March 2, when pharmaceutical companies began testing a vaccine.

REID: "The argument is you bought yourself some time.You didn't use it to prepare hospitals, you didn't use it to ramp up testing. Right now, nearly 20 million people are unemployed, thousands of Americans are dead."

TRUMP: "You're so disgraceful. It's a disgraceful question."

REID: "But what did you do with the time that you bought?" Reid persisted.

TRUMP: "A lot. A lot. And in fact, we'll give you a list. ... You know you're a fake."

That list would show that Trump spent most of February and half of March downplaying the danger. https://www.latimes.com/opinion/story/2020-04-14/column-shaming-anthony-fauci-trump-news-conference-from-hell

"People are chomping at the bit If you think about it, we have never had a period like this in modern American history where you've had so little new content, particularly in the sporting realm. I mean, we are watching reruns from like the early 2000s." — Florida Gov. Ron DeSantis (R) defending his decision to label World Wrestling Entertainment and other professional sports as "essential services" amid the coronavirus pandemic, saying that people were "starved for content."

"The truth is because of an incompetent reaction to this health crisis, the strong economy handed to Donald Trump is now a disaster, causing the suffering of countless Americans and endangering lives. The truth is a weak person, a poor leader, takes no responsibility. A weak person blames others." — Speaker Nancy Pelosi in her letter to House Democrats.

The decision by the Trump administration's decision to freeze funding to the World Health Organization is not just morally disastrous, but also incredibly myopic. Supporting the health of people in sub-saharan Africa or in refugee camps in the Middle East is central to stopping covid-19 everywhere. By cutting off funding to the WHO, the Trump administration has not only pulled a lifeline from some of the most vulnerable people on earth, but it has also jeopardized recovery here in the United States. -- UN Dispatch
---
IN THIS ISSUE
FYI
OPINION
1.  Andy Borowitz: Trump Says the Three Things He Hates Most Are the World, Health, and Organization
At Tuesday's White House Coronavirus Task Force briefing, Donald J. Trump said that the three things he hates the most are the world, health, and organization.

"I hate the world, and I've always hated it," he said. "The world is a horrible place because of all the horrible people in it. Any place that has Jim Acosta in it, I hate. The world is a disgrace."

"Coming in at No. 2 of things I hate would definitely be health," he said. "For the past two months, it's all I've been hearing about, health this, health that. I wish health would just disappear. We're trying to make that happen very strongly."

"Finally, I've got to say that I hate organization," he said. "Anyone who's known me for any amount of time knows just how much I despise organization. Now, all of a sudden, governors, these beauties, are coming to me and asking me to organize everything. Well, it's not gonna happen. For years before I got here, there was organization at the White House, and no one did anything about it. Well, now that I'm President, the federal government is getting out of the organization." https://www.newyorker.com/humor/borowitz-report/
2. As pandemic deepens, Trump cycles through targets to blame
 First, it was the media that was at fault. Then, Democratic governors came under fire. China, President Barack Obama and federal watchdogs have all had a turn in the crosshairs. And now it's the World Health Organization that's to blame.
Trump is falling back on a familiar political strategy as he grapples with the coronavirus pandemic: deflect, deny and direct blame elsewhere.
As he tries to distance his White House from the mounting death toll, Trump has cycled through a long list of possible scapegoats in an attempt to distract from what critics say were his own administration's missteps in slowing the spread of the coronavirus on American shores.
The list of those Trump has blamed is lengthy, and shifting.
Trump himself owns up to no mistakes. "I couldn't have done it any better," he said. https://apnews.com/58f1b869354970689d55ccae37c540f3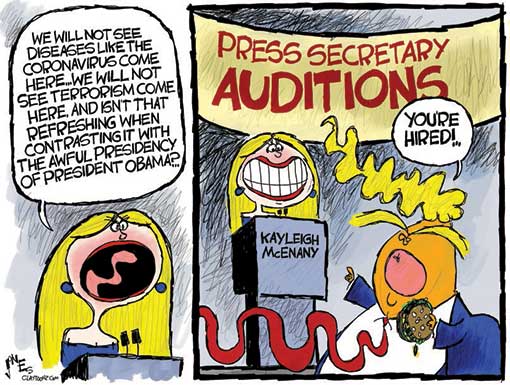 3. New poll: Nearly half of frequent Fox viewers say COVID-19 death toll is inflated
Forty-five percent of people who frequently watch Fox News say that fewer Americans have been killed by the novel coronavirus that causes COVID-19 than the official count indicates, according to a new poll. 
In fact, the official figure -- which currently stands at more than 22,000 U.S. deaths -- is almost certainly an undercount. It does not include many cases, particularly home-deaths, involving people who likely died of the virus but were never tested. https://www.mediamatters.org/fox-news/new-poll-nearly-half-frequent-fox-viewers-say-covid-19-death-toll-inflated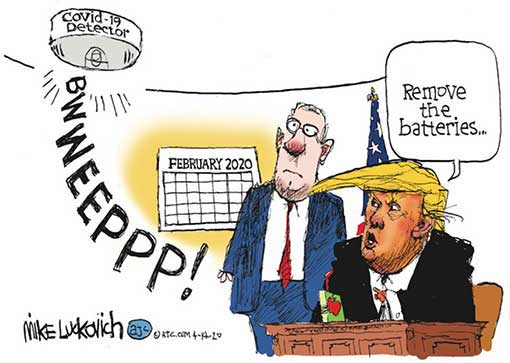 4. Barack Obama Endorses Joe Biden for President
In a video released on Tuesday, Mr. Obama endorsed his former vice president, saying the country needed a steady leader to combat the coronavirus pandemic. https://www.nytimes.com/2020/04/14/us/politics/obama-endorses-biden.html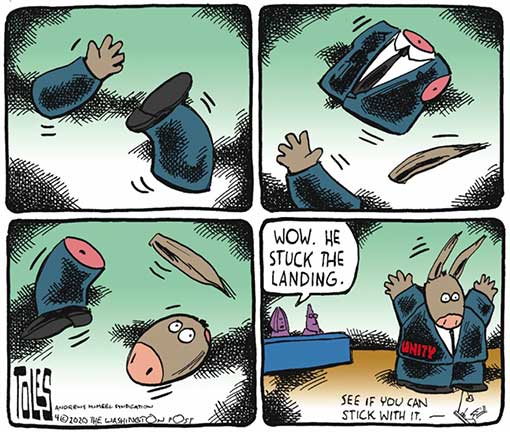 5. Stimulus Oversight Panel Has One Person Trying to Watch $2.2 Trillion Alone
On April 6, Bharat Ramamurti became the first person named to the Congressional Oversight Commission supposed to police the massive coronavirus relief fund. A former top staffer for Senator Elizabeth Warren, Ramamurti expected to have company -- the new law requires congressional leaders to appoint a five-member panel.
As tens of billions of taxpayer dollars from the $2.2 trillion relief bill begin flowing out the door, Ramamurti remains the lone member appointed to the panel. With no colleagues, no staff, and no office, he's had to rely on one of the few avenues he has to communicate with the public: his unverified Twitter feed. https://www.bloomberg.com/news/articles/2020-04-14/virus-fund-cop-awaiting-help-watches-2-trillion-bailout-alone
6. Navarro Makes a Bad Bet
White House adviser Peter Navarro was combative during "60 Minutes" on Sunday night saying "I challenge you: Show me the 60 Minutes episode a year ago, two years ago, or during the Obama administration, during the Bush administration, that said, 'Hey, global pandemic's coming, you gotta do X, Y, and Z, and by the way, we would shut down the entire global economy to fight it.' Show me that episode, then you'll have some credence in terms of attacking the Trump administration for not being prepared."
The 60 Minutes' response is at https://youtu.be/nSx704KK_Ik
7. Gavin Newsom's 6 Steps for Re-Opening California
California Gov. Gavin Newsom (D) laid out six criteria for re-opening the state's doors for business in the wake of the coronavirus emergency, the Sacramento Bee reports.
The Democratic governor said the framework offers a glimpse at what life will look like in the aftermath of the COVID-19 emergency. https://www.sacbee.com/news/politics-government/capitol-alert/article242007496.html
8. Trump's Vendetta Against Jeff Bezos Could Destroy the Postal Service
The United States Postal Service has warned that it will "run out of cash" by the fall without intervention—and Donald Trump appears unwilling to help. According to the Washington Post, the president vowed to veto the $2 trillion rescue package Congress passed last month if it contained any bailout money for this crucial independent agency, which has been under additional strain due to the coronavirus crisis. He has instead called for USPS to "raise the prices" on companies like Amazon. "They ought to do that, and we are looking into it," the president said Wednesday. "We've been pushing them now for over a year." https://www.vanityfair.com/news/2020/04/trumps-vendetta-against-jeff-bezos-could-destroy-the-postal-service
9. We Cannot Hold an Election Without a Functional Post Office
All the plans we have for a safe and legitimate general election in November depend heavily upon the ability to expand vote by mail. Yet those plans would be completely upended if the United States Postal Service collapses, a ridiculous but real possibility thanks to COVID-19 and President Donald Trump's opposition to a postal service bailout as part of the federal government's pandemic response. In every election but especially this year, the USPS is critical government infrastructure for our elections. With poll workers getting sick, in-person polling places shutting down, and an expected flood of absentee ballot requests, a functioning postal service is essential to the health and safety of American democracy. https://slate.com/news-and-politics/2020/04/november-election-post-office-bailout.html
10. Tax change in coronavirus package overwhelmingly benefits millionaires, congressional body finds
More than 80 percent of the benefits of a tax change tucked into the coronavirus relief package Congress passed last month will go to those who earn more than $1 million annually, according to a report by a nonpartisan congressional body expected to be released Tuesday.
The provision, inserted into the legislation by Senate Republicans, temporarily suspends a limitation on how much owners of businesses formed as "pass-through" entities can deduct against their nonbusiness income, such as capital gains, to reduce their tax liability. The limitation was created as part of the 2017 Republican tax law to offset other tax cuts to firms in that legislation. https://www.washingtonpost.com/business/2020/04/14/coronavirus-law-congress-tax-change/
11. Anti-malarial drug touted by Trump was subject of CIA warning to employees
The CIA has privately advised its workforce that taking an anti-malarial drug touted by President Trump and some of his supporters as a promising treatment for the novel coronavirus has potentially dangerous side effects, including sudden death. https://www.washingtonpost.com/world/national-security/trump-hydroxychloroquine-coronavirus-cia/2020/04/13/54129d64-7dba-11ea-8013-1b6da0e4a2b7_story.html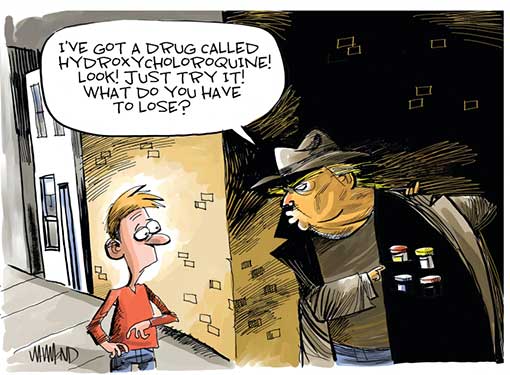 12. South Dakota's governor resisted ordering people to stay home. Now it has one of the nation's largest coronavirus hot spots.
As governors across the country fell into line in recent weeks, South Dakota's top elected leader stood firm: There would be no statewide order to stay home.
Such edicts to combat the spread of the novel coronavirus, Gov. Kristi L. Noem said disparagingly, reflected a "herd mentality." It was up to individuals — not government — to decide whether "to exercise their right to work, to worship and to play. Or to even stay at home."
And besides, the first-term Republican told reporters at a briefing this month, "South Dakota is not New York City."
But now South Dakota is home to one of the largest single coronavirus clusters anywhere in the United States, with more than 300 workers at a giant ­pork-processing plant falling ill. With the case numbers continuing to spike, the company was forced to announce the indefinite closure of the facility Sunday, threatening the U.S. food supply. https://www.washingtonpost.com/national/south-dakotas-governor-resisted-ordering-people-to-stay-home-now-it-has-one-of-the-nations-largest-coronavirus-hot-spots/2020/04/13/5cff90fe-7daf-11ea-a3ee-13e1ae0a3571_story.html
13. Upset Victory in Wisconsin Supreme Court Race Gives Democrats a Lift
Democrats scored a significant victory in Wisconsin on Monday night when a liberal challenger upset a Trump-backed incumbent to win a State Supreme Court seat, a down-ballot race that illustrated strong turnout and vote-by-mail efforts in a presidential battleground state.
The challenger for the court seat, Jill Karofsky, ousted the conservative incumbent, Justice Daniel Kelly, in a contest with broad potential implications for voting rights in Wisconsin's November general election. Justice Kelly became just the second incumbent State Supreme Court justice to be ousted at the polls since 1967. President Trump had boasted that his endorsement of Justice Kelly had unnerved Democrats in the state. https://www.nytimes.com/2020/04/13/us/politics/wisconsin-primary-results.html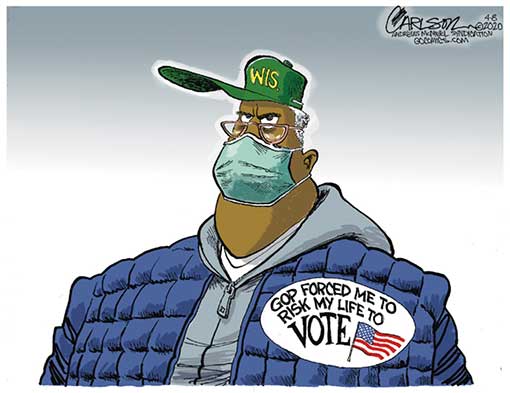 14. 'Let this wash over'
During one task force meeting in the Situation Room last month, Trump turned to Fauci and challenged him.
"Why don't we let this wash over the country?" Trump asked, according to two people familiar with his comments, a question other administration officials say he has raised repeatedly in the Oval Office.
Fauci initially seemed confused by the term "wash over" but became alarmed once he understood what Trump was asking.
"Mr. President, many people would die," Fauci said. https://www.washingtonpost.com/politics/trump-task-forces-coronavirus-pandemic/2020/04/11/5cc5a30c-7a77-11ea-a130-df573469f094_story.html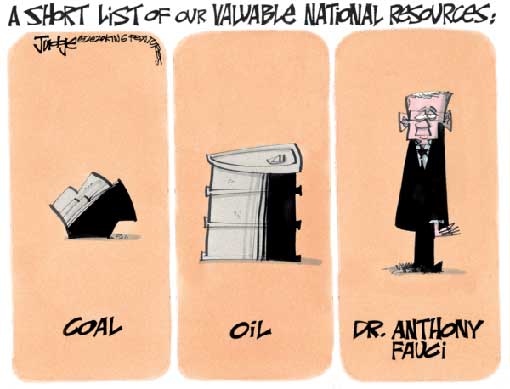 15. Mike Huckabee Just Sued the County Because It Closed His Beach
Mike Huckabee has been trying for years to keep people off the beach in front of his $6 million McMansion on the Gulf Coast of Florida. Since he bought the house in 2011, he has complained that the 115-foot spit of sugar-sand beach in front of his Walton County property has been fouled by pot-smoking kids and pooping dogs. Most shocking of all, he once saw a young couple strip naked and have sex on a YOLO board there at two in the afternoon. But now that the county has finally closed the beach and kicked out all the spring breakers as part of its pandemic response, Huckabee has sued the county because he can't go out there either. https://www.motherjones.com/politics/2020/04/mike-huckabee-just-sued-the-county-because-it-closed-his-beach/
16. Feds Warn Alex Jones to Stop Hawking Coronavirus Scams
The Food and Drug Administration is demanding that conspiracy theorist Alex Jones stop advertising dubious dietary supplements as coronavirus treatments and threatening legal action if he doesn't comply. https://www.thedailybeast.com/feds-warn-alex-jones-to-stop-hawking-coronavirus-scams/
17. U.S. Tariffs Hamper Imports of Sanitizer, Disinfectants
Companies asking for exemptions from the Trump administration's tariffs on Chinese imports say widespread shortages of hand sanitizer, disinfectants and other products needed to combat the spread of the coronavirus are being exacerbated by the levies.
Medical-supply companies and other importers have filed dozens of requests for tariff relief in recent weeks, public filings show. These businesses say the levies are increasing the costs of products needed to fight the pandemic. https://www.wsj.com/articles/u-s-tariffs-hamper-imports-of-sanitizer-disinfectants-11586683800
18. MGM Told to Hand Over Trump's 'Apprentice' Tapes in Scam Suit
Journalists, litigants and even actor Tom Arnold for years have been trying to get their hands on unaired footage from The Celebrity Apprentice that allegedly incriminates Donald Trump — and on Thursday a New York federal judge ordered MGM to hand over tapes in a lawsuit over an alleged multilevel marketing scam. Whether they're those tapes remains to be seen.
This comes on the heels of Schofield's decision Wednesday to deny the defendants' motion to compel arbitration. While the plaintiffs did sign an arbitration agreement with ACN, Schofield found the Trumps weren't a party to that contract. She also found that, even if that weren't the case, the Trumps waived their right to arbitrate by waiting too long to file their motion to compel. (Read that opinion here.) https://www.hollywoodreporter.com/thr-esq/mgm-ordered-deliver-unaired-apprentice-footage-marketing-scam-lawsuit-trumps-1289621
19. In a turnaround, Putin describes Russia's outbreak in bleak terms.
President Vladimir Putin offered his bleakest comments yet on his country's handling of the pandemic, warning officials on Monday that the number of severely ill patients was rising and that medical workers faced shortages of protective equipment.
"We have a lot of problems, and we don't have much to brag about, nor reason to, and we certainly can't relax," Mr. Putin told senior officials in a televised videoconference that he conducted from his residence outside Moscow. "We are not past the peak of the epidemic, not even in Moscow."
Russia's total number of confirmed cases reached 18,328, double the level of five days earlier, with roughly two-thirds of them in Moscow. The number of deaths stood at 148 nationwide.
Mr. Putin's dour tone Monday was part of a sharp shift in Russia's official rhetoric on the crisis, with hope fading that the country might escape being hit hard by the pandemic. He directed officials to remedy shortages in medical workers' protective equipment and to share ventilators and medicine across Russia's far-flung regions to respond to geographic differences in demand. https://www.nytimes.com/2020/04/13/world/coronavirus-news-world-international-global.html
20. States still baffled over how to get coronavirus supplies from Trump
The federal government's haphazard approach to distributing its limited supplies has left states trying everything — filling out lengthy FEMA applications, calling Trump, contacting Pence, sending messages to Jared Kushner, Trump's son-in-law, and trade adviser Peter Navarro, who are both leading different efforts to find supplies, according to local and states officials in more than a half-dozen states. They're even asking mutual friends to call Trump or sending him signals on TV and Twitter.
"This is not something that we should ever be faced with," Kansas Gov. Laura Kelly, a Democrat, said in an interview. "It really is the federal government's responsibility to build those stockpiles, and distribute those during the time of crisis." https://www.politico.com/news/2020/04/13/states-baffled-coronavirus-supplies-trump-179199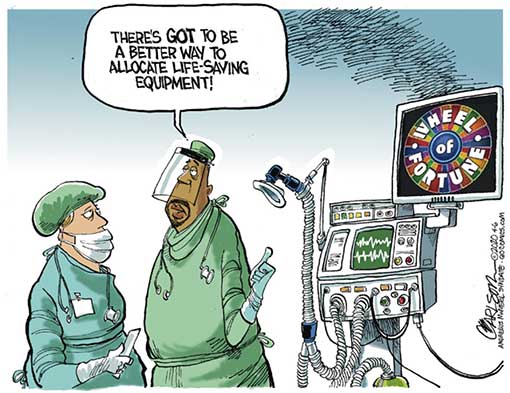 21. Virginia governor makes Election Day a holiday and expands early voting
Virginia Gov. Ralph Northam announced Sunday that he signed a series of new measures into law aimed at expanding access to voting in the commonwealth.
The new legislation will establish Election Day as a holiday, remove the requirement that voters show a photo ID prior to casting a ballot and, expand early voting to be allowed 45 days before an election without a stated reason. https://www.cnn.com/2020/04/12/politics/virginia-election-day-holiday-early-voting/index.html
22. The DAILY GRILL
"When somebody is the president of the United States, the authority is total and that is the way it's gonna be. It's total. It's total. And the governors know that. When somebody is the President of the United States, the authority is total." — Trump at his daily coronavirus briefing.

VERSUS

"I am not running for office to be King of America. I respect the Constitution. I've read the Constitution. I've sworn an oath to it many times. I respect the great job so many of this country's governors — Democratic and Republican — are doing under these horrific circumstances." — Joe Biden tweet, pushing back on President Trump's false claim he has "total authority" over the states.
Tell the Democrat Governors that "Mutiny On The Bounty" was one of my all time favorite movies. A good old fashioned mutiny every now and then is an exciting and invigorating thing to watch, especially when the mutineers need so much from the Captain. Too easy!— Trump tweet. Note: It's not clear if Trump realizes that the sadistic captain in the film is eventually ousted from command.

VERSUS

"I didn't follow the exact meaning of the tweet, but the basic essence of the tweet was that he was not happy with governors and that this was a mutiny. The president is clearly spoiling for a fight on this issue. The worst thing we can do in all of this is start with political division and start with partisanship." — Gov. Andrew Cuomo responding to a ave of criticism from Donald Trump. 

 

For the purpose of creating conflict and confusion, some in the Fake News Media are saying that it is the Governors decision to open up the states, not that of the President of the United States & the Federal Government. Let it be fully understood that this is incorrect....It is the decision of the President, and for many good reasons. With that being said, the Administration and I are working closely with the Governors, and this will continue. A decision by me, in conjunction with the Governors and input from others, will be made shortly! — Trump tweet

VERSUS

As a matter of law, Trump is wrong. State and local officials have legal authority to close businesses and public buildings in order to safeguard public health. No currently existing statute plausibly can be read to confer such an authority on the president." -- University of Texas law professor Bobby Chesney

 

"You know… as I have said many times, we look at it from a pure health standpoint. We make a recommendation. Often, the recommendation is taken. Sometimes, it's not… It is what it is. We are where we are right now." — Dr. Anthony Fauci appeared to confirm a bombshell New York Times report which said he and other Trump administration officials recommended the implementation of physical distancing to combat the coronavirus in February, but were rebuffed for almost a month.

VERSUS

"Time to #FireFauci." — Trump resharing a tweet

 

"It's admittedly speculation, but what if we are recording a bunch of deaths to coronavirus which really should not be chalked up to coronavirus?" -- Rush Limbaugh quoted by the Daily Beast:

VERSUS

Of course, the reality according to doctors and public health experts is actually the opposite. Official Counts Understate the U.S. Coronavirus Death Toll. Inconsistent protocols, limited resources and a patchwork of decision making have led to an undercounting of people with the coronavirus who have died, health experts say. — Sarah Kliff and Julie Bosman in the NY Times

 

The Russia investigation that shadowed President Donald Trump for the first two years of his administration was started without any basis and amounted to an effort to "sabotage the presidency," -- AG William Barr in an interview with Fox News..

VERSUS

The Justice Department's inspector general found the FBI was justified in opening an investigation into ties between the Trump presidential campaign and Russia — to protect against a national security threat — and found the bureau didn't act with political bias. -- AP News
 

 

"This particular pandemic is one where, I don't think nationwide there's been a single fatality under 25. For whatever reason it just doesn't seem to threaten, you know, kids. And we lose in Florida between five and 10 kids a year for the flu. This one, for whatever reason, much more dangerous if you're 65 and plus than the flu, no doubt about that, if you're younger it just hasn't had an impact. So that should factor into how we're viewing this. — Florida Gov. Ron DeSantis (R) trying to explain his thinking about potentially re-opening Florida schools.

VERSUS

DeSantis appears to not know that the reason that schools are closed during the coronavirus pandemic is not because the virus is killing kids in big numbers but rather that children are demonstrated carriers and vectors of the illness to adults. A kid might get coronavirus and have mild (or no) symptoms at all. But they could pass it to a teacher, a parent or another adult who gets much, much sicker. And that adult could then pass coronavirus to more people. And on and on we go. -- Chris Cillizza
23. From MEDIA MATTERS (They watch Fox News so you don't have to)
After Fox News was criticized for dangerously downplaying the severity of the novel coronavirus that causes COVID-19, the network dishonestly responded by claiming that critics were cherry-picking from its purportedly laudable coverage. But six different polls tell the real story: Every one shows that Fox viewers took the virus less seriously than people who got their news from other sources. https://www.mediamatters.org/fox-news/six-different-polls-show-how-foxs-coronavirus-coverage-endangered-its-viewers

During the April 13 coronavirus task force briefing at the White House, President Donald Trump aired a video attacking media coverage of the pandemic. Part of that video was directly lifted from the March 26 episode of Hannity. Watch at https://www.mediamatters.org/coronavirus-covid-19/trump-coronvirus-video-lifted-part-hannitys-fox-news-show

Sean Hannity vs. Sean Hannity.Sean Hannity railed against how other media outlets covered the coronavirus pandemic. There was just one problem: Hannity was guilty of what he accused other outlets of doing. https://twitter.com/mmfa/status/1248677919364460545

Sean Hannity has stood out among the network's many misinformers about the coronavirus pandemic. From encouraging viewers to try unproven treatments to downplaying the lethality of coronavirus compared to other diseases to defending President Donald Trump's mishandling of the pandemic, Hannity has downplayed coronavirus dozens of times on his Fox and radio programs over the past month. https://www.mediamatters.org/sean-hannity/how-foxs-sean-hannity-has-downplayed-coronavirus-pandemic-america
24. From the Late Shows
Weekend Update: President Trump Gives Coronavirus Update - SNL
https://youtu.be/Omjy1LUNfIk

Saluting the Heroes of the Coronavirus Pandumbic | The Daily Show with Trevor Noah: https://youtu.be/NAh4uS4f78o

Coronavirus IV: Last Week Tonight with John Oliver (HBO): https://youtu.be/6s4Bx7mzNkM
1. Eric Lipton, David E. Sanger, Maggie Haberman, Michael D. Shear, Mark Mazzetti and Julian E. Barnes: He Could Have Seen What Was Coming: Behind Trump's Failure on the Virus
Dozens of interviews with current and former officials and a review of emails and other records revealed many previously unreported details and a fuller picture of the roots and extent of Trump's halting response as the deadly virus spread:
The National Security Council office responsible for tracking pandemics received intelligence reports in early January predicting the spread of the virus to the United States, and within weeks was raising options like keeping Americans home from work and shutting down cities the size of Chicago. Mr. Trump would avoid such steps until March.
Despite Mr. Trump's denial weeks later, he was told at the time about a Jan. 29 memo produced by his trade adviser, Peter Navarro, laying out in striking detail the potential risks of a coronavirus pandemic: as many as half a million deaths and trillions of dollars in economic losses.
The health and human services secretary, Alex M. Azar II, directly warned Mr. Trump of the possibility of a pandemic during a call on Jan. 30, the second warning he delivered to the president about the virus in two weeks. The president, who was on Air Force One while traveling for appearances in the Midwest, responded that Mr. Azar was being alarmist.
Mr. Azar publicly announced in February that the government was establishing a "surveillance" system in five American cities to measure the spread of the virus and enable experts to project the next hot spots. It was delayed for weeks. The slow start of that plan, on top of the well-documented failures to develop the nation's testing capacity, left administration officials with almost no insight into how rapidly the virus was spreading. "We were flying the plane with no instruments," one official said.
By the third week in February, the administration's top public health experts concluded they should recommend to Mr. Trump a new approach that would include warning the American people of the risks and urging steps like social distancing and staying home from work. But the White House focused instead on messaging and crucial additional weeks went by before their views were reluctantly accepted by the president — time when the virus spread largely unimpeded.
When Mr. Trump finally agreed in mid-March to recommend social distancing across the country, effectively bringing much of the economy to a halt, he seemed shellshocked and deflated to some of his closest associates. One described him as "subdued" and "baffled" by how the crisis had played out. An economy that he had wagered his re-election on was suddenly in shambles. https://www.nytimes.com/2020/04/11/us/politics/coronavirus-trump-response.html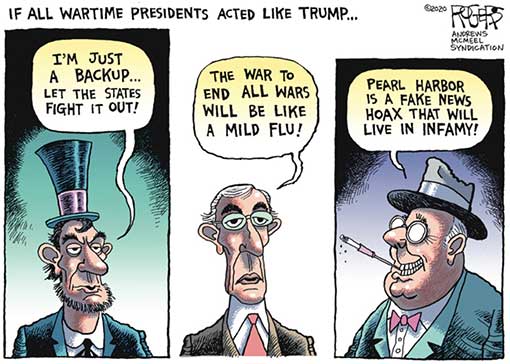 2. Dana Milbank: Trump and Kushner could reap a pandemic windfall
Senate Majority Leader Mitch McConnell (R-Ky.) and House Minority Leader Kevin McCarthy (R-Calif.) have insisted that Congress spend another $250 billion on small businesses devastated by the pandemic, but they refuse to "renegotiate unrelated programs" from last month's emergency coronavirus bill.
What are they afraid of?
Well, maybe it's this: As the dust settles on the $2.2 trillion legislation, it has become clear that one of its largest provisions, a $170 billion tax giveaway, appears to be tailor-made for the benefit of wealthy real estate investors such as President Trump and his son-in-law, Jared Kushner, who is running one of Trump's coronavirus task forces.
The giveaway, primarily to real estate investors and hedge funds, is larger than the total amount in the legislation for hospitals ($100 billion) and for relief for all state and local governments ($150 billion). Worse, the bonanza for these millionaires and billionaires has little to do with the coronavirus: It lets them offset losses not just from 2020 but from 2018 and 2019, before the pandemic.
This is repugnant. Cash-strapped states don't have the funds to care for the sick, much less to do the testing, contact tracing and isolation needed to reopen workplaces and schools. As The Post's Tony Romm reported Tuesday, more than 2,100 U.S. cities expect major budget shortfalls — and therefore possible cuts to vital public services.
But this provision gives tax filers who earn more than $1 million a year an average windfall of $1.6 million this year alone. (Compare that with the $1,200 break the average wage earner gets.) As The Post's Jeff Stein reported Tuesday, the Joint Committee on Taxation found that 82 percent of the benefit of this and another tax giveaway in the coronavirus relief bill will go to the 43,000 taxpayers who earn more than $1 million — and just 3 percent to those who earn less than $100,000. https://www.washingtonpost.com/opinions/2020/04/14/trump-kushner-could-reap-pandemic-windfall/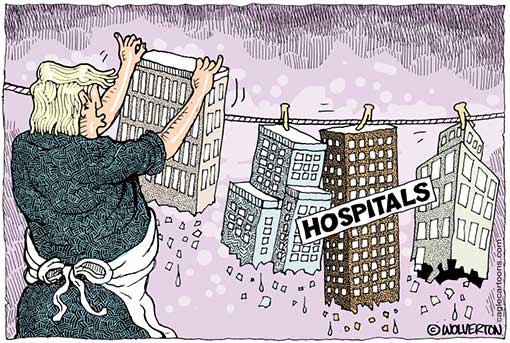 3. David Zurawik: Trump more focused on TV briefings and rewriting history than saving lives 
Ignorance, arrogance and petulance ― that's the Trump administration from the president on down. And it has been that way since the inauguration.
But the burning media question now is how much longer can we stomach heaping TV helpings day after day of the president's reckless behavior as thousands die horrible deaths due to the COVID-19 virus. When are enough lies, spin and disinformation every night on TV enough?
Citing an inspector general's report from the Department of Health and Human Services that found "severe shortages of testing supplies and extended waits for test results," Fox News correspondent Kristin Fisher asked, "When can hospitals expect a quick turnaround on these test results?"
That set Mr. Trump off ― straight down the bunny trail of vitriol and press hatred. Hip-pity-hop to the paranoia shop as Mr. Trump blamed the hospital and states for any problems in testing. He then demanded the name of the author of the report and date of appointment suggesting any criticism was the result of partisan politics.
"You should say, 'Congratulations, great job,' instead of being so horrid in the way you ask a question," Mr. Trump angrily told Ms. Fisher.
But Mr. Trump's anger didn't truly boil over until Jonathan Karl, of ABC News, followed up with the date of Ms. Grimm's recent promotion.
"You're a third rate reporter," he told Mr. Karl. "And what you just said is a disgrace ... You will never make it."
Ms. Fisher and Mr. Karl did exactly what the press is supposed to do in challenging Mr. Trump. He is desperate to rewrite the history of his failure in dealing with the COVID-19 crisis early on, and that's what these daily TV performances are mainly about: him trying to change the narrative of failure that is settling in. https://www.baltimoresun.com/opinion/columnists/zurawik/bs-ed-zontv-trump-media-covid-20200408-zpcth34oqjaa5lvmc6p65remmm-story.html
4. Susan B. Glasser: How Did the U.S. End Up with Nurses Wearing Garbage Bags?
America was watching, shocked, as doctors and nurses pleaded for protective gear and medical equipment such as ventilators. Ries was asked to help start a Web site that would match hospitals and suppliers. Sure, Ries said, he could have something up and running by Monday. What followed over the next two weeks was an inside glimpse of the dysfunction emanating from Trump's Washington in the midst of the pandemic, a crash course in the breakdown that has led to nurses in one of the wealthiest countries in the world wearing garbage bags to protect themselves from a virus whose outbreak the President downplayed until it was too late to prepare for its consequences.
Earlier this week, the office of the inspector general for the Department of Health and Human Services released a survey of three hundred and twenty-three hospitals in forty-six states, D.C., and Puerto Rico, and it found "widespread shortages of PPE," and also of other equipment. After the report was released, Trump claimed it was "wrong," tweeted that it was "Another Fake Dossier!," and attacked the principal deputy I.G. who prepared it because she had also served during the Obama Administration. Trump, of course, omitted the fact that she is a career official who also served in the Clinton and George W. Bush Administrations.
All of this was predicted. On February 13th, the Center for Global Development, a nonpartisan Washington think tank, warned in a report about the "urgent but closing window" for the U.S. government to prepare, including specifically recommending an immediate review of the P.P.E. supply chain; the creation of a plan for distribution of supplies and the public communication of that plan; and the development of "options for addressing PPE shortfalls," which ranged from increasing manufacturing to coming up with new "parameters for reuse in crisis conditions." This was in mid-February, a full month before Trump deputized Kushner to step in and the first orders went out.
The mad dash for supplies set off by Trump's incomprehensible handling of the crisis cannot help those already in the thick of the outbreak; the help that is on the way now, finally and belatedly, will be for the next cities and states to face it. There was a window for action. It wasn't just closed. It was slammed shut. https://www.newyorker.com/news/letter-from-trumps-washington/the-coronavirus-and-how-the-united-states-ended-up-with-nurses-wearing-garbage-bags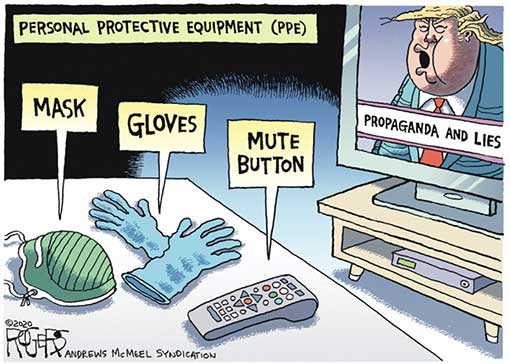 5. Bess Levin: Surprise: William Barr Fully Supports Trump's Totalitarian Oversight Purge
Despite generally enjoying the unfettered support of Republicans who seemingly took a blood oath to back him on January 20, 2017, Donald Trump's decision over the last week to purge not one but two inspectors general, with an eye on even more, has drawn bipartisan criticism. That likely has to do with the fact that firing Michael Atkinson, who oversaw the whistleblower complaint that led to Trump's impeachment trial, and removing Glenn Fine from his role overseeing the $2 trillion coronavirus stimulus package, smacked of an out-of-control despot who would stop at nothing to consolidate power, even amidst an unprecedented health and economic catastrophe. One person totally cool with the moves, though? William Barr, the president's lackey attorney general.
In an interview with Fox News that aired Thursday night, Barr told Laura Ingraham that he fully supported Trump's decision to oust Atkinson, which is not that surprising given his previous comments on impeachment (to wit: that the inquiry was led by people "engaged in a war to cripple, by any means necessary"). Claiming Trump, who has never done the right thing, "did the right thing" in removing the intelligence community's internal watchdog, Barr argued that Atkinson had erred in letting people know about the whistleblower report (the contents of which, as a reminder, turned out to be 100% true). "He had interpreted his statute, which was a fairly narrow statute which gave him jurisdiction over wrongdoing…by intelligence people, and tried to turn it into a commission to explore anything in the government and immediately report it to Congress without letting the executive branch look at it and determine whether there was any problem," Barr said of Atkinson. https://www.vanityfair.com/news/2020/04/william-barr-trump-ig-purge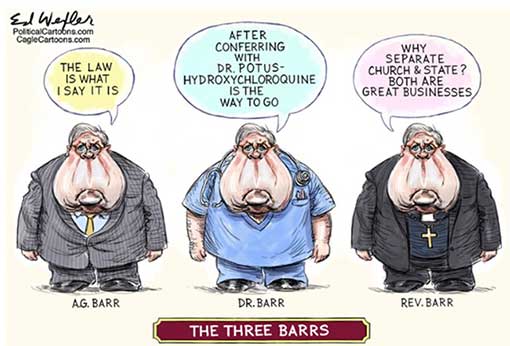 6. ErIc Lutz: Can The Republican Machine Rewrite Trump's Coronavirus Bungling?
Donald Trump in recent weeks has been hammered by advertisements taking him to task for his disastrous handling of the coronavirus crisis. The ads have been effective, largely because they've been true: Trump did, as a Joe Biden ad last month illustrated, fail to take the COVID threat seriously. He has, as a new spot from liberal Super PAC Win the West highlighted Thursday, repeatedly spread false information and lies about both the virus and his administration's response to it. Trump has appeared on television every day in rambling, self-aggrandizing, and highly misleading press conferences, ostensibly to discuss his administration's efforts to combat the deadly virus—and every day, he provides new soundbites for his opponents to use against him.
Concerned that could hurt his reelection chances in November, the Republican National Committee is springing into action to provide some counter-messaging, pouring more than a million dollars into the president's effort to rewrite his coronavirus response. According to Politico, the GOP is launching a massive ad offensive in battleground states, praising Trump's leadership in the crisis. The ads are aimed at convincing swing voters of Trump's emergency management, in part by using clips of Democratic governors Gavin Newsom of California and Andrew Cuomo of New York speaking positively of parts of the administration's efforts. It's an unusually large ad campaign this early in a race, as Politico noted, but reflects the extent to which Republicans fear his coronavirus response has threatened him politically.
https://www.vanityfair.com/news/2020/04/can-the-republican-machine-rewrite-trumps-coronavirus-bungling
7.  Paul Krugman: American Democracy May Be Dying
Wisconsin, like most of the country, is under a stay-at-home order. So why did Republican legislators, eventually backed by the Republican appointees to the U.S. Supreme Court, insist on holding an election as if the situation were normal?
The answer is that the state shutdown had a much more severe impact on voting in Democratic-leaning urban areas, where a great majority of polling places were closed, than in rural or suburban areas. So the state G.O.P. was nakedly exploiting a pandemic to disenfranchise those likely to vote against it.
What we saw in Wisconsin, in short, was a state party doing whatever it takes to cling to power even if a majority of voters want it out — and a partisan bloc on the Supreme Court backing its efforts. Donald Trump, as usual, said the quiet part out loud: If we expand early voting and voting by mail, "you'd never have a Republican elected in this country again."
Does anyone seriously doubt that something similar could happen, very soon, at a national level? https://www.nytimes.com/2020/04/09/opinion/wisconsin-primary-democracy.html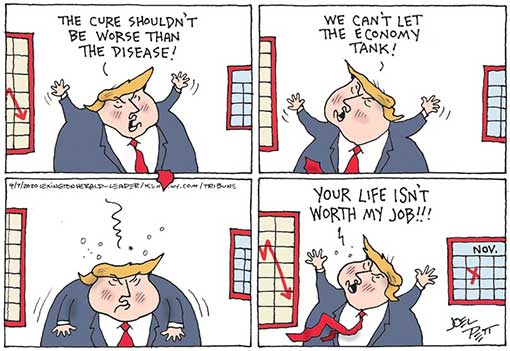 8. Adam Tooze: The Normal Is Never Coming Back
As the coronavirus lockdown began, the first impulse was to search for historical analogies—1914, 1929, 1941? As the weeks have ground on, what has come ever more to the fore is the historical novelty of the shock that we are living through. As a result of the coronavirus pandemic, America's economy is now widely expected to shrink by a quarter. That is as much as during the Great Depression. But whereas the contraction after 1929 stretched over a four-year period, the coronavirus implosion will happen over the next three months. There has never been a crash landing like this before. There is something new under the sun. And it is horrifying.
As recently as five weeks ago, at the beginning of March, U.S. unemployment was at record lows. By the end of March, it had surged to somewhere around 13 percent. That is the highest number recorded since World War II. We don't know the precise figure because our system of unemployment registration was not built to track an increase at this speed. On successive Thursdays, the number of those making initial filings for unemployment insurance has surged first to 3.3 million, then 6.6 million, and now by another 6.6 million. At the current rate, as the economist Justin Wolfers pointed out in the New York Times, U.S. unemployment is rising at nearly 0.5 percent per day. It is no longer unimaginable that the overall unemployment rate could reach 30 percent by the summer. https://foreignpolicy.com/2020/04/09/unemployment-coronavirus-pandemic-normal-economy-is-never-coming-back/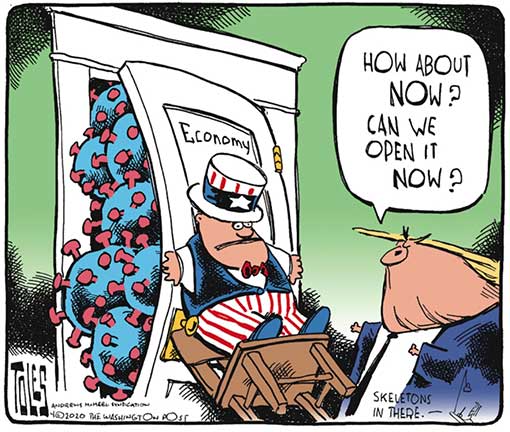 9. Tom Nichols: With Each Briefing, Trump Is Making Us Worse People
Trump is a spiritual black hole. He has no ability to transcend himself by so much as an emotional nanometer. Even narcissists, we are told by psychologists, have the occasional dark night of the soul. They can recognize how they are perceived by others, and they will at least pretend to seek forgiveness and show contrition as a way of gaining the affection they need. They are capable of infrequent moments of reflection, even if only to adjust strategies for survival. Trump's spiritual poverty is beyond all this. He represents the ultimate triumph of a materialist mindset. He has no ability to understand anything that is not an immediate tactile or visual experience, no sense of continuity with other human beings, and no imperatives more important than soothing the barrage of signals emanating from his constantly panicked and confused autonomic system.
Most leaders would at least have the sense not to re-litigate every vendetta in their personal Burn Book at such moments. That's what rallies and sycophantic interviews with Fox News are for, after all. Indeed, polls now suggest that even the president's base might be tiring of this exhibitionism. But that is irrelevant to Trump. With cable news constantly covering the pandemic, he seems to be going through withdrawal. He needs an outlet for his political glossolalia, or his constantly replenishing reservoir of grievance and insecurity will burst its seams. https://wikkorg.wordpress.com/2020/04/12/with-each-briefing-trump-is-making-us-worse-people/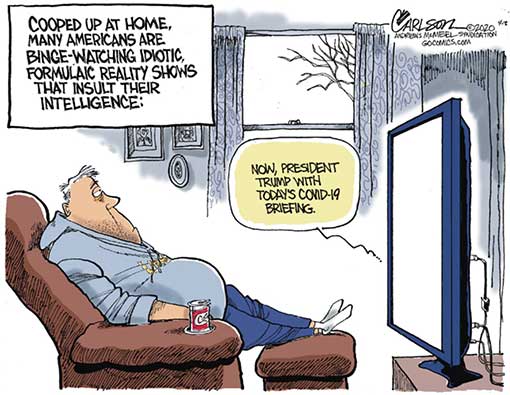 10. Jeff Greenfield: How Coronavirus Will Blow Up the 2020 Campaign
The coronavirus pandemic poses challenges to the candidates and their operative unlike any ever seen or even anticipated. From the earliest days of American politics, the whole system has been driven by interaction with people: from Fourth of July speeches to door-to-door canvassing to conventions themselves. Even in the age of TV and social media, political fortunes rest on in-person contact, and candidates being in the right place and the right time—precisely what cannot happen now.
With some kind of social distancing policy possibly in place for months, and no vaccine on the horizon till next year at the earliest, campaign insiders are already asking questions that don't appear to have any good answers. How do you hold a safe convention, or create a new kind of "virtual" event that accomplishes anything a convention is supposed to do? How do you try to unify a party without being able to bring any of its factions together for face-to-face negotiating? What kind of a campaign can you even run if the key element of a campaign—regular, in-person visits to battleground states—is off the table? How do you mount a "get out the vote" campaign if door-to-door canvassing and sign-up efforts at mass rallies are out of the question? https://www.politico.com/news/magazine/2020/04/12/coronavirus-2020-campaign-178487
11. Jane Mayer: How Mitch McConnell Became Trump's Enabler-in-Chief
Many have regarded McConnell's support for Trump as a stroke of cynical political genius. McConnell has seemed to be both protecting his caucus and covering his flank in Kentucky—a deep-red state where, perhaps not coincidentally, Trump is far more popular than he is. When the pandemic took hold, the President's standing initially rose in national polls, and McConnell and Trump will surely both take credit for the aid package in the coming months.
Yet, as COVID-19 decimates the economy and kills Americans across the nation, McConnell's alliance with Trump is looking riskier. Indeed, some critics argue that McConnell bears a singular responsibility for the country's predicament. They say that he knew from the start that Trump was unequipped to lead in a crisis, but, because the President was beloved by the Republican base, McConnell protected him. He even went so far as to prohibit witnesses at the impeachment trial, thus guaranteeing that the President would remain in office. https://www.newyorker.com/magazine/2020/04/20/how-mitch-mcconnell-became-trumps-enabler-in-chief
12. Jonathan Chait: Trump Campaign's Genius Plan to Blame China for the Coronavirus Has One Flaw
Trump is trying to get voters to stop thinking of the coronavirus as a public-health problem, and instead imagine it as a foreign-policy confrontation, with the important quality of leadership being a willingness to offend China. Trump had the guts to take the un-PC step of closing travel to China, they argue, and Biden didn't. Trump was willing to be called racist to save lives, but Biden is either too sensitive or too compromised by China to take the tough steps.
In reality, the argument strings together a series of falsehoods and bizarre logic. The first and largest lie is Trump's claim that Biden opposed his travel ban as racist. Biden did not oppose the travel ban, and Trump's campaign has produced no statement by him opposing the ban. In place of evidence that he ever did, Trump has quoted Biden describing him promoting "xenophobia" in general, but Biden's comment was not specifically directed at the travel ban. (Biden made that remark at about the same time of day the travel ban was instituted, and apparently without even knowing that Trump did it.)
Biden also appears in Trump's ad saying, "banning all travel will not stop" the coronavirus. The best evidence for this point of view is that the coronavirus still made it to the United States. Of course the travel ban didn't stop the coronavirus. Trump's ad is attacking Biden for a prediction that was correct. It was Trump's apparent belief that the travel ban permanently halted the coronavirus's progress that contributed to his disastrous complacency over the following weeks. Trump's campaign is anchoring the debate on an specific argument — will the China travel ban by itself stop the coronavirus? — where his opponent has been proven right, and he has been proven wrong. It's as if the president of France was running for reelection in the fall of 1940 by boasting the Maginot Line had kept out the Germans.
What brings the charge beyond mere falseness, to the point of outright absurdity, is that Trump himself is guilty of the exact thing he is falsely charging Biden of. Trump's depiction of his opponent as a corrupt dupe for the Chinese communist regime is a much more accurate depiction of Trump himself.
Trump's charge of corruption is connected to reality by the thinnest strand: Hunter Biden's firm sought to make a deal in China while his father served as vice-president. But Trump's claims are ludicrous. He says Hunter Biden "walked out of China with $1.5 billion in a fund" and earned "millions." In fact, there is no evidence he earned any money at all from China, let alone any evidence Joe Biden did anything unethical on his son's behalf. Hunter Biden is a screwup who was trying to trade on his father's name, but — perhaps because he's a screwup — he apparently did not succeed. https://nymag.com/intelligencer/2020/04/trump-china-biden-coronavirus-false-travel-ban-wuhan.html
13. Rick Wilson: Trump the Narcissistic Authoritarian Statist Declares He Has 'Total' Authority
If you watched President Donald Trump's daily press briefing Monday, you know that even by his abysmal standards this was the loudest siren yet, a warning that the man occupying the Oval Office is more suited to a very long, involuntary stay in an inpatient mental-health facility than the presidency of the United States.
It wasn't presidential leadership. It wasn't executive power made manifest. It wasn't a grown-ass adult facing a serious crisis. It was an angry, needy man not looking outward to the needs of a nation in crisis but inward, and downward.
Anyone—and I mean anyone—who tells you Monday's presser was anything other than a complete meltdown shitshow on the top of the dumpster fire at the peak of Burning-Tire Mountain is a liar.
It was a manic, gibbering, squint-eyed ragefest by America's Worst President, a petty display by a failed man who long ago passed the limits of his competence and knowledge. It left little to cling to for even his most fervent lackeys but the grunting media animus that replaced conservatism as the motivating force of the Republican Party.
Trump just gave the nation a performance that was so manic, so furious, and so utterly unhinged that anyone watching it walked away thinking the 25th Amendment has been too long unexercised and the proof is behind the podium every damn day.
What you saw was the real Trump, unbound by facts, reason, logic, the law, or the Constitution, a petty bitch picking petty fights with reporters, a bard of his own songs of grievance and anger. https://www.thedailybeast.com/trump-the-narcissistic-authoritarian-statist-declares-he-has-total-authority-to-reopen-the-economy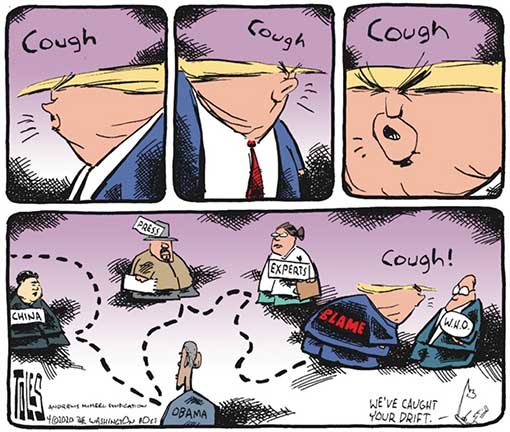 14. Josh Kraushaar: Why Trump's slump is likely to last all year
Trump is in an increasingly precarious position for reelection as he struggles to maintain focus on the coronavirus pandemic, instead nursing his personal grievances against the press and his political rivals in a time of crisis. He has already squandered the "rally around the flag" bounce that he received in the immediate aftermath of the crisis, and polling suggests that the president is losing ground to presumptive Democratic nominee Joe Biden both nationally and in key battleground states.
Here's the harsh reality: Trump is down in the polls, and may still slip further back. With Biden expanding the map into Arizona and the president losing ground in the Midwest, Democrats have more plausible paths to an Electoral College majority. And as a recession becomes a reality, the president will bear the brunt of the blame. These are trends more suggestive of a Democratic blowout than a second Trump term. https://www.nationaljournal.com/s/706071?unlock=2CDI60WYWVDTTMGJ
15. John Stoehr: Is the COVID-19 Pandemic Signaling the End of a 40-year Republican 'Regime'?
It's tempting to see the current crisis as the beginning of the end of the Reagan-Bush regime. The new coronavirus has killed more than 26,000 people in this country and will likely lead to thousands more deaths. Its economic impact threatens to push unemployment up to 20 percent (that's firmly in Great Depression territory). Farmers are plowing under crops and dumping milk while people are going hungry. Experts are warning of the need for "social distancing" practices for at least two more years, which, when you think about it, means we could be living abnormally for such a long time that the very notion of normal will eventually become a distance memory.
There's another sign of regime change. What was politically impossible is all of a sudden politically expedient. For instance: Criminal justice reformers have for years been advocating for releasing prisoners convicted of minor crimes, such as the sale of marijuana. GOP lawmakers always balked, saying releasing them before they repaid debts to society would give people free license to commit future crimes. Yet, in the thick of a pandemic, states are releasing non-violent felons in droves. Just like that.
A host of progressive policy ideas are quickly worth talking about in Washington. Permanent paid medical leave, employment guarantees, universal basic income, higher minimum wages, universal health care, comprehensive immigration reform, even climate change regulation—the list goes on and on. In the past, the GOP and the business class said we can't do this. It would hurt the economy! But we may soon be getting to the point where we can say: if we don't do this, that will hurt the economy! https://stoehr.substack.com/p/is-the-covid-19-pandemic-signaling