October 15, 2015
ON THE RECORD ....
"If Congress waits around for the Republican Family Feud to resolve itself, we'll risk a government shutdown and defaulting on our national debt. It's time for the responsible members of the Republican Party to work with Democrats and forge a bipartisan budget deal, take the threat of default off the table, and protect middle class families from economic disaster." -- Sen. Chuck Schumer (D-NY) 10/08/15

"It is total confusion — a banana republic. Any plan, anything you anticipate, who knows what'll happen. People are crying. They don't have any idea how this will unfold at all."— Rep. Peter King (R-NY), recounting seeing a handful of House Republicans weeping over the downfall of Kevin McCarthy and the broader discord within the Republican party.

"Because he's not a f---ing moron." -- A friend of Paul Ryan on why Ryan does not want to be Speaker.

"We never heard of ISIS until recently. Do you know it was designed to be confused with Darrell Issa?" -- Matt Drudge's latest conspiracy theory. 10/07/15

"That House Republicans are in utter chaos and disarray is in no small part a result of their politicization of everything, particularly of the deaths of four Americans for nothing more than political gain.  This entire investigation is a political witch hunt and if Republicans were smart, which is debatable, they would end this farce before it does even more damage to them than it already has." -- David Brock on the Benghazi Committee. 10/11/15

"Over the past 30 years, or at least since Rush Limbaugh came on the scene, the Republican rhetorical tone has grown ever more bombastic, hyperbolic and imbalanced. Public figures are prisoners of their own prose styles, and Republicans from Newt Gingrich through Ben Carson have become addicted to a crisis mentality. Civilization was always on the brink of collapse. Every setback, like the passage of Obamacare, became the ruination of the republic. Comparisons to Nazi Germany became a staple." -- David Brooks 10/13/15
IN THIS ISSUE
1.The Borowitz Report: In Serious Gaffe, Sanders Treats Opponent with Dignity and Respect
2. Tuesday's Debate: A Great Night for Hillary Clinton
3. Daily Show w/Trevor Noah: Ben Carson blames the victims
4. Jimmy Kimmel: Lie Witness News - Hillary Clinton Debate Edition
5. The DAILY GRILL
6. Rubio Gets Big Boost from Dark Money
7. From MEDIA MATTERS (They watch Fox News so you don't have to)
8. Late Night Jokes for Dems
9. The Nightly Show with Larry Wilmore: Blacklash 2016: The Reblackening - The Spurious Case Of Benjamin Carson
10. Here's Everything The GOP Blames For Gun Deaths (Other Than Guns, Of Course)
11. SNL: Guns
12. The Late Show with Stephen Colbert: What Does The Jeb Say?
13. Jeb's growing list of unfortunate comments
14. America's gun problem
OPINION
1. Goldie Taylor: Why Ben Carson Is White America's Perfect Black Candidate
2. Lanny Davis: Curtain Has Been Pulled on Gowdy's Partisan Sham
3. Mike Barnicle: Ben Carson Gives New Meaning to Crazy
4. David Brooks: The Republicans' Incompetence Caucus
5. Chris Cillizza: Kevin McCarthy's implosion signals a full-blown Republican revolution
6. Barney Frank: The Republican Plague on Government
1. The Borowitz Report: In Serious Gaffe, Sanders Treats Opponent with Dignity and Respect
In a major slip that may prove fatal to his Presidential ambitions, Senator Bernie Sanders of Vermont treated his principal opponent for the Democratic nomination with dignity and respect on Tuesday night.
Calling it a gaffe of historic proportions, many political insiders were still scratching their heads Wednesday morning over Sanders's bizarre decision to act toward his opponent as if she were a fellow human being.
"I chalk it up to pressure," the political strategist Harland Dorrinson said. "Sanders has never been on such a big stage before, and in the heat of the moment he cracked and behaved with nobility."
"Bernie Sanders's behavior towards Hillary Clinton Tuesday night has raised some grave questions about him in voters' minds," Carol Foyler, a veteran political operative, said. "If he treats people with decency and civility now, what kind of President would he be?" More at http://www.newyorker.com/humor/borowitz-report/
2. Tuesday's Debate: A Great Night for Hillary
"Her performance at the first Democratic presidential debate was so commanding that even her greatest vulnerability — the lingering controversy over her private email practices as secretary of state — ended up redounding to her benefit." -- Patrick Healy in the New York Times

"With nods to time spent in the White House Situation Room and crisp answers about five-point plans, she exuded a sense of command that her rivals onstage often seemed to lack. And in sharp contrast with her reticence on the subject during the 2008 campaign, she repeatedly reminded viewers that with her, they could make history: After the U.S. elected its first black president, it now had a chance to elect its first woman." -- David Lauter in the LA Times

"Not only was Hillary Clinton on the receiving end of the night's biggest gift — her rival, Bernie Sanders, declaring it time for people to shut up about her email scandal — she also delivered some of the evening's most stinging retorts." -- Shane Goldmacher in Politico

"It was a performance that reminded people why she was once seen as the Democrats' inevitable nominee, and it should serve to stabilize her struggling campaign and quiet nervous supporters who feared her second bid for the White House was in deep trouble." -- Michael J. Mishak in the National Journal

"Like Daenerys Targaryen, the warrior queen of Game of Thrones, Hillary Clinton moved in on her opponents Tuesday night, reminding them one by one why she will ultimately rule. All this Khaleesi was missing, it seemed, was her three hungry dragons." -- Will Rahn and Jackie Kucinich in The Daily Beast

"Hillary was, in short, a man among boys. And that's why the debate was so important to Clinton. She may have had a rough time as the Democrats' presidential front-runner, but her advantages in experience and composure were clear when she shared a stage with her rivals for the first time. Vice President Biden, if he was still pondering a run while watching the debate on television, would find the rationale for his candidacy diminishing." -- Dana Milbank in the Washington Post

"Clinton's never going to be the perfect candidate for the left wing of the Democratic Party. She's too much of a capitalist, too willing to use military force, and too willing to shift positions to make all liberals love her. But she can be inspiring on a lot of issues that do matter to progressives and good enough on most of the others." -- Jonathan Allen in Vox

"Clinton delivered a performance that no doubt reminded establishment Democrats why they had rallied behind her in the first place, and reminded Republicans why she could prove to be a most formidable opponent come November, 2016." -- John Cassidy in The New Yorker

"Hillary Clinton was head and shoulders above the rest in her command of policy, her foreign policy chops, for example. standing out against opponents, who could not match them. She was direct and passionate on the issue of the Wall Street banks, climate change, immigration reform, and memorably, the importance of paid leave, as she underscored Republicans' obsession with opposing government programs that would help women balance their lives, even as they are happy to have the government intrude when it comes to women and their bodies. On all of these, she underscored her progressive values." -- Maria Cardona on CNN

"Hillary Clinton won — by a landslide. Clinton was the clear winner of the first Democratic presidential debate, according to the assessment of both Democrats and Republicans in this week's POLITICO Caucus, our bipartisan survey of the top activists, operatives and strategists in Iowa, New Hampshire, South Carolina and Nevada." -- Katie Glueck in Politico
3. Daily Show w/Trevor Noah: Ben Carson blames the victims
http://www.cc.com/video-clips/2ybqd8/the-daily-show-with-trevor-noah-ben-carson-blames-the-victims
4. Jimmy Kimmel: Lie Witness News - Hillary Clinton Debate Edition
5. The DAILY GRILL
"I would not just stand there and let him shoot me. I would say, 'Hey, guys, everybody attack him! He may shoot me, but he can't get us all.'" -- Ben Carson saying he would react to a mass shooting like the one in Oregon by attacking the gunman. 10/08/15

VERSUS

I have had a gun held on me when I was in a Popeyes [in Baltimore]. … A guy comes in, puts the gun in my ribs, and I just said, "I believe that you want the guy behind the counter." … He said, "Oh, okay." -- Ben Carson to SiriusXM radio host Karen Hunter. 10/08/15

 

 

German citizens were disarmed by their government in the late 1930s, and by the mid-1940s Hitler's regime had mercilessly slaughtered six million Jews and numerous others whom they considered inferior ... Through a combination of removing guns and disseminating deceitful propaganda, the Nazis were able to carry out their evil intentions with relatively little resistance." -- Ben Carson, defending the view expressed in his book A More Perfect Union that gun control led to the Holocaust. 10/09/15

VERSUS

The Nazi regime managed to conquer all of France, Belgium, the Netherlands, Denmark, Norway, and Poland plus huge swaths of the Soviet Union and northern Africa in the face of determined resistance by militaries equipped with not just with handguns but also tanks, warships, airplanes, and other heavy weapons. -- Matthew Yglesias 10/09/15

PolitiFact 10/08/15

VERSUS

"It's possible the deal looks dramatically different than it did at the early stages of negotiations, when Clinton was at the State Department. The negotiations have been conducted in secret, so it's hard for us to assess that ourselves." -- PolitiFact 10/08/15

 

"I have no friends to reward and no foes to punish. We're going to go wherever the facts take us." -- Benghazi Committee Chair Trey Gowdy to Fox News. 10/11/15

VERSUS

In the spring and summer, the committee drew up new lists of targets for interviews that to Major Podliska and other committee staff members, particularly Democrats, seemed to have little to do with Benghazi. -- NY Times. 10/11/15
6. Rubio Gets Big Boost from Dark Money
Sen. Marco Rubio (R-FL) "is benefiting in unprecedented ways from a nonprofit group funded by anonymous donors.
While other presidential candidates also have ties to secret-money groups, the Rubio arrangement is the boldest. Every pro-Rubio television commercial so far in the early primary states of Iowa, New Hampshire and South Carolina has been paid for not by his campaign or even by a super PAC that identifies its donors, but instead by a nonprofit called Conservative Solutions Project. It's also sending Rubio-boosting mail to voters in those same states." 10/09/15 Read more at http://www.washingtonpost.com/pb/politics/anonymous-donors-send-millions-to-pro-rubio-group/2015/10/08/37258438-6d92-11e5-91eb-27ad15c2b723_story.html
7. From MEDIA MATTERS (They watch Fox News so you don't have to)
NRA's Ted Nugent Calls Unarmed Victims Of Gun Violence "Losers"http://mediamatters.org/blog/2015/10/08/nras-ted-nugent-calls-unarmed-victims-of-gun-vi/206038

Limbaugh: House Republicans Don't Want To Be Speaker "Because Of Having To Deal With Me" http://mediamatters.org/video/2015/10/09/limbaugh-house-republicans-dont-want-to-be-spea/206069

"Garbage, Total B.S.": Reagan Aides And Biographers Blast Chronic Fabricator Bill O'Reilly Over New Book http://mediamatters.org/blog/2015/10/09/garbage-total-bs-reagan-aides-and-biographers-b/206068

Donald Trump Says America Would Have "Common Sense" If Far-Right Host Michael Savage Headed NIH http://mediamatters.org/research/2015/10/09/donald-trump-says-america-would-have-common-sen/206066

Fox's Bill O'Reilly And Eric Bolling Label Criticism Of Ben Carson "Racial Attacks" http://mediamatters.org/video/2015/10/09/foxs-bill-oreilly-and-eric-bolling-label-critic/206083

Washington Post Debunks Misleading AP Report On Clinton Email Server Promoted By Fox News http://mediamatters.org/video/2015/10/09/foxs-bill-oreilly-and-eric-bolling-label-critic/206083

Ben Carson Praises Fox & Friends: "You're Some Of The Good Media"http://mediamatters.org/video/2015/10/11/ben-carson-praises-fox-amp-friends-youre-some-o/206092

Fox Host Claims Feminism Made Male Democrats Let "Hillary Clinton Win" The Debate http://mediamatters.org/video/2015/10/14/fox-host-claims-feminism-made-male-democrats-le/206124

Limbaugh: Some Global Warming "Would Actually Be Good For A Lot Of Things And People"http://mediamatters.org/video/2015/10/14/limbaugh-some-global-warming-would-actually-be/206159
8. Late Night Jokes for Dems
"A new study of the candidates' Facebook fans found that Donald Trump's fans have the worst grammar. Which isn't surprising, since Trump's whole campaign has been one, big run-on sentence. 'We need to build a wall and fix the economy and get back at China and Rosie O'Donnell and I'm very rich and here's a red hat and...'" –Jimmy Fallon

"Vladimir Putin celebrated his 63rd birthday today. He had a nice party, but it got awkward when two of his friends got him the same country." –Jimmy Fallon

"Donald Trump recently said, 'I'm going all the way and I'm going to win.' And Mike Huckabee said, 'I'm going some of the way, then I'll go home.'" –Conan O'Brien

"Donald Trump is reportedly planning new campaign events that will feature his wife, Melania. It's a good chance for Trump to connect with female voters, and a GREAT chance for Melania to escape." –Seth Meyers

"Everybody's still talking about Donald Trump. A recent poll had voters describe Trump in one word, and a lot of them used the words 'idiot,' 'buffoon,' 'clown,' and 'jerk.' And those are the people voting for Trump. Of course, they also used other words, like 'Still,' 'better,' 'than' and 'Jeb.'" –Jimmy Fallon

"Martin O'Malley, ex-governor of Maryland, is running for president. He's at 2 percent in the polls. He's been in the race eight months, and he's only tied with low-fat milk." –Jimmy Fallon

"A lot of people think that when the Republican field clears it will come down to Jeb Bush and Donald Trump. Kind of like the race between the tortoise and the bad hair." –Jimmy Fallon

"Yesterday Hillary Clinton criticized Donald Trump during an interview on Telemundo. Clinton knew if there was one place she could criticize Trump without him finding out about it, it's on Telemundo." –Conan O'Brien

"It's being reported that Donald Trump is mentioned on social media seven times more often than any other Republican candidate. And that's just by Donald Trump." –Conan O'Brien

"Dr. Ben Carson hosted a Facebook Q&A last night, and said the loss of gun rights is more devastating than seeing people die from gun violence. So if Ben Carson is your doctor, definitely get a second opinion." –Seth Meyers

"At a speech in Tennessee, Trump talked about his decision to run for president, and said, quote, 'I didn't want to do this, I had to do this.' Then he was immediately sued by Jeb Bush for stealing his campaign slogan." –Jimmy Fallon

"A new report found that Donald Trump is no longer the most liked candidate on Facebook, and Ben Carson now has the most likes with over 4 million. Yeah, you can tell Carson was pretty excited because when he found out he actually opened BOTH eyes." –Jimmy Fallon

"Donald Trump confirmed in an interview today that he operates his own Twitter account. However, his mouth and his brain are run by interns." –Seth Meyers

"Republican presidential hopeful Chris Christie said this weekend that he would rather jump off the Brooklyn Bridge than be in Congress. And just to be safe, Mayor de Blasio issued a tsunami warning for Lower Manhattan." –Seth Meyers
9. The Nightly Show with Larry Wilmore: Blacklash 2016: The Reblackening - The Spurious Case Of Benjamin Carson
http://www.cc.com/video-clips/a82gjq/the-nightly-show-with-larry-wilmore-blacklash-2016--the-reblackening---the-spurious-case-of-benjamin-carson
10. Here's Everything The GOP Blames For Gun Deaths (Other Than Guns, Of Course)
A common thread in these mass shootings is the fact that the shooters used guns.

But Sen. John Cornyn said that common thread was mental health. "Mental health" has become to politicians what "world peace" is to beauty contestants.

Donald Trump said it was "the mentally ill."

Ben Carson said it was "the mentality of the people" (no, I'm not making this up).

Mike Huckabee blamed "sin and evil."

On Fox, Bill O'Reilly blamed "freedom" and Lou Dobbs blamed a lack of organized prayer in school. And Rush Limbaugh, staying in his lane, blamed Democrats.

Sen. Ted Cruz blamed "gun-free zones," though the college in Roseburg was not a gun-free zone, and "really strict gun control laws," which didn't exist there in Oregon.

Bobby Jindal, who used to be considered a policy whiz but who apparently hasn't had a new idea since the 1990s, blamed video games. He also blamed absentee fathers, because why not heap scorn upon the mourning? More at http://talkingpointsmemo.com/cafe/gop-blames-mental-health-and-pretty-much-everything-else-besides-guns
11. SNL: Guns
12. The Late Show with Stephen Colbert: What Does The Jeb Say?
13. Jeb's growing list of unfortunate comments
14. America's gun problem
School shootings, as horrific as they are, are only a tiny fraction of all gun-related deaths in the US every day. Based on 2013 data, there are approximately 92 gun deaths on average each day in America — about 30 per day are homicides, and roughly 58 are suicides. So the recent shootings in Arizona and Texas would only account for about 6 percent of gun homicides and 2 percent of all gun deaths on the average American day. -- German Lopez on 10/09/15 Read more at http://www.vox.com/2015/10/9/9489599/school-shooting-gun-violence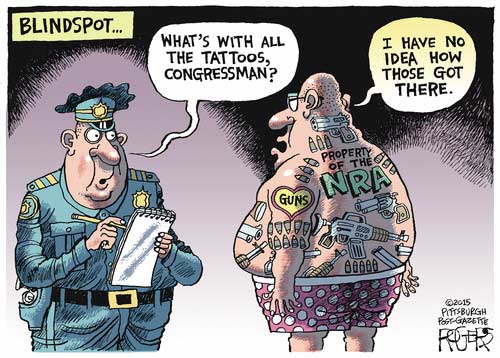 1. Goldie Taylor: Why Ben Carson Is White America's Perfect Black Candidate
Rupert Murdoch's tweets reflects a view that is surely more widely held by conservative whites: Carson is the kind of black man they like.
Murdoch might be a troll with a billion dollars, but he is not alone in celebrating Carson's political fortunes. In recent weeks, on the heels of controversial remarks about Muslims, a head-scratching deluge of money-- said to be in the millions—poured into Carson's campaign coffers. He has watched his poll numbers triple up. He bounced from one warmly lit television studio to another—unfamiliar territory for a man most renowned for his heroics in a Baltimore operating room.
That may well be, but the lure of a Carson candidacy could not be more appealing to some party leaders, Republican influencers like Murdoch, and rank-and-file voters— all of whom have been looking for a way to attract more non-white voters. For them, Carson is the perfect ambassador: an American success story, who spares no breath in deriding liberal economic policies, is ardently pro-life, and knows his way around a Bible.
"Now, I think many black Americans look upon Dr. Carson with a mix of puzzlement and disappointment," Reid said. "The fact that he has made himself nationally prominent by insulting the first black president of the United States, and that he is now building on that with strange utterance after strange utterance leaves many African-Americans just shaking their heads.". 10.08.15 Read more at http://www.thedailybeast.com/articles/2015/10/08/why-ben-carson-is-white-america-s-perfect-black-candidate.html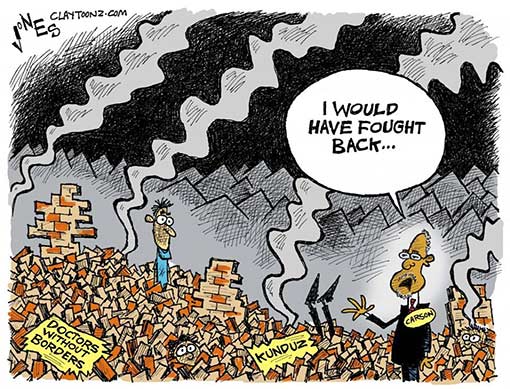 2. Lanny Davis: Curtain Has Been Pulled on Gowdy's Partisan Sham
We all remember the scene in the classic 1939 movie "The Wizard of Oz" where the little dog Toto goes to a curtain and pulls it back, revealing not the great and mighty wizard but an old man using smoke and mirrors and a microphone to defraud the good citizens of Oz. "You are a very bad man," Dorothy says. "No," the fake wizard says, "I'm just a very bad wizard." 
Well, fast-forward 75 years and the Toto scene has happened all over again.  
This time it was House Majority Leader Kevin McCarthy, a candidate to become speaker, playing the part of Toto. And the fraudster behind the curtain was Rep. Trey Gowdy, the chairman of the so-called Select Committee on Benghazi. 
Speaking with Fox News host Sean Hannity about what the Gowdy committee had accomplished, McCarthy replied, with refreshing honesty: "Everybody thought Hillary Clinton was unbeatable, right? But we put together a Benghazi special committee, a select committee. What are her numbers today? Her numbers are dropping. ... But no one would have known any of that had happened had we not fought." 
While McCarthy's exposure of Gowdy's committee as a sham reminded me of Toto's curtain-pulling in the "Wizard of Oz," my reaction was the same as Police Capt. Renault in "Casablanca," when he announced his reaction to finding gambling in Rick's casino:  "I'm shocked, shocked." 10/08/15 Read more at http://www.realclearpolitics.com/articles/2015/10/08/curtain_has_been_pulled_on_gowdys_partisan_sham_128340.html
3. Mike Barnicle: Ben Carson Gives New Meaning to Crazy
It wasn't until last week that Carson managed to prove he has lost more than a few shingles off his roof. Ben has his own space program going and he's out there on the fringe talking nonsense in a soft, non threatening manner that is quite similar to the voice level heard among so many sitting sadly by themselves today in Day-Rooms of mental institutions, off in a corner, wearing paper slippers, slowly eating apple sauce, unaware that nobody is listening.
Somewhat incredibly though, a small percentage of people are listening to Gentle Ben. And he is indeed running for President of the United States. And each day he takes the field and gives new meaning to crazy.
His supporters list several reasons why they would consider voting for him: "He seems like a nice man. He speaks softly. He is a fine Christian. He speaks his mind."
He is also a few quarts short of a gallon. But when it comes to Ben Carson's preposterous campaign, count me in with Chauncey Gardiner who said in 'Being There.': I like to watch. 10.11.15 Read more at http://www.thedailybeast.com/articles/2015/10/11/ben-carson-gives-new-meaning-to-crazy.html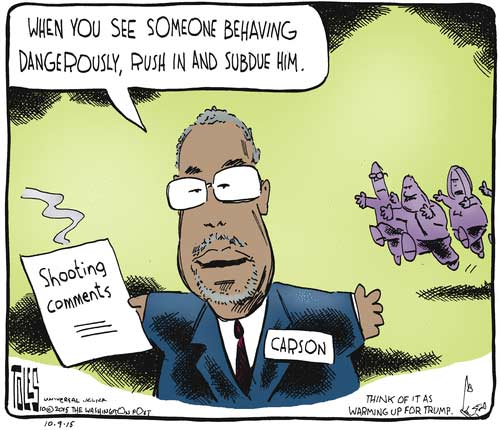 4. David Brooks: The Republicans' Incompetence Caucus
If a politician lacks the quality of detachment — the ability to let the difficult facts of reality work their way into the mind — then Max Weber, in his masterwork, "Politics as a Vocation," argues, the politician ends up striving for the "boastful but entirely empty gesture." His work "leads nowhere and is senseless."
Welcome to Ted Cruz, Donald Trump and the Freedom Caucus.
Really, have we ever seen bumbling on this scale, people at once so cynical and so naïve, so willfully ignorant in using levers of power to produce some tangible if incremental good? These insurgents can't even acknowledge democracy's legitimacy — if you can't persuade a majority of your colleagues, maybe you should accept their position. You might be wrong!
People who don't accept democracy will be bad at conversation. They won't respect tradition, institutions or precedent. These figures are masters at destruction but incompetent at construction.
These insurgents are incompetent at governing and unwilling to be governed. But they are not a spontaneous growth. It took a thousand small betrayals of conservatism to get to the dysfunction we see all around. 10/13/15 Read more at http://www.nytimes.com/2015/10/13/opinion/the-republicans-incompetence-caucus.html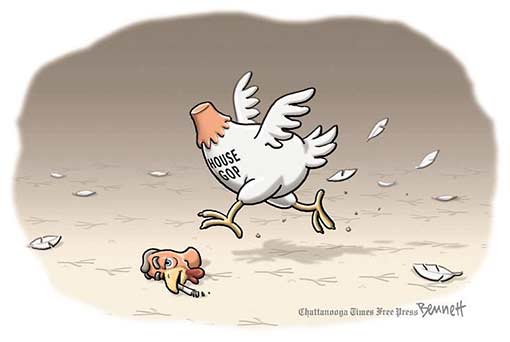 5. Chris Cillizza: Kevin McCarthy's implosion signals a full-blown Republican revolution
Kevin McCarthy will not be the speaker of the House.
We know that now because the California Republican has withdrawn from the race to succeed John Boehner after a private gathering of Republicans made clear that he would never be able to get a simple majority of votes for his speakership on the House floor.
If you are Jeb Bush, Marco Rubio or John Kasich, what happened on Thursday in Washington should put a lump in your throat. The Republican establishment has been operating for months -- really since the rise of Trump -- under a belief that, eventually, things will return to "normal" and that the party will put forward an establishment candidate for president. That was the same wrong-headed thinking I heard constantly in the run-up to today's speaker vote: Yeah, sure, conservatives weren't sold on McCarthy, but the alternatives weren't any good or serious, and so he would win. Nope.
This threat to the establishment from the conservative activist base is real.  The sooner the establishment realizes it -- and the resignation of Boehner/demise of McCarthy should help them get it -- the better chance they will have to combat it. But, I also think that the possibility exists that the establishment doesn't have the ability to put down this revolution. Which is an amazing thing to ponder as the country gets ready to elect a new president in 13 months time. Read more at https://www.washingtonpost.com/news/the-fix/wp/2015/10/08/kevin-mccarthys-implosion-signals-that-republicans-have-a-revolution-on-their-hands/?postshare=2891444353647254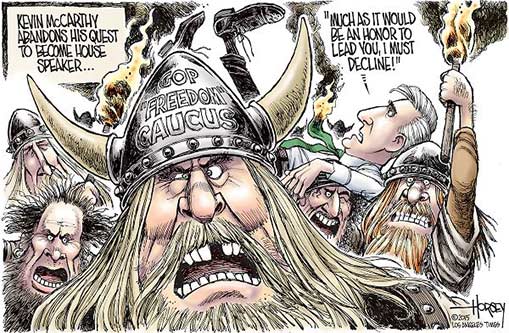 6. Barney Frank: The Republican Plague on Government
The breakdown in responsible government we have suffered over the past five years is not caused by some inherent flaw in our system, nor is it caused by mutual hyperpartisanship. Instead, the breakdown is the sole responsibility of the increasing influence in the Republican Party of people who are not only on the far right of the American political spectrum on the substance of public policy, but who, more importantly, believe they are morally obligated to engage in rule-or-ruin politics.
This crucial last point has been too little discussed. Governance is not obstructed simply because an important political faction advocates radical changes in policy. The problem comes—today and for the past five years—when these advocates try to take the country hostage in response to their inability to effect change through the normal legislative process. Why this is the case? In a system governed by free elections, there is, after all, no necessary linkage between believing strongly in a set of issues and insisting on the right to shut down the government if you fail to advance them. Nor has this been the historical pattern in the U.S., with the exception of the bitter moral struggles that led to the Civil War (and even Ben Carson has backed away from equating Obamacare with slavery). 10/07/15 Read more at http://www.politico.com/magazine/story/2015/10/john-boehner-congressional-republicans-213228