August 18, 2022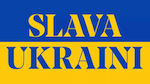 If you have a friend, family member, or neighbor who would like to subscribe to this FREE weekly newsletter they should simply email jellison@san.rr.com with "subscribe" as the subject.
THE WEEK'S BEST QUOTES. . .
If Trump gets elected president, the first thing he'll do is raid every one of Biden's houses.—
Rudy Giuliani
.
https://nypost.com/2022/08/10/so-fbi-why-no-raid-of-hunter-bidens-house
Kevin McCarthy,
The Bakersfield Republican, has everything it takes to rise to the top in today's GOP: zero interest in policy, relentless thirst for power, and slavish loyalty to Trump. If this man becomes speaker of the House—look out, America. 
https://newrepublic.com/article/167224/kevin-mccarthy-gop-speaker-of-the-house
It doesn't seem like that's something he would be doing. —
House Minority Leader Kevin McCarthy (R-CA)
dismissing reports that Donald Trump had classified nuclear-related documents.
https://www.washingtonpost.com/politics/2022/08/12/house-inflation-trump-nuclear-weapons/#link-VZDNUQQE4BEGZKBKRDHXXTP3NI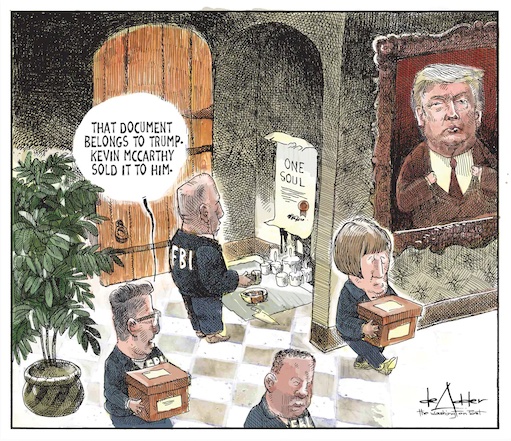 Nuclear weapons issue is a Hoax, just like Russia, Russia, Russia was a Hoax, two Impeachments were a Hoax, the Mueller investigation was a Hoax, and much more. Same sleazy people involved, —
Trump on Truth Social
, tying his latest exchange with law enforcement to longstanding and oft-repeated grievances.
https://www.politico.com/news/2022/08/12/trump-classified-nuclear-documents-00051384
I have been ashamed to hear members of my party attacking the integrity of the FBI agents involved with the recent Mar-a-Lago search.  These are sickening comments that put the lives of patriotic public servants at risk. —
Rep. Liz Cheney
https://twitter.com/RepLizCheney/status/1557809792822824960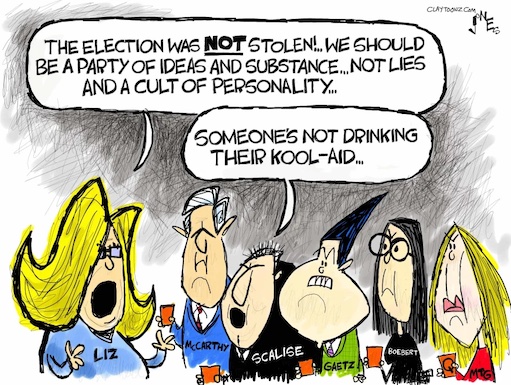 When you're attacking FBI agents because you're under criminal investigation, you're losing. —
Sarah Huckabee Sanders
in 2016.
https://twitter.com/SarahHuckabee/status/794255968448020480
The FBI and the Department of Justice are going to give Trump a fair and impartial firing squad. —
Sen. John Kennedy (R-LA),
 escalating Republican rhetoric about the FBI search of Mar-a-Lago.
https://twitter.com/therecount/status/1557751213386498048
"People are so angry at what is taking place. Whatever we can do to help — because the temperature has to be brought down in the country. If it isn't, terrible things are going to happen." —
Donald Trump
, making a mafia like threat.
https://www.foxnews.com/politics/trump-says-he-will-do-whatever-he-can-to-help-the-country-after-fbi-raid

"You can't be pro-insurrection and pro-democracy, You can't be pro-insurrection and pro-American." -- President Biden. https://www.washingtonpost.com/politics/2022/08/10/biden-us-historians-democracy-threat/

Donald Trump is almost certainly lying about why he had classified material at his Mar-a-Lago estate. There was no standing order to declassify materials that Trump took home. When somebody begins to concoct lies like this, it shows a real level of desperation. — John Bolton, Trump's former national security adviser. https://www.nytimes.com/2022/08/14/us/politics/trump-documents-explanations.html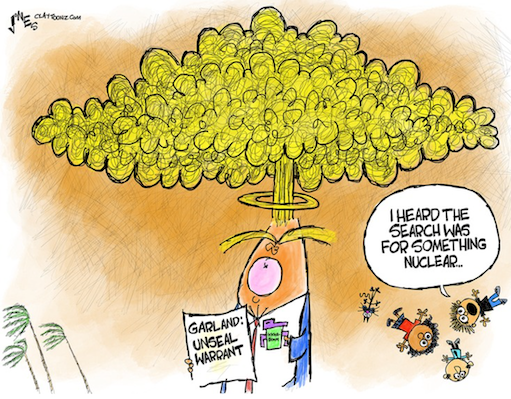 It's time for us in the Florida Legislature to call an emergency legislative session & amend our laws regarding federal agencies. Sever all ties with DOJ immediately. Any FBI agent conducting law enforcement functions outside the purview of our State should be arrested upon sight. —
Florida State Rep. Anthony Sabatini (R)
, a candidate for Congress in Florida's 7th district.
https://twitter.com/AnthonySabatini/status/1556805568207196160
Peter Thiel
deserves a lot of credit for being one of the first to recognize that the 19th amendment was the death of liberty —
Jeremy Kauffman
, who is running for U.S. Senate in New Hampshire as a Libertarian.
https://twitter.com/jeremykauffman/status/1558940147848208390
VIDEOS
Peter Navarro

claims that he has circumstantial evidence that Liz Cheney is going to try and steal her election with fraudulent absentee ballots. https://twitter.com/RonFilipkowski/status/1559210843010736129



Brian Kilmeade,

filling in for Tucker Carlson tonight, shared a clearly fake, photoshopped image of the judge involved in approving the Mar-a-Lago warrant.  https://twitter.com/atrupar/status/1557926941646282752

I just filed articles of impeachment against Merrick Garland. —

Rep. Marjorie Taylor Greene

   https://twitter.com/RepMTG/status/1558204697193881604

LISTEN to this death threat against my children. Since the FBI search of Mar-a-Lago, Trump, McCarthy, and MAGA Republicans are stoking violent rhetoric against lawmakers and law enforcement. Someone is going to get killed. —

Rep. Eric Swalwell

https://twitter.com/RepSwalwell/status/1557428889902895104



Rep. Liz Cheney's (R-WY)

 closing ad in her Republican primary is all about her work on the January 6 committee investigating Donald Trump and his attempts to subvert the 2020 election. https://www.youtube.com/watch?v=FiHEi0SsqNQ

When you look at how many Republicans are dashing without information to defend Trump.. you can see that this is a piece of the puzzle of why Republicans cannot be given control again of the government —

Jessica on Fox News

. https://twitter.com/Acyn/status/1557781029460516866



Real America's Voice's anchor

affirms QAnon, says the FBI's raid of Mar-a-Lago was to prevent Trump from exposing satanic pedophile rings. https://twitter.com/patriottakes/status/1557499243534876674

It may be funny to you motherfucker, but it's not funny to me. —

TX

gubernatorial candidate Beto O'Rourke (D)

, when a heckler laughed when he described the school shooting that killed 19 kids in Uvalde. https://twitter.com/BetoMedia/status/1557536616431980544

Here's the video of

Ted Cruz

joking that Elizabeth Warren might have a penis. https://twitter.com/DavidEdwards/status/1558849165500846081

I believe that white men are the most persecuted identity in America. Young white men are put at the bottom of the list, of so many things, and it started a long time ago. —

Rep. Marjorie Taylor Greene (R-GA)

. https://twitter.com/RealDSchmidt/status/1558960865705136130



Hillary, But Make The Footage Trump

| The Daily Show: https://youtu.be/82H27rlXavc
Fox News and the GOP play

Excuse That Crime!

  https://twitter.com/TheDailyShow/status/1559319851520368642



Tucker Carlson unhinged

: https://twitter.com/acyn/status/1559338570992832517

"Joe Biden is the largest or the most destructive human trafficker in our history." —

Wyoming congressional candidate Harriet Hageman (R)

. https://twitter.com/AccountableGOP/status/1558096900141846528
LITIGATION TRACKER
Pending Criminal and Civil Cases Against Donald Trump
. 
https://www.justsecurity.org/75032/litigation-tracker-pending-criminal-and-civil-cases-against-donald-trump/
---
IN THIS ISSUE
IN THE NEWS
OPINION
Andy Borowitz: Tucker Carlson Calls Trump's Theft of Nuclear Secrets Less Worrisome Than Hunter Biden's Use of Joe's Netflix Password
In a vehement defense of the former President, Tucker Carlson said that Donald J. Trump's possible theft of nuclear secrets "pales in comparison" with Hunter Biden's possible use of his father's Netflix password.

"Let's be clear: we don't know if Trump stole nuclear secrets, and we don't know if Hunter stole his dad's Netflix password," the Fox News host said. "But, if both of these things happened, what Hunter did was far worse."

Expanding on his argument, Carlson said, "No one knows what Trump would do, if anything, with nuclear secrets. But Hunter Biden could have only one use for his father's Netflix password: illegally obtaining streaming content for free."

"If Hunter did this, he must be punished to the fullest extent of the law," he added.

Carlson demanded that Attorney General Merrick Garland drop the investigation into Trump's possession of classified documents and probe Hunter Biden's possible use of an ill-gotten Netflix password "immediately."

"It's time to do your job, Merrick Garland," he said. "Every time Hunter watches 'Stranger Things' for free, our democracy is threatened."
https://www.newyorker.com/humor/borowitz-report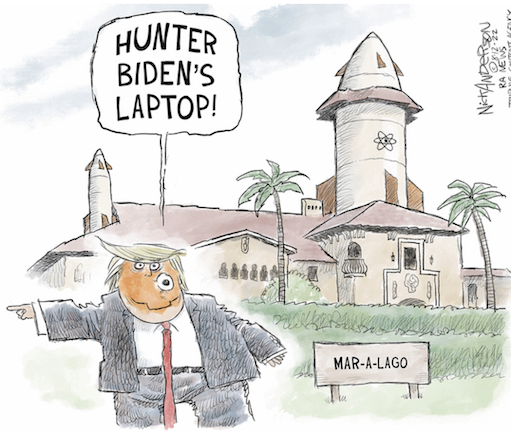 The Arizona Republican Party's Anti-Democracy Experiment
Arizona has become a bellwether for the rest of the nation, and not just because of its new status as a swing state and the first of these to be called for Joe Biden in the 2020 presidential election.
It was and has continued to be the nexus of efforts by former President Donald Trump and his Republican allies to overturn the 2020 election results. At the same time, party figures from Trump down to Rose Sperry have sought to blacklist every Arizona G.O.P. official who maintained that the election was fairly won — from Gov. Doug Ducey to Rusty Bowers, speaker of the state's House of Representatives. Such leaders have been condemned as RINOs, or Republicans in name only, today's equivalent of the McCarthy era's "fellow travelers."

As gubernatorial candidate Kari Lake told a large crowd in downtown Phoenix the night before the primary: "It is not just a battle between Republicans and Democrats. This is a battle between freedom and tyranny, between authoritarianism and liberty and between good and evil." A week later, in response to the F.B.I.'s executing a search warrant at Trump's residence at Mar-a-Lago in Florida, Lake posted a statement on Twitter: "These tyrants will stop at nothing to silence the Patriots who are working hard to save America." She added, "America — dark days lie ahead for us." Far from offering an outlier's view, Lake was articulating the dire stance shared by numerous other Republicans on the primary ballot and by the reactionary grass-roots activists who have swept them into power. https://www.nytimes.com/2022/08/15/magazine/arizona-republicans-democracy.htmlJudge
Trump's CFO Allen Weisselberg Will Implicate Trump Companies in Guilty Plea
Allen Weisselberg, the Trump Organization's finance chief, will say in Manhattan court Thursday that he conspired with several of the ex-president's companies when he pleads guilty to state tax crimes.
As part of Weisselberg's plea deal, he has agreed to testify against The Trump Corporation and the Trump Payroll Corporation at trial, which is scheduled for October.
"This possible testimony, which allegedly implicates Trump's businesses, could be key to prosecutors' securing a guilty verdict against these companies. When a company is found to have engaged in criminal conduct, significant fines can pile up quickly — potentially leading to its demise.
https://www.rollingstone.com/politics/politics-news/allen-weisselberg-guilty-plea-trump-organizations-criminal-trial-1398303/
Schiff, Maloney ask for security damage assessment on Mar-a-Lago documents
Two high-ranking House members are asking for a national security damage assessment of the documents the FBI seized from Mar-a-Lago, according to a letter sent to the Director of National Intelligence on Saturday.
https://www.axios.com/2022/08/13/trump-mar-a-lago-national-security-assessment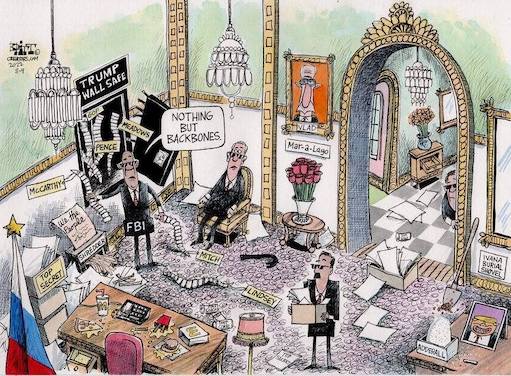 Trump claims he declassified all the documents at Mar-a-Lago. Even if that's true, it probably doesn't matter.
 Former President Donald J. Trump claimed on Friday that before leaving office, he declassified all the documents the F.B.I. found in this week's search of his Florida residence that agents described as classified in a list of what they seized — including several caches apparently marked as "top secret."
"It was all declassified," Mr. Trump asserted in a statement.
The claim echoed an assertion in May by Kash Patel, a former Trump administration official and a major supporter of Mr. Trump, after the National Archives found materials marked classified in boxes of documents it removed from Mr. Trump's Mar-a-Lago club and estate. He asserted that Mr. Trump had deemed those files declassified shortly before leaving office, but that the markings had not been removed from them.
Mr. Trump has offered no details, but if he is saying he made a blanket, oral invocation that all the files he took to Mar-a-Lago were unclassified, without making any formal, written record, that would be difficult to prove or disprove. Even if there is no evidence that Mr. Trump followed normal procedures for declassifying certain types of information, his lawyers could argue that he was not constitutionally bound to obey such rules.
But in any case, such a claim would not settle the matter. For one thing, two of the laws that a search warrant executed at Mar-a-Lago this week referred to — Sections 1519 and 2071 of Title 18 of the United States Code — make the taking or concealment of government records a crime regardless of whether they had anything to do with national security.
https://www.nytimes.com/live/2022/08/12/us/trump-news#declassified-documents-trump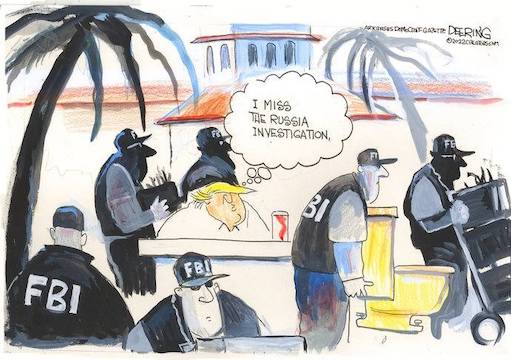 Firing a successful prosecutor is DeSantis's latest political stunt
Last week, Florida Gov. Ron DeSantis suspended Andrew Warren, the state attorney for the judicial district that includes Tampa and replaced him with a conservative judge. DeSantis said the move was necessitated by Warren's woke policies, including declining to prosecute certain categories of crimes. In particular, DeSantis cited a pledge Warren signed with other prosecutors across the country to not charge women who seek abortions or the doctors who perform them. (Florida recently passed a law banning all abortion after 15 weeks of pregnancy, though a judge has temporarily blocked the measure.)
The move is part of a conservative backlash against reform-oriented prosecutors across the country. Over the last few years, individual prosecutors take it upon themselves to determine which laws they like and will enforce and which laws they don't like and won't enforce, and the results of this in cities like Los Angeles and San Francisco have been catastrophic, DeSantis said.
Andrew Warren: DeSantis sacked me for doing my job as a prosecutor. Who's next?
The main consequence of DeSantis's stunt is to disenfranchise Tampa's voters. Warren was voted into office in 2016 by a margin of less than one percentage point. Four years later, voters had the opportunity to reject Warren's woke agenda. They reelected him by nearly 7 points.
https://www.washingtonpost.com/opinions/2022/08/12/desantis-fires-prosecutor-political-stunt/
DeSantis sued by Florida prosecutor he removed over abortion
An elected Florida prosecutor who was removed from office by Gov. Ron DeSantis (R) because of his positions on abortion and transgender rights filed suit Wednesday to get his job back, saying the Republican leader violated his First Amendment rights. https://apnews.com/article/2022-midterm-elections-abortion-lawsuits-florida-8c311d5742140575bdd456307ac7d488
Trump's 2024 Primary Support Reaches New Heights After FBI Raid
A new Morning Consult poll finds 58% of Republican voters said they would support Donald Trump if the 2024 Republican presidential primary were today, the highest on record since his 2020 loss.
Trump's improvement has come to the detriment of Florida Gov. Ron DeSantis, whose 2024 support has slumped 5 percentage points since late July, to 16%.
Similarly, a record-high 71% of GOP voters say that Trump should run for president in 2024. 
https://morningconsult.com/2022/08/11/fbi-raid-increases-trumps-2024-primary-suppo
rt/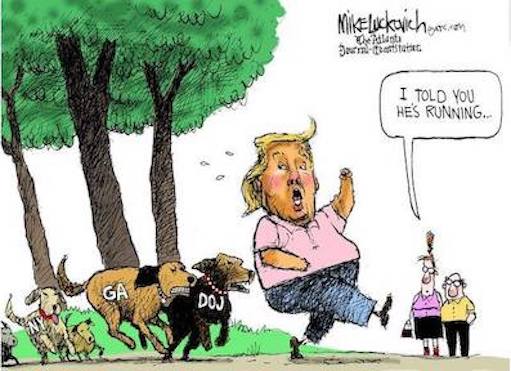 GOP Midterm Hurricane Gets Downgraded
It's hard to believe, given how poorly things have been going for Democrats this year. But the midterm election landscape is suddenly looking a lot less grim.
Democrats recently inched ahead of Republicans on the generic ballot, a leading indicator of midterm performance. Kansas demonstrated the salience of Roe v. Wade. And on Tuesday night, a Minnesota special election became the second consecutive contest to suggest Democratic candidates may be better positioned to compete in November than once expected.
"In general, I'm feeling a lot different about Democratic prospects today, on Aug. 10, than I was on May 1," John Anzalone, the longtime Biden pollster, told Nightly.
https://www.politico.com/newsletters/politico-nightly/2022/08/10/gop-midterm-hurricane-gets-downgraded-00050943
Donald Trump's Revenge Scorecard
Ten House Republicans joined every Democrat in voting to impeach Donald Trump for incitement of insurrection related to the January 6, 2021, attack on the Capitol.
Here's what happened to each of them:  
Rep. Anthony Gonzales (R-OH) – Did not seek re-election.
Rep. Adam Kinzinger (R-IL) – Did not seek re-election.
Rep. Fred Upton (R-MI) – Did not seek re-election.
Rep. John Katko (R-NY) – Did not seek re-election.
Rep. Jaime Herrera Beutler (R-WA) – Lost to primary challenger.
Rep. Peter Meijer (R-MI) – Lost to primary challenger.
Rep. Tom Rice (R-SC) – Lost to primary challenger.
Rep. Dan Newhouse (R-WA) – Won his primary.
Rep. David Valadao (R-CA) – Won his primary.
Rep. Liz Cheney (R-WY) – Lost to primary challenger.
With Cheney loss, Trump has ended the careers — at least for now — of 80% of the Republican lawmakers who voted to impeach him.
GOP backs Trump, escalates dark rhetoric after FBI search
Republicans in Congress who are relying on Donald Trump to excite voters in the fall elections are not only defending the former president against the FBI search of his Mar-a-Lago home but politically capitalizing on it with grave and potentially dangerous rhetoric against the nation's justice system.
The party that once stood staunchly for law-and-order has dramatically reversed course, stirring up opposition to the FBI and tapping into political grievances and far-right conspiracies that fed the deadly Jan. 6, 2021, attack on the U.S. Capitol.
It's all part of the GOP's election year strategy to harness voter outrage over the unprecedented search, quickly and unequivocally set in motion as Trump hosted a dozen Republicans for dinner of steak and scallops at his private Bedminster club the day after the FBI action.
https://apnews.com/article/2022-midterm-elections-steve-bannon-presidential-mar-a-lago-biden-cabinet-c147d730769765d421eb9a9e420555b7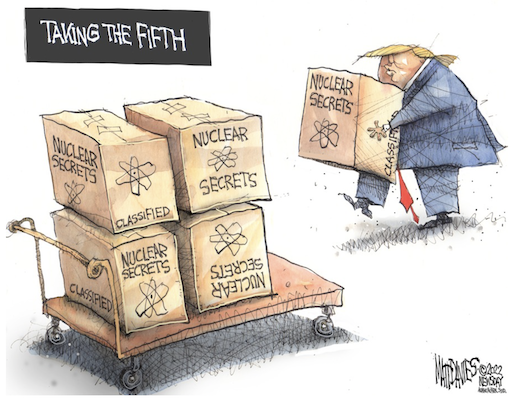 Top Democrats Accuse Homeland Security Watchdog of Blocking Testimony in Jan. 6 Inquiry
The Department of Homeland Security's internal watchdog, a Trump appointee, is under criticism for his handling of an investigation into missing Secret Service text messages around the time of the Capitol attack and is refusing to cooperate with congressional demands, even blocking his employees from testifying before Congress. https://www.nytimes.com/2022/08/16/us/politics/secret-service-texts-jan-6.html
POLLS
Val Demings Leads Marco Rubio In Florida: A new University of North Florida poll in Florida finds Val Demings (D) leading Sen. Marco Rubio (R) in the U.S. Senate race, 48% to 44%. https://www.unf.edu/uploadedFiles/aa/coas/porl/UNF%20PORL%20August%20Survey.pd
A new Marquette Law School Poll in Wisconsin finds Mandela Barnes (D) leading Sen. Ron Johnson (R) in the U.S. Senate race, 51% to 44%. In June, Barnes led by 46% to 44%. https://twitter.com/MULawPoll/status/1559954005438218240

A new YouGov poll finds Americans overwhelmingly approve of the FBI's search of former President Donald Trump's Mar-a-Lago beach club to retrieve classified documents that he took from the White House, 54% to 36%. https://docs.cdn.yougov.com/jf179lebaq/econTabReport%20%282%29.pdf
The DAILY GRILL
Answer me this question. Is America better off today than they were two years ago? — Minority Leader Kevin McCarthy
https://twitter.com/Acyn/status/1558178389982593024
VERSUS
Was @GOPLeader born yesterday? Or did he forget that two years ago we were in the midst of the worst pandemic in a century that devastated our country, made even worse by Trump. Biden is digging us out of the hole Trump made. — Rep. Nydia Velazquez
https://twitter.com/NydiaVelazquez/status/1558189584537755648
"What happened to the 30 million pages of documents taken from the White House to Chicago by Barack Hussein Obama? He refused to give them back! What is going on? This act was strongly at odds with NARA. Will they be breaking into Obama's 'mansion' in Martha's Vineyard"?
https://chicago.suntimes.com/columnists/2022/8/12/23303386/obama-presidential-library-records-documents-classified-unclassified-trump-search-warrant
VERSUS
As was reported back in late 2016, the Obama team was transferring the records to Chicago through the National Archives, which legally owns the documents once a president leaves office. Once the documents ultimately reached a warehouse in Chicago, the Obama Foundation was then due to pay the National Archives and Record Administration to digitize the documents. The lengthiness of that process aside, there isn't the faintest hint of legal violations — nor does the Post's story suggest as much.
https://www.washingtonpost.com/politics/2022/08/11/fox-trump-maralago-search-obama/
David Rohde: Exhibit A of Trump's Recklessness
In the days ahead, Trump—as he has done so effectively in the past—will deflect and dissemble. One of his initial defenses on Friday was to falsely claim in social-media posts that President Barack Obama had taken tens of millions of government documents after leaving office: What are they going to do with the 33 million pages of documents, many of which are classified, that President Obama took to Chicago? A statement from the National Archives and Records Administration refuted Trump's assertion. The archives said that roughly thirty million pages of unclassified records from Obama's eight years in office were transferred to a National Archives facility in the Chicago area and that they continue to be maintained by the agency. Former President Obama has no control over where and how NARA stores the Presidential records of his Administration, the agency said.

The exposure of Trump's lies is not new. During his four years in office, Trump was regularly shown to make false claims, exaggerate achievements, and smear enemies. But he was also careful to avoid crossing certain legal thresholds and to generally obey the advice of his lawyers. The Mueller report, for example, revealed that Trump was saved from patently obvious obstruction of justice when top aides—particularly White House counsel Don McGahn—declined to carry out his orders or managed to restrain him. When Trump withheld four hundred million dollars in aid from Ukraine as leverage to demand an investigation of his likely Democratic opponent, he kept his language vague in phone calls with President Volodymyr Zelensky, which helped him deny wrongdoing.

For Americans who wish to look, their worst fears about Donald Trump are being confirmed. He recklessly handled some of the country's most important secrets, including, apparently, information related to nuclear weapons. Tens of millions of Americans, undoubtedly, will continue to believe his conspiracy theories. But the steady compilation of facts by the January 6th committee, the Justice Department, and the F.B.I. is creating a post-November, 2020, record of negligence that exceeds Trump's actions earlier in his tenure. The Mar-a-Lago search warrant showed that Trump has grown more rash, thoughtless, and heedless—and more unfit than ever for the Presidency. https://www.newyorker.com/news/daily-comment/exhibit-a-of-trumps-recklessness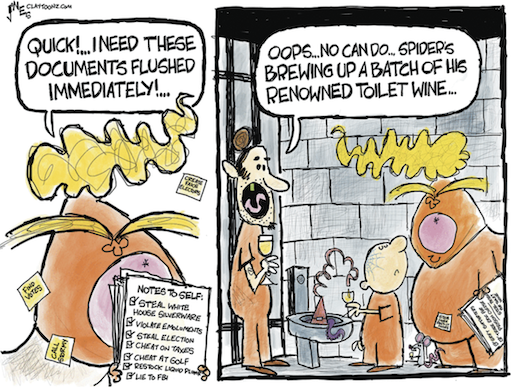 Philip Rotner: Donald Trump's O.J. Defense
This week, it was Trump preemptively asserting the O.J. Defense. By Tuesday morning, one of Trump's lawyers, Christina Bobb, was crying foul, suggesting that the FBI had planted evidence. Bobb, who was present during the search and presumably had some information about what documents had been seized by the FBI, took to the airways to proclaim that there is no security that something wasn't planted. Trump himself doubled down: Everyone was asked to leave the premises, they wanted to be left alone, without any witnesses to see what they were doing, taking or, hopefully not, 'planting.' Shortly thereafter, several of Trump's high-profile supporters joined the chorus.

Preemptively invoking the O.J. Defense is more than a little telling. It strongly suggests consciousness of guilt.

Since Garland's statement yesterday afternoon and the Washington Post revelation from last night, the Trump apologists' talking points have shifted yet again—now they're arguing that Trump himself had declassified any documents taken from Mar-a-Lago, apparently by merely deciding silently that they were no longer classified. (This wishing-makes-it-so argument brings back memories of Richard Nixon saying when the president does it . . . that means that it is not illegal.)

The fact that the arguments made by Trump's defenders contradict one another—were the documents planted or were they magically declassified?—doesn't matter to them one whit. After all, the arguments are not intended to persuade a judge or anyone else for whom logical consistency matters. The arguments are intended to sow confusion among Trump supporters, to get them to doubt anything the FBI says about Trump.

Many hardcore Trump supporters have surely already accepted the O.J. Defense and will never stop believing that incriminating evidence found at Mar-a-Lago was planted. As a matter of politics, that's no surprise: the devotion of Trump's admirers is already a defining fact of our moment. But consider what it could mean as a matter of justice. If Trump were indicted and tried for crimes based on anything found at Mar-a-Lago, the O.J. Defense could work. Maybe it wouldn't get him acquitted, but it would only take a single Trump die-hard to hang the jury. In the end, that may be Trump's best—and perhaps only—defense. https://www.thebulwark.com/donald-trumps-o-j-defense/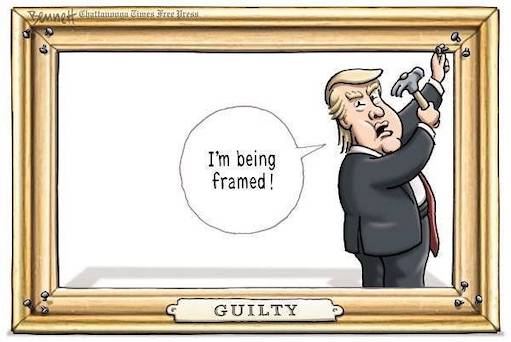 Philip Bump: The right's post-Mar-a-Lago effort to impugn the FBI kicks up a notch
The first minutes after Donald Trump announced that his Florida estate had been searched by FBI agents went better than the former president could have imagined. His years-long effort to cast the bureau as inherently biased against him quickly prompted even Trump-skeptical Republicans to side with him against the devious Deep State. The wagon-circling reportedly pleased Trump, whose team saw a new breath of unity with Trump as its focus.

That this reaction was based on claims of political bias within the FBI that have no basis in the available evidence was beside the point. The point was that the FBI became the opposition, just as Trump would have hoped.

But it turns out that this wasn't enough. Baseless assertions of impropriety and bias by the FBI have now been kicked up a notch with multiple figures on the right claiming — again without evidence, much less justification — that maybe the feds planted evidence as they combed through Mar-a-Lago. Because, it seems, any opponent of Trump's must be cast in the most nefarious terms possible. https://www.washingtonpost.com/politics/2022/08/10/trump-fbi-search-republicans/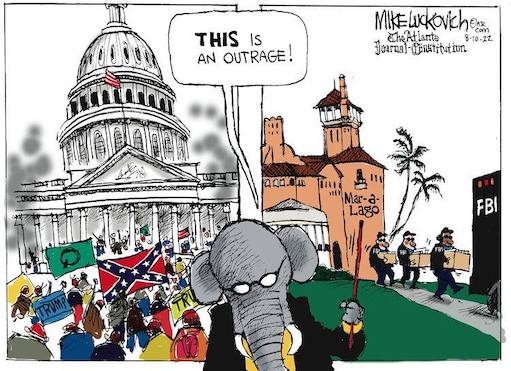 William Saletan: 'Defund the FBI'—the MAGA Right's Hypocritical New Slogan
Two years ago, in congressional and state elections, Republican candidates accused Democrats of supporting proposals to 'defund' or 'abolish' police. Actually, although anti-police slogans were widespread on social media and among protesters, very few Democratic officeholders supported these ideas. But Republicans didn't let those facts get in the way. They smeared the whole Democratic party as an agent of crime and chaos.

Monday's FBI search of Mar-a-Lago—reportedly in pursuit of classified documents that former President Donald Trump may have illegally kept when he left office—has turned this issue upside down. Now that law enforcement has targeted Trump, conservatives are denouncing the FBI. Some want to defund the bureau; others are demanding its complete abolition. https://www.thebulwark.com/defund-the-fbi-the-maga-rights-hypocritical-new-slogan/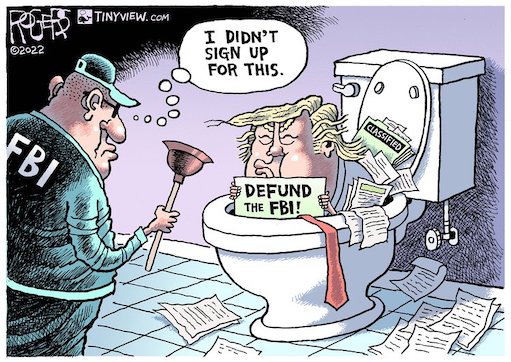 Susan B. Glasser: Trapped in Trump, Trump, Trum

p
The bizarre politics of the moment were best summed up in an exchange Thursday morning on Fox & Friends, when the co-host Steve Doocy—an anchor so well known for his Trump cheerleading that Trump once reportedly rated him a twelve out of ten on his personal loyalty scale—seemed astonished by how far Trump's defenders were willing to go in attacking the F.B.I. on Trump's behalf. What about death threats to F.B.I. agents, Doocy wondered, and over-the-top comments from House Republicans talking of the need to destroy the F.B.I. and defund it? Whatever happened to the Republican Party backing the blue? the Fox host asked Representative Steve Scalise, the House Republican Whip.

When Scalise responded by talking about agents who had gone rogue, Doocy challenged him again. Steve, who went rogue? Who went rogue? They were following a search warrant. On Thursday, the potential consequences of this reckless rhetoric became clear, after an armed man tried to attack an F.B.I. field office in Cincinnati; the man, who had reportedly attended the January 6th riot at the Capitol, was later shot and killed by law enforcement.

By Thursday afternoon, Attorney General Merrick Garland finally felt compelled to respond to the days of attacks from Trump and his supporters, in and of itself a remarkable nod to the former President's continued ability to disrupt the normal order of things at the Justice Department, where a policy of not publicly commenting on ongoing investigations is usually sacrosanct. Garland didn't say much, of course, beyond blasting unfounded attacks on the agents who'd conducted the search and the usual reassuring words about faithful adherence to the rule of law, which would be applied without fear or favor. But he did reveal that the Justice Department has asked the federal court that approved the Mar-a-Lago search warrant to unseal both the warrant and a list of property that was taken. Trump, of course, could have saved Garland the trouble and done so himself—he's got a copy of both of them. But now his bluff has been called.

Maybe—probably—Trump doesn't care. He's sought to raise millions of dollars off the frenzy. He's forced Republican politicians to publicly abase themselves and trash the nation's premier law-enforcement agencies in an effort to stay in his good graces. He's distracted the media from Biden's big run of successes. He might even be right that, as a matter of politics, the whole thing is good for him.

But what would that say about the country if it is? Count me with Sherrilyn Ifill, the former longtime head of the N.A.A.C.P. Legal Defense and Education Fund. The implications of this unprecedented act is that the DOJ may now have determined that the former President may have committed criminal acts, she wrote, on Twitter. The rest is speculation and—Trump's malevolent specialty—political hot air. https://www.newyorker.com/news/letter-from-bidens-washington/trapped-in-trump-trump-trump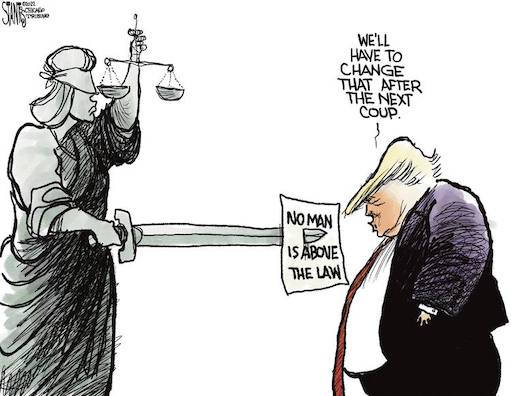 Jackie Calms: Will the Republican Party trigger another round of Jan. 6-style violence?
In a healthy political party, the leaders would long ago have stood up to Trump and said stop — stop undermining our democracy and arousing the unhinged. In this instance, Republican officials should have urged Americans to let the rule of law take its course. They could have noted that the feds had a search warrant, approved by a judge who was persuaded by the government's evidence that there was probable cause to believe a crime had been committed.
Woulda, shoulda, coulda. But Republicans didn't and don't.

The same Republican officials who for years countenanced or even encouraged the autocratic chants of Lock'er up are now expressing outrage when Trump gets the benefit of the rule of law.

The leaders of the purported party of law and order, who acquiesced as then-President Trump subverted the nation's chief law enforcement agencies, now dutifully repeat his claims that it's Joe Biden who's politicizing the Justice Department and the FBI.

But them's fightin' words to many of the former president's fanatical followers, who — thanks to Trump and other elected Republicans — believe Biden is an illegitimate president and the federal government a rogue operation. Traffic on right-wing social media sites this week was full of calls for civil war and assassinations, NBC News reported.

Throughout Thursday, I received the usual fundraising emails from Trump Inc., which now seek donations to fight this NEVERENDING WITCH HUNT. The emails goad supporters: When they come after HIM, they are REALLY coming after YOU. Meanwhile on Thursday, an armed man was shot and killed by police after he tried to breach a Cincinnati FBI complex.

In Florida, the judge who approved the search warrant for Mar-a-Lago reportedly was getting violent, antisemitic threats from far-right extremists. Fox News said Garland, Wray and FBI agents were getting more death threats than usual. And Rep. Eric Swalwell, a California Democrat and vocal Trump critic, released a recording of a profane, racist caller who said someone should cut off his head and the heads of his wife and kids too.

Historians, political scientists and journalists who study Republican voters and far-right groups are increasingly sounding alarms. Northwestern University historian Kathleen Belew tweeted of white-power groups and the militant right, YES, they HAVE BEEN waiting for a moment like this.

Months before the 2020 election, Vanderbilt University political scientist Larry M. Bartels reported on a survey of Republican voters that showed most agreed that the traditional American way of life is disappearing so fast that we may have to use force to save it. https://www.latimes.com/opinion/story/2022-08-11/republicans-mar-a-lago-search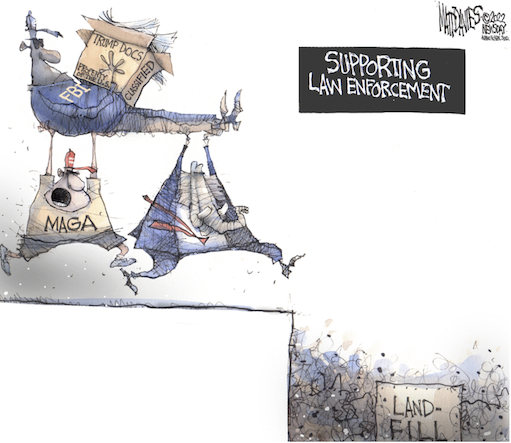 Ed Kilgore: The Anti-Abortion Movement's Divisions Suddenly Have Huge Consequence
Practically from the moment Roe v. Wade was decided in 1973, the anti-abortion movement it energized was beset by divisions over goals, strategies, and tactics. While some activists aimed for a constitutional amendment that would ban abortion nationwide, others focused on efforts to overturn the Supreme Court decision and return abortion policy to the states (though they would not be happy unless all states banned abortion entirely). The latter approach became the movement's main strategy, but anti-abortion activists remained divided on how to proceed when they had opportunities to pass legislation. Should they enact laws that would be struck down by the courts, offending the many pro-choice voters? Or should they work more incrementally, painting themselves as reasonable by focusing on particular abortion practices that might not be as popular as the right to choose itself?

Now that the Supreme Court's Dobbs decision has eliminated the constitutional right to choose, anti-abortion absolutists and incrementalists are fighting once again. And this time, there are real and immediate consequences for endangered abortion rights in the states ruled by Republicans.

As my colleague Irin Carmon explained at Salon in 2013, by the time the 21st century arrived, the anti-abortion movement had split into two large factions on the incrementalist-versus-absolutist question. The dominant incrementalist camp was represented by National Right to Life Committee attorney and Republican politician James Bopp, who laid out the strategy in a 2007 memo:
A vital battle stratagem is to choose proper terrain — favorable to you, unfavorable to your foe, he wrote. To change the hearts and minds of the public on abortion, it is necessary for pro-lifers to frame the debate to their advantage. Pro-life leaders have wisely focused on this strategy. The key example: The debate over partial-birth abortion has furthered this strategy because it has forced the proabortion camp to publicly defend a particularly visible and gruesome practice.
Changing hearts and minds without significantly reducing the number of legal abortions has always enraged the absolutists who regarded every abortion as a murder and legalized abortion as an American Holocaust.

Unsurprisingly, now that the Supreme Court has opened the door to all sorts of state abortion bans, the absolutist ranks seem to be expanding. After all, what's the excuse for not saving every baby you can, now that the federal courts will no longer interfere?
https://nymag.com/intelligencer/2022/08/anti-abortion-movement-divisions-now-have-huge-consequences.html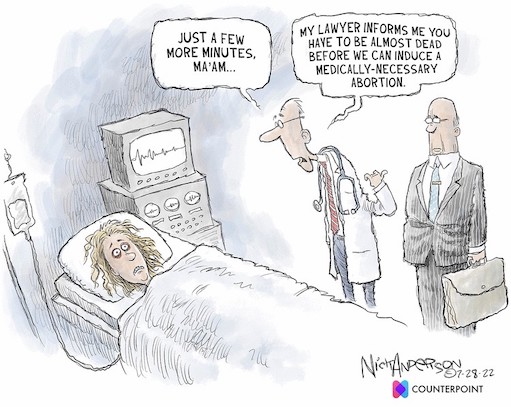 Max Boot: Republicans went crazy over the Trump search. Now they look idiotic
A genius-level spinmeister, Trump set the tone with a Monday evening statement announcing: These are dark times for our Nation, as my beautiful home, Mar-A-Lago in Palm Beach, Florida, is currently under siege, raided, and occupied by a large group of FBI agents. Nothing like this has ever happened to a President of the United States before.

That description allowed his followers to imagine a scene straight out of a Hollywood action picture, with agents in FBI jackets busting down the doors and holding the former president and first lady at gunpoint while they ransacked the premises. Although Trump's team had a copy of the search warrant, he gave no hint of why the FBI might have been there, claiming, It is … an attack by Radical Left Democrats who desperately don't want me to run for President in 2024.

His followers — which means pretty much the whole of the Republican Party — took up the cry based on no more information than that. Fox News host Mark Levin called the search the worst attack on this republic in modern history, period. Sen. Ted Cruz (R-Tex.) called it corrupt & an abuse of power. Sen. Rick Scott (R-Fla.) compared the FBI to the Gestapo. Not to be outdone, former House speaker Newt Gingrich (R-Whackadoodle) said the FBI was the American Stasi, and compared its agents to wolves who want to eat you. Today is war, declared Steven Crowder, a podcaster with a YouTube audience of 5.6 million people. Rep. Marjorie Taylor Greene (R-Ga.) tweeted DEFUND THE FBI! Former Trump aide Stephen K. Bannon, among many others, suggested that the FBI and the Justice Department (essentially lawless criminal organizations) might have planted evidence.

Anyone else caught with top-secret documents — and suspected of obstructing justice and violating the Espionage Act — would probably be in federal custody by now. Reality Winner, a former National Security Agency contractor, was sentenced to more than five years in prison for leaking documents relating to Russian interference in the 2016 election a whole lot less sensitive than the ones Trump is suspected of taking. https://www.washingtonpost.com/opinions/2022/08/12/trump-search-gop-hyperbolic-reaction-collapsing/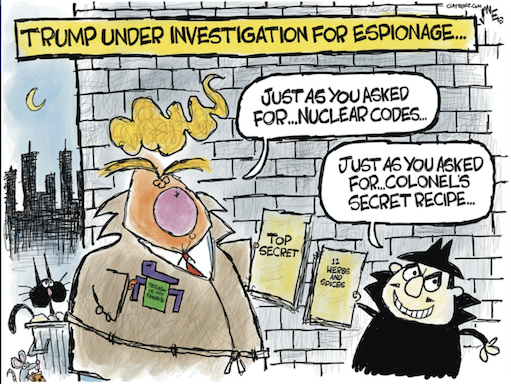 David Rohde: Exhibit A of Trump's Recklessness
For Americans who wish to look, their worst fears about Donald Trump are being confirmed. He recklessly handled some of the country's most important secrets, including, apparently, information related to nuclear weapons. Tens of millions of Americans, undoubtedly, will continue to believe his conspiracy theories. But the steady compilation of facts by the January 6th committee, the Justice Department, and the F.B.I. is creating a post-November, 2020, record of negligence that exceeds Trump's actions earlier in his tenure.

The Mar-a-Lago search warrant showed that Trump has grown more rash, thoughtless, and heedless—and more unfit than ever for the Presidency.  https://www.newyorker.com/news/daily-comment/exhibit-a-of-trumps-recklessness
Philip Klein: Trump's Explanation of Document Declassification Doesn't Pass the Smell Test
Whatever anybody thinks about the FBI's actions at Mar-a-Lago, can we all agree that Donald Trump's claim — that there was a 'standing order' that said whatever he brought to his Florida residence was automatically declassified — is patently absurd?

Consider all the times that Trump was at Mar-a-Lago during his presidency and worked out of there. Are we to believe that each and every document he brought with him there, no matter how sensitive, was immediately declassified and thus widely available for people to see?

If this ridiculous policy were actually even true, it would raise a different set of serious questions about Trump's recklessness in handling sensitive documents. https://www.nationalreview.com/corner/trumps-explanation-of-document-declassification-doesnt-pass-the-smell-test/
David Atkins: Trump Can't Envision a Government Less Corrupt Than He Is
After FBI agents finished executing a lawful warrant at his Mar-a-Lago property in Florida, Donald Trump made an accusation that was astonishing in its lack of self-awareness, even for him. He said in a statement: "They even broke into my safe! What is the difference between this and Watergate, where operatives broke into the Democrat National Committee?"

It is typical of Trump that he would not understand the difference between Nixon's private crime and the lawful government investigation into his own long history of allegedly criminal conduct. The man runs his family business like a mafia don and ran the White House similarly. He does not think in terms of institutions but in terms of absolute personal loyalty. As president, Trump saw the institutions of government, from the Justice Department to the military, as mere extensions of his own will. The real estate tycoon saw the Attorney General and the Justice Department as his personal attorney and law firm. He fumed that his generals were not as loyal as Hitler's commanders in World War II. (An historical ignoramus, Trump also failed to grasp how often the Fuhrer's commanders disobeyed him and even tried to assassinate him.) He emulates and admires dictators who run their countries like personal fiefdoms and treat their economies as family cashboxes.

Trump also projects his abuse of power onto his enemies. He falsely accused President Barack Obama of personally orchestrating the Russia probe and of wiretapping Trump Tower. He constantly made constant references to Watergate back then as well, even as he was begging Russia to hack Hillary Clinton and the DNC. His close friend Roger Stone was in close contact with Wikileaks at the time. Despite its denials, Wikileaks almost certainly received the hacked information directly from Russia. Then Trump obstructed justice at least ten times in Robert Mueller's probe—felonies that Mueller himself (and hundreds of other federal prosecutors) said merited prosecution. We will likely never know the extent of his complicity in the historic crime that Russian hackers perpetrated against Clinton and the DNC.

Trump's narcissism is so supreme that he cannot distinguish between personal and institutional loyalty. In his mind, every institution is as corrupt and self-serving as he is. Every accusation is a confession, and he corrupts those around him if they were not corrupted already. And that above all is why he must be held accountable for his crimes and why he cannot be allowed to return to power. https://washingtonmonthly.com/2022/08/12/trump-cant-envision-a-government-less-corrupt-than-he-is/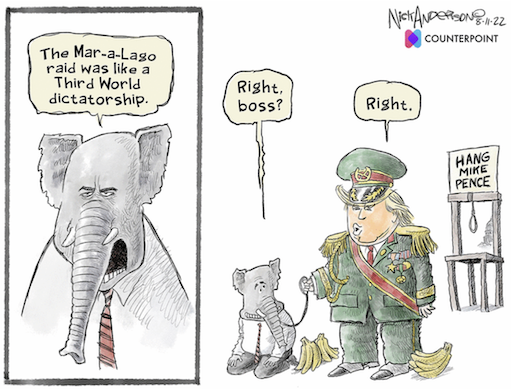 Steve Benen: GOP discovers new standards on the mishandling of classified info
If there was one thing Republicans cared about six years ago, it was how high-ranking officials dealt with classified materials. In fact, as recently as 2016, the GOP was certain — that is, the party at least pretended to be certain — that politicians disqualify themselves from positions of authority when they put documents at risk.

And so, now that Republicans have learned that Donald Trump allegedly took highly sensitive classified materials to his golf resort, one could imagine the party expressing outrage with the former president. After all, given the GOP's recent history of passionate feelings on the subject, it stands to reason that Trump may have crossed an intolerable line.

But that would assume that the Republican Party's principles and standards are consistent. They are not.

To this day, rabid Republican activists will reflexively chant, Lock her up! at the mere mention of Clinton's name because she allegedly failed to properly deal with classified materials.

And now many of those same Republicans say they don't much care. Indeed, the only thing many in the GOP appear to care about this morning is condemning federal law enforcement for taking the issue seriously. https://www.msnbc.com/rachel-maddow-show/maddowblog/gop-discovers-new-standards-mishandling-classified-info-rcna42183
Timothy O'Brien: Why Did Trump Take Classified Documents in the First Place?
Reason One seems relatively harmless. Trump is a seven-year-old grown old, and he liked some of the cool doodads you get your hands on as president… Among the disputed documents at Mar-a-Lago was a meteorological map of Hurricane Dorian that he had infamously marked up with a black Sharpie. Who knows why that map was so important to him? Who cares?
The second and third reasons aren't harmless at all. They're deeply damaging and troubling.

So, Reason Two: Money. Unfettered greed has motivated Trump his entire life… Recall that Trump's businesses have been in difficult straits. When Trump left the White House, his operations were saddled with about $1 billion in debt, $900 million of which comes due relatively soon. He personally guaranteed repayment of about $421 million of that debt.

Reason Three: Reputational damage… it's not unreasonable to worry that his communications with foreign leaders — and anything disreputable or possibly illegal that took place in connection with those — could have been something he felt compelled to hide. https://www.bloomberg.com/opinion/articles/2022-08-15/why-did-trump-take-classified-documents-to-mar-a-lago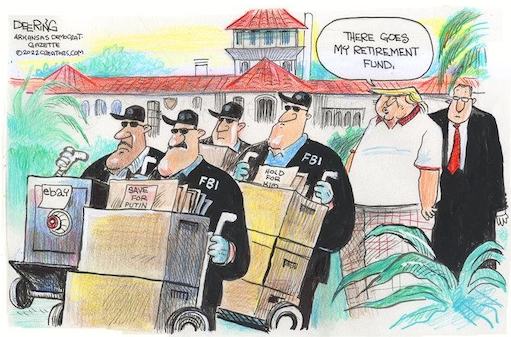 Zolan Kanno-Youngs and Maggie Haberman: Trump's Shifting Explanations Follow Familiar Playbook
Mr. Trump and his allies have cast the search as a partisan assault while amplifying conflicting arguments about the handling of sensitive documents and failing to answer a question at the center of the federal investigation: Why was he keeping documents, some still marked classified, at an unsecured Florida resort when officials had sought for a year to retrieve them?

The often contradictory and unsupported defenses perpetuated by Mr. Trump and his team since the F.B.I. search follow a familiar playbook of the former president's. He has used it over decades but most visibly when he was faced with the investigation into whether his campaign in 2016 conspired with Russians and during his first impeachment trial.

In both instances, he claimed victimization and mixed some facts with a blizzard of misleading statements or falsehoods. His lawyers denied that he had tied his administration's withholding of vital military aid to Ukraine to Mr. Trump's desire for investigations into Joseph R. Biden Jr. and his son, Hunter Biden. https://www.nytimes.com/2022/08/14/us/politics/trump-documents-explanations.html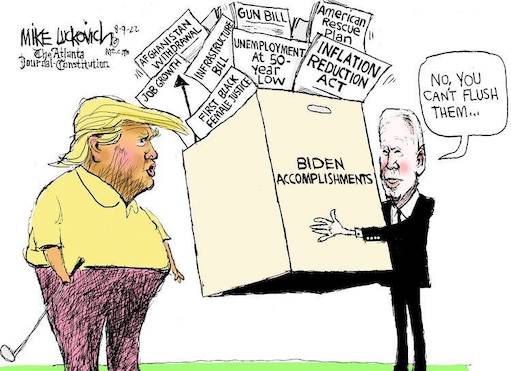 Jonathan Chait: Why Every New Trump Crime Just Makes Republicans Angrier at the FBI
The Republican rationale for defending Trump despite clear-cut violations of the law is that the FBI has supposedly forfeited all credibility. Trump supporters "are mad because the Mar-a-Lago raid fits into a pattern of behavior targeting Trump and his associates by the FBI, the Justice Department, and the intelligence community," argues Byron York. "When it comes to the FBI's latest move, he garners near-universal assent — and for good reason," writes National Review editor-in-chief Rich Lowry of Trump. "It is impossible to over-estimate the effect of the Russia investigation on the Republican psyche." Margot Cleveland argues that it's because of the bureau's "widespread misconduct that Americans doubt the legitimacy of the FBI's decision to search the former president's home."
Obviously, the weirdest thing about this trust heuristic is that it assumes the more credible party to this dispute is serial lawbreaker and pathological liar Donald Trump rather than the lifelong Republican he appointed to lead the agency. But the deeper and more twisted belief system being expressed by Trump's allies is the premise that the FBI has engaged in a pattern of political bias against their party since the Clinton saga.
The truth is just the opposite: The FBI has often bent over backward to placate Republicans only to be met with distrust when its results fail to conform to their most paranoid fantasies. https://nymag.com/intelligencer/2022/08/donald-trump-fbi-mar-a-lago-documents-national-security-republican-excuse.html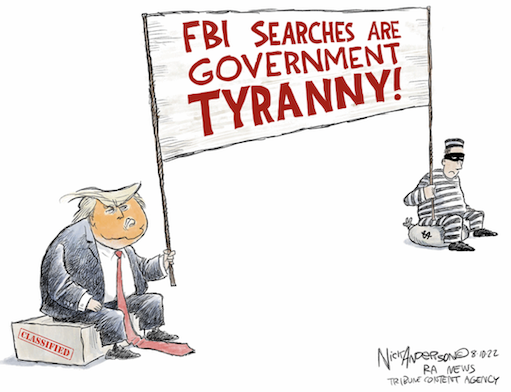 David Frum: Unwelcome but important fact to face
Trump absconding with the country's highest secrets - storing them unsafely - and then lying about returning them - SHOULD have upset his supposedly patriotic supporters.
It didn't.
If anything the latest Trump scandal has strengthened Trump's hold, not only on his core support, but on the broader GOP.
A friend tightly connected to major GOP donors wrote me over the weekend about this, observing that, among the Republicans he knows and have polled, a majority of them were for DeSantis and now all for Trump, almost no matter what comes out. Maybe that doesn't hold, but maybe it shockingly does. He don't see in fact how anyone other than Lynne Cheney can even announce against Trump much less defeat him. It's just pointless. Unless all charges are dropped, in which case Trump looks vindicated."
Trump's base is not reforming. That base's control of the wider GOP coalition is not weakening. US democracy is not recovering. The dangers ahead are not diminishing. https://twitter.com/davidfrum/status/1559168859885940737