April 25, 2019
ON THE RECORD. . .
"If I'm still the majority leader in the Senate think of me as the Grim Reaper. None of that stuff is going to pass." — Senate Majority Leader Mitch McConnell (R-KY) pledging to block any progressive legislation from the House.
"Here's the rule change I propose: No more women refs, no women announcers, no women beer vendors, no women anything. There is, of course, an exception to this rule. Women are permitted to participate, if and only if, they look like Bonnie Bernstein. The fact that Bonnie knows nothing about basketball is entirely irrelevant. — Stephen Moore, the misogynist supply-sider tapped by President Trump to serve on the Federal Reserve board.
"Donald Trump's behavior described in the Mueller Report is more than disappointing. It's unacceptable and not behavior we should expect from our president. It's worse than I've seen in my career observing and working with presidents or public officials. America deserves better." — Former Gov. John Kasich, on Twitter.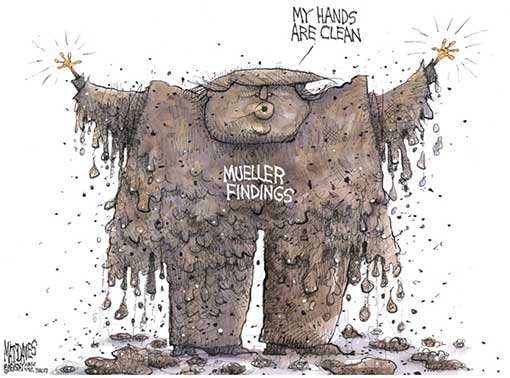 "He encouraged people to lie for him. He lied. I think he obstructed justice. I think there's a compelling case that he has, in fact, engaged in conduct that would be better for him to leave office than to stay in office." — Rep. Lindsey Graham (R-SC), on C-SPAN in 1999, on President Bill Clinton.
"The Trump Haters and Angry Democrats who wrote the Mueller Report were devastated by the No Collusion finding. Nothing but a total 'hit job' which should never have been allowed to start in the first place!" — Trump on Sunday continuing to wage an attack against special counsel Robert Mueller.
Barr has no shame. He's become a caricature of a lawyer and a miserable excuse for a public servant. A pathetic porcine puppet for a puerile president. —Laurence Tribe@tribelaw
"Based on what we have seen to date, going forward on impeachment is not worthwhile at this point. Very frankly, there is an election in 18 months and the American people will make a judgement." — House Majority Leader Steny Hoyer (D-MD), affirming the House leadership's strategy to avoid impeachment proceedings.
The "no collusion" headline belied the more damning parts of the report. "Aside from Trump's scandal, corruption and potential criminality in the Mueller report, it also confirms that Trump got elected thanks to an extensive Russian infiltration and operation." — Jesse Ferguson, a senior spokesperson on the Clinton campaign.
Mueller's findings do not end Trump's troubles. On the contrary, he is now in greater jeopardy because we know even more about what he did. Congress must take all the further steps required to ensure accountability. — E.J. Dionne Jr.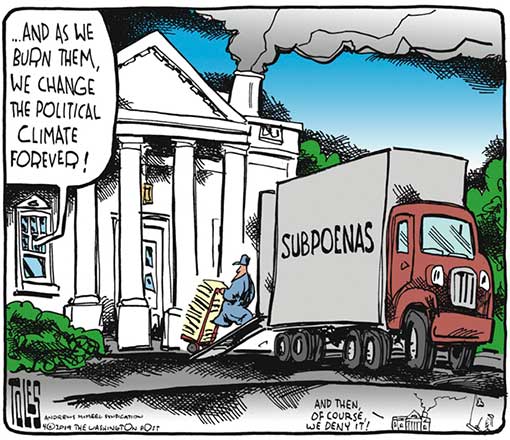 "If this was any person other than the president of the United States, I can say as a former prosecutor, this would be a knock down for obstruction. I've charged and convicted on obstruction of justice based on a fraction of this evidence." — Former prosecutor Elie Honig
"The investigations and all of the speculation that's happened for the last two years has had a much harsher impact on our democracy than a couple of Facebook ads." —  White House senior adviser Jared Kushner
"I wonder if the New York Times will apologize to me a second time, as they did after the 2016 Election. But this one will have to be a far bigger & better apology. On this one they will have to get down on their knees & beg for forgiveness—they are truly the Enemy of the People!" — Trump tweet. Of course, the Times never apologized as Trump claimed.
"Of course he's a liar. I think everybody knows he's a liar. Some people are willing to forgive it. But we should not have to have that question. We should never have to question whether the commander in chief is telling the truth." — Rep. Seth Moulton (D-MA), while calling for impeachment proceedings against President Trump.
"How can a president function if he instinctively lies to not only the public but to his own staff? There is one essential truth that leaps from the pages of the Mueller report: No one can trust Donald Trump." — GOP presidential candidate Bill Weld is calling on President Trump to resign from office in the wake of Robert Mueller's investigation, calling him "a one-man crime wave."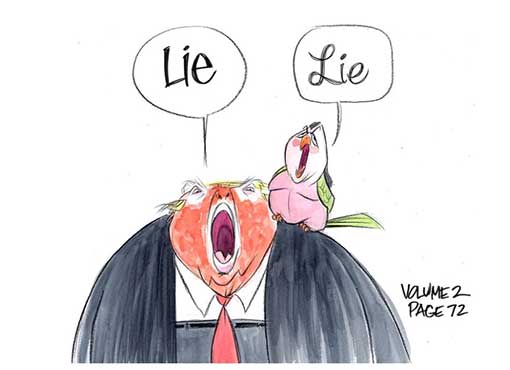 ---
IN THIS ISSUE
FYI
OPINION
1. Andy Borowitz: Trump Furious After Twitter's Bot Purge Leaves Him with Fourteen Followers
Donald J. Trump was reportedly "furious" on Wednesday morning after a purge of right-wing bots by Twitter left him with a total of fourteen remaining followers, aides have confirmed.

Rising at 3 a.m. to engage in one of his trademark early-morning tweetstorms, Trump was incensed to discover that his Twitter following had plummeted from more than forty-eight million to a little more than a dozen.

At Twitter headquarters, in San Francisco, a company spokesman confirmed that Trump had indeed lost 48,076,920 followers in the bot purge. "It turned out that over forty-six million of the President's followers came from a single troll farm in Macedonia," the spokesman said.

As of Wednesday, Trump's fourteen remaining Twitter followers included his daughter Ivanka; his sons Eric and Donald, Jr.; several White House aides; and someone named Heinrich Himmler III.

"We're praying that Heinrich is a real person," a White House aide said. "The President can't afford to lose another follower."https://www.newyorker.com/humor/borowitz-report/
2. Trump's Popularity Hits Record Low as Support for Impeachment Wanes
A new Morning Consult/Politico poll finds President Trump's net approval rating reached the lowest point of his presidency following the release of special counsel Robert Mueller's report on Russian meddling in the 2016 election.
Key finding: 39% of voters now approve of Trump's job performance while 57% disapprove.
However, just 34% say Congress should begin impeachment proceedings, compared with 48% who say it shouldn't. https://morningconsult.com/2019/04/22/trumps-popularity-hits-record-low-as-support-for-impeachment-wanes/
3. How Trump Desensitized America Long Before the Mueller Report
 Trump and key members of his team showed themselves in this report to be unbothered by foreign interference in U.S. elections, unconcerned about following the letter or the spirit of the laws about the conduct of a campaign, and unencumbered by the obligation to tell the truth to the American people.
And we've already been so desensitized to it, because so much of the evidence Mueller provided was either reported contemporaneously or simply uttered in public.
The report lays out that:
• Trump's campaign hoped and expected to benefit from information stolen and released by Russian efforts.

• Members of his team were "receptive" to some offers of assistance to the campaign from Russia, and they failed to report any of it to any authorities.

• Trump consistently urged aides to make public statements with which they disagreed or were uncomfortable.

• He repeatedly encouraged people on his team to obtain Hillary Clinton's emails. Leading that effort, Michael Flynn asked two campaign supporters for help, which included trolling the "dark web."

• He directly encouraged his Attorney General to investigate a political foe (Hillary Clinton).

• He and his associates publicly and privately dangled the possibility of pardons to witnesses in the investigation.

• At least three aides — Sarah Sanders, KT McFarland and Reince Priebus — knowingly disseminated false information to the press.
So, many of the most damning parts of the report were things we already knew. But seeing them all in one place is a reminder of this administration's crisis of credibility. With so many instances of misleading the press and the public, it's hard to see how this White House ever gets the benefit of the doubt — on anything — again. https://www.nbcnews.com/politics/meet-the-press/mueller-report-out-what-do-democrats-do-next-n996316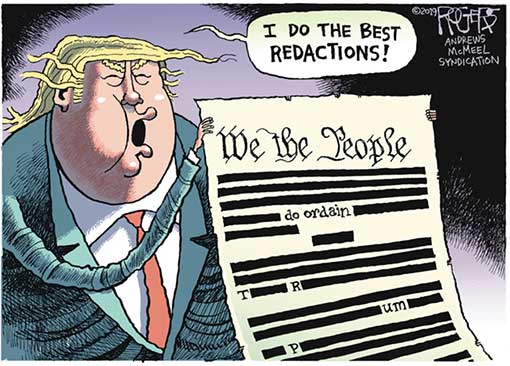 4. VIDEO: A Message From the Future With Alexandria Ocasio-Cortez
(NOTE: "Knock Down the House" goes behind the scenes as 4 determined women, including Alexandria Ocasio-Cortez, challenge big-money politicians in the 2018 race for congress. ((Netflix on May 1st))
5. As the Russia investigation ends, experts see two years of American political dysfunction as a win for Putin
The special counsel investigation was often cast as a clash between President Trump and Robert S. Mueller III. But there was always a third player, for whom victory seemed assured no matter the outcome.
Russian President Vladi­mir Putin set this sequence of events in motion with a Kremlin campaign to destabilize American democracy. That operation and its aftermath inflamed partisan tensions in the United States, eroded public confidence in core institutions and triggered a two-year investigation that consumed the nation's attention and much of the Trump presidency.
The investigation may be finished now that the bulk of the report has been released, but the political battle it has generated in the United States — and the advantage Putin sees for Russia in that infighting — appears far from over. https://www.washingtonpost.com/world/national-security/as-the-russia-investigation-ends-experts-see-two-years-of-us-political-dysfunction-as-a-win-for-putin/2019/04/18/da418fb4-5faf-11e9-9412-daf3d2e67c6d_story.html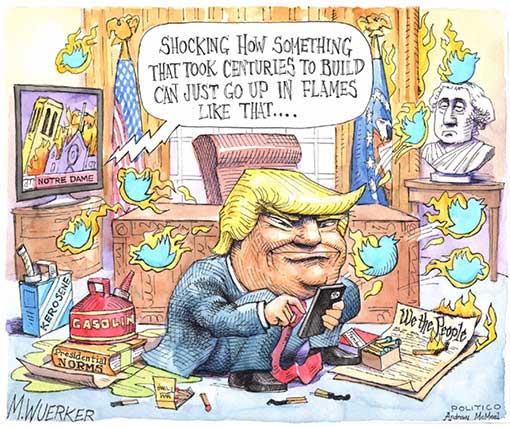 6. The Mueller Report Could Alienate the Voters Republicans Need
Mueller's report aims directly at the anxieties these voters express about Trump and his Republican defenders. Many of these college-educated whites are traditionally center-right voters who may agree with key aspects of Trump's agenda, such as his success in cutting taxes. But the lying, belligerence, scheming, and disregard for the law that Mueller cataloged in Trump's effort to block his inquiry speak directly to the greatest doubts these voters have expressed about the president. The report validates the concerns of anyone who feared how Trump would wield presidential power—with a solipsistic elevation of his personal interest over any other concern, and with an utter disregard for limits of law, much less morality. (Mueller may have produced the most damning portrait of a leader exercising power since Shakespeare's Richard III.)
The Mueller report may not dislodge significant elements of Trump's electoral coalition, some of whom thrill to his behavior and others who accept it in the same implicit bargain as do Republicans in Congress. But it seems highly likely to reinforce the doubts of the nearly 55 percent of Americans who expressed unease, if not outright revulsion, about him as president through their votes for other candidates in the 2016 election and for Democrats in the 2018 House races. https://www.theatlantic.com/politics/archive/2019/04/muellers-report-could-hurt-trump-and-gop-2020/587584/
7. Manafort tells Gates Trump is 'going to take care of us'
After a grand jury indicted former Trump campaign chairman Paul Manafort and deputy campaign manager Rick Gates, Manafort told Gates that it was stupid to plead guilty because he had spoken to the president's personal attorney and they were "going to take care of us."
Gates, who cooperated with Mueller, told investigators that Manafort told him that after speaking with Trump's attorney he thought they should "sit tight" and "we'll be taken care of." Gates added that he asked Manafort outright if anyone mentioned pardons and Manafort said no one used that word.
Meanwhile, Trump discussed with White House aides whether Manafort might be cooperating with the Mueller investigation and whether he knew any information that might be harmful to the president. And despite telling aides he did not like Manafort, Trump repeatedly voiced sympathy for Manafort in public appearances, and he and his advisers made clear they did not want Manafort to "flip" and cooperate with Mueller.
In its analysis, the special counsel writes that there is evidence Trump's actions had the potential to influence Manafort's decision whether to cooperate with the government, as well as the potential to influence the trial jury.
"Evidence concerning the President's conduct towards Manafort indicates that the President intended to encourage Manafort to not cooperate with the government," the report reads.
The report also says, "The President's comments also could have been intended to continue sending a message to Manafort that a pardon was possible." https://www.washingtonpost.com/politics/mueller-report-russia-investigation-findings/2019/04/18/b07f4310-56f9-11e9-814f-e2f46684196e_story.html
8. John Cassidy: Bill Weld's Presidential Run: Finally, a Republican Tells the Truth About Trump
Bill Weld, the Republican former governor of Massachusetts, confirmed that he is challenging Donald Trump in the 2020 G.O.P. primary, thereby insuring that Trump will be the first Oval Office occupant since 1992 to face a primary challenge. With recent opinion polls indicating that more than eight in ten Republican voters approve of Trump's performance, Weld's candidacy is obviously a long shot, as his campaign manager, Stuart Stevens, readily conceded to the Washington Post. But Weld's bid shouldn't be dismissed out of hand. Even if it does fail, it will serve a number of useful purposes.
The very sight of an articulate Republican who hasn't been terrorized into submission going out and making a case against Trump will highlight the woefully supine state of the rest of the Party. By insuring that there will be a contested G.O.P. primary—something the White House was surely keen to avoid—Weld's entry will also preserve the option for more widely known Republican critics of Trump, such as John Kasich or Ben Sasse, to jump in later if they get up the courage. Finally, it insures that there will be fireworks. Despite his languid, upper-class demeanor, Weld is no pushover, and he's already going for the jugular. So far, Trump has ignored his fledgling candidacy. But that won't last. https://www.newyorker.com/news/our-columnists/bill-welds-2020-run-finally-a-republican-tells-the-truth-about-trump

9. The DAILY GRILL
"As the report states: '[T]he investigation did not establish that members of the Trump Campaign conspired or coordinated with the Russian government in its election interference activities." — AG Barr in his March 24 letter. 

VERSUS

Left out was a key statement from Mueller that came right before what Barr quoted in his letter: "Although the investigation established that the Russian government perceived it would benefit from a Trump presidency and worked to secure that outcome, and that the Campaign expected it would benefit electorally from information stolen and released through Russian efforts, the investigation did not establish that members of the Trump Campaign conspired or coordinated with the Russian government in its election interference activities."— Washington Post

 

"The White House fully cooperated with the Special Counsel's investigation, providing unfettered access to campaign and White House documents, directing senior aides to testify freely, and asserting no privilege claims. And at the same time, the President took no act that in fact deprived the Special Counsel of the documents and witnesses necessary to complete his investigation." — AG Barr during the news conference.

VERSUS

This is an astonishing claim. Trump has been attacking Mueller's investigation for two years. Trump declined interview requests from the special counsel and his written answers to questions were deemed "inadequate" by Mueller's team.-- Washington Post

 

"I can speak to my own personal experience, I've heard from countless members of the F.B.I. that are grateful and thankful for the president's decision [to fire Comey]" — Sarah Sanders.

VERSUS

Sanders invented the "countless" F.B.I. employees who'd supposedly e-mailed and texted her to say they'd lost confidence in Comey, i.e. she told a giant lie. This, of course, is not the first time the White House press secretary has stood at the podium and lied to reporters' faces, but it is the first time it's been memorialized in a special counsel report. So . . . congrats? —  Bess Levin in Vanity Fair

 

"He doesn't have to say 'let's obstruct justice' for it to be a crime." — Sen. Lindsey Graham, in 1999, on impeaching President Bill Clinton.

VERSUS

"If the report indicates no collusion found by Mueller, done, over, for me." — Graham, in 2019, after the release of the Mueller report.

 

"I am sickened at the extent and pervasiveness of dishonesty and misdirection by individuals in the highest office of the land, including the president." — Mitt Romney on twitter

VERSUS

"Know what makes me sick, Mitt? Not how disingenuous you were to take Donald Trump's money and then 4 years later jealously trash him and then love him again when you begged to be Secretary of State, but makes me sick that you got the GOP nomination and could have been president." — Former Arkansas Gov. Mike Huckabee

 

The Greatest Political Hoax of all time! Crimes were committed by Crooked, Dirty Cops and DNC/The Democrats. - Donald J. Trump@realDonaldTrump

VERSUS

Mueller's investigation has led to 215 criminal charges, 38 indictments or pleas, and five prison sentences so far. His probe ensnared Trump's business associates, many of whom had become involved in his political career, including his former personal lawyer Michael Cohen and former campaign chairman Paul Manafort. The special counsel's office also unearthed a web of criminality, not always directly related to Russian interference. — Madeleine Carlisle and Olivia Paschal in the Atlantic

 

The Special Counsel did not find any collusion and did not find any obstruction. AG Barr and DAG Rosenstein further determined there was no obstruction. The findings of the Department of Justice are a total and complete exoneration of the President of the United States." — Sarah Sanders@PressSec

VERSUS

As the report makes clear, Mueller & Co. did not exonerate the president on the obstruction-of-justice front. In fact, they laid out 10 examples of possible obstruction. -- Washington Post

 

"There's nothing wrong with taking information from Russians," —  Trump's attorney, Rudy Giuliani 

VERSUS

"The idea that it is OK, separate and apart from it being a criminal offense, that we should be telling future candidates in the run-up to an election in 2020 that if an adversary, a foreign adversary, is offering information against a political opponent, that it's okay and right and proper and American and patriotic, it seems he's saying, to take that information and that's okay -- that's an extraordinary statement and I would hope he would retract it," — US Attorney Preet Bharara commenting on Rudy Giuliani's statement

 

"So here is the grand border wall in Yuma, Arizona," Hunter said in the video, pointing to a waist-high barrier he could easily step over. "This is what we expect to stop people, transnational terrorists, families, all illegal aliens from coming across the border. This is it."
He then did step over the fence and said to the camera, "There you go. That's how easy it is to cross the border in Yuma, Arizona." — Facebook video posted by Rep. Duncan Hunter (R-CA)

VERSUS

No, that wasn't the border, nor did he climb an actual border wall or set foot in Mexico. A Customs and Border Patrol spokesman said the barrier Hunter climbed was a vehicle barrier located in the United States, 75-100 feet from the actual U.S.-Mexico border. -- Rolling Stone
10. From MEDIA MATTERS (They watch Fox News so you don't have to)
Media trumpeted William Barr's spin on the Mueller report (again) -- will they ever learn? Context-free tweets continue to spread administration propaganda. https://www.mediamatters.org/blog/2019/04/18/media-trumpeted-william-barrs-spin-mueller-report-again-will-they-ever-learn/223499

Fox correspondent channeled network's opinion side at Barr's press conference. Catherine Herridge asked Attorney General Barr what Hannity and Fox & Friends have been demanding: When will he investigate the investigators? https://www.mediamatters.org/blog/2019/04/18/fox-correspondent-channeled-network-s-opinion-side-barr-s-press-conference/223500

Fox anchor Bret Baier claims William Barr was "laying it out straight, cut and dry" in press conference prior to Mueller report release. https://www.mediamatters.org/video/2019/04/18/Fox-anchor-Bret-Baier-claims-William-Barr-was-laying-it-out-straight-cut-and-dry-in-press-/223494

Fox's Chris Wallace suggests it's normal for attorneys general to "protect [the president] from getting in trouble." Wallace: "I suspect that the president was pretty pleased with the performance of Bill Barr today and particularly on the issue of obstruction." https://www.mediamatters.org/video/2019/04/18/foxs-chris-wallace-suggests-its-normal-attorneys-general-protect-president-getting-trouble/223493

The Mueller report didn't address collusion, but that's not stopping Fox News from screaming "no collusion." Fox figures and guests have wrongly claimed the report shows "no collusion" over 60 times since its release. https://www.mediamatters.org/blog/2019/04/19/The-Mueller-report-didnt-address-collusion-but-thats-not-stopping-Fox-News-from-screaming-/223524

Geraldo Rivera praises Sean Hannity for acting as Donald Trump's "shield" during Mueller investigation. Rivera: "You are the shield." https://www.mediamatters.org/video/2019/04/19/geraldo-rivera-praises-sean-hannity-acting-donald-trumps-shield-during-mueller-investigation/223526

Fox News gives credence to a nativist vigilante militia that allegedly was plotting to kill prominent liberals. https://www.mediamatters.org/blog/2019/04/23/fox-news-gives-credence-nativist-vigilante-militia-allegedly-was-plotting-kill-prominent-liberals/223542

Tucker Carlson's wild new talking point is that abortion is somehow a tool of "corporate" oppression. https://www.mediamatters.org/blog/2019/04/23/tucker-carlsons-wild-new-talking-point-abortion-somehow-tool-corporate-oppression/223461

Fox's Pete Hegseth calls Alexandria Ocasio-Cortez a "mindless moron" after she resists calls to privatize the VA. Hegseth: "She is a moron, I'm going to say it. No, especially on this issue, she is mindless moron who knows nothing of this topic." https://www.mediamatters.org/video/2019/04/23/foxs-pete-hegseth-calls-alexandria-ocasio-cortez-mindless-moron-after-she-resists-calls-privatize-va/223540

It's been 700 days since Fox said it would investigate how it had come to propagate fact-free conspiracy theories about murdered Democratic National Committee staffer Seth Rich and to "provide updates as warranted." As of yet, the network has not revealed why it put Rich's family through hell by pushing a vicious smear dredged from the right-wing fever swamps, and it probably never will. https://www.mediamatters.org/blog/2019/04/23/it-s-been-700-days-fox-said-it-would-investigate-its-seth-rich-reporting-we-re-still-waiting/223537
11. From the Late Shows
The Late Show with Stephen Colbert: Colbert Gets His Copy Of The Mueller Report: https://youtu.be/7MursWMNONo

The Tonight Show Starring Jimmy Fallon: Jimmy Responds to the Redacted Mueller Report: https://youtu.be/TJZf0JIdqqU

The Late Show with Stephen Colbert: Robert De Niro On Trump: Even Gangsters Have Morals: https://youtu.be/gvBOoAjeN2E
12. Trackback
As the world waited for updates on the Notre Dame fire, conspiracy theories and false reports attempting to create an anti-Muslim narrative started to circulate. For the first episode of "TRACKBACK" by Buzzfeed News go to: https://youtu.be/Xpzh1HO6YIU
13. The Mueller Report (PDF)
https://www.justice.gov/storage/report.pdf
14. Teflon Don: how Trump the mafia boss fought the law … and won
If the tone of these secret conversations, revealed in Mueller's long-awaited report this week, remind you of Tony Soprano – the amoral, brooding, charismatic, philandering, thuggish crime boss in the eponymous TV drama – ordering a hit on one his enemies, you are not alone.
Over 448 pages, Mueller does not present Trump as a traitor but does portray him as a serial liar willing to abuse power, shred norms and bend the rule of law in a White House rotten to the core. Amid this culture of malfeasance and mendacity, trusted lieutenants are expected to demonstrate absolute loyalty, up to and including obstructing justice to save the president's skin. https://www.theguardian.com/us-news/2019/apr/21/teflon-don-trump-mafia-boss-mueller-report-tony-soprano
15. Stephen Moore Wanted Women Banned from Sports
Stephen Moore, who was nominated by President Trump to serve on the Federal Reserve Board, has written that women "should be banned from refereeing, announcing or beer vending at men's college basketball games," asking if there was any area in life "where men can take vacation from women.'
In one column for the National Review, Moore complained about his wife voting for Democrats: "Women are sooo malleable! No wonder there's a gender gap."
In another, he called it a "travesty" that "women now feel free to play with the men." https://www.cnn.com/2019/04/22/politics/stephen-moore-federal-reserve-kfile/index.html
16. The Mueller report makes a damning case about Trump's dishonesty
The Mueller report makes a damning case about Trump's dishonesty: One of the unmistakable takeaways after reading the Mueller report is how the president of the United States wasn't honest with the American public when it came to Russia and the entire Russia probe.
Almost every step of the way – during the campaign, during the investigation itself – the president and his allies weren't being honest with the American people.
And outside of the questions about obstruction of justice and conspiracy/coordination/collusion, isn't this dishonesty one of the biggest storylines out this entire Russia episode? https://www.nbcnews.com/politics/meet-the-press/mueller-report-makes-damning-case-about-trump-s-dishonesty-n996966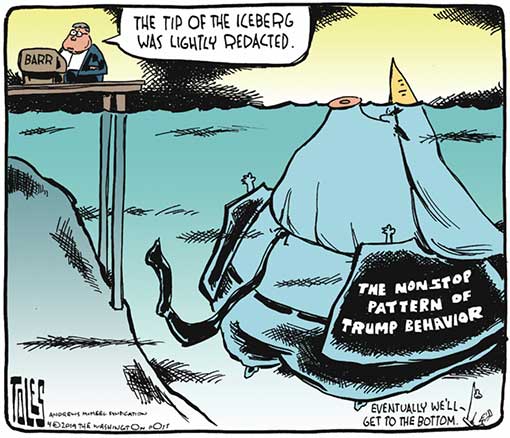 17. Growing number of Americans think environment will be worse for next generation, CBS News poll finds
A new CBS News poll finds 62% of Americans think the environment will be worse for the next generation of Americans, up six points from a year ago.
When asked to grade the U.S. on protecting the environment, few Americans give the U.S. high marks. Most give the country a 'C' at best, including 22% who give a failing grade of 'F.' Back in 2009, just 6% said the U.S. deserved an 'F' for the progress it had made in protecting the environment. https://www.cbsnews.com/news/cbs-news-poll-growing-number-of-americans-think-environment-will-be-worse-for-next-generation/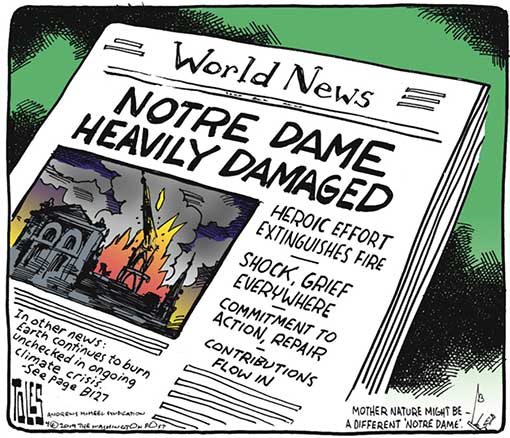 18. VIDEO: What If Fox News Covered Trump the Way It Covered Obama?
19. Inside The Mueller Report, This Man Saw A Photo Of His Dad Being Used By Russians
On Page 31 of the Mueller report, Ronnie Hipshire saw a photo of his father, Lee, a coal miner who died of complications from black lung disease, on a poster for a "Miners for Trump" rally in Pennsylvania. The Russian troll farm had used the photo, without the family's permission, for a pro-Trump poster.
"What I didn't like about seeing this on the Mueller report is them stealing my dad's picture and putting it on a Trump campaign rally," Hipshire said in an interview with NPR's All Things Considered. "My dad was one of the most staunch Democrats that you'll ever see in your life, and he never would have even thought about putting his face on something like that. It just was beyond me to see it." https://www.npr.org/2019/04/21/715765240/inside-the-mueller-report-this-man-found-a-photo-of-his-dad-being-used-by-russia
20. After Mueller report, Twitter bots pushed 'Russiagate hoax' narrative
A network of more than 5,000 pro-Trump Twitter bots railed against the "Russiagate hoax" shortly after the release of special counsel Robert Mueller's report last week, according to data gathered by a prominent disinformation researcher and analyzed by NBC News. The network illustrates the ongoing challenge Twitter faces in persistent efforts to manipulate its platform.
These bots, however, did not appear to come from Russia. Instead, the bots had ties to a social media operation that previously pushed messages backing the government of Saudi Arabia and were connected to a person who claimed to be a private social media consultant, according to internet domain and account registration records. The bots, which were created last November and December, were pulled down by Twitter on Sunday night for breaking the social network's rules against "manipulation," the company said. https://www.nbcnews.com/tech/tech-news/after-mueller-report-twitter-bots-pushed-russiagate-hoax-narrative-n997441
1. Garrett M. Graff: Mueller Makes It Clear: Trump Was Worse Than A 'Useful Idiot'
Mueller paints a detailed, consistent, and compelling portrait, compiled and amassed through both comprehensive documentary evidence and sworn testimony, of a man so immoral that while campaigning to be commander-in-chief he "expected" to benefit from an attack by America's leading traditional adversary, even asking publicly for more help from Russia; a man who promised to "Make America Great Again" but who was so unpatriotic that his campaign fielded numerous inquiries and offers of help from Russia without ever once contacting law enforcement or US intelligence; a man who swore to uphold the Constitution at his inauguration, but was so insecure that despite evidently not even doing anything wrong, his first instinct was to obstruct the justice process repeatedly; a man so narcissistic that he swore to defend the nation from all enemies foreign and domestic, yet his first instinct was not anger at the authoritarian who attacked our democratic process but instead to magnify that attack by lambasting and undermining the professional, career intelligence and law enforcement officials who protect our country; a man so greedy that he lied repeatedly and openly to the American people about how he hoped Vladimir Putin would deliver hundreds of millions of dollars to his personal family business; and a manager so clueless and disrespected that his own senior campaign staff were carrying not one, not two, but three separate, unrelated criminal conspiracies even as they have purported to work on his behalf. 
The Mueller report outlines a portrait of a man completely unsuitable as the protector of the Constitution and arbiter of national security, a leader wholly unable to separate the good of our country from his own business interests, so lacking a moral compass that he would be unfit to lead a publicly traded company or possess a low-level government security clearance.
The bottom line of the Mueller Report is that if Donald Trump wasn't guilty of conspiracy, he was simply conned by everyone around him. To a man as egotistical as Trump, the reality that everyone was in on the con but him might hurt more than Mueller's handcuffs. https://www.wired.com/story/mueller-report-donald-trump-useful-idiot/
2. Abigail Tracy: The "Red Line" Investigations That Will Haunt Trump's Presidency
For Donald Trump, perhaps the most chilling moment in the Mueller report occurs on page 446, where the special counsel reveals that he has referred a total of 14 potential cases to other prosecutors. Because while Robert Mueller was given a limited mandate to investigate the Trump-Russia affair, special counsel investigations have a habit of unearthing other, unrelated criminality in the process. Perhaps that is why, when Trump first learned that Mueller had been appointed, according to the report, he slumped back in his chair and exclaimed, "I'm fucked."
What flashed through Trump's mind in that moment—his sprawling business empire, his byzantine taxes, his hush-money payments to a porn star—is unknown. Indeed, 12 of the 14 referrals that Mueller outsourced were redacted and remain shrouded in secrecy. (The two public referred cases involve Michael Cohen, the president's former fixer, and a false-statement case against Democratic attorney and lobbyist Gregory Craig.)
But, with investigations churning in Congress, in New York, and in Washington, D.C., it is clear that Trump's nightmare is just beginning. https://www.vanityfair.com/news/2019/04/donald-trump-mueller-report-referral-investigations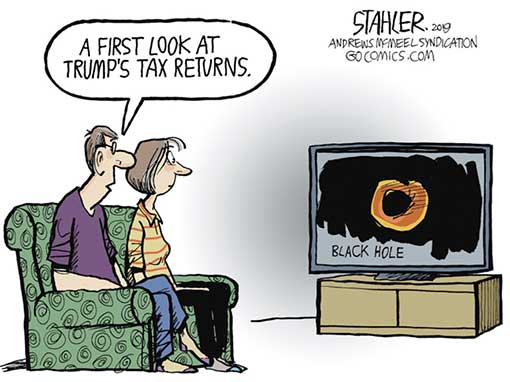 3. Susan Hennessey, Quinta Jurecic: The Mueller Report Demands an Impeachment Inquiry
Here is, as Bill Barr might call it, "the bottom line": The Mueller Report describes, in excruciating detail and with relatively few redactions, a candidate and a campaign aware of the existence of a plot by a hostile foreign government to criminally interfere in the U.S. election for the purpose of supporting that candidate's side. It describes a candidate and a campaign who welcomed the efforts and delighted in the assistance. It describes a candidate and a campaign who brazenly and serially lied to the American people about the existence of the foreign conspiracy and their contacts with it. And yet, it does not find evidence to support a charge of criminal conspiracy, which requires not just a shared purpose but a meeting of the minds.
Here is the other bottom line: The Mueller Report describes a president who, on numerous occasions, engaged in conduct calculated to hinder a federal investigation. It finds ample evidence that at least a portion of that conduct met all of the statutory elements of criminal obstruction of justice. In some of the instances in which all of the statutory elements of obstruction are met, the report finds no persuasive constitutional or factual defenses. And yet, it declines to render a judgment on whether the president has committed a crime.
Now, the House must decide what to do with these facts. If it wants to actually confront the substance of the report, it will introduce a resolution to begin an impeachment inquiry. https://www.lawfareblog.com/mueller-report-demands-impeachment-inquiry
4. Jonathan Chait: Trump Beat the Rap, but Mueller Uncovered a Historic Scandal
It is famously difficult to prosecute the leaders of tight-knit criminal syndicates, which is why known mob bosses can walk the streets as celebrities for years or decades. This is the case even though there are specific laws designed to target the Mafia. Now imagine a mob boss who commands the loyalty of a national party and can hand out get-out-of-jail-free cards to his underlings when they get pinched, and you're beginning to see the difficulty of establishing the kinds of criminal-conspiracy charges Mueller was after.
Trump's defenders have muddled the distinction between the standard of proof required to convict a defendant in court — the standard Mueller was operating under — and the standard of proof in the court of public opinion. When you're charged with a murder, you might beat the rap if the key witnesses recant or mysteriously die right before the trial. You would then be legally entitled to walk free, but your fellow citizens are not required to accept your boasts of exoneration. And they are certainly not required to disavow news reports that described you as a murderer.
Trump beat the rap. But Mueller's report shows in excruciating detail the moral culpability that oozed out of the candidate and covered everybody beneath him. Pending the outcome of a couple of outstanding trials, the Russia investigation is no longer a question of law. It is a question of corruption, of ethics, of politics. http://nymag.com/intelligencer/2019/04/mueller-report-russia-scandal-trump-putin-collusion-obstruction.html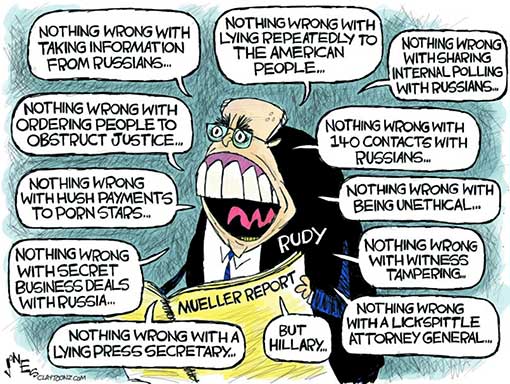 5.  Eric Levitz: Mueller Report Confirms Trump Runs the White House Like It's the Mafia
Donald Trump is running the American government like a business – or, if we're being precise, like a criminal enterprise.
The president's penchant for asking himself, "What would Roy Cohn advise John Gotti to do?" has been clear for some time. Last August, Trump said of the possibility that Michael Cohen would cooperate with Robert Mueller's investigation, "I know all about flipping. It should almost be illegal." Around that same time, the president insisted that his White House counsel, Don McGahn, was not a "a John Dean type 'RAT'" — a reference to President Nixon's lawyer, who testified (truthfully) about his boss's attempts to obstruct justice. And Trump has repeatedly argued that the U.S. attorney general's primary responsibility is to demonstrate unflinching loyalty to the president, as though the federal government was the Mafia and Trump its godfather.
Thus, Robert Mueller's investigation was never going to reveal that the leader of the free world thinks like a mobster, as that was something we already knew. Nevertheless, the special counsel's report does confirm that fact by detailing three previously unreported instances in which the president's behavior was indistinguishable from that of a mafioso. http://nymag.com/intelligencer/2019/04/mueller-report-excerpts-confirm-trump-runs-white-house-like-the-mob.html
6. Bess Levin: Mueller Confirms: Don Jr. Was Too Stupid To Collude
For the entirety of the special counsel's investigation into possible collusion between Russia and the Trump campaign, and obstruction of justice by the president, one question consistently on people's minds was: will Donald Trump Jr. go down for this? It was Donald Trump's namesake, after all, who received an e-mail from British publicist Rob Goldstone on behalf of Russian pop star Emin Agalarov promising dirt on Hillary Clinton—to which he responded "If it's what you say . . . I love it, especially later in the summer"—and, after follow-up calls with Agalarov, set up the infamous Trump Tower meeting in June 2016, attended by Jr., Jared Kushner, campaign manager Paul Manafort, an employee of Russian billionaire Aras Agalarov, Russian lawyer Natalia Veselnitskaya, former Russian counter-intelligence officer Rinat Akhmetshin, and a translator. He also apparently made a big show of telling everyone the Russians were coming, announcing in the regular morning meeting of senior campaign staff and Trump family members that he had "a lead on negative information about the Clinton Foundation" that he was taking a meeting to investigate, according to testimony from Manafort deputy Rick Gates, which makes an appearance on page 115 of the newly released Mueller report.
Obviously, all this only added to the question of Donny's legal liability. In fact, as the redacted report states, the special counsel's office "considered whether to charge Trump Campaign officials with crimes in connection with the June 9 meeting." But luckily for the president's eldest son, he ended up getting off scot-free—not because he hadn't done anything sketchy, but because Robert Mueller concluded he was too stupid to know what he was doing. https://www.vanityfair.com/news/2019/04/mueller-report-confirms-don-jr-too-stupid-to-collude-with-russia
7. Tom Nichols: Mueller report: Donald Trump failed us as commander-in-chief
The President of the United States, like all elected officials and public servants, swears to uphold and defend the Constitution against all enemies. But there is one responsibility the president must bear alone, and that is the obligation to act as the commander in chief, the guardian of our national security and the defender of our nation from malevolent foreign powers. The Mueller report makes clear that Donald Trump has failed miserably in this sacred obligation, and instead has traded his constitutional duty for his own safety.
Mueller's conclusions lay to rest some — but not all — of the legal issues surrounding the Russian attempts to subvert our democratic processes. As the report notes, Mueller's team could not find a specific agreement between the Trump campaign and the Russian government to cooperate in an operation against American institutions.
For this, we should be grateful, but that's about as far as the good news goes.
As a team of writers at Lawfare put it, Trump's people "were aware the Russians sought to help them win. They welcomed that assistance. Instead of warning the American public, they instead devised a public relations and campaign strategy that sought to capitalize on Russia's illicit assistance. In other words, the Russians and the Trump campaign shared a common goal, and each side worked to achieve that goal with basic knowledge of the other side's intention. They just didn't agree to work toward that goal together." https://www.usatoday.com/story/opinion/2019/04/19/mueller-report-trump-commander-in-chief-russia-oath-column/3506216002/
8. Julia Davis: Russia's Mueller Report: If Putin Did It, He Did It for You
Russian state-TV viewers on Thursday were delivered a different conclusion from Robert Mueller's report: Putin always wins. And now everyday Russians are going to win, too.
In the rest of the world, the Justice Department's redacted version of the special counsel's report concluded Moscow interfered in the 2016 presidential election "in sweeping and systematic fashion." He identified numerous links between the Kremlin and the Trump campaign, establishing that "the Russian government perceived it would benefit from a Trump presidency and worked to secure that outcome, and that the campaign expected it would benefit electorally from information stolen and released through Russian efforts."
On Friday, the Kremlin issued a scathing response, feigning disappointment with the investigation's quality, questioning whether it was a waste of taxpayers' money, and falsely claiming the report doesn't contain "a single piece of evidence"of Russian intervention in 2016.
Willfully ignoring Mueller's conclusions, Russian government officials appeared greatly encouraged by the lack of further indictments stemming from the investigation. Parroting President Trump's narrative, state-media outlet RT on Thursday posted the link to Mueller's report, prefaced by: "SPOILER ALERT: No 'collusion'" "Collusion" has no legal definition and is not a federal crime—therefore, the Mueller report did not make a determination on "collusion."
Unburdened by the facts, Russian state-TV hosts and experts were happy to repeat Trump's mantra—"No collusion, no obstruction"—throughout the investigation. https://www.thedailybeast.com/russian-state-tv-spins-mueller-report-if-putin-did-it-he-did-it-for-you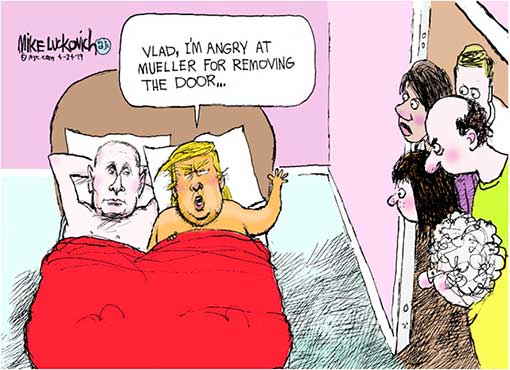 9. Andrew Sullivan: There Was No Russia Conspiracy. But Trump Is More Dangerous Than Ever.
We know that the president will put his personal ego above even an investigation of an assault by a foreign power against our democracy — a threat far graver than lying under oath about an affair or passively covering up a two-bit robbery (the cause of the last two impeachments). It is a declaration that this president will not stop that foreign meddling from happening again, and will be happy if it helps reelect him. This is, quite simply, intolerable. We have a president who is an instinctual criminal and liar, who threatens the integrity of our justice system and of our democratic elections, who is incapable of understanding the rule of law, backed by an attorney general who just outright distorted the findings of the special counsel.
What more do we need to know? To refuse to use the one weapon the Founders gave us to remove such a character from office is more than cowardice. It is complicity. It is a surrender to forces which aim to make the world safe for authoritarianism. It may not work. But if we acquiesce, pretend it isn't happening, or look away, it cannot work. This disgusting man is not just a cancer in the presidency. His presidency is a cancer in our Constitution and way of life. How long do we let this metastasize even further? How long before we take a stand? Mueller has given us the road map. He has done his duty. Now it's our turn to do ours: "to support and defend the Constitution and laws of the United States of America against all enemies, foreign and domestic."
There is no qualification in that oath of citizenship.
Impeach Trump now. http://nymag.com/intelligencer/2019/04/andrew-sullivan-impeach-trump-now.html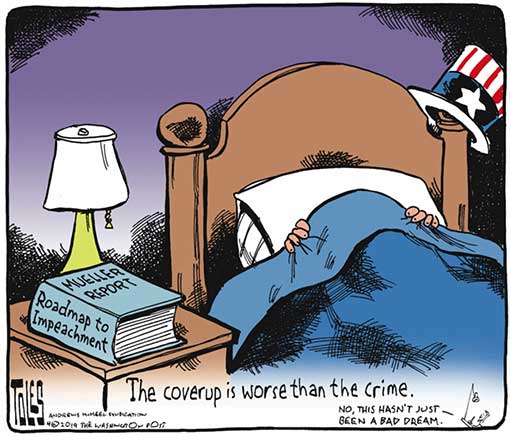 10. Charles M. Blow: Demonizing Minority Women
Last month at an event hosted by the Council on American-Islamic Relations, Representative Ilhan Omar, a Minnesota Democrat and one of the first Muslim women elected to Congress, delivered a speech in which she correctly derided Islamophobia, a real and persistent problem in this country and others.
In that speech, Representative Omar invoked the attacks of Sept. 11, saying the council was created "because they recognized that some people did something and that all of us were starting to lose access to our civil liberties."
Maybe we could judge her use of language as inartful, but we all succumb to that occasionally, me included. Error is inevitable among the loquacious. But the Omar of the speech stands. I saw nowhere in it a thread of terror apologia.
And yet, conservative media has pounced on four of Omar's words — "some people did something" — as just that. Brian Kilmeade, one of the dull and delusional on "Fox & Friends," questioned her patriotism, saying, "You have to wonder if she's an American first."
Donald Trump upped the ante, retweeting a video of Omar saying, "Some people did something," interspersed with the still-chilling video of the 9/11 attacks. Some things should be too sacred to exploit for political gain, but Trump is an amoralist. Nothing is beyond the pale.
While the unrelenting attacks on Omar are newsworthy unto themselves as a conservative peculiarity, I believe that the attacks should be viewed through a wider and longer lens. Omar is only the most recent minority woman onto whom conservatives have trained their fire.
While white supremacy has historically tried to paint minority men as physically dangerous, it has routinely painted minority women, particularly those strong and vocal, as pathological and reprobate.
There is a pattern here. It is expressed not only in the attacks on, and in elevation of, Omar, but also on Representative Alexandria Ocasio-Cortez of New York.
Before them, Trump and his cohorts demonized Representative Maxine Waters, who Trump dubbed "Low I.Q.," and Representative Frederica Wilson of Florida.
The strategy is simple: While sexism and racism are potent individually, they are devastating in combination, particularly when appealing to a party dominated by white men and which exalts white supremacy and white patriarchy.
The only women they truly honor are white women who obsequiously condone or actively participate in the oppression.
All manner of inhumanity and barbarism have been conducted under the guise of protecting the honor and purity of these white women. There are untold rope-burned necks and fully burned bodies in American history to attest to this.
There is a reason that Trump launching his campaign by calling Mexicans murderers and rapists had such resonance among the people who came to support him. https://www.nytimes.com/2019/04/14/opinion/ilhan-omar-minority-women.html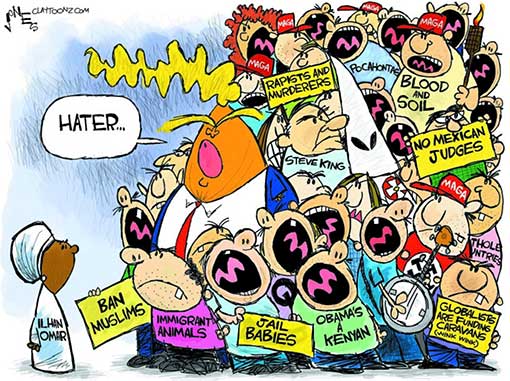 11. Tina Nguyen: Post-Mueller, Are The Conways Sleeping In Separate Rooms?
The Conway household, for better or for worse, has become a metaphor for a nation divided. Though everyone is literally reading the exact same report, people's conclusions heavily depend on where they sit politically. Mainstream media and liberal analyses have focused heavily on the potential obstruction case laid out by Mueller, calling for further investigations, and generally consider the report, as Rachel Maddow put it, a "road map for how to charge this president with multiple felony counts of obstruction of justice." Conservative media, meanwhile, are satisfied with Mueller's finding that the Trump campaign never actively conspired with Russia, or at least that he could not prove anyone did. Any further investigations, the president's allies contend, will just be more witch hunts on steroids, run by Democrats and egged on by journalists whose Russia-gate narrative has broken down. "This is a political document that he should never have written—a political document that's 200 pages long that the press keeps focusing on," commentator Mark Levin bellowed on Fox & Friends Friday morning, later adding: "I'm using plain English, so even Joe Scarborough and Jake Tapper can understand this. Volume II is crap. Volume II was written for slip-and-fall lawyer Nadler, slip-and-fall lawyer Schiff. That's why he wrote it. He knew the media would run with it."
Bifurcated as the media landscape is, it is tempting to see in the continued union of the Conways a sign that perhaps American, too, might survive this moment of political rancor. (If George Conway can brush off his wife's boss calling him a "stone-cold loser", "husband from hell", and a "whack job", and still go home to his family at night, then perhaps there is hope for the rest of us, too. And yet, there is no doubt the country's political marriage is on the rocks as we enter a post-Mueller era that is, perhaps unsurprisingly, just as resistant to reconciliation as before. https://www.vanityfair.com/news/2019/04/kellyanne-george-conways-reactions-mueller-report
12. Paul Waldman: No bottom: Republicans show they'll defend just about anything Trump does
There's a pattern that President Trump has followed many times when accused of wrongdoing. First, deny it. Then, when irrefutable proof emerges that you did it and your denials were lies, insist that there was nothing wrong with it in the first place. That's how he handled the story of his hush-money payments to Stormy Daniels, the fact that he was pursuing a deal to build a tower in Moscow while running for president ("There would have been nothing wrong if I did do it"), and his campaign's attempt to get damaging information on Hillary Clinton from a Russian lawyer ("totally legal and done all the time in politics").
We're seeing it anew. On Sunday, Rudolph W.  went on television and insisted: "There's nothing wrong with taking information from Russians." This was in a context where that "information" was the result of an organized attack allegedly by Russian intelligence agents that included hacking into Democratic email systems.
That's right: The president's lawyer just issued an invitation to any foreign adversary — Russia, China, Iran, North Korea, the Islamic State, anyone — that if they decide that one American presidential candidate would be more favorable to their interests, they should go ahead and hack, spy or use whatever other kind of means they want to employ to sway the election, and their efforts will be welcomed.
That alone is shocking and despicable. But it's just one part of a larger Republican argument, one that says not that Trump did some unfortunate things but nothing that would justify prosecution or impeachment, but instead that he is completely blameless because there is no such thing as unethical conduct if committed by Trump.
As we grapple with the fallout from the Mueller report, this is not only the position Trump and his aides are taking. It's the position of the entire Republican Party, not just for the specific misconduct detailed in the report but for the whole of the Trump presidency. The GOP has embraced utter and complete moral nihilism.
Republicans chose as their leader the single most loathsome figure in American public life, a man possessed of not a single human virtue. He would inevitably call them to descend to the moral void where he resides. And when they did — enthusiastically — they showed us not just who he is, but who they are as well.
https://www.washingtonpost.com/opinions/2019/04/22/no-bottom-republicans-show-theyll-defend-just-about-everything-trump-does/
13.  Max Boot: My former party's reaction to the Mueller report fills me with disgust
Having declared the Republican Party to be morally bankrupt last month — after 90 percent of GOP lawmakers voted to approve President Trump's unconstitutional state of emergency — I am not remotely surprised by the party's dishonorable and dishonest reaction to special counsel Robert S. Mueller III's report. But I am nevertheless dismayed and disgusted that a once-great party — to which I belonged for most of my life — could become a handmaiden to foreign attacks on the United States and blatant lawbreaking by the president.
The pattern was set by Attorney General William P. Barr, an establishment Republican who turned out to be a more unprincipled sycophant than his immediate predecessor, the erstwhile purveyor of toilets for "well-endowed" men. Barr released his own summary of the Mueller report, which was highly favorable to the president — and highly misleading. He then held a news conference to claim that Trump had been cleared on both obstruction of justice and collusion with Russia.
Anyone who has actually read the 448-page report knows that neither of those things is true. Mueller uncovered not only extensive connections between the Trump campaign and Russia but also extensive evidence of lying and obstruction of justice by the president. As former attorney general Eric Holder noted, "ANY competent public corruption prosecutor would bring obstruction charges against Trump and win." Only the Justice Department position that a president can't be indicted saved Trump — for now.
Yet the president's cultists reacted as if the special counsel had anointed him as the second coming of "Honest Abe" Lincoln. "TRUMP CLEAN," blared the front page of Rupert Murdoch's New York Post. "No crimes committed. Dem hoax destroyed." https://www.washingtonpost.com/opinions/2019/04/22/my-former-partys-reaction-mueller-report-fills-me-with-disgust/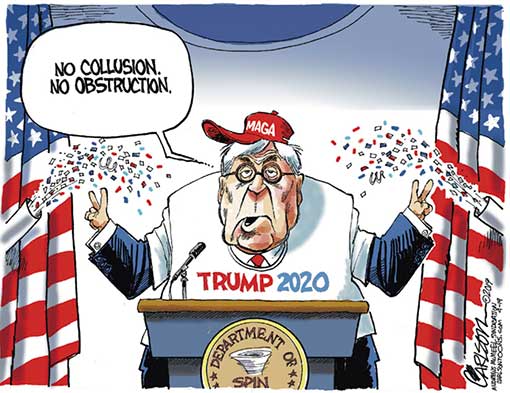 14.  Barbara McQuade: Mueller Exposed Trump's Biggest Betrayal
The most important line in the Mueller report appears in the introduction to Volume I: "The Russian government interfered with the 2016 election in sweeping and systematic fashion." Our president's response has fallen woefully short. And now we know why.
As with all things, Donald Trump made the investigation by special counsel Robert Mueller all about him. But it is about so much more: our national security and the future of our democracy. Trump's failure to protect our country from future attacks is his biggest betrayal.
Mueller has published a detailed accounting of Russia's attack on our presidential election. His report describes how Russia conducted a social-media disinformation campaign and weaponized email messages to sabotage the election. Mueller's description of the Russia attack makes it clear that information warfare is the new battleground.
And yet Trump continues to minimize the threat to our national security. Concerned more about the legitimacy of his presidency than the integrity of future elections, Trump still downplays the Russian attack.
In other words, Trump was more concerned about appearing to have won a decisive victory in the election than about acknowledging and addressing an attack on our country by a foreign adversary.
Trump's reaction to Russia interference will only embolden our adversary for future attacks. His self-absorption prevents him from fulfilling his duty that the laws be faithfully executed. Now that the Mueller investigation is over, and Trump's motives have been exposed, staffers and Congress must play a stronger role in pushing Trump to the side and hardening our election system against attacks.http://nymag.com/intelligencer/2019/04/mueller-exposed-trumps-biggest-betrayal.html
15. Eugene Robinson: Democrats must seize and define this moment. Otherwise, Trump will.
The political case for moving deliberately but fearlessly toward impeachment is even clearer: If timorous Democrats do not seize and define this moment, Trump surely will.
What just happened is that special counsel Robert S. Mueller III delivered a searing indictment of a president who has no idea what "honor" and "integrity" even mean — a president who lies almost pathologically, who orders subordinates to lie, who has no respect for the rule of law, who welcomed Russian interference in the 2016 election, who clumsily tried to orchestrate a coverup , who tried his best to impede a lawful Justice Department investigation and failed only to the extent that aides ignored his outrageous and improper orders.
What Trump claims just happened is a "witch hunt."
Anyone who thinks there is a chance that Trump will lick his wounds and move on has not been paying attention. Having escaped criminal charges — because he is a sitting president — Trump will go on the offensive. With the help of Attorney General William P. Barr, whose title really should be Minister of Spin, the president will push to investigate the investigators and sell the bogus counternarrative of an attempted "coup" by politically motivated elements of the "deep state." https://www.washingtonpost.com/opinions/democrats-must-seize-and-define-this-moment-otherwise-trump-will/2019/04/22/0856c736-652b-11e9-8985-4cf30147bdca_story.html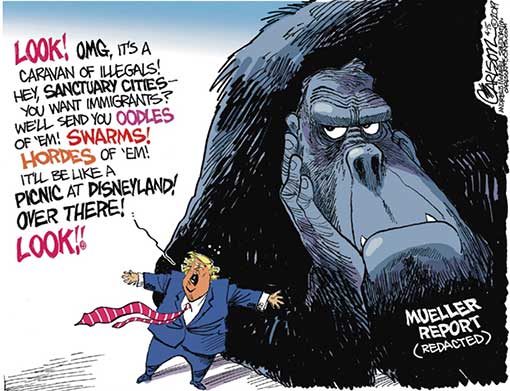 16. Joe Lockhart: There's a Bigger Prize Than Impeachment. Keeping Trump in office will destroy the Republican Party.
For Democrats, leaving Donald Trump in office until the 2020 election is not only good politics — it is the best chance for fundamental realignment of American politics in more than a generation. Mr. Trump is three years into destroying what we know as the Republican Party. Another two years just might finish it off. Trumpism has become Republicanism, and that spells electoral doom for the party.
Mr. Trump has abandoned most of the core principles that have defined Republicans for the past century. Free trade abandoned for protectionism. Challenging our adversaries and promoting democracy replaced by coddling Russia and cozying up to dictators near and far. Fiscal conservatism replaced by reckless spending and exploding deficits.
What's left of the party is a rigid adherence to tax cuts, a social agenda that repels most younger Americans and rampant xenophobia and race-based politics that regularly interfere with the basic functioning of the federal government. https://www.nytimes.com/2019/04/22/opinion/theres-a-bigger-prize-than-impeachment.html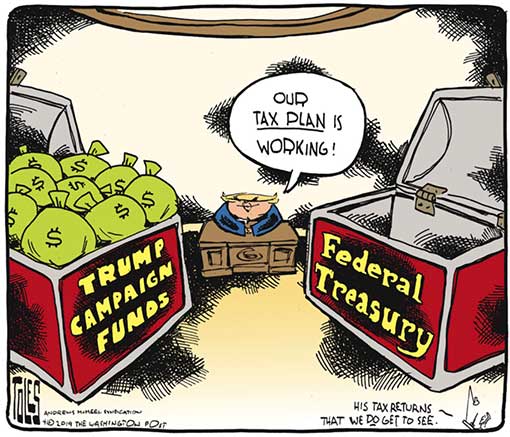 17. Barbara McQuade: Mueller Exposed Trump's Biggest Betrayal
The Mueller report offers insights into Trump's thinking: "Several advisors recalled that the President-Elect viewed stories about his Russian connections, the Russia investigations, and the intelligence community assessment of Russian interference as a threat to the legitimacy of his electoral victory." Former communications director Hope Hicks said that Trump "viewed the intelligence community assessment as his 'Achilles heel' because, even if Russia had no impact on the election, people would think Russia helped him win, taking away from what he had accomplished." Her predecessor, Sean Spicer, "recalled that the President thought the Russia story was developed to undermine the legitimacy of his election." Former deputy campaign chairman Richard Gates "said the President viewed the Russia investigation as an attack on the legitimacy of his win." White House chief of staff Reince Priebus "recalled that when the intelligence assessment came out, the President-Elect was concerned people would question the legitimacy of his win."
In other words, Trump was more concerned about appearing to have won a decisive victory in the election than about acknowledging and addressing an attack on our country by a foreign adversary. http://nymag.com/intelligencer/2019/04/mueller-exposed-trumps-biggest-betrayal.html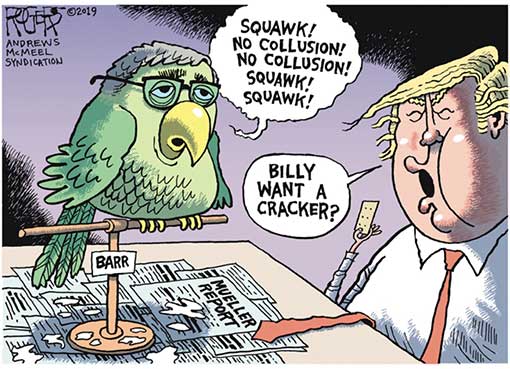 18. Paul Krugman: The Great Republican Abdication
So all the "fake news" was true. A hostile foreign power intervened in the presidential election, hoping to install Donald Trump in the White House. The Trump campaign was aware of this intervention and welcomed it. And once in power, Trump tried to block any inquiry into what happened.
Never mind attempts to spin this story as somehow not meeting some definitions of collusion or obstruction of justice. The fact is that the occupant of the White House betrayed his country. And the question everyone is asking is, what will Democrats do about it?
But notice that the question is only about Democrats. Everyone (correctly) takes it as a given that Republicans will do nothing. Why?
Because the modern G.O.P. is perfectly willing to sell out America if that's what it takes to get tax cuts for the wealthy. Republicans may not think of it in those terms, but that's what their behavior amounts to.
The truth is that the G.O.P. faced its decisive test in 2016, when almost everyone in the Republican establishment lined up behind a man fully known to be a would-be authoritarian who was unfit morally, temperamentally and intellectually for high office. https://www.nytimes.com/2019/04/22/opinion/trump-republican-party.html
19. Eric Levitz: The Biggest Threat to American Democracy in 2020 Will Be Trump, Not Russia
Our president has publicly disputed the integrity of the 2016 and 2018 elections, accusing the Democratic Party of manufacturing millions of fraudulent votes for itself in both those contests. Last fall, he specifically accused his political opponents of trying to orchestrate an "invasion" of the United States by Central American migrants, in a bid to steal the midterm elections with illegal votes.
In other words: A man who boasts the imprimatur of the presidency, and commands the loyalty of 40 percent of the electorate, is routinely telling his followers that they cannot trust the veracity of American election results, because his political opponents are treasonous cheaters who are trying to rob Americans of national sovereignty through undemocratic means.
And we're supposed to be terrified at the specter of anonymous Russian trolls working "to divide Americans using social media?"
Much of the Times report reads like a savage parody of the American tendency to project its internal tensions outward; to insist that all would be well in this shining city on a hill, were it not for those outside agitators. But anyone with a clear set of eyes and a working memory knows that the most pressing threat to our democracy is coming from inside the White House. Our political Establishment's refusal to acknowledge this fact is more dangerous than the president's failure to acknowledge the threat posed by Russian interference — not least because, were it not for the former, Donald Trump would no longer be president. http://nymag.com/intelligencer/2019/04/trump-russia-interference-2020-election-security.html
20. Max Boot: The GOP doesn't have to impeach Trump. But it also doesn't have to nominate him.
I get that Republicans are too cowardly to impeach President Trump — or even criticize him. But are they really proud to have him represent their party in 2020? And, if not, why don't they nominate someone else who is not an ethical and intellectual abomination?
Those questions were salient before special counsel Robert S. Mueller III submitted his report. They are even more urgent now, because, contrary to the propagandistic White House narrative, Mueller did not "clear" Trump. He found unseemly contacts between the Trump campaign and Russia, and he found that Trump attempted to obstruct justice.
But leave aside the important question of whether the president broke the law. (Spoiler alert: he did.) The republic must have a higher standard for its president — and the Republican Party for its nominee — than merely whether it can be proved beyond a reasonable doubt that he has committed any felonies. As now-Sen. Lindsey O. Graham (R-S.C.) said in 1999 when he was a member of the House, "You don't even have to be convicted of a crime to lose your job in this constitutional republic."
Obvious illegality aside, the Mueller report makes a strong case for why Trump should lose his job. https://www.washingtonpost.com/opinions/the-gop-doesnt-have-to-impeach-trump-but-it-also-doesnt-have-to-nominate-him/2019/04/24/902c267a-65fc-11e9-8985-4cf30147bdca_story.html