August 1, 2019
ON THE RECORD. . .
"Let me be clear: capital punishment is immoral and deeply flawed. Too many innocent people have been put to death. We need a national moratorium on the death penalty, not a resurrection." — Kamala Harris on Twitter

"This is a man who if it had been Richard Nixon, wouldn't go after the tapes because it would take too long. And I think that's something that's going to hang over this investigation, hang over Mueller, because he really didn't vigorously pursue it as he might've." — Former Nixon White House counsel John Dean saying that special counsel Robert Mueller not pursuing a subpoena for President Trump was akin to not pursuing the Nixon tapes containing his conversations about the Watergate scandal.

"Our criminal justice system has a long history of mistakes when it comes to capital punishment — especially when it comes to Black and Brown people. We cannot let a broken system decide the fate of incarcerated Americans. I oppose the death penalty." — Elizabeth Warren tweet

"Mueller's testimony should serve as a warning to every member of this body about what could happen in 2020, literally in our next elections. Without updated laws in place requiring a campaign to report contacts like that of Trump-Russia in 2016, it's quite possible that at least one campaign could flirt with foreign intelligence all over again. — Senate Intelligence Committee vice-chairman Mark Warner condemning Republican senator Cindy Hyde-Smith of Mississippi who blocked two election-security bills and a measure regarding cybersecurity for Senate staff.

"Donald Trump is a raging racist, Okay? He's a complete and thoroughgoing racist. And he made that choice, a choice a long time ago, when he was engaged in the housing business in New York with his father. The national Republican Party, has a choice. And a lot of them like to think that it's a political choice. But it's not a political choice. It's a moral choice. Unless the Republican Party in Washington expressly, expressly rejects the racism of Donald Trump, they're going to come to be universally viewed as the party of racism in America." — Former Massachusetts Gov. Bill Weld (R) at the NAACP convention in Detroit.

"The multiple retribution killings at the end of The Godfather." — Boris Johnson's response to a quickfire question about his favorite film scene, dispelling any questions the 11 ministers who were sacked in the space of an hour might have had.

"The issue for Democrats is, are we going to spend all our time talking about impeachment, which we know they can't get him in the Senate I mean he could rob a bank and the Senate would not convict him." — Former Virginia Gov. Terry McAuliffe (D)

'I would fix it fast if I were president!" — Donald Trump in the aftermath of rioting in Baltimore in 2015, criticizing then-President Obama for not doing enough to address Baltimore's problems..

"I'm the least racist person there is anywhere in the world." — Trump, expressing no regrets in over his racist attack Rep. Elijah Cummings (D-MD).

"Trump is a megaphone for white nationalism in the United States. And unfortunately, he is also a megaphone for this kind of autocratic right-wing fascistic-tending pattern throughout the country. People underestimate the danger represented by this presidency." — Democratic presidential candidate Marianne Williamson pointing to Trump's recent attacks against several Democratic minority lawmakers.

"Mitch McConnell is a man that knows less about Russia and Russian influence than even Donald Trump and I know nothing." — Trump defending Senate Majority Leader Mitch McConnell from Dana Milbank's criticism of McConnell for blocking legislation to secure U.S. election systems against attacks by Russia and attempted influence by Russian or other foreign agents.

"I think we need somebody like that in there. We need somebody strong that can rein it in. Because, as I think you've all learned, the intelligence agencies have run amok. They have run amok." — Trump defending his choice of Rep. John Ratcliffe (R-TX) as the next director of national intelligence as someone who could "rein in" intelligence agencies that "have run amok," fueling concerns Trump seeks assessments that support his own views.
---
IN THIS ISSUE
FYI
OPINION
1.  Andy Borowitz: Government Housing Structure Infested with Criminals and Rats
A government-subsidized housing structure has fallen into a dangerous state and has become thoroughly infested with criminals and rats, a leading congressman warned on Saturday.

The building has become "the territory of vicious gangsters who roam freely and consider themselves above the law," Representative Elijah Cummings, a Democrat of Maryland, said.

The congressman added that notorious gang members took over the housing facility in early 2017 and have "spread terror and despair" there ever since.

"People are scared to be there," Cummings said. "Hundreds have fled."

He said that the horrific conditions within the housing complex are one of the nation's worst-kept secrets. "Many of the people who have fled over the past two years have written books about it," he said. "But the criminals continue to run wild."

The congressman said that he was speaking out for the benefit of the residents in his Baltimore, Maryland, district. "I am alarmed that the nation's worst breeding ground for crime is less than fifty miles from Baltimore," he said. https://www.newyorker.com/humor/borowitz-report/
2. ACLU: U.S. has taken nearly 1,000 child migrants from their parents since judge ordered stop to border separations
Lawyers for the American Civil Liberties Union told a federal judge Tuesday that the Trump administration has taken nearly 1,000 migrant children from their parents at the U.S.-Mexico border since the judge ordered the United States government to curtail the practice more than a year ago.
In a lengthy court filing in U.S. District Court in San Diego, lawyers wrote that one migrant lost his daughter because a U.S. Border Patrol agent claimed that he had failed to change the girl's diaper. Another migrant lost his child because of a conviction on a charge of malicious destruction of property with alleged damage of $5. One father, who lawyers say has a speech impediment, was separated from his 4-year-old son because he could not clearly answer Customs and Border Protection agents' questions. https://www.washingtonpost.com/immigration/aclu-us-has-taken-nearly-1000-child-migrants-from-their-parents-since-judge-ordered-stop-to-border-separations/2019/07/30/bde452d8-b2d5-11e9-8949-5f36ff92706e_story.html
3. Trump knocks Fox News after poll shows him losing to Biden by 10 points
Donald Trump renewed his attacks on Fox News on Friday, complaining that the network's pollsters aren't favorable enough to him after claiming the news organization had been "Proud Warriors" for him in the run-up to the 2016 presidential election.
"@FoxNews is at it again. So different from what they used to be during the 2016 Primaries, & before - Proud Warriors! Now new Fox Polls, which have always been terrible to me (they had me losing BIG to Crooked Hillary), have me down to Sleepy Joe," he tweeted, using the nickname he has assigned to former Vice President Joe Biden.
The poll he appears to be referencing shows the president losing a handful of hypothetical matchups against 2020 Democratic front-runners. The national survey said Trump would lose to Biden by 10 percentage points and to Sen. Bernie Sanders by 6 points. It showed him beating Sens. Elizabeth Warren and Kamala Harris, though, by 1 point, slim differences within the poll's margin of error, which is 3 percentage points. https://www.politico.com/story/2019/07/26/trump-fox-news-biden-poll-1437265
4. GOP blocks election security bills after Mueller testimony
Senate Republicans blocked two election security bills and a cybersecurity measure on Wednesday in the wake of former special counsel Robert Mueller warning about meddling attempts during his public testimony before congressional lawmakers. 
 
Democrats tried to get consent to pass two bills that would require campaigns to alert the FBI and Federal Election Commission about foreign offers of assistance, as well as a bill to let the Senate Sergeant at Arms offer voluntary cyber assistance for personal devices and accounts of senators and staff.
 
But Sen. Cindy Hyde-Smith (R-Miss.) blocked each of the bills. She didn't give reason for her objections, or say if she was objecting on behalf of herself or the Senate GOP caucus. 
Hyde-Smith, in a tweet on Thursday, accused Democrats of trying to pass "partisan" bills that had previously been blocked on the Senate floor. 
Democrats cited Mueller as they tried to get consent on Wednesday evening to pass their bills. 
"Mr. Mueller's testimony should serve as a warning to every member of this body about what could happen in 2020, literally in our next elections," said Sen. Mark Warner (D-Va.), the vice chairman of the Senate Intelligence Committee. 
He added that "unfortunately, in the nearly three years since we uncovered Russia's attack on our democracy, this body has not held a single vote on stand-alone legislation to protect our elections." 
Warner tried to get consent to pass the Foreign Influence Reporting in Elections Act by unanimous consent. Under Warner's bill, campaign officials would have to report contacts with foreign nationals who are trying to make campaign donations or coordinate with the campaign to the Federal Election Commission, which would in turn notify the FBI.
"If a foreign adversary tries to offer assistance to your campaign, your response should not be 'thank you.' Your response should be a moral obligation to tell the FBI," he said. 
But Hyde-Smith objected to passing his legislation. Sen. Marsha Blackburn(R-Tenn.) similarly blocked the legislation in June, arguing that it was overly broad. https://thehill.com/blogs/floor-action/senate/454635-gop-blocks-election-security-bills-after-mueller-testimony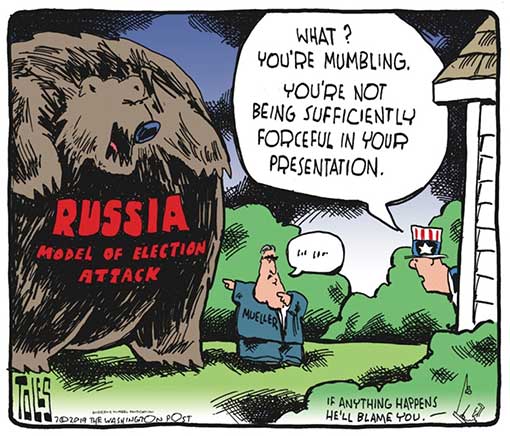 5. Justice Department Won't Prosecute Contempt Citation
In a Wednesday letter to House Speaker Nancy Pelosi, Deputy Attorney General Jeffrey Rosen said the Department of Justice will not prosecute Attorney General William Barr and Commerce Secretary Wilbur Ross for contempt of Congress for failing to answer questions about a possible citizenship question on the 2020 census. 
Rosen cited a "long-standing position" at DOJ that "we will not prosecute an official for contempt of Congress for declining to provide information subject to a presidential assertion of executive privilege."
On July 17, the House of Representatives voted along party lines to hold Barr and Ross in contempt of Congress for defying subpoenas from the House that sought additional information about the Trump administration's effort to include a question about citizenship on the 2020 census. President Donald Trump had asserted executive privilege to keep documents relating to the citizenship question secret.
"The Department has determined that responses by the Attorney General and Secretary of Commerce to the subpoenas issued by the Committee on Oversight and Reform did not constitute a crime." It added that DOJ would not bring the contempt citations before a grand jury or "take any other action to prosecute" Barr and Ross.
He then noted previous instances in which officials in Presidents George W. Bush and Barack Obama's administrations had been held in contempt of Congress and were not prosecuted by the Justice Department for similar reasons. 
It is unclear what steps House Democrats will take next, if any, to continue litigating against the Departments of Commerce and Justice about the census.  https://www.usatoday.com/story/news/politics/2019/07/25/census-justice-department-declines-act-house-contempt-vote/1824609001/
6. Joe Scarborough GOES OFF on 'Moscow Mitch' for 'Aiding and Abetting' Vladimir Putin: 'That Is Un-American

!'

In a nearly seven-minute harangue, the Morning Joe hosed used the dismissive sobriquet "Moscow Mitch" roughly 16 times as he LIT into senior Kentucky senator for what he deemed as "un-American" lack of action on something that many Republican-appointed leaders of the "FBI, CIA, DNI, Intel committee" all agree on.

Scarborough listed numerous findings of Russian interference by Government agencies before following with a derisive "Moscow Mitch calls it a hoax!"

The Morning Joe host then suggested that McConnell may be benefiting from a Russian oligarch's investment in his home state "I understand that there's an oligarch that I have read is going to be setting up a big aluminum plant in Moscow Mitch's home state."

"I don't know if that's it. But how can Moscow Mitch so willingly turn a blind eye not only this year to what his Republican chairman of the Intel committee is saying, to what Robert Mueller is saying what the FBI director is saying what the DNI is saying, to what the CIA is saying, to what the United States military Intel community is saying," he followed, adding "How can they Moscow Mitch keep denying that Vladimir Putin continues to try to subvert American democracy?"

The vexed and fuming host finished by literally yelling "Seriously, he is — he is aiding and abetting Vladimir Putin's ongoing attempts to subvert American democracy according to the Republican FBI, CIA, DNI, Intel committee, all Republicans are all saying Russia is subverting American democracy and Moscow Mitch won't let the Senate take a vote on it. That is un-American."

https://www.mediaite.com/tv/joe-scarborough-goes-off-on-moscow-mitch-for-aiding-and-abetting-vladimir-putin-un-american/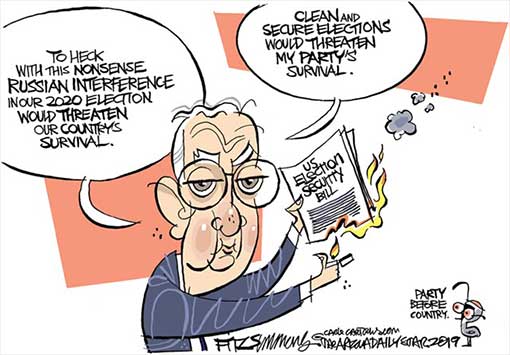 7. How Trump is democratizing toxic stress
"The presidency is supposed to age the president, not the public." And with that Jon Stewart, former host of the Daily Show and comic genius, touched on an overlooked but very serious public health question. 
Is Donald Trump, with his daily Twitter harangues, impulsive and outrageous executive orders, and all around nastiness harming the health of individuals?
Have people become more anxious, edgy, angry, and generally negative because of him?  And, if so, at what point should we be concerned from a public health perspective?
Of course, no studies have yet to be conducted on the public health ramifications of Trump's behavior. Indeed, it would be difficult to isolate and study the broader, population effects of the President's actions and control for other confounding variables such as actual policy changes. But it seems intuitively accurate to think that some subpopulation of the vast number of voters who were left horrified on November 9 might now be experiencing a form of toxic stress. This stress is perpetually aggravated by the belligerent, unpredictable, and sometimes bizarre behavior of the President himself. http://www.scattergoodethics.org/is-president-trump-causing-toxic-stress
8. Kushner owns lots of Baltimore-area apartments. Some are infested with mice
In a now-viral tweetstorm on Saturday, President Trump characterized Rep. Elijah E. Cummings's Baltimore-based congressional district as a "rodent infested mess" where "no human" would want to live.
His criticism rang with a particular irony in Baltimore County, where presidential son-in-law Jared Kushner owns more than a dozen apartment complexes that have been cited for hundreds of code violations and, critics say, provide substandard housing to lower-income tenants.
In 2017, Baltimore County officials revealed that apartments owned by the Kushner firm were responsible for more than 200 code violations, all accrued in the span of the calendar year. Repairs were made only after the county threatened fines, local officials said, and even after warnings, violations on nine properties were not addressed, resulting in monetary sanctions. https://www.washingtonpost.com/local/md-politics/jared-kushner-owns-lots-of-apartments-in-the-baltimore-area-some-infested-with-mice/2019/07/28/0d3cb754-b13b-11e9-8f6c-7828e68cb15f_story.html
9. Russian Hack of Elections System Was Far-Reaching
The Senate Intelligence Committee concluded Thursday that election systems in all 50 states were targeted by Russia in 2016, largely undetected by the states and federal officials at the time, but at the demand of American intelligence agencies the committee was forced to redact its findings so heavily that key lessons for the 2020 election are blacked out.
The report — the first volume of several to be released from the committee's investigation into Russia's 2016 election interference — came just 24 hours after the former special counsel, Robert S. Mueller III, warned that Russia was moving again to interfere "as we sit here."
It also landed hours after Senator Mitch McConnell, the majority leader, personally stepped forward to block consideration of a package of election security bills. https://www.nytimes.com/2019/07/25/us/politics/russian-hack-of-elections-system-was-far-reaching-report-finds.html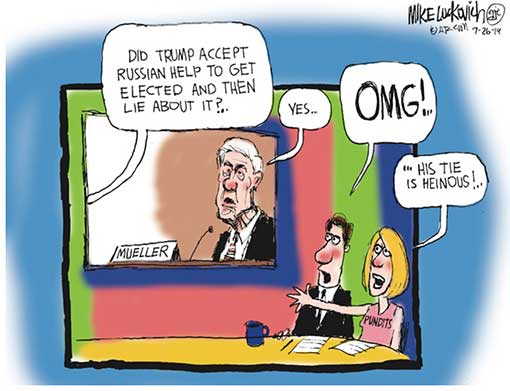 10. Trump denies Mueller said things he actually said during his testimony
Less than two hours after former special counsel Robert S. Mueller III finished six hours of testimony on Capitol Hill, President Trump spoke to the news media about Mueller's testimony.
"There was no defense to this ridiculous hoax, this witch hunt," Trump said less than a minute into his remarks. Except Mueller said it wasn't a "witch hunt" in his testimony, which Trump watched.
Trump called two reporters "fake news" for correctly saying that Mueller said Trump could be indicted after leaving office.
Trump then falsely said Mueller corrected his comments during the second hearing about Trump facing a possible indictment after his presidency. Mueller said only that he reached no conclusion on whether Trump obstructed justice because of the Office of Legal Counsel opinion.
Asked about Mueller suggesting that some of Trump's answers were "untruthful," Trump replied: "He didn't say that at all. … You are untruthful." (Washington Post reporting later clarified Mueller's testimony on this).
Trump said his campaign did nothing wrong. Mueller said Trump's touting of WikiLeaks "calls for investigation."
Trump said WikiLeaks was a hoax. Mueller said it wasn't.
And told that Mueller did not exonerate him, Trump shot back, "He didn't have the right to exonerate."
Four months ago, Trump had a much different view of "exoneration" when he was asked about the completion of Mueller's investigation.
"It's complete exoneration. No collusion. No obstruction." https://www.washingtonpost.com/politics/2019/07/25/watch-trump-deny-mueller-said-things-he-definitely-said/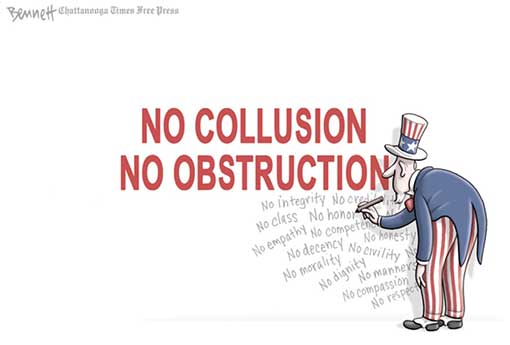 11. 'Moscow Mitch' Tag Enrages McConnell and Squeezes G.O.P. on Election Security
 Senator Mitch McConnell is usually impervious to criticism, even celebrating the nasty nicknames that have been bestowed on him by critics. But Mr. McConnell, the Senate majority leader, is incensed with his new moniker, "Moscow Mitch," and even more miffed that he has been called a "Russian asset" by critics who accuse him of single-handedly blocking stronger election security measures after Russia's interference in the 2016 election.
Criticism of McConnell for impeding a number of election proposals has taken hold — even back home in Kentucky, where the majority leader faces re-election next year.
"Democrats want more aggressive legislation to protect America's elections after Robert Mueller's stark warning about Russian interference," began one report aired on a Louisville television station last week. "Mitch McConnell blocked it."
Mr. McConnell said Monday that he would not be intimidated into acting on election interference.
He also will probably not be answering his phone "Moscow Mitch." https://www.nytimes.com/2019/07/30/us/politics/moscow-mitch-mcconnell.html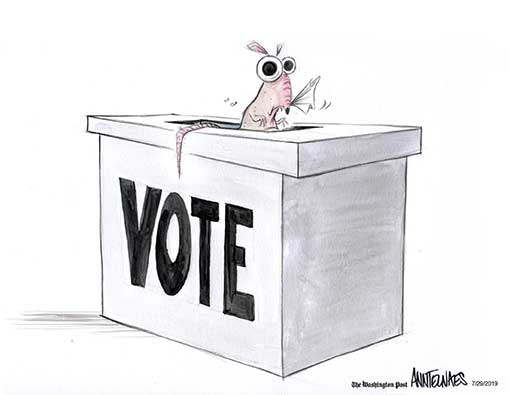 12. From the DAILY GRILL
Rep, Elijah Cummings has been a brutal bully, shouting and screaming at the great men & women of Border Patrol about conditions at the Southern Border, when actually his Baltimore district is FAR WORSE and more dangerous. His district is considered the Worst in the USA..........As proven last week during a Congressional tour, the Border is clean, efficient & well run, just very crowded. Cumming District is a disgusting, rat and rodent infested mess. If he spent more time in Baltimore, maybe he could help clean up this very dangerous & filthy place. —Donald J. Trump@realDonaldTrump, echoing Fox News

VERSUS

While we would not sink to name-calling in the Trumpian manner — or ruefully point out that he failed to spell the congressman's name correctly (it's Cummings, not Cumming) — we would tell the most dishonest man to ever occupy the Oval Office, the mocker of war heroes, the gleeful grabber of women's private parts, the serial bankrupter of businesses, the useful idiot of Vladimir Putin and the guy who insisted there are "good people" among murderous neo-Nazis that he's still not fooling most Americans into believing he's even slightly competent in his current post. Or that he possesses a scintilla of integrity. Better to have some vermin living in your neighborhood than to be one. — Baltimore Sun Editorial Board

 

"I have known Al for 25 years. Went to fights with him and Don King, always got along well. He 'loved Trump!' He would ask me for favors often. Al is a con man, a troublemaker, always looking for a score. Just doing his thing." -- Donald Trump widened his war on critics, denouncing the Rev. Al Sharpton as "a con man" who "Hates Whites & Cops!,"

VERSUS

"Trump says I'm a troublemaker and con man. I do make trouble for bigots. If he really thought I was a con man he would want me in his cabinet." — Rev. Al Sharpton responds.
Fact-checking lawmakers' claims during the Mueller hearings:
"That team of Democrat investigators you hired donated more than $60,000 to the Hillary Clinton campaign and other Democratic candidates." — Rep. Mike Johnson (R-La.)

VERSUS

While Johnson noted $60,000 in donations to "Clinton and other Democrats," by our count, contributions amounting to only about $10,900 were made directly to Clinton during her presidential runs. About half of that amount came just from Jeannie Rhee, who joined the team from Mueller's law firm, Wilmer Hale; she donated a total of $5,400 to Clinton's campaign in 2015 and 2016. At WilmerHale, Rhee was a partner on the defense team representing the Clinton Foundation in a lawsuit over Clinton's use of her private email server. -- Salvador Rizzo and Glenn Kessler

 

"President Trump cooperated fully with the investigation. — Rep. Mike Johnson (R-LA)

VERSUS

This Republican talking point crosses the line from spin to fiction. An entire volume of Mueller's report covers multiple episodes of potential obstruction of justice, including:

(1) Trump declined to sit for an interview with Mueller's team despite multiple requests. The president's written answers to questions were deemed insufficient, according to the report. Mueller indicated in response to Rep. Val Demings (D-Fla.) at a House Intelligence Committee hearing that Trump's written responses were untruthful in at least some cases.

(2) Several Trump advisers or campaign officials gave false or incomplete testimony, including Michael Cohen, Michael Flynn, Paul Manafort and George Papadopoulos, according to the report and subsequent criminal charges. "Those lies materially impaired the investigation of Russian election interference," the Mueller report says.

(3) Some witnesses asserted their Fifth Amendment right against self-incrimination and declined to answer questions, according to the Mueller report. Another "practical limit" was the fact that "numerous witnesses and subjects lived abroad, and documents were held outside the United States."

(4) Further, the Office learned that some of the individuals we interviewed or whose conduct we investigated — including some associated with the Trump Campaign — deleted relevant communications or communicated during the relevant period using applications that feature encryption or that do not provide for long-term retention of data or communications records. In such cases, the Office was not able to corroborate witness statements through comparison to contemporaneous communications or fully question witnesses about statements that appeared inconsistent with other known facts. -- Salvador Rizzo and Glenn Kessler
13. From MEDIA MATTERS (They watch Fox News so you don't have to)
House Republicans used their question time during Wednesday's congressional hearings with former special counsel Robert Mueller to echo Fox News disinformation about the investigation into Russia's interference with the 2016 presidential election. https://www.mediamatters.org/blog/2019/07/24/house-republicans-run-foxs-disinformation-campaign-mueller-questions/224312

President Donald Trump recently invoked a conspiracy theory alleging that Rep. Ilhan Omar (D-MN) married her brother. The smear, which relies on "Pizzagate-levels of delusion," is similar to the birther conspiracy theory that targeted former President Barack Obama. It has spread over the past three years on message boards, right-wing sites, social media, and Fox News, along with the help of a Trump campaign surrogate and a number of far-right figures, one of whom directly took credit for Trump invoking the conspiracy theory. https://www.mediamatters.org/research/2019/07/25/A-baseless-smear-targeting-Ilhan-Omar-made-its-way-to-Trump-thanks-to-Fox-and-these-far-ri/224319

Fox host: Reports of poor conditions in immigration detention centers are "a total misinformation campaign to make the president look bad." https://www.mediamatters.org/video/2019/07/28/fox-host-reports-poor-conditions-immigration-detention-centers-are-total-misinformation-campaign/224340

Rush Limbaugh assures Fox & Friends that Trump is not a racist. Limbaugh: "The president is not a racist, he didn't say anything racist, he didn't call anybody -- well, he called [Rep. Elijah] Cummings a racist." https://www.mediamatters.org/video/2019/07/29/rush-limbaugh-assures-fox-friends-trump-not-racist/224343

Rep. John Ratcliffe loves Fox's Mueller conspiracy theories. Trump wants him to oversee U.S. intelligence. https://www.mediamatters.org/blog/2019/07/29/rep-john-ratcliffe-loves-foxs-mueller-conspiracy-theories-trump-wants-him-oversee-us-intelligence/224345

New Interior Department senior adviser Christian Palich is a climate denier and former coal group president. https://www.mediamatters.org/blog/2019/07/30/new-interior-department-senior-adviser-christian-palich-climate-denier-and-former-coal-group/224357
14. From the Late Shows
Stephen Colbert's LIVE Monologue Part 1: A Whole Lot Of Delaney Fans: https://youtu.be/7mt_oVXyidM

Stephen Colbert's LIVE Monologue Part 2: Hands In The Air: https://youtu.be/7mt_oVXyidM

CNN's Democratic Debate, Night One: A Closer Look: https://youtu.be/3RzTKfVek1c

Mueller Says Trump Wasn't Exonerated, Could Be Charged After Leaving Office: A Closer Look: https://youtu.be/KoF8h7Pfn_g

The Late Show with Stephen Colbert: Robert Mueller: This Investigation Was Not A Witch Hunt: https://youtu.be/VY07MoXYoCs

So Much News, So Little Time: U.K.'s New PM, Big Apple Floods & NY's New Claw Law | The Show: https://youtu.be/4Hs9zPuuRXs

Boris Johnson: Last Week Tonight with John Oliver (HBO): https://youtu.be/dXyO_MC9g3k

During the D.L. Hughley Show the host and his panel discuss the question: "Could you be friends with a staunch Trump supporter?"  https://www.mrctv.org/videos/dl-hughley-slams-trump-supporters-vacant-human-beings-worse-devil-worshipers and https://www.mrctv.org/videos/dl-hughley-slams-anti-semitic-subhuman-trump-supporters
15. We don't have 12 years to save the climate. We have 14 months
Scientific reality makes clear that the only plausible way to preserve a livable climate — and hence modern civilization — starts with aggressive national and global cuts in carbon pollution by 2030.
But political reality makes clear that such cuts can't happen instantly — and that global action requires leadership from the United States. After all, the U.S. is the richest country in the world and the biggest cumulative source of heat-trapping emissions over the past century.
With eight years of a pro-science president, Barack Obama, the nation made steady progress on reducing emissions and committing to future reductions, enabling a global climate deal in Paris in 2015. But with just two and a half years of an anti-science administration, national and global progress have both stalled under President Donald Trump, who has begun to abandon the Paris Accord and undermine action here and abroad.
That means November 3, 2020 — the U.S. presidential election — is the deadline for Americans who do not want to destroy the health and well-being of current generations, their children, and future generations. If Trump is reelected, the prospects for the necessary national and global cuts in carbon pollution by 2030 will be gone. https://thinkprogress.org/we-dont-have-12-years-to-save-the-climate-we-have-14-months-71401316dbc4/
16. 83 Environmental Rules Being Rolled Back Under Trump
President Trump has made eliminating federal regulations a priority. His administration, with help from Republicans in Congress, has often targeted environmental rules it sees as burdensome to the fossil fuel industry and other big businesses.
A New York Times analysis, based on research from Harvard Law School, Columbia Law School and other sources, counts more than 80 environmental rules and regulations on the way out under Mr. Trump.
Our list represents two types of policy changes: rules that were officially reversed and rollbacks still in progress. The Trump administration has released an aggressive schedule to try to finalize many of these rollbacks this year.
The Trump administration has often used a "one-two punch" when rolling back environmental rules, said Caitlin McCoy, a fellow in the Environmental and Energy Law Program at Harvard Law School who tracks regulatory rollbacks. "First a delay rule to buy some time, and then a final substantive rule."
But the process of rolling back regulations has not always been smooth. In some cases, the administration has failed to provide a strong legal argument in favor of proposed changes or agencies have skipped key steps in the rulemaking process, like notifying the public and asking for comment. In several cases, courts have ordered agencies to enforce their own rules.
All told, the Trump administration's environmental rollbacks could significantly increase greenhouse gas emissions and lead to thousands of extra deaths from poor air quality every year, according to a recent report prepared by New York University Law School's State Energy and Environmental Impact Center. https://www.nytimes.com/interactive/2019/climate/trump-environment-rollbacks.html
17. Republicans sue to block Michigan redistricting commission
Republicans are suing to stop Michigan's new citizen redistricting commission before it begins, alleging the voter-approved amendment is "blatantly unconstitutional" and discriminates against participants based on political service or family ties.
The amendment to the Michigan Constitution prohibits participation by anyone who in the last six years was a partisan candidate, elected official, political appointee, lobbyist, campaign consultant and officer or member of the governing body of a political party.
It also excludes a parent, child or spouse of any of those individuals.
https://www.detroitnews.com/story/news/politics/2019/07/30/republicans-sue-block-michigan-redistricting-commission/1860829001/
18. Quinnipiac University National Poll: Half Of U.S. Voters Say Trump Is Racist
President Donald Trump is racist, American voters say 51 - 45 percent in a Quinnipiac University National Poll released today. 
White voters are divided as 46 percent say he is racist and 50 percent say he is not, the independent Quinnipiac University National Poll finds. Trump is racist black voters say 80 - 11 percent and Hispanic voters say 55 - 44 percent. Men say 55 - 41 percent that Trump is not racist. Women say 59 - 36 percent he is racist. 
"While half of voters think President Donald Trump is racist, religion shows an even bigger divide. Only 21 percent of white Evangelicals believe the President is racist. Compare that to 63 percent of voters who don't affiliate with any organized religion. 
But 49 percent of American voters say President Trump's immigration policies are motivated by "a sincere interest in controlling our borders," while 41 percent say his immigration policies are motivated by "racist beliefs." https://poll.qu.edu/national/release-detail
19. Some officials fear Trump will get the intelligence he wants, not the intelligence he needs, from DNI pick
Trump's plan to nominate a political ally as director of national intelligence was seen by current and former officials as a move to subdue spy agencies that he has long regarded as disloyal, and silence one of the few pockets of occasional dissent in his administration.
Trump began attacking U.S. spy agencies almost from the moment he declared his candidacy, and since taking office he has routinely rejected analysts' conclusions on issues including Russian election interference, the murder of a Saudi journalist and more.
Now, with the choice of Rep. John Ratcliffe (R-Tex.) to serve as the nation's next spy chief — and Attorney General William P. Barr already entrenched at the Justice Department — Trump is poised to seize greater control over the two pillars of government that he perceives as most hostile to his presidency. https://www.washingtonpost.com/national-security/some-officials-fear-trump-will-get-the-intelligence-he-wants-not-the-intelligence-he-needs-from-nominee/2019/07/29/8423287c-b234-11e9-951e-de024209545d_story.html
20. The first Mueller TV ad
Democratic ad-maker Mark Putnam has cut the first paid ad from the hearings, funded by Tom Steyer's Need to Impeach, a spot that's going to grab many eyeballs in the coming days. The group is spending in the mid-six figures to air the ad on CNN and MSNBC before and after the second presidential debate (which airs tonight and Wednesday night on CNN live from Detroit). Needless to say, this is prime time for millions of politically active TV viewers. Watch the ad at https://youtu.be/CD-Y2YxQzo0
21. The Fed's real message: Save the economy from Trump
Central bank officials are expected to cut interest rates for the first time since the global financial crisis not because Trump demanded it. Instead, they will move in part because the president's bruising trade policy has helped fuel a global manufacturing slowdown and injected deep uncertainty into executive suites around the world.
Fed Chairman Jerome Powell won't directly say it directly after his meetings Tuesday and Wednesday. But the central bank will reverse course at least in part to save the Trump economy from Trump.
https://www.politico.com/story/2019/07/30/powell-trump-trade-interest-rates-1625961
22. 'Looking for a reason to attack': How Trump seized on a Fox News broadcast to go after Cummings
Trump was particularly incensed when Rep. Cummings lambasted Trump's acting head of Homeland Security over reports from the border of "a child is sitting in their own feces, can't take a shower."
"None of us would have our children in that position," Cummings said during a hearing earlier this month.
"They are human beings."
Trump, one senior White House official said, "was looking for a reason to attack."
For Trump, that reason came shortly after 6 a.m. Saturday morning, when Kimberly Klacik, a Baltimore area Republican who is black, appeared on "Fox & Friends" talking about video footage she had taken depicting Cummings's district as overrun by trash and blight. 
Almost exactly an hour later, the president weighed in with tweets calling Cummings's district "a disgusting, rat and rodent infested mess," saying that "no human being would want to live there" and dubbing the congressman "a brutal bully."
"He then went to his golf course." https://www.washingtonpost.com/politics/looking-for-a-reason-to-attack-how-trump-seized-on-a-fox-news-broadcast-go-after-cummings/2019/07/29/7dd33f38-b21c-11e9-951e-de024209545d_story.html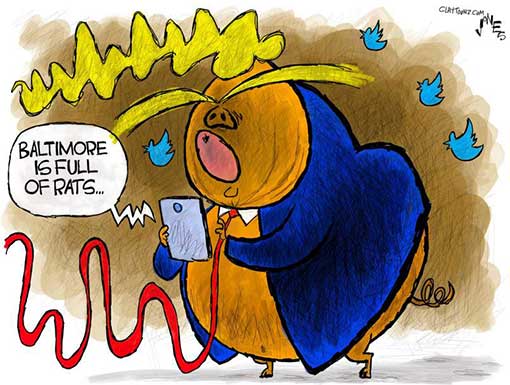 23. Are Democrats Moving Too Far Left?
So far, a new HuffPost/YouGov poll finds, the answer is no. Views of the Democratic Party, in fact, haven't really budged in more than four years. The share of Americans calling the Democrats 'too extreme,' which stood at 41% in November 2014, now stands at an identical 41%, with only minimal fluctuation in the interim. https://www.huffpost.com/entry/democratic-party-extreme-poll_n_5d406829e4b01d8c97822322
24. National Cathedral Says Trump's Rhetoric Is Dangerous
The Washington National Cathedral warned in a statement that President Trump's words "give cover to white supremacists."
Make no mistake about it, words matter. And, Mr. Trump's words are dangerous.
These words are more than a "dog-whistle." When such violent dehumanizing words come from the President of the United States, they are a clarion call, and give cover, to white supremacists who consider people of color a sub-human "infestation" in America. They serve as a call to action from those people to keep America great by ridding it of such infestation. Violent words lead to violent actions.
When does silence become complicity? What will it take for us all to say, with one voice, that we have had enough? The question is less about the president's sense of decency, but of ours. https://cathedral.org/have-we-no-decency-a-response-to-president-trump.html
1. Charles M. Blow: The Rot You Smell Is a Racist Potus
It seems maddeningly repetitive to have to return time and again to the fact that Donald Trump is a racist, but it must be done. It must be done because it is a foundational character issue, one that supersedes and informs many others, in much the same way that his sexism and xenophobia do.
On Saturday, Trump tweeted that Representative Elijah Cummings's district "is a disgusting, rat and rodent infested mess," a "very dangerous & filthy place" and "No human being would want to live there." Cummings is black, as are most people in his district.
This talk of infestation is telling, because he only seems to apply it to issues concerning black and brown people. He has sniped about the "Ebola infested areas of Africa." He has called Congressman John Lewis's Atlanta district "crime infested" as well as telling him to focus on "the burning and crime infested inner-cities of the U.S." He has called sanctuary cities a "crime infested & breeding concept." He has talked about how "illegal immigrants" will "pour into and infest our Country." He has called the presence of the MS-13 gang members "in certain parts of our country" an "infestation."
None of this is about crime as a discrete phenomenon, but rather about inextricably linking criminality to blackness. White supremacy isn't necessarily about rendering white people as superhuman; it is just as often about rendering nonwhite people as subhuman. Either way the hierarchy is established, with whiteness assuming the superior position.
Trump is a racist. Say that out loud. Say it with the profundity that it deserves. That to me is the beginning and the ending of the rationale I need to stand steadfast in my resistance. https://www.nytimes.com/2019/07/28/opinion/trump-racist-baltimore.html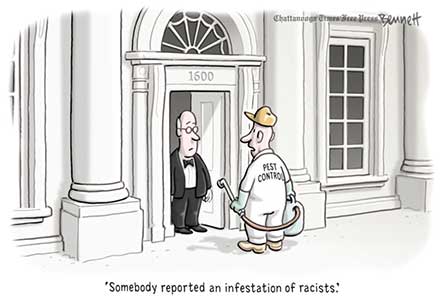 2. Jonathan Capehart: In Trump's America, the 'basket of deplorables' is overflowing
"You know, to just be grossly generalistic, you could put half of Trump's supporters into what I call the basket of deplorables. Right? The racist, sexist, homophobic, xenophobic, Islamophobic — you name it. And unfortunately there are people like that. And he has lifted them up," Hillary Clinton said at a New York fundraiser in September 2016. More than two years and countless bigoted episodes into the Trump presidency with nary a moment of accountability for them, it turns out Clinton was wrong: It's more than half. And if you don't think it is, if you think I'm being overly harsh or painting with too broad a brush, if you are a Republican who has stood up publicly and consistently against the hate and division coming from Trump and his administration, then I eagerly await your receipts. If you have none, this is your time to speak out. https://www.washingtonpost.com/opinions/2019/07/28/trumps-america-basket-deplorables-is-overflowing/
3. Philip Bump: Robert Mueller kneecaps President Trump's no collusion, no obstruction mantra
"Director Mueller," Judiciary Chairman Jerrold Nadler asked, "the president has repeatedly claimed that your report found there was no obstruction and that it completely and totally exonerated him, but that is not what your report said, is it?"
"Correct," Mueller replied. "That is not what the report said."
Nadler quoted from a section of the report in which Mueller's team wrote that it would have exonerated Trump on the question of obstruction if it could. But, the report says, it couldn't.
"So the report did not conclude that he did not commit obstruction of justice, is that correct?" Nadler asked.
"That is correct," Mueller replied.
"And what about total exoneration? Did you totally exonerate the president?" Nadler continued.
"No," Mueller said.
"Does your report state there is sufficient factual and legal basis for further investigation of potential obstruction of justice by the president?" Rep. Sheila Jackson Lee (D-Tex.) later asked.
"Yes," Mueller replied.
https://www.washingtonpost.com/politics/2019/07/24/robert-mueller-kneecaps-president-trumps-no-collusion-no-obstruction-mantra/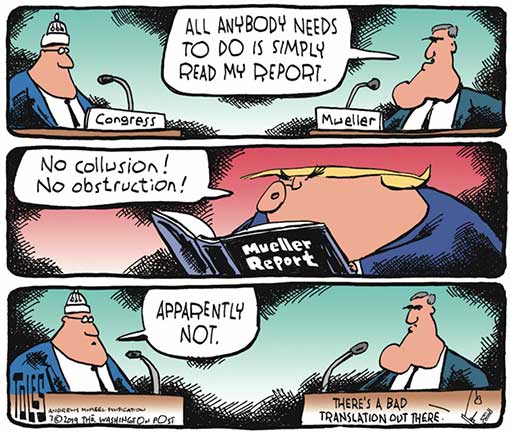 4. Dana Milbank: Mitch McConnell is a Russian asset
This doesn't mean he's a spy, but neither is it a flip accusation. Russia attacked our country in 2016. It is attacking us today. Its attacks will intensify in 2020. Yet each time we try to raise our defenses to repel the attack, McConnell, the Senate majority leader, blocks us from defending ourselves.
On Thursday, the Senate Intelligence Committee released a bipartisan report finding that "Russian activities demand renewed attention to vulnerabilities in U.S. voting infrastructure."
The committee concluded that "urgent steps" are needed "to replace outdated and vulnerable voting systems." (The $380 million offered since 2016 is a pittance compared with the need.) "Despite the expense, cybersecurity needs to become a higher priority for election-related infrastructure," the report concluded.
But one man blocks it all — while offering no alternative of his own.
Presumably he thinks whatever influence Russia exerts over U.S. elections will benefit him (he's up for reelection in 2020) and his party.
"Shame on him," Schumer said on the Senate floor this week.
But McConnell has no shame. He is aiding and abetting Putin's dismantling of Americans' self-governance. A leader who won't protect our country from attack is no patriot. https://www.washingtonpost.com/opinions/mitch-mcconnell-is-a-russian-asset/2019/07/26/02cf3510-afbc-11e9-a0c9-6d2d7818f3da_story.html
5. Baltimore Sun Editorial Board: Better to have a few rats than to be one
It's not hard to see what's going on here. The congressman has been a thorn in this president's side, and Mr. Trump sees attacking African American members of Congress as good politics, as it both warms the cockles of the white supremacists who love him and causes so many of the thoughtful people who don't to scream. President Trump bad-mouthed Baltimore in order to make a point that the border camps are "clean, efficient & well run," which, of course, they are not — unless you are fine with all the overcrowding, squalor, cages and deprivation to be found in what the Department of Homeland Security's own inspector-general recently called "a ticking time bomb."
In pointing to the 7th, the president wasn't hoping his supporters would recognize landmarks like Johns Hopkins Hospital, perhaps the nation's leading medical center. He wasn't conjuring images of the U.S. Social Security Administration, where they write the checks that so many retired and disabled Americans depend upon. It wasn't about the beauty of the Inner Harbor or the proud history of Fort McHenry. And it surely wasn't about the economic standing of a district where the median income is actually above the national average. No, he was returning to an old standby of attacking an African American lawmaker from a majority black district on the most emotional and bigoted of arguments. It was only surprising that there wasn't room for a few classic phrases like "you people" or "welfare queens" or "crime-ridden ghettos" or a suggestion that the congressman "go back" to where he came from.
This is a president who will happily debase himself at the slightest provocation. And given Mr. Cummings' criticisms of U.S. border policy, the various investigations he has launched as chairman of the House Oversight Committee, his willingness to call Mr. Trump a racist for his recent attacks on the freshmen congresswomen, and the fact that "Fox & Friends" had recently aired a segment critical of the city, slamming Baltimore must have been irresistible in a Pavlovian way. Fox News rang the bell, the president salivated and his thumbs moved across his cell phone into action. https://www.baltimoresun.com/opinion/editorial/bs-ed-0728-trump-baltimore-20190727-k6ac4yvnpvcczlaexdfglifada-story.html
6. Rod Schoonover: The White House Blocked My Report on Climate Change and National Security
The White House blocked the submission of my bureau's written testimony on the national security implications of climate change to the House Permanent Select Committee on Intelligence. The stated reason was that the scientific foundation of the analysis did not comport with the administration's position on climate change.
The bottom line of written testimony was this: "Climate change will have wide-ranging implications for U.S. national security over the next 20 years." In developing this assessment, I drew from peer-reviewed scientific studies and findings of the government's own scientists. This conclusion was hardly new. The intelligence community has repeatedly warned of the dangers that climate change poses to national security. Earlier this year, for instance, Dan Coats, the director of national intelligence, warned in the annual "Worldwide Threat Assessment" that, "Global environmental and ecological degradation, as well as climate change, are likely to fuel competition for resources, economic distress, and social discontent through 2019 and beyond." (On Sunday, President Trump announced that Mr. Coats would step down shortly, to be replaced by one of his biggest defenders, Representative John Ratcliffe, a Texas Republican.)
In blocking the submission of the written testimony, the White House trampled not only on the scientific integrity of the assessment but on the analytic independence of an arm of the intelligence community. That's why I recently resigned from the job I considered a sacred duty, and the institution I loved. https://www.nytimes.com/2019/07/30/opinion/trump-climate-change.html
7. Zak Cheney-Rice: The Death Penalty Is Already a Farce. William Barr's Plan Might Make It Torturous
The message was clear in Thursday's announcement that the Justice Department plans to execute five prisoners by early 2020: The Trump administration is willing to pursue extreme measures to inflict pain on those it deems deserving. Attorney General William Barr's plan ends an informal 16-year federal moratorium on executing those sentenced to death. "The Justice Department upholds the rule of law — and we owe it to the victims and their families to carry forward the sentence imposed by our justice system," Barr said of the about-face.
The federal government has declined to execute any death-row inmates since 2003. Eric Holder, the AG under President Obama, personally opposed the practice and refused to pursue it even as he allowed his attorneys to seek capital punishment at trial. Barr is different. In its proclamation, his DOJ lists the men slated to die in December and January and outlines their crimes in excruciating detail. The acts described are indeed gruesome: Daniel Lewis Lee, Lezmond Mitchell, Wesley Ira Purkey, Alfred Bourgeois, and Dustin Lee Honken were each found guilty of murder, in some cases involving rape or child abuse, sometimes with multiple victims.
In spite of these examples, public opinion is aligned against capital punishment at higher rates today than at almost any other point since the mid 1990s, according to the Pew Research Center, reflecting a downward trend in support spanning a quarter-century. Still, 54 percent of Americans favor it, compared with 39 percent who oppose it. It's unlikely that enough would lose sleep over these five executions to shift majority sentiment, let alone prompt the DOJ to reconsider its decision in the next few months. But capital punishment in America remains a farce. There's no evidence that it deters crime. Its application is racist, as indicated by the disproportionate share of black people on whom it is imposed. (Black people make up 13 percent of the population but 34 percent of inmates put to death since 1976.) The U.S. is an outlier in deploying it — every European nation has abolished capital punishment except for Belarus, a dictatorship. Perhaps most salient to Barr's announcement, it's often carried out using lethal drugs that, rather than facilitate prisoners' painless transition, heighten the risk of a torturous death. http://nymag.com/intelligencer/2019/07/barr-death-penalty-pentobarbital.html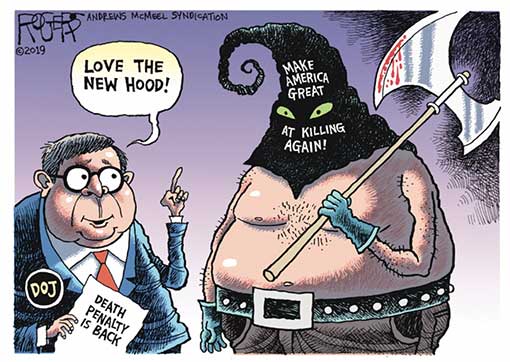 8. Ron Brownstein: Will Trump's Racist Attacks Help Him? Ask Blue-Collar White Women.
Donald Trump's turn toward more overt racism in his "go back" attacks on four Democratic congresswomen of color rests on an unspoken bet: that the women who are part of his core constituencies will respond to his acrimony as enthusiastically as the men.
In both parties, most strategists I've spoken with agree that Trump's bellicose attacks on the congresswomen will harden the opposition he faces among the groups most accepting of America's changing identity: young people, minorities, and college-educated white voters, especially women. What's more, his new offensive represents exactly the sort of behavior that has led an unprecedented number of voters satisfied with the economy to nonetheless express doubts about his leadership: In an NPR/PBS NewsHour/Marist College poll released earlier this week, fully one-third of adults who said the economy is working for them personally still said they disapprove of Trump's job performance. An equal share of these voters said they now intend to vote against him for reelection. To offset that unusual defection among the economically content, Trump must maximize his margins—and turnout—among the groups that have been most receptive to his exclusionary racist and cultural messages: older, non-urban, evangelical-Christian, and non-college-educated white voters.
Democratic strategists generally believe that Trump's rhetoric will likely cost him more than it gains him in the total popular vote. But the past week has produced a collective spasm of anxiety in Democratic circles that his new attacks could nevertheless help him win a second term because the working-class whites believed to be most receptive are overrepresented in the three most crucial states: Pennsylvania, Michigan, and, above all, Wisconsin. (In the last state, non-college-educated whites cast fully three-fifths of all votes in 2018, according to the Census Bureau, more than in any other swing state.)
But Trump's strategy faces a huge obstacle if working-class women don't buy in to his message as much as working-class men. That's for a simple reason: Every data source—from the exit polls to the Pew Research Center's analysis of voter files to studies by Catalist, a Democratic voter-targeting firm—shows that these women reliably cast slightly more than half of all the votes from the white working class. https://www.theatlantic.com/politics/archive/2019/07/trumps-go-back-attacks-white-working-class-women/594805/
9. Dan Balz: Democrats are now left with one option to end Trump's presidency: The 2020 election
Many Democrats long have considered Robert Mueller a potential savior, as the agent of President Trump's eventual undoing. Wednesday's hearings on Capitol Hill probably shattered those illusions once and for all. If Democrats hope to end the Trump presidency, they will have to do so by defeating him at the ballot box in November 2020.
In reality, that has been the case for months. Still, scheduled testimony by the former special counsel before two House committees offered the possibility that he would say something that would suddenly change public perceptions and dramatically jump-start long-stalled prospects for an impeachment inquiry. That was certainly the Democrats' goal. If anything, things could move in the opposite direction.
Regardless of the evidence of obstruction contained in Mueller's report, impeachment is a fraught strategy for the Democrats, given public opinion and the dynamics in the Senate. After Wednesday, the prospects for impeachment appear more remote. https://www.washingtonpost.com/politics/democrats-are-now-left-with-one-option-to-end-trumps-presidency-the-2020-election/2019/07/24/946f6ffa-ae34-11e9-8e77-03b30bc29f64_story.html
10. Tom Nichols: Conspiracy theories, excusing Russians, attacking Mueller: How low can Republicans go?
Robert Mueller has finally testified before the House Judiciary and Intelligence committees. We learned nothing new about Mueller's report, but we learned a lot about the Republican Party — and especially how low elected Republicans are willing to go in order to defend President Donald Trump.
The Republicans once prided themselves on being the toughest opponents of America's enemies. They have now been reduced to inane babbling about conspiracy theories, excusing the Russians, whitewashing the hostile foreign intelligence service called WikiLeaks, and attacking a man of indisputable honor and probity — a fellow Republican, no less — all in the name of covering Trump's tracks.
"Jesus, forgive me for ever being a Republican," MSNBC host and former Florida Congressman Joe Scarborough tweeted Wednesday as he watched what he called "the screaming" and "the stupidity" of the GOP. 
I know the feeling. I left the party after the ascent of Donald Trump. But after the Mueller hearings, I have never been prouder to be an ex-Republican.
Mueller's appearance in Congress was a day of shame for the GOP, and it is preview of the tactics we can expect from the former party of national security should its leader ever be called to account before the American people. https://www.usatoday.com/story/opinion/2019/07/25/republicans-attacked-mueller-and-ignored-national-security-column/1818040001/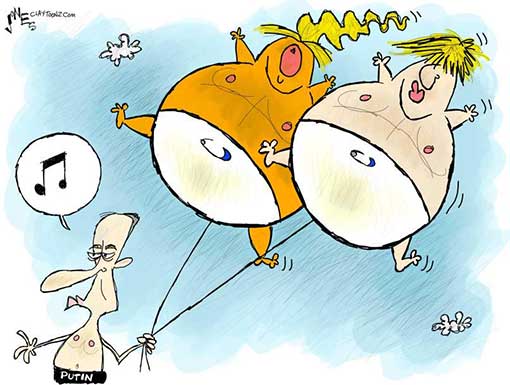 11. Susan B. Glasser: "Accountability"? The Hearing Is How Trump Escapes
Promptly at eight-thirty Wednesday morning, Nadler began the Mueller hearing by solemnly affirming that no one, not even the President, is "above the law." But he also got at the essence of the problem for Democrats: Trump was not exonerated, but holding him accountable requires congressional action that is not forthcoming. By the time Schiff brought down the gavel, six hours and fifty-nine minutes later, and Mueller left the room with his formidable reputation barely intact, it was painfully obvious that he had done nothing to help push congressional Democrats toward taking action. There would be no accountability.
This is something that Donald Trump has demonstrated a remarkable knack for avoiding throughout his public life. Trump has gone bankrupt and bounced back, been investigated more times than anyone can count, and has learned what it takes to win. As President, he has deployed the same tactics that helped him survive allegations of mob ties and tax fraud in his private life. He has hired aggressive lawyers, he has stalled, he has threatened. It has worked.
Late on Wednesday, many, many hours into the Mueller testimony, Representative Sean Maloney, of New York, helped to clarify just how successfully President Trump had played the prosecutor. Mueller had told Trump's lawyers that his testimony was "vital" to resolving the investigation, Maloney pointed out, so why had Mueller finished his probe without getting it? "We understood we could subpoena the President," Mueller allowed, but he also acknowledged that Trump would fight the subpoena all the way through the courts. And that would have taken too long, Mueller said, "because of the necessity of expediting the end of the investigation."
Running out the clock, refusing to participate, stonewalling: the Trump playbook worked. This, in the end, is the lesson of the Mueller investigation. That may not be what the Democrats who run the House of Representatives expected us to learn at Wednesday's hearing, but it was the day's inescapable conclusion. https://www.newyorker.com/news/letter-from-trumps-washington/accountability-the-mueller-hearing-is-how-trump-escapes-it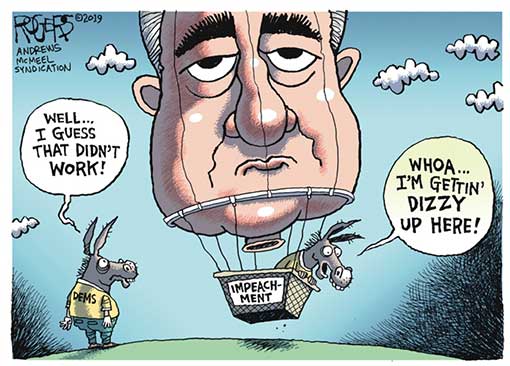 12. John Cassidy: Why the Mueller Hearings Were So Alarming
For the past two and a half years of Donald Trump's Presidency, I have consoled myself with the argument that, despite all the chaos and narcissism and racial incitement and norm-shattering, the American system of government is holding itself together. When Trump attempted to introduce a ban on Muslims entering the country and sought to add a citizenship question to the census, the courts restrained him. When he railed at nato and loyal allies like Germany's Angela Merkel, other members of his Administration issued quiet reassurances that it was just bluster. When the American people had the chance to issue a verdict on Trump's first two years in office, they turned the House of Representatives over to the opposition party.
All of this was reassuring. But, while watching what happened on Capitol Hill on Wednesday, when Robert Mueller, the former special counsel, testified before two House committees, I struggled to contain a rising sense of dread about where the country is heading. With Republicans united behind the President, Democrats uncertain about how to proceed, and Mueller reluctant to the last to come straight out and say that the President committed impeachable offenses, it looks like Trump's blitzkrieg tactics of demonizing anyone who challenges him, terrorizing potential dissidents on his own side, and relentlessly spouting propaganda over social media may have worked. If so, he will have recorded a historic victory over the bedrock American principles of congressional oversight and equality before the law.
The wanton disrespect that these elected Republicans showed Mueller was perhaps the most alarming testament yet to Trump's total conquest of the Party. In today's G.O.P., as in Stalin's Russia, evidently, decades of loyal public service count for nothing when the leader and his henchmen decide someone represents a threat and the apparatchiks have been ordered to take that person down. All that matters is carrying out the order and staying in the leader's good graces. That isn't congressional oversight. It is scorched-earth politics of a kind that is entirely antithetical to the notion of checks and balances enshrined in the U.S. Constitution. https://www.newyorker.com/news/our-columnists/why-the-mueller-hearings-were-so-alarming
13. Dominic Sisti & Cynthia Baum-Baicker: Is President Trump Causing Toxic Stress?
Toxic stress is caused by prolonged exposure to stressful situations—violence in the home, emotional abuse by a parent, unstable housing, or economic hardship will damage the brains of children and young adults.  Adults in physically or verbally abusive relationships may also experience the ill effects of toxic stress. Toxic stress has horrible downstream effects.  It causes a prolonged activation of our stress response systems—which include hormonal changes and increased metabolic rates—that significantly increase the risk for both serious physical and mental illness. Think of toxic stress as the psychological equivalent of breathing second-hand smoke everyday for months or years.
Since his election victory, President Trump has infused stress and uncertainty into virtually every facet of American life. From travel and immigration, to healthcare, to small businesses and investment markets, his erratic behavior leaves millions of people wondering what is next. At the same time he and his surrogates flatly deny saying and doing things that were actually recorded. Offering "alternative facts" blurs the line between reality and fantasy and is a common form of abuse sometimes called gaslighting. http://www.scattergoodethics.org/is-president-trump-causing-toxic-stress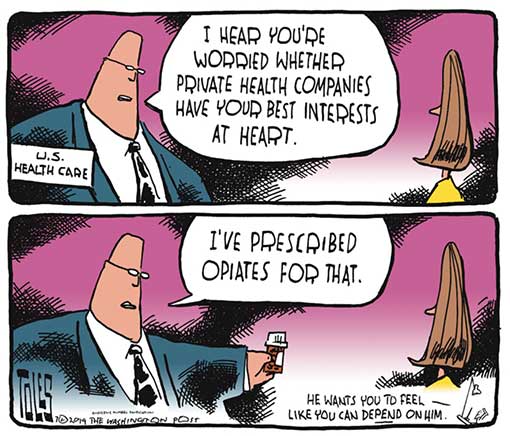 14. Eric Levitz: The Trump Tax Cuts Worked (As a Scam)
In 2017, more than 27 million Americans lacked health insurance of any kind. Many of our nation's public schools were struggling to stock their classrooms with basic supplies, or to pay their teachers a living wage, or to keep their doors open five days a week. Underfunded rehab centers were consigning desperate opioid addicts to waiting lists amidst an overdose epidemic that would kill more Americans that one year than the Vietnam War claimed over its entire duration. Half a million Americans went homeless. More than 10 million children, in the wealthiest country on Earth, lived in "food-insecure" households.
And our congressional representatives decided that the best thing they could possibly do with $1.5 trillion in borrowed money was to give large tax breaks to the wealthy and corporations (and much smaller ones to middle-class households).
In the Trump era, Republicans have become masters of rationalizing the indefensible. But even they couldn't defend running up the deficit (and clamping down social spending) to boost corporate profits at a time when such profits were already high. Thus, they insisted that the president's tax cuts would neither increase the deficit nor benefit the wealthy much at all.
On the surface, it might look like Republicans were simply choosing to put cash in the hands of business owners instead of using those funds to address wrenching social problems, or boost the incomes of the indigent. But this was an illusion born of economic illiteracy. Spending $1.5 trillion on health care for the uninsured, or treatment for drug addicts, or raises for public-school teachers might sound better than devoting that same sum to regressive tax cuts. But such comparisons are rooted in a category error, Republicans explained: Unlike social spending, corporate tax cuts pay for themselves by growing our economy's productive capacity. Give a poor man a handout, he eats for a day; give corporations a tax break, and they will make growth-enhancing investments that enable poor men to discover the "dignity of work" and the middle class to enjoy a jump in living standards. http://nymag.com/intelligencer/2019/07/gdp-report-trump-tax-cuts-scam-business-investment.html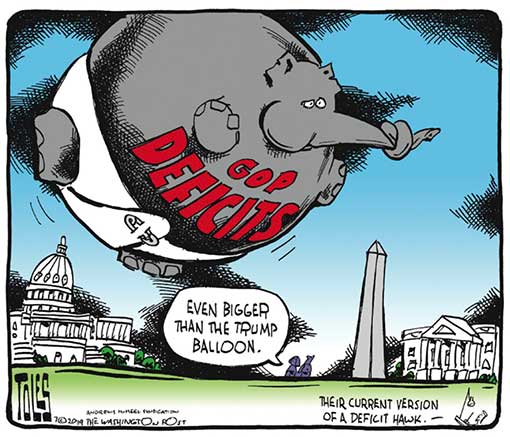 15. Jonathan Chait: Why Trump Spent His Summer Vacation Sending Racist Tweets
Trump's professional career began in his father's and his systematically discriminatory housing empire. Excluding African-Americans was the basis of the Trump business model. He did not merely engage in periodic acts of discrimination, but insistently violated federal law and went to war with the Department of Justice rather than amend his ways. Trump's association of African-Americans with crime and filth, and the assumption they must be cordoned off from other Americans, is a conviction so deep it cannot be uprooted.
Trump has brought these patterns of thought with him to the presidency. One of the many oddities of his term in office is that he never observed the traditional break between campaigning and governing, and as a result never adopted even the pose of representing the entire country.
Since he continues to go to war against his enemies in perpetual campaign fashion, and since many of his enemies are domestic, this places Trump in the strange position of frequently disparaging parts of his own country. This is surely unique in American history. American presidents simply do not call American cities filthy and dangerous. George W. Bush may not have enjoyed much support in places like Baltimore, but he wouldn't go around calling Democratic neighborhoods disgusting hellholes. It does not occur to Trump that the patriotic requirements of his office require representing the whole of it.
It is not merely that Trump is unfit for his job. He refuses, almost literally, to be president of the United States. http://nymag.com/intelligencer/2019/07/trump-racist-tweets-cummings-baltimore.html
16. Jonathan Chait: Trump Tries to Think Up Crime by Obama, Comes Up With 'Wrote Book'
President Trump expressed irritation that House Democrats are challenging his unprecedented refusal to disclose his tax returns and even more unprecedented insistence on using his office for private gain. When Republicans controlled the House, he told reporters, they never investigated President Obama: "We want to find out what happened with the last Democrat president. Let's look into Obama the way they've looked at me ... they could look into the book deal that President Obama made. Let's subpoena all of his records."
Like many criminals, Trump believes that everybody is a crook and views demands that he follow the law as mere hypocrisy. Here he pivots immediately from his rage that he is being asked to comply with basic ethical norms — in this same interview Trump threatened to raise tariffs on French wine, a move that would benefit Trump's own winery — to insinuations that President Obama probably committed financial crimes, too.
Trump's claim that Republicans never investigated Obama is especially bizarre. Congress held eight separate investigations on Benghazi alone. The redundancy was deemed necessary because conservatives simply refused to accept findings that no scandal had taken place.
Trump, reaching for evidence that Obama probably did something just as unethical as Trump did, comes up with … Obama's book. You can almost see the wheels turning in Trump's brain as he tries to summon some damning piece of evidence about his predecessor.
He wrote a book! Is that allowed? Sure, Trump claimed to have written books, but those were all ghostwritten. He doesn't even read books, let alone write them. "Writing books" has to be some kind of scam, right? http://nymag.com/intelligencer/2019/07/trump-investigate-obama-book.html
17. Karen Tumulty: Democrats will have a better chance if they take a page from Michigan's Gretchen Whitmer
In the second night of the first debate, the NBC moderators asked can didates to lift their hands if their health plans would cover undocumented immigrants. The next day's cover of the New York Post showed five of them with their right arms up, over the headline: "Who wants to lose the election?"
That kind of question produces a dramatic visual effect but "really does a disservice to the candidates, as well as the public," the governor said. "I think it's the nature of such a packed field and vying for precious coverage, and that it's just a part of the environment that we're living in. But ultimately, at the end of the day, people want leaders who they respect and who they believe in and who can get things done."
Whitmer added: "That doesn't come from raising your hand to a question. It doesn't come from feeding into the current issue of the moment, because there will be a new issue next week and a new one the week after. It comes from really staying on the things that improve people's lives. It's hard to do, but a disciplined candidate who really has thoughtful solutions and a plan to execute on them, I think, is ultimately the kind of person that's going to resonate."
None of that may sizzle on a debate stage, but it may be the best way not to get burned in the long run. https://www.washingtonpost.com/opinions/democrats-will-have-a-better-chance-if-they-take-a-page-from-michigans-gretchen-whitmer/2019/07/28/d18bcb5a-af0a-11e9-a0c9-6d2d7818f3da_story.html
18. Colbert I. King: Donald Trump is American democracy's worst nightmare come true
Does the president of the United States have any regard for what comes out of his mouth?
Does he care about whom he smears, vilifies and hurts? Of course he does. President Trump does not show disdain for people who like, and are just like, him. With them, he minds his manners. To them, he shows respect. Because of their devotion to him, they are worthy of his praise, which he hands down with great abandon. They find common ground and make common cause.
This newspaper and other mainstream news outlets, refer to them as "white working-class voters," "Trump's "base," people who "feel left behind despite the strong economy," "white Republicans," "die-hard Trump supporters." Their whiteness is a common feature. So, too, their dislikes.
They love it when Trump crosses the line and launches broadsides against black and brown people. His overtly racist language is music to their ears.
As with others in the mainstream media, Trump's rhetoric is described as "divisive." That suggests Trump is resorting to words that create disunity; that he is trying to cause disagreement. False.
Racial alienation and hostility already exist, churning beneath the surface. Trump is only exploiting the divisions.
Which helps explain why Trump didn't stop the xenophobes at his North Carolina rally chanting, "Send her back." It's also why, in his original comments, he did not single out and condemn the white supremacists in Charlottesville who screamed racist and anti-Semitic slurs, started fights, delivered beatings.
They and Trump are drawn together in their low regard for people who aren't white. https://www.washingtonpost.com/opinions/2019/07/28/donald-trump-is-american-democracys-worst-nightmare-come-true/
19. Bess Levin: "Hates Whites And Cops": Trump Starts Monday With New Tirade
That the president is, in fact, a demonstrable racist is not in dispute at this point, but that didn't stop his allies from trying to redirect the narrative to border security, with acting White House chief of staff Mick Mulvaney telling Fox News on Sunday that "this is about...the president fighting back against what he saw as being illegitimate attacks about the border," and that "it has absolutely zero to do with race." Unfortunately for Mulvaney, that argument didn't quite work out so well for him. Fox host Chris Wallace pushed back, pointing out the parallels to the president's attacks on four minority congresswomen. Moreover, it's probably not going to hold much water following Monday morning's new racist meltdown, this one inspired by the Reverend Al Sharpton, who was headed to Baltimore to call out Trump, a move that apparently struck a very racist nerve:
Setting aside the fact that the president is the one who's been forced to pay $25 million for one of his (many) scams, his three-day tirade reads like a greatest-hits reel of Fox News boomer racist catnip: places where black people live are rat-infested shitholes; I'm not a racist, black people are racist; Al Sharpton hates white people and cops. Of course the argument that Trump is simply calling out politicians for failing their districts would be a lot more convincing if 1) the callouts weren't filled with the sort of dog whistles, like "infestation," that he exclusively reserves for nonwhite people, and 2) white people were similarly called out for their performances instead of, say, hired as chief of staff. https://www.vanityfair.com/news/2019/07/donald-trump-elijah-cummings-al-sharpton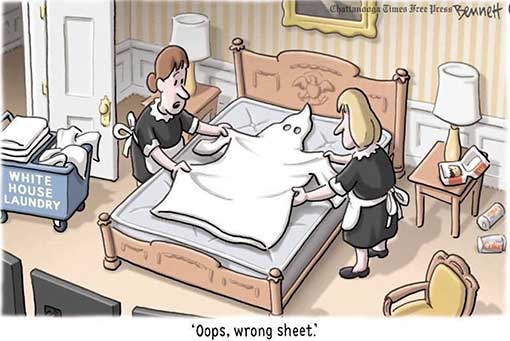 20. Bess Levin: Pissy Mitch McConnell Doesn't Like Being Called Out For Helping Russia Hack Elections
Mitch McConnell is cranky. You see, he really doesn't want to safeguard our elections from foreign interference—the kind Robert Mueller warned last week will happen again in 2020 unless action is taken ASAP.
We know this based on the fact that he has blocked numerous bipartisan bills intended to prevent election meddling, including one requiring Facebook, Google, and other tech companies to disclose buyers of political ads; one that would impose sanctions on any entity that attacks a U.S. election; and, most recently, one that would have required presidential campaigns to report any offers of assistance from agents of foreign governments, the kind the president has said he would gladly accept. At the same time, the senator from Kentucky doesn't like when people accurately call him out for stonewalling any and all attempts to actually protect Democracy. It really gets him steamed up! And so, after the Washington Post op-ed denouncing McConnell for systematically preventing the U.S. "from defending ourselves," and saying that he "is, arguably more than any other American, doing Russian President Vladimir Putin's bidding," well, Mitch had no choice but to throw a massive conniption on the Senate floor. https://www.vanityfair.com/news/2019/07/mitch-mcconnell-russian-interference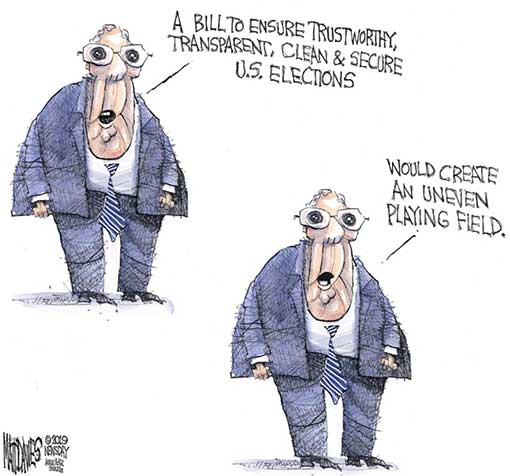 21. Jamil Smith: Trump's Racism Is a National Emergency
It may be easy for some to digest, but not for me. There is no getting used to this when you are in the crosshairs of this policy, when people who look like you sit patronized by a president who tells them all the time about how he got a few more of us some jobs and few more of us out of jail, then acts as though we should be satisfied with that. "What do we have to lose?" he asks, while we sit in this systematically racist America. "Why do we hate America?" he wonders aloud, as we criticize his administration for working consciously to exacerbate inequities in everything from health care to education to housing. "Why don't we want safety and security?" Trump proclaims, as we see his government treat migrants (the ones who survive) like literal vermin while comparing our communities to "infestations." Again, there is no getting used to this.
A white-nationalist presidency is untenable. Having to endure one while the man in the office has committed obvious crimes, such as obstruction of justice, is even worse. Add on the ever-increasing threat of white-supremacist domestic terrorism — which the FBI director warned about just last week and the administration's anti-immigrant policies and rhetoric fuels like gasoline — and it is impossible not to conclude that the presidency is too powerful for someone as racist as Donald Trump. https://www.rollingstone.com/politics/politics-features/trump-baltimore-cummings-impeach-864796/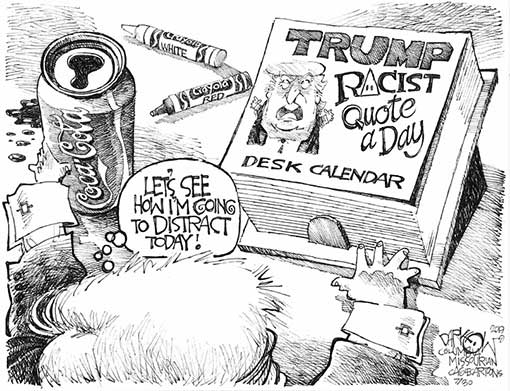 22. Jennifer Rubin: NeverTrumpers skewer 'Moscow Mitch'
Senate Majority Leader McConnell (R-Ky.) has eliminated the last vestiges of the filibuster for appointees and has rubber-stamped a slew of corrupt, incompetent and unfit nominees — many of them executive branch picks who already washed out and partisan judges with scant experience. He's deflected criticism of President Trump's vile racism and constant lies, and has refused to read the Mueller report, let alone recognize its stunning findings. McConnell has also become the chief obstructionist — a peculiar role for a majority leader with a president from his own party in the White House — by letting a raft of House legislation sit dormant and refusing to allow any Senate versions to reach the floor. McConnell also ballooned the deficit after misleading members and voters alike that the Trump tax cut would pay for itself.
No offense, however, is as serious and inexcusable as McConnell's blocking of election-security legislation to prevent foreign interference with our elections. McConnell's stated rationale, according to The Post's Amber Phillips, is that "the federal government is already working with states to address election interference and that passing more legislation would be too heavy-handed, since states run their own elections." The real rationale, though, is pleasing the president: Phillips reports, "Trump is so sensitive to findings that Russians tried to help him win in 2016 that a Cabinet secretary was warned against briefing him on it. . . . That puts McConnell in a tough spot: Pass legislation, which election security experts say is needed, and risk sparking the president's ire, or block the legislation — and risk increased Russia election interference and public ridicule."
https://www.washingtonpost.com/opinions/2019/07/31/nevertrumpers-severely-wound-mcconnell/